Functional Shower Bench Ideas for Ultimate Relaxation
For a luxurious addition to your beautiful walk in shower, have you thought about a shower bench? Whether you are installing a new shower from scratch or you have a shower in need of a makeover, there are many inspiring ideas and fixes.
Why might you need a shower bench? While they are a necessity to those with mobility issues to have a steady place to sit while washing, they are also a luxury statement piece like you might find in a five star spa hotel.
From bespoke and built in options to freestanding benches in a variety of materials, you'll find a shower bench to love in your own home bathroom.
Integrated Shower Bench
If you are having a new shower or wet room bathroom installed then it pays to think about fitting a shower bench.
Consider how much space you have, and your needs, but there's no getting away from the beautiful aesthetic that a bespoke shower bench creates.
You can have a bench built in and continue the tile over it so that it's seamless. Or perhaps add a top in an on-trend material like soapstone.
Bench for Unusual Shapes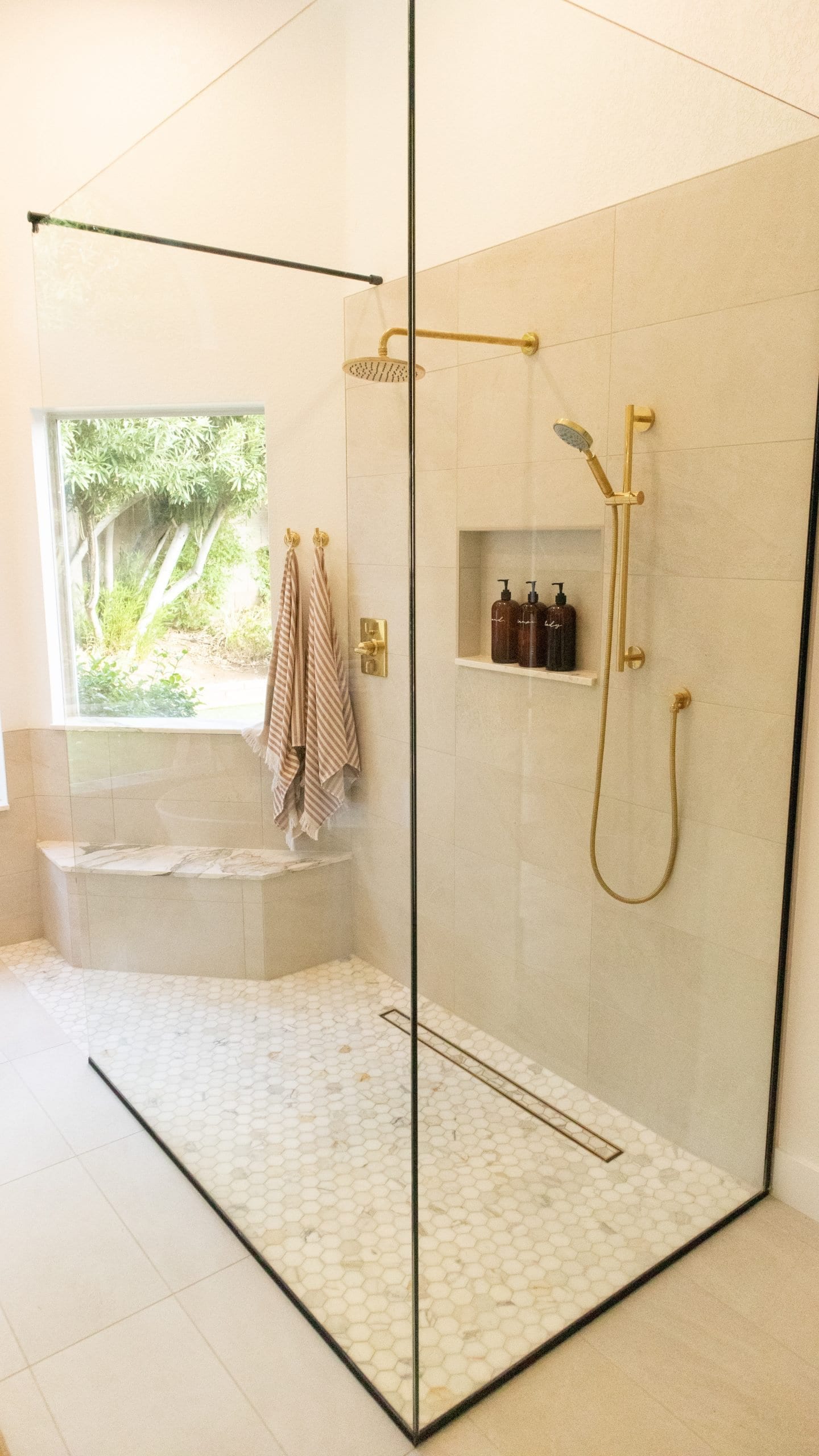 If you have an unusual shaped shower space then it's possible to get creative with the shape of the bench you fit also.
A shower bench needn't be too wide so won't take up a whole lot of room. If you have an out of the ordinary layout then think about putting a bench in the corner or giving it a shape itself, such as a five-sided seat.
Shower Bench in Tile and Wood
For a real day spa feel, then a fitted bench seat will look gorgeous decorated in tile and with a traditional wood sauna style seat.
On a more technical level, you can also heat up your seat by using an in-floor heating system that is continued onto the bench.
If you're not bad at plumbing, you may want to try installing this yourself. Extremely comfortable and very decadent.
Build a Shower Bench Longways in Your Bathroom
The most obvious place to put your bench is opposite the shower head as a kind of nook. But if you want to extend the look and length of the room, you can fit a bench longways against the wall.
In a marble tile with a white quartz seat you'll get the style of a boutique hotel right in your own bathroom.
Put Baby in the Corner
At the other end of the size spectrum, a small, neat shower bench can look cute in the corner. Just the size you need practically, for propping your foot when exfoliating, or to sit after pounding the gym.
This is also a great option if you have a small shower room. It's best to fit your bench in the corner so you're not going to trip over it and it'll look good tucked away.
Bespoke Art Deco Bench
We know Art Deco has been massively fashionable in the past few years with surfaces like golds and glass, and colors like green, dark blue and eggplant.
Also we have seen scallop shapes and geometric designs which have roots back in the 1920s. An exquisite shell-shaped tile can be maximized by taking it over a built in shower bench for true designer impact.
Floating Marble Shower Bench
What will look super nice with a marble subway tile is a floating marble bench to match. If you don't have the budget to use marble on your walls, you can pick a look alike tile and lay it in a stylish way.
Then invest in a small marble bench seat which can be fixed to the wall. It won't break the bank but will look like you have a marble bathroom.
Floating Rustic Shower Bench
If you have a narrow shower, you may think a shower bench is out of the question. But a solution for those who like earthy, natural designs is to add a floating wood bench.
If you have an existing shower you want to revamp then this can be a cheap and relatively easy way of updating your shower.
Milking Stool for Your Shower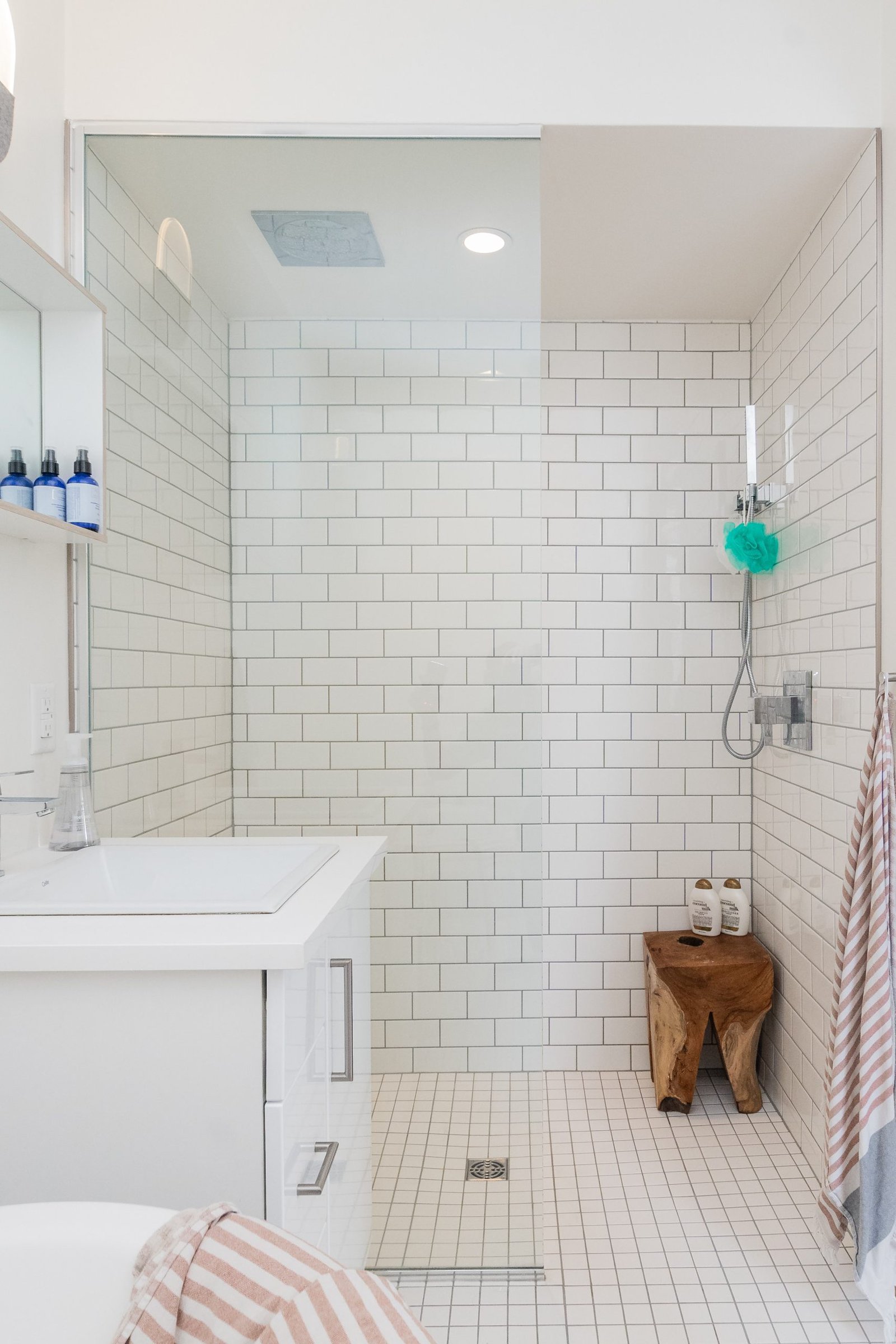 Without a doubt the simplest update you can do to add a shower bench is to put in a stool. Wooden milking stools look very cute in bathrooms and can be found in antique shops and thrift stores.
As with all wood in damp areas make sure that it has been sealed with a waterproof coating or varnish so that you don't get expansion cracks or mold.
Stand Alone Corner Bench
As well as stools, you can find miniature corner bench options in a slatted bench style. Truly cute, these are a clever accessory to your spa shower.
Great for small spaces and with a gorgeous design, this is one you'll be rushing to buy for a quick shower makeover.
Wooden Freestanding Shower Bench
A wooden bench has the look and feel of the spa, as well as ensuring water doesn't pool on the surface, making it easier to clean and maintain.
As with all shower bench looks, styling is key for the spa look. So think big white fluffy towels folded or neatly rolled like a spa and arrange bottles of exclusive shower creams and gels in beautiful bottles and packaging.
Freestanding Quartz Bench
Though wooden benches are the obvious first choice for freestanding shower benches, you can pick up seating in other materials.
A dark gray quartz bench will look as if you had it specially made to fit the space. Plus you have all the practicality of a material that is easy to clean and to polish up.
Shower Bench That Folds Away
Maybe you don't need a bench all the time. Perhaps one of the people using the shower needs it but others don't. Or you might have a small shower with no floor space for a bench.
Then worry not! You can fit a folding slatted shower bench. Ingenious and practical. In a teak wood, this can add a gorgeous look to your shower.
In Summary
A shower bench can be installed for both practical purposes for those who need to sit to wash, or as a spot to perch when giving yourself home spa treatments.
A shower bench also adds a touch of decadence and upmarket design to your bathroom. From built in options when you're starting to build your bathroom from scratch or additional floating or freestanding models, there is a design to suit all tastes and budgets.