Decorated Life is reader-supported. When you buy through links on our site, we may earn an affiliate commission. Learn More
22 Gorgeous Boho Bedroom Ideas
With its eclectic style and warm lived-in feel, bohemian decor is the perfect way to create an effortlessly stylish and relaxed look in your bedroom.
Creating a bohemian style bedroom is easier than you think, as there are no rules when it comes to this decorating style.
If you're not sure where to start, we've curated 22 gorgeous boho bedroom ideas to help you get that perfect boho chic look in your own bedroom.
Eclectic Gallery Wall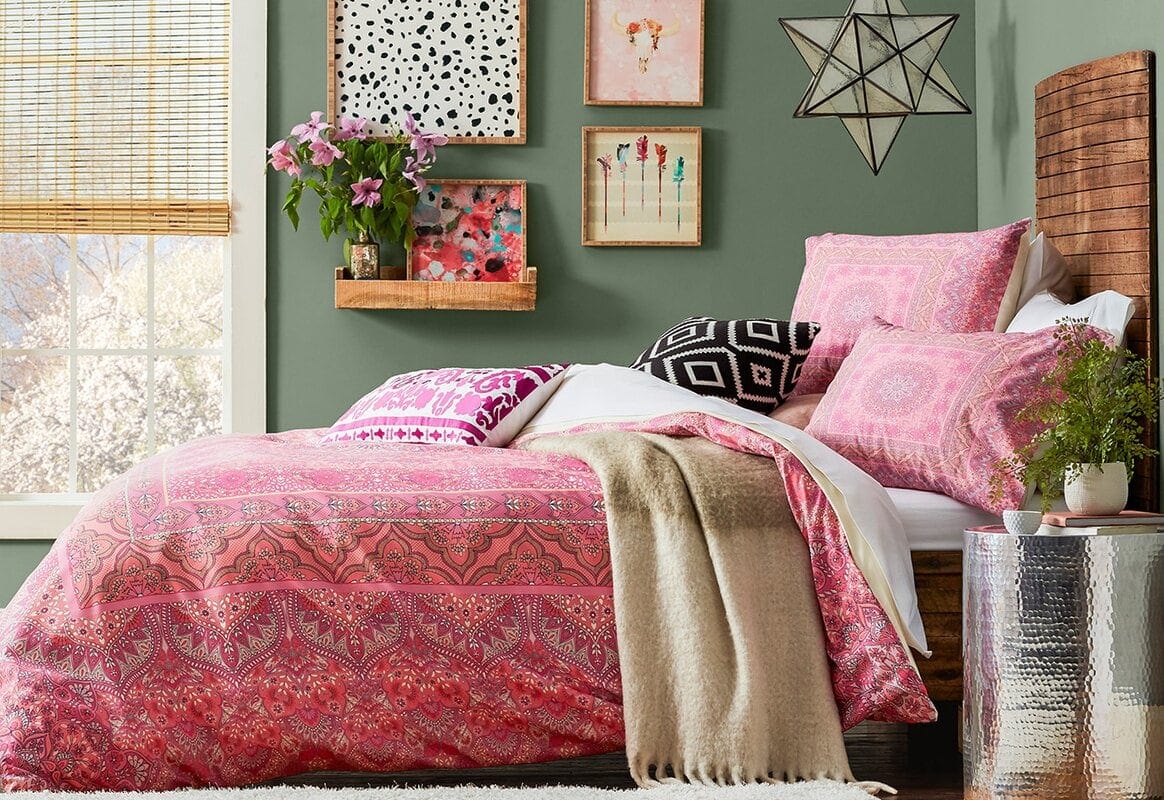 A splash of color works really well in a boho inspired bedroom. The great thing is, pretty much any color will work, so you can choose any color that you love!
The pump pillows and cosy blanket make this bohemian chic bedroom the perfect choice for someone who loves the colour pink. The wall art helps to finish things off perfectly, with colors that complement the choice of bedding beautifully, creating a fun and relaxed design.
Rattan Accents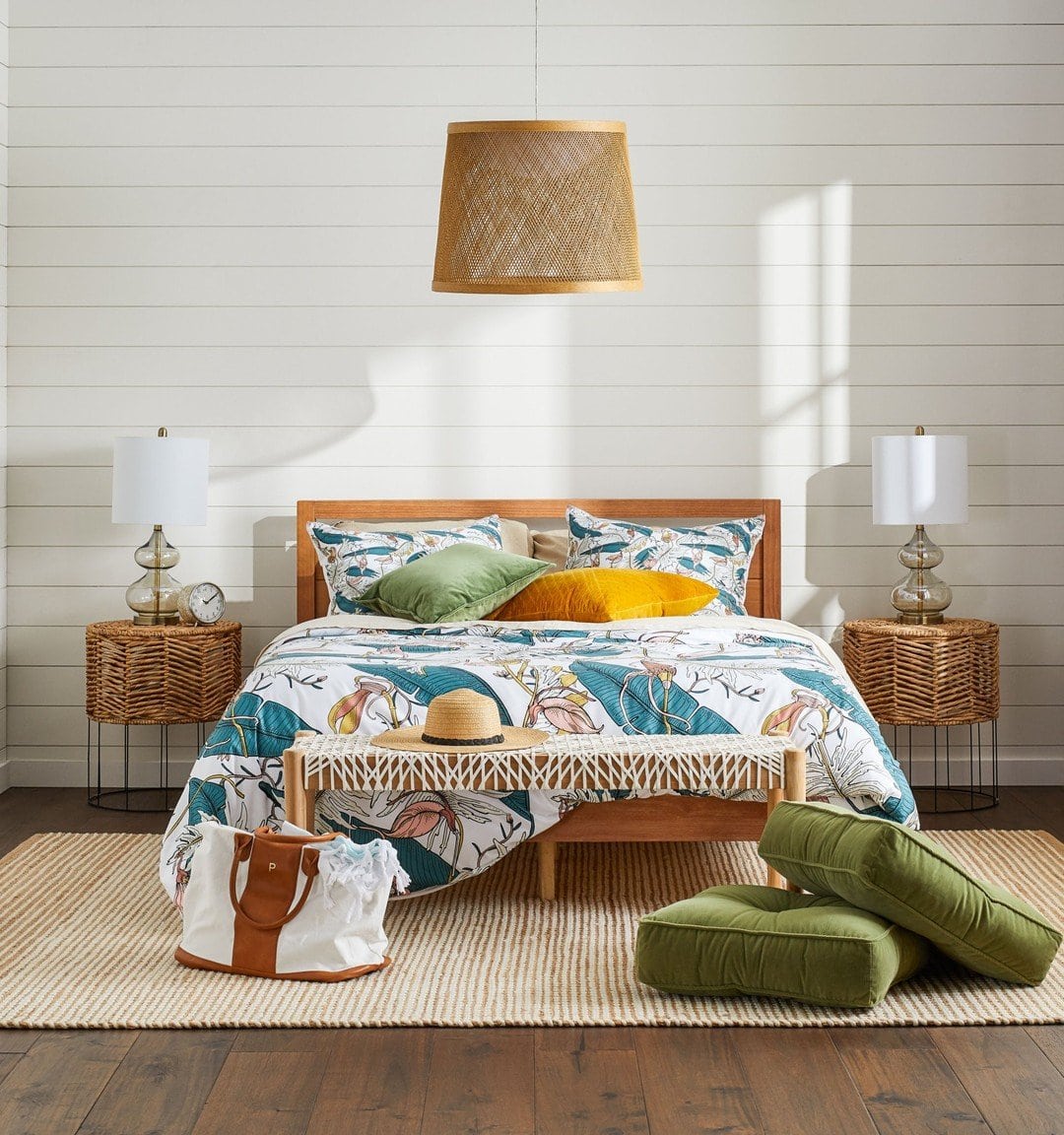 White shiplap walls and botanical printed bedding work so well together in this boho inspired bedroom. I love the high ceiling allowing for that beautiful light shade which complements the two rattan bedside tables perfectly. 
The room has a natural tone and feel to it, but the blue-green on the bedding gives the room a splash of color, and alongside the other minimal bedroom accessories helps to finish everything off perfectly.
A Decorative Rose Vine Garland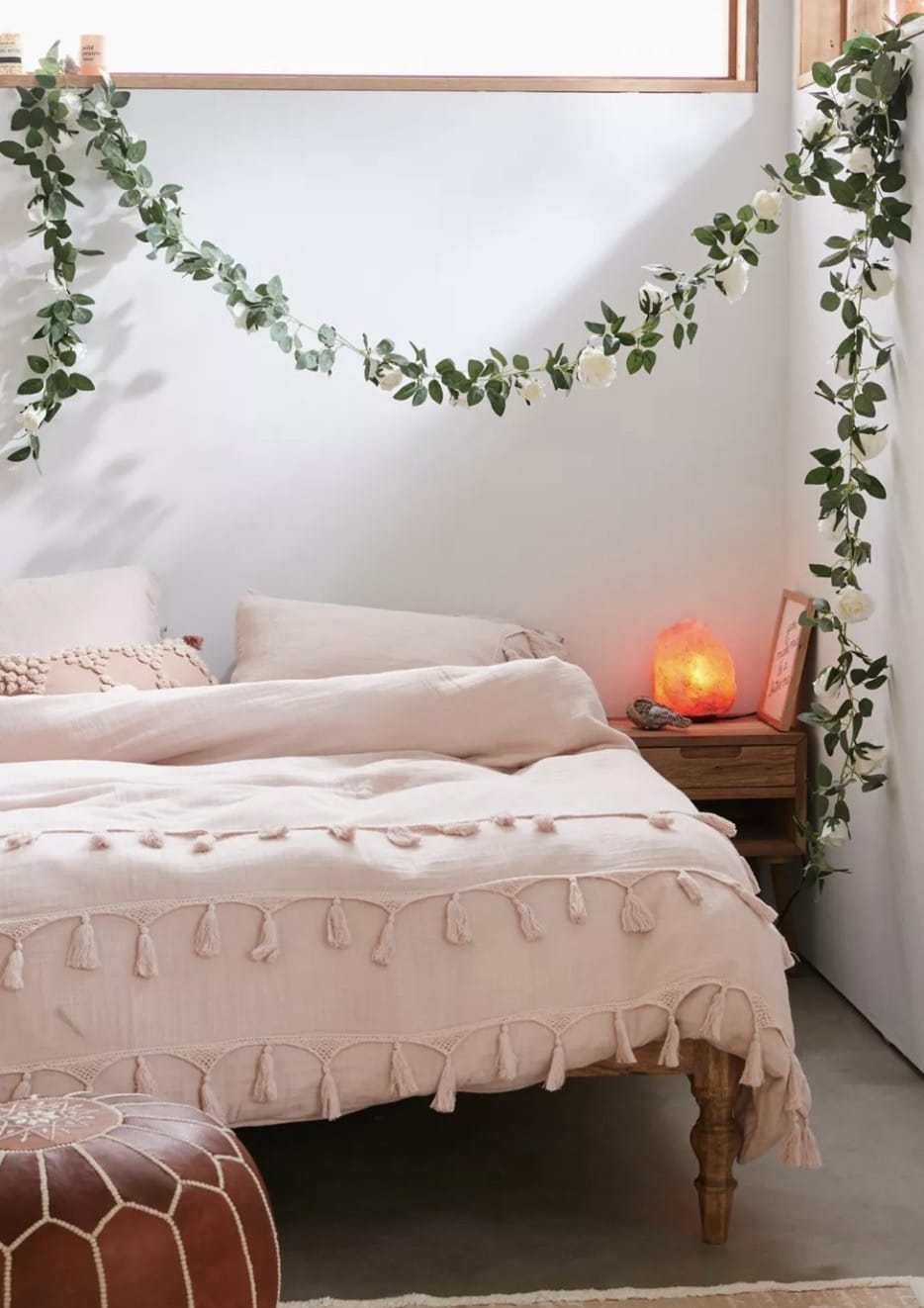 Faux plants and vines are a great way to achieve a boho look in your bedroom if you're on a budget. Simplicity is what makes this room so special, and the tasseled bedding is a great example of how white certainly doesn't need to be boring
Wooden accents and a moroccan style leather pouf help create an effortlessly stylish look in this minimal bohemian bedroom.
Create a Feature Wall With a Tapestry Wall Hanging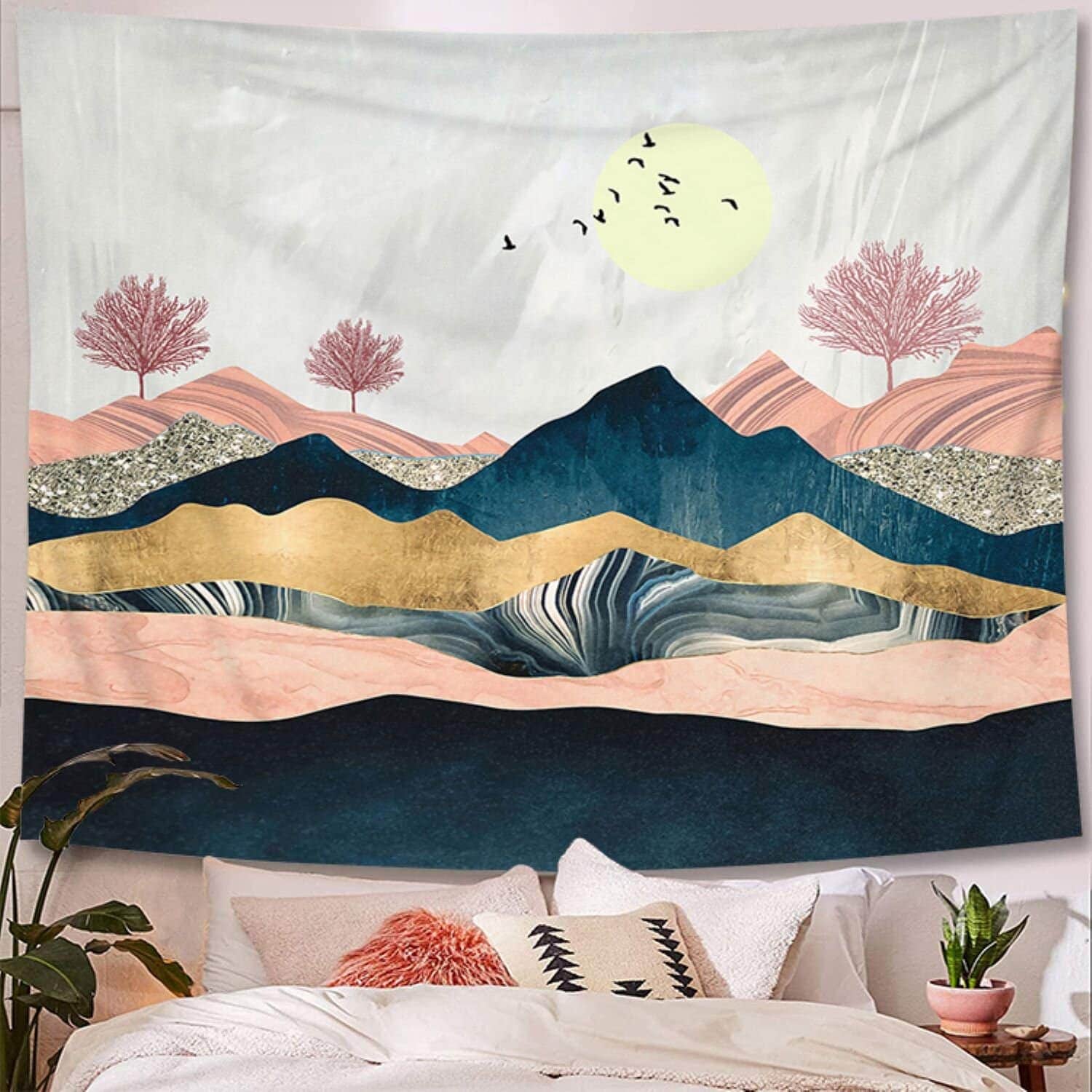 An easy way to get the bohemian look is to create a centerpiece on one of your walls just like this gorgeous tapestry. It creates a focal point in the room with which you can bring together the rest of the decor to match.
Neutral bedding with an eclectic mix of pillows complement the colors in the wall hanging, creating a very pleasing look.
Vintage Style Curved headboard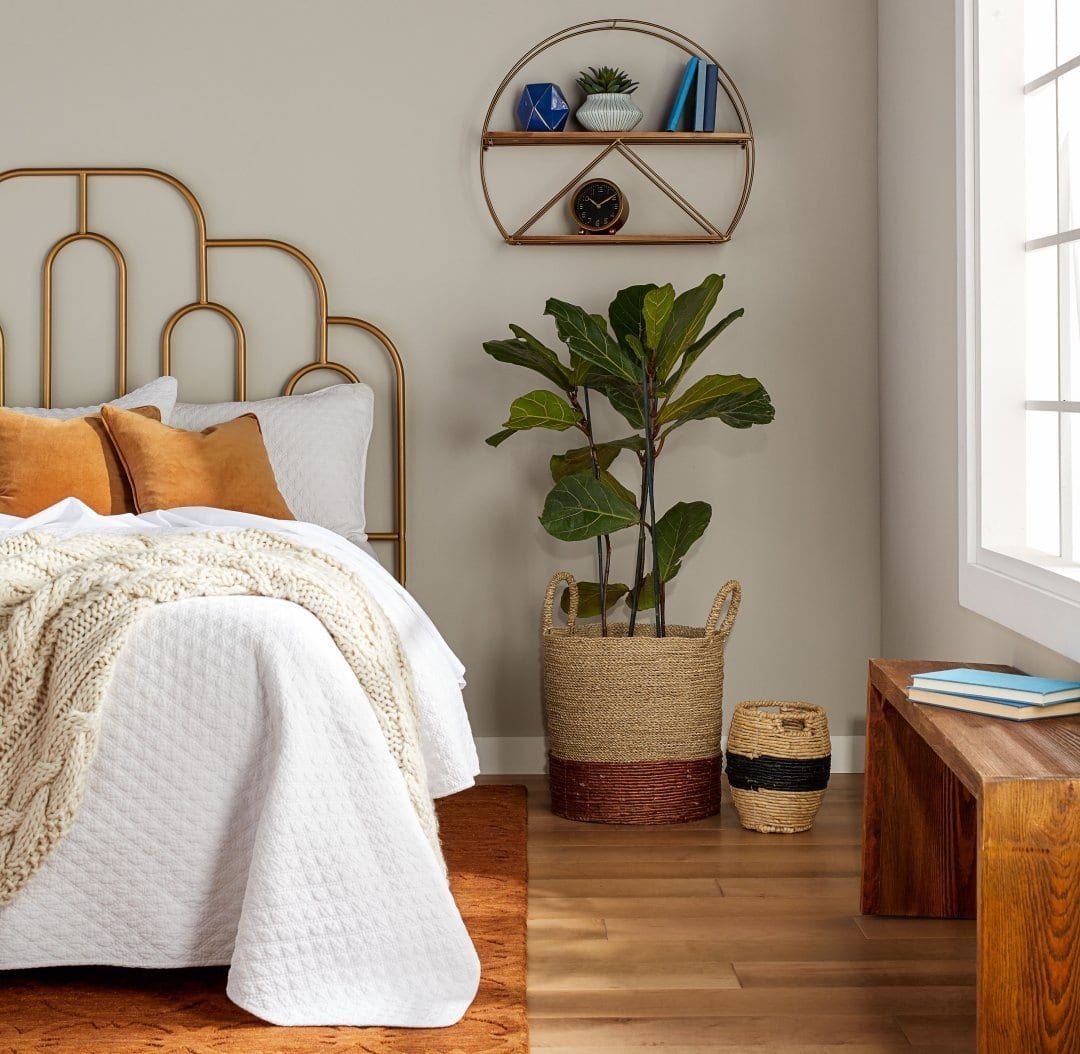 This vintage style curved headboard adds a touch of sophistication to this bohemian style bedroom. It complements the neutral bedding and rust color cushions beautifully.
Everything in this bedroom has a natural feel to it, even the weave style plant pots. The bedroom has lots of natural light which makes the whole room feel welcoming – this would be a wonderful bedroom to recharge in.
A Woven Textile Bed Canopy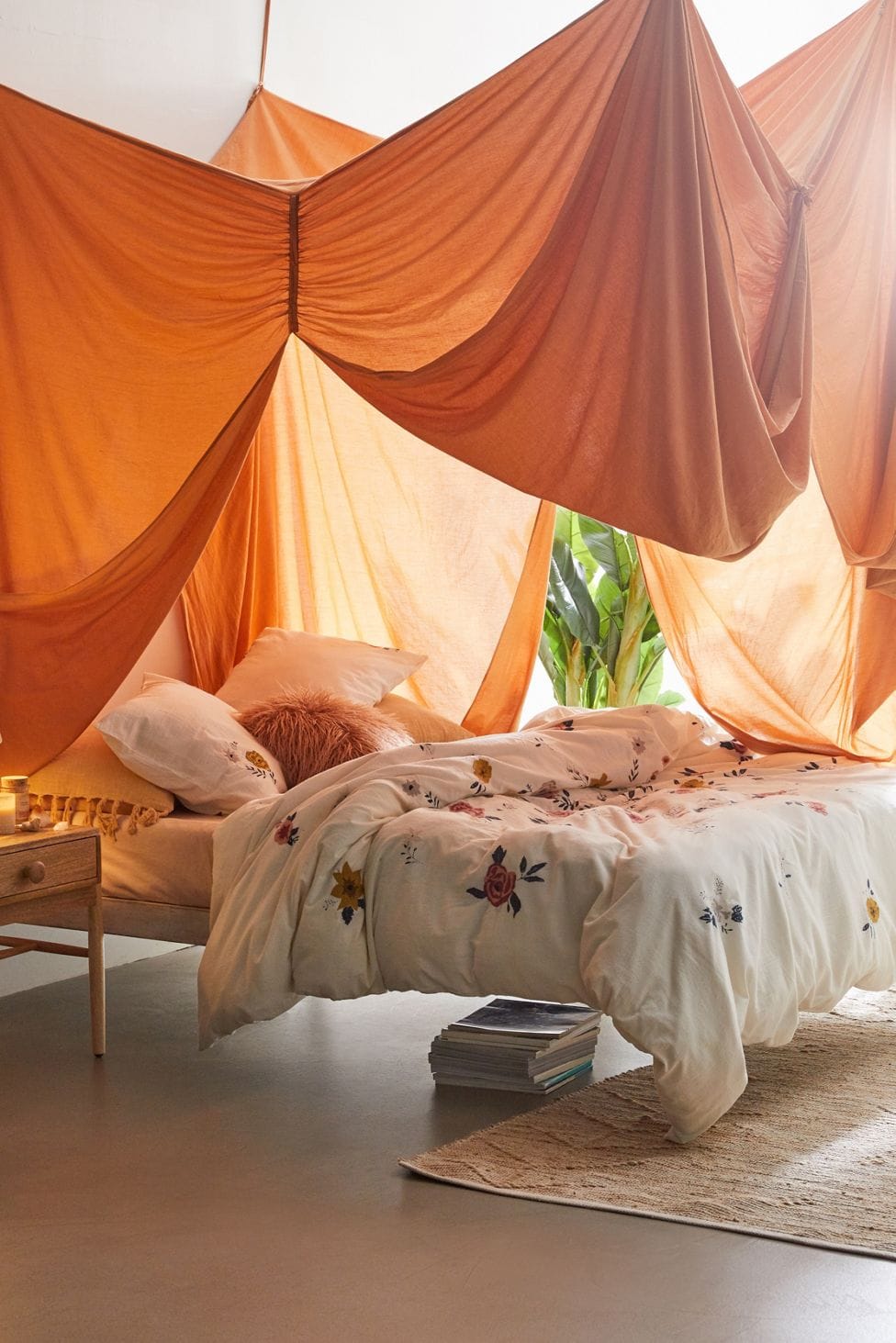 Creating a safe haven away from the rest of the world and combining boho chic is done perfectly with this gorgeous textile bed canopy.
This canopy can be hung from the frame of a four poster bed or suspended from the ceiling. Either way it will give you cosy vibes in your boho themed bedroom. The floral boho bedding is a great choice and helps to bring the whole look together.
Bright, Textured Bedding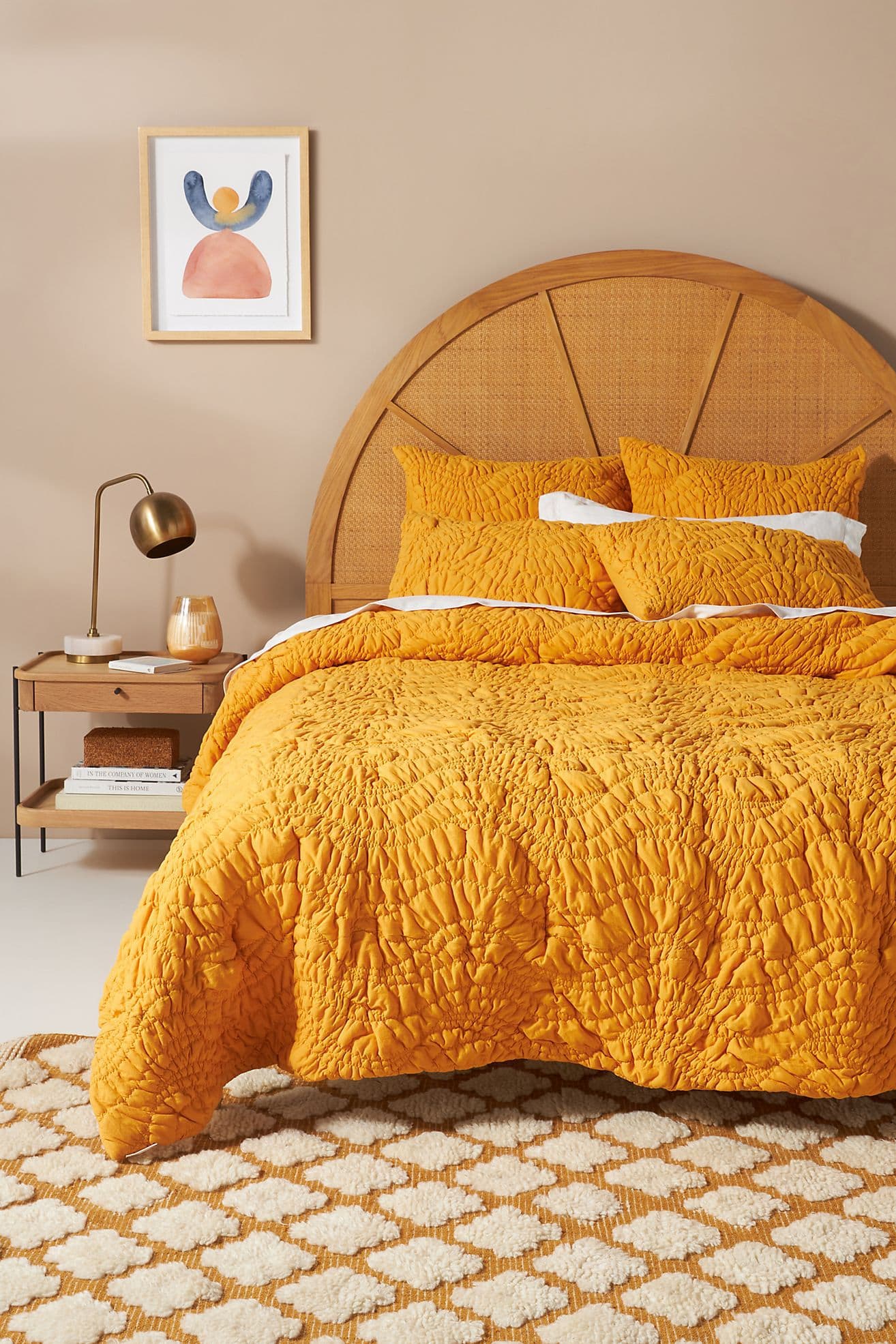 This bright bold bedroom goes to show that there is no such thing as too much yellow. The textured bedding helps to give a depth to the room which is matched with the rug on the floor.
The bedside table and lamp team up incredibly well with the rest of the room, which is then finished by the large oval shaped rattan headboard – the perfect boho chic accessory.
Add in Some Hanging Planters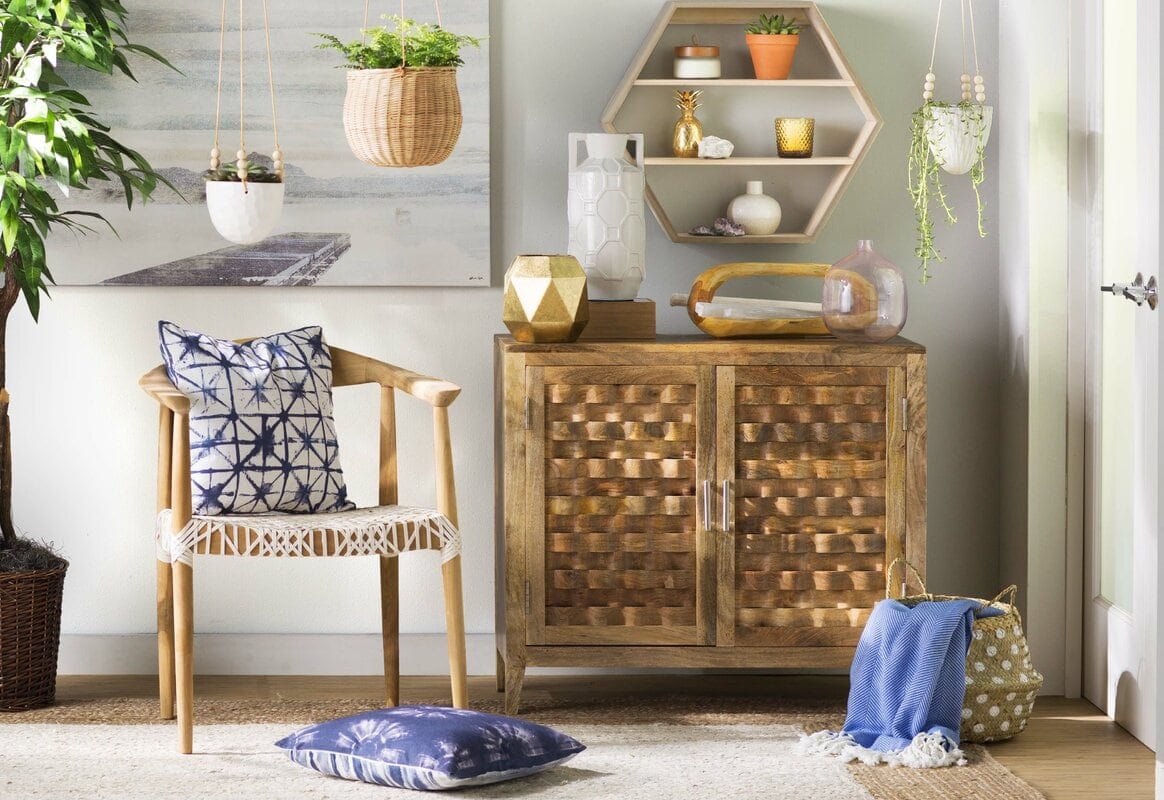 Plants are the perfect way to bring life and energy to your boho room decor. These hanging planters are the perfect finishing touch to this boho themed bedroom.
Plants will enhance almost any interior, but a boho bedroom isn't complete without a hanging planter or two. Using a variety of different style planters, such as a mix of rattan and ceramic, will help add to the boho look.
Washed Cotton Textiles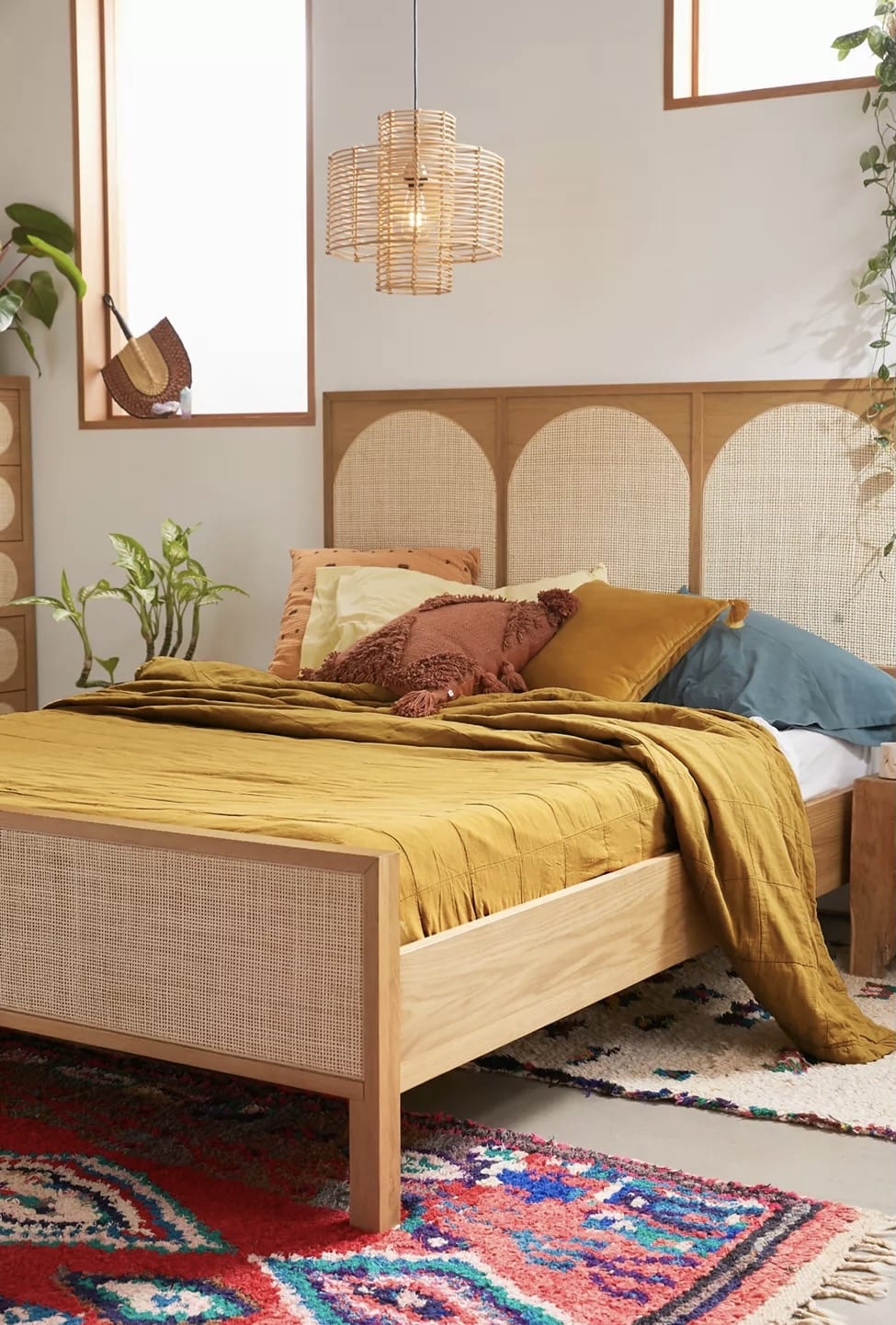 Washed cotton textiles are a great way to achieve a boho look in your bedroom. Washed cotton is softer than normal cotton due to being treated in the manufacturing process. This gives the surface of the cotton a softer feel and washes out the colour slightly for a well worn, relaxed look.
The combination of bright colored bedding and accessories in this room along with the bold arched headboard make this boho bedroom feel vibrant and alive.
Moroccan Hand Carved Bed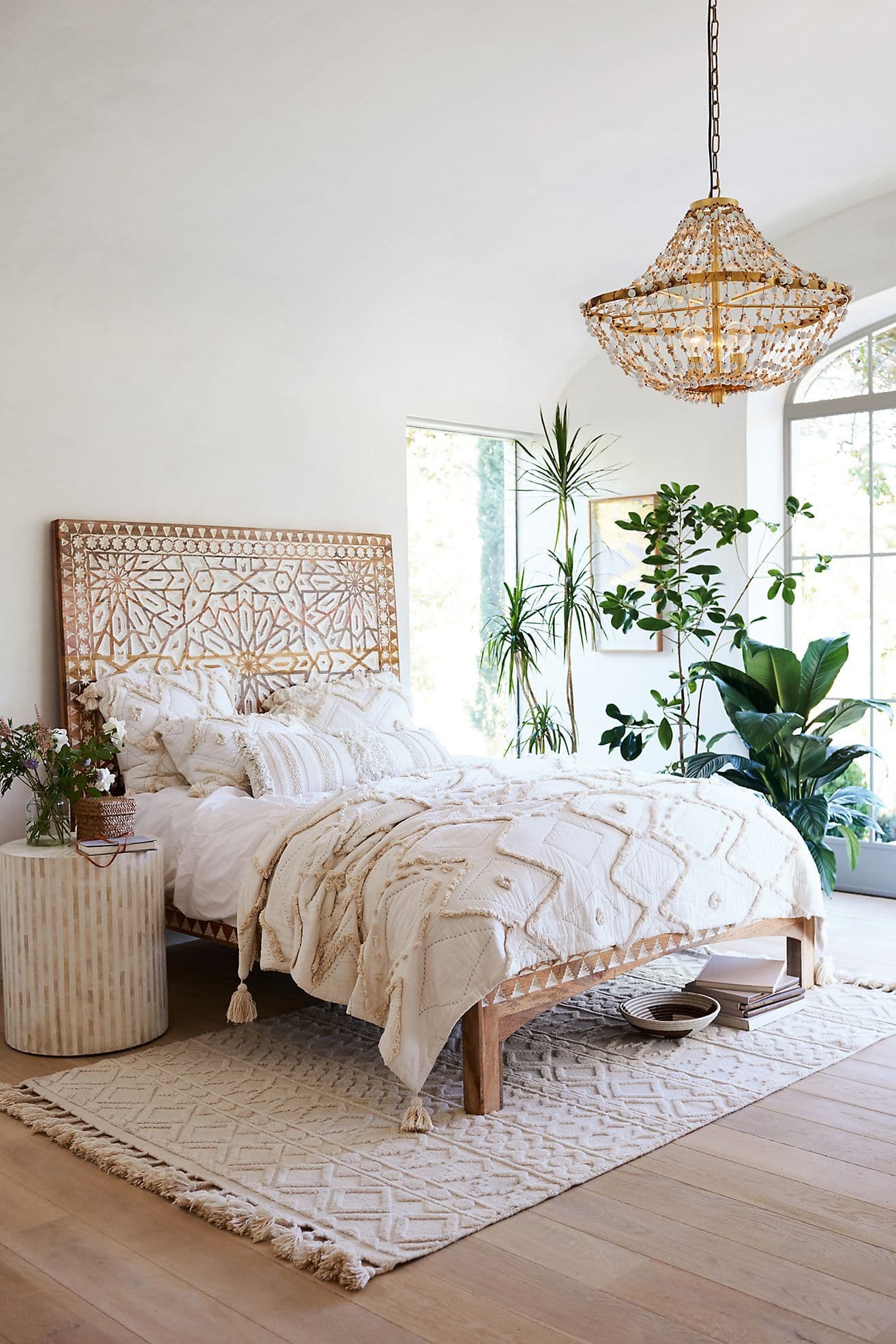 If you want to create a centrepiece with a difference in your bedroom, then this moroccan hand carved bed is the perfect choice. This stunning bed features a two toned motif inspired by grand moroccan entryways.
The bed itself might look minimalistic but the craft and design that has gone into it shines out by miles, creating the perfect white bohemian bedroom with natural accents.
A Large Textured Area Rug in a Neutral Color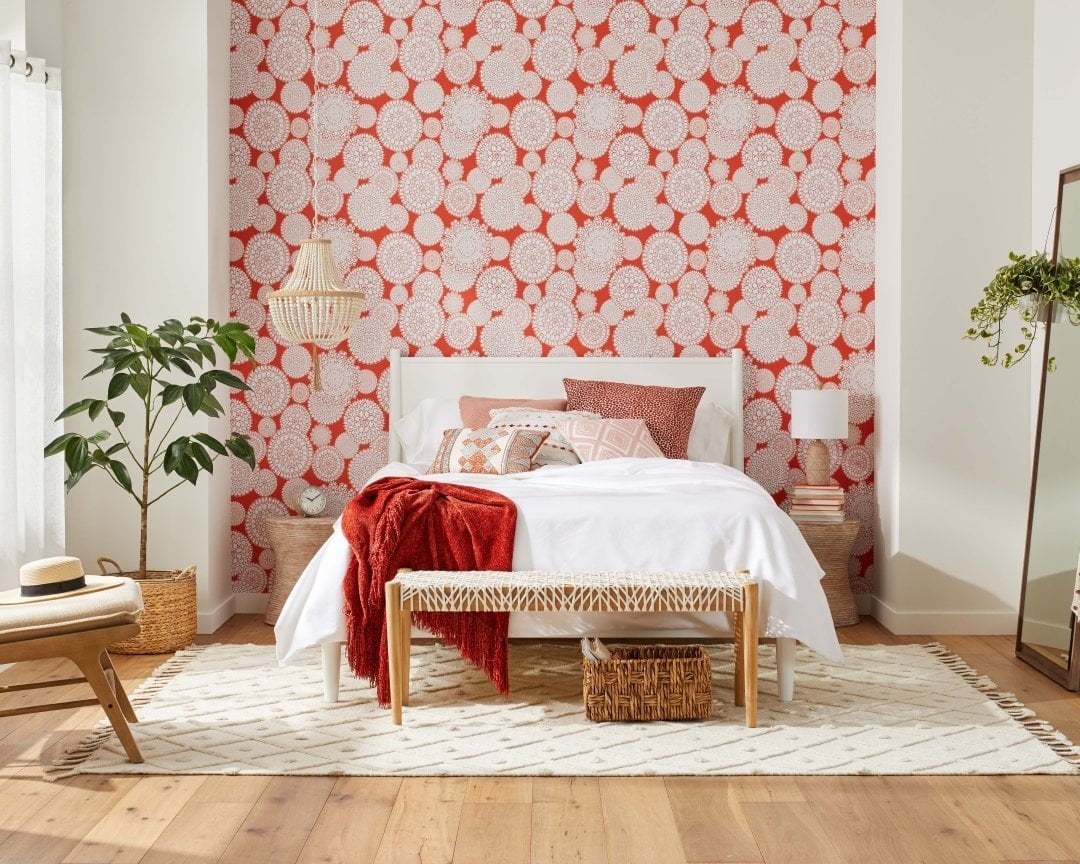 Rugs are a great way to style a modern boho bedroom. This oversized rug frames the bed and creates an anchor within the room, bringing everything else in around it. The neutral color makes an ideal canvas for the rest of the bedroom.
Red accents add warmth and tie in with the red on the walls, creating balance in this perfect boho inspired bedroom.
Layered Bedding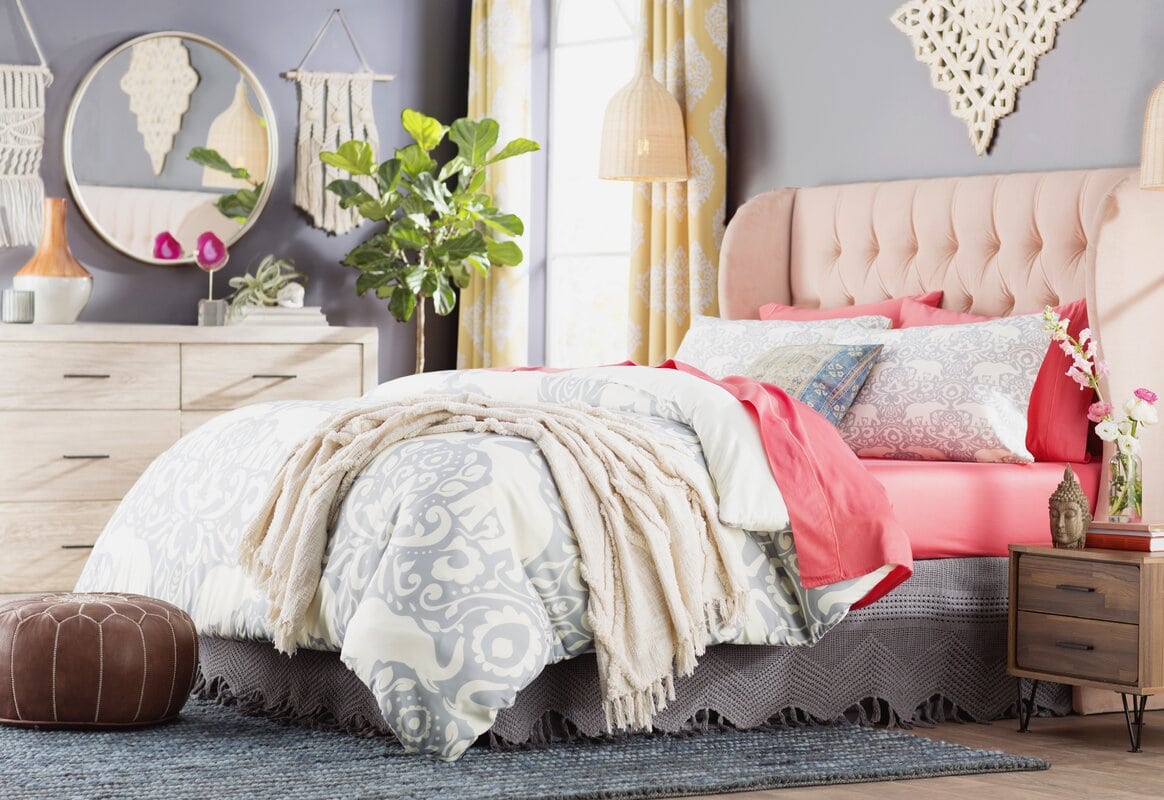 These bold pink bed sheets layered with grey and white bedding are a great way to add some color to the room without being too overpowering.
Wall hangings and the bold choice of accessories work together with the miss-matched dresser and bedside table to complete the boho look. The round leather pouf ottoman brings a darker element to the room which helps balance out the lighter, brighter colors.
Ikat Inlay Dresser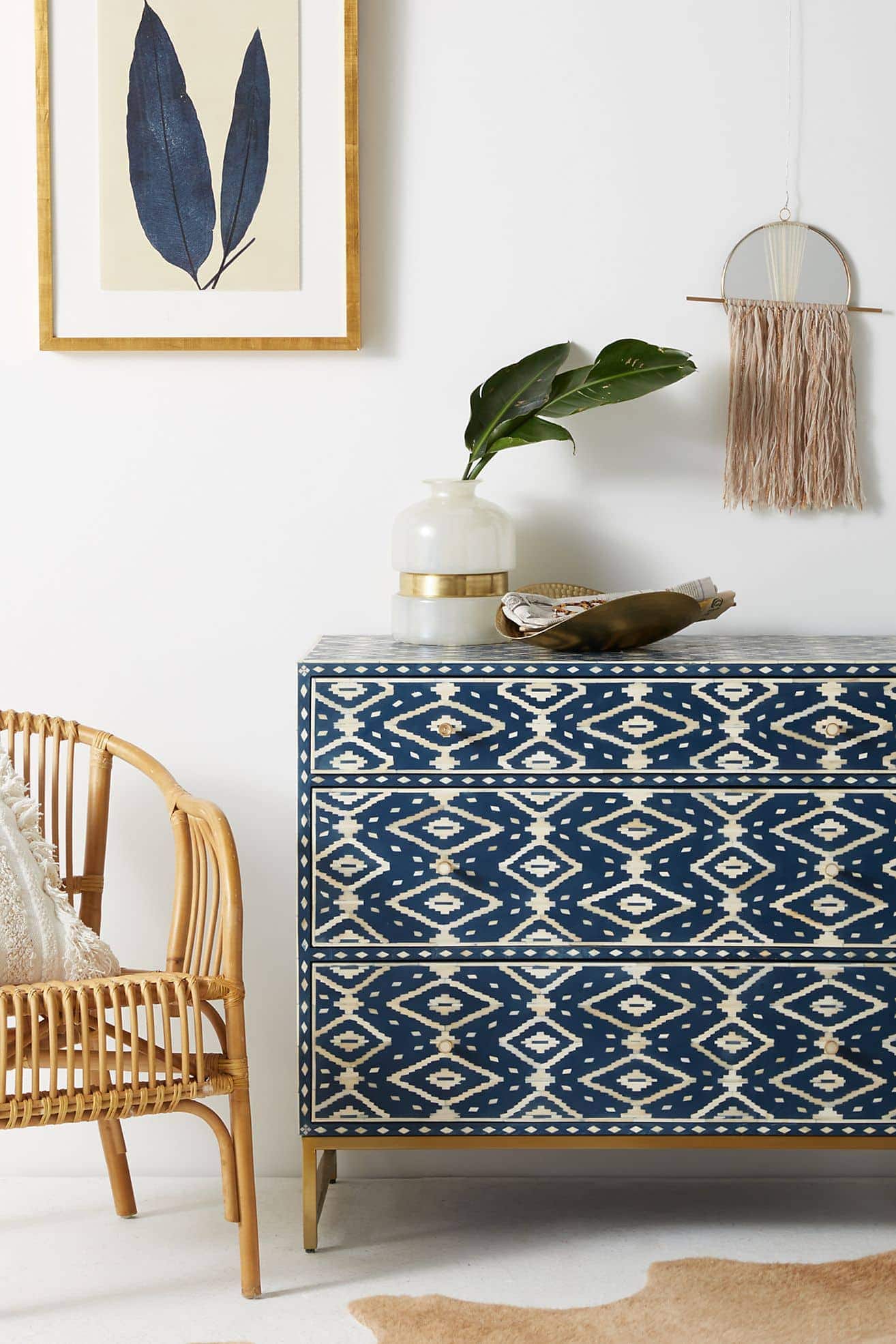 If you're looking for boho furniture for your bedroom, you can't go wrong with this Ikat inlay dresser. This stunning dresser is built on a thin brass frame, giving it a touch of boho glam!
The dresser itself is crafted from a mix of tropical hardwood and engineered hardwood with a hand-finished bone inlay in a gorgeous Ikat design. This dresser paired with some cane or rattan furniture is perfect for creating a modern bohemian look in your bedroom.
Rattan Standing Planters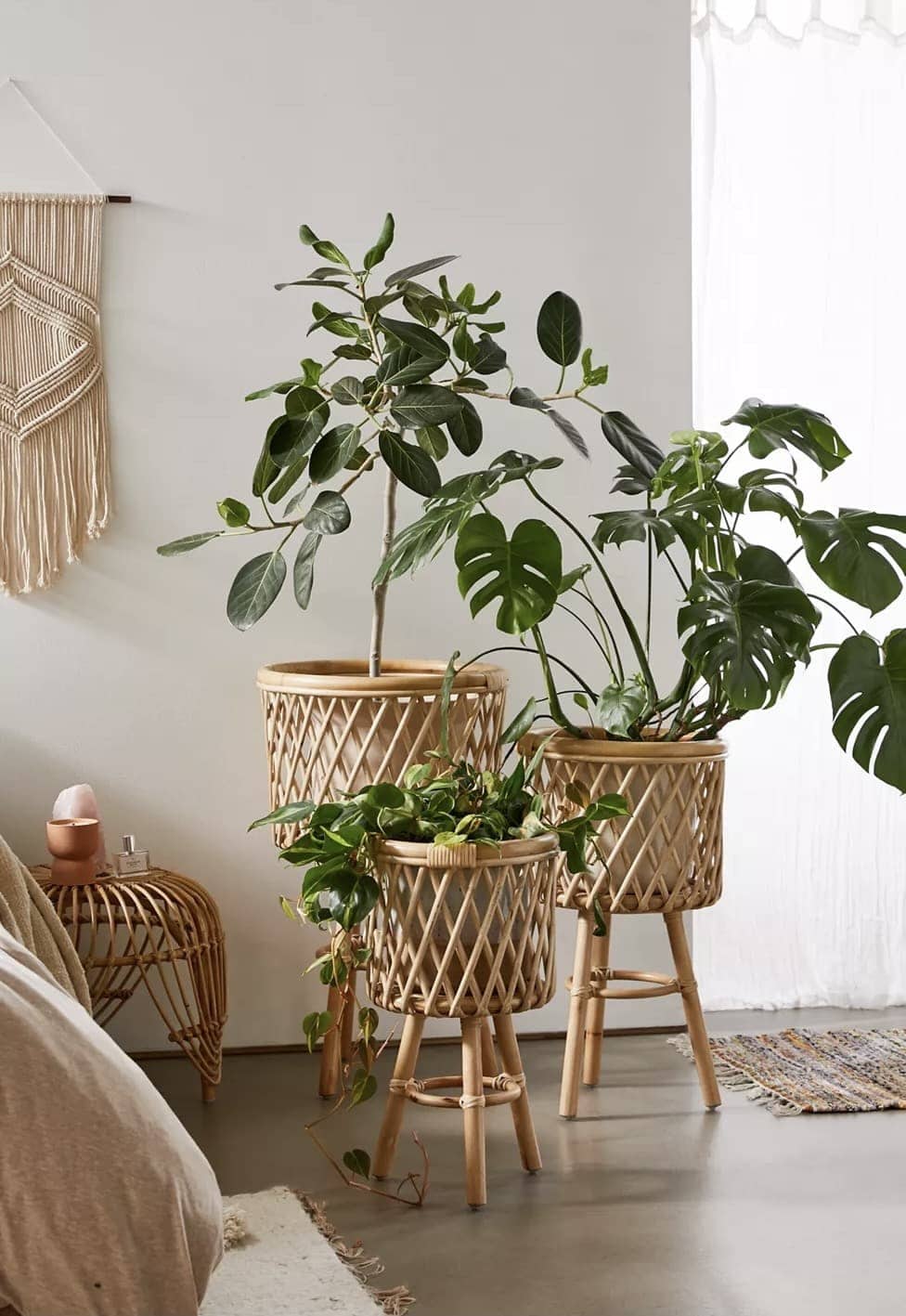 If you are looking for bohemian accents to add to your room then these standing planters tick all the boxes. These gorgeous planters are made from a natural rattan, which works incredibly well in bohemian style interiors.
Big leafy plants are an easy way to get the boho look without completely redecorating your space. Rattan accessories and green leafy plants will work with almost any color scheme too!
Hand Carved NightStand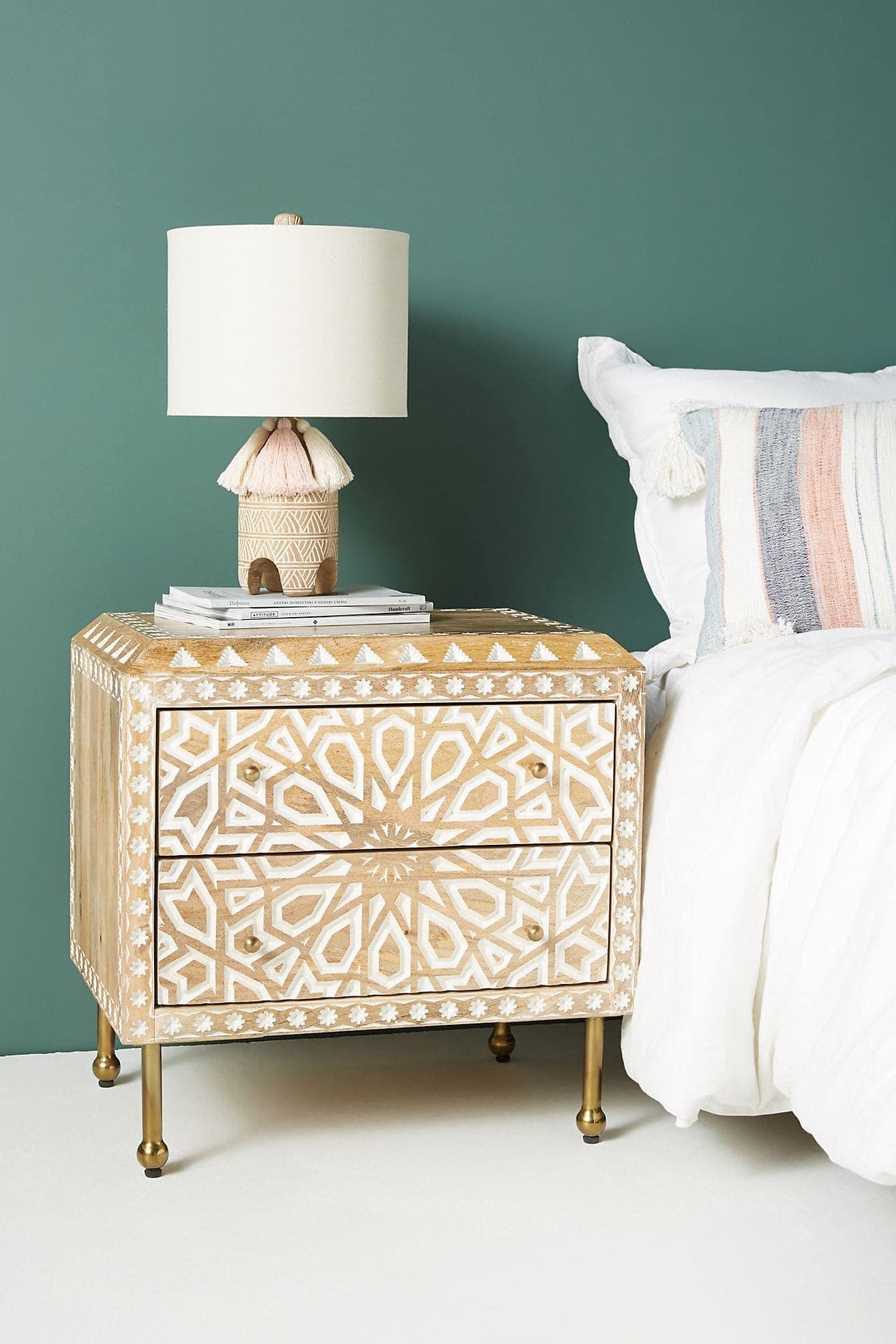 We've looked at the hard-carved Albaron bed but I also wanted to show you this beautiful nightstand. This stunning nightstand features antique brass legs which add just a hint of glam, and creates the perfect blend of old and new.
Styled with a tasselled carved lamp with a neutral shade, this is the ultimate bohemian nightstand.
Sol Wooden Headboard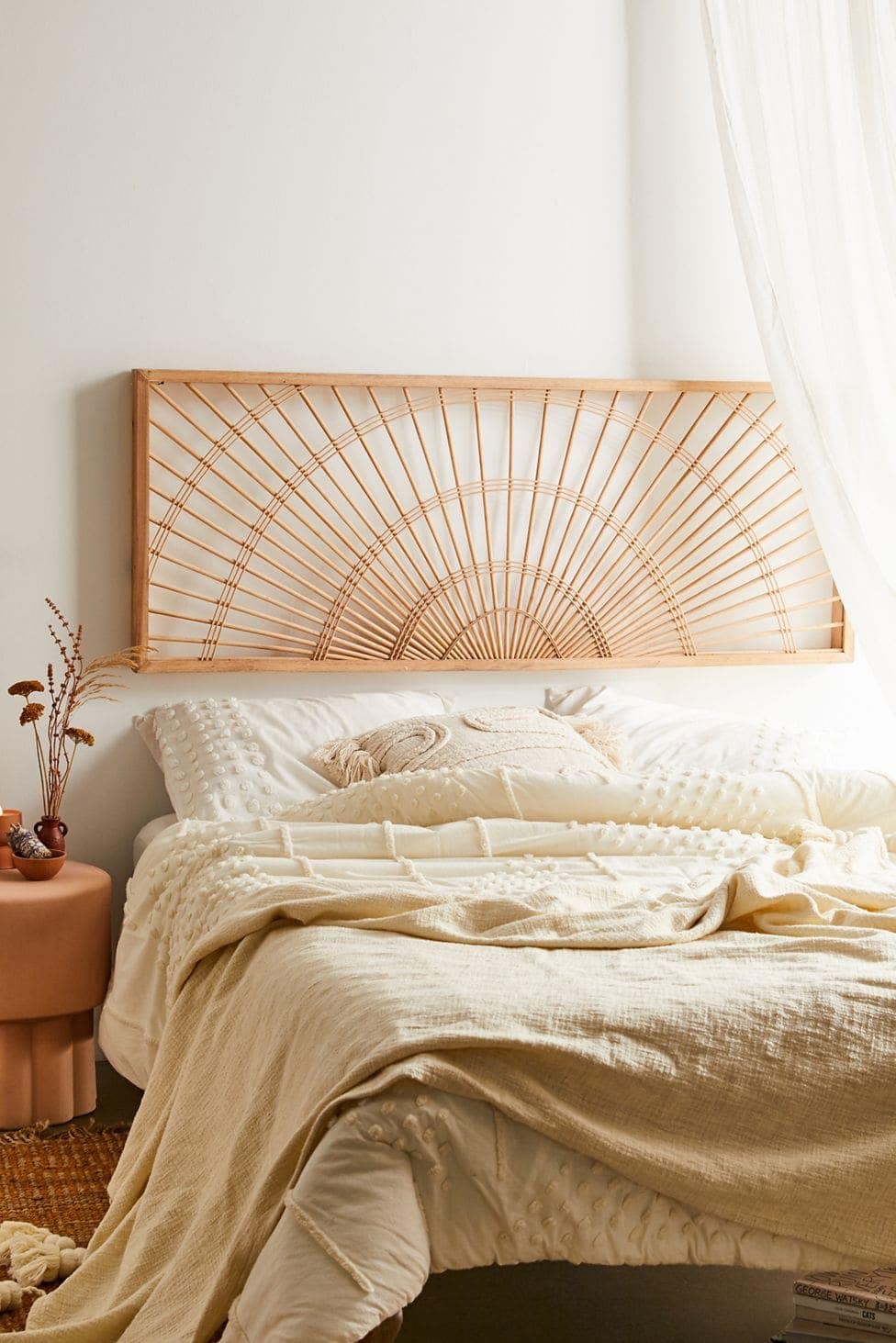 This suspended headboard can be placed anywhere you want above your bed, meaning you can have it styled exactly as you need. It features a sunray design which is sure to bring a smile to your face.
You could even use it above your living room sofa if you couldn't find a place for it in your bedroom – but, let's be honest, when something looks as good as this, it's pretty easy to find room for it!
Abstract Linen Duvet Cover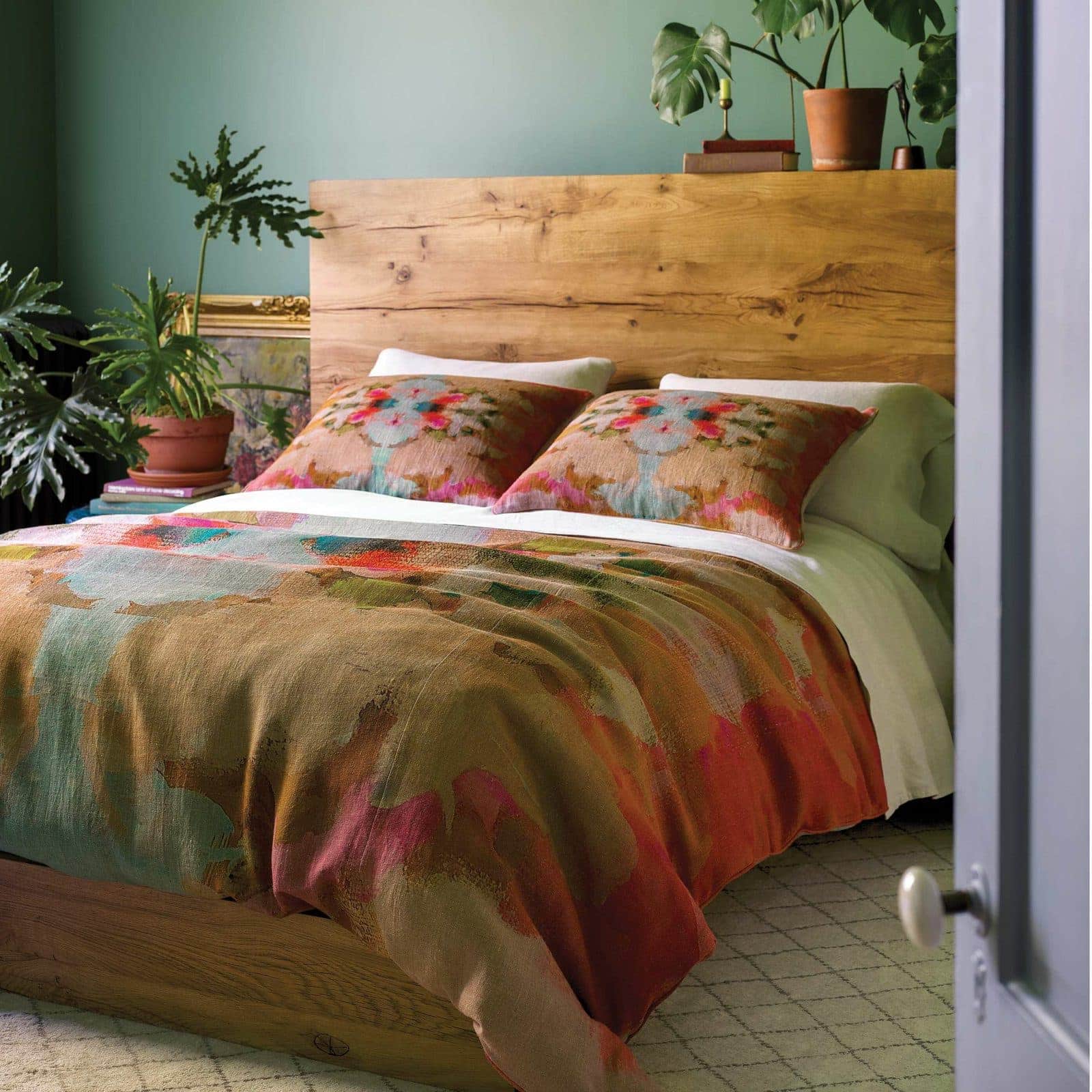 This abstract linen duvet cover features a watercolor style design and although it is fairly colorful, it's also subtle and understated. The wood headboard works perfectly with it to create this modern boho bedroom look.
Linen is an ideal textile for creating a boho bedroom. The rumples characteristics of the material give it a relaxed look, and best of all, it doesn't need ironing!
Ria Rattan Bed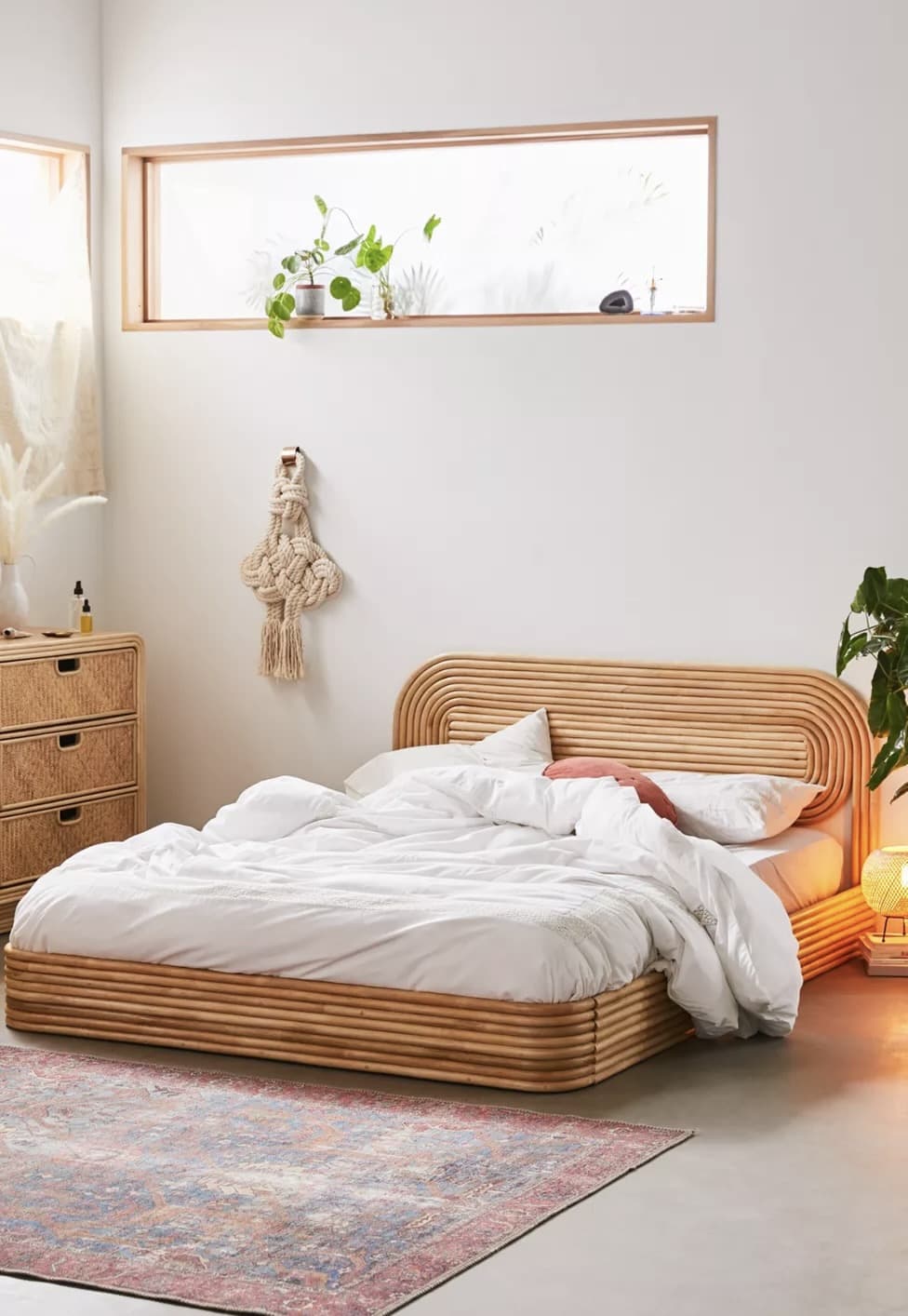 If you want to create a boho inspired bedroom using rattan furniture then look no further than this gorgeous bed. This low to the ground 70s inspired rattan bed is both cosy and stylish.
It has been teamed up with some rattan style drawers to create the perfect boho bedroom. The white walls work well in this room as the large window helps to give plenty of natural light, creating a very relaxed and calming space.
Wallace Cane and Oak Armoire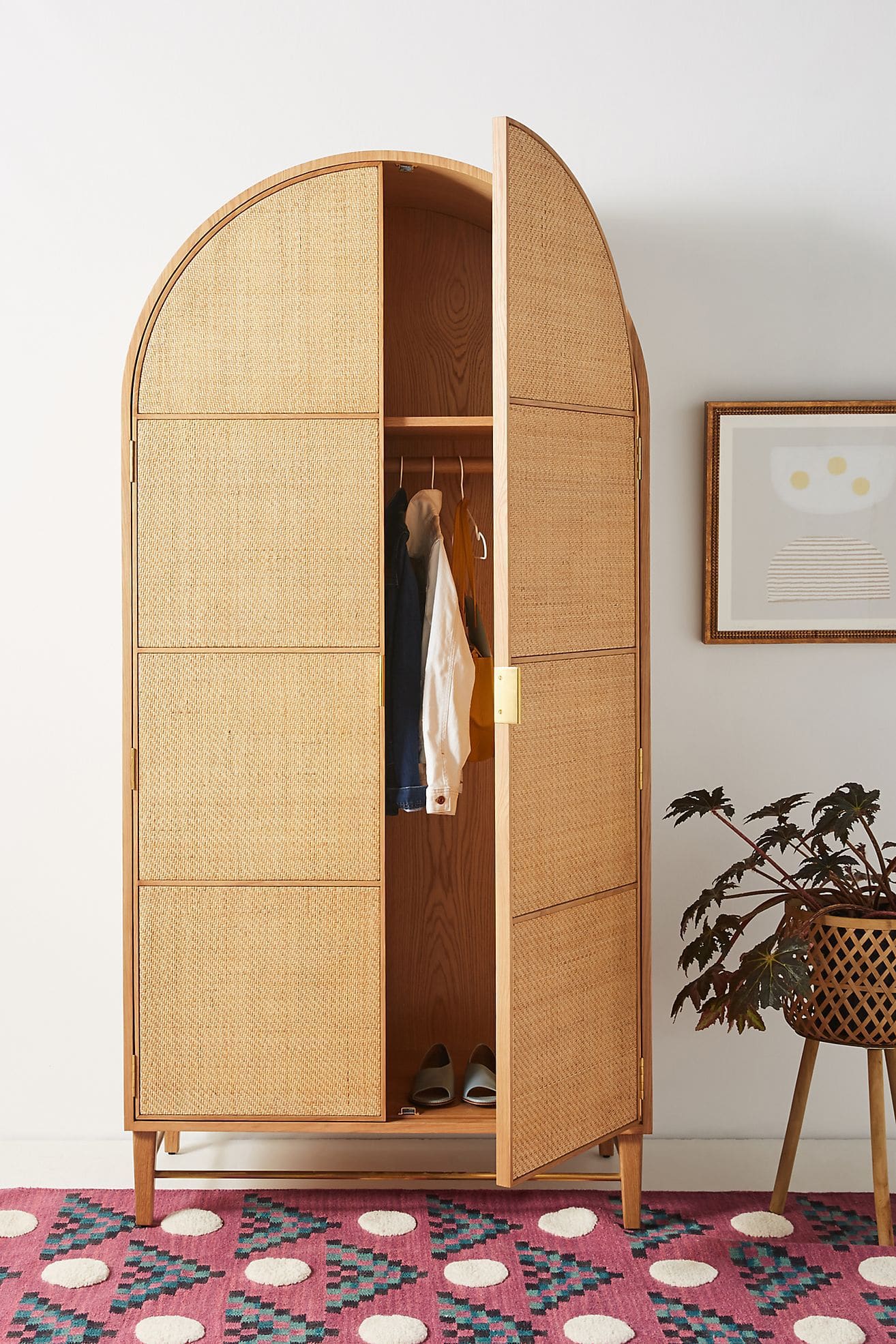 This beautiful arched cane and oak armoire features an oak veneer caned front which gives it an unusual and pleasing texture. It includes an interior shelf and hanging bar for you to store clothes and shoes.
The iconic design of this armoire along with the natural materials and mixture of textures make this the ideal wardrobe for a modern boho bedroom.
Kilim Inspired Patchwork Linen Bedding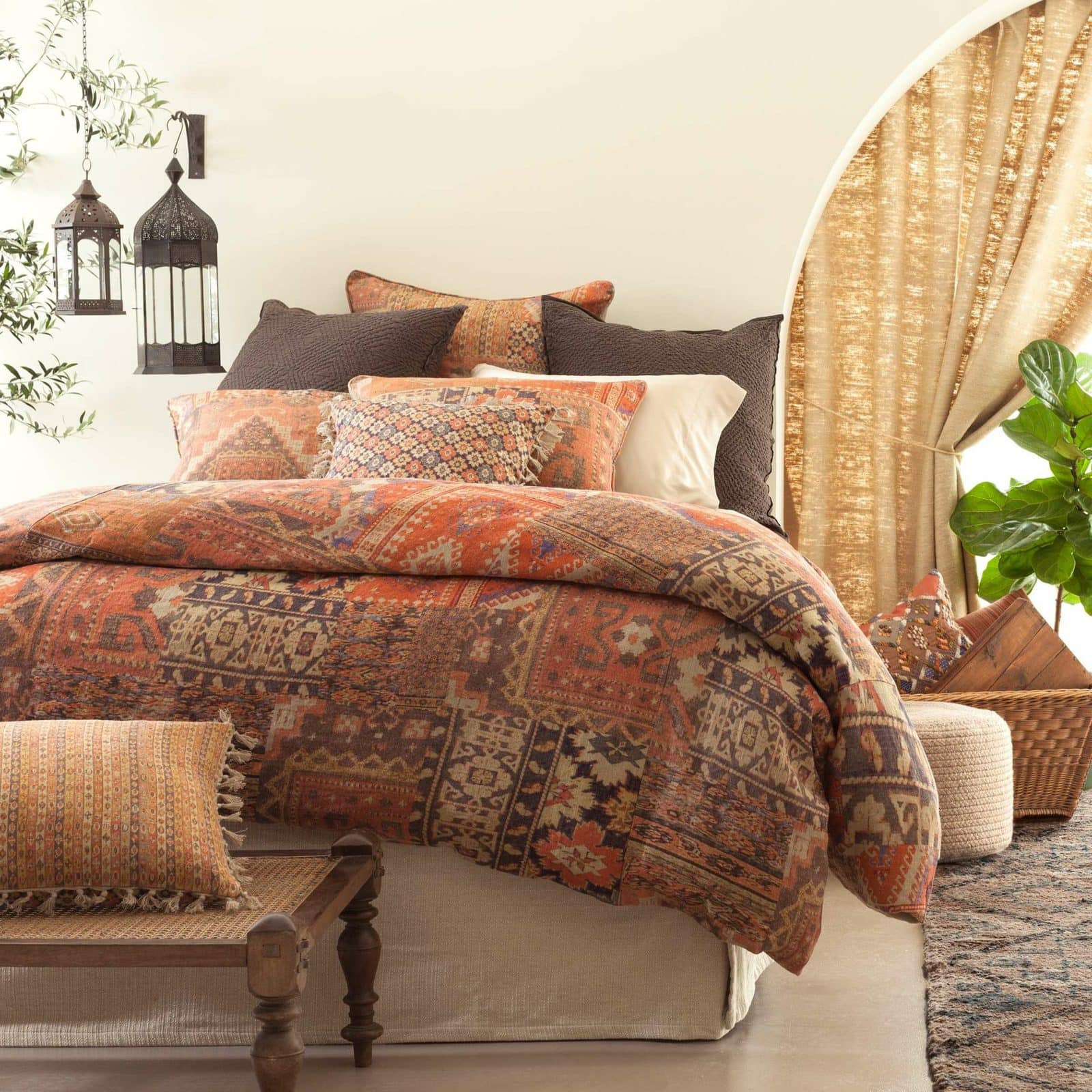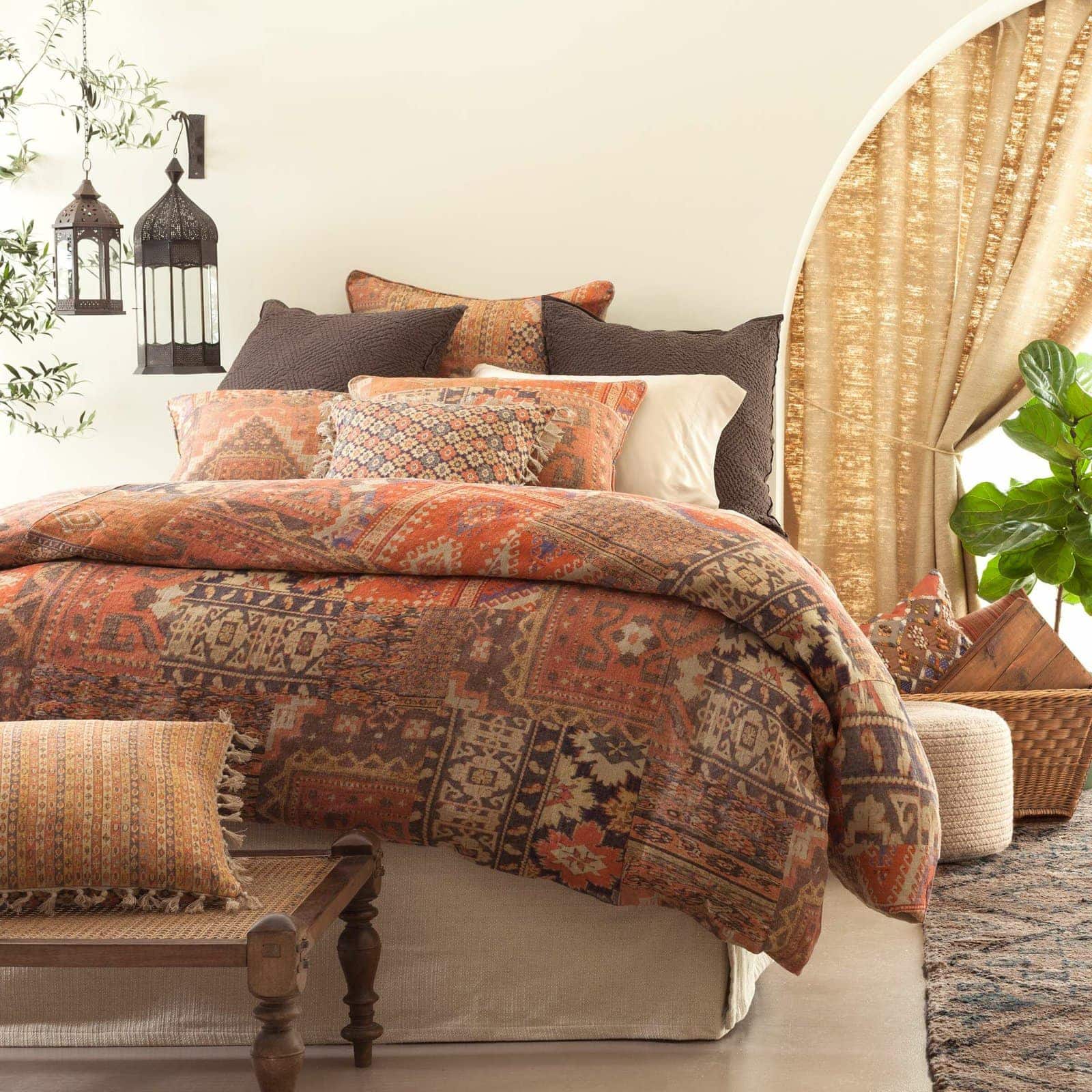 Adding in some boho style bedding is a great way to get the bohemian look without having to change much in your bedroom. This kilim inspired patchwork bedding features a colorful eastern design that will bring warmth and relaxed style to your bed.
Team it up with wooden accessories or a neutral rug and you're soon on your way to a completely boho inspired bedroom.
Rattan Bedroom Dresser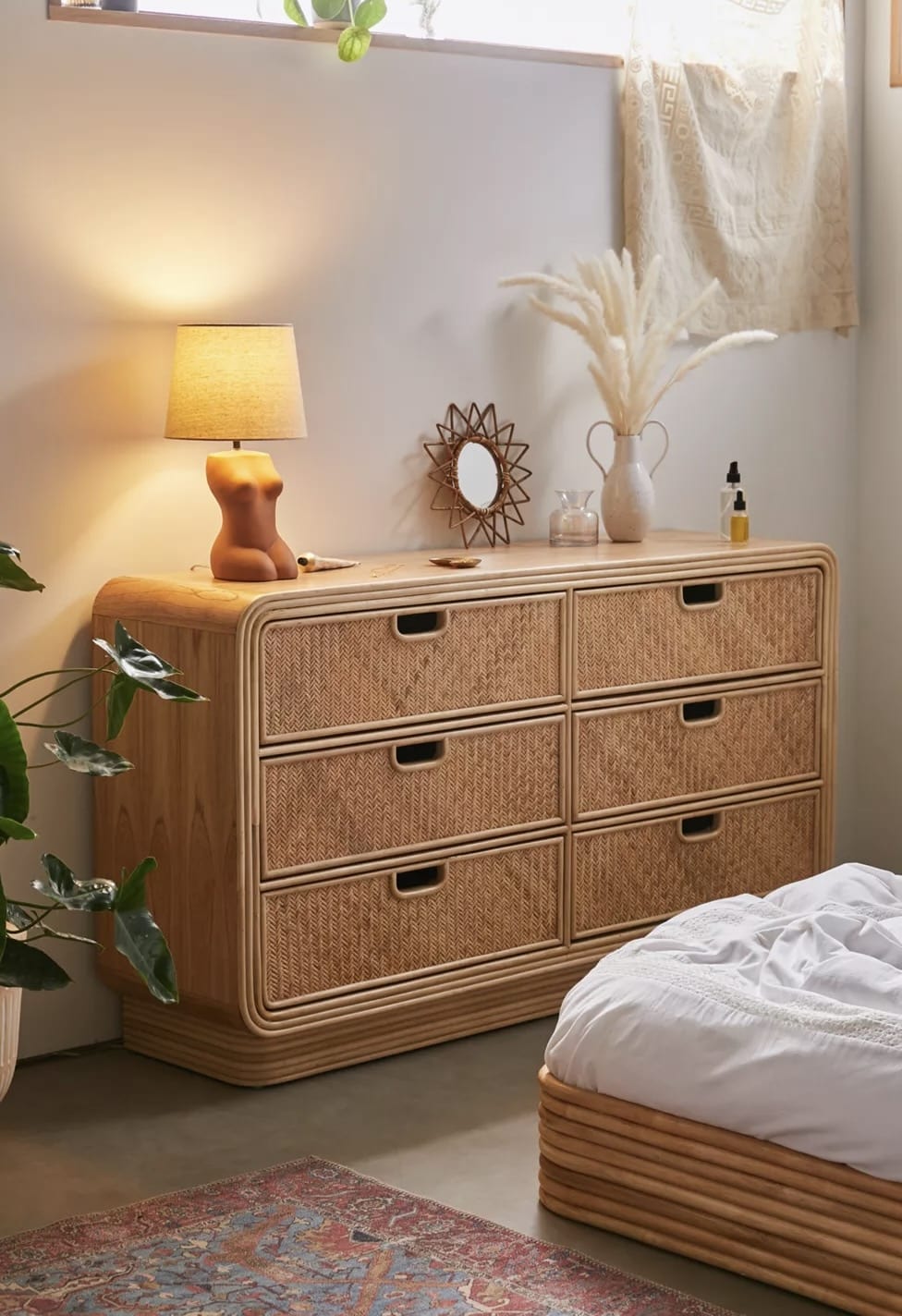 If you're looking for boho chic but also want to be practical then this 6 drawer chest of drawers is perfect. The cut out in the drawers mean there are no handles sticking out to worry about, making them a great choice for a bedroom with limited space.
They're a good size too, so perfect for storing clothing and other bedroom items, helping to keep your bedroom clutter free.
Layer Miss-Matched Pillows on The Bed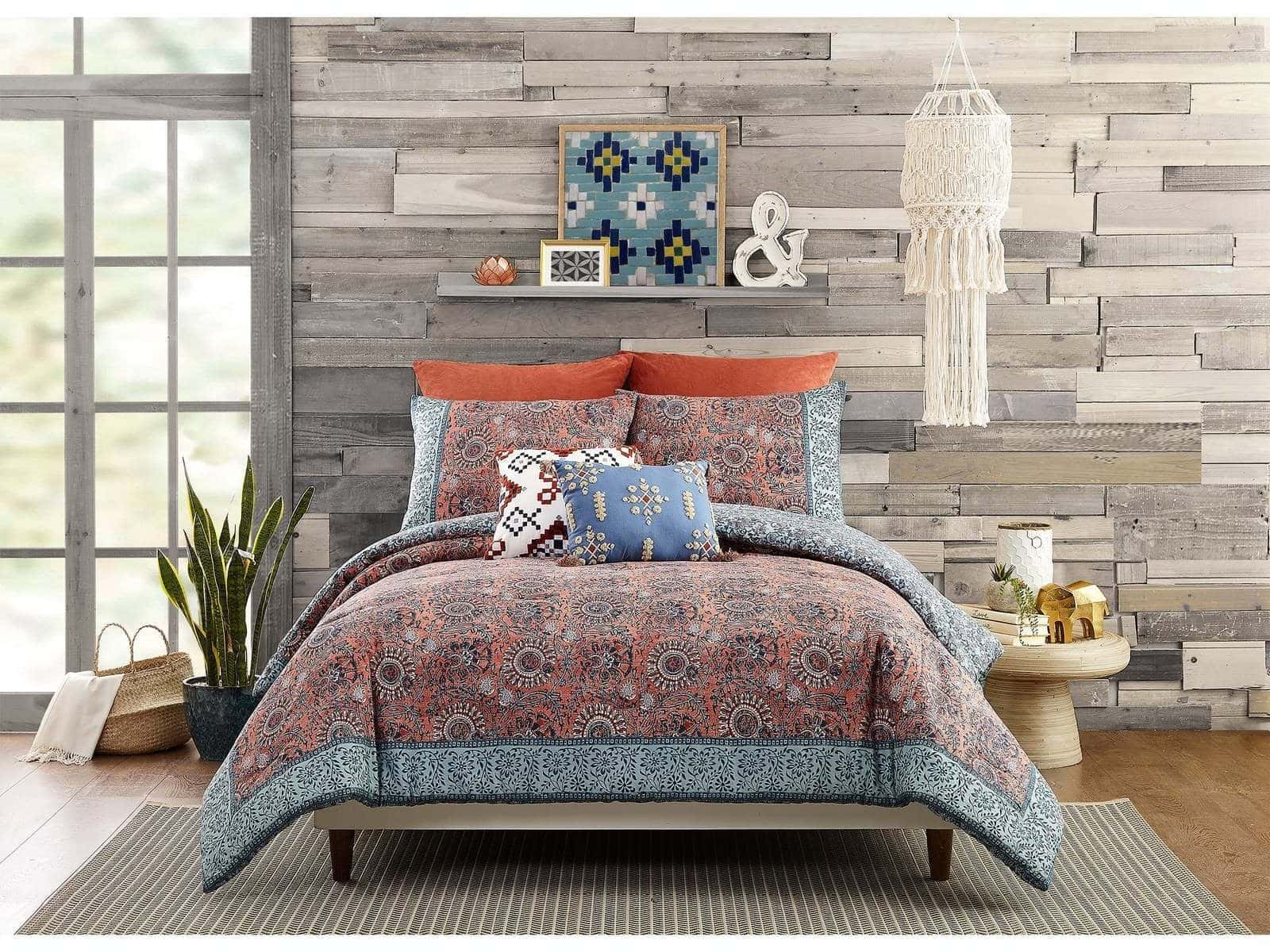 This gorgeous floral comforter set features a mixture of indigo and desert spiced hues which gives the perfect boho feel to the room. To complete the boho look miss-matched pillows have been layered on the bed giving the space more of an eclectic feel.
Layering pillows and blankets on your bed is one of the easiest ways to give your room a bohemian makeover. Think about adding different textures to add depth and interest to your room.
Final Thoughts…
The great thing about boho bedroom decor is that there are no rules. You can easily create your own bohemian style bedroom by mixing and matching any of the elements from this list.
When it comes to textiles, textured linens and washed cotton linens work particularly well to create a relaxed, easy going feel in your room.
Using lots of plants and natural materials like wood and rattan is one of the easiest ways to create a bohemian look in your bedroom. You can then add in as much color and texture as you like to create your ideal space.