Decorated Life is reader-supported. When you buy through links on our site, we may earn an affiliate commission. Learn More
25 Gorgeous Rugs That Go With Grey Couches
Love it or hate it, grey is still a very popular home decor color, and a grey couch is often a staple in a home. As pretty of a neutral as it is, grey can also be somewhat cold so adding in other, warmer textiles to a room will help cozy it up a bit.
One way to do this is with rugs that go with grey couches. A good area rug can soften, brighten, or warm up a room with a grey sofa to create a more comfortable atmosphere. Plus, since it's such a great neutral, there are a lot of gorgeous rugs to match grey couches. Here are a few stylish examples.
Minimalist Print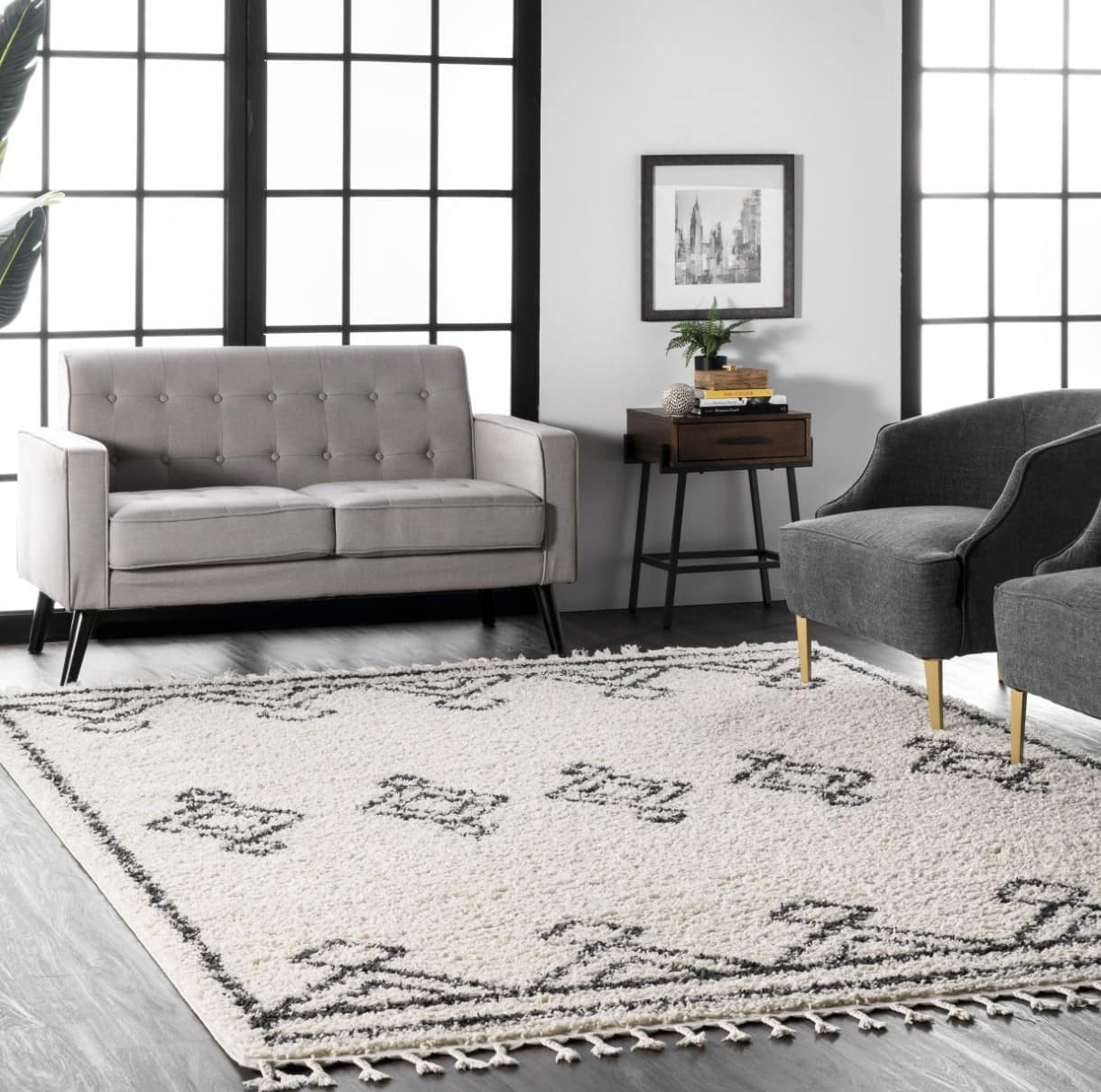 Black and white are an obvious match for a grey couch, but if you want to keep the space cozy and bright, opt for a rug like this one, which focuses more on the white with just small black accents.
A little print in a rug can really elevate its look, but if you want a bright, calming space make sure to pick something that has a small print rather than something really busy.
Traditional Colors in a Modern Design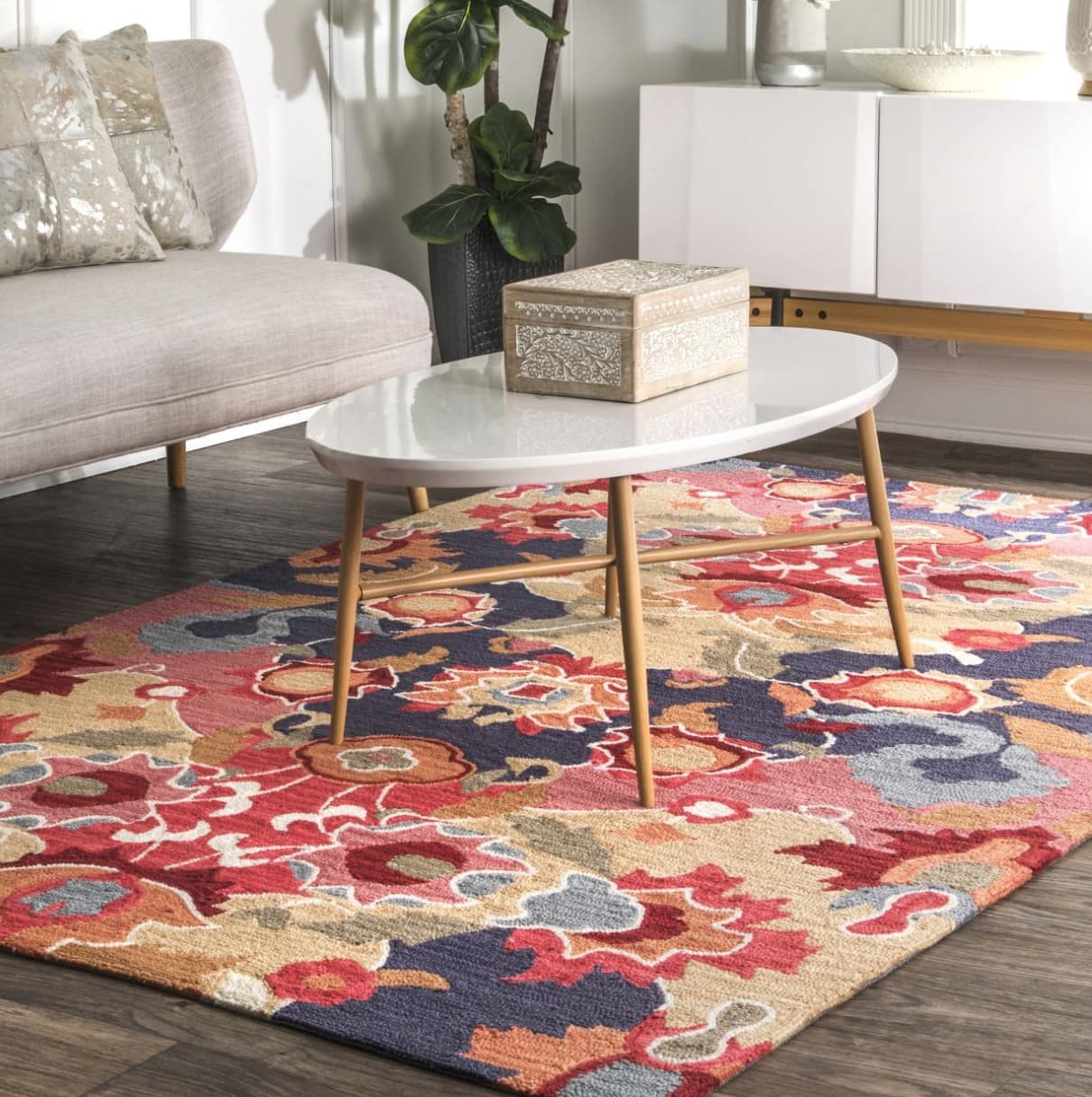 If you prefer more traditional decor, the colors in this area rug tie right into that look. However, it has a little bit of a different look because the pattern is more modern.
Putting this rug with a grey couch creates a classic room with a warm feel without looking dated.
Large Neutral Pattern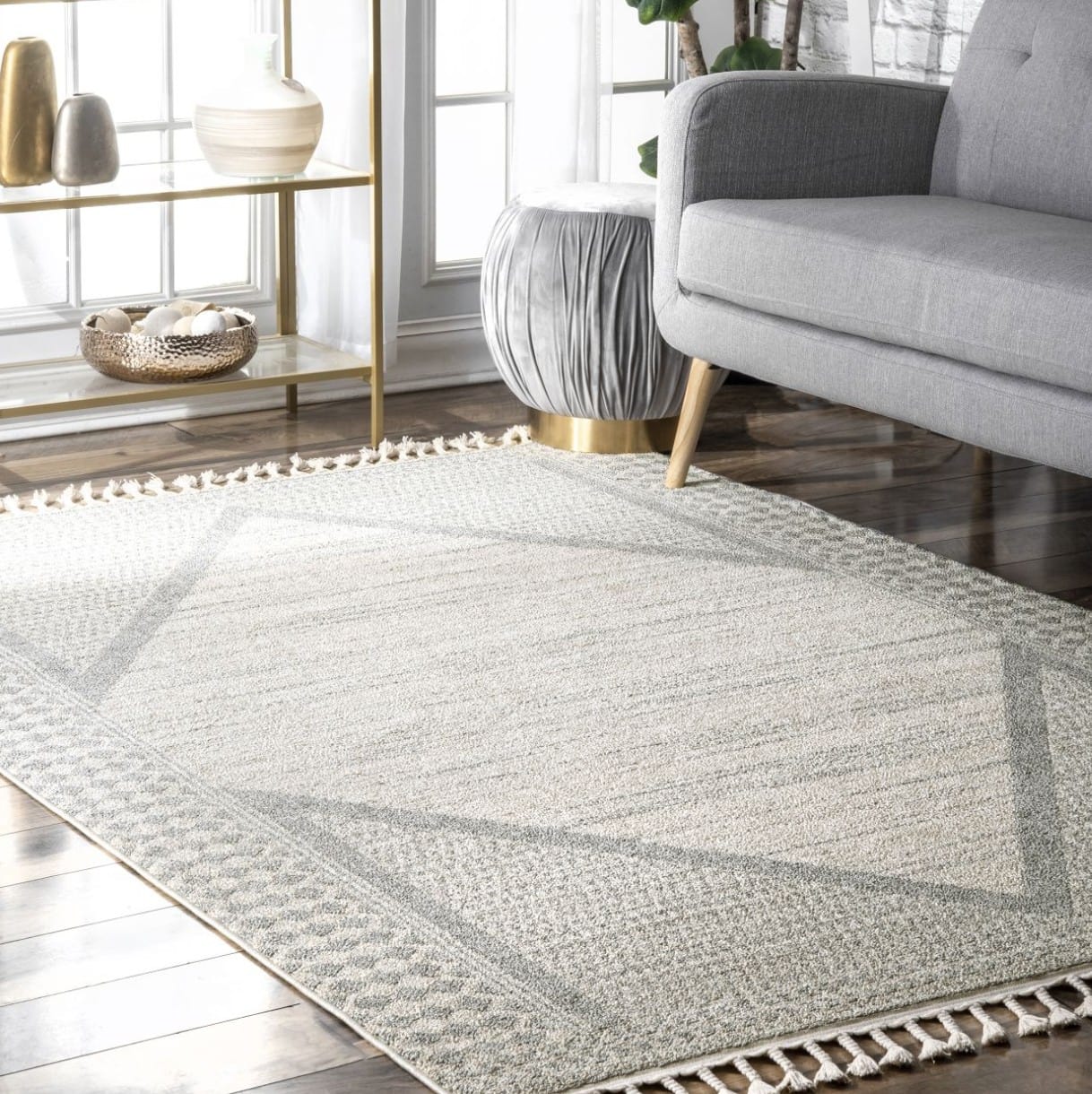 There's nothing wrong with wanting a room with more subtle, neutral decor. Grey couches are especially perfect for that very look!
If that's the direction you want to go, then pair the couch with an equally neutral rug like the one in this picture. It keeps the room calm and subdue, but the large pattern adds the texture and variety the room needs to look well styled instead of drab
Bright Jewel-Tone Floral Print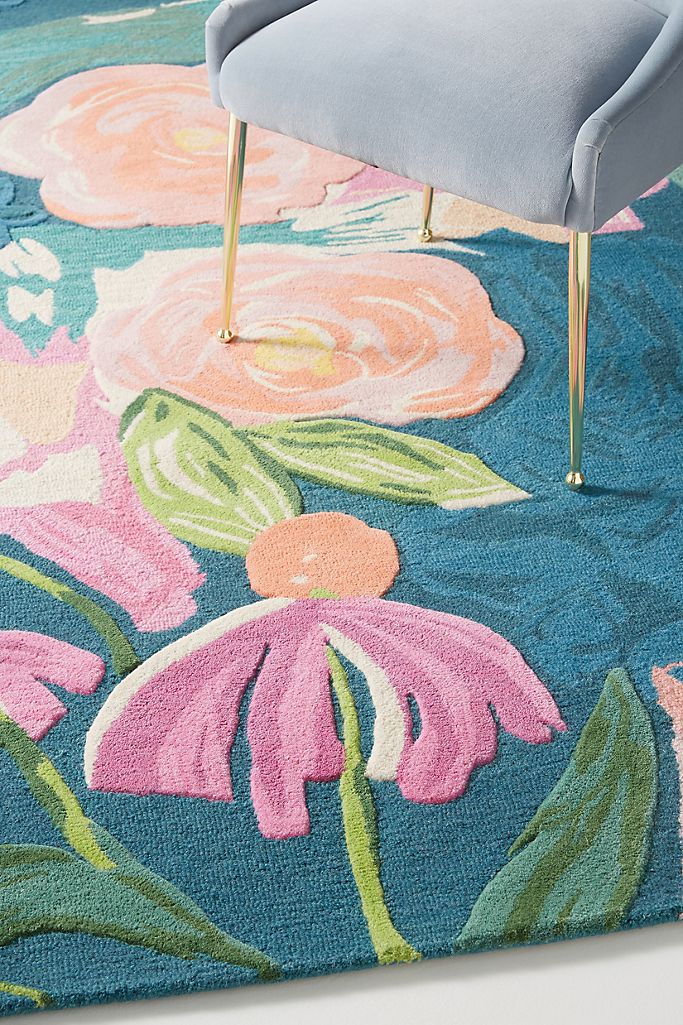 How gorgeous is this rug?! The bright jewel-tone colors and floral print make it stand out from the more traditional area rugs, and it looks fantastic up against the light grey chair in this photo.
Jewel tones look beautiful with grey, but you just want to make sure you're pairing them with a couch that's on the lighter side because, although they're bright, jewel tones are still darker in nature and you run the risk of creating a space that's overly dark with the wrong shade of grey. 
Cozy Contrast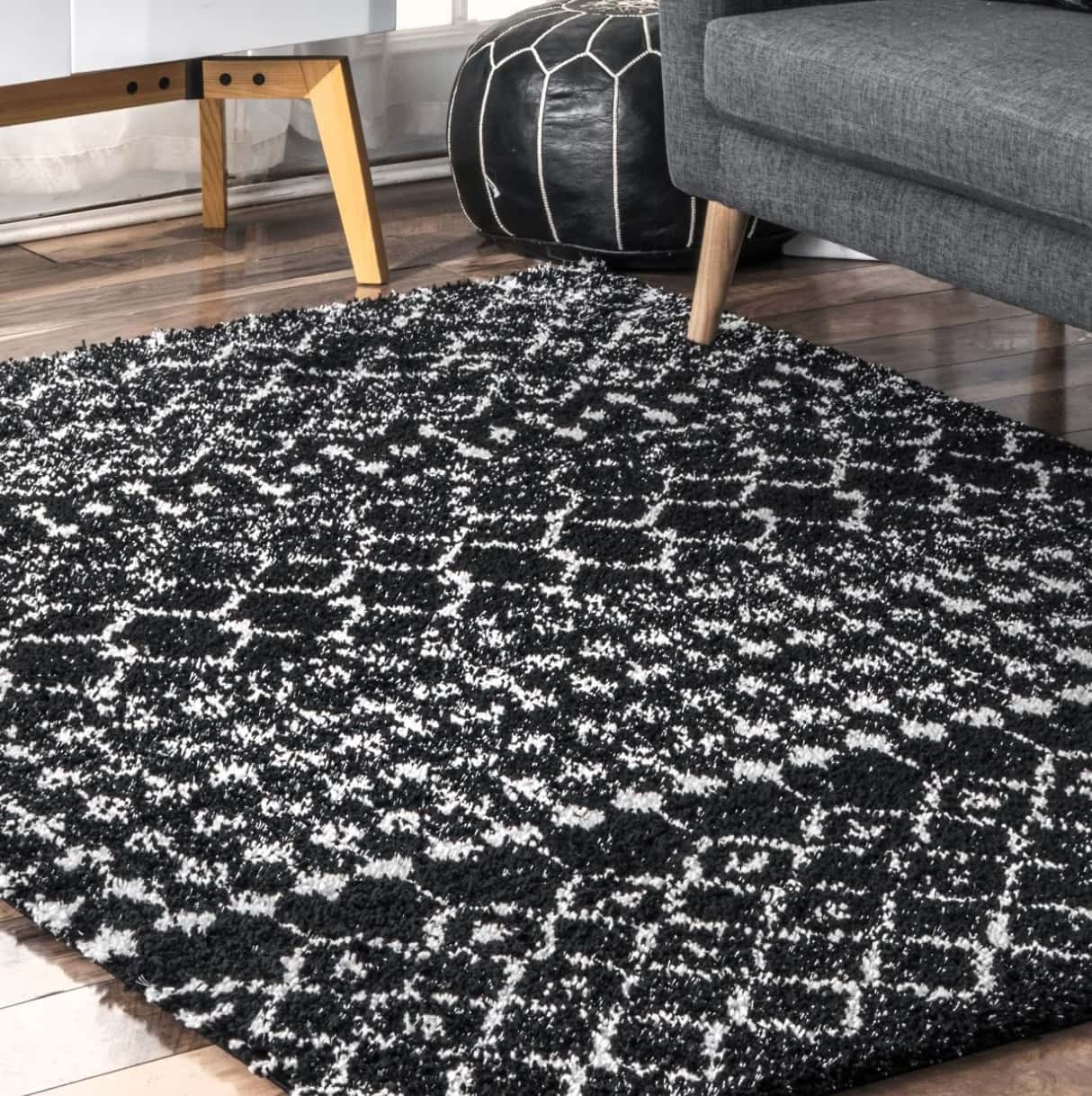 Black and white always looks great with grey, but the stark contrast can be a little cold. If you love the look of all the colors, but want it to be a little less harsh, look for a rug like this one.
It's fluffy, which adds instant warmth but also softens the lines between the black and white pattern. It makes things a little more hazy and creates a really inviting look.
Fluffy White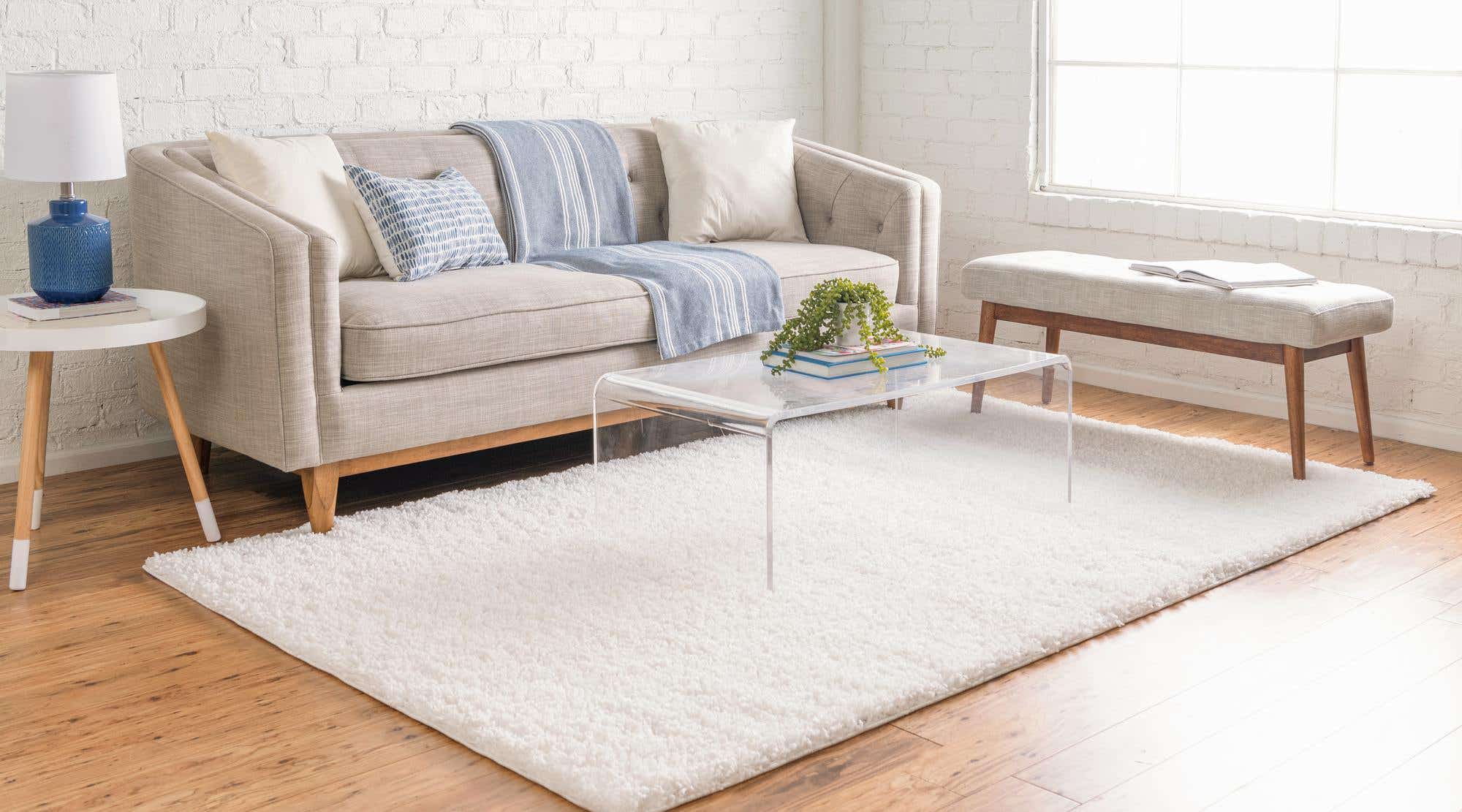 A big white fluffy area rug is probably the most classic and obvious option out there. But, it works so why fight it?!
A white area rug will instantly brighten up a space, and if it's fluffy it will also add a cozy, warm feel. It'll make you want to light a candle, grab a thick throw blanket and your favorite book, and curl up on your grey couch.
Dark Lattice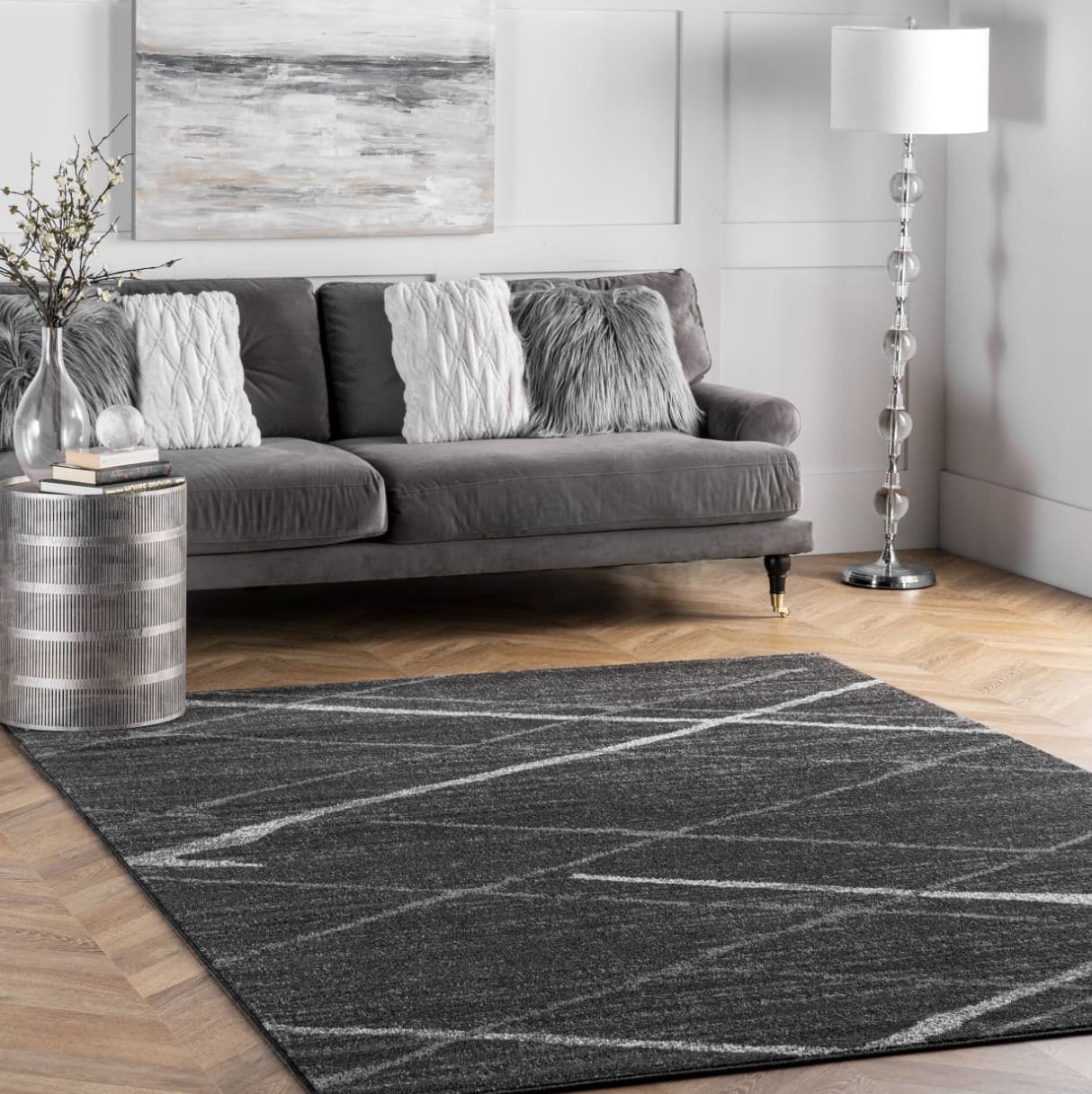 The lattice design is also a really popular style for rugs, but this one is a little different because the lattice is white while the majority of the rug is dark. It's certainly a statement piece for the room and pairs well with the grey couch.
If you love the glam look, you can recreate this room with some chrome accents and furry pillows. The shinier the better!
Stormy Sky Grey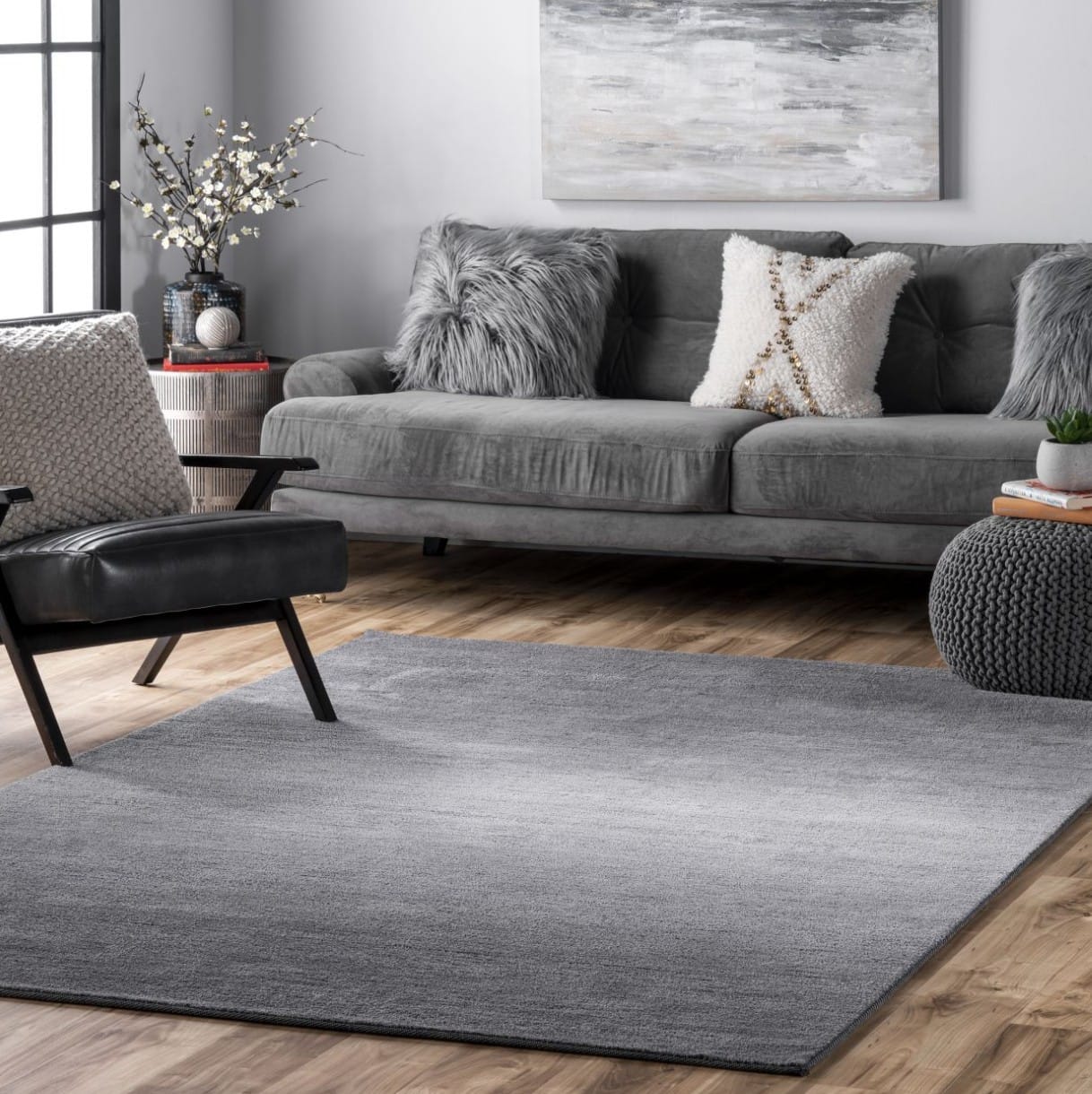 Another way to pair a grey couch with a grey rug is to get one like this, which has subtle different shades of color to create some depth, but without straying from the color scheme.
You can go all in with grey like in this picture, or you can brighten the space up with white accents and a little bit of color here and there.
Pops of Teal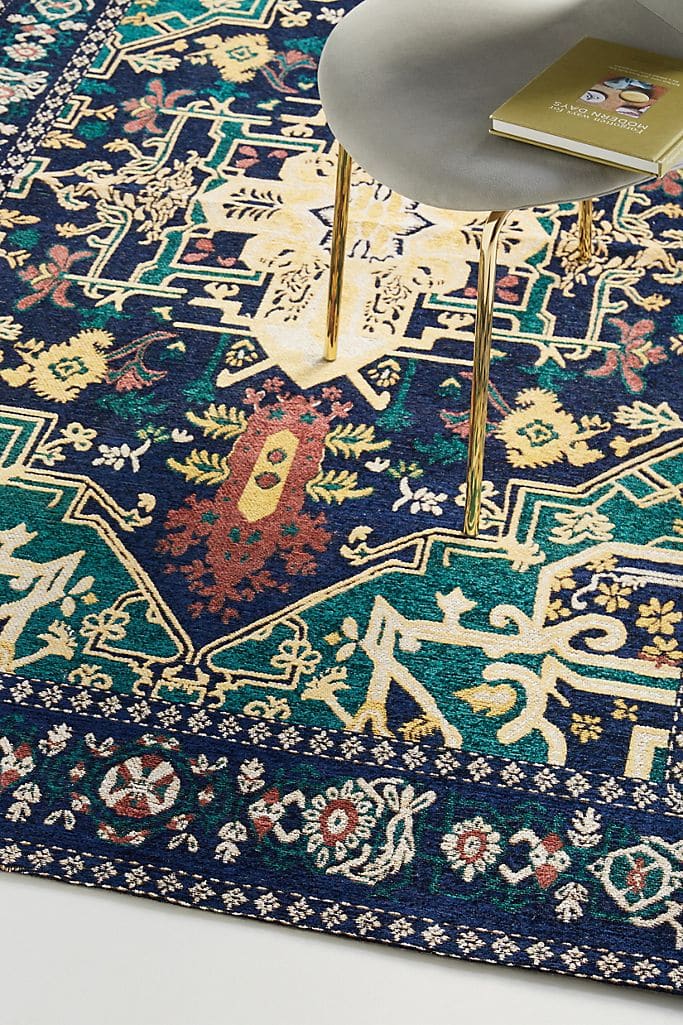 Teal looks absolutely stunning when it's paired with grey. It somehow feels warmer and richer, and is a great way to add in some color that isn't overwhelming.
The rug in this picture is a particularly good choice for a grey couch (as evidenced by the grey chair) because the teal pops out from navy blue base color, which is another incredible complement to grey.
Matching Greys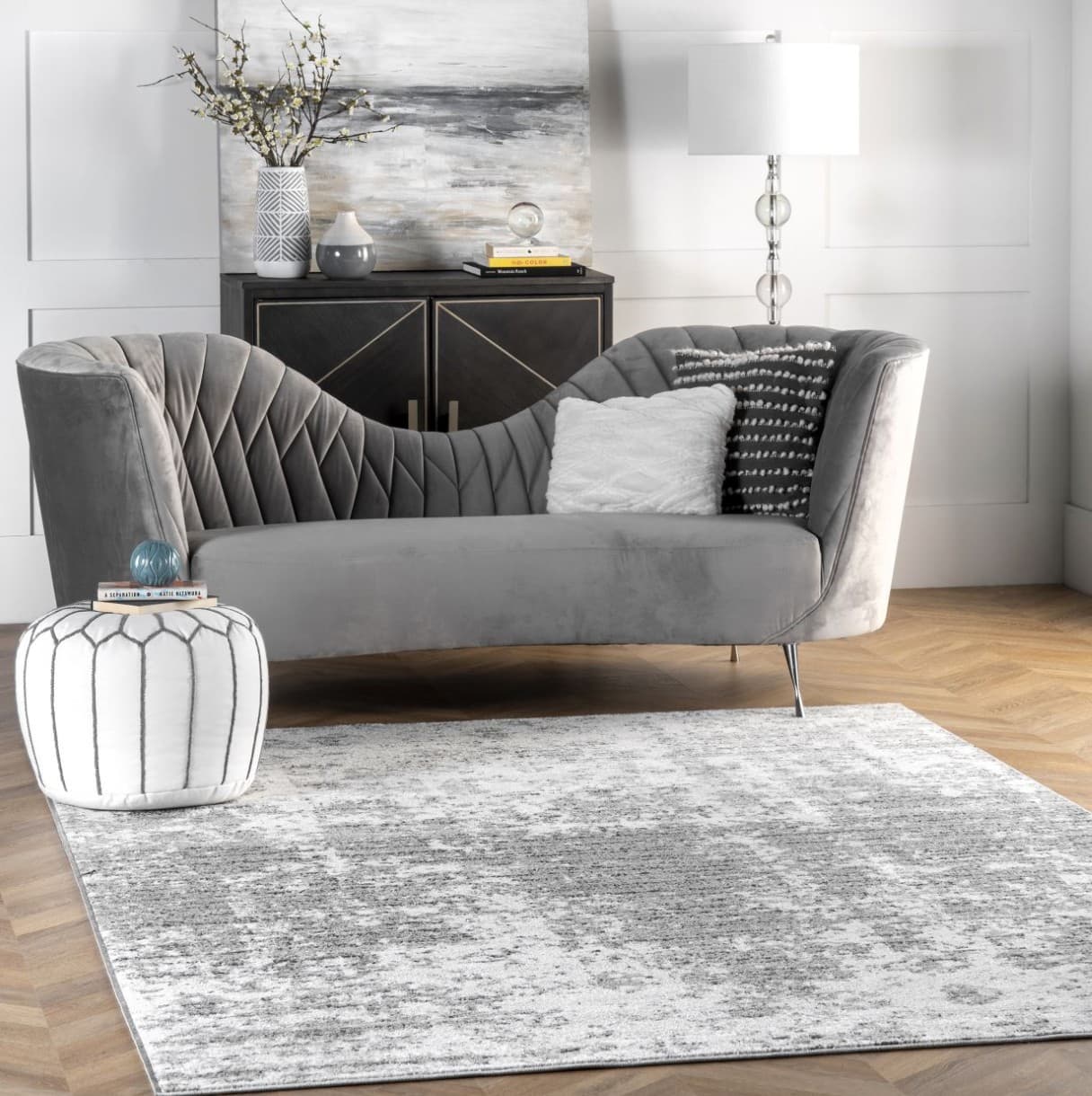 When trying to dream up the best rug for a grey couch, the idea of one in a similar shade of grey may sound too matchy-matchy, but it can actually look really good!
In this picture, the rug blends in almost perfectly with the grey couch, and the white throw pillow pulls out the white of the rug to brighten things up. It's definitely an understated look, but beautiful nonetheless.
Pretty Pastels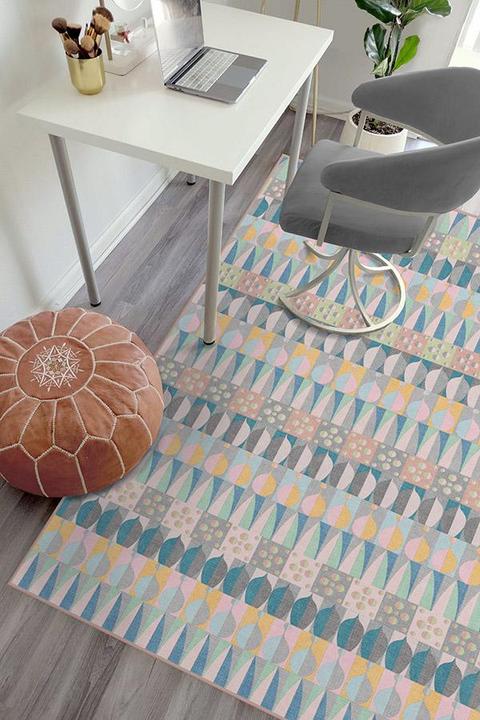 Look at the way this grey chair seems to blend in with the rug, allowing the eye to instead be drawn to the pastel colors. Paired with a grey sofa, the rug would definitely be the statement piece in the room.
To even it out, add a few light throw pillows to the couch or drape a white throw blanket over it.
Rainbow of Color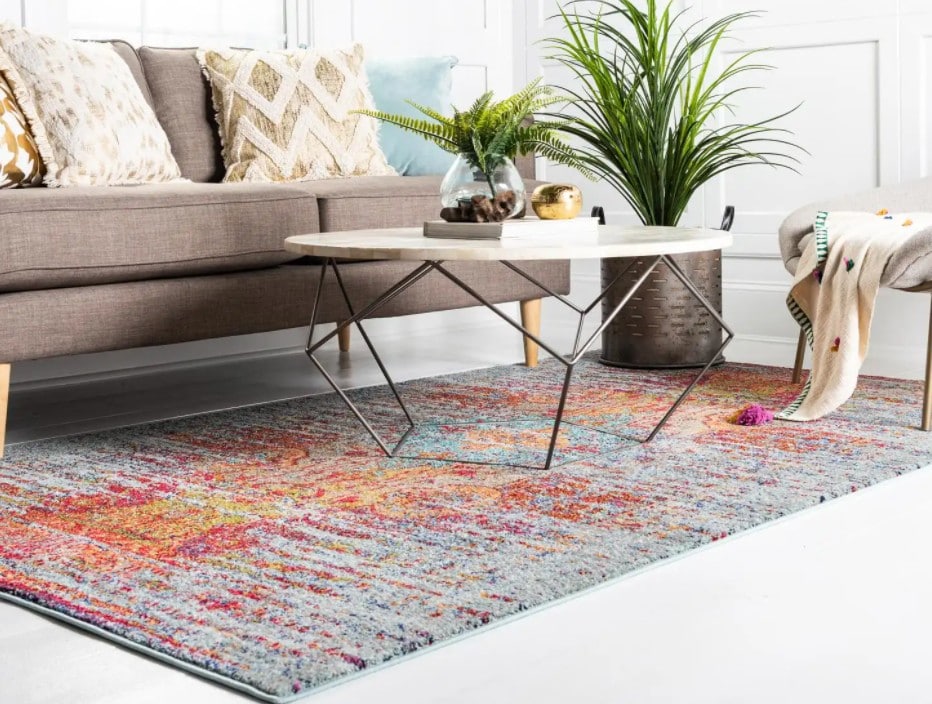 The best thing about grey is that it can be toned way down or simply serve as a good base for a lot of color. The colorful rug paired with the grey couch in this photo is a perfect example of this amazing combo.
If you go to the colorful route, just be sure to figure out your general direction for the rest of the room. Pick one or two colors to pull from the rug into your accents. This will create a more thoughtful decor rather than just a mess of color everywhere. 
Dusty Rose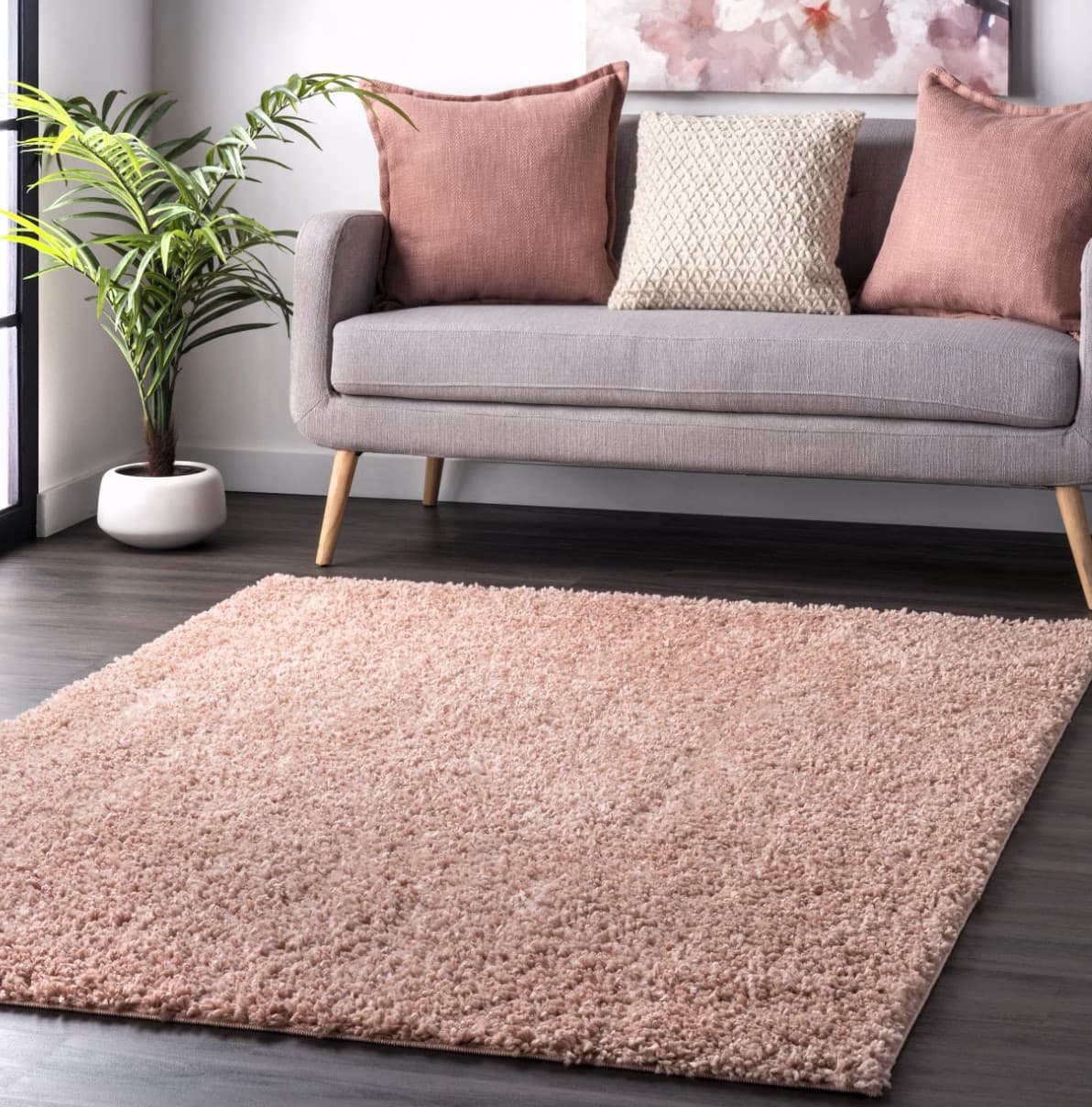 Dusty rose is a really popular decor color right now, and it looks absolutely stunning next to grey. It can be played up to create a really soft feminine space or toned down for a more boho look, like in this picture.
This color will both soften and brighten a space with a grey couch. Add some gold and white touches throughout the room and you have a totally glam space. 
Bold Black & White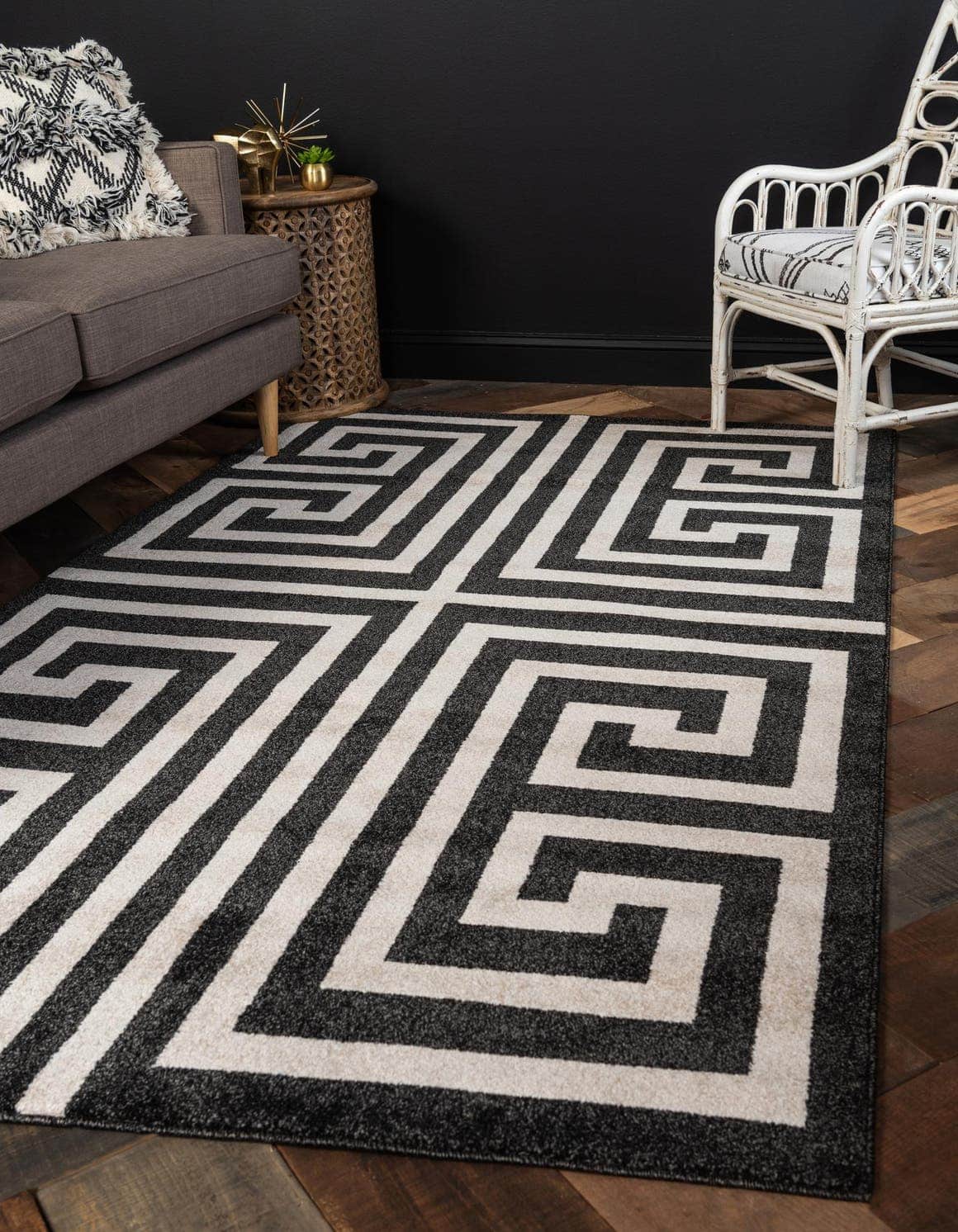 If pink isn't your thing, consider a bold black and white rug, instead. The stark contrast of the colors creates a more modern and clean look.
To get this aesthetic, you'll want to make sure the rug is purely black and white, no variations of color throughout. The rug in this picture is a perfect example.
Deep Blues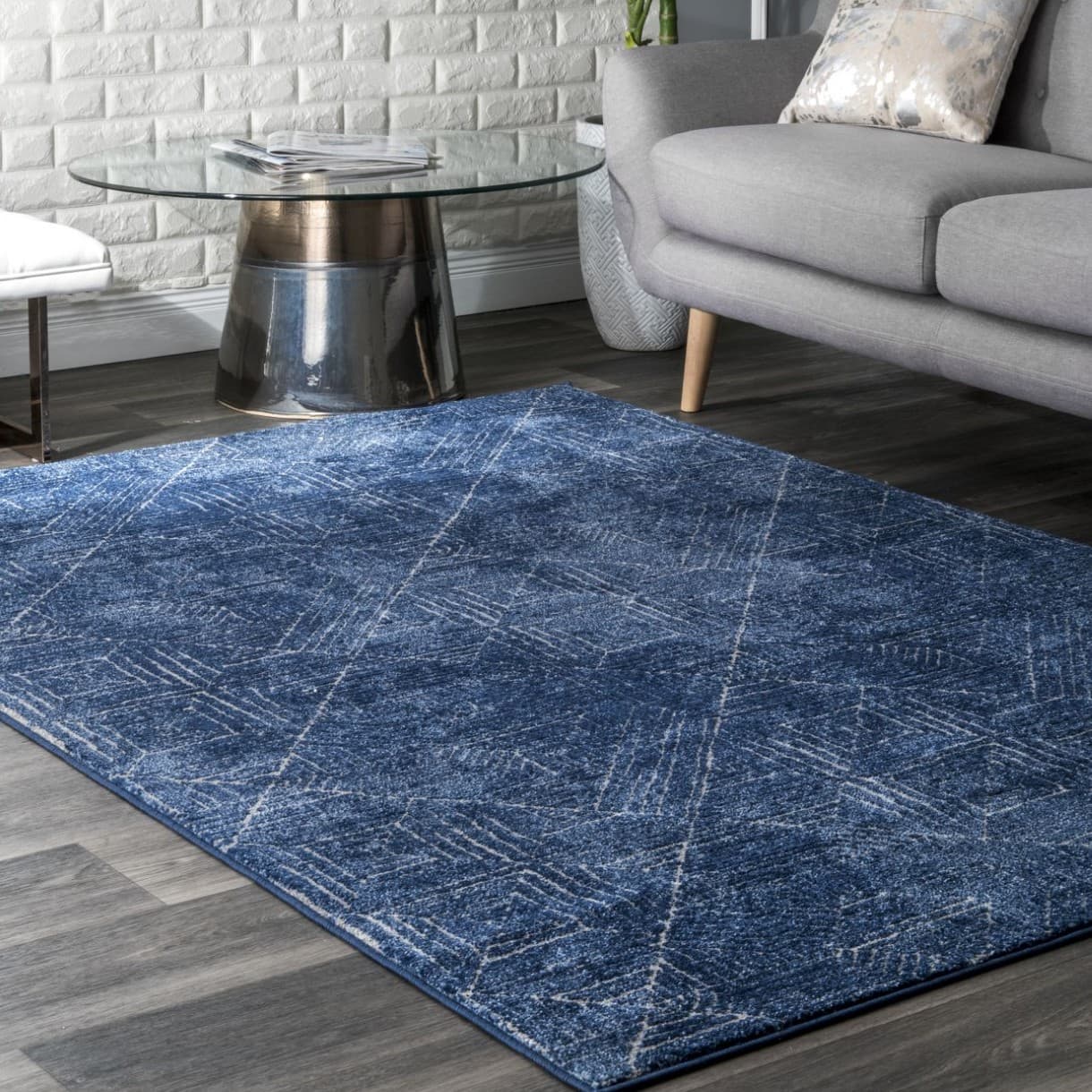 Almost every shade of blue works well with grey, but deep dark blues are especially gorgeous next to it. Pairing a grey couch with a rich navy blue rug will create a really sophisticated look (that will be even better with small gold accents throughout the room).
As beautiful as this color combination is, it can also be somewhat dark so you want to be mindful of the natural light in the room you're working in. If it's a darker space, toss in some white accents, floor and table lamps, and a mirror to bring in some light.
Bright Yellow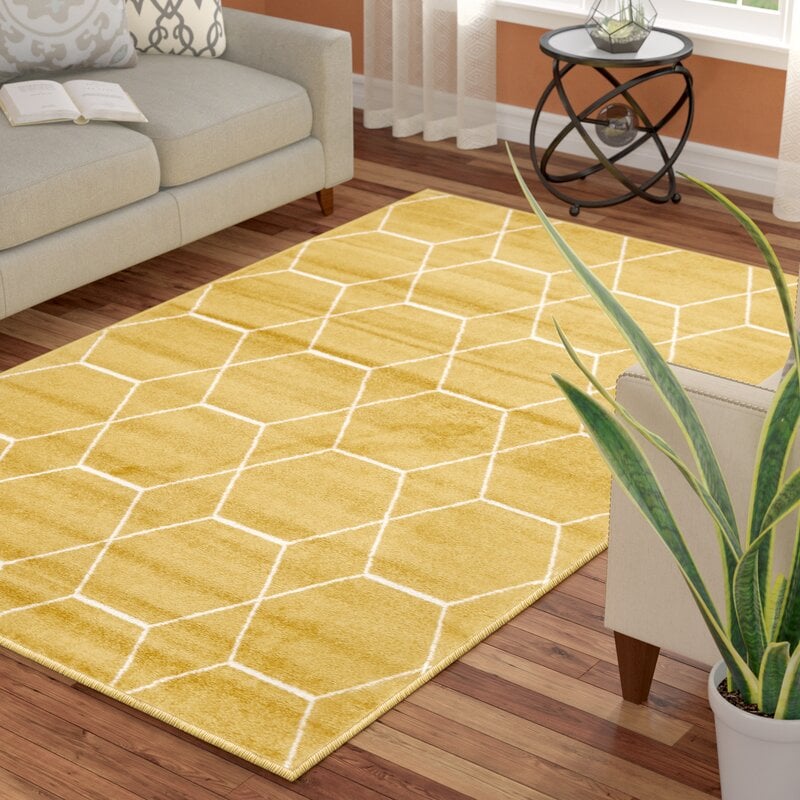 No matter the shade of grey, it will look fantastic paired with yellow! The light grey couch and the bold yellow rug in this picture is a great example of this incredible color combination.
If bright yellow is a little too much for you, consider a mustard yellow rug instead. It is still really warm, looks beautiful next to grey, but is a little more muted.
Blue & White Lattice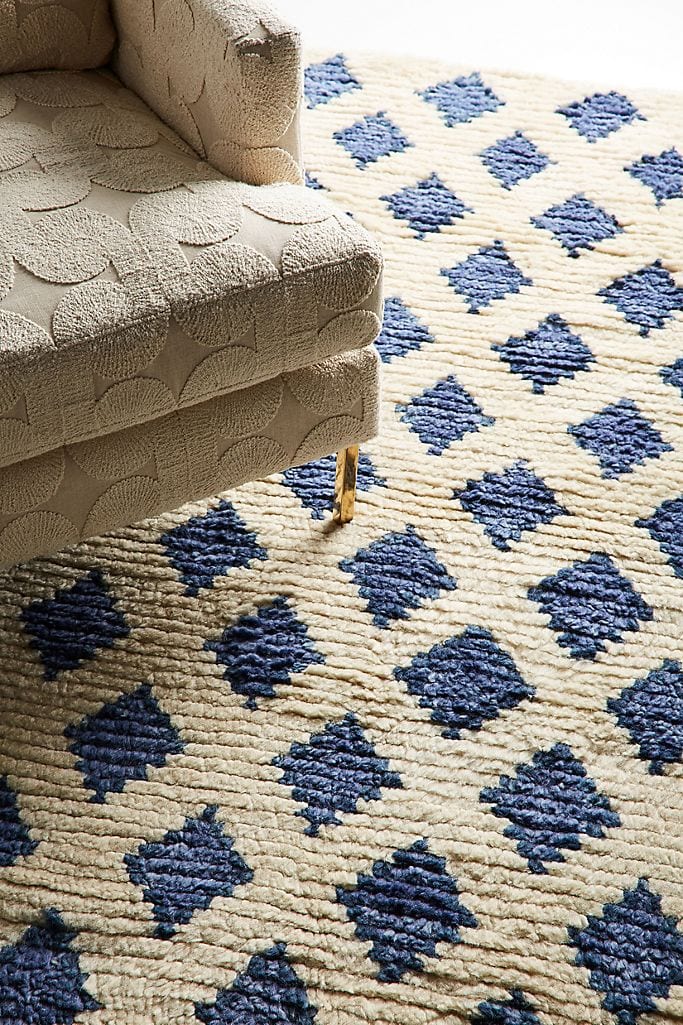 Once again, lattice is a popular pattern option for area rugs, but this specific rug's blue and white lattice design is a wonderful pick to pair with a grey couch (just look at how well it works with the grey chair in this picture).
The best part about this rug is that the white and blue are pretty evenly distributed, so neither color really takes over. It's just a good balanced accent that works especially well with a grey couch.
Cream with a Colorful Pattern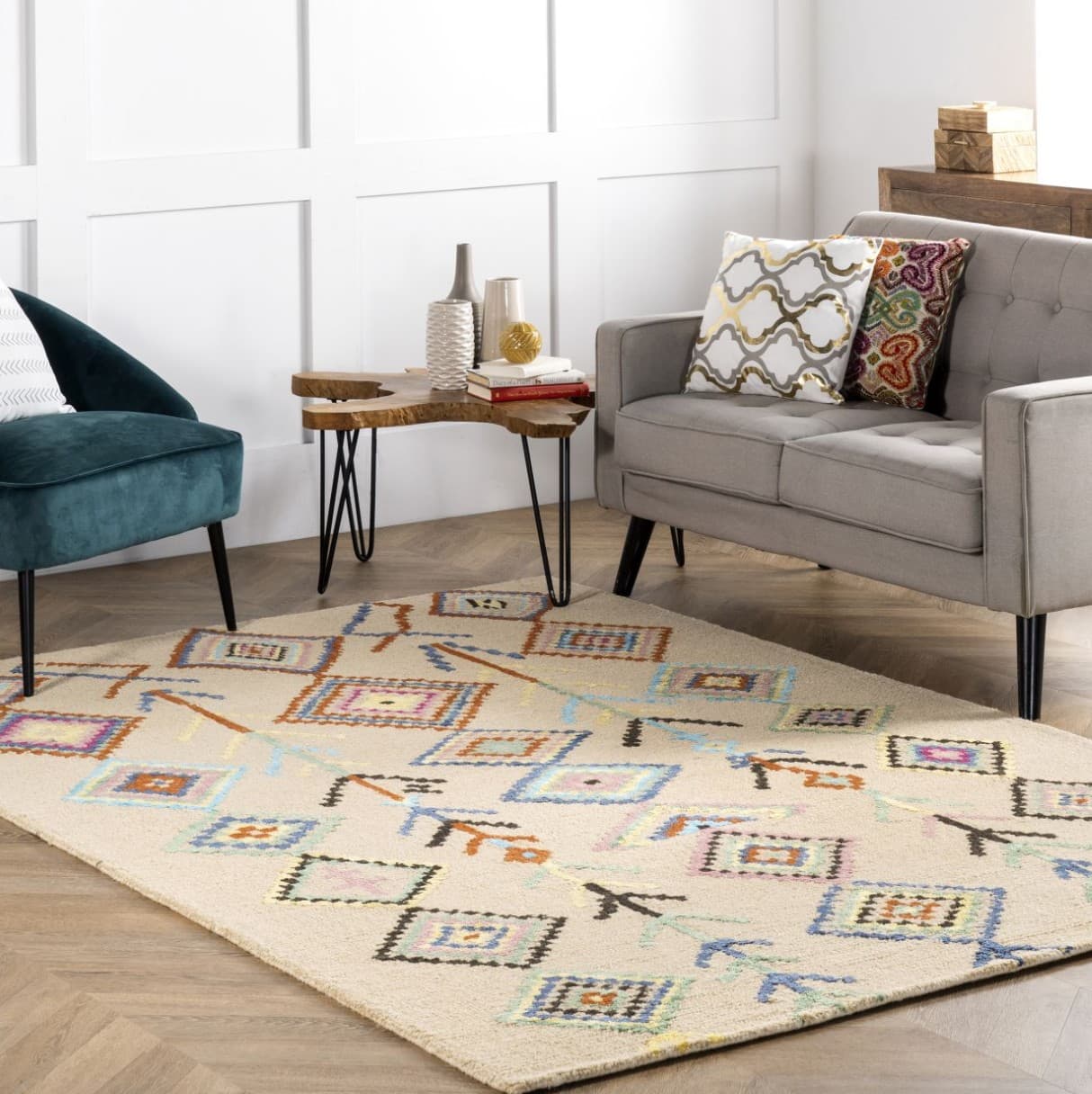 White is often paired with grey, but cream is just as great of a complementing color. It brightens the space in a similar way but without the harsh contrast you see with white.
You can add a little variety to a cream rug by getting one with a splash of color like the on in this picture. It brings in some texture and color, but still blends well rather than having a bright contrasting pop effect.
Blue Trellis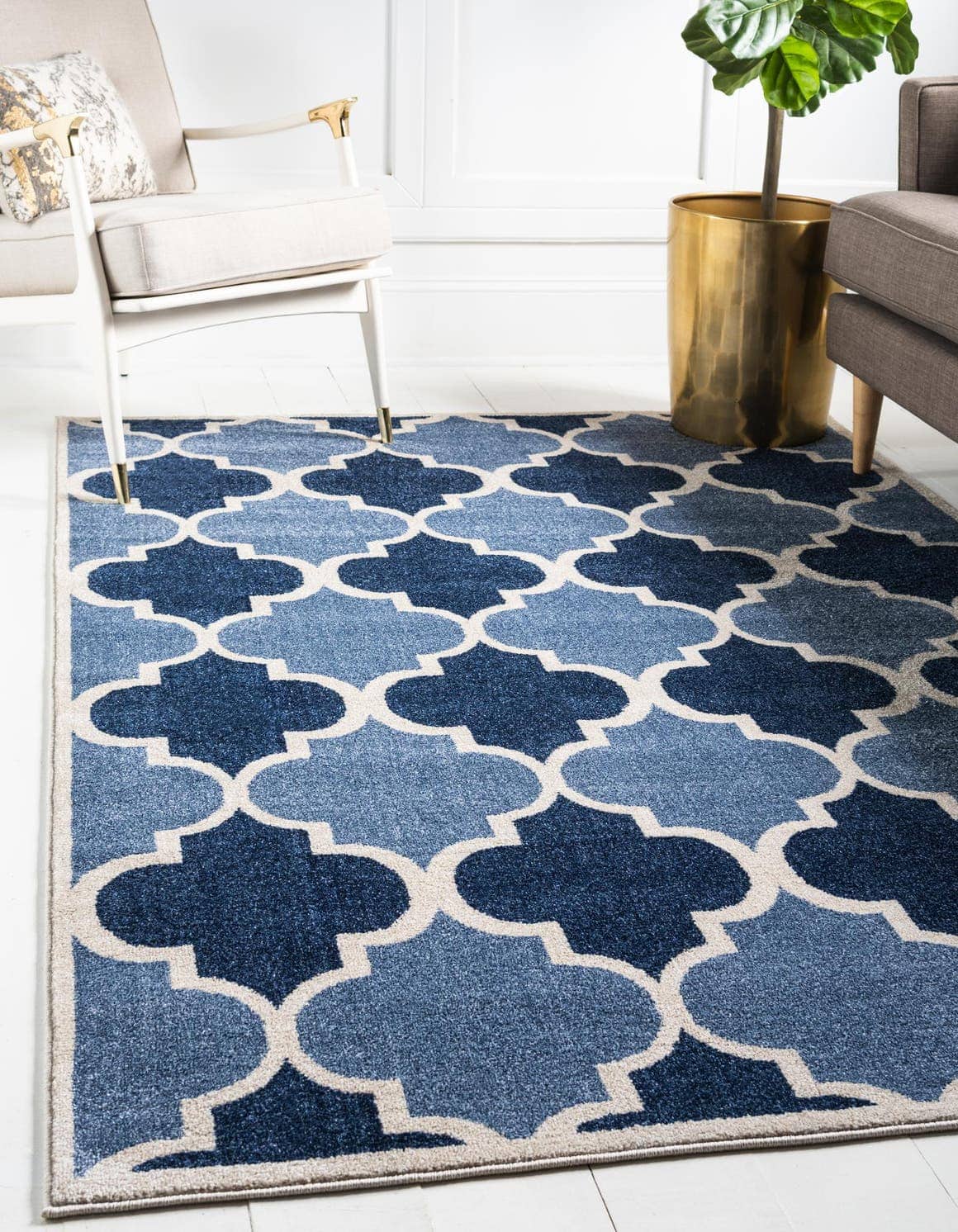 If you love the glam look, an area rug with a trellis pattern will fit right into your space. The pattern is often seen in spaces with this aesthetic because it's simple without being minimalist but still has a little flourish.
This particular rug works great in a glam room with a grey couch because of its varying shades of blue (which always pair well with grey). It creates a really pretty effect that catches the eye.
Hints of Orange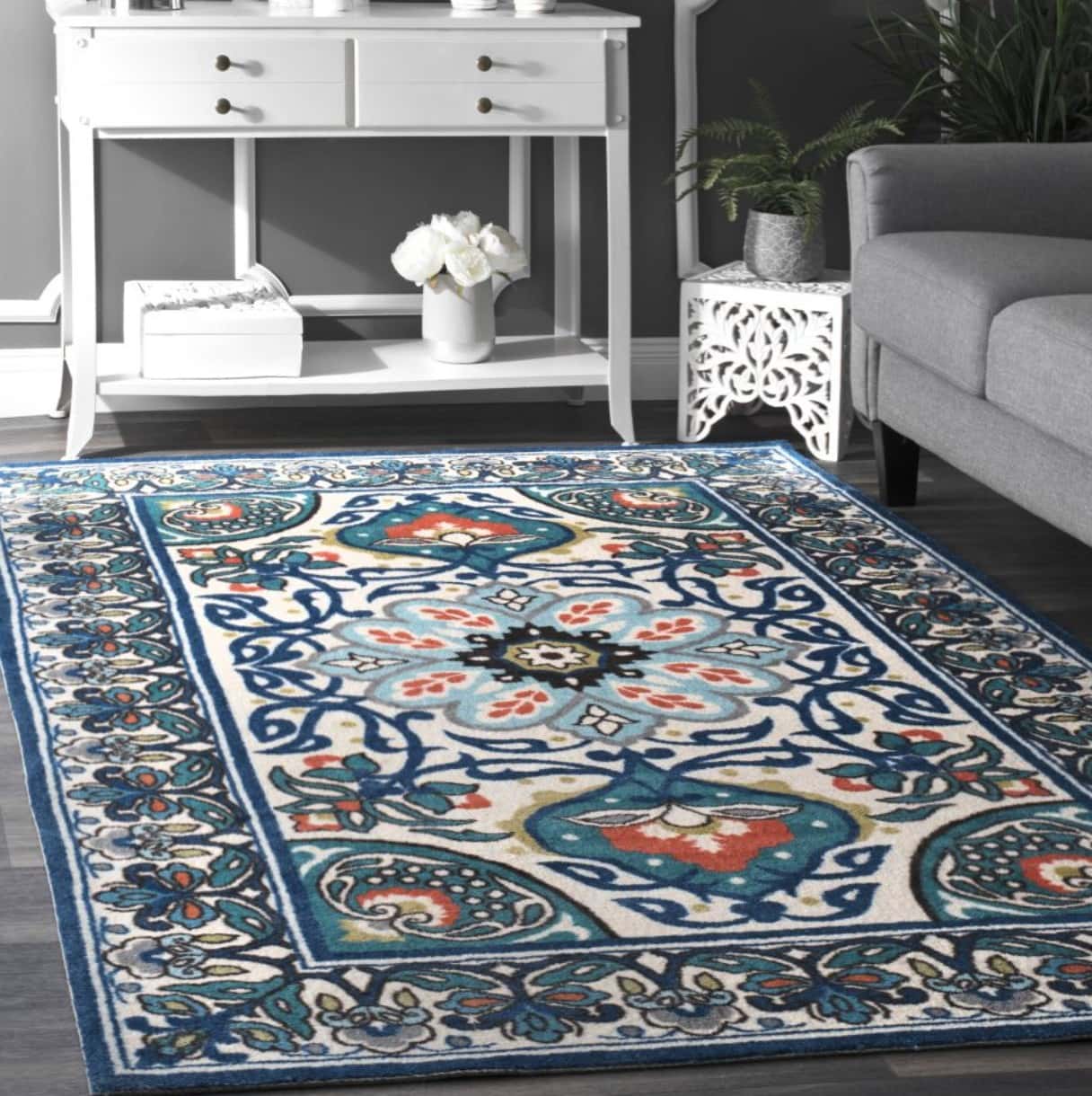 There is so much to love about this area rug. Seriously, every part of it is gorgeous and works well with the grey couch. However, it's the pops of orange that specifically stand out.
Since it's a warmer color, orange is often paired with creams and browns, but it also works really well with grey! Just a little pop of it, like on this rug, can make a big difference and bring some warmth to a space.
Shades of Rainbow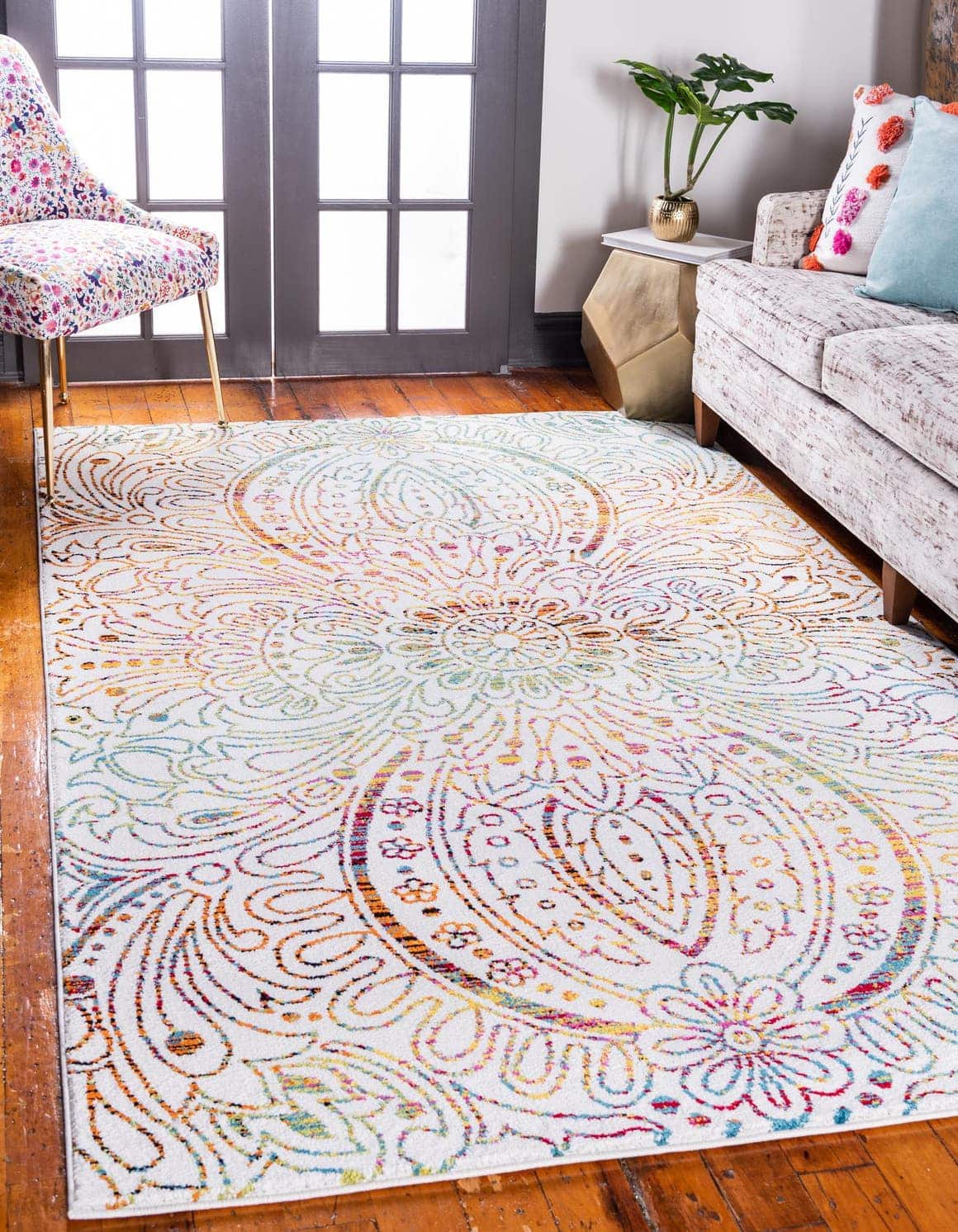 Any shade of grey couch will look fantastic with this rug because there are so many colors throughout, but the base is primarily white. It does a good job at being colorful without being over the top.
With this look, just pull one or two colors from the rug to use as accents. Since it's so 'busy', stick to simpler accents like in this picture.
Bright Classic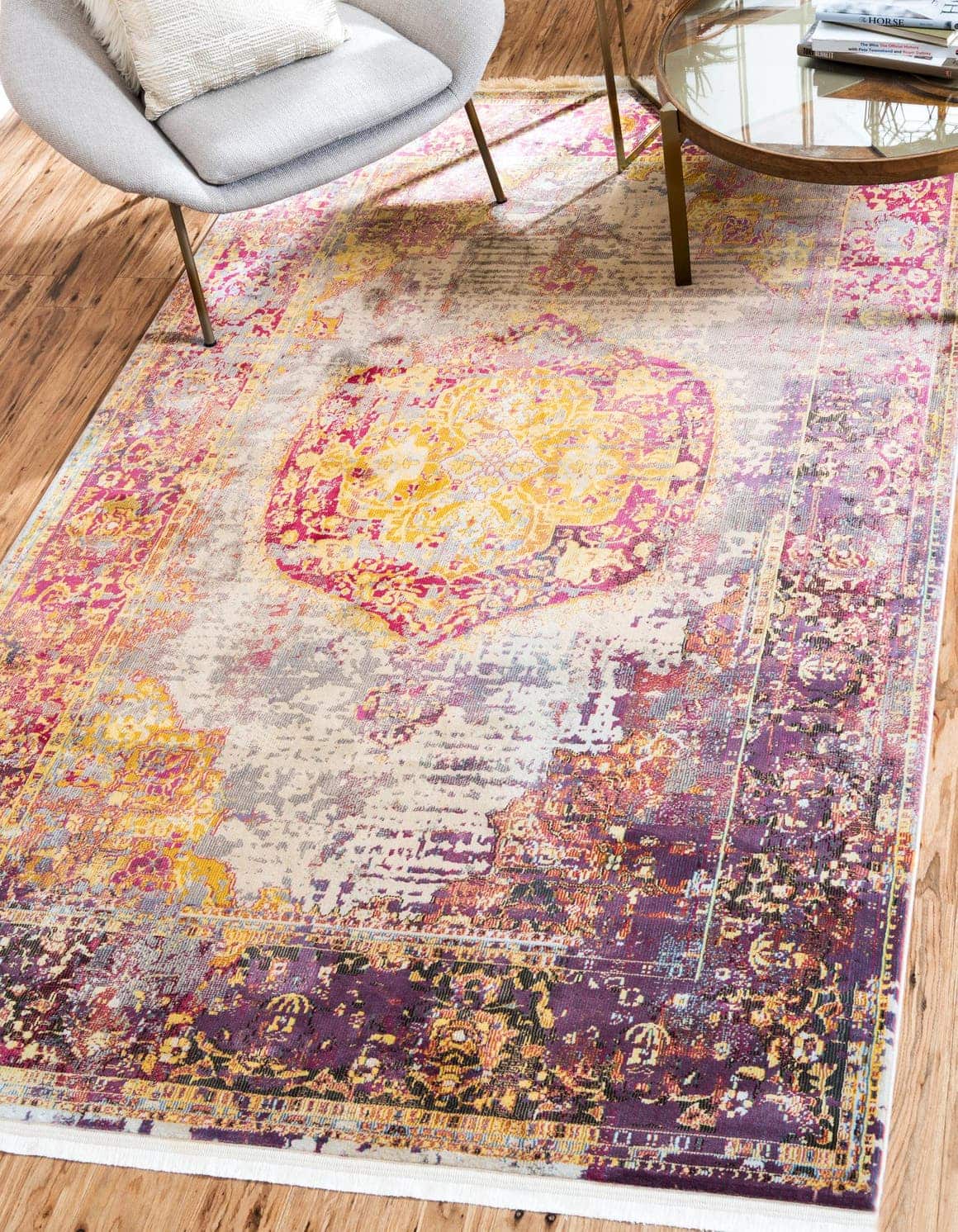 The rug in this picture has a pretty classic and timeless pattern, but the bright hues make it look a little more modern. Plus, when it's paired with a grey couch, it is the perfect blend of contemporary and traditional.
Gorgeous Plum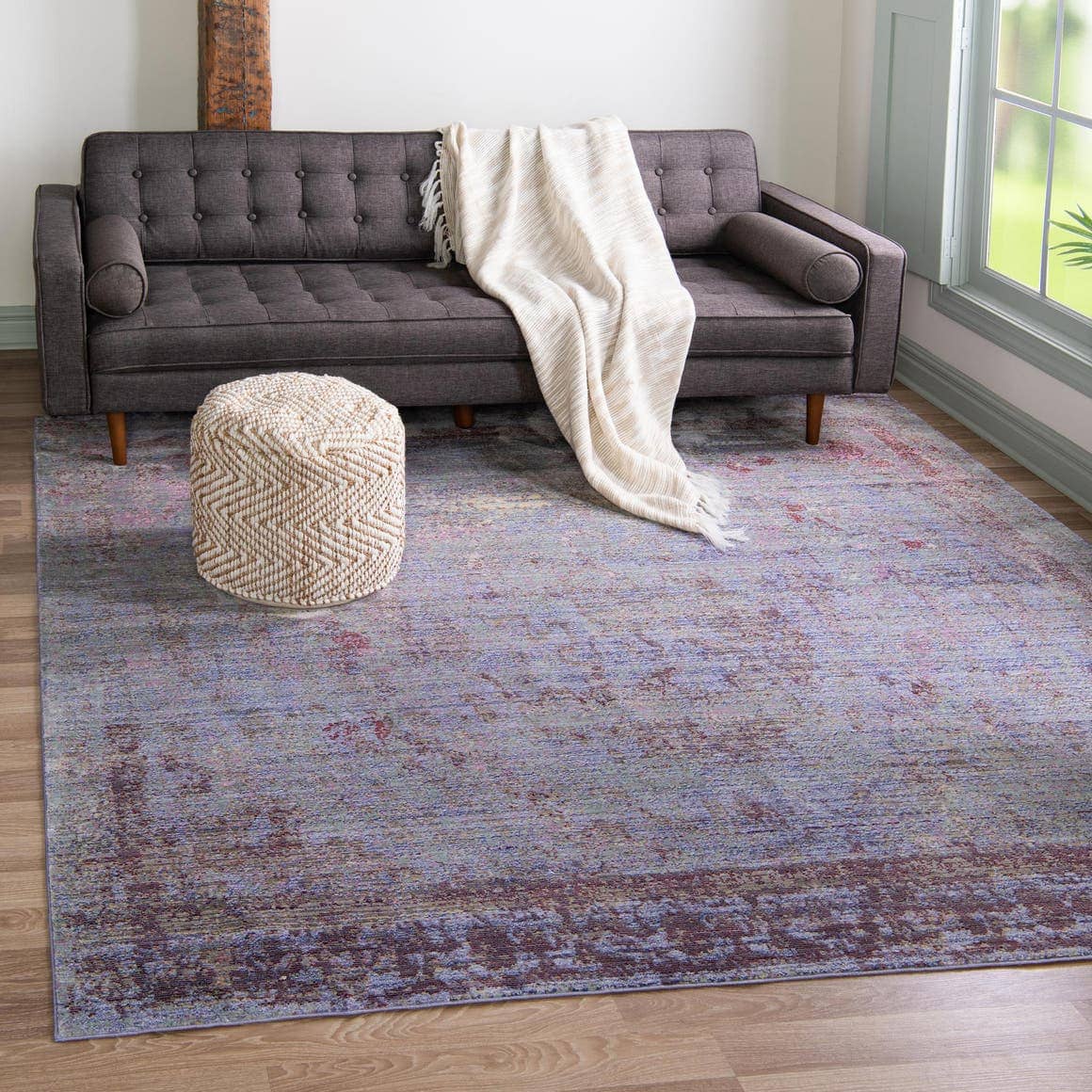 Purple and grey are a truly gorgeous color combination, as evidenced by this photo. The two cool colors play off each other so well and create a really rich, eclectic look.
A rug like this one is a great way to bring in some color and variety without straying too far off the grey color palette. While plum purple has a similar look to navy blue, it will still create a unique space because it's a color that's not used nearly as often. 
Pinks & Purples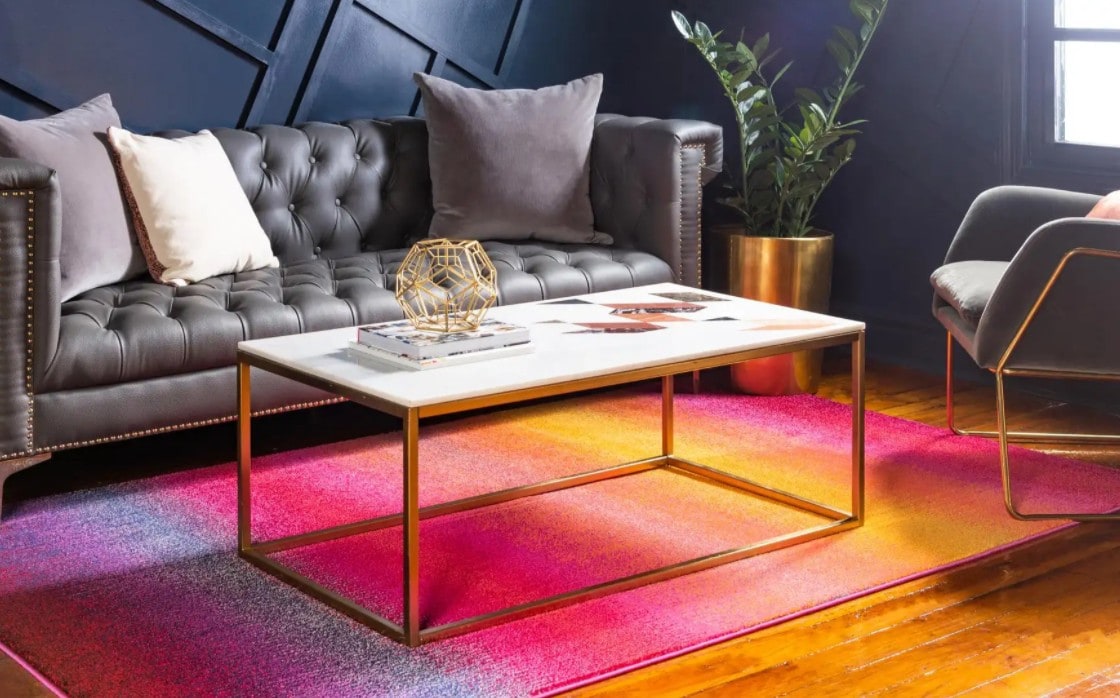 Love vibrant colors? Take a look at this rug! Bright pink, purple, and yellow create a gorgeous rainbow-like pattern.
It's a really powerful, eye catching area rug, so pairing it with a more muted grey couch helps to tone it down a bit. It's a fun way to add some vibrance to a room without it looking over the top.
Navy Blue & Pink
If the idea of going big with pink is appealing, consider something like this, which is paired with navy blue. All of the colors work together to make the pink pop while also complementing the grey couch.
You can add in pink accents to really play up the color, or tone it down with darker throw pillows and some white here and there.
Final Thoughts
Finding the right area rug for a grey couch is all about how you want your space to look. Since it's a neutral color, just about any hue will pair well with it so the sky's the limit! You can go bold with pink, complementing with navy blue, or big with a burst of colors and a fun floral print. There are no shortage of rugs for a grey sofa!
So, start dreaming up what you want your space to look like and find the rug of your dreams.