Decorated Life is reader-supported. When you buy through links on our site, we may earn an affiliate commission. Learn More
21 Grey Couch Living Room Ideas Guaranteed to Look Good
Do you have a grey couch in your living room? If so, I've got some good news – almost everything goes with grey, which makes styling around it super easy.
Even if you like a more warm-toned room, you can still make your grey couch work.
If you're unsure how to get started, here are 21 grey couch living room ideas you can use in your home.
Accessorize with Gold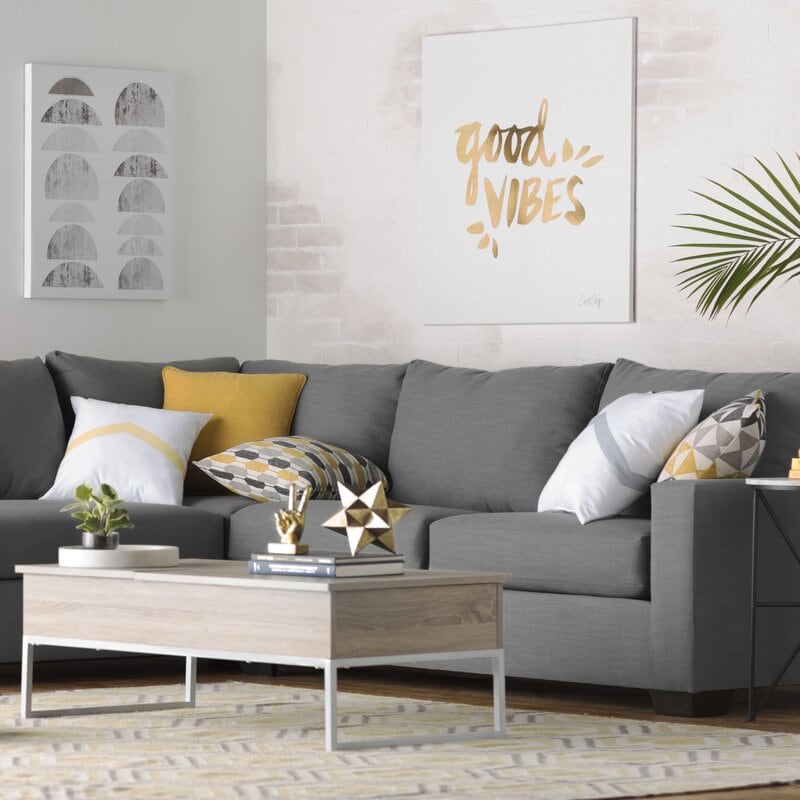 Truth be told, all colors look good with gray. But if you're looking for an easy color to accessorize with, gold is it.
You can go for a modern simple look like in the picture, bringing in gold with wall art and table decor. Or, you can go all out and choose gold end tables and layer in more accessories.
Bring in Warmth with a Wood Accent Chair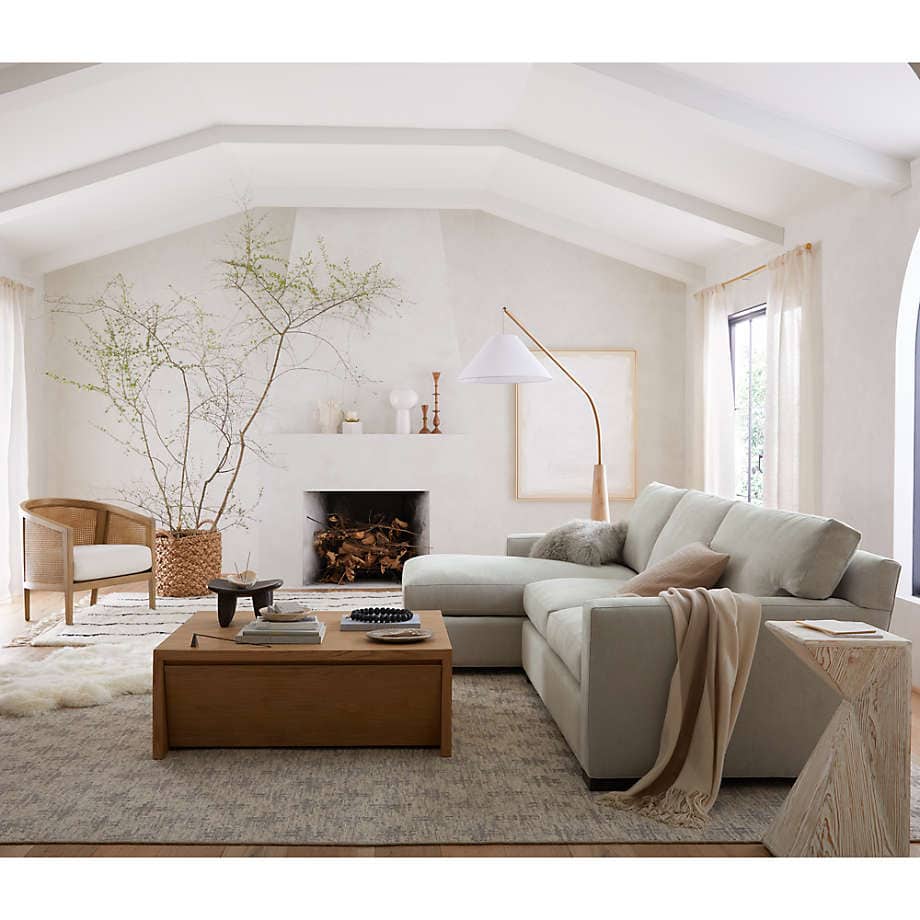 If you want to warm up your room, bring in a wooden accent chair. These chairs help pull the warmth from the grey in the couch and provide visual contrast.
You can add two chairs across from your sofa or use one like pictured above. Either way, chairs made of wood or other natural materials look great with a light grey couch.
Pull in a Beautiful Coffee Table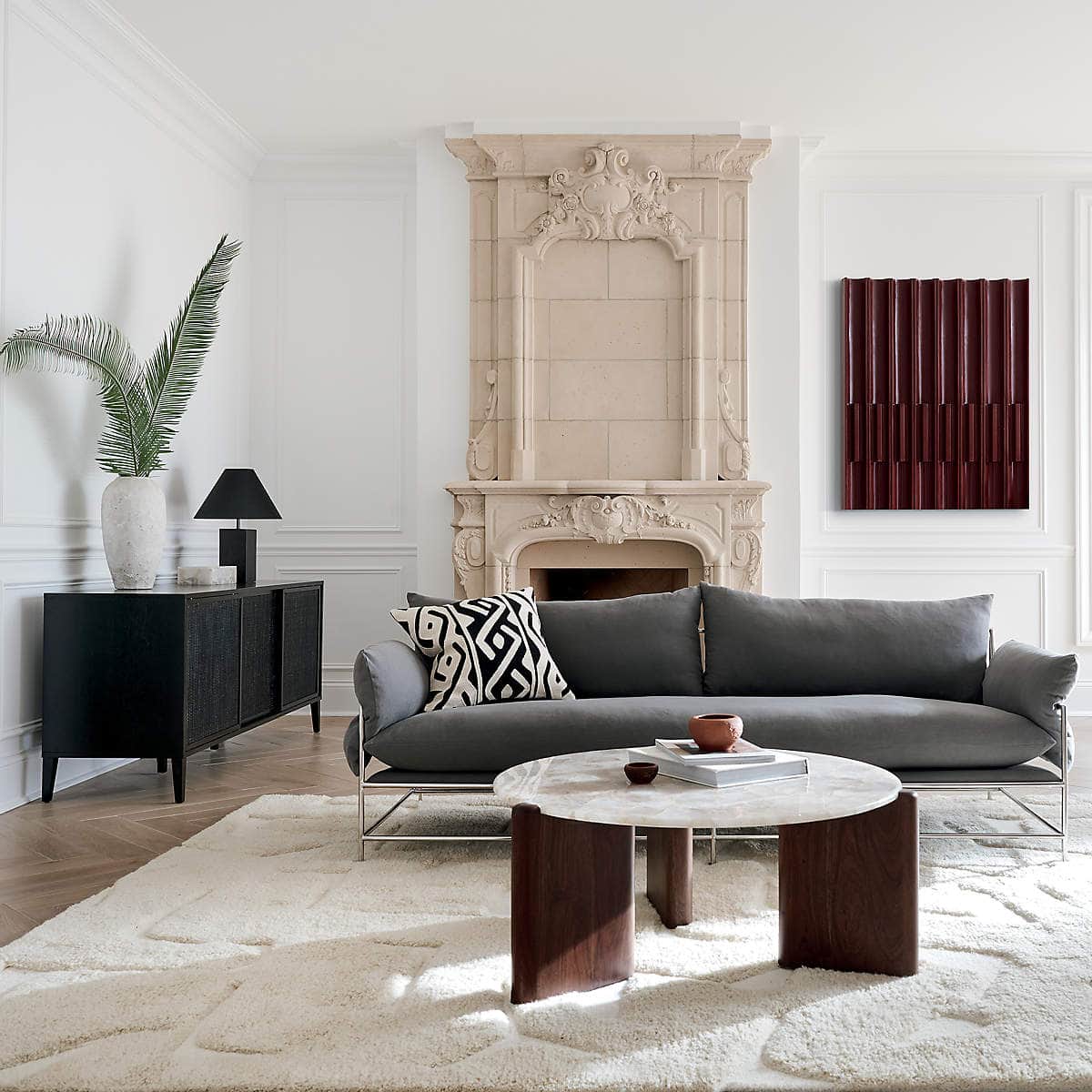 Speaking of natural materials – they really do look great with gray sofas. Aside from accent chairs, another way to pull in natural materials is with your coffee table. Take this table for example, it has rich wooden legs and a beautiful quartz top.
With the table being so pretty you can keep the rest of the decor in your living room fairly muted. If that's not your style, try layering in some plants.
Use Pillows for Pops of Colors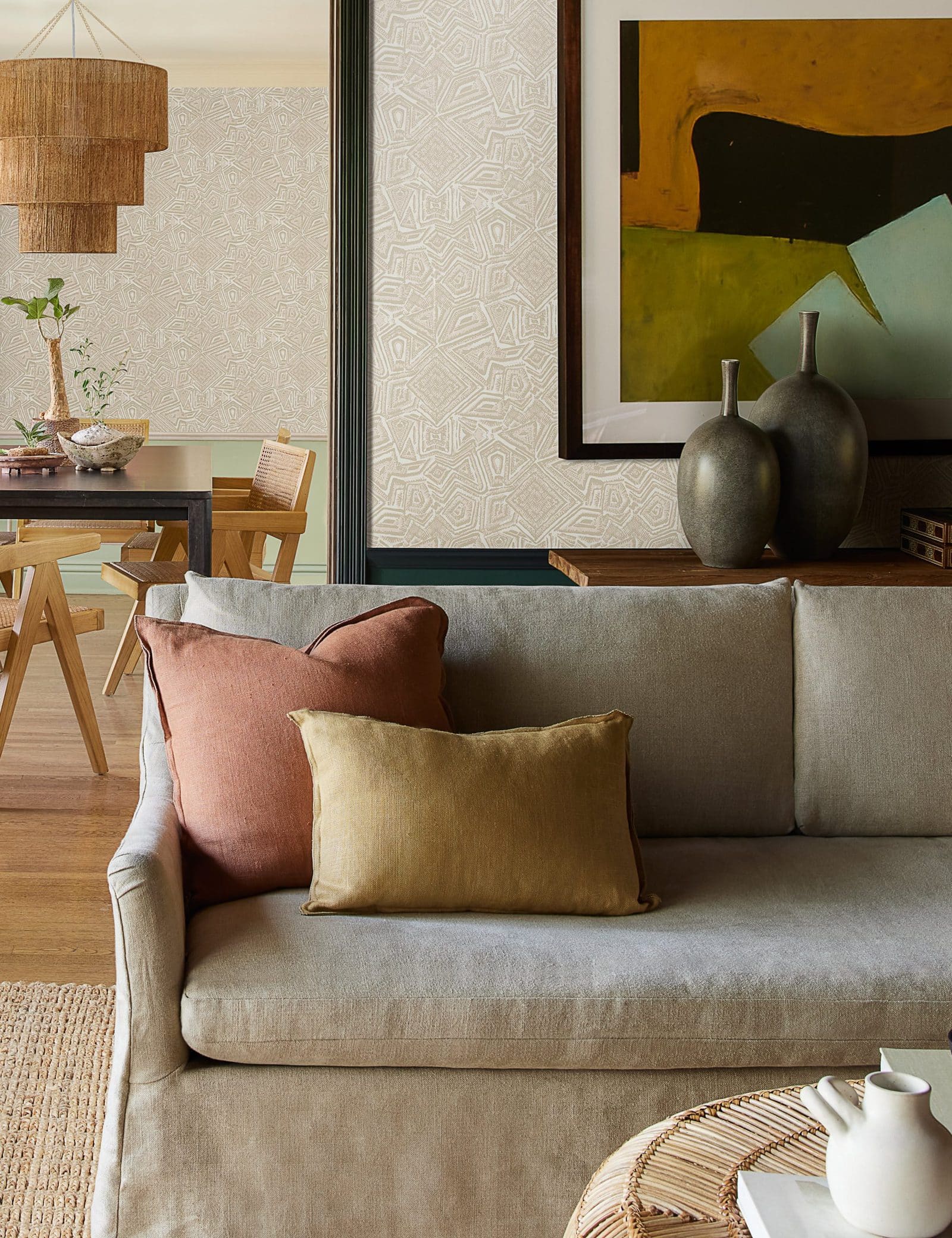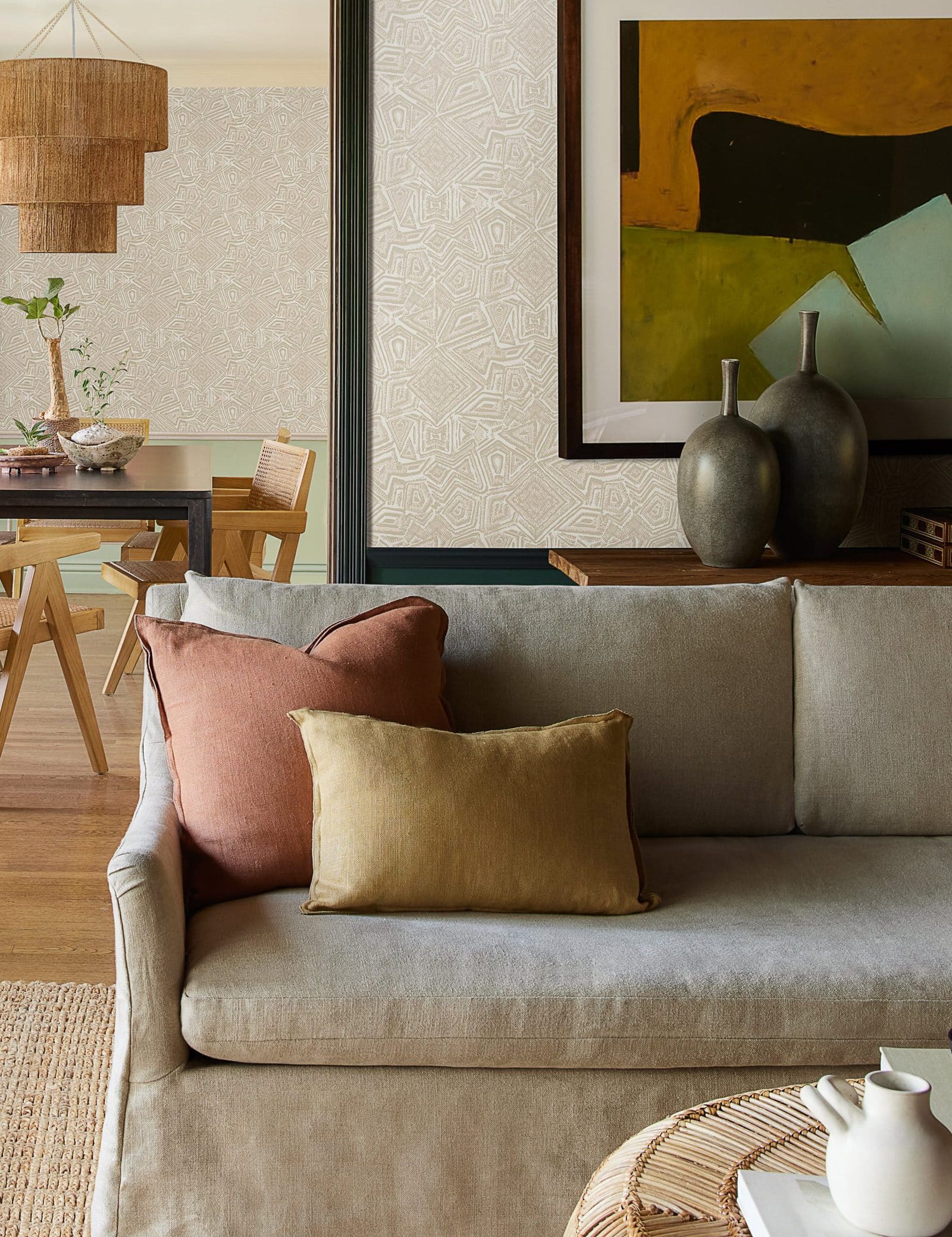 The easiest way to change the look of your couch and the feel of your living room is to change out the throw pillows. For a light grey couch, consider a red or burnt orange.
For dark grey couches, use a light-colored pillow for contrast. Or, if you like the monochromatic look, use a lighter shade of grey.
Try a Monochromatic Color Scheme
Monochromatic color schemes are about using different tones of the same color. For instance, if you have a gray couch in the living room, you could use a darker shade of gray on the wall and a light gray rug underneath as pictured.
You can keep layering in the gray items until you've reached the desired effect.
Add a Floor Lamp Beside the Couch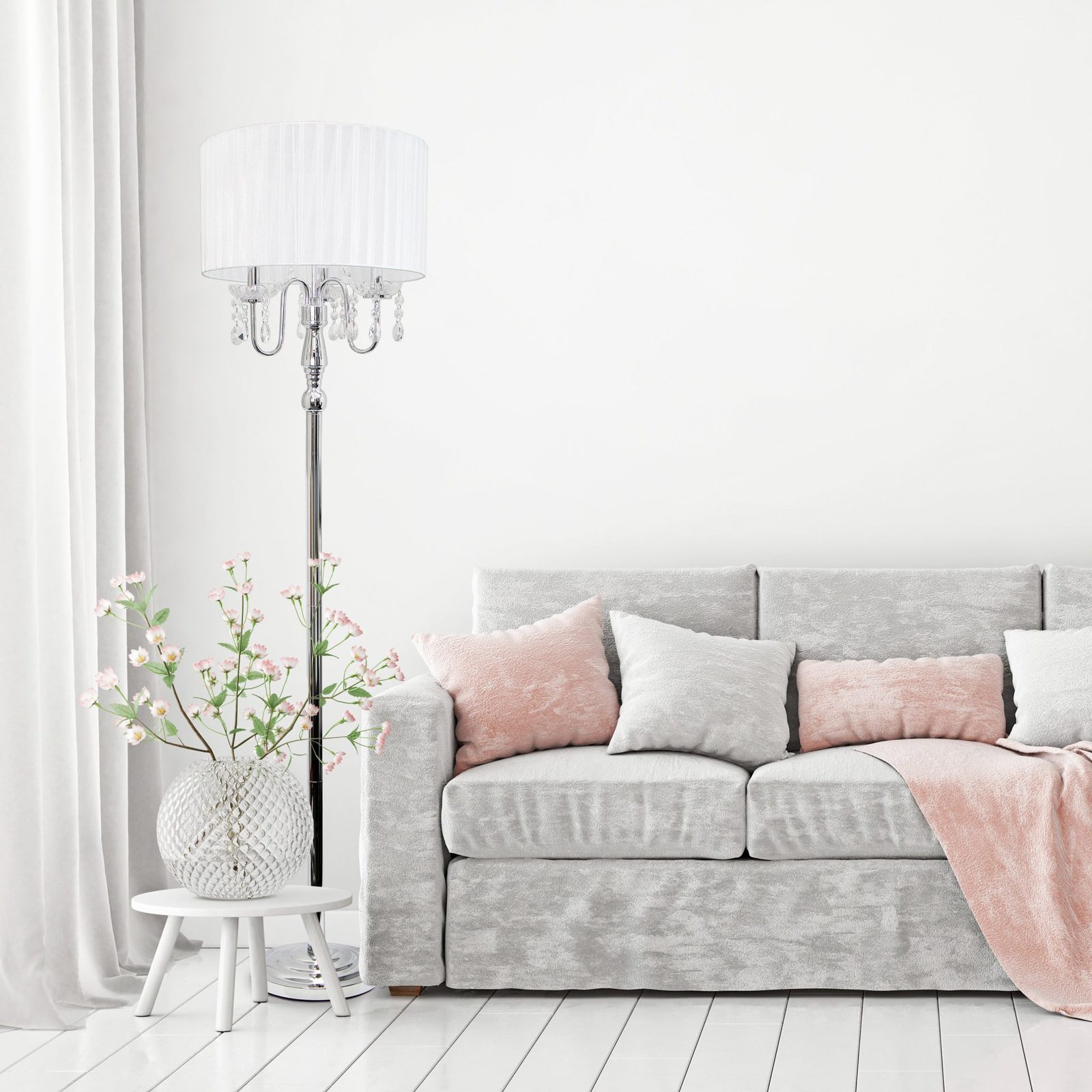 A floor lamp can provide better lighting in your living room and double down as decor. If you're going for a glam or romantic look, consider a floor lamp like the picture above.
If you prefer modern or farmhouse looks, try to find a matte black floor lamp. These lamps will go with any grey couch and provide you with some lighting to kick back with a book each night.
Get a Square Coffee Table for a Gray Sectional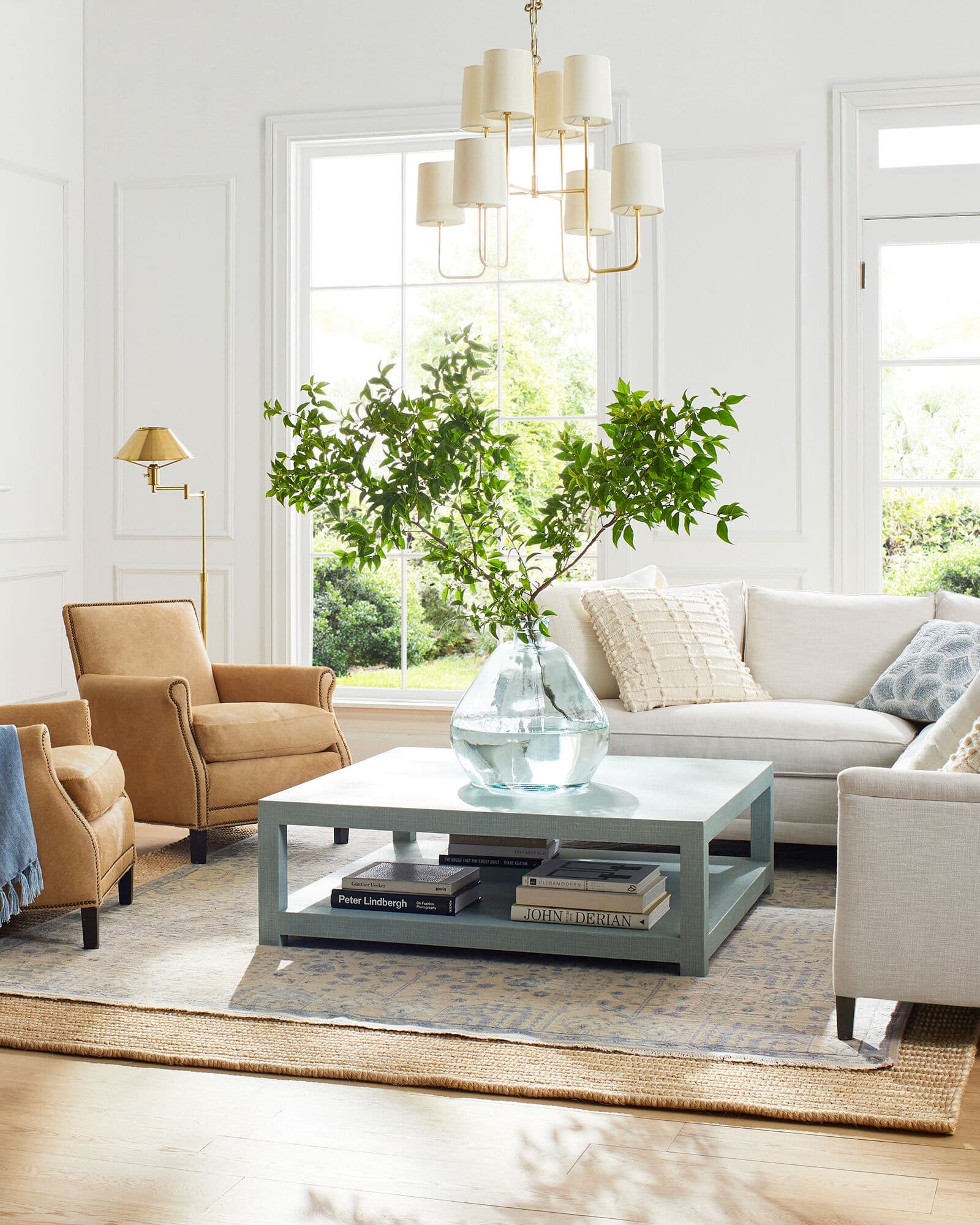 If you have a large sectional, one of the easiest ways to make it look pulled together is to add an appropriate-sized square coffee table.
This coffee table from Serena & Lily comes in three colors: chalk, dove, and coastal blue. All three are great options for gray sofas. If you're looking for high contrast or a beachy feel, try the coastal blue.
Choose the Right End Tables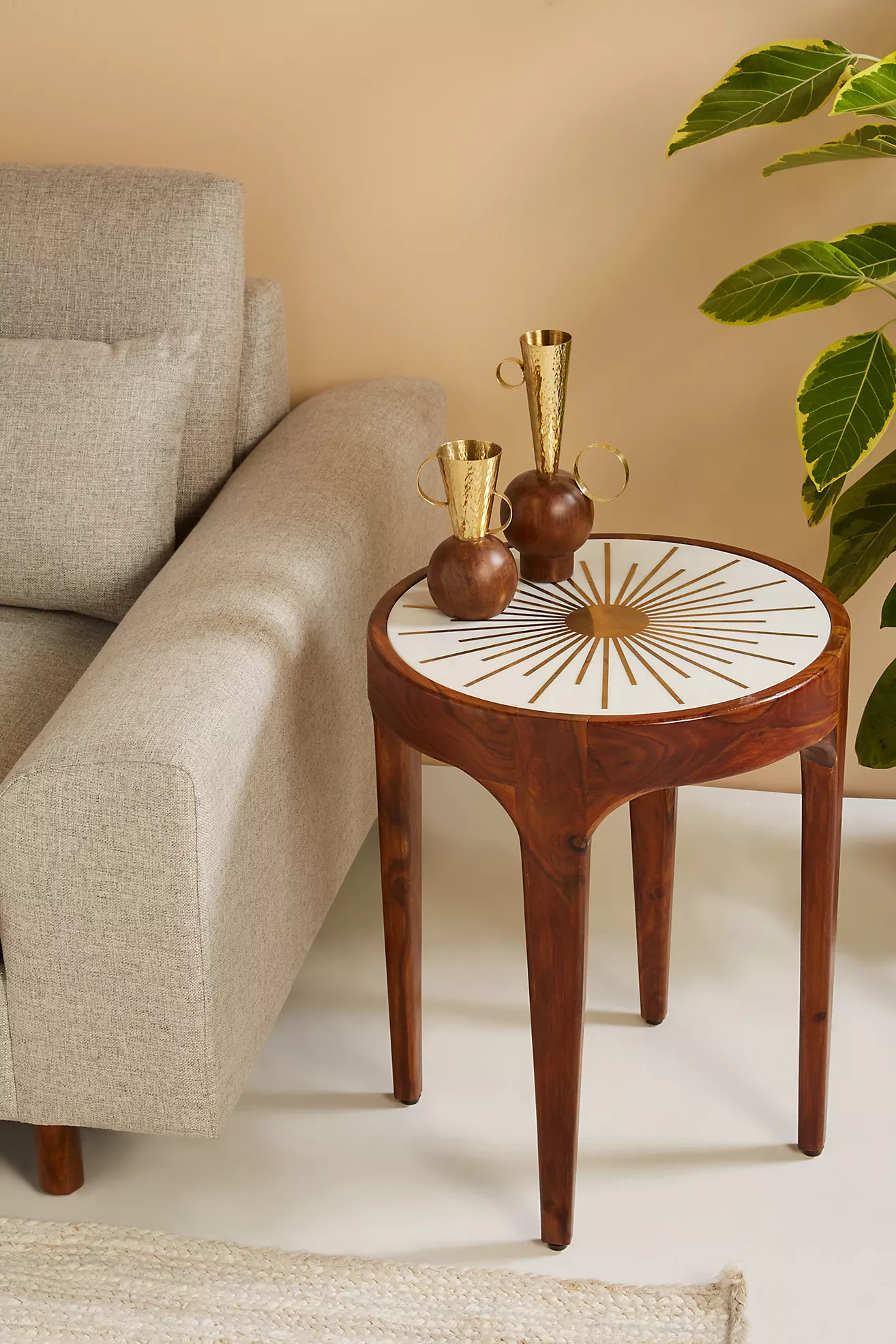 No doubt, picking a coffee table is important, but so are end tables. If you want a standout end table, consider this one from Anthropologie. This table has solid wood legs, marble tops with a brass inlay star pattern.
These tables will look good with light gray, greige, or warm gray couches.
Place a Rug Under the Couch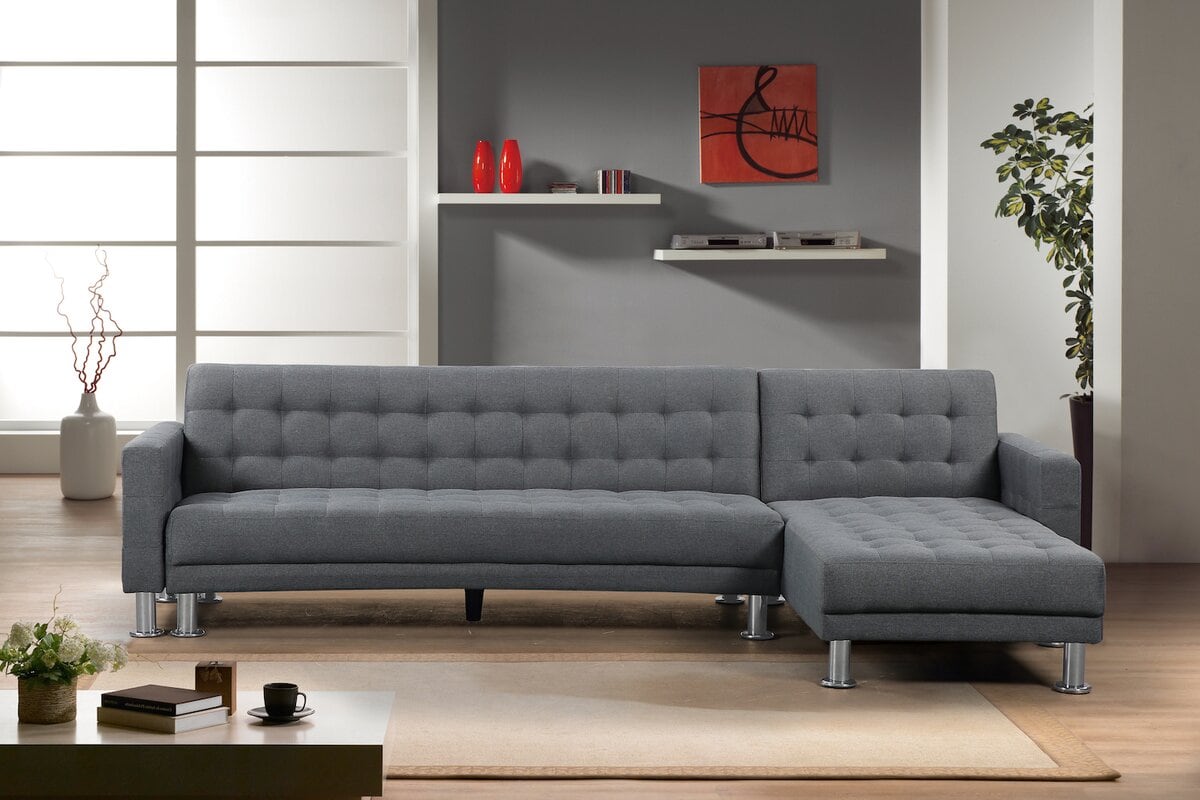 If you don't already have a rug, you should try one. Rugs can instantly change the way your room looks and even affect how you perceive the color of your couch.
If you want to try something new, choose a warm rug for your charcoal gray couch like shown above. Not into that? You can play it safe by choosing a rug that has the color of your couch already in it.
Put Black Shelves Behind the Couch
Black looks great with every shade of gray, which makes it easy to accessorize. If you have space behind your sofa that you need to fill, consider a black shelving unit.
You can fill the shelf with photos, plants, or other decor. This idea will work with every color scheme and decor style.
Try a Modern Coffee Table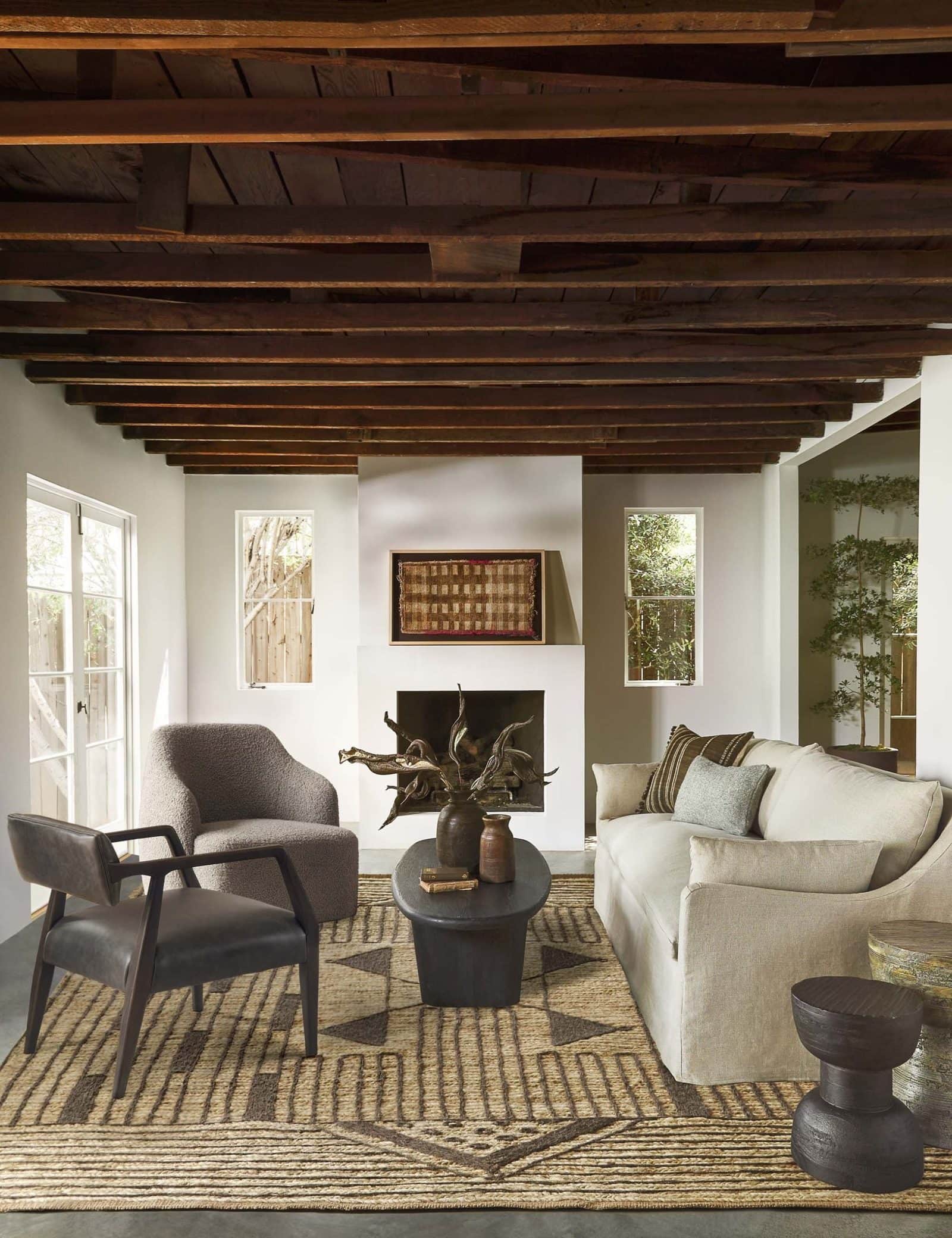 If your style borders between modern and boho, this is the perfect coffee table for you. This table comes in two colors: natural wood and black. The black works perfectly with gray couches, especially if you have multiple pieces of gray furniture in your room.
You can still see the wood grain in the coffee table, which adds texture to the room without being overly warm. This would look great in the middle of a cozy gray sofa and two accent chairs.
Layer on a Chunky Knit Throw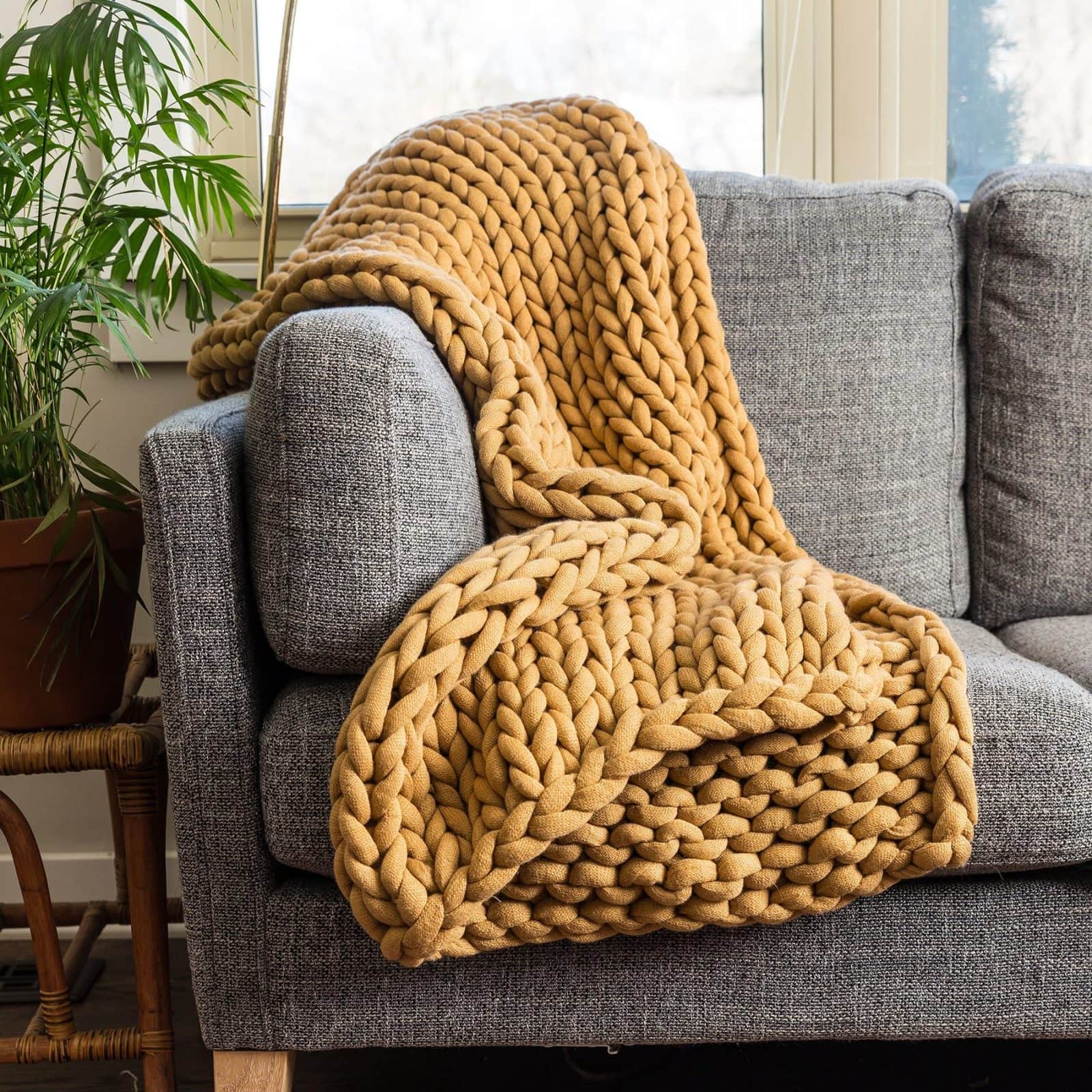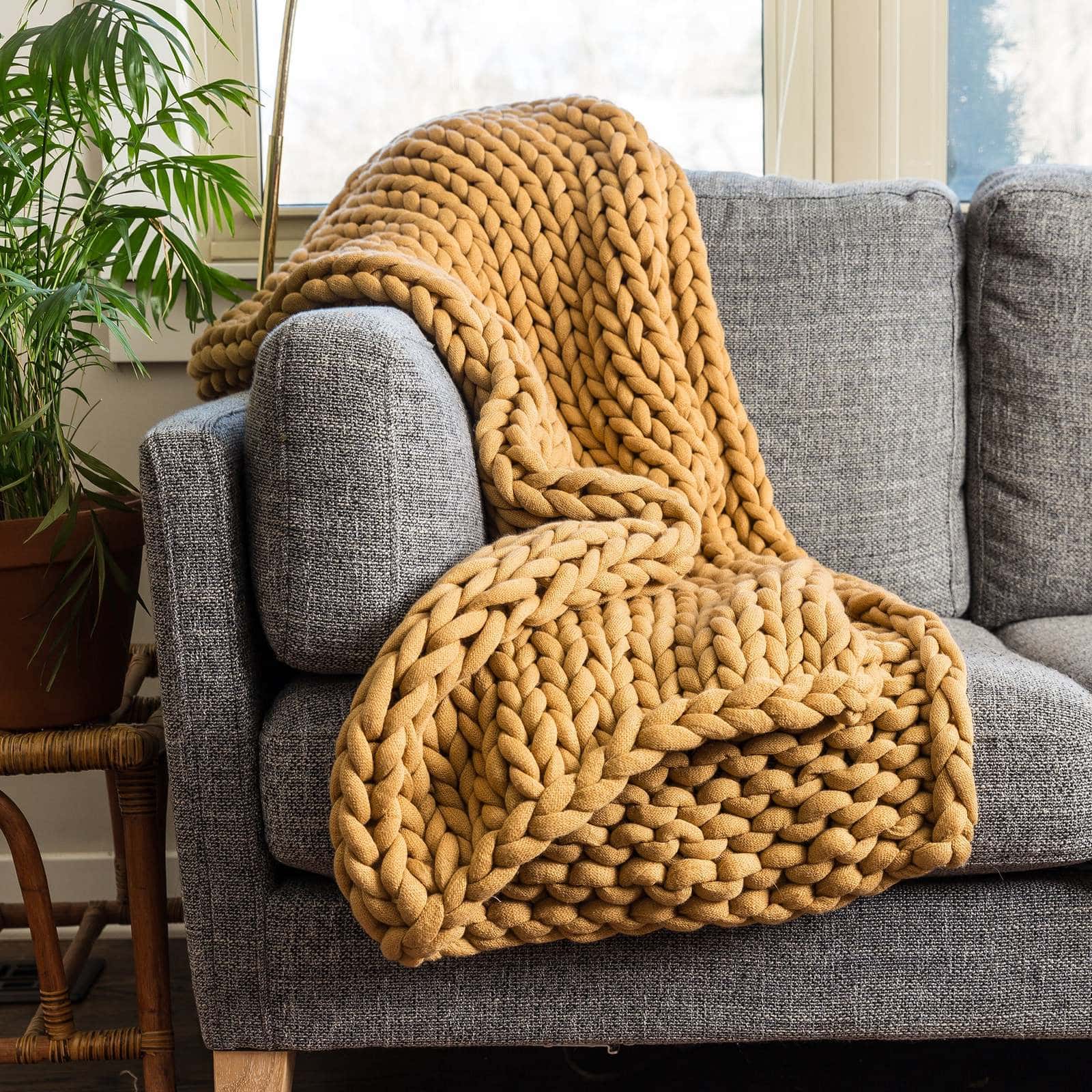 If you find yourself cozying up on the couch each night, add a chunky knit throw. These blankets will not only keep you warm, but they look so pretty.
For a medium gray couch, I love the gold color pictured above. If you have a darker couch, try a lighter throw and vice versa.
Achieve a Clean Look with White Curtains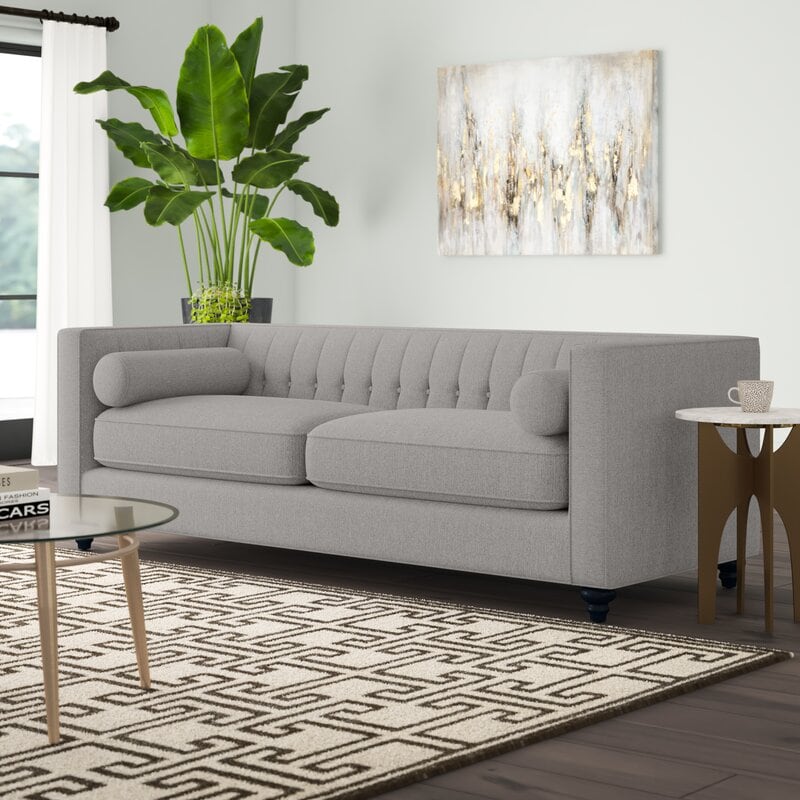 Need curtain ideas you know will look good? Choose white. White curtains paired with a grey couch give off a very clean and tidy vibe. 
It's best to choose curtains that skim the bottom of your floor. For an extra full look, place one panel on each side of the window.
Add a Mirror Above the Couch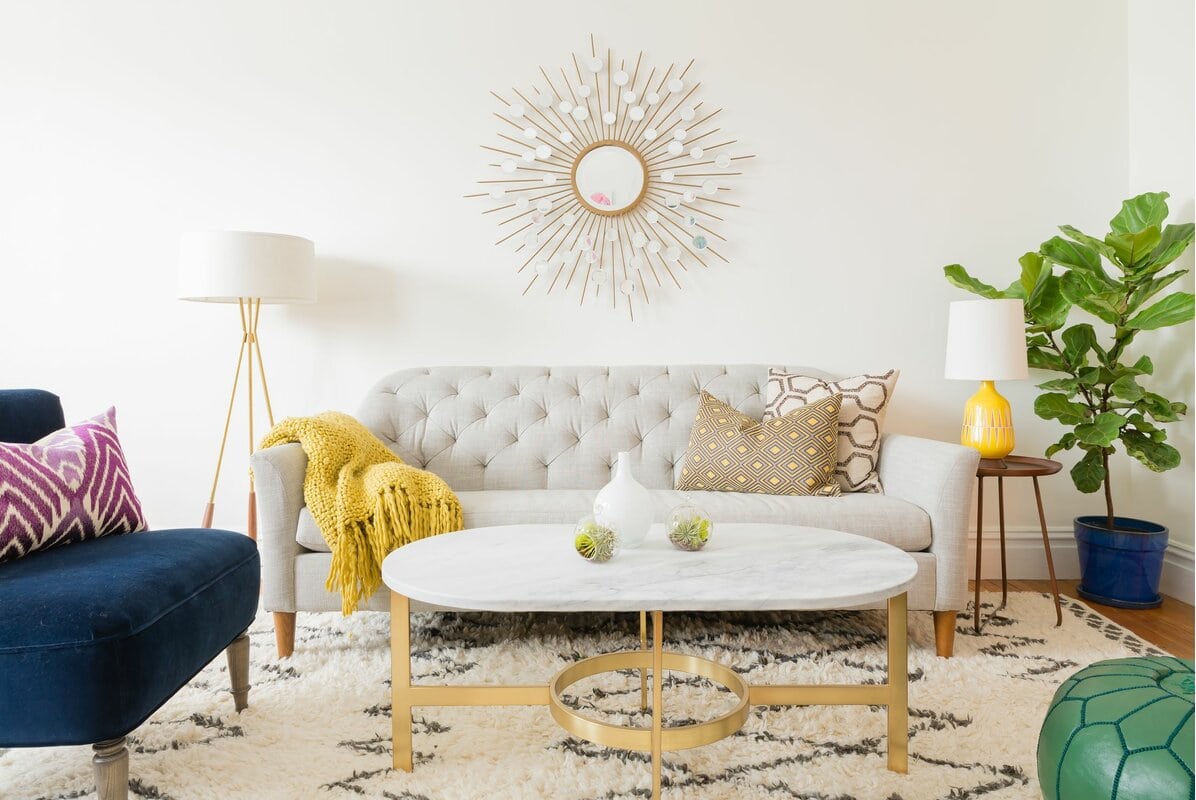 If you have a small living room, adding a mirror over your couch can instantly make it feel bigger. For a glam look, add a gold sunburst mirror over the back of your sofa.
If you prefer a more minimal or casual style, you can add a matte black mirror. Gold and black frames are both safe bets for gray couches.
Consider an Ottoman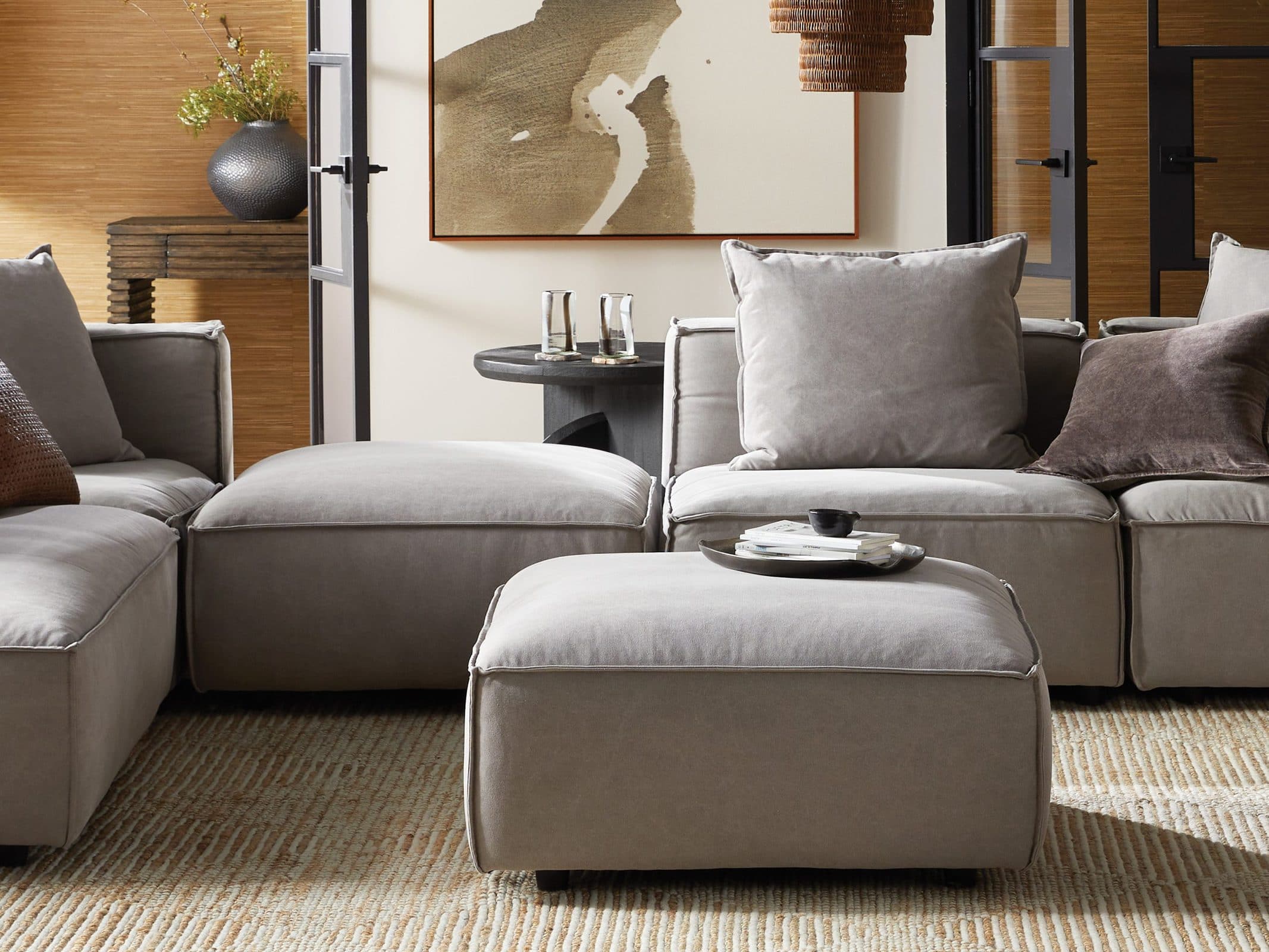 If you have young kids and are worried about them crashing into the corners of a coffee table, ottomans are great alternatives. But, of course, they're also perfect for kicking back and putting your feet up.
If you have a gray couch, consider getting an ottoman in a medium shade of gray like this one. This ottoman from Arhaus is fairly large at 38". So it would work well with sectionals or larger sofas.
Go Formal with a Dramatic Color Scheme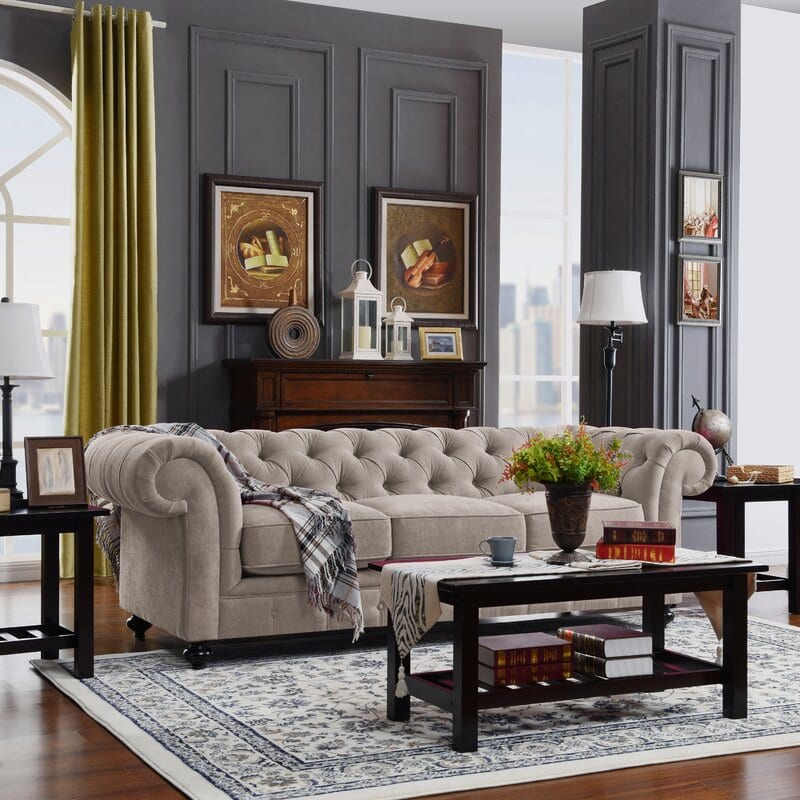 If you like a more formal look in the living room, you can achieve it through smart paint and curtain selection. Start by painting your room a dark, dramatic color and then add long, bold curtains like shown above.
You can keep the look going by choosing artwork framed in a thick wood and selecting tufted furniture.
Bring in Simple Lighting
Grey couches work well with minimal decor. So if you like that style, keep the surrounding furniture and accessories very simple. One way to do this is with a sleek table lamp like pictured above.
While this lamp is simple, the leather wrapping brings in texture. If you're not into table lamps, there's also a floor lamp version of this one.
Choose a Grey Rug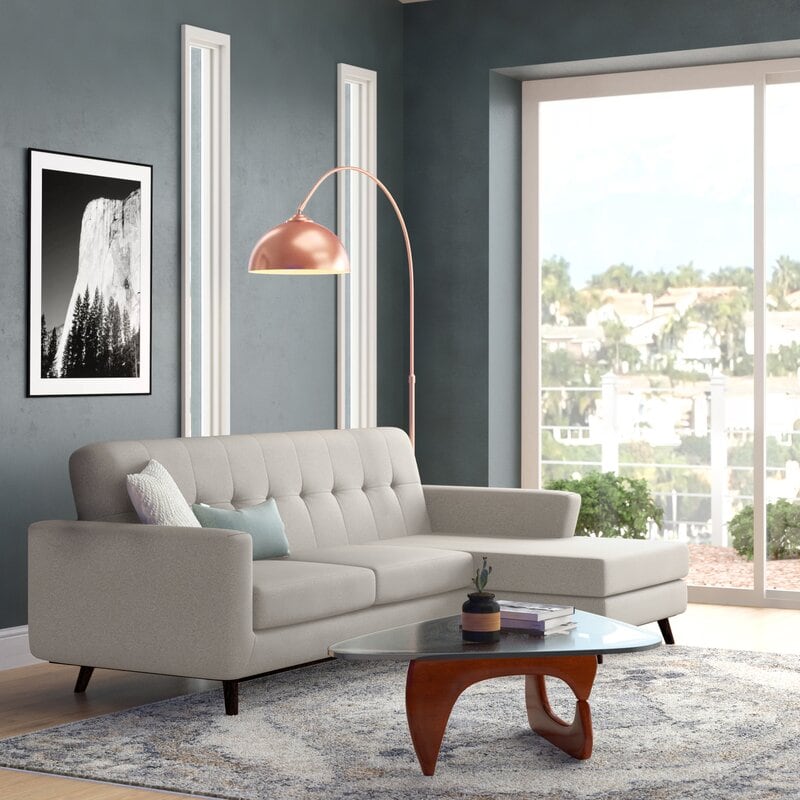 If you want to play it safe with your rug choice, gray is the way to go. You can choose a gray rug that's similar to the color of your couch or pick the opposite to provide a little bit of contrast.
You can hide dirt and kid's messes by choosing a rug with a lot of color variation, as pictured above.
Hang Bold Wallpaper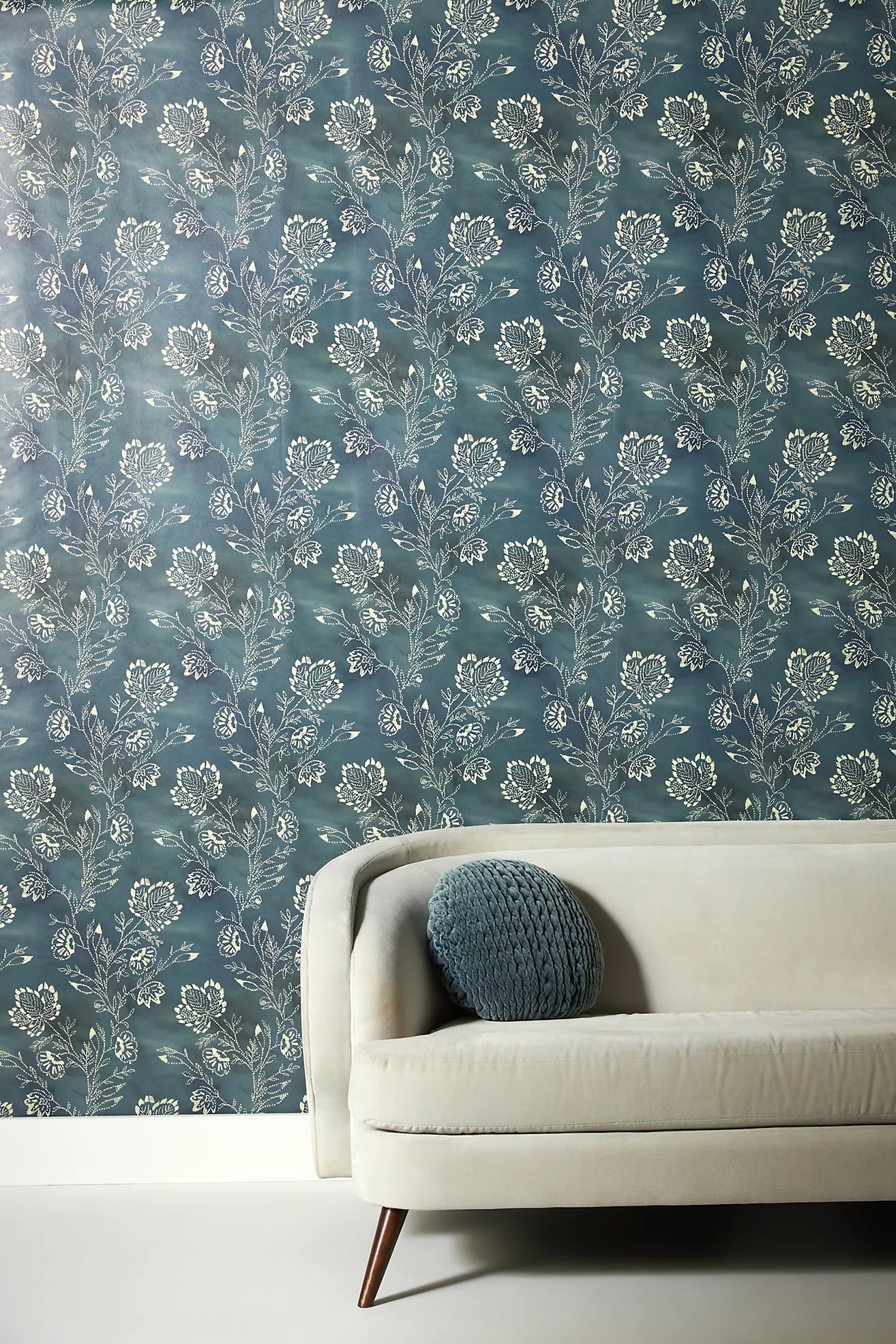 Grey is neutral, which means it will look good with even the boldest of wallpapers. So, if you're sick of playing it safe in your room, find a fun wallpaper with a bold color or pattern.
You can wallpaper the whole room or one accent wall.
Accent with Patterns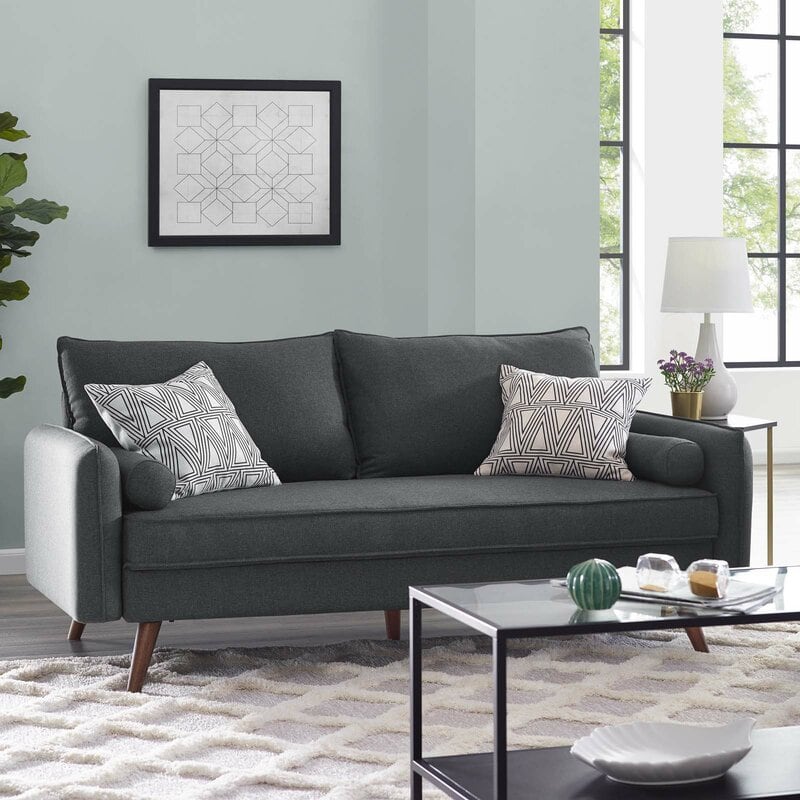 If you need grey couch living room ideas that are easy to follow, try accenting with patterns. Doing this can help you create a simple, put-together room, especially if you follow a color scheme.
You can do like the homeowners in this room and layer in a geometric patterned print and pillows.
Put a Tree Beside the Sofa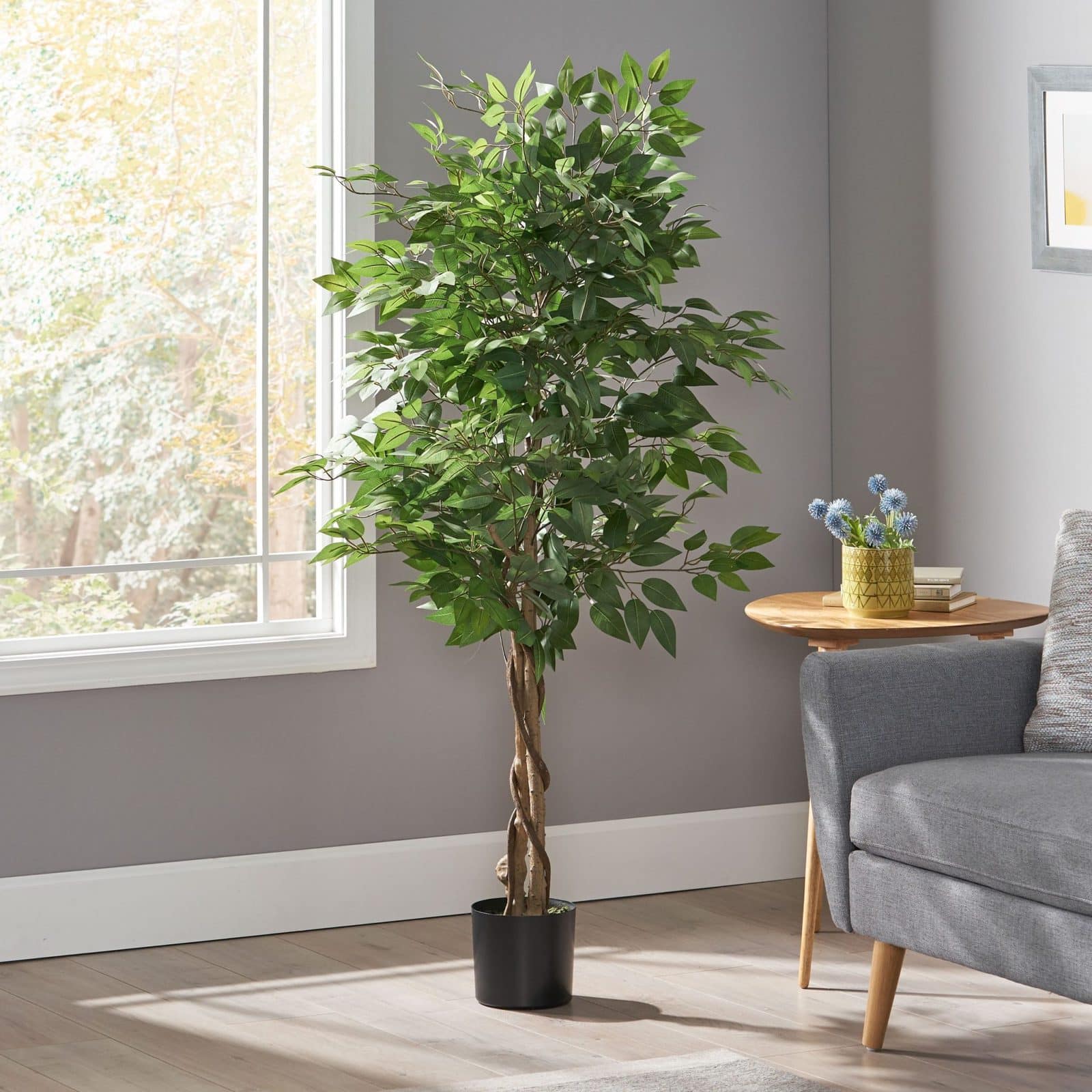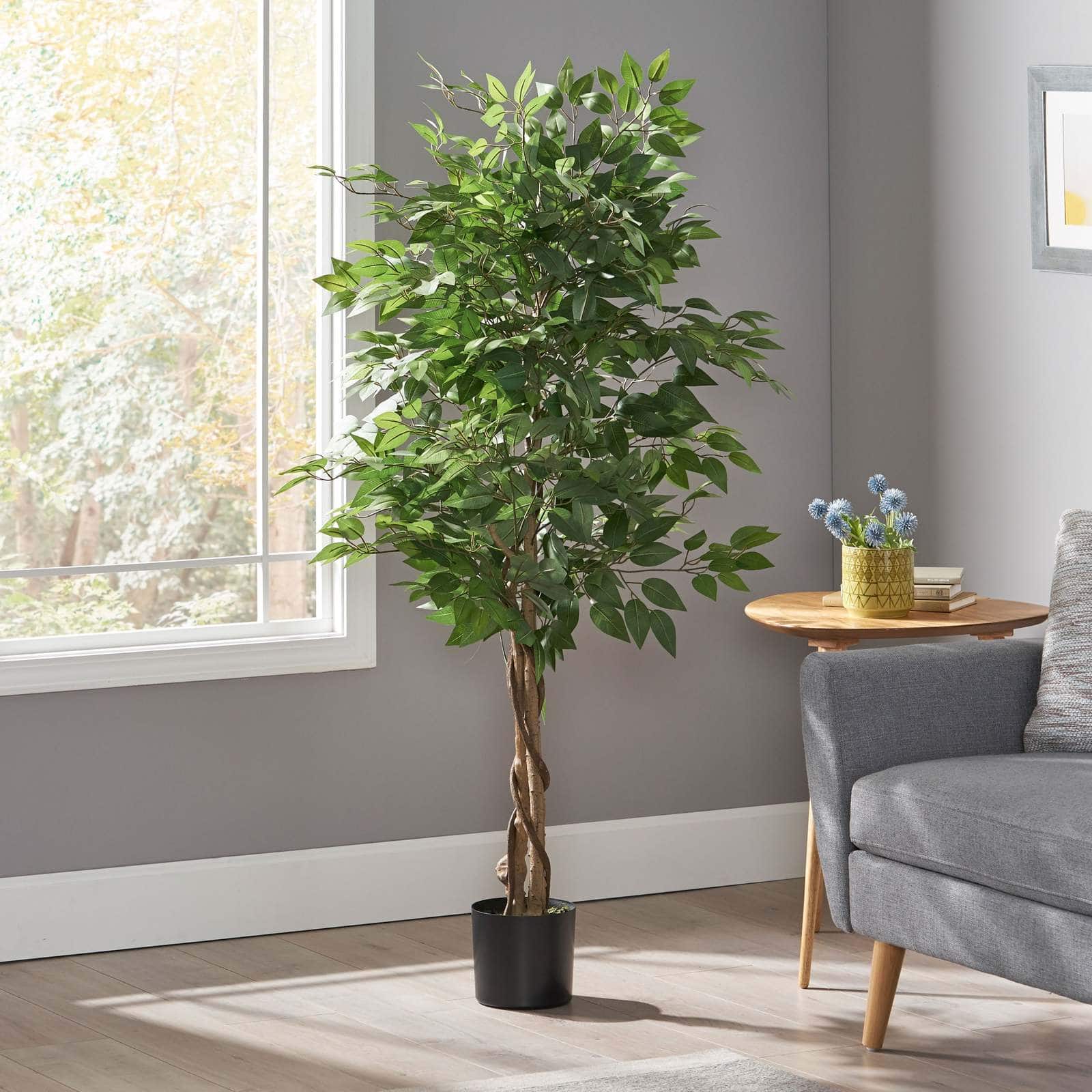 Plants are always an excellent addition to the room, no matter the color of the sofa. If you've yet to put any plants in your room, start with a tall tree that you can place next to your gray couch.
If you know how to care for plants, opt for an authentic version. For those without a green thumb, consider a faux tree, like pictured above. Most people will never be able to tell that the tree isn't real.
Final Thoughts
If you have a grey couch in your living room, you don't need to overthink the decorating ideas. Grey is a neutral that goes with almost everything.
For an effortless style that's impossible to mess up, add a rug under the sofa, white curtains, and layer in plants. From there, you can add wall decor and mirrors that suit your style.