Decorated Life is reader-supported. When you buy through links on our site, we may earn an affiliate commission. Learn More
High Tea – Tea Party Etiquette – Etiquette and Menus Guide
By: Decorated Life Team
|
High tea is all the rage for birthday celebrations, brides-to-be and as a thank you for any reason at all. So what is high tea party etiquette and what are the rules?
When did this afternoon bash become so fussy and can you break these rules? Well, to break the rules you have to know them first. Rules like settings with tea cups and saucers are necessary, but forks are not, at least not for a traditional high tea gathering. Smarter occasions with more food, and a greater variety, need at least a fork for cake and a spreader for scones!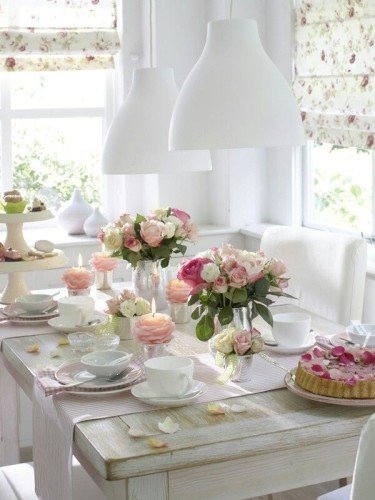 Source: Pinterest
High Tea Table Setting
Let's start with the table. This is where all the fancy sandwiches, petite fours, cakes and savories reside. The size of the table and its offerings depend on the number of guests. Traditional high tea is a sit down affair in the living room. A small table, coffee or occasional table are perfect if you have a small gathering.
Source: Amazon
Settings can be elaborate with flowers, china tea cups and saucers and water jugs, but they are not compulsory. Its nice to have china tea cups and saucers, even if they don't match.
Source: Pinterest
Another rule is that you should not be seated at the dining table but seated in the living room, that is, in the best room in the house. This rule is not always practical, and breaking with tradition, the dining room is now the most common place to serve high tea.
Source: Bloglovin
Flowers in vases or tea pots, candles and other decorations elevate the event to something very special. This again, depends on the event, budget and time.
A very useful item seen at a high tea is the three tiered serving plate. Tradition places three courses on this cake stand. The largest, bottom tier holds savory items as the first course, the second tier has scones, jam and cream the the top tier has sweets and biscuits. This saves table space, but also helps work out portions per person. 
Source: amazon
Set one, two or three of these tiered servers along your table to make sure everyone is being catered for. And that is all you need. Luxury hotels and diners often stop there, but when its at home, we tend to add more food.
Source: High Tea at the Esplanade Hotel
High Tea or Garden Party
These days the lines between a garden party and high tea are a little blurred. High tea should be in your living room but often, you can have it outside, on the patio or porch, inside by a coffee table or side table. This makes your high tea a little easier for your guests to get their food and keeps the party a little more intimate.
Source: Empress Hotel Canada
High Tea  – Pinkies Up or Down?

Debrett's Etiquette, gospel on everything from how to address the Queen of England, Barons, Lords and Duchesses to every type of Wedding, Christening and Funeral Invitation and how to use cutlery disagrees!
Little fingers should never point to the sky but should be in a relaxed position. Which one makes you feel more Royal? That's not all. Coffee is never served and tea has lemon and no milk or sugar.
And let's not forget the tea. You can offer your guests a special selection of tea. But will you brew your tea or use tea bags? If its a small group, brewing tea makes the event special. If you have a large crowd, either limit the varieties of tea on offer to reduce the number of teapots needed, or use tea bags.
How To Eat a Scone
What's Cooking America make it very clear that tea party etiquette is being ruined daily simply by the way we eat sconces.
How To Eat A Scone: … it is not only improper to slice a scone, in its ENTIRETY (horizontally to be slathered in jam and cream), it is considered very common behavior!

The correct manner in which one eats a scone is the same manner in which one eats a dinner roll. Simply break off a bite-size piece, place it on your plate, and then apply, with your bread and butter knife, the jam and cream. A fork is not used to eat a scone. Please, no dipping!
I must agree. Ellen Easton must cringe every time this rule is stomped on. Will it stop people from slicing a scone? Probably not. Read the full article here.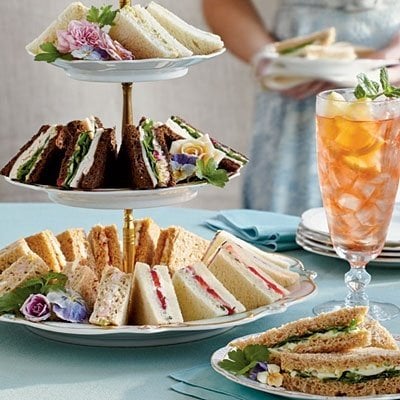 Source: Pinterest
How you make a scone is easy. Here is an English recipe to make an easy 3 ingredient scone recipe with Lemonade. Are you having an English scone or American scone?
British Scone – light, fluffy, almost savory and served with raspberry jam/jelly and cream. Always served with tea.
American Scone – triangle shaped, glazed, quite sweet with extras such as fruit or chocolate.
High Tea Debretts Rules – No Forks!
There are common areas that both Debretts and Ellen Easton from What's Cooking America agree. Finally.
Debrett's Tea Party Etiquette has these tea party etiquette rules.
No Forks. If food is too big to serve without a fork – don't serve it. Leave spreaders for jam and cream only on the table.
Serving food should interrupt the flow of talk as little as possible.
High tea is served in the sitting room or living room – not the dining table.
China tea is served and drunk with lemon and without milk or sugar. No coffee.
Home made items are always preferred.
Two separate tables – one for the tea tray, cups and saucers and the other for food.
Your best china should always be used – even if not matching
Small tables next to sofa's help guests to rest their plates and tea.
Alcohol can be served before tea as an aperitif.
Small linen napkins are preferred to paper napkins.
Guests help themselves to food, starting with hot dishes.
When eating – plate in one hand, food in the other. When drinking – saucer in one hand and cup in the other.
Do not crook little finger!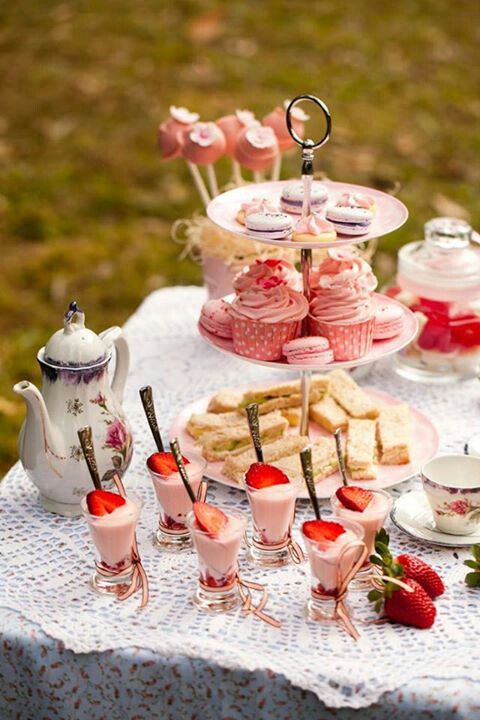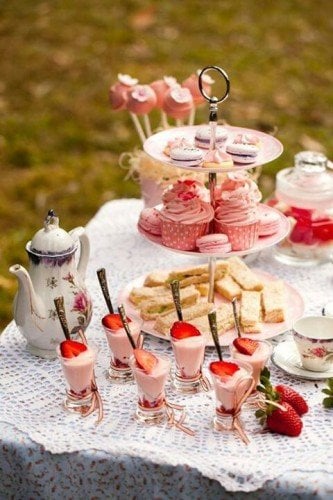 Source: pinterest
How Many High Tea Rules Do You Break?
If you follow the Debretts High Tea rules, most of us broken at least two or three rules at each sitting. Most high teas have added champagne or cocktails, coffee and all kinds of sweet treats.
The important thing is to have a great time. It's also an excuse to entertain with your best china, bring out lashings of rich food and make sure the conversation is flowing and fun.
That's what High Tea is really all about!
If you missed the previous article on High Tea – Jolly Hockey Sticks you can find it here.