Decorated Life is reader-supported. When you buy through links on our site, we may earn an affiliate commission. Learn More
How Tall Should an Entry Table Be?
Whether you're looking for the perfect foyer table height or hallway table height, sometimes finding the right height for your entry table can be difficult. They can come in many different dimensions, and it can be hard to tell whether a small, midsized, or large entry table would work better for your needs.
This guide is designed to help you figure out the perfect entry table height to use your space effectively and make it look stylish.
How Tall Should an Entry Table Be?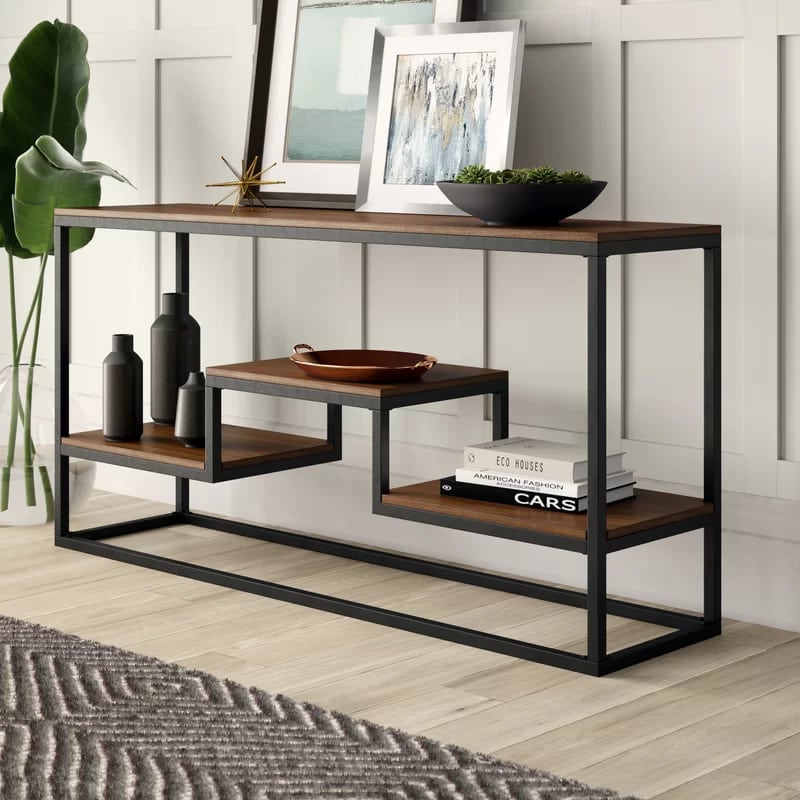 The height of an entry table will depend on your personal preferences and home structure, as all the heights from small to large and everything in between will create a different look for your entryway.
If you have tall ceilings, a taller entryway table height will usually work better. Entryway tables that are too short in these areas won't fill up the space effectively, leaving a lot of empty room. Usually, a tall entry table will be 35 inches or above, and some will be above 40 inches. Most of these larger entry tables will have shelving, and many designers prefer them for this reason. They are typically more versatile since you have more room to decorate.
On the other hand, a smaller entry table height will usually work better for smaller spaces. Unlike large entry tables, these usually won't have room for shelving. Instead, the best way to decorate a smaller entry table is to put items on top of it.
There is some room for flexibility, however, since the wall decor can change how effective the entry table is. For example, you can put a large mirror behind a smaller entry table to make it appear larger and take up more room. Alternatively, you can add in some extra wall decor to decrease the amount of empty space that a small entry table leaves behind.
Average Height Entry Table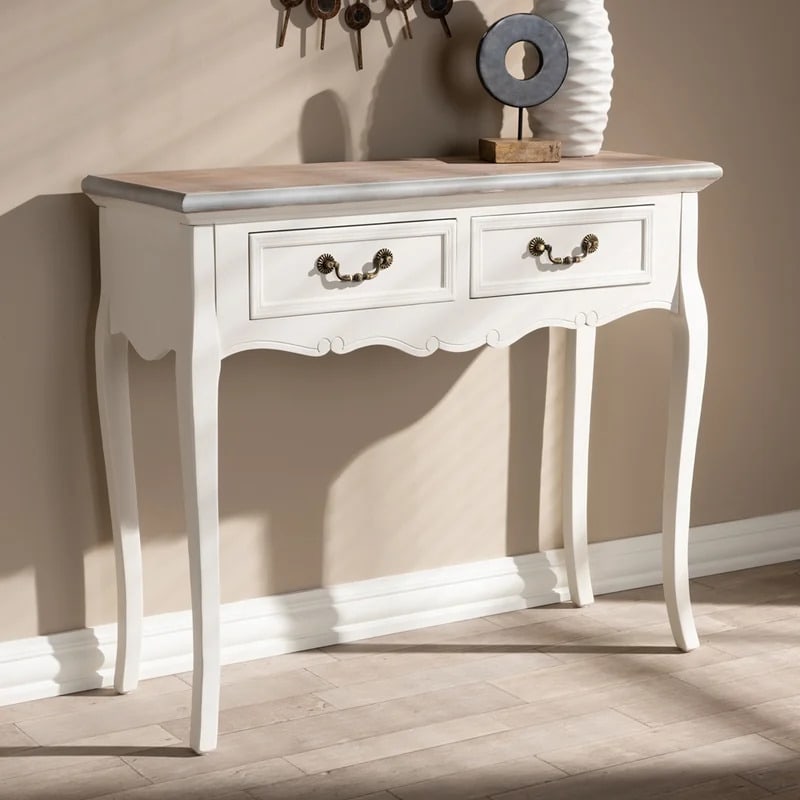 The standard entry table height is 30 inches. A 30-inch table is midsized, which is why it's so popular. Whether you have a larger or smaller space, a 30-inch entry table will likely fit.
Since a 30-inch table is average, most table styles will come with this height. This means that you can usually find more style options if you go with a 30-inch table as opposed to an overly tall or overly short table. If you have a slightly larger space, for example, you might choose to go with double the length for the entry table dimensions.
Adding a Large Mirror Behind a Small Entry Table
As previously mentioned, one great way to fill up the space behind a smaller entry table is to add a mirror. This will not only make your entryway, foyer, or hallway feel larger than it actually is, but it will increase natural light dispersion as well. Some popular choices are to hang it on the wall or add a full-length floor mirror behind it.
For the first option, there are many different wall mirror shapes that you might choose to go with. You can go with a standard shape such as a rectangular or circular mirror, which will give it a simpler feel. Or, to make your space stand out, you might choose to go with a hexagonal mirror, which has the added benefit of making your entryway feel modern.
As for floor mirrors, they follow a similar principle– the shape of the mirror will add to the design. Adding a golden arched mirror behind an entry table, for example, can give it an elegant and luxurious look. Another great option for a floor mirror is using a window mirror.
Choosing an Entry Table for a Large Entryway
Along with having the proper height for your entry table, you'll also need to find the perfect width as well. A wide entry table will usually be about 30 inches tall like normal entry tables but are usually double the width. This is a great option for large entryways, especially ones that don't benefit from using a mirror and small table combination.
Of course, you can still add a mirror or other wall decor above a large entryway table, which you may need to balance your design. This is especially the case if you have tall ceilings. However, many designs will choose to use the shelving space large entryway tables often offer for decorating. You can even add both wall and shelving decor for a more intricate entryway design.
Final Words…
When it comes to entry tables, there are a variety of different options that can fit with whatever design you have in mind. Small tables can leave room to be more versatile with wall decor, and average height tables have many styles to fit into nearly any entryway. There are virtually endless possibilities, no matter where you're trying to put your entry table.
We hope this guide helped you get started trying to find the perfect entry table for you and your favorite style.