Decorated Life is reader-supported. When you buy through links on our site, we may earn an affiliate commission. Learn More
16 Stunning Entryway Mirror Ideas
Designing the entryway for your home is a task that shouldn't be taken lightly. It's the first space that guests will see when they enter your home, so it's your chance to make a first impression that they won't forget.
A mirror is an essential element of any entryway or foyer design. As well as making your entryway feel bigger and brighter, a mirror is also very practical, enabling you to check how you look before leaving your home. In this article, we're sharing some of the best entryway mirror ideas to help you find the perfect mirror for your own entryway or foyer.
Modern Farmhouse Entryway Mirror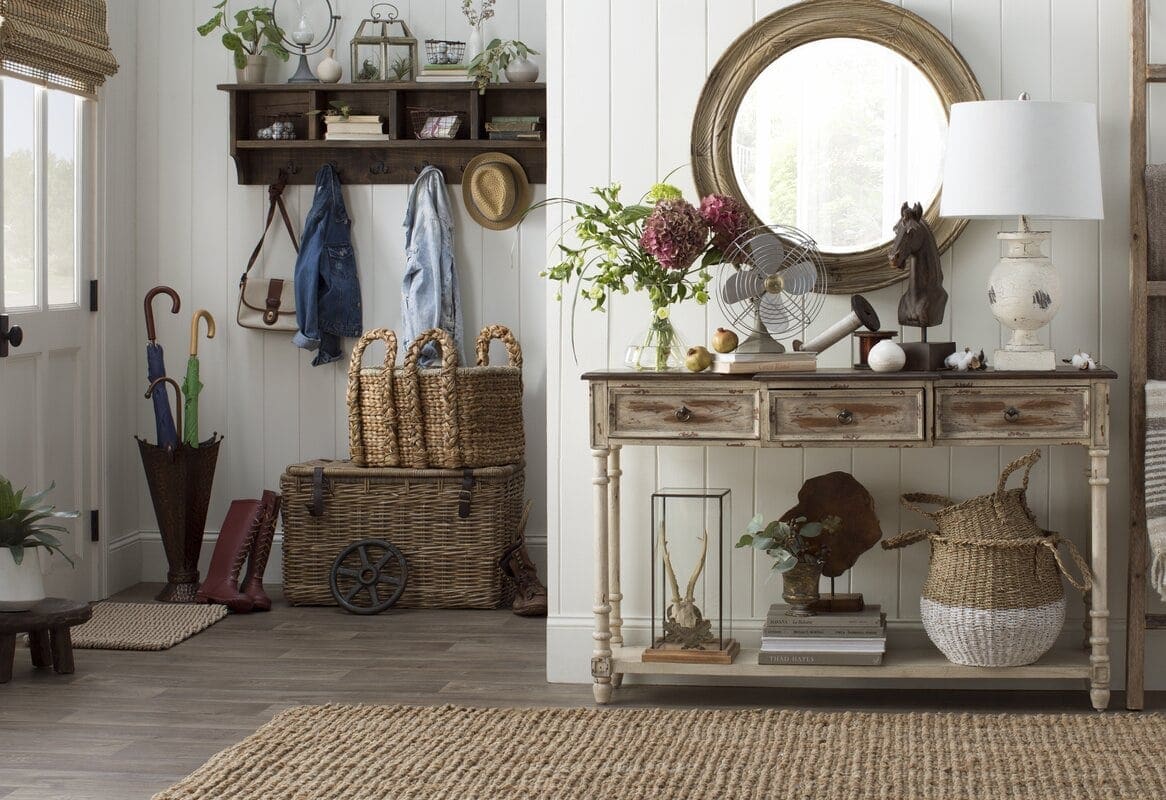 Get the modern farmhouse look in your foyer with a solid wood entryway mirror and matching entryway table. Modern farmhouse style is very versatile, and ideal for family living. Solid wood furniture will last for years and can look even better as it ages.
Complete this effortlessly stylish look with some woven storage baskets to keep things organized, some fresh or dried flowers, and a modern farmhouse table lamp to give the area a cozy glow.
Boho Entryway Mirror With Hooks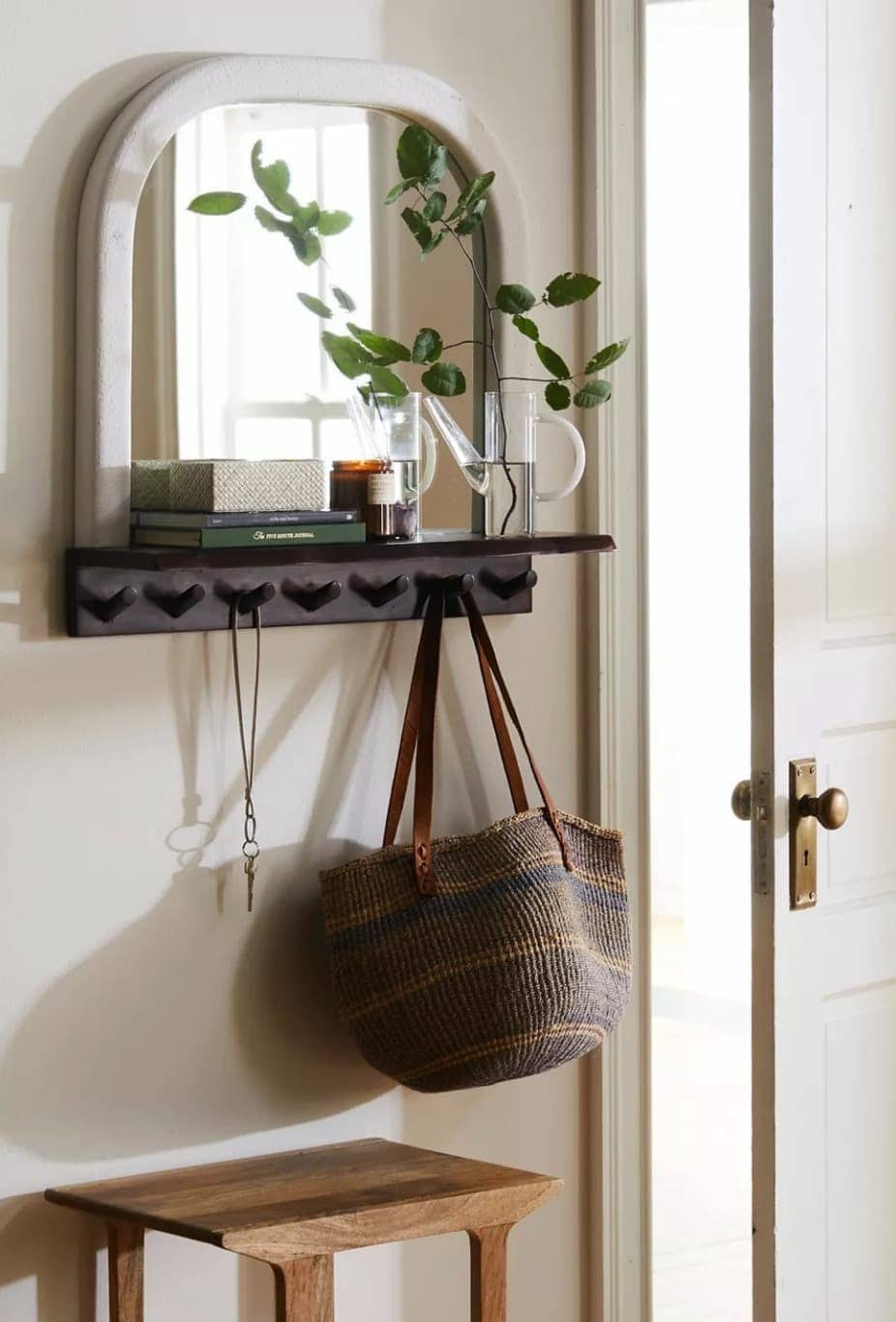 This small entryway mirror is both stylish and practical, featuring a shelf and a row of hooks beneath the mirror, which can be used for hanging hats, bags, keys, or anything else that you would usually keep near your front door.
The boho-inspired design features a hand-painted wooden finish, which will give your entryway an effortlessly chic, relaxed look. This is an ideal choice for smaller entryways, as it provides a practical place to store bags and other items without taking up any floor space.
A Trio of Industrial Mirrors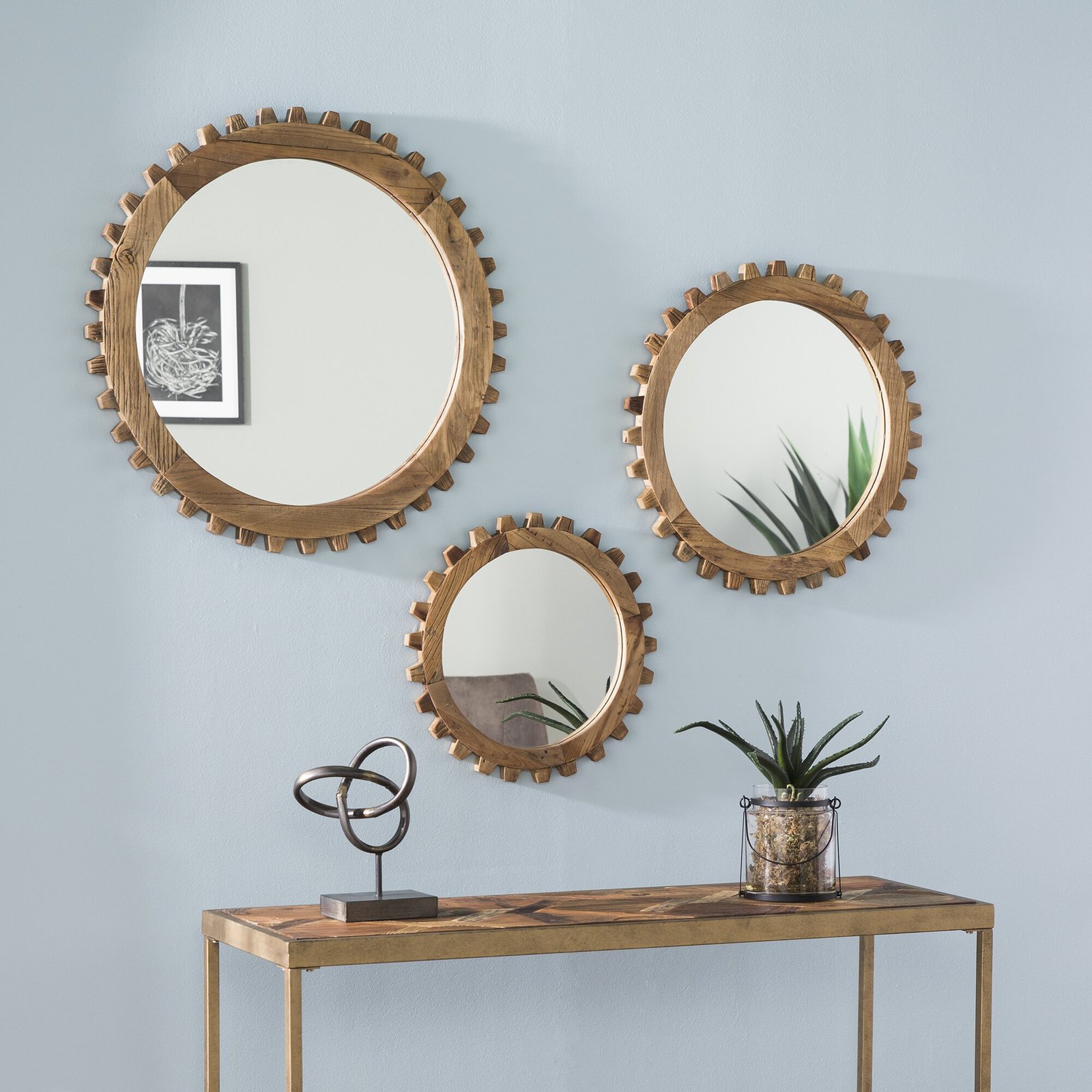 Give your entryway an industrial vibe with this trio of wooden mirrors. These unusual mirrors are sustainably made from reclaimed wood, which gives them a rustic look.
The design is similar to a saw blade or gear mechanism which makes these the perfect choice for anyone who loves industrial interior design. They can be hung separately but would look best as a trio displayed over an industrial-style wood or metal entryway table.
Entryway Mirror With Storage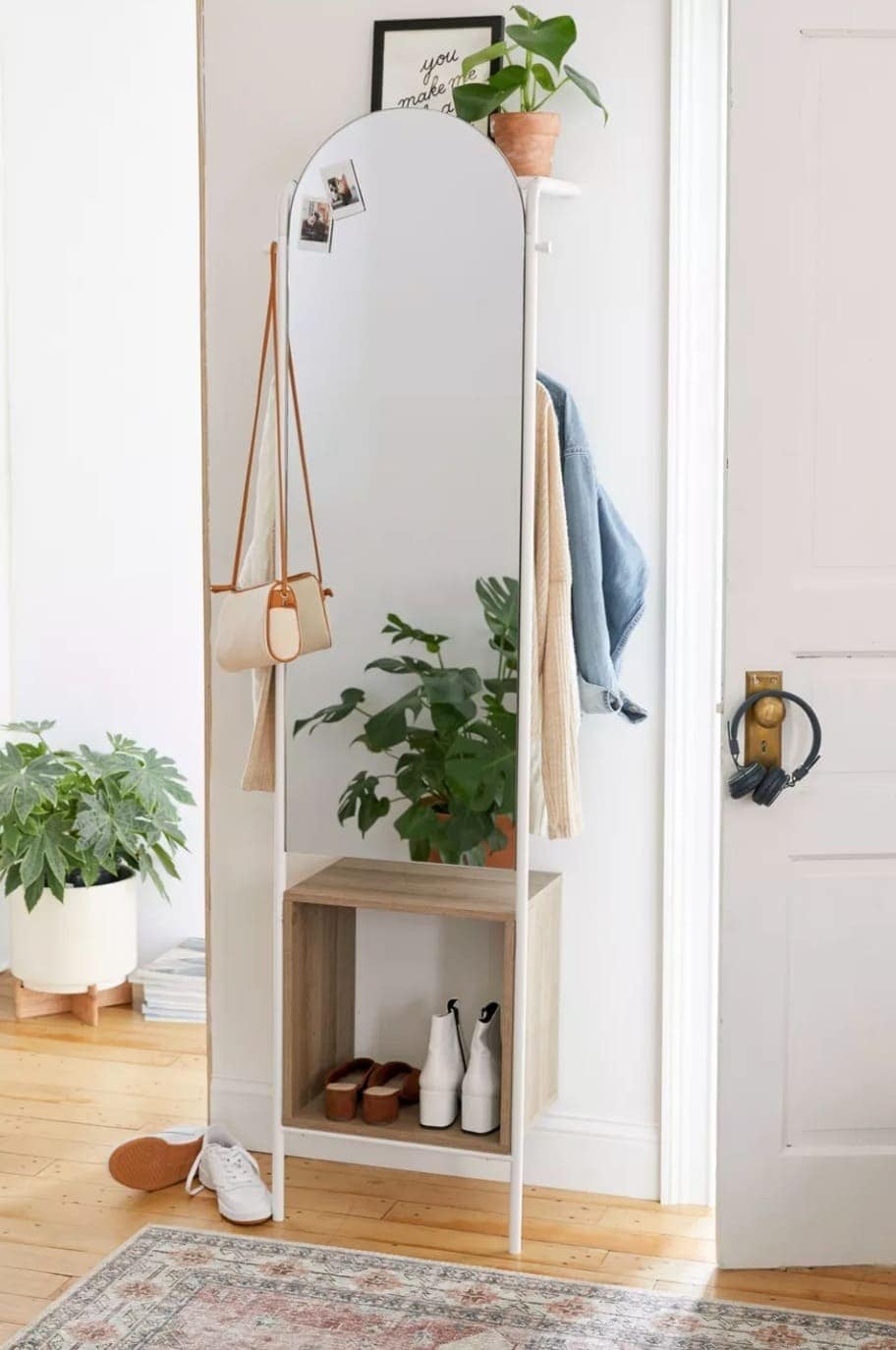 If you're short on space in your entryway, then choosing an entryway mirror with storage is the perfect solution. This stylish mirror features an arched design, with a rail for coats and other garments to hang behind the mirror.
It also includes a small shelf underneath to store shoes keeping your entryway tidy and clutter-free. A brilliant solution for those who don't have built-in storage in their entryway.
Wood and Glass Accent Mirror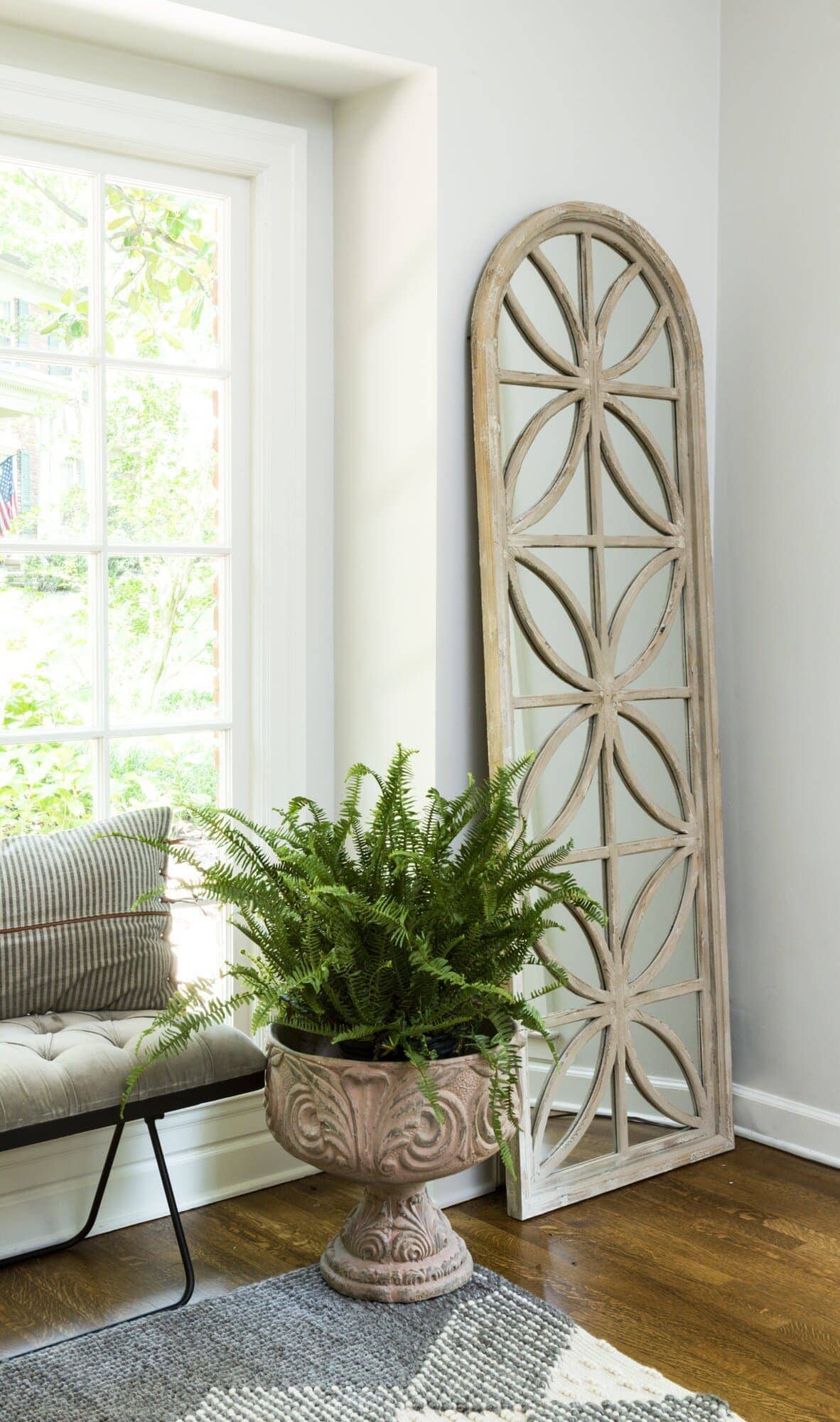 Make your entryway feel bigger and brighter using a full-length accent mirror. Large mirrors are great for maximizing the light in smaller spaces, and they will visually open up the space.
This beautiful mirror is sure to make a statement, with the pretty design and lightly distressed finish adding a touch of country charm to your entryway or foyer.
Hexagonal Entryway Mirror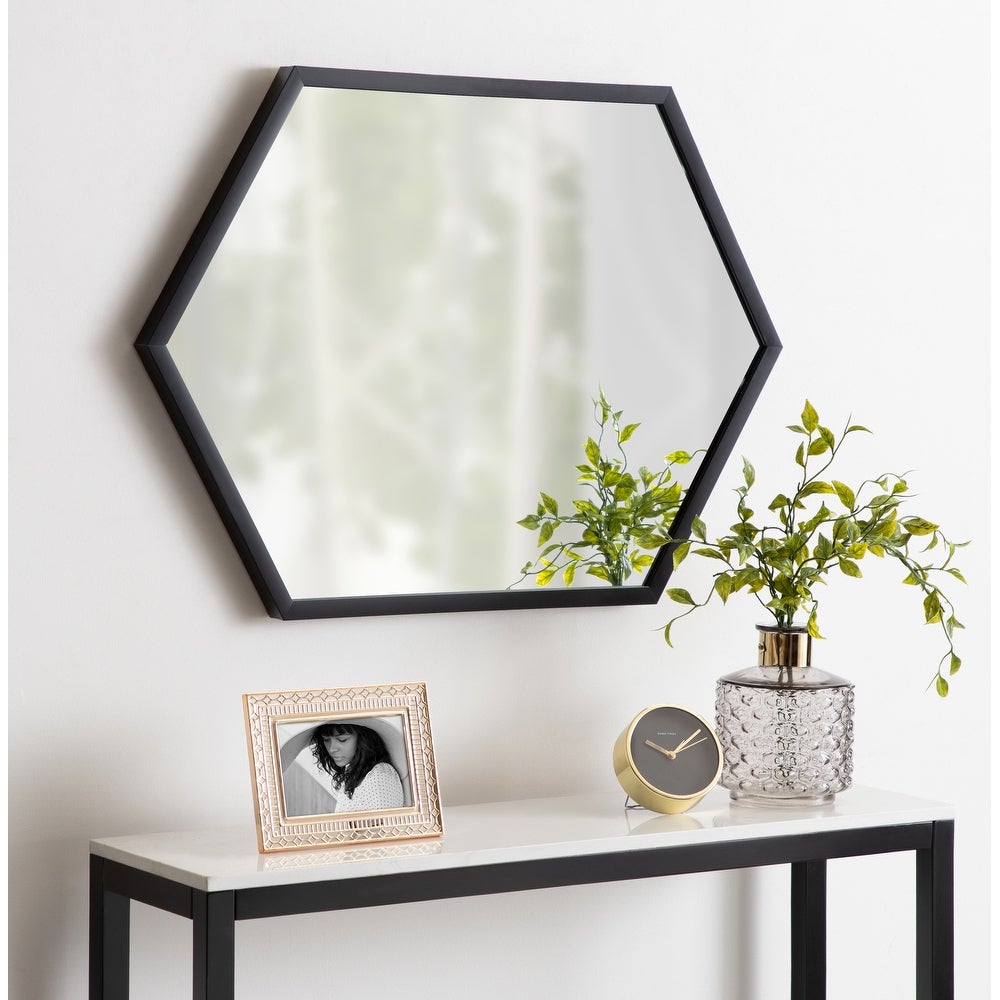 A hexagonal entryway mirror in a sleek black frame will give your entryway a stylish modern look. This style works well in modern and minimalist interiors, and looks best against a white or light colored wall for maximum contrast.
To complete the look, pair this mirror with a modern entryway table in a matching black finish with a contrasting marble top. Keep it simple when it comes to accessorizing to let the mirror take center stage!
Create a Feature Wall with Mirrors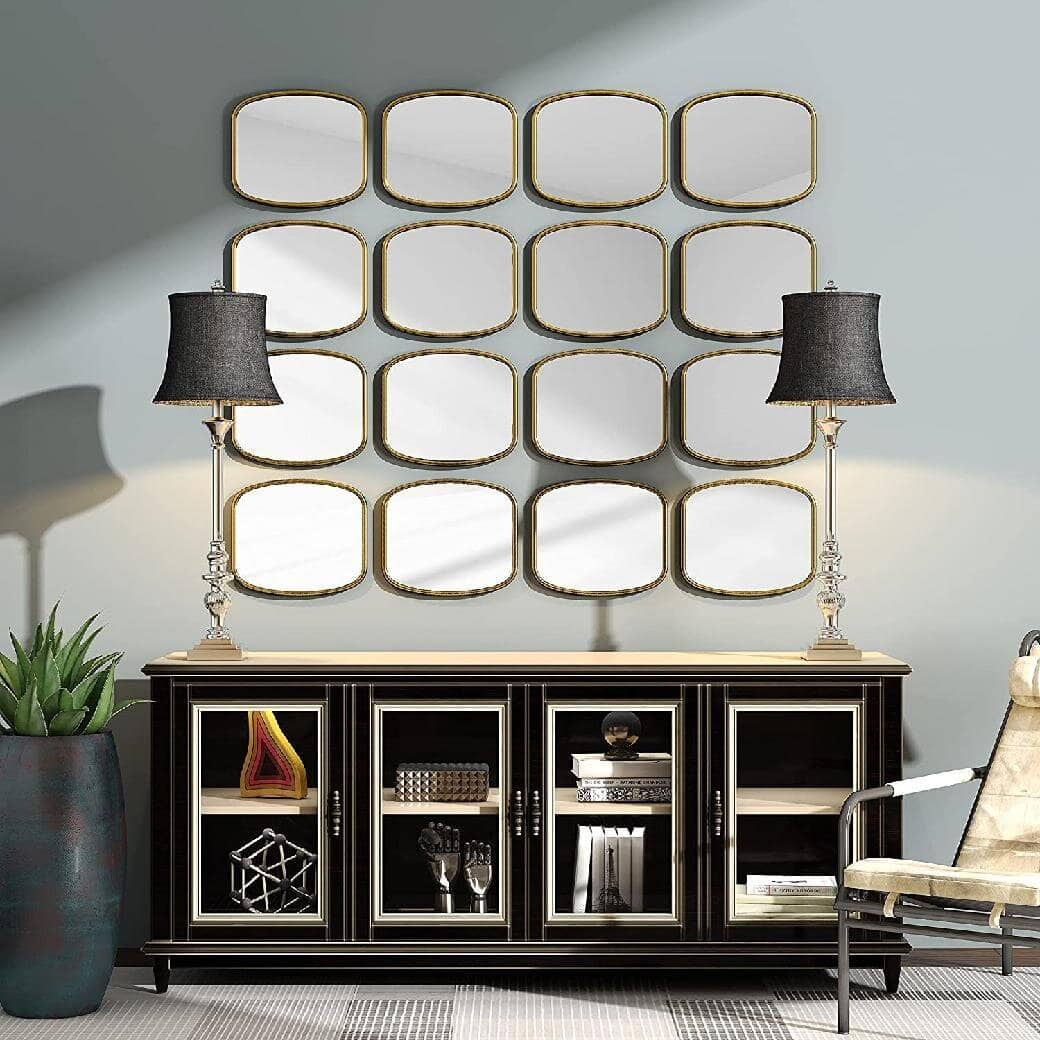 Install a feature wall in your foyer to create a lasting first impression that keeps your guests talking for all the right reasons! These stylish gold mirrors come in a set of four, but can be used to create a feature wall as small or large as you like, depending on the size of your entryway. As you can see, the effect is amazing!
These mirrors will look stunning arranged over a large entryway cupboard to create an elegant and luxurious focal point in your foyer.
Glamorous Gold Convex Mirror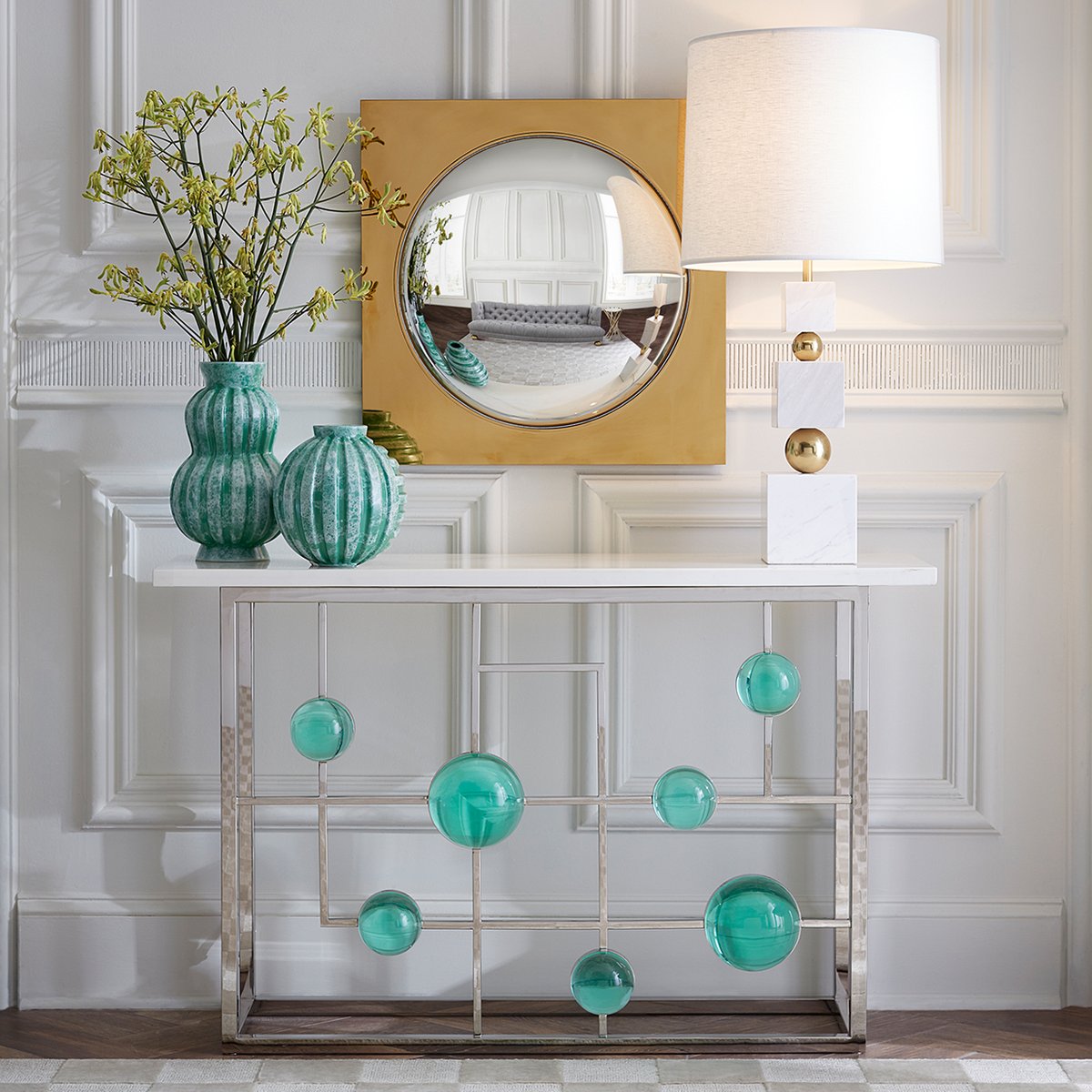 This unusual mirror is perfect for making a statement in your entryway! The stylish convex design is eye-catching, and will suit glamorous and transitional interiors. The fun design will be enhanced by pairing it with bright-colored accessories and furniture to get that maximalist look.
This mirror can be used on its own, or as a set if you purchase two or more. For large spaces, four mirrors arranged in a square will create a unique feature that guests won't forget in a hurry!
Modern Sunburst Entryway Mirror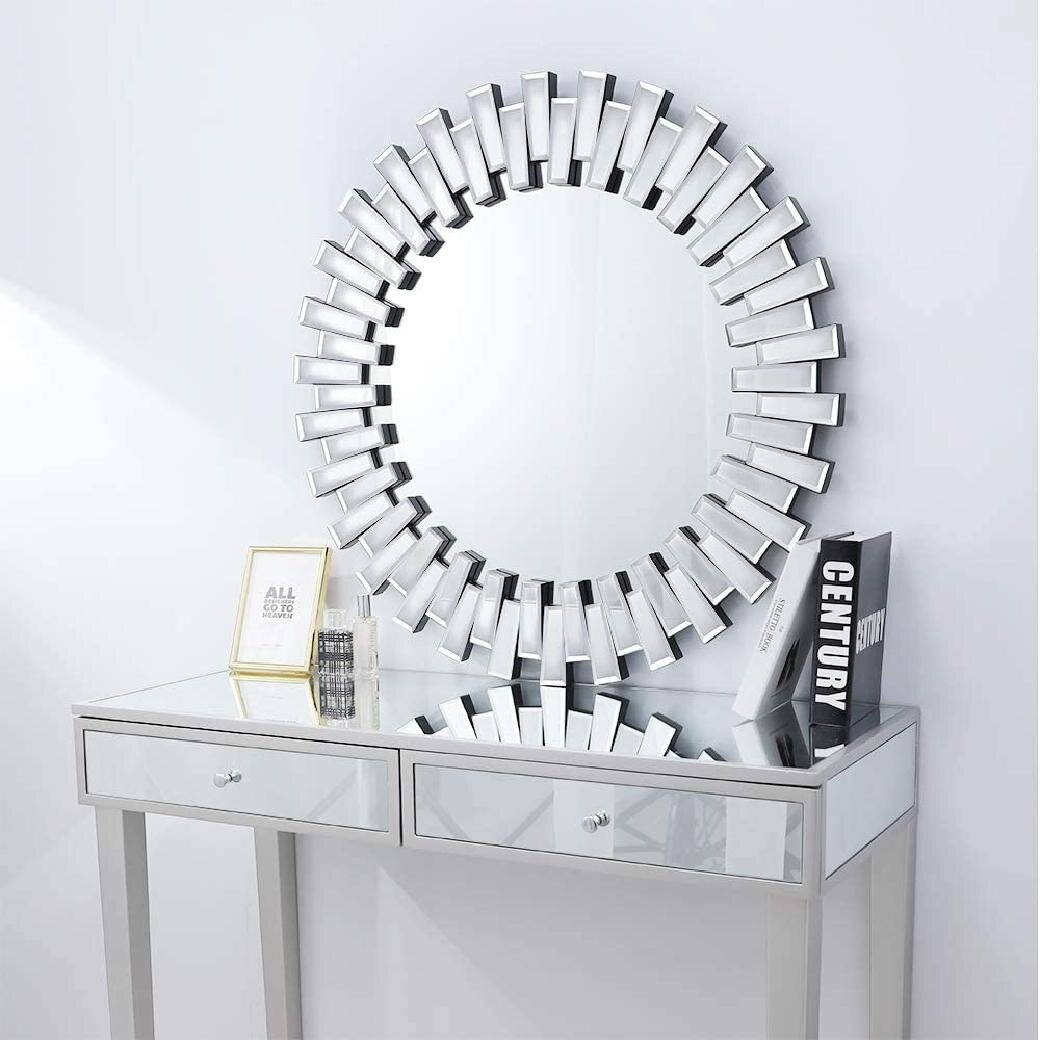 This unique mirror features a mirrored frame in a sunburst design which gives it a glamorous modern look that will work well with most color schemes.
Pair this stylish foyer mirror with a matching mirrored console table. When accessorizing an entryway table with a mirror like this, keep it simple with just a candle and an ornament or photo frame. This will give your entryway a glamorous transitional look that will make your entryway feel light and bright.
Oversized Round Foyer Mirror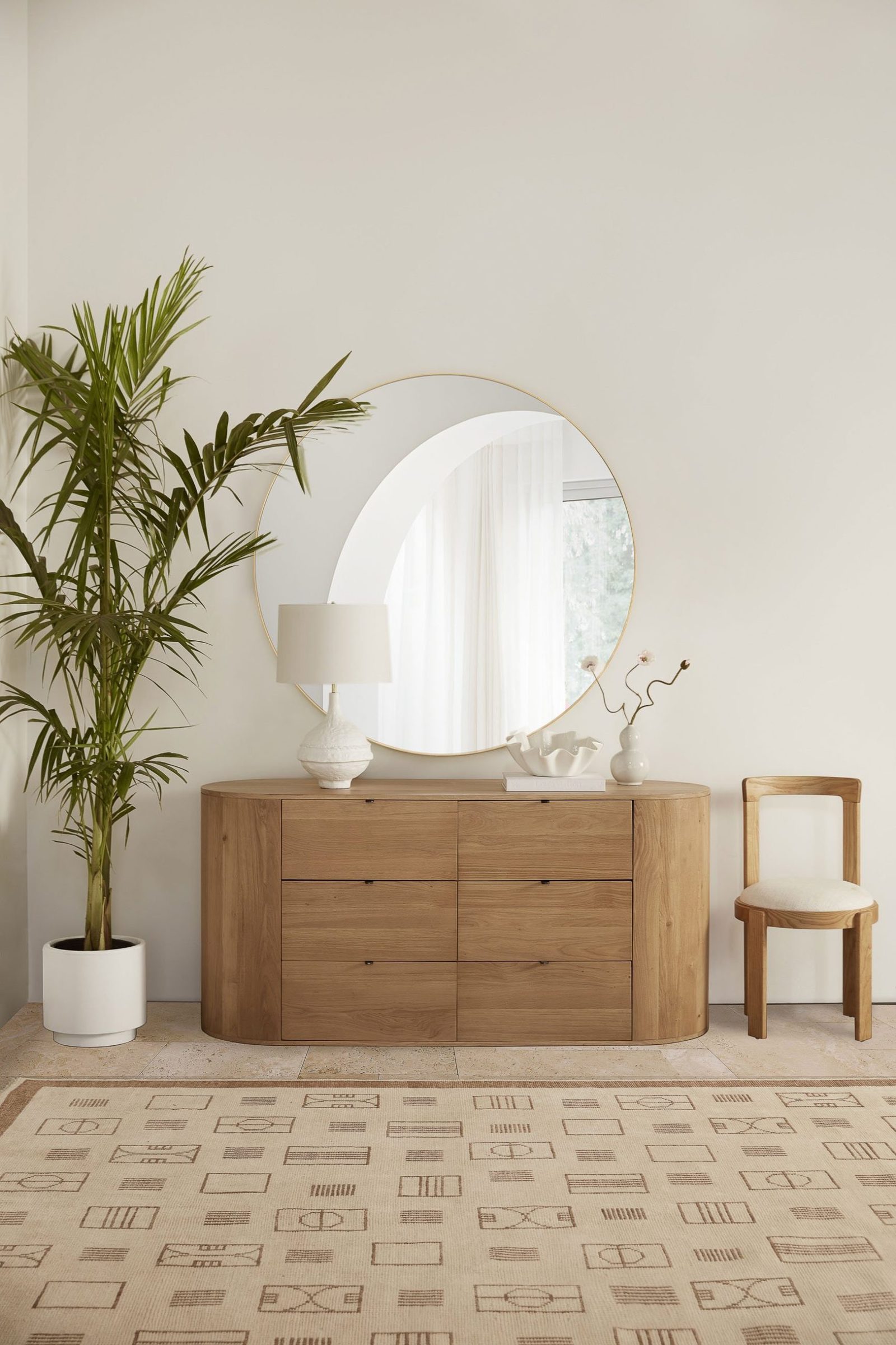 For larger foyers, this oversized round mirror will make a stylish addition to your entryway design. The simple design features a thin gold frame which will work well with most interior styles and color schemes.
Large mirrors visually lengthen the space, making your foyer feel bigger and brighter. This beautiful mirror will look great paired with natural finishes to create a stylish minimal look.
Faux Gems Entryway Table With Mirror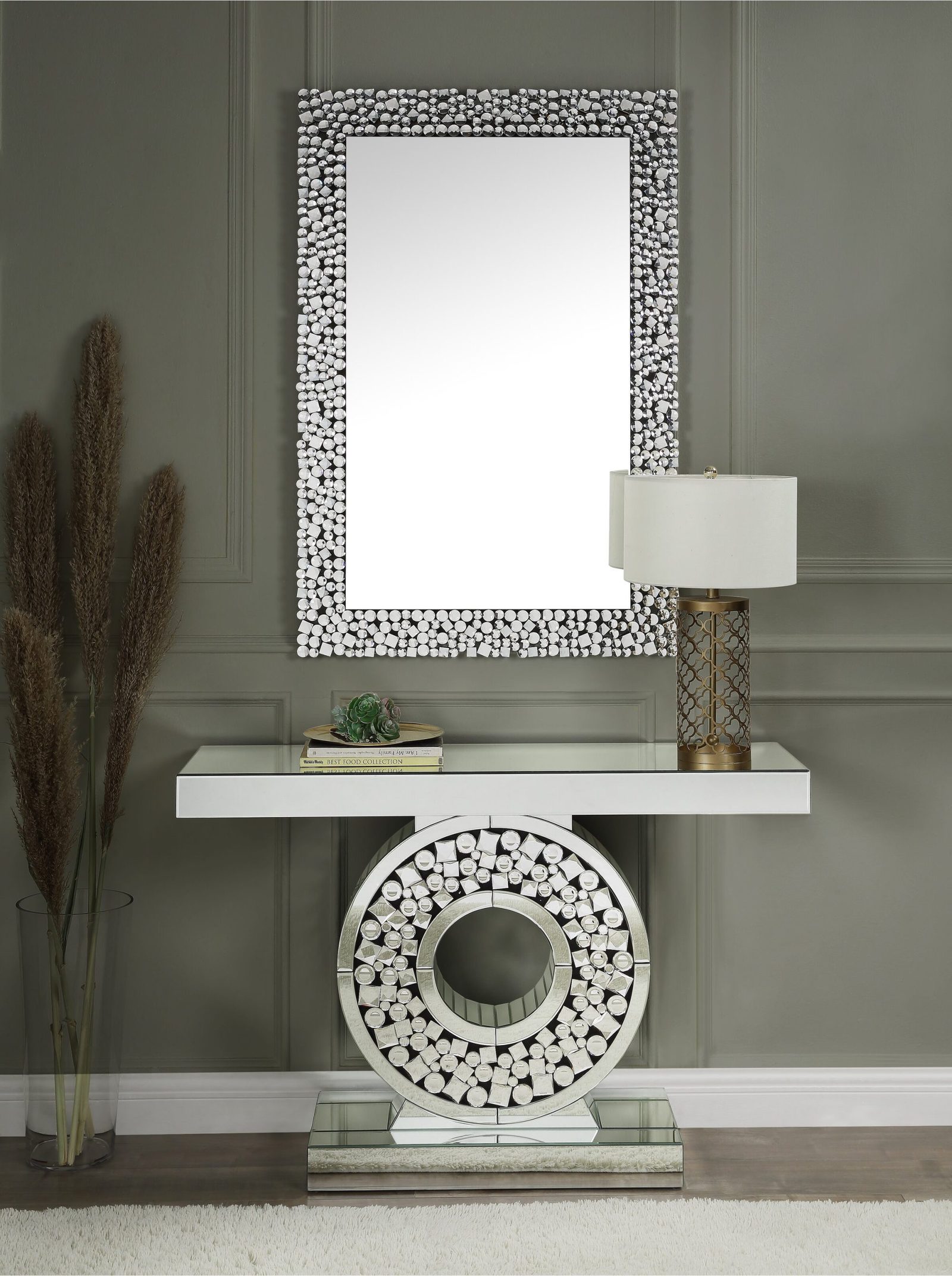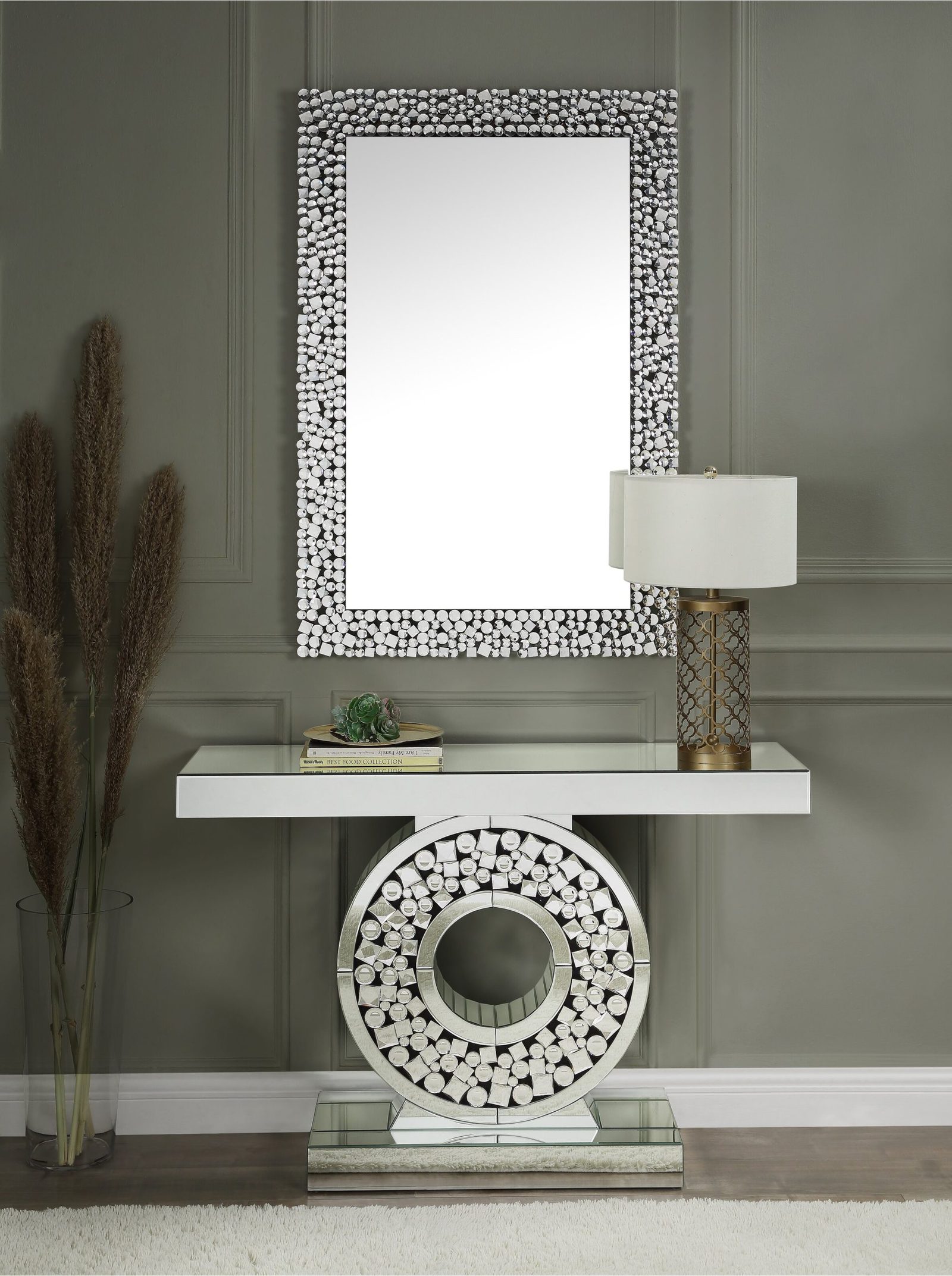 Add some glamor to your entryway with this incredible mirrored entryway table with mirror set. The unusual design features faux gemstones on the frame of the mirror and the front of the table, creating an eye-catching design that infuses contemporary design with transitional glamor perfectly.
This style will work best against darker-colored walls to allow the shape and style of the mirror and matching table to stand out.
Metal Framed Entryway Mirror With Shelf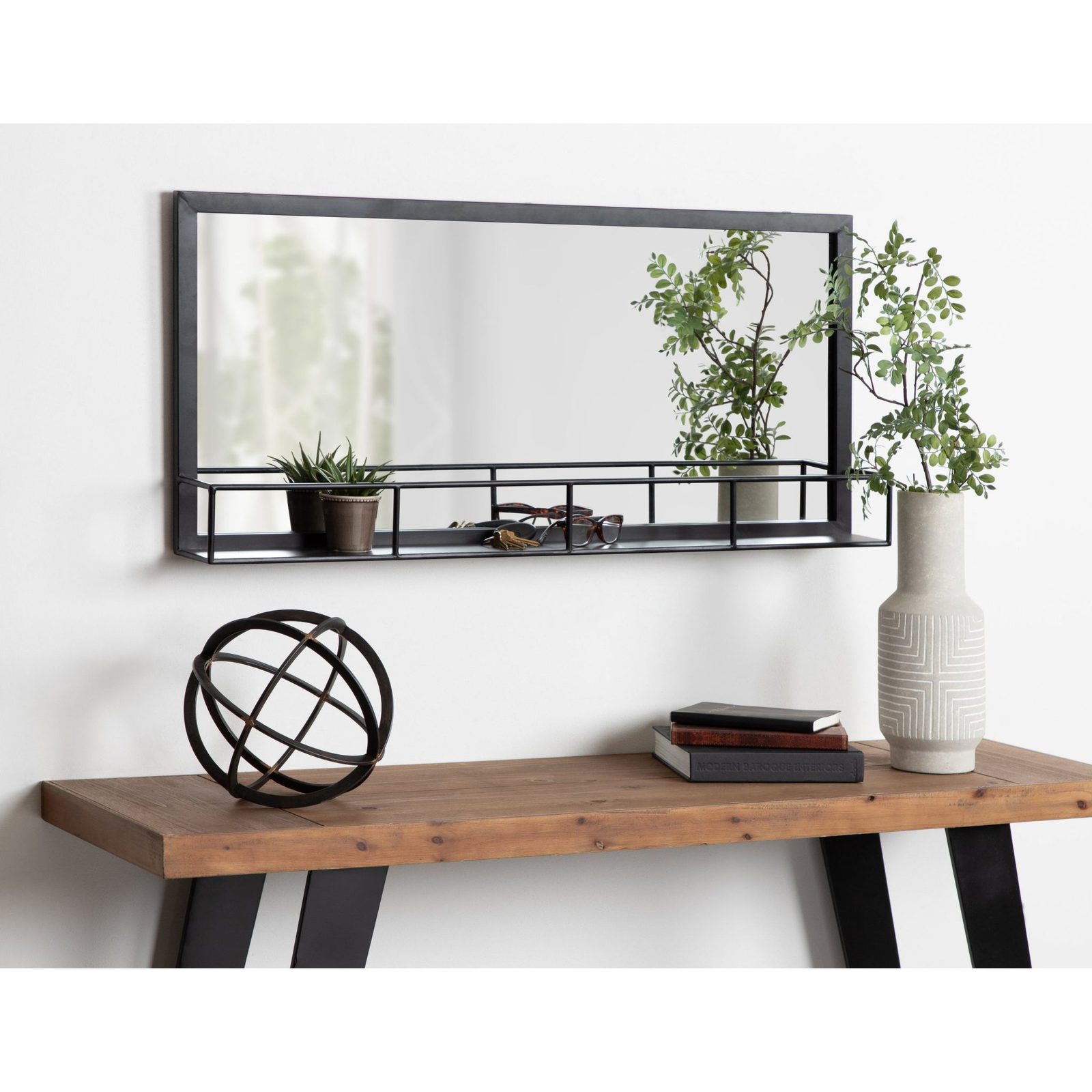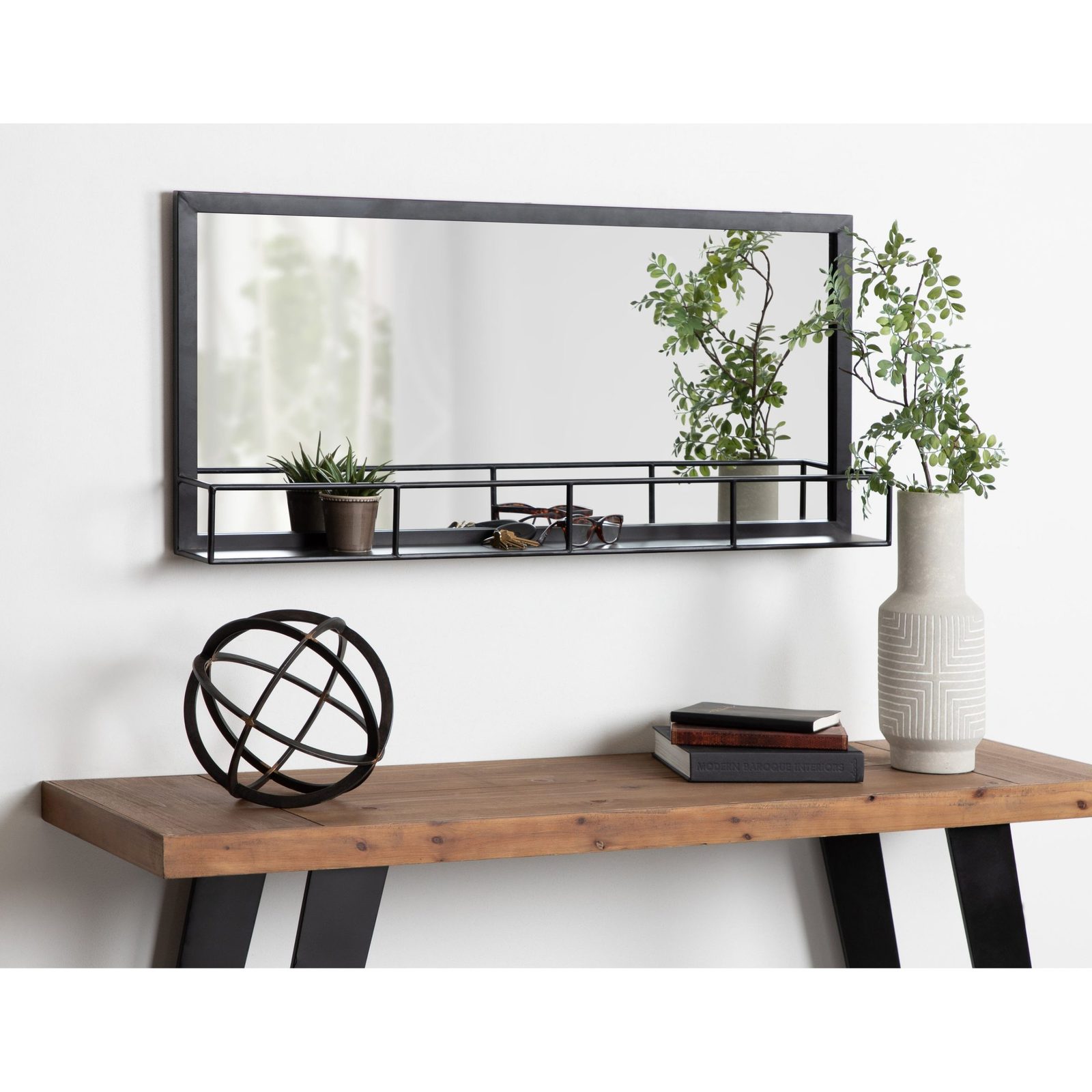 This metal-framed entryway mirror is both practical and stylish, providing you with the perfect place to store keys, sunglasses, and anything else you want to have to hand as you leave the house.
The simple but stylish black design will suit a variety of different interior styles, including modern, minimal, modern farmhouse, and industrial. Because it includes a built-in shelf, this is a great choice for a smaller entryway, as it can be used without a table or bench underneath.
Entryway Bench with Mirror Above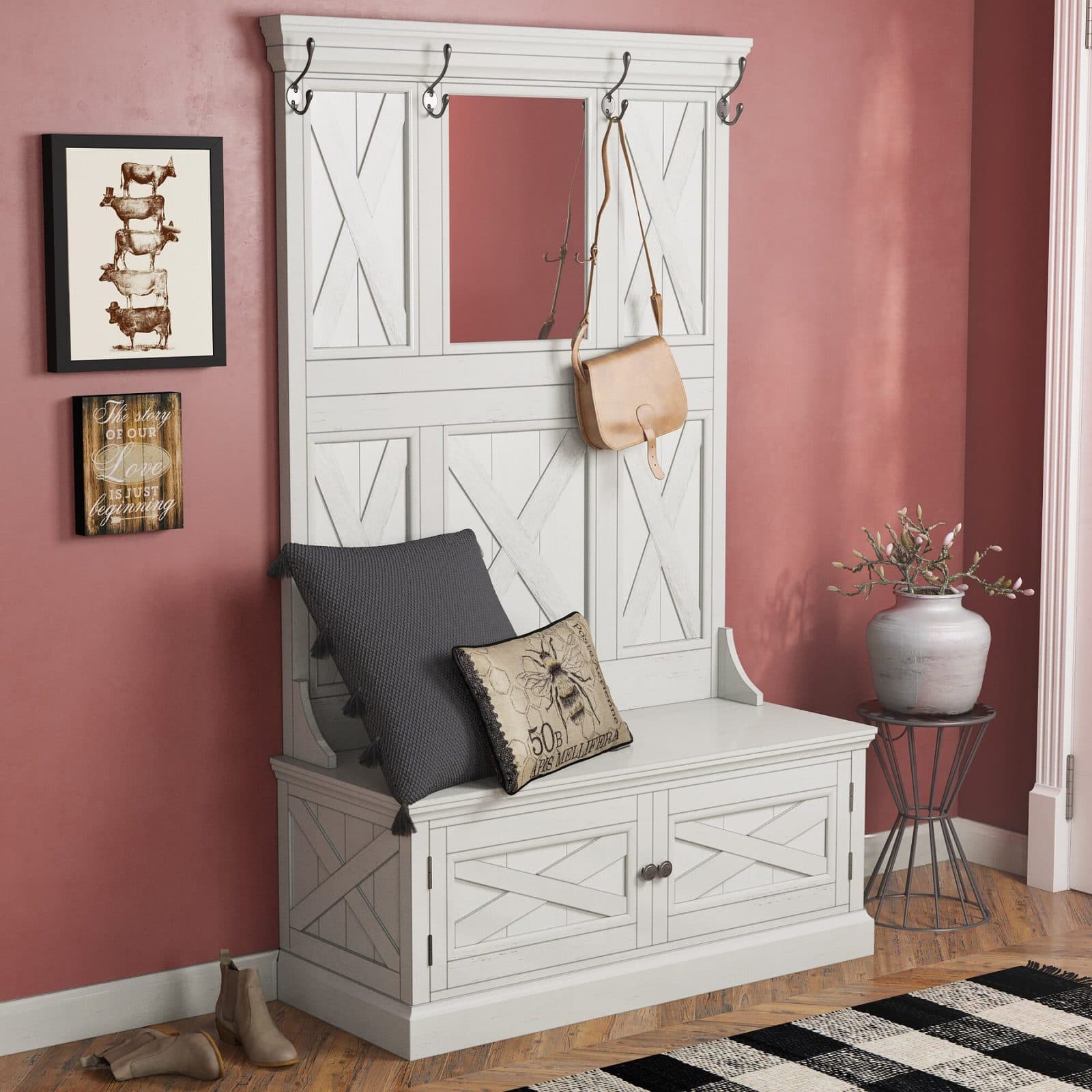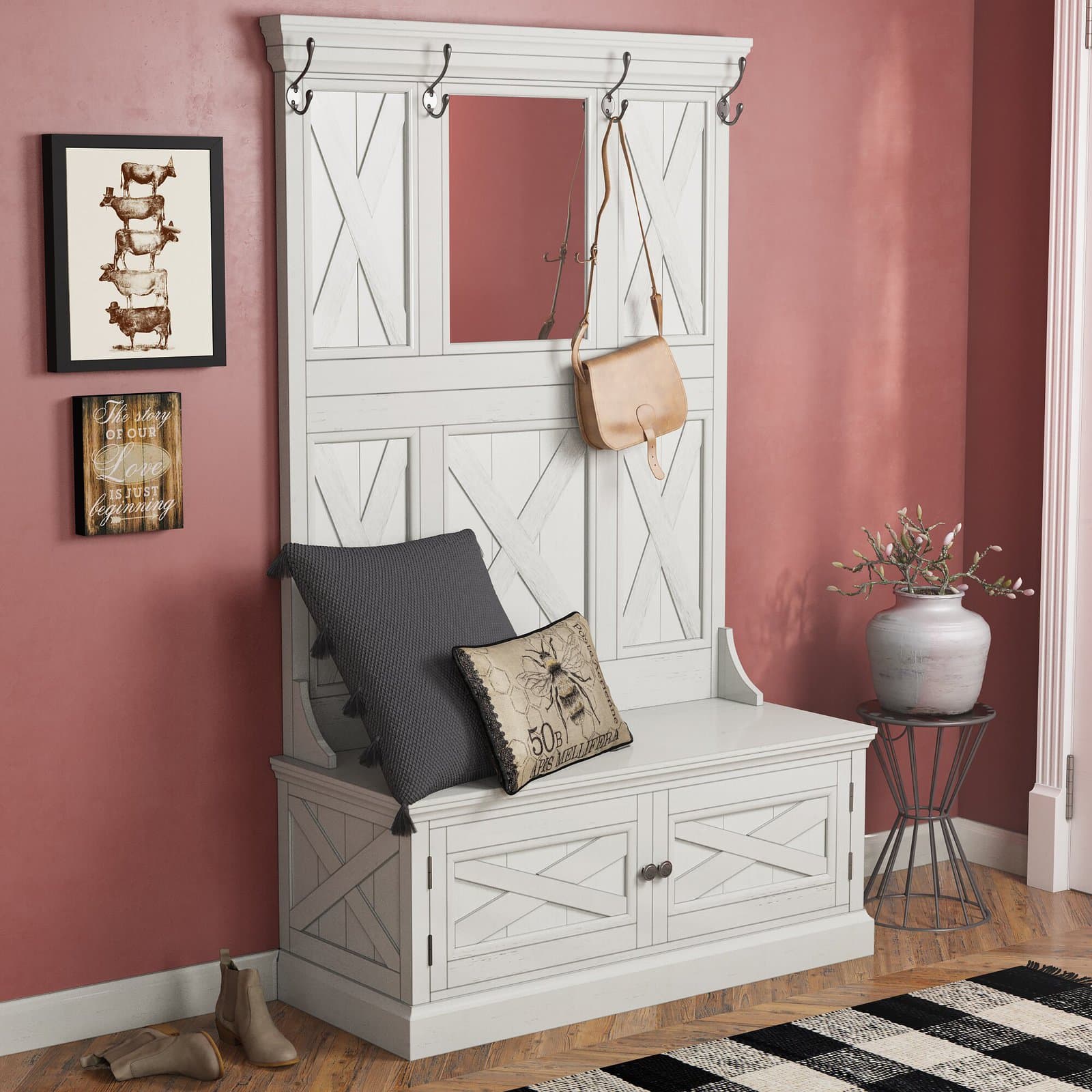 This entryway bench includes everything you need to keep your entryway or foyer organized and tidy. The bench is crafted from mahogany veneers and painted in white with a distressed finish for a rustic farmhouse look.
Built-in storage underneath the bench provides the perfect place to store shoes and other items you want to be kept out of sight, while a row of hooks provides a convenient place to hang coats and hats. It also includes a mirror above the bench so you can check your reflection before leaving the house.
Unique Circular Mirror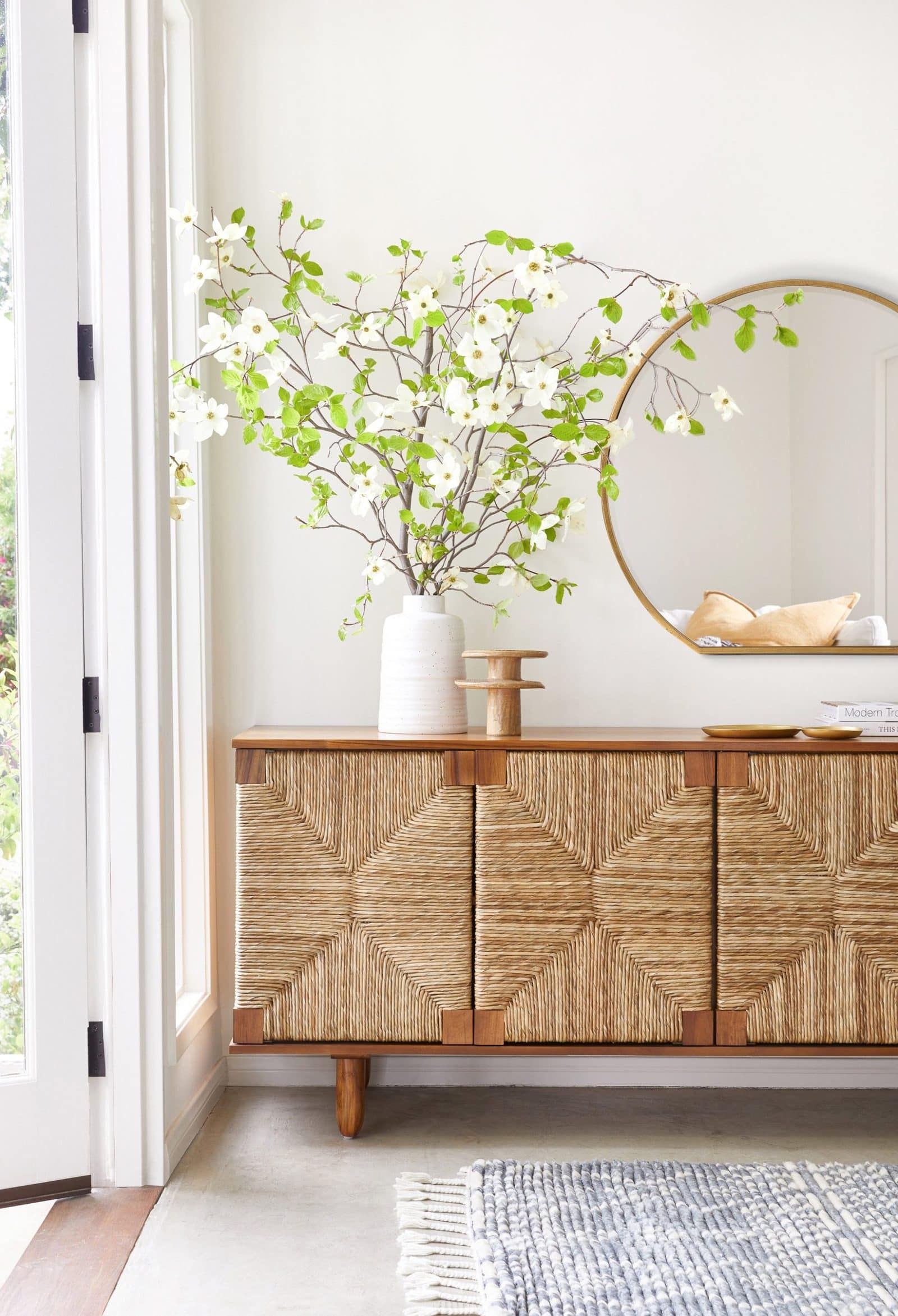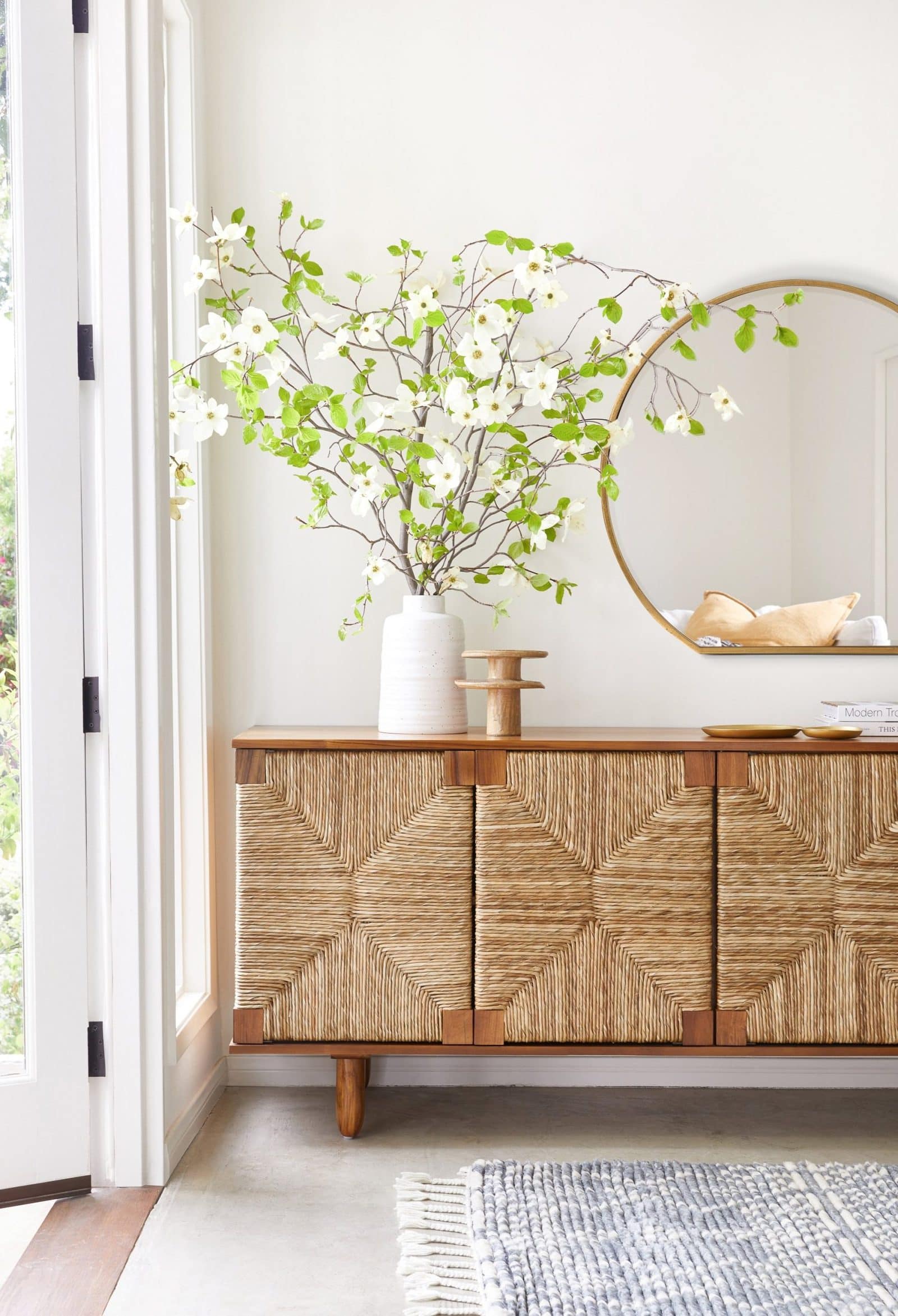 This stylish circular mirror sets itself apart from the rest with its unusual flat edge at the bottom which gives it a contemporary twist. This chic design will look best placed above a console table or sideboard to create a balanced look in your entryway.
The mirror is framed with a thin gold rim, so it will work well with most decor styles, but it will look particularly good in modern and minimal interiors.
Windowpane Accent Mirror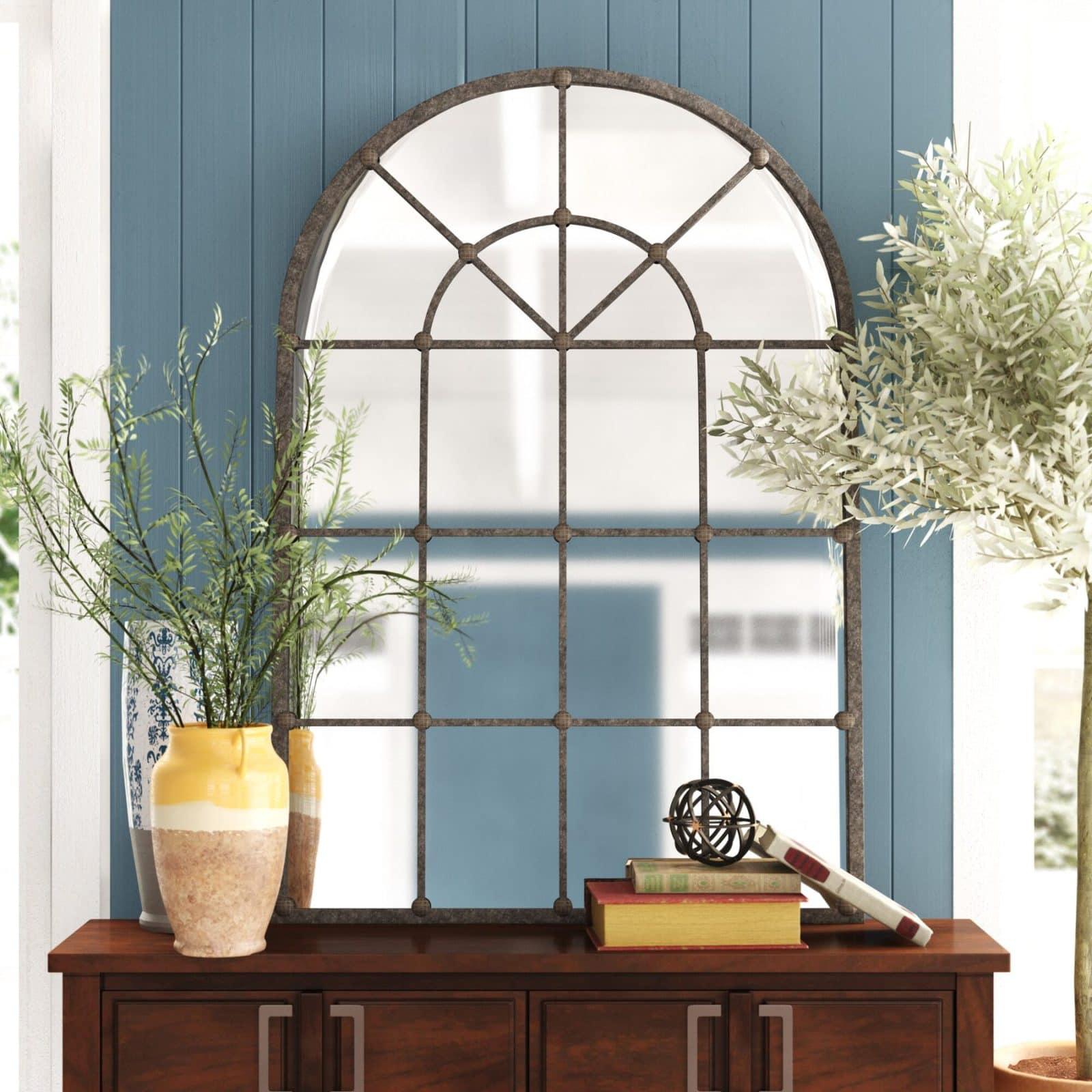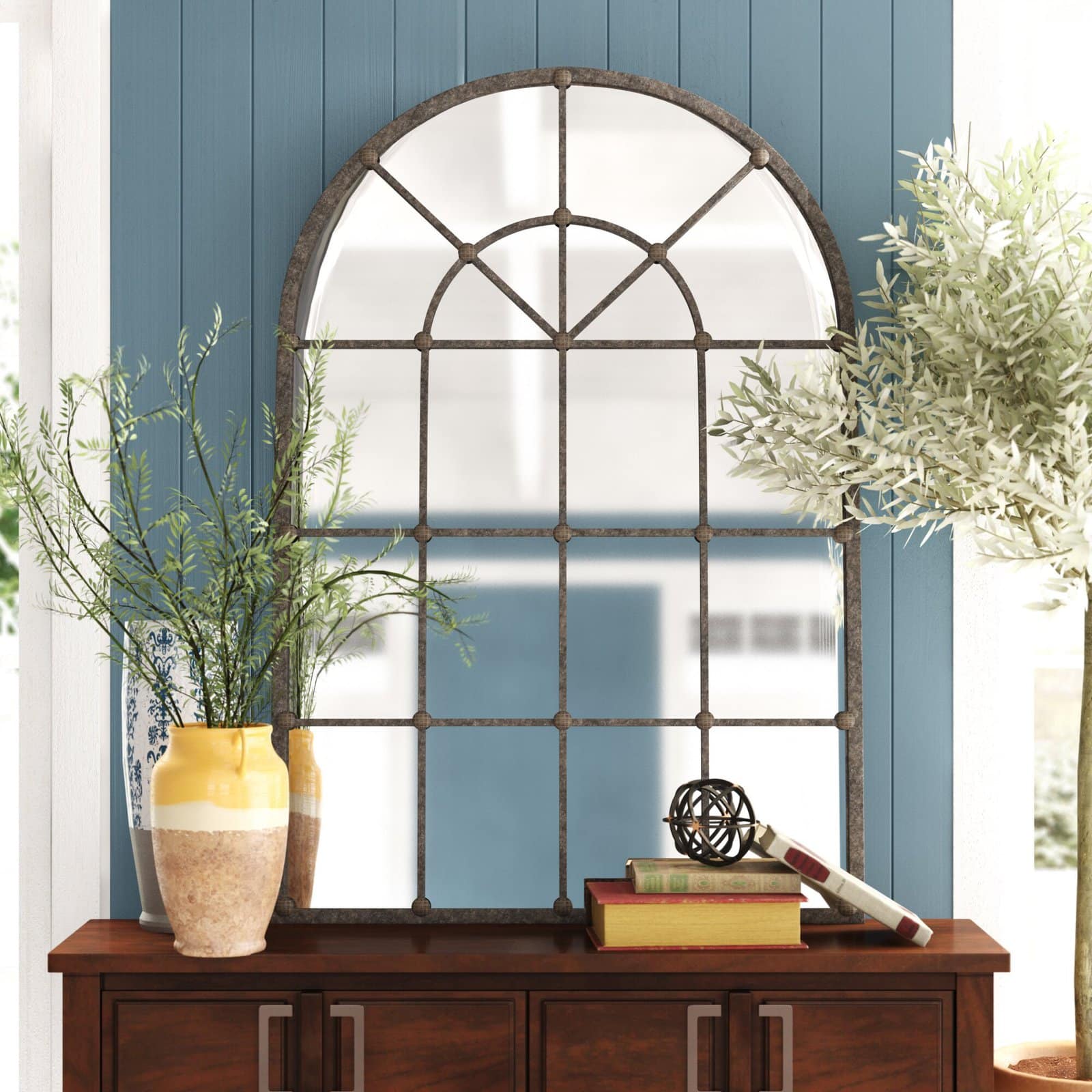 Inspired by the characteristic paned glass windows of cathedrals, this beautiful arched windowpane mirror will add character and personality to your entryway in an instant. It will create the illusion of a window in your entryway, reflecting any other light in the space and helping to make your entryway feel light and bright.
This style of mirror works well in both traditional and modern farmhouse-style homes, as well as more modern homes—it's a truly versatile piece.
Glamorous Geometric Round Mirror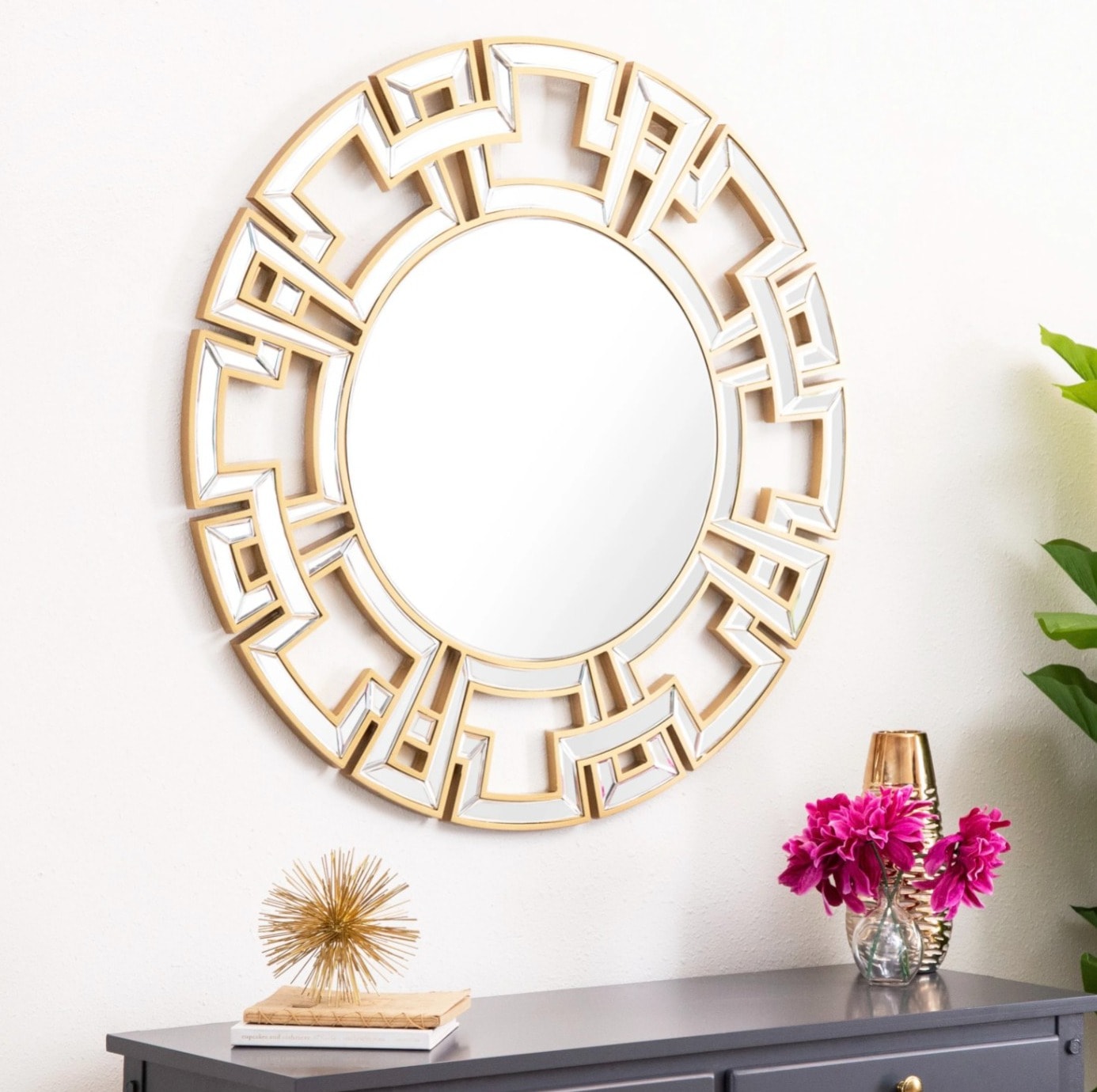 Inject some modern glamor into your entryway with this stylish geometric round mirror. Featuring a gold mirrored frame in a geometric design, this mirror is unique and sure to make a memorable first impression!
The warm gold tones will bring your entryway to life, giving your space a modern, opulent feel. Perfect for anyone wanting to create a glamorous or transitional look in their home.
Final Thoughts…
Hopefully, these entryway mirror ideas have given you some inspiration for your own entryway or foyer design. As you have seen, there are lots of great options to choose from, from rustic farmhouse to contemporary glamor—there's something for everyone here!
When it comes to designing the entryway to your home, it's important to consider the look and feel of the rest of your home. This will help to create a sense of flow as you travel through the space. After all, it's the first impression people have of your home, so it's important that it reflects the way you live.