Decorated Life is reader-supported. When you buy through links on our site, we may earn an affiliate commission. Learn More
How To Decorate a Round Dining Table – 10 Ideas
Decorating your dining room table can be a fun and creative task to take on. It is one of the most welcoming spots in most homes and should be presented in a way that expresses your overall aesthetic. In this particular article we will be covering how to decorate a round dining room table.
Round dining room tables are just another variation that some people prefer and some don't. So, if this is your dining room table of choice, you should stick around to find out how to decorate it in the most eye-catching fashion!
Add A Basket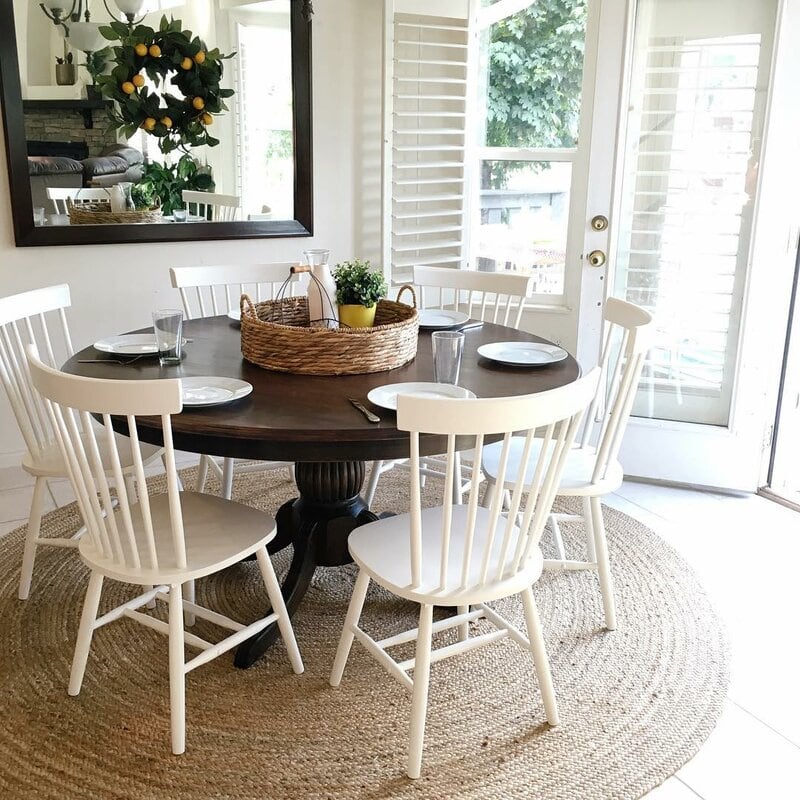 A basket as a centerpiece for your round dining room table is pure genius! It may seem self-explanatory, but a basket is useful for things such as: holding fruit, decorative items, drinks of choice and the list goes on. It's a practical piece as well as a great addition to your dining room table.
A nice basket will also look pleasing as there are so many unique and beautiful ones you can find. Whatever your style may be, there's a perfect basket that will add to the decorative nature of your table. For a round dining room table, consider sticking with a round basket as well.
Shop similar baskets on: Anthropologie / Wayfair
Pick A Few Flowers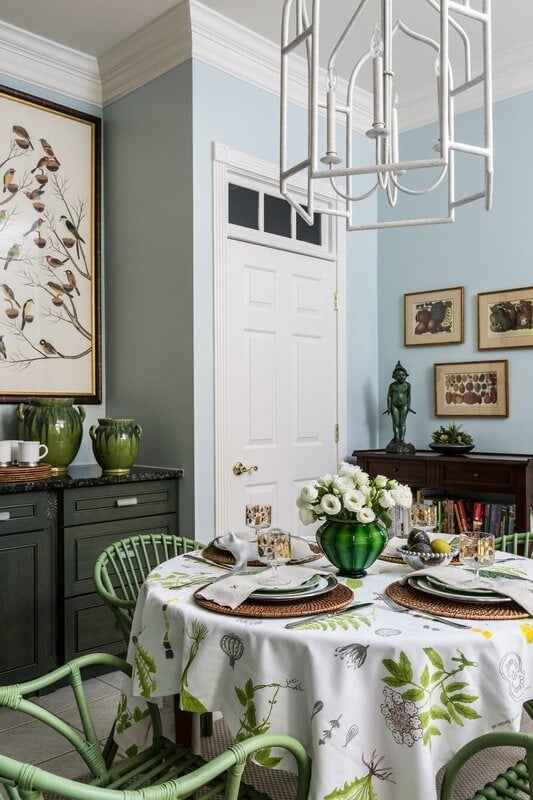 Using flowers as a centerpiece at the table is a traditional concept, and has stayed in style for a reason. It's a beautiful decor idea, and flowers can be very sentimental to many people. Different flowers may symbolize different things and invoke varying feelings, so be intentional about which ones you pick!
For instance, if you'd like to have a more romantic dining room table, roses may be in your best interest. If you prefer a lighter and more casual look, you can pick something like daisies or tulips. You can also get creative with the vase, as it is just as important to the dining room table decor.
Buy Some Calming Candles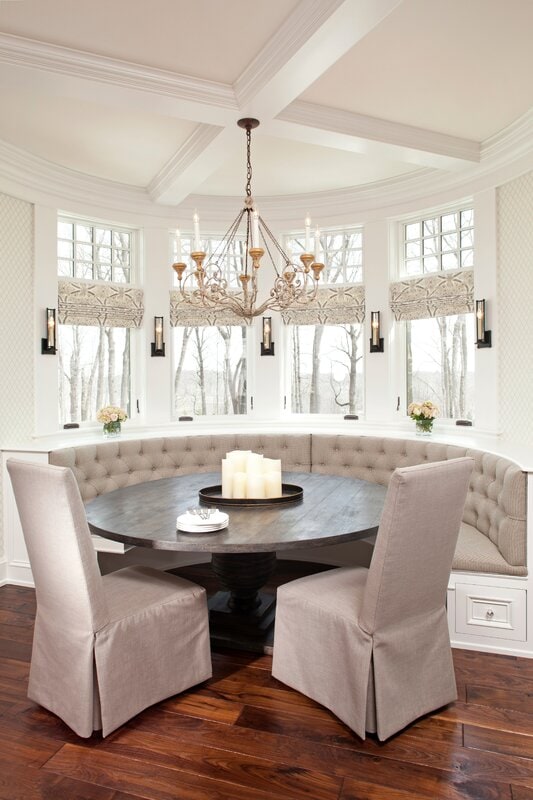 A perfect way to give your round dining room table a more relaxed vibe is to add some candles to the center. Candles can give your dining room that ambiance and romanticism, without having to spend too much money! It's a cheap and creative idea that doesn't appear cheap.
If you're not too fond of real candles that you have to light, you can invest in some LED candles that have an on and off switch. This is a much safer approach and is probably the ideal choice if you have children or frequently have kids visiting. Don't worry, they'll look just as nice!
Choosing A Round Tablecloth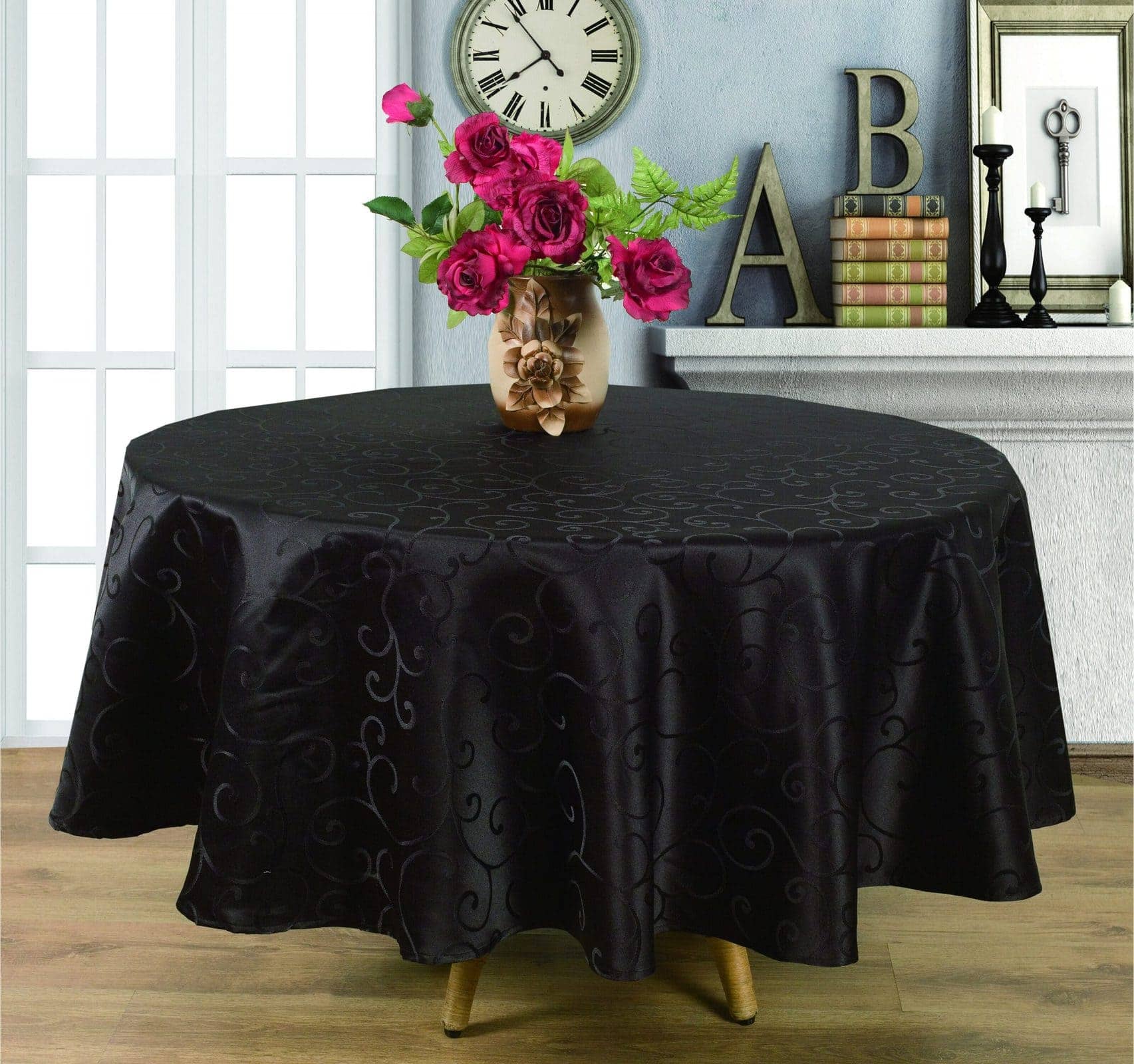 One of the first moves to make when decorating any dining room table is to choose a tablecloth. You have just as many options with a round dining room table as you would have with a traditional one, as there are hundreds of options out there!
It's always important to keep in mind what kind of theme you're going for so you can pick a tablecloth accordingly. If you have lighter colors in the room; a classic, white lace tablecloth will look absolutely stunning. Whereas, if you're going for darker colors, you can find some interesting black or grey round tablecloths.
Place A Vase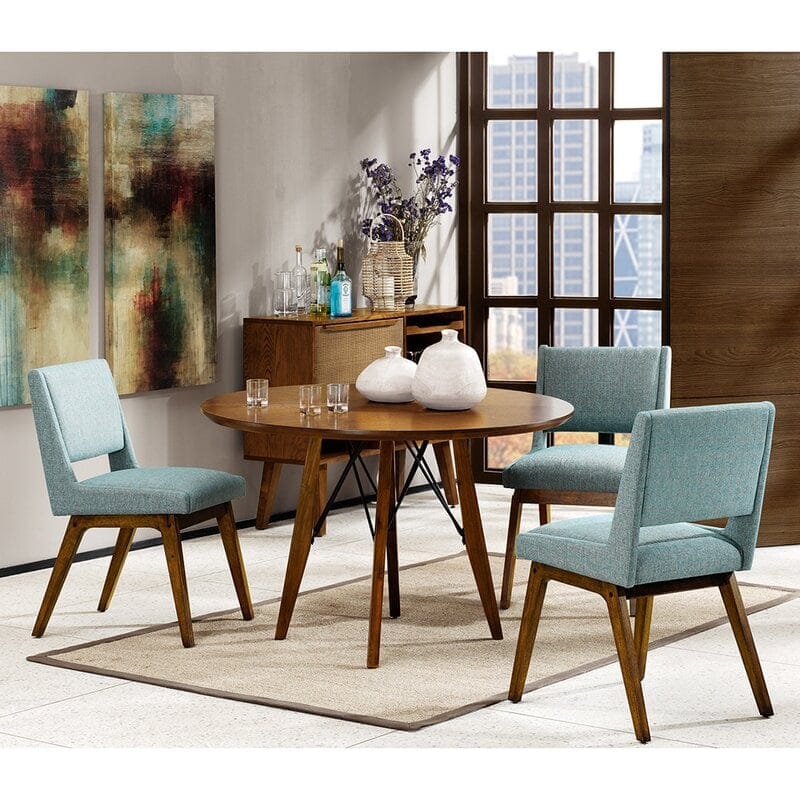 Contrary to popular belief, vases can be used as decor without floral additions. When styling your round dining room table, you may be considering your options, but may not necessarily love the look of flowers. This is where a decorative vase may come in.
Vases by themselves can look very fashionable and sophisticated. There are many types of vases to choose from that vary in color, shape, and size. Picking the right one can give your dining room table an expensive and eccentric look!
Purchase A Fruit Bowl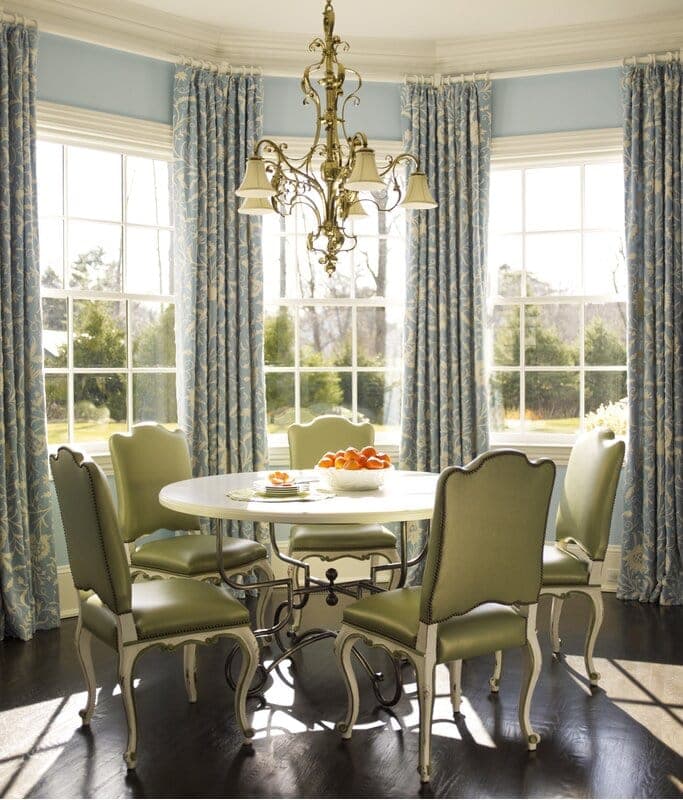 No dining room table is complete without a fruit bowl! Whether you enjoy fruit or not, this is a dining room table tradition that you just can't miss out on. A fruit bowl can obviously be used to store fruit, but can also be used for other edible or decorative items as well.
This idea is perfect for when guests come to visit and need something to snack on while you chat. It's a warm welcome, and will ensure that everyone remembers to eat their fruits and vegetables for the day!
Find A Cute Quote To Showcase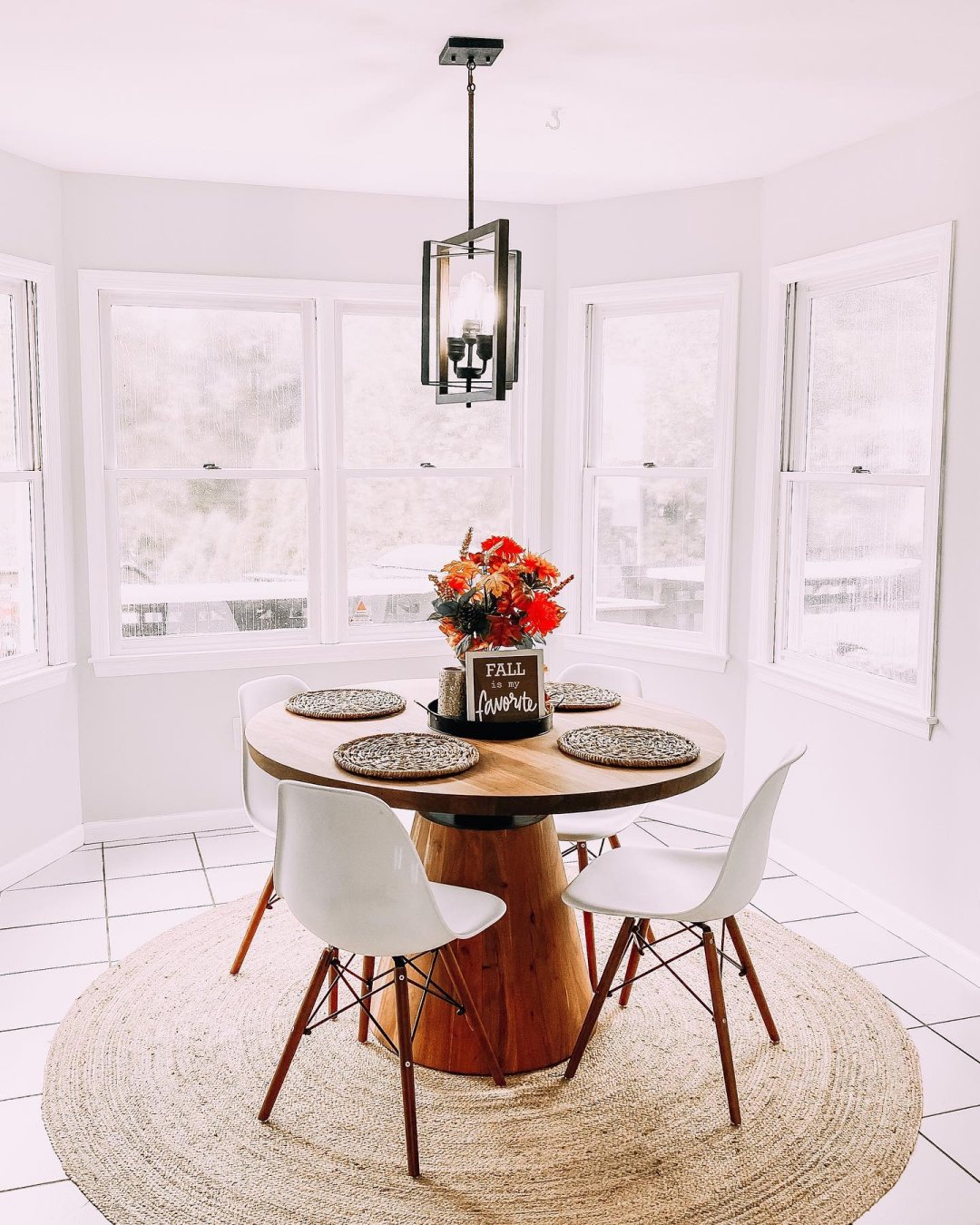 Just like any other room in your home, the dining room is a place where you can really express your personality. There are some smaller decor pieces that you can find which display quirky quotes or sayings that make you smile, and the dining room table is a creative place to showcase these!
Simply find a cute tray to set in the middle of the table, and place the sign with your chosen quote on it up against a vase of flowers or the fruit bowl. It doesn't have to be something elaborate, just a short and sweet message that gives your round dining room table life!
Shop similar decor on: Bed Bath & Beyond
You'll Need The Perfect Placemats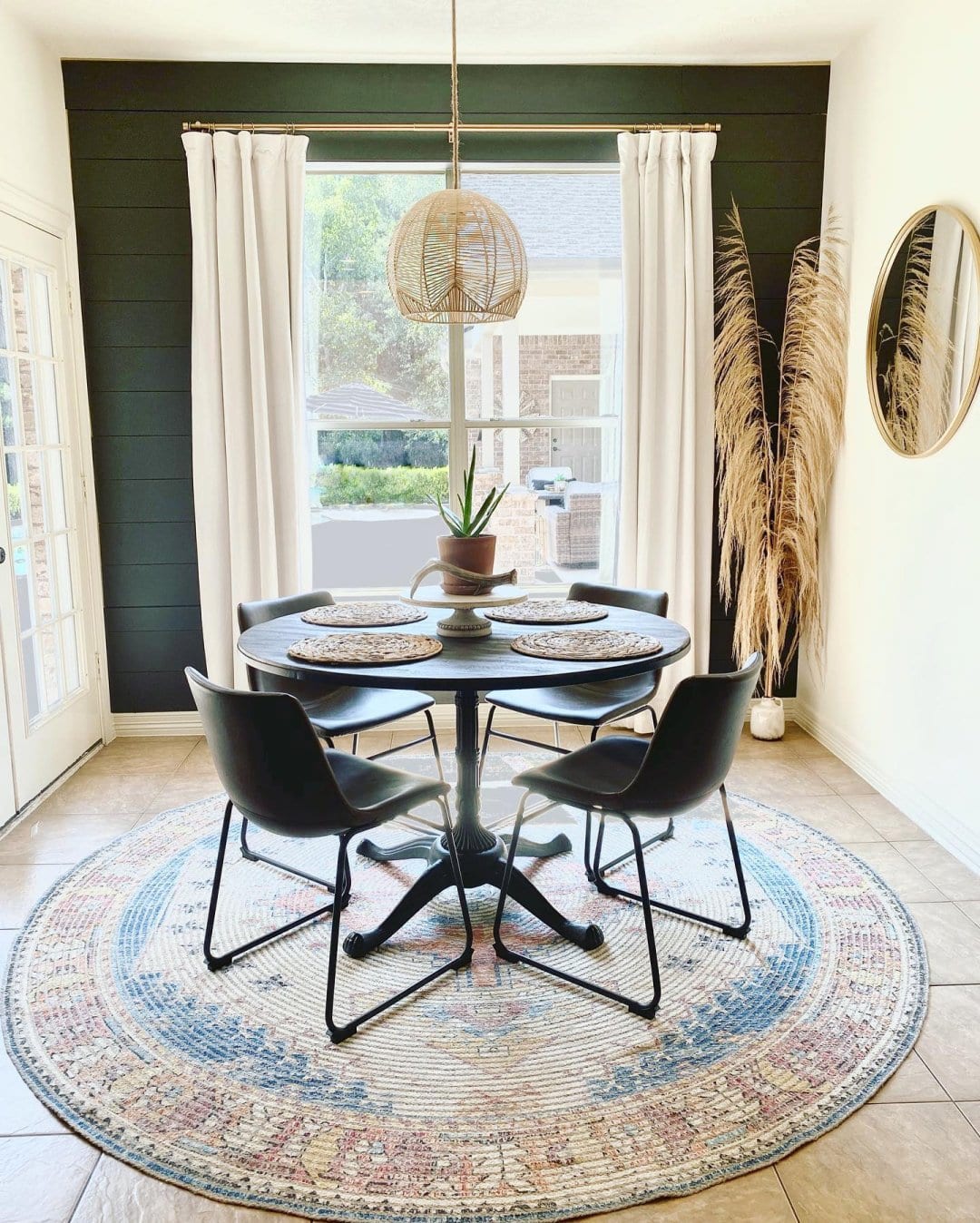 Placemats are a dining room table necessity. They prevent the table from getting stained by food and water, and keep it looking in mint condition. Since we're working with a round dining room table, it only makes sense to look at round placemats as well!
Round placemats are not at all hard to find, and come in every design and color you could ever want. Whether it's lace, woven, or neither; they are a gorgeous and practical addition to your round dining room table. Placemats are a need!
Shop similar round placemats on: Lulu And Georgia / Bed Bath & Beyond
Dining Room Table Decor For The Plant Lovers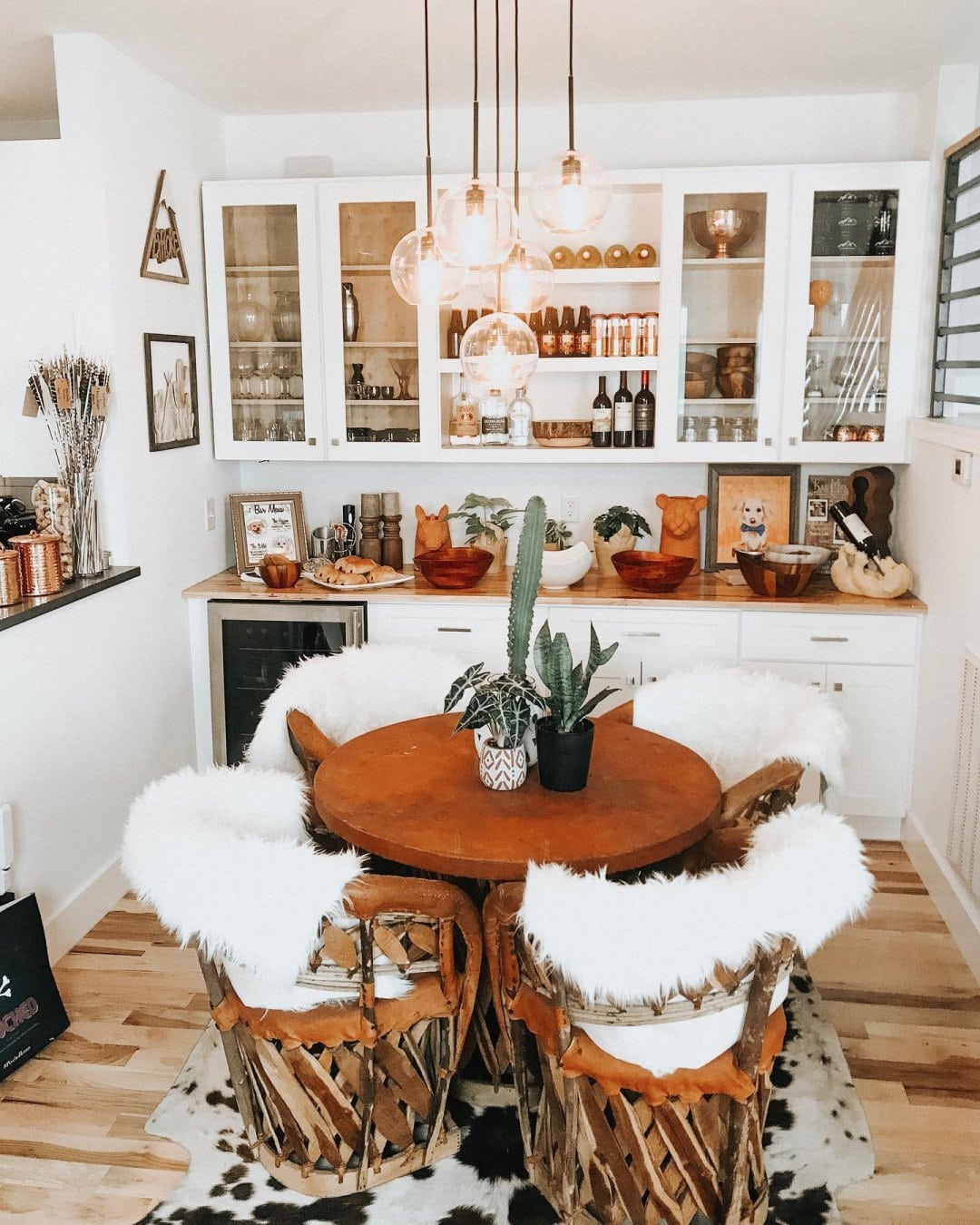 If you're a plant person, this dining room table idea is for you! If you already own some smaller sized plants, go ahead and make them the centerpiece of your round dining room table. It's a great talking point, and makes for an incredible decoration.
If you don't already own plants you can place on your dining room table, all you'll need to do is purchase one or two. If you know you're not too keen at taking care of live plants, you can always opt for a fake one. You'll still have the alluring appearance of plants, but it won't require any maintenence!
Shop similar plants on: Anthropologie / Bed Bath & Beyond
Utilize Decorative Glasses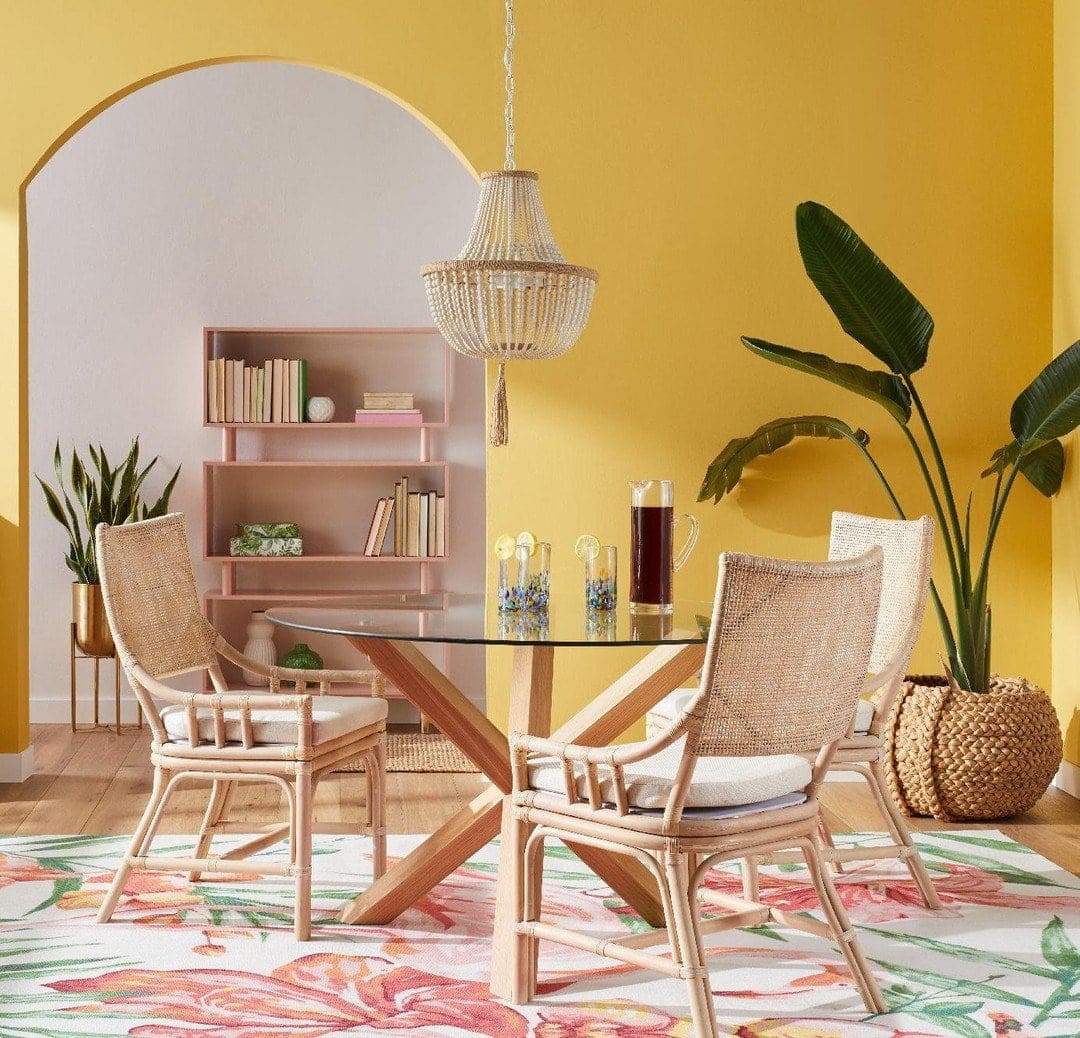 An inspirational dining room table decor idea is to show off some of your most attractive drinking glasses. You may pride yourself in a couple expensive wine glasses or other typical glasses that look aesthetically pleasing, and it would be a shame for them to simply sit in the cabinet!
Showcase them where everyone can see and make these glasses a focal point on your round dining room table. If you don't already have some elegant glasses, this would be the perfect time to start browsing. What a wonderful and convenient decor concept!
Round Dining Room Table Decor Importance
Your dining room should be one of the most welcoming spaces within your home. It is where most families and friends gather together to share stories and enjoy a home cooked meal. Loved ones will sit around your table and want to feel comfortable and appreciated, so decorating this space is vitally important!
With all of the ideas we've reviewed, you're set up for success with your round dining room table decor. You can use these ideas separately, or even utilize multiple to give your dining room table a more fully decorated look. Using any of these decorating methods will make your dining room area look flawless!