Decorated Life is reader-supported. When you buy through links on our site, we may earn an affiliate commission. Learn More
22 Stunning Dining Table Centerpiece Ideas
Are you trying to breathe some life into your dining room?
One of the cheapest and easiest ways to give your dining room a new look is through a centerpiece. And luckily, no matter your style or the size of your table, there are plenty of good options.
Here are the best dining table centerpiece ideas to use in your home this year.
Fill a Pitcher with Faux Hydrangeas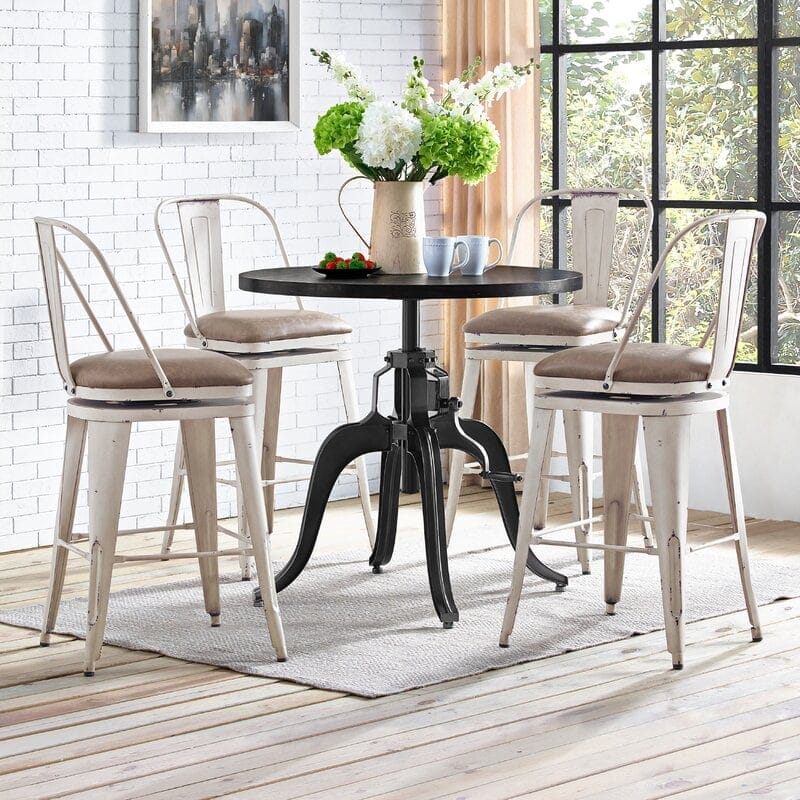 An easy dining table centerpiece is a simple pitcher filled with hydrangeas. I love this idea because you can use what you already have.
Start by picking out your favorite pitcher, and then fill it with hydrangeas. If you want your centerpiece to last longer, try this faux option from Wayfair that looks incredibly real.
Use a Reclaimed Wood Bowl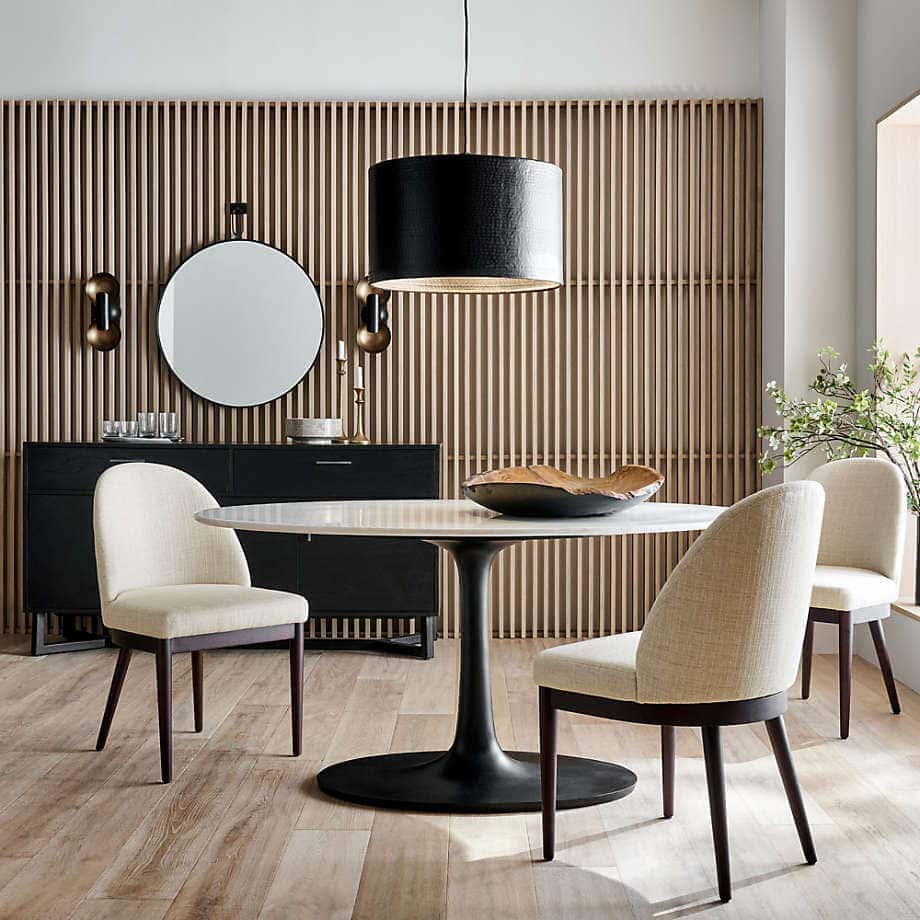 Reclaimed wood bowls make beautiful centerpieces. You can do as shown if you like the minimal look, using nothing but the bowl on your table.
For a different look, add fruit, flowers, or holiday decor. If you are trying to get farmhouse style, fill the bowl with wooden balls.
DIY a Planter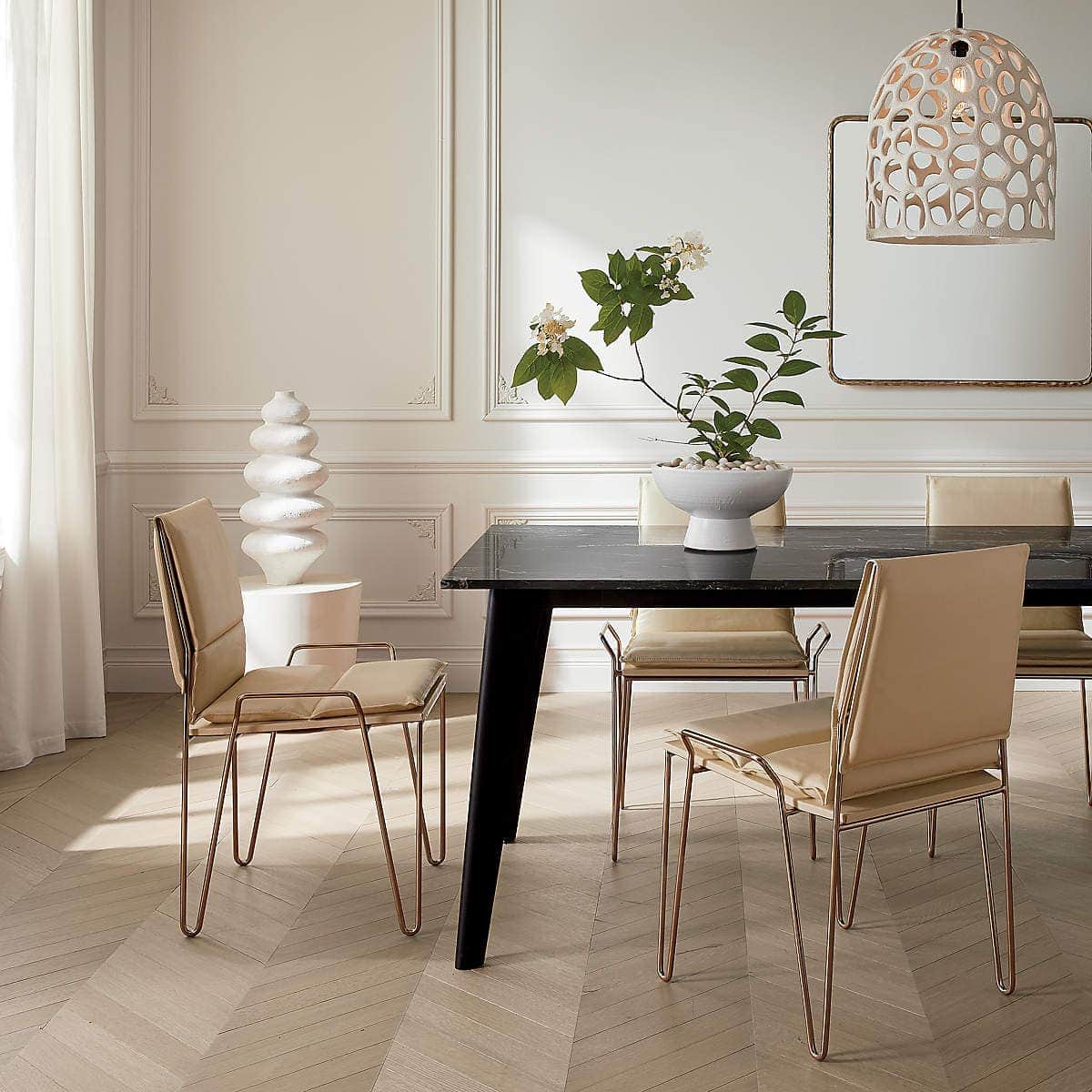 If you like plants at the center of your table, you can DIY a planter out of a ceramic pedestal bowl. You can fill the bowl with low water plants like succulents.
Another option is to put pea gravel or decorative rocks in the bowl and then place a branch clipping (real or fake) in it.
Achieve High-Style with a Sculptural Vase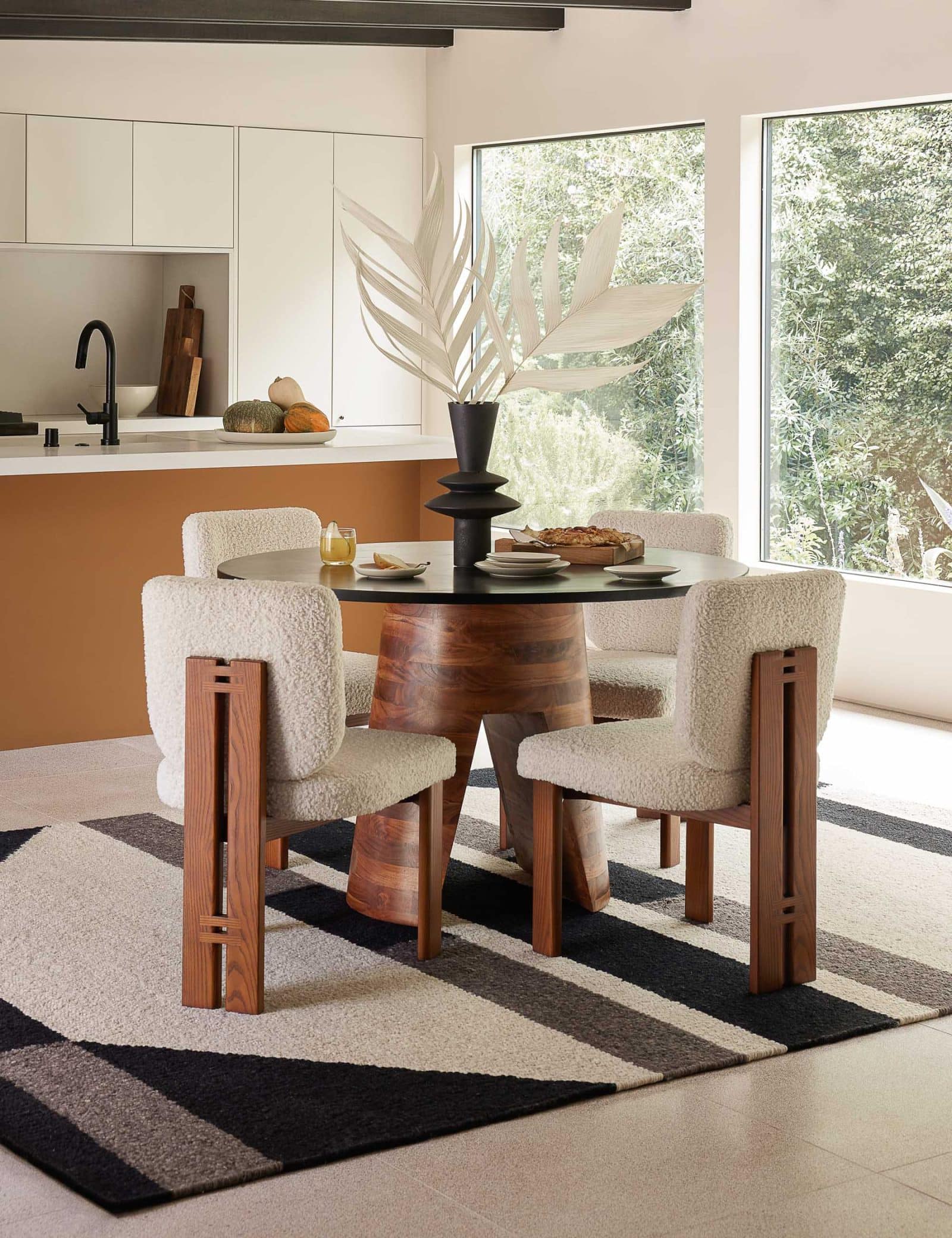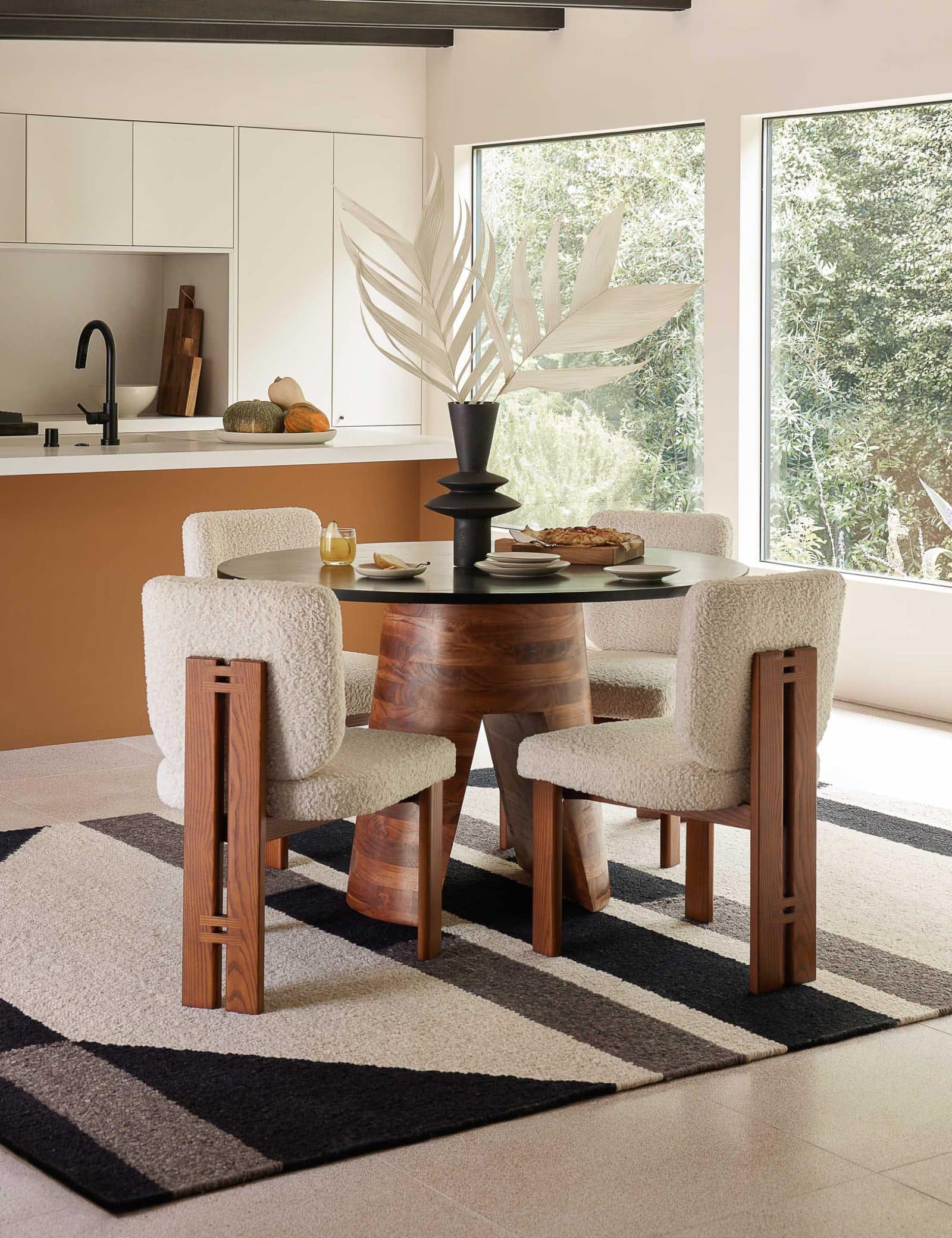 If you're looking for a centerpiece vase that's anything but ordinary, try this one from Lulu and Georgia. The vase mimics Danish mid-century lighting and is ceramic with a textural black finish.
This vase will work great with modern, minimal, and mid-century style dining rooms.
Go Modern Farmhouse with a Candelabra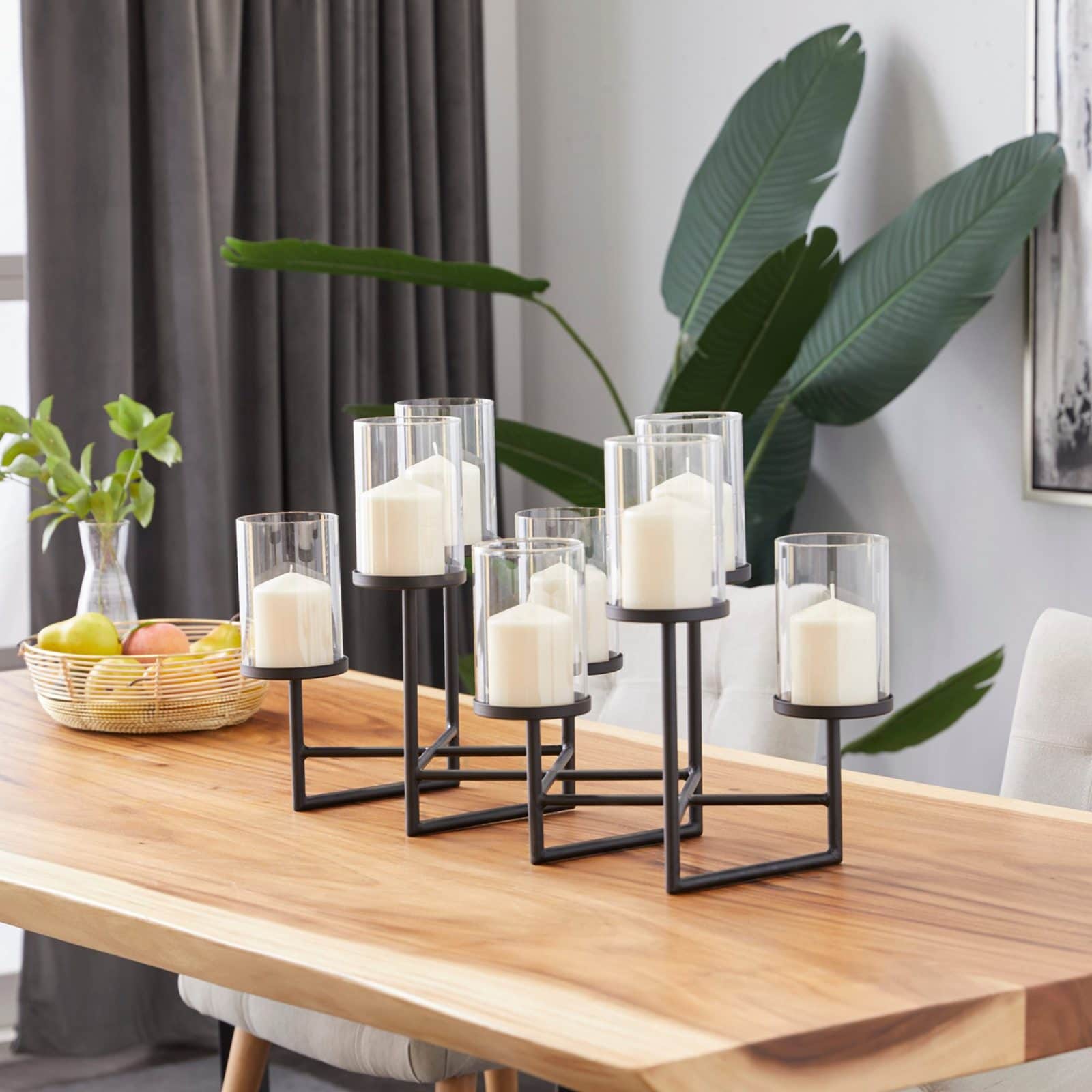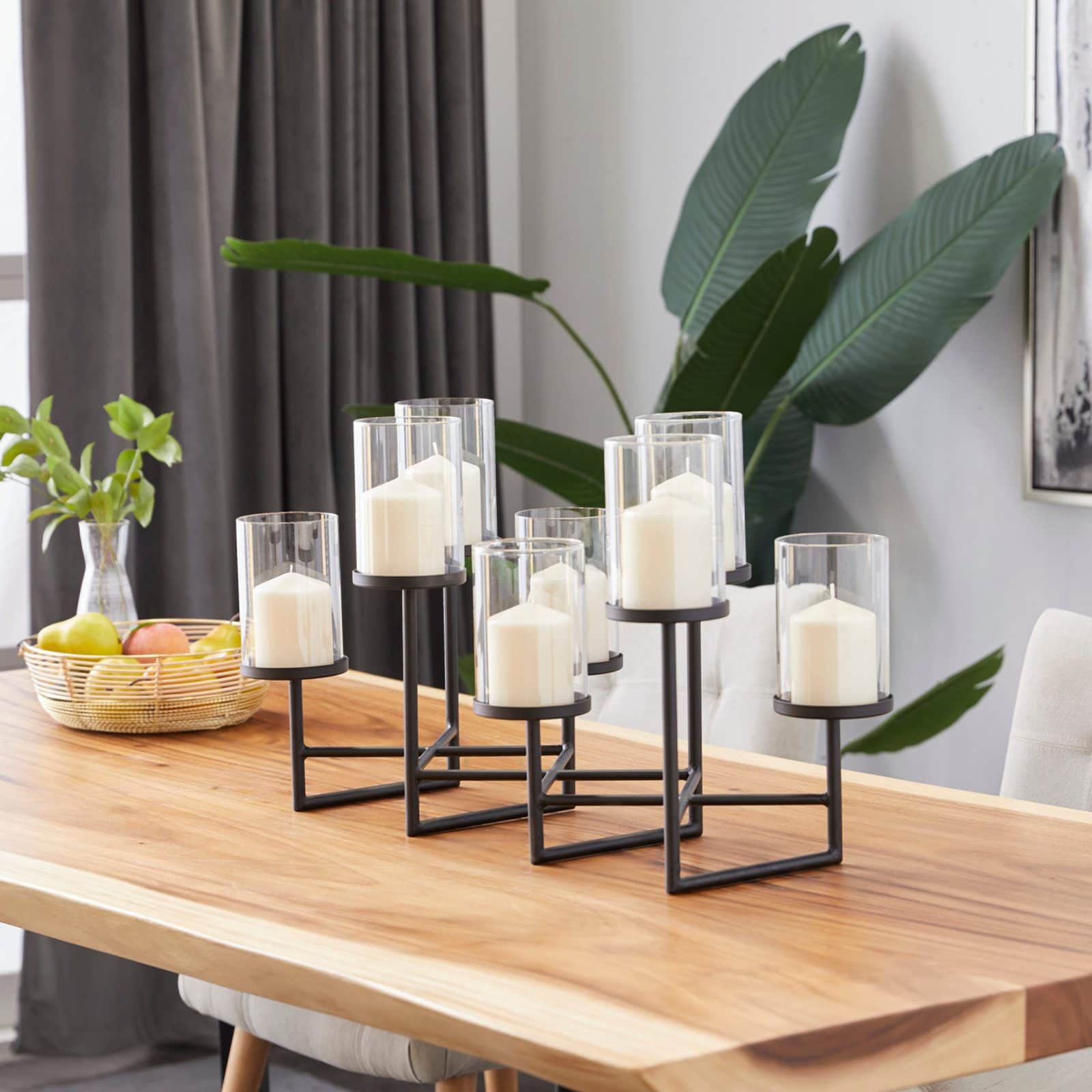 Are you trying to get the farmhouse look in your dining room? If so, a black iron candelabra like this is a perfect fit.
While this candelabra has a modern farmhouse look, you can up the style by adding a buffalo check table runner underneath.
For a Long Table, Use Tapered Candles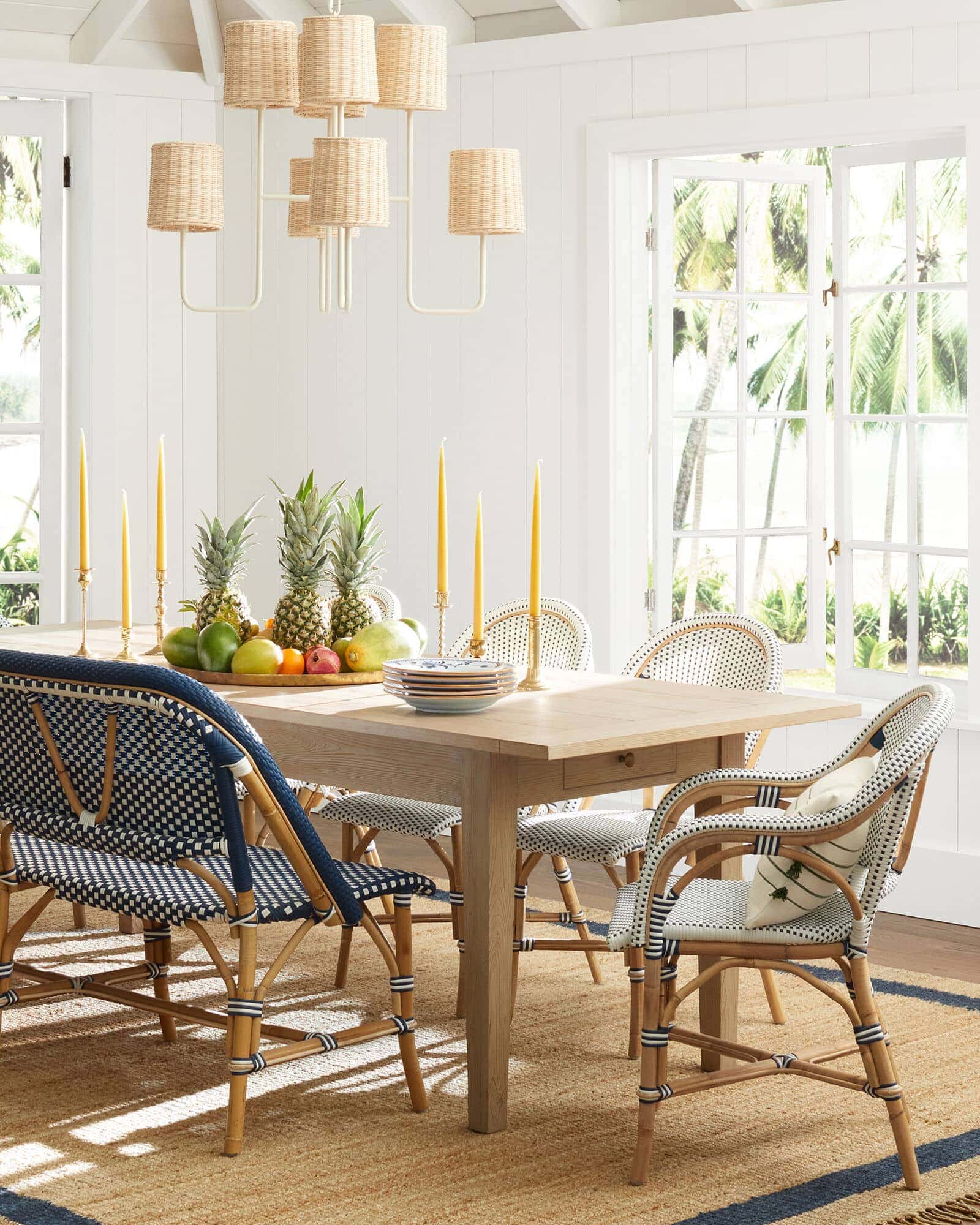 If you have a long table and are trying to create a centerpiece to accent it, try tapered candles.
You can start by putting an oversized item like a vase or bowl of fruit in the middle. Afterward, place candlesticks with tapered candles on both sides to extend the length of your centerpiece.
Group a Set of Vases Together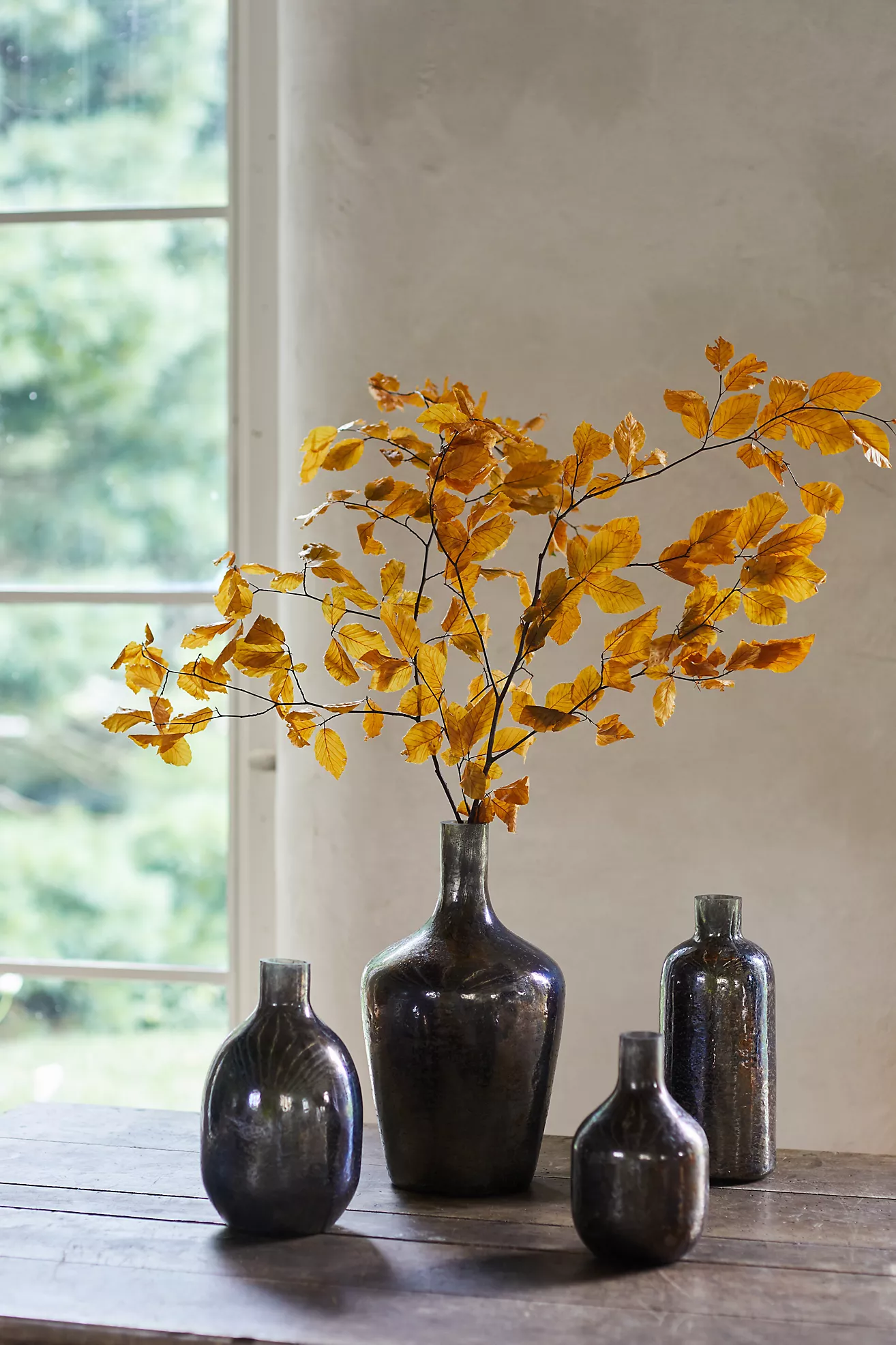 For a collected look, group a bunch of vases together. You can use all the same color, like these from Anthropologie, or group similar shapes together.
If you have a long table, you can even place the vases in a row and put a couple of branch clippings in each.
Use Tulips for a Fresh Look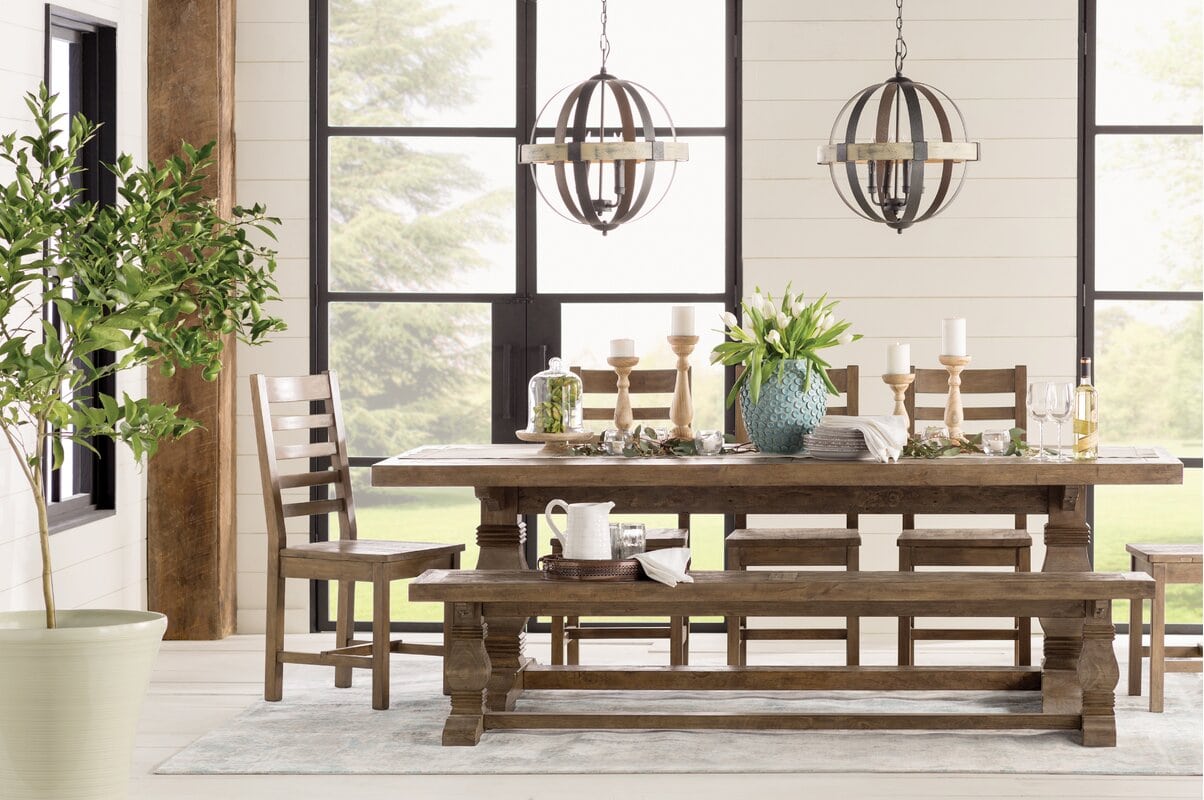 Anytime you want to brighten up your dining room, add tulips to your centerpiece. And don't worry, even if it's not prime tulip season, you can use realistic faux versions like these from Wayfair.
For a full look, add a couple of bundles of flowers to your favorite vase. Then add a runner underneath and a couple of candles on both sides.
Keep it Clean with All White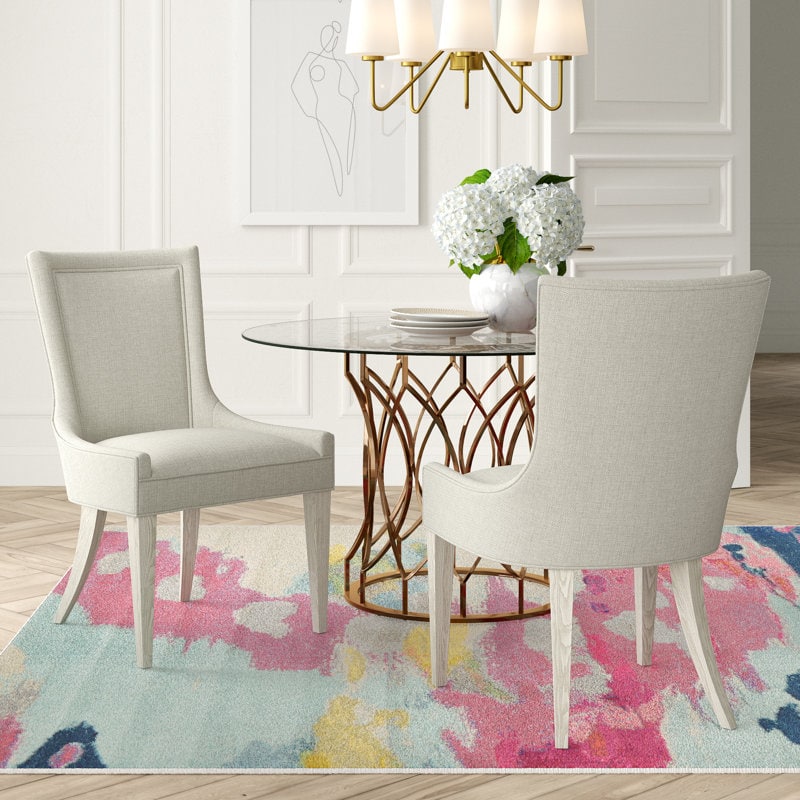 Dining room designs that are primarily white will always be in style. If you want your centerpiece to reflect your clean design, use a white flower and white vase.
This marble-style vase provides a little detail while staying with the white theme. The white faux hydrangeas complete the look.
Pull in Black for a Moody Look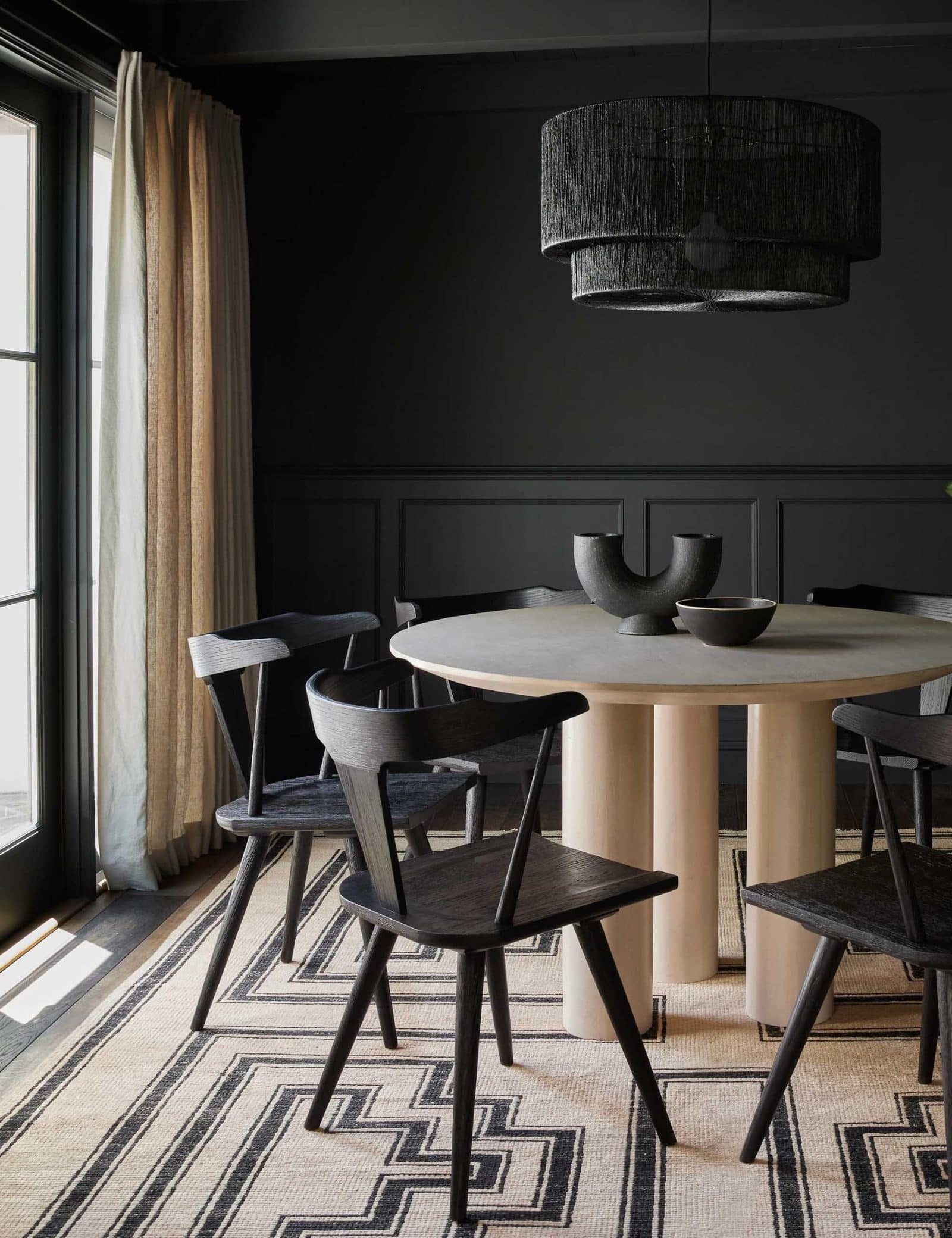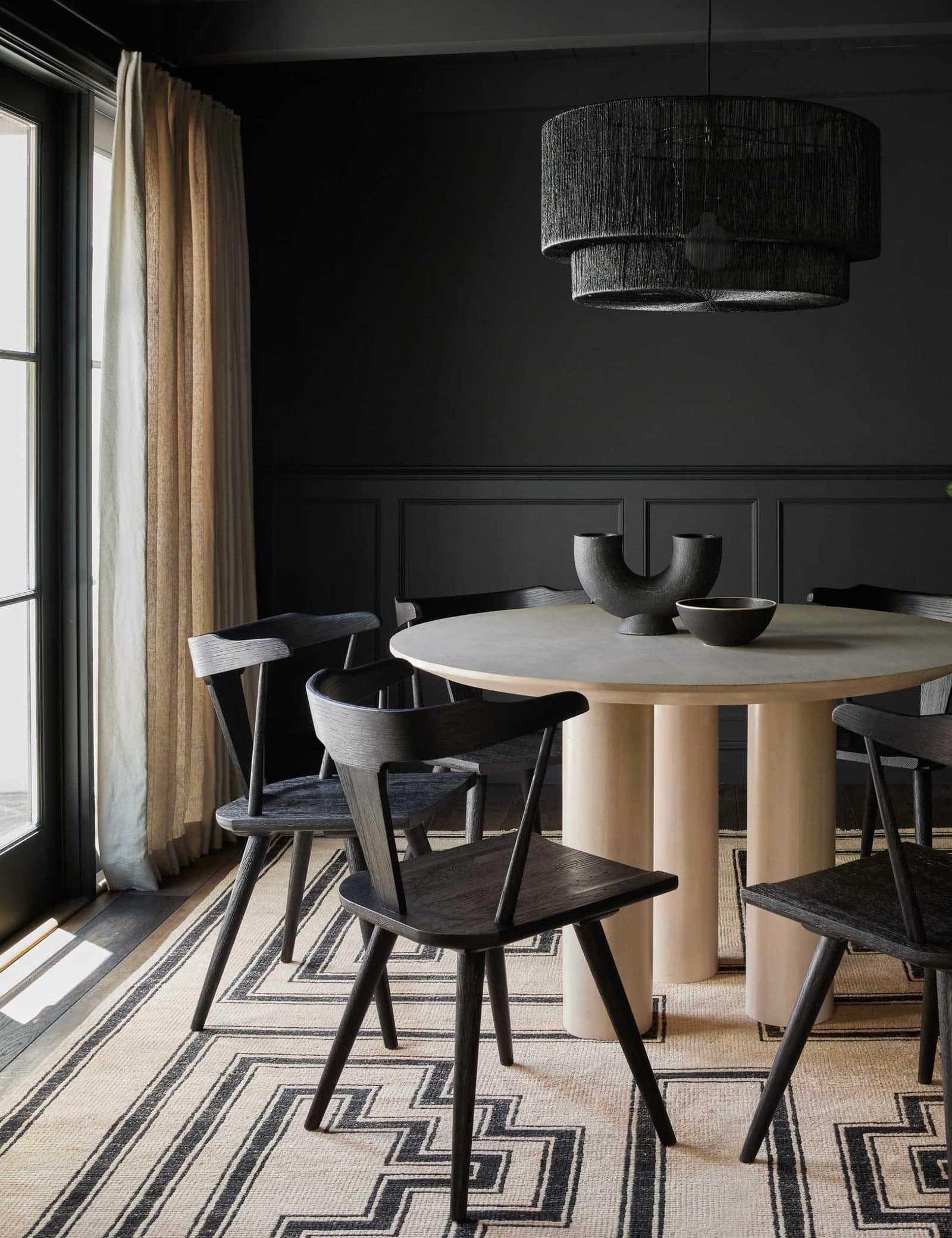 If you like a moody room, play off the dark colors in your scheme by adding a black geometric vase.
This vase from Lulu and Georgia is made from terra cotta and has a matte black finish. You can use it as your centerpiece as is or add a couple of simple branches to each side. This vase pairs well with modern, minimal, and mid-century designs.
Corral Items with a Wooden Tray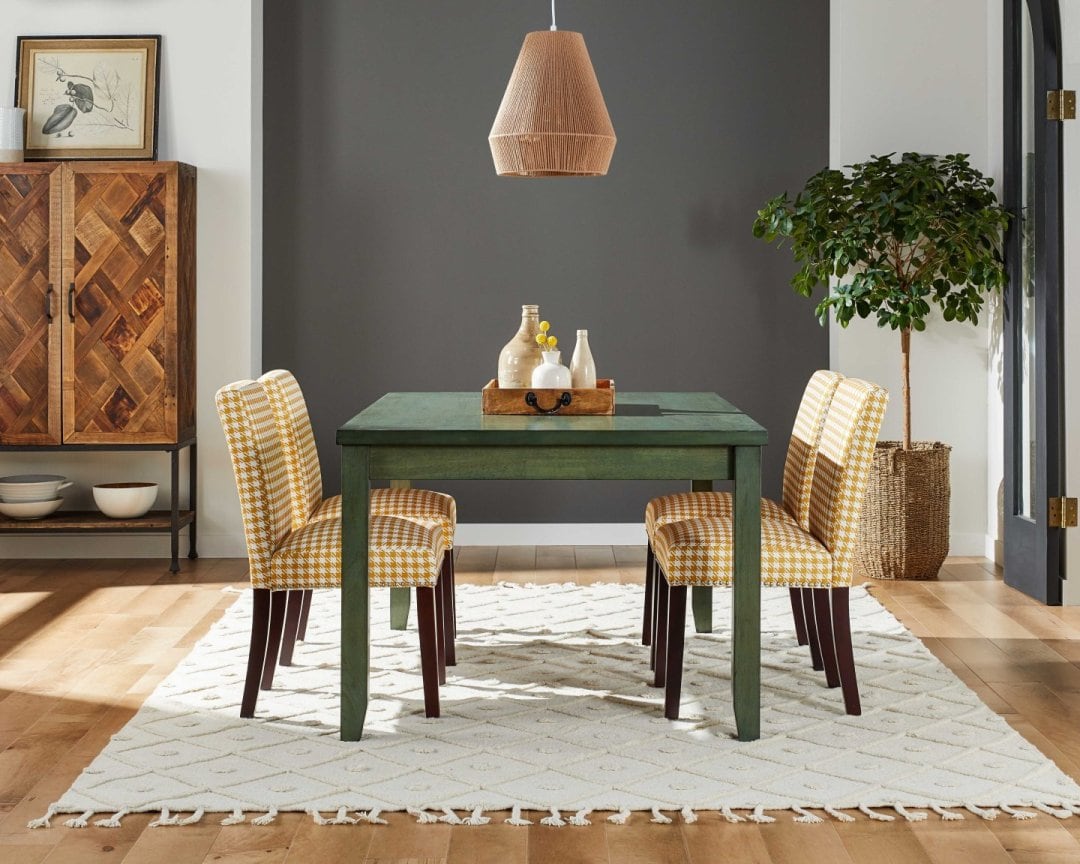 If you're looking for simple dining table centerpiece ideas, this is one of my favorites. It will work with any style of decor.
All you need to do is get a decorative serving tray and corral a few items to make the perfect centerpiece. This wood tray works perfectly for farmhouse, boho, and traditional dining rooms.
Fill a Trough with Succulents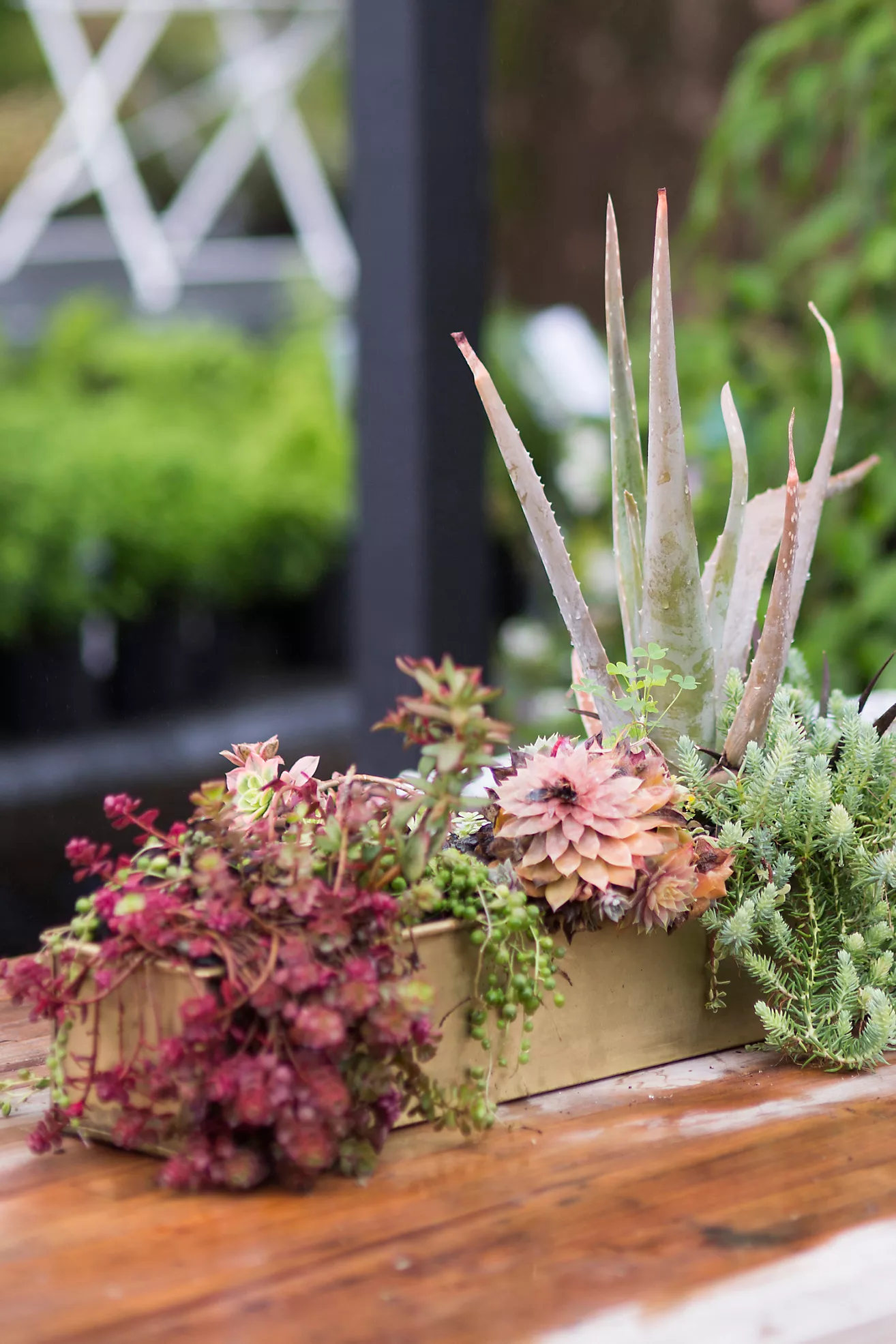 Are plants a big part of your decor? If they are, keep the look going with your dining room centerpiece.
One way to do this is by filling a metal trough full of succulents. Depending on the mess you like to deal with, you can add real or faux versions. Both will look fantastic sitting in the middle of your table.
Get Glam Whimsy with an Eve Candelabra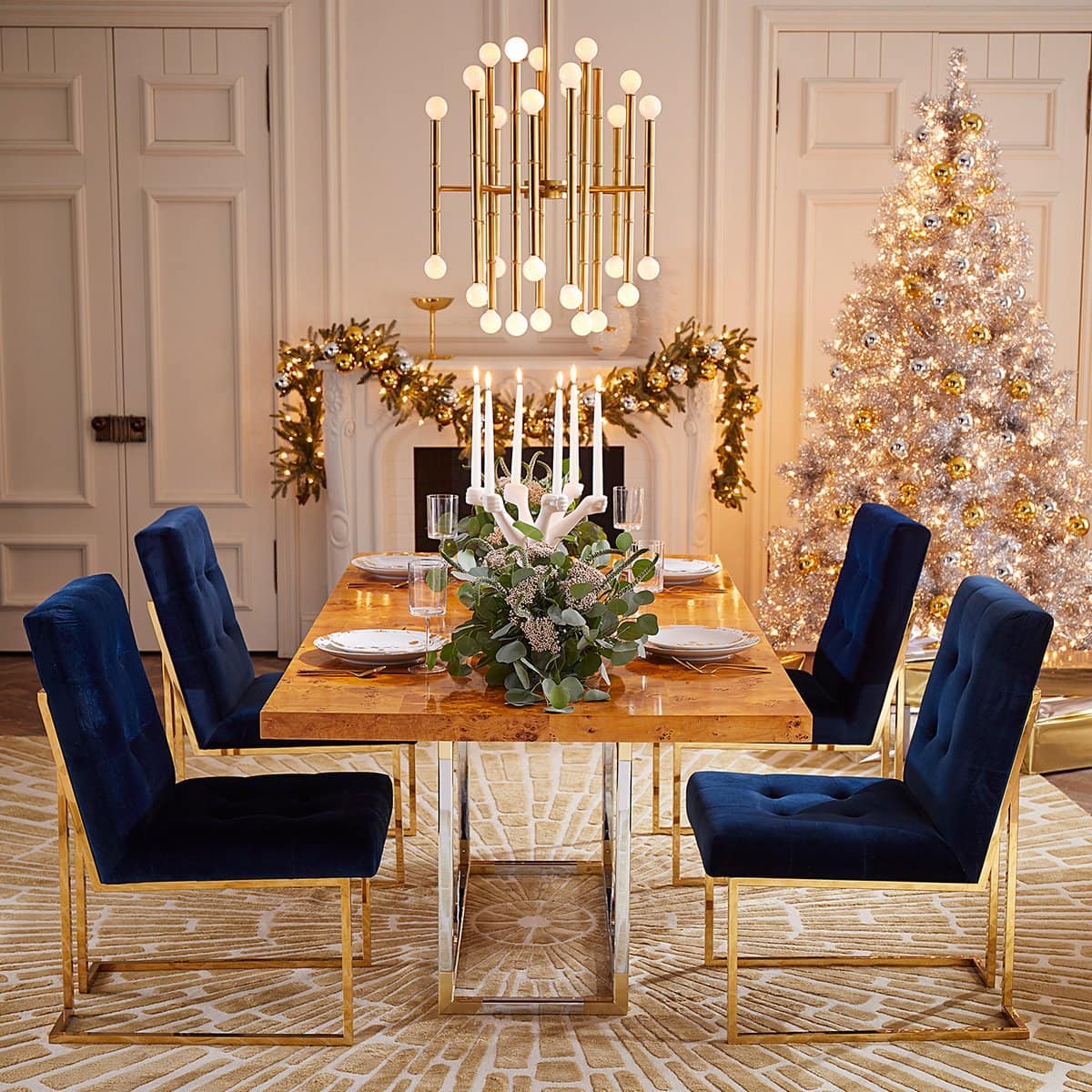 If your style borders between glam and whimsy, you'll love this candelabra from Jonathan Adler. This candelabra features six hands that each rise up and hold a candle.
The candelabra is white ceramic. It would look great on its own or mixed in with florals, as pictured above.
For Party Hosting, Go Gold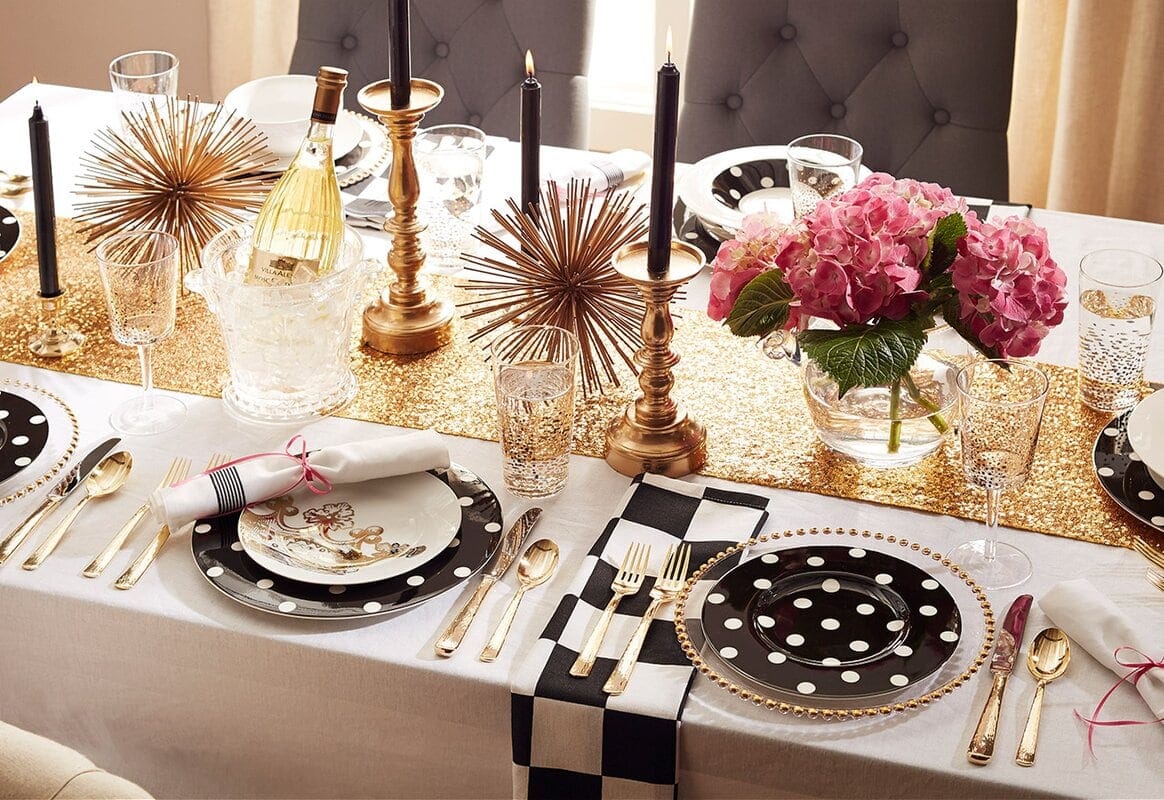 Are you looking for a centerpiece for your next dinner party? Go gold. Gold is a safe bet for get-togethers and holiday parties.
Start by laying down a gold runner, as shown above. Layer in some gold or brass candle holders, decorative objects, and pretty dinnerware, and you'll have a fabulous table.
Try a Clear Vase for a Small Table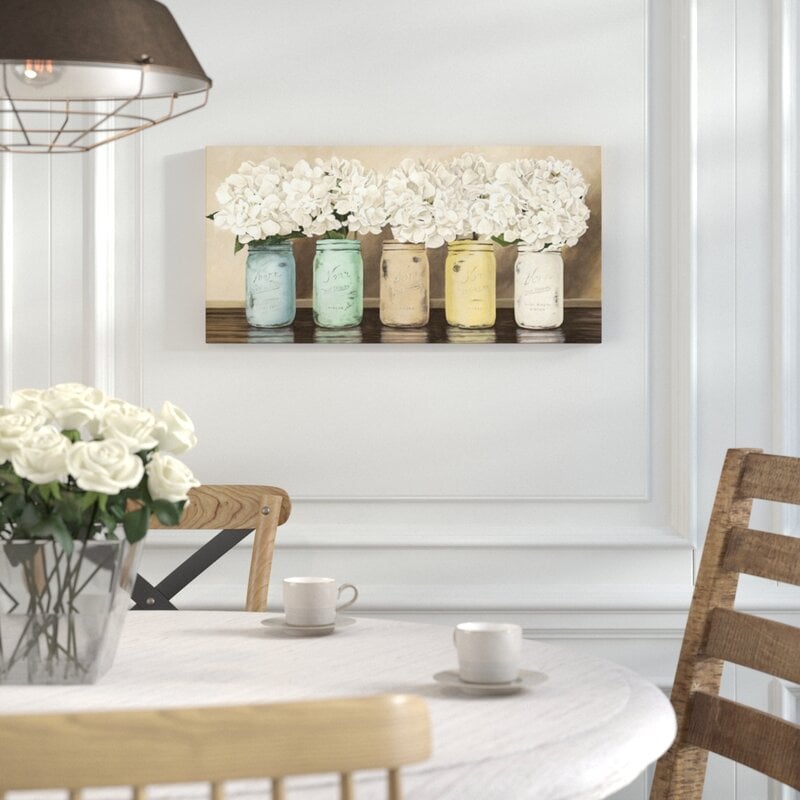 Need small dining table centerpiece ideas? Try a clear vase or jar.
Clear vases create the illusion of space. You can fill your vase with roses, cotton stems, or branch clippings from your yard. Keep the vase small to medium-sized so that it doesn't take up too much of your tablespace.
Find Pretty, Decorative Bowls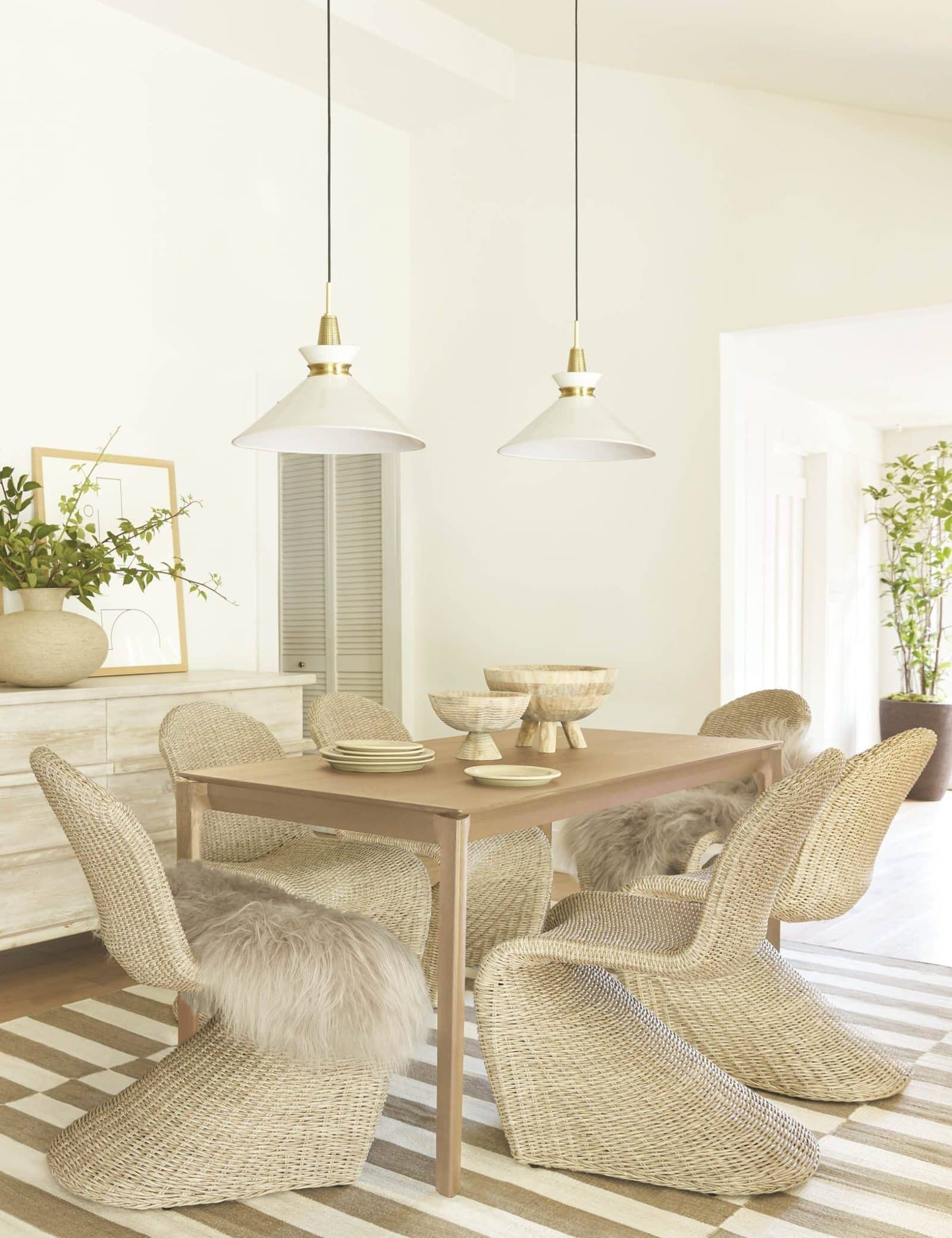 Decorative bowls are another very simple centerpiece option. For a neutral-inspired room, bowls like these from Lulu and Georgia work well.
You can fill your bowls with flowers, decorative rocks, or wooden balls. Or, if you prefer the Scandinavian look, leave them empty.
Turn a Pretty Cake Stand into a Centerpiece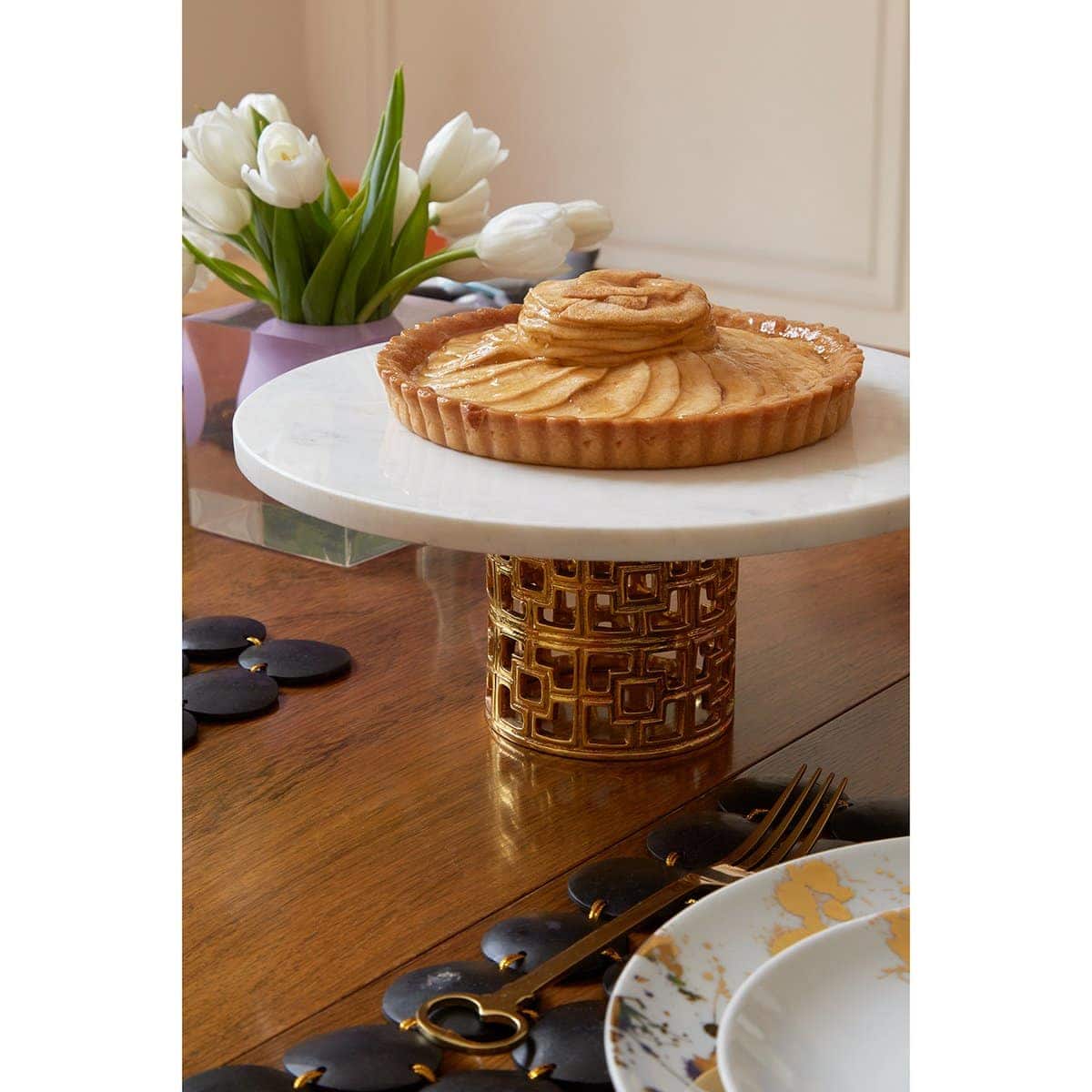 Cake stands are great for dining table centerpieces – especially ones as pretty as this.
By using a cake stand as a centerpiece, you'll always have a spot to place appetizers or desserts. Cake stands are the perfect option for anyone who hosts dinner a lot. Plus, when you invest in a high-quality piece like this, it looks good all by itself.
Group Multiple Floral Arrangements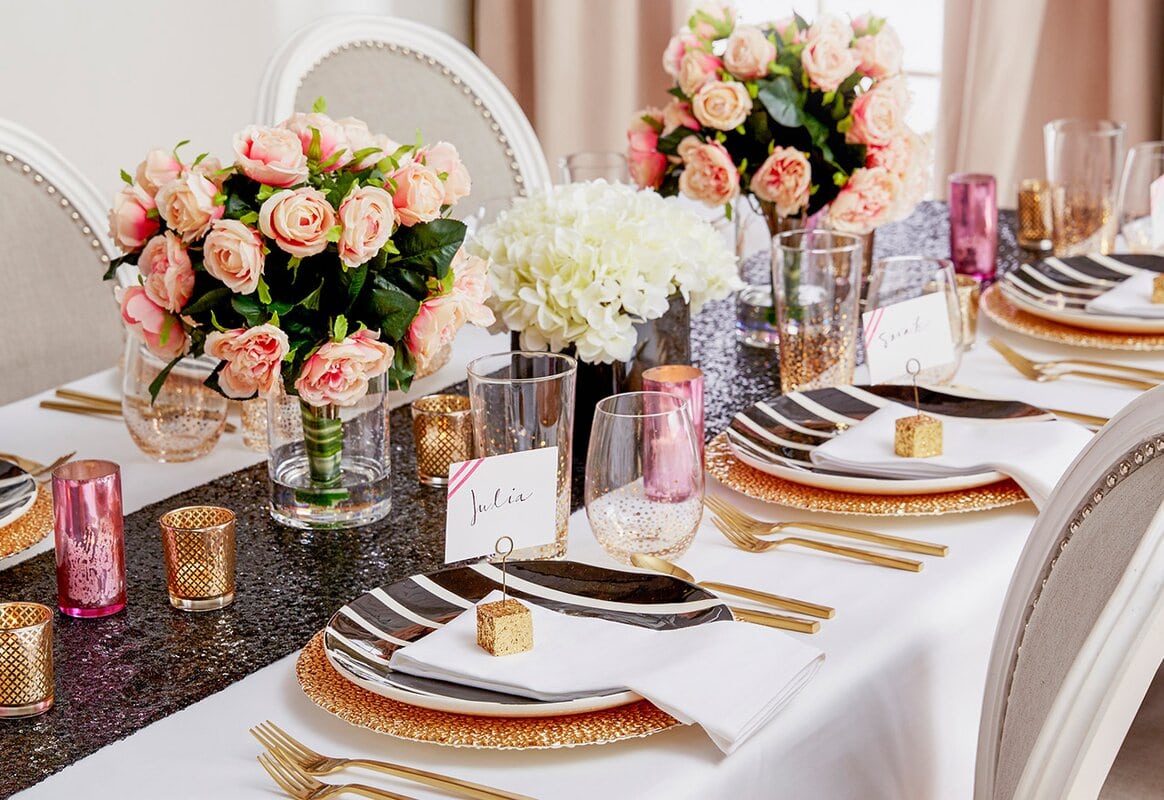 If you love floral arrangements and can't decide on just one, group multiple together. The best way to do this is to choose one type of flower for the center.
After that, use two simple, clear vases on either side of your primary choice. The simple vases should match and have matching flowers. If you have a long table, this is a great way to fill it out.
Use Lanterns for a Farmhouse Dining Room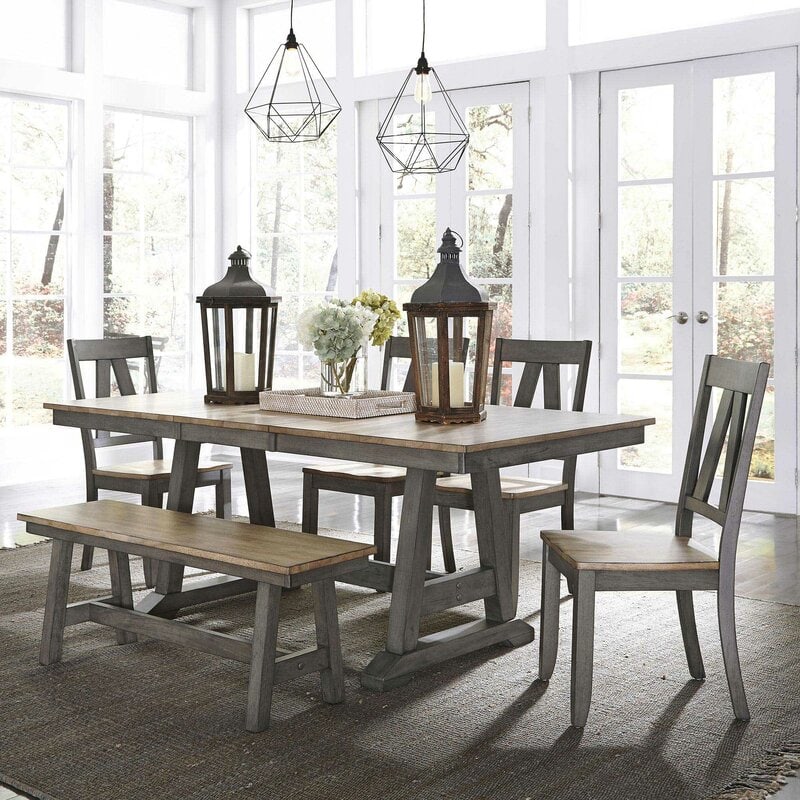 Lanterns are a go-to piece of decor for farmhouse looks. And luckily, they work great as dining table centerpieces.
If you have a small table, use one lantern. Place a vase in the middle and matching lanterns on either side for a larger table. You can also add floral garland for a seasonal touch.
Combine Candles and Books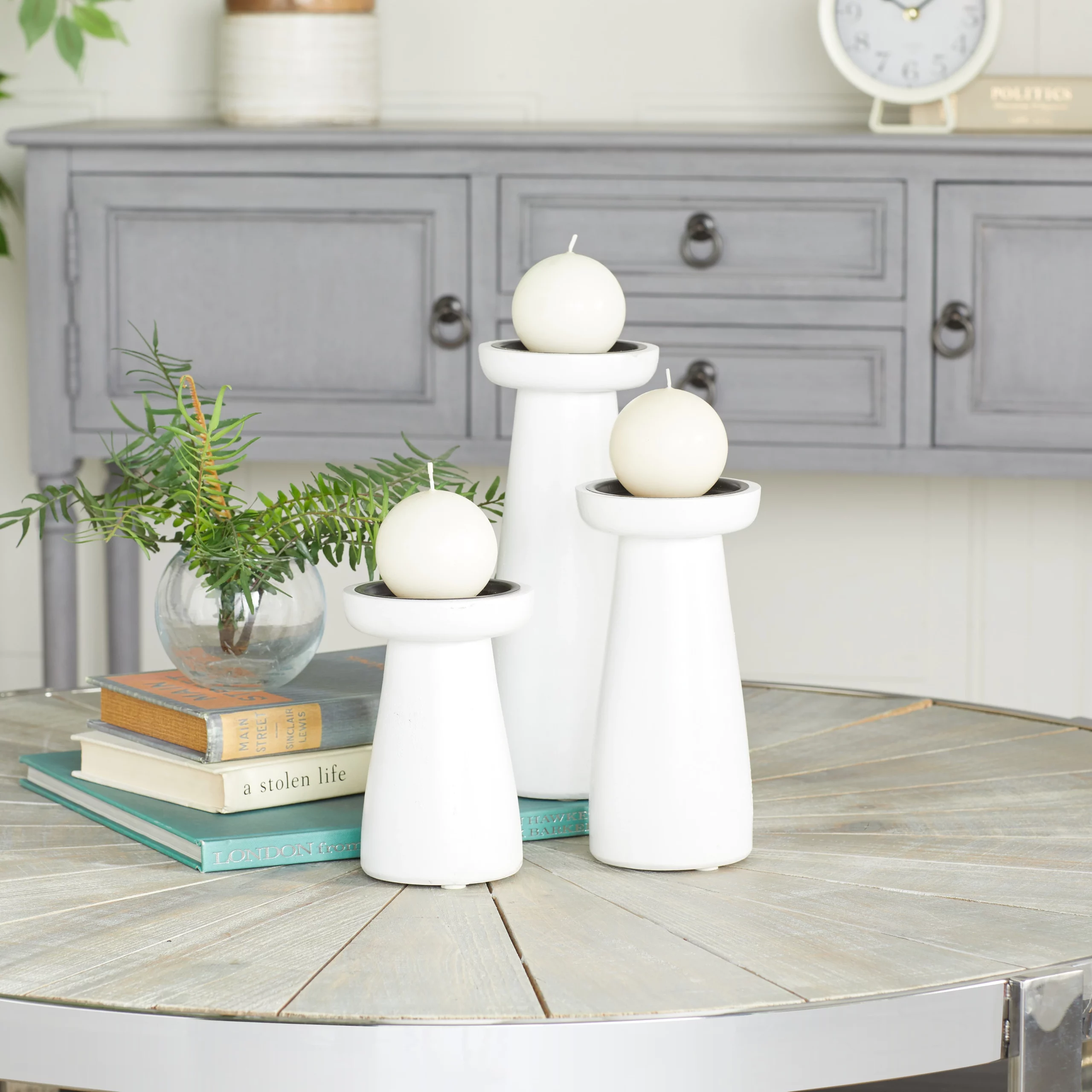 If you like a collected feel in your home, combine candles and books for a centerpiece.
These white wooden candlesticks are bright yet still have a bit of a vintage feel. Combined with older books, they give off the perfect old with new vibes. If you have a lot of space to work with, you can even throw a small plant in the mix.
Put Candles in a Glass Hurricane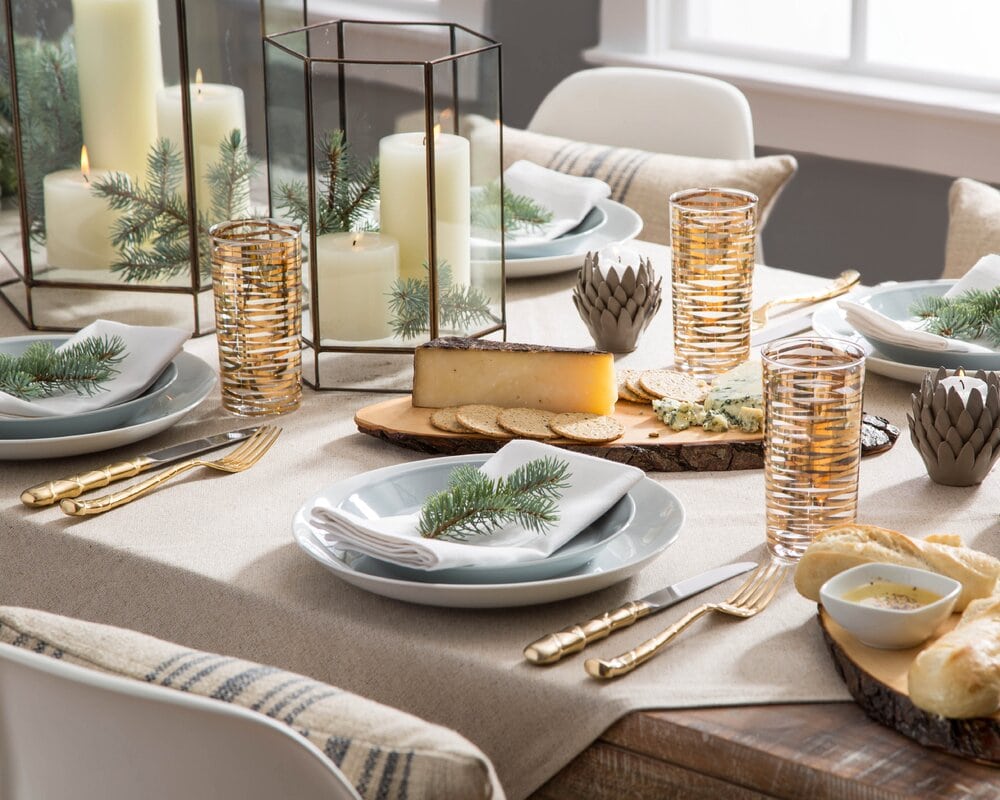 If you're not great at picking out decor and want a centerpiece idea that will look good in any home style, try glass hurricanes.
You can use more than one hurricane depending on the size of your table. For a custom look, taper the sizes of your candle. If you're using LED candles, you can even throw in some sprigs of greenery.
Create Your Own Topiary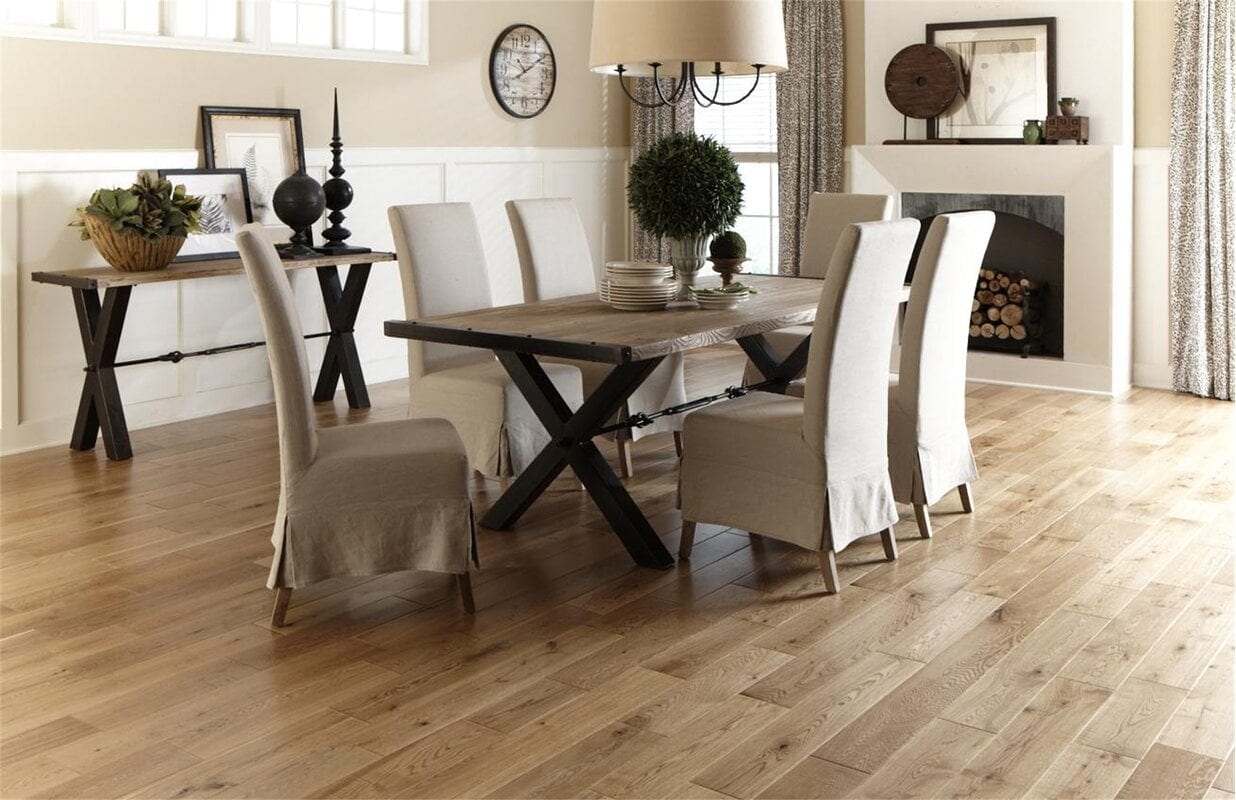 Do you like the look of topiaries? You can create your own by putting a faux cypress ball in a tall vase.
This is a great low-maintenance centerpiece that will look great in your dining room for years to come. You can even add candles or small plants on either side if you have a long table.
Final Thoughts
Creating a dining room centerpiece doesn't have to be complicated. There are many great options you can customize to fit your style.
If you're looking for something simple, go with flowers in a vase. For farmhouse style, try lanterns, And if you need to fill up a lot of space, layer in candles, flowers, and decorative objects.