How To Organize a Kitchen Pantry - Pantry Closet or Walk In Pantry Tips
A lot revolves around the kitchen pantry every day of the week, but even more so during the holidays. Your pantry houses all your entertaining needs whether you are organizing dinner for 1 or dinner for 25. Put the work in now, plan it right, and maximize your kitchen pantry functionality with these tips for any entertaining occasion. If you don't think you can fit all of this in a small closet pantry, think again.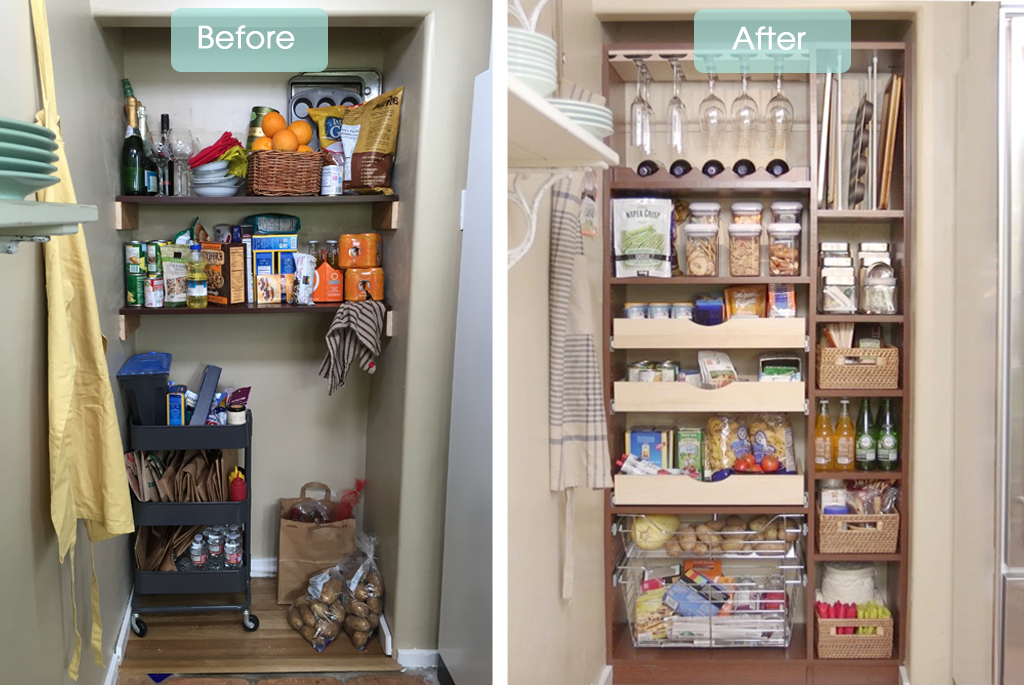 Source: Easy Closets
No matter how big or small your kitchen pantry, the first tip is to create pantry zones. While some people organize their pantry's according to size, easy access or frequency use, task-based pantry zones puts things in one place. That means you don't have to move things, find things or remember where you last stored items.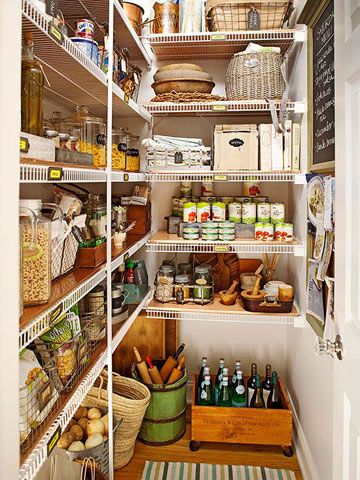 Source: BHG
Baking, cocktail and meal are the most common zones, but you can add or delete zones according to your family, lifestyle and entertaining. Meal zones can really help you cut down your meal time preparation and even help others create fast go-to dinners.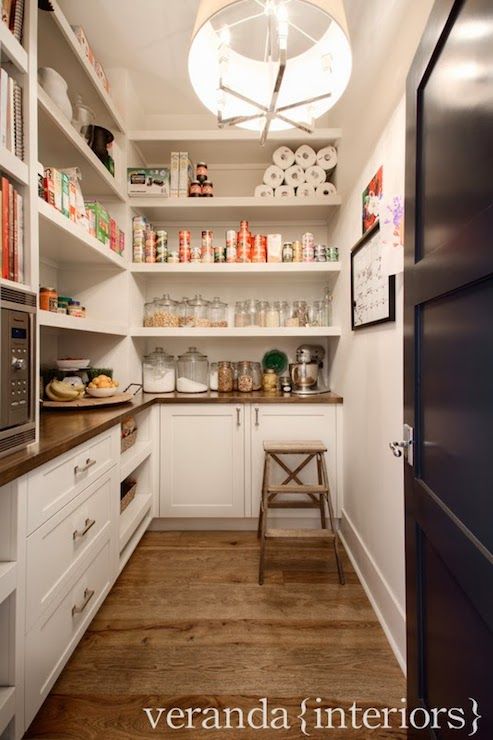 Source: Veranda Interiors
1. Baking Zone
From an enormous kitchen pantry to a small kitchen closet, arranging all of your baking items in one area gives you quick access and helps you see when you are low on some items. Pantry storage comes in all shapes and sizes, but if you love to bake, see if you can incorporate this idea into your pantry.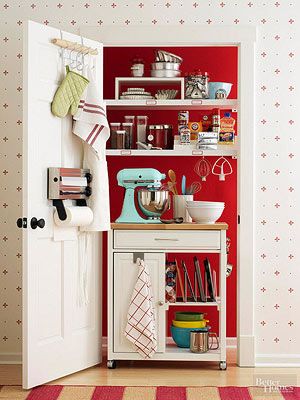 Source: BHG
Let's divide this into software and hardware. Your hardware is all the equipment, baking trays and cake tins you need to get the job done. If your baking sheets live at the bottom of a cabinet, you already know how difficult it is to find the one you need, at the bottom. Store what you can vertically to easily find the one you need. 
Use vertical shelf dividers to store them. There are a lot of different types. This one very popular and stops items from falling on one another as soon as you grab one. At the time of writing this has been reduced to below $9.00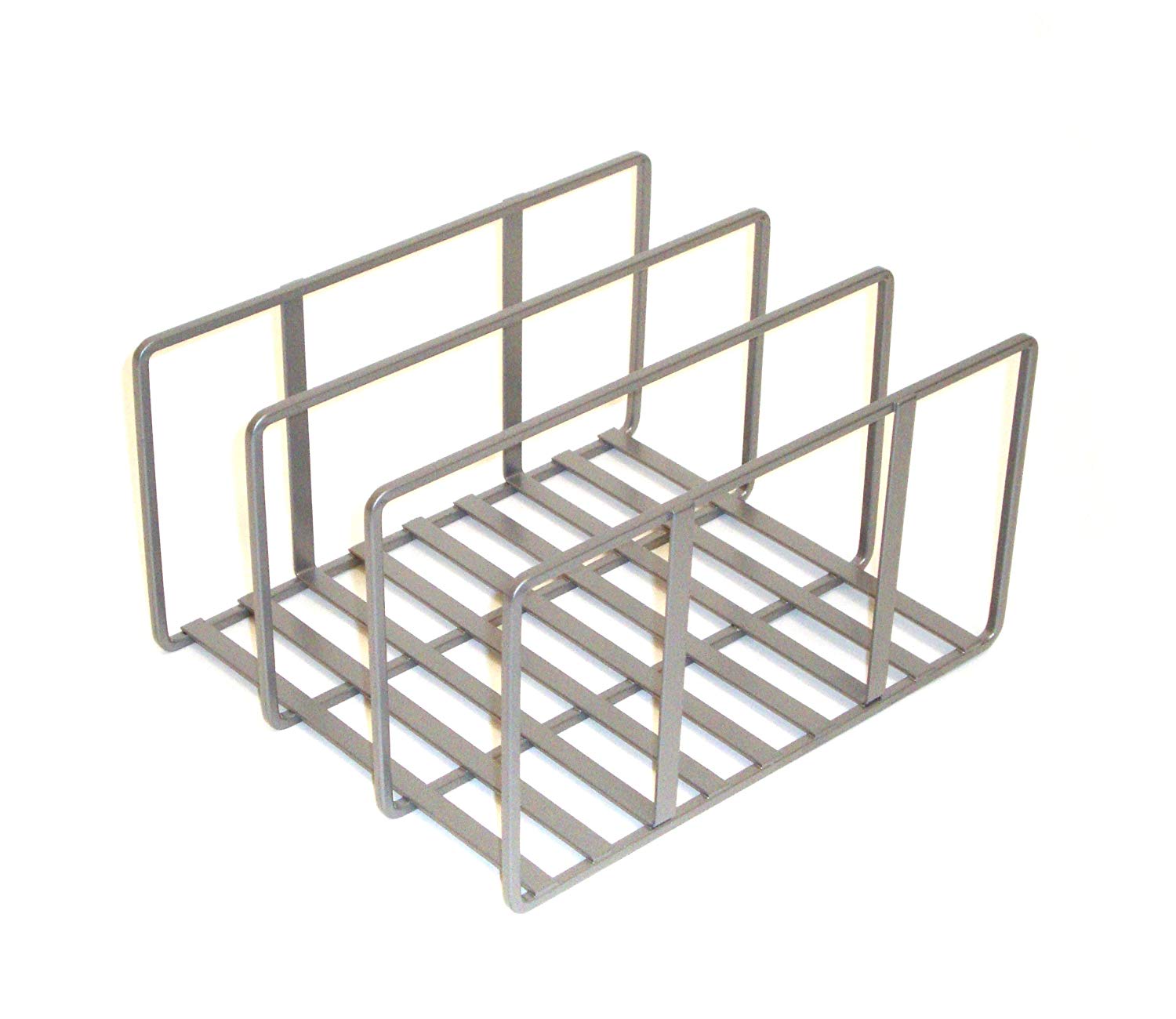 Source: Amazon
The software is your ingredients using your special recipes or techniques. Keeping these together or close by will help you bake more efficiently, helping you keep an eye on low stock levels. 
Source: Easy Closets
2. Cocktail Zone
If you love to entertain, especially during the holidays, being organized with a well stocked bar makes life easier for you and anyone helping out. This can include a wine rack and an area for spirits or champagne.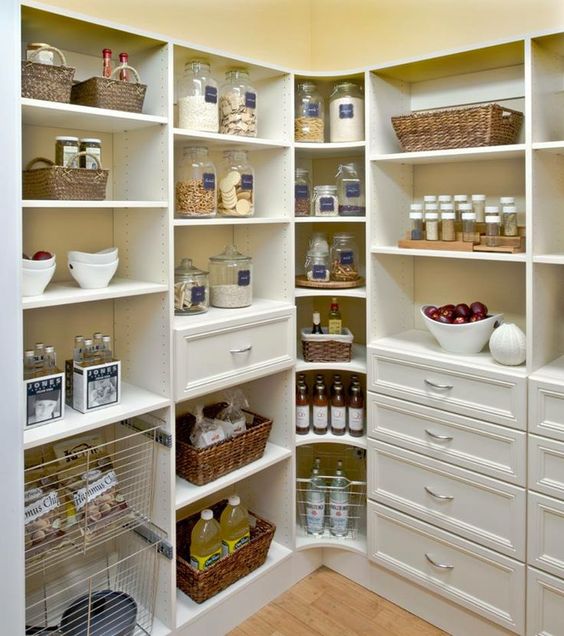 Source: 4AroundTheTable
Keeping this area tidy means anyone helping you can find things quickly, including bottle openers or mixers, without needing to do a deep dive on your pantry. 
Source: Easy Closets
3. Planning Meals & Meal Zones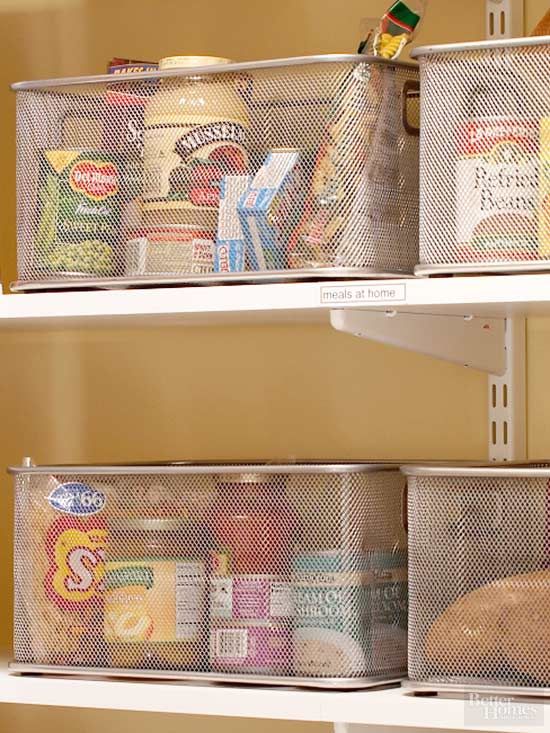 Source: BHG
If you are busy and run your household on a tight schedule, you might put ingredients together for your favorite, tried and tested meals. You can even divide dinners by putting ingredients into separate bins. This makes it easy for the rest of the household to put together simple go-to meals during weekends or the holiday season.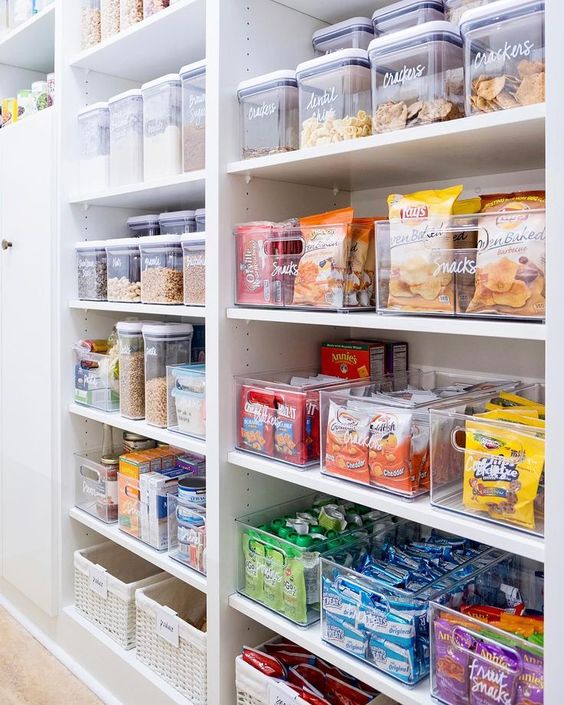 Source: pinterest - organize by category, meals, snacks, beverages
Grouping these ingredients and supplies together in your kitchen pantry for holiday feasts can be a big time saver. Tins of tomatoes, chili, pasta tomato paste, olive oil, capers and anchovies can quickly come together in a pasta dish or on a pizza. More doing, less thinking.
General Pantry Tips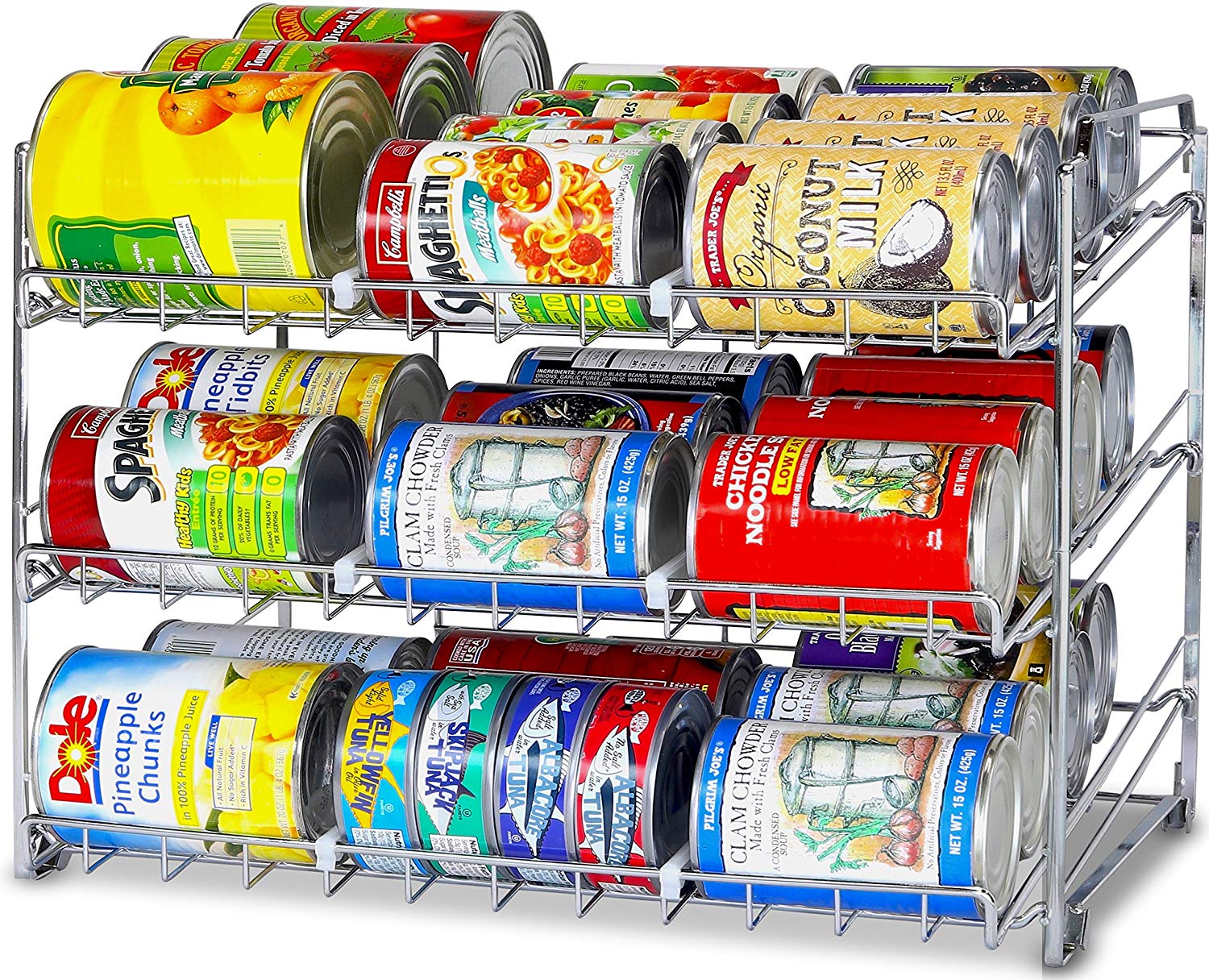 Adjustable shelves

- offer flexibility to arrange different size shelving. Bottom shelves are good for bulky items. These shelves should be 16 -18 inches deep, spaced 18 -24 inches apart. Middle or eye-level shelves should be 12 - 14 inches deep, spaced 14 - 16 inches apart. These can take larger canisters or cereal boxes. Shelves for cans and spices need only be 6 inches front to back. Add 2 inches of vertical space to get items in or out easily.
Lost Corner Space  - get back lost corner space using lazy Susan organizers and tiered shelf inserts. Shallow shelving is better than deep shelving.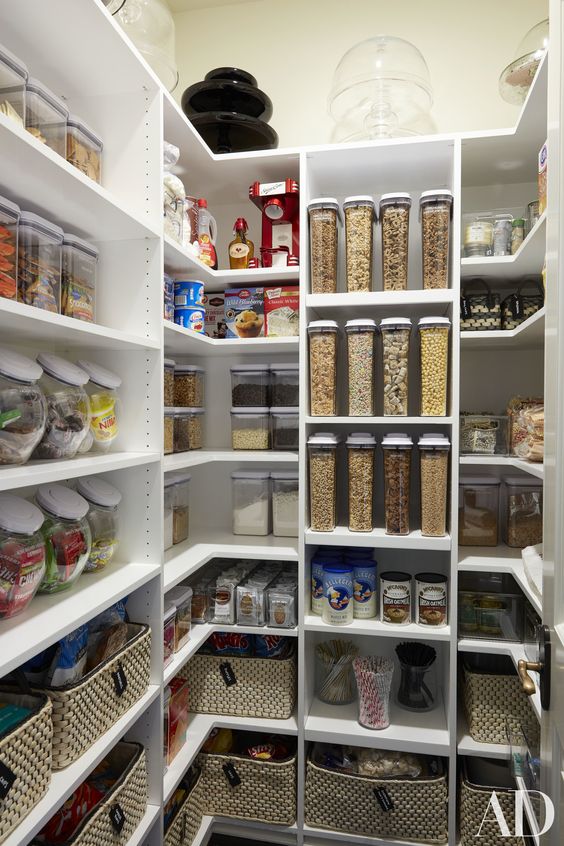 Source: Architectural Digest
Plywood shelving

 - is the most popular, with iron-on veneer edges or wood trim. 

Dust - Free

 - if you want your pantry to look less cluttered, install cabinets but if you want a dust-free pantry, use upper with glass fronts.
Good lighting & Outlets -  Pantries don't always get quality natural light, which can make them quite dark to work it. Most people forget add task lighting to their pantry and have one simple ceiling light. If your walk-in pantry is a work station as well as a storage hub add a pendant light, task lighting and outlets behind appliances to make it a functional space.

Cool and dry

 - do what you can to keep your pantry below 70°F with 45 percent humidity. This will keep your food fresher for longer. If you don't have air conditioning in your pantry, use a small electric dehumidifier or a moisture-absorber from the supermarket.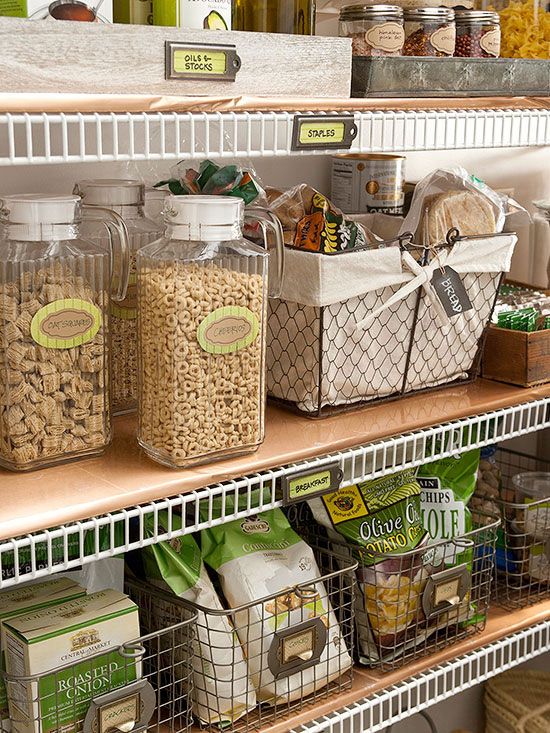 Source: BHG
Depending on how you use your pantry, pull out baskets, a stemware rack and pull out drawers might be all you need to give yourself better organized shelf space, but its worth the investment. Look online to find pantry designs, free DIY chat services, design apps and even tailor made pantries.