Decorated Life is reader-supported. When you buy through links on our site, we may earn an affiliate commission. Learn More
25 Walk In Pantry Organization Ideas to Help You Keep Things Tidy
Not every home has a walk in pantry, but the ones that do have so much potential! Just think of all the things you can store in there – appliances, partyware, a whole aisle's worth of cereal!
With all the storage potential of a big pantry, also comes the potential for a cluttered mess. That beautiful space can go from clean to disaster very quickly (especially if you have little kids who are constantly in there looking for snacks).
So, here are some walk in pantry organization ideas to keep things tidy and avoid total chaos.
Opt for Wood Shelving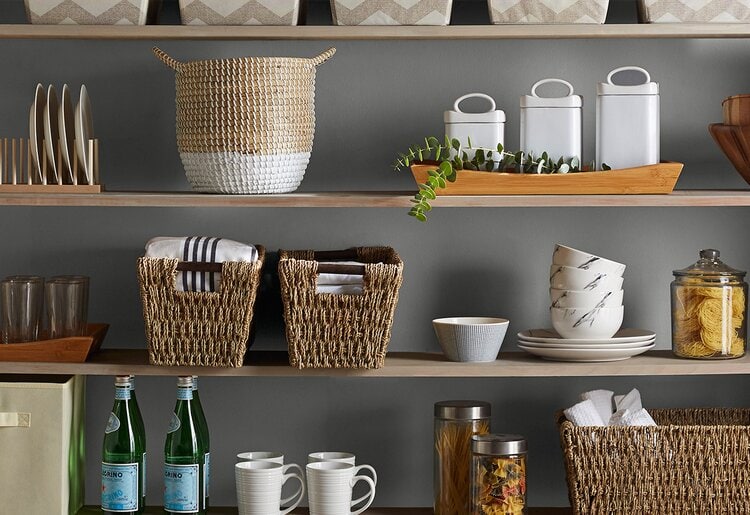 If you have a choice in your walk in pantry shelving, opt for wood. Yes, the wire racks allow food crumbs to fall through which means less maintenance cleaning, but they also allow small food containers to fall through, making way for disorganization.
Wood shelves keep everything where they should be, allow for easier stacking, and honestly just look a lot better. Trust me, just get the wood ones.
Make Space For Appliances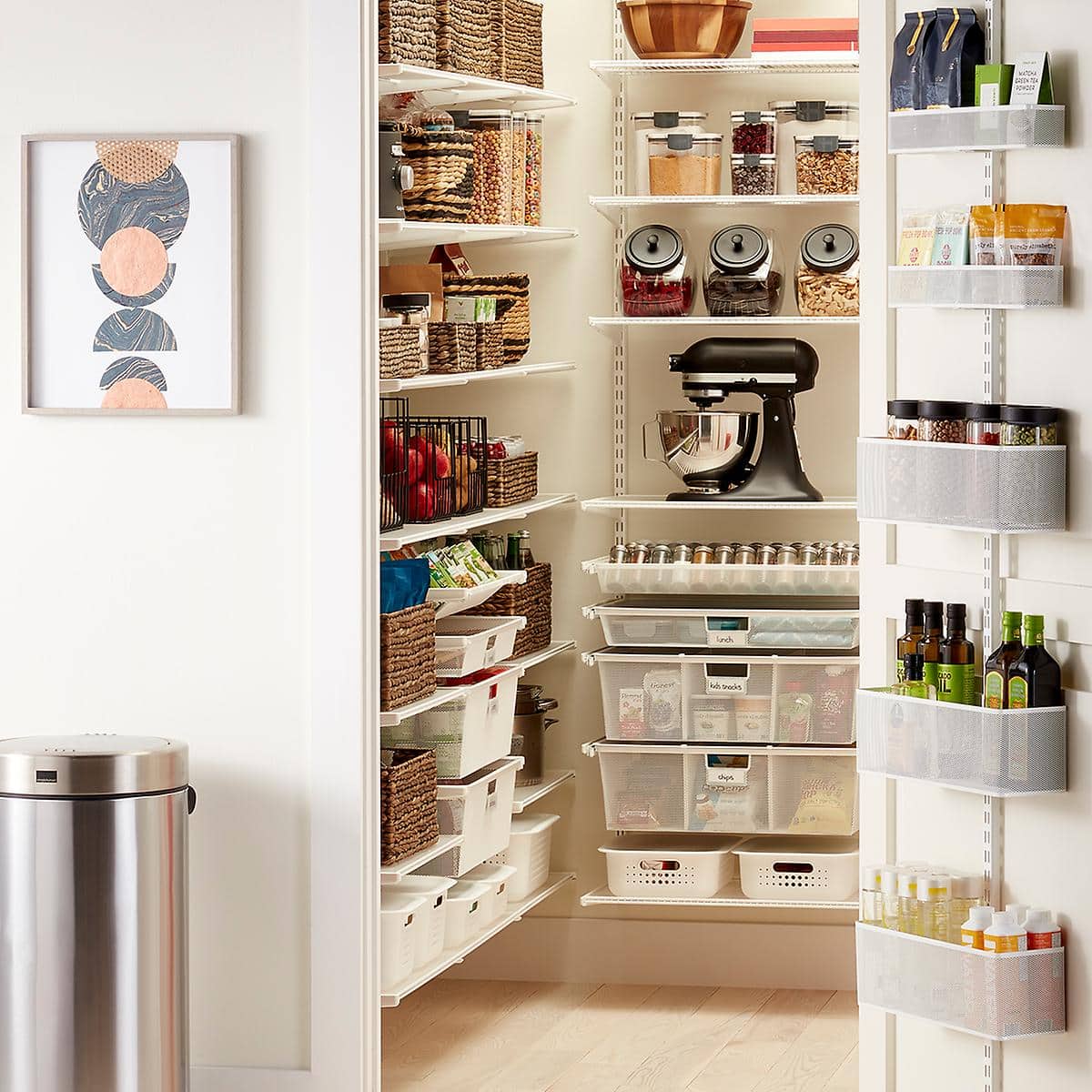 One of the best things about a walk in pantry is that it provides extra storage space, freeing up your kitchen cabinets for the things you need regular access to.
Store the things you don't use on a regular basis in your pantry like your standing mixer, food processor, and waffle iron. They don't need the precious cabinet real estate. Plus, this organization system will keep the pantry and cabinets more orderly.
Mount a Wine Rack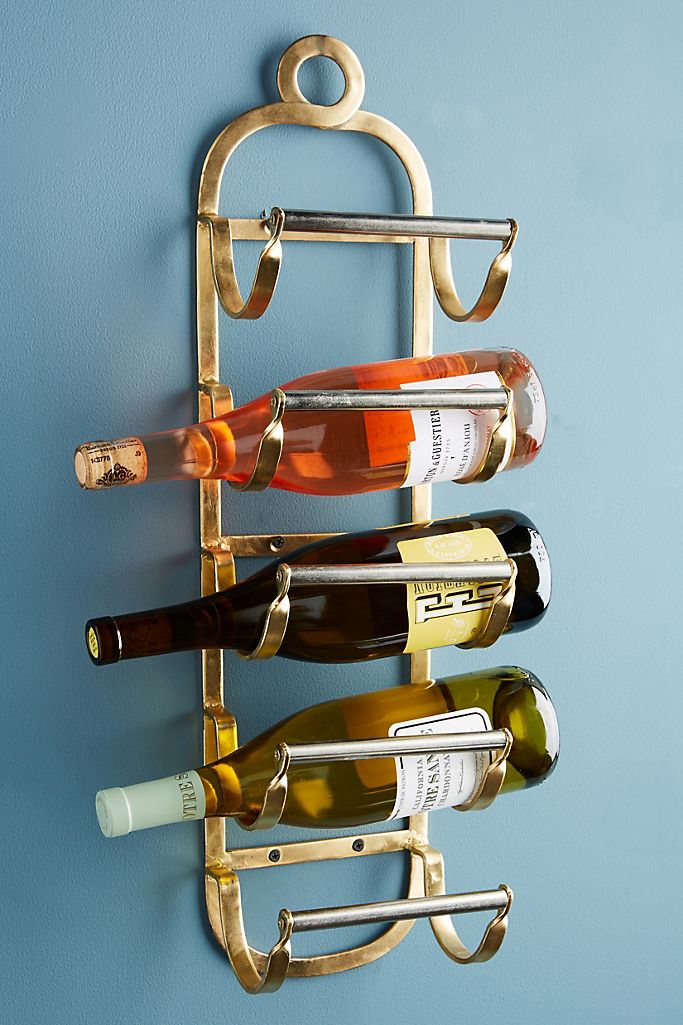 If you're using your pantry as a spot to store some bottles of vino, mount a wine rack to the wall for easy access. By doing this, you'll be able to pull one bottle out to see its label, and easily put it back to look for another without disturbing other bottles.
Not only will this help you avoid accidentally knocking over bottles when trying to check labels, but it'll also help ensure you don't have a delicious bottle of wine collecting dust because it's pushed behind bottles you've bought more recently.
Install Open Cabinets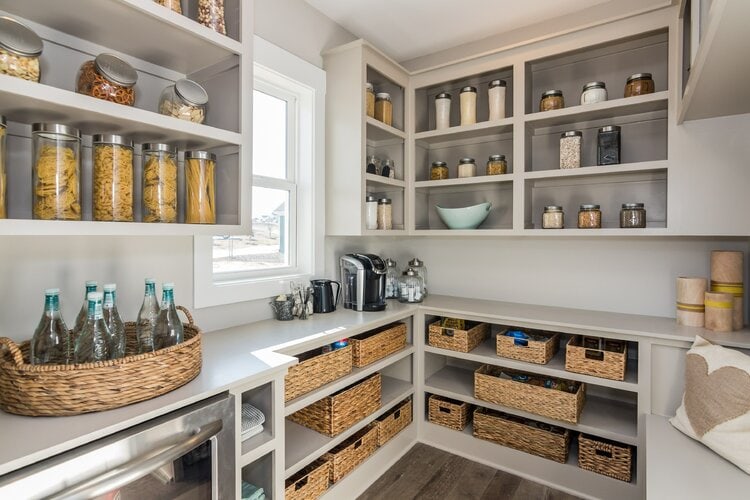 Open shelving in general is nice, but open cabinets are great for large walk in pantry organization because they create some division across the open shelves for better categorization.
In one section of the cabinet you can store baking ingredients, and on the other side can be pasta ingredients. It's a small thing, but that little divide between the two will do a lot to help you keep things in their place.
Add Helpful Lighting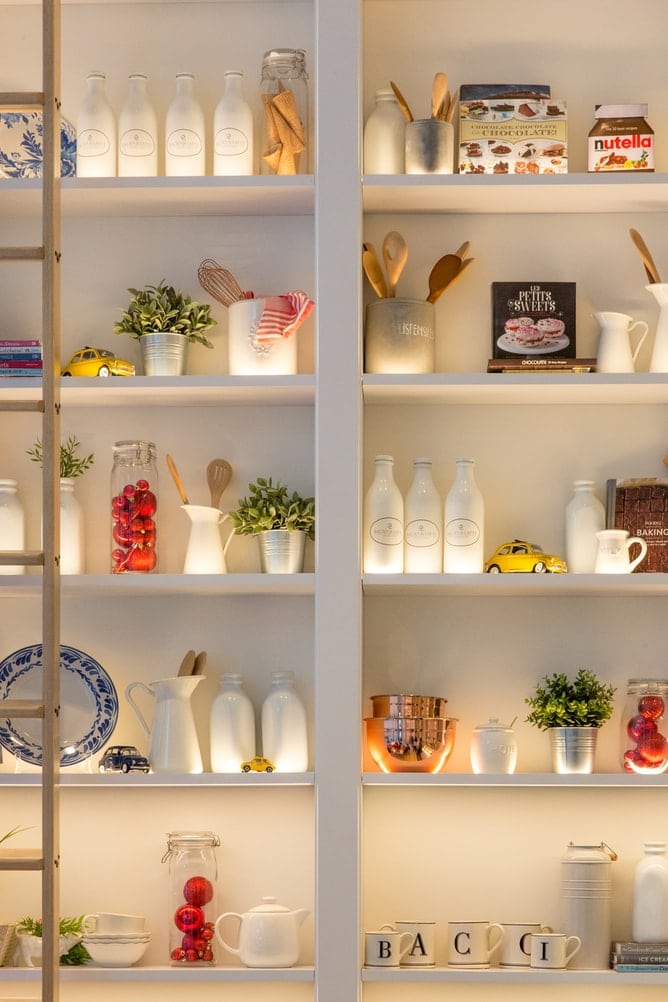 For a really big walk in pantry, you'll want some really good lighting because you need to be able to see what's on your shelves (even way in the back). 
You can set something like in this picture, which is very high end and customized. But, if you don't want to invest a small fortune into your pantry lighting, consider some inexpensive rope lights for under the shelves instead.
Set Up Bookcases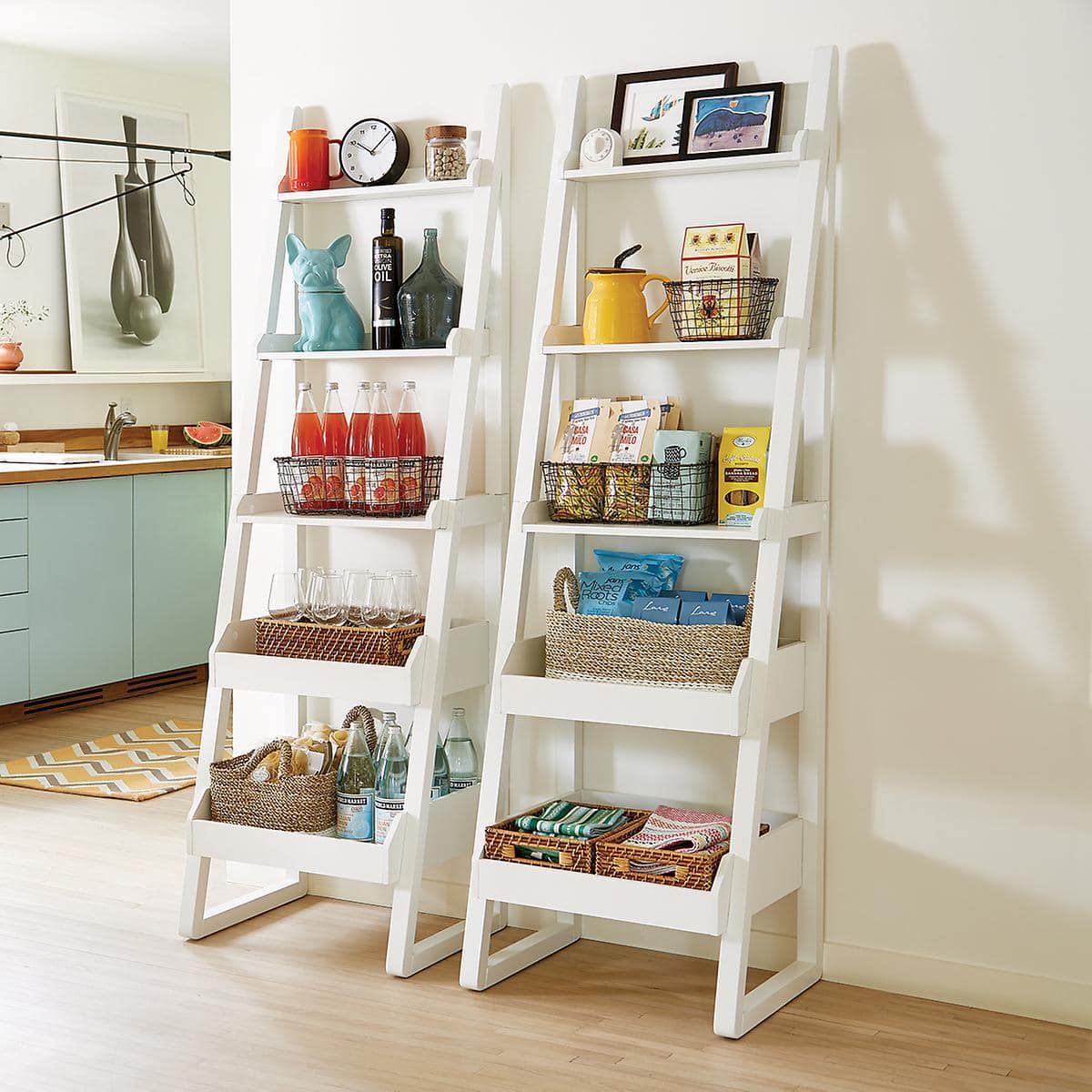 Your walk in pantry shelving can be a little more flexible if you use bookcases instead of mounting the shelves directly to the walls.
You'll want to find bookshelves that allow you to easily adjust shelf height and are not too heavy so that if you want to rearrange the way the bookcases are set up in the pantry, you can do it with ease.
Use Decorative Food Storage Containers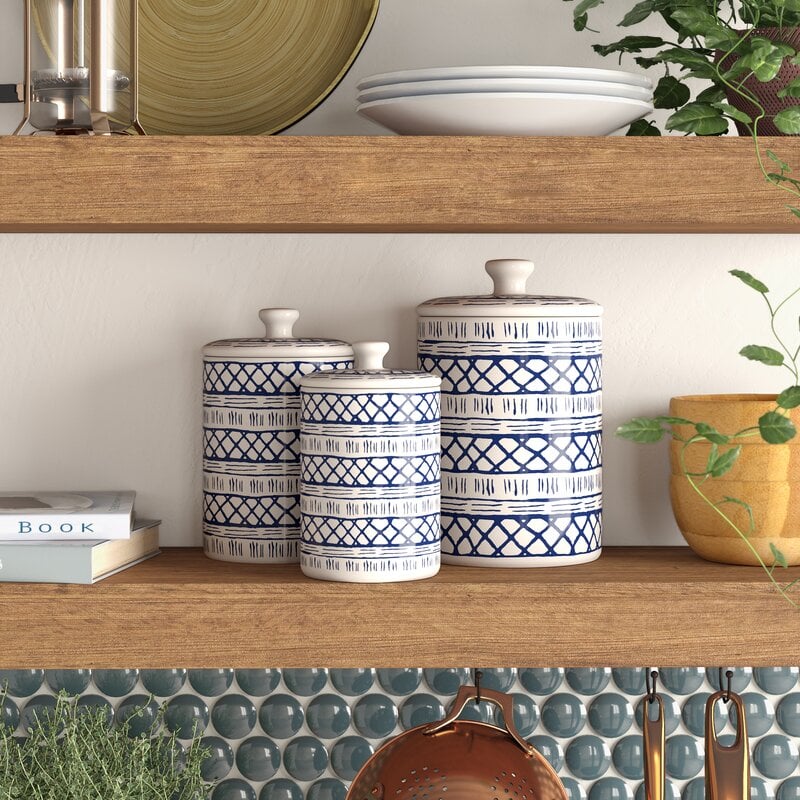 A great way to keep your walk in pantry organized and aesthetically pleasing is to use decorative food storage containers for loose items like tea bags, toothpicks, and cupcake wrappers.
The drawback to decorative food storage containers is that you can't see what's in them, so you don't want to store anything you might have a variety of (like cereal or pasta noodles). But, you can store loose items in them to keep them piled nicely together and out of their not-so-pretty packaging.
Create a Cookbook Library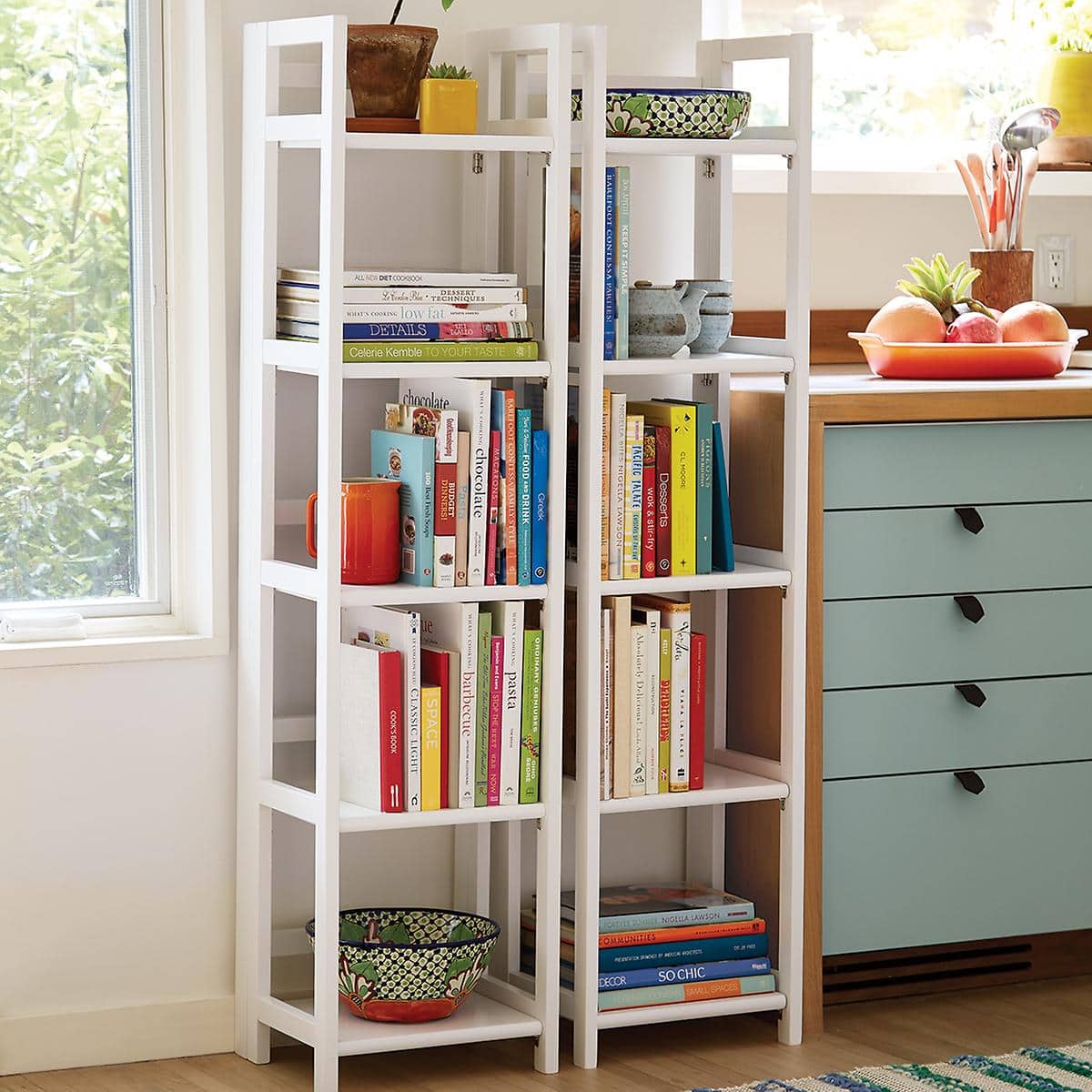 How many cookbooks do you have stashed away in your cabinets? Now, how often do you actually use those cookbooks? Probably never.
Instead of just letting your cookbooks take up space, set up a shelf in your walk in pantry to store them all. This will free up cabinet space, and let you actually see what cookbooks you have so you can easily grab one when you're in the mood to make a new dish.
Keep Small Items Together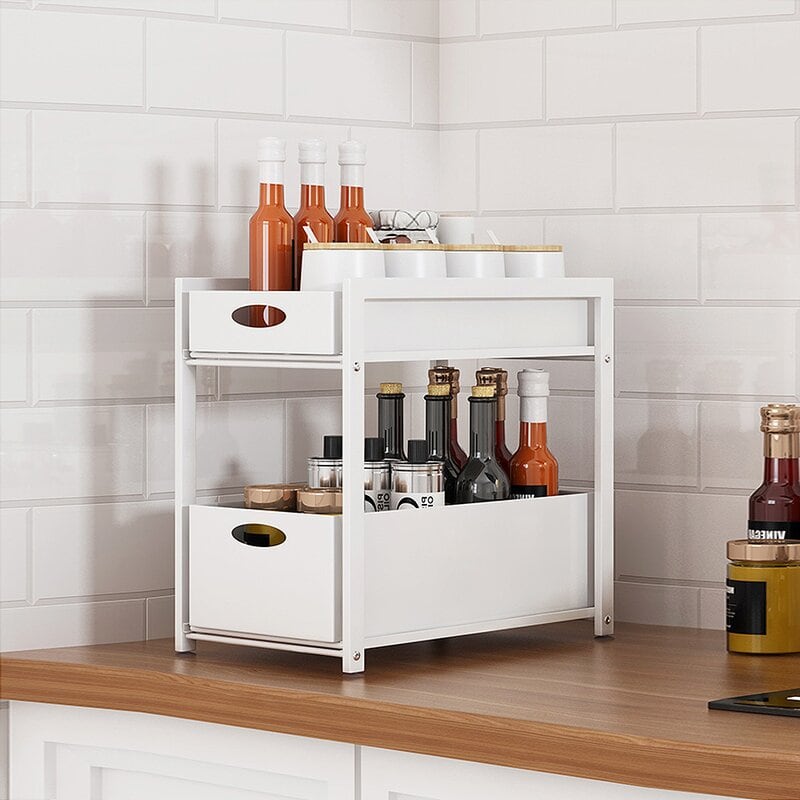 Small packages have a way of traveling in a pantry. They tend to find their way into a section where they don't belong, fall onto the floor, or just get shoved in the back of a shelf and forgotten about.
Avoid this disorganized mess by getting containers to hold all of the small items like the one in this picture. It keeps everything corralled in one spot while still being accessible.
Store Fruits & Veggies In Baskets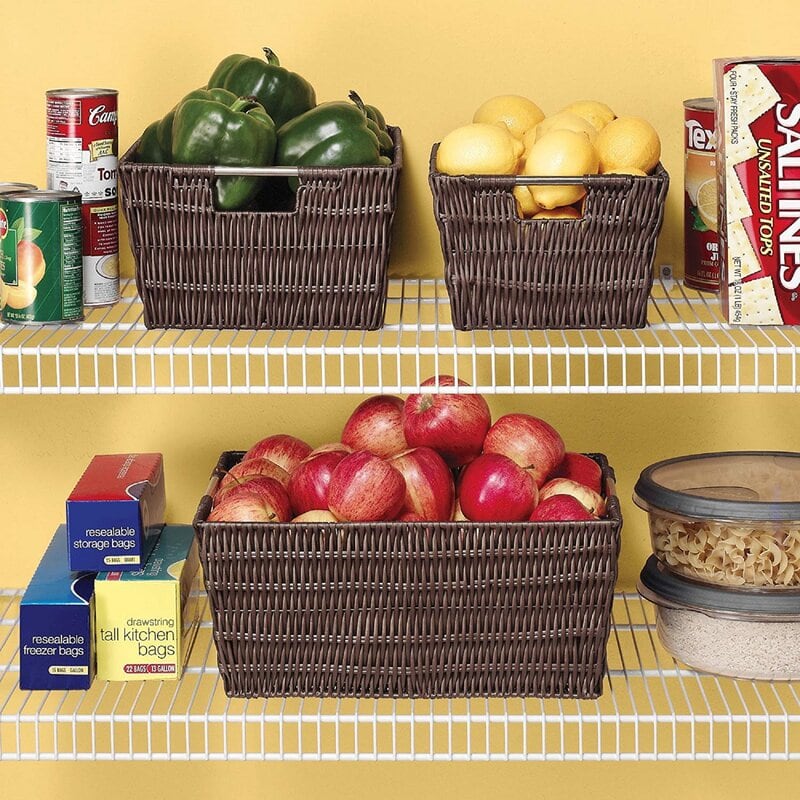 One quick way to make a mess in your walk in pantry is to just toss fruits and veggies on the shelves without taking them out of their bags. Not only will it create chaos, but it will probably make you less likely to actually eat them, too.
Instead, invest in a few baskets to store them in. This way you can grab a couple of red potatoes without splitting the bag open and having them roll everywhere or your kiddo can easily grab an apple for a snack since no one will have to open a package for her.
Get Labeled Clear Storage Containers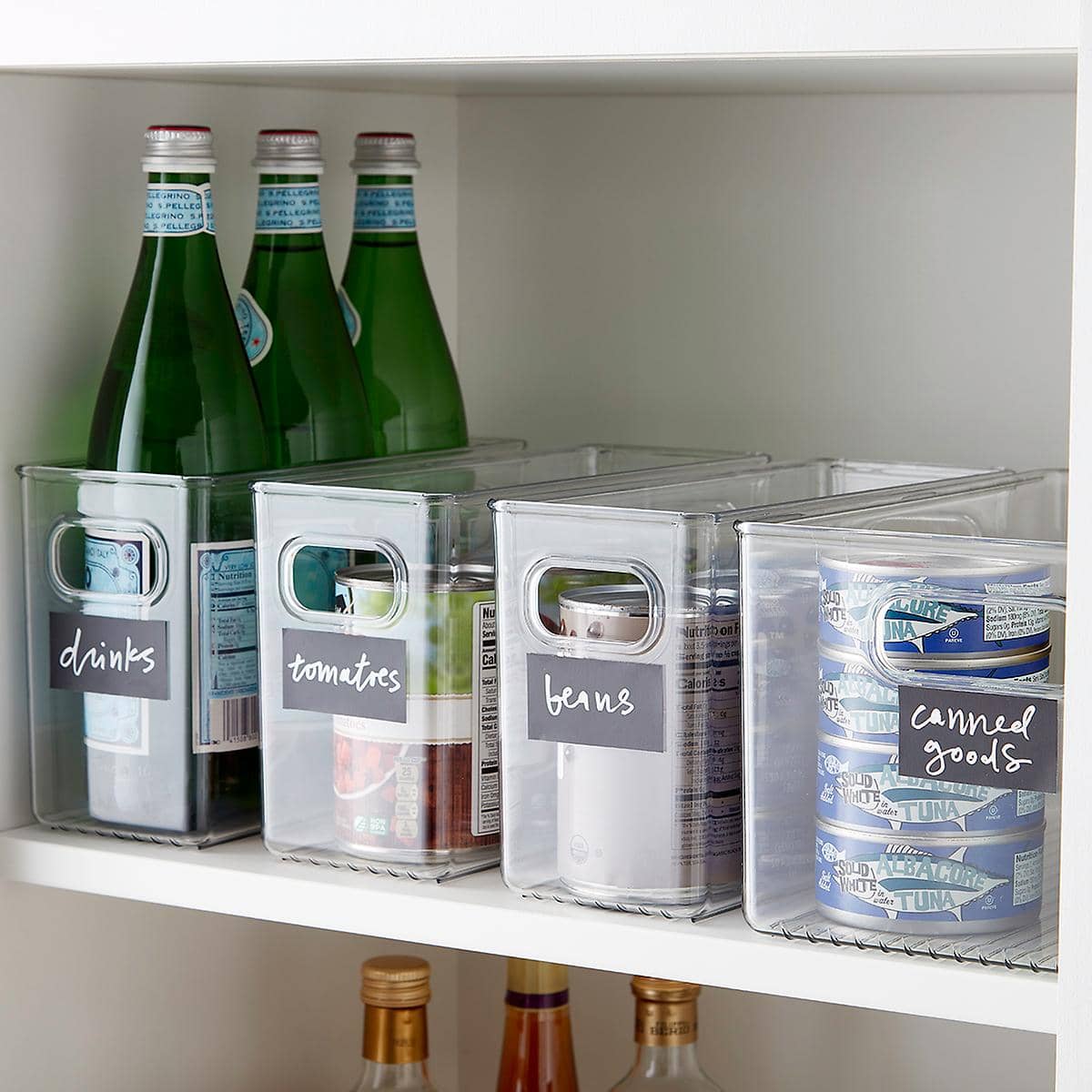 It may seem like overkill to have a see-through container and a label, since you can see what's inside the container, but the label isn't about helping you see what you have in the pantry, it's about putting things back where they belong.
If you have a pile of ingredients on the counter to make a dish, you want those ingredients to go back where they came from to keep things organized. If it's not immediately clear where the sugar goes, you may inadvertently put it next to the peanut butter because there happens to be the right amount of shelf space there. Labels help prevent this slow transition to chaos.
Use Drawers for Storage
When considering how to organize a walk in pantry, you want to really focus on accessibility rather than on making it look as pretty as the ones you see on Pinterest.
With that in mind, installing drawers are great for organization. They provide very easy access to your food and supplies and are a great use of space. Just remember to use deep drawers for bulky items like flour rather than piling in a bunch of small things that will just create a mess.
Hang Small Cabinets to Store China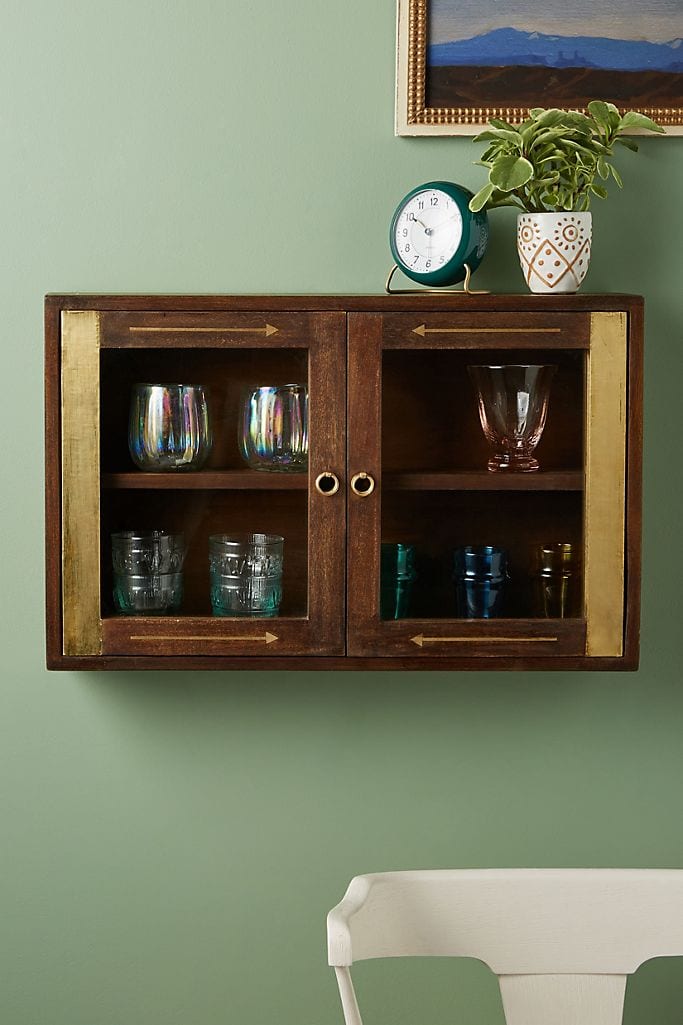 If you have a set of china that means a lot to you, but is stored away in a box somewhere, mount a cabinet in your walk in pantry so you can put it in there, instead. This will give you much easier access to the set for special occasions without having to sacrifice a kitchen cabinet for storage.
Include Counter Space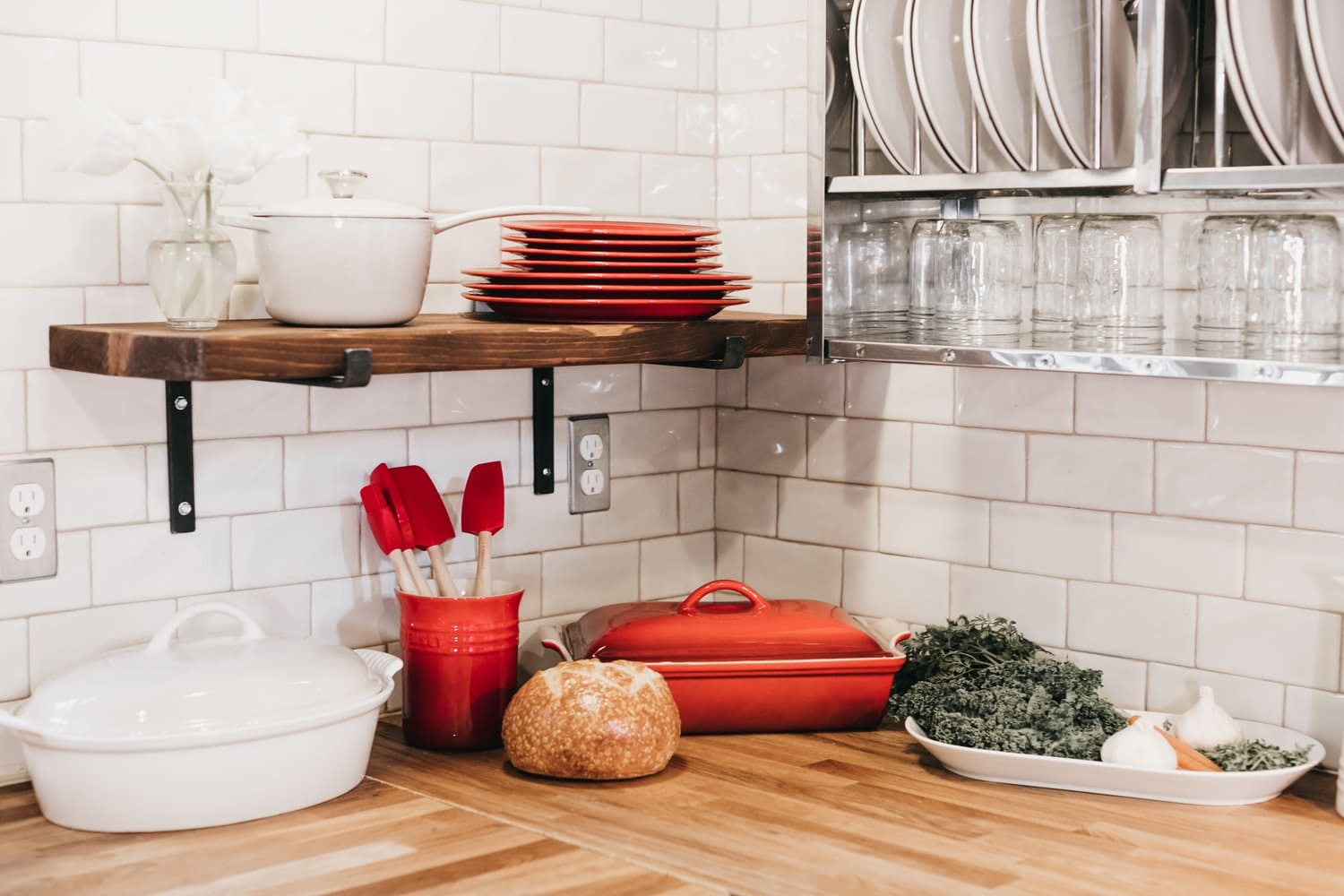 Counter space is hard to come by in a kitchen so if you have some space to add a little extra in our walk in pantry, do it!
You may not use the walk in pantry counter to actually prepare food, but it will be helpful when you just need a quick cup of flour or you have a tray of brownies that need to be put away and don't have a dedicated space.
Mount a Pots & Pans Hanger to the Wall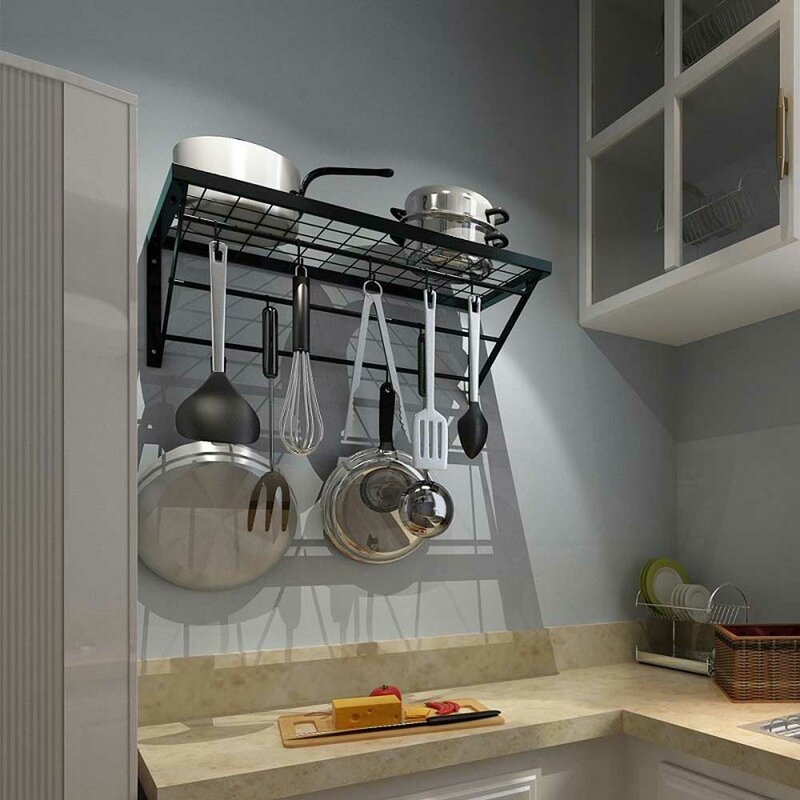 If you plan on storing your pots and pans in your walk in pantry, consider hanging them from the wall rather than stacking them. This will make it easier to grab one without toppling over all of the rest.
To make the area even more organized, hang utensils from the rack, too, like they did in this picture.
Store Like Items Together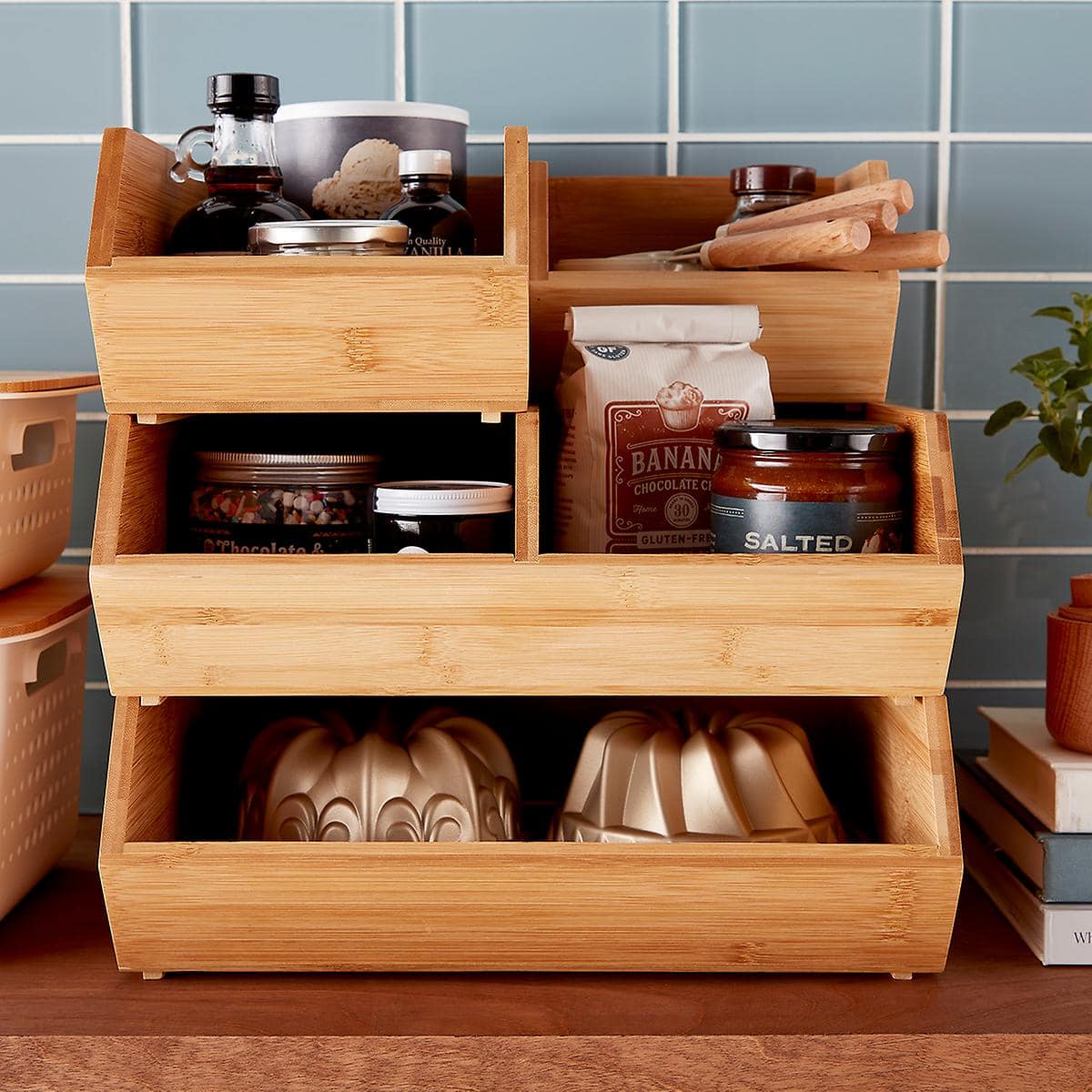 It may seem obvious, but categorization is essential to creating an organized walk in pantry.
If the jar of spaghetti sauce is next to the peanut butter and the noodles are tucked beside the boxes of cereals, then you'll never be able to find anything and chances are good you'll put those items away in a completely different spot after you've used them. Categorization will help create a system instead of chaos.
Use Crates for easy Customization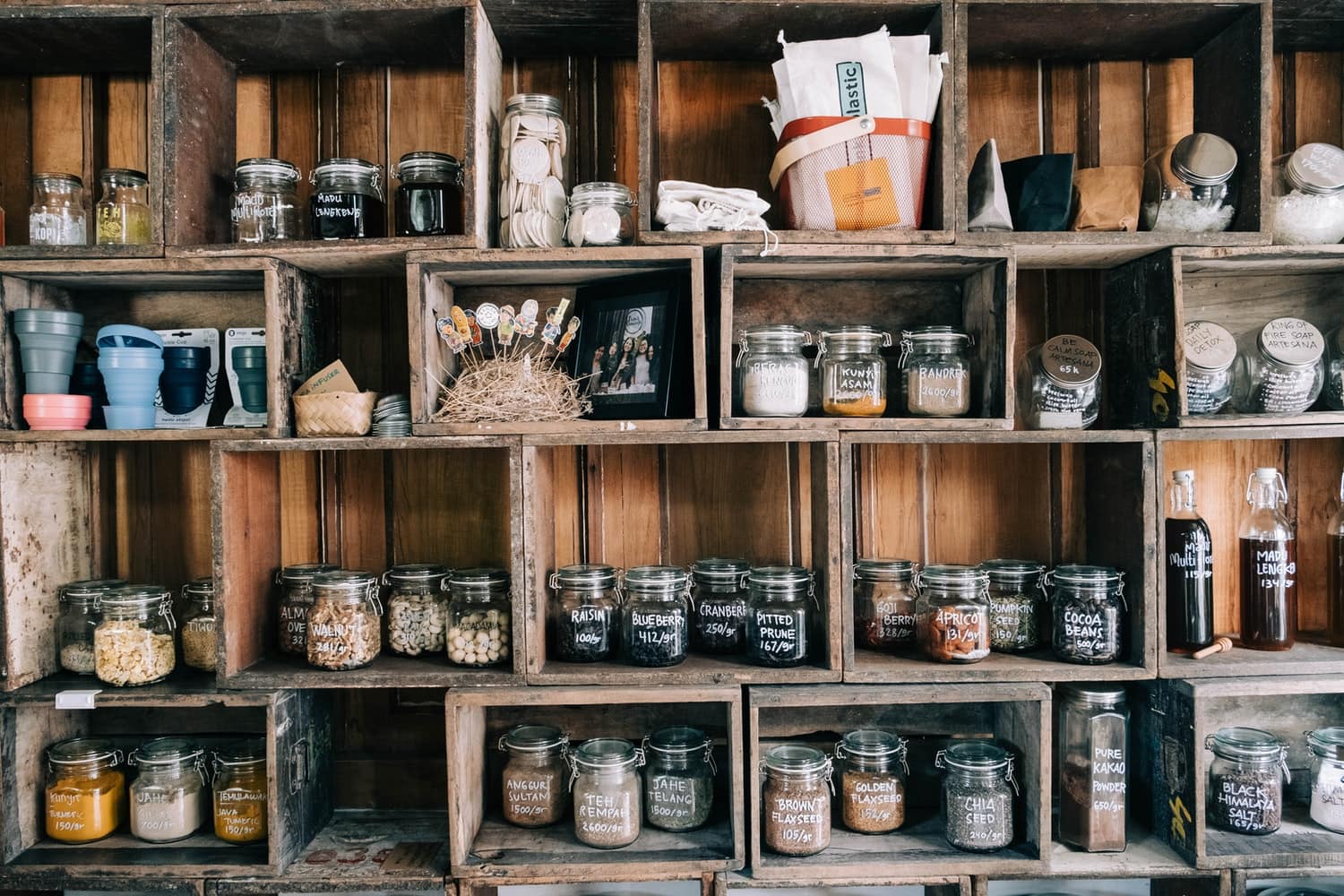 Using crates as shelving in your walk in pantry will not only give you a rustic look, but will also give you the flexibility to change your layout and provide a way for you to carry a lot of ingredients or tools out of the pantry in one trip.
Make the Best Use of Drawer Space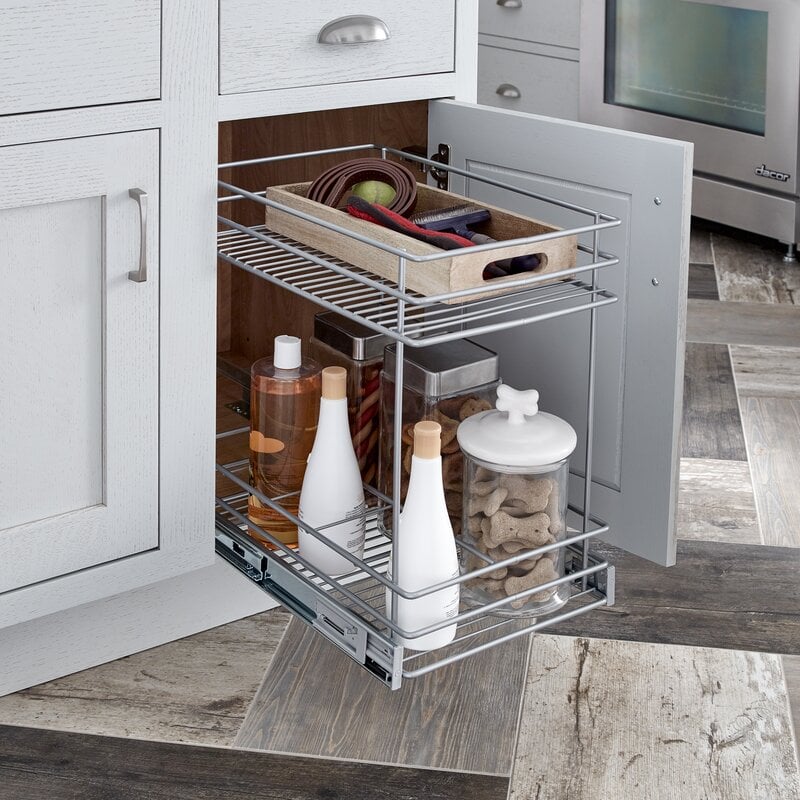 Drawers can very quickly become messy and disorganized if the space isn't used in the best way.
If you're filling a shallow drawer with small items, install some dividers to help keep things orderly. Also, if you have a deep drawer, use it to store your blender or another tall tool to maximize the space rather than leaving it empty.
Take Advantage of Height With Hanging Baskets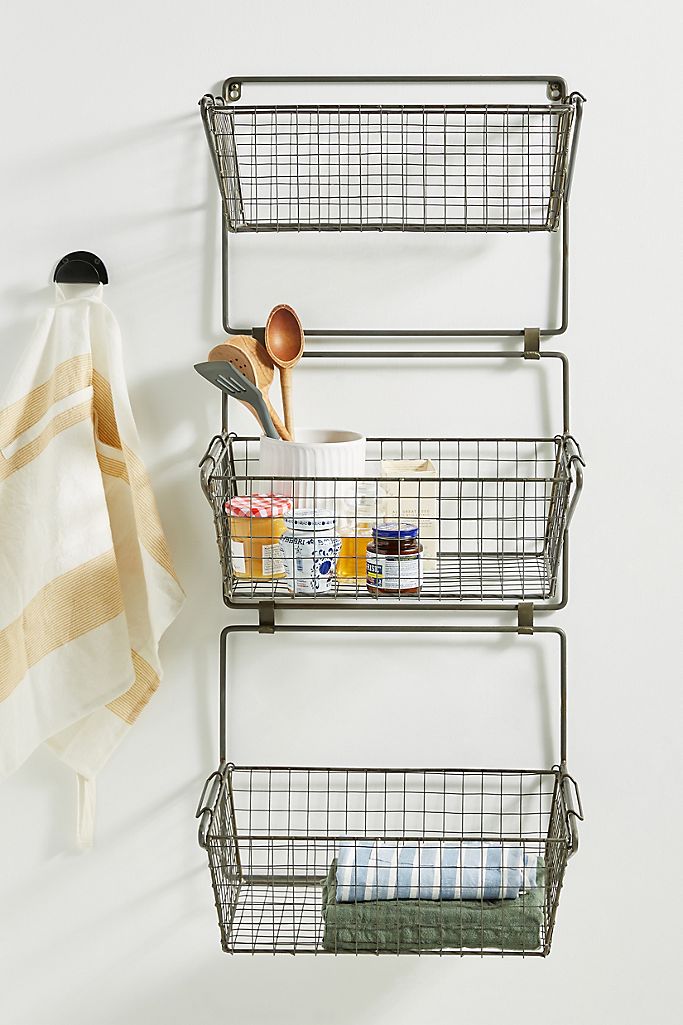 When organizing your walk in pantry, always remember to use the space's height to your advantage!
You can hang baskets from the ceiling, or up a narrow space of wall to create more storage spots. Store small things you don't use very much towards the top – like food coloring and sprinkles – and then towards the bottom toss in some easy-to-reach snacks for your kids.
Ensure Easy Access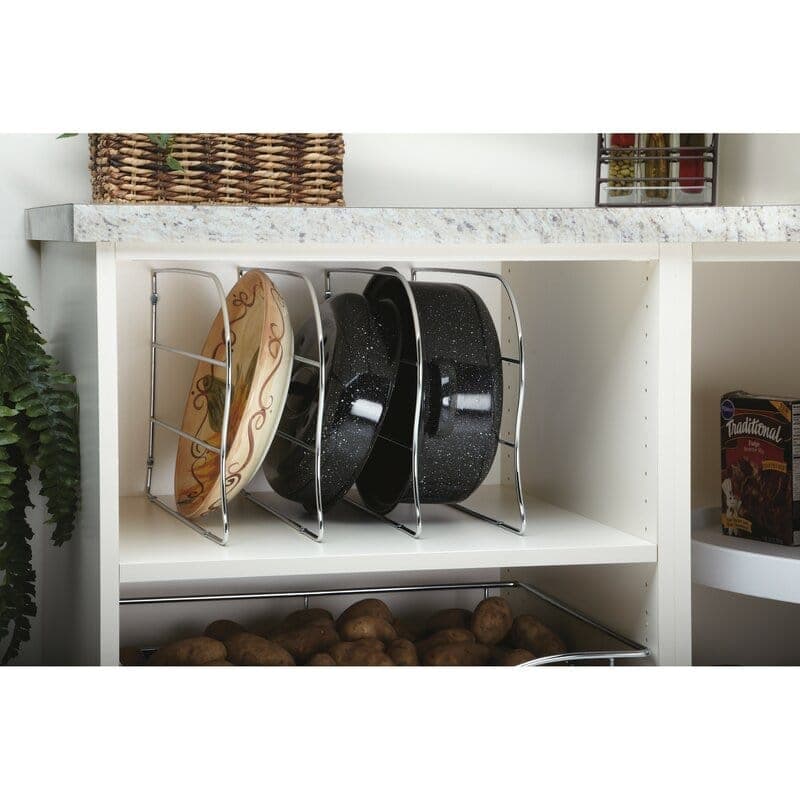 If you're trying to keep your walk in pantry organized, create a system that allows you easy, unobstructed access to the things you use most.
Storing frequently used tools or foods in a spot that's hard to reach or stacked up with other things is going to lead to a mess. Piles get knocked over, and things get pushed to the side without being put back where they belong. Easy access helps to reduce this problem.
Set Up a Lazy Susan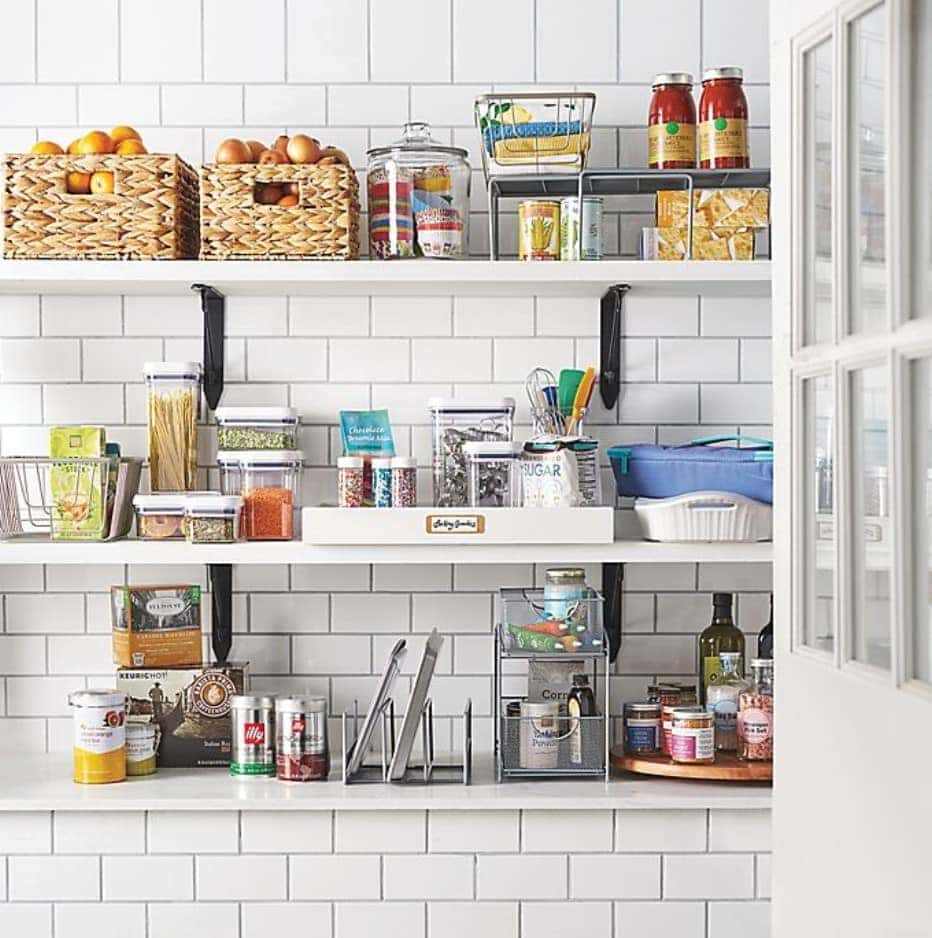 One great walk in pantry organizer is a lazy susan, especially in corners where shelves meet and things get pushed back (and forgotten about). Set up lazy susans in those corners to make it as easy to grab something in the back of the shelf as is to get something up in the front. 
Install a Beverage Fridge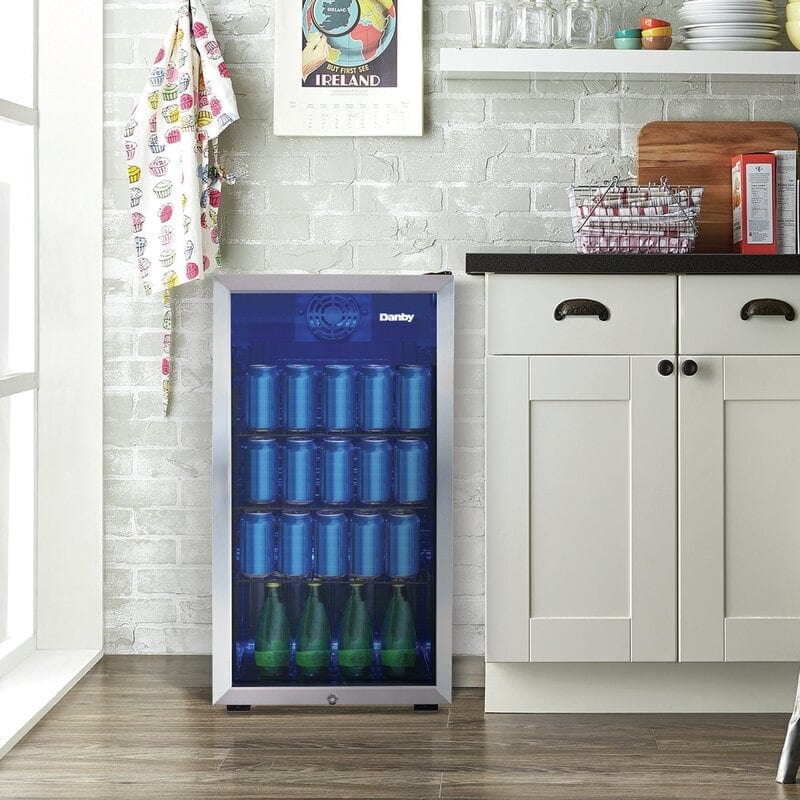 If your walk in pantry layout allows, consider installing a beverage fridge in it! It's a small addition that will pay off.
Not only will a beverage fridge help keep your drinks organized and stored together in the pantry, but it'll also clear up space in your large fridge in the kitchen which will allow for better organization in there, too.
Use Wall Space to Store Cooking Utensils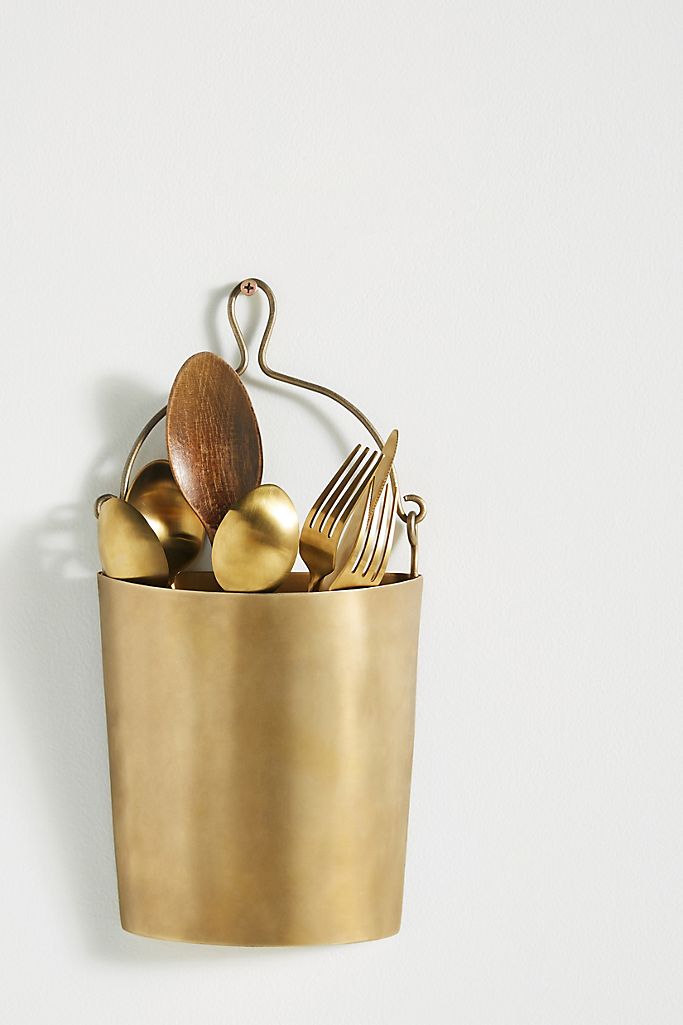 Another creative way to keep things organized (and use your wall space) is to hang baskets to store utensils.
You'll probably want to store your general forks, knives, and spoons in a kitchen drawer for quick and easy access, but wall baskets in the pantry are a great spot for ladles, spaghetti spoons, tongs, and other bulky tools that create cluttered drawers.

Add a Pegboard System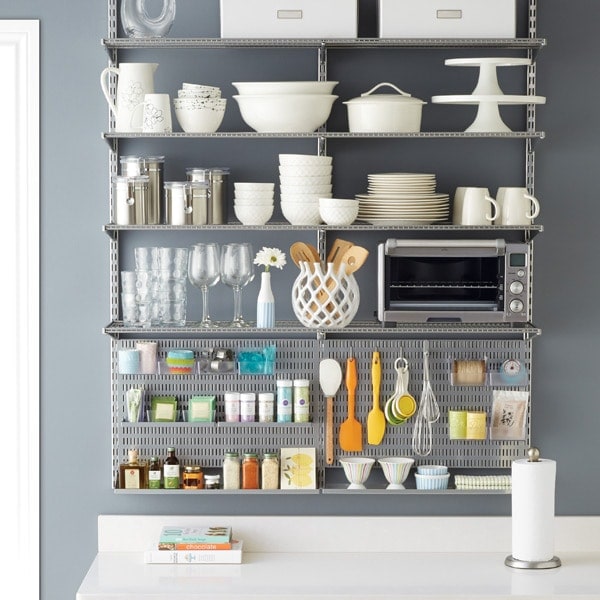 Hang a pegboard to the wall and use it to hang measuring spoons and cups, little baskets for small items, and hooks for whisks and other large utensils. A pegboard is a good solution because it will keep you organized, and can be easily modified if you need to change the layout.
Don't Forget Your Pantry Door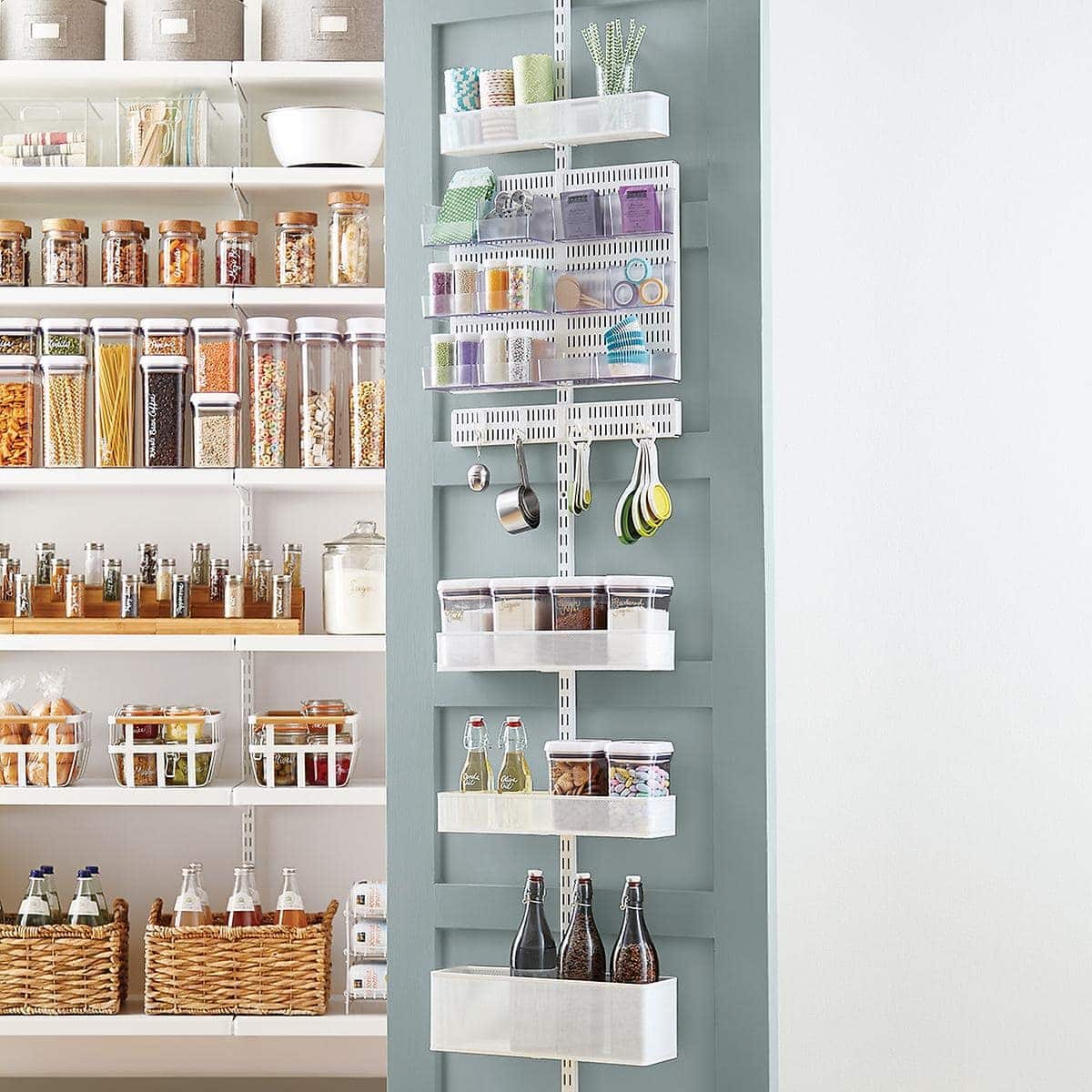 Of course, there is always room on the back of the pantry door that can be used for even more organization systems. It's another way to maximize your pantry's space and take advantage of height.
Hanging baskets on the door are great for storing spices, tall bottles like olive oil, and containers of aluminum foil or paper lunch bags.
Final Thoughts
A walk in pantry is a true luxury in a home, especially one without a lot of kitchen cabinet space. It's amazing to think of all the things you could store in there, but it's scary to think about how much you could lose track of, too.
Creating an organization system in your walk in pantry will help in so many ways. The space will be clean, you'll know where to find the things you need, and you can free up space in your kitchen cabinets for the things you need regular access to. It doesn't have to look Pinterest worthy, it just has to work for you and your family.