We independently select these products — if you buy from one of our links, we may earn a commission.
23 Kitchen Corner Cabinet Ideas
Home décor projects are always fun but there are some difficult bits in all of them. For kitchen redesigning, I think it's the corner cabinet space.
Straight kitchens are the easiest but most kitchens fall in an L-shape, which means there's at least one corner to tackle.
Most designers and DIYers get stuck with kitchen corner cabinets. If you too are redesigning your kitchen, the kitchen corners might be on your mind already. Let's discuss some cool ideas to handle those corner-aches.
Blind corners
This is the simple no-brainer solution. When one door closes, another one opens – quite literally.
Kitchen cabinets keep going in a line. And as the counter hits the corner, the cabinets also go 90 degrees. Except there's a small flaw. When you open one corner drawer, the other on its side won't be accessible.
So one drawer has to be closed to open the other one. This is the classic problem of the kitchen corner cabinets. However, if you're not bothered by closing one to open the other, you can go with this design.
Pie-Cut Lazy Susan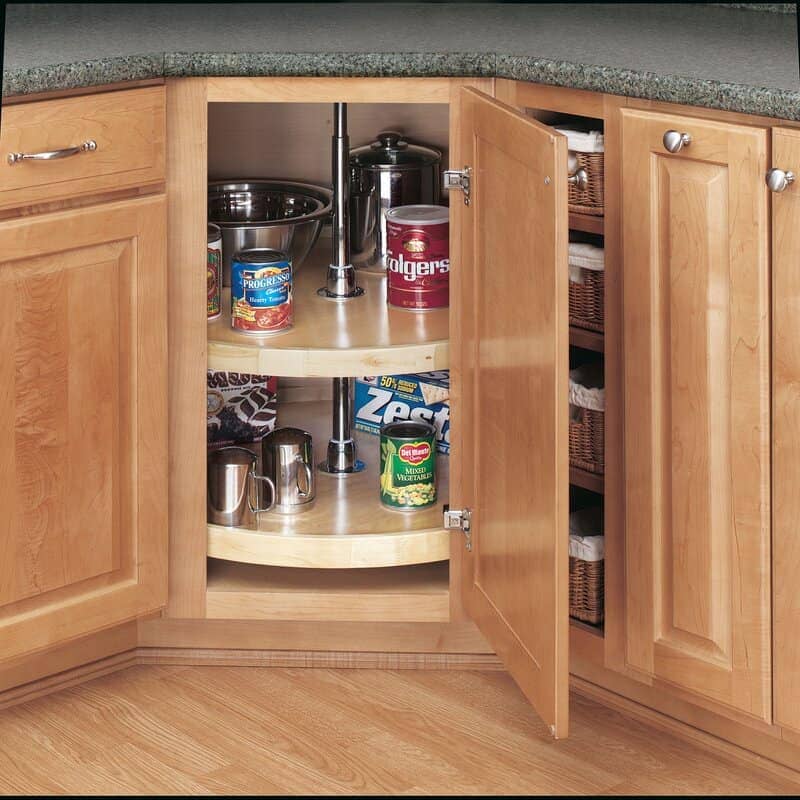 Lazy Susan is probably the oldest trick in the book and most interior designers go with this idea. The pie-cut design has been popular for many ages and when you have to fetch something, just rotate the pies and you'll be able to access the items stored in the back.
The swirling design is perfect for keeping anything that will be needed frequently. Since the pies will rotate, there's nothing that will be stuck at the back.
Corner Pull Out Drawers
If you're tired of seeing the Lazy Susan design at every house you visit, you can make a change by getting the corner pull out drawers. Instead of having plain old corner cabinets that get stuck when you try to pull them out at once, the corner parts are combined to form one cabinet.
Pull out drawers in the corner have a drawback as there is some blind spot left in the back. However, they do give a different look to your kitchen.
Diagonal corner cabinet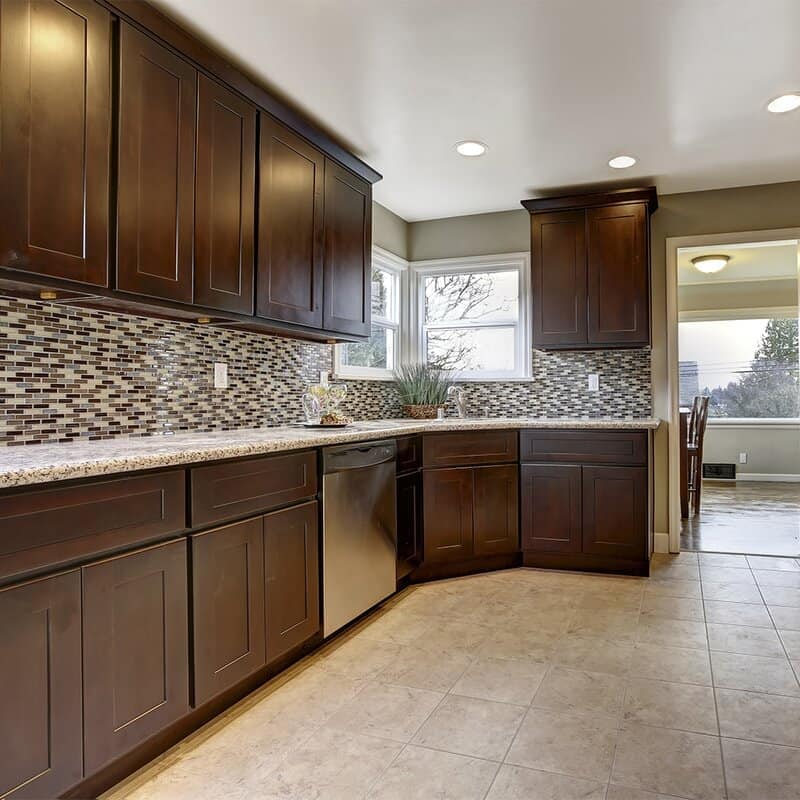 Cut out the need for corner cabinets by giving your kitchen an ingenious look. Instead of going for the L-shape, avoid it completely by getting a diagonal cabinet in the kitchen. The black countertop looks pretty on the white cabinets and gives a nice contrast.
You can also get a white-on-white look with the diagonal corner cabinets to make the kitchen look brighter. This look will not have clashing corner drawers and there will be no 90-degree corners in the kitchen.
Corner Sink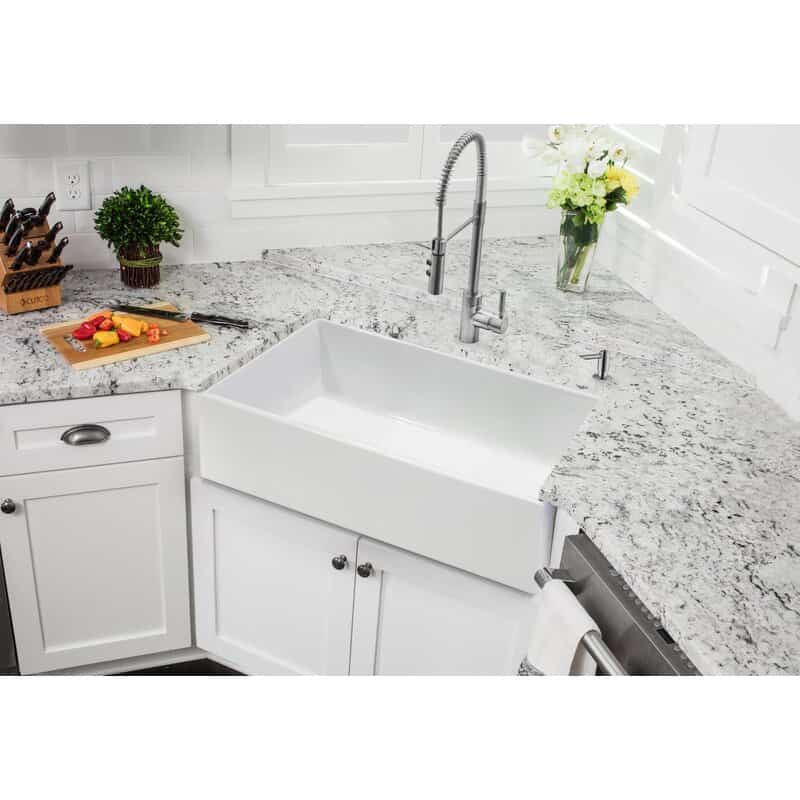 A sink in the corner won't exactly be space saving but if you have enough space and want to go for the looks, this just might be the thing for you.
Since there are no pull-out drawers with the sink, you don't have to worry about the corner cabinet. This will be a good idea if you have a large kitchen.
And there will be extra counter space behind the sink where you can place some houseplants. Who said the sink can't look pretty?
Swinging pullouts
If you're lazier than Lazy Susan, Swinging pullouts will be your thing. Why peek inside the cabinet to find the right utensil when they can fling out right in front of you?
You don't even have to bend to use the swinging pullouts. Just open the door and pull out the shelves. While Lazy Susan keeps things inside and so it's not properly lit, swinging pullouts come out in the open so you have enough light to see which utensils you need.
Alternating shelves
Instead of having a cabinet below the counter, use up the whole space as a closet and build alternating shelves in it. This will give a great new look for your kitchen and will be a good idea to save space.
All this extra space can be used to hold utensils, spices, condiments, and a whole lot of things. A full length cabinet will give a unique and innovative look to your kitchen as well.
Dead Space
While it's always a good idea to optimally utilize the space, sometimes it's just not possible, especially in old homes. If you're redesigning an old home and aren't finding any practical way to utilize the corner space, it's best to leave it like that.
But hey, dead space doesn't have to look bad. In the image here, the dead space is merged with the cabinets by painting it in the same color as the rest of the cabinet space. It looks beautiful.
Accordion Cabinet
These double doors open like an accordion, providing you full access to the contents of the shelves behind. This is another great idea to take complete advantage of all the corner space.
All the shelves are easy to reach and the accordion doors look beautiful and can be opened easily. Accordion cabinets are pretty popular and are used not just in kitchens but also in other tight spaces such as bedrooms and storerooms.
Open Shelves
You can save money and get a different and unique look with open floating shelves. These shelves will be great for houseplants and cookie jars.
Also, if you have beautiful individual crockery pieces, they will look great here. Corner space can be easily and optimally utilized with wooden shelves that look good with any background.
Add storage to just about any room with these open shelves. They take just a couple of minutes in installation and add charm to absolutely any open space on the wall.
Slider
If you're a smooth operator, you'll love these slider doors. Slide them to open the corner cabinets in style. Inside will be enough space for just about anything. Spices, herbs, occasional snacks, cereals – just about anything you want.
While the cost of installing a slider is higher than simple pull-out drawers, sliders do have their own charm. Design a tall corner cabinet and install some lights in it to get an amazing look that adds glamour to a plain kitchen.
Curved Cabinet
An extension of Lazy Susan, this cabinet is not accordion shaped like in Lazy Susan. Instead, it's curved. It's more difficult to implement than standard Lazy Susan but very unique and beautiful.
If you want to draw the attention of every visitor, this is the perfect solution for your kitchen corner cabinets. Make them in plain white color and the kitchen will look bright and beautiful. The interiors can store utensils and other things.
A Coffee Bar
Why waste your corner space in keeping general kitchen stuff when you can turn it into a coffee bar? A coffee machine, a milk jug, and a couple of coffee cups can turn a dull kitchen corner into a beautiful and useful coffee bar.
If you're a coffee person, there's a lot you can do with a useless corner of your home and turn it into a full-fledged coffee station. Here are some ideas for that.
Corner Seats
Tired of waiting while your muffins are baking in the oven? Just chill in the kitchen corner.
Turn the boring kitchen corner into a seating space. While the lower part can be a cabinet, you can build seating space on it. Add some colorful cushions and place some flowers in a vase, and you'll have a great looking sitting space built right into your kitchen – complete with storage space. What a great idea!
Crockery Corner
Use the corner space to display your taste for finer things. If you love buying fancy crockery, this is the chance for you to showcase it. Or if you're a glassware person, your kitchen corner can be the perfect place to show your exquisite wineglass or pint glass collection.
If you have a plain white kitchen, the crockery corner can also be the right place to add some colorful elements and to add accent to the place.
Wine Cabinet
Coffee corner? Crockery collection? Glassware collection? Chuck it all and go for a wine cabinet. If you like partying and getting in the festive mood, you need to have a couple of wine bottles ready. When the two parts of your kitchen meet, turn their meeting point into a wine cabinet and get the best of both the worlds.
Make sure you add some glasswork so you can showcase your fancy wine collection. After all, what's the point of having a fancy Oaked Chardonnay when you cannot show it off?
Double doors
Plain old double doors will always be in. If accordion doesn't suit your taste or budget, try the double door formula. When you hit a kitchen corner, install the shelves as they are, and use a double door cabinet on them.
The oak wood finish makes the kitchen look classy and the double door style gives it an old school look – it's a perfect match. If you admire traditional aesthetic, you'll love double doors in the corner.
Decal it
Make the corners more interesting by putting a wall decal behind it. This way, even if you have dead space or blind corners in the kitchen, all eyes will be on the decal. There are a number of options for decals and you can find them online.
The best thing about decals is that they can be peeled off easily and changed. So if you get bored of one design, you can quickly replace it and get a whole new look within a couple of minutes.
Corner Appliances
Use the corner space for a stove, microwave, and other appliances. The stove is generally the central point of the kitchen. By building it into a corner, you'll utilize the corner space efficiently and make it the focal point of your kitchen.
This is especially good for small houses where the kitchen might be limited to a small corner. By turning the corner into the main part of the kitchen, you utilize the maximum house area.
Combine the Ideas
Instead of sticking to one idea at a time, mix a few of them. For example, you can install a sink and floating open shelves. And put on some wall decals as well. Because why not?
If you liked multiple ideas mentioned above, who's stopping you to mix a few of them for the corner? Make the most out of your space by trying a couple of ideas in one go.
Detached Cabinets
If you're not short on space, you can simply disconnect the cabinets at the corner. Here, the cabinet space stops when it hits the corner. Instead of building another cabinet on the other wall, there is a frame where tasteful kitchen items can be placed.
Earthen pots, crockery, or dishes can be tastefully placed in the frame so it creates a decorative look. This kind of storage is not just practical but also very aesthetically pleasing. If you're a lover of fine arts, you'd love transforming your kitchen into a living space.
Make it Colorful
Even if you have a cramped up kitchen with cabinets running into dead ends, your kitchen can look exciting and beautiful if you use just the right colors. While I prefer bright white, playing around with colors never hurt anyone.
Here, yellow and blue are going well together and creating a nice ambiance. And while it's a small kitchen, it's looking beautiful and exquisite. If you think you can't have a good looking kitchen because of the small space, take this example. It's all about decorating it well.
Give It a Theme
Check out this green and white theme. Find the contrast that works with you and goes well with the rest of the house. Continue this theme in the kitchen corner as well. When you give a theme to any space, it looks more organized and well-planed.
If you include green in your theme, you can place a few house plants to accentuate the looks. Of course, you don't have to stop at just two colors. But as you add more colors, you lose the theme of the place. So make sure you use only 2-3 colors in a theme.
Meet Me at the Corner
Kitchen corners can always be tricky but there are so many things you can do to pep up the corner and make your kitchen look more stylish. There are several ways to creatively carve out the perfect space where one wall meets the other.
While these are the ideas I like the most, keep in mind that you can always enhance an idea by adding the right decorative elements to it. All it takes is a little creativity and you can turn an ordinary kitchen into a space that's perfect for cooking, parties, and get-togethers with friends and family.