Decorated Life is reader-supported. When you buy through links on our site, we may earn an affiliate commission. Learn More
Pantry Cabinet Storage – No More Kitchen Storage Problems
By: Decorated Life Team
|
If you have a pantry cabinet you need to make the most of every square inch because without space saving pantry organizers, you will never be organized enough to find what you are looking for.
Depending on the age and style of your kitchen, you may not have all the space modern kitchens have. This is about creating space.
Source: BHG
If you are remodeling you can add extra storage to your design, if not here are 7 ways to create pantry storage spaces that are functional, great to look at and will make life easier.
It might mean turning a room, thin hallway or closet into a pantry. It's time to get creative.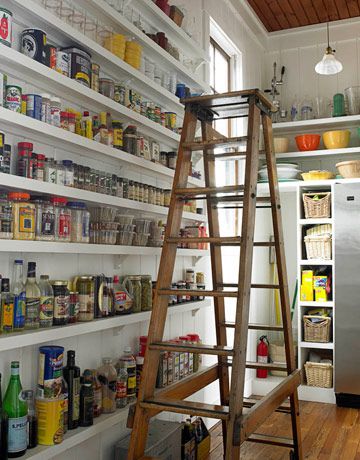 Source: Pinterest
Shelves that are only wide enough to store single items are great for thin spaces like corner nooks or hallways. It means you can see everything easily, and taking shelves to the top gives you extra store-and-stack for supplies or rarely used items like vases.
Whether you have a kitchen pantry cabinet or a pantry hidden behind closed doors, there are some great pantry storage ideas to store more, keep food storage containers tidy, avoid expiry dates and buying more of something you already have!
Source: ChrisLoveJulia
If you like the industrial look, I found a Trinity Five Tier NSF Extra Large Commercial Grade Shelving Rack in Chrome 40% off at Wayfair. Its perfect for my space and I like the open shelving for large cooking trays, vases and kitchen appliances. It fits nicely in a nook.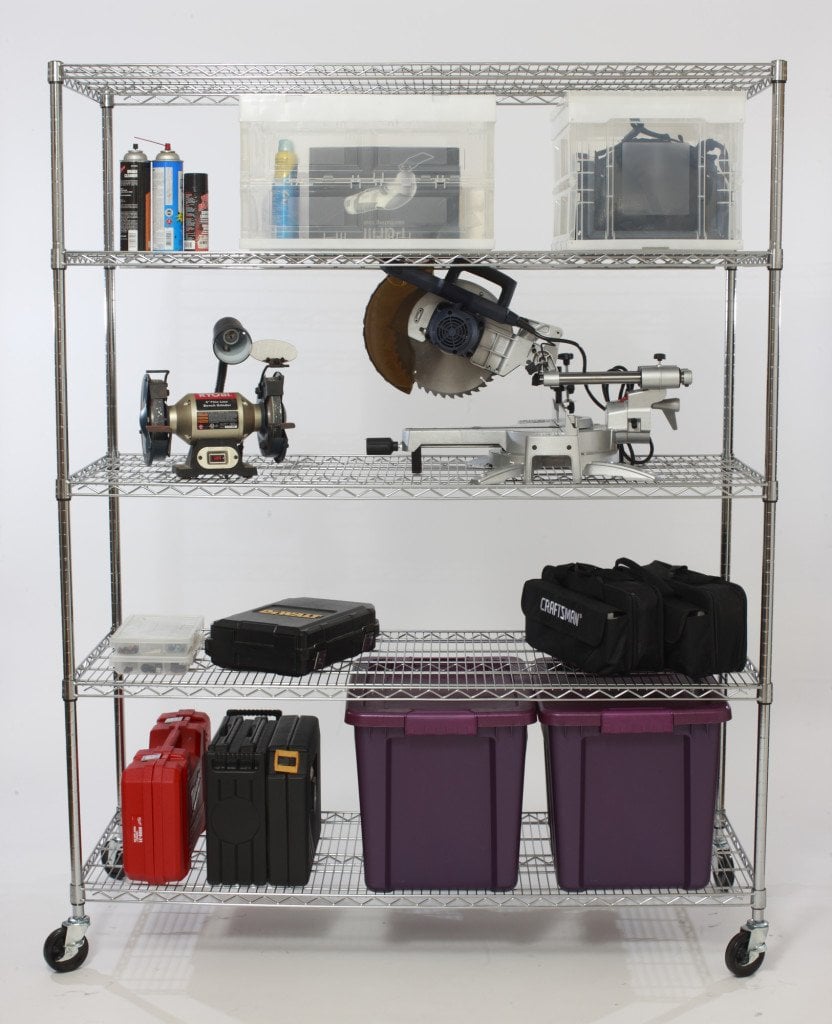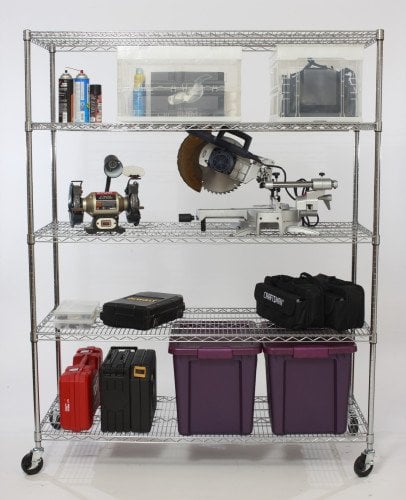 You never know what you'll find. The next idea is perfect for storing cans. It uses every bit of space, allowing you to add more product in a small space.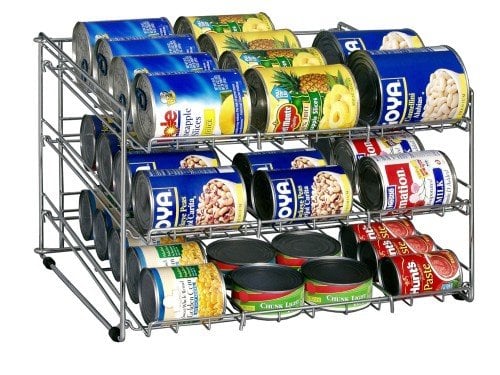 Source: Amazon Organize It All Can Rack
Maximize your kitchen space using pantry door racks, drawers, shelves and other space saving ideas.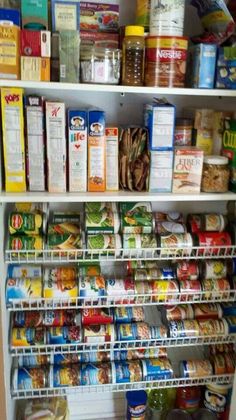 Source: Pinterest
Its important that you can see and have easy access to items in your pantry cabinet.
Source: BHG
1. Create Pantry Storage
Source: CleaningHQ
To create your own food pantry, cleverly covert a nearby hall or closet by simply adding pantry shelving and frosted pantry doors to let in more natural light. You now have a shell for your kitchen storage solution.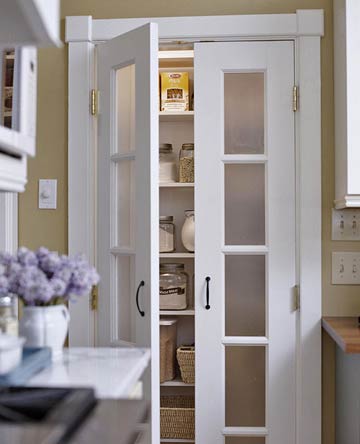 Source photo: bhg.com
Deep shelves sound great but they can be a trap to stacking too many items on each shelf. You will never find what you want, especially items stuck at the back. Instead use 9″ – 12″ – or 18″ deep and use adjustable shelving if you can.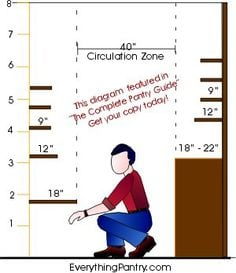 Source: EverythingPantry.com
Add a barn door like the one below if your door gets in the way. Barn doors look great, even if you don't have a country kitchen.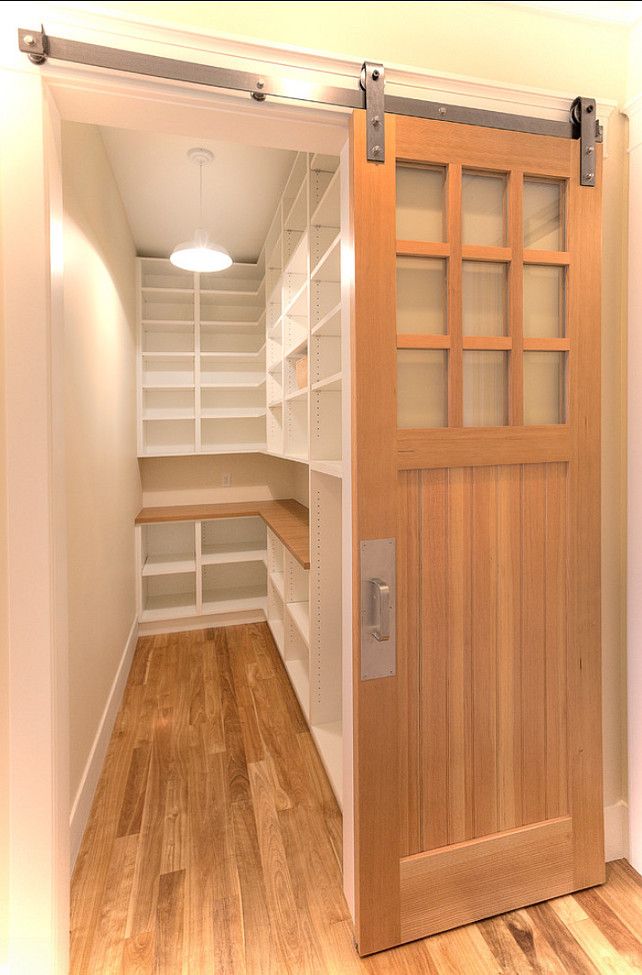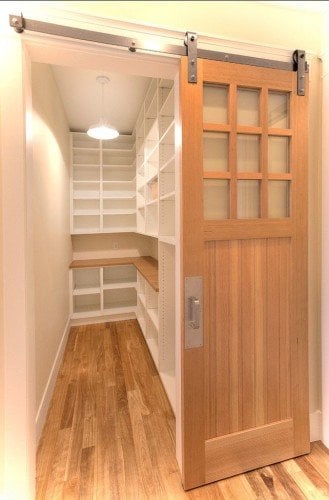 Source: pinterest
2. Small Kitchen Pantry Ideas
If you new pantry storage cabinet is small, add rollers to create a pull out pantry on a trolley or using drawers. Make it work with the space you have.
Source: Decor Pad
Built in pantry shelves with stack-able pantry storage containers, door racks or racks on rollers are some inexpensive kitchen storage solutions.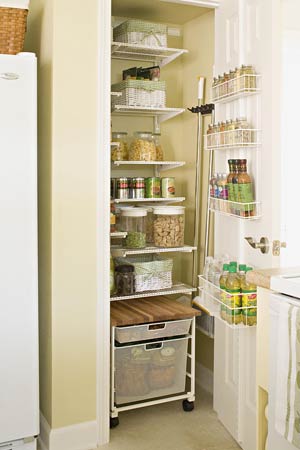 Source photo: thesavvybeeblog
Even problem corners can be solved with these lazy Susan rotating disc shelves.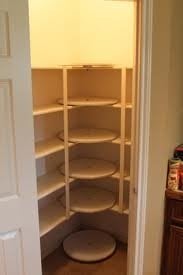 Source: Pinterest
Too late for built ins? Use single or double lazy Susan storage discs like the one below, at only $12 (at time of writing) they won't break the bank. You can use them almost anywhere but they work very well in corners where access is difficult.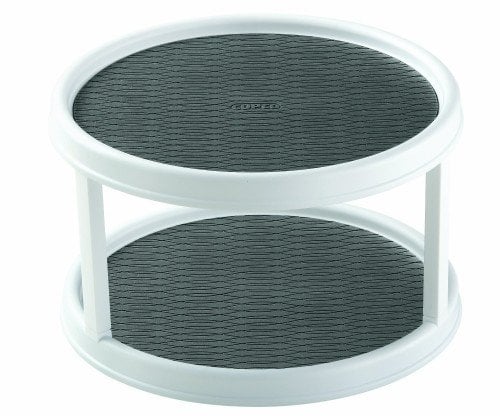 Source: Amazon Non-Skid 2-Tier 12 -inch Cabinet Turntable
3. Hidden Pantry Cabinet for a Butler's Pantry
This works well if you have a larger kitchen area. By creating a false wall, you are gaining an extra room for storage.
Create your wall a few feet in front of an existing wall, using two cabinets to form part of your new wall, making it as large as you want or need. Add doors and you have created a small purpose made room, hidden away from guest and friends.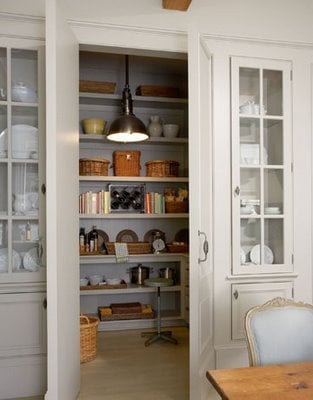 Source: shelterness.com
When you open the doors you have the perfect place for books, additional crockery, trays and a small kitchen office. When these doors are closed it looks like a door framed by two display cabinets.
4. Simplicity Using Uniform Kitchen Storage Containers
Often the easiest way to save on space is to use the same storage containers so they pack and fit neatly together.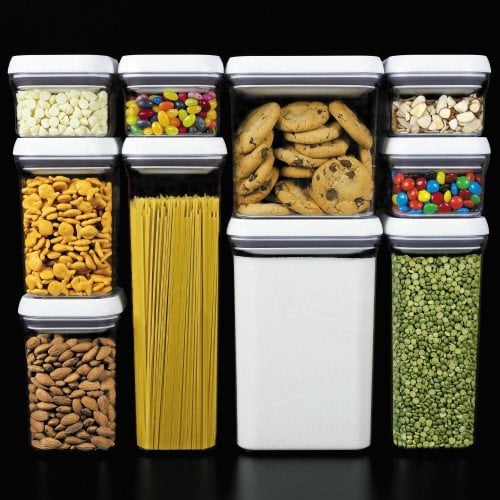 Source: Amazon OXO 10-Piece Pop Containers Set
It gives your pantry a look of uniformity. Where ever possible choose see-through glass or plastic storage containers. For larger or grouped items, wicker or tin baskets look stylish. If you plan to have a table, for prep work or as an office, use your wall space for more shelving, and not your table space to store things.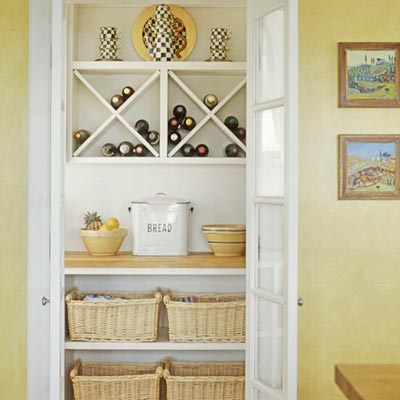 Source: home-officedesign
Container Tips –
Use clear bases – you can see what is inside each container without labeling them.
Remove loose sealed containers. Tight secure seals keeps food fresher longer.
Glass containers are preferable to plastic. They look great, are more durable and better for your health.
Containers that fit together look neater and more organized.
A universal lid that fits on containers of all sizes, will save you time, since your are not constantly looking for different sized lids at the bottom of a drawer.
Dishwasher, fridge to over and microwave safe containers saves doubling up.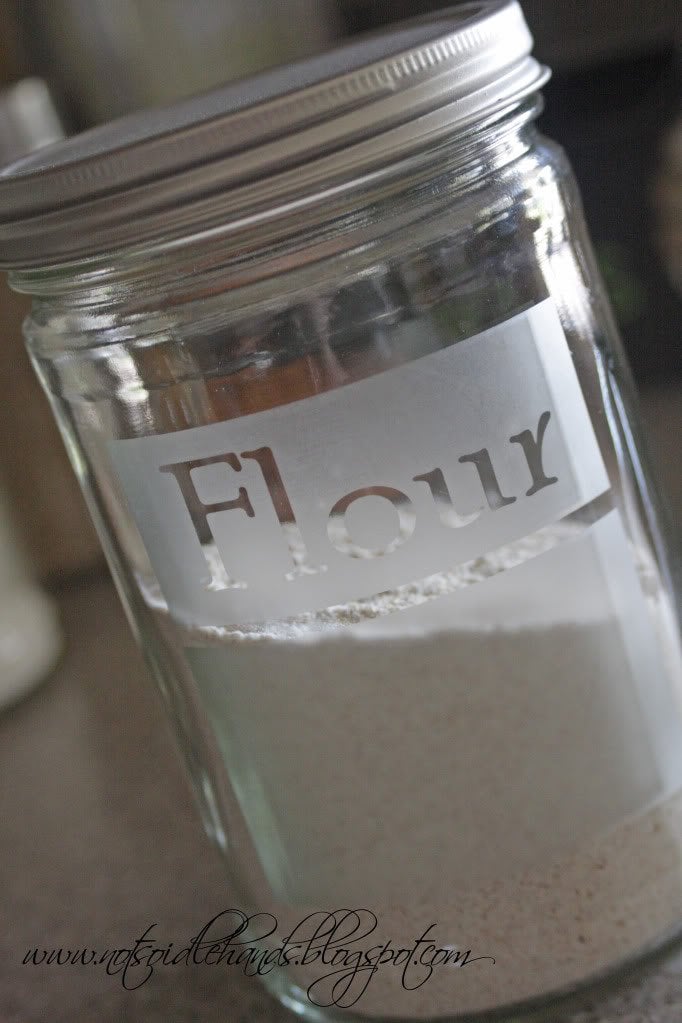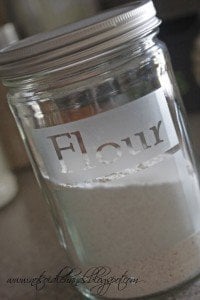 Source:media.photobucket.com
If you decide to make your own storage jars, like the one above, you can use old sauce or jam jars. This is an inexpensive way of recycling your old glass jars (love that!) and they look fabulous.
Follow these easy steps;
Materials to Make Frosted Glass Kitchen Storage Containers
Painter's tape
Etching cream
Vinyl stick-on letters
Paint brush
Glass storage jars
Decorative tape
Method
Make sure your jars are clean and dry.

Mark off the area on the glass you want to etch with painter's tape. The more are you etch, the less you can see inside.

Attach medium to large sized vinyl stick-on letters and decorative tape, pressing hard to make sure they are secure, and avoiding air gaps or bubbles.

Make sure children and pets are away from the etching cream at all times. Wearing protective gloves and protecting your work surfaces, paint an even layer of etching cream on the glass area you have marked off.

Follow the manufacturers instructions and allow to stand.

When time is up, rinse the jars in a stainless steel sink with warm water, then remove letters and tape.
Source: yahoo
5. Pull Out Pantry Shelves
There are lots of different ways to use pull out pantry solutions, like these large sliding drawers inside a pantry, a standing drawer on rollers or pull out drawers within a cabinet.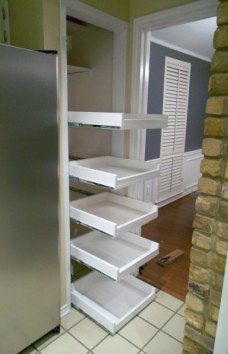 Source: pinterest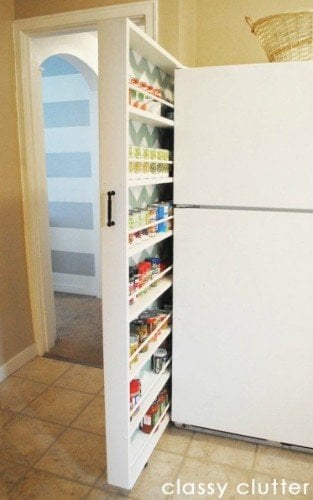 Source: Classy Clutter
And if that doesn't work – then use the inside of your door to stack more food items. There is a solution for every situation.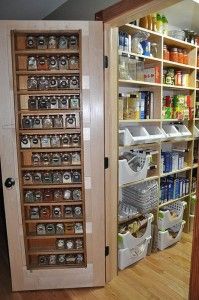 Source: Pinterest
6. Using Your Wall Space For Kitchen Organizing
When you have a small kitchen you learn to use every available space including the walls. Just use a little chalkboard paint and a wall or door and you have a great organizing tool.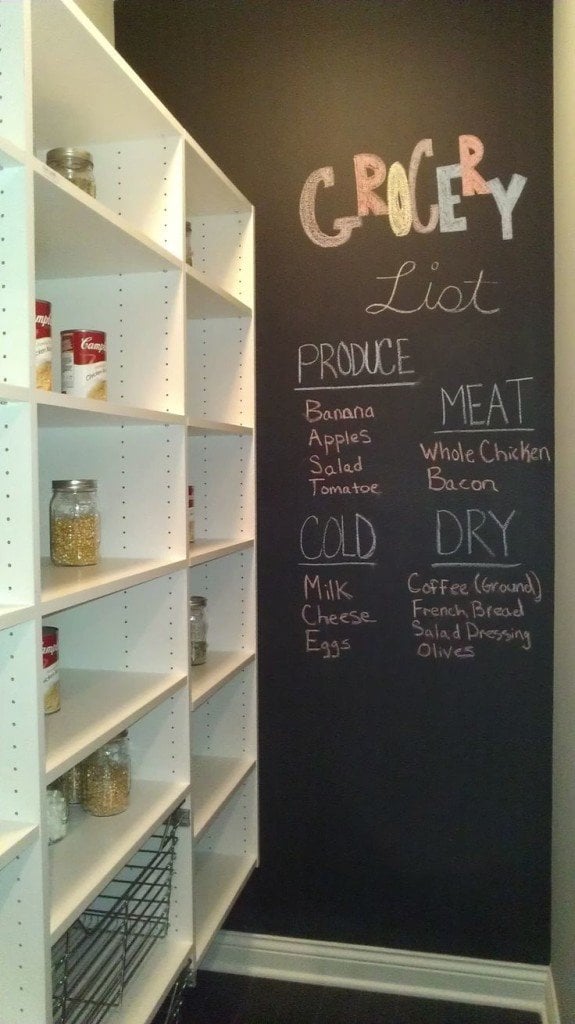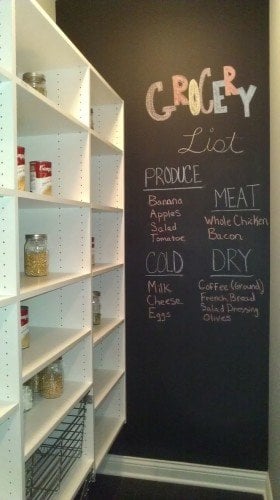 Source: Pinterest
Learn how to make a chalkboard and plan your kitchen and household for the month ahead. This is a really simple but effective way to organize your kitchen.
7. The 'No Pantry' Pantry Cabinet
If creating a pantry is out of the question and you have the room, then why not indulge in a piece of furniture or open shelving to organize your kitchen?They are not always as expensive as you might think.. especially if you DIY an old piece.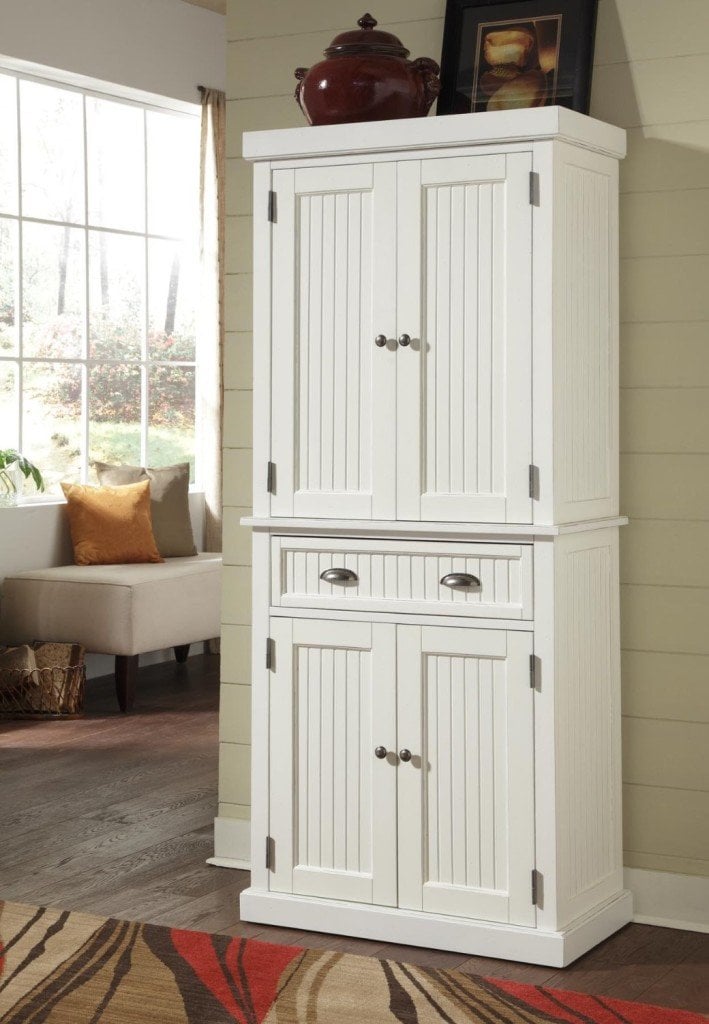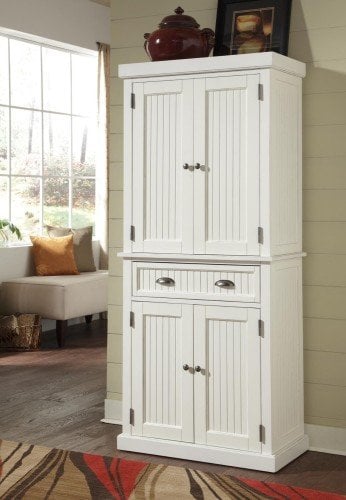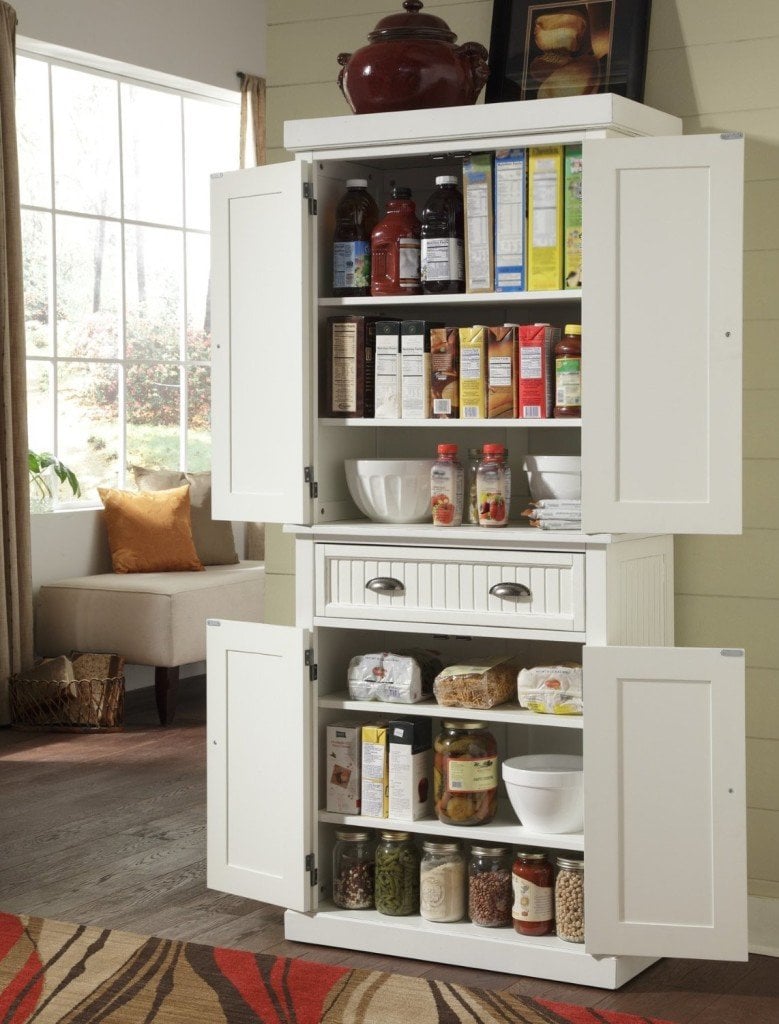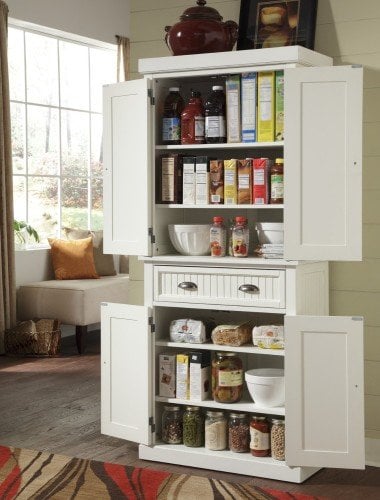 Source: Amazon kitchen Pantry, Distressed White Finish
(also in black)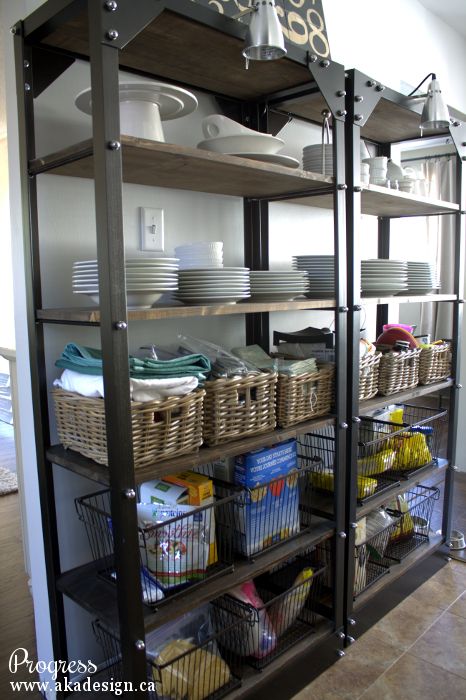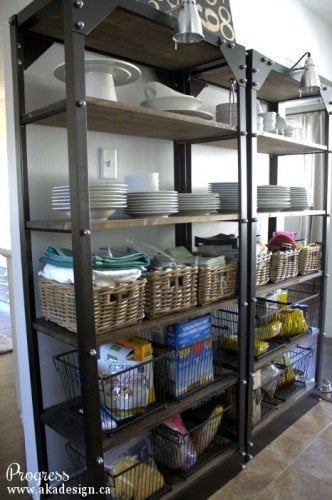 Source: Pinterest