Decorated Life is reader-supported. When you buy through links on our site, we may earn an affiliate commission. Learn More
29 Ideas for Gorgeous Shower and Bathroom Tiles
Bathrooms can be really exciting to decorate because you can truly let your creative spirit shine. This is the time to go for a bold, wild wallpaper, or a glamorous, modern and sleek look.
Regardless of the size of your bathroom and your budget, you can add a lot of flair to your space by simply focusing on your shower and bathroom tiling. These are the best ideas for different ways to decorate with tiles to inspire you.
Increase Space With Oversized White Tiles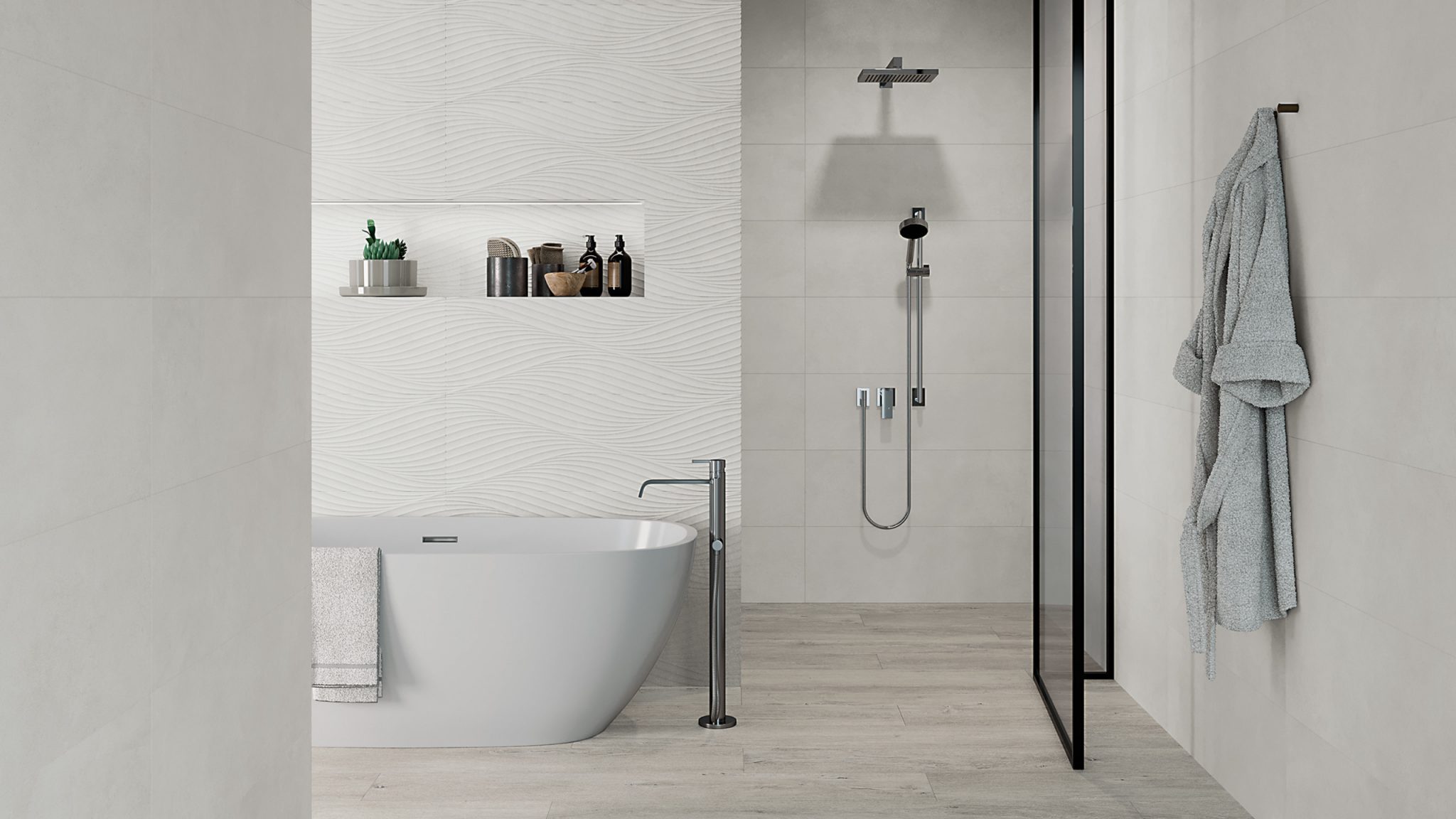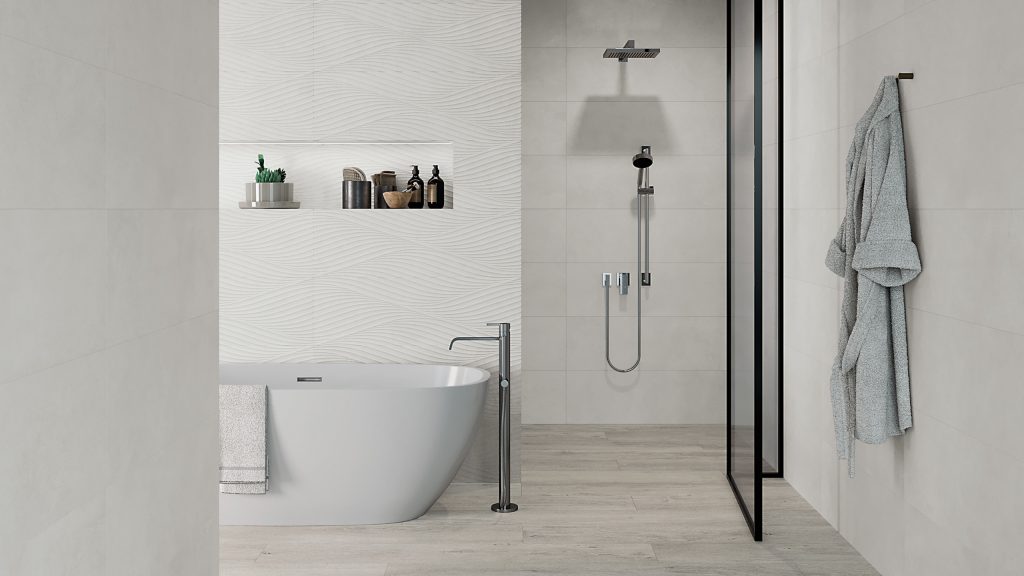 The idea behind these large oversized white tiles is making the space appear roomier than it is.
That's a great idea if you have a smaller bathroom too. The white tiles continue in one uniform look from the shower to the walls of the bathroom.
Mix and Match White Tile Patterns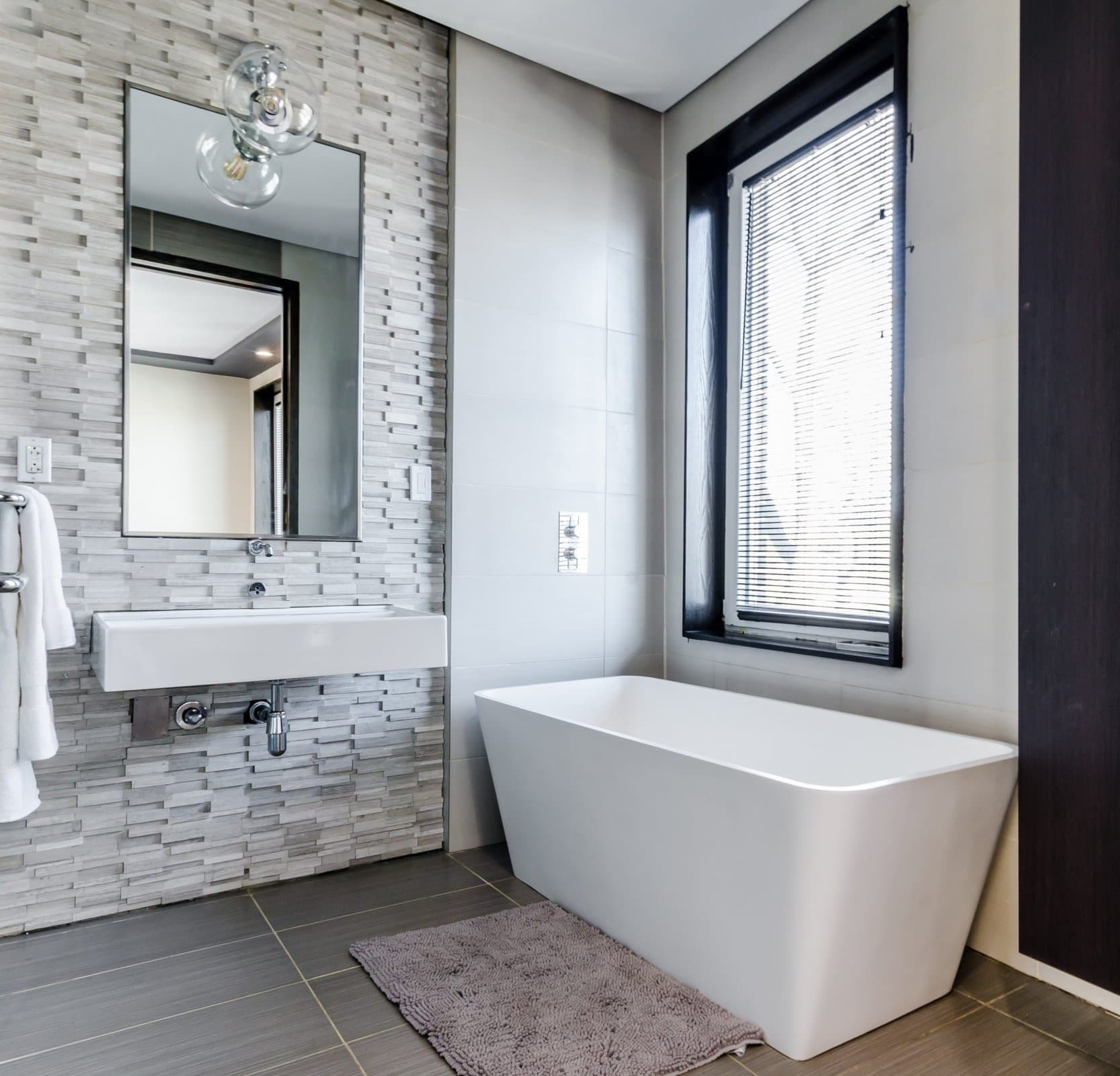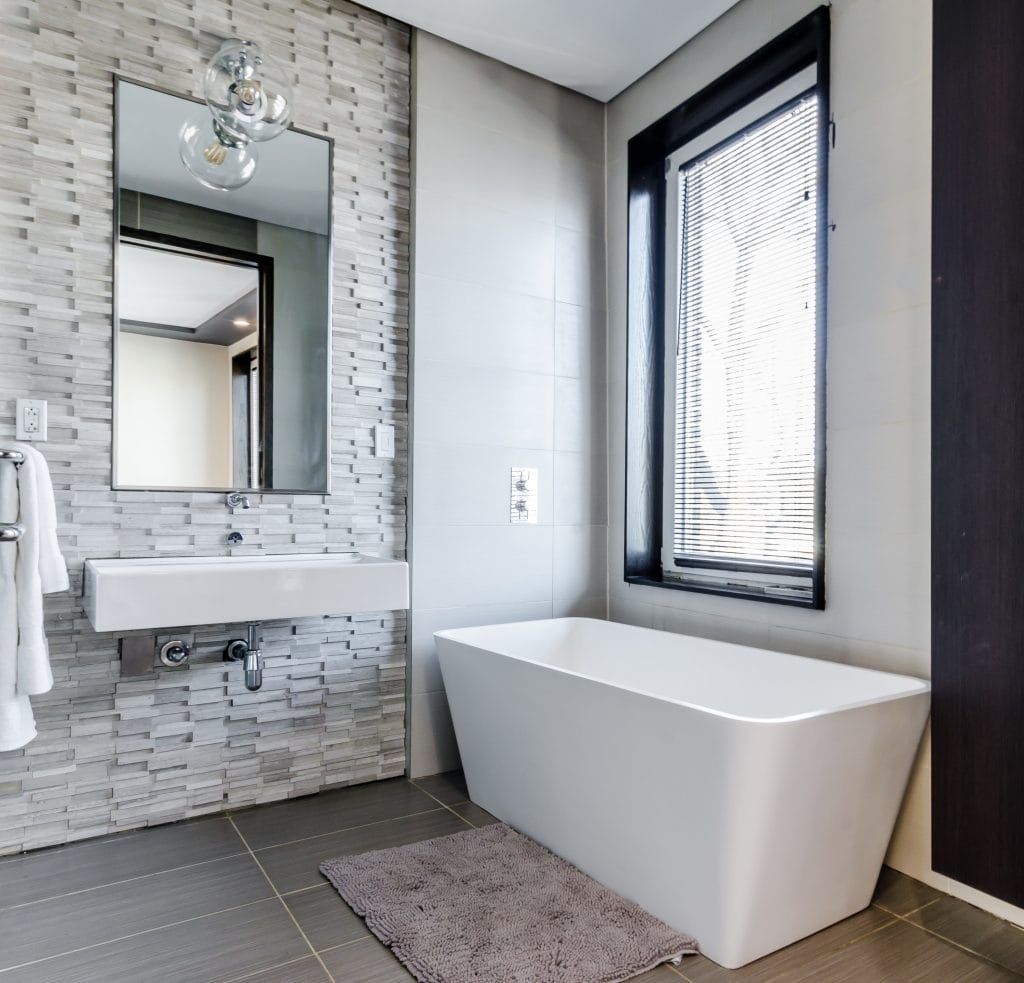 A great way to add some life and character to a bathroom while still staying in the same color scheme is to use different patterns.
In this example, we can see that the bathroom is a pure, classic white, but the tiling contrast with the floor tiles and the two wall tiles creates some nice contrast and textures. This is accomplished thanks to some large square tiles, some tiny hexagons, and some chevron tiles.
Add Texture With Small Hexagonal Tiles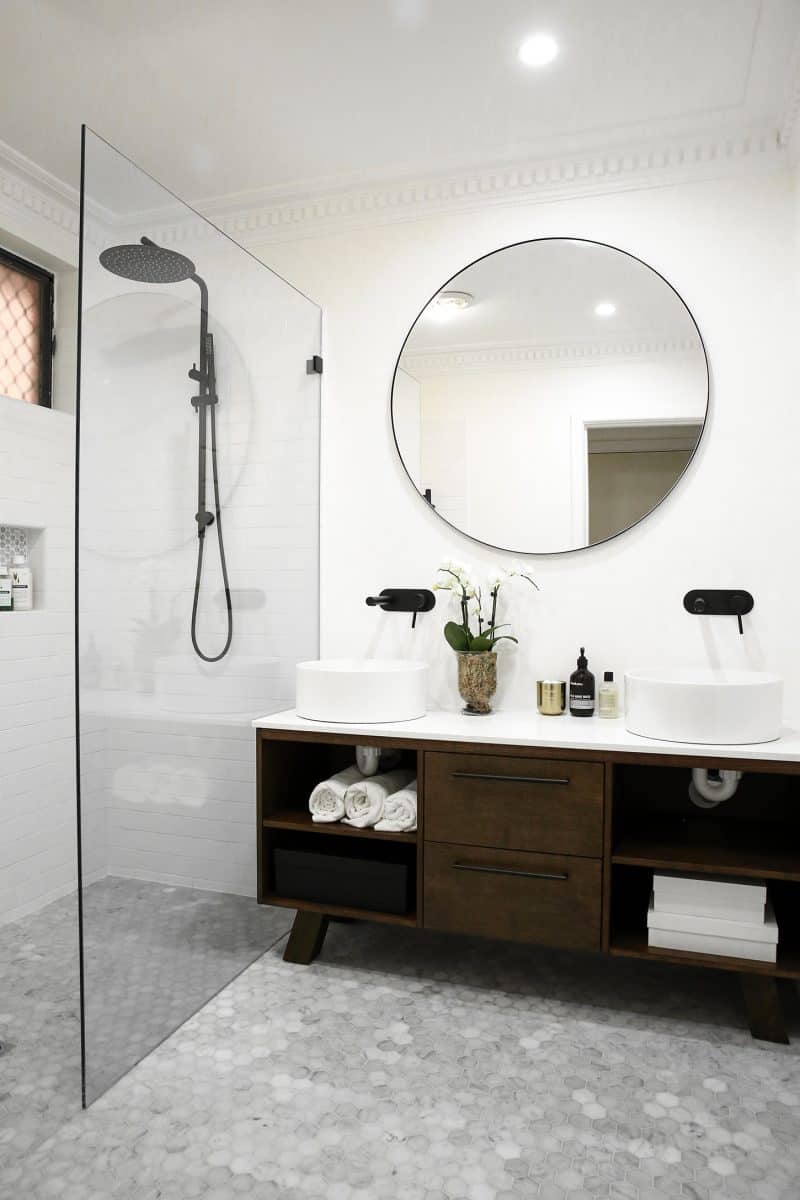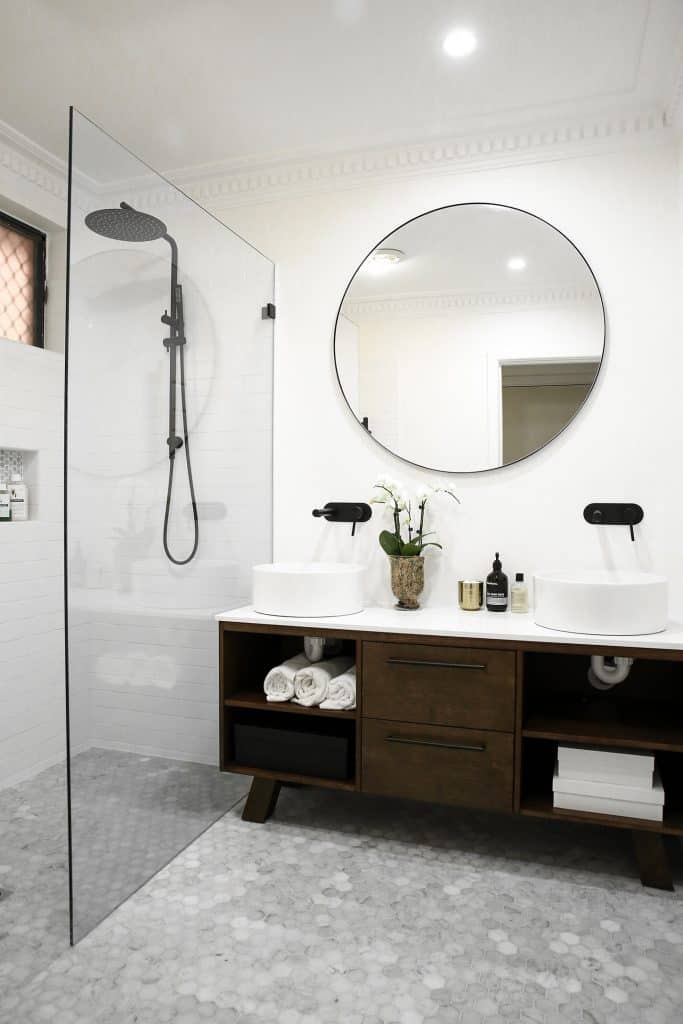 Shop similar tiles on Bedrosians
These small honeycomb tiles on the floor are all in slightly different shades of gray. The size, shape, and colors of the tiles all contribute to creating the appearance of texture in an otherwise very simply decorated room.
This example shows that tiles can add a lot of character and texture to the room, allowing you to decorate the rest of it in a simple and minimalist way.
Add Contrasting Tiles for Built-In Shelves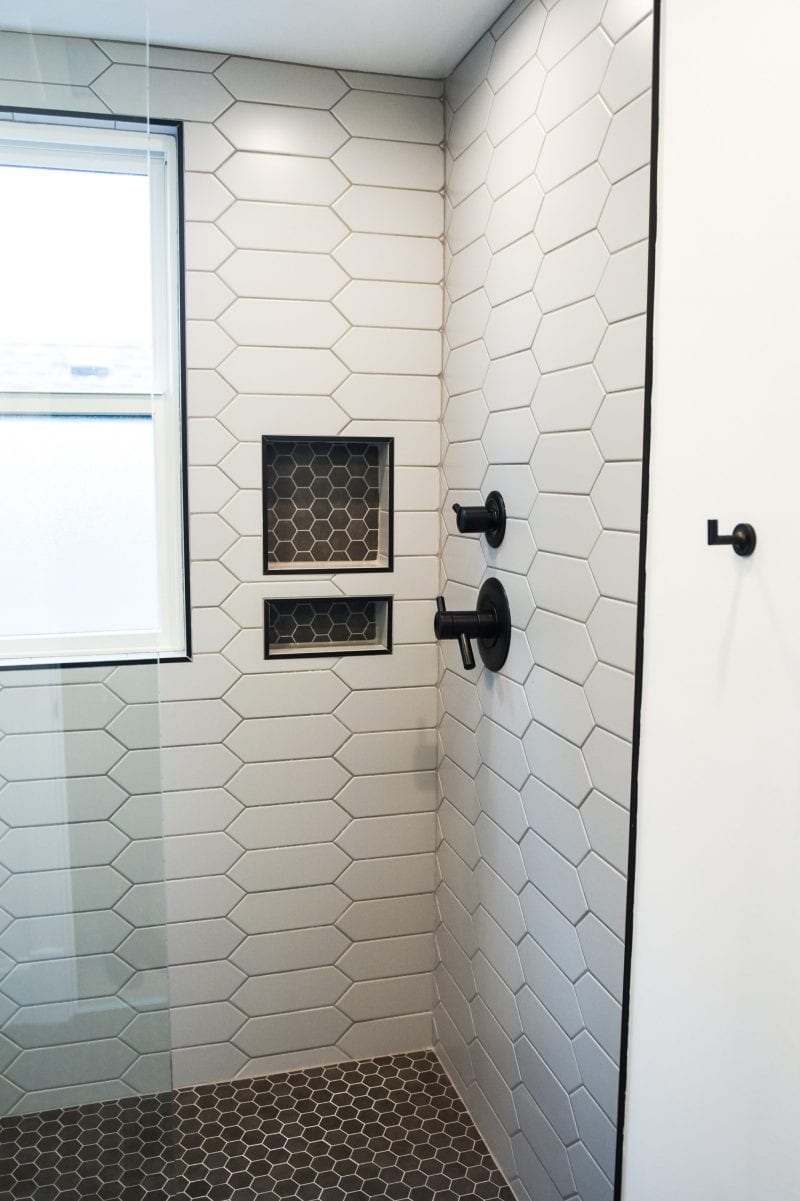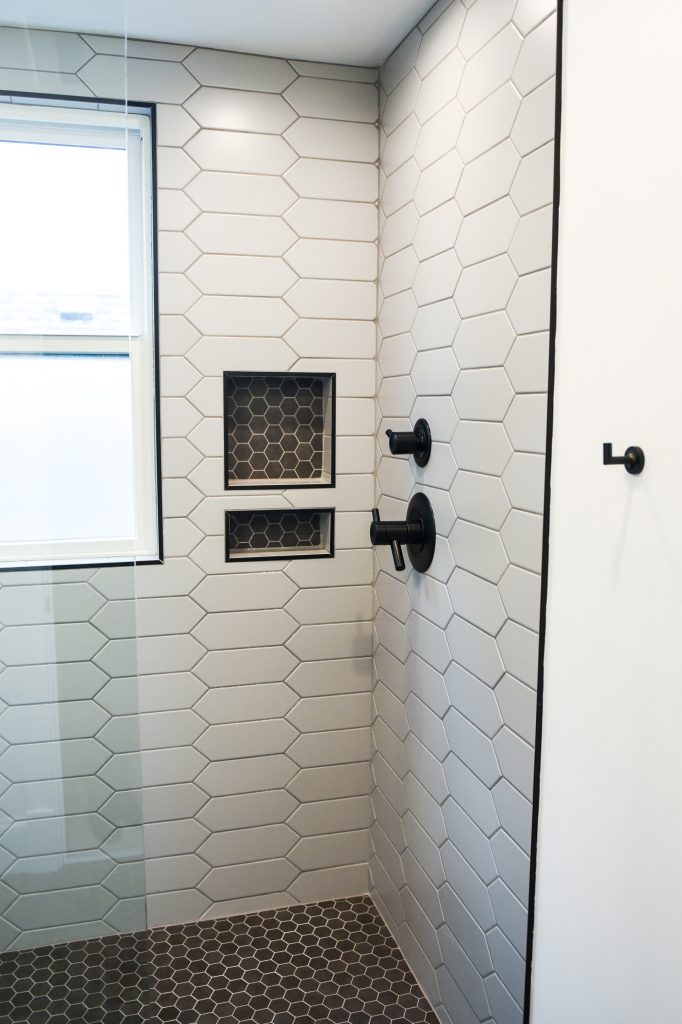 Another great shower wall tile idea is to create some built in shelves in the shower and tile those in a completely contrasting way. For example, this shower has classic smooth white subway tiles throughout the space, with the exception of the built-in shelves.
These shelves are done in a bold black and white geometric pattern that adds an accent and focal point to the all white space. It also pairs well with the brass shower fixtures.
Go Vintage With Small Black and White Tiles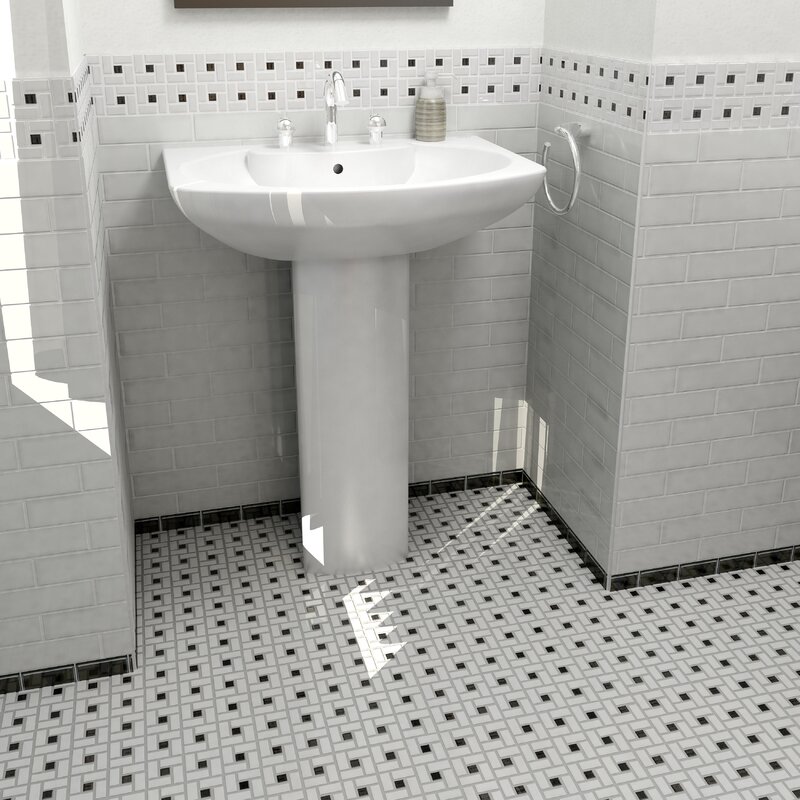 These black and white tiles are reminiscent of old bathrooms, but it still looks excellent today. It's a timeless look that works really well with the rest of the white room.
It's a great look for a smaller bathroom. For bigger spaces with larger floors, it might become a bit too overwhelming to have this polka-dot look throughout the bathroom.
Look for Navy Tiles to Add Glamor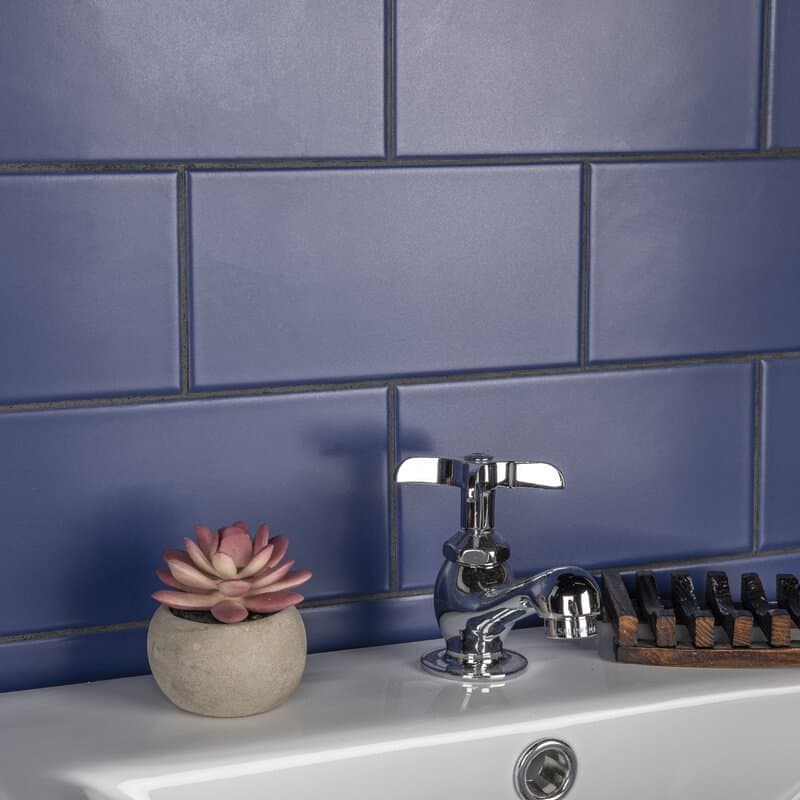 All the looks so far have focused on a completely white bathroom with a few black accents. It's possible to have a gorgeous and trendy bathroom without going all white, though. Here, we see some navy subway tiles paired with a white marble sink and metallic accents.
It actually looks quite glamorous and nautical, especially if you add a round hanging mirror above the sink.
Keep Things Simple With a Muted Pattern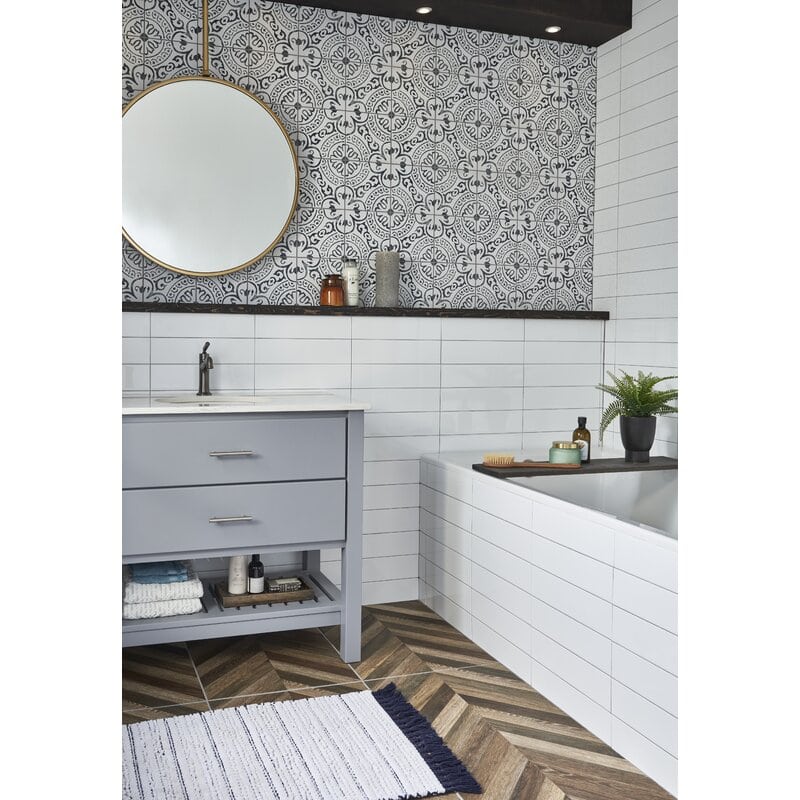 Another idea for bathroom tiles is to add a pattern to one of the walls, but keep it simple.
A pattern doesn't need to be loud or eye-catching. Instead, something simple and understated like this pale pattern complements the simplicity of the room.
If you haven't decided yet about whether to tile your bathroom or shower, check out these pros and cons that might help you make up your mind.
Use the Same Pattern for the Shower and Floor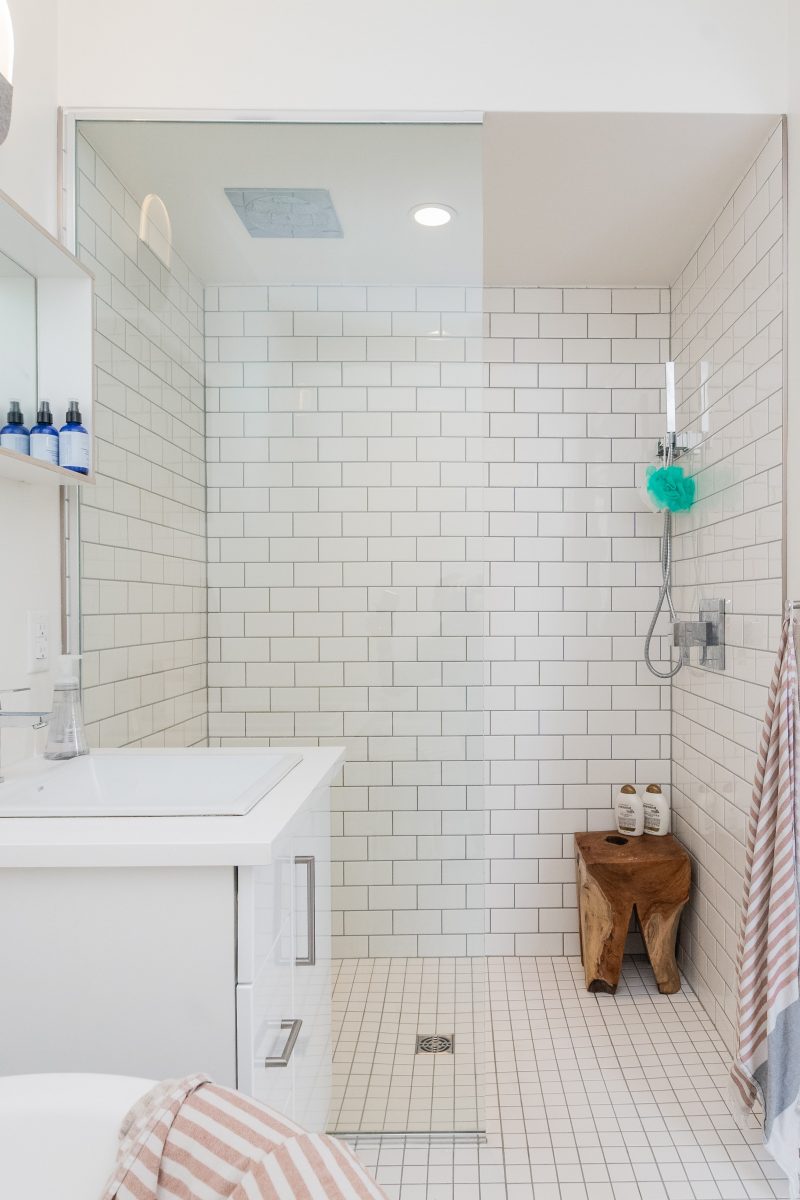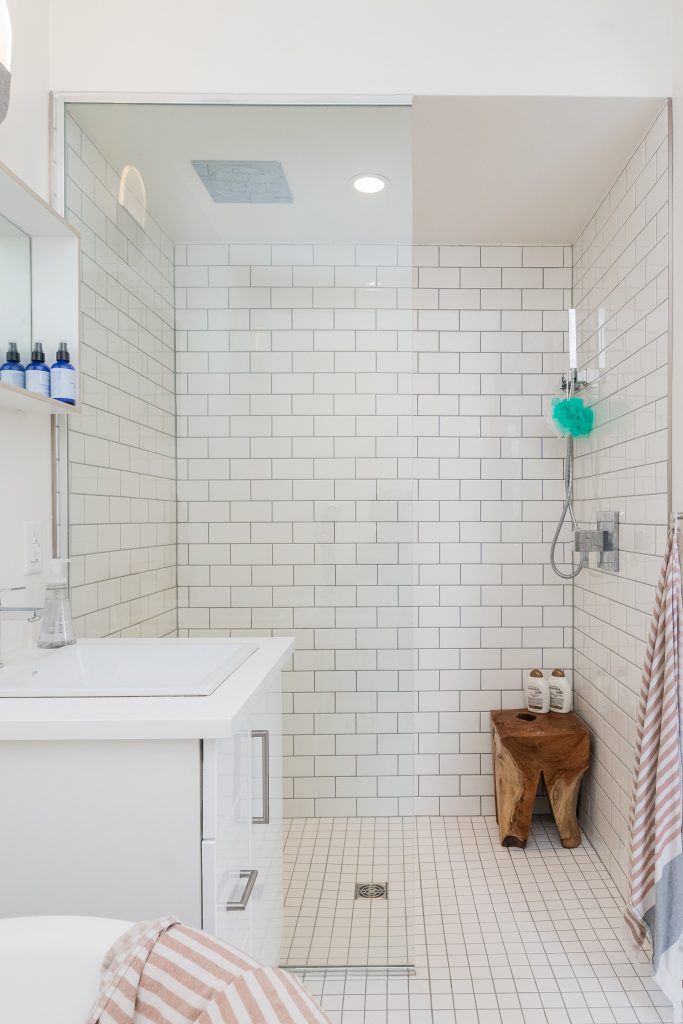 A great shower tile pattern is to keep the same pattern from the shower floor to the bathroom floor.
It keeps one look unified through the space and ties the whole room together. This works particularly well in a bathroom like this one, which is a bit smaller.
A Penny Tile Is a Classic and Timeless Style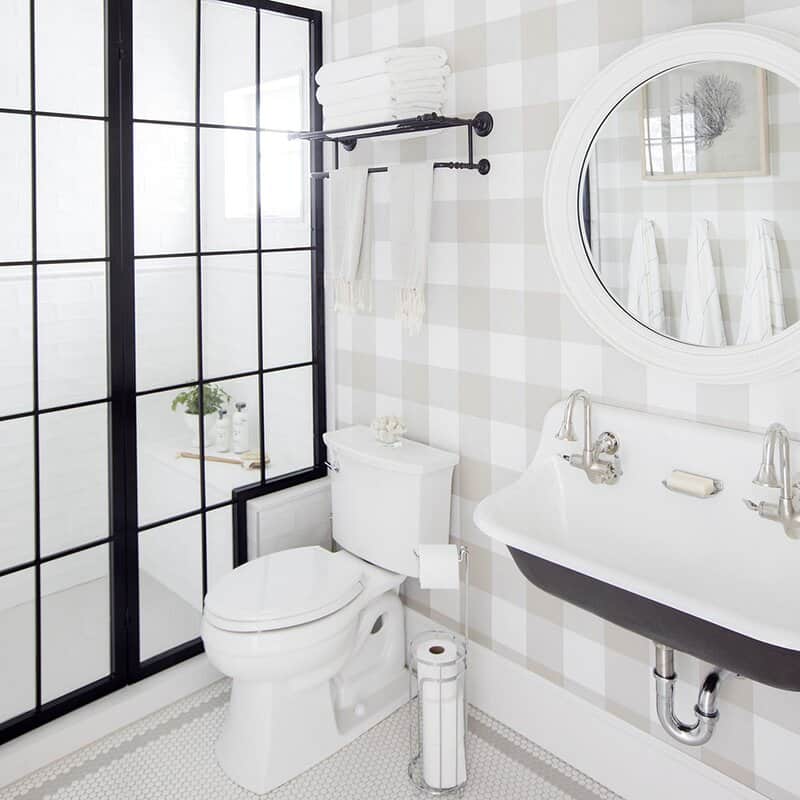 Penny tiles are these tiny round tiles that have been around in tiling for a really long time. They're still popular now though, especially when adding a small modest design like these grey lines.
As you can see in this image, the tile pattern works really well with the black accents, and white walls and bathtub. It's a simple look, but one that will last without feeling dated.
Look for Triangular Tiles for a Unique Design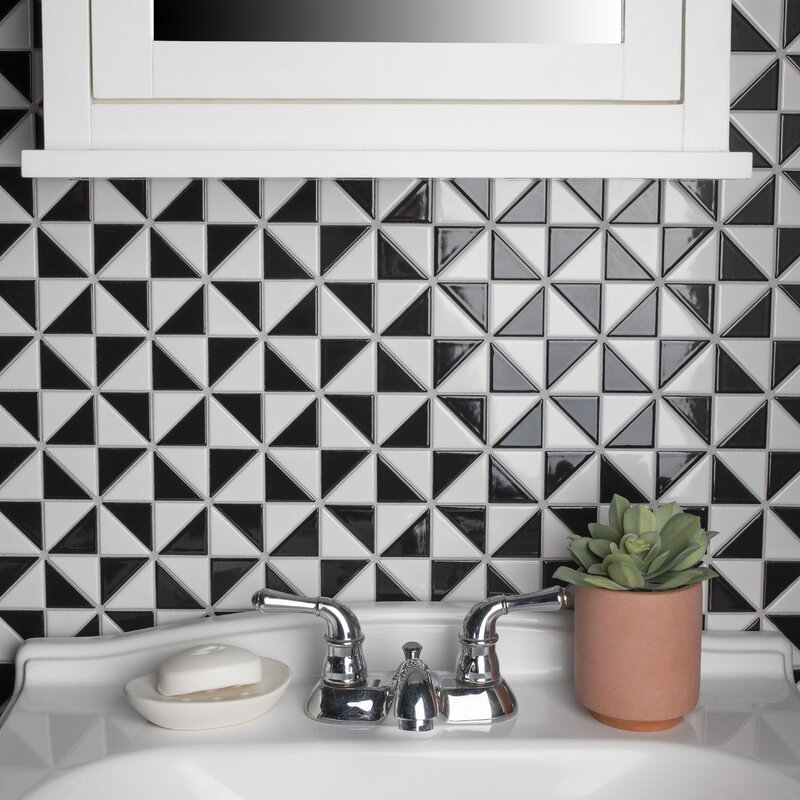 It's not a common sight to see a bathroom tile design with triangles instead of the usual squares or rectangles. However, it looks really unique and pretty.
These triangles are in black and white, but also point in opposing directions to create a modern bathroom theme.
Go Nautical With Abstract Blue Tiles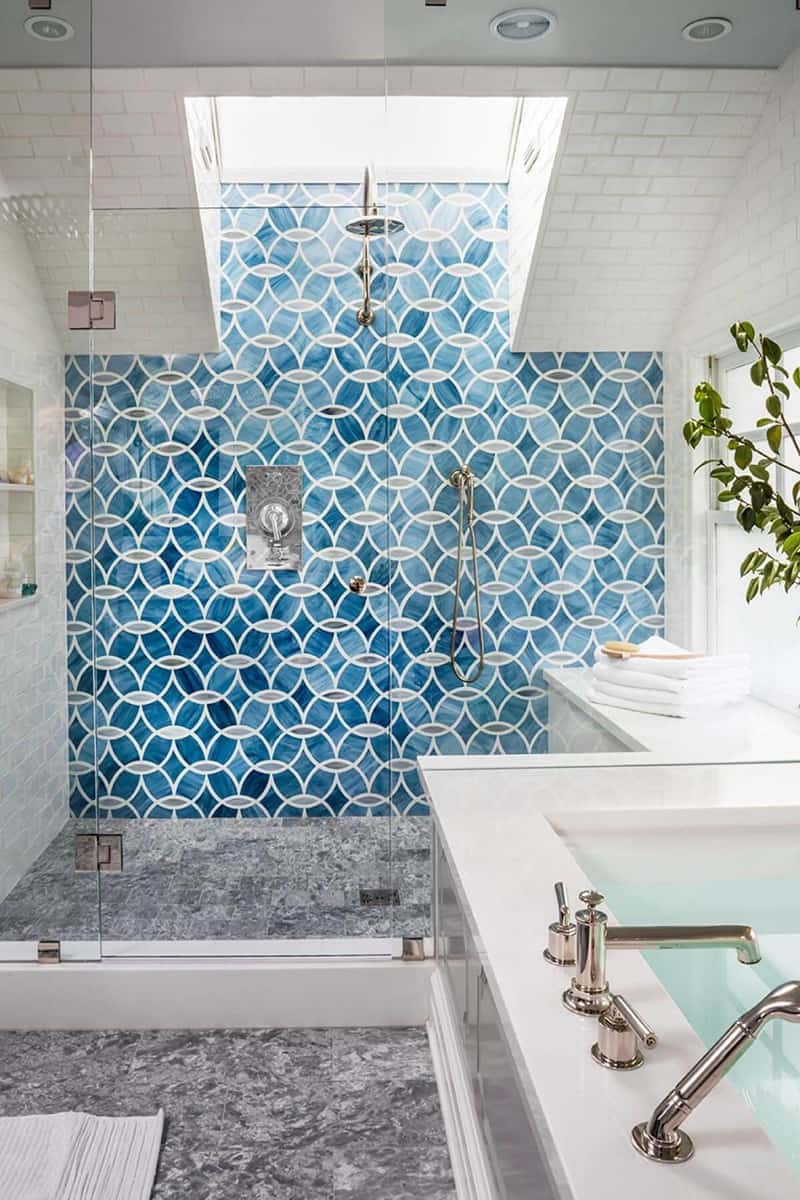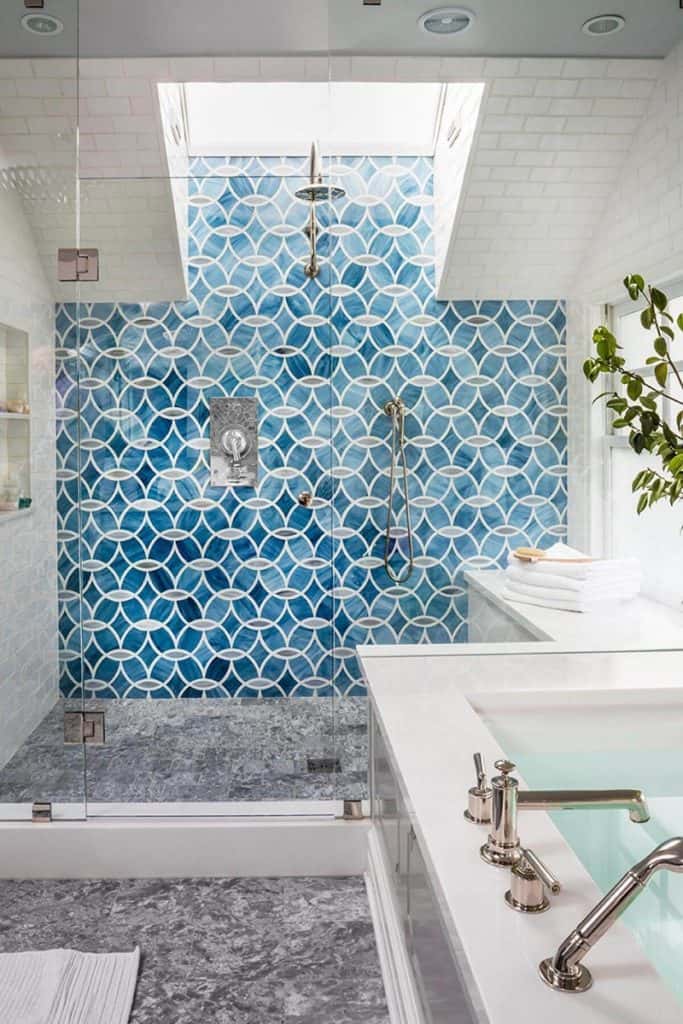 I really like the look of this shower wall tile idea. The blue is stunning, and in an abstract wave-like pattern across the back of the shower wall. It creates an accent wall that pairs really well with the white of the room and gray floors.
The tiles themselves have different shades of blue on each so the changes in color are natural and unexpected instead of in one fixed pattern.
Separate an Area With Different Tiles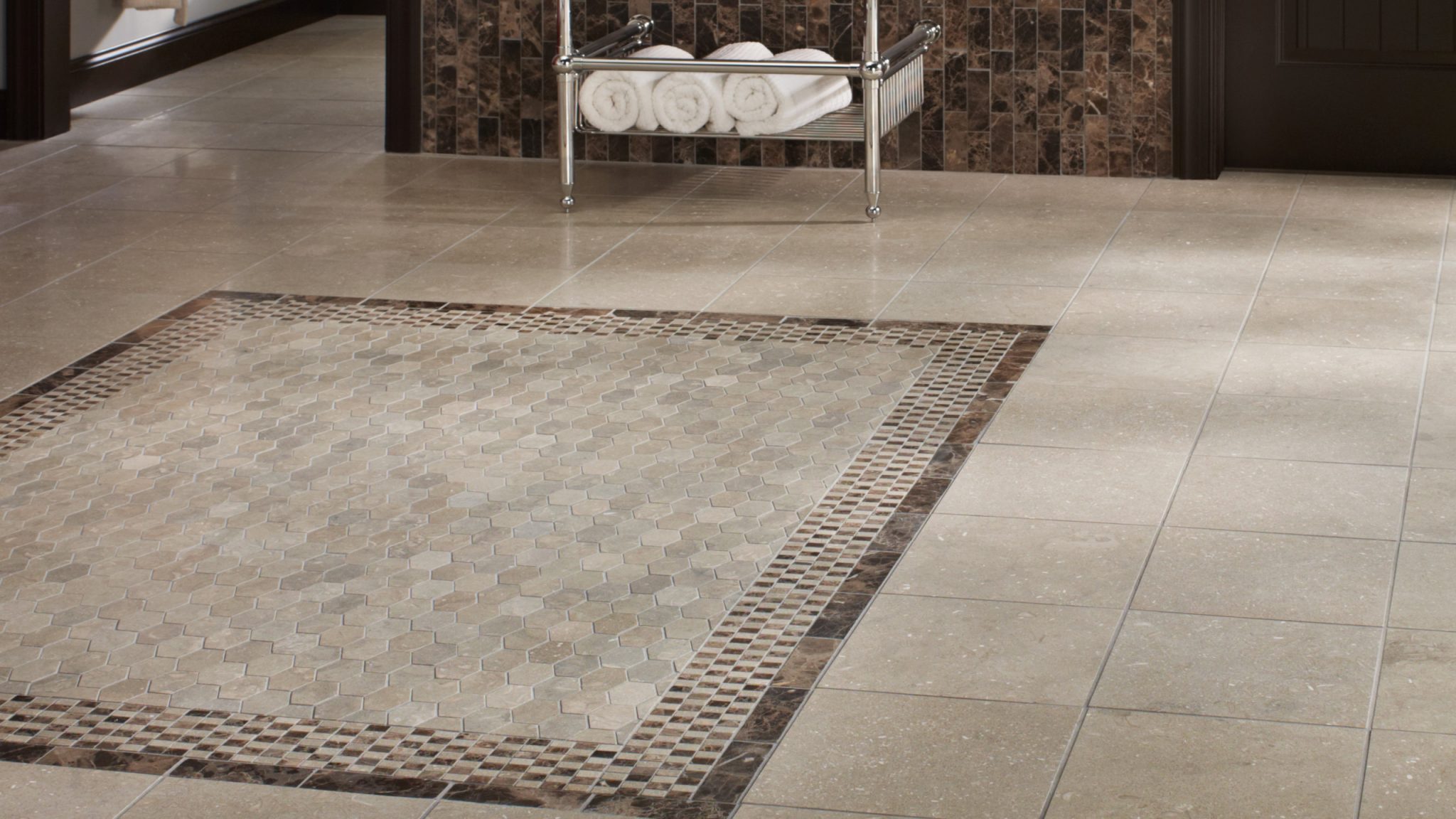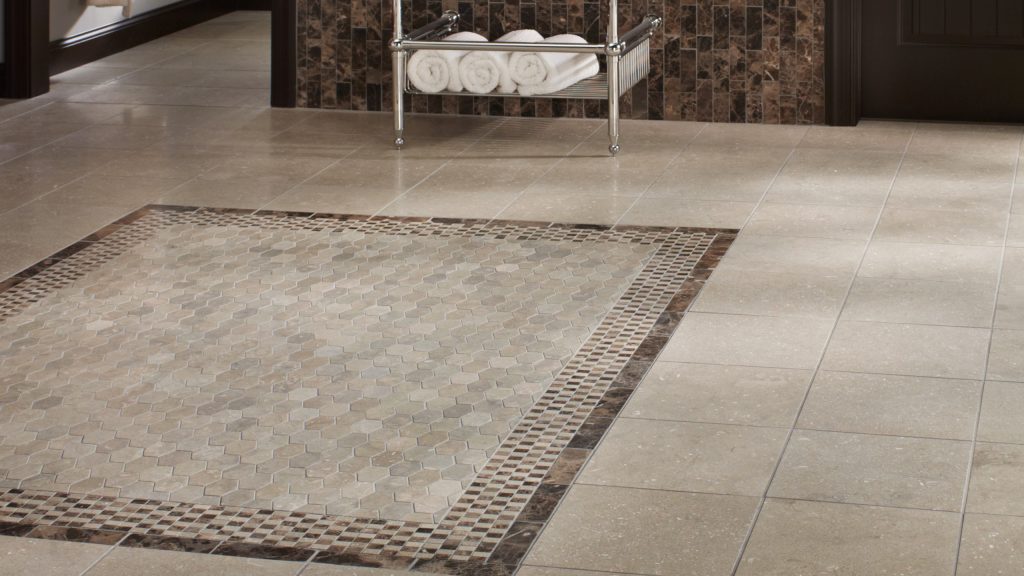 Tiles can be used to delineate certain parts of a bathroom, like the geometric pattern on the tiles in this example. It creates a separate area, breaking up the expanse of the large bathroom.
The geometric tiles works well with the warm tones of the room, making it a contrast from the cold white in many bathrooms.
Create an Industrial Rustic Bathroom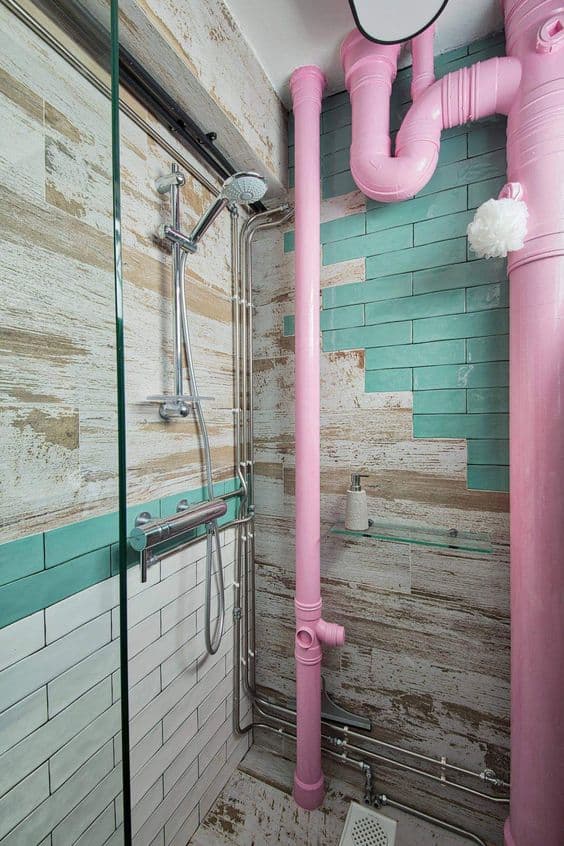 Shower tile patterns can also be used to create a whole decor style to carry through the rest of the room. In this shower, the tiles are successfully used to create a rustic appearance by combining teal and white tiles and the appearance of distressed wooden planks.
The bright pink piping adds some color to the shower and complements the bright teal tiles perfectly. The result is a rustic and cheerful bathroom.
Be Flowery With Detailed Tiles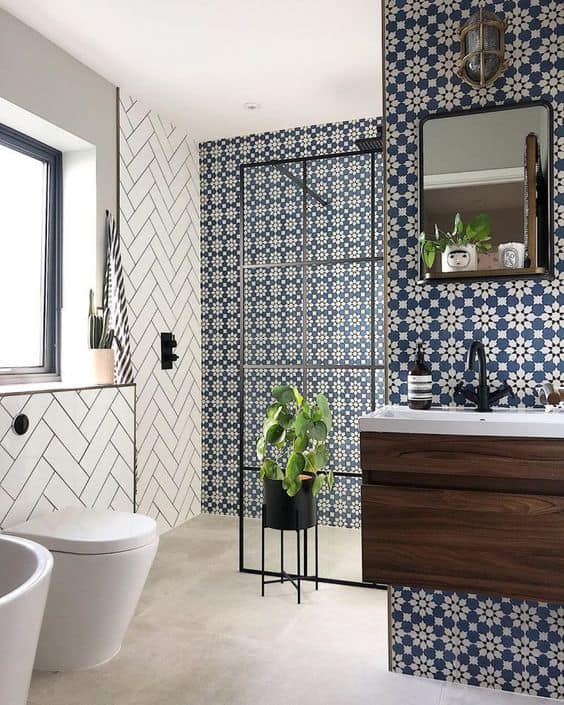 This walk-in shower tile idea continues to the wall of the bathroom to keep half of the walls in the same pattern. It's a lovely flower pattern that's not too loud, and the mostly dark color of the tiles adds some glamor to the room.
This bathroom with walk-in shower is big, and the smooth large tiles of the floor are matched well by a brighter wall pattern.
Get Beige Herringbone for a Rustic Appearance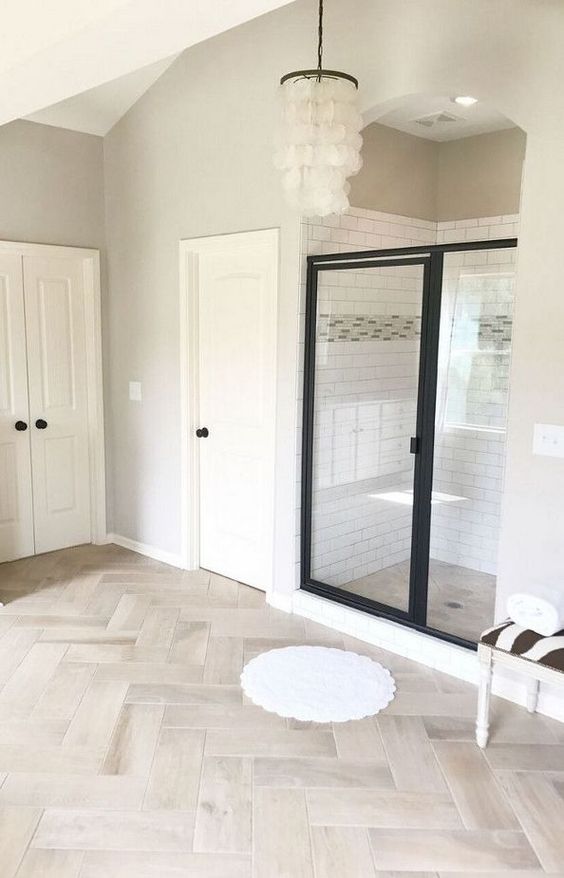 Beige herringbone tile is a clever way to make a tiled bathroom and shower floor look like a wooden floor.
If you want to make your bathroom look rustic, this example shows you just how to do it. The beige shades of herringbone look just like a wooden floor, but it's all made from tile.
Use Tiny Tiles Throughout the Bathroom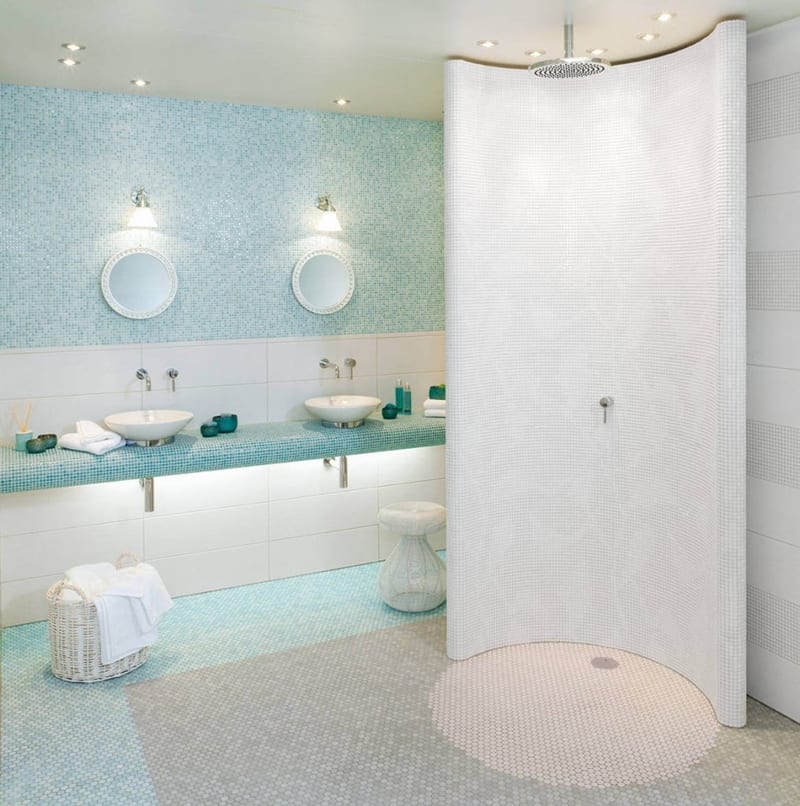 These tiny tiles look almost like pixels on the screen, and the same size tiles are used all over the bathroom, including the walk-in shower, counter, and walls.
The shower walls and floors are all done in white and gray tiles, and the bathroom counter and walls are in different shades of blue tiles. At first glance, it's a stunning bedroom that pops, but the colors make it feel bright and fresh.
Change Things Up With Circular Tiles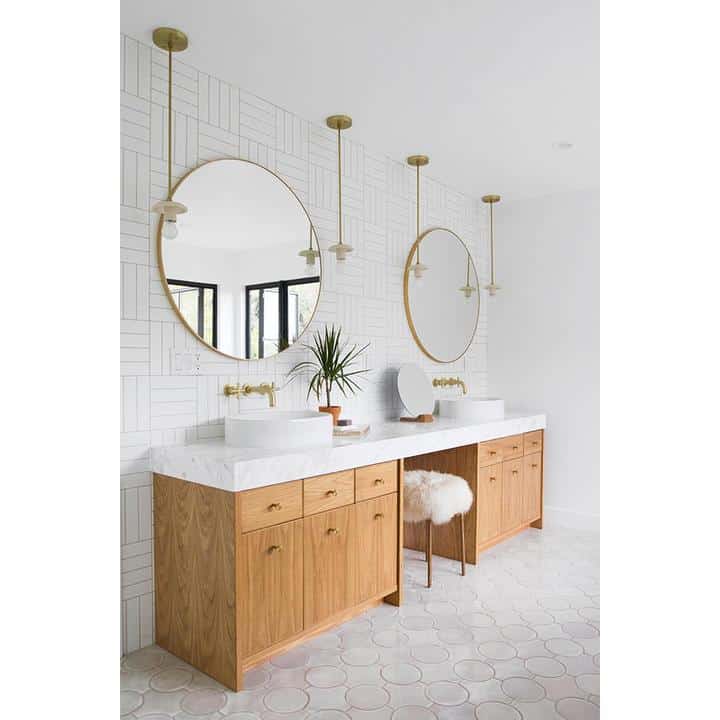 These circular floor tiles are different from standard bathroom tiles that are usually square or rectangular. It makes the bathroom look smoother and more relaxed without those straight lines common in so many other bathrooms.
The large round mirrors above the sinks complement the round tiles of the floor, which is a cute look with the white, wood and brass accents.
Stand Out With a Pink Chevron Style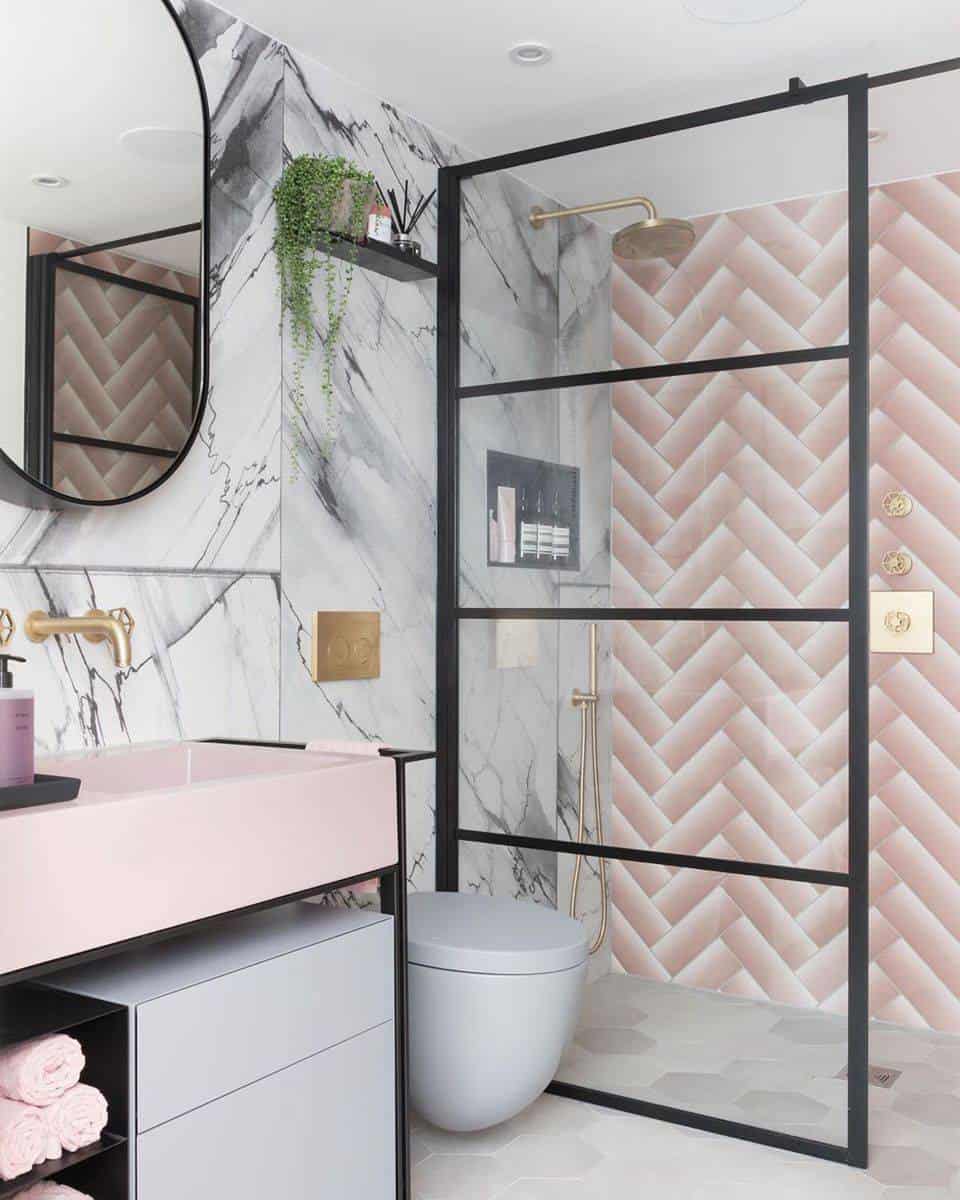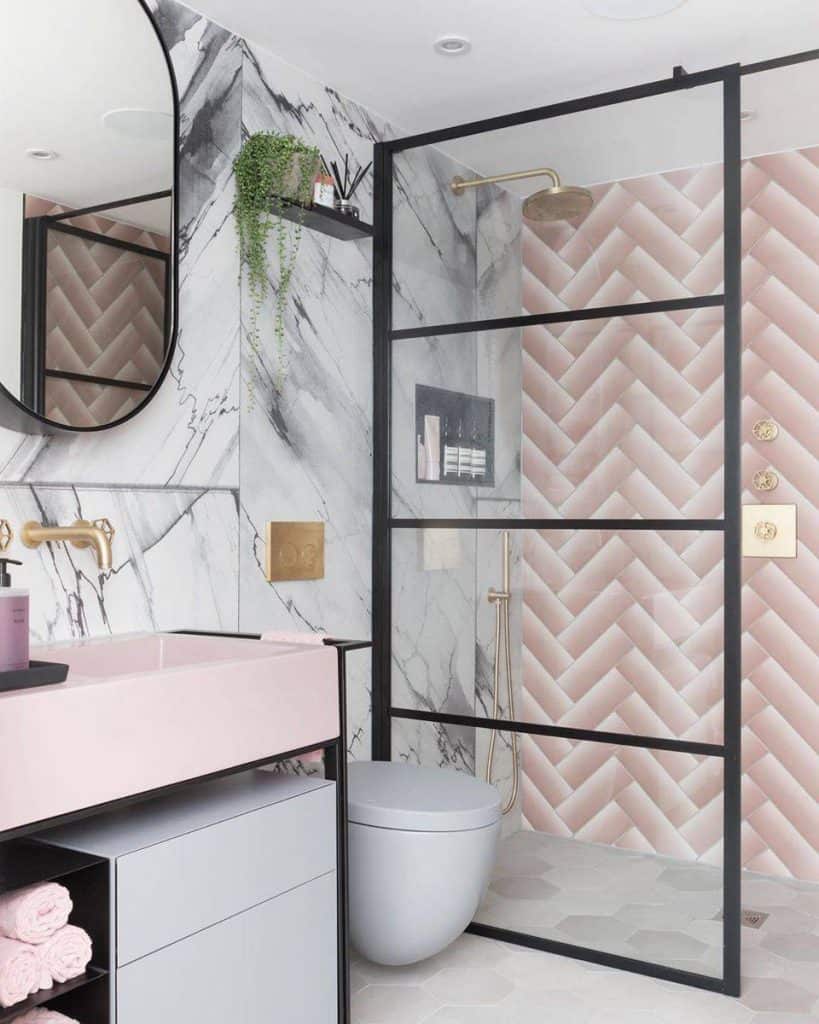 You can also add a pop of color to your walk-in shower by using a tile in a bright and unexpected color, like these pale rosy chevron tiles. It's a really feminine and mature bathroom, and the pink color of the wall matches the pink sink.
The whole shower comes together well with white and gray marble and thick black accents. The hexagonal tiles on the floor have slight gray and pink accents.
Be Unique With a Mermaid Pattern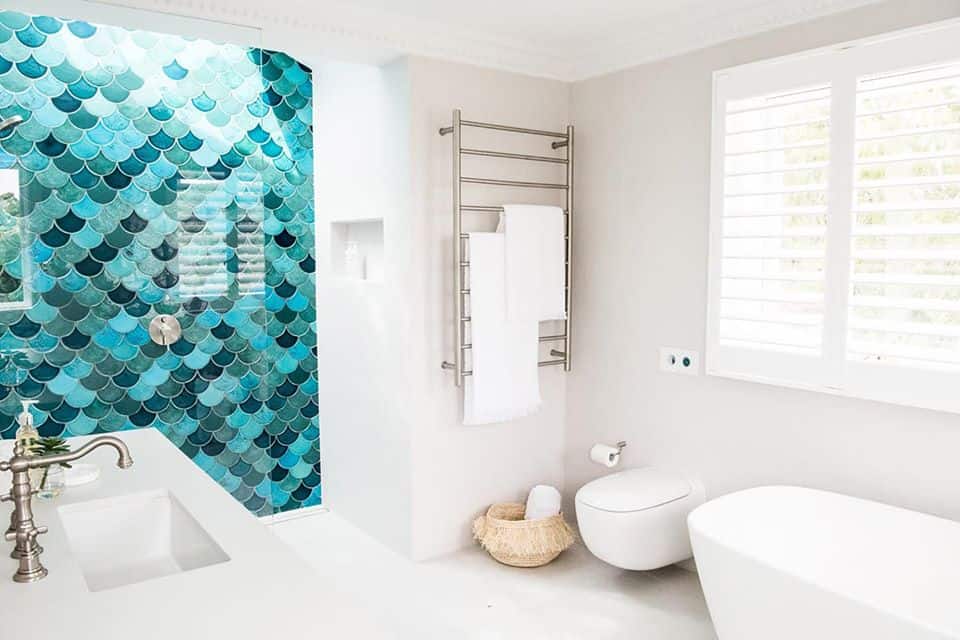 This walk-in shower has an absolutely stunning mermaid shower tile idea. These overlapping tiles are laid over each other to look like mermaid scales, in a shiny and blue-based color palette. It's perfect for the all-white room, especially if you add coastal touches to the bathroom.
Look for a similar idea if you want to create a bold walk-in shower tiled accent wall that will definitely make a splash in your bathroom.
Get a Metallic Look With Shiny Tiles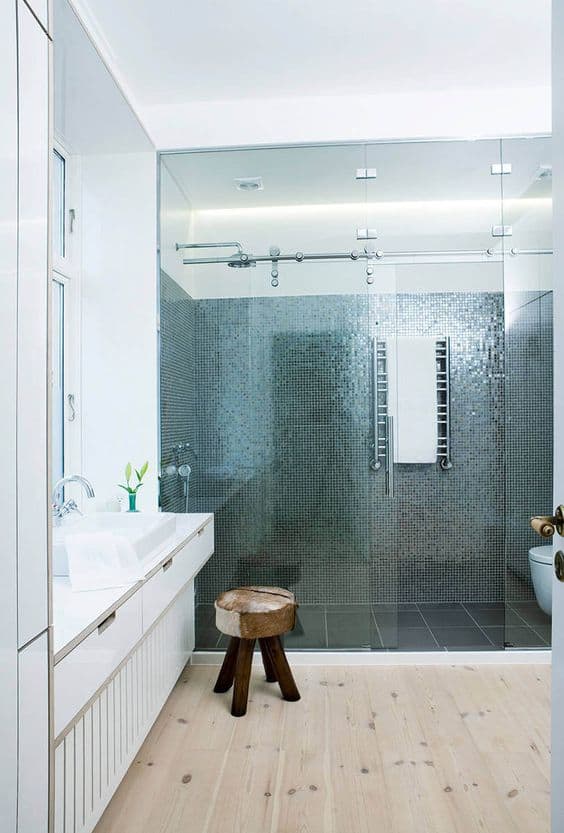 This is another way to add a bold wall in your bathroom, again by using one wall of the walk-in shower tiles. These tiny square tiles are quite shiny, which create a metallic look when all put together.
It's perfect for this modern bathroom, making the whole thing look sleek and simple with some brightness and sparkle.
Make the Tiles the Accent Wall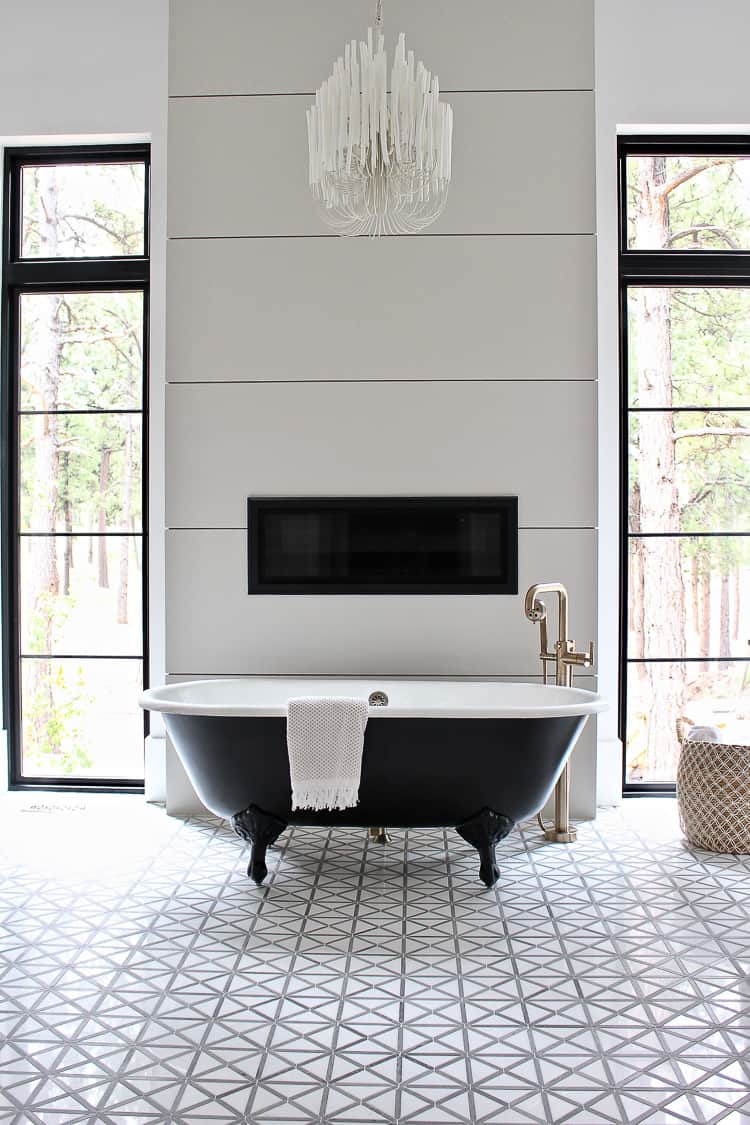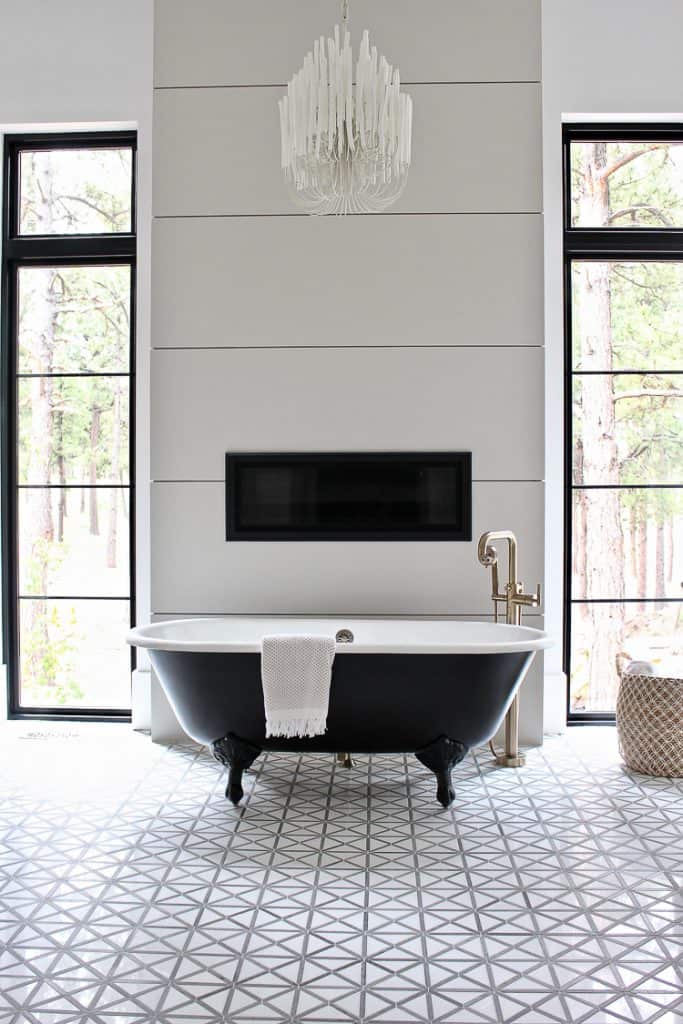 These tiles are so large, they barely even look like tiles. It's a modern and simple look that I absolutely love, especially with these large floor-to-ceiling windows on each side. These large rectangular tiles create an accent wall and backdrop for this bathtub.
The result is classic and simple, and something that's quite easy to accomplish if you have a larger bathroom.
Look for Large Flourishes on Tiles
This bathroom has a lovely mix of wallpaper and different kinds of tiles to change up the look throughout the room. It still all works well together thanks to the white theme and wooden and black accents.
I really like the mix of the black and white wallpaper over a half-wall of white subway tiles. For the flooring tiles, there are some large gray flourishes across white tiles for a muted style.
Decorate in a Pacman Design for Kids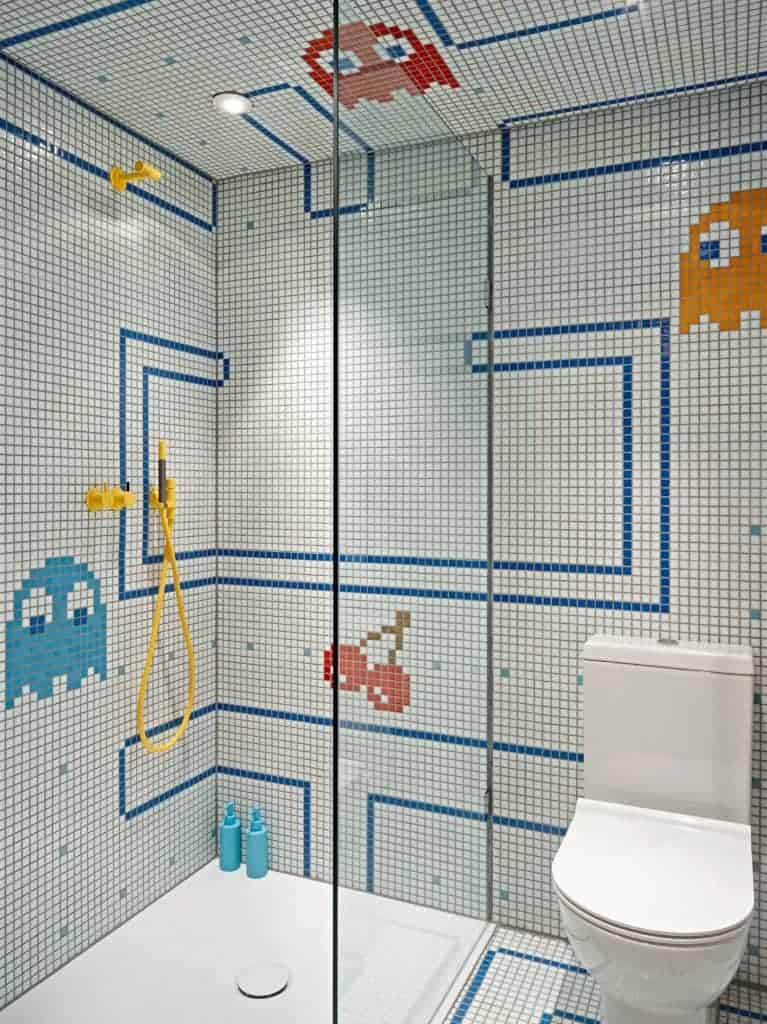 If you're doing a tile decor for a kids bathroom, look for tiles in a bright and fun design, like this amazing walk-in shower tile idea in the Pacman theme. It's quite simple to do with the whole thing in small white tiles, with blue, yellow and red tiles added for the different elements.
If you want to do the tiling yourself as a home project, there's a great guide on the DIY Network page about it.
Be Bold With a Geometric Tile Pattern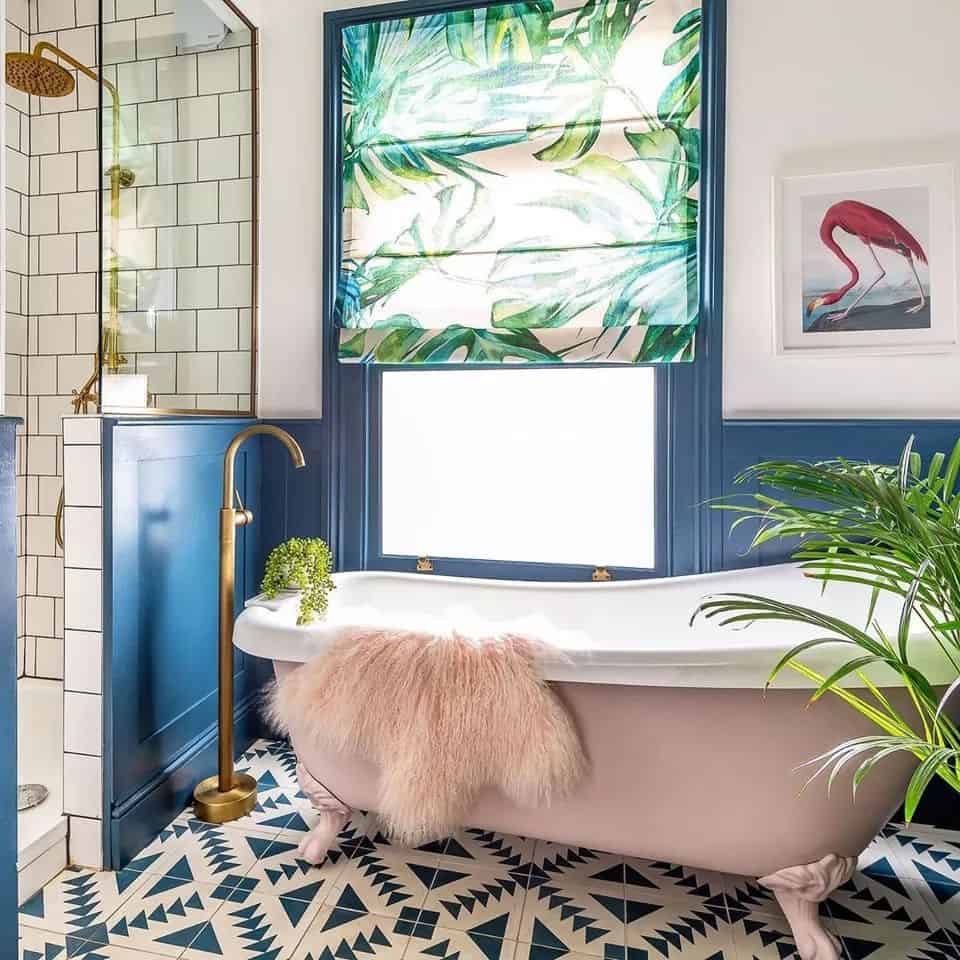 There's a lot going on in this bathroom, but it all works together thanks to some lovely touches. The walk-in shower itself is done in white subway tiles, and the floor of the bathroom is a bold geometric tile pattern in white tiles with navy accents.
The navy of the tiles is tied in to the color of the walls, and the plant life in the bathroom complements the curtain hanging over the window.
Get Black Lines Between White Tiles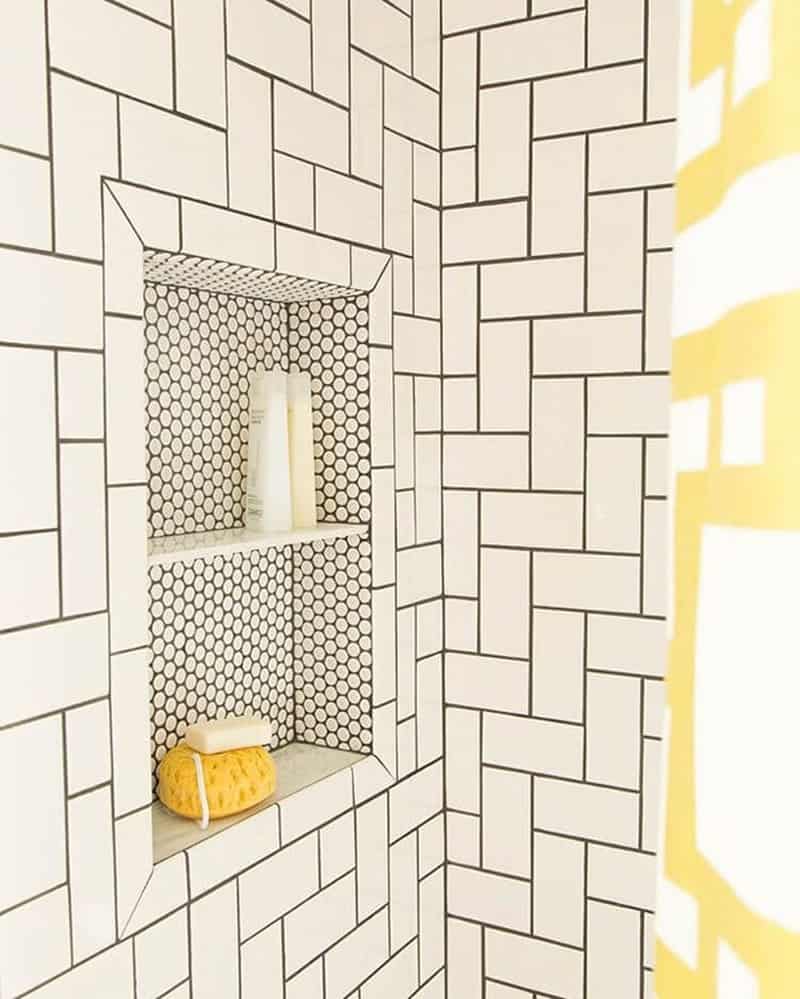 Plain white shower tiles get a little more spice and personality when thick black lines are added between each. In this example, the white lines highlight the different directions of the tiles, making the shower tile design stand out from the usual white subway tiles.
The black accents continue for the built-in shelf, this time in a more circular pattern that adds some texture to the overall look.
Use Different Colors and Patterns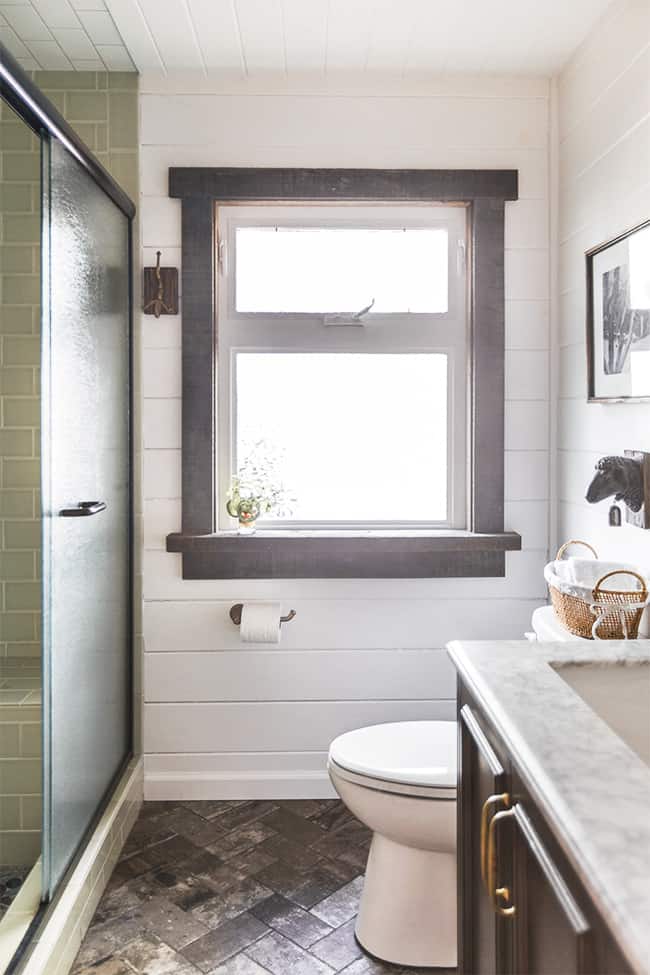 You can also change up the pattern and color completely from the walk-in shower tile design to the floor of the rest of the bathroom. Think outside the box here, to find color combinations that work together but might be unexpected.
For example, this is a great use of a muted green paired with a dark gray tiled floor. The bathroom floor tiles are all diagonal, while the green shower tiles are straight.
Change Things Up With Vertical Tiles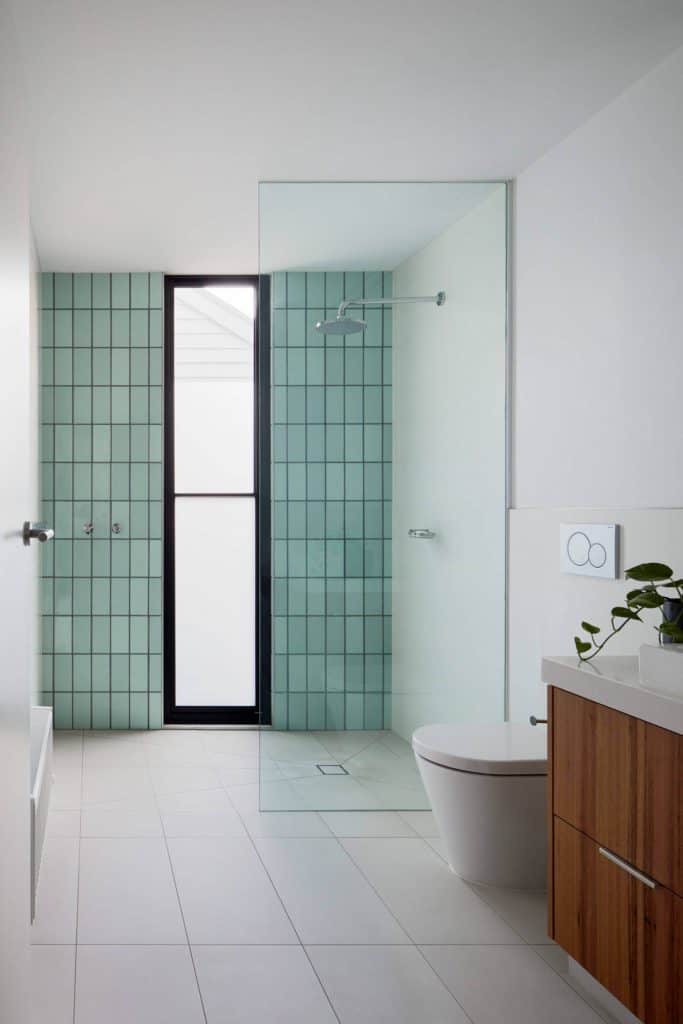 As we've seen in most of these examples, tiles are usually horizontal across a space. That's because it usually can make a room appear wider and larger. In reality, bigger spaces don't need to rely on that visual trick.
These vertical tiles are lovely, with their pale color creating an emphasis in the walk-in shower. It also makes the ceiling appear higher, thanks to their direction.
Get Bright-Colored Thin Striped Tiles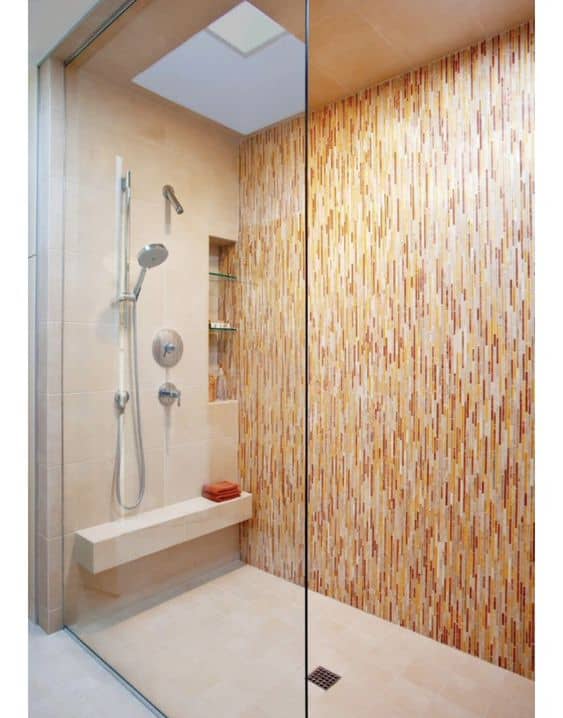 This walk-in shower design is sure to stand out because of this tile choice. There are so many long thin tiles in a similar color scheme that it makes the whole shower wall look like it's made from long thin lines.
The varying colors in shades of red, orange and yellow creates the appearance of fire and warmth. It's a great idea if you want to make your bathroom pop and you like adding color.
Make a Statement With Navy Floors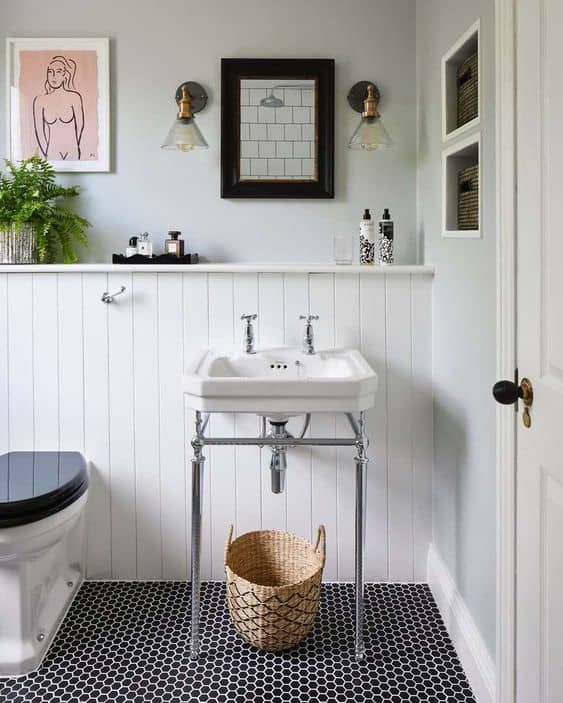 These penny tiles in a navy color are completely unexpected in the bathroom, and I really like it. The navy tiles with white lines creates a lovely nautical appearance, especially when paired with the white vertical shiplap walls and wicker baskets.
Don't hesitate to choose dark colors for your bathroom, which can be a bold and unique choice, particularly if you have a lot of natural light coming in to the room.
Conclusion
Bathroom tiles are a great way to add personality and trendiness to your bathroom, especially when it comes to your shower. A lot of people choose to get a standalone shower unit, but it can be worth tiling the space instead.
As you can see, adding tiles can be a simple process, but it can also open up a lot of decor options to the space. Use your tiling to make a statement in the bathroom, whether it's an accent wall or a whole area, patterns or colors.
The possibilities are endless when it comes to tiling and bathroom decor; which option was your favorite?