Decorated Life is reader-supported. When you buy through links on our site, we may earn an affiliate commission. Learn More
14 Mid Century Modern Rug Ideas
Mid-Century modern is one of those timeless design eras that will never go out of style. The great thing about mid-century modern decor is that it complements most other modern decor styles well, so it's not all or nothing, you can mix it up with more contemporary interiors!
With clean lines, bold colors and simple geometric shapes, rug designs from this era are always in demand. Here is a selection of our favourites…
Navy Mod Trellis Area Rug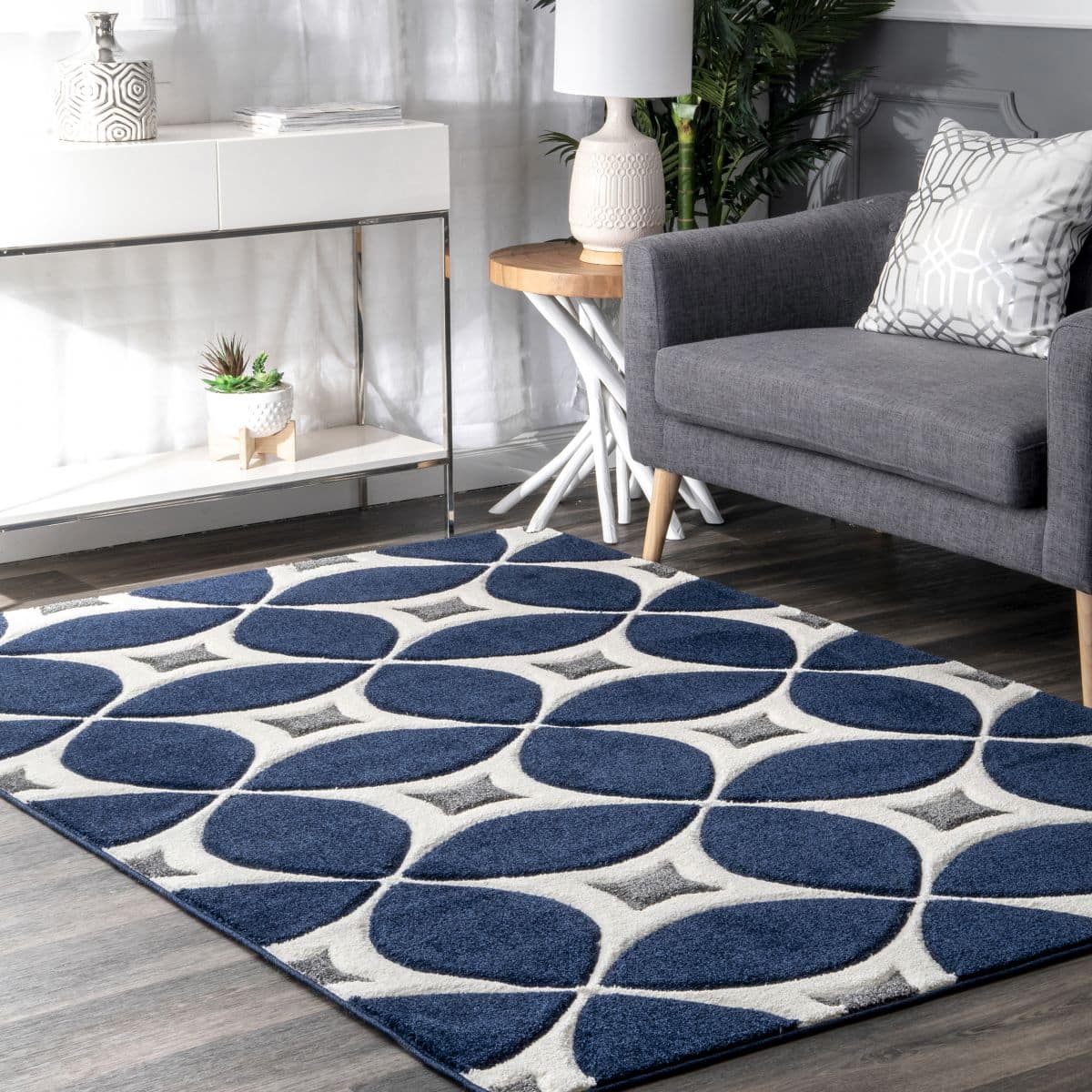 Here is a classic example of the mid-century modern theme which is very en vogue at the moment. This rug has a bold and upbeat pattern with striking colors. The cream background will tie in with most decor styles. It also has a thick, comfortable pile to please the feet as well as the eyes.
Accompanied with the right couch and lamp and you are well on the way to achieving your mid-century theme.
Geometric Handmade Tufted Wool Rug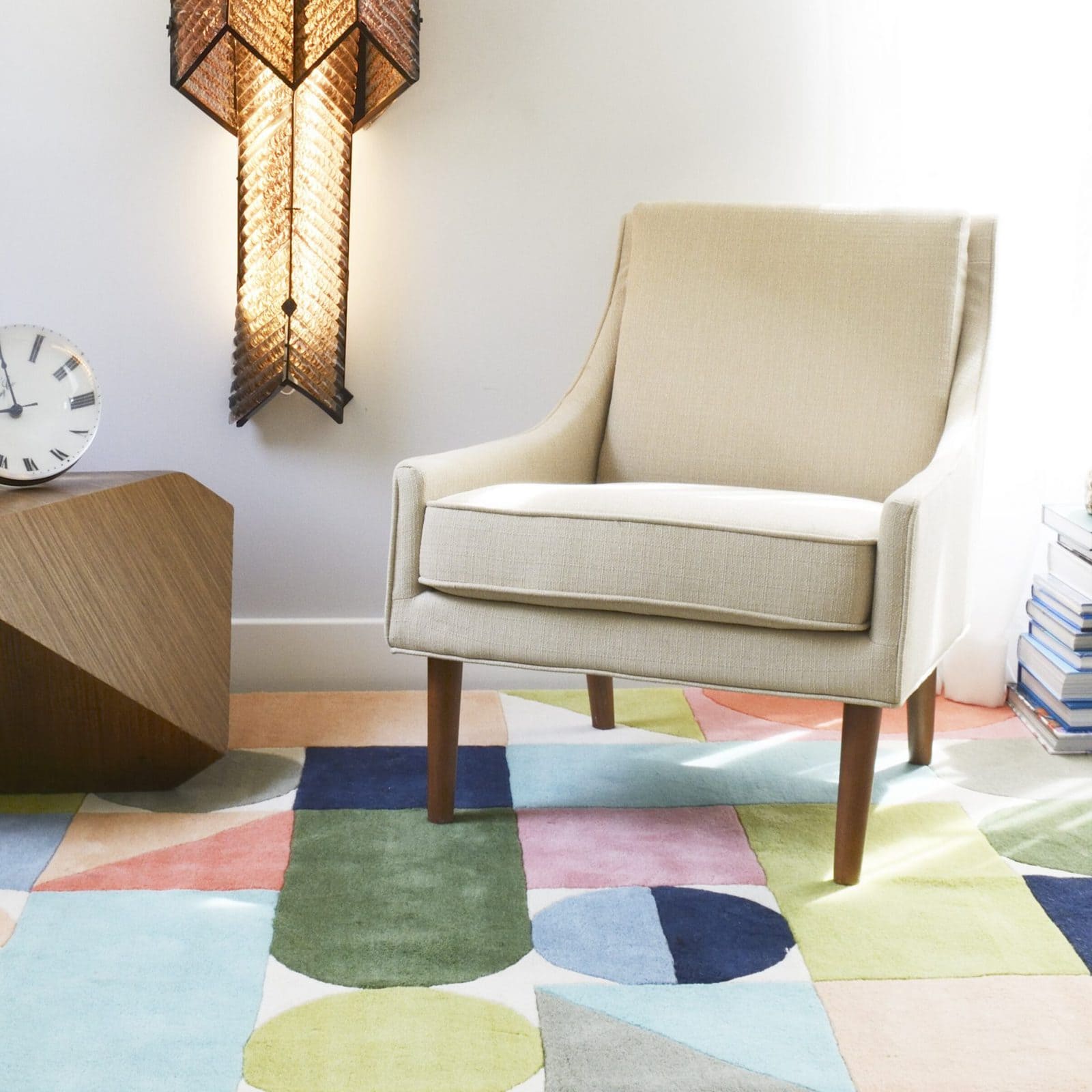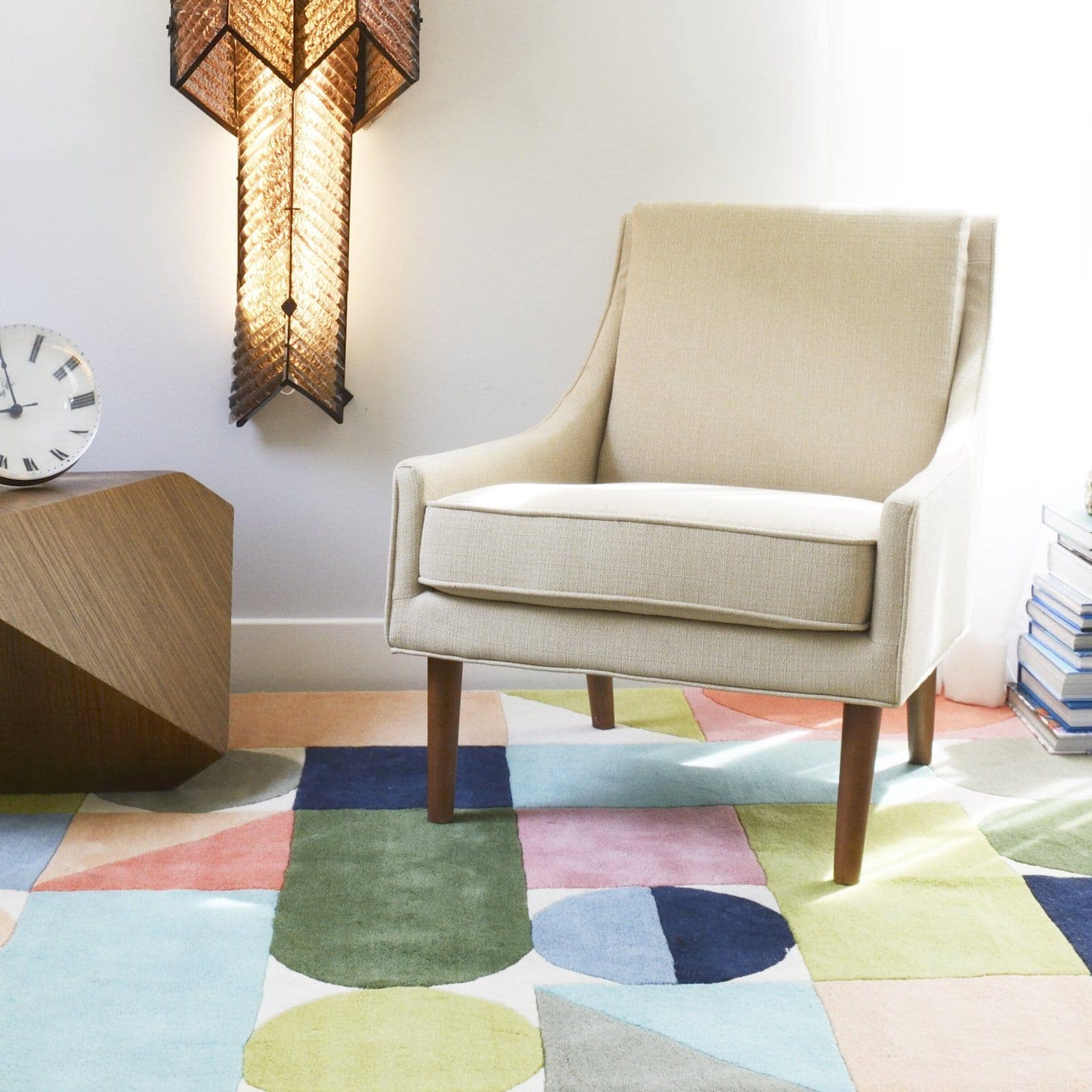 Remember the classic kids toy with wooden building blocks in a tray? It seems to have inspired this fascinating rug with bright, bold, pastel colors paired with retro shades of mocha and avocado.
The rug is 100% super fine wool, and hand tufted to make this a truly luxurious addition to your home.
Mid-Century Modern Lotus Rug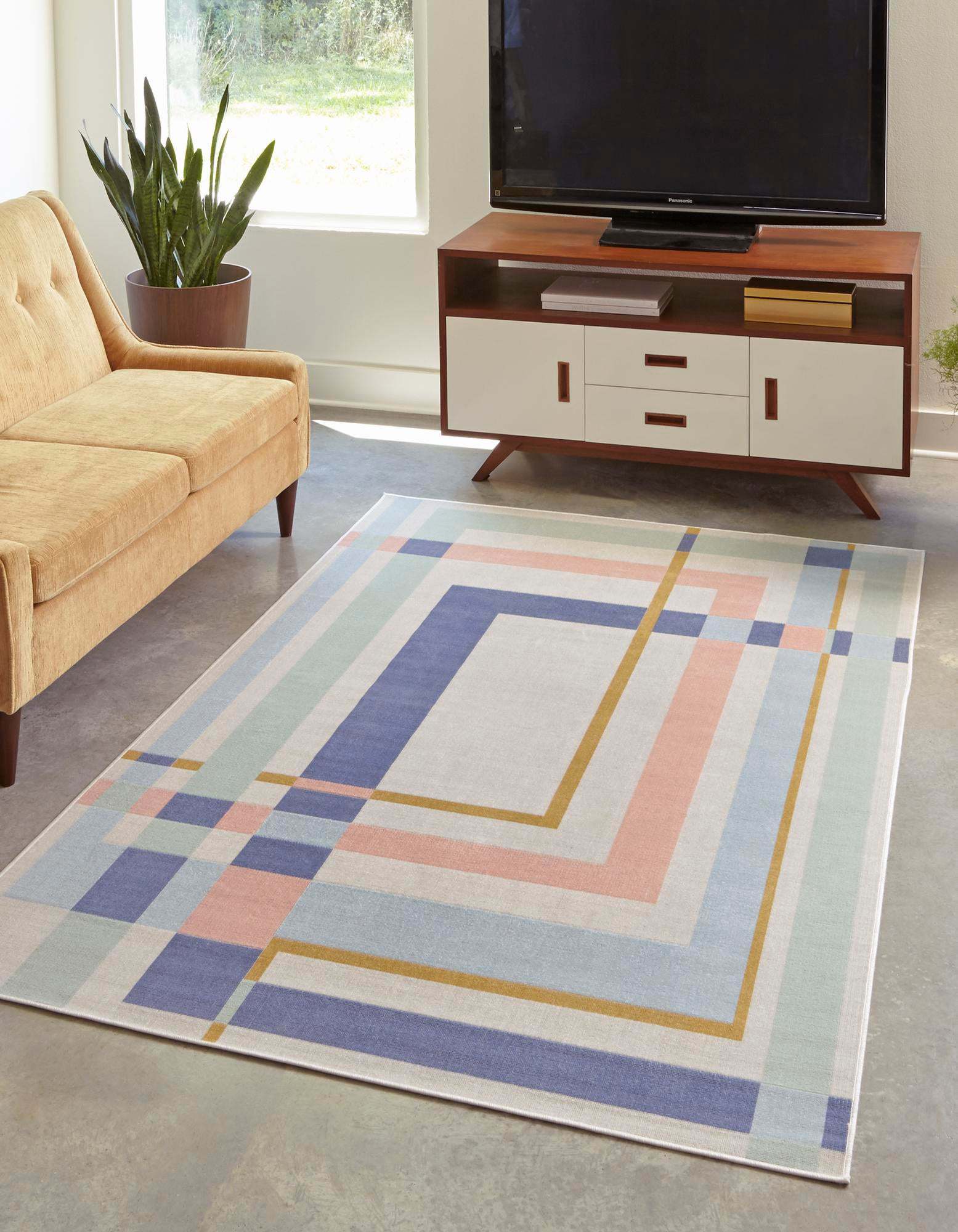 Mid century modern rugs with strong lines and angles always work well! This gorgeous rug will be the centrepiece of your mid-mod living room. The bright pastel and gold color palette brings a touch of femininity and warmth to the design.
Although this rug features a classic mid-century modern design, it would still work well in a contemporary interior if you like to mix things up!
Multi-Colored Abstract Nebula Area Rug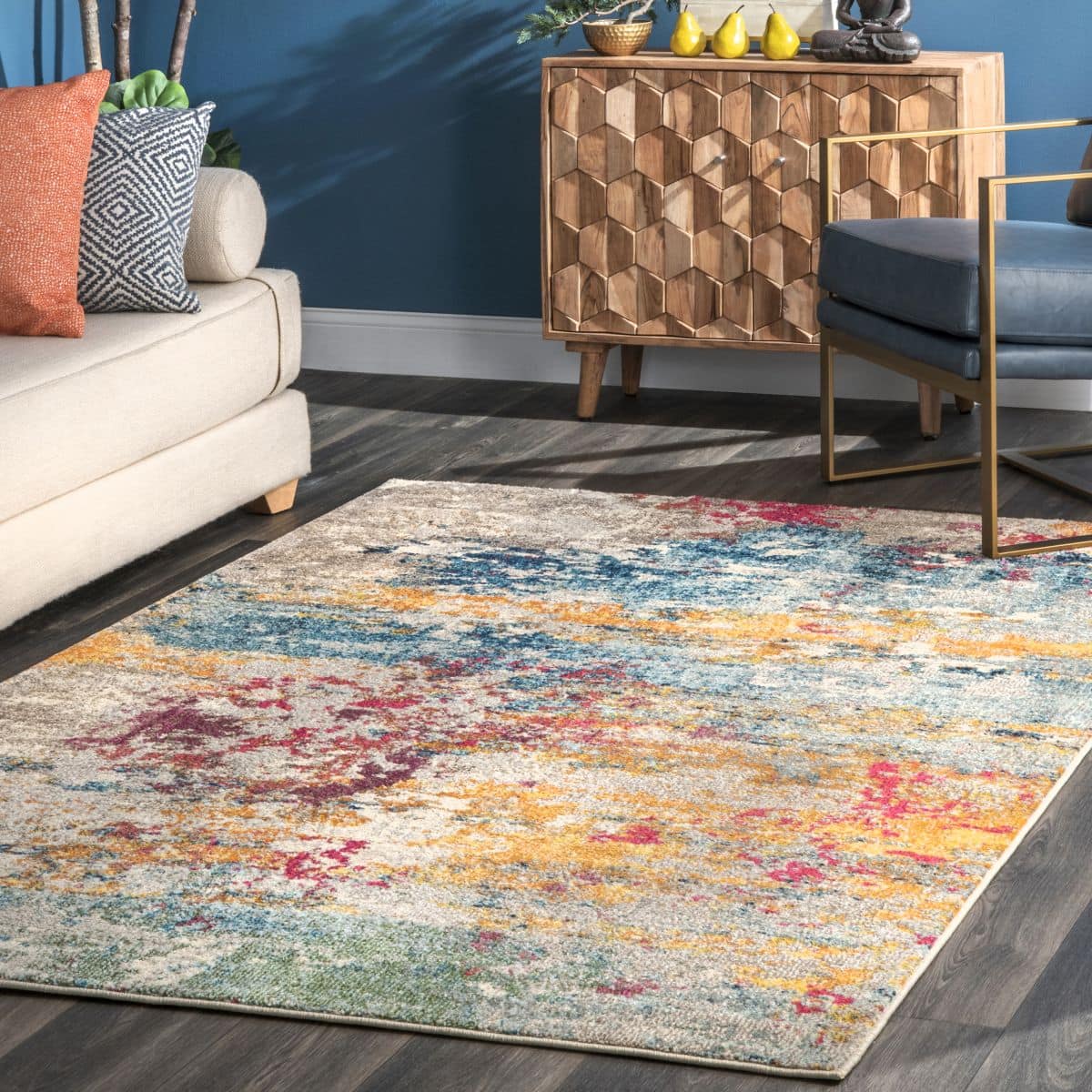 Add a splash of color to your living room with this gorgeous abstract nebula area rug. The vibrant multi-colored abstract design will balance out the clean lines of mid-century modern furniture perfectly, bringing your space to life.
This rug is lovely and soft underfoot, with a low pile, and it's also easy to clean and maintain if you want to use it in a high traffic area.
Fenwick Mid-Century Modern Violet Area Rug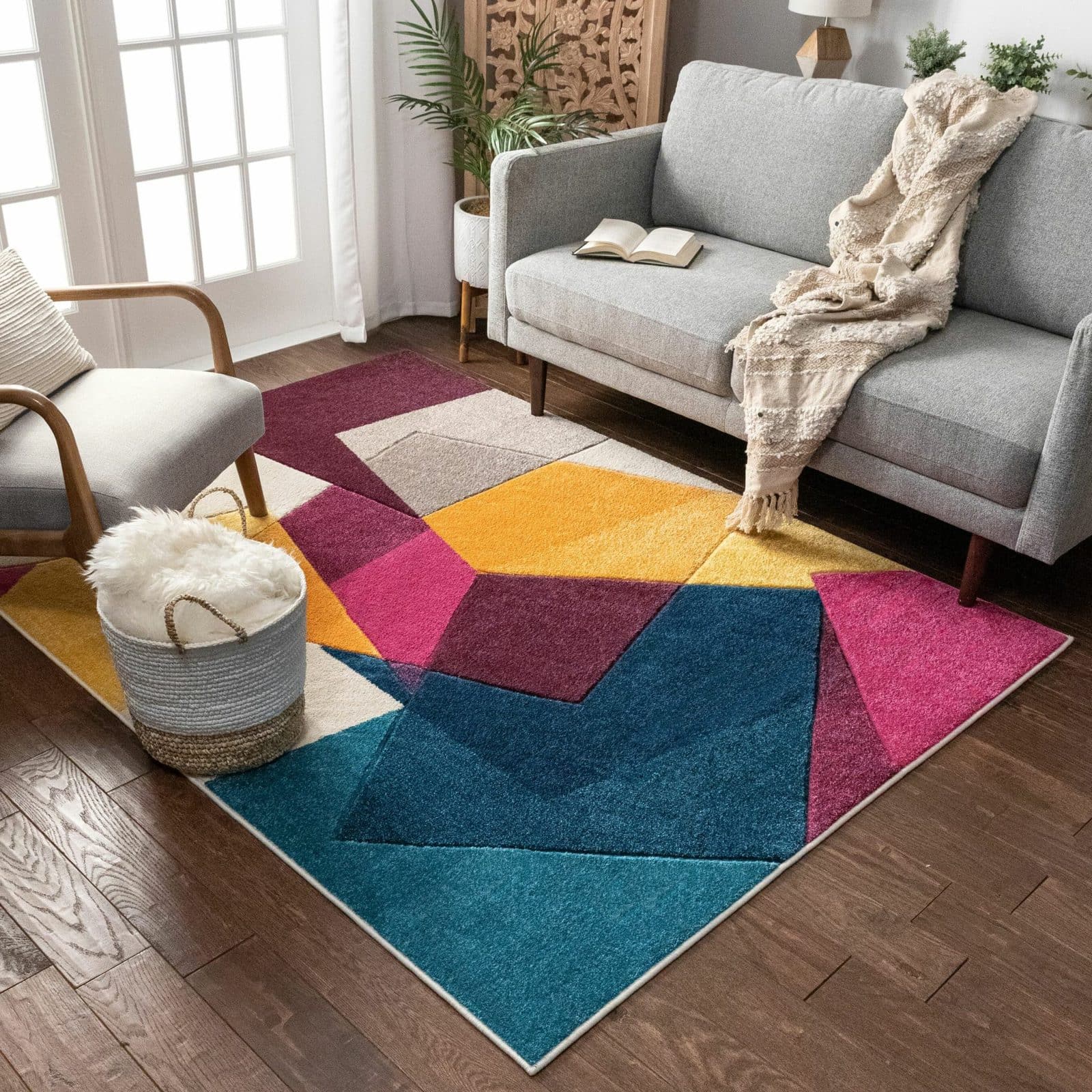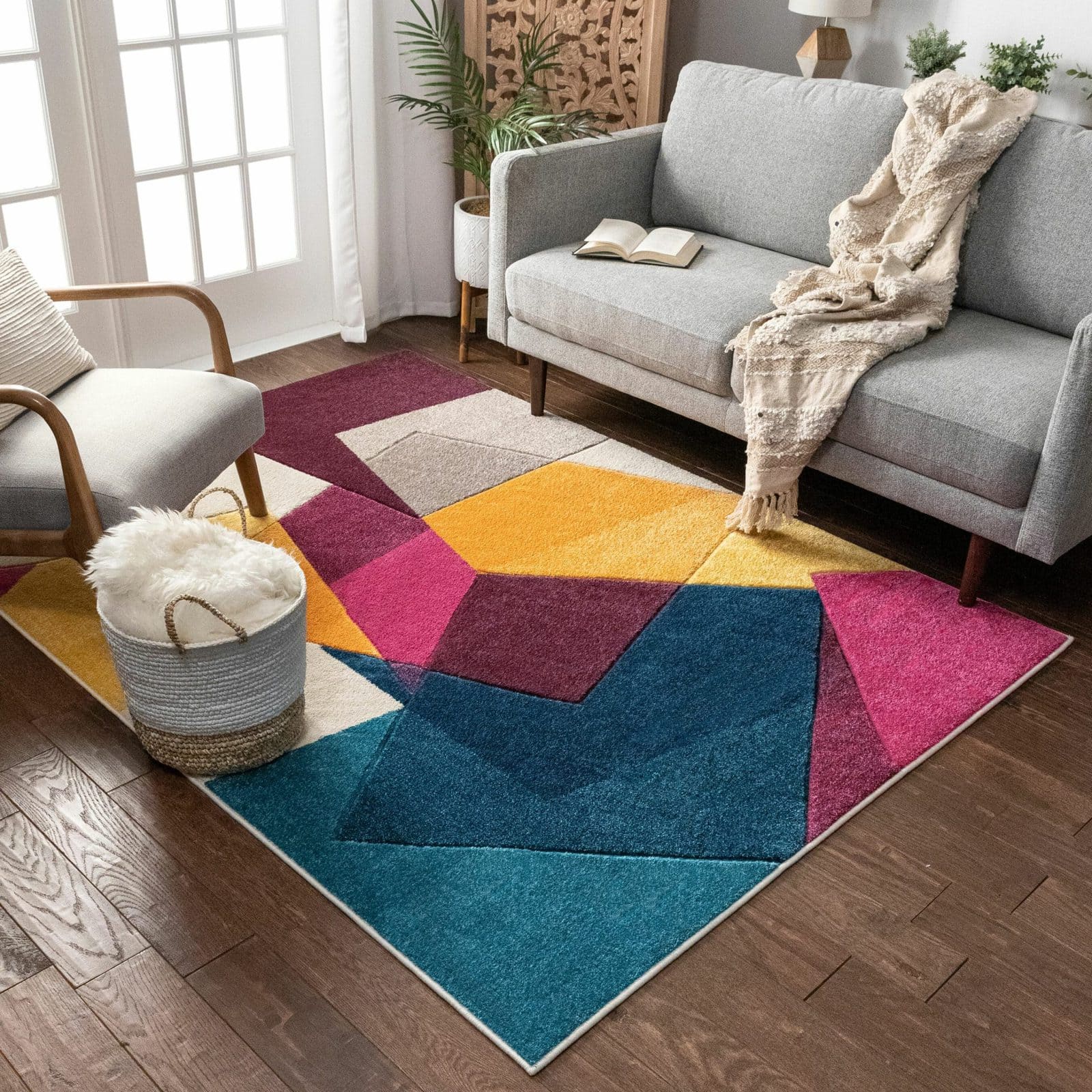 This rug features a bold geometric design in the mid-century style. The colors give this rug a real warmth, highlighted by the bright, audacious violet. This will give any room a sophisticated boost, especially when matched with any dark wood fixtures and fittings.
This rug also has a deep plush pile for extra warmth and softness, so it feels great underfoot. Power loomed in Turkey from man-made fibres, these gorgeous colors should last a lifetime.
Blue Fading Rainbows Area Rug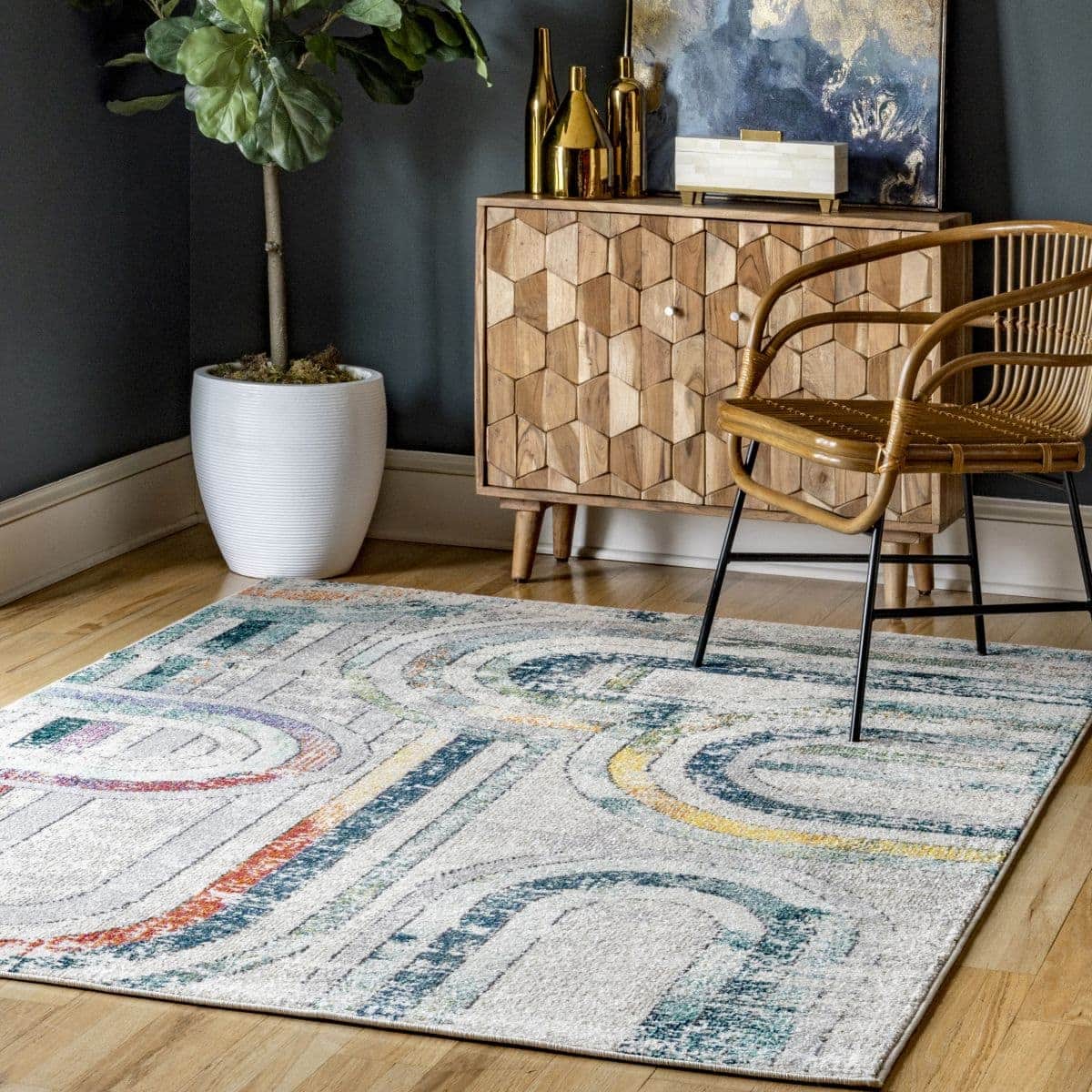 This unusual area rug features geometric rainbows curves in faded colors, it's the perfect choice if you want to create a mid-century modern look in your living room! The muted base color palette of shades of grey features hints of red, yellow, green, and blue to add some fun splashes of color to the design.
This mid century rug has been artfully distressed to give it the perfect vintage look, but since it's made of 100% polypropylene it will stand up well to daily use.
Hana Imari Rug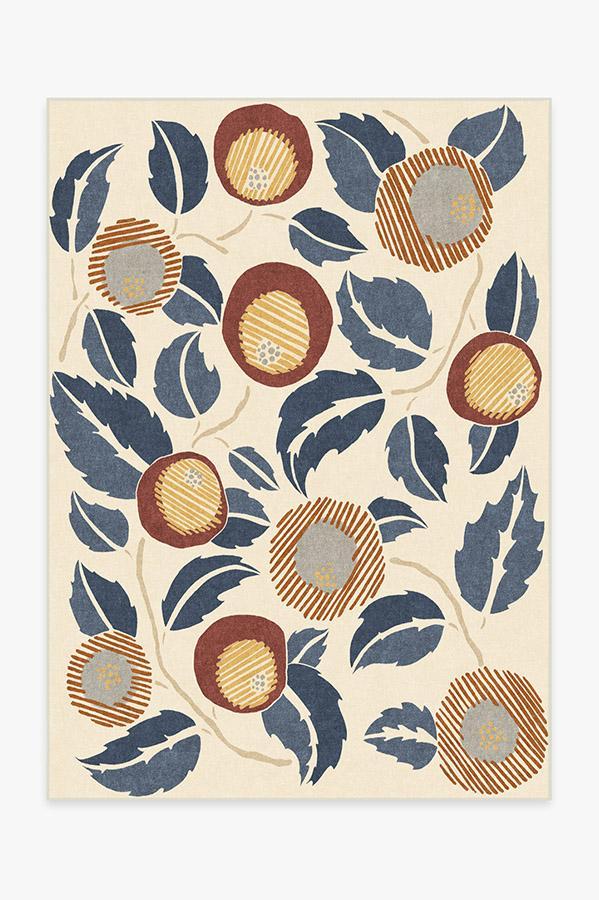 This beautiful rug has an almost porcelain quality. The bold and vibrant colors really set off the gorgeous modern-retro floral design. The neutral cream background makes it appropriate for most decor styles, with the blue leaves and orange flowers standing out beautifully against the cream.
The rug has a low pile and is easy to clean, so it's suitable for high-traffic areas, and would look perfect in a mid-century modern Kitchen.
Pink Modern Abstract Area Rug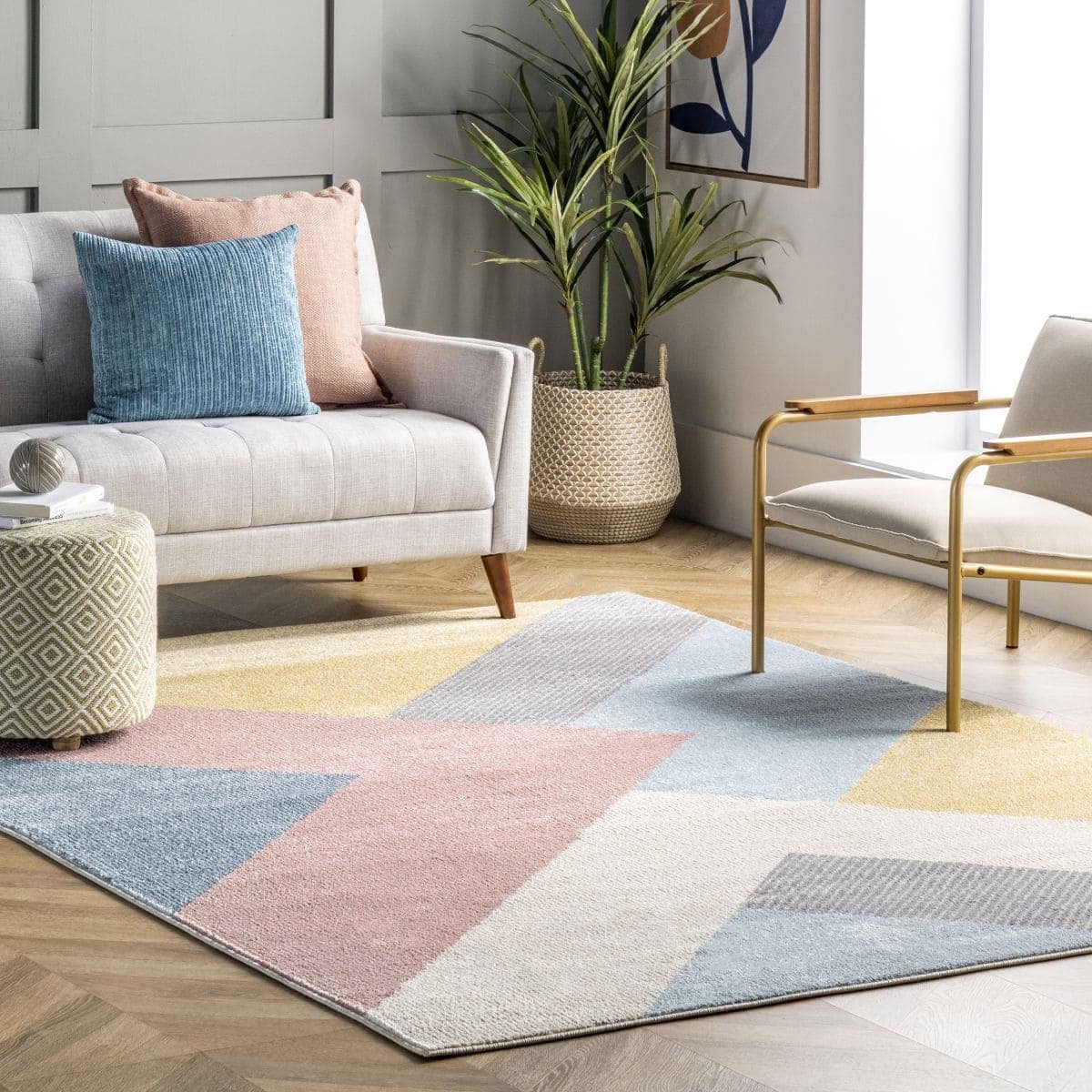 This mid century modern area rug features a bold abstract design in a range of pastel colors. The clean lines on this design lend themselves well to mid-century modern style, but this rug would work well in any contemporary interior in need of some color and fun!
The low pile on this rug keeps it looking smart, and makes it an ideal choice for a living area as it's easy to clean and maintain.
Metro Multicolor Rug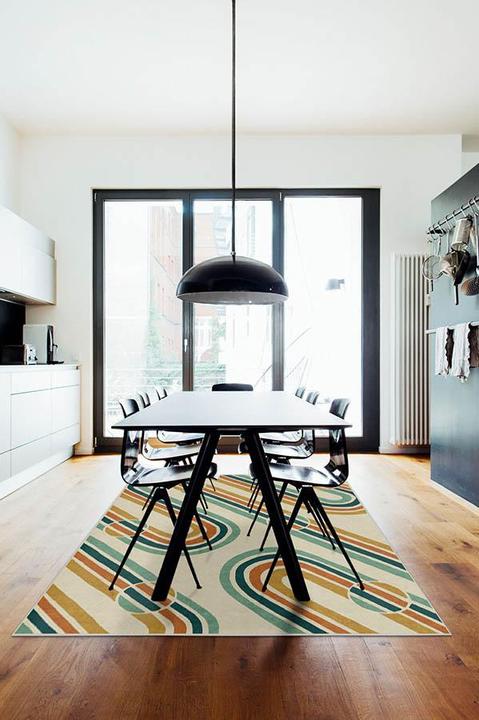 Set your imagination to travel with this subway inspired rug. The urban-inspired motif is based on metropolitan underground railway maps. Again, the colors fit the era with faded blue, green and orange. It contrasts well with black furniture to give a truly modern art vibe to your room.
Like all Ruggable rugs, this is machine washable and very easy to maintain, with highly pigmented colors to stand the test of time.
Gray Modern Abstract Area Rug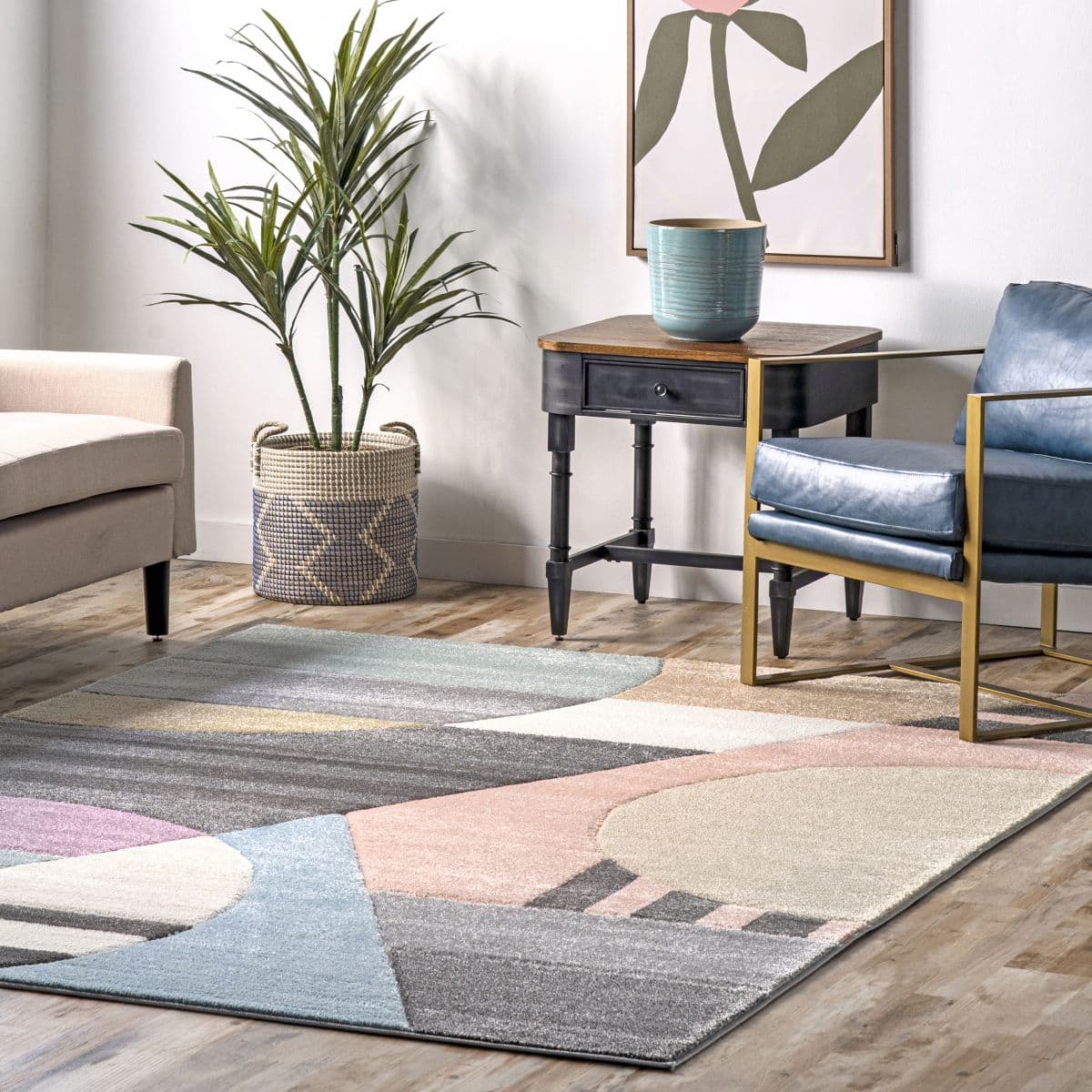 This rug features one of the classic mid century rug patterns. With a bold mix of curves and straight lines in a palette of grey and pastel colors, it captures the spirit of mid-century modern design perfectly.
It's a great choice for anyone who wants to add a bit of fun to a mid-century modern interior, and would work well in a living room, as well as a bedroom or nursery.
Handwoven Maximus Rug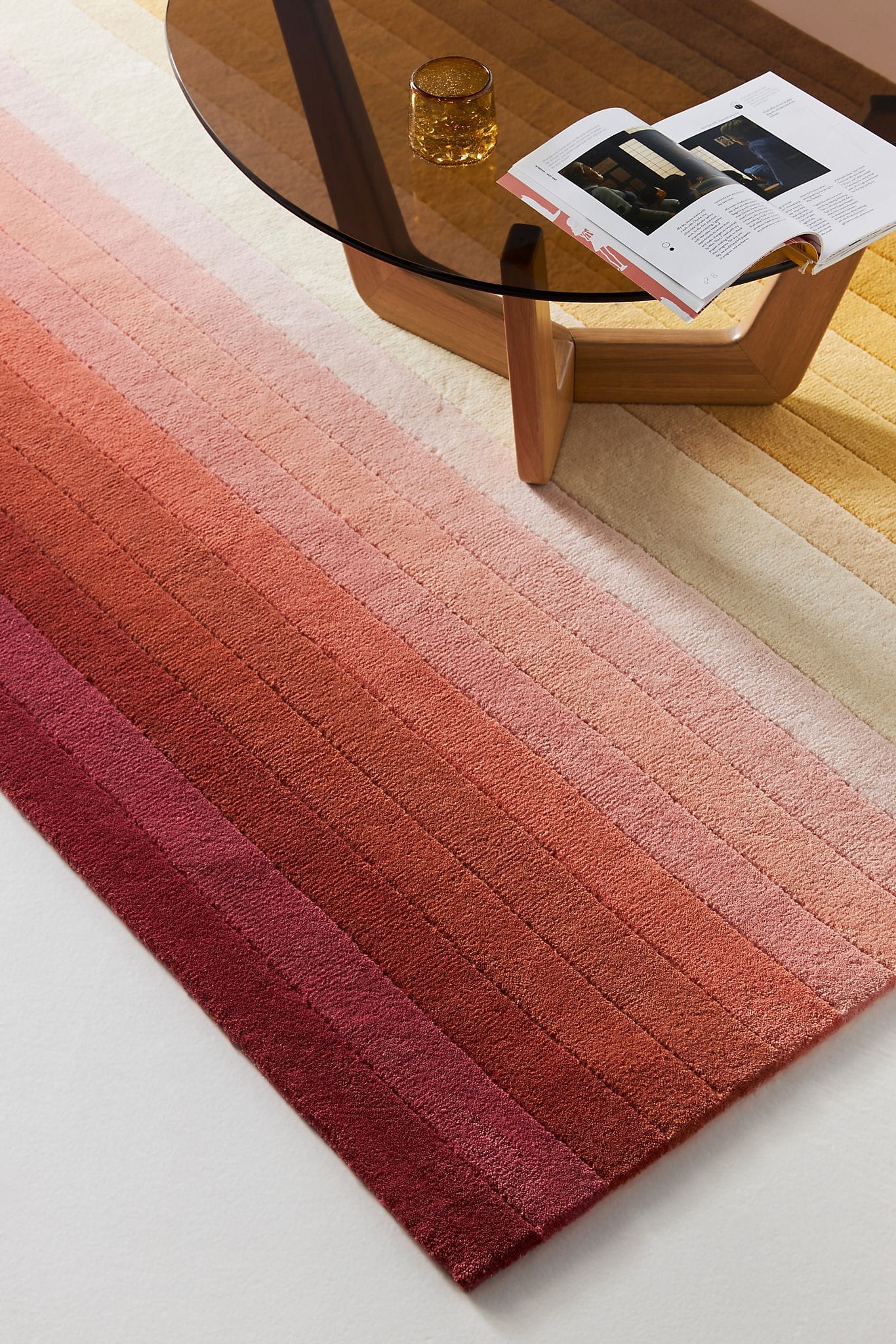 This handwoven Maximus area rug features bright bold stripes in a variety of shades of red and yellow, with an ombre effect fading to white in the centre.
The retro design has a sunset feel and would be the perfect way to brighten up any mid century modern inspired living room. Made from 100% wool, this rug is high quality and super soft, so it feels great underfoot!
Multi Triangle Mosaic Area Rug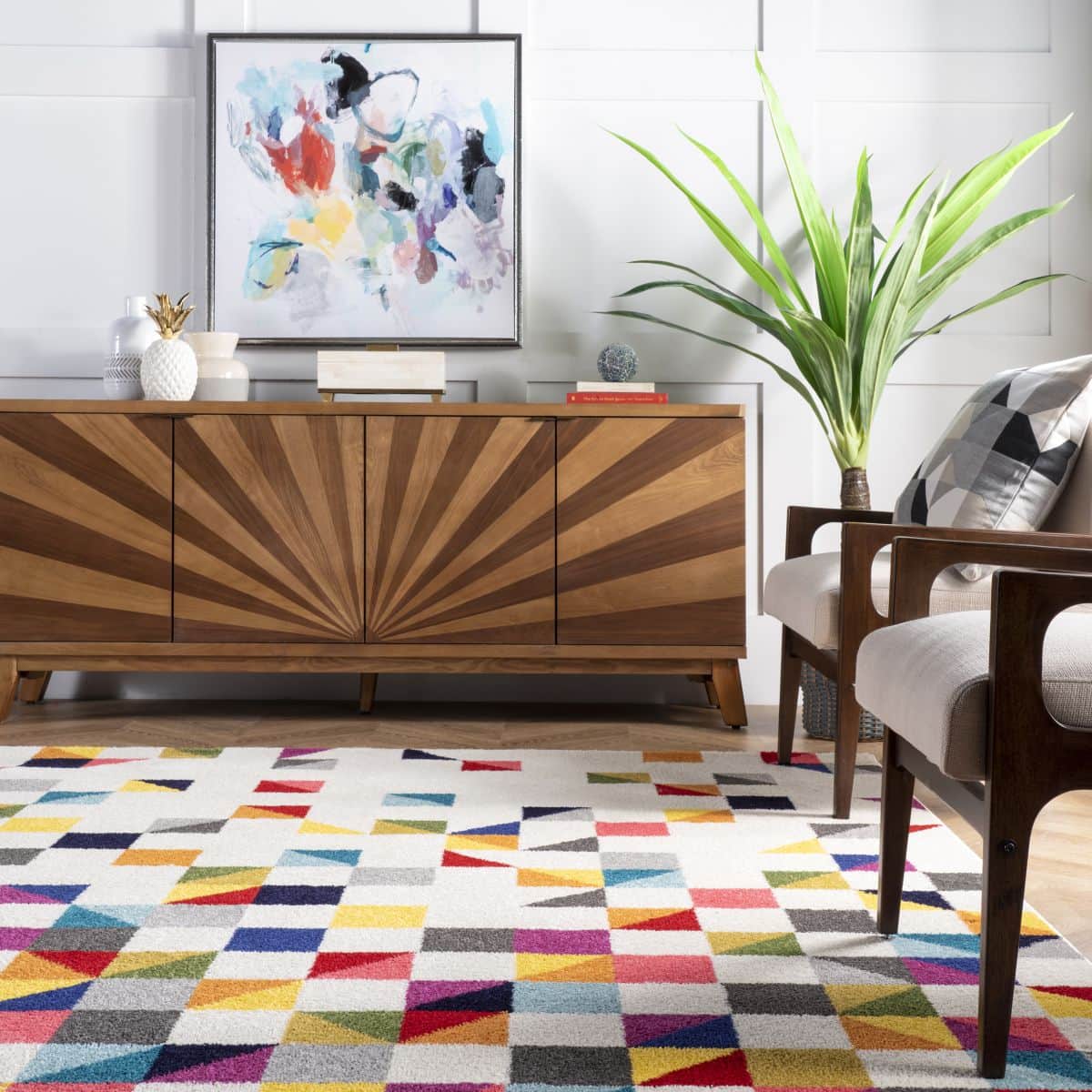 If you really want to impress your guests, look no further than this delightful mosaic rug. Gray couches are very popular at the moment, but can bring dullness to a room. Why not remedy the situation with this rug and its prism of intense colors! The spacing of the patterns also adds depth to smaller rooms.
The joyful palette of this rug makes it perfect for childrens rooms, as well as living rooms, as does the shorter pile and man-made fibres.
Absida Polychrome Rug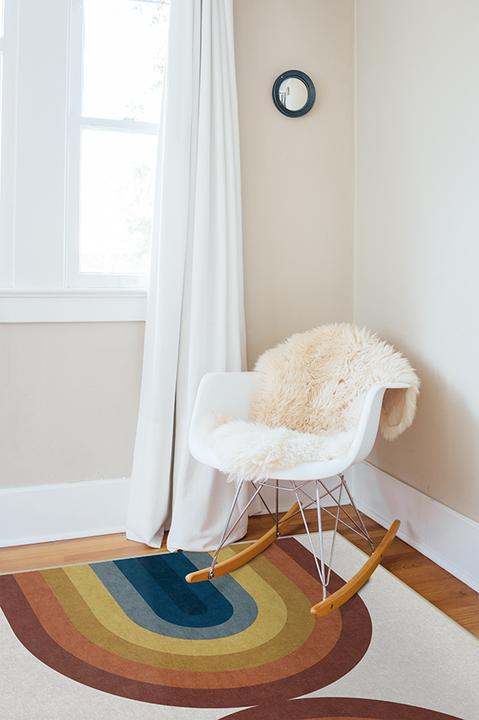 This amazing rug is a typical example of the style of the era, particularly the muted yellow and brown hues. The mirrored rainbow arches with graduated shades are also inspired by mid-century design. This rug simply must be accompanied with a retro chair and neutral decor. Lava lamp optional!
Stain resistant and machine washable, this would work well in a child's room but could really inspire your vintage theme anywhere in the home.
Multi Floral Fireworks Area Rug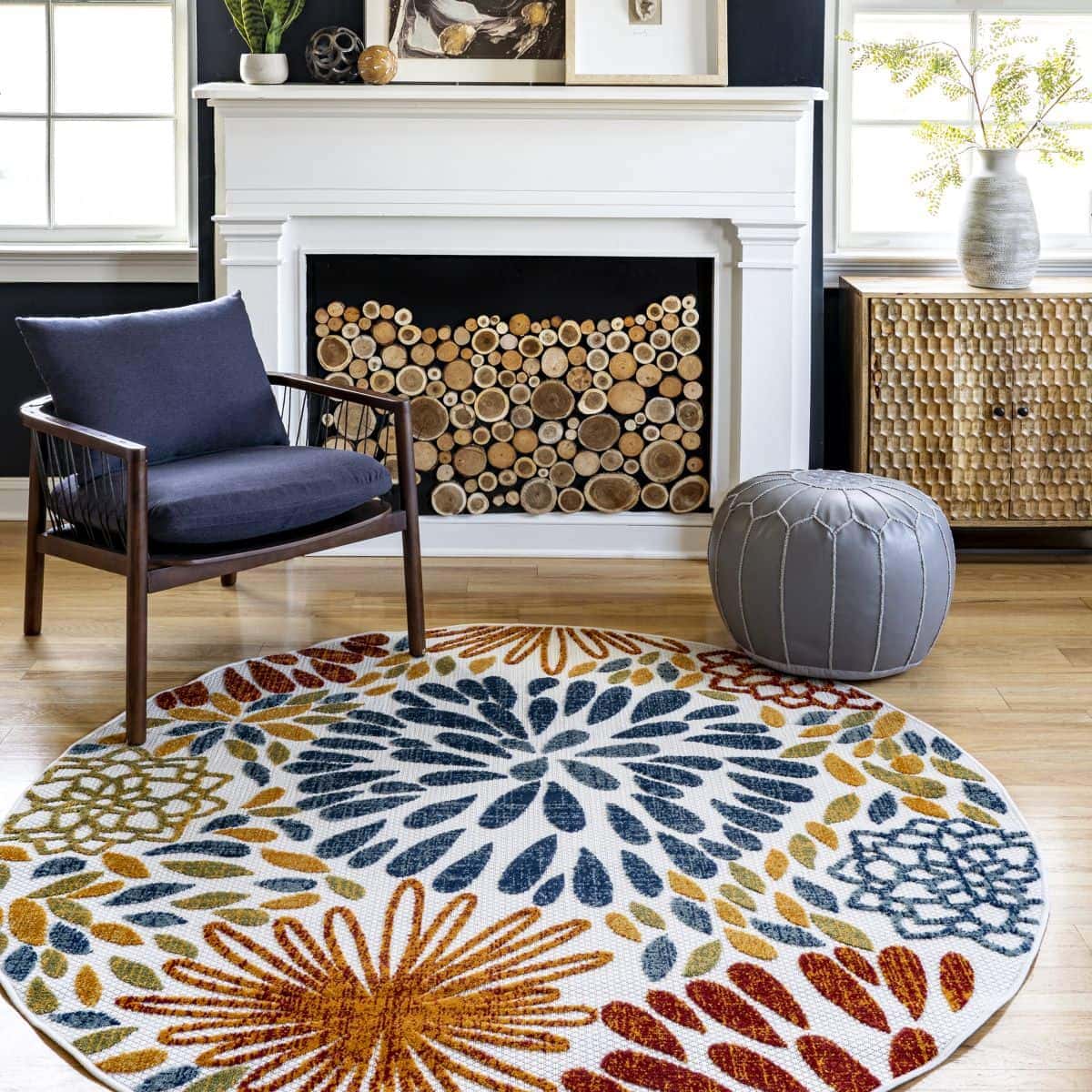 Perfect for any patio or garden room, this round mid-century modern rug features a sophisticated design. The flowers really do burst out at you, adding color and energy to your room. The color palette is definitively from the era, don't even consider the gray option!
This rug is designed for both indoor and outdoor use so it's super durable. Why not place it in your entrance porch to welcome everyone with a burst of floral joy!
To Sum it Up…
There are lots of mid century modern rug styles to choose from, it's hard to pick a favorite! When choosing a rug for your home, think about where it will be used. If it's in a high traffic area, or somewhere where pets or kids spend a lot of time, it may well be worth looking at a washable rug.
Remember, you don't need to live in a mid-century modern home to enjoy this style, you can pick and choose pieces you love and pair them with more contemporary decor styles, and they will still look amazing – It's ok to mix things up!