Decorated Life is reader-supported. When you buy through links on our site, we may earn an affiliate commission. Learn More
Modern Gray And White Bedrooms
Gray and white make a classic color combination. This timeless and versatile duo is devoid of any vibrancy and vividness – thus, proving to be a subtle, sober, and equally balanced fusion. So, if you're particularly looking for a bedroom inspiration that will never go out of style – this is something to watch out for!
However, too much gray and white, in the long run, can appear dull and boring. So, you can either play with patterns, textures, or accent hues for a fun-loving and exquisite look. Excited to know how? Well, have a look at these gorgeous 15 modern gray and white bedroom ideas!
Coastal Gray and White Bedroom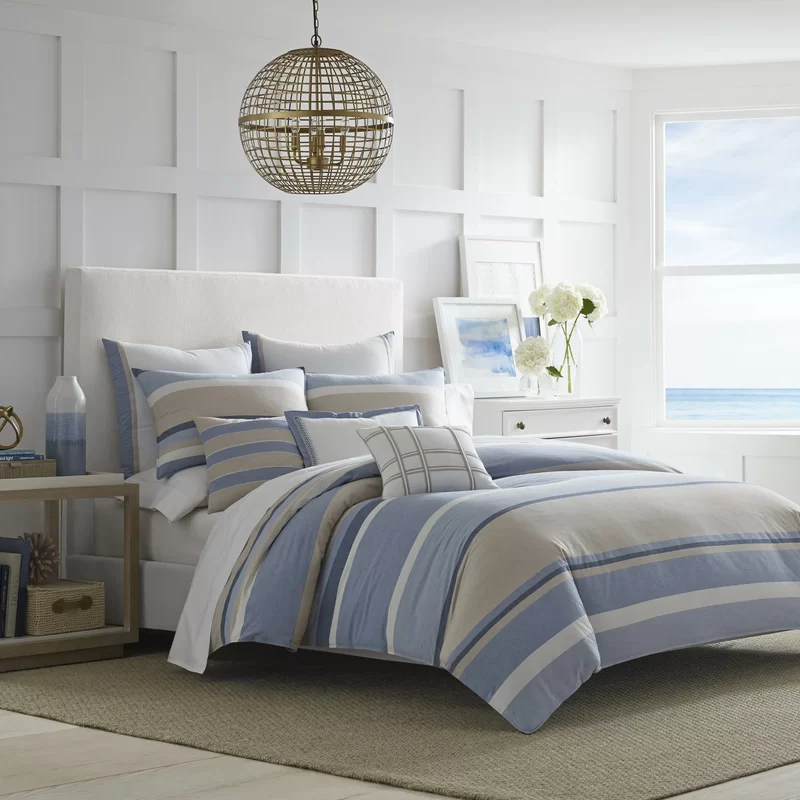 Gray, white, and blue are a classic choice for any coastal-style bedroom. So, if you embrace a breezy, airy, and cool vibe in your bedroom – it's time to take inspiration from this backdrop. It flaunts off an airy and spacious vibe – while at the same time, bringing the beauty of nature with indoor plants and flowers.
All this while, remember to add a greater ratio of whites through walls and headboard and a minimal gray and blue on the fabrics and upholstery!
Minimalistic Gray and White Bedroom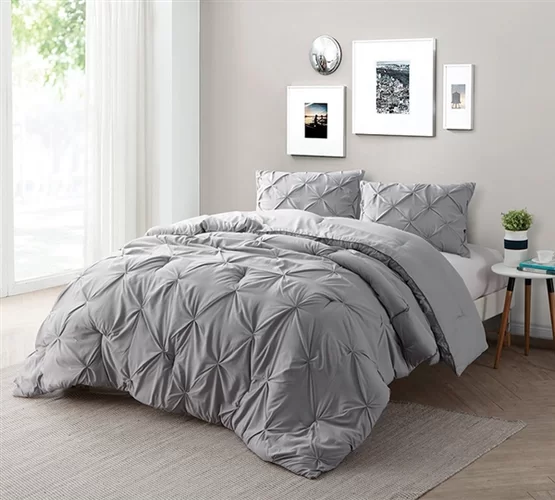 Do you love the feel of a clean and crisp bedroom when returning from work? Well, if the slogan of 'less is more' is your ideology, it's time to have an eye on this minimalist bedroom design. With a notable neutral color scheme, the gray and white can equally make your bedroom feel fresh and joyous.
You can also style some green indoor plants on the nightstands to infuse creativity and a visually-appealing look.
Add Depth with Patterns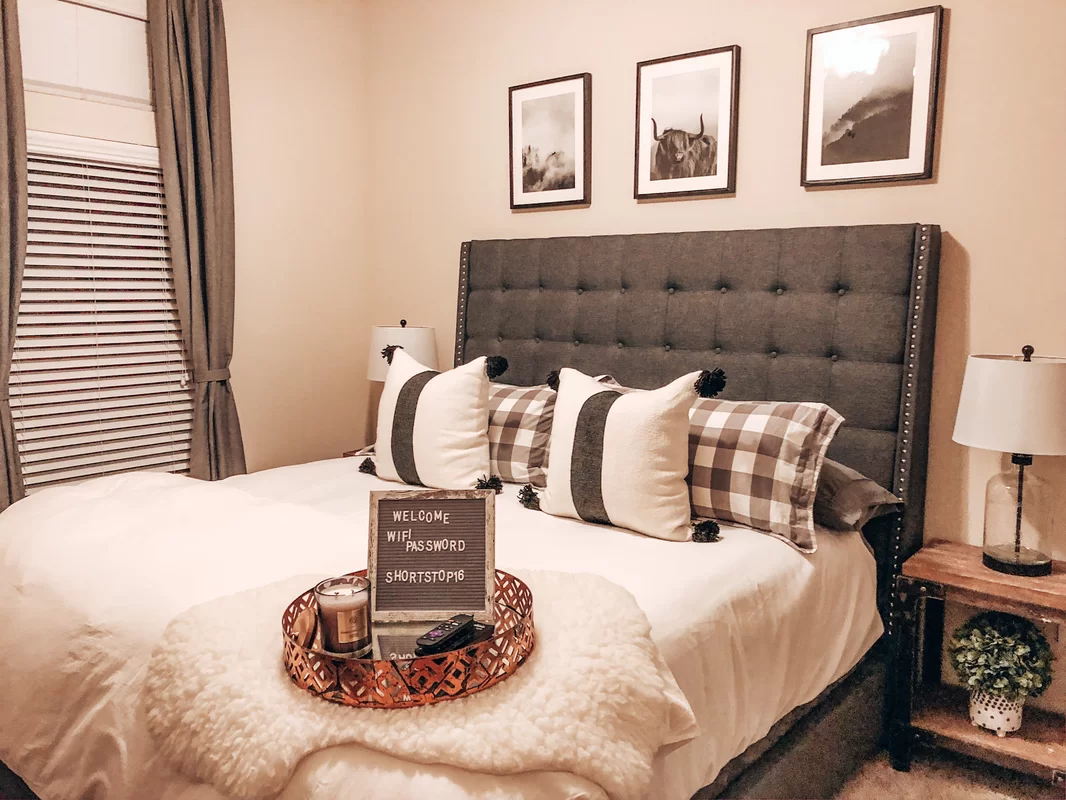 Not fascinated with a third color or an accent in your bedroom? Well, in such a case, you can consider playing with patterns and textures. For instance, the black and white buffalo plaid pattern or checkered on the throw pillows exhibit a farmhouse character to the bedroom.
At the same time, this pattern tends to protrude out and add depth to the bedroom. So, swap the pillows and give your room a perfect makeover!
Add a Mahogany Accent
A combination of gray and white will look phenomenal with a wooden accent of a mahogany finish. It tends to add a perfect traditional look to the bedroom – while playing a dominant eye-catchy and focal point of interest. To avoid the finish standing out abnormally, try infusing various intriguing vintage patterns with the help of throw pillows or accent chair upholstery.
Furthermore, add medium-toned grays on the wall, bedding, headboard, and area rug to offer a soothing base.
Moody Gray and White Bedroom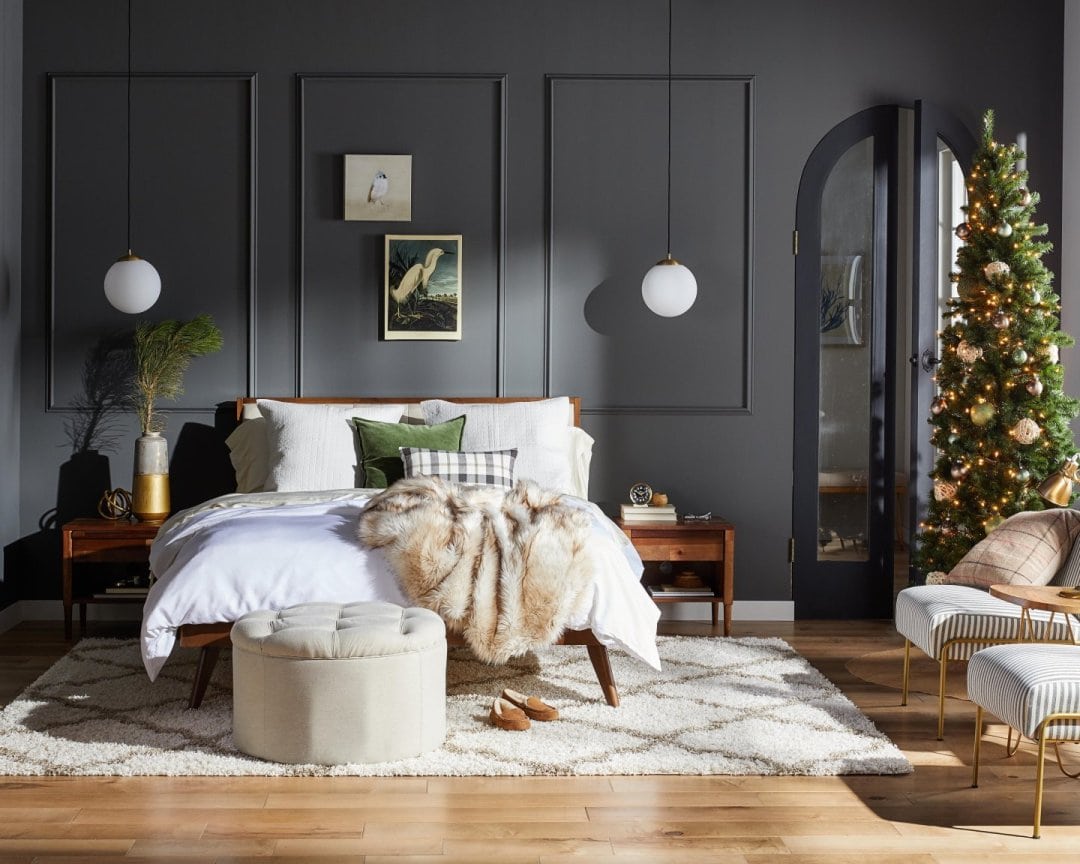 You can either choose a light gray or a dark gray color theme in your bedroom. For interior design styles like transitional, modern, and contemporary – you can consider a dark gray paint on the accent wall and further ensure a white setback for the bedding, area rug, and accent chairs.
For this bedroom backdrop, add walnut finish on the nightstands and the bed frame! Secondly, don't hold back from a touch of greenery on the planter in the corner of your room.
Add a Third Wheel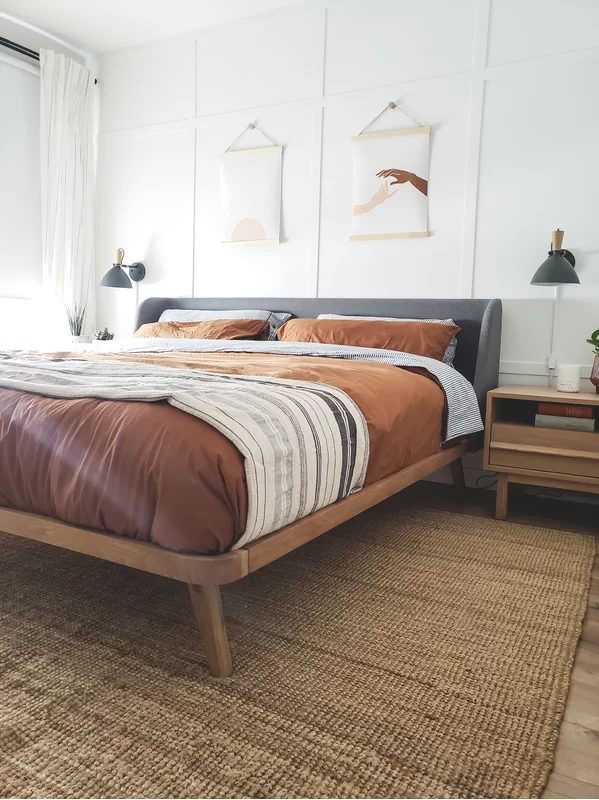 If a combination of gray and white is too cool and chilly for you – it's time to add a third wheel that neutralizes the warmth and balance in the room. A warm color like rust, burnt umber, or mustard can be incorporated on the bed cover or duvet to create a striking look.
Also, don't ignore the utmost natural detail added to the room. Yes, the jute area rug can easily complement the warm gray and white bedroom.
Scandinavian Gray and White Bedroom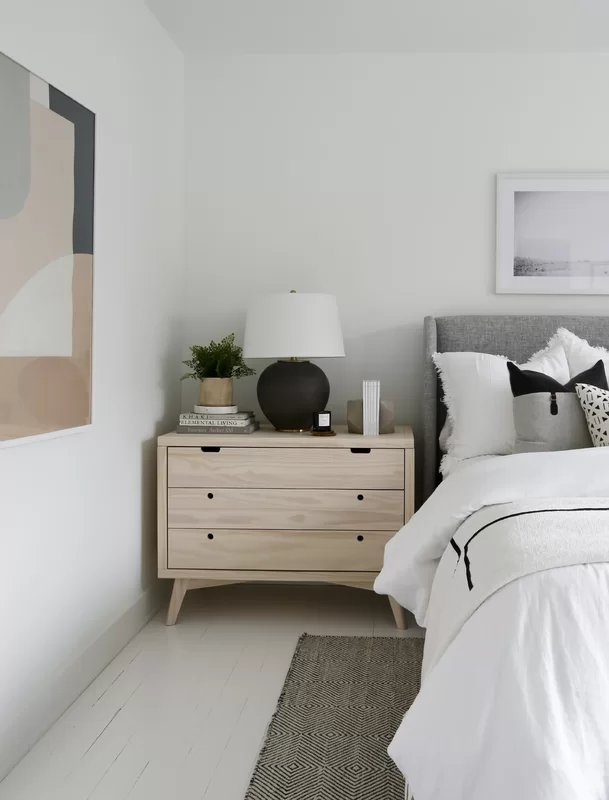 Scandinavian interior design style embraces the use of a neutral color palette that highlights the use of whites and grays. Of course to make the bedroom feel airy and lively, while reflecting ample natural light – this bedroom backdrop deserves to be taken inspiration from.
Choosing a gray headboard with white bedding and pine-finish nightstands – you can achieve the utmost simplistic look. So, wouldn't you want to snuggle in this bedroom?
Play Traditional with Embroidery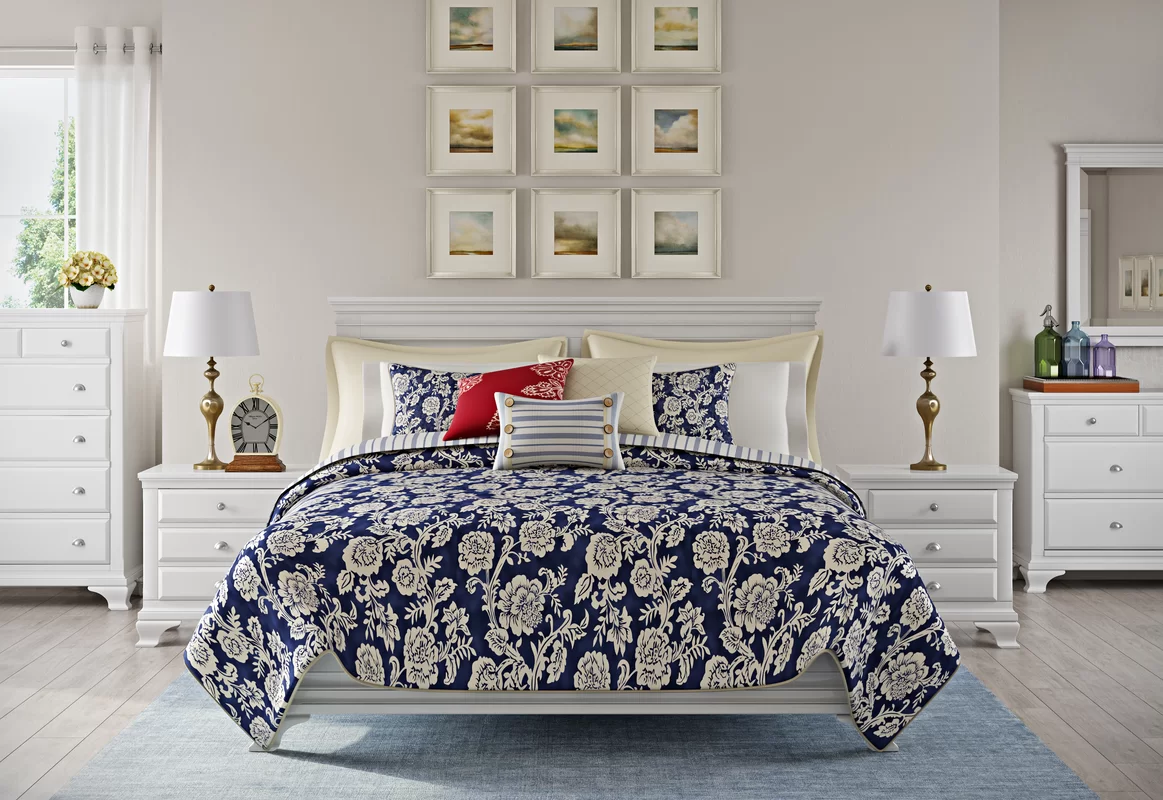 A gray and white bedroom is more versatile than you may think. Depending upon your choice, you can either incline to a clean transitional look or something detailed and traditional. And with the help of this embroidered duvet – you can achieve the utmost classical look.
A combination of deep blue and red can make a great contrasting statement! What are your thoughts on this bedroom backdrop?
Gray Monochromatic Bedroom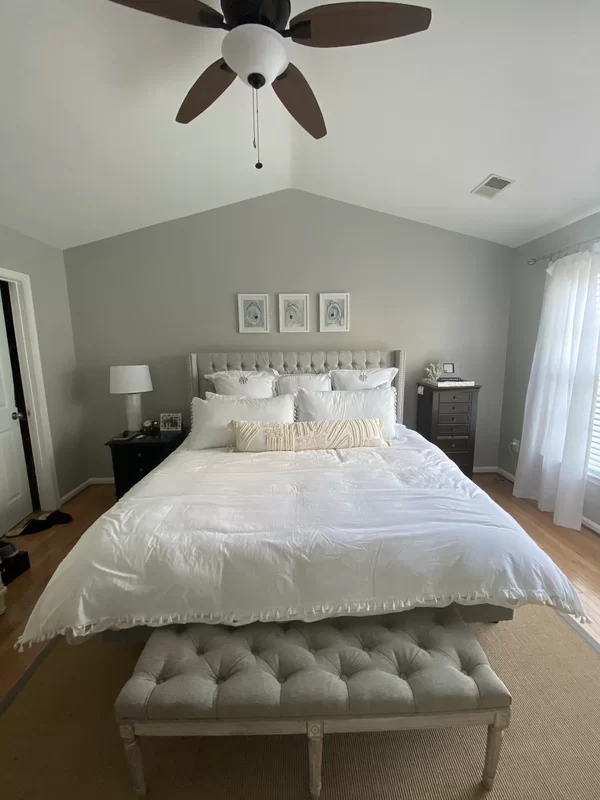 For a clean and simple look, you can consider painting all the walls of your bedroom in a gray paint color. To name a few, Sherwin Williams Repose Gray or Passive Gray make a great statement. Furthermore, adding a white duvet, bedding, and curtains will further add an airy vibe.
For the nightstands and lighting fixtures, you can choose a dark tone like walnut or mahogany for the wooden textures!
Style with Greens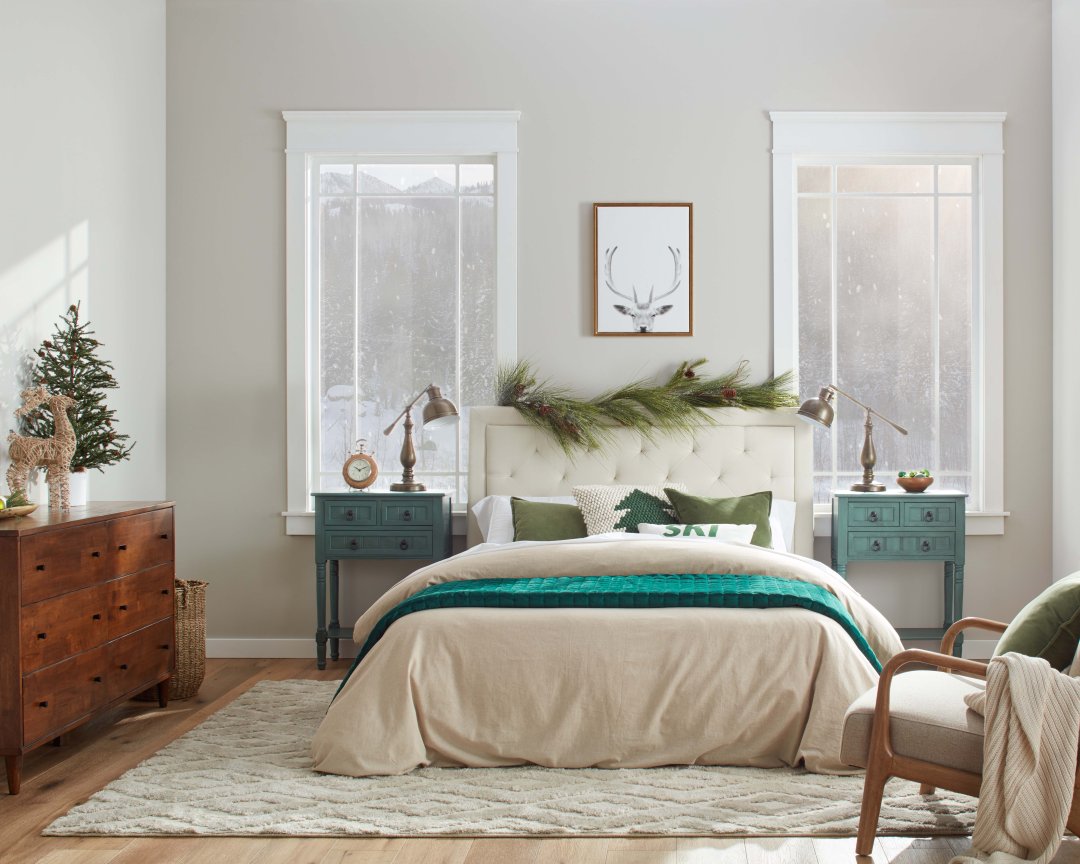 In an all-white and gray bedroom, you can add a refreshing and rejuvenating vibe with the help of indoor plants, garlands, and planters. And to further foster cohesiveness, add shades of teal blue and sage green on the throw pillows, duvet cover, artwork, and focal nightstands.
And just in case you like to update the look of your bedroom every season – you can simply refresh the accessories.
Transitional Dark Gray and White Bedroom
This bedroom has a timeless and versatile look that most of the homeowners would love! Especially if you want to achieve a transitional and contemporary style look in your bedroom – this backdrop is something to take inspiration from.
Choosing a sputnik chandelier and golden-yellow colored throw pillow is a way to further complete the palette. Also, don't hold back from a large canvas piece of artwork over the headboard!
Add a Multi-Colored Theme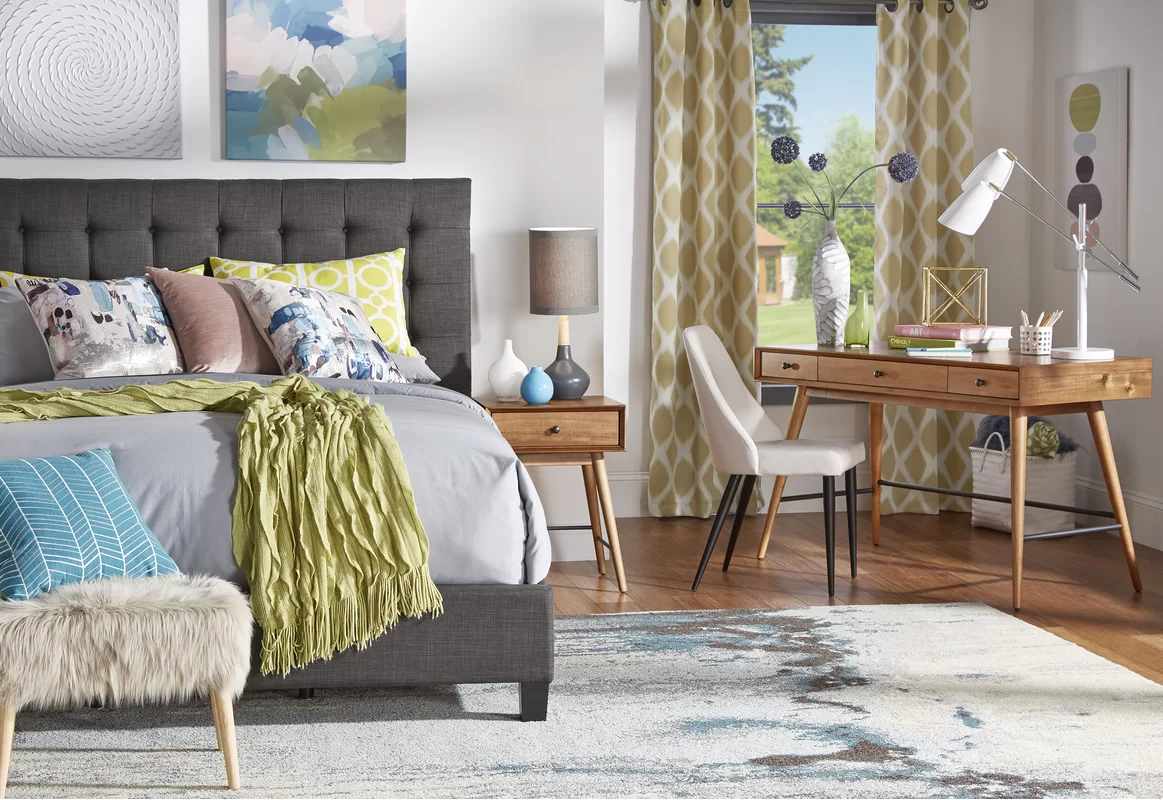 To make your gray and white bedroom extra fun-loving, homely, and bright – you can add various intriguing textures, hues, and patterns. Well, the beauty of minty greens, turquoise blues, blush pinks, and navy blue in this bedroom are worthy to grab the attention of – and something to style and incorporate.
At the same time, you must embrace cohesiveness with the help of florals, repetitive geometric patterns, and faux or fur on the area rug or accent chair.
Add Pine or Oak Finishes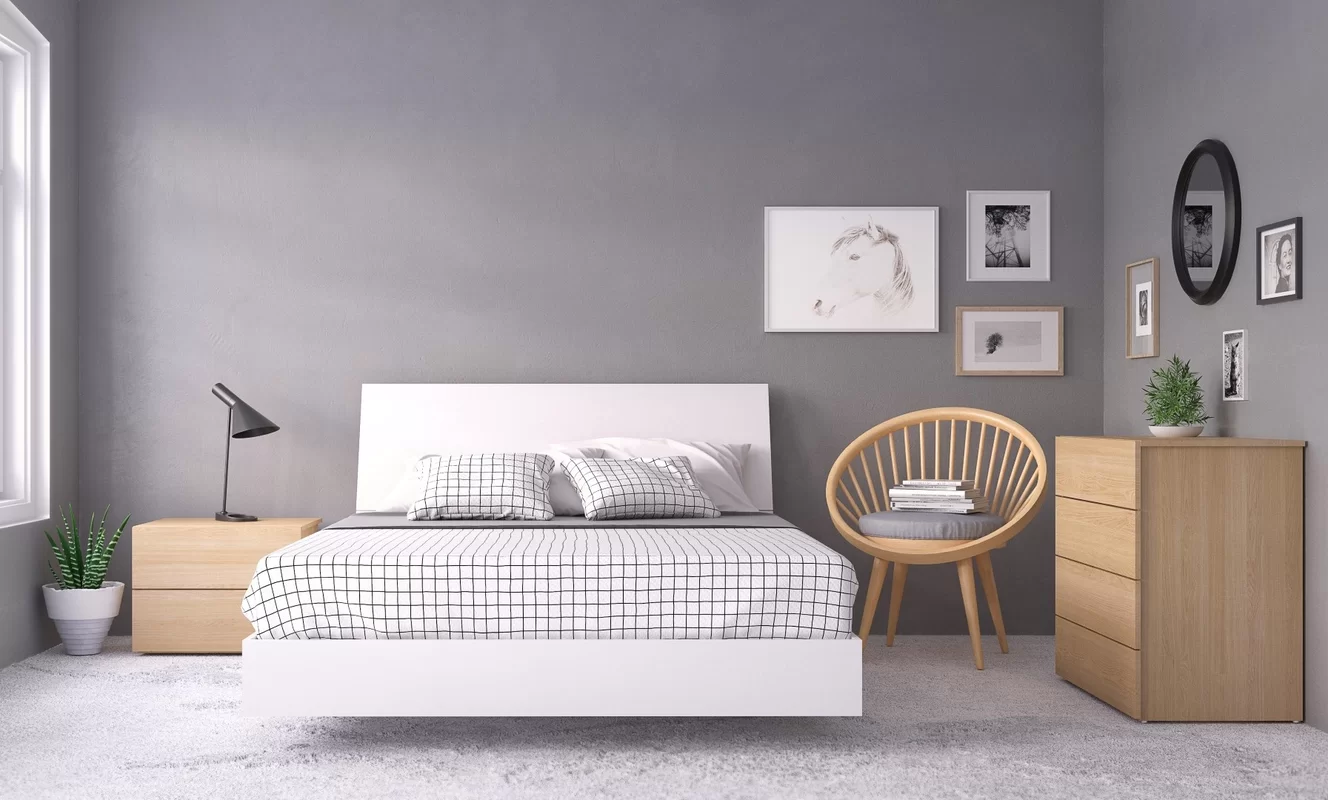 An amalgamation of medium-toned gray, white, and an authentic pine finish makes a wonderful modern bedroom idea. So, if the gray on your walls is too overwhelming, it's generally best to add subtle whites on the upholstery and bedding to neutralize the balance and hierarchy.
To further add a sense of interest, you can choose lighter wooden finishes like pine, oak, or cedar on the bed frame, accent chair, nightstands, and dresser!
Cool Gray and White Bedroom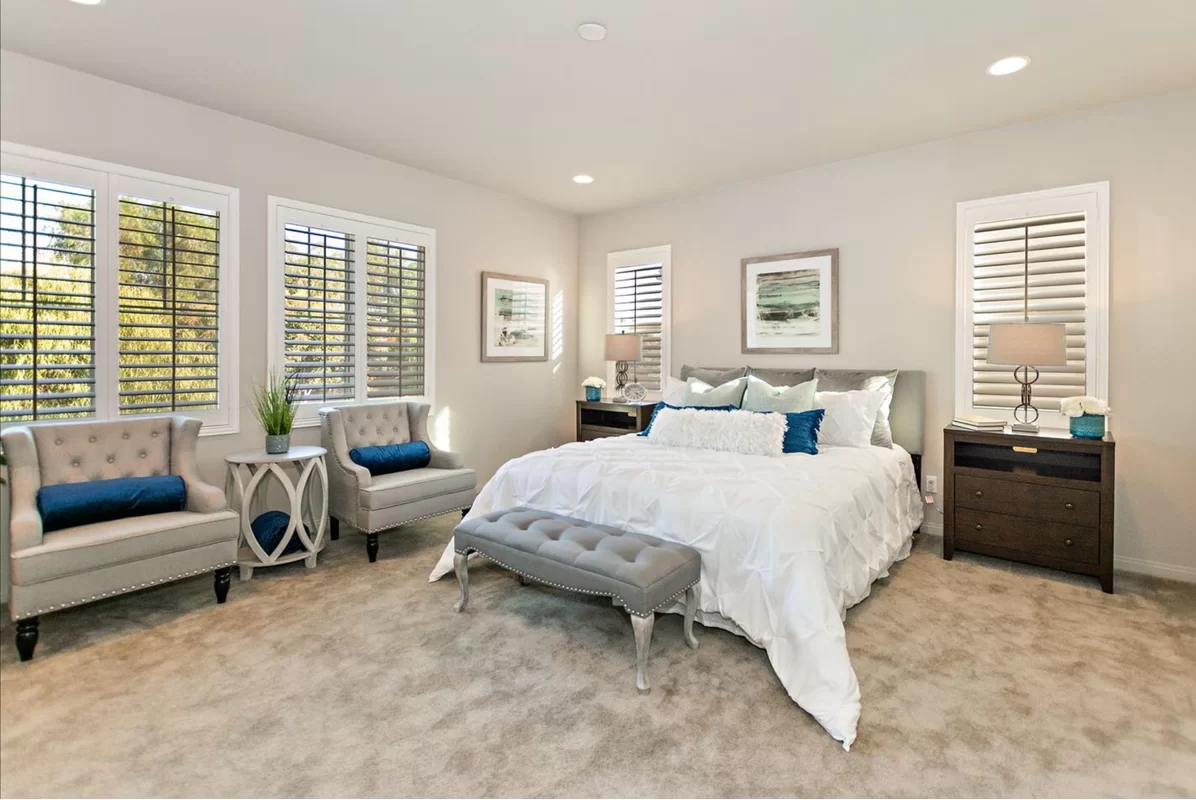 Do you reside in a warm region – well, somewhere by the coast or a beach? If yes, then a blend of cool gray, crisp white, and teal blue can make a great color palette option to consider. This combo will make your guest go 'wow' and at the same time – calm and tranquilize you after a long, hard-working day at the office!
In terms of metallic accents, choose chrome or rustic wooden textures for a sense of cohesiveness!
Daring Modern Bedroom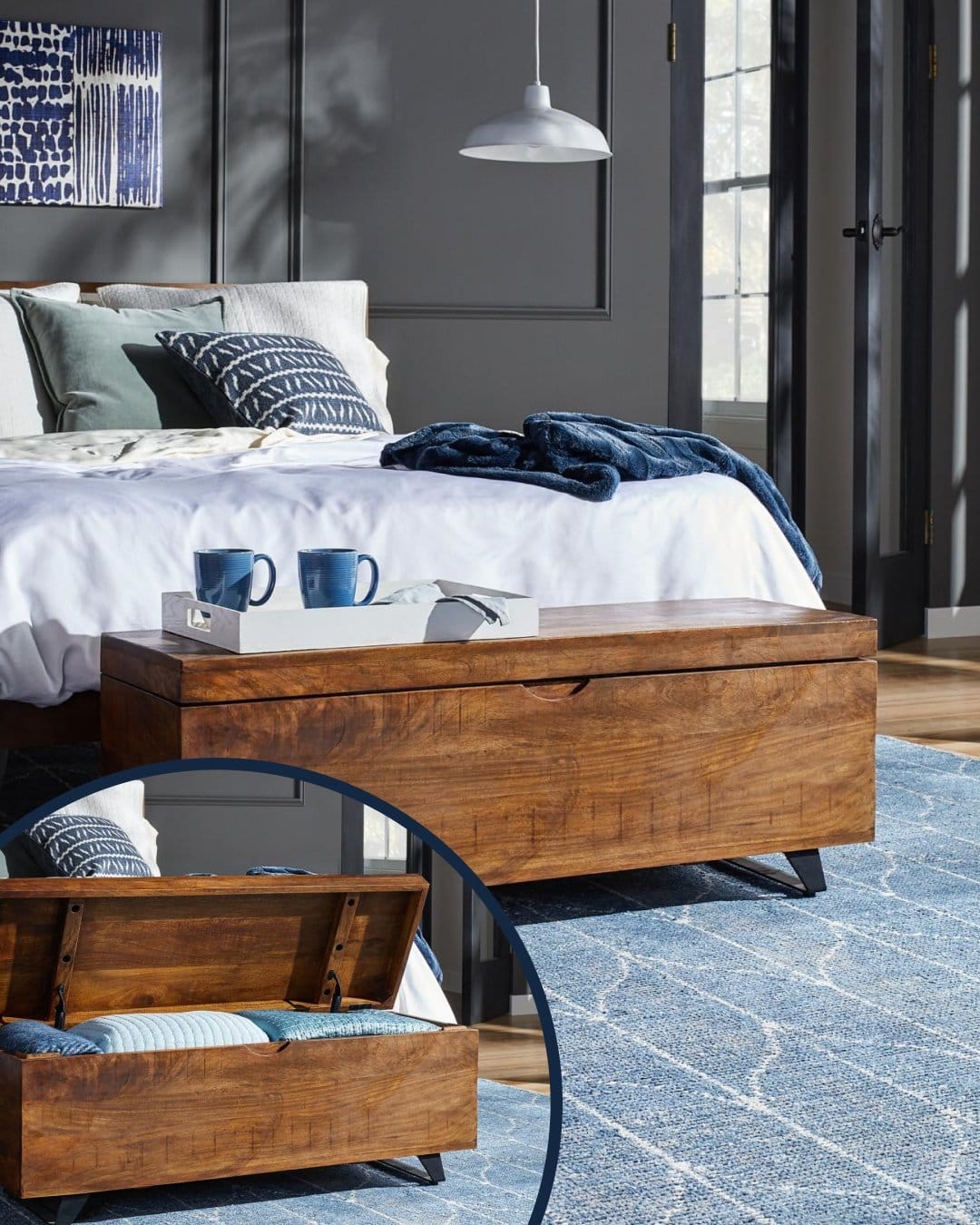 How does a combination of dark gray and white sound to you? Daring? Moody? Bold? Yes! As long as you choose a darker tone of gray in amalgamation with crisp and clean white in a modern bedroom – you can never go wrong!
Especially if the size of your bedroom is large and the ceiling heights are greater – you get to achieve the best of both worlds. To further facilitate this desirable look, add shades of steely or navy blue as an accent.
Summing It Up
You see – styling and decorating a gray and white bedroom is not as challenging as it may seem. It all boils down to the kind of vibe, the interior design style, and your personal preference! And this versatile duo also gives you an option to refresh the look, every season. Isn't that fabulous? So, are you ready to start sprucing your gray ad white bedroom? Well, do let me know in the comments below!