10 Must-Try Bathroom Vanity Colors for 2023
Have you been thinking about changing up your bathroom? A colorful paint or new tile can make a huge difference. But for a sophisticated bathroom look, nothing works quite so well as a vanity.
With all the practical benefits of somewhere to put your spa bottles and lotions, and roomy storage, it also has a sleek, classic aesthetic.
Whether you choose a single vanity or a double sink to use with your partner, there are a surprising number of colors to choose from. And 2023 has some gorgeous options!
Black is the New Black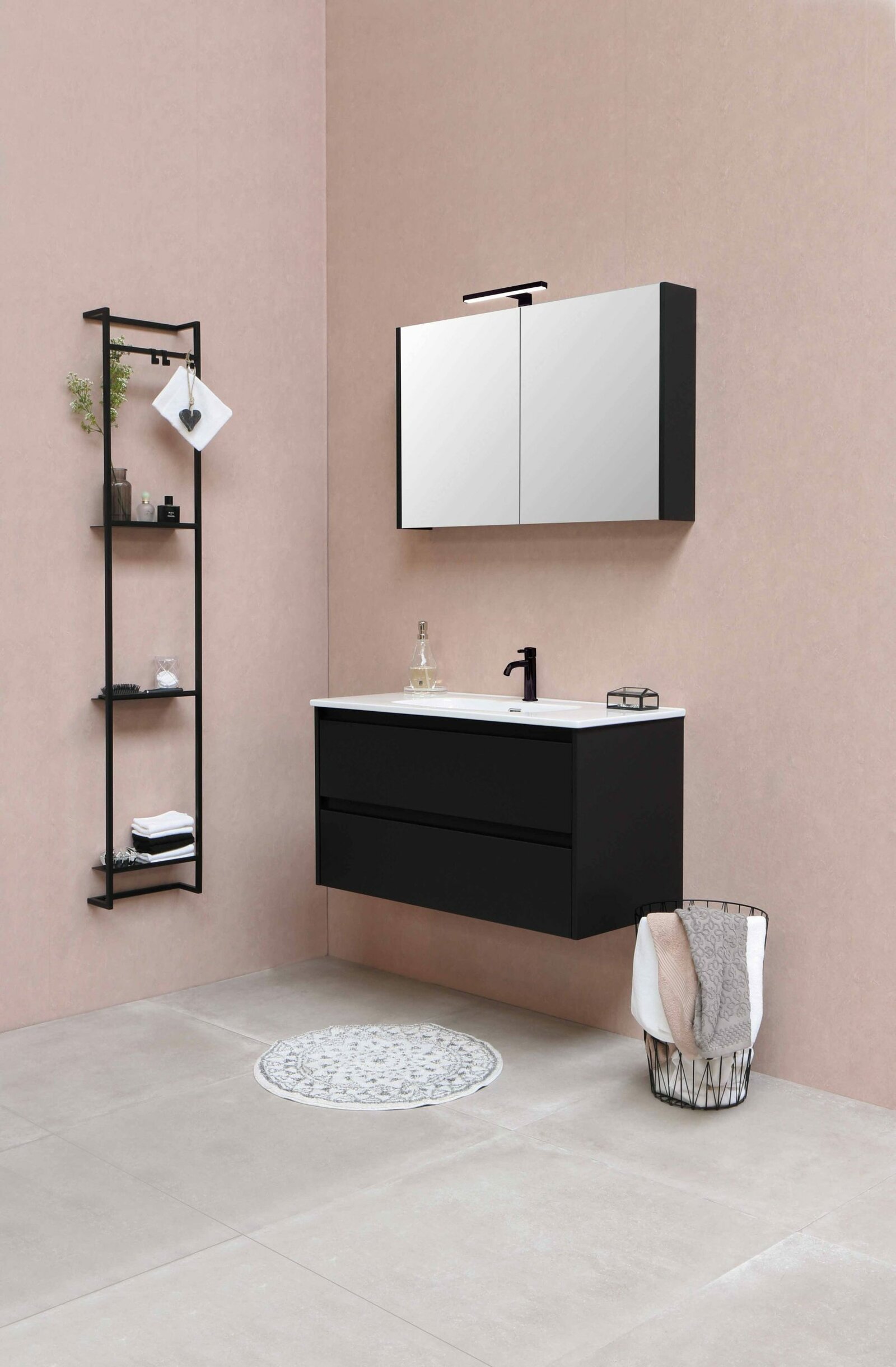 Black is still remaining popular in current interior design and has a classic quality. So for impact against a cute pastel paint, pick a sleek black vanity.
An angular, wall-mounted vanity has echoes of the Far East and has been trending with the Japandi look. That's a beautiful combination of Japanese and Scandinavian design.
Black looks wonderful with blossom pinks, as well as with classic white. You can soften the look with fluffy towels and trailing plants.
Bright White Vanity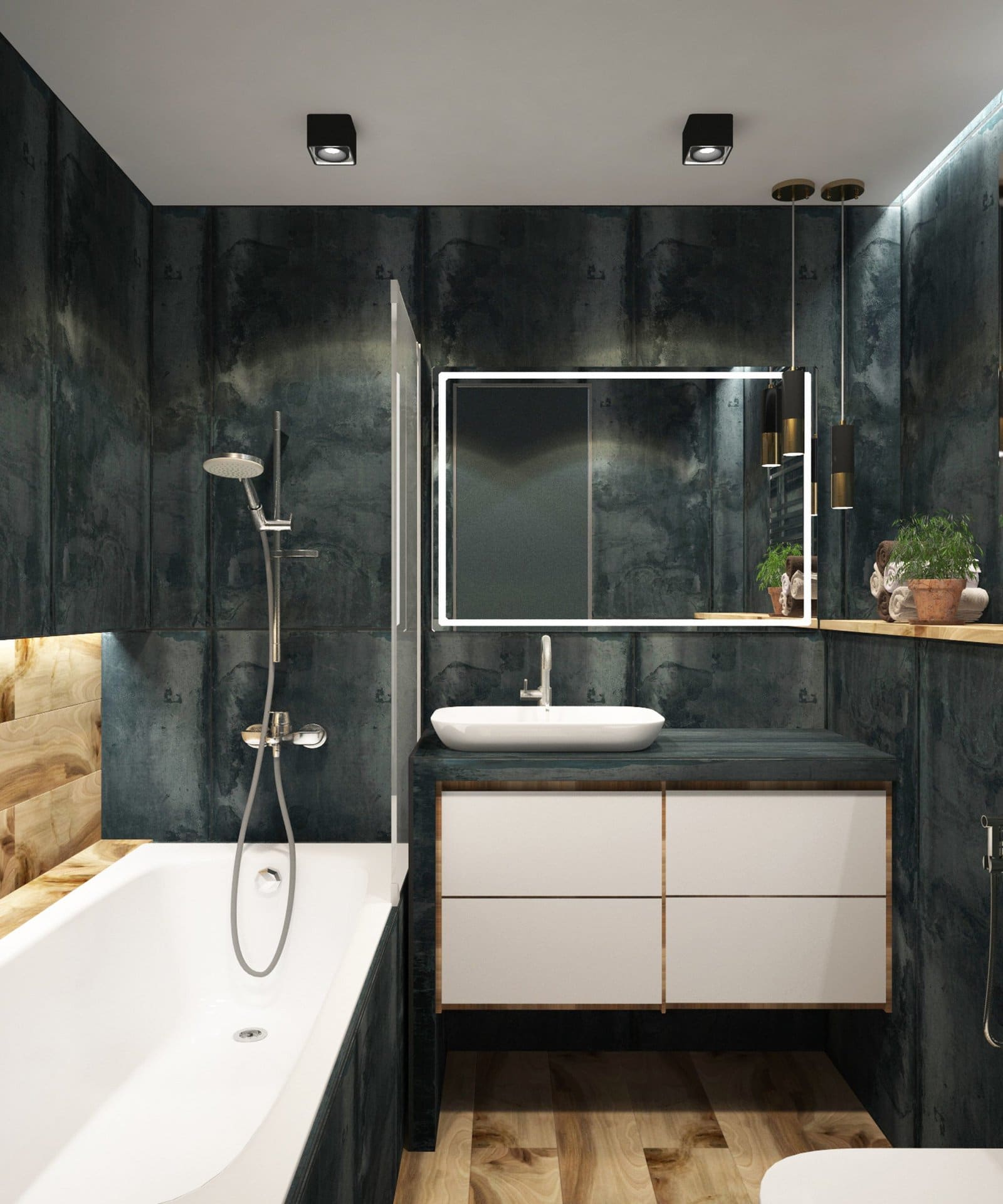 If you have opted for a natural tile like soapstone in your bathroom then a white vanity will pop in a darker scheme and contrast against a cool, natural texture.
A vanity has practical storage so you can decide if you prefer a cabinet or drawers. And you can also go for a flush front with no handles or knobs if you like a clean look.
While your sink can be integrated within the vanity, you can save space and add interest with a surface-mounted sink.
Beige for Cool Natural
In keeping with a classic, natural theme, is the color beige. Rather than gray and greige tones which have become every home's staple, we are seeing some warm, earthy neutral shades this season.
As well as finding a range of colors in stores, you might have a vanity that has seen better days but which can be uplifted with a coat of paint. So if you want to try beige or taupe for an elegant bathroom finish, you could try painting your bathroom vanity.
Deep Green Luxury
The greens we are seeing for 2023 are dark and sophisticated, reminiscent of English Georgian homes. To make a modern statement add gold hardware and if you can stretch to it, how about a marble countertop?
For maximum storage, you can have a large cabinet with a single sink. So you can keep all your surfaces free from clutter. This effect is both sleek and cool.
Pale Aqua Vanity
For a look that'll take you back to a time of mid-century candy pastels and floral prints then pick a fabulous pale aqua hue for your bathroom vanity.
Set against a floral wallpaper and decorated with gold hardware and accessories, you can have the glorious combination of luxury with a touch of fun. It's also an unexpected look so would work well in a guest bathroom to give visitors a smile.
Blue Hues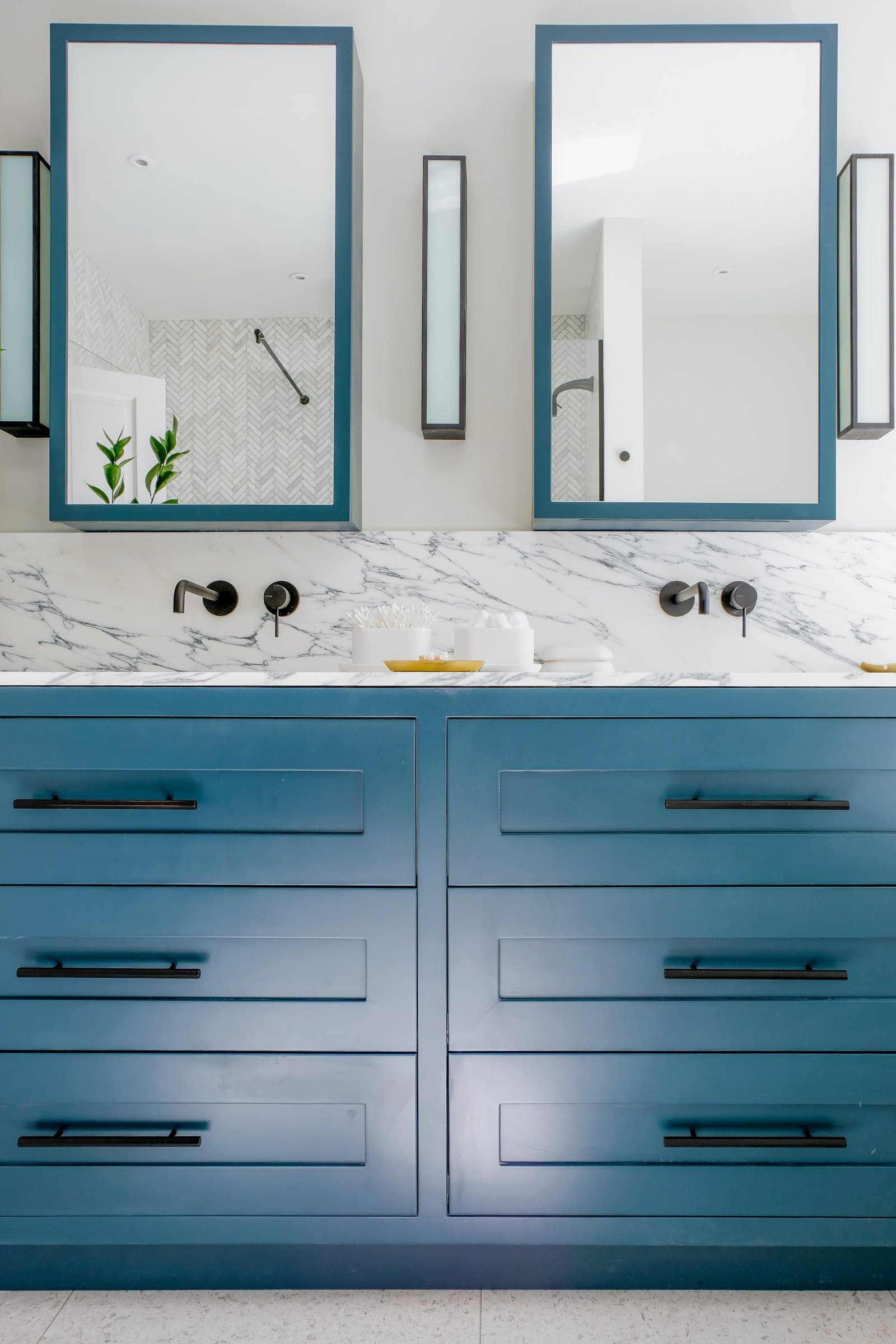 As well as twin bathroom sinks at your vanity you can add matching mirrors above. In a bright blue, you'll have a contemporary, of the moment look in your bathroom. Blues are big news for 2023.
Drawers rather than cabinet doors are a modern touch. And with all the new kinds of storage organizers you can easily buy online, you can keep your make-up and toiletries in perfect order.
Bathroom Vanity in Petal Pink
The new pink shades for 2023 are pinky-reds and warm-toned pinks. So opt for a pink vanity on the coral side of the spectrum in a delicious pastel hue.
Pink will look so cute on a single vanity. It works well with naturals and monochrome or with a pretty patterned wallpaper. Your sink should be white or marble. And due to the warmth of the color, this can be offset with traditional chrome hardware.
On-Trend Orange
If you want to shake things up then go the opposite of the pervasive gray and choose a vibrant orange color for your bathroom vanity.
A small but neat orange vanity works well in an en suite bathroom in an attic conversion. It gives that little kick in contrast to off white walls. Orange adds instant warmth to any space as well as a sense of playfulness.
Yellow
Now this is something you might never have seen nor considered but a yellow vanity can look amazing.
Set against monochrome floor tile and white walls, you'll be on the sunny side of the street with a deep mustard shade for your vanity.
For a more mature look keep your decor and accessories monochrome or neutral. But for an all out fiesta of color, select bright contrasting towels and rugs.
Red
2023 is seeing bold colors come back with a bang. So if you dare, pick a bright red vanity for your bathroom.
A red is warm and sexy, and even more so when placed against an animal print wallpaper. You can go all out like this scheme or keep the other decor on the plainer side. It all depends on how brave you are!
In Closing
There is a world of color choice in 2023's bathroom vanities so be sure to explore far and wide to find your perfect pick.
From more conservative neutrals, through the pastels, you can also expect to see fashionable, vibrant shades of blue, green and orange.
For a truly modern bathroom vanity, you can be the first to hop on the red trend. Go on, we need some fun right now! Why not opt for one of the 2023 brights?