Decorated Life is reader-supported. When you buy through links on our site, we may earn an affiliate commission. Learn More
Natural Elements Perfect for The Outdoor Fireplace
By: Decorated Life Team
|
The New Room for a Garden or Patio Area – Outdoor Fireplaces
 Outdoor fireplace or indoor fireplace? If you could, would you have both?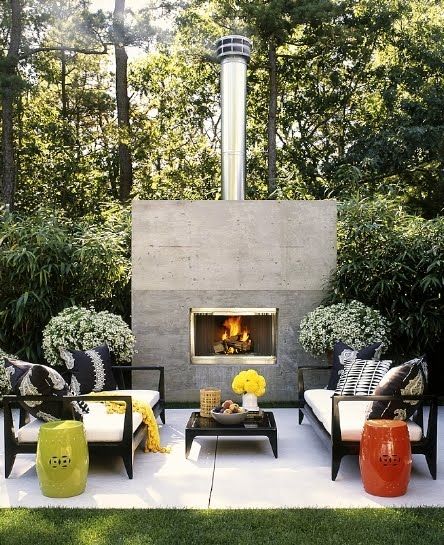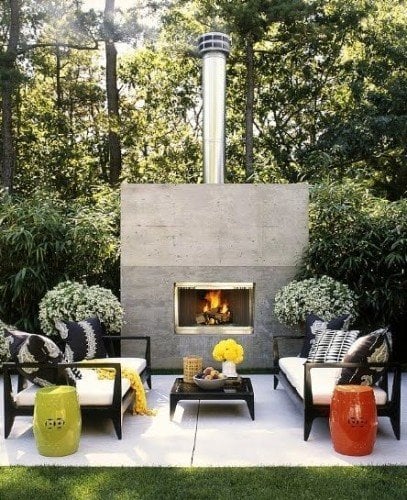 Source: Pinterest
The trend over the last year taking the fireplace outside into the natural elements continues to grow. And why not? Outdoor fireplaces allow you create an additional room even on a patio area, with instant ambiance and romance attached and without the smoke, cinders and stuffiness of an indoor fireplace.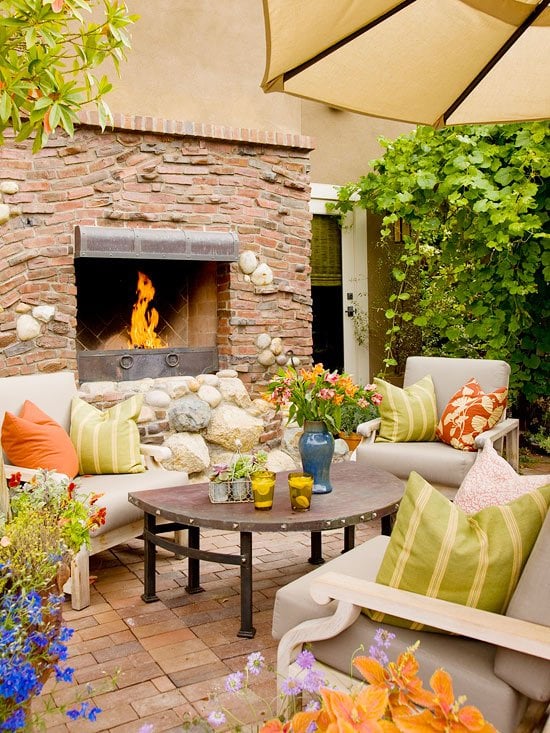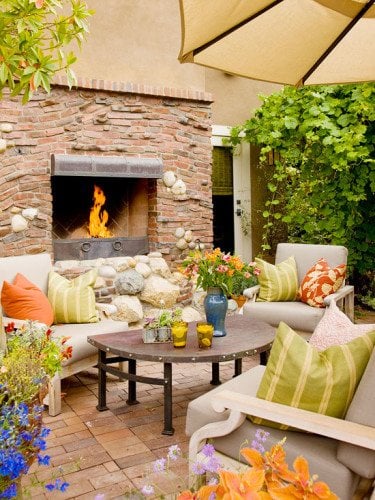 Source: bhg – outdoor entertaining
An outdoor fireplace helps your create the perfect dining setting or entertaining area that you can dress up or down.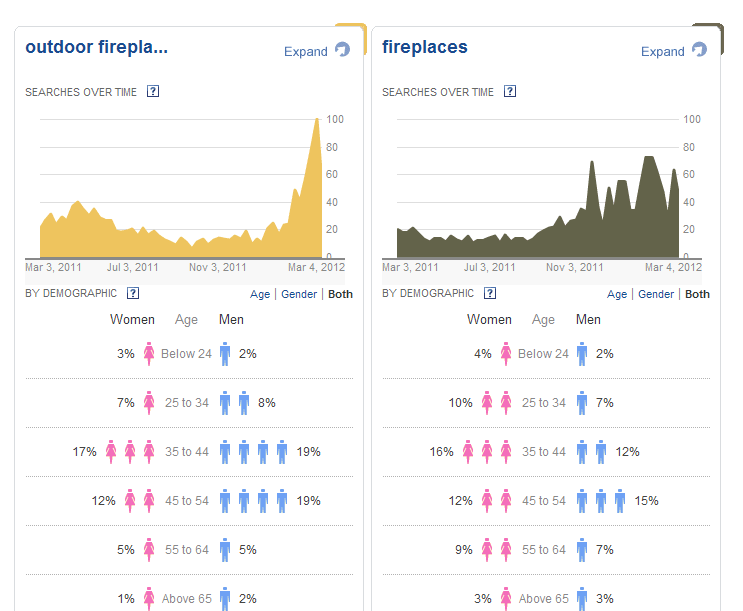 And they look brilliant amongst natural elements. Outdoor fireplace designs have come a long way from cementing a few left over bricks together. But don't forget there are building regulations to consider.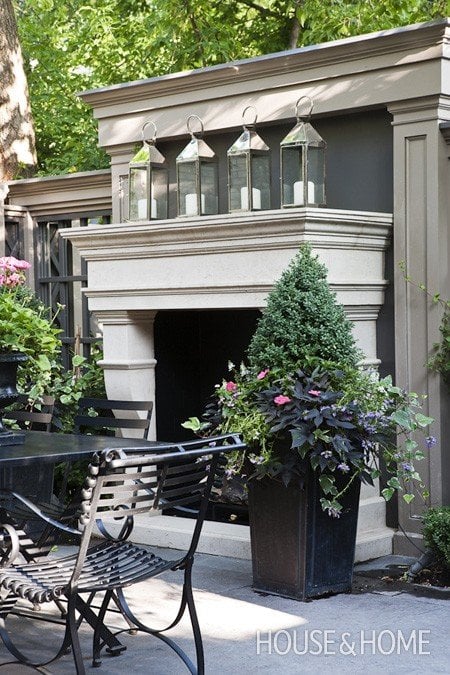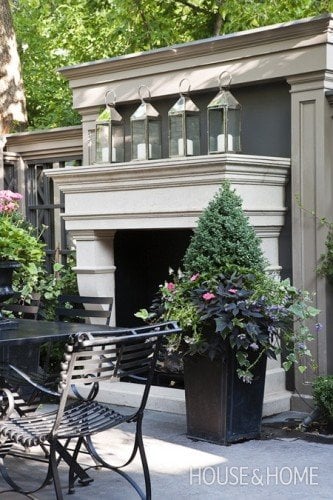 They might sound a little lavish but the outdoor fireplace:
Creates mood for your patio or porch area,
Acts as a wind break,
Creates privacy,
Creates interest on any patio area and
Is brilliant for entertaining like the Rockstar you are!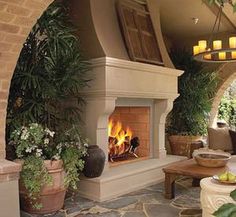 Outdoor Fireplace Building Regulations
The outdoor fireplace is more complicated to design than indoor fireplaces and needs to take various environmental factors into account when being designed and built. Indoor fireplaces exist in protected environments, so are more straightforward to design compared to outdoor fireplace designs built in natural elements.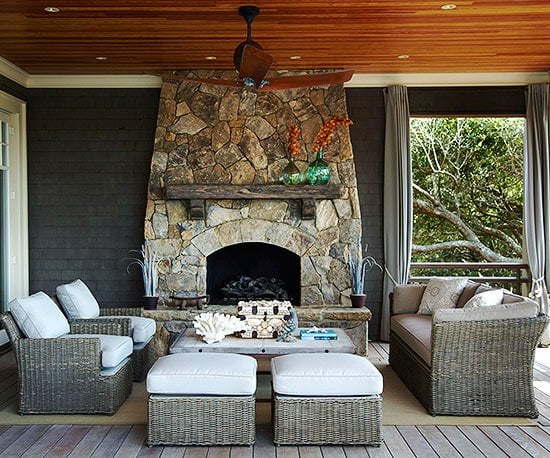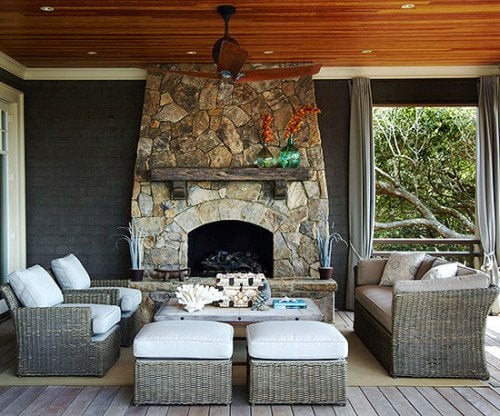 Source: bhg – outdoor fireplace
There is now another trend, placing outdoor fireplaces on a small patio area or balcony. Fireplaces  marry a house with a yard or outdoor patio area in a harmonious way. Make sure you look into building regulations before you order or create your outdoor fireplace.
When Choosing Your Outdoor Fireplace Consider:
local zoning codes – how many feet do you need to be from the house, adjoining neighbors or you back fence?
proximity to natural elements such as trees, hedges, hills and cliffs.
wind movement in your backyard or patio area to get the safest position for your outside fireplace.
building your fireplace against the wall of your house or within natural elements.
additional building regulations for your area or building.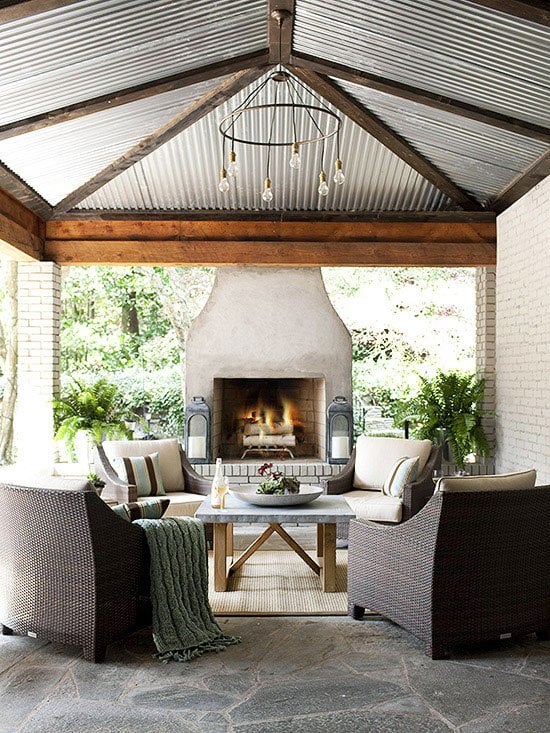 Source: BHG
There are many different types of outdoor fireplaces to choose from:
custom built,
pre-cast concrete,
ventless fireplace,
firepit,
fire hearth,
gas or wood fireplaces and
kit construction where you add the decoration.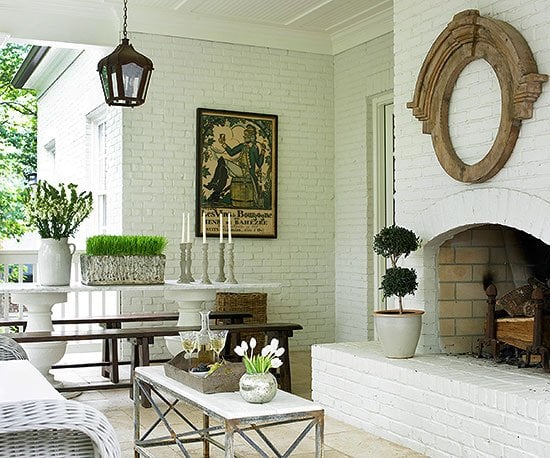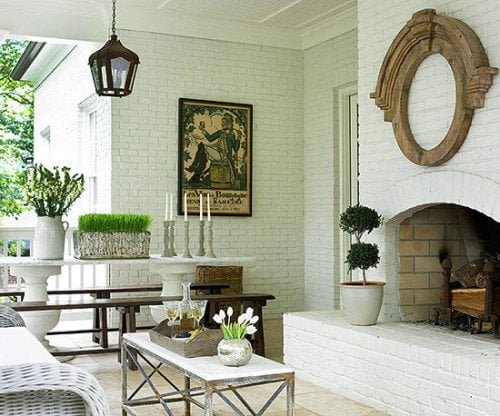 Source: bhg brick fireplace
This is a great video to get more ideas and information on the various types of outdoor fireplaces. It covers outdoor fireplace designs for a backyard, patio area or balcony turning fireplaces into focal points.
Outdoor fireplaces are growing in popularity because they are an easy addition to an existing property. They can be a quick face lift to an outdoor area no matter how small your backyard.
It's a great way to add interest to your back yard or patio, particularly with all the new outdoor fireplace designs. Standing solid, like a silent monument, a fireplace is a great addition as long as you abide by building regulations.
Outdoor fireplaces are a great accessory to a yard, patio area or balcony and wonderful to be around on a cold night. The golden flames relax you even after the longest day and the number of outdoor fireplace designs increasing. I think their popularity will continue to rise. What do you think?
Please leave a comment below, Like Decorated Life on Facebook, follow me on Pinterest or Share.. it's free!