Decorated Life is reader-supported. When you buy through links on our site, we may earn an affiliate commission. Learn More
Cool Table Setting Ideas for Outdoor Entertaining
By: Decorated Life Team
|
Fun Table Setting for Outdoor Dining
Outdoor entertaining has become a whole new way of using outdoor spaces. From small apartment patios, to suburban gardens, no matter how big or small, manicured or bricked; it's fun, more relaxed and has a holiday feel about it.
Create a secluded area, add a fire pit for any kind of weather and suddenly your outdoor dining becomes an all year event.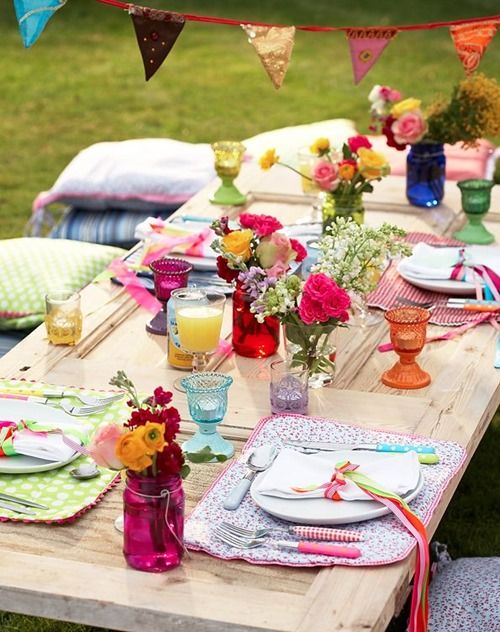 Source:  styllia
Friends and family love the idea of a summer dinner party. There's a buzz that goes along with outdoor dining, so why not spin some fun into your table settings to get the party started. Experiment with little things like bunting, music or a fire pit to add to the mood.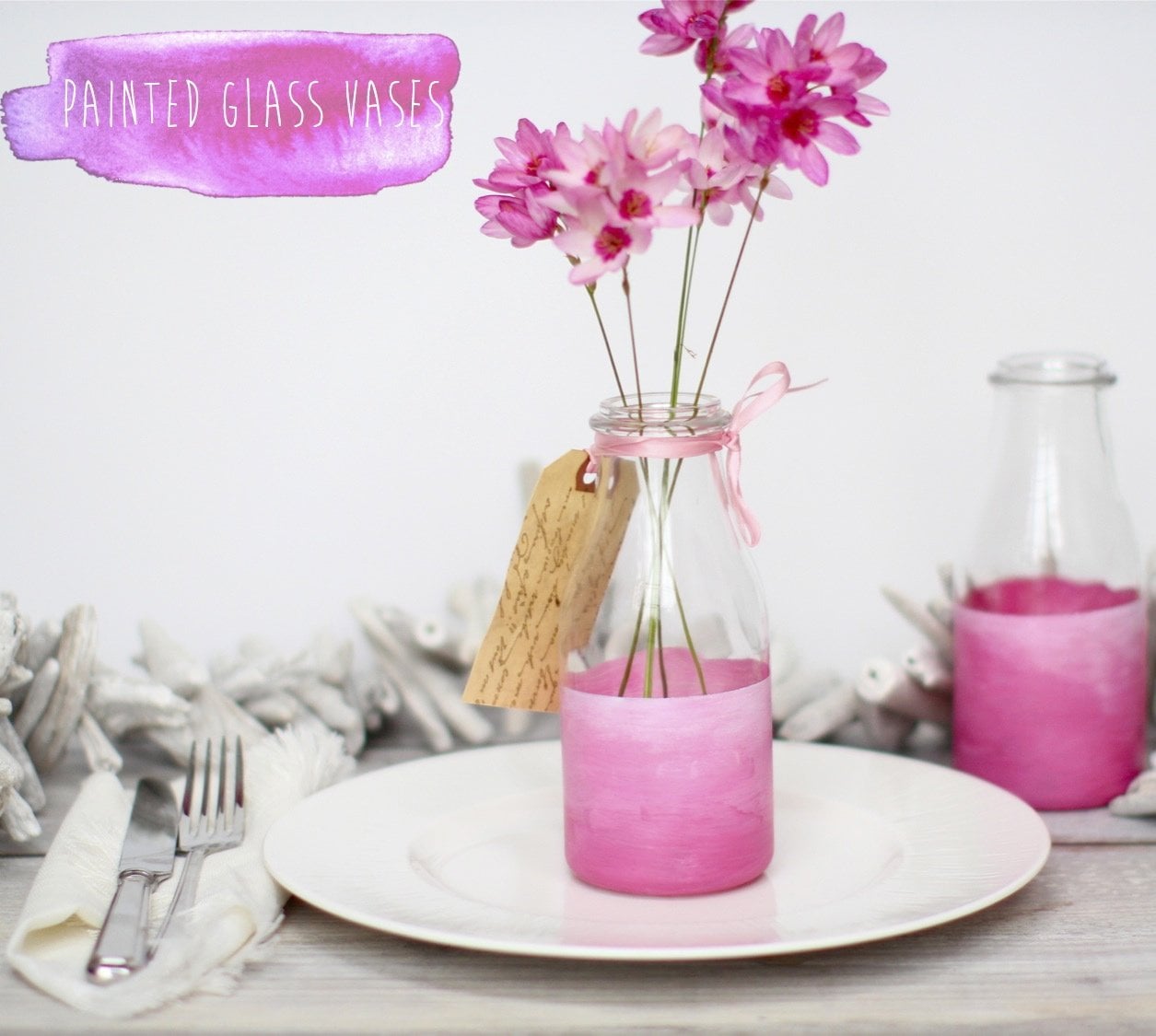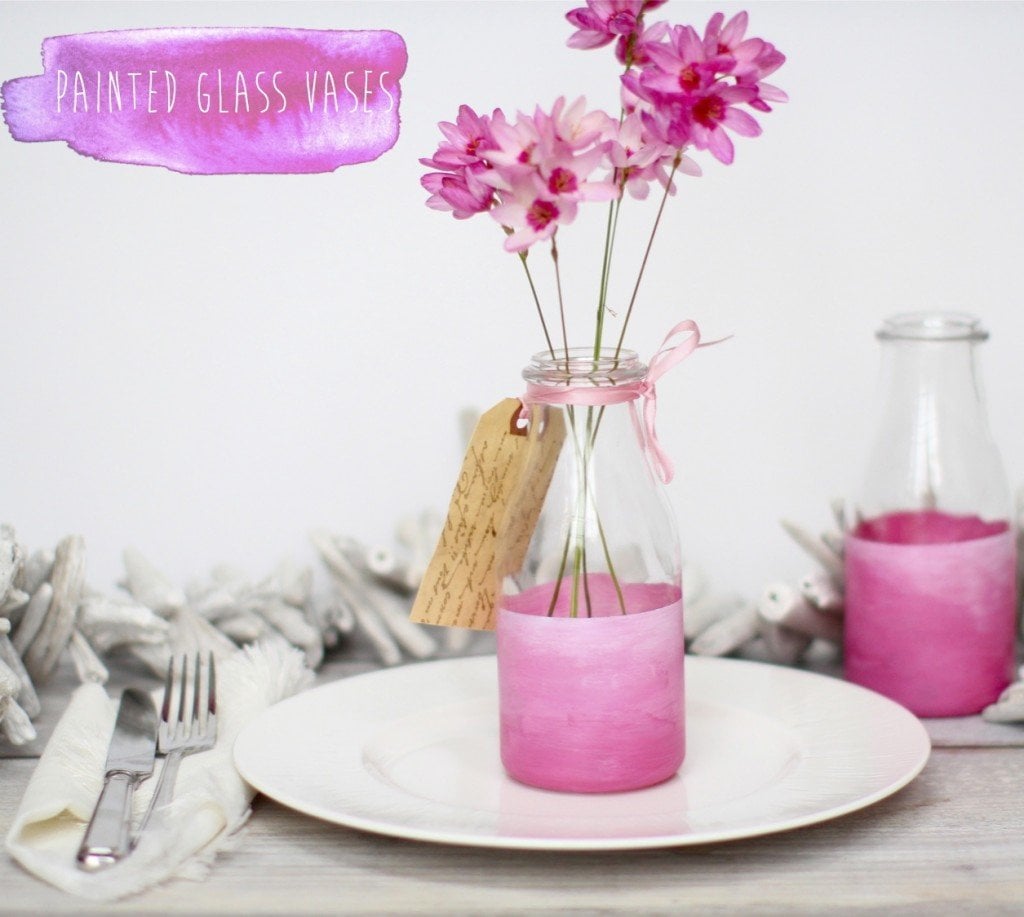 Source: katescreativespace
What can you do to create a cool summer dinner party?

Just use a few of these outdoor decorating ideas and you'll be having as much fun as your guests.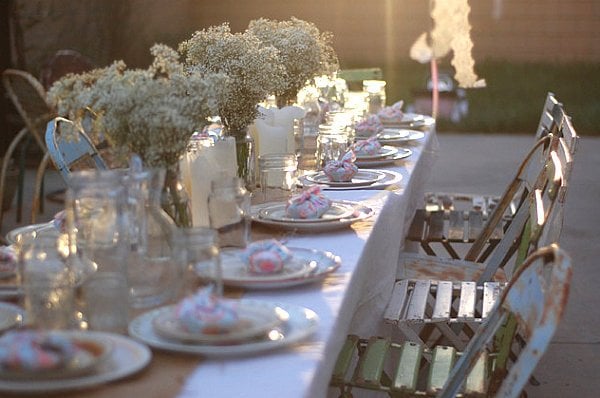 Source: decoist

What do you need? One you've invited people (punchbowl suggests invites out 2-3 weeks before).. not a lot, but here are some ideas so you are ready for anything….
Sumptuous Table Centerpieces
You can't go wrong with a flamboyant centerpiece like these from Decoist. It's a show stopper.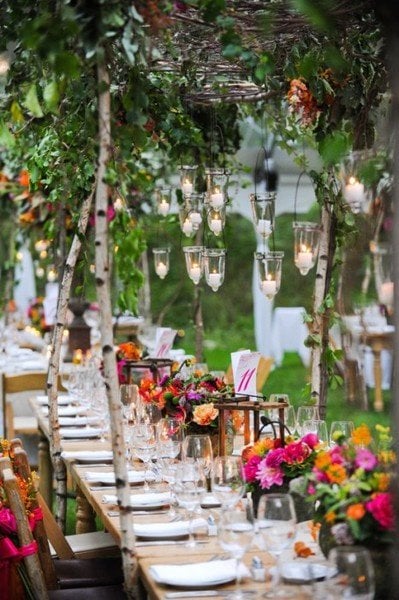 Source: Pinterest
And if you don't want the expense or trouble, what about a more personalized touch?
Maybe, something on the table like different glass bottles with flowers from architectureartdesigns. This single flower color ties it all the different colored vases together.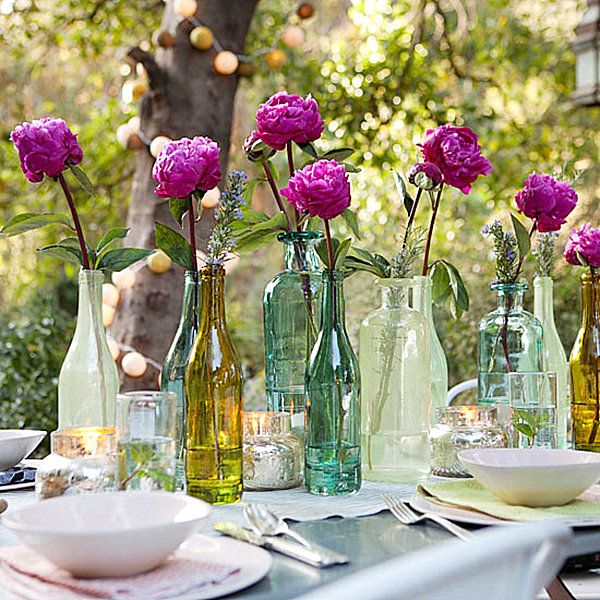 Source: architectureartdesigns

Follow a Table Setting Theme
Pick one thing; it could be a particular color, style or pattern. Maybe a flower, candle or napkin will be the pivot or center of your theme.
The easiest place to start is with one color and build from there.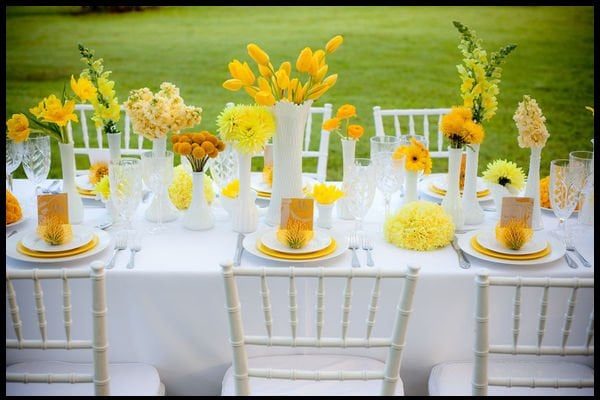 Source: architectureartdesigns

Outdoor entertaining is easy when your dining table looks amazing. It sets the scene. And when your table looks great, food looks and tastes even better!
With something great for your eyes, brain and stomach to look at.. the eating process has begun!

Table Setting – Don't Forget the Name Tags
Think bright colors and floral patterns for name tags.. something handwritten on paper, ribbon or typed and printed on cardboard.
You can find the peacock name tag at Glamour here and the carnation name tag from A Well CraftedParty here. Something to use once, or time and again like these chalkboard name tags from awellcraftedparty, katescreativespace or TheInspiredRoom.

Give your table setting a unique look, using things you love.. bring the inside outside for a dinner party feel, not a backyard broil.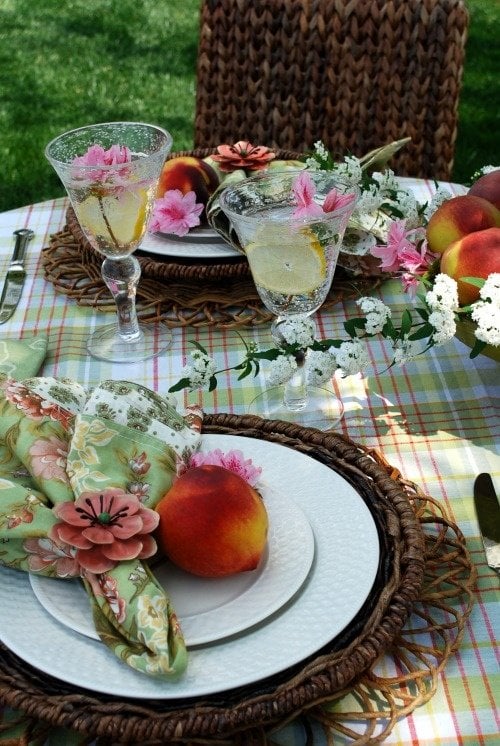 Source: homeiswheretheboatis
You can try mixing chairs, combining blue and white vintage china and fun colored vases or floral napkins from retro or vintage fabrics.
How about Mood Lighting for Your Outdoor Entertaining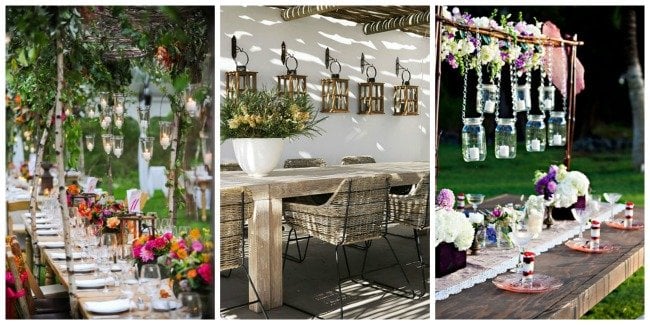 Source: Pinterst
Lighting is very important to make any summer dinner party great. They could be simple Chinese paper lanterns or ribbon chandeliers. You need good outdoor lighting;

on the table.. people need to see what they eat – and who they are sitting next to.

to the bathroom.. whether your toilets are inside or outside, a path of glittering lights is a great decorating idea.

to the food… especially for a buffet.. seeing the food, glasses or drinks is another way to bring light and mood to your outdoor spaces.

in the garden.. this is a perfect way to create a border around outdoor spaces. Maybe you want to tighten the space, so your summer dinner party feels intimate, or widen your space so it feels open and mysterious.

mountains of votives, hurricane lamps, bottles with candles and even candelabras look great outdoors. Create your own candle holders here.

garden lights, tree lights or a fire pit add more light to outdoor spaces. Use lamps or strings of outdoor lights if you need more.
Throw in An Unexpected Decorating Idea
Outdoor entertaining can be fun. Throw in some thing amusing, colorful or witty into the mix. Try different chairs with colorful ribbons hanging from them or crazy floral seat covers.
Bottles filled with candles dangling from trees, bright bunting flapping in the breeze or chairs out of tree stumps could be enough to make your outdoor spaces dazzle.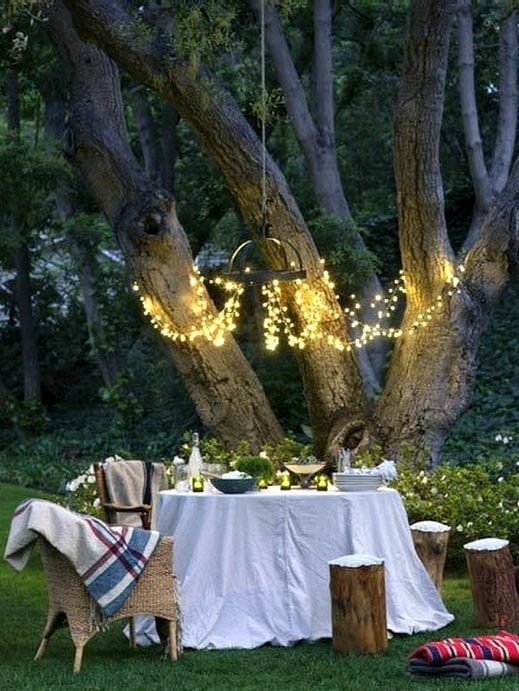 Source: Pinterest
Stenciled napkins, handmade napkin holders or a very loud tablecloth are simple outdoor decorating ideas.

Layer, Layer, Layer Your Outdoor Decorating Ideas

Build on your color, tablecloth or colored glass and take your outdoor dining ideas to the next level. Layer detail, wit and luxury.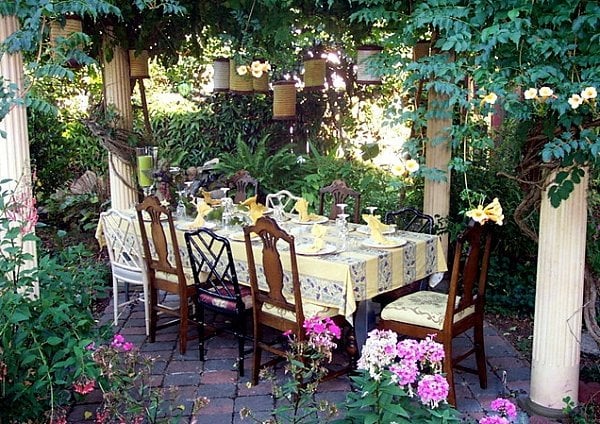 Source: decoist
Vintage and classic pieces with new china can look amazing. More here on how to use mismatched chairs, china and glassware tied in nicely with different colors!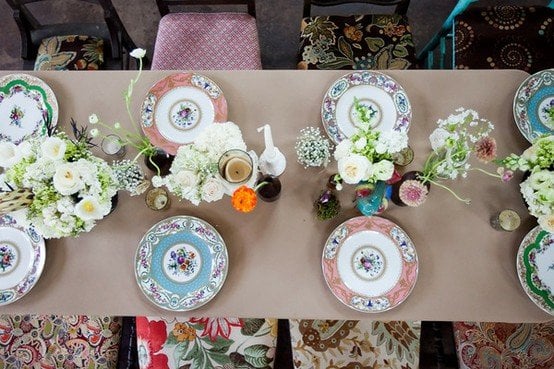 How to Set Dining Table Like a Pro
Follow the simple table setting formats here for breakfast, lunch, dinner, formal or banquet settings as a guide. For centerpieces; use fruits like oranges or lemons in a clear vase, or succulents or moss if you don't want to use flowers. Outdoor decorating ideas are everywhere!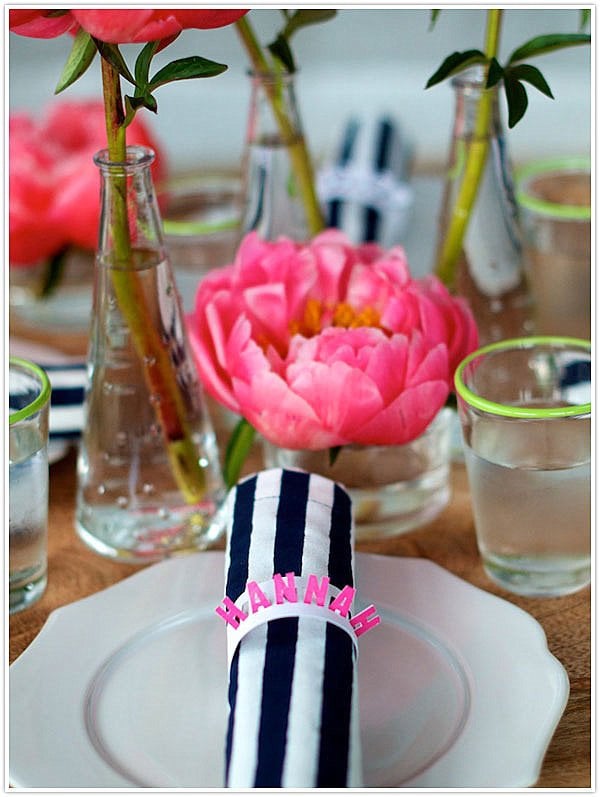 Source: architectureartdesigns
Outdoor dining should be fun, so play with your table setting and layer lots of outdoor decorating ideas like a tent or fire pit and your summer dinner party will be fun for everyone.