Decorated Life is reader-supported. When you buy through links on our site, we may earn an affiliate commission. Learn More
Italian Farmhouse Decor Goes Minimalist – The New Rustic Decor
By: Decorated Life Team
|
Italian Rustic Decor – Farmhouse Decor At It's Best
Italian rustic decor or Italian farmhouse blends two trending styles to create a simple luxurious country look. It is elegant but striking, and has longevity. Layers are removed leaving an almost minimalist look, using contrasting materials and textures to create features.

Simple materials become features and in particular raw local materials become the big stars of your rooms. Stone, wood and tiles are the main players. Show off their patina, grooves, age, color and texture, always making them the focus. Removing other building materials creates a minimalistic style that is easy to live with and has changed Italian country decor in a big way.
You don't have to use a lot to get the same warm textured effect. Steel framed windows in black create a strong contrast against so many neutral tones. Dark pendant lights over kitchen islands or warm dark wood chairs, might be enough contrast to make a statement.

Source: Remodelista
Neutral Italian Rustic Decor Palette
Italian rustic decor loves contrasts. The color palette is light, monochrome and neutral and the perfect backdrop to use strong contrasts like black, stained knotted woods, rugged fireplaces or large iron feathered chandeliers. Rustic furniture is used 'sparingly' along with textured fabrics in neutral tones to balance and soften any rough edges.

Source: Elle Decor
The best way to create Italian rustic decor or farmhouse look is by contrasting rough natural surfaces against smooth surfaces. Its a balancing act, but this creates big decor impact with a few colors, textures and materials. Think linear, smooth surfaces against irregular unfinished surfaces. The new Italian country decor is more 'pale and interesting' than 'wild and colorful' but it is creative, soothing and powerful.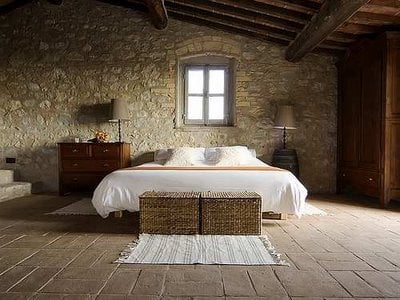 Source: jesuismignonneblogspot.com.au
Textiles and bedding are generally in white, cream or neutral tones. Their softness makes a great contrast against the many textured surfaces like walls and floors while being practical to live with. Textiles are often made of dense cottons, which stay cool in warmer weather, and are easily laundered. It's a classic Mediterranean style that remains strong today.
If you want Italian country decor, use natural woods and stones generously. These can be chalk or milk painted, white washed, limed or left natural for a softer color palette. And while exposed beams are trending sometimes they will be painted white to make rooms feel and look bigger and modern.
A few well worn leather sofas or rustic style furniture in dark wood tones work well with this style. Italian farmhouse decor includes white washed or white walls with warm terra-cotta, stone  or wood features as accents. Stone and tiled flooring are not only practical but almost essential for rustic decor. Natural terra-cotta and reds are perfect for warm Italian weather and stay cool underfoot.
Source: Decoor.net
Italian Rustic Farmhouse Features
Italian rustic farmhouses use exposed raw brick or stone to add to the earthy feel of this country style. Common design feaures include vaulted ceilings clad in stone or wood, along with exposed beams, unfinished brick fireplaces or stone floors to create striking features from local materials. Fireplaces are also a regular feature and tend to have some stone or wood feature with a slanted chimney flute.

Source: OneKinDesign.com
Never discount smaller natural pieces like corbels or beams. They can add the charm you want without the expensive price tag of full stone walls or floors. The result is a strong rustic style Italian decor full of personality, which it does by taking away instead of  adding to.
The result is a classic simple elegance that you can enjoy for years using textures and contrasts. It leaves ornate patterns or bright colors to others decorating styles. Italian rustic decor uses a narrow color palette. Against a few neutral colors, it layers and contrasts natural materials like wood, warm tones from terra-cotta and stone so you can create warm inviting rooms without color distractions.

Source: Instagram
You can find Italian farmhouse style from supremely elegant villa to small cottages using the natural color palette from the surrounding landscape to make this decor stylish and welcoming.
Italian country decor uses a style that creates beauty by focusing on contrasts. Blending  special and intimate wood floors with rustic furniture the Italian farmhouse remains classic country decor.
Save
Save