Decorated Life is reader-supported. When you buy through links on our site, we may earn an affiliate commission. Learn More
19 Outdoor Wall Decor Ideas
A well-designed exterior wall is a great way to set the tone for the rest of your home. However, decorating one is more complicated than an interior wall for a couple of reasons.
First, hanging things outside is a bit tricky. Secondly, whatever wall decor you use needs to hold up to all kinds of weather.
If you're at a loss on how to decorate your outdoor wall, try one of these 19 ideas.
Adorn Your Outdoor Wall with String Lights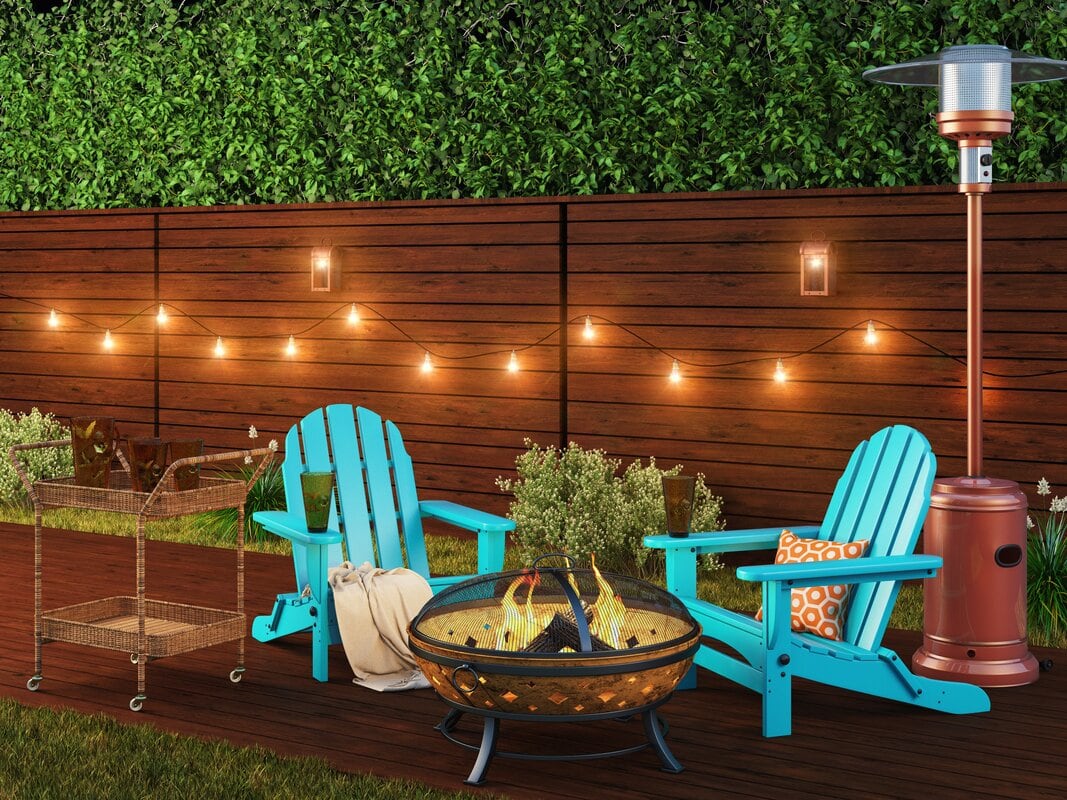 Hanging string lights on the walls around your patio is one of the easiest ways to add modern ambiance to your space while also providing light.
You can find this set of globe string lights at Wayfair. Each set comes with ten solar-powered bulbs that automatically power on for eight hours each night.
Install a Wood Wall Planter Rack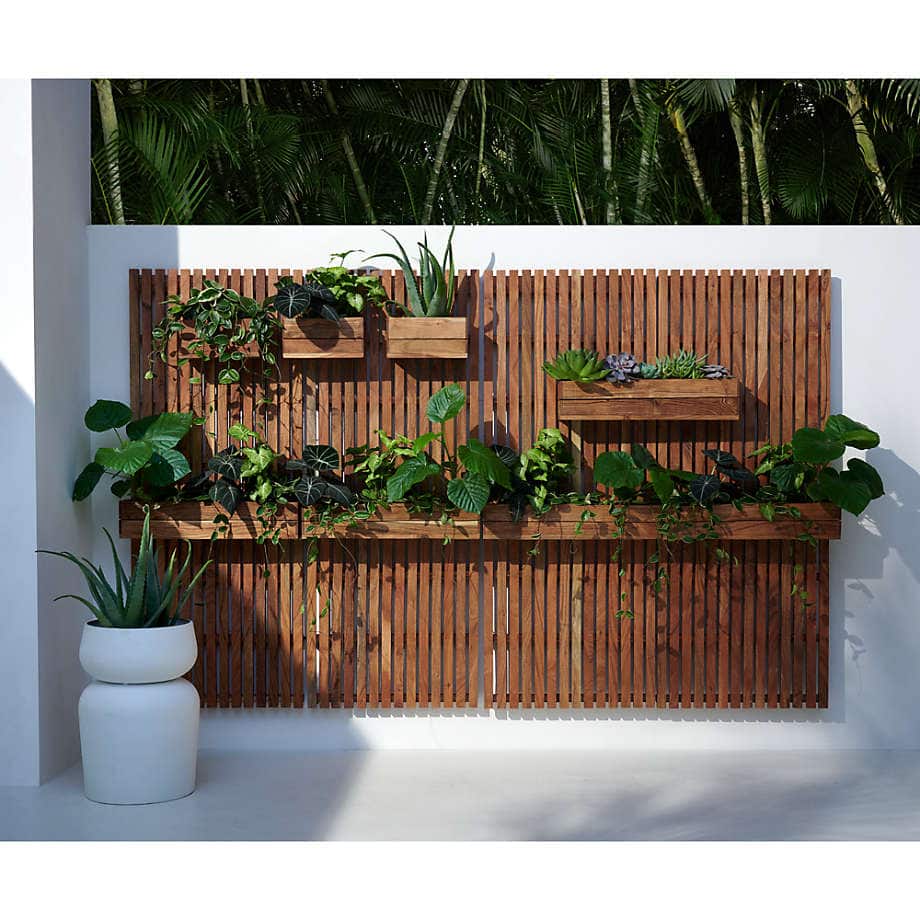 If you love plants, make a big statement with this acacia wood wall planter rack from Crate and Barrel.
The rack comes in a rich wood color that naturally turns to silvery gray over time. It comes in two different sizes, and you can attach either to any exterior wall. The planter boxes come separately, which means you can add as many or as few as you'd like.
Accent a Farmhouse with Rustic Medallions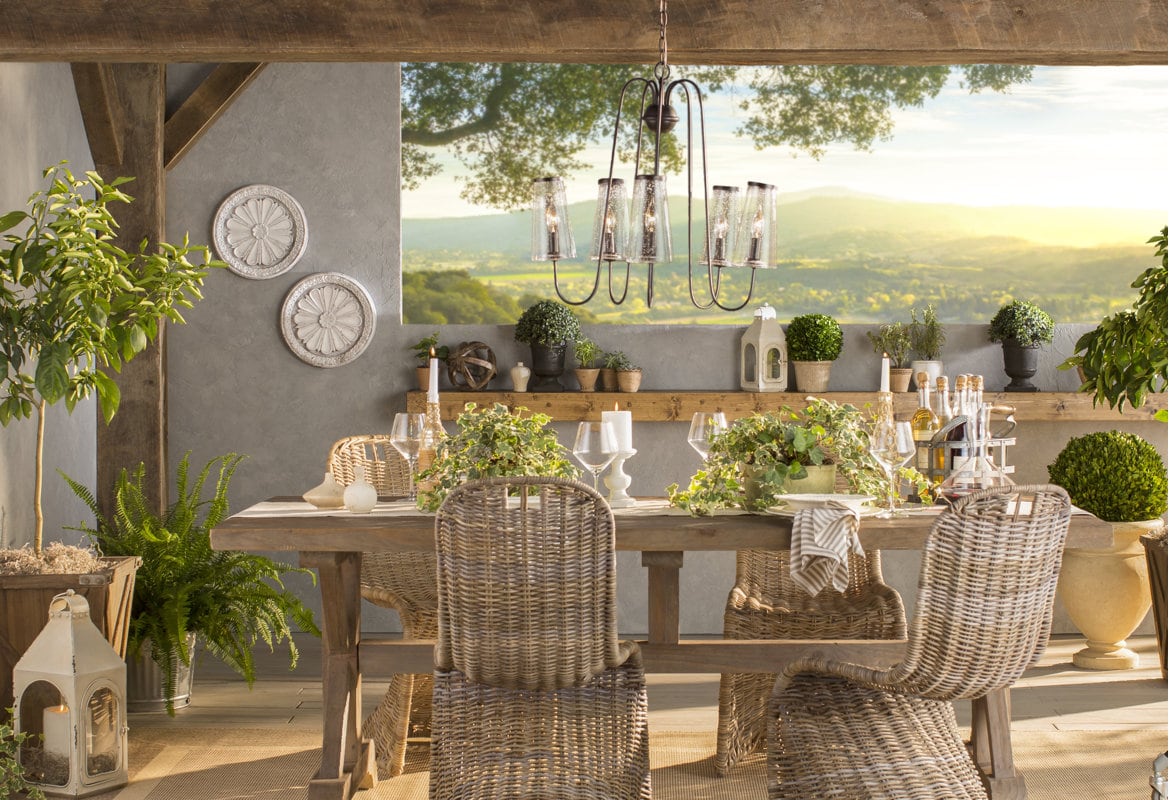 Consider throwing these rustic medallions into the mix if you need exterior outdoor wall decor ideas for your farmhouse.
You can center these over your patio table, over a door, or anywhere you need to fill in space. Since these are distressed pine wood, they'll wear well outside.
Bring Peace to Your Space with a Wall Fountain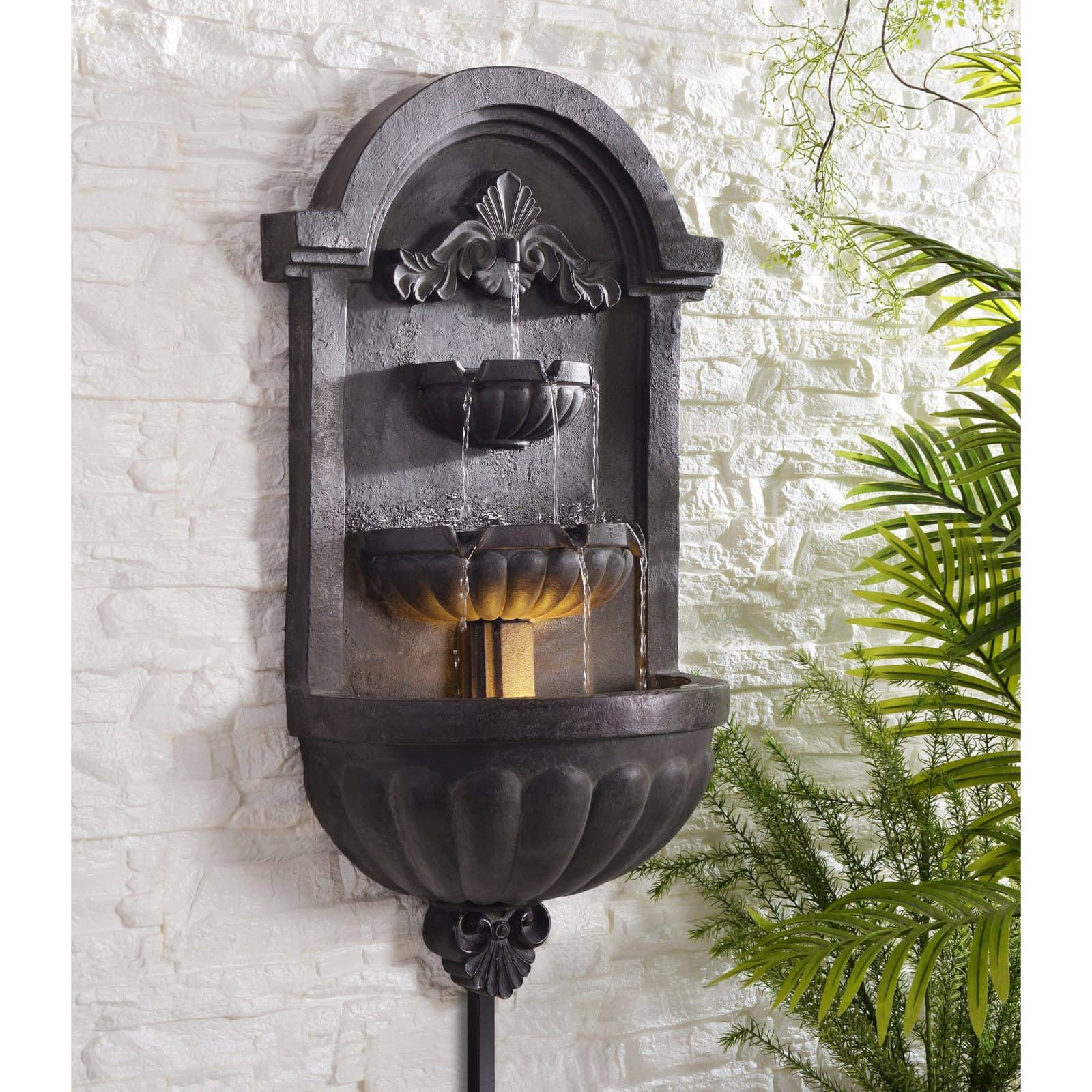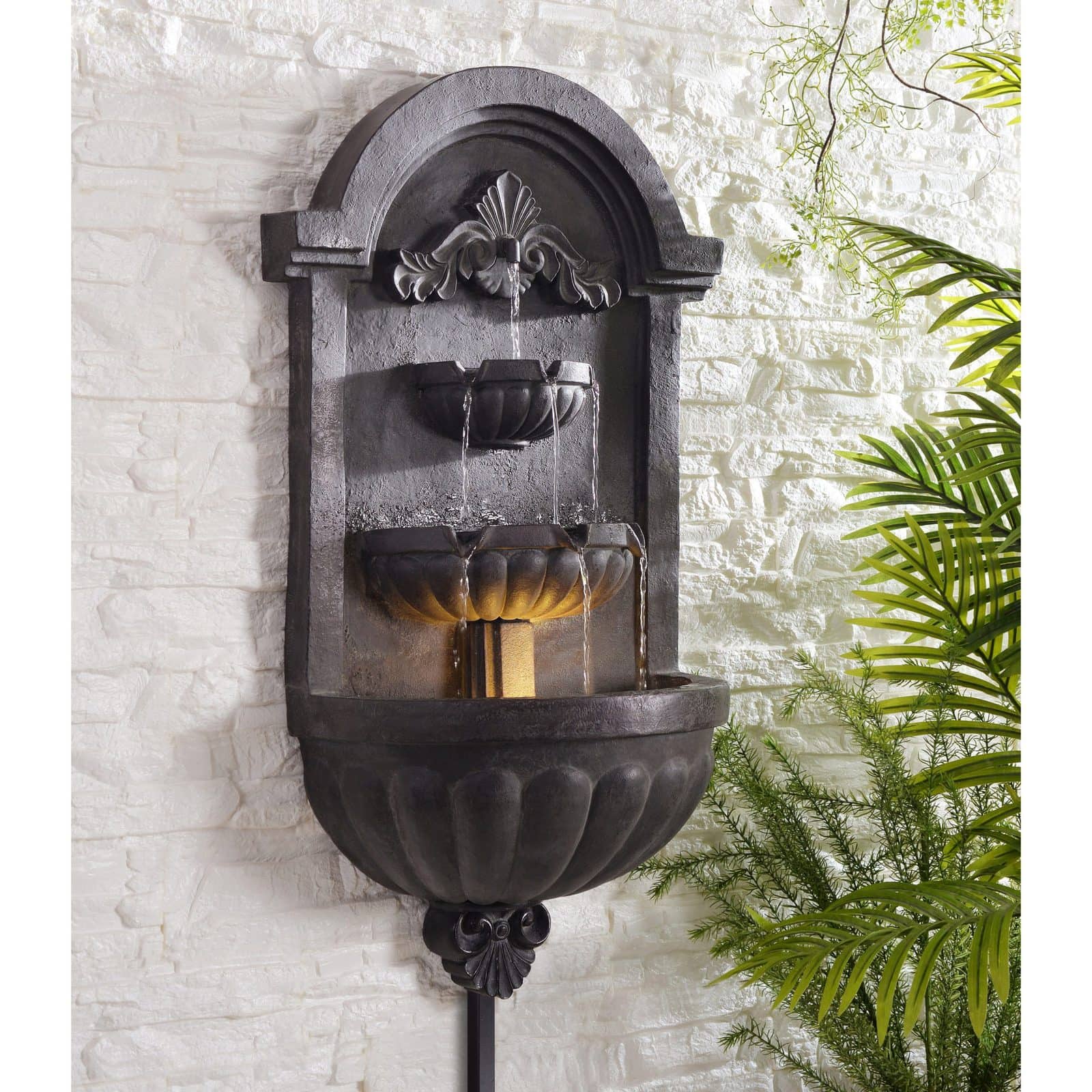 Is there anything more peaceful than hearing birds chirping and a light stream of water running? Probably not. So, if you're trying to build that zen-like outdoor wall design, bring in a fountain.
This fountain has a vintage look with a beautiful plum-bronze finish that will look stunning surrounded by greenery. It mounts to your exterior wall and has a 1.3-gallon water capacity.
Add Greenery with a Wall Mounted Plant Stand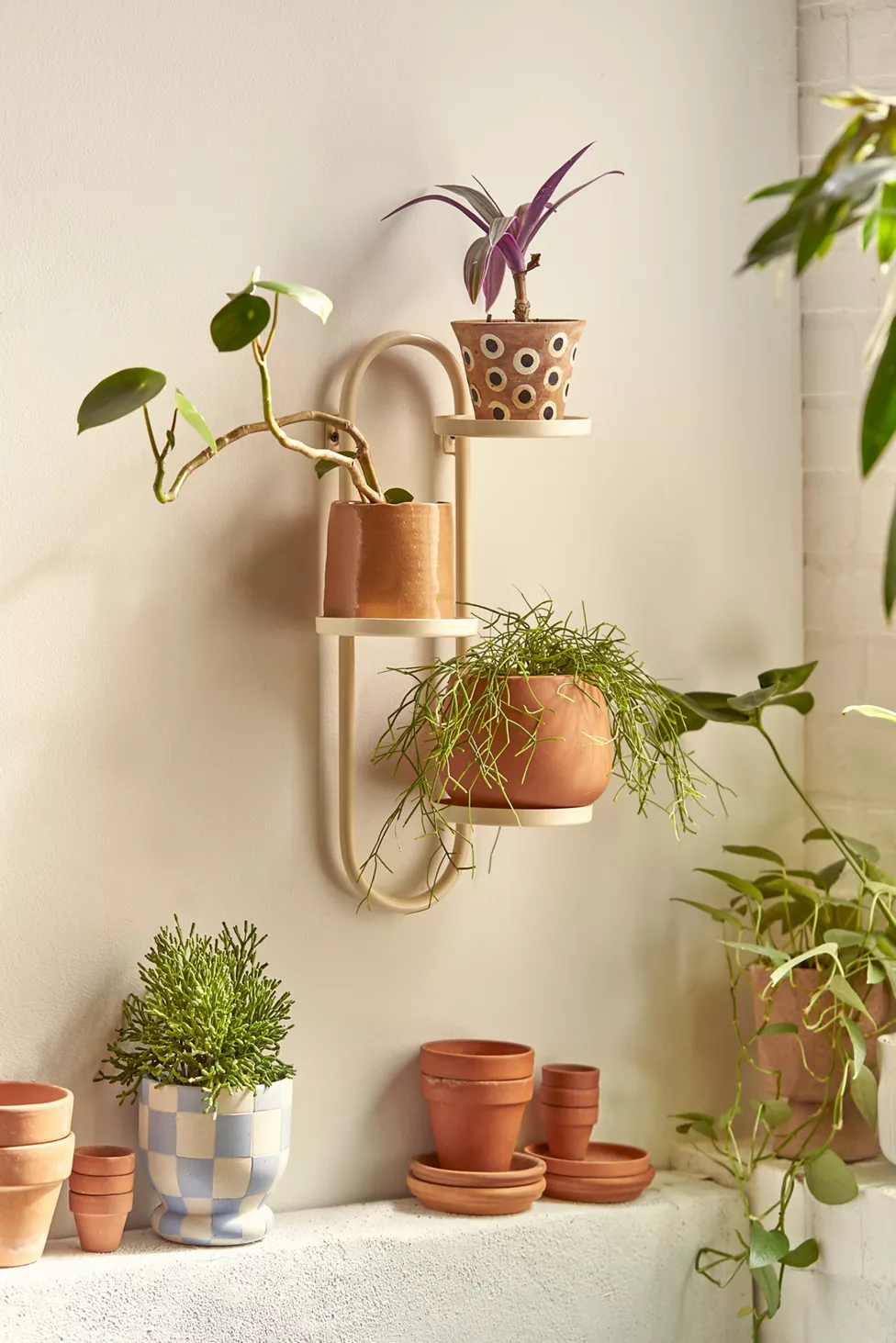 When it comes to outdoor wall art ideas, you can't go wrong with plants. You can build an entire live wall, add hanging baskets, or use a plant stand like this.
From Urban Outfitters, this plant stand measures 18 inches tall and is perfect for holding three small pots. It comes in cream and black, so you can choose the color that best coordinates with your home's exterior.
Create Extra Lighting with a Wall Lantern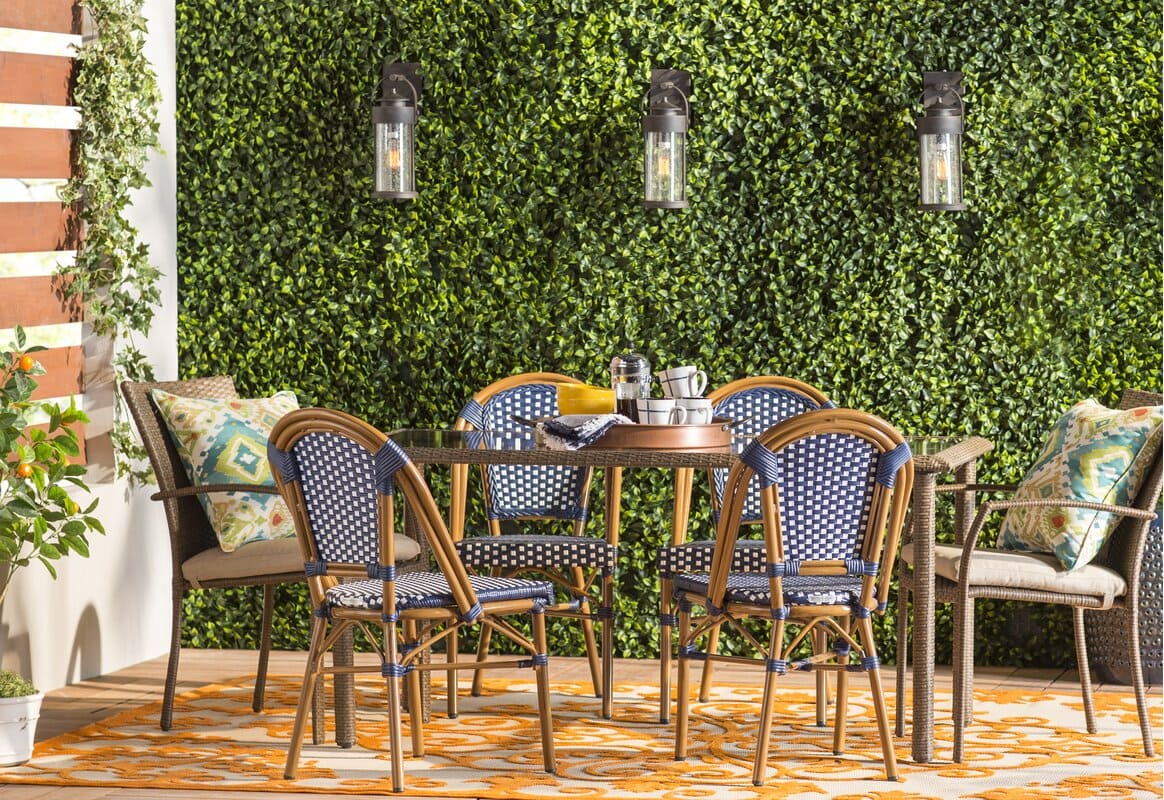 In many cases, you don't need extravagant outdoor wall decor. Instead, simple things like adding wall lanterns will do the trick.
If you're looking for a modern wall lantern, this one from Wayfair is a great choice. The rust iron finish and simple shape go with many different styles. This lantern will need to be hardwired, but you can find similar solar-powered options.
Use Natural Accents in White Spaces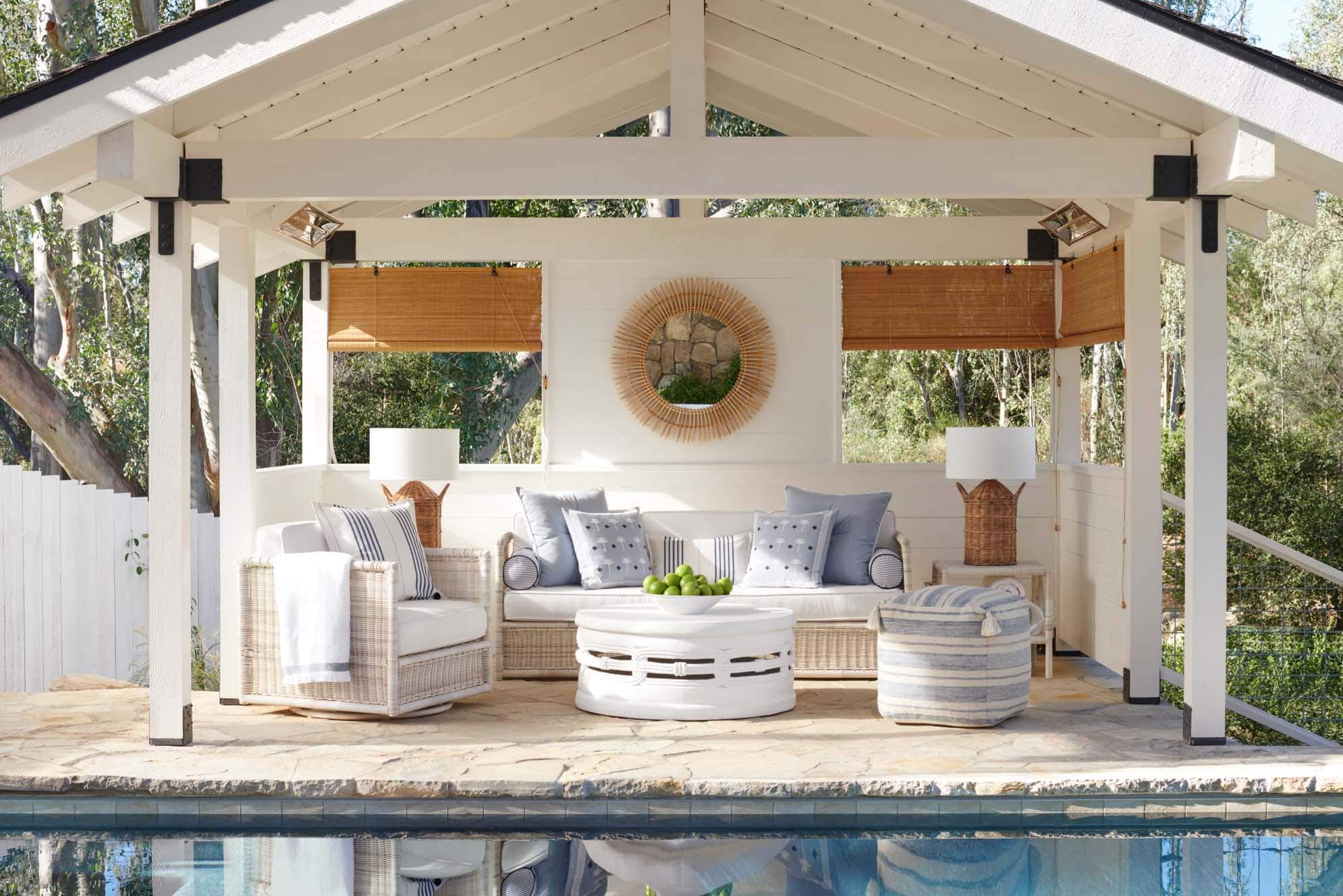 White spaces are beautiful and clean-looking, but they need added color or texture for interest. And one of the best ways to achieve this is with natural pieces.
If you have a partially covered outdoor space, consider adding a large mirror like this one from Serena & Lily. It can handle harsh weather, and its light dune shade looks fantastic against a white background.
Get a Rustic Look with this Cast Iron Wall Planter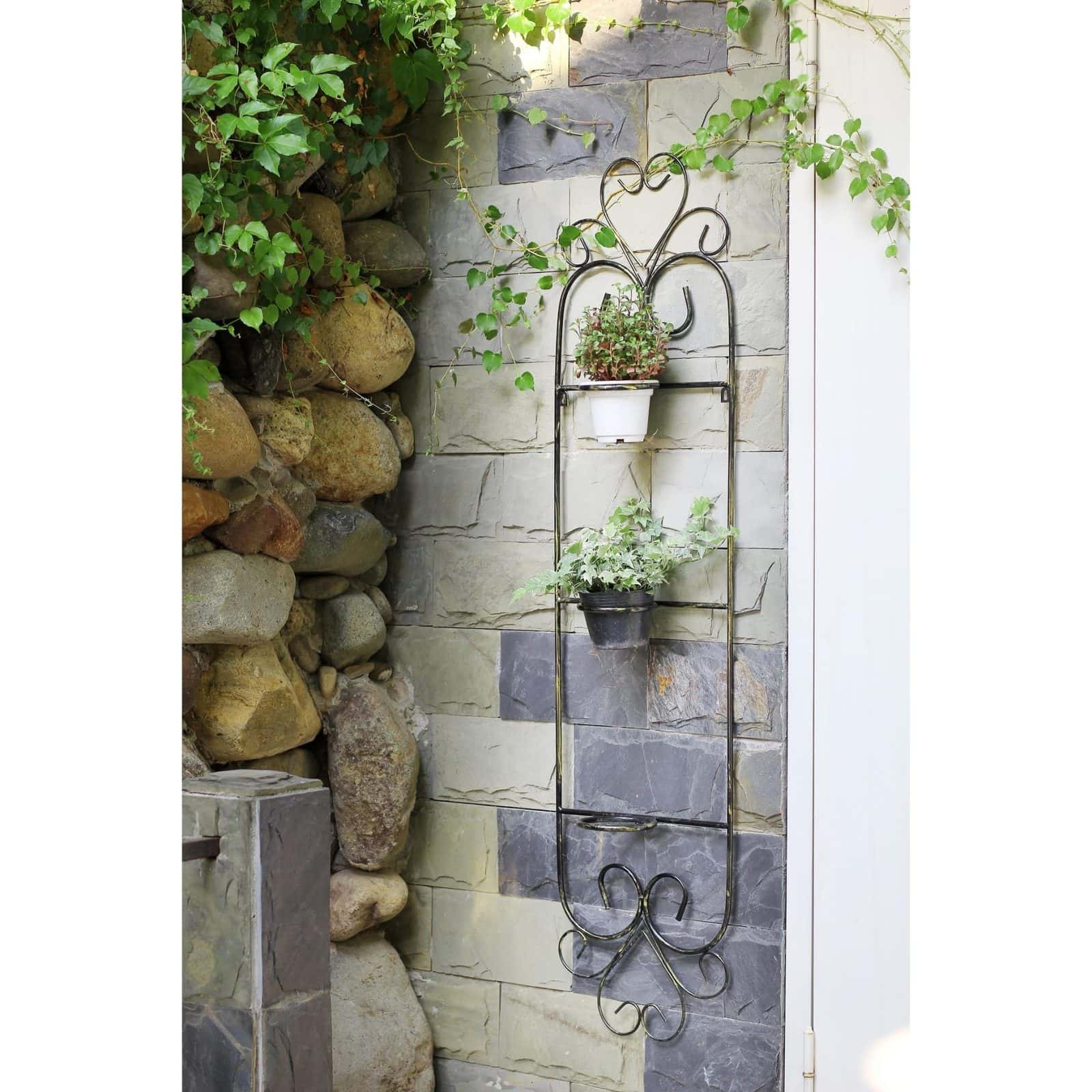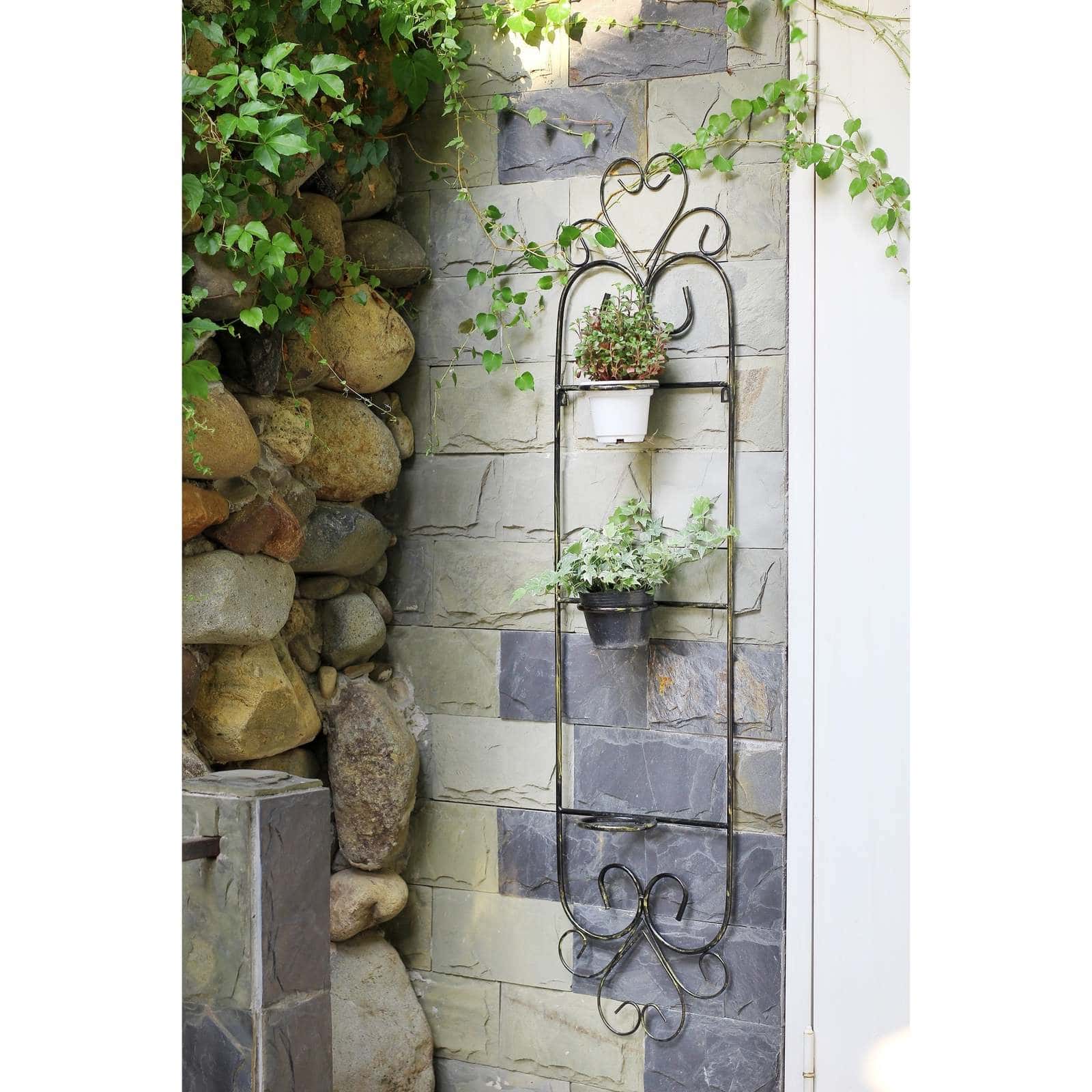 Are you after a rustic or french country look? Then, add this cast iron wall planter to your outdoor space.
From Overstock, this wall planter measures 58 inches high and can hold three small planters, each six inches in diameter. This would look great next to your backdoor, or you could place one on either side of a window.
Throw Up a Seasonal Wreath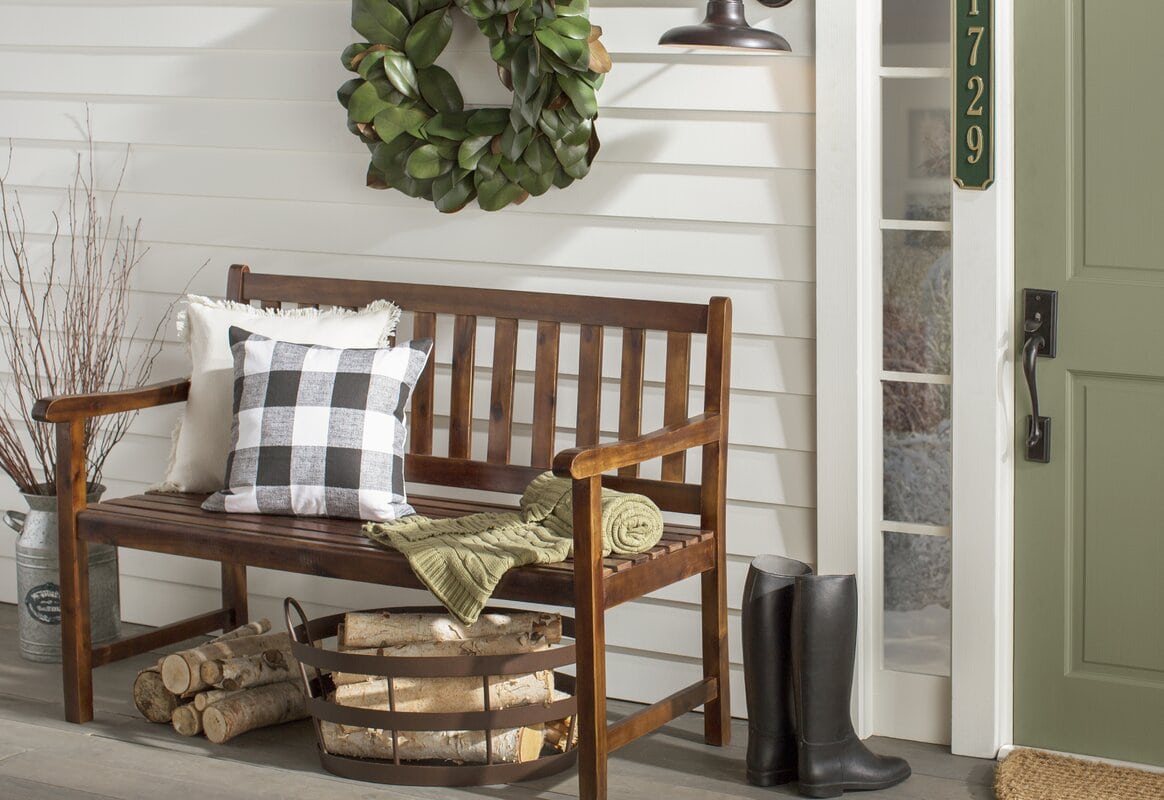 If you're after the easiest patio wall decor ideas, throw up a seasonal wreath over your seating.
Wreaths are extremely easy to hang and hold up to weather, and you can change them out with the season. Consider a light, pretty flower for spring and summer, and then switch to a Magnolia wreath for cooler months.
Show Off Your Hanging Baskets with a Plant Hook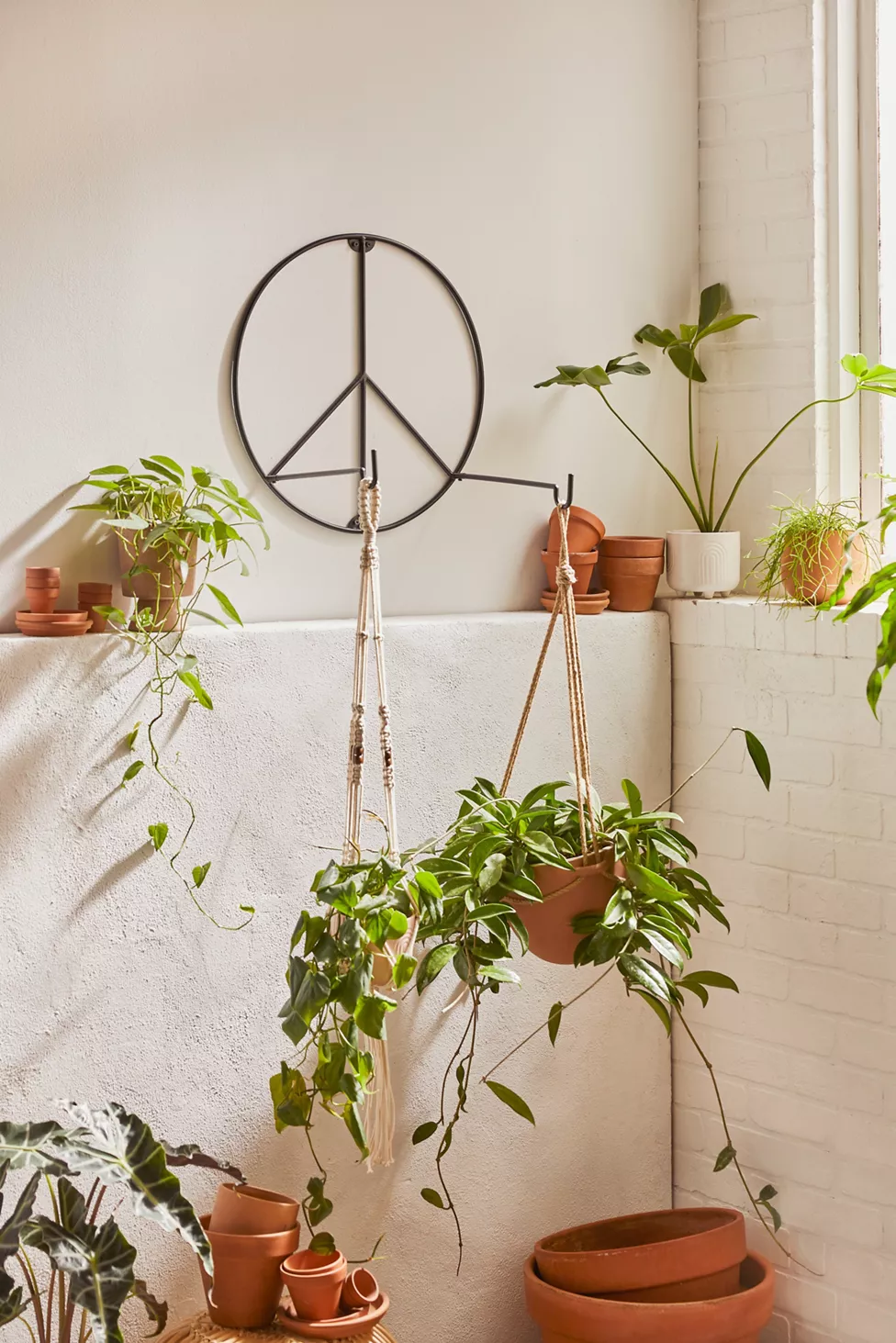 If you're looking for a fun way to display your smaller hanging baskets, consider a plant hook like this.
This peace sign plant hook comes from Urban Outfitters, is 100% iron, and can hold up to 6.6 lbs of weight. You can get this in white or black, and it will look best in boho patio designs.
Use Outdoor Area Rugs as Art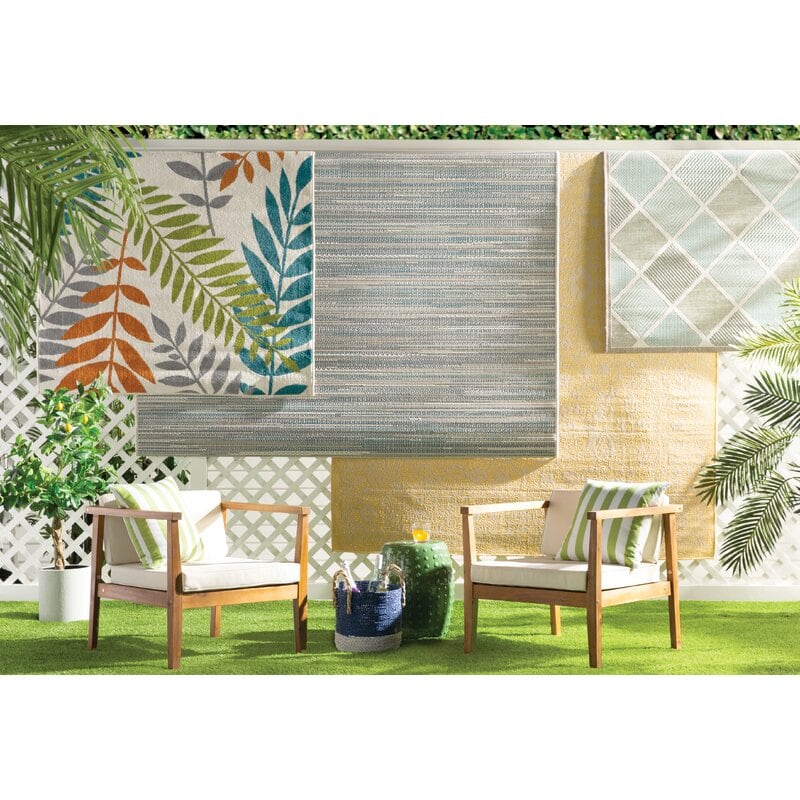 Do you like unique ideas? If yes, use an outdoor rug as wall art.
You can do as pictured, layering rug over rug to create privacy and custom art. Or, if you like things a bit more subtle and streamlined, look for one rug that ties into your decor and center over your patio set.
Let the Sun Shine with this Metal Wall Art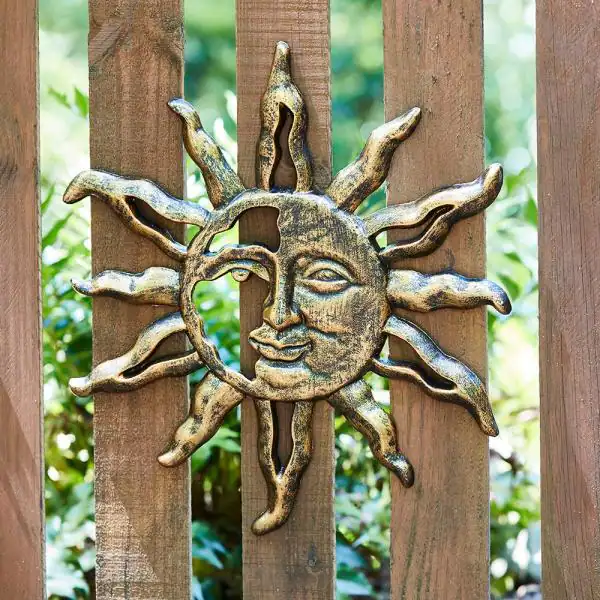 Metal signs and figurines are ideal for outdoor decor since they can stand up to bad weather. So, if you're into boho or whimsical style, try hanging this sun in your outdoor area.
From the Home Depot, this sun decor has a beautiful gold finish. It's heavy-duty and easy to hang.
Fit Simple Iron Basket Holders on the Wall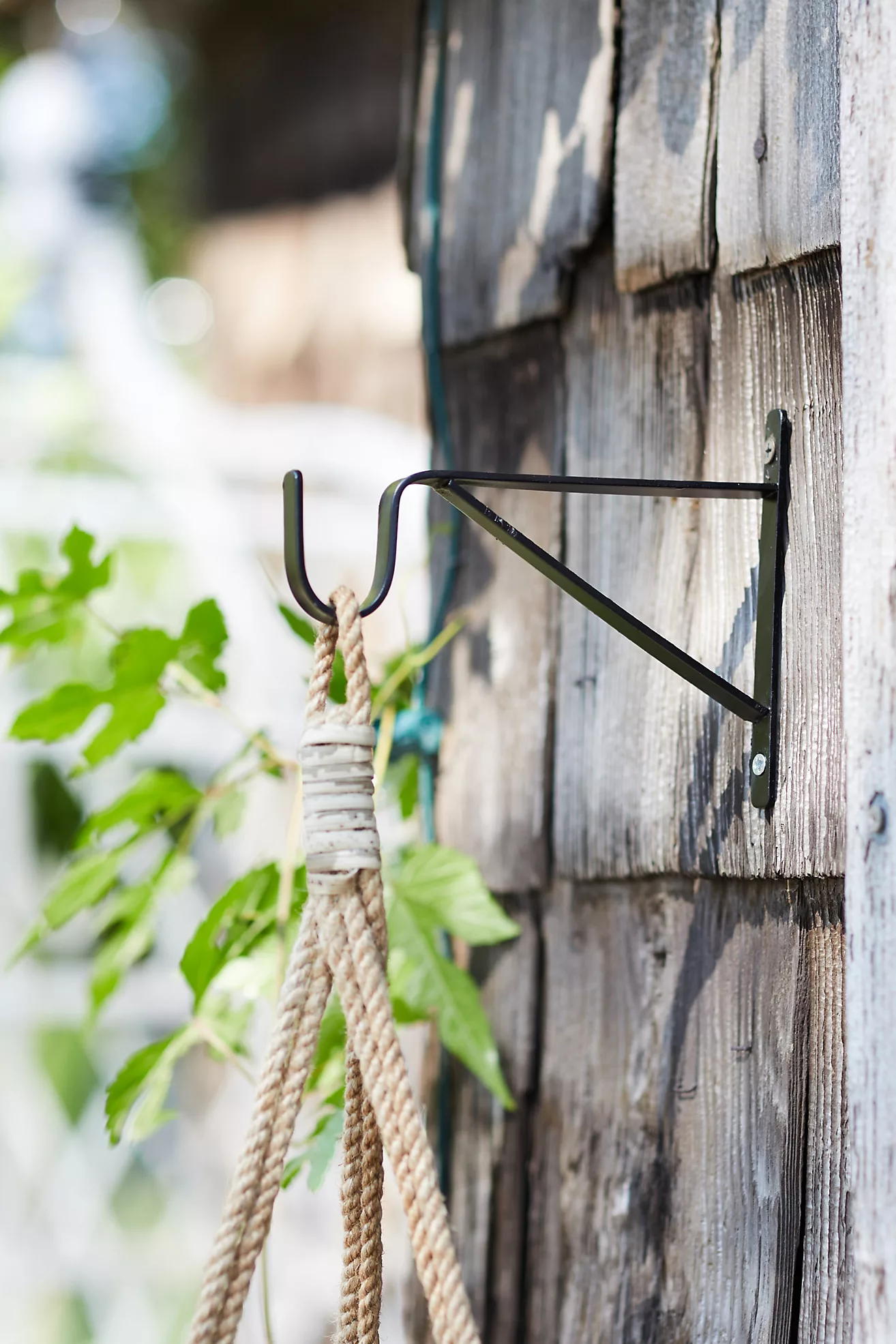 Only need to fill in a couple of small spaces on your exterior wall? One of the most efficient ways is with plain black wall hooks.
You can install these wall hooks in any empty space and then use an appropriate-sized hanging basket to fill in the area. You can even kick up the look a notch by swapping out a standard hanging basket for a macrame basket holder.
Hang a Large Mirror in a Covered Patio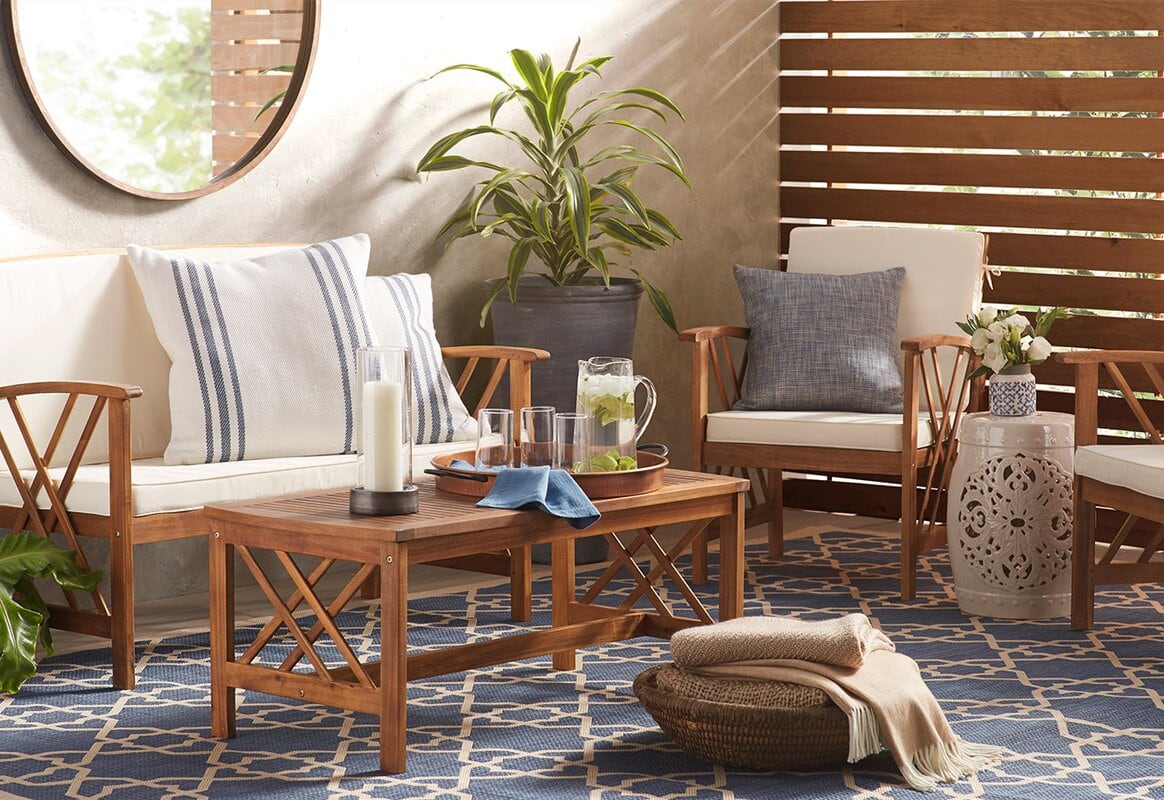 If you're trying to find modern outdoor wall decor, look for a large mirror with a simple, weather-resistant frame. (This idea works best for covered patios and porches.)
You can find this modern mirror from Wayfair. It's part of the Kelly Clarkson line and features a slim frame in an antiqued gold finish.
For Farmhouse Style, Try These Iron Wall Planters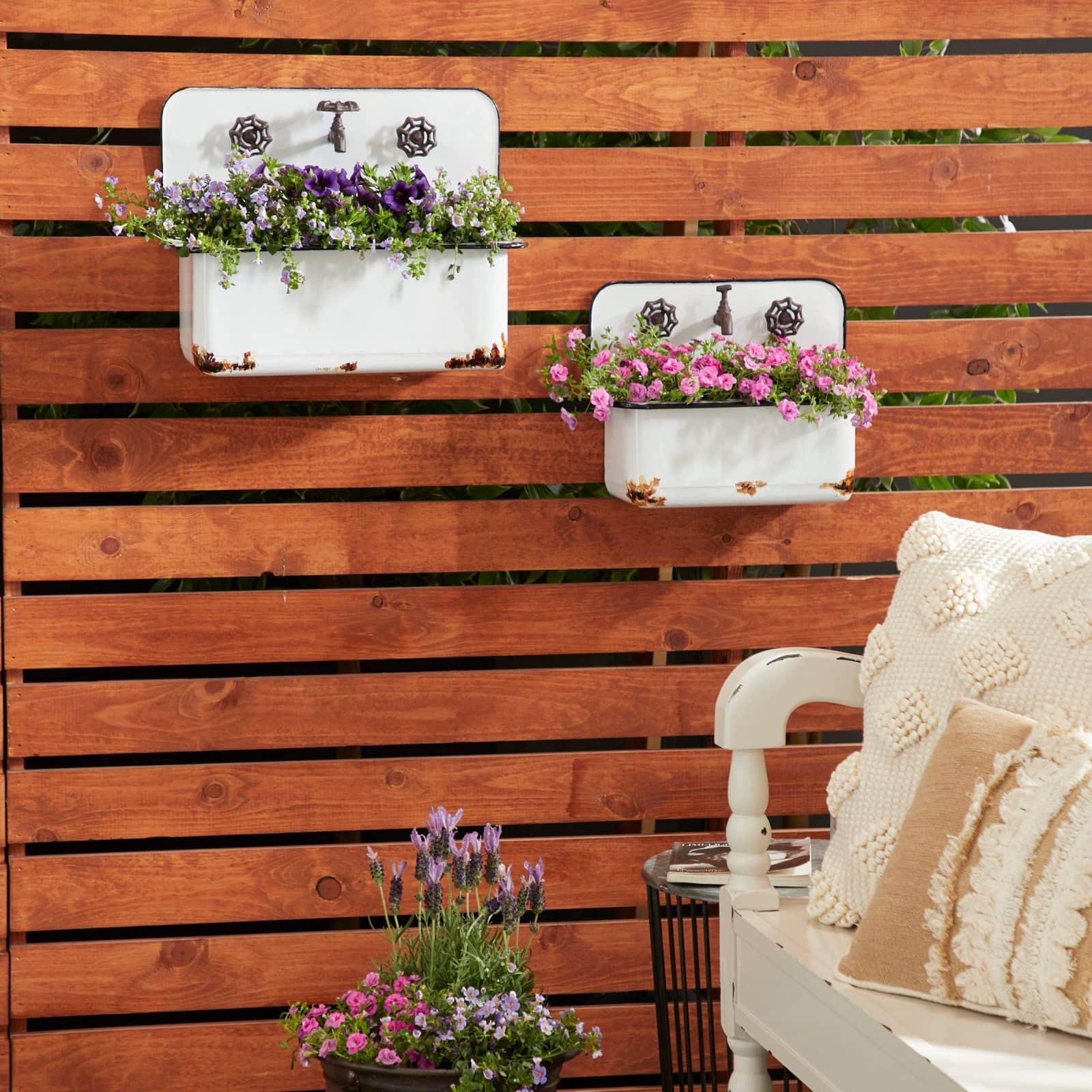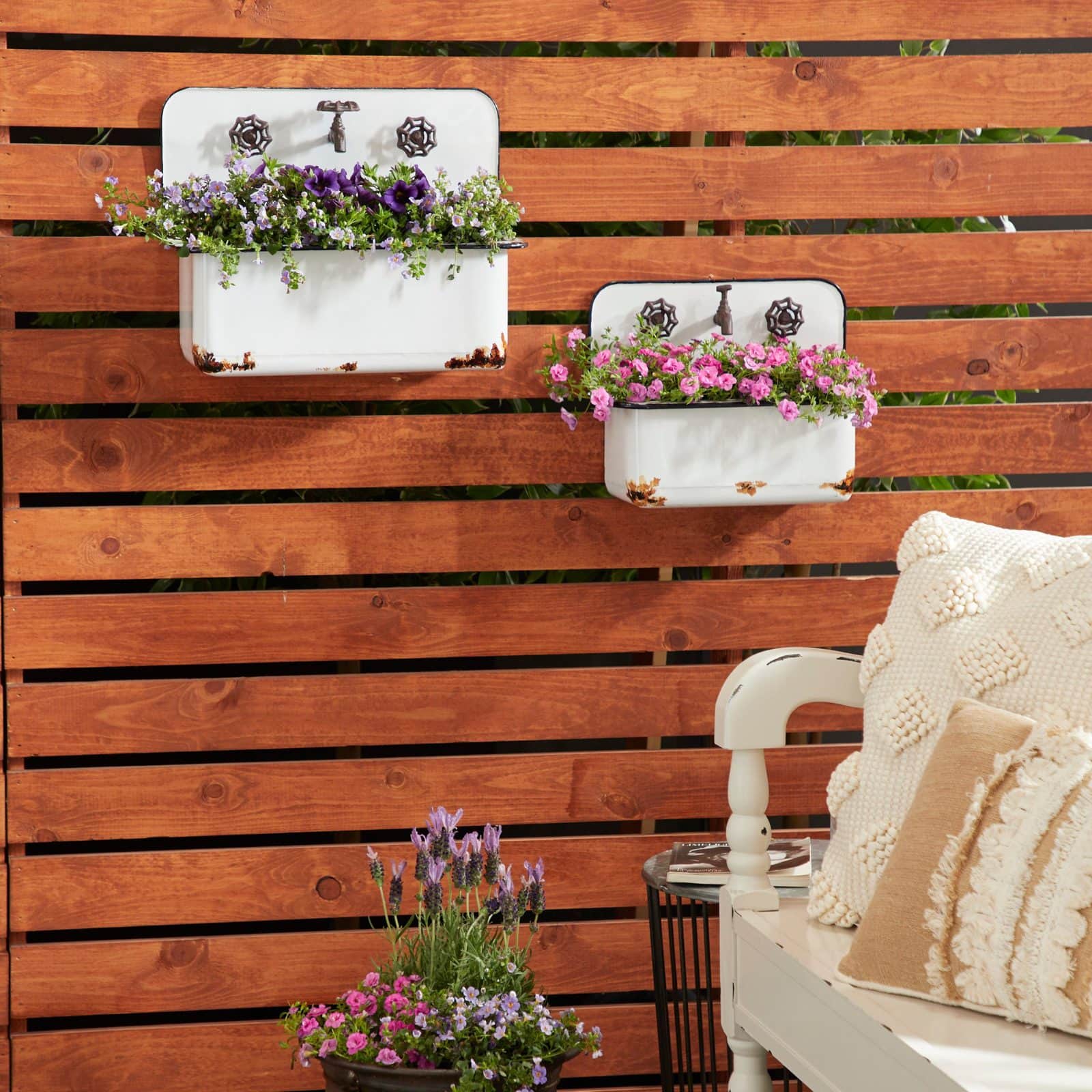 Outdoor wall planters are the most popular and practical exterior wall decor. And luckily, they come in many different styles.
If you have a farmhouse or rustic designed outdoor space, these rusty iron sink planters will work wonderfully. They come in a two-pack and are easy to install with their keyhole hardware.
Put Up a "Porch Rules" Sign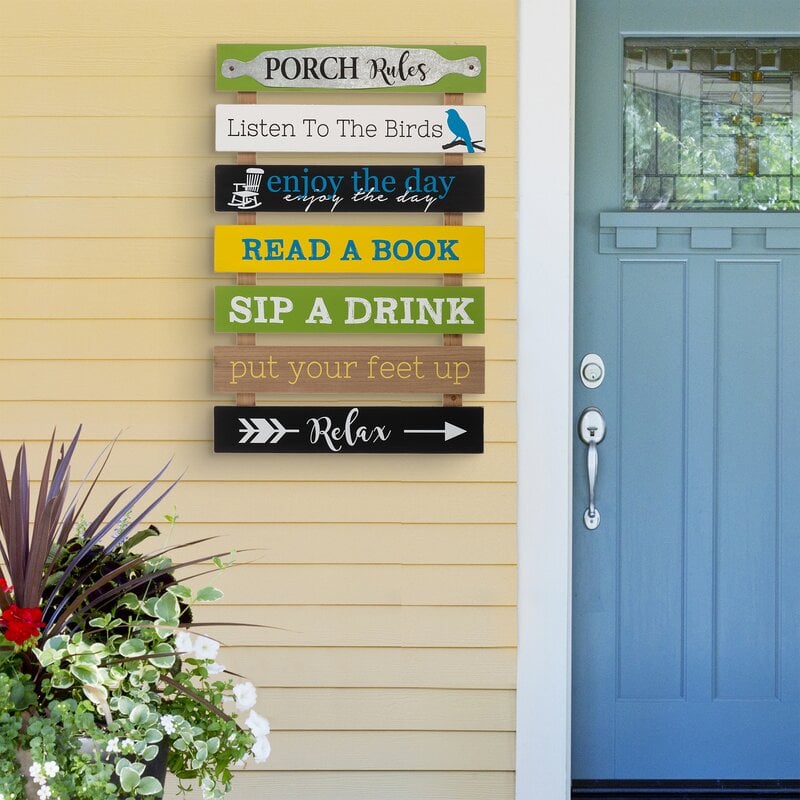 Do you prefer cute and casual over modern? Then you might like this "porch rules" sign from Wayfair.
This sign looks great next to a front or back door and is an excellent option for families or grandparents. It comes with a metal loop on the back for easy installation.
Display Your Name with a Monogrammed Metal Sign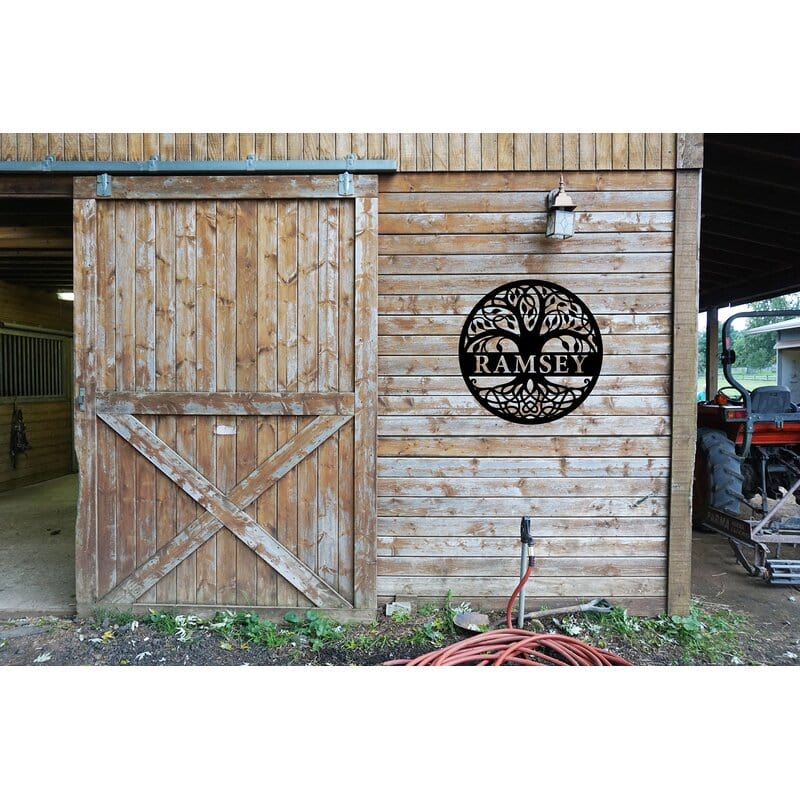 Custom monogrammed signs work well for outdoor decor, regardless of the style. And since they're metal, they'll hold up against harsh weather for years to come.
One excellent option is this black sign from Wayfair. It features the tree of life with a last name monogrammed in the middle. It's also handmade in the U.S.
Create a Decorative Wall with a Privacy Screen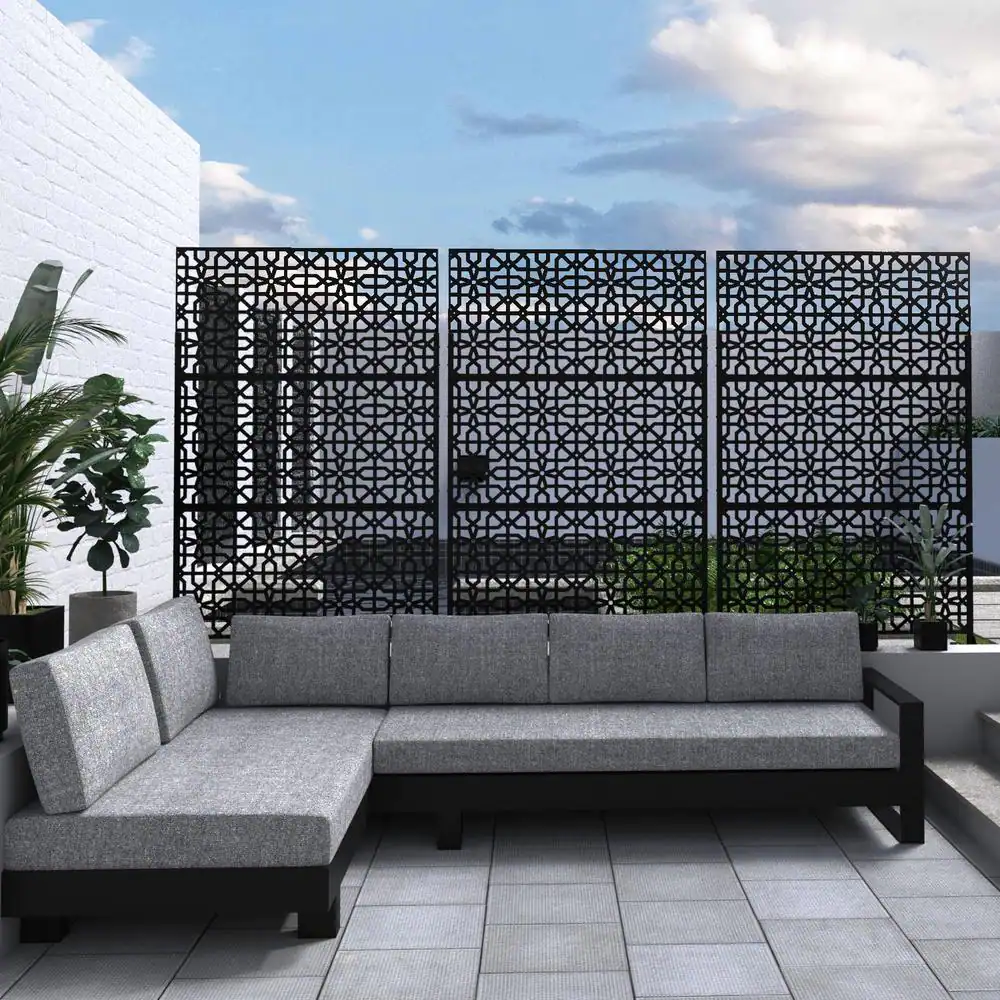 If you're looking to create a wall rather than decorate one, consider a privacy screen like this.
This metal privacy screen from The Home Depot has a super modern finish, is corrosion-proof, and is perfect for creating outdoor rooms or privacy. You can even push one of these up against a black wall as decor.
Fill in a Wall with Small Ceramic Pots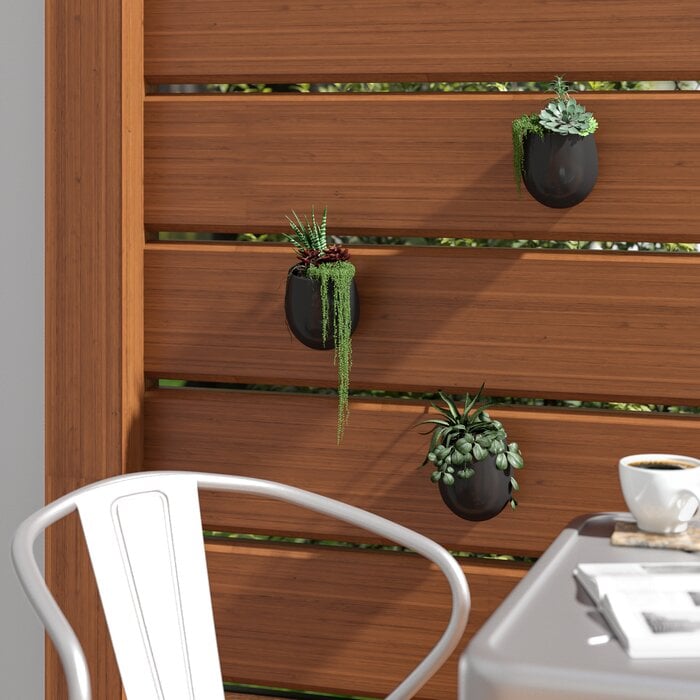 Need to fill in a lot of space? If you're decorating a blank exterior wall, try these ceramic pots from Wayfair.
You can find these pots in six different colors, so there will be something for you, no matter your style. These are great for small succulents or herbs and are easy to hang with the hardware they come with.
Final Thoughts
The most popular outdoor wall decor ideas are hanging planters. You can find various versions, including large plant racks, metal plant stands, basket hangers, and small pots.
Aside from plants, other exterior wall decor ideas are mirrors, string lights, metal signs, and wreaths. If you're looking for something more unique, you can also use outdoor area rugs on your walls.