Wallpaper Accent Wall Ideas for a Standout Home Decor
Wallpaper can be a relatively cheap way to add color and personality to a plain room. It can also contribute to the ambience of a space. And when you're home relaxing after a busy day it's important to feel comfortable.
If your living room is used primarily for entertaining then you might like a busy, cheerful pattern on the wall. If it's somewhere you like to kick back and relax, then you may favor one or two tones and a less intricate pattern.
A carefully chosen wallpaper on your accent wall will enhance furniture and accessories. It will also bring your room to designer level.
Geometric Accent Wallpaper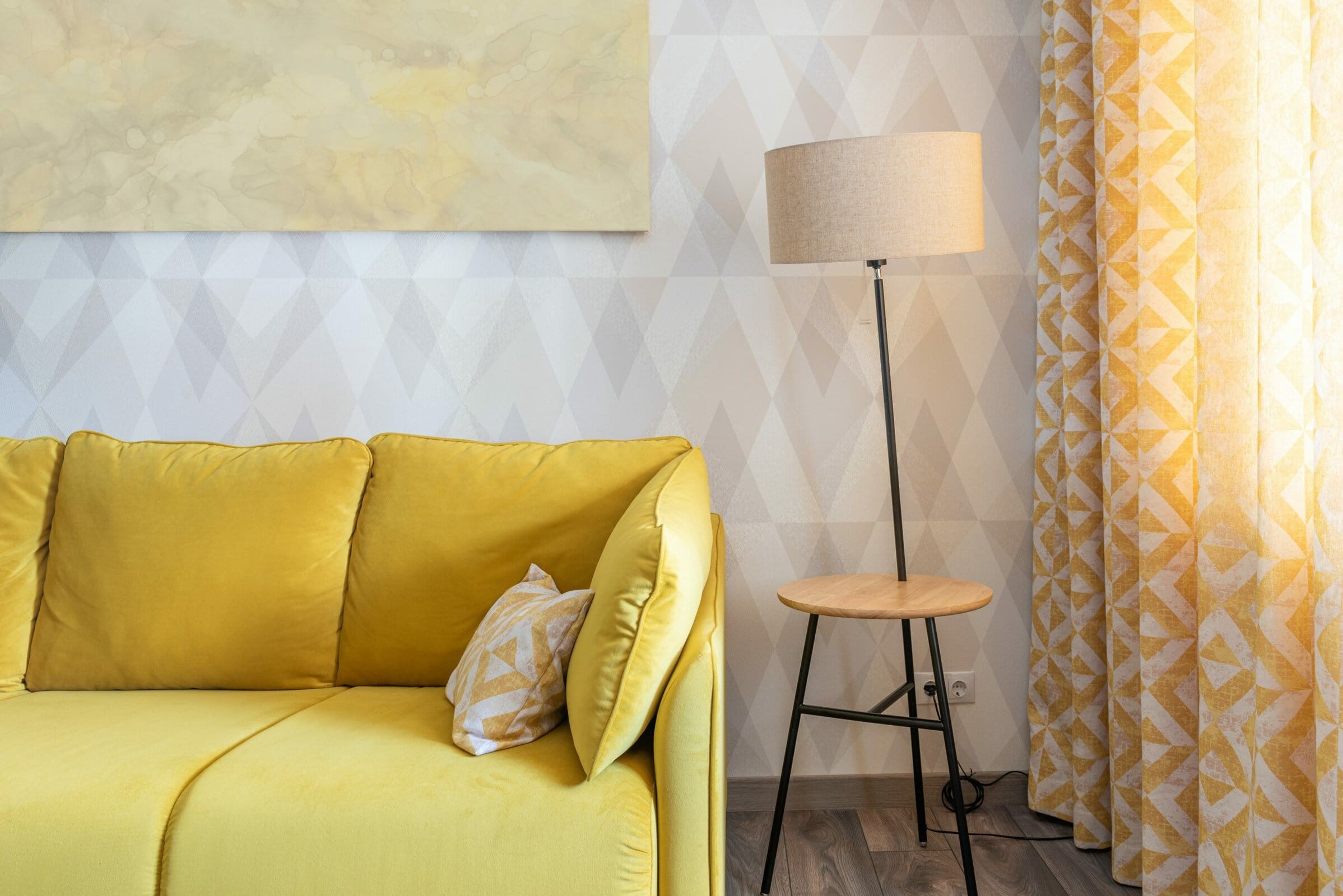 The great thing about wallpaper is that if you're new to wallpapering or if matching a pattern feels intimidating, you can paper just one wall. This can lift and enhance the room in itself. But if you catch the wallpaper bug you may find you want to paper more walls.
You'll need a good eye to match up geometric design to keep the angles. But for a modern, clean look, a geometric pattern can't be beaten.
Gray is all the rage and works as a neutral backdrop to bright colors like a zingy yellow. You can fix wallpaper to the wall behind brightly colored furniture.
Forest Wall
You may have seen William Morris prints trending. Morris was an English 19th century designer known for natural botanic regular wallpaper and fabric prints. They are currently everywhere!
These prints look gorgeously mysterious in dark colors. So for a touch of the enigmatic in your home, choose a Morris-style of wallpaper and accessorize with cool brass hardware and light fittings.
Understated Luxury
If you have white walls then one bold wallpaper choice can make the world of difference. A dark wallpaper which has a metallic pattern tones well with velvets. And a classic rug can change a basic room to luxury.
Dark colors and blues will always look rich against dark woods. They also work well in vintage and retro schemes. So if that's your thing, look out for some simple dark patterned wallpaper.
Jungle Accent Wall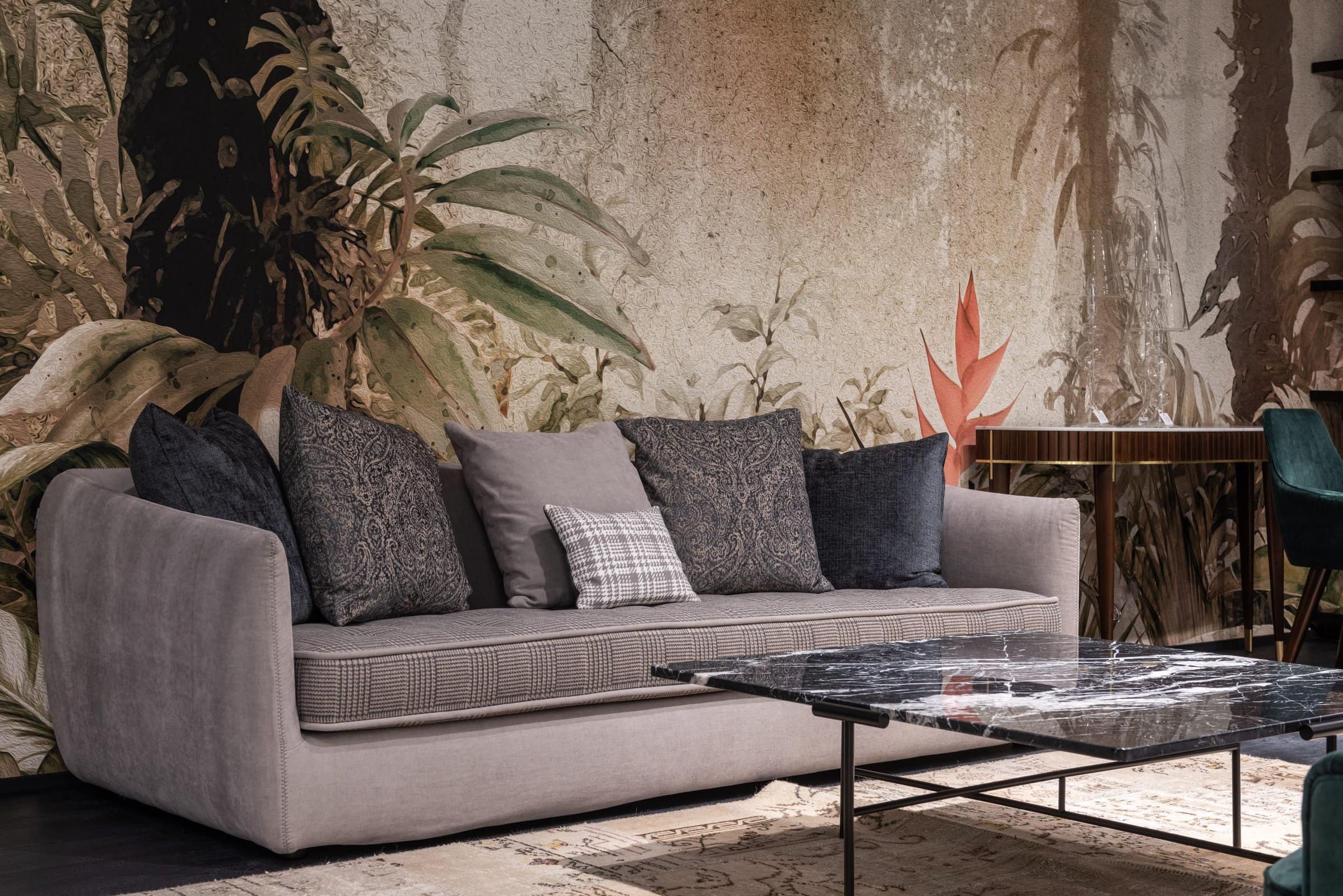 To liven up a plain gray sofa, why not immerse yourself in the depths of the jungle? If you like a little fantasy and want a bold wallpaper then an on-trend jungle wallpaper will give you just that.
Whether you pick a pattern with botanical imagery and wildlife, or a more lifesize version or botanical leaves and trees, you'll make a big impact.
Geometric Wallpaper Accent Wall
For lovers of a clean mid-century look, you can add a design feature by adding a small print geometric wallpaper in bright colors.
If you find the print too busy for the whole room, you could paper a recessed area in your living room. It'll add a touch of character and color, and it won't cost the earth.
Metallic Inspiration
If you like a metallic finish then you can easily add this to your walls. Either pair this wallpaper with other metal accessories for a full-on shine fest, or use woven fabrics and enamel hardware and accessories for a more subtle look.
Whether you hang the wallpaper yourself or pay a professional, you can inject a feeling of expense into your living room.
Country Cottage Accent Wallpaper
Do you love a pretty country theme? Perhaps you like the romance of Little House on the Prairie? Then you'll love a chintz floral print wallpaper.
A little tricker to hang than other papers due to the intricate pattern, you could take the easy option of papering one small wall. And it'll be budget-friendly too. For full rural cozy effect, decorate with soft pastel cushions and floral soft furnishings.
Under the Stairs
Many of us have seen our homes turned into workplaces with the increase in home working. If you don't have a dedicated office but have an area you use within a room, then you can paper the walls to denote the space.
Under the stairs in your living room can be a neat nook for a desk or perhaps for a comfy chair to sit and read. Using less than a roll of wallpaper you can create your own swish home office.
Fireplace Accent
If you have a fireplace in your living room, you may like to enhance the shape by papering either side of the chimney.This look can make a room cozy and add a little personality.
Pick a wallpaper to contrast with your wall color and perhaps add some shelves in wall recesses. Accessorize with toning ornaments and books.
An even speedier way to update a fireplace is to pick a bright pattern wallpaper and hang the paper on the chimney breast. This is a smaller area but it can really pack a punch.
It's good to pick out colors you have in your furniture especially if you have some vibrant retro colors. This will tie in the look and give the room a feeling of maturity.
Wallpaper Panels
This is pretty much a cheat! You can add wallpaper by fixing panels to the wall. You can create this design yourself by simply using a frame to create a panel.
Panels can be fixed to the walls in pairs or groupsl. Tone in with plain wall colors and contrasting fabrics for a designer theme.
Accent Wall Mural
For the look of a wall mural but without having to be an artist, you can buy a wallpaper mural. From large botanical prints to spanning landscapes, you can choose the look you prefer for your home.
Unless you're a maximalist, it's best not to overpower a mural. So ensure the furniture in that area is plain and don't have too many ornaments or add art to the wall.
In Summary
To select the wallpaper for your accent wall, you'll need to think about the color that you paint the walls for the effect you want to achieve. The more you contrast pattern and color, the more lively a room will feel.
For calmer effects, you can choose simple patterns and plain walls. You'll also need to accessorize and pick soft furnishing according to theme.
As for which wall you pick for your accent wallpaper, you can hang wallpaper behind a sofa to give a design boost. You might create a work area by adding wallpaper to a nook or recess. And for quick impact, you can paper either side of a fireplace or the chimney breast.
With a huge array of beautiful wallpapers available, you'll find the best choice for your home and individual decor style.