Decorated Life is reader-supported. When you buy through links on our site, we may earn an affiliate commission. Learn More
Black Fox by Sherwin Williams
The fox is a fascinating animal that has captured the human imagination for millennia, featuring in our oldest myths of cleverness and cunning.
It's only fitting that a paint color named for this animal is as mysterious and intriguing as the creature that inspired it.
Many black paints are what can be described as a "flat black"–a simple, solid, neutral black color.
But Black Fox has much more to offer. It's just as dark as many black paint colors out there, but you can see all kinds of fascinating things roaming around in its depths.
Black Fox stands on the forest's edge, beckoning us with its wild eyes. What will we see when we follow this color on its journey?
What Color is Black Fox?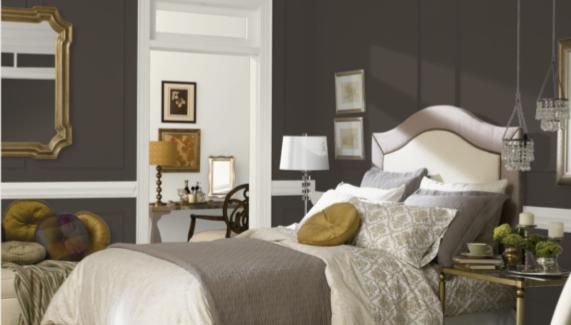 Black Fox is not, as you might think from the name, simply a black paint color. It's a blend of black and toasty reddish brown or tan. These brown colors emerge from the black under different lighting conditions, giving Black Fox a sense of mystery.
LRV of 7
Black Fox has a light reflectance value, or LRV, of 7. Light reflectance value is a scale designed to measure how bright a color is, and ranges from absolute black at 0 to sheer white at 100. The lower the number, the darker the color.
Many black paint colors are close to Black Fox's rating, but some go even lower. Black Fox is dark enough to serve as a black paint, but it's not utterly black.
What Undertones Does Black Fox Have?
Black Fox has brown and red undertones, as well as a touch of yellow. Taken together, it looks as if there is a toasty brown or tan underneath the black, much like the russet color of a fox's fur.
Is Black Fox a Warm Color or a Cool Color?
Black Fox is a warm black color. Overall, being a black paint color makes Black Fox neutral, but its strong red-brown undertones make it warmer than other black colors.
Where Can You Use Black Fox?
Black Fox is a fantastic choice for bold areas of color, like focal walls, accents, and trim. It's also a great option for cabinets, kitchen islands, and bathroom vanities.
This color is incredibly popular on exteriors. The warmth of its brown undertones complements many types of wood, stone, and brick elements. Meanwhile as a black color with depth and interest, it looks sharp and handsome in many settings.
If you want to make a bold statement, you can definitely use Black Fox as a wall color. Just keep in mind that it will make a room feel smaller and darker than it actually is.
You can counteract this effect with bright lighting, and by breaking up areas of Black Fox with lighter coordinating colors or decor elements. Consider pairing Black Fox with light ceilings and floors for balance.
Let's follow Black Fox through the woods and see where it takes us.
Exterior
Black Fox and Shoji White create an elegant and strong contrast on this exterior.
For a bold statement, use Black Fox as your primary exterior color.
Black Fox brings a dramatic, contemporary feel to this custom build.
Black Fox can change character under strong sunlight or early twilight.
Living Room
Deep and moody, Black Fox helps complete the masculine style of this living room.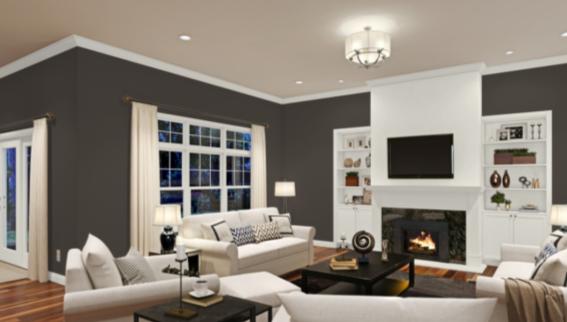 Black Fox and Alabaster create a combination that's warm and inviting in this living room.
Kitchen
Black Fox trim provides bold accents that bring cohesion to this open concept kitchen.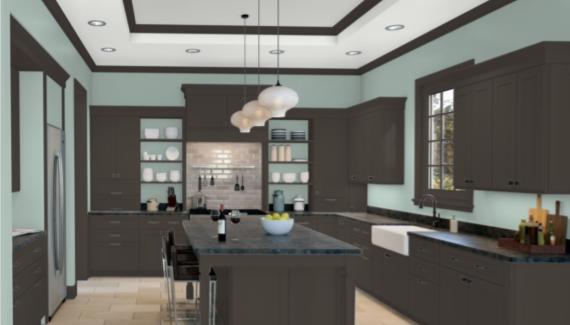 Waterscape walls and Black Fox cabinets bring a retro twist to this contemporary kitchen.
Butler's Pantry
Black Fox on this butler's pantry feels elegant and traditional.
Dining Room
The bold contrast between Black Fox walls and off-white paneling creates contemporary sophistication in this formal dining room.
This casual modern dining space uses Black Fox on an understated island to echo the metalwork in the decor.
Bedroom
Black Fox grounds this bedroom in a natural feeling that hints at a cabin escape or camping trip.
Black Fox takes on rich, chocolate tones in this comforting, neutral bedroom.
Bathroom
Silver hardware looks elegant next to the deep, moody tones of Black Fox on this bathroom cabinetry.
Black Fox on a double bathroom vanity balances and grounds this light gray and white bathroom.
Home Office
This refined home study sweeps you away with its long lines and dramatic color choices, on a strong ground of Black Fox.
Black Fox Coordinating Colors
Black Fox may be a warm black, but it's still a neutral, so there's an abundance of options when it comes to coordinating colors. Just keep in mind that it's more of a chocolate brown than a black color.
White, off-white, and cream colors are all natural first choices to go with Black Fox because of the bright contrast they create. A slightly warm off-white like Sherwin Williams' Alabaster is the perfect choice to pair with Black Fox's natural warmth.
Black Fox has red and yellow undertones, and you can call out those colors with warm colors in your palette. Consider golden yellows, or even warm greens, such as a fern green or an olive green.
Other neutrals are right at home with Black Fox, and you'll frequently see it paired with gray colors of all shades, greiges, and beiges or lighter browns. Sandy colors will speak well to its yellow undertones.
Blues will offer a pretty contrast to Black Fox, whether a light sky blue or even a deep teal. Navy Blue is an option for something formal or traditional in style.
Need some coordinating color inspiration for Black Fox? Here are some ideas to try:
How Does Black Fox Compare With Other Colors?
Black Fox vs Urbane Bronze by Sherwin Williams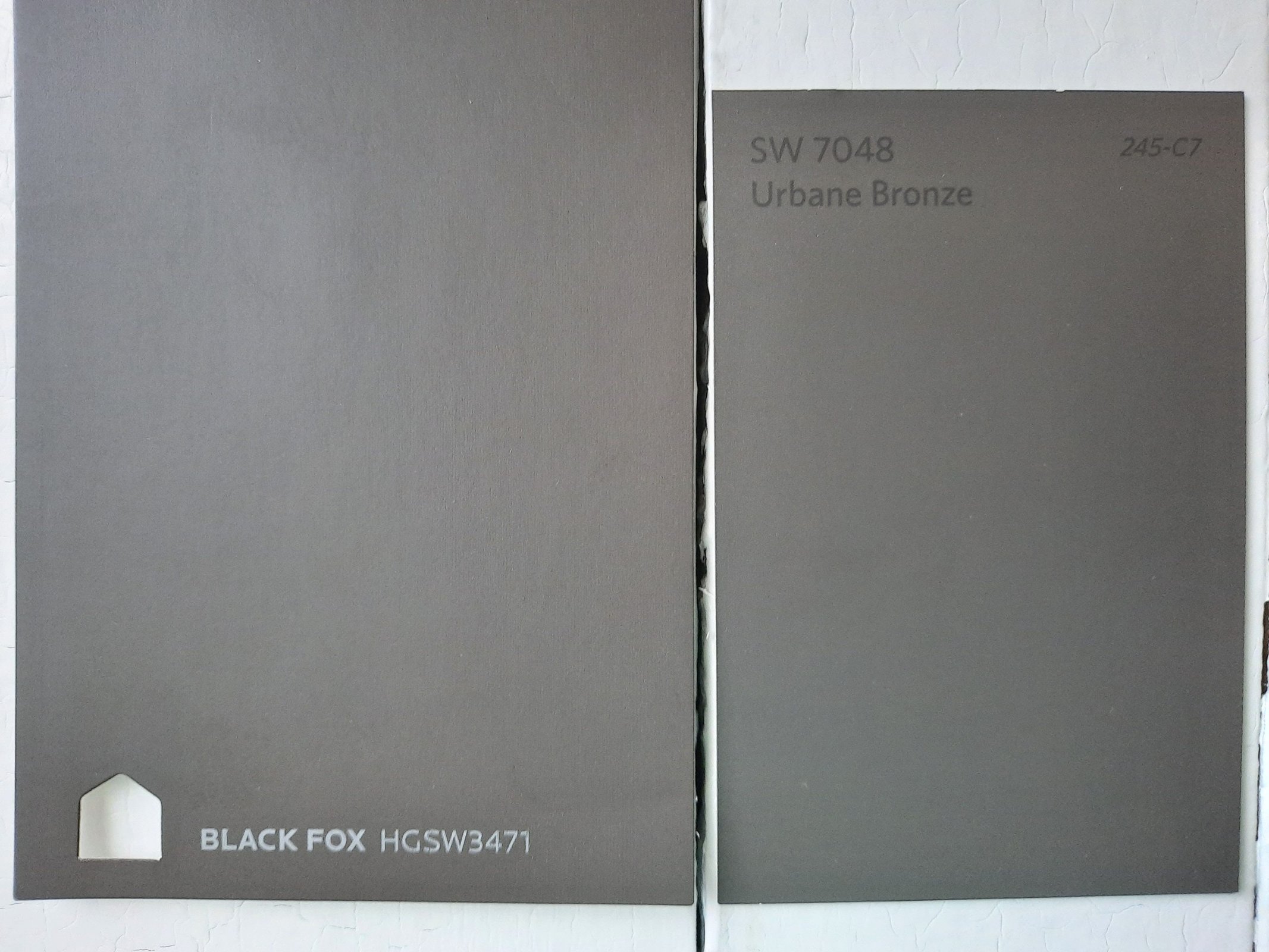 Both of these colors are brown-black colors rather than flat black colors, and they're rather similar in appearance. Urbane Bronze, Sherwin Williams' Color of the Year for 2021, is a cooler color than Black Fox, and contains a bit more gray. They're of comparable darkness; Urbane Bronze has a LRV of 8 to Black Fox's 7.
Black Fox vs Sealskin by Sherwin Williams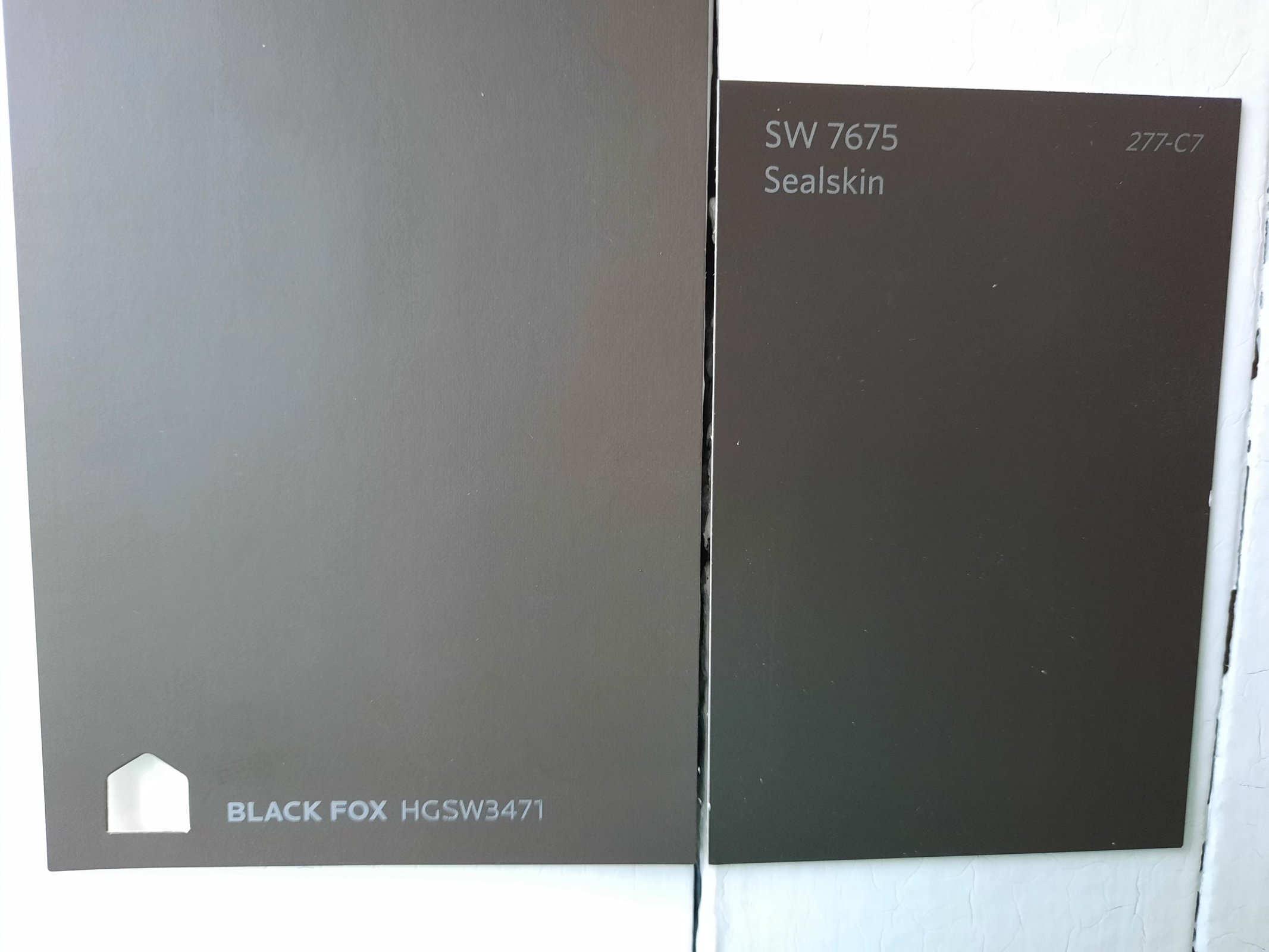 Sealskin is another brown-black color with those dark, warm undertones. This time, Sealskin is the warmer of the two, with Black Fox containing more gray. Sealskin has a comparable LRV of 6.
Black Fox vs Iron Ore by Sherwin Williams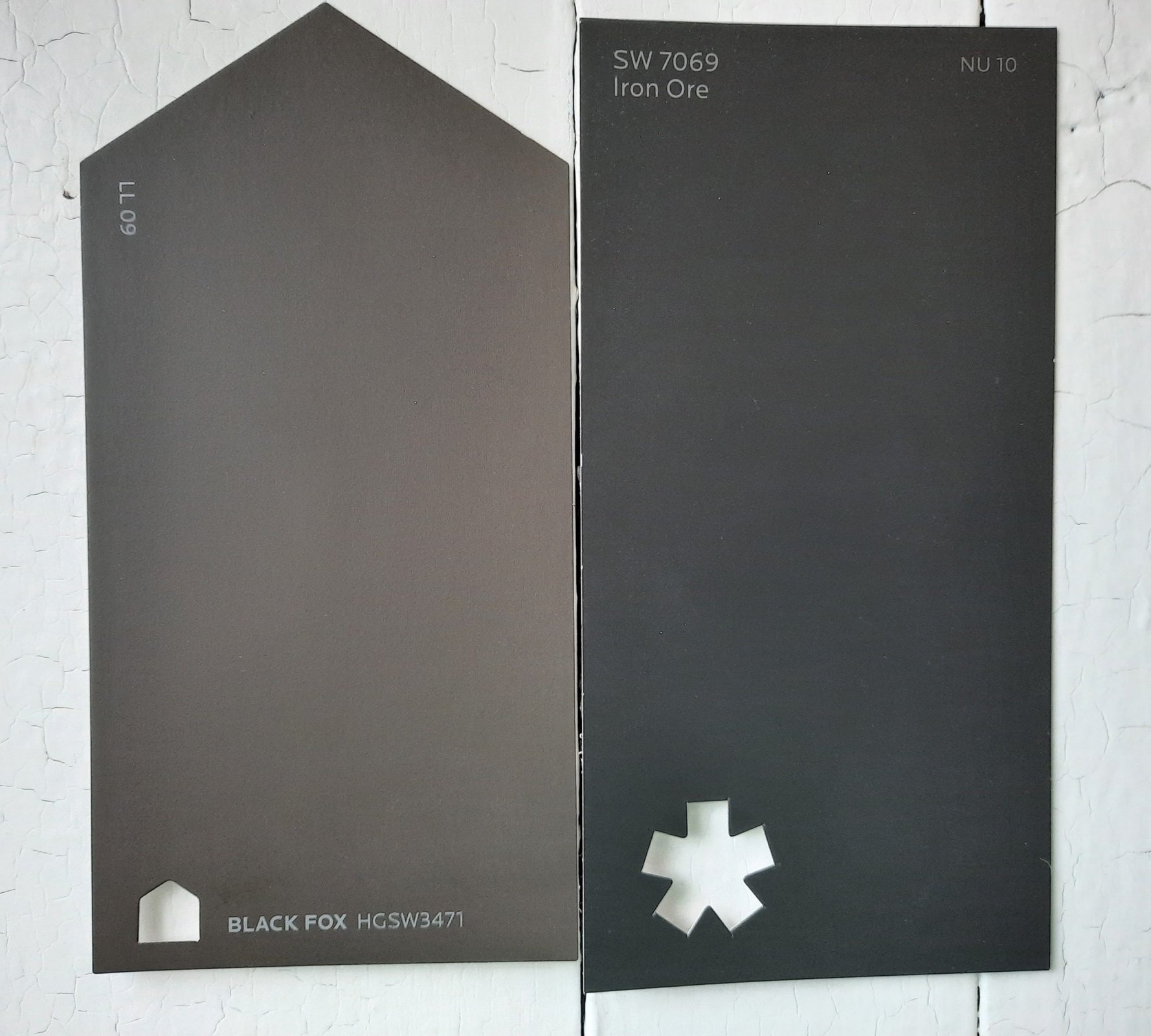 Iron Ore is a super-popular charcoal gray color with moody depths. It's bluer and grayer than Black Fox, and doesn't really have those brown tones. They're similarly dark, with Iron Ore sitting at 6 on the LRV scale.
Black Fox vs Black Magic by Sherwin Williams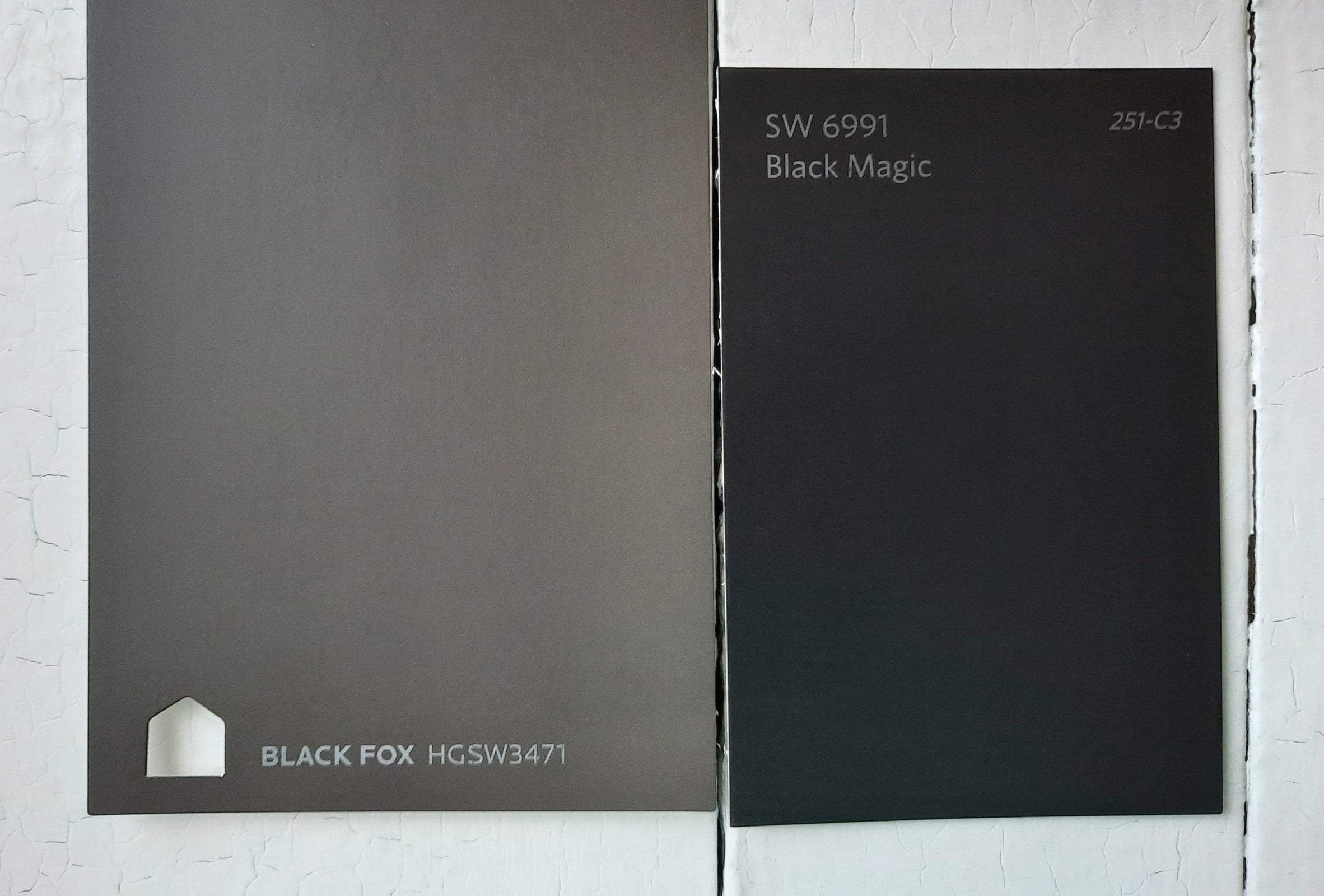 Black Magic is a true black paint rather than a dark brown or a charcoal gray. When the two are side-by-side, you can immediately see Black Fox's tan and gray highlights. Black Magic is ultra-dark, with an incredibly low LRV of 3.
Final Thoughts
Black Fox is a bold and mysterious black color that adds drama wherever it goes. Its russet undertones add warmth and interest, but it still has a lot of versatility as a neutral. Black Fox is best balanced with off-whites or lighter contrasting colors, but it can partner up with a few dark colors like gray or navy. Where will Black Fox take your next project?