27 Creative and Efficient Ways to Store Your Shoes
Do you keep your shoes piled in the front entryway? Do you have some on your bedroom floor, by the front door, and in the basement?
Why not organize your shoe collection, once and for all, so you're no longer rushing around in the morning looking for the perfect pair of flats to go with your new outfit?
Check out this list of 27 ideas for shoe racks and shelves to find the solution that's perfect for you.
Start with a Simple Metal Shoe Rack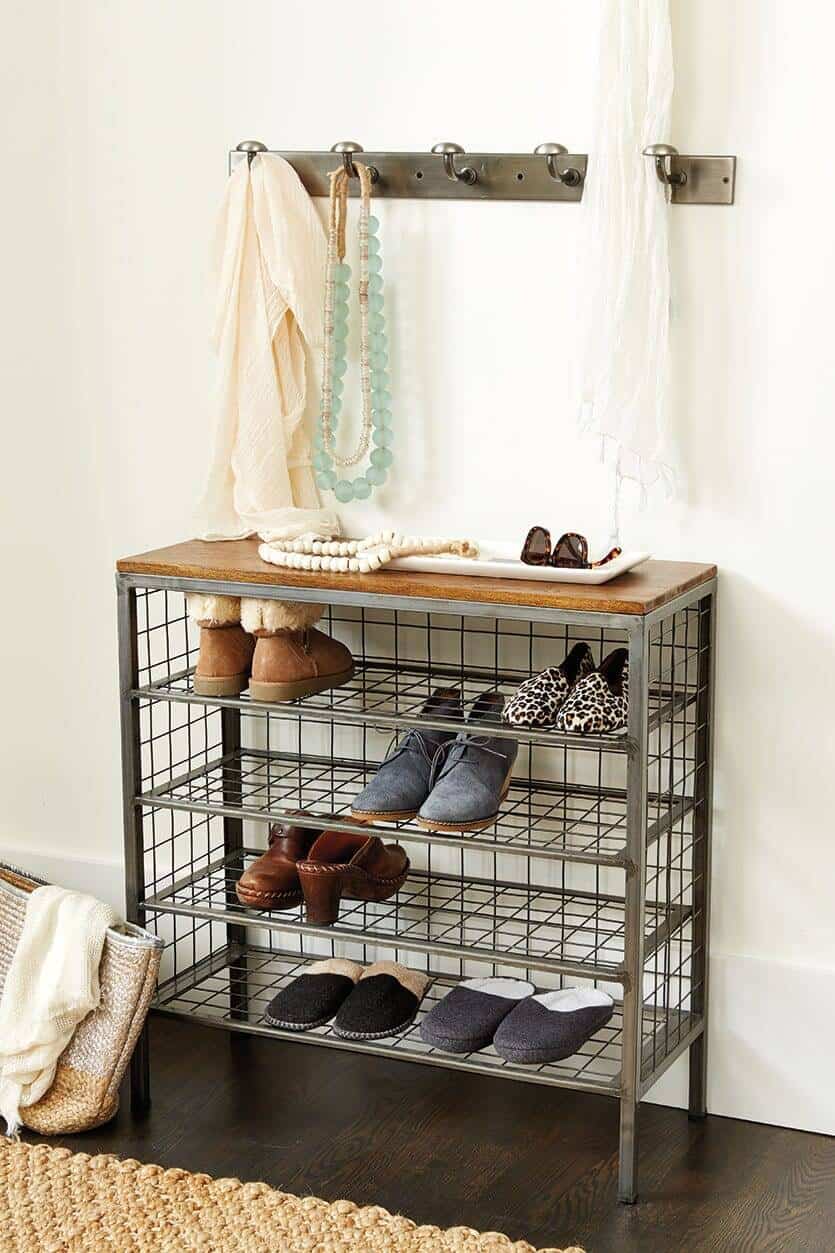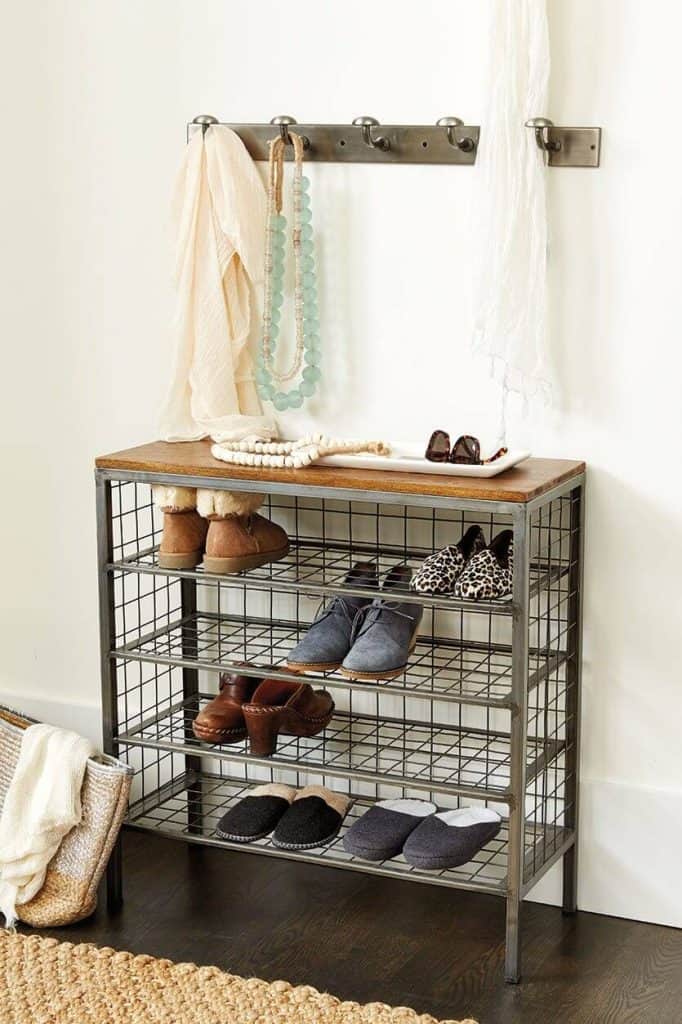 A shoe rack doesn't have to be fancy; a basic metal and wooden one will do the trick. This one is simple and understated, but holds a lot of shoes and would look nice in any hallway.
With this kind of shoe rack, you can keep your footwear on display and there's no need to hide it away in a closet. A nice bonus? The metal frame of the shoe rack will help your shoes air out!
A Bench Doubles as a Shoe Shelf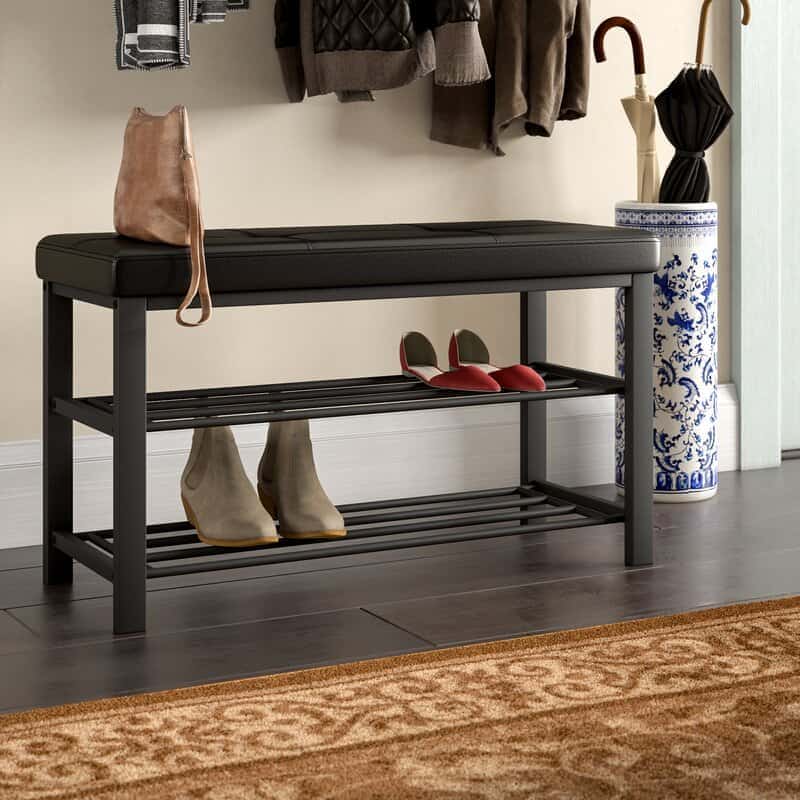 We've all been there—struggling to keep our balance while we try to put on a heel or zip up a boot. This shoe rack bench solves all our problems!
This bench is exceptionally great because it's comfortable and it can fit many shoes. The plush, clean surface is also a good deterrent for those of us who might be tempted to use the bench as a step to slip on dirty shoes—just sit down.
Customize Shelves to Fit Your Needs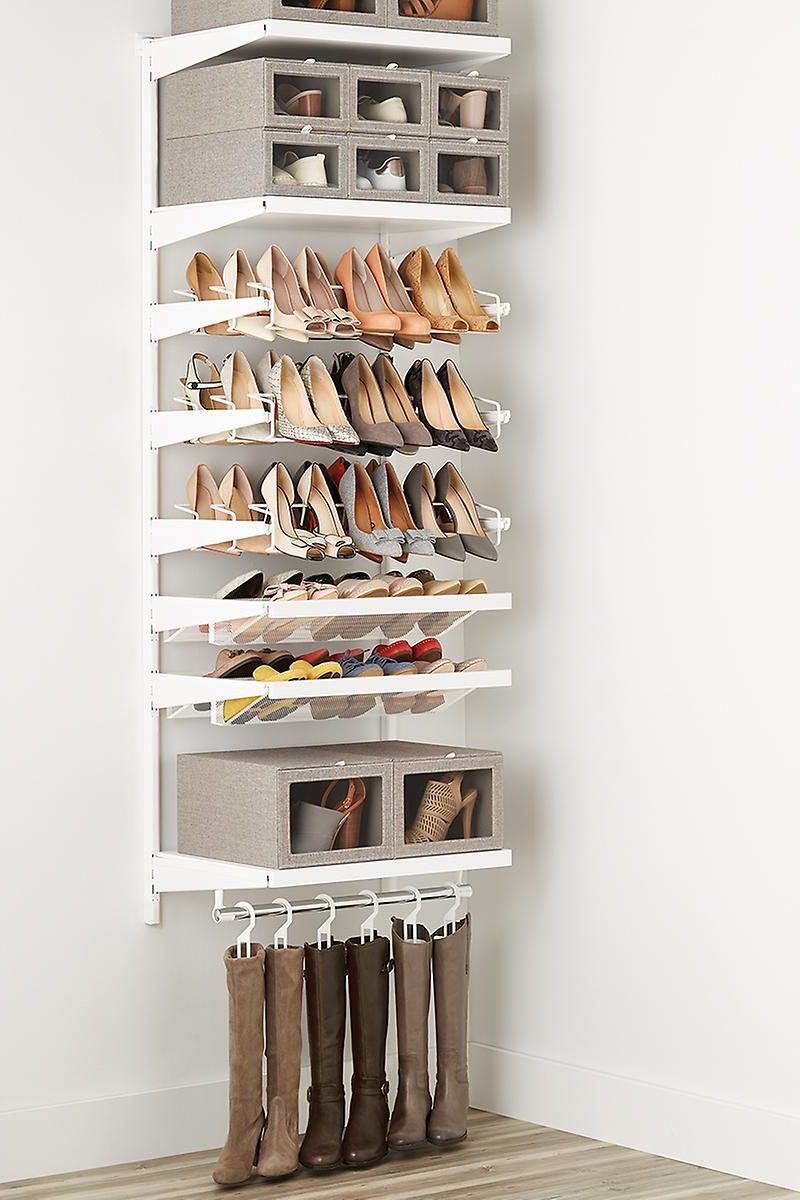 You can purchase shelving sets that are completely customizable, like the shoe library pictured here. It mixes some floating rods with flat shelving, angled shelving, and some see-through partitions.
My favorite part is on the bottom row, where some hangers are combined with boot shapers. This helps your pairs of boots keep their shape and look like new even after being put away for a season.
Save Space with Hanging Closet Organizers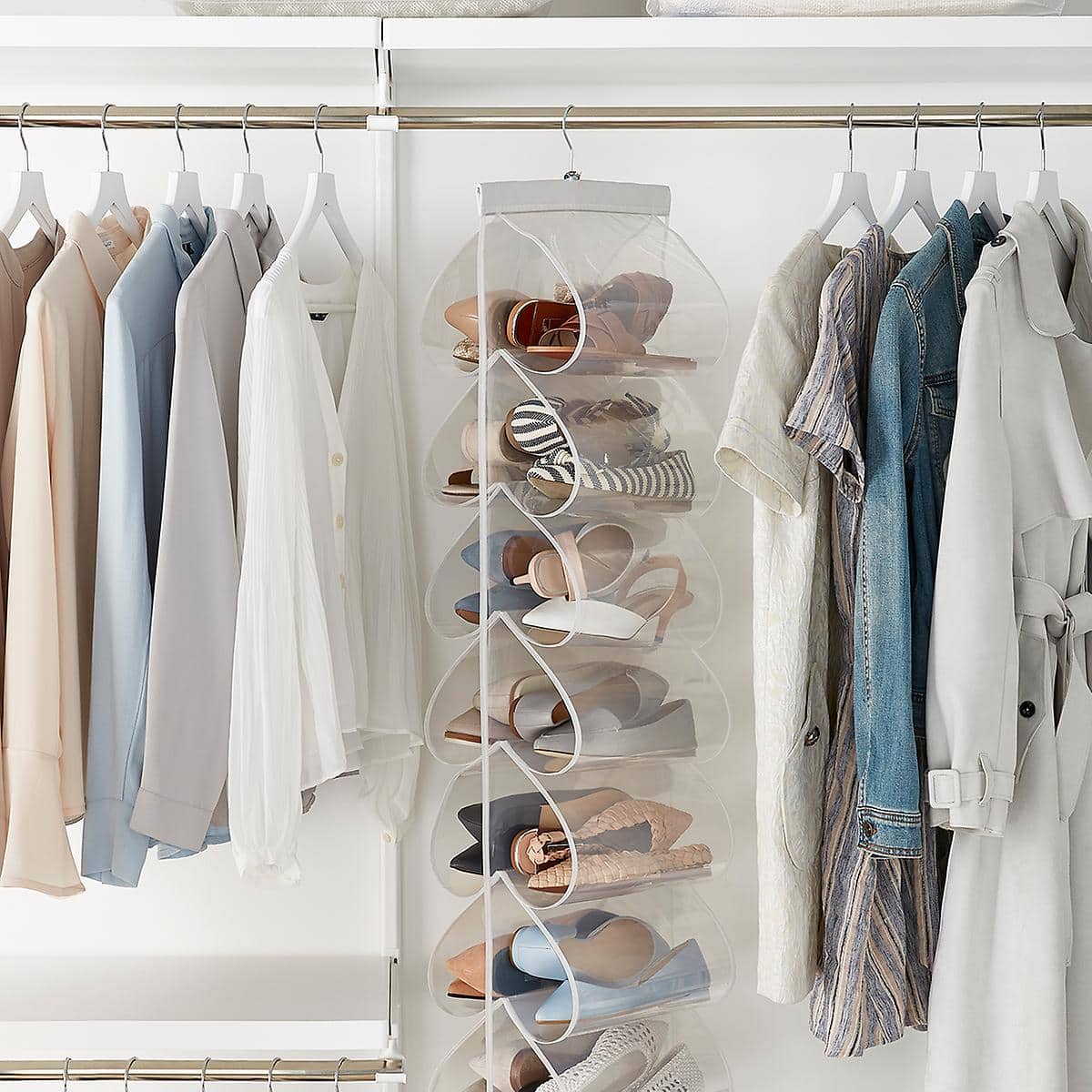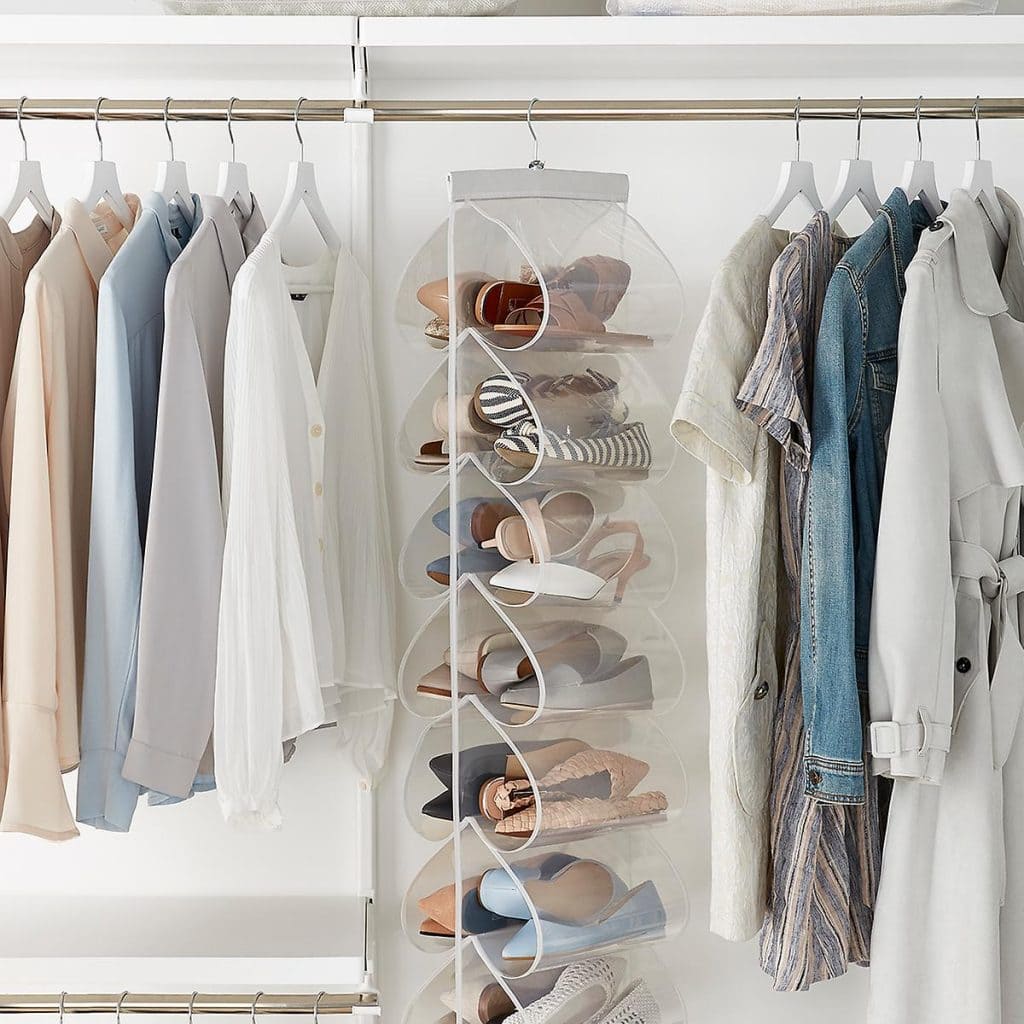 All your smaller shoes and flats fit perfectly in these hanging closet organizers. If you live somewhere with different seasons, you can put away all your summery shoes and save space.
You don't have to throw them in a box anymore and pull them out all flattened a few months later. It's also a good idea if you've got a locker or closet at work and you want to keep your shoes and heels organized.
Use a Vintage Mail Sorter for a Shoe Cubby
If you're going for a farmhouse look or you just love repurposed items, this vintage mail sorter is the perfect shoe organizer for you. It has so many different slots for shoes, and its height off the ground is perfect for taller rain boots or winter boots.
Just be sure to wipe off wet shoes before putting them in their cubby holes or the old wood won't last as long as you would like.
A Wooden Cabinet Does the Trick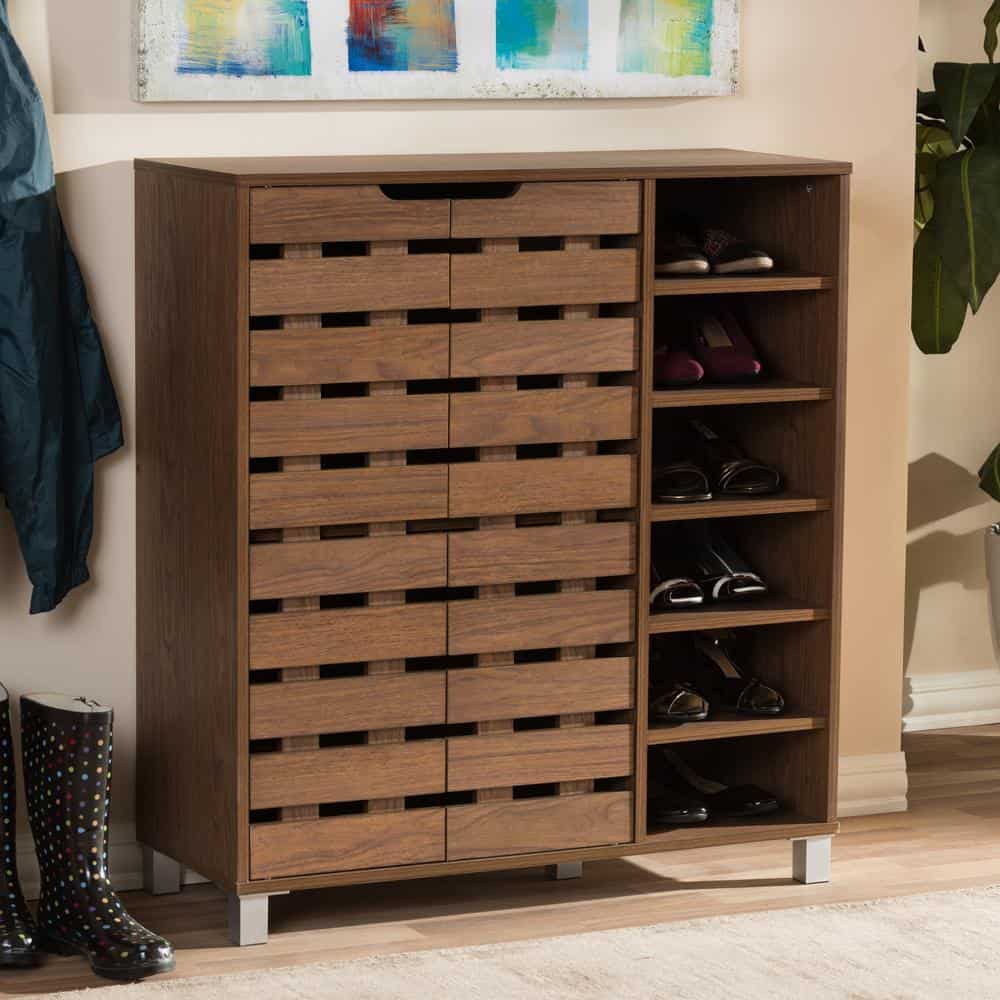 A wooden cabinet is a great way to store shoes in the hallway since the doors actually hide away most of your shoes. You can display just those that look the nicest or that you use most often.
If your main entryway doesn't have a hall closet, this is probably the best option for you so you're no longer tripping over shoes left in a pile around the door.
Get an Over-the-Door Solution for Small Spaces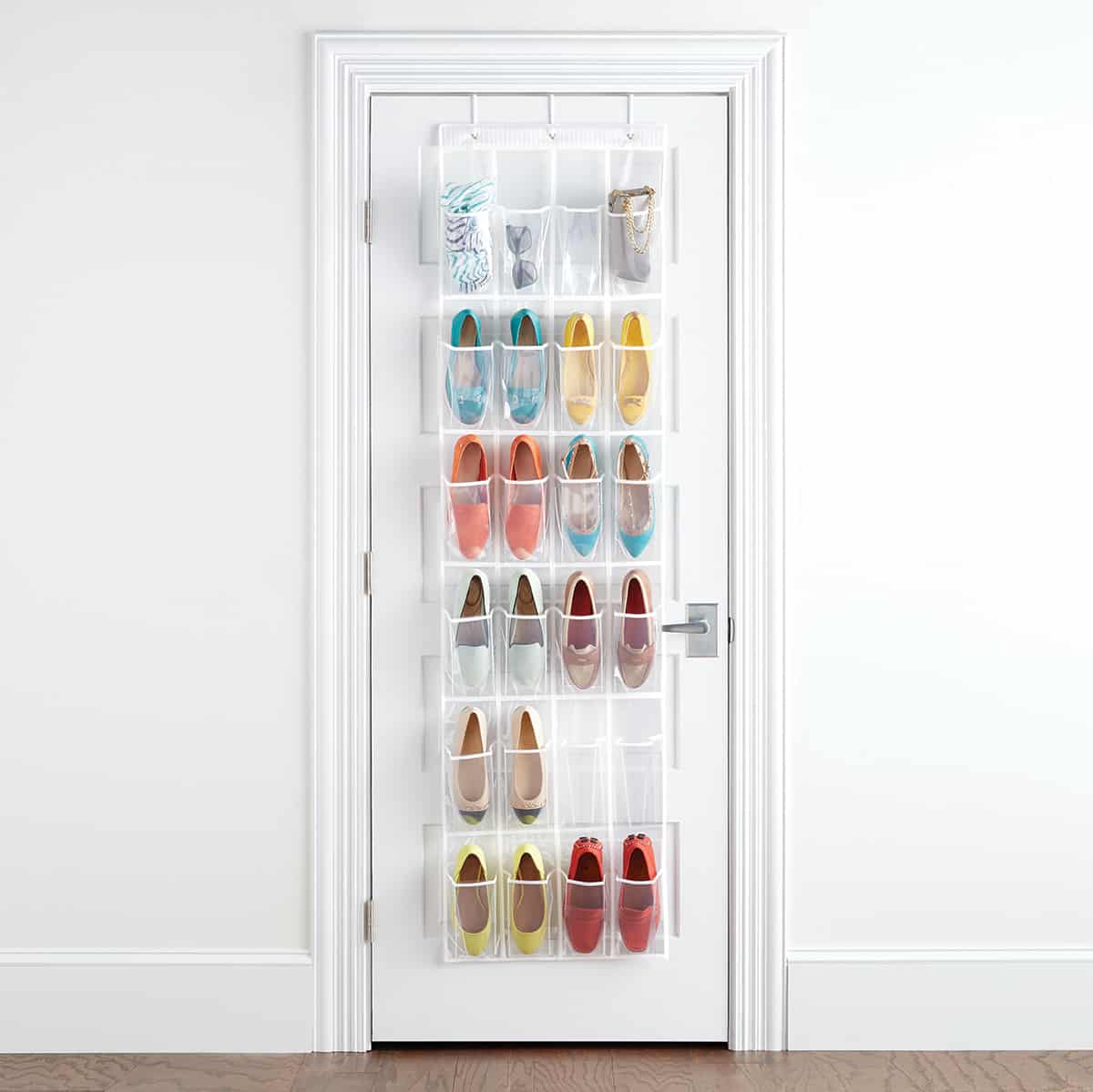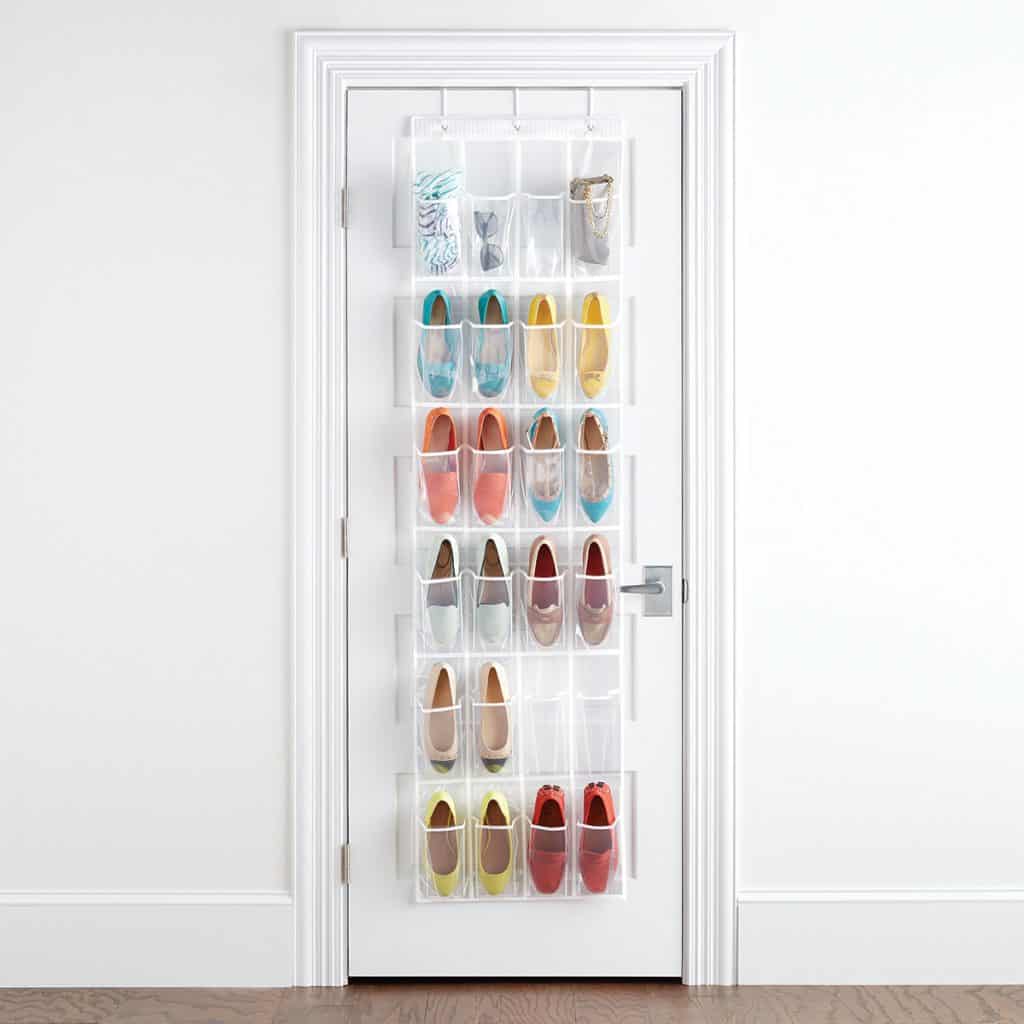 If you don't have a lot of space for a big shelving unit, an over-the-door hanging shoe organizer is a great option. This one has a lot of separate spaces for shoes or other accessories, and the clear plastic allows you to quickly spot the flats you're looking for.
Get a Basket for Each Family Member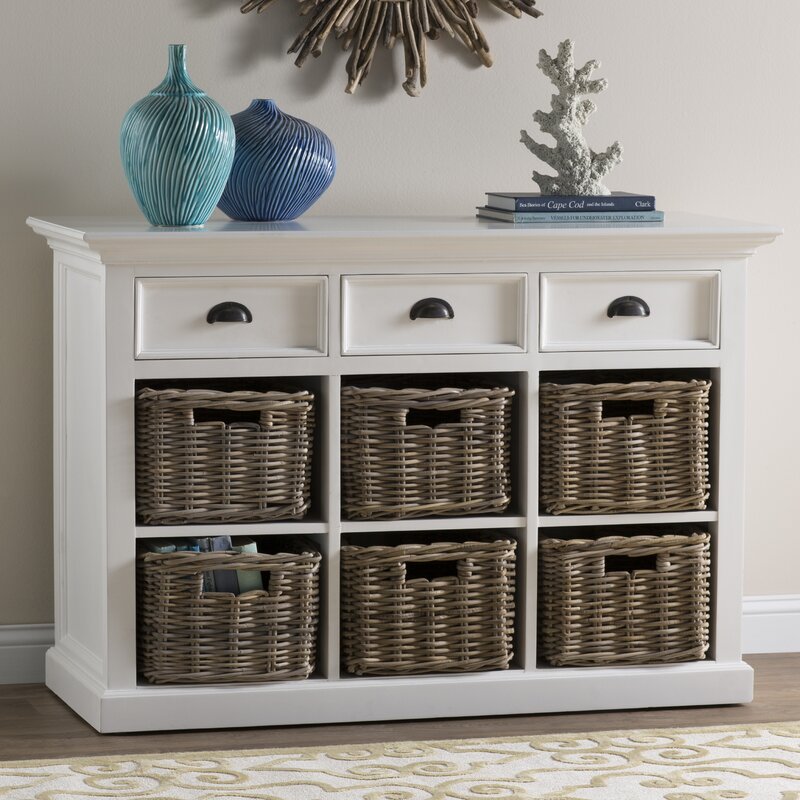 Last but not least, some wicker baskets are a smart idea to keep different family members' shoes apart. Create some labels for your baskets so everyone has their own.
If the shoe shelf is only for you, you can segregate your shoes by type in each basket. Sandals in one, heels in another, and so on. The wicker baskets inside the shelves add a nice touch of farmhouse look.
Hide Your Shoes in a Hallway Cabinet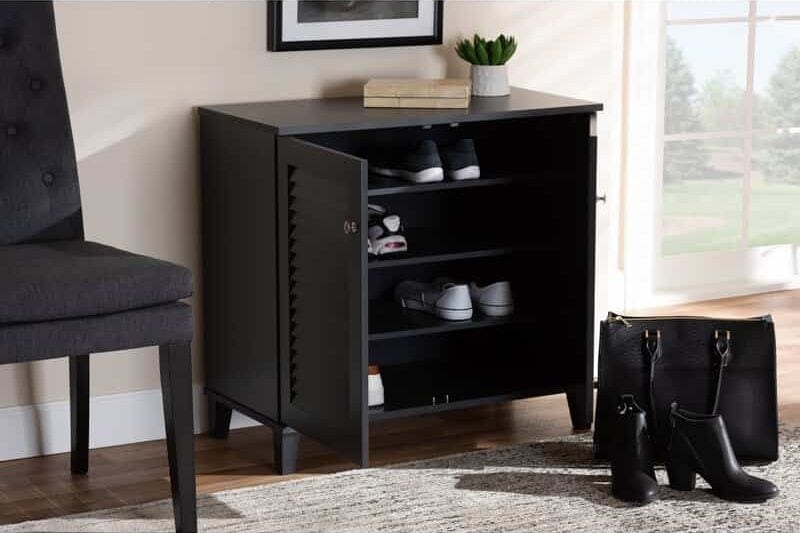 This is another clever way to hide your shoes in the hallway. Until you open this cabinet, you would have no idea that it stores so many shoes. It's because of how narrow it is.
It fits about 12 pairs, more than enough for a front hallway.
Try Upright Shelves for Narrow Hallways
So, you want to put your shoes in the hallway but you don't have the space for a shoe rack or shelf? Get some thin shelves like these and put your shoes upright. This saves space but also lets you really display your favorite shoes.
Make sure to space out each floating shelf properly so that even running shoes of a much bigger size will fit comfortably on each row.
Make Your Own Ladder Shoe Shelf
A ladder shoe shelf is quite easy to make yourself or you can buy one for this minimalist, farmhouse look.
With a shelf like this, you don't need to hide your shoes away but you can display them front and center in the hallway. Each family member can have their own shelf, or if it's just for you why not color coordinate the shoes on each step of the ladder?
Use Copper Pipes as Floating Shoe Racks
If you're all about mid-century modern or minimalist decor, this is the shoe rack for you. A couple of sets of repurposed copper pipes make for some simple yet sturdy floating shoe racks.
Granted, you don't get a lot of space. But it's perfect if you only have a couple of pairs of go-to shoes that you want to leave by the front door!
Floating Shelves are Simple and Utilitarian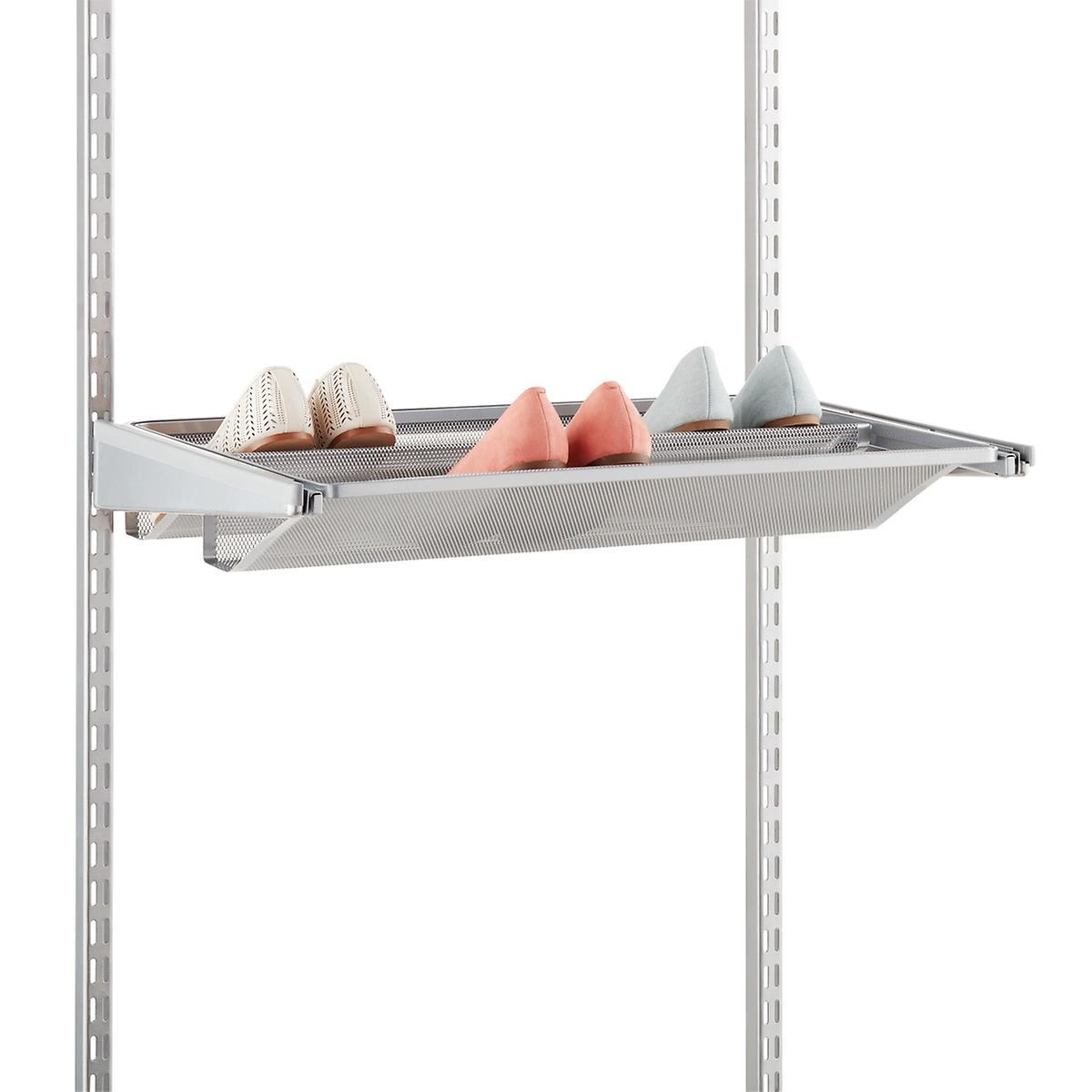 If your shoes are stored in a mudroom or walk-in closet, sometimes floating metal shelves are all you need. This shoe wall is an excellent solution to store all kind of shoes.
Be sure to install it at the right height so you can also fit your taller boots too.
Make an Under Bed Shoe Divider
If you're like me and you keep most of your shoes in your room or closet instead of by the front door, this is a neat storage solution. You can create pull-out drawers to stash your shoes underneath your bed. The glass top lets you quickly see where your favorite shoes are located.
Follow this simple DIY tutorial and make your own shoe drawer on wheels for underneath your bed.
You can also buy a cheaper fabric version
Turn Your Stairs into Drawers
I find that this idea is so clever and cool. The bottom stairs are hidden pull-out drawers where you can keep your everyday shoes!
This solution is perfect for everyone whose front door opens right into an open concept living area without a real space for a closet or shoe rack. Of course, you need stairs for this to work, but otherwise it's quite a clever space-saving solution.
Get This Magical Shoe Cabinet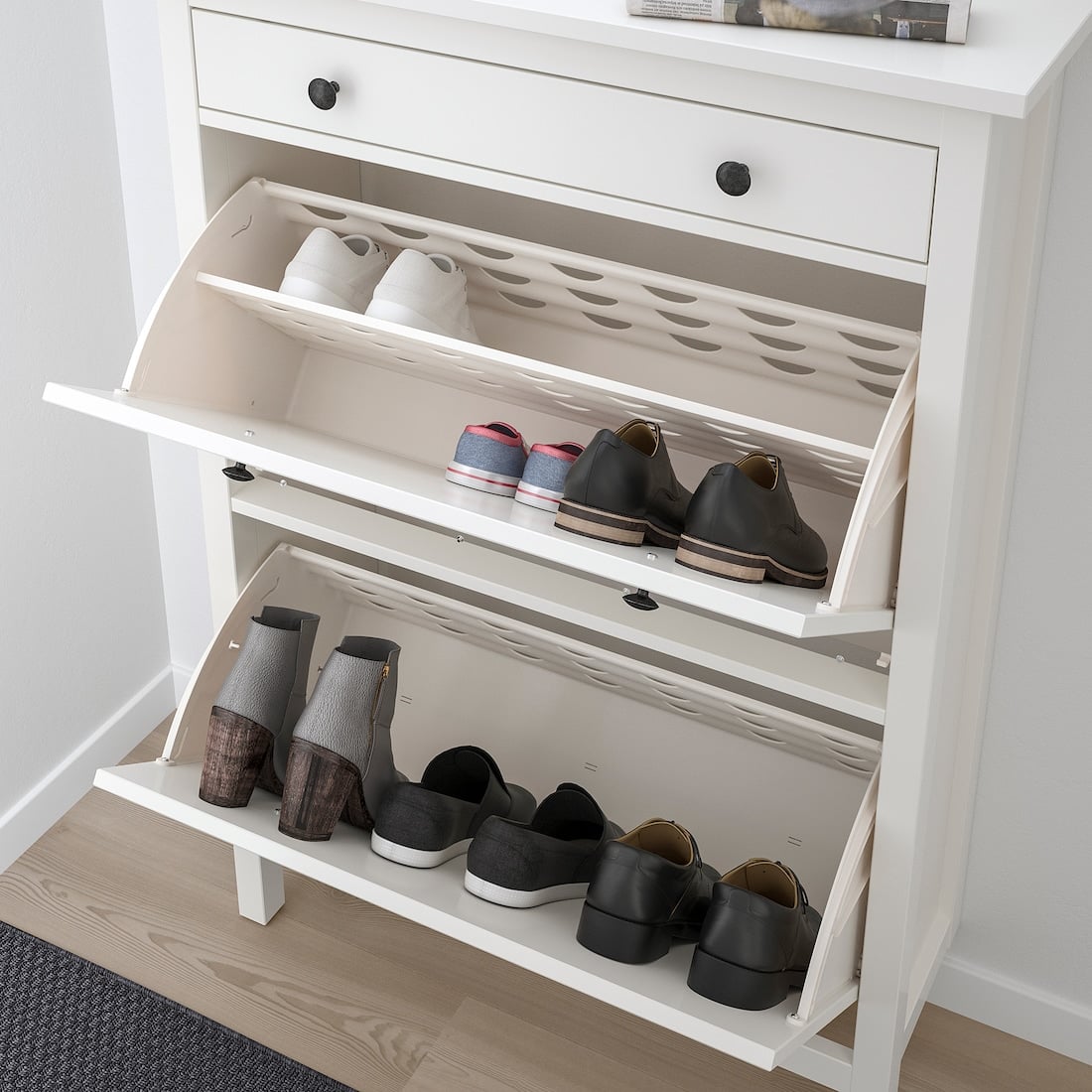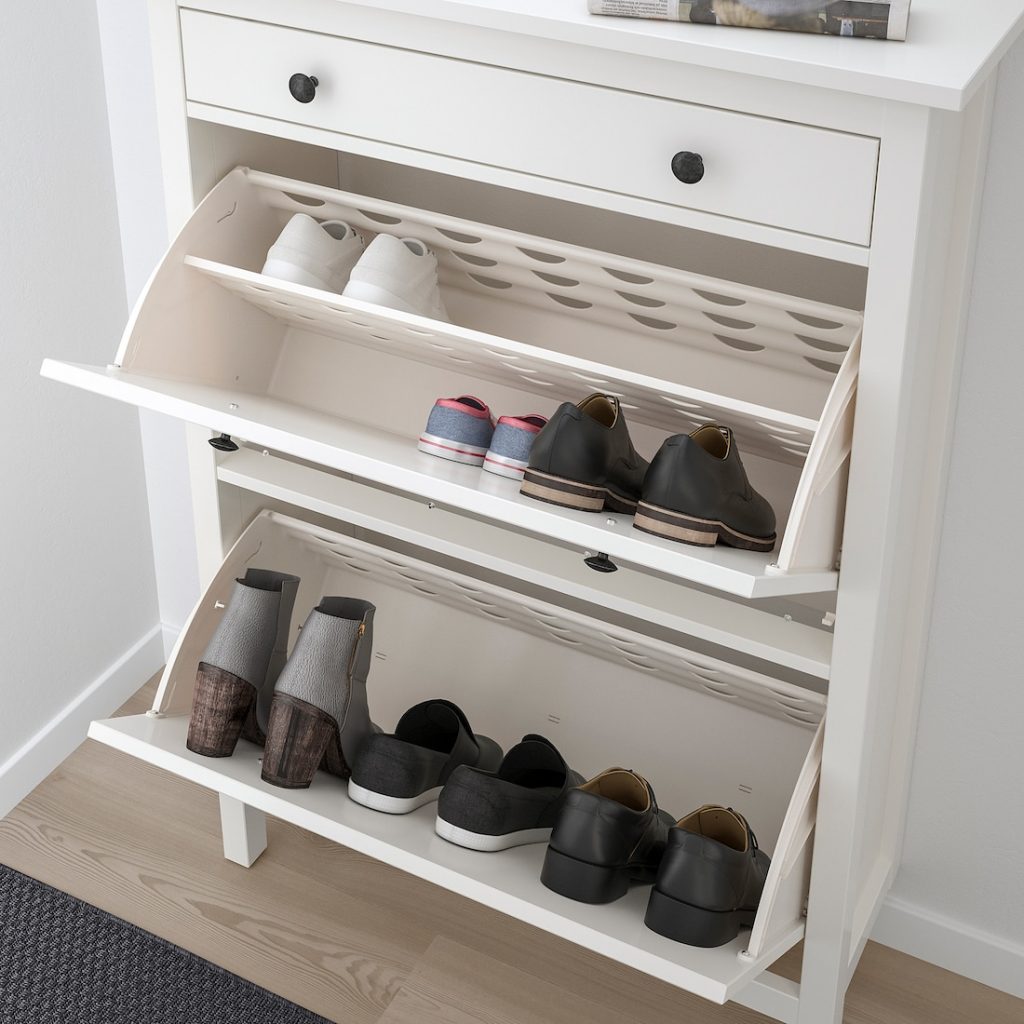 I call this shoe cabinet magical because it hides way more shoes than you would think. It even hides away larger shoes like heels and wedges. It's small and white and would tuck away nicely in any hallway corner.
The drawers have hidden sections inside to keep your shoes upright and organized. At the top there's even a bonus little drawer for shoe cleaning accessories.
Use Wooden Crates for a Farmhouse Look
This shoe solution is the ultimate farmhouse look. Wooden crates are stacked on top of each other in different directions to varying heights of shelves.
They have a weathered, reclaimed look which looks right at home in a barn, and they even have little hooks nailed into the side of one for hanging keys or a scarf. It's quite an easy look to recreate, because all you really need is a handful of crates.
Metal Baskets Are a Great Industrial Look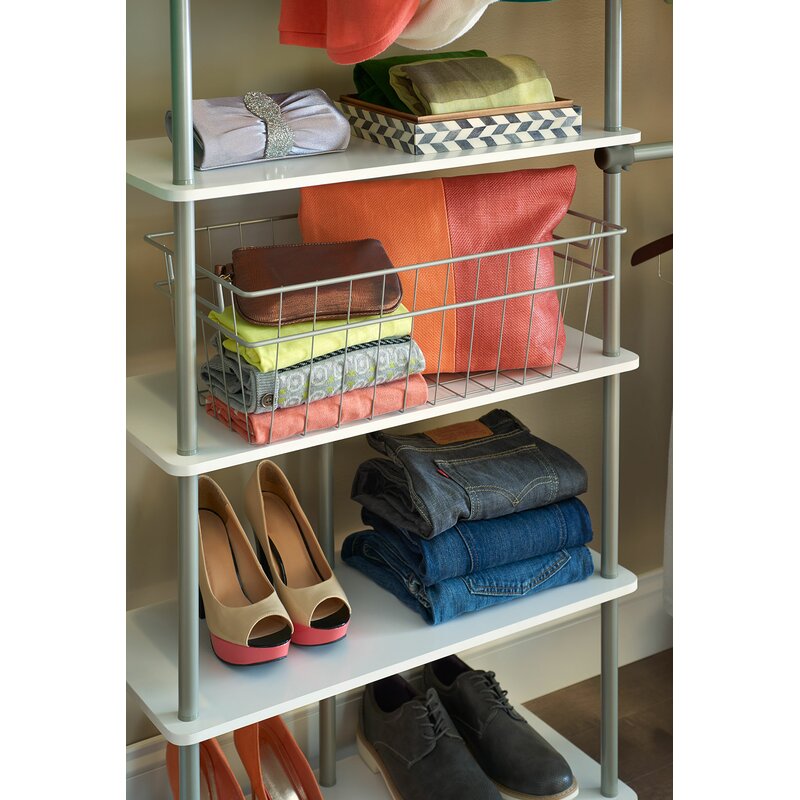 These shelves would look great in a laundry room or mudroom, especially if you're going for a modern or industrial look.
You can use a lot of them, so you can assign shelves to different family members, and the baskets allow you to see inside and spot the shoes you want without difficulty.
Make a Lazy Susan Shelving Unit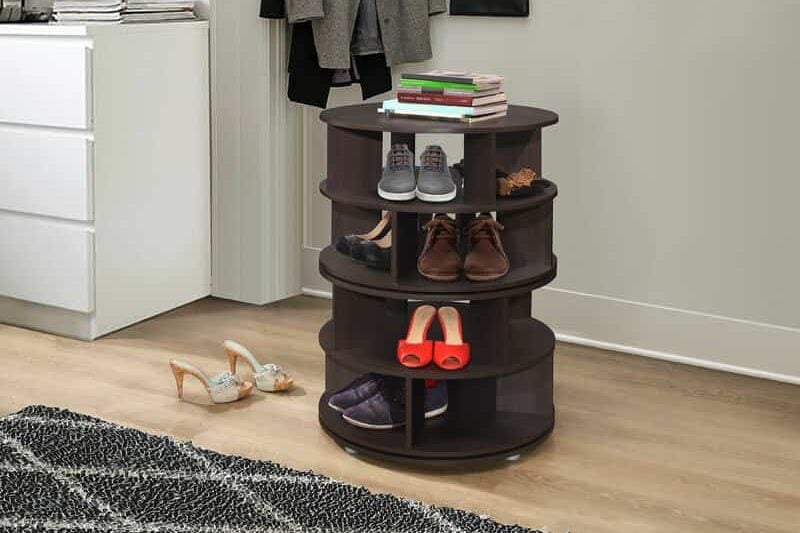 Lazy Susan furniture is when a turntable is placed in a unit to rotate it and make it easier to access. It's commonly added to tables to help pass food around, but here it's used perfectly as a shoe rack. You can display and quickly grab any shoes you want.
This shelving solution is quite simple to make yourself too so you can save a few hundred dollars. Just follow this easy to understand tutorial.
Use Old Coat Hangers for Your Flip Flops
These old wire coat hangers are cleverly repurposed to hang some pairs of flip flops. We all have a handful of flip flops lying around, so this is a good way to keep track of them all. It's especially useful in winter time when they need to be tucked away somewhere.
With these coat hangers, the straps keep their shape instead of getting flattened. You might be able to hang some flats and other sandals too!
Hang Heels Over Tension Rods
These tensions rods are a good way to store heels without actually using shelves. If you have a little nook in the bedroom or back of the closet, get a handful of tension rods and install them all the way up. Your heels will display perfectly so you can grab the pair you want on the go.
Get a Simple Square Shoe Organizer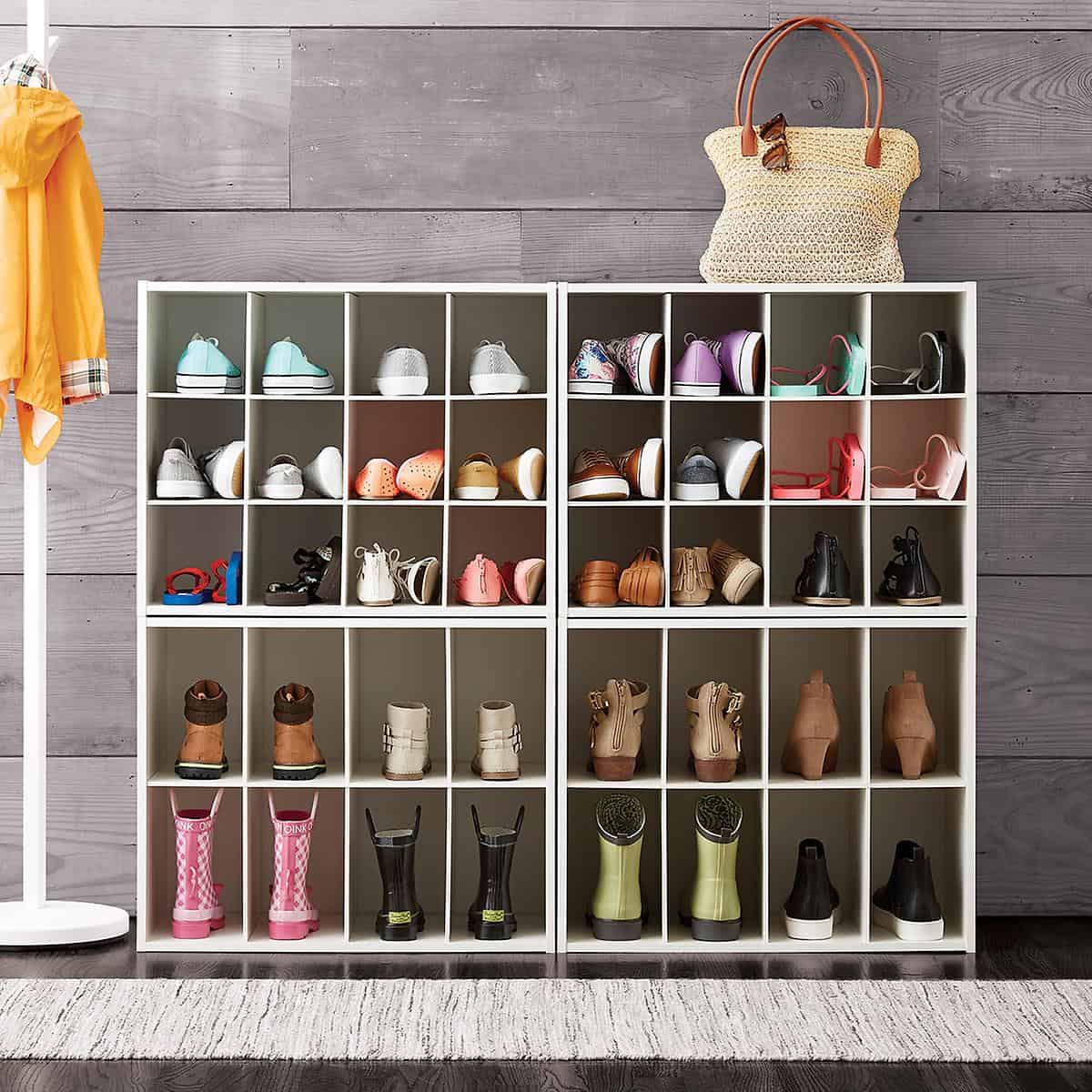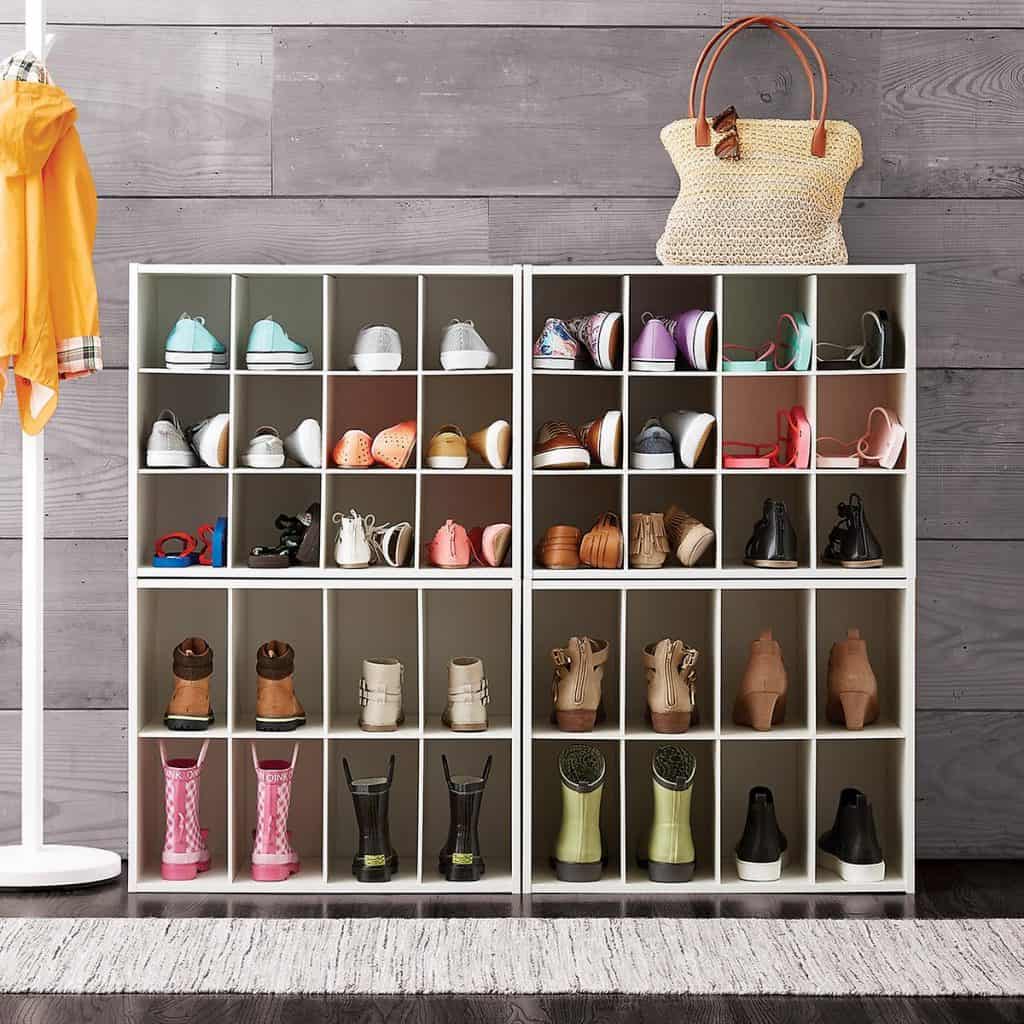 Another simple way to store shoes is with a stackable organizer like this one. As you can see, it's actually four different shelving units stacked together. The simple, clean white lines aren't too heavy or bulky looking, so you can place this unit in a hallway by the door.
If there's any danger of the top units tipping over, though, you'll have to attach the backs to the wall.
Maximize Space with Small Corner Shelves
If you have a small entryway without space for a shoe rack, this is the solution for you! These floating shelves are installed in the corner between the stairs and the kitchen.
Paint them the same color as the wall so they blend in more. You can also add a basket for your keys and wallet. Make sure that the shelves you get are the right size for the biggest shoes in the house though.
Hide Shoes Behind a Floor-Length Mirror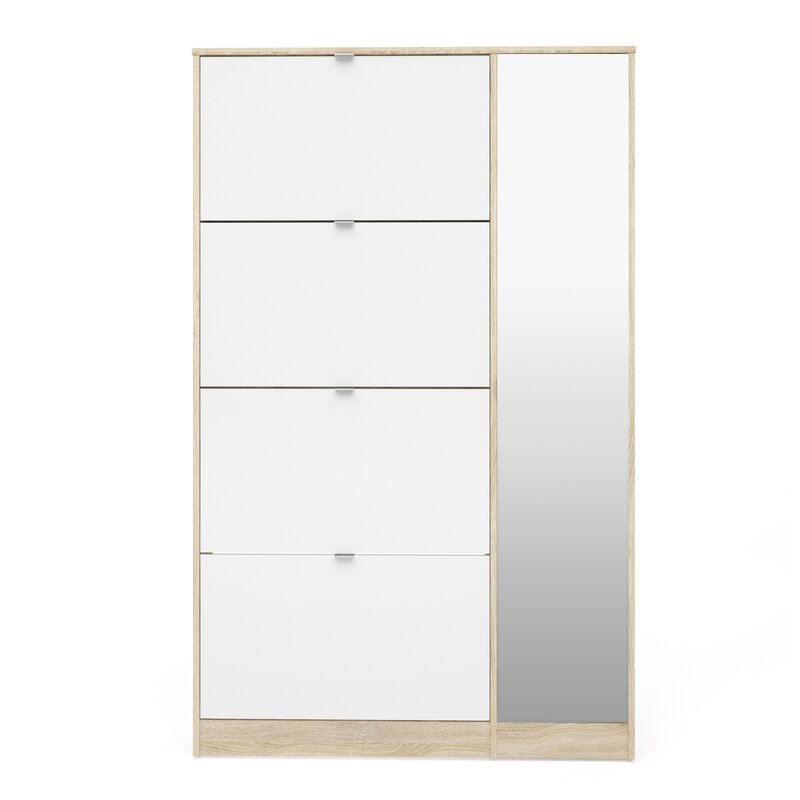 Another great shoe rack solution is to hide your shoes in a cabinet with a full-length mirror.
It's dual purpose so you can hide away your shoes in the hall closet and also check yourself out before heading out the door.
Be Unique with PVC Pipes as Shoe Organizers
Instead of square cabinets or shelving, why not change it up with a DIY shoe organizer made from PVC pipes? These pipes are just the right size to fit a pair of shoes in each hole.
They can be stacked and attached to each other to create the size of storage you need and painted in the style you want. Check out this site for simple instructions on making your own PVC pipe storage unit.
Use a Metal Grid for Your Heels
This is a simple solution. You can just lean a metal grid against the wall, attached at the top, and hang your heels or flats anywhere on it.
It's modern and minimalist, and with some pretty heels arranged at different heights, it almost looks like a work of art!
Add a Modern, Plant-Shaped Shelving Unit
Instead of hiding away into the background, a shelving unit can also make a statement. This one is set up to look like a tree and fits seven pairs of shoes, or more if you have small sandals that fit on the same side together.
The whole thing is mounted on the wall, and you can actually paint it in the color you want to work with the theme of the room.
Final Thoughts
There are so many different shoe storage solutions out there, from DIY projects to fancy hideaway cabinets. Pick something within your budget, that works for the number of shoes you have, where you'll be storing them, and if you have to do seasonal rotations.
You also might want to think long-term. Are you the kind of person who buys new shoes every season or have you been wearing the same three pairs for years? Make sure the option you go for will work for you in the future if you plan on expanding your shoe collection.