Decorated Life is reader-supported. When you buy through links on our site, we may earn an affiliate commission. Learn More
15 Shoe Storage Ideas For Small Spaces
Owning an endless pair of shoes is quite common. Boots, sandals, sneakers, loafers, flip-flops, heels, and ballets – yes, the list is immeasurable. Generally, it's very fancy to have a wide array of shoes in various colors and styles in your wardrobe. But the real struggle comes when it's time for some storage. And especially for homeowners residing in smaller lofts and apartments – the struggle is even harder.
So, how do we deal with this space storage issue? Well, in such a case, creativity and planning play a major role. So, here are 15 shoe storage ideas for small spaces that prove the utmost functional and aesthetical. And they're beyond creativity!
Overdoor Shoe Organizer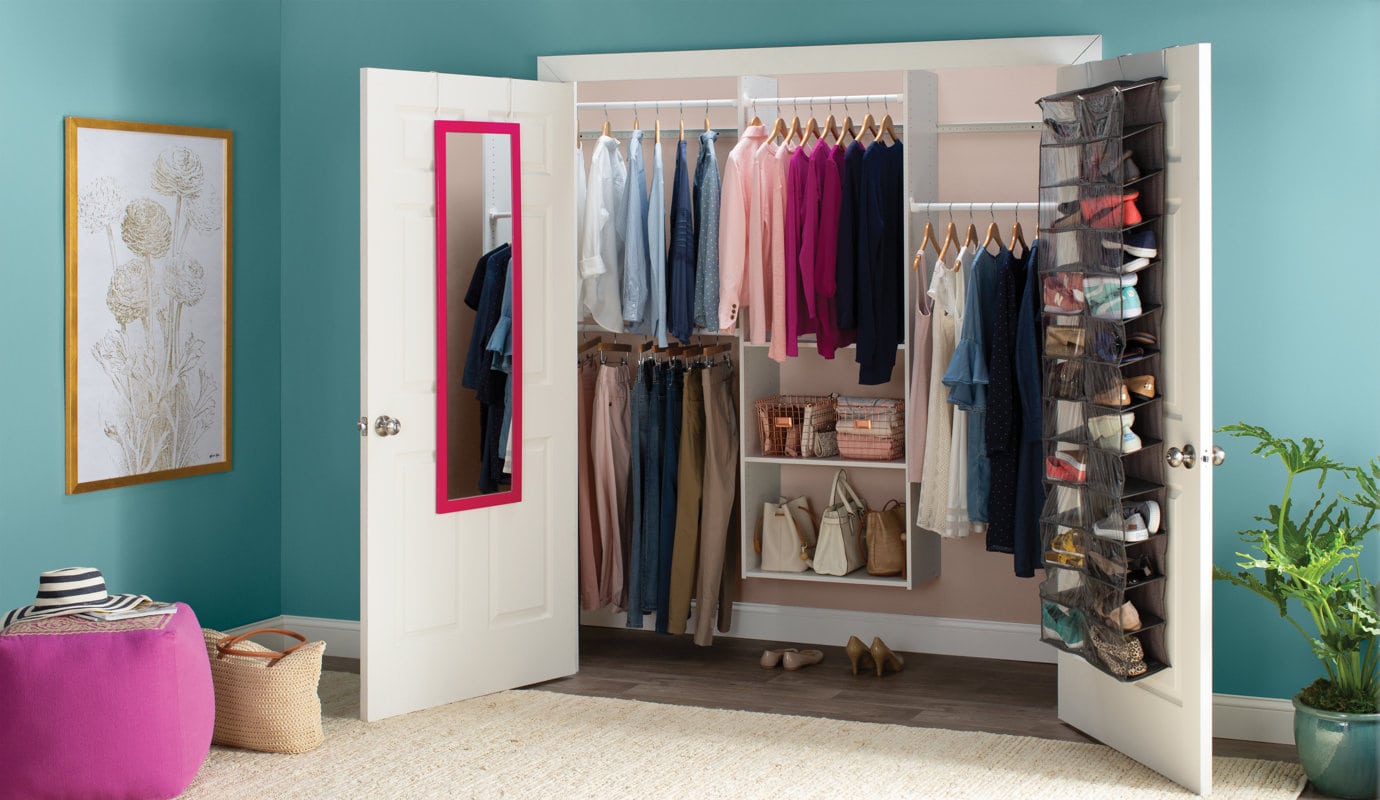 When you live in a small, cramped apartment – every inch of space counts. Even if it's the vertical space behind your closet door or otherwise. With the help of an over-the-door hanging shoe rack, you can simply store all your shoes and have that space to count.
And especially if you want to avoid bending and pulling out shoes every now and then, this is a great simple and easily accessible storage idea.
Under the Bed Shoe Storage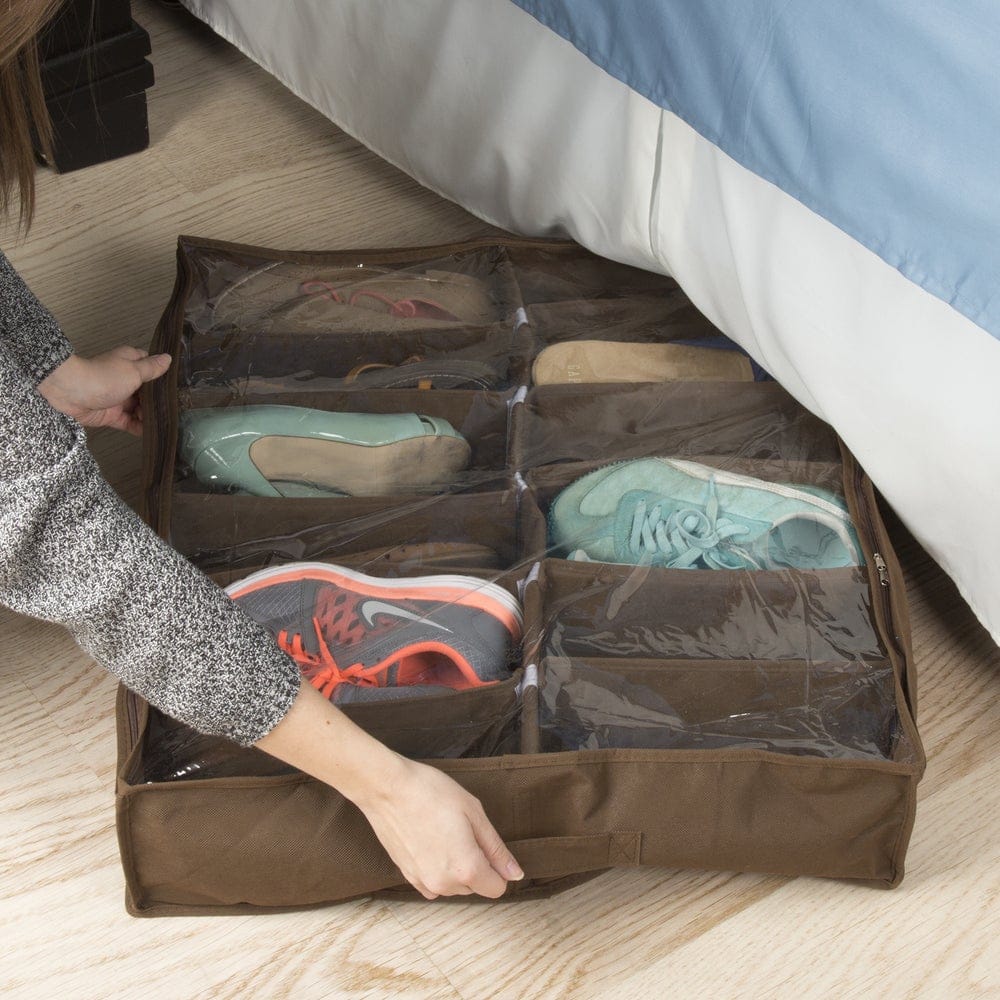 Regardless of how small your home is, it's a given that you have a bed. So, why not make use of the space underneath? With the help of this sturdy adjustable clothesline, you can easily stuff in shoes and allow them to dry and store. Yes, it's a true space saver!
Moreover, it is equipped with a clear, see-through zipper that allows you to easily identify the shoe you're looking for. This way, your shoes are also comparatively protected against moisture, dust, or bugs.
The Shelf Storage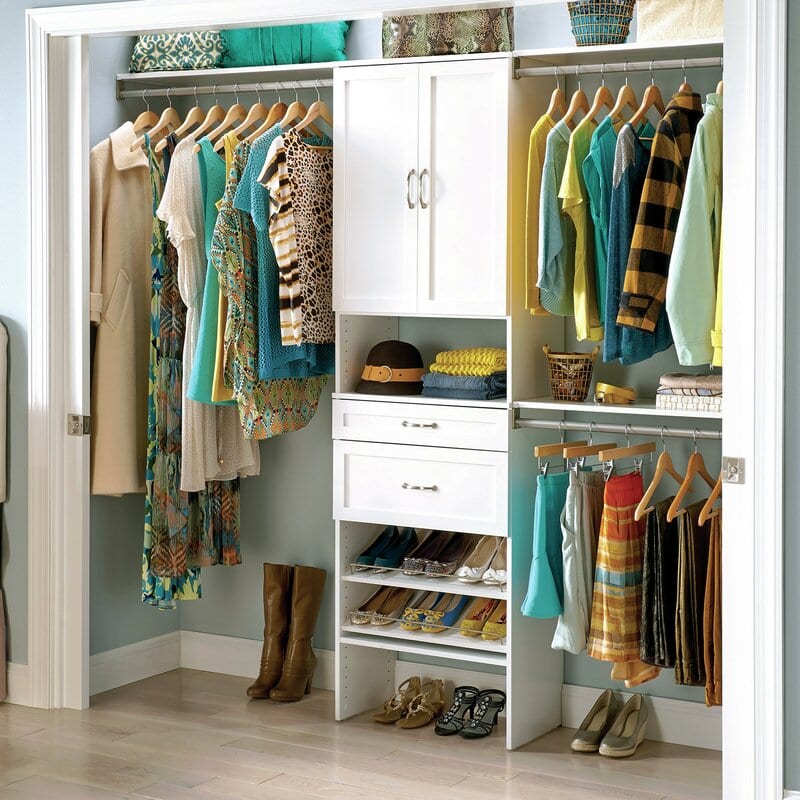 You must have a dedicated corner in your wardrobe for the storage of your shoes. The shelves are not just for clothes and books – rather, throwing a piece or two of your favorite sneakers wouldn't be a bad option either.
Moreover, you also have the opportunity to make use of the floor space that in general would go unused. Yes, you can place the high boots and high heels without the constraints of the height and width of the space.
Levy Clothing Rack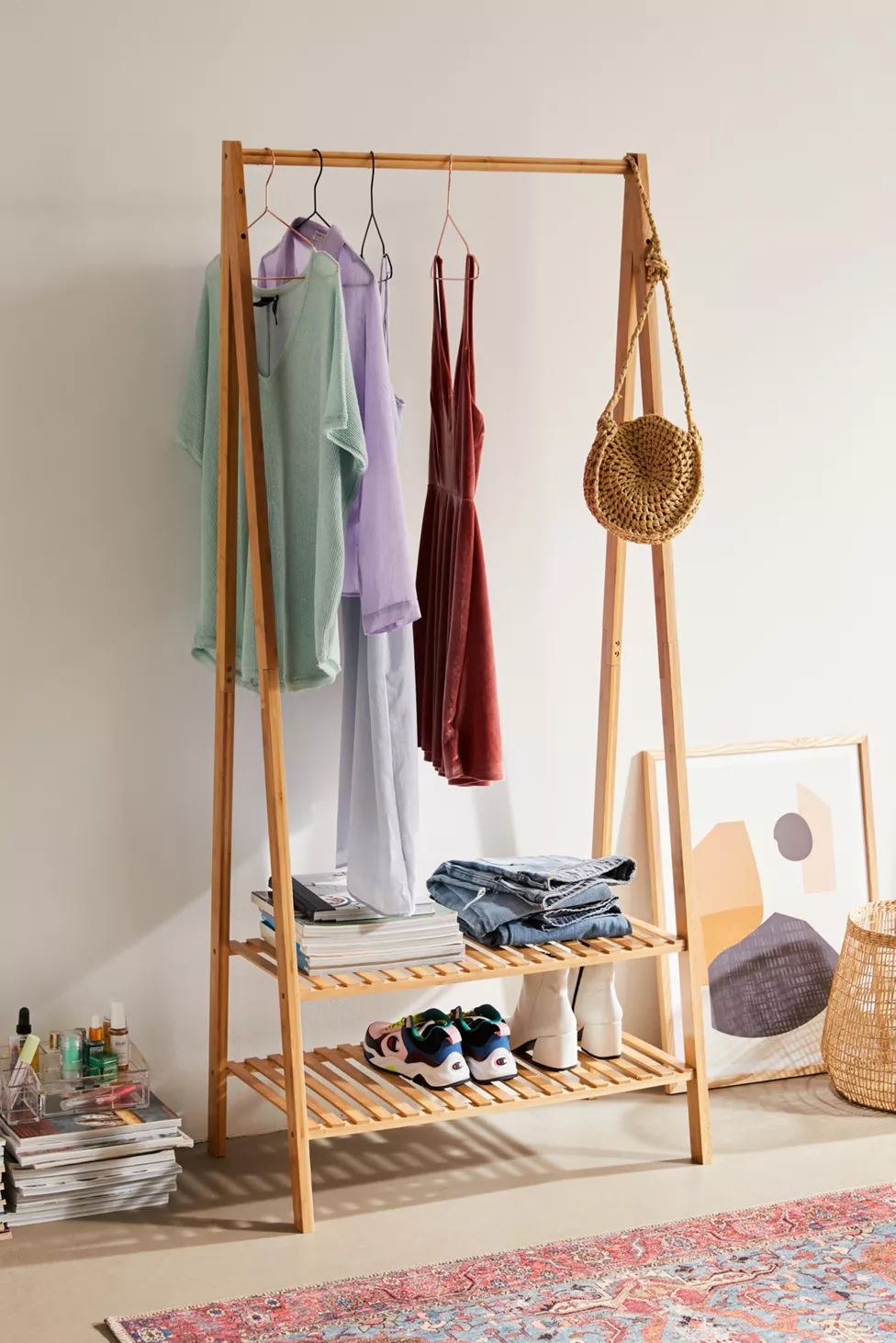 This sleek and stylish clothing rack offers an efficient way to style and store shoes, clothes, bags, hats, and books. You can simply place it in any corner of your home (and specifically the entryway or the hall where this can work as a coat hanger as well).
This fancy space-saving shoe storage is quite minimalist and bohemian-like. Made with bamboo, it's also quite strong and durable and can withstand multiple pairs of shoes.
Shoe Storage Bench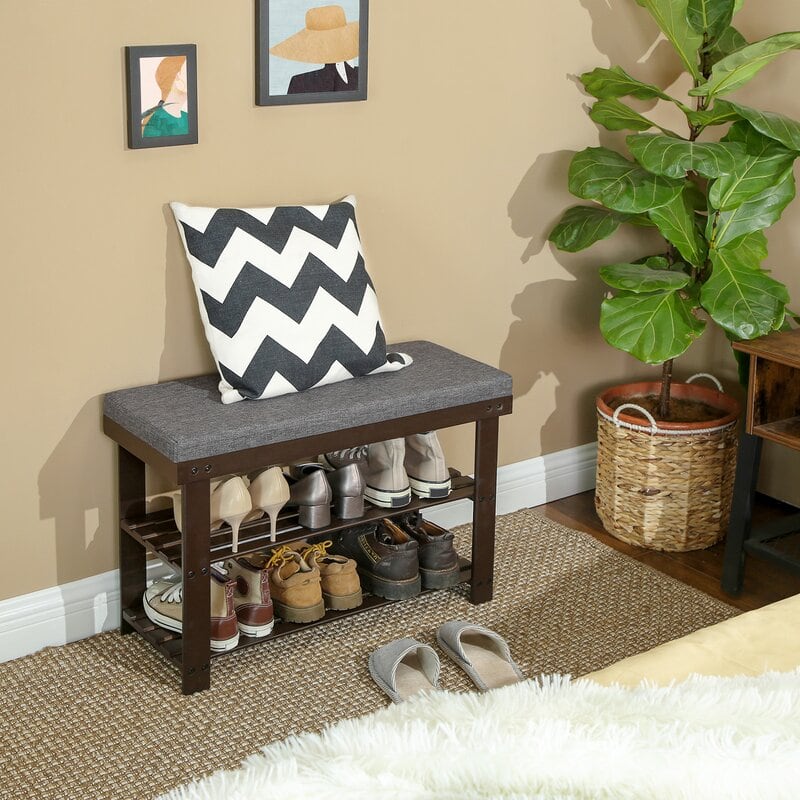 This is one of the best shoe rack ideas for small spaces. Holding 9 pairs of shoes, this petite bench can be fitted into an empty corner or negative space to add meaning and thought to it. And do you know the best part? Well, you can also simply sit on it and put on or take off your shoes.
Yes, multi-functional furniture is something to embrace and look forward to!
Shoe Storage Ottoman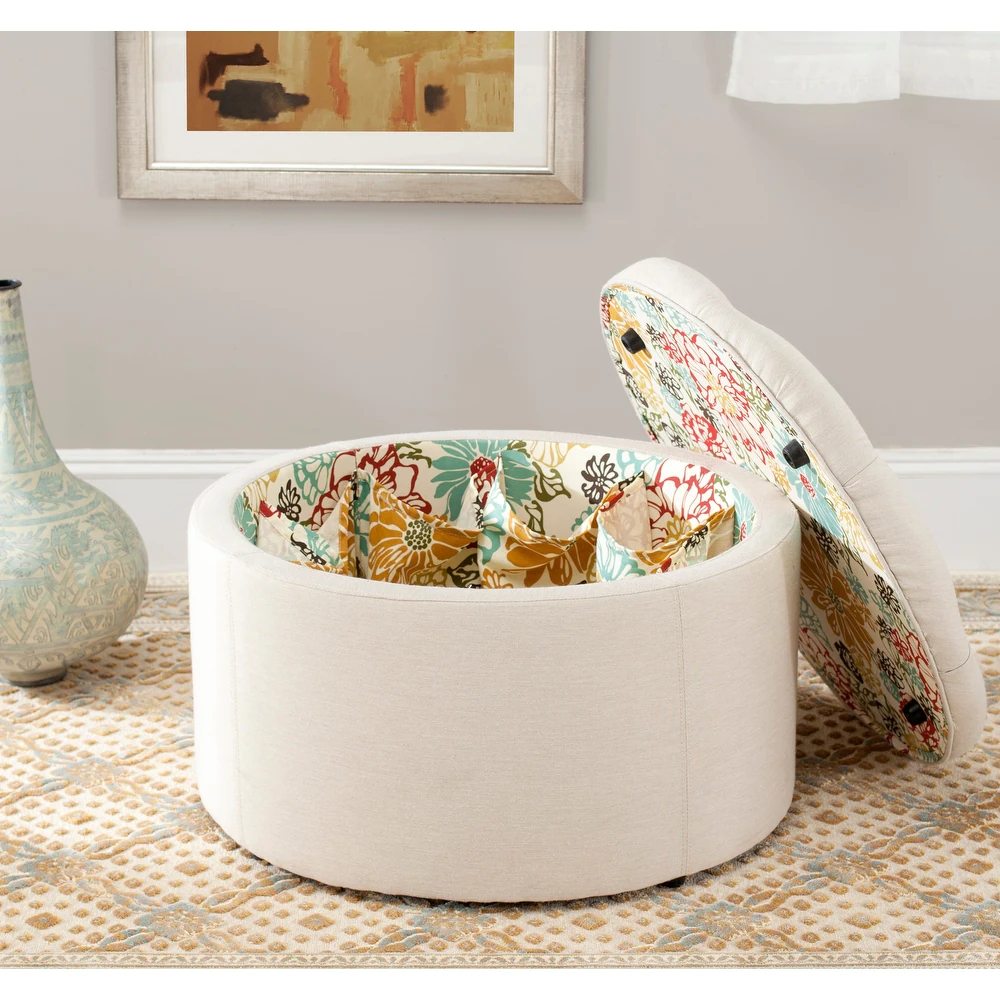 This is one of the most creative and effective space-saving solutions to store shoes. Since it's functional and highly fashionable, you can put it for multiple uses – in your living room as well as the bedroom. Apart from shoes, you can even store a throw blanket, purse, or extra essentials in the ottoman.
Even though hidden storage is a primary function, you can simply not ignore that this ottoman also adds extra seating to your living space. Voila!
Storage Underneath Console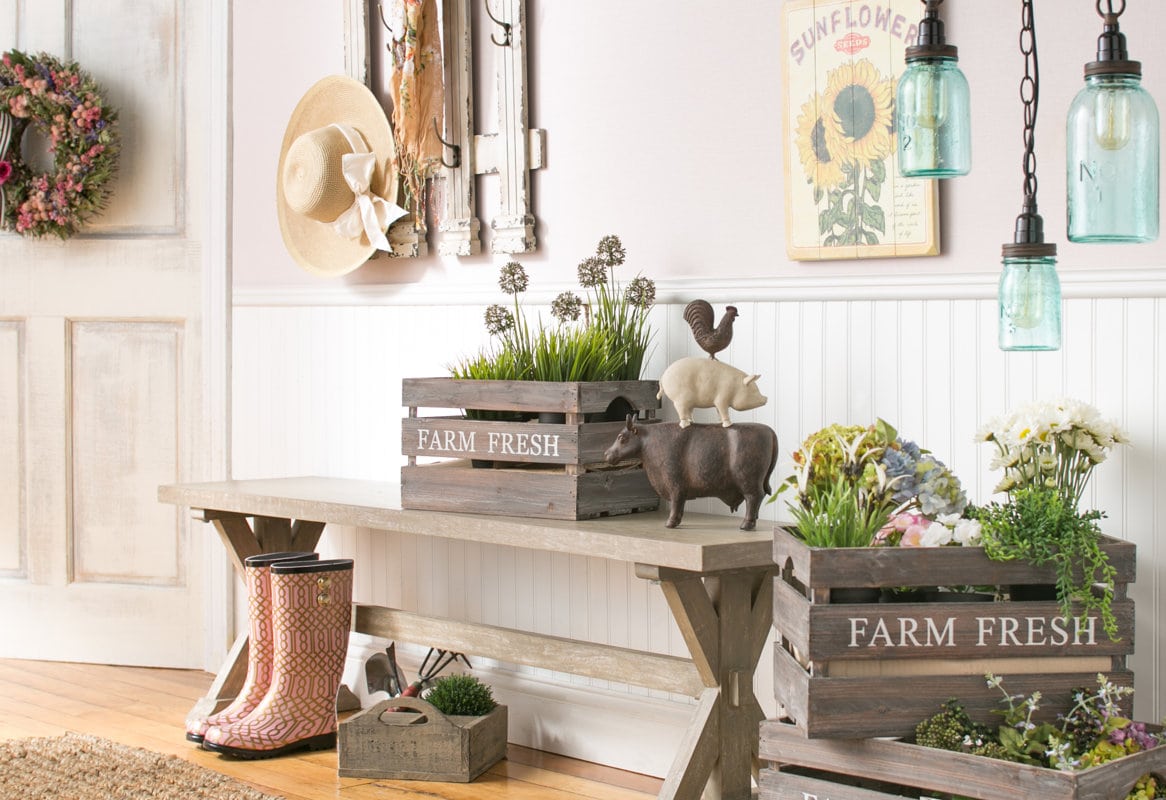 Do you have a console table or desk in your entryway? Well, another simple way to store shoes is by simply styling them underneath the console. Remember not to clutter it, since it can further make your small apartment look shabby and untidy.
Generally, it's better to pick a console that feels open and airy. And if it has an open edge, it's even better at creating an illusion.
Kellen Shoe Basket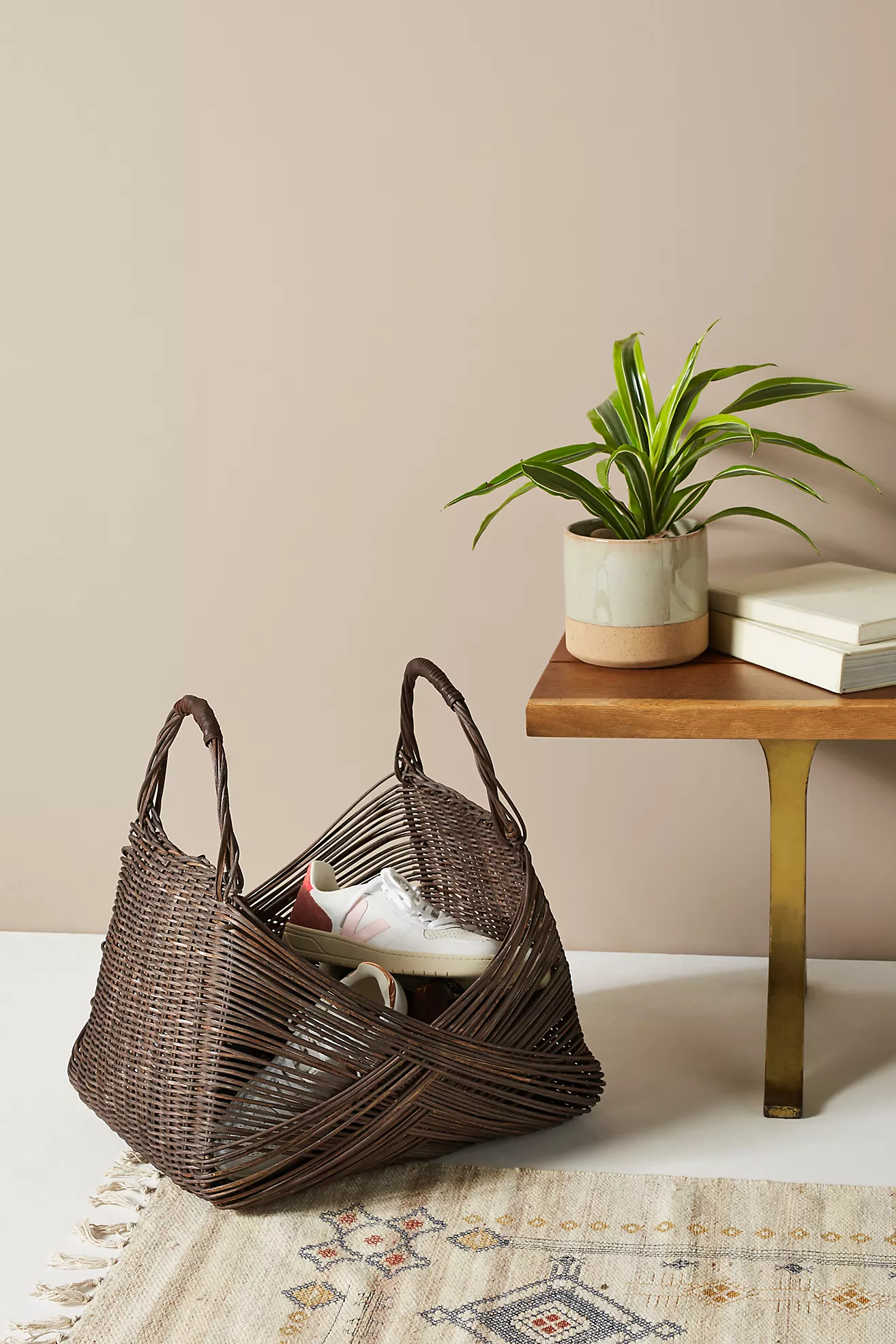 This handy basket allows you to store your shoes and other accessories very efficiently. And since it can easily be carried around, you can choose to either style it by the console and desk or stuff it in the closet for a clean and crisp, tidy look.
Made with handwoven rattan and leather, this basket makes a perfect backdrop in the bohemian, eclectic, and vintage interior design styles.
Tiny Shoe Storage Bench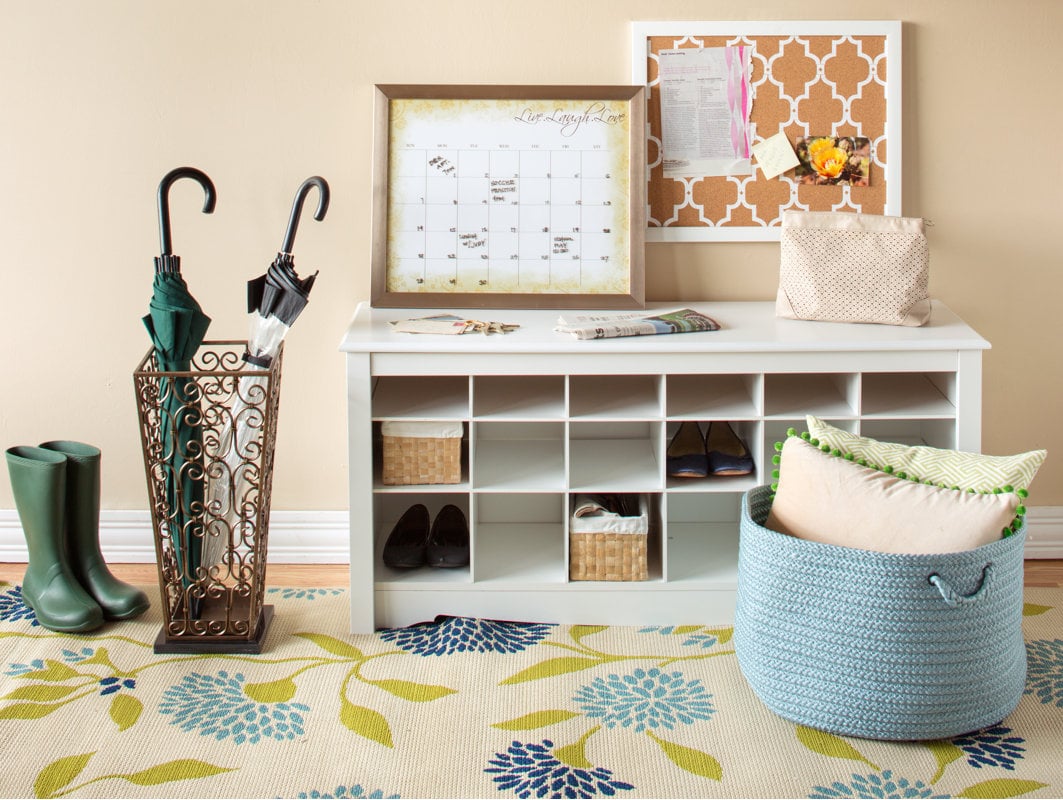 Never underestimate a bench! For instance, this multi-functional bench allows you to store your shoes while at the same time, sitting and relaxing on them. It can ideally be used in the entryway and hallways and can double its functionality to a coffee table also.
Made from manufactured wood, this storage bench is quite strong and durable. And since it's versatile, it can fit one and all interior design styles.
Barn Bench at the Edge of Bed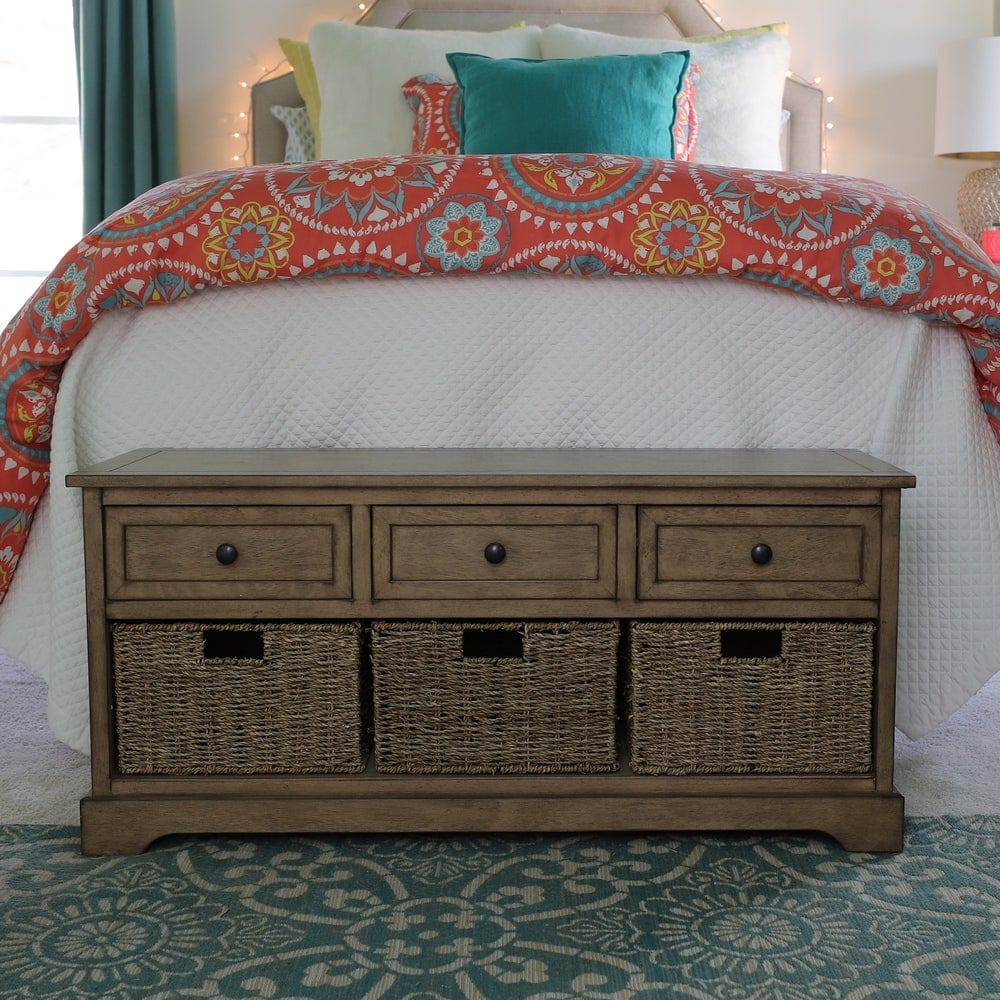 Give your room a perfect sense of style and warmth! This rustic and farmhouse-style bench provides ample room to store your shoes and other bedroom belongings. Apart from the bedroom, you can choose to style the bench in the living room, entryway, and mudroom.
Since it's made of wood, the product is very high-quality and can easily withstand your shoes. You can even sit on it and tie your laces!
Underneath Window Bench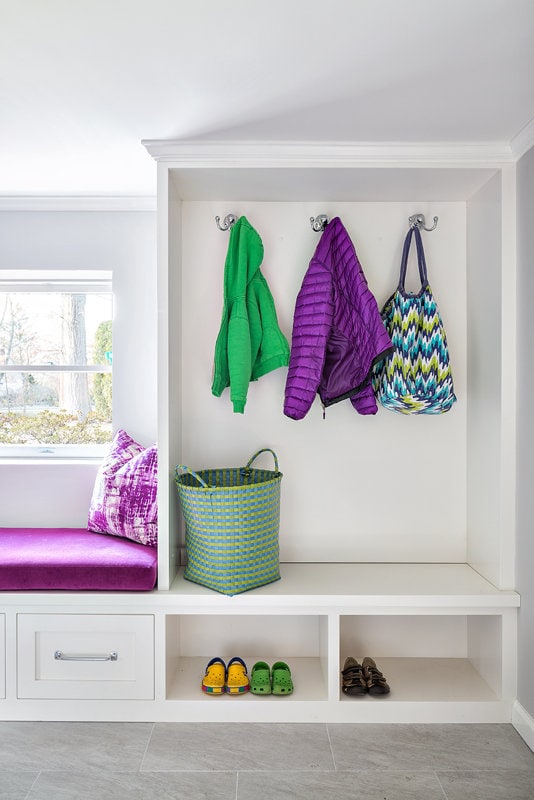 Do you have a window seat at home? Well, it's a great aesthetic and space-saving idea to make the most use of that corner. So, let the drawers and storage underneath the window bench allow you to store those extra pairs of shoes.
Apart from shoes, you can store toys, blankets, sheets, and other daily hold items. Yes, this is a wonderful space-saving shoe storage idea!
Brooke Boot Tray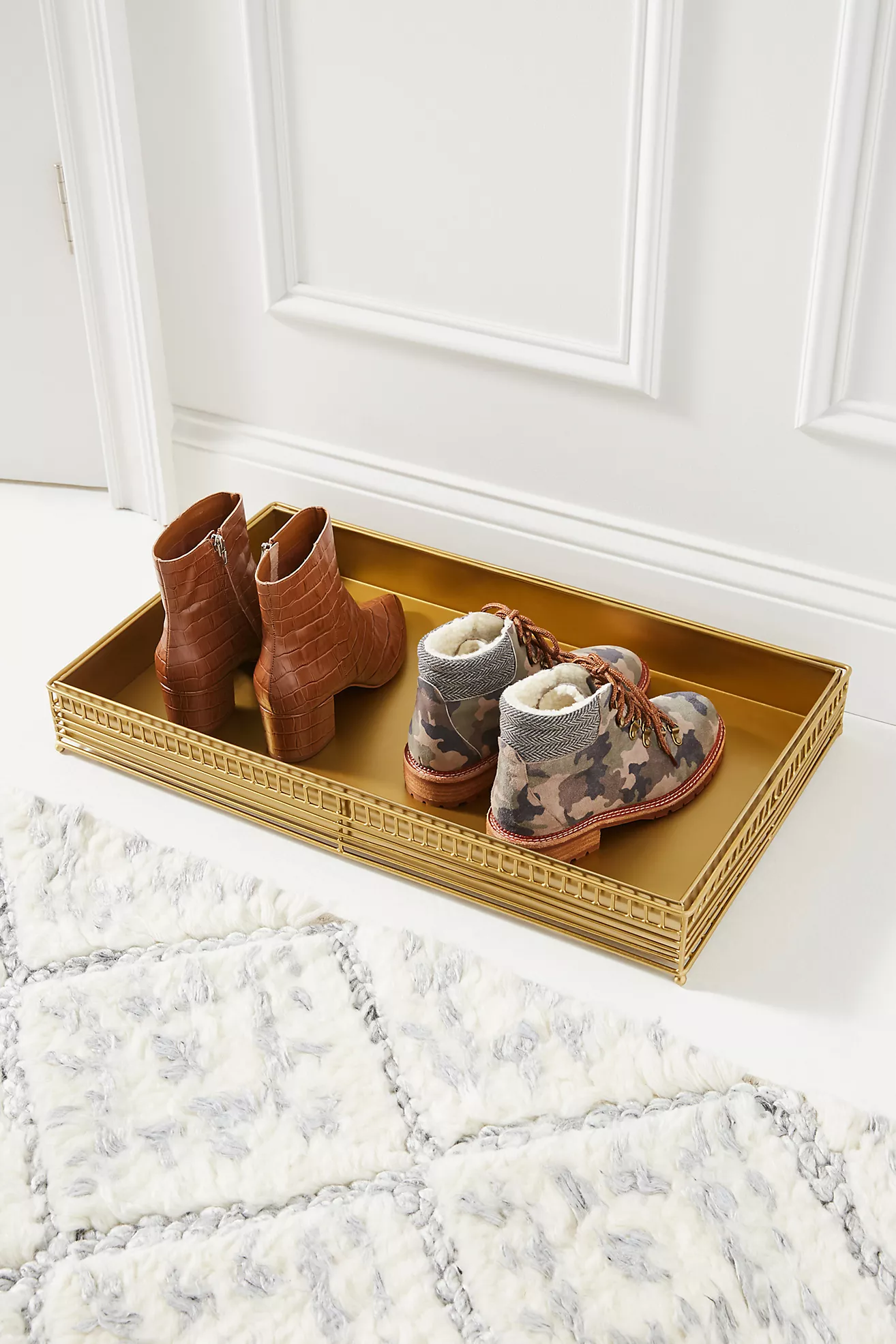 Trays are not just for serving purposes in the kitchens. And especially when you have this golden-finish, glam-style tray – you can definitely use it to style and store your shoes. Furthermore, it's so eye-catchy that you can choose to decorate your outdoors with this pretty, luxe-looking piece.
However, it's only preferable if you have a selected piece of shoes to style. Generally, only 3 to 4 pairs can fit in at a time.
Wicker Baskets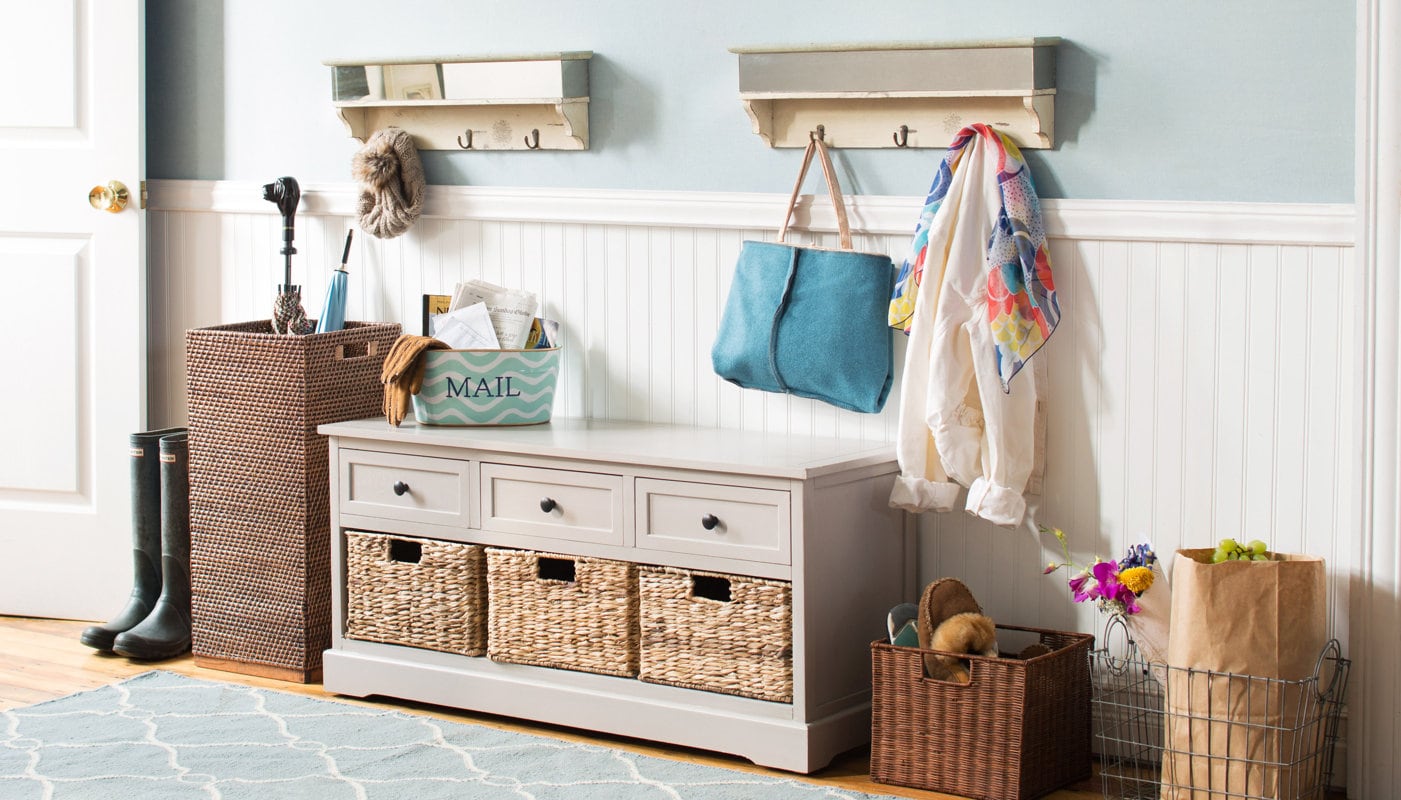 Rattan or wicker baskets make a great shoe storage idea for small spaces. They're chic, stylish, and add utmost detail to the room. So, when it comes to storage and organization, you must never hold back from these natural-finish baskets.
There are various kinds of baskets to be used for decor. From rattan to wicker, wired, cane, and bamboo – you have a wide variety to choose from. All you have to do is to choose the style that particularly aligns with your room.
Three-tier Shoe Rack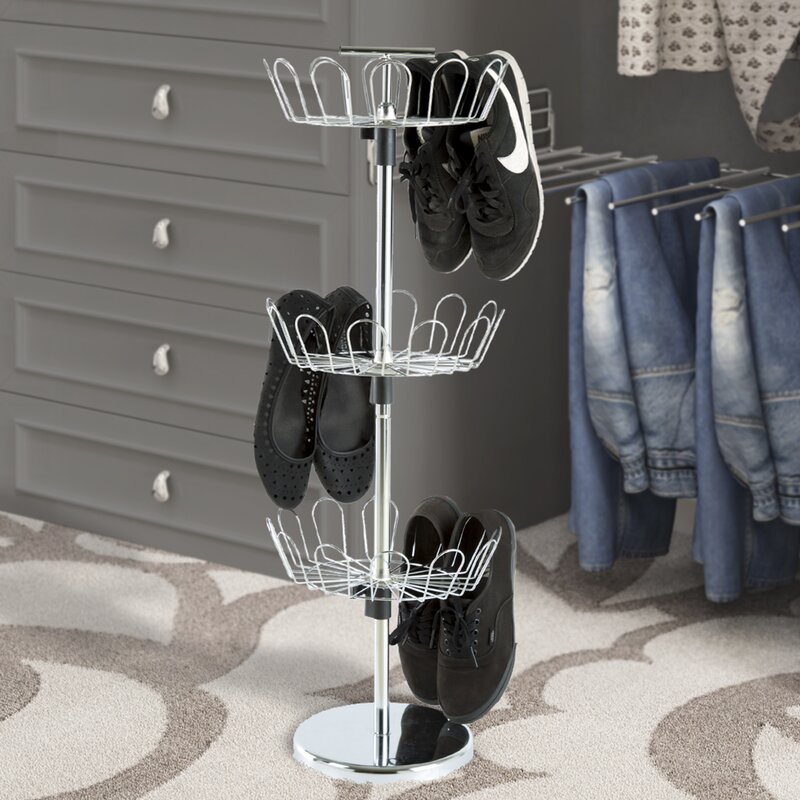 This revolving three-tier shoe rack provides a great space-saving solution. It's handy and can be easily transported around and fitted into corners and negative spaces. Moreover, it can hold up to 18 pairs of shoes – thus, providing a great effective medium to store and style.
And they provide utmost flexibility since the tiers can be rotated. Blissful enough, right?
Hanging Shoe Organizer
This 10-pair shoe organizer provides maximum efficiency and storage in minimum spaces. It's made from plastic which further fosters an airy and open experience in your closet or wardrobe. Yes, of course, this is a creative way to hang your shoes to make the most use of that vertical space.
And since it's made of sturdy material, you don't have to worry about strength or maintenance. Although, ensure that you store the light-weighted footwear here!
Summing It Up
Don't you have enough horizontal space in your room? Well, not to worry! These fabulous 15 shoe storage ideas will infuse creativity and add functionality in very minimal space. Believe it or not, these ideas will make your space even more cheerful and fun! So, are you ready to incorporate any? Well, do let me know your thoughts in the comments below!