Decorated Life is reader-supported. When you buy through links on our site, we may earn an affiliate commission. Learn More
8 Small Bedroom Accent Wall Ideas to Bring Color to Your Space
If you have a small bedroom, you may be struggling to find ways to make it feel bigger and more inviting. One way to do this is to add an accent wall. An accent wall is a wall that is painted a different color or has a different design than the other walls in the room. To help you get started, we've compiled a list of small bedroom accent wall ideas. So, if you're looking for some inspiration, read on!
Accent Wall with Paneling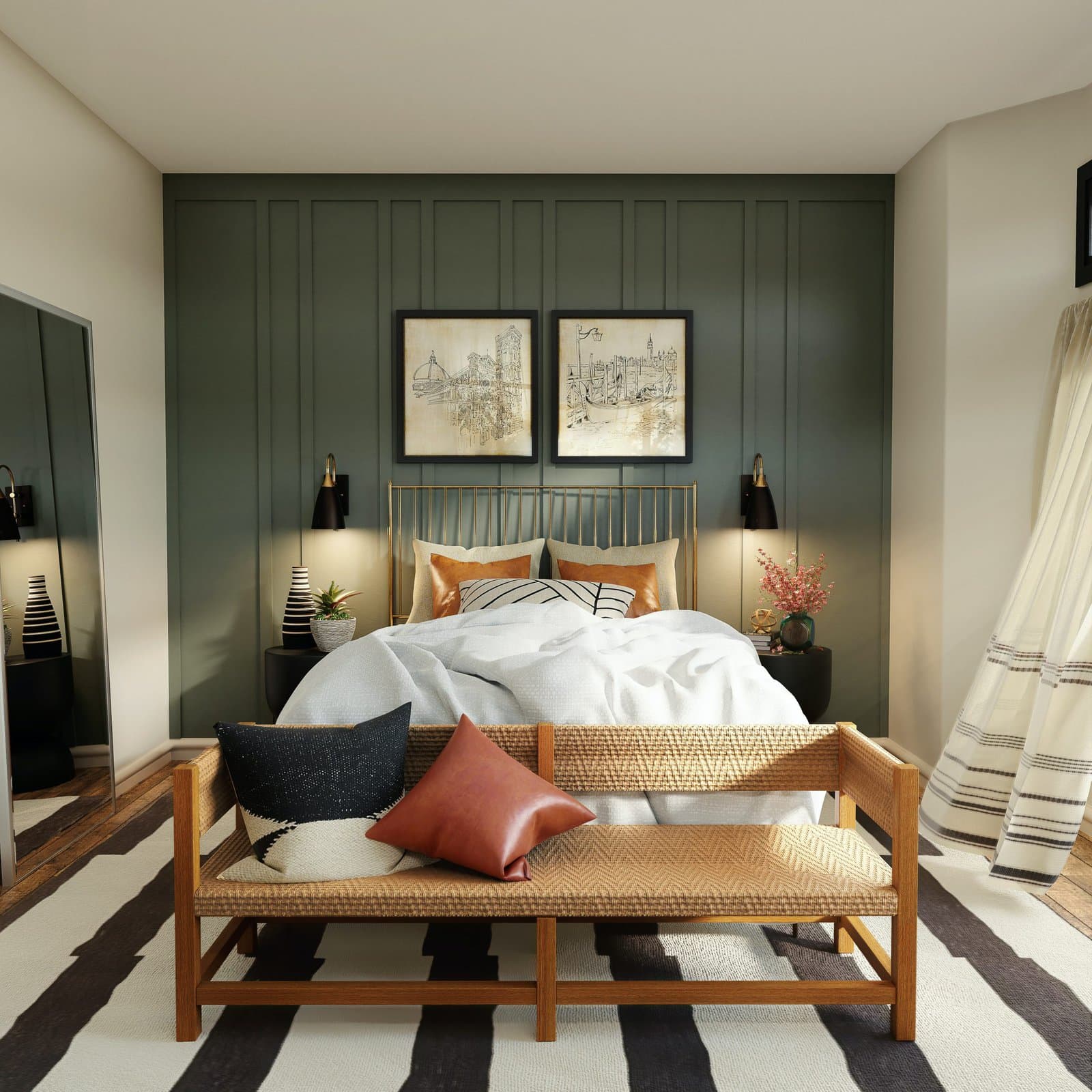 When you think of an accent wall, chances are you're simply imagining one wall in a bedroom painted a different color. But accent walls don't have to be plain or boring; in fact, they can be a major focal point for your bedroom.
Before you grab a paintbrush, consider adding planks to your wall to create paneling, like you see in this example. It will break up the color on the back wall of your bedroom and give it a stylish, custom look.
Once the panels are installed, you can paint over the whole wall in your chosen color, and even use the panels to hang shelves, hooks, lights, or framed photos with less damage to the underlying wall.
This is one easy DIY project that can be finished in the course of a weekend but will make a massive impact on the look and feel of your bedroom!
A Dark Accent Wall in a Small Bedroom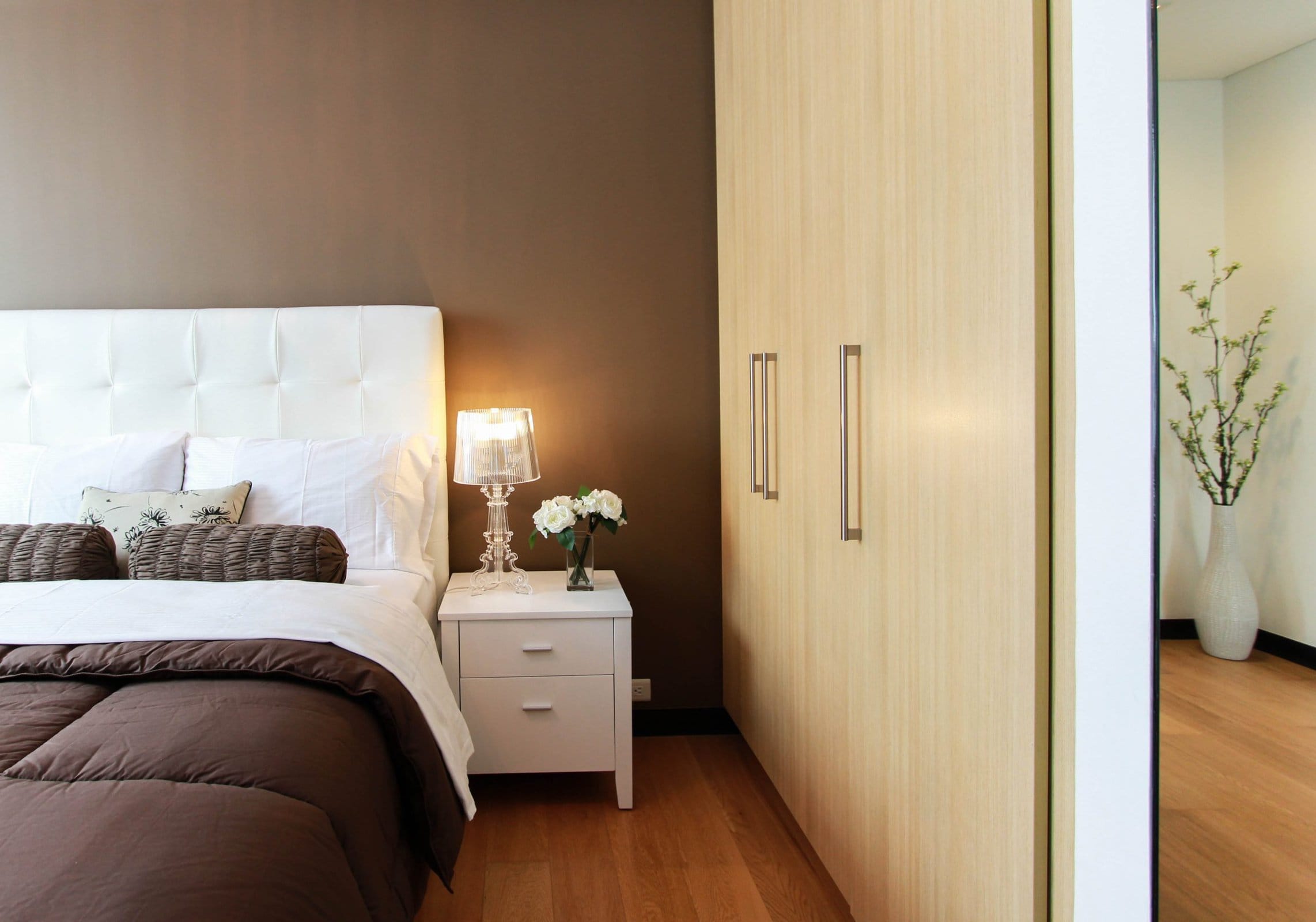 When you've got a small bedroom, you might have the tendency to lean away from darker colors, for fear of making your bedroom feel even smaller. And yes, darker colors can make rooms feel smaller, but not if you use them right!
Keep the three non-accented walls clear and paint them a light color like white or off-white. If you have dark bedroom closet doors, either replace them or paint them to a lighter color. This will give the dark accent wall a chance to stand out without darkening the room.
Here's a tip: when choosing which wall to paint the darker color, don't go for a wall with windows. When the light is streaming in from behind the wall, it will make the room appear darker.
If you want to make your bedroom feel even more coordinated, try matching your bedding to the wall color and the headboard to the other walls, like you see in this example.
White Bedroom with a Colorful Accent Wall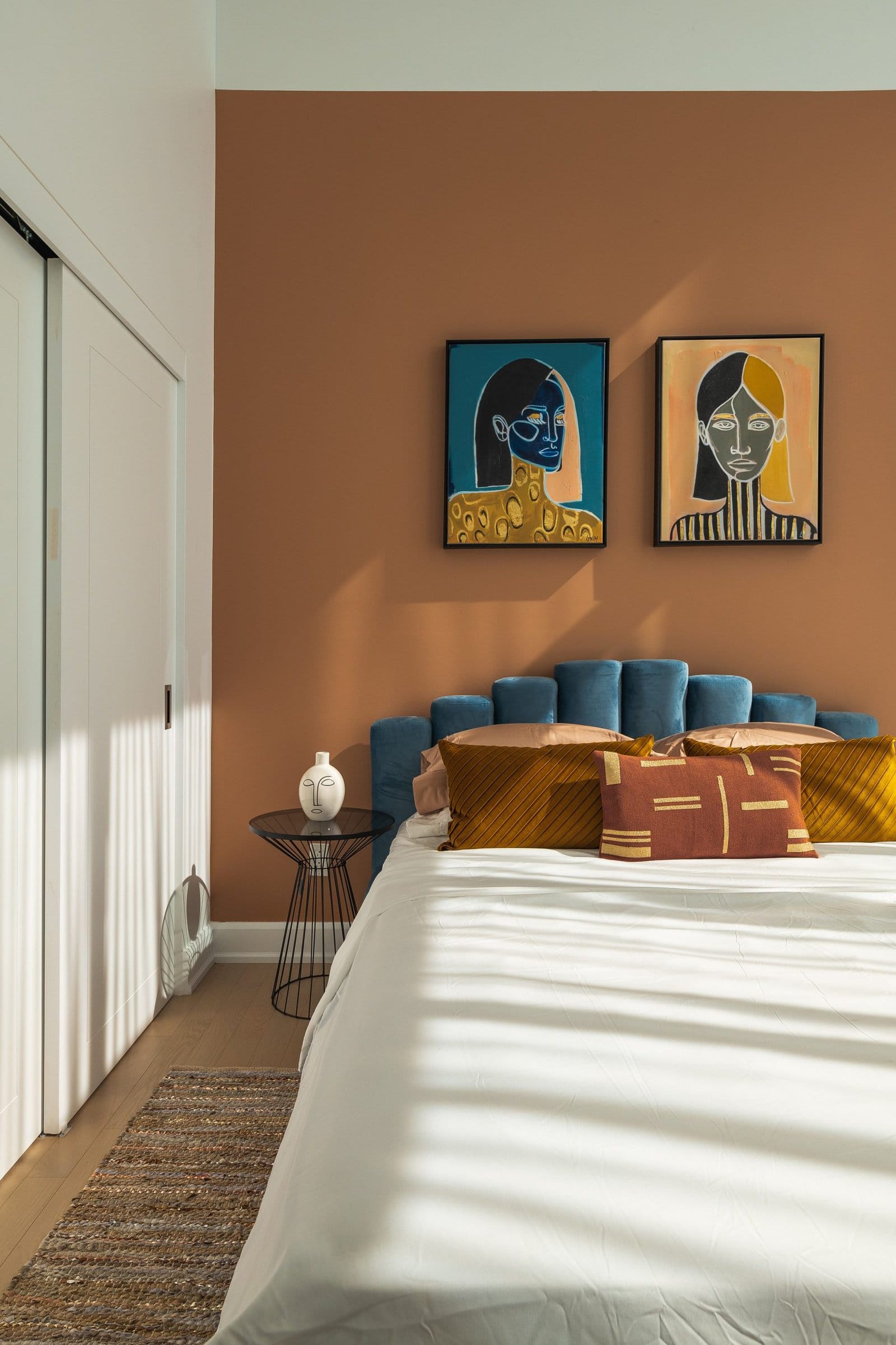 This is probably the more standard way to do an accent wall, but there's a reason this design element is so timeless! When done correctly, it just works.
Start with white walls, and pick a brighter, richer color for the accent wall, like the beautiful terracotta shade in this picture.
The main thing you want to focus on with this kind of accent wall is the styling of the bed in relation to the wall. Try to add artwork that matches the bedding and pillows on the bed, and coordinate the two together.
The goal with this look is to make the accent wall feel like an extension of the headboard, so that the room feels extended by the wall, not cut off.
Two-Tone Accent Wall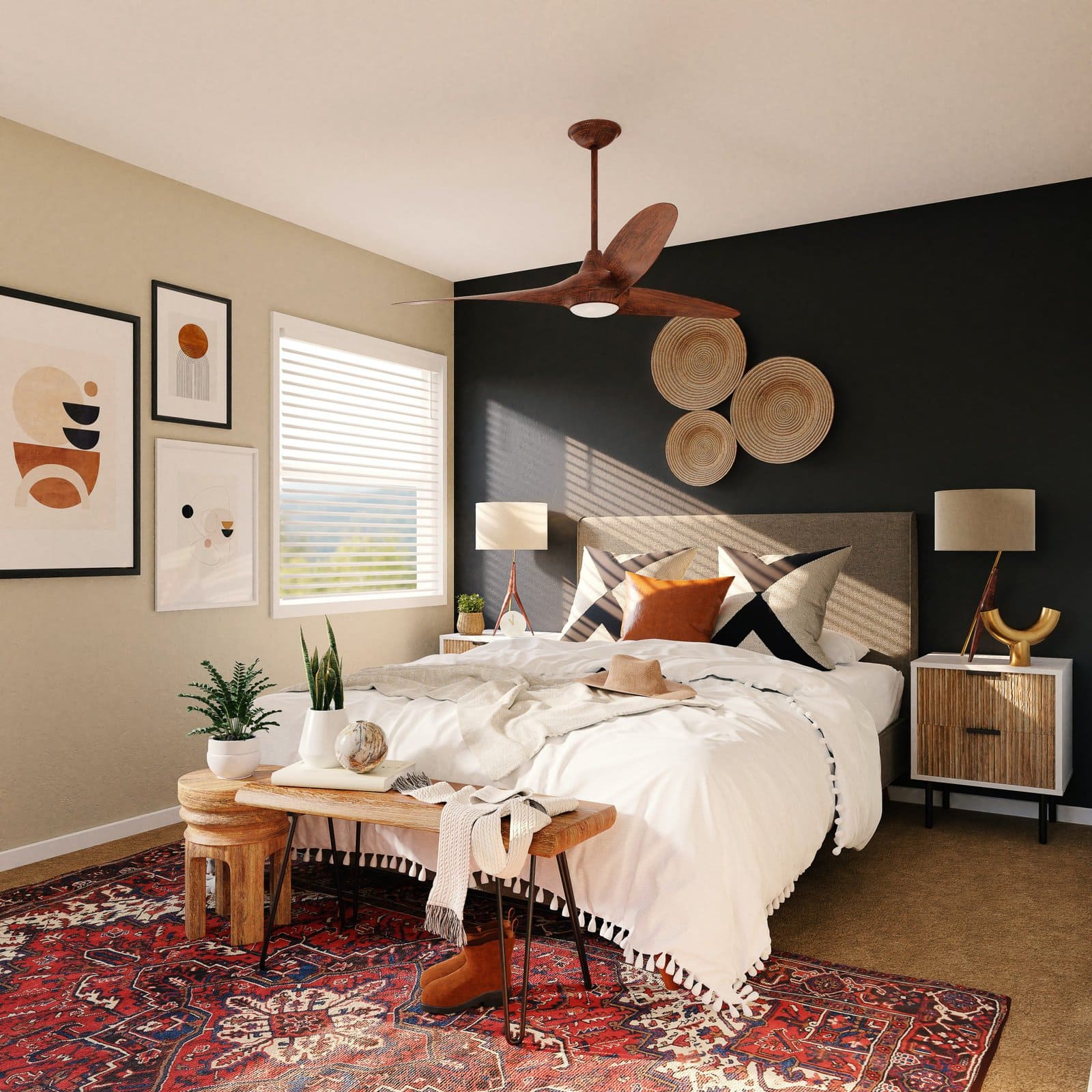 The basic idea of an accent wall is to keep three of your walls a light neutral color (or just straight white), and paint one wall a bright color. But there's no reason why you can't use two colors that go well together for a two-tone scheme.
Any two-color combination that you like will do, but there are a few things to consider: for one, make sure that the accent wall contrasts sharply against the other walls.
There are a few ways you can do this—the easiest is simply to have the accent wall be a darker or lighter version of the main color. Or, you can paint one wall a darker, richer color and keep the main color more neutral.
A few color combinations to try: blue and gray, brown and beige, pink and green, black and tan, purple and teal, or blush and dark gray. Or, see what combos you can come up with on your own!
Accent Wall with Wood Horizontal Panels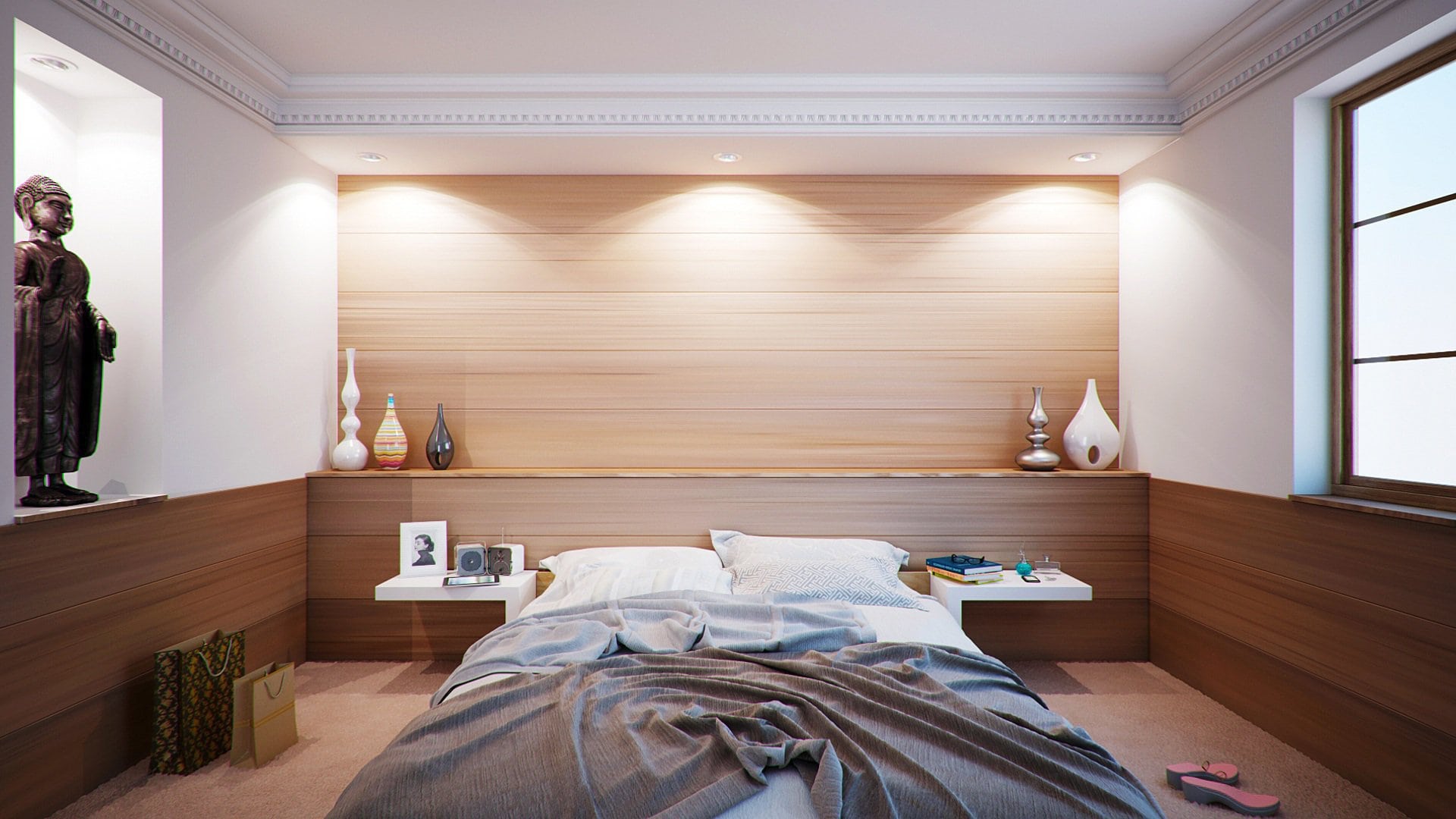 Paint isn't the only way that you can achieve an accent wall in your bedroom. And if your room is small, embracing a textured accent wall may be a great way to add some style without compromising on space.
All you really need here is some horizontal wood paneling; it could be in large sheets or in planks, depending on what look you're going for.
You can try applying the paneling to the wall yourself, or consult a professional for help if needed. You can even install lighting, like in this room, if you want the wall to showcase some art or personal objects.
Wall Mural as an Accent Wall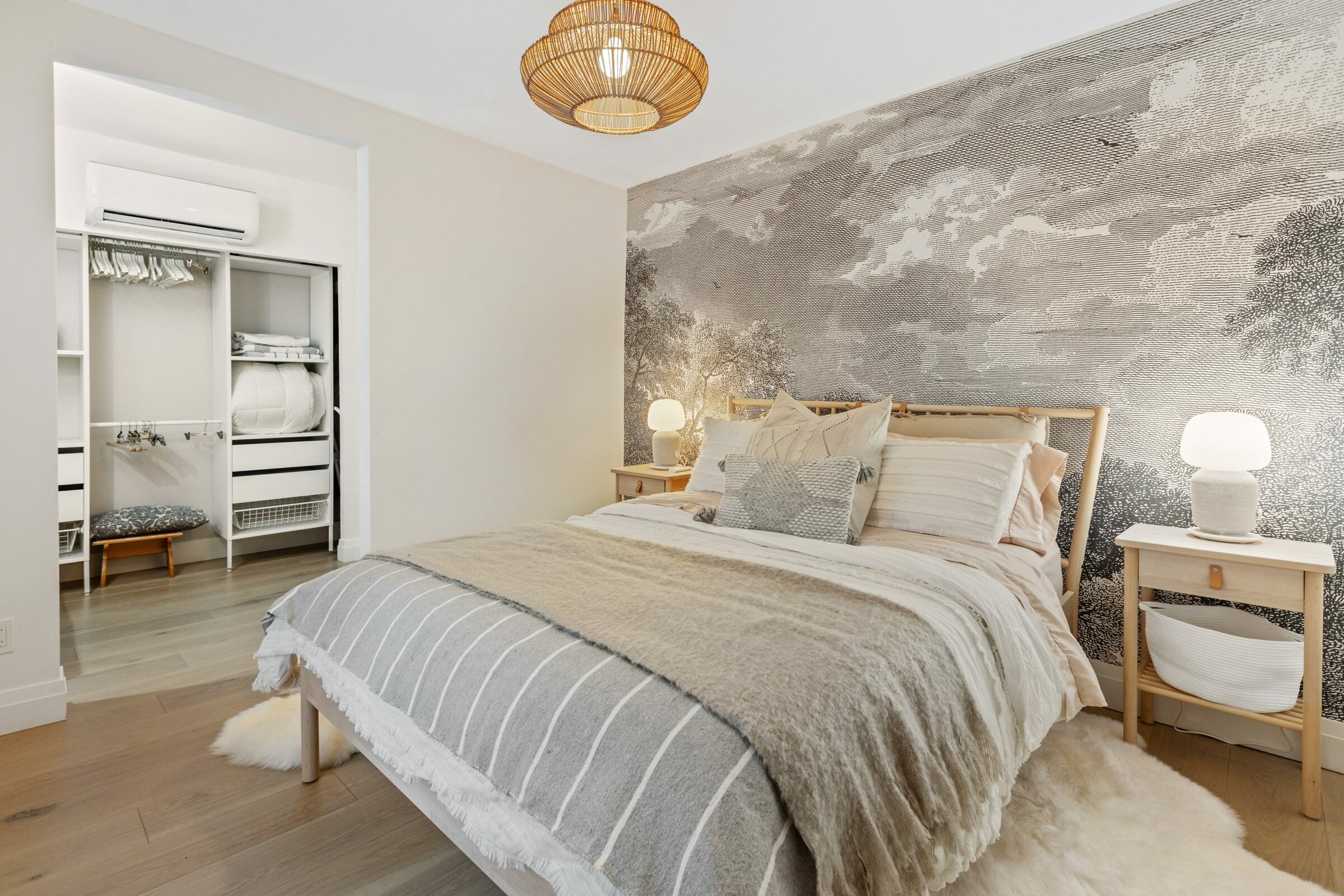 If you want something different than paint but aren't ready to commit to paneling your wall, you can try adding wallpaper or a pre-printed wall mural. It's a quick way to add color and visual interest to your bedroom.
Wall murals are relatively affordable, they come in all kinds of styles, and they're easily available. They're an excellent option when you're short on time and funds.
If you choose a wall mural, make sure that you go with something that won't darken up the room. Try keeping the image relatively light, or make sure that you give the mural wall adequate lighting.
You may also want to consider keeping your bedding and furniture relatively light and simple, if you want the wall mural to be more colorful and eye-catching.
White Shiplap Accent Wall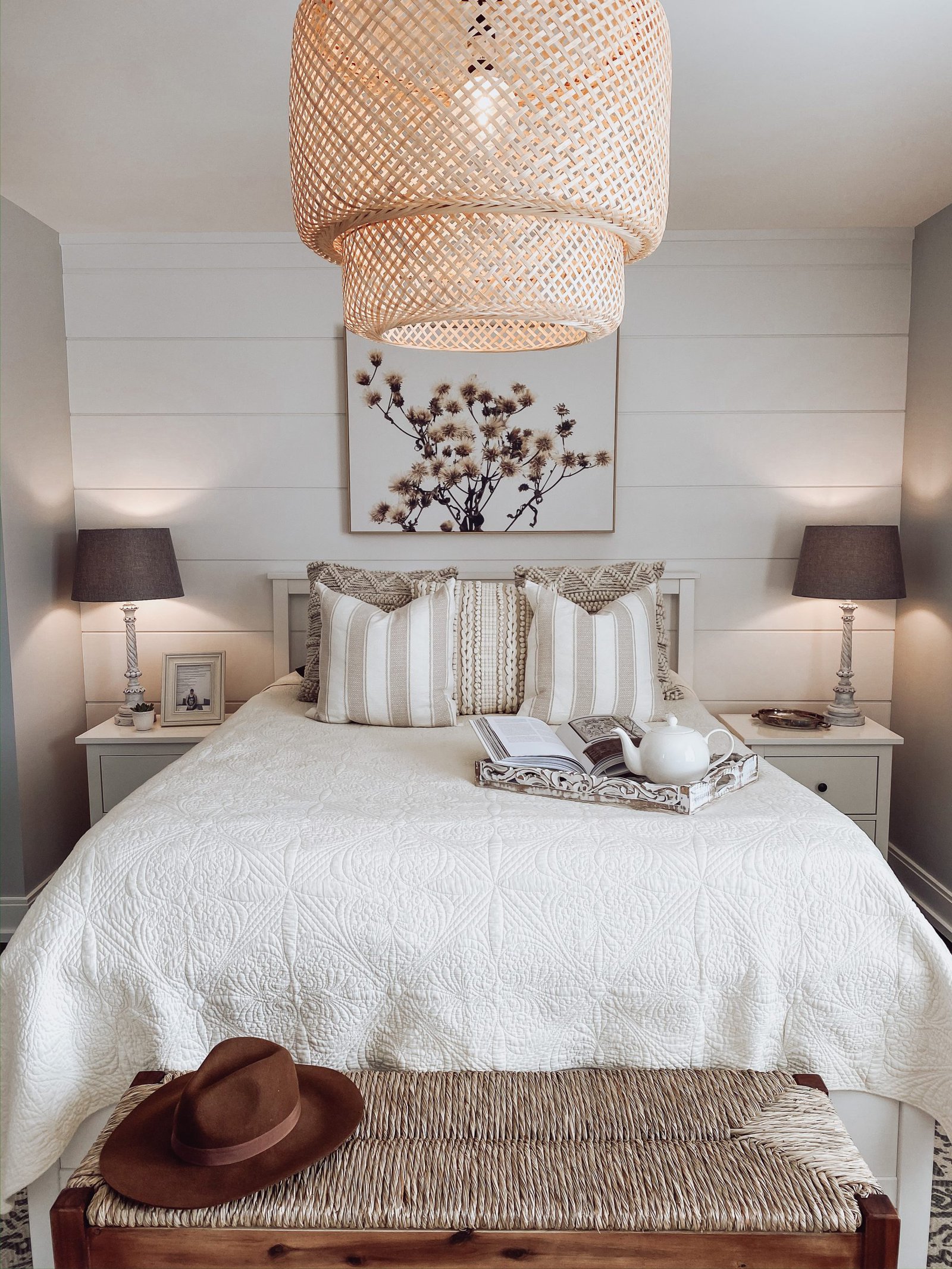 Shiplap is one of the easiest ways to transform any space in your house, and it's the perfect option for a small accent wall.
And there's good news for DIY-ers: shiplap is easy to install: simply have wooden planks cut to fit the width of the wall, and then mount them to the wall one by one with a nail gun (or just good old fashioned hammer and nails).
After it's mounted, all you have to do is paint it! Shiplap is commonly painted white, especially in modern farmhouse designs, but there are no hard and fast rules—you can paint it any color you want!
Bedroom Accent Wall Using Exposed Brick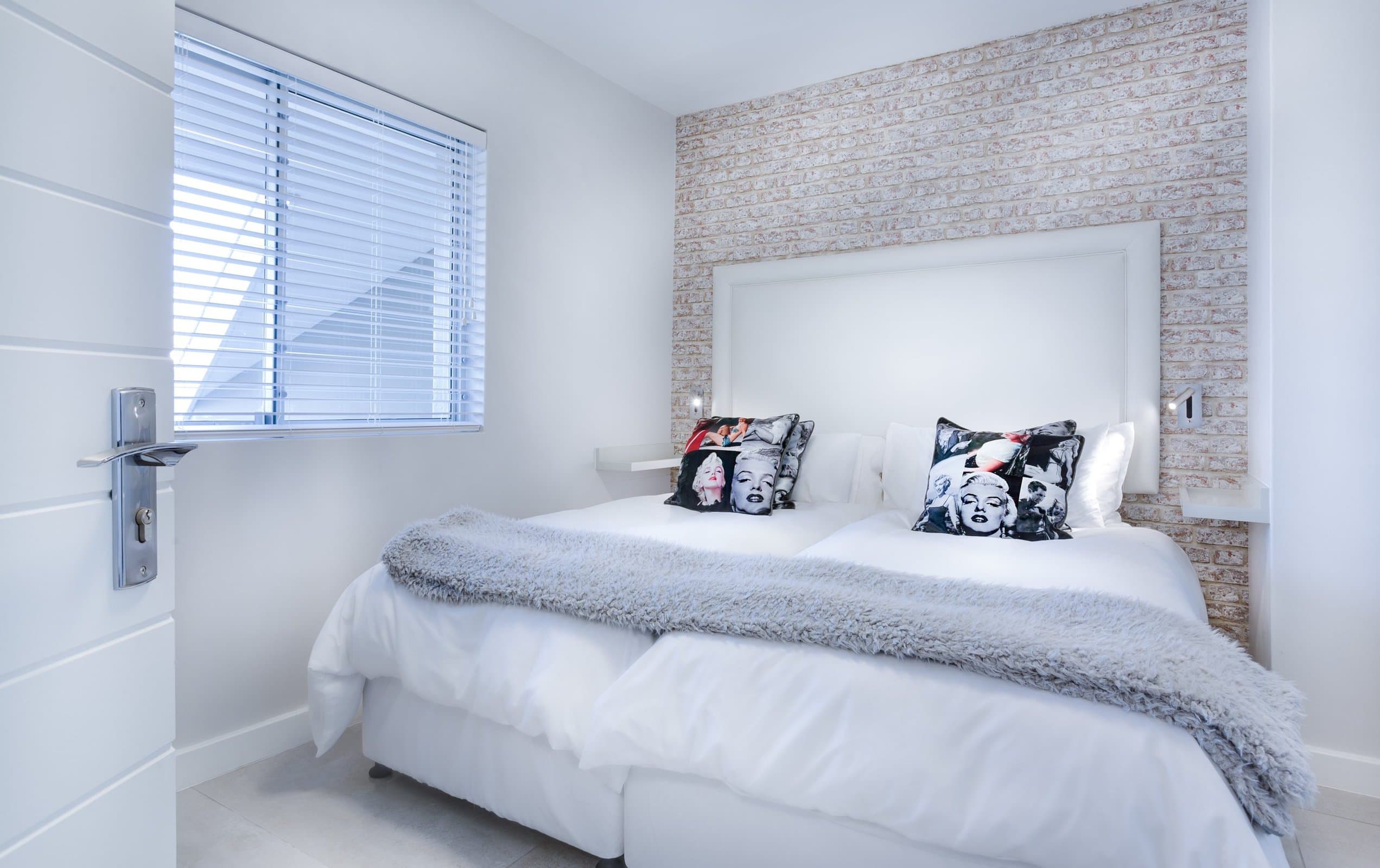 If your small bedroom happens to have exposed brick on one of the walls, then congratulations! You've got a built-in accent wall that you can use to elevate your bedroom.
But bricks can give your bedroom a dark, old, dingey appearance if not used correctly. To keep your bed feeling open and spacious, paint the walls around the bricks a soft white to help pull natural light into the room.
As for decor and bedding, stick with a clean white theme. You can add a few pops of color here and there with throw pillows or art prints, but for this look, simplicity is best.
Once you've painted the walls, another optional step is to lightly dab white paint on top of the bricks to lighten them up and make them match the white walls. Keep in mind that this step is permanent, though, so only do it if you're sure you'll love the look!
Conclusion
Who knew that there were so many ways to make an accent wall? This simple element only takes an afternoon to DIY and it can truly change the entire look and feel of a space.
So there you have it, a few small accent wall ideas to help you make a big statement in your bedroom. And don't be afraid to experiment with your accent wall. Try a color scheme you wouldn't usually go for, or go bold with a pattern or print. You might be surprised at how much you like it.