Decorated Life is reader-supported. When you buy through links on our site, we may earn an affiliate commission. Learn More
15 Small Dining Room Mirror Ideas that Make a Big Impact
Mirrors are a great way to bring style to any room. Not only do they make a statement, but if you have a small space, they can instantly make it feel bigger.
If you're wondering if it's okay to put a mirror in the dining room, the answer is yes. Mirrors have been used as dining room decor for years and aren't going away any time soon.
If you need inspo for your room, check out these 15 small dining room mirror ideas that make a big impact.
Place a Light Framed Mirror Against a Dark Wall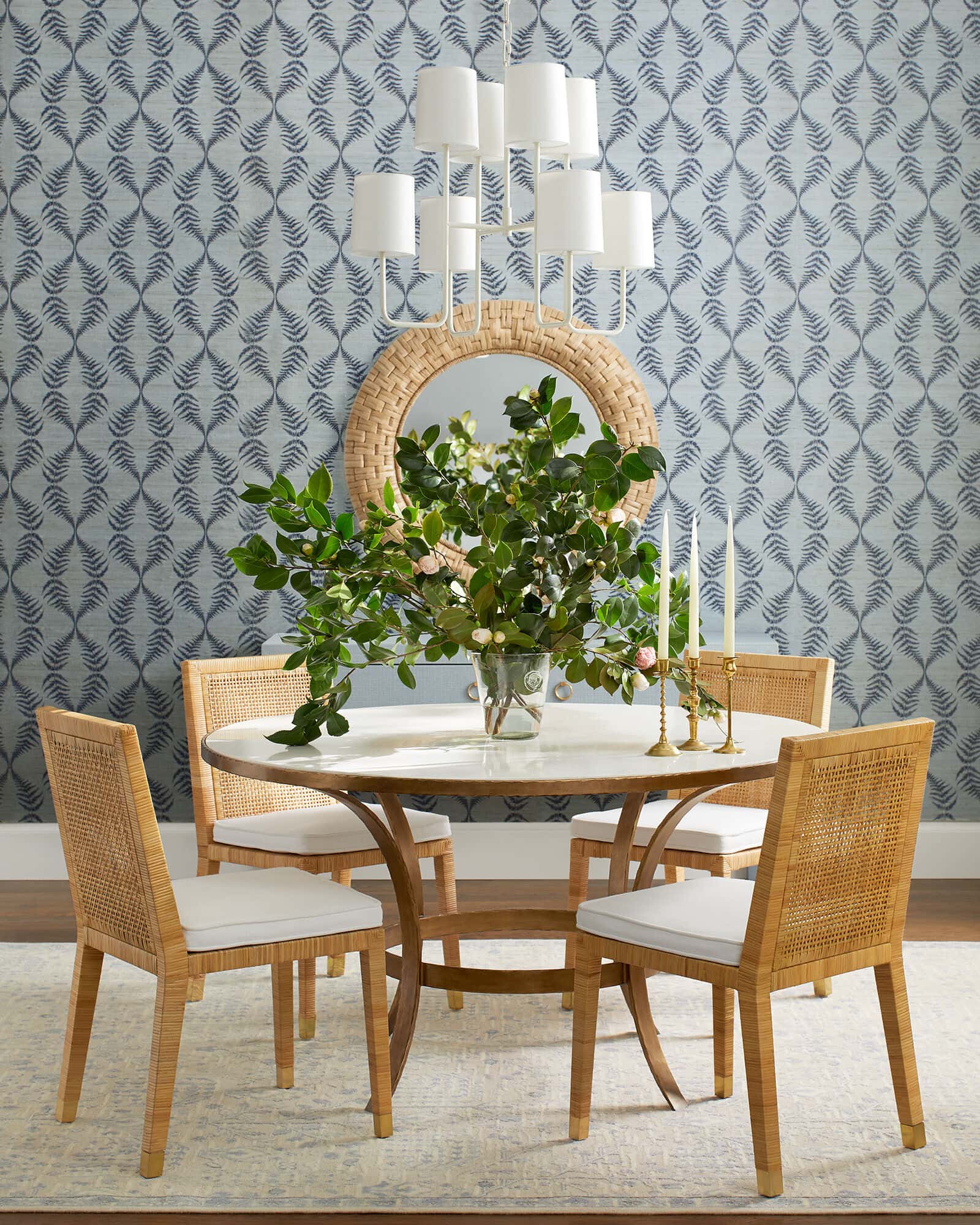 To make a statement in your dining room, place a light-framed mirror against a dark wall. The contrast catches the eye and draws attention to the mirror.
You can achieve this look by using dark wallpaper or paint and hanging a light or natural colored mirror.
Go Modern with a Multicolored Mirror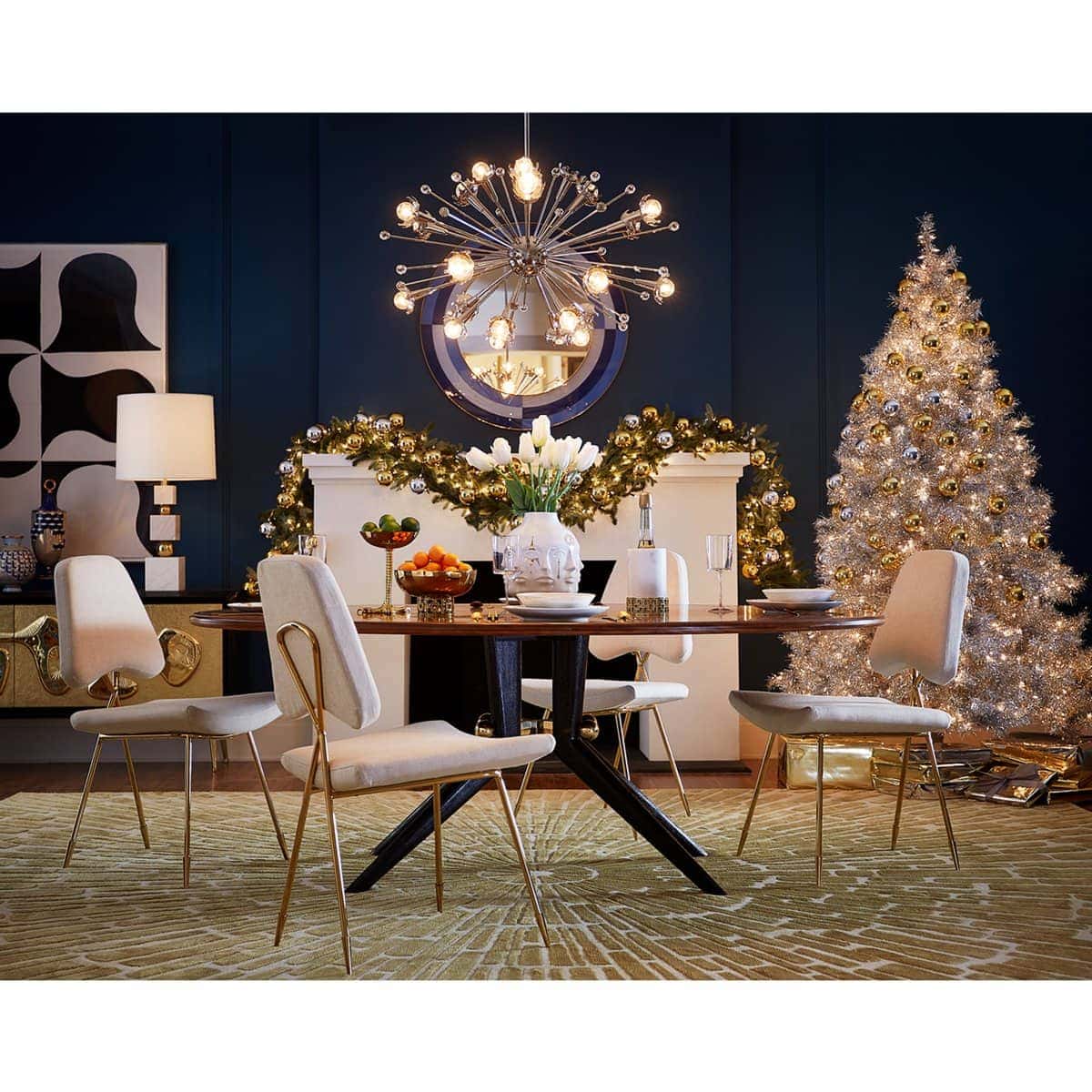 Looking for modern mirrors for the dining room? You can keep the contemporary feel with a simple multicolored frame like this one from Jonathan Adler. This mirror comes in a blue or blue/green pattern and works well with neutral or colorful dining rooms.
This mirror would look fantastic as part of a wall collage or on its own.
Use Two Mirrors to Decorate Around a Window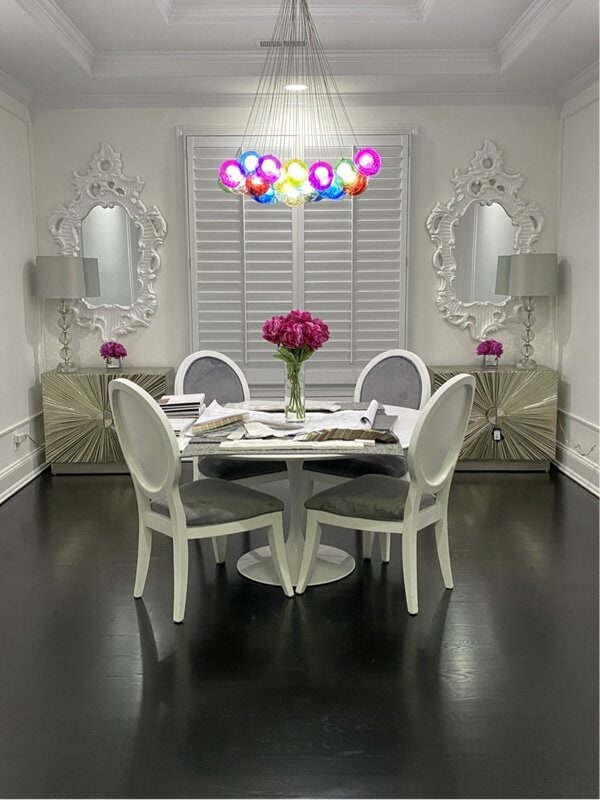 If you have a window on your feature wall, decorate around it by adding a mirror to either side. You can go glam with white decorative mirrors as shown above or keep it simple with less ornate options.
By placing the mirrors beside the windows, you create a cohesive look that makes the window appear to be part of your design.
Fill Up an Empty Wall with a Large Rectangular Mirror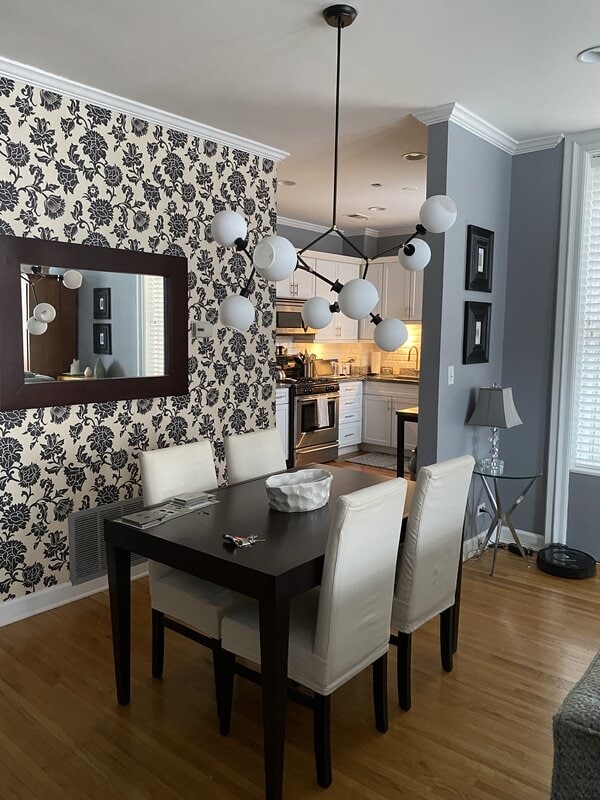 Large dining room mirrors are perfect for filling up an empty wall – especially if you'd rather have one piece on the wall instead of several. For this look, choose a large rectangular mirror with a simple frame.
Try a white, gold, or silver framed mirror with a more ornate design if you prefer a glam look. And if farmhouse style is your thing, you can opt for a mirror that mimics a window frame.
Place a Gold Framed Mirror in the Formal Dining Room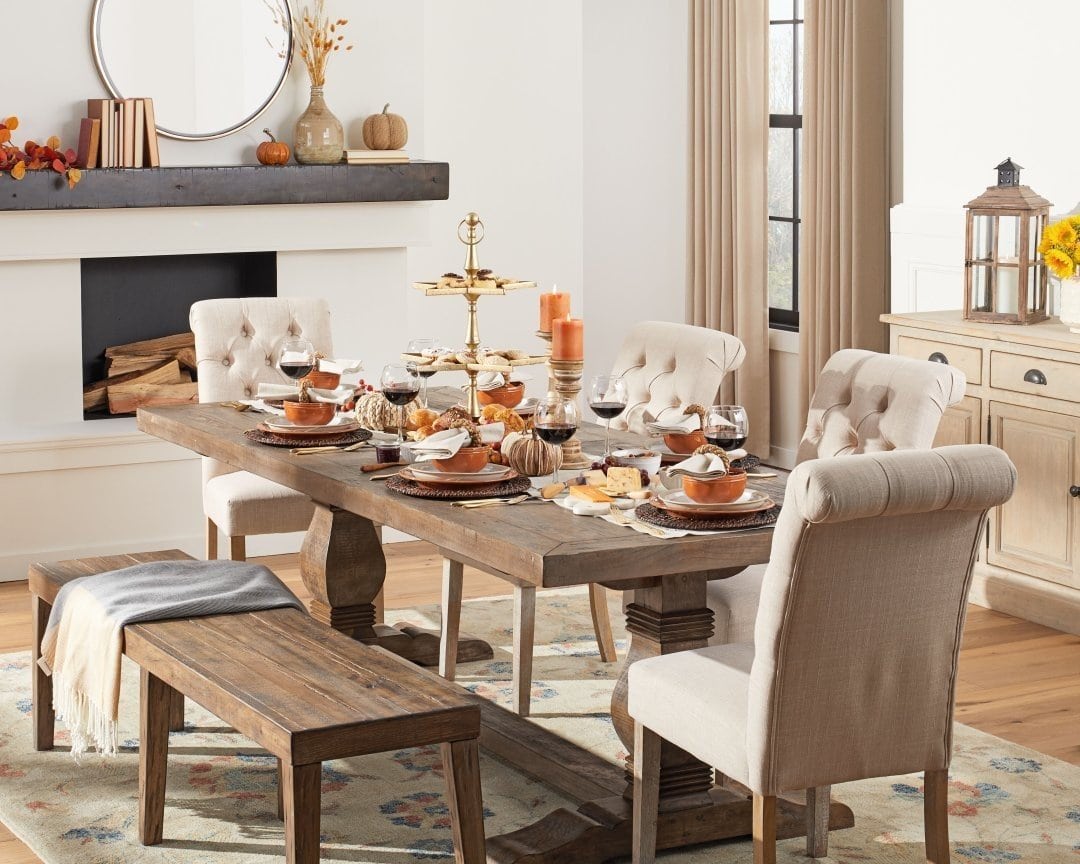 If you have a formal dining room and need a mirror idea, try one with a simple gold frame. Traditional dining room mirrors should feel elegant but also timeless.
If you have a fireplace in your formal dining room, consider placing the mirror above it. If not, try putting the mirror above your buffet or drink cart.
Hang a Mirror Over Your Serving Cart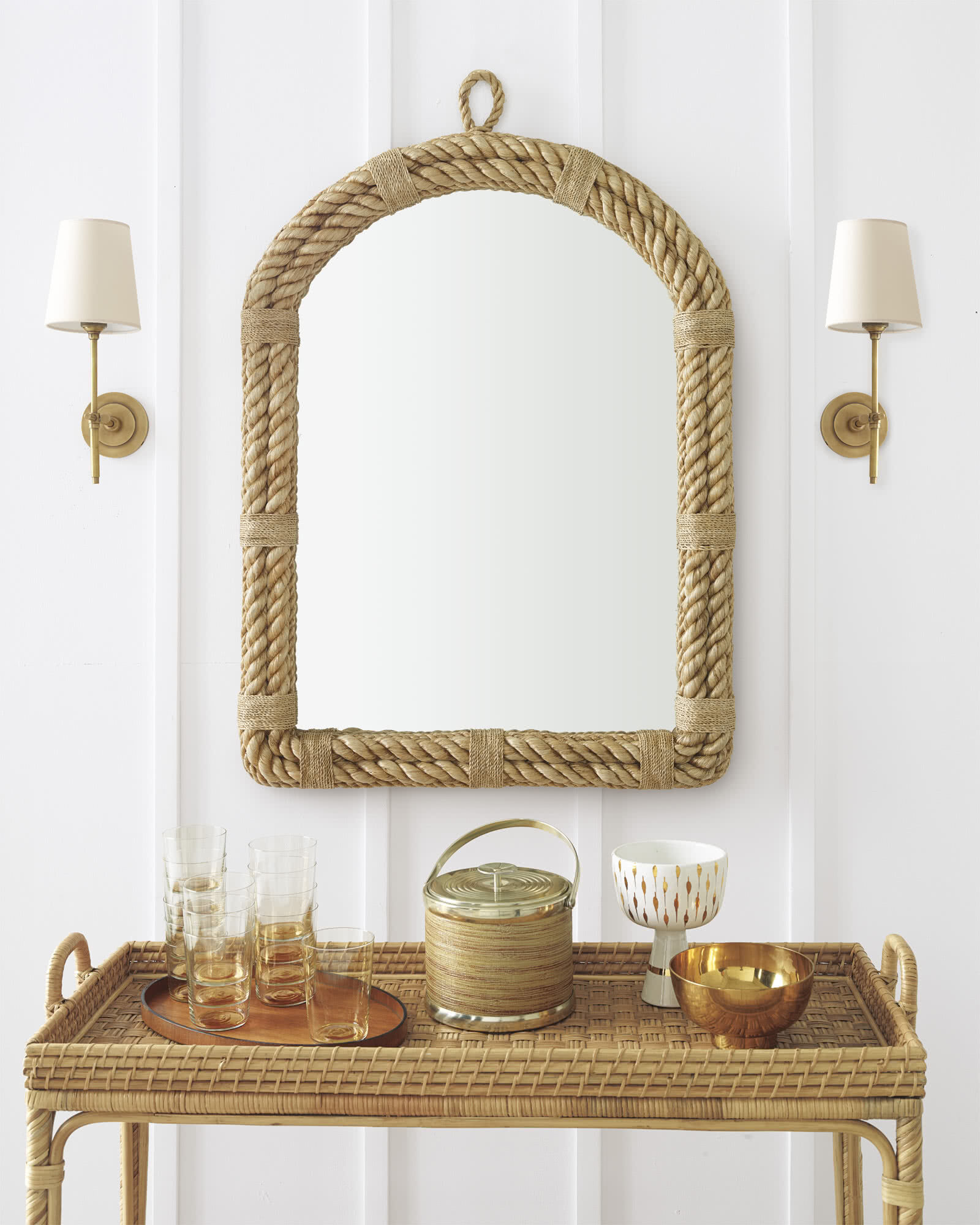 Mirrors look great hanging over top of serving carts and buffets. They not only fill up wall space but also create balance.
For an intentional look, try to match the color of your bar cart with your mirror. In this photo, they hung a rope-framed mirror over a rattan bar cart. While each piece is a different material, they still match.
Make a Statement with an Interesting Mirror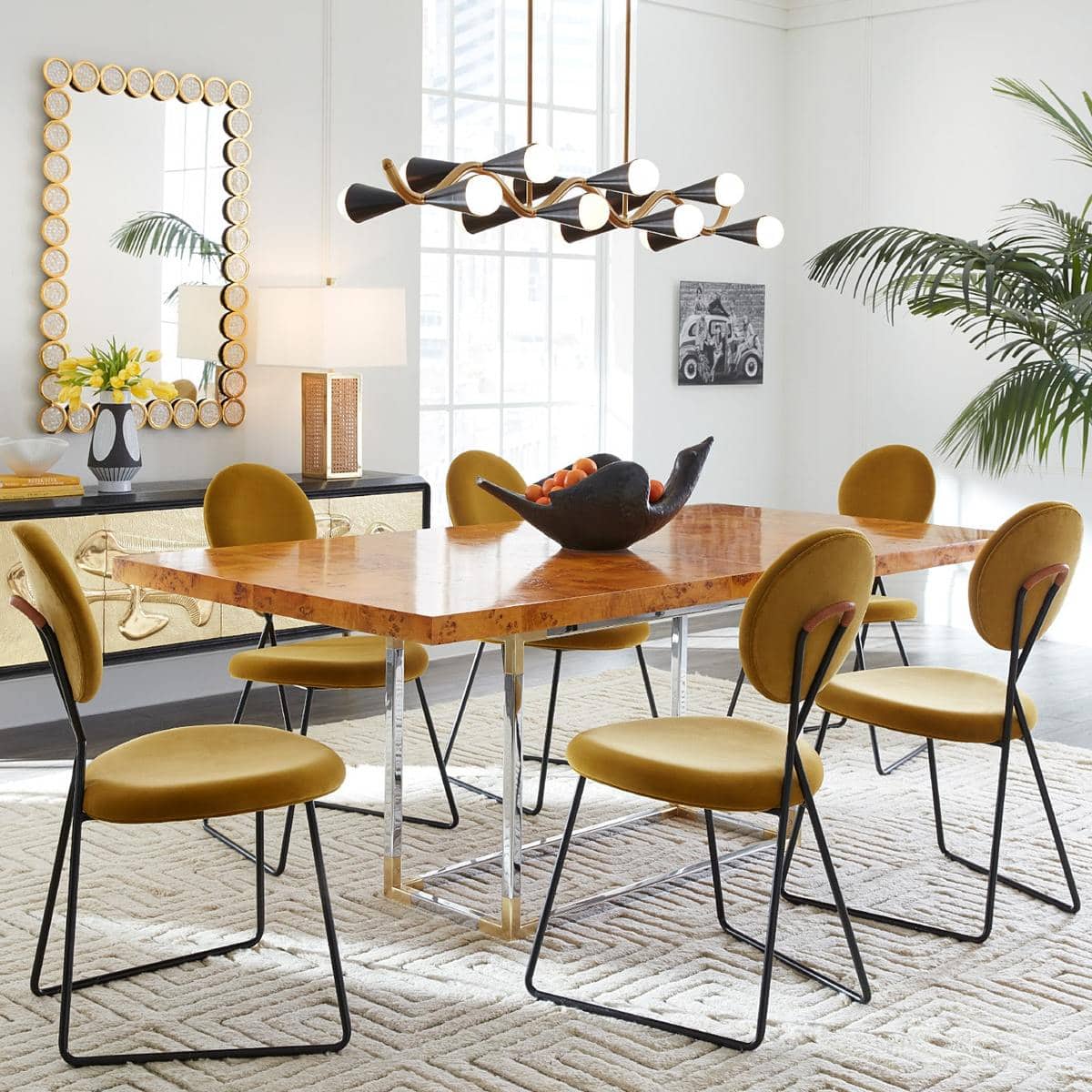 Looking to go bold with your mirror choice? Just because you're decorating a dining room doesn't mean you have to play it safe.
If you like modern or glam style, make your mirror the star of the room. A large, sparkly mirror like the one above demands attention but still looks appropriate.
Go French Country or Farmhouse with an Arched Mirror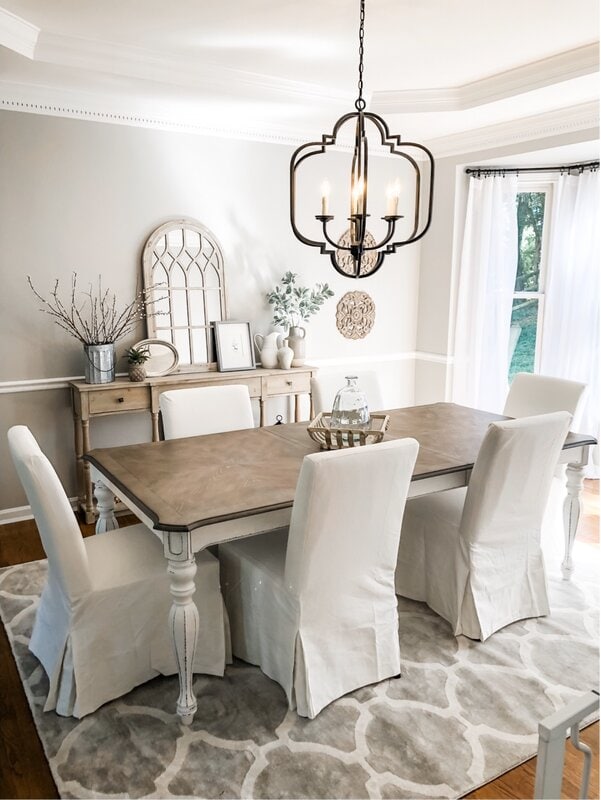 If you like french country or farmhouse style, one easy way to get the look is with an antiqued mirror with an arch on top. These mirrors can be hung on the wall or rested on a buffet like pictured above.
For a french country look, try a white-washed mirror. For a farmhouse feel, you can go for white, black, or wood.
Choose a Thick Wood Frame for a Rustic Style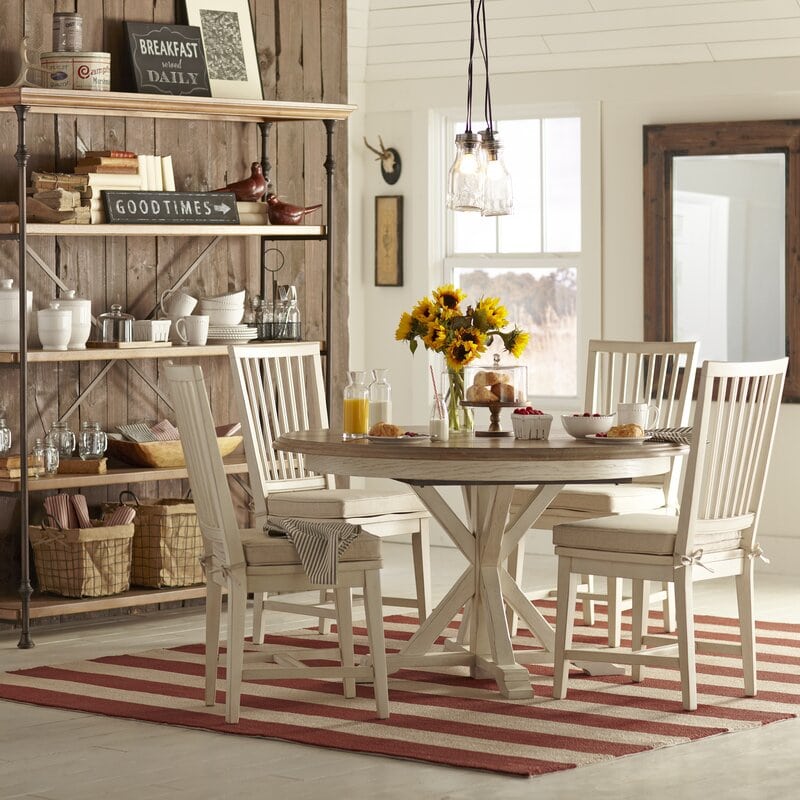 Mirrors that have natural wood frames scream rustic style. But you can also work them into other types of decor.
So, if you're unsure of your style, but lean toward rustic or farmhouse, consider a mirror like this one. It will grow with you as your style changes, and it will look good in an assortment of rooms.
Let Your Mirror Star in an Accent Wall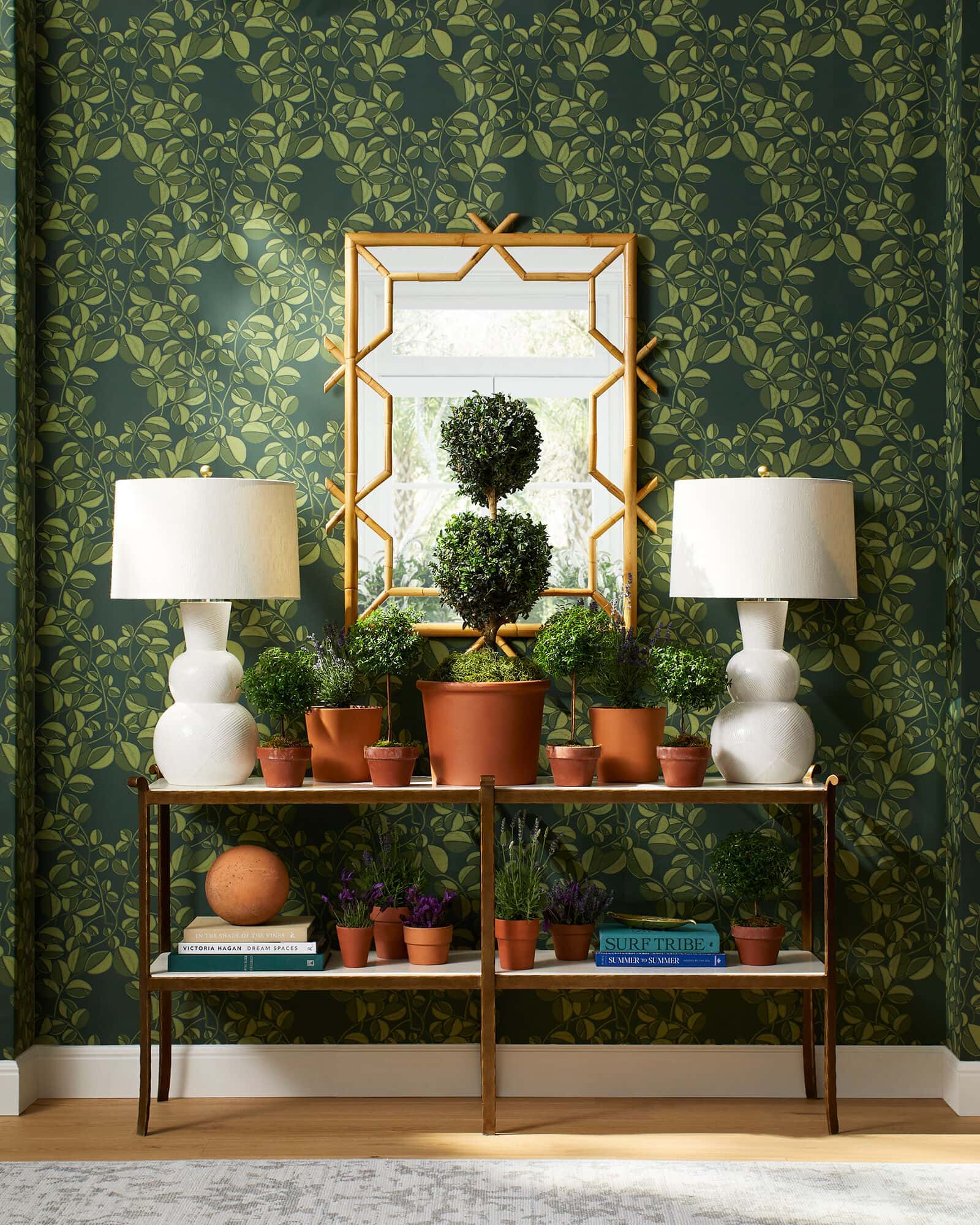 If you need small dining room mirror ideas, create an accent wall and let your mirror be the star. You can take note from this example and start by putting a bold wallpaper up. Afterward, add in a buffet or bar cart and fill it with things you love. Or, do like this example and fill it with greenery.
Once you have the scene set, you can place your mirror over top of the cart or buffet.
Lean a Floor Mirror Against the Wall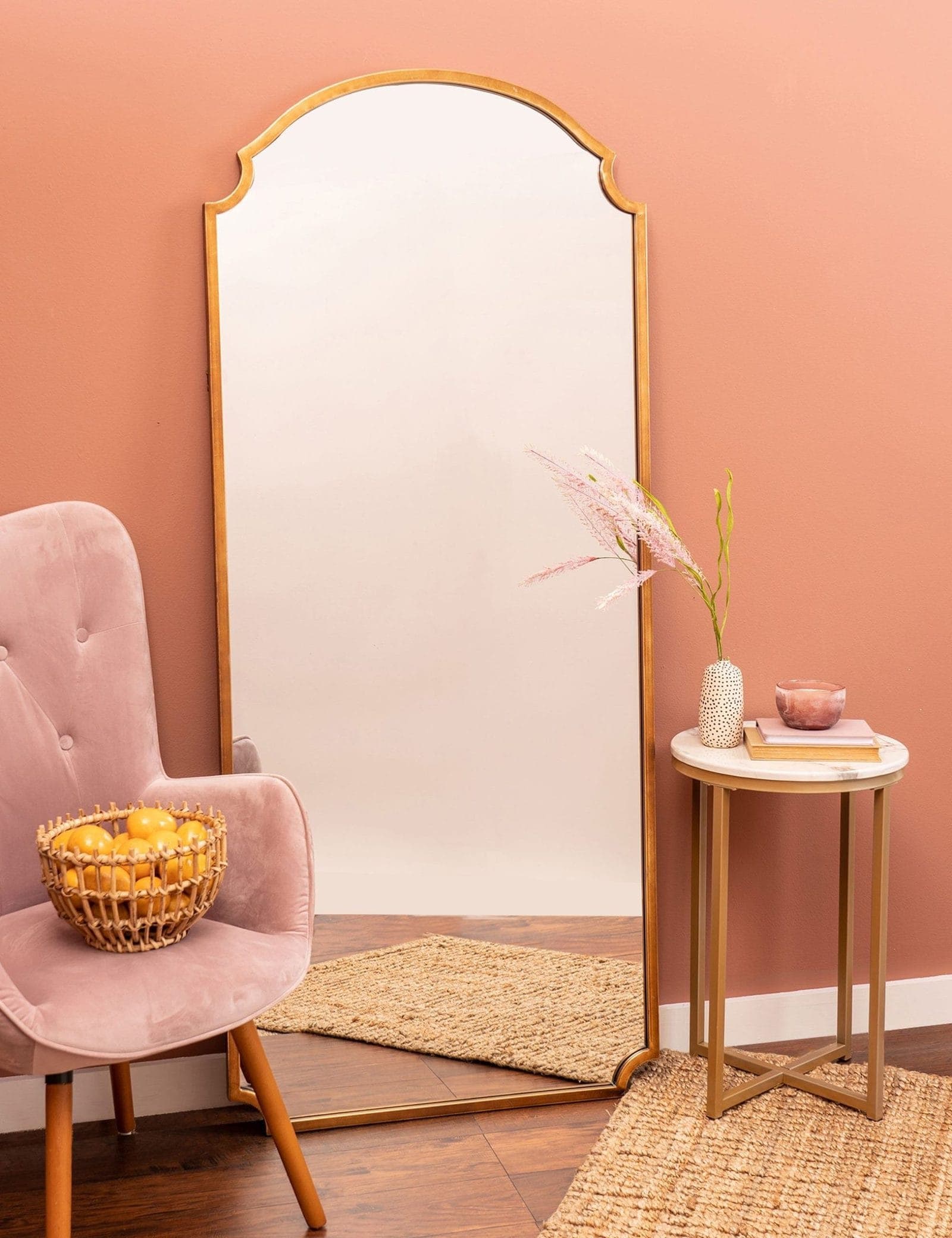 Who says you can't put a floor mirror in a dining room? If you have an empty corner, a full-length mirror is a great option to fill it up.
Try to find a mirror with an ornate frame to bring elegance to your formal dining room.
Keep Surrounding Decor Simple for a Modern Touch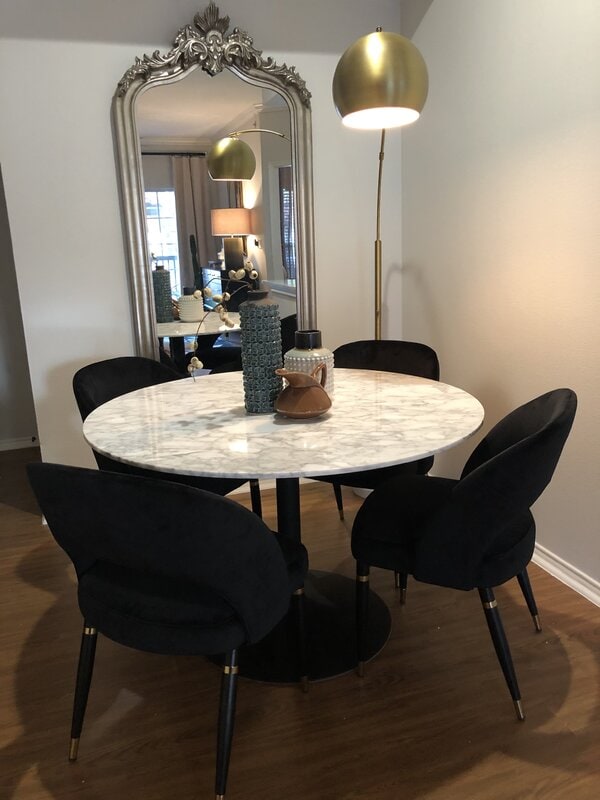 Here's another example of a standing mirror in a dining room, but it looks much more modern this time. This look is perfect for a small dining room. By leaving all other walls blank and adding a large mirror, the space looks much bigger.
To imitate this style, go for neutral paint, a simple dining set, and keep the wall decor to one large mirror.
Use an Accent Mirror in the Formal Dining Room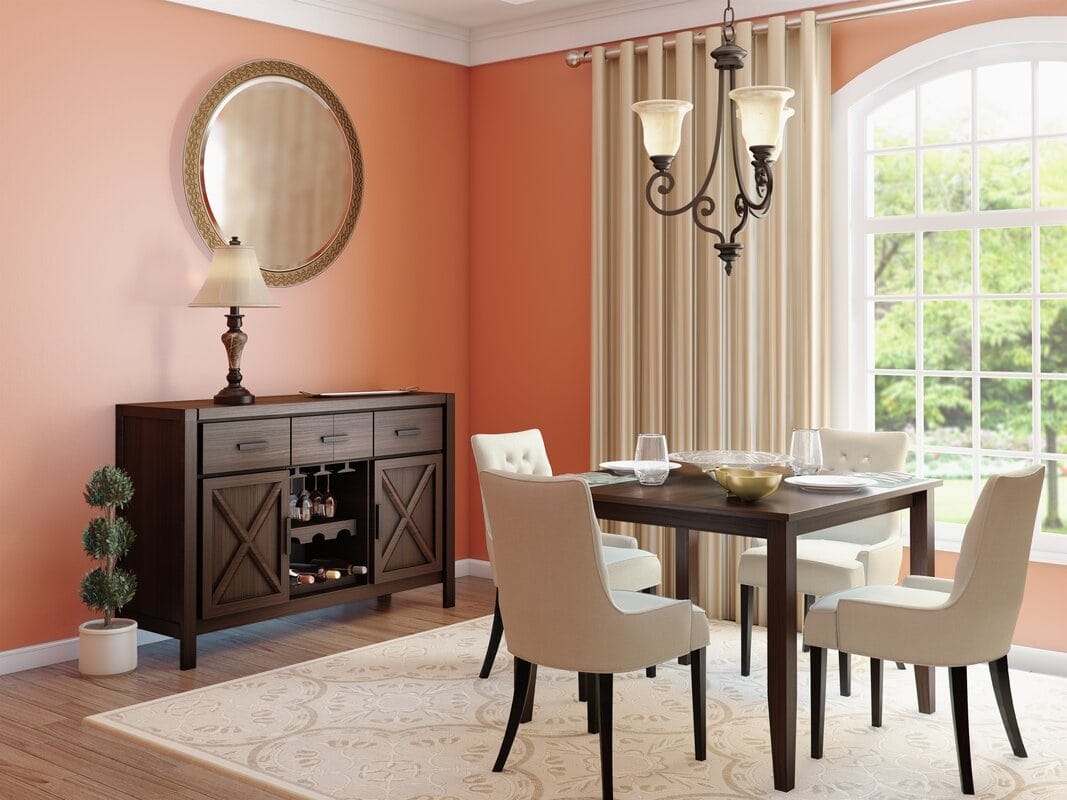 If you have a formal dining room and want it to have that genuinely formal look, make the focal point your table and chairs. You can choose a slick table and an upholstered chair.
Then, add in accent pieces like a mirror and some greenery.
Create a Trendy Dining Room with a Bookshelf + Mirror Combo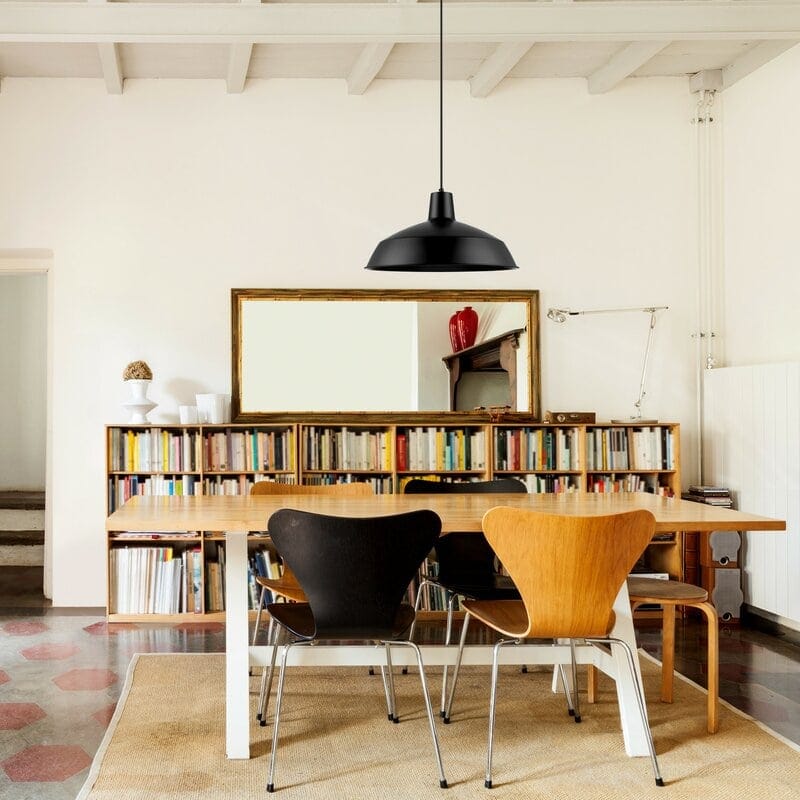 Do you prefer to read and write at your dining room table instead of eating? If your answer is yes, turn your dining room into a part library.
You can get this look by painting your walls white and placing a bookshelf on the largest wall in the dining room. Fill the bookshelf with all your favorite reads and add a long mirror on top. Leave the rest of the decor very bare.
Accent White with Wood Tones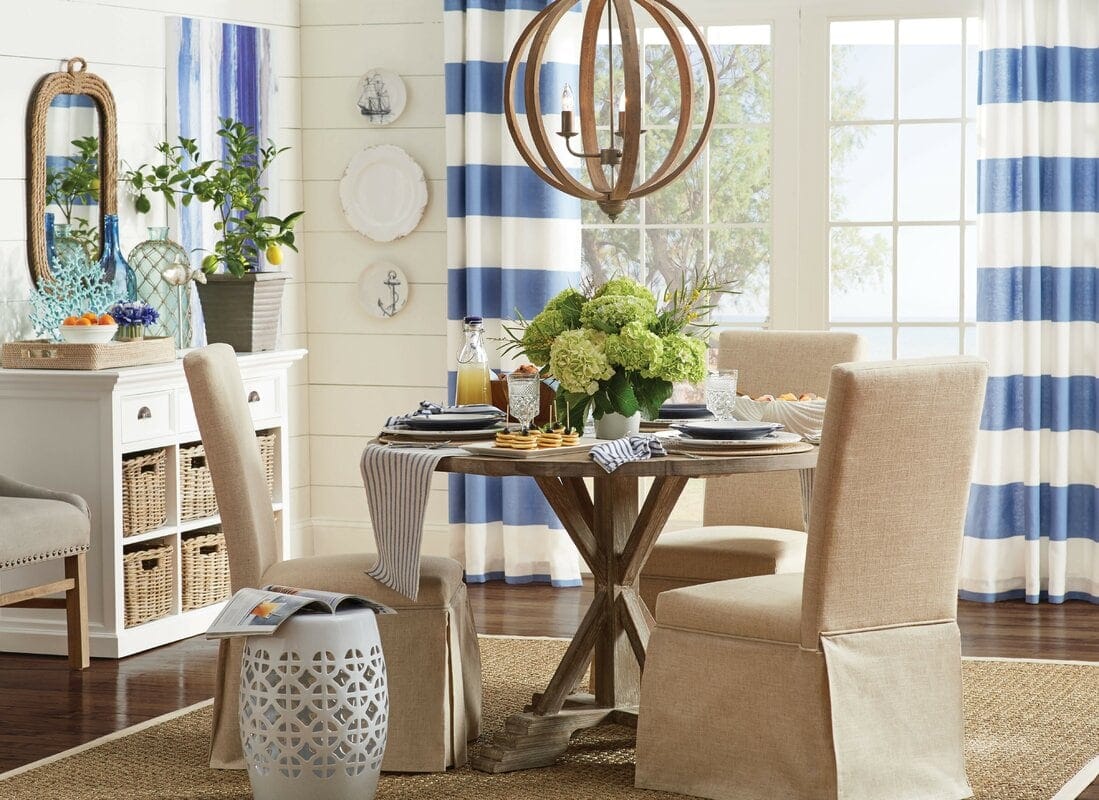 An easy way to make any room look better is to bring in complementing textures. For example, if your dining room has a white shiplap wall, hang a mirror with a natural frame. Some good choices are wood, rattan, and rope frames.
The frame doesn't have to be large for this to work. Simply choose whatever size looks suitable for the space you have.
Final Thoughts
There are tons of ways to decorate a dining room with mirrors. If you want to play it safe, choose a mirror to go over your buffet or bar cart. On the other hand, if you're looking to make a statement, choose a large mirror with an ornate design or place a floor mirror in the corner of the room.
A mirror can help accent your style and will make a small dining room appear larger. There's no wrong way to decorate with mirrors, so gravitate to whatever you like best.