Decorated Life is reader-supported. When you buy through links on our site, we may earn an affiliate commission. Learn More
Glam Dining Room Ideas
Let's face it – every being on the planet has a knack for luxury and opulence. Whether or not it plays an accent – the shiny and glamorous products in your space are the ones that steal most of your guests' attention. And when it comes to styling a glam dining room, there are a ton of ways to achieve that majestic and grandeur look.
From chandelier to dining chairs, the dining table, area rug, centerpieces, upholstery, and crockery – your glam dining room must be well thought out and planned.
And since you don't want to overwhelm your space, it's ideal to create a sense of balance with the help of a perfectly contrasting color palette, the minimal introduction of gold, and ample faux and fur indeed.
Lastly, don't forget to play with the size, scale, and perspective of your dining space. Excited to style one? Well, have a look at these fabulous 15 glam dining room sets to take inspiration from!
Candle-Style Empire Chandelier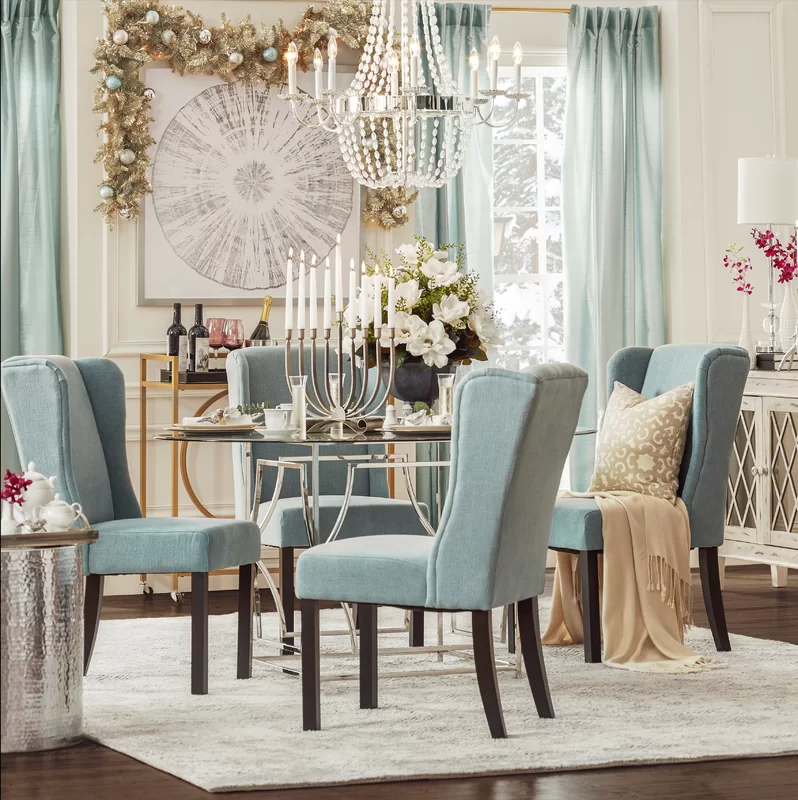 When decorating the Hollywood Glam-style, you must not hold back from a majestic piece of chandelier. Lighting is an important aspect of this setup – along with the fact that chandeliers can undeniably uplift the ambiance of your dining room.
This particular wood and the metallic candle-style chandelier are quite extravagant and rich – hence, aligning with the principles of this style. So, you can best pair it with a couple of pastels, gold, and fresh flowers to complete the dining room look.
Seaford Pedestal Dining Table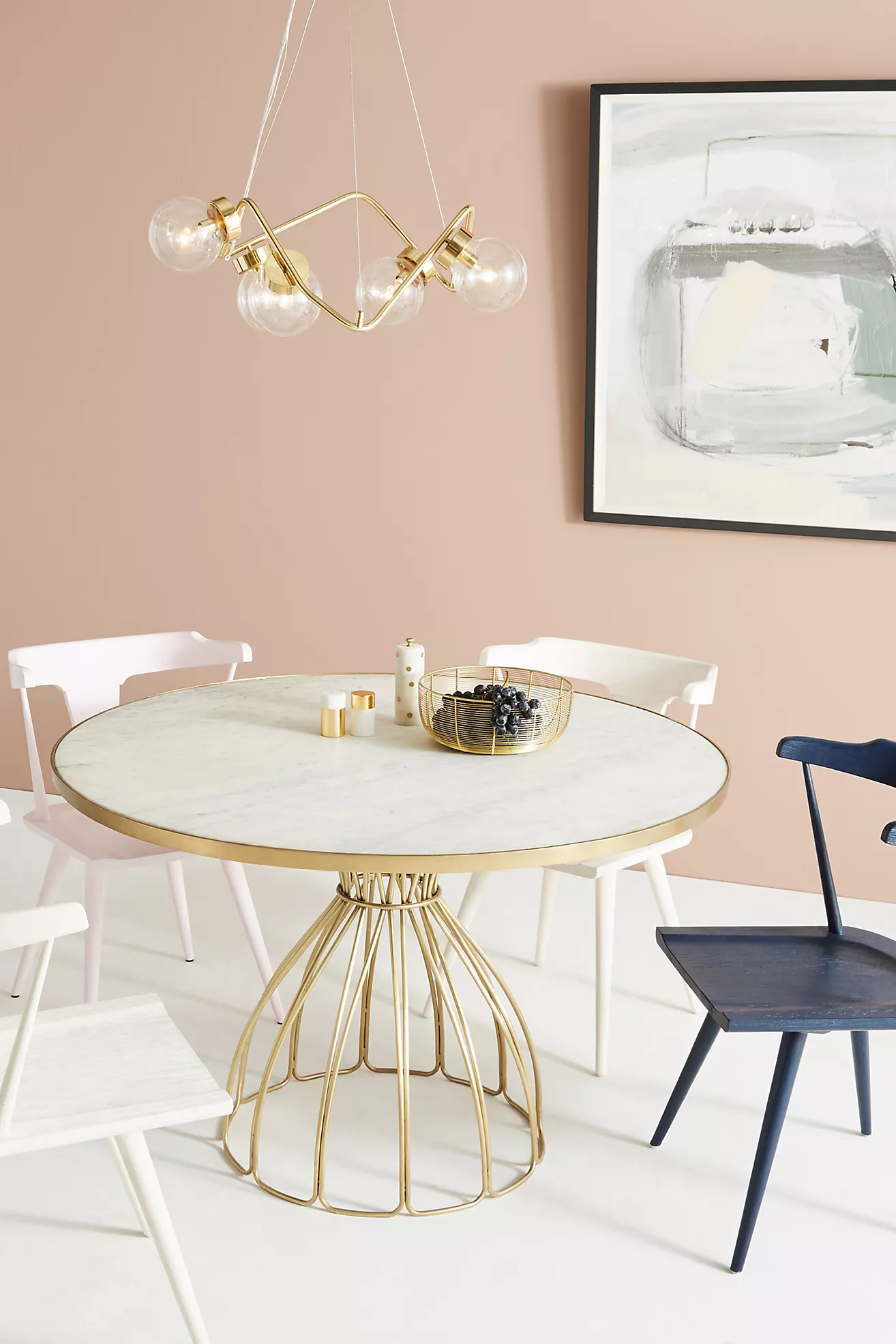 This curvy feminine dining table is a great fit for your small glam dining room. Taking inspiration from a lush bouquet of flowers, the harmonious pairing of the marble and brass defines the utmost wealth and richness in the dining room.
And since it's quite versatile, you can best pair it with any hue you like – dark blues, rust, mauves, blush pink, or clean white. At the same time, ensure to not add too much gold to other accessories!
Velvet Barrel Chair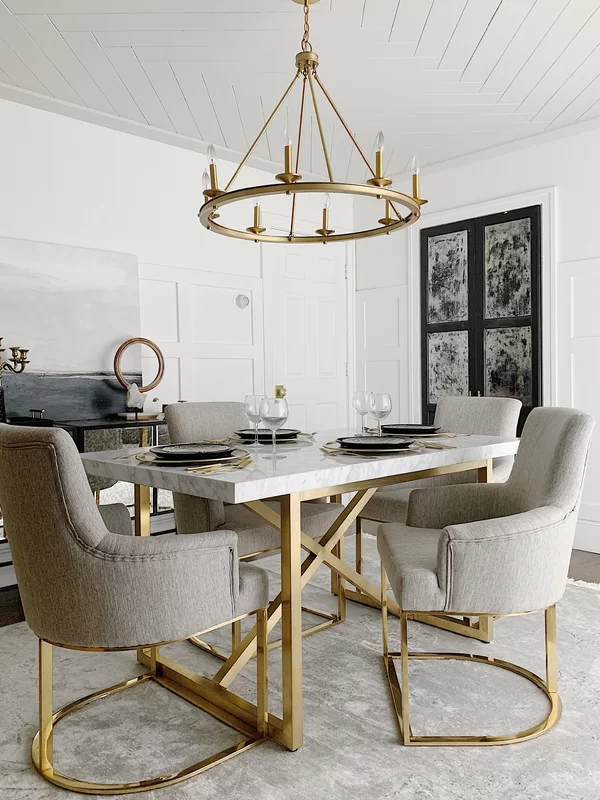 This barrel-back armchair has glam and dazzling look from every corner. With a chic neutral look and a classy velvet finish – this versatile and timeless dining chair makes a great statement in every glam dining room that's either loud and contrasting or subtle and monochromatic.
Don't forget – the gold finish on the legs of the chair totally steals the glance and makes your space appear extra chic and delightful.
A Pro Tip: Try incorporating velvet and suede upholstery in your glam dining space!
Faux Fur Blanket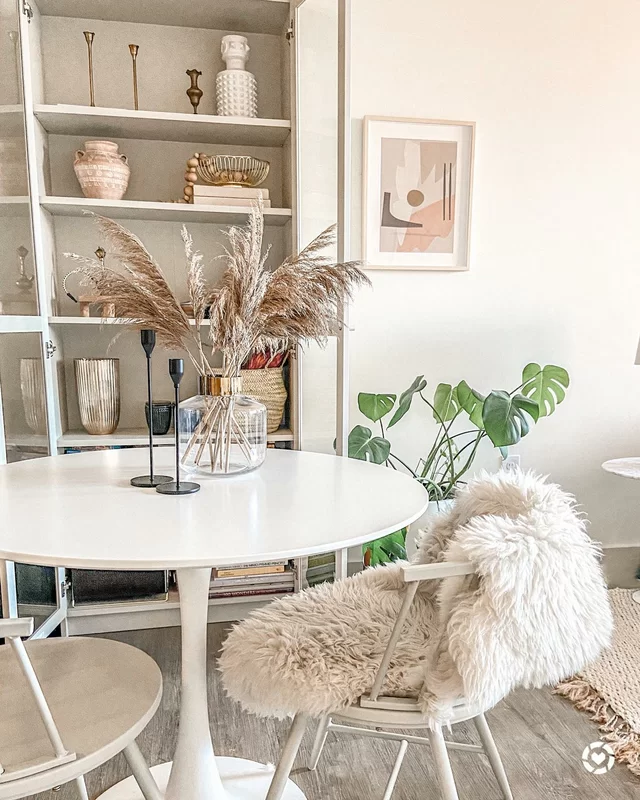 If you want a glamorous and rich look in your dining room space, one of the coziest and chic materials to incorporate is faux fur. Whether you plan to throw a blanket or choose the dining chairs upholstery in this fabric – it's ideal to play with this to add a sense of depth and texture.
Furthermore, this faux pairs beautifully with a set of decorated pampas grass and fresh indoor plants to go. Isn't that such a sophisticated and elegant backdrop?
Nixon Dining Table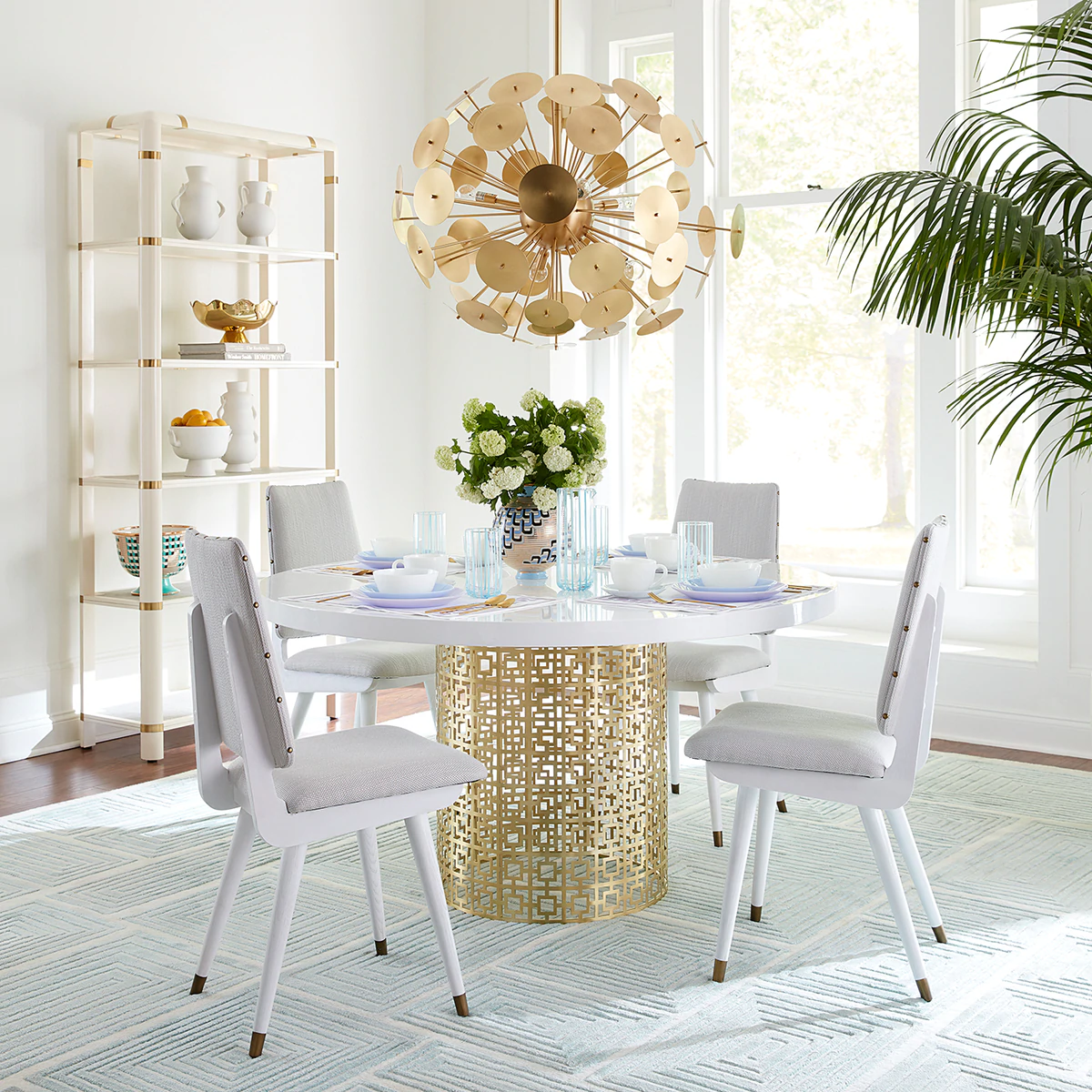 This is one of the classic glam dining table designs that can easily fit into your small dining as well as living room spaces. With a brushed brass finish and a white marble countertop – this table set is all ready to exhibit a rich and grandeur look to your space.
When amalgamated with white dining chairs, white floors, and white background – this gold protrudes out to create a stunning and eye-catchy appeal throughout.
Velvet Curtains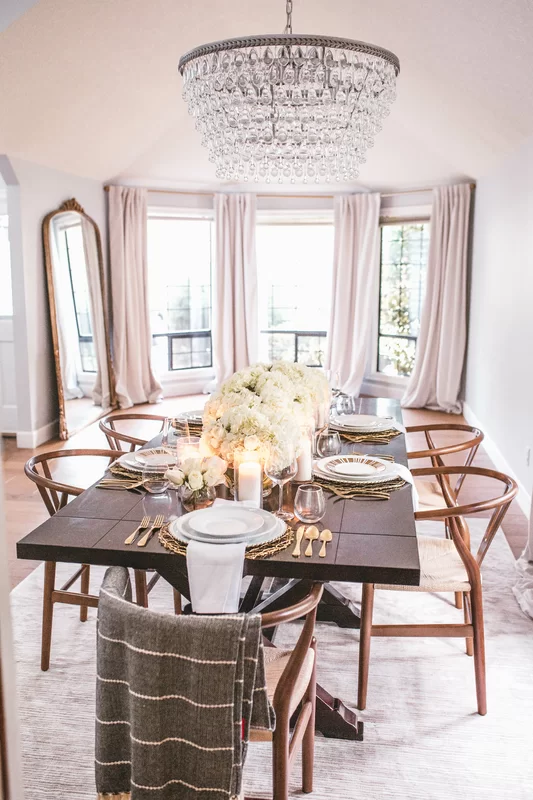 Curtains have the potential to make your dining room appear taller, grander, more elegant, and rich. And especially if it flaunts a beautiful velvet or suede upholstery – the result is definitely impeccable and unimaginable!
Hence, with a gold curtain rod indeed, you can hang your favorite velvet curtains to make your guests and family members go "wow". Generally, you can either choose emerald green, blush, navy blue, or gray for glam and heavy look.
Bold Color Palette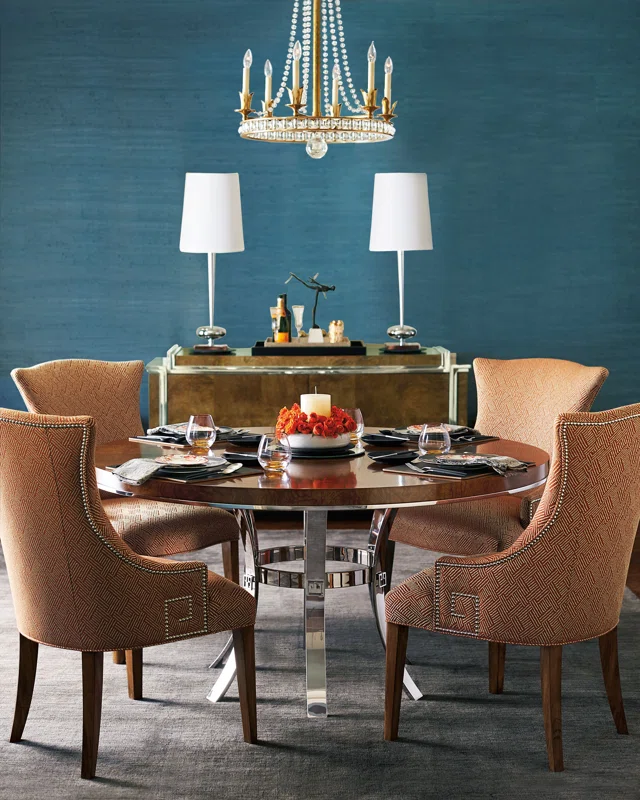 Choosing a cohesive and eye-catchy color palette should be the number one aspect when decorating the Hollywood Glam style. Well, it generally includes the use of two or three striking accent hues that add a sense of boldness to the room – while exhibiting ample depth.
Colors like navy blue, mustard, dark gray, teal, plum, and emerald green dominantly play a contrasting role. And when you fuse a touch of tan leather, faux fur, and tufted suede to it – the result is absolutely mindblowing.
A pro tip: Try holding back from soothing pastels and lighter neutrals in the dramatic Hollywood Glam-style backdrop.
Swivel Chair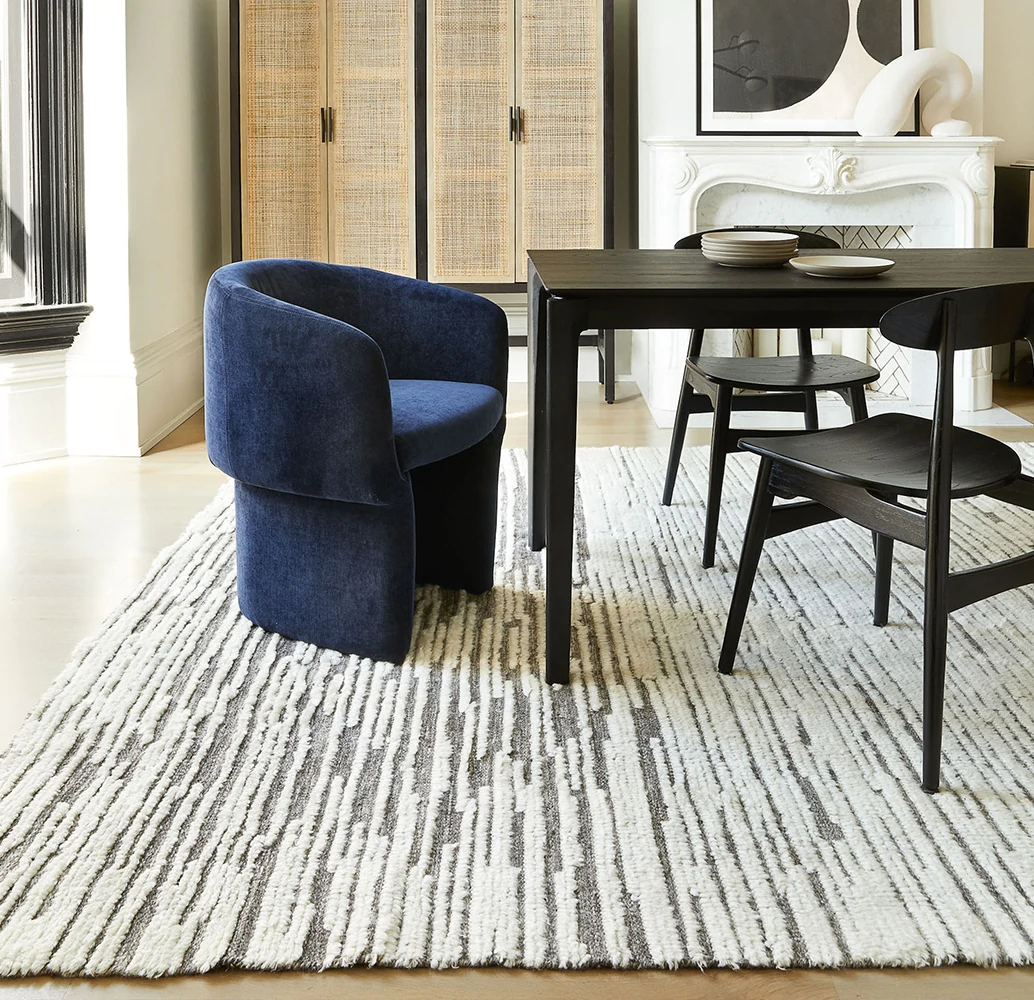 Which decor feature in this dining room appeals the most to you? Isn't it the bright and iconic swivel chair that adds that "wanted" glam and sophisticated touch to the dining room? This setup is a perfect blend of Art Deco and Hollywood Glam that's comfortable, cohesive, and opulent at the same time.
Another way to create a distinctive look in your dining room is by switching the 'head of the table' chair with another iconic one!
Mirrored Sideboard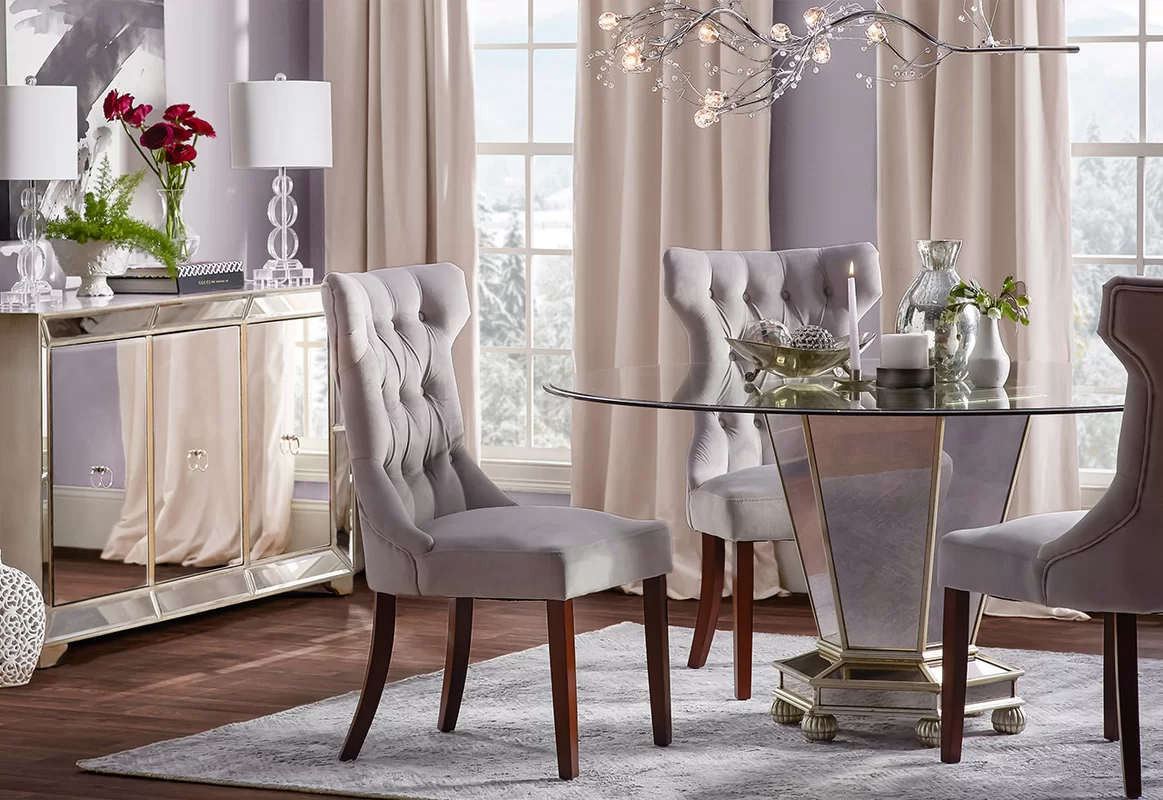 Investing in a chic, glam-style sideboard is something that you must look forward to. Apart from aesthetics, this piece of decor is ideal to store or flaunt off your cutlery, dinnerware, and other dining table accessories like table mats, runners, planters, and centerpieces.
On the top of the sideboard, you can easily style some artifacts while displaying artwork and mirrors to weave a story around this focal point.
Bond Glam Dining Table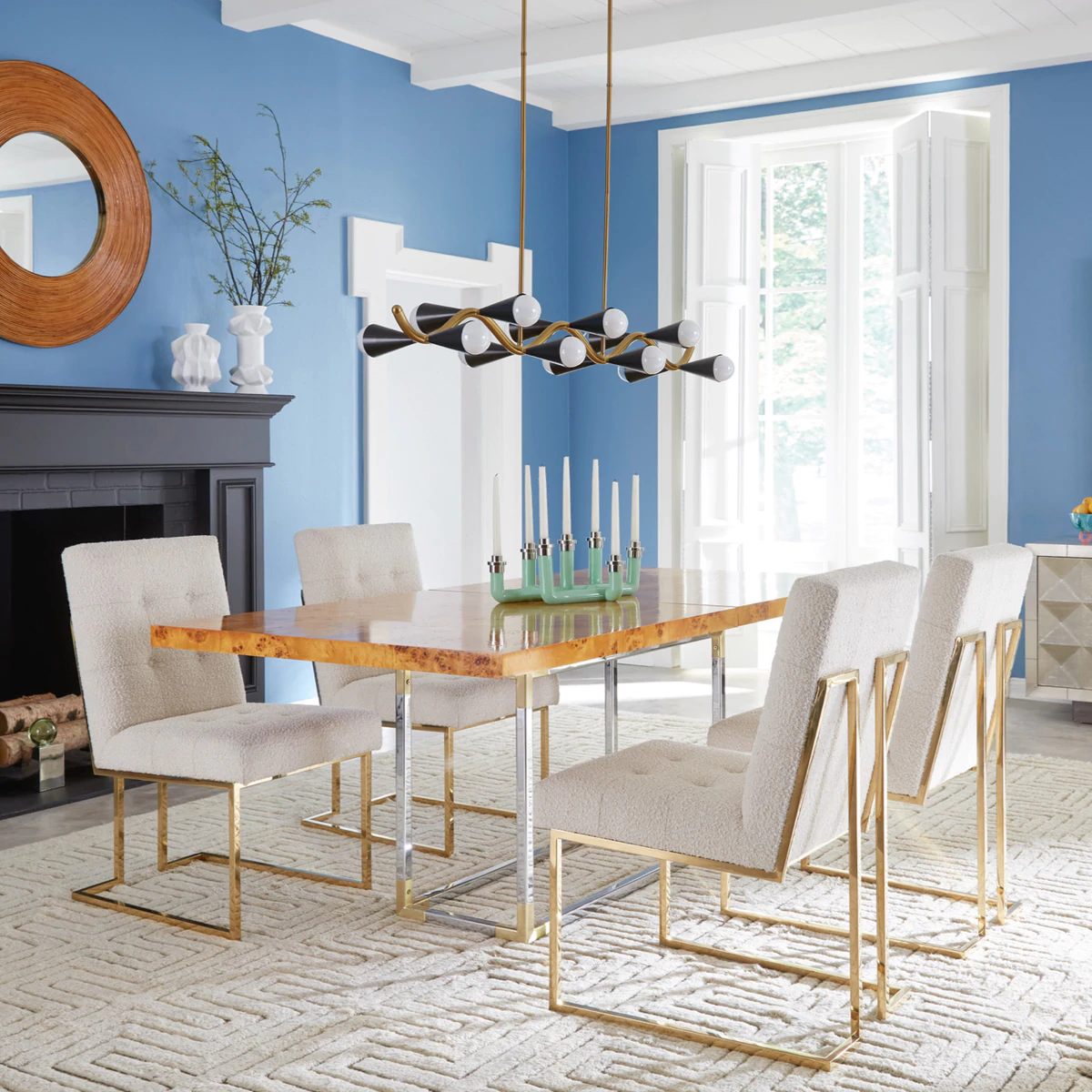 This glam dining table is truly one-of-a-kind! It seamlessly amalgamates the natural-hued Mappa wood with a polished nickel base to unfold the utmost warmth and charming character. This glam dining table can easily accommodate 10 seating chairs at a time just in case you have a larger gathering at home!
Secondly, you can best pair this table with either upholstered or metallic chairs to create a flabbergasting look.
Glam Tablescape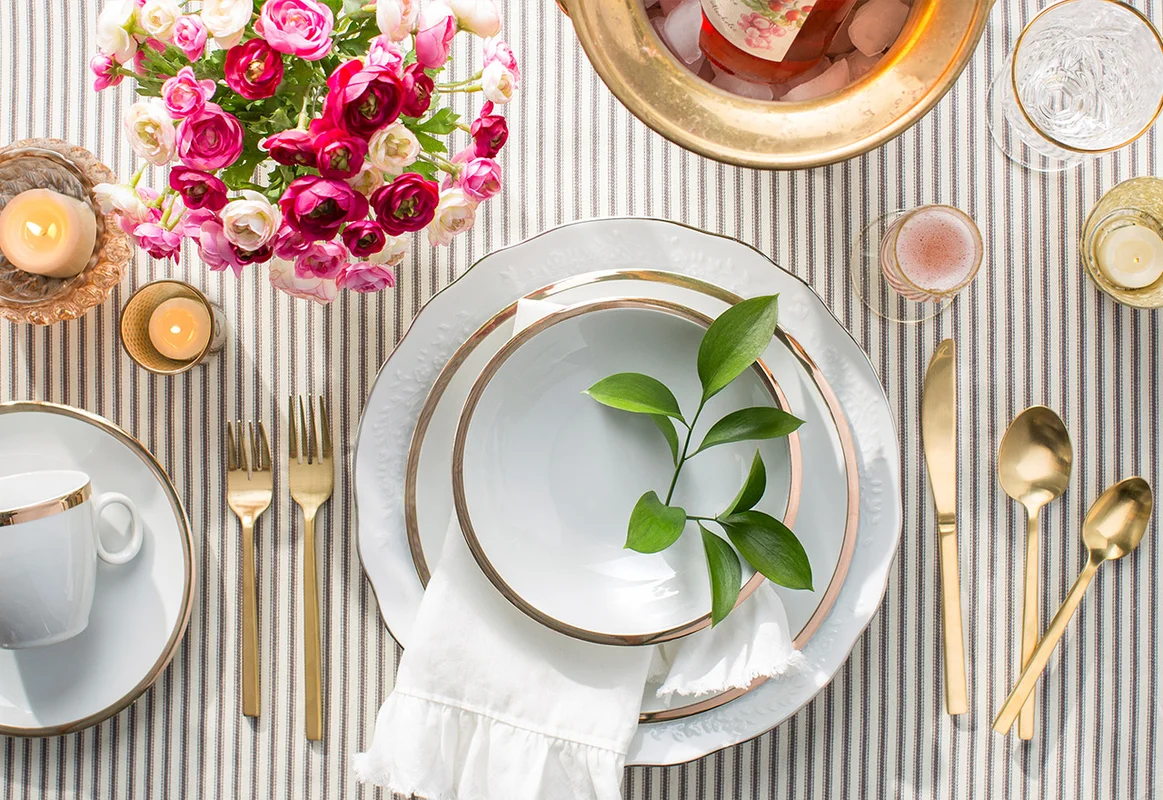 Just like you focus on choosing the perfect glam dining table, chair, chandelier, curtains, rugs, and sideboard – it's equally important to focus on the tablescape and table decor. And layering is key when it comes to styling the table decor!
So, you must play with heights and contrasts in the form of planters and centerpieces where you can style succulents, fresh flowers, and pampas grass. In your glam dining room, never hold back from gold-plated cutlery and dinnerware.
Sputnik Chandelier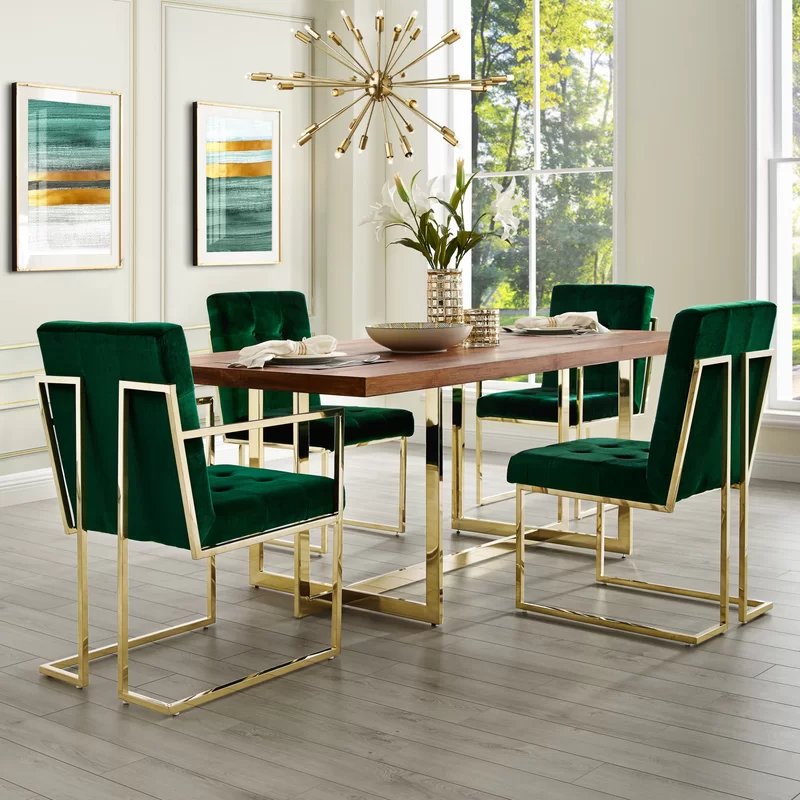 This iconic chandelier makes a number one choice for Hollywood glam and Mid-Century Modern interior design backdrops. It tends to uplift the ambiance of the dining room while majorly giving the "Glam" goals that your space craves.
And especially since it's gold or brass-plated, the ultimate richness and sophistication dive deep in! Secondly, always remember to pair this metallic accent with furniture legs, artwork frames, and tabletop decor.
Crystal Chandelier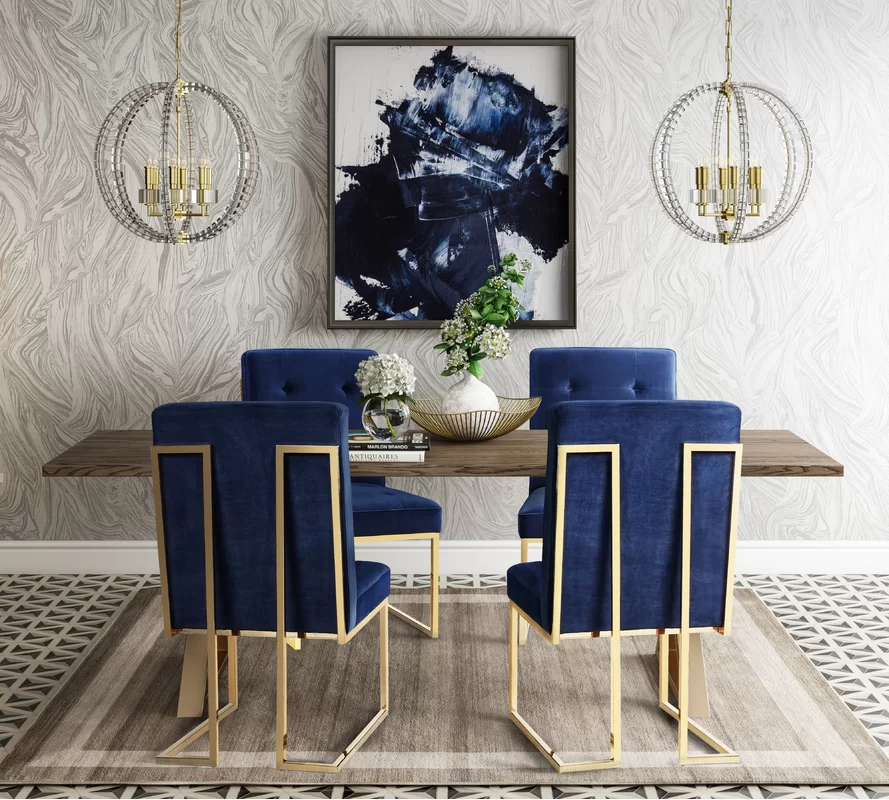 A crystal chandelier is a much-admired element in a glam-style dining room space. Not only does it play elegant and splendor but also steals the attention and plays focal. In amalgamation with gold accents, this lighting feature is definitely something to have an eye on – if your space has a tinge of traditional or vintage vibes.
A pro tip: Always analyze the length of the dining table before finalizing the number of chandeliers to go!
Trocadero Dining Table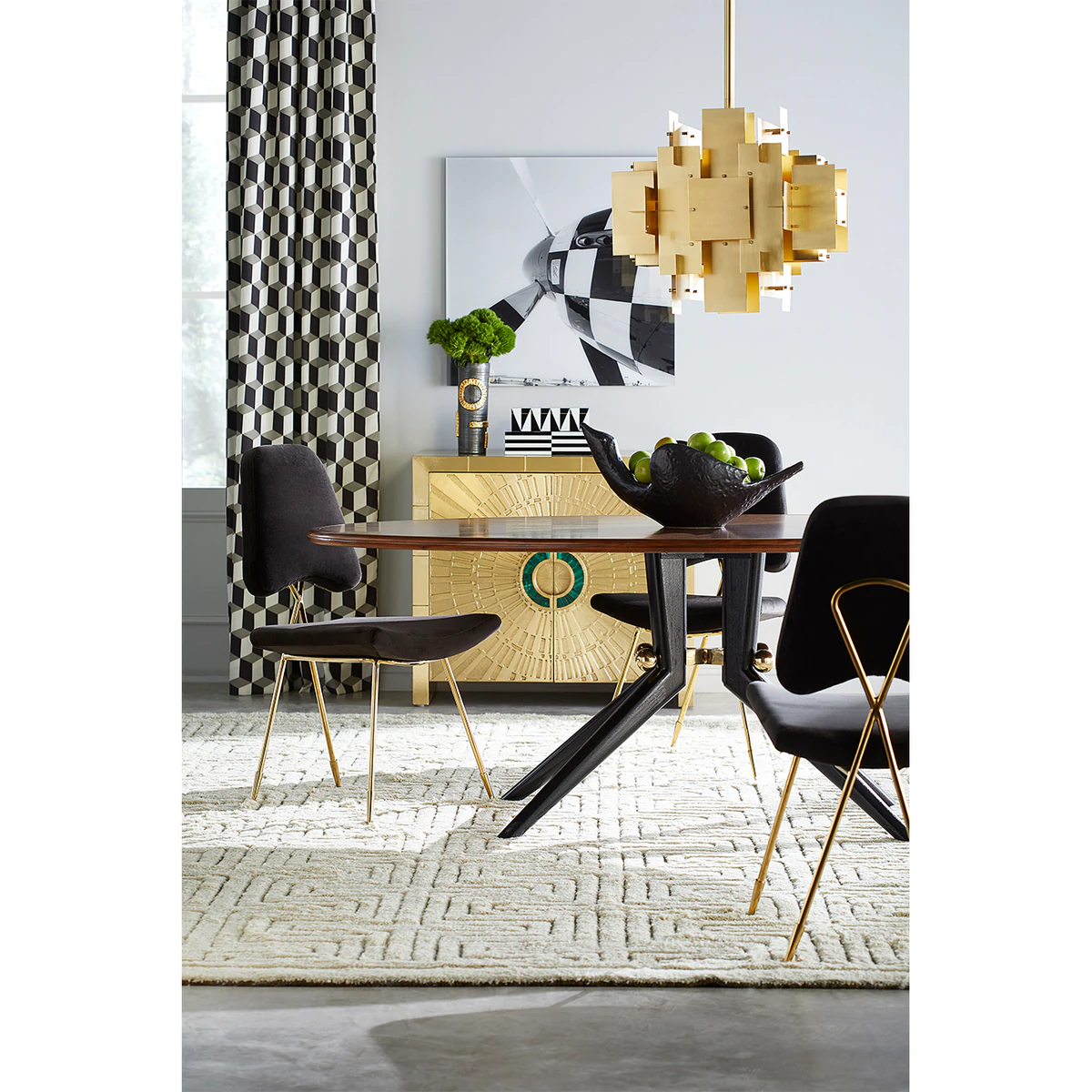 With a unique flair for geometry and angles, this glam dining table is simply beyond limits. Flaunting a mahogany table top and ebonized wooden legs, this choice of the table makes a great cutting edge for a rich and sophisticated backdrop.
And do you know the best part? Well, you can absolutely blend the brass metallic tints with this wood to add stunning detail and contrast.
Striped Parsons Chair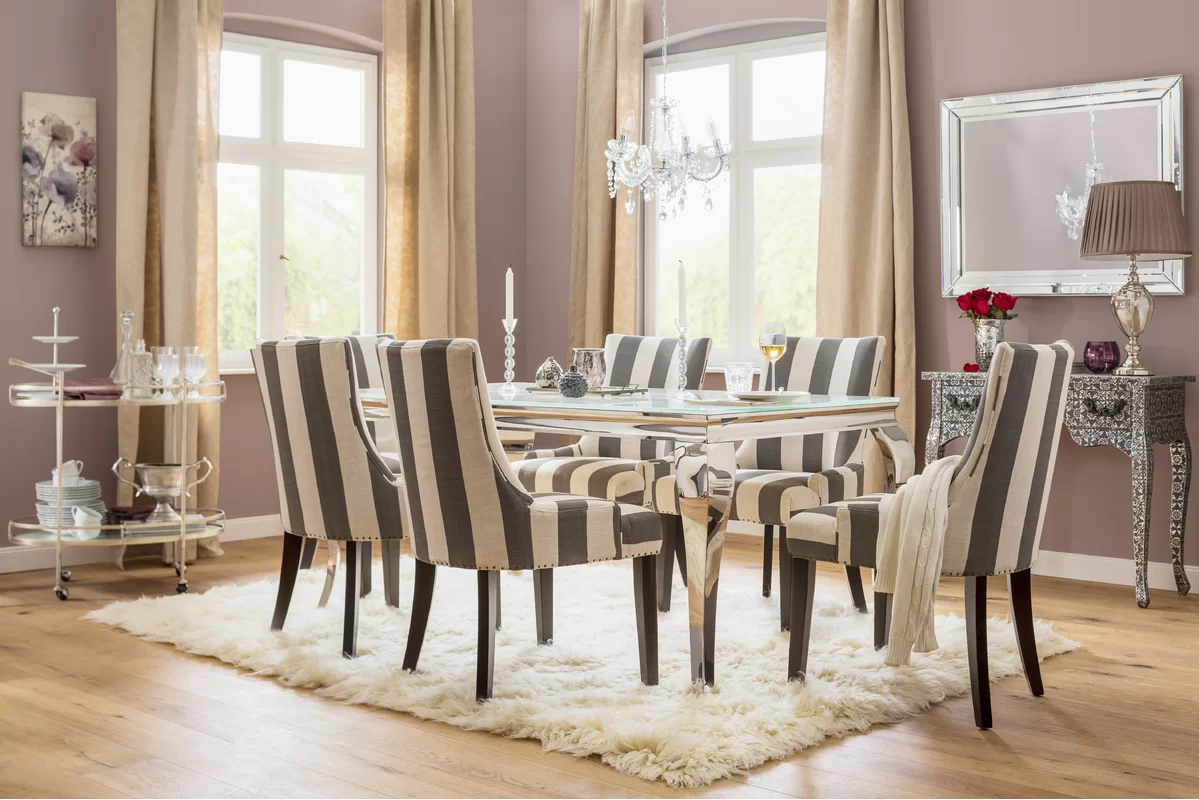 To add a sense of detail and depth – this striped glam Parsons chair makes an ultimate rich and opulent statement. So, if you don't want to restrict to solids and monochromes – you might as well pick a pattern that can equally play rich and glam.
Have a look at this dining room setup! Isn't it something to take inspiration from? Well, the mauves amalgamate with patterns and faux to create an utmost eye-catchy appeal!
Summing It Up
When it comes to styling a glam dining room – it's ideal to pay attention to chandeliers, carpet, furniture, wallpaper/paint, console, crockery, wall decor, and upholstery! You can't be too matchy-matchy and at the same time, poles apart. So, did any glam dining room intrigue you the most? Well, do let me know your thoughts in the comments below!