Decorated Life is reader-supported. When you buy through links on our site, we may earn an affiliate commission. Learn More
15 Staircase Wall Decoration Ideas To Fill Up The Space With Style
One of the most awkward spaces to decorate in a home is the staircase. No matter the layout, you likely have some bare walls that need something to give them a little life.
But, you need to be mindful of the space because staircase wall decoration can quickly become cluttered or just seem even more awkward with a disproportionate amount of decor.
Depending on your staircase, you may want to do a whole gallery wall or maybe just a few carefully placed items to create a more curated look. If you're not sure where to start, take a look at these amazing stair wall decorations that you can totally recreate in your own home.
Bright & Sunny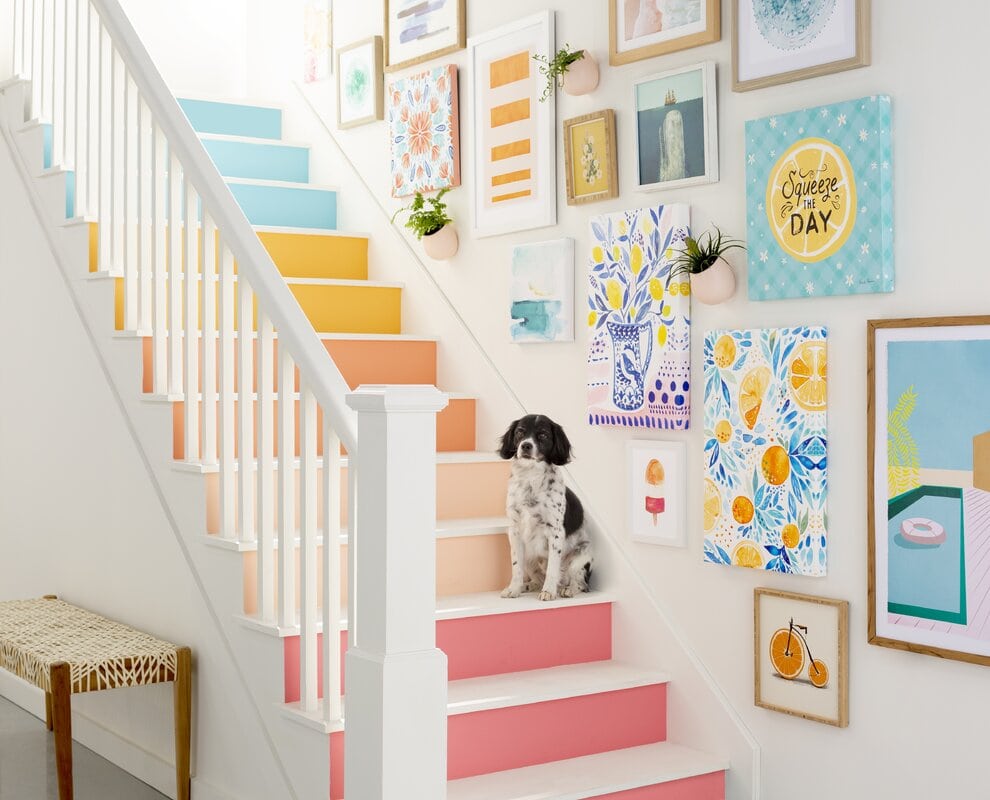 Filling your stairway walls with a gallery look is a pretty common way to go, but curating it with bright pieces that create the look of a sunny day – like this one – is more unique.
To do this, you'll want to stick with a summery color scheme with lots of yellow, orange, and warm pink. Painting the stairs a rainbow of colors certainly doesn't hurt the look, but that's entirely optional.
Shiplap & Farmhouse Decor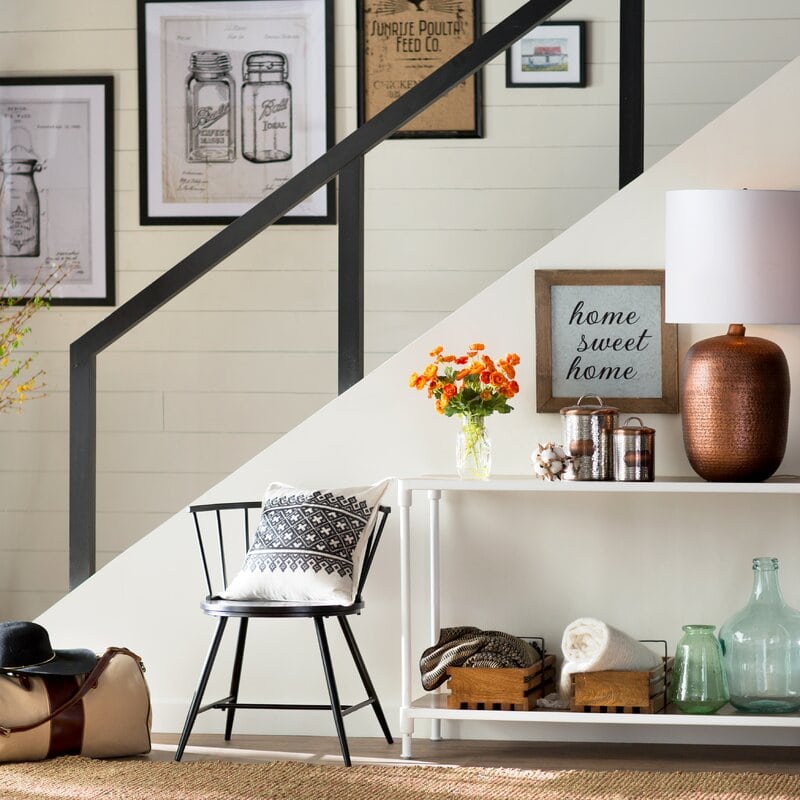 If you prefer a more minimalist approach, and are a fan of the farmhouse chic aesthetic, add shiplap to your stairway walls! That in itself can serve as enough decoration to differentiate the space from the rest of the house, and it adds a rustic appeal.
You can also go a step further and hang a few pieces of art on the shiplap. If you do this, make sure it's not cluttered, because the lines from the shiplap can make a gallery look chaotic instead of curated.
3D Art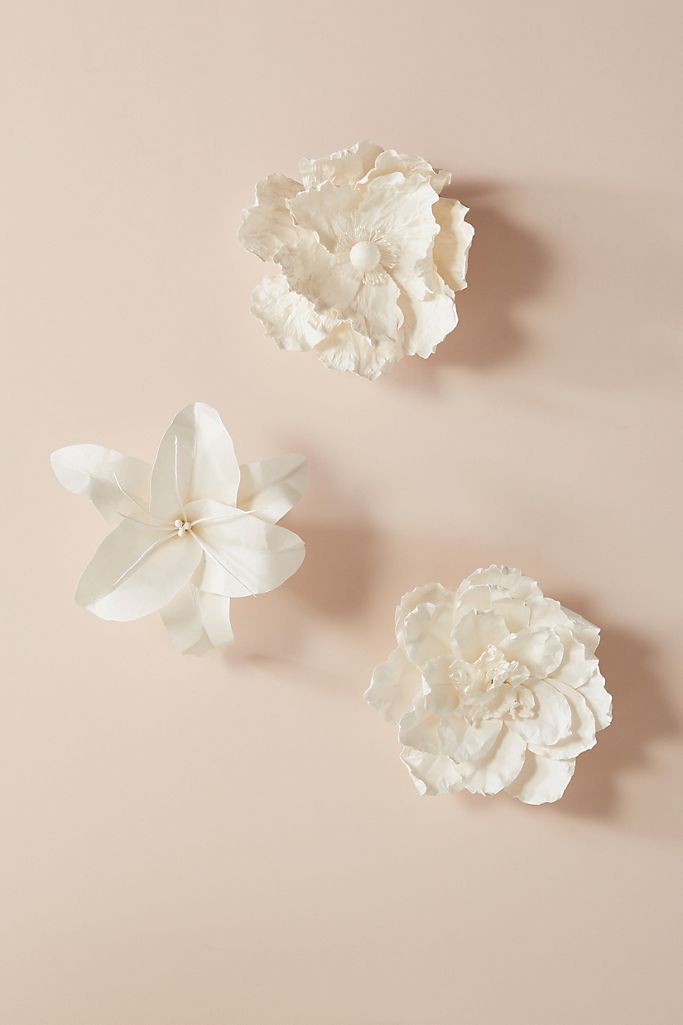 Instead of traditional framed prints, try something that truly 'pops' instead, like 3D art. You don't need a lot of it, just a few pieces will create some texture and variety in your stairway so that it looks styled instead of bare.
Color Scheme Gallery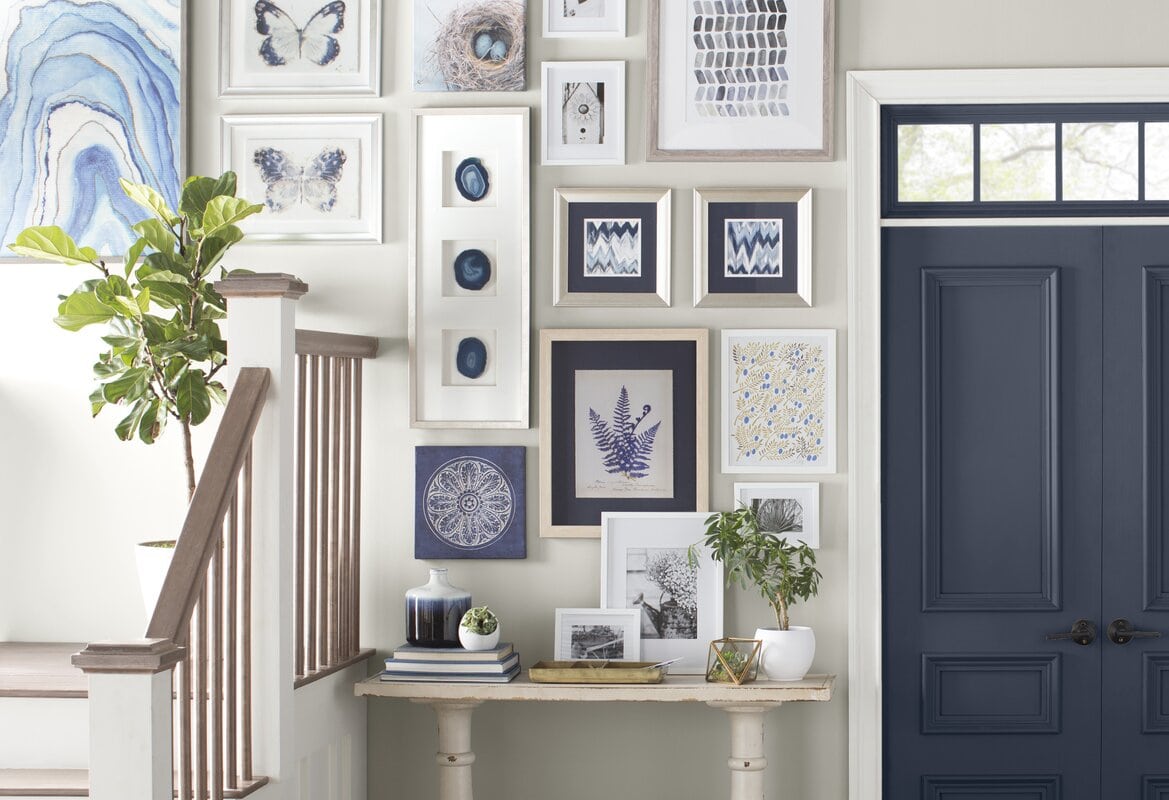 Sometimes the gallery look can be a little over stimulating and busy, but you can tone that down a bit if you stick to a single color scheme.
In this photo, dark blue and white is used throughout the pictures to add a little uniformity to the look. It creates a really gorgeous finished product that would look like pure chaos if it weren't so carefully crafted by color.
Square Framed Art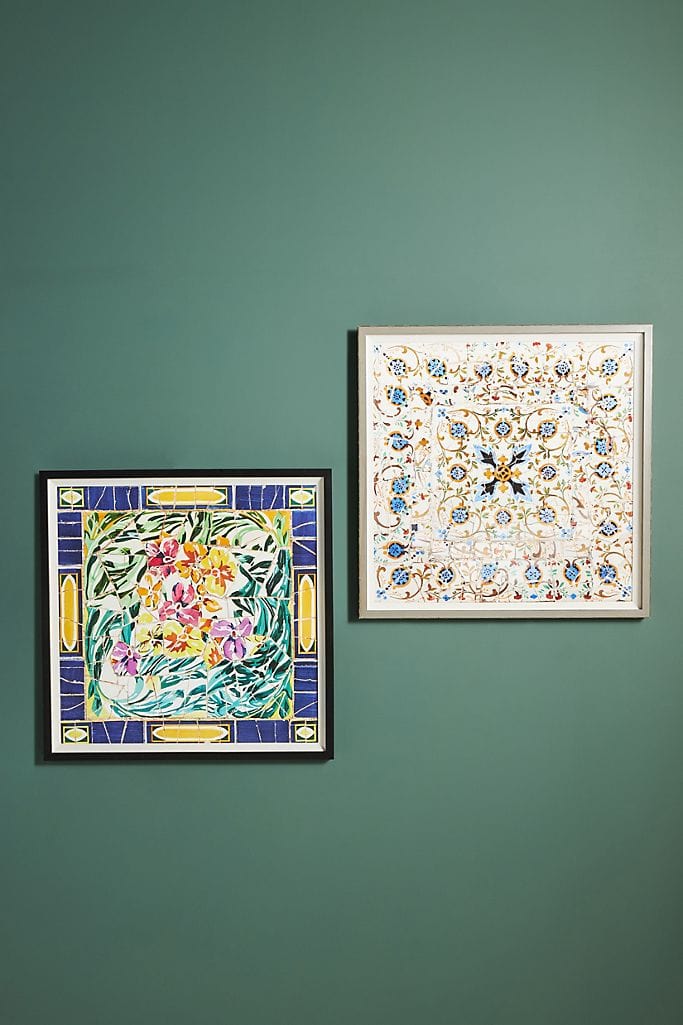 For a lot of people, decor needs to be symmetrical and have clean lines. If that's the case for you, hang a few pieces of art in square frames going diagonally up the wall.
Unlike rectangles, squares have perfect proportions so they create a very clean look. Three large square frames hung at an angle on the stairway wall will fill the space in a careful symmetrical way.
Outdoor Inspired Art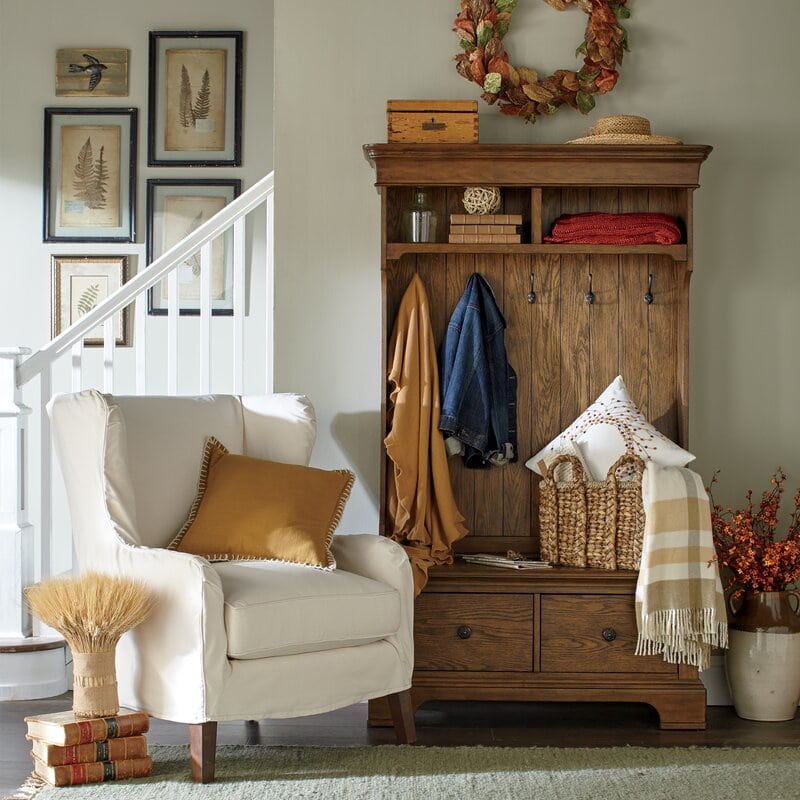 Your stairway can feel like walking through nature with a few pieces of art that are inspired by the outdoors.
In this photo, the stairway wall is decorated with framed prints of leaves, trees, and birds. All of the pieces coordinate together well in both theme and general aesthetic without looking chaotic or out of place.
Meaningful Maps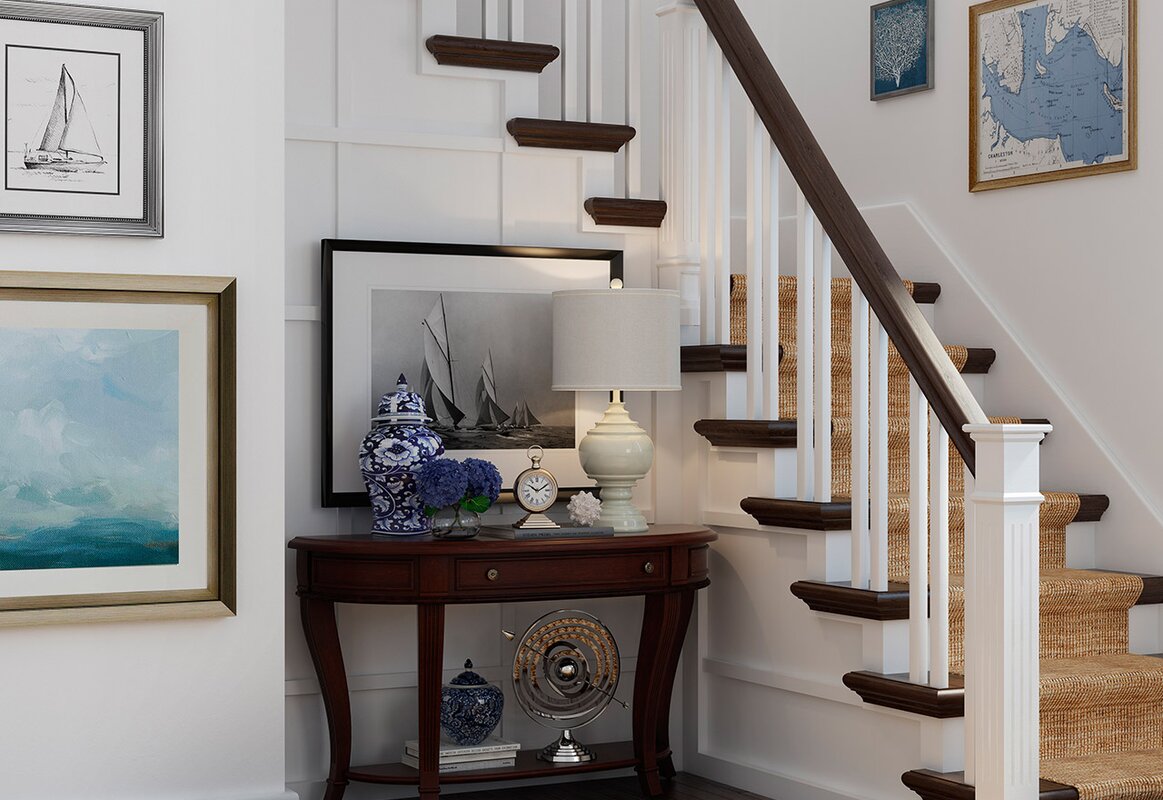 Maps are super easy to find, and can come in a variety of sizes, making them a perfect choice for framed decor.
Find map prints from somewhere that's meaningful to you, maybe it was a vacation, your hometown, or where you got married, and hang them in the stairway. You can opt for one big map, a few small ones, or a gallery of mixed sizes.
Holiday Decor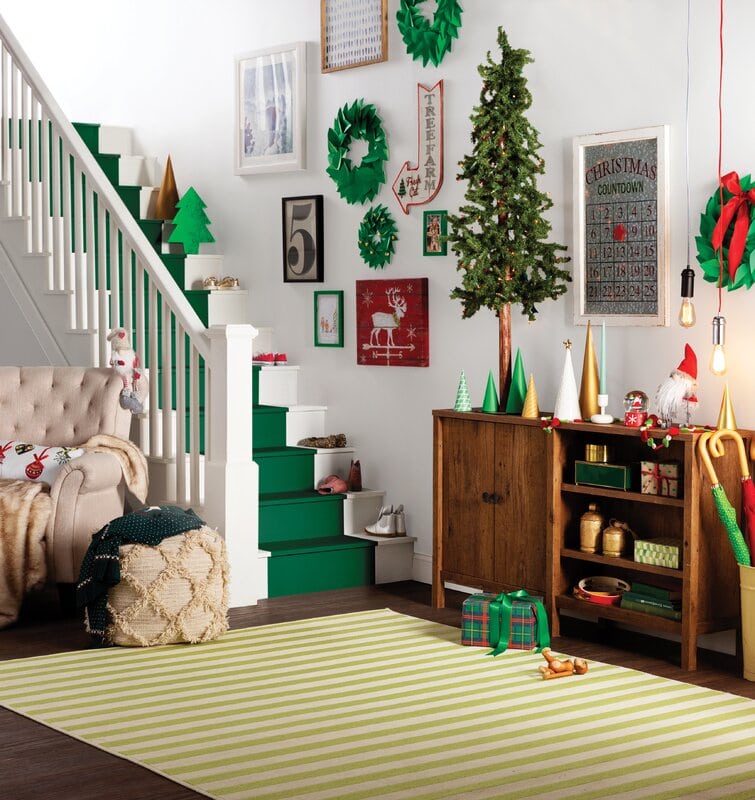 Rather than try to style your stairway for all year round, turn it into a space where you can swap things out based on seasons and holidays!
Hang a wreath that can be dressed up or down depending on the month, hang framed greeting cards that you can easily change, and leave space for some thematic signs. Your stairway can evolve right along with the seasons!
Decorative Sconces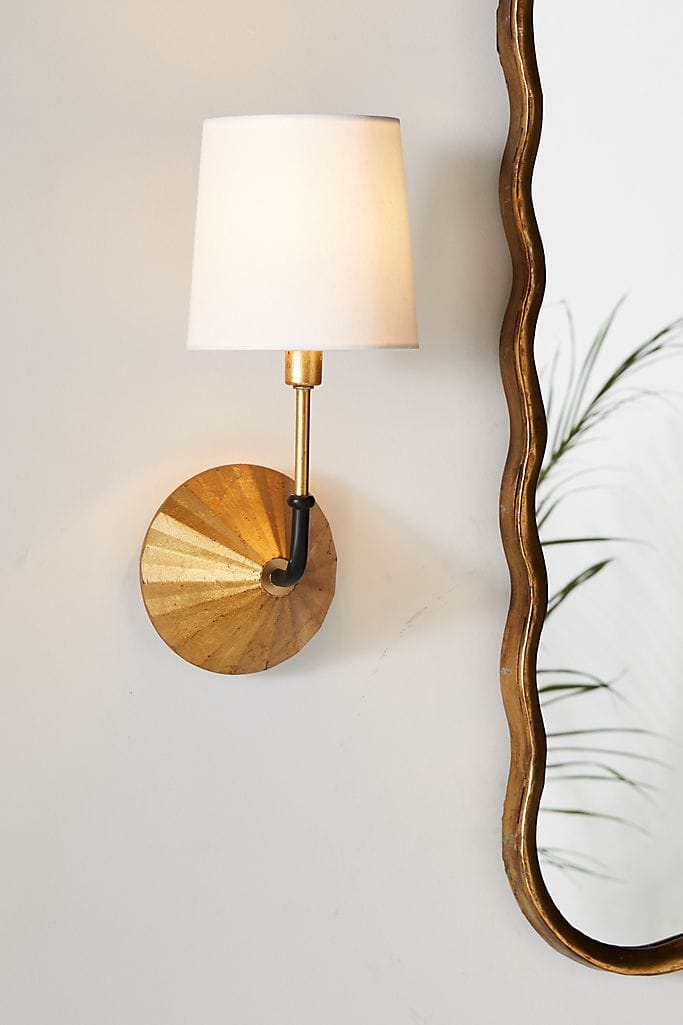 Is your stairway a little dark? Instead of art, opt for decorative sconces that will both add some style to the space as well as some light.
If you're hoping to get something on a switch, you may need to call in an electrician. However, there are also a lot of sconces you can find that work on battery or with motion sensors so you can still get the look without all the electric work.
Thematic Gallery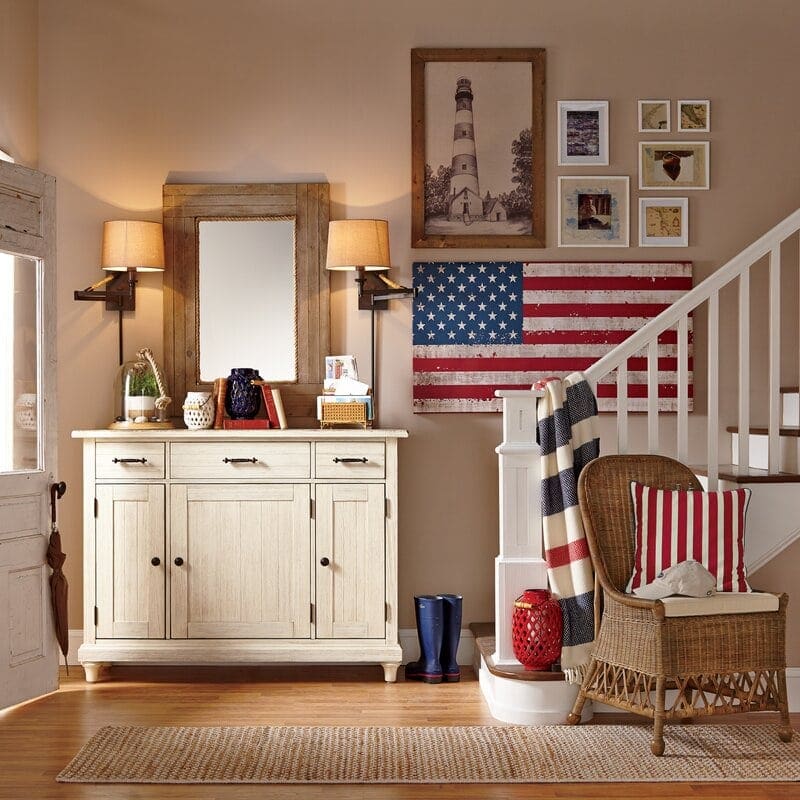 If you have an ongoing theme throughout your home, bring it up into the stairway! In this photo, you can see they chose an Americana look which ties into the home's overall look.
You can easily bring your midcentury modern aesthetic into your stairway with some simple prints or hang a piece of barnwood art for a rustic look. Whatever theme you like, play it up in your stairway!
Bare Accent Wall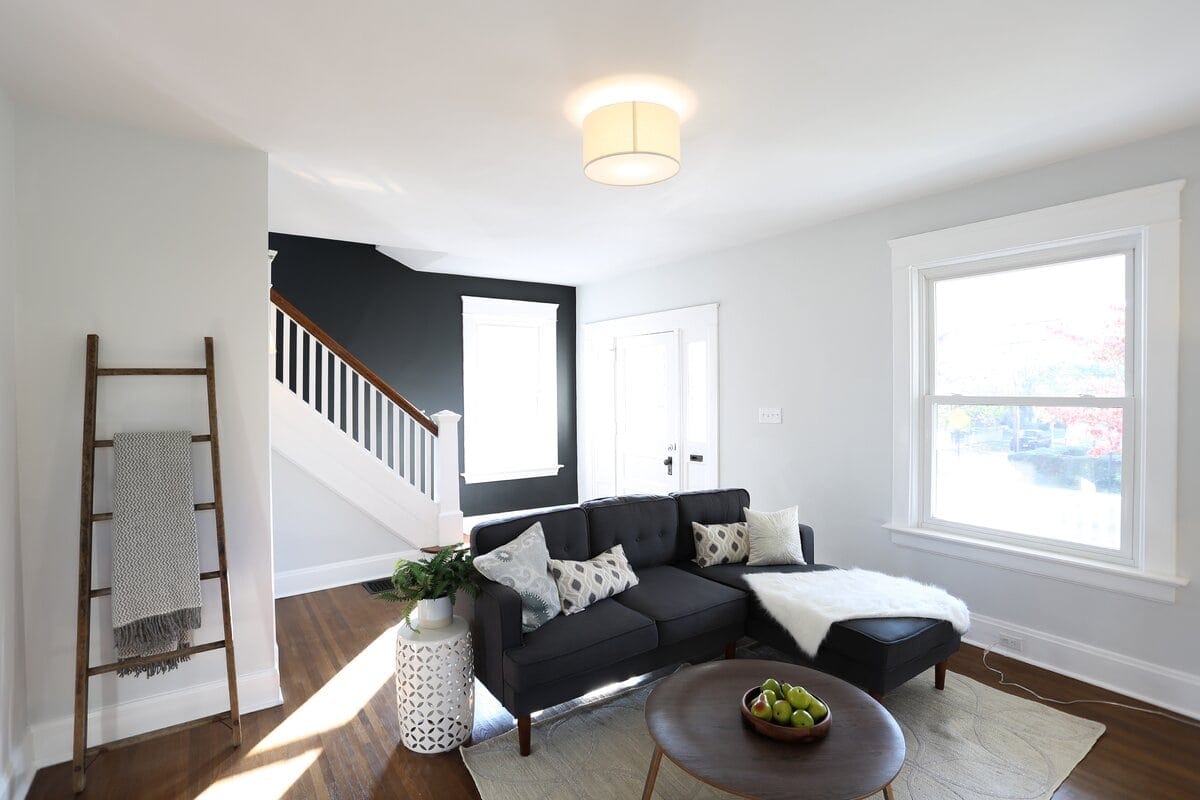 Rather than try to decorate the space, make the space itself the decoration as an accent wall. In this photo, they opted to paint the whole wall black, a stark contrast from the other walls but still coordinating with the home's overall decor.
You can go a little bigger with this idea by hanging wall paper or even just some decorative polka dot decals.
Shelves & Mirrors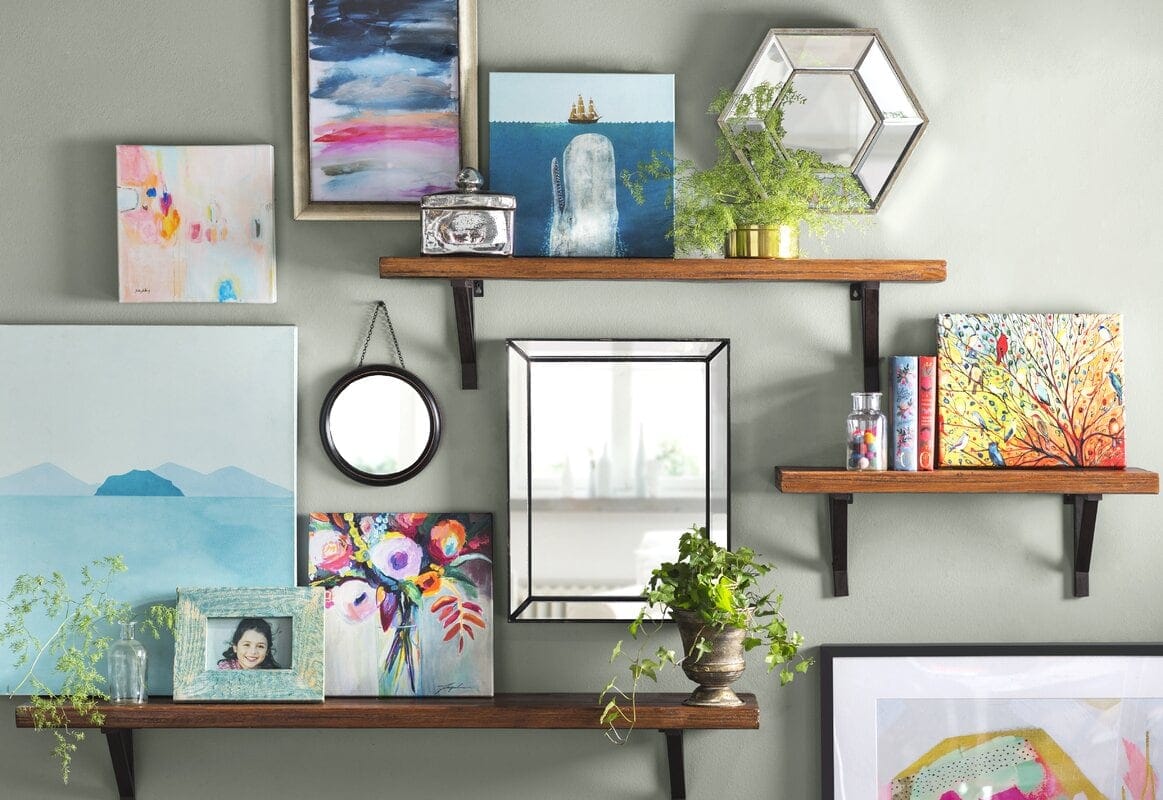 Instead of a gallery wall, hang a few shelves and mirrors to create a similar look, but that doesn't require the same careful placement of pictures.
This is a really pretty way to decorate your stairway, but be mindful of the depth of your shelves. You don't want them to stick out too far and catch your sleeve when you're going up and down the stairs!
Wall Planters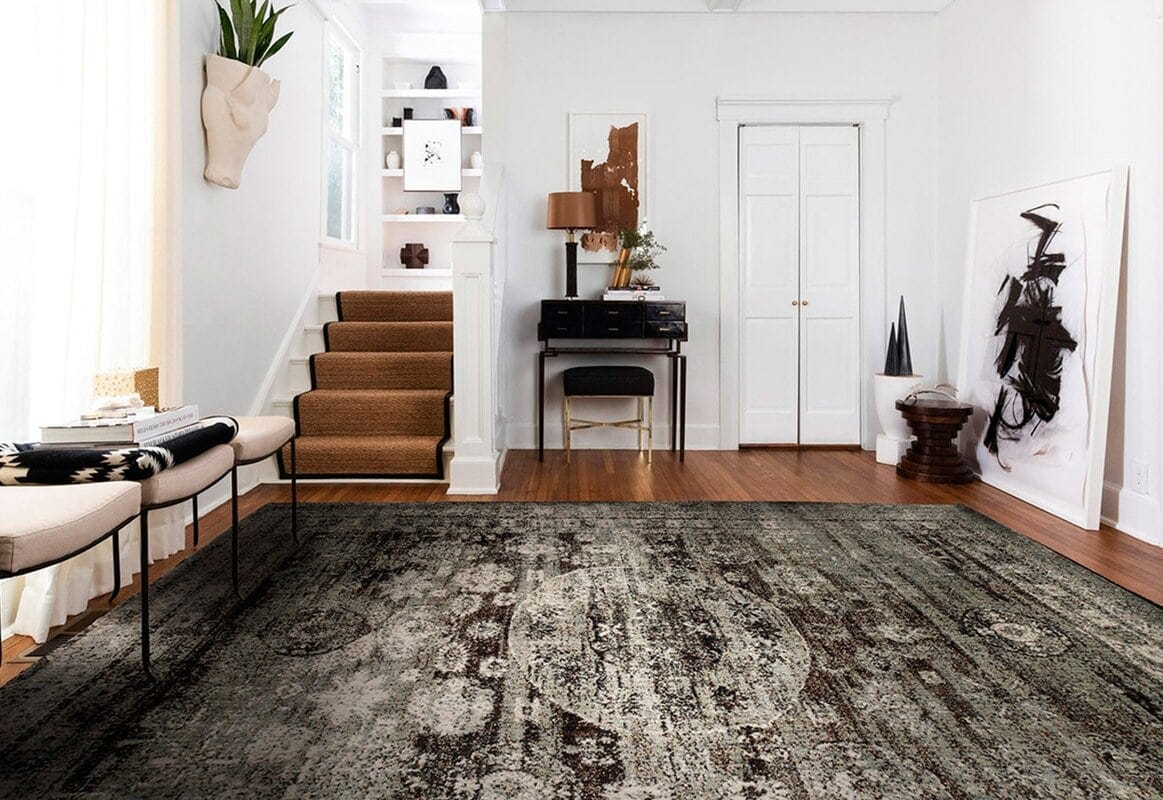 Adding a little green to your decor is always a good idea, and it's super simple to do in your stairway with just a few wall mounted planters!
In this photo, they opted to do one (really) big wall planter to add in some life, however, you can instead do a few small ones to get a similar look. Just fill them up with some faux greenery and you have a gorgeous stairway!
Large Statement Pieces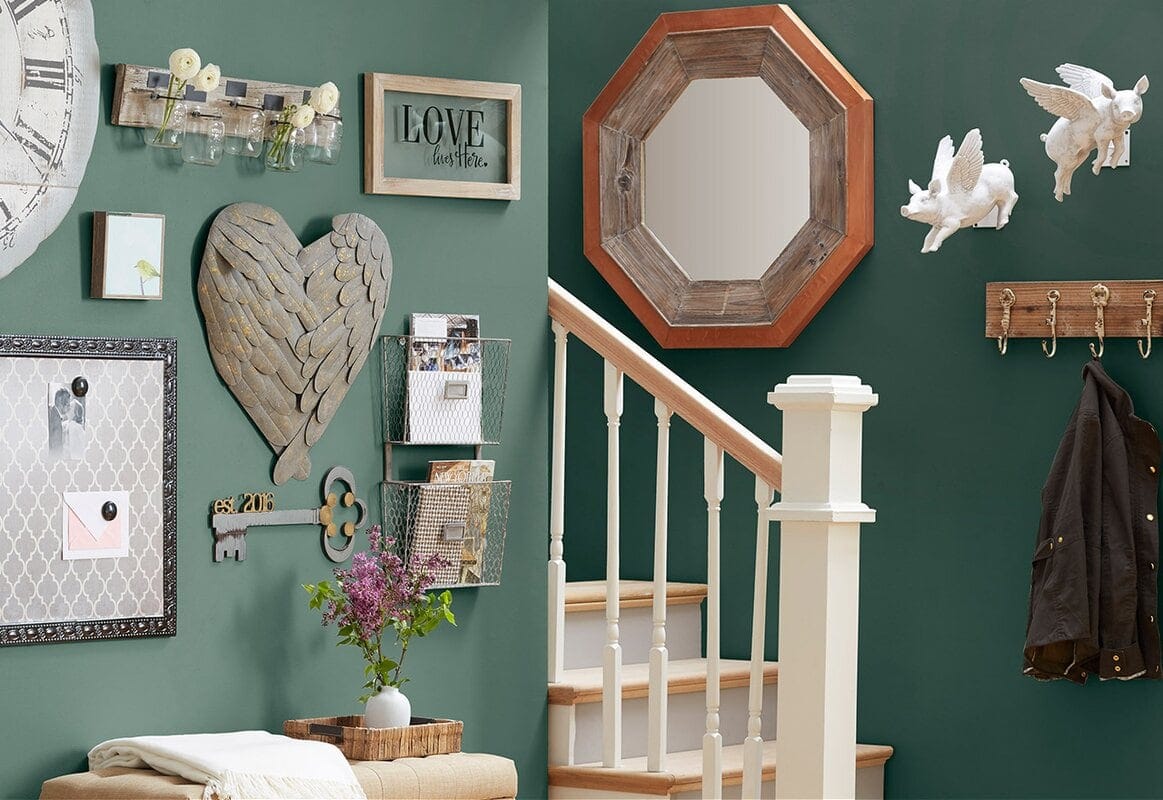 Sometimes, the layout of your stairs means a large piece of decor makes more sense than a few smaller pieces. In that case, opt for a large canvas or a mirror, like the one in this photo.
When picking your large statement piece, just make sure you're mindful of proportions. Too big and it will look crowded, and too small might look awkward.
Floral Gallery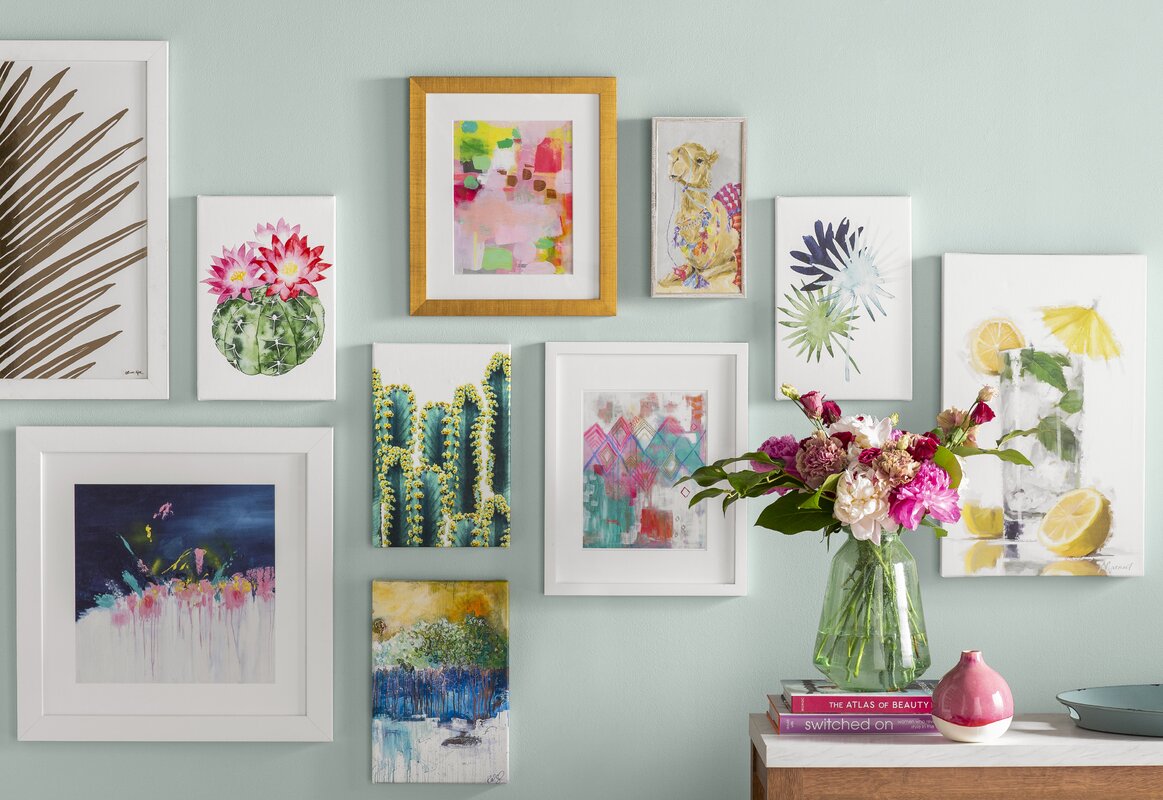 Turn your stairway into a garden with a floral gallery wall like the one in this picture! Use bright colors, warm metallics, and some white space to create the look.
In this case, you'll want to use a variety of colors, but just try to keep their shades in the same family (pastels, jewel tones, or bold primary colors) to bring in some uniformity.
Final Thoughts
Whatever you choose for your stair wall decoration will set the tone for the space and may even impact the decor around the stairs, depending on your layout. You want it to either be cohesive with the rest of your decor or styled in a way that it becomes like its own room entirely.
While gallery walls are popular, don't feel confined to that look! Sconces, wreaths, and wallpaper are all great stair wall decorating ideas! Now, go get to work!