Decorated Life is reader-supported. When you buy through links on our site, we may earn an affiliate commission. Learn More
25 Stunning Black and White Living Room Ideas
If you ever feel stuck with your living room design, black and white is an excellent place to start.
Black and white is a classic color combo that gives a fresh and clean base layer. You can add other colors and textures to it for a one-of-a-kind style. The result might look bold and modern or subdued and high-end.
If you're ready to start designing, check out these 25 stunning black and white room ideas.
Go for a Luxurious Feel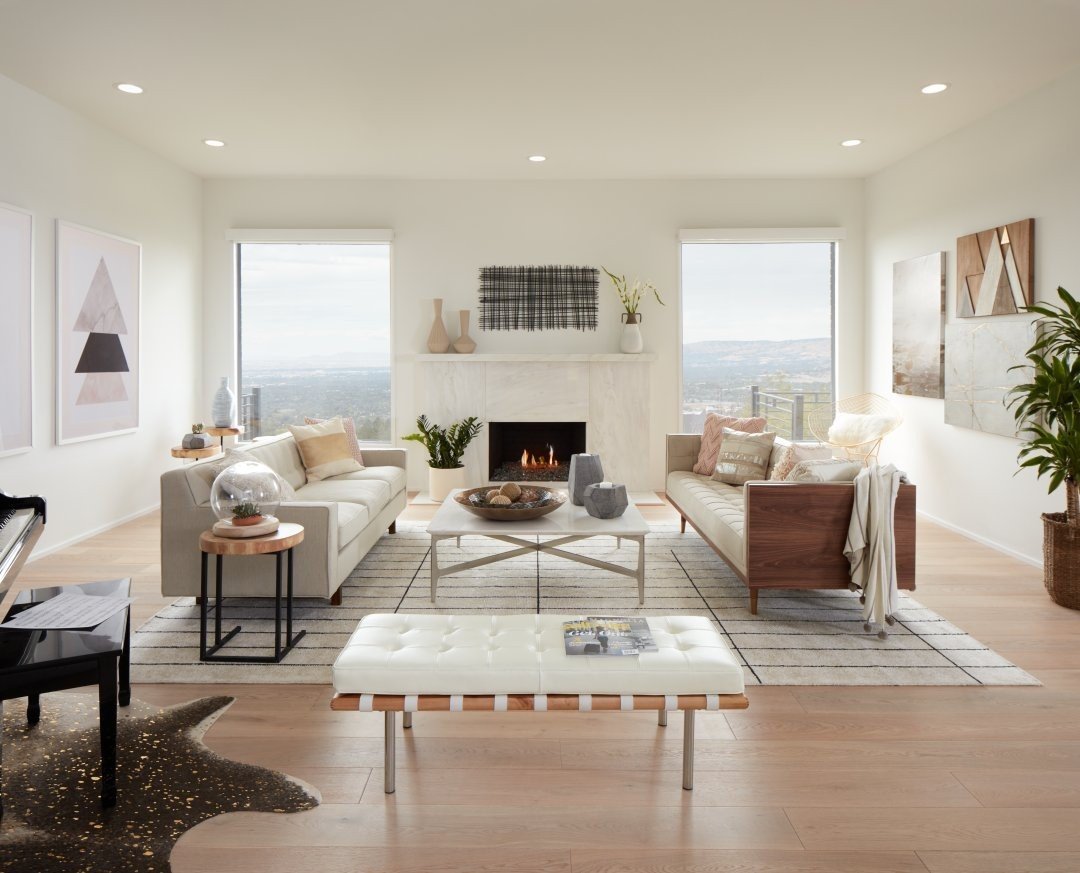 I've said it before, and I'll say it again: a black and white color scheme can take many forms. And one of them is luxury.
If you're trying to get a high-end look in your living room, start with a warm white wall. Then bring in furniture of various textures like leather or wood-accented pieces. For the final touches, use black and white artwork and a rug.
Elevate your Room with a Black and White Rug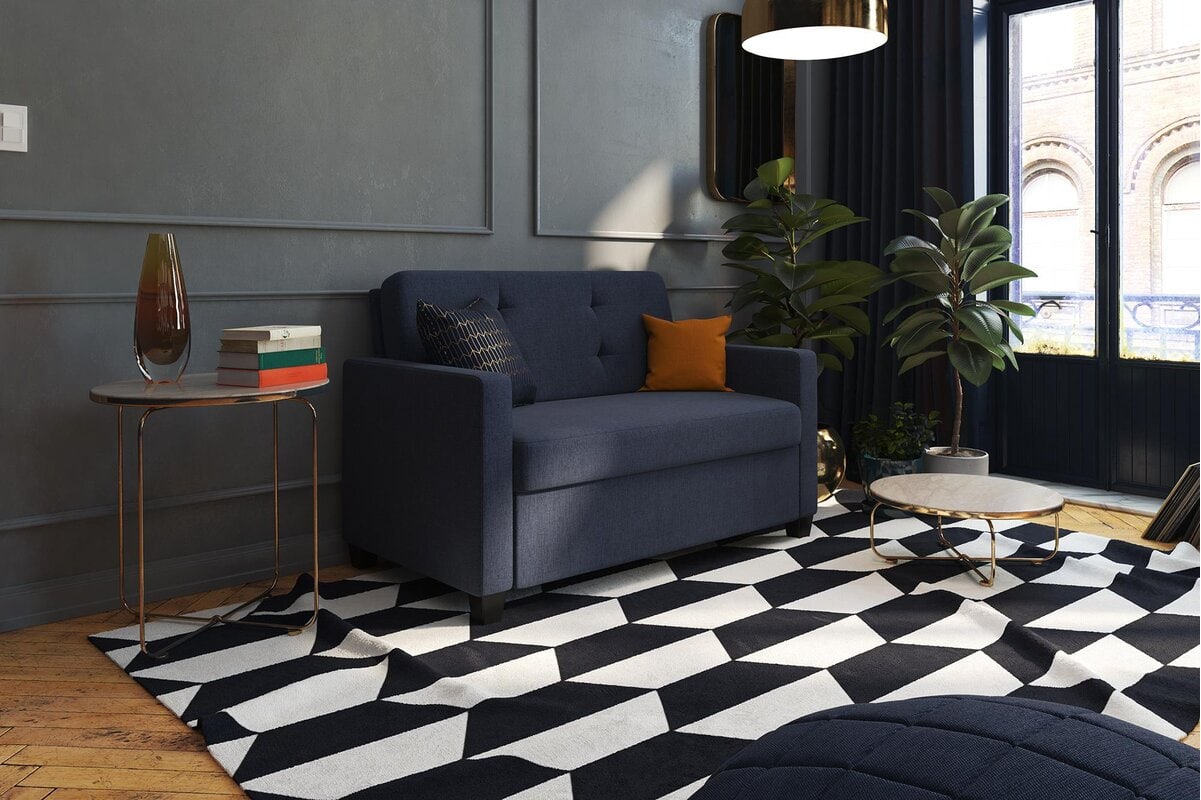 Your rug is one of the best starting points for a black and white living room. A bold rug like this works as a focal point and grounds the space.
You can then layer furniture over the rug and add coordinating throw pillows and art. Or, if you feel like the rug is as much black and white as you'd like, you can layer in different colors.
Create a Black and White Gallery Wall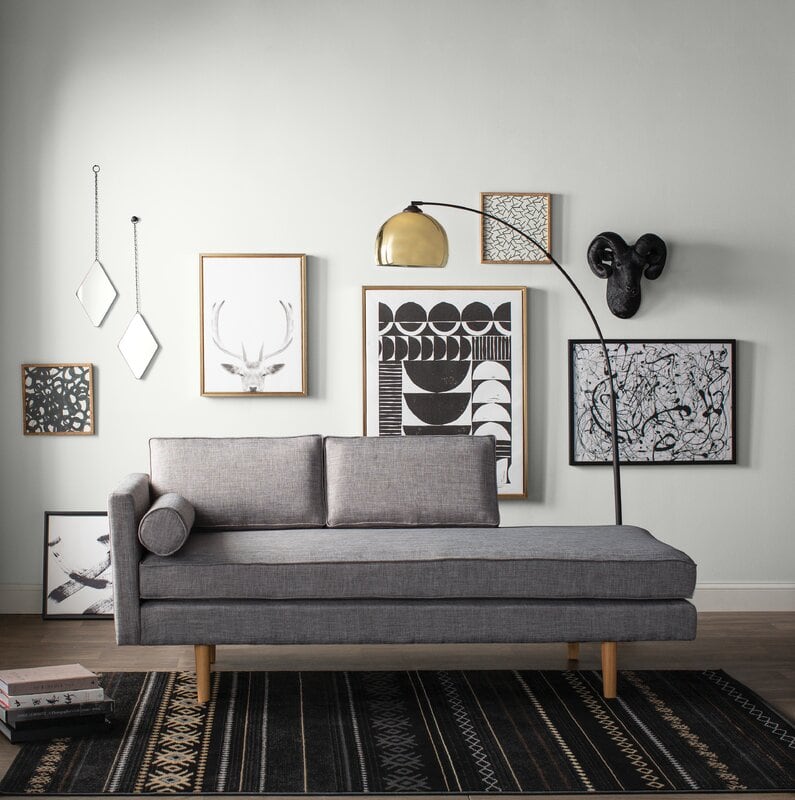 An easy way to incorporate black and white without making it your entire color scheme is to use it on a gallery wall.
You can find simple geometric prints or even print large family photos in black and white. Then put the images in a frame and arrange a gallery wall. The best places for a living room gallery wall are over the sofa, fireplace mantel, or tv.
Give Your Black and White Room a Formal Flair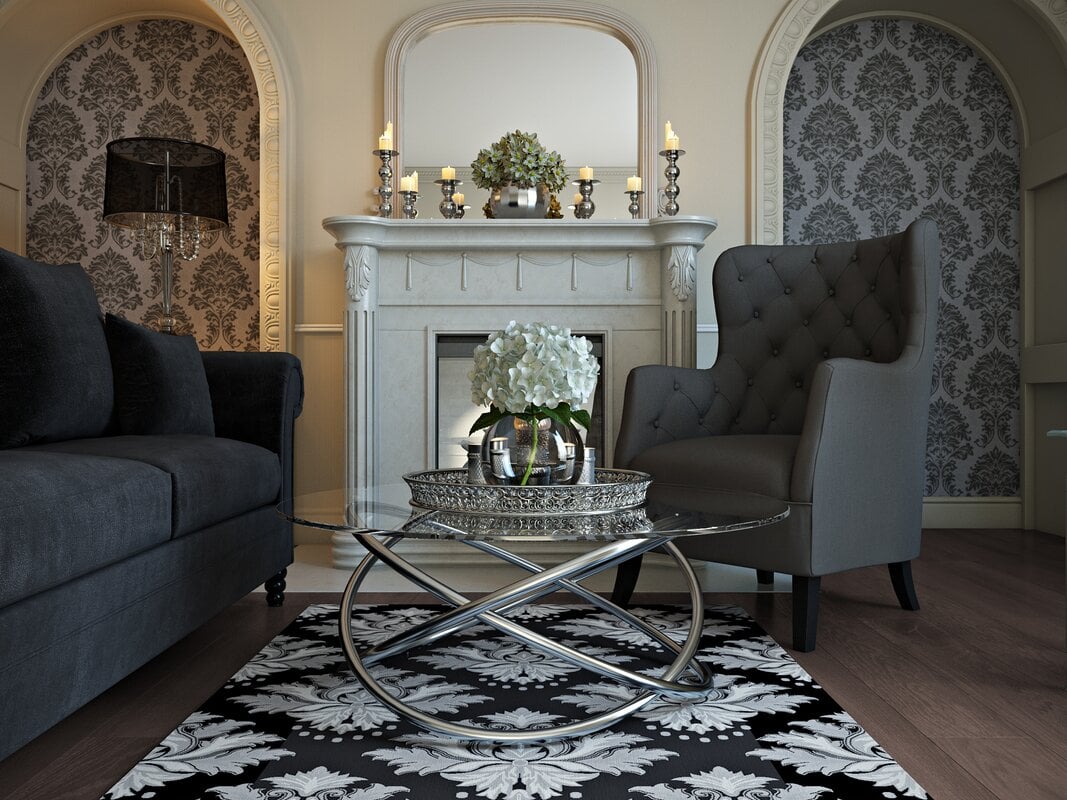 Prefer a formal look? A black and white color scheme is a great solution.
You can start the look by putting down a rug like this one. It has an ornate floral pattern, making it appropriate for a more formal room. Then bring in furniture with tufting or rolled arms and layer in the metallics.
Throw Some Gray in the Mix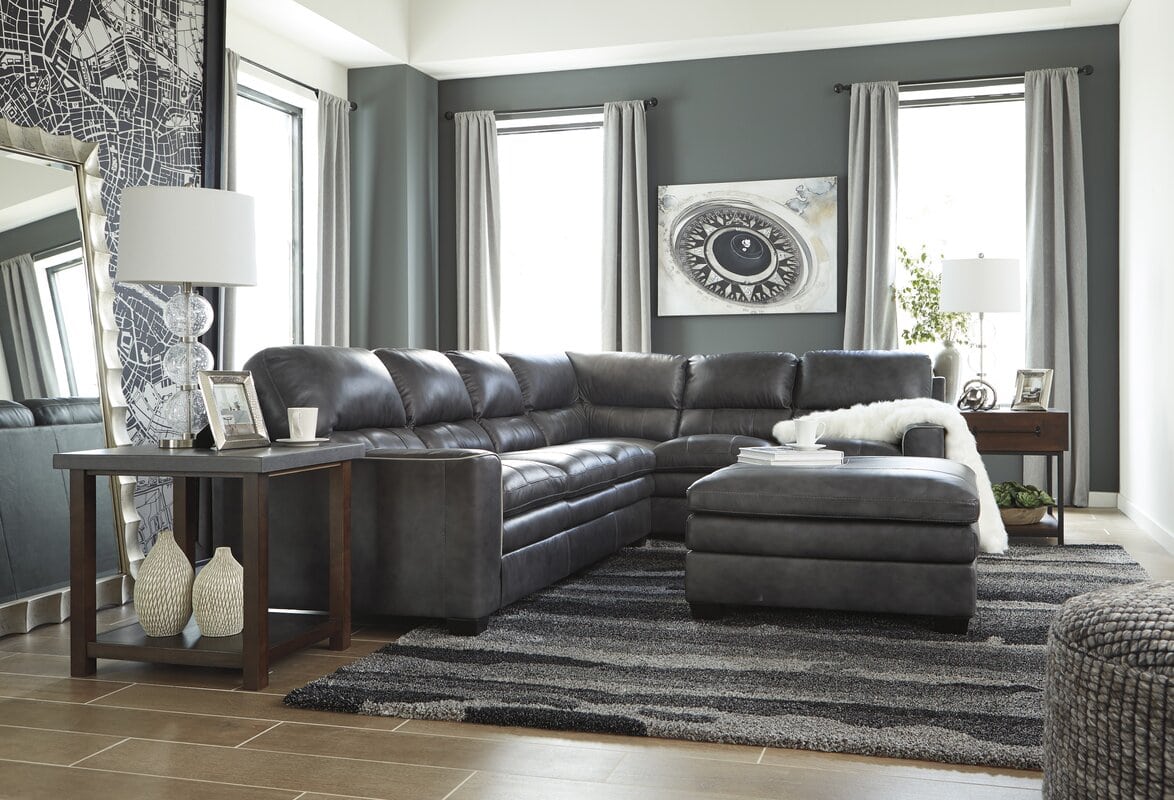 If you want a monochromatic look, there's no better addition to black and white than gray.
Using dark grays on the wall or furniture will help it blend in with the black. This look is a bit more masculine than the others we'll cover. Depending on how you style it, it can have a lodge feel, perfect for a man cave, or come off as modern.
Mix and Match Decor for an Eclectic Look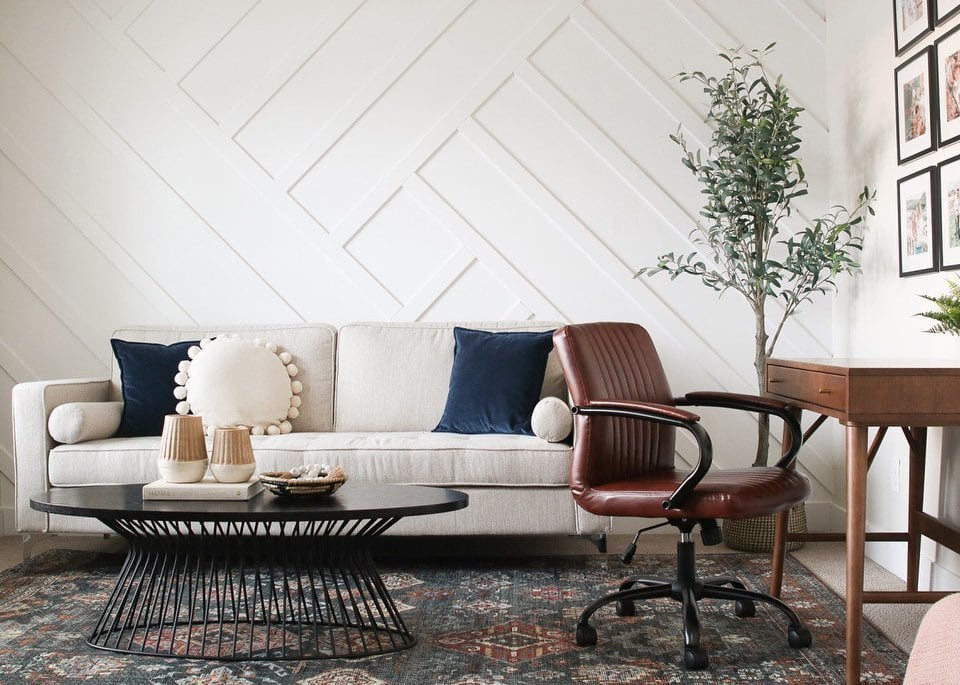 Don't know your decor style? That's not a big deal. You can use the black and white color scheme and simply pull in pieces you like. The result will be a beautifully eclectic room.
If you're unsure where to start, choose your paint color and consider an accent wall. Then, bring in neutral furniture so that it can grow with you as your style changes. Finally, layer on fun accessories like throw pillows and plants.
Make White the Focus for a Minimal Room
Minimal designs are all about reducing clutter and using clean, streamlined pieces. But even though minimal rooms generally have less decor, it doesn't mean they're boring. In fact, minimal often translates to high-end.
If you want a minimal living room, black and white are fantastic color choices. Consider using white for your main pieces and layering in some black accessories.
Use Streamlined Pieces for a Modern Design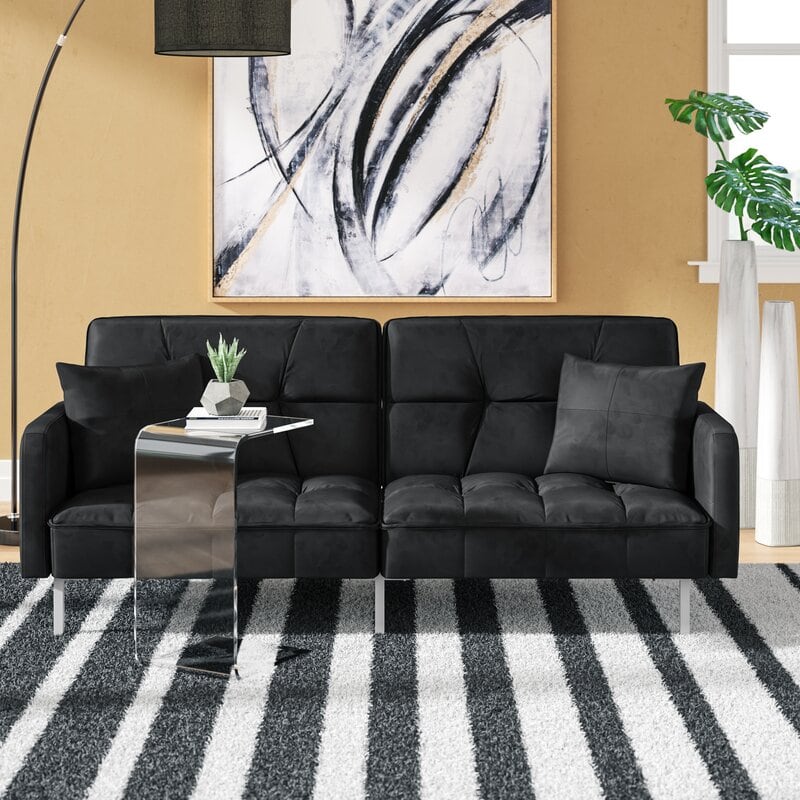 Black and white work wonderfully for modern designs. To pull off this look, use furniture with clean lines.
For example, the couch and table both have a very streamlined design that makes them almost appear to be floating. Pair this type of furniture with a bold print for an effortlessly put-together living room.
Let Your Sofa be the Star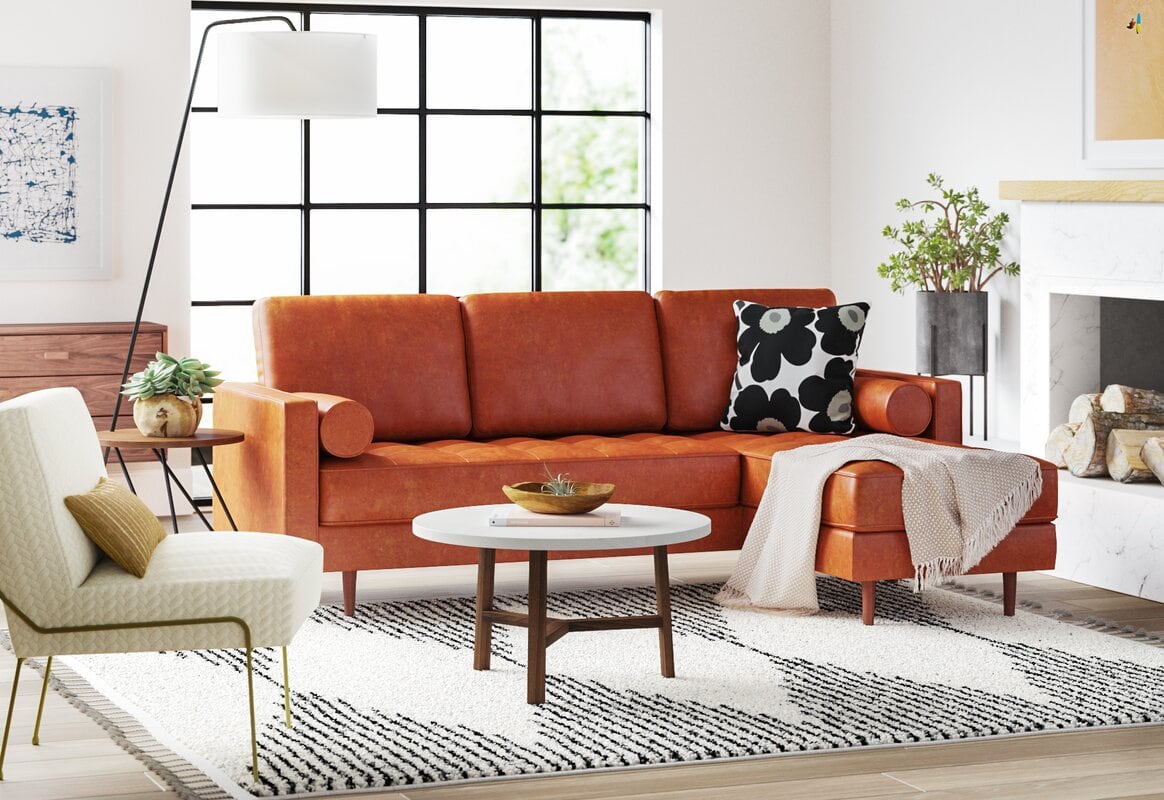 If you're looking to make a piece of furniture stand out, surrounding it with a muted black and white color scheme is one of the best methods.
In this living room, they used a mid-century modern leather couch. The leather offers warmth to the room, and the otherwise neutral decor allows the sofa to be the focal point.
Keep Seasonal Decor Black and White Too
If you have a white and black living room, you might wonder if your seasonal decorations need to follow suit. And fortunately, no, they don't.
You can use any color of holiday decorations you'd like. However, if you do want to keep everything the same, this picture is a good indicator of how pulled together the style looks.
Add Color and Texture for a Casual Feel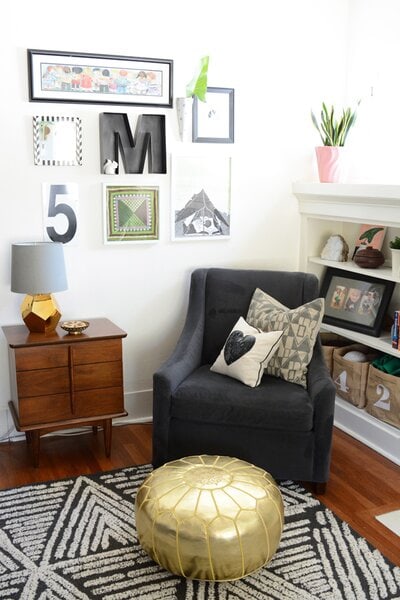 Don't go with a stark look if you want a casual feel in your space. Instead, incorporate a lot of texture and different colors into the room.
In this living room, the predominant color scheme is black and white. However, since the designer mixed in many textures and warm colors, the look isn't overly harsh or sterile. It's a perfect mix for a family to relax in.
Let Your Design Be Simple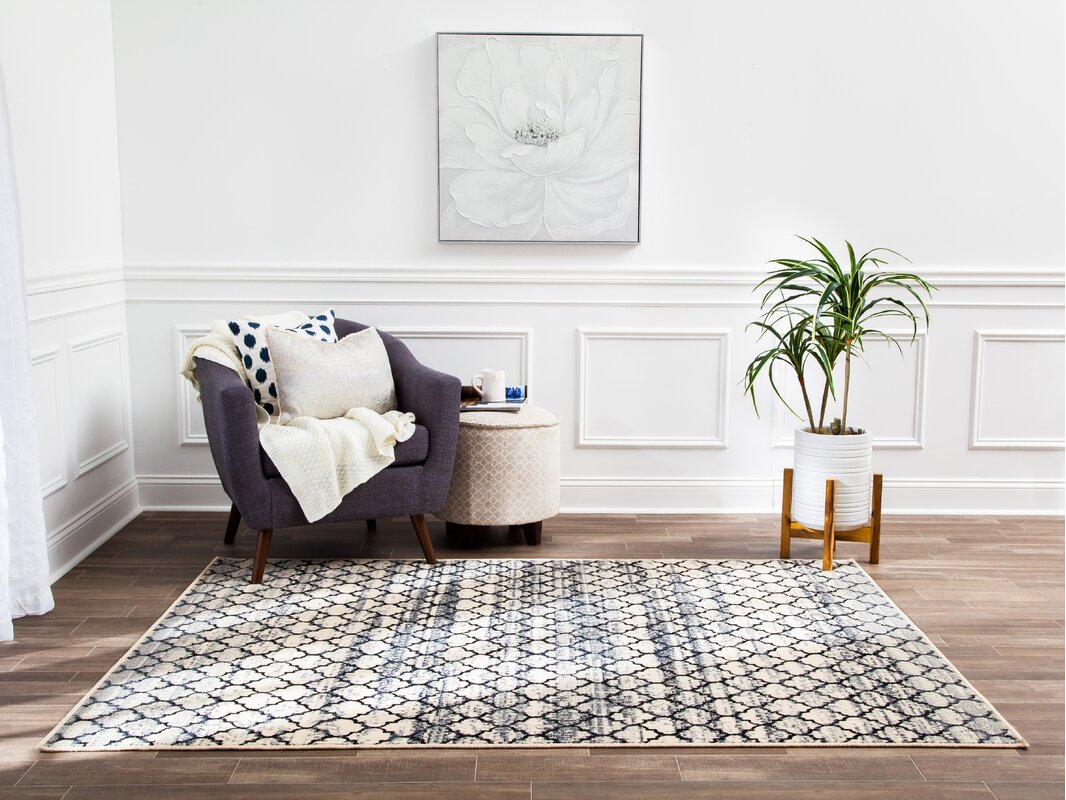 It's easy to overthink room design. But the truth is, you don't need to pack your room full of decor or buy all brand new furniture.
If you want an easy black and white design, a good place to start is with a white wall and a good rug. You can then layer in your other pieces to create a perfect room for your lifestyle.
Warm Up Your Color Scheme with Some Wooden Pieces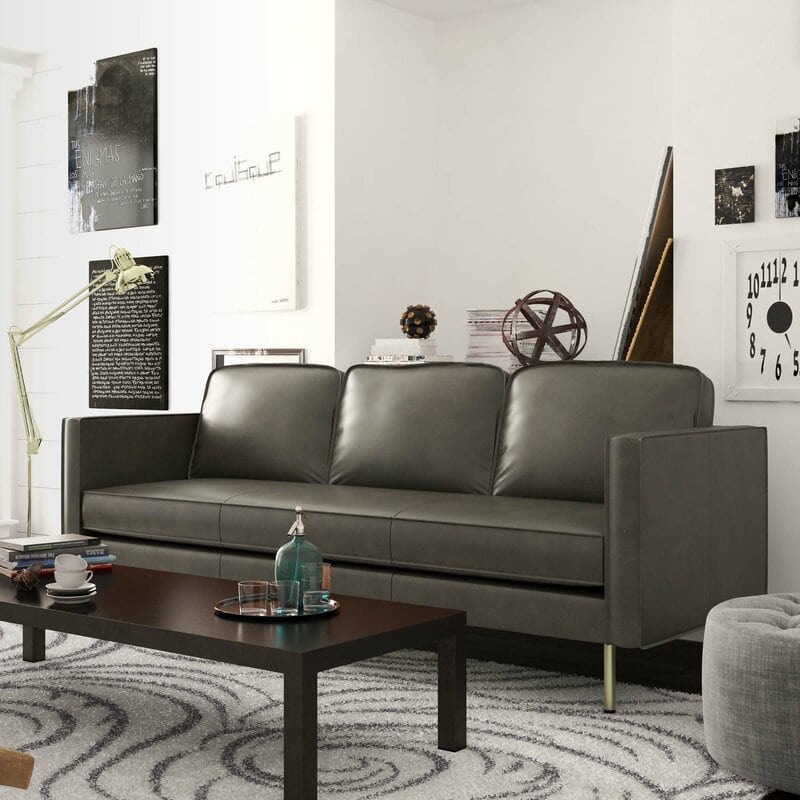 If you want to keep your living room from looking sterile, layering in wood pieces is your best bet. Wood offers warmth and texture against a black and white background.
Best of all, you can use any type of wood. For a more masculine design, consider a dark wood as pictured. If you want a more boho look, go with something in a natural finish.
Turn a Black and White Base Into an Industrial Design Scheme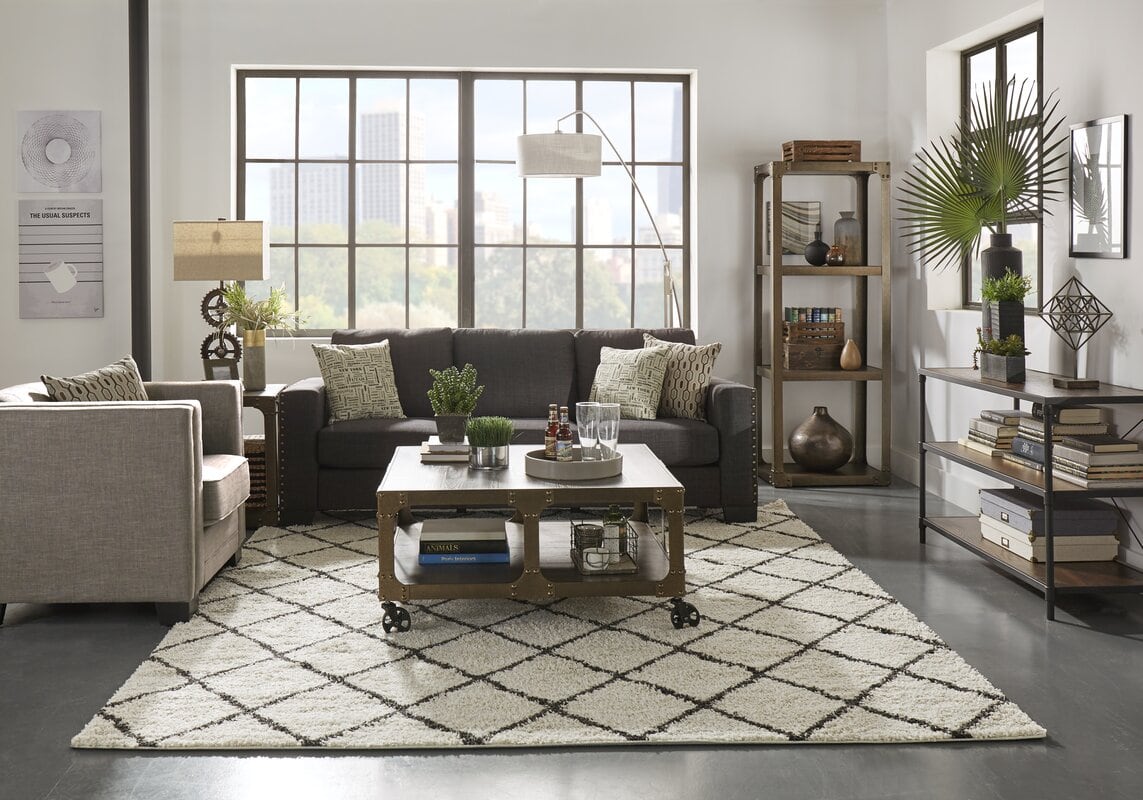 Looking for industrial living room design ideas? Industrial designs incorporate many exposed building materials.
But, just because you aren't living in a building with exposed rafters and pipes doesn't mean you can't get the look. Start with a simple black and white color scheme. Then add in reclaimed wood and metal. You can also bring pieces like this industrial-style lamp and coffee table.
Go Ultra Modern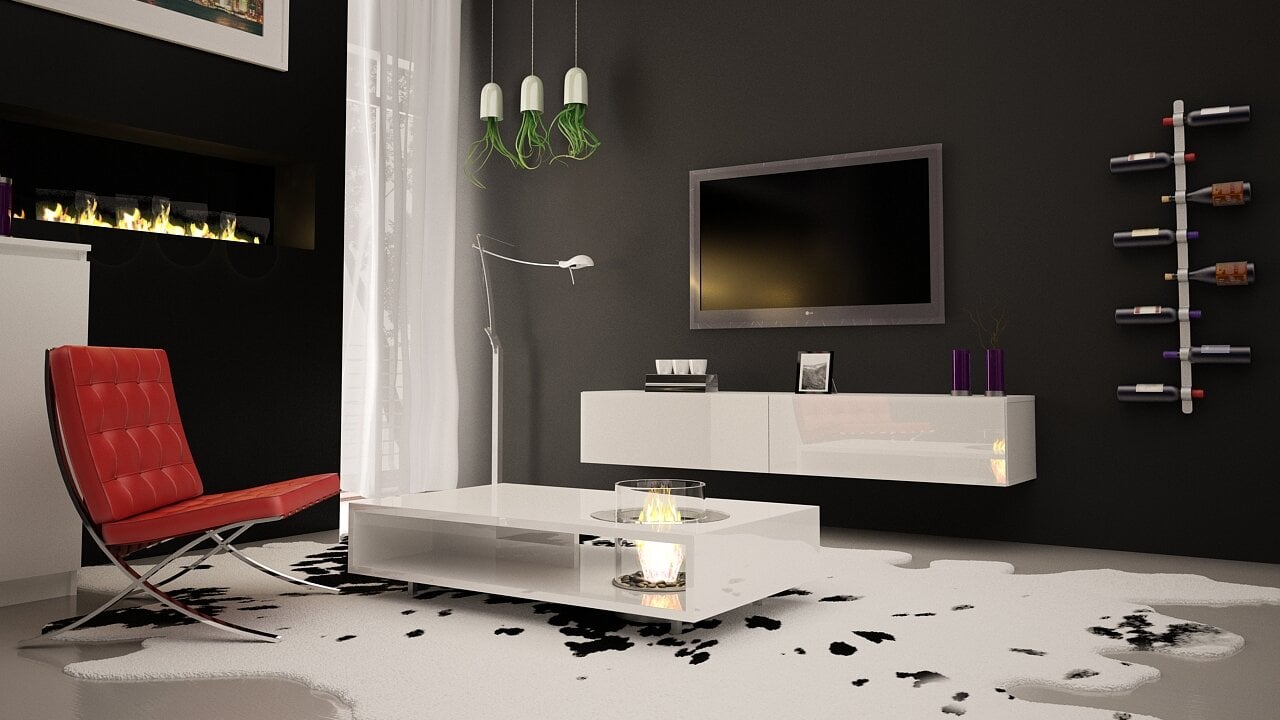 When most people picture a black and white design scheme, this is probably what comes to mind: an ultra-modern, minimal living room.
If you like this look, it's not hard to get. Because while some of the pieces are higher-end, you use furniture sparingly in a room like this. Look for furniture that appears to be floating and stick to black and white, allowing only one accent color.
Build a Fun Room with Black and White Pieces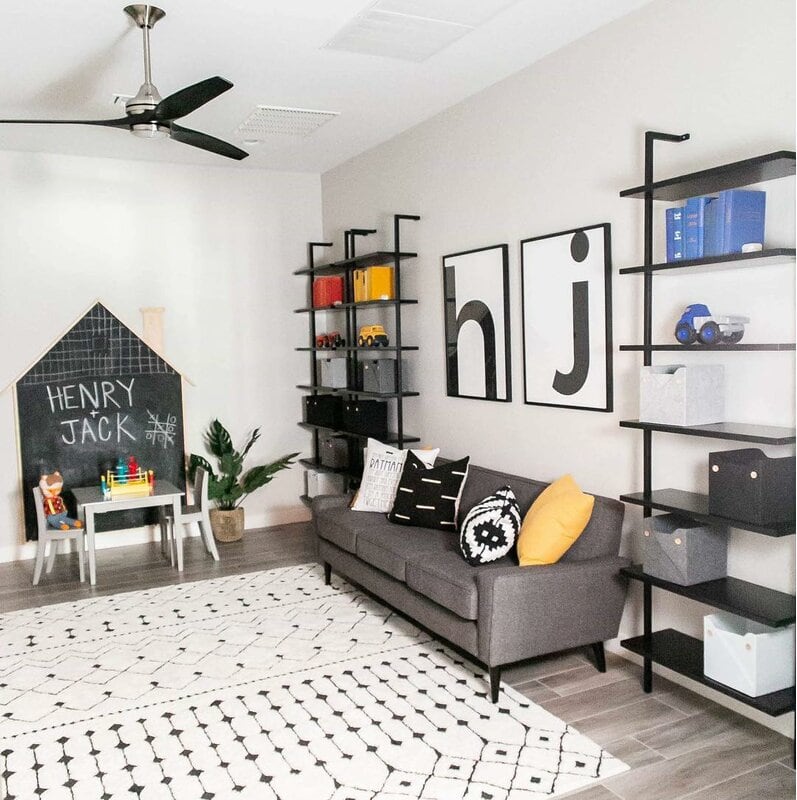 If you want a space fit for both kids and adults, here's one to check out. This room features a simple color scheme but incorporates modern touches like the rug and couch with more kid-friendly accents.
If you want this look, consider going for this exact rug. It's one of the most popular rug choices of the past couple of years and works with most decor styles.
Layer in Blankets for a Cozy Look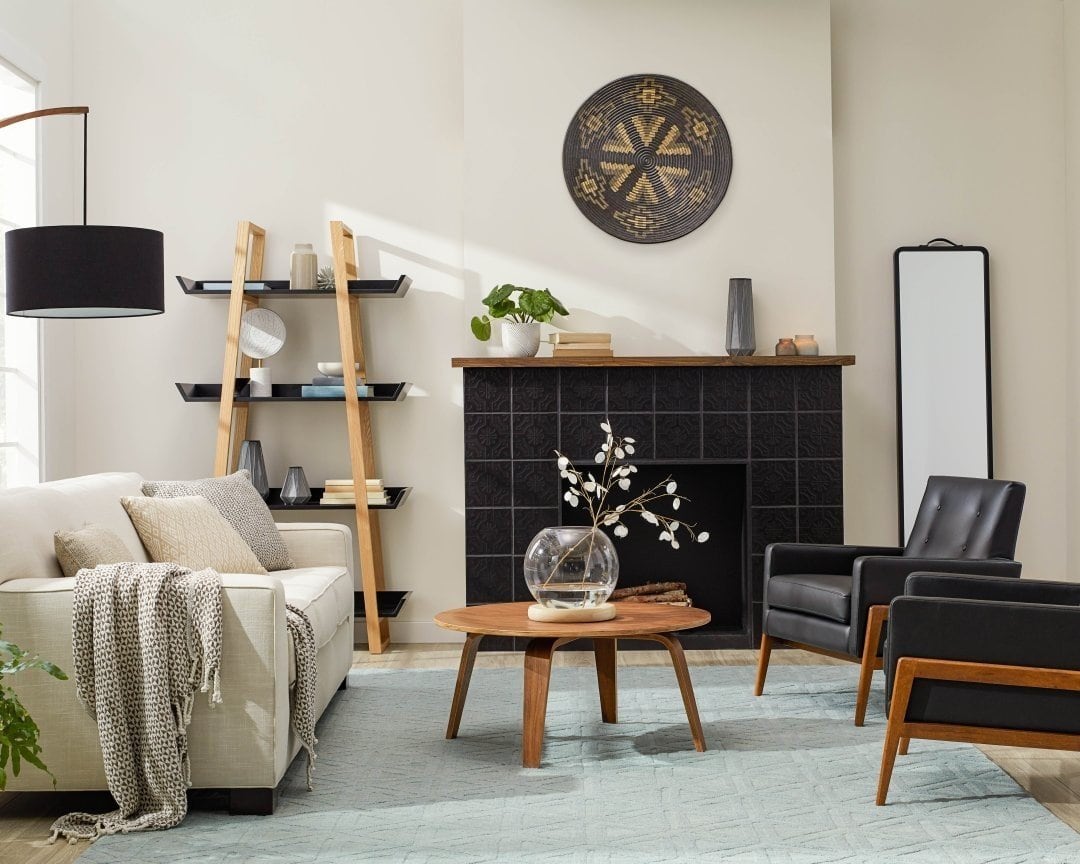 You can make a black and white room just as cozy as any other color scheme. The trick is layering in textures.
This room incorporates a wide variety of textures: a linen couch, leather chairs, wicker wall decor, pillows, and a throw blanket. Since these are all within the same color scheme, they combine perfectly while giving the room just the right amount of coziness.
Try a Bright and Airy Design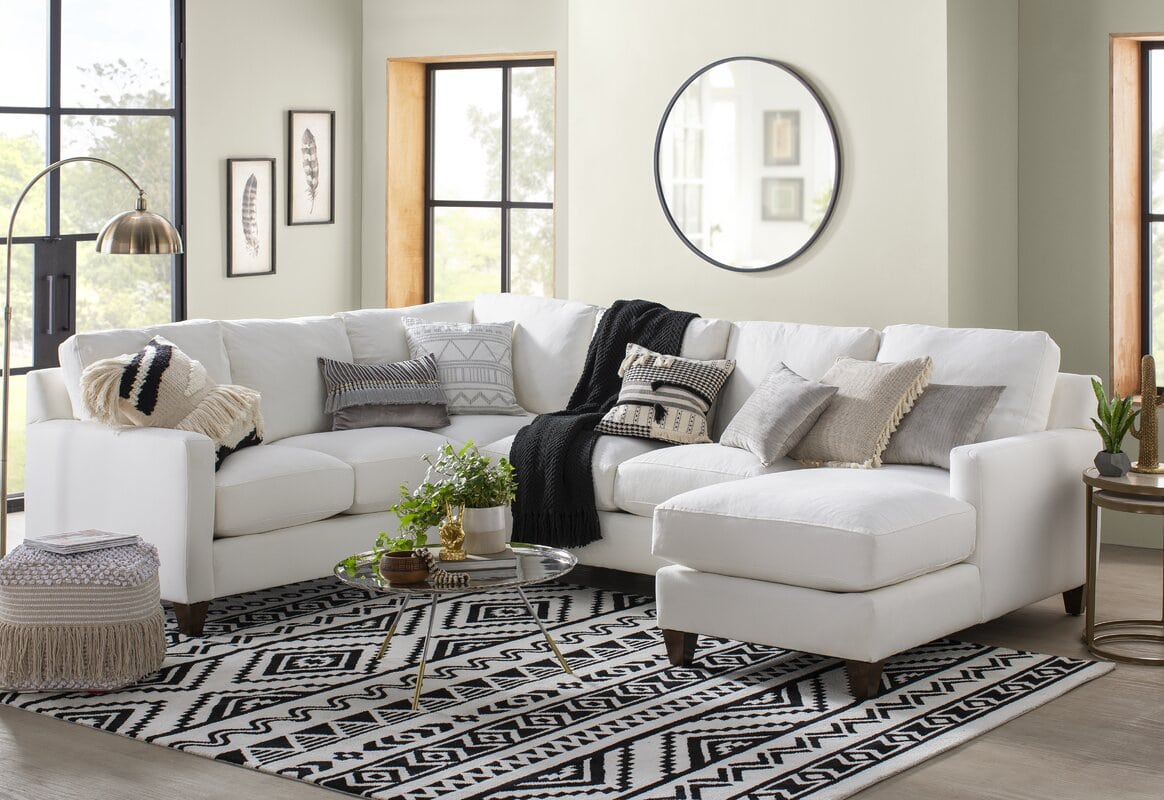 If you want a bright and airy look, use white as your primary color and accent with black. Try white walls, a light couch, and black and white accents.
This room packs in different textures through the ottoman, pillows, and sleek lamp. You can also bring in wood pieces and plants for an added touch of softness.
Mix Textures in the Room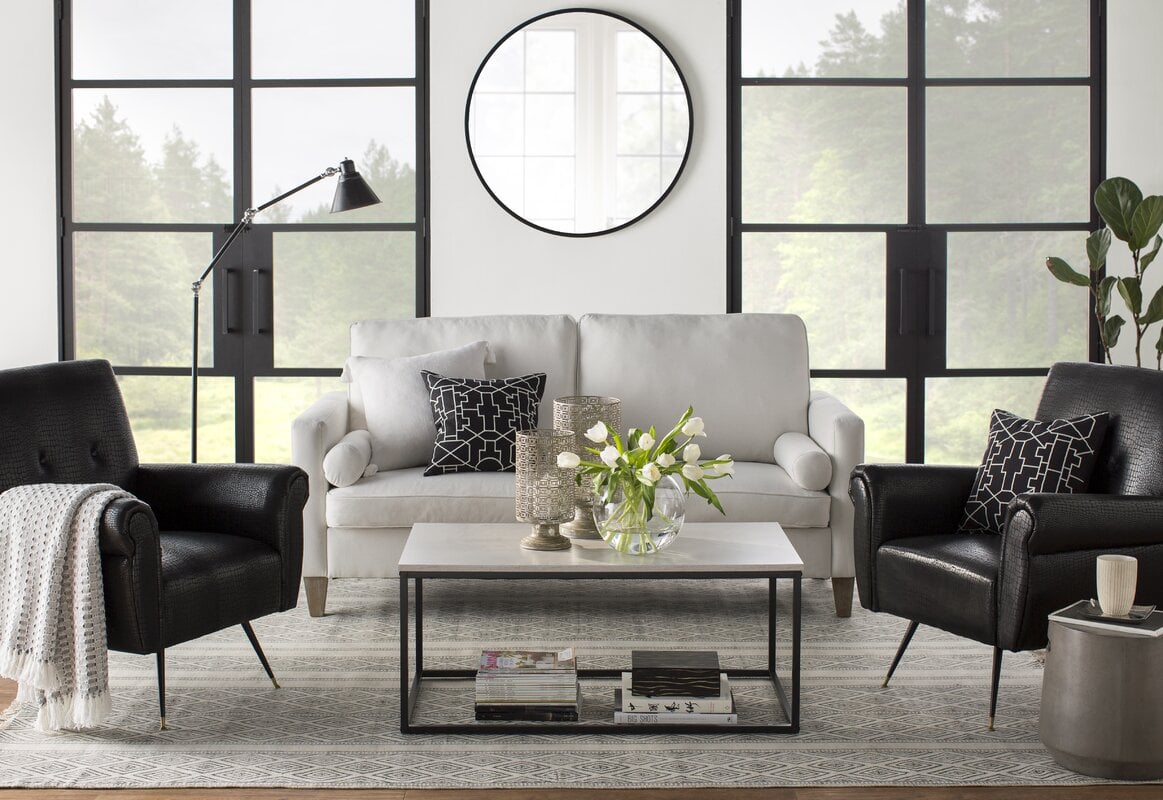 To make sure your black and white living room doesn't fall flat, mix the textures of the furniture you use. For example, you can do a linen couch with leather chairs or vice versa. You could even bring in wicker furniture if that's what you prefer.
This living room has a very modern design, primarily because of the streamlined furniture. Skip the ornate furniture and stick with simple pieces if you like this example.
Modernize with Geometric Prints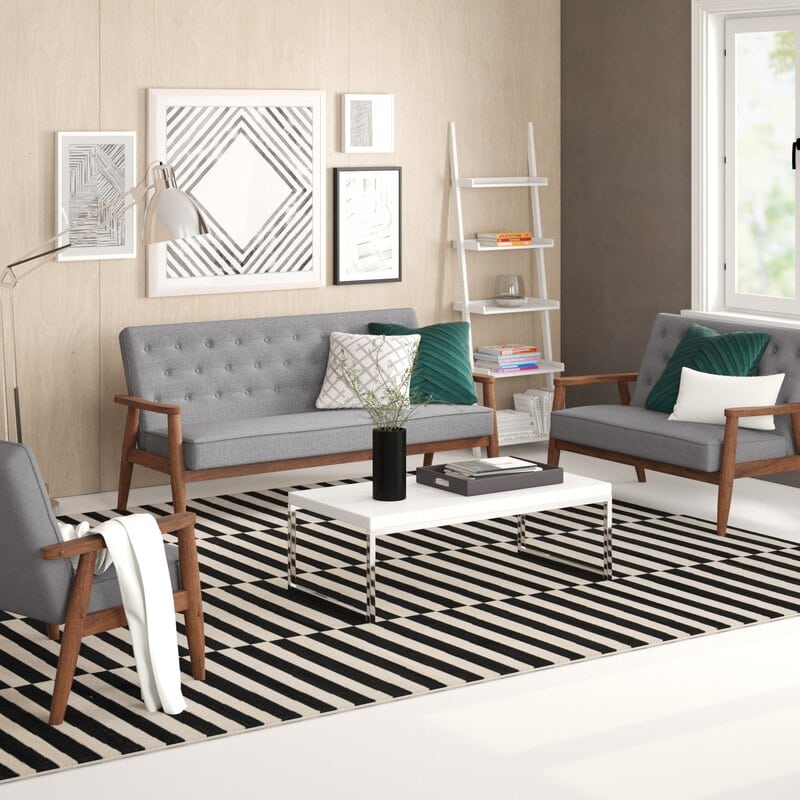 Try simple geometric prints if you're looking for modern artwork for your living room. You can order prints online or make your own.
To carry the look throughout, consider a patterned black and white rug. All the geometric prints will play off one another for a pulled-together look.
Use Black and White Pieces Against a Rustic Wall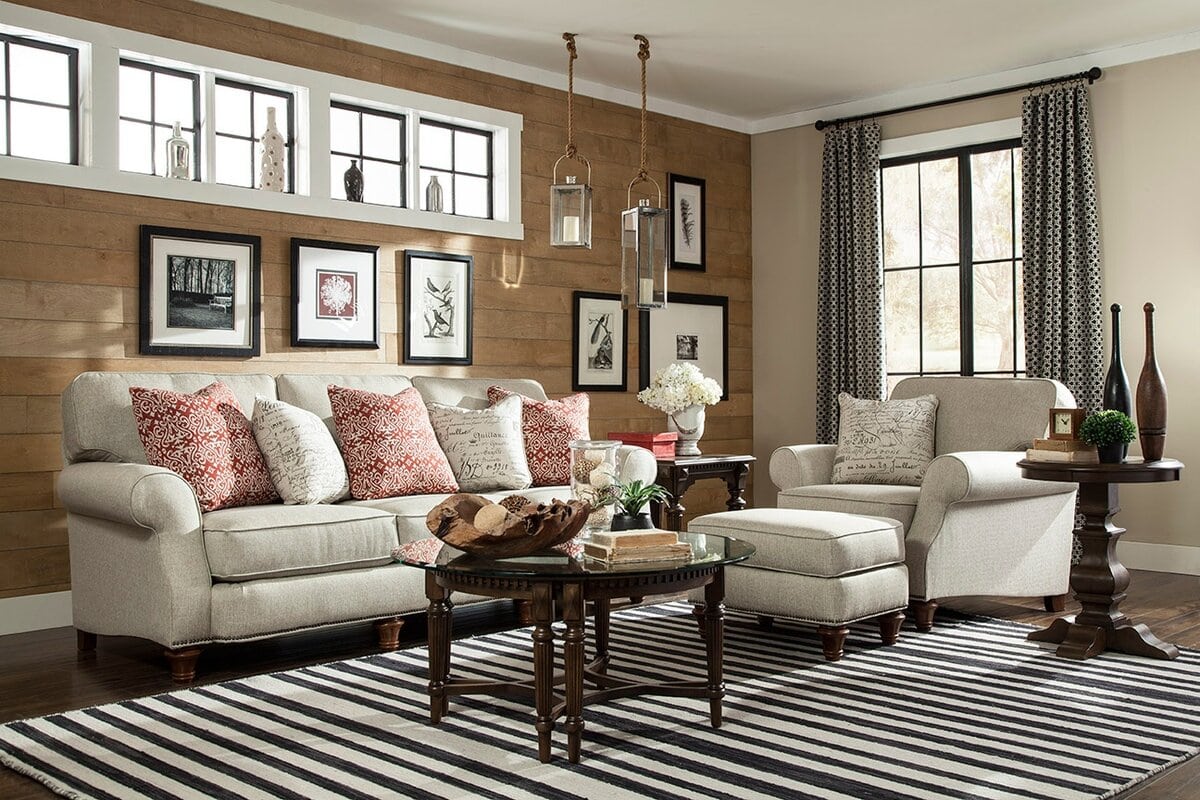 A black and white color scheme doesn't have to be all black and white. Consider a wood-look accent wall if you want to make this work for a more rustic room.
This room has a farmhouse feel, and the wood wall makes the black and white look polished rather than stark. You can do something similar or even use a peel and stick wallpaper behind your sofa.
Lay Down a Warm, Neutral Rug for a Traditional Room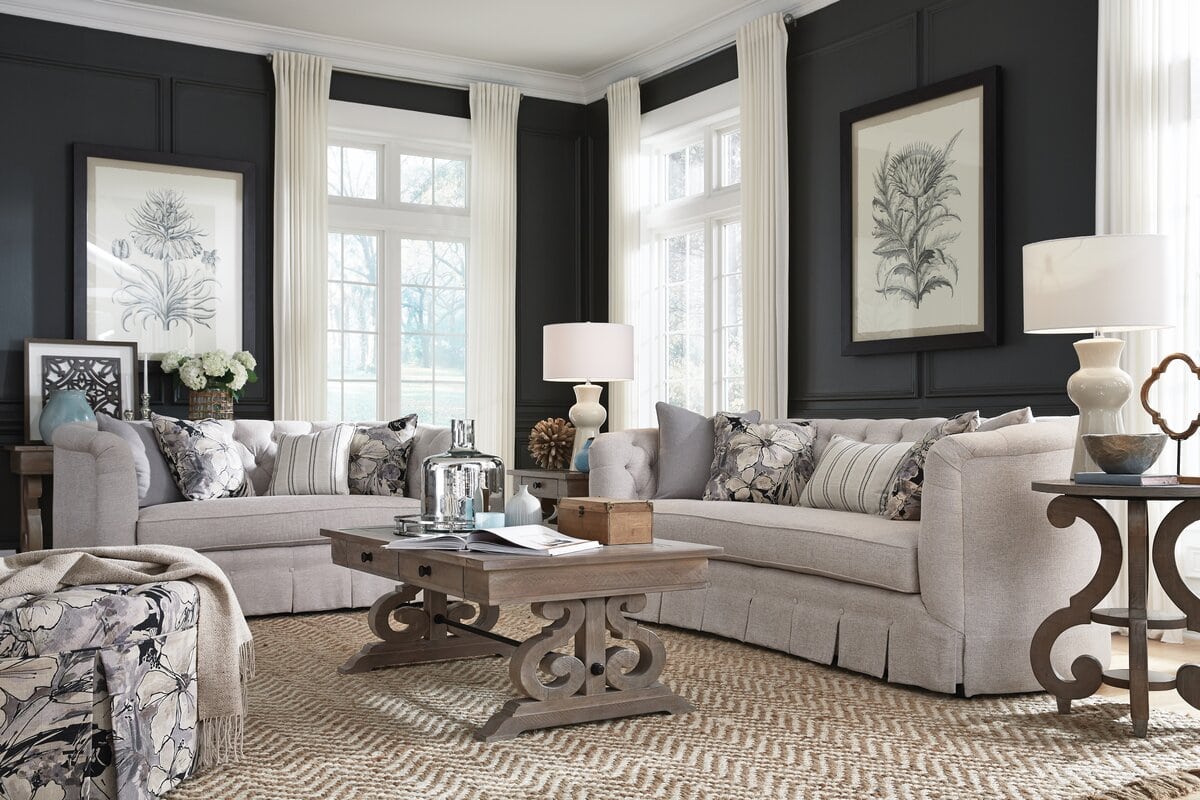 If you prefer a cozy, traditional living room, ground your space with a warm neutral rug. You can then bring in cooler colors like grays to balance the room.
In this room, the black on the wall paired with the tan rug makes the color scheme pop. The black and white accent pieces give the room a high-end look, while the ornate furniture keeps the room traditional.
Throw in Some Buffalo Check for a Modern Farmhouse Touch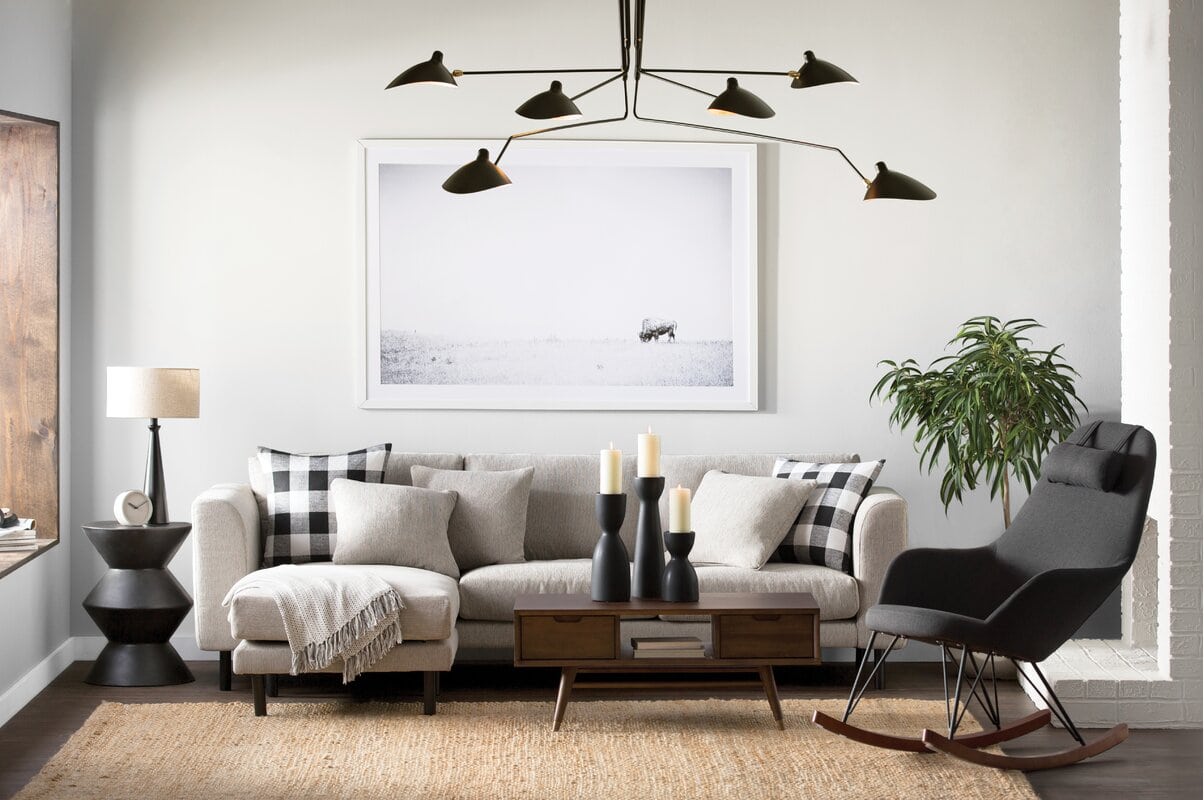 Are you going for the modern farmhouse look? If yes, one of the best accents for your space is black and white buffalo check pillows.
Buffalo check is synonymous with farmhouse style and will help balance more modern pieces. You can also add in a beautiful animal print and layer in throw blankets for a touch of coziness.
Glamify with Purple and Gold Accents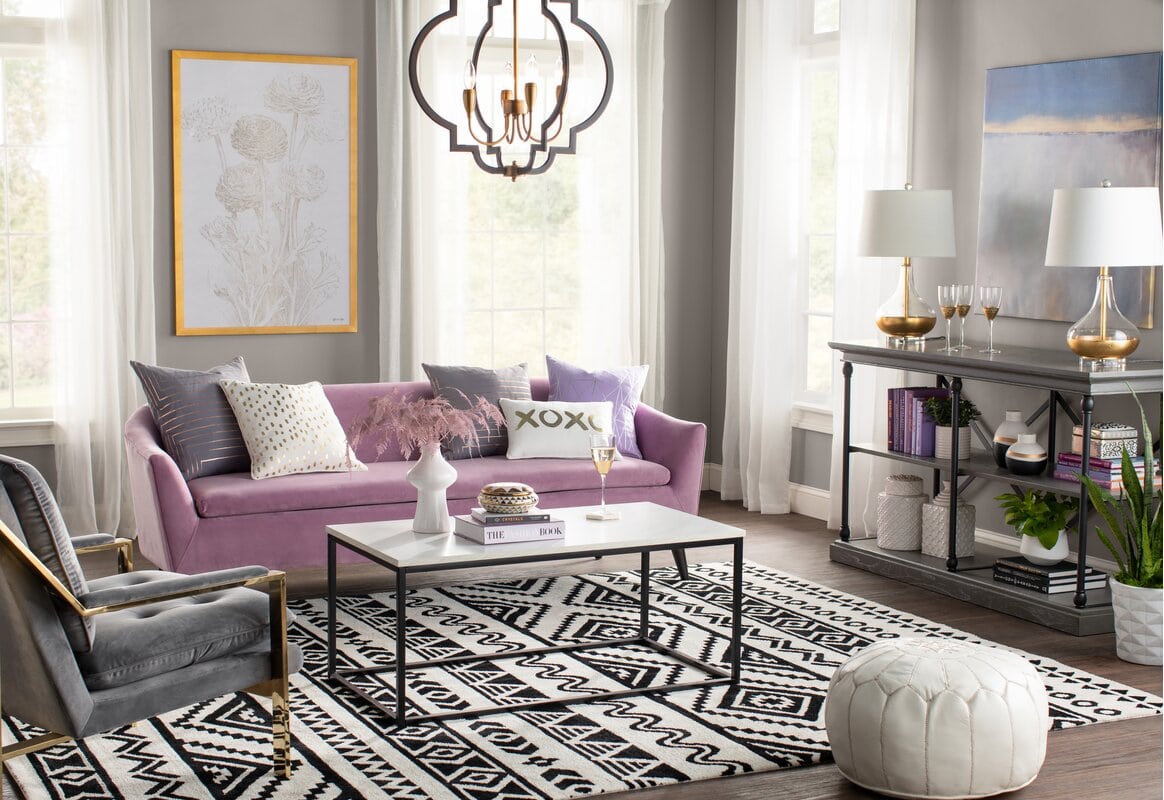 You can certainly use only black and white if you're going for glam, but consider adding purple and gold if you want to kick up the look a notch.
The velvety purple couch pops against the black and white rug and accessories. The gold finishes on the lamp, picture, and armchair give this room the perfect metallic touch.
Don't Forget the Greenery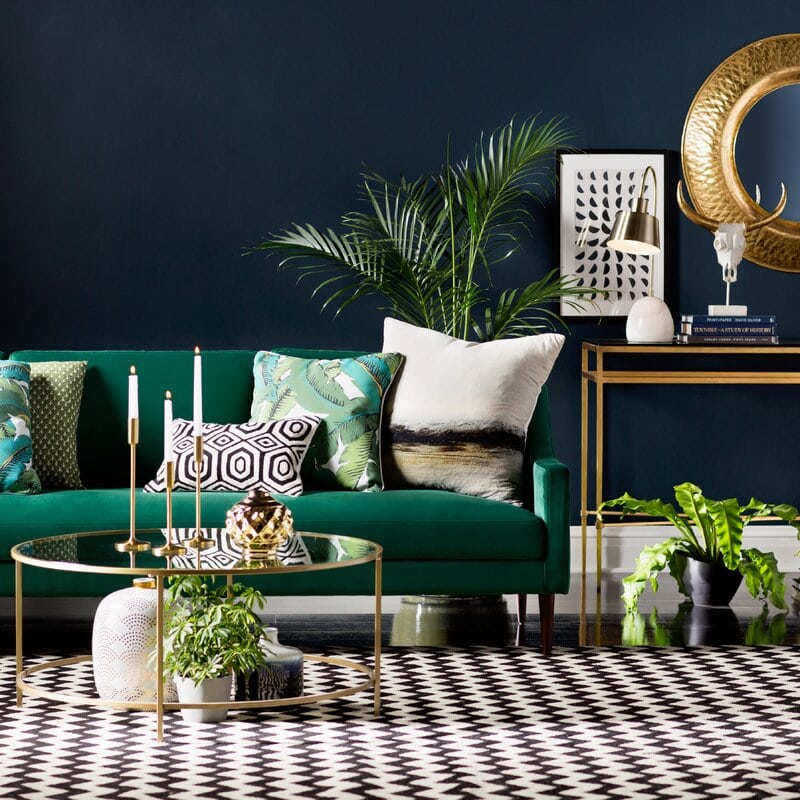 Pack in the greenery to avoid your black and white living room from appearing sterile. You can use a tall houseplant or tree beside the sofa and load your tables with smaller plants.
If you want the greenery to take center stage, use a green sofa as this homeowner did. Of course, if you don't like green furniture, you can use any other color.
Final Thoughts
Black and white is a classic color scheme, and there are so many ways you can execute this look. For example, you can keep everything all black and white, which leads to a more minimal look, or you can add pops of color.
These photos show that black and white works for every style under the sun. If you're not good with matching colors, using black and white throughout your room is a smart plan.