Decorated Life is reader-supported. When you buy through links on our site, we may earn an affiliate commission. Learn More
What Color Curtains Go with Pink Walls? 11 Ideas
When you have pink walls, you may think there are limits on what colors you can use for curtains. But we're here to give you good news.
There are multiple choices for curtain colors for pink walls, whether you go with something neutral and similar in color or a color that's bold and contrasting. We've put together this list of 11 ideas for curtains for a pink room, including sheer styles, light-blocking, short or floor-length, and different shades and patterns.
Get Pleased by Pink and Purple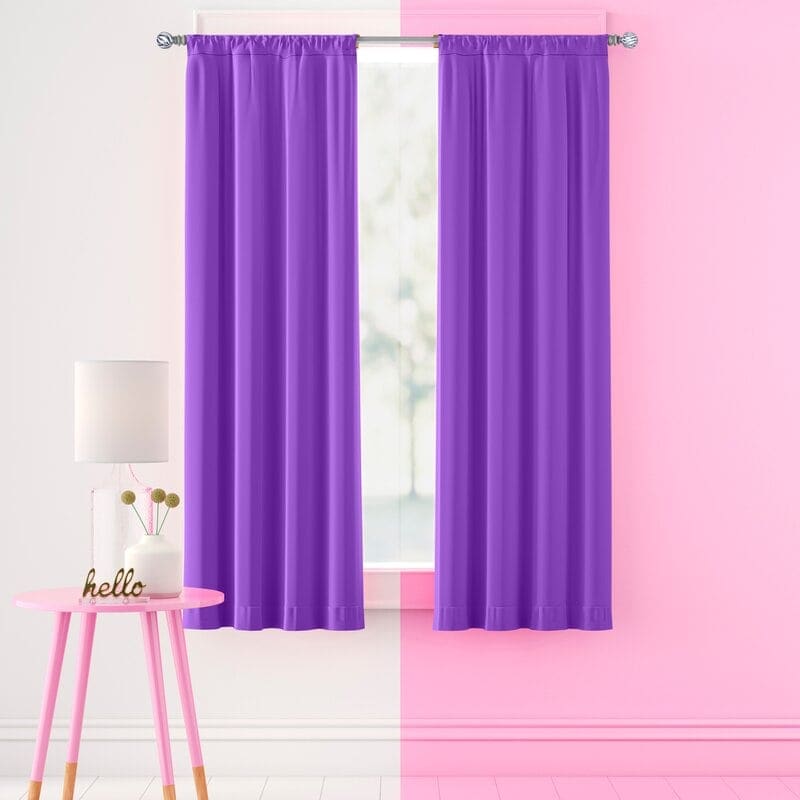 The combination of pink and purple is one of the most popular choices for bedrooms for teen girls, but it can also be a beautiful choice for adult bedrooms.
We love the look of a bubblegum-pink accent wall matched with pale walls (white, ivory, off-white) with bright violet purple curtains that fall slightly below the window frame. However, many people feel that floor-length drapes are not the best idea to use around small children.
Add Gray Curtains to Pale Pink Walls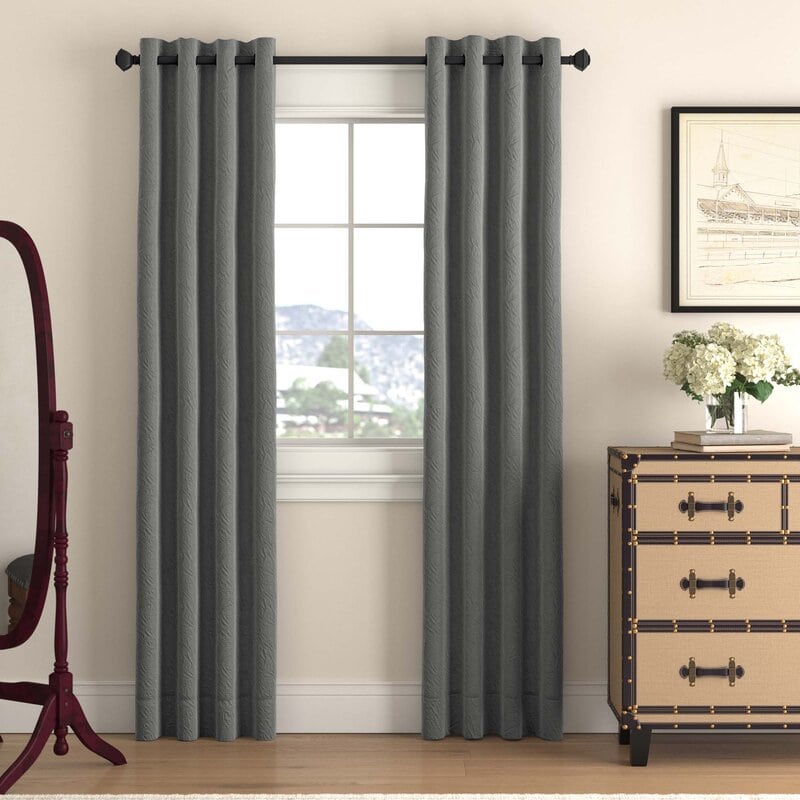 When you have pale pink walls, it helps to go with a darker color curtain to add some contrast and color, so your walls don't look lame and washed out.
Grommet-style curtain panels are an excellent choice for window treatments in bedrooms, living rooms, and dining rooms. These room darkening curtains drape down to the floor, a fantastic look that can help make ceilings look higher and windows larger.
Pick Sheer White Curtains for Pinkish Gray Walls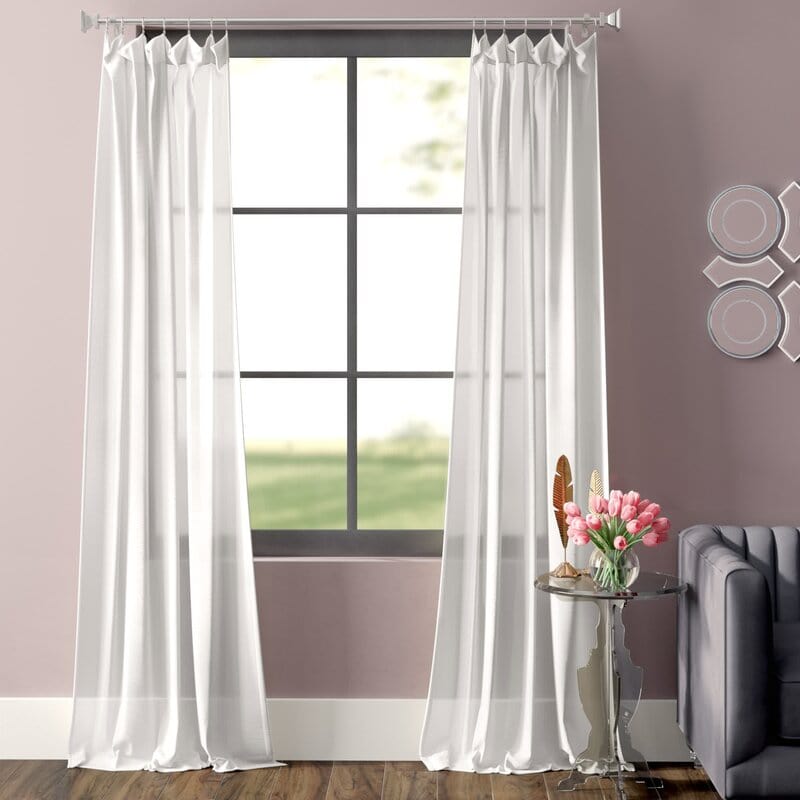 Not all shades of pink are princesses and bubblegum. Some colors of pink are lighter, with more of a gray tint. Gray is a fantastic color because it changes in visual temperature to look different in various lighting.
Due to pink gray's propensity to change in look, you'd get an excellent aesthetic by covering your windows with a curtain that's sheer enough to allow in a bit of ambient natural lighting. A rod pocket billowy white curtain that pools to the floor can create the perfect focal drama.
Go for Geo(metric) in White with Gray Print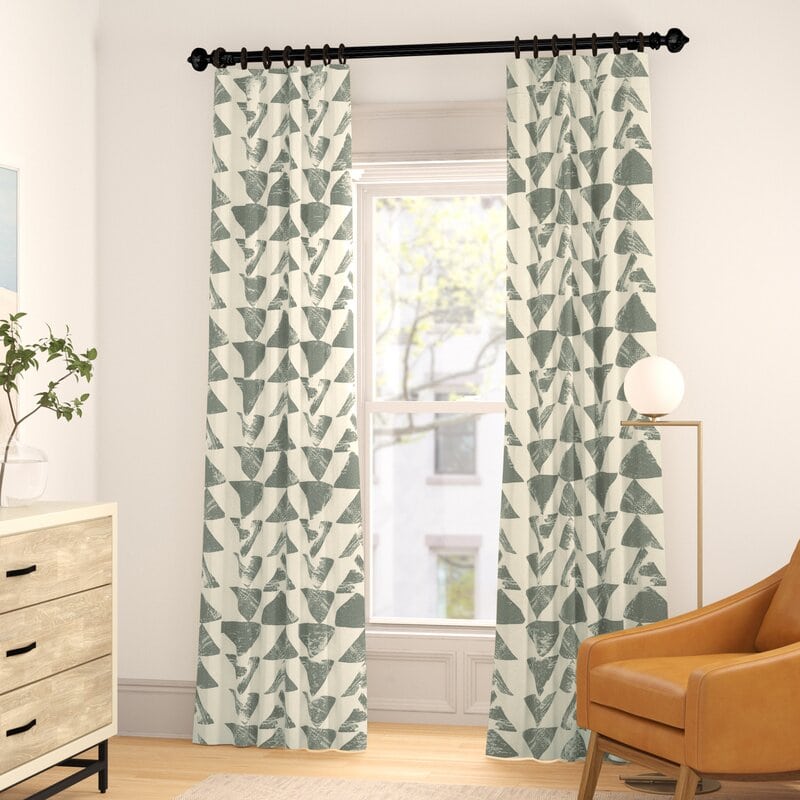 Geometric patterns are a favorite look for modern-style rooms, making your room look updated and trendy. Triangular patterns are a simple yet popular feature that can look outstanding over your windows.
We adore these floor-length curtains with a solid white base and decorative bold gray diamonds that run in opposite directions along the length and width. With room darkening properties and a rod pocket, these curtains are the perfect addition to give pink walls that beloved boho vibe.
Pair Pink with a Gold Geometric Pattern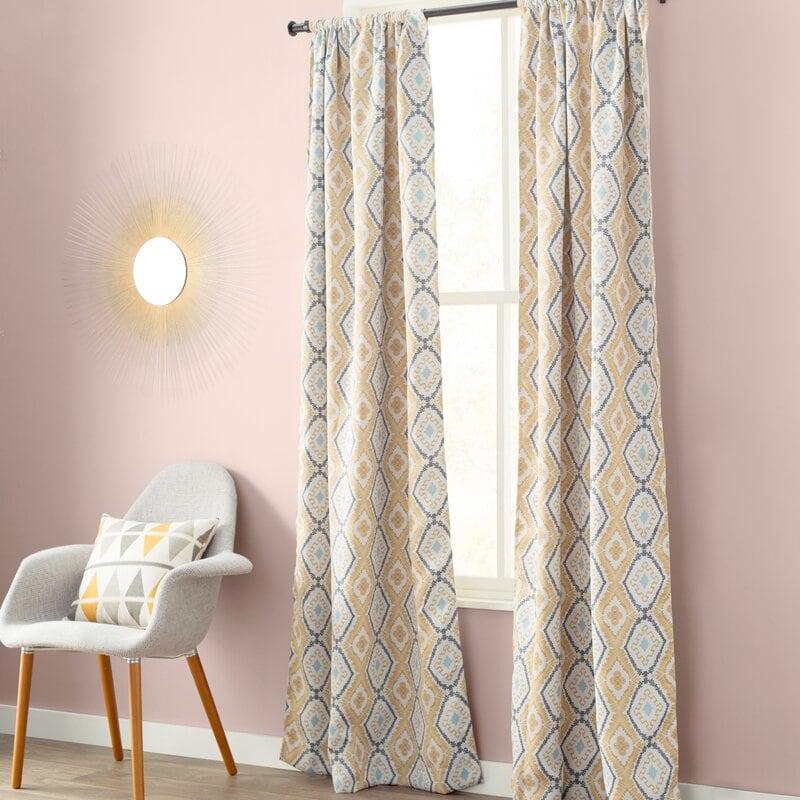 If you want to add some glamorous pizzaz to a room with pink walls, you can't go wrong with gold and tons of diamonds. And if your curtains can provide thermal insulation while reducing noise, you've hit the jackpot.
While we don't expect you to buy curtains covered in the real stuff, we do recommend these long blackout curtains in blinging gold with a glitzy boho diamond pattern.
Style It with White and Stripes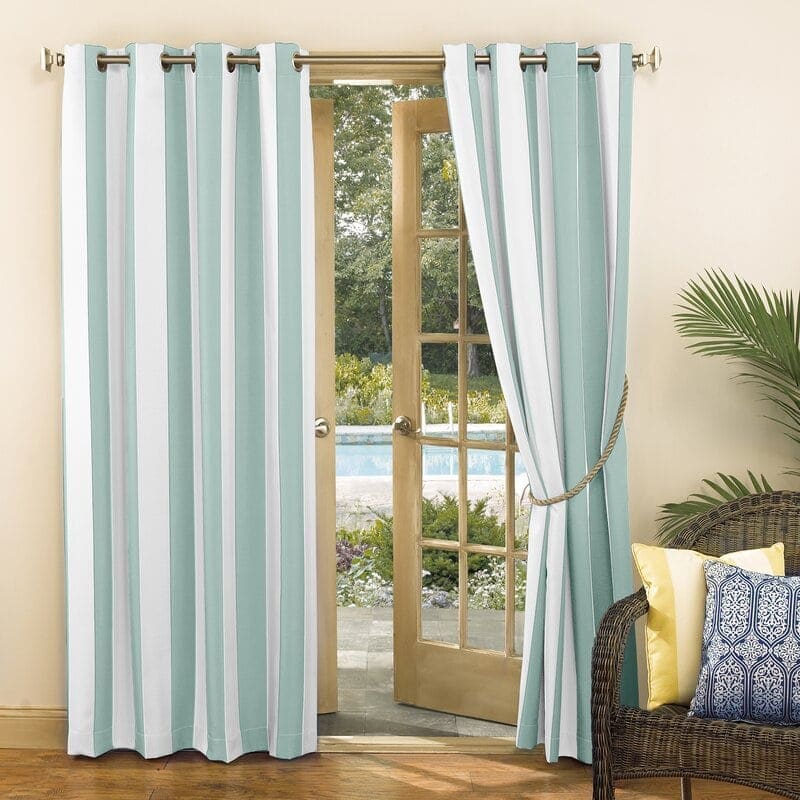 Pink and blue may seem like a strange color combination, but it actually makes a lovely pairing, as you can see from the pale pink walls and these simple yet pleasing pleated curtains in gentle white and soft teal colors.
The grommet style lets you use a decorative curtain rod to give your room some style. This curtain design also comes in indigo, rose quartz, gray, khaki, indigo, yellow, or spa green.
Red Can Make Pink Pop with Stripes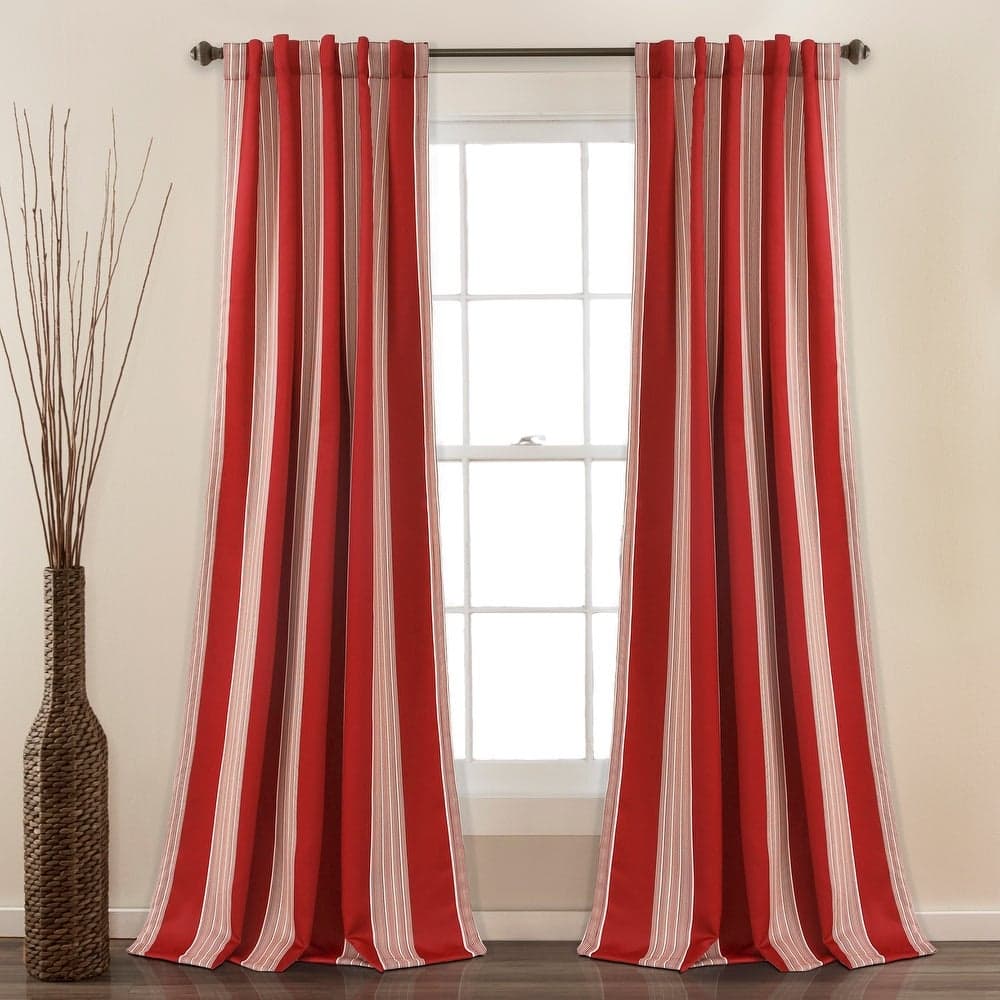 Red is a great curtain color for pink walls, but it has to be done right. The bright, bold shade can become dominant, detracting from the paleness of pink.
Check out how these red and pink striped floor-length curtains give the pink walls some seriously major character. Not a fan of the red? This style also comes in gray, taupe, or blue.
Gold and Glorious in Sheer Embroidered Drapes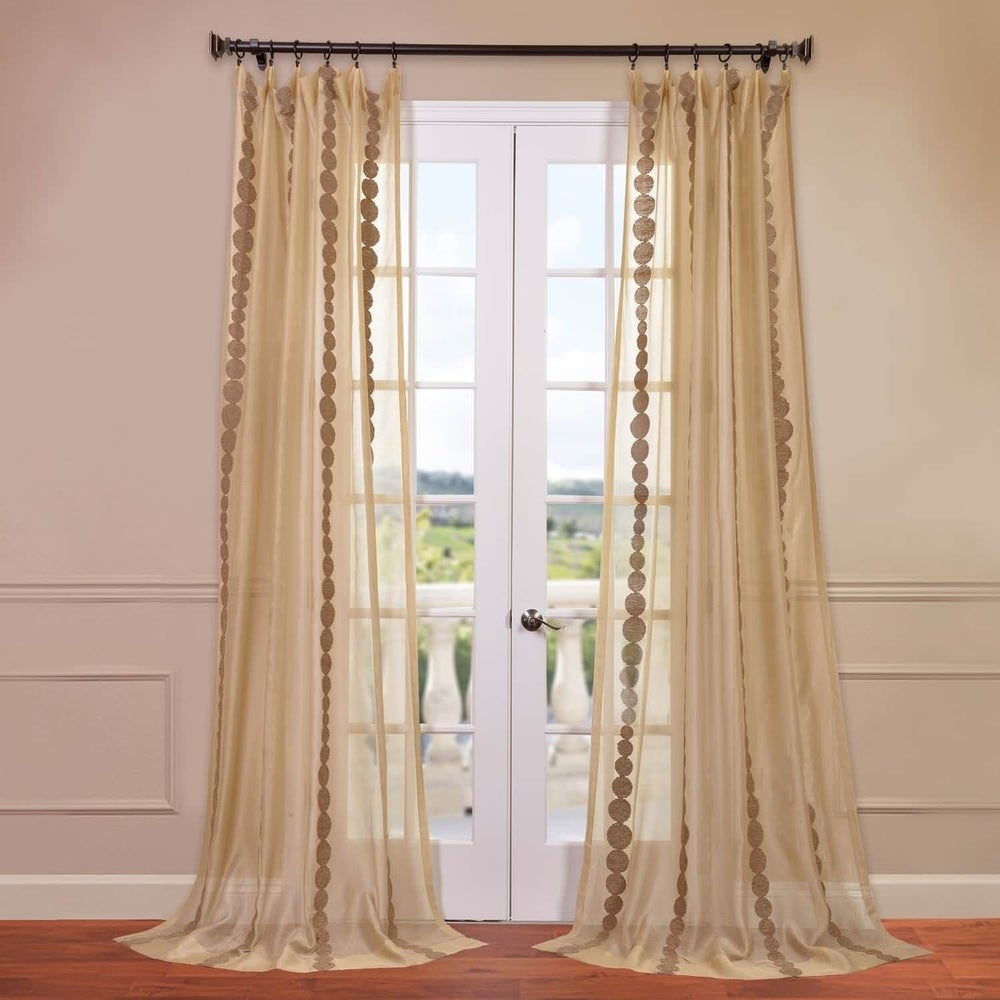 Make everyone feel as special as Cleopatra with these stunning curtains in her namesake. These sheer gold curtain panels are sure to add glitz, personality, and style to any space.
These curtains are the perfect blend of eclectic, glam, boho, and Middle East that lets in natural light while softening the rays into a shimmer due to the gold embroidery. In addition, the play of shimmery gold on pink walls is sure to create the perfect relaxing ambiance.
Let the Light in with Sheer Silver Medallions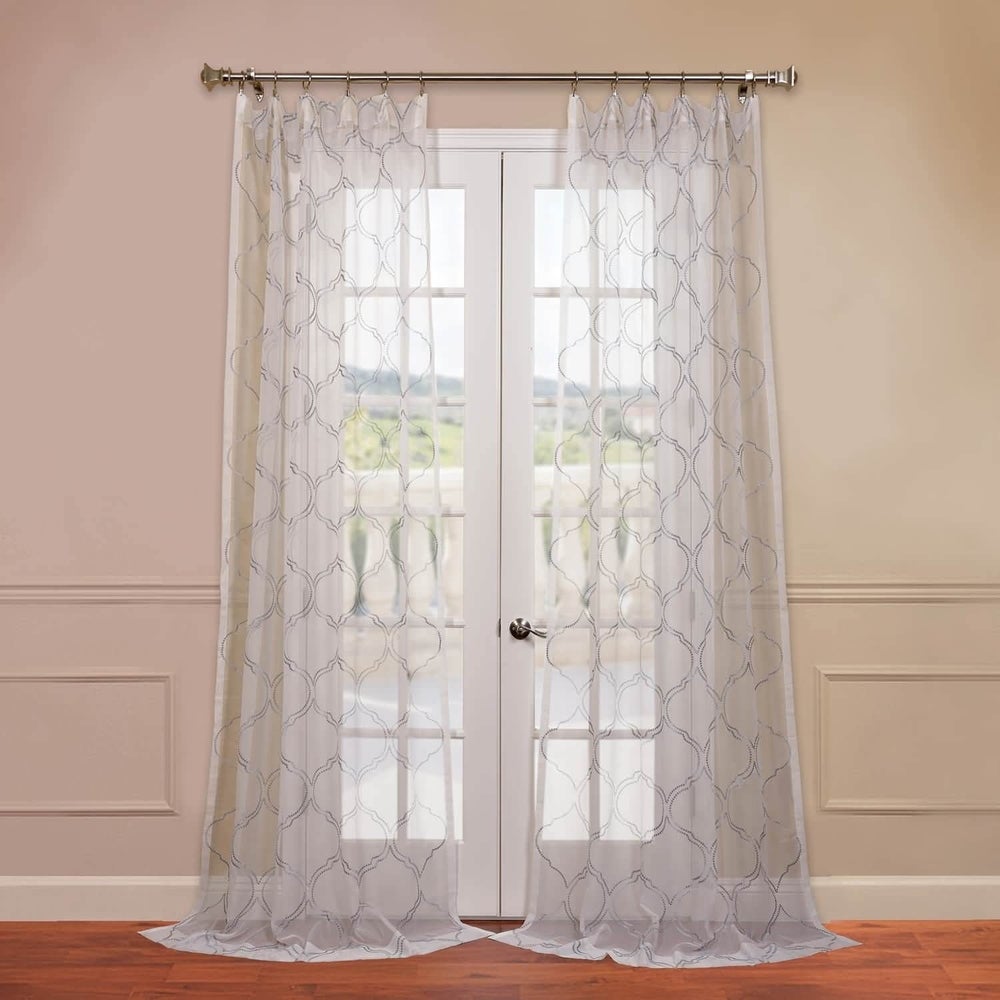 If you don't require curtains that will provide complete privacy, going with sheer (see-through) panels can let you enjoy the beauty of natural sunlight that can bathe your room in warmth.
While these white panels are so sheer they're almost transparent, you can still enjoy the beauty of a silver embroidered medallion pattern for window treatments that look fantastic in any room with pink walls.
Pick Pretty in Pink – with Rainbows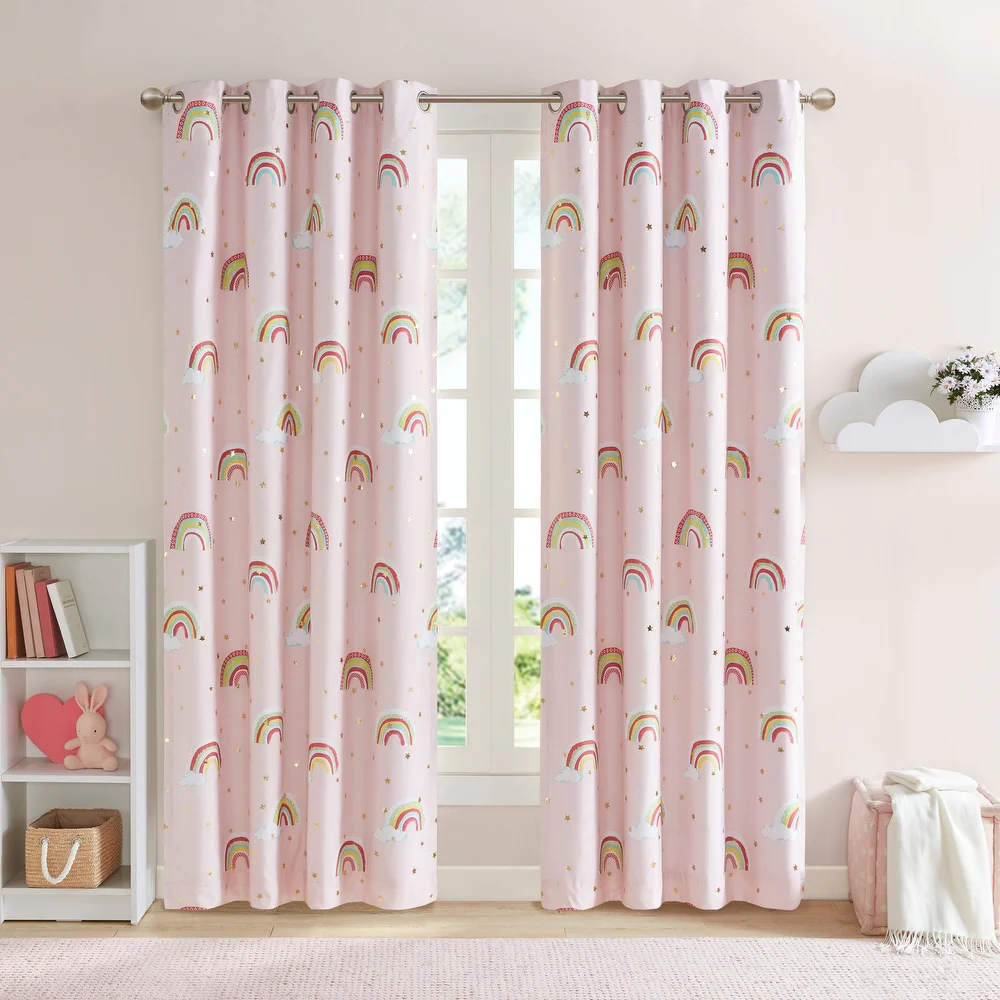 If you're looking for curtains for pink walls in a young girl's room, you can't go wrong with these whimsical pink curtains with adorable rainbows and clouds with tiny metallic gold stars.
These drapes have total blackout abilities due to a 3 pass foamback lining, which provides your child's room with the most privacy, noise reduction, thermal insulation, and light blocking.
Saying Stylish with Silk Sheaths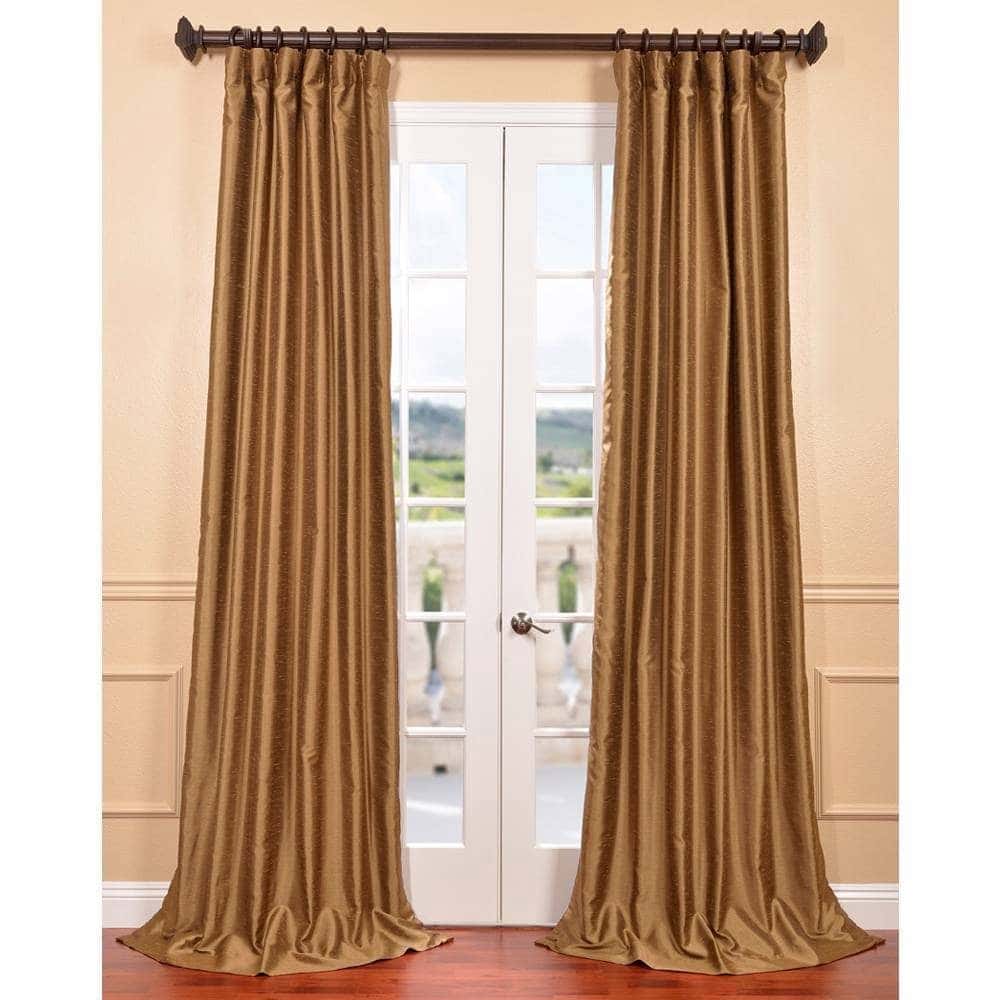 If you're a fan of fabrics that invoke feelings of romance and regal royalty, you're sure to fawn over these long flowing drapes that pool into a puddle of burnt gold.
The weighted corner hems help keep the pleats flowing in straight lines, while the silk material adds elegance and style. While the dark gold color paired with pink walls can make the room look more peach in hue.
Final Words
While white curtains are always a fantastic choice for pink walls, picking shades with decals or embroidery – or going sheer – keeps things exciting. But other solid colors that can work include gold, red, blue, pink, gray, and purple. Of course, you can also go with curtains in patterns or multiple colors.
Got a curtain color that goes with pink walls that we didn't include? School us on which color curtains with pink walls you prefer in the comments.