Decorated Life is reader-supported. When you buy through links on our site, we may earn an affiliate commission. Learn More
What Color Curtains Go With Purple Walls – 20 Ideas
Not many people have the design bravery to choose purple walls. But if you're one of those people with nerves of steel, the next step is to pick a color curtain that goes with purple walls.
This list shows the creative freedom you have with curtain choices, from light neutral colors to bold and dominant. There are also options for light-blocking, light-filtering, sheer, and of various lengths. So, check out these 20 ideas for what color curtains go with purple walls.
Make It White and Geometric for Modern Bedrooms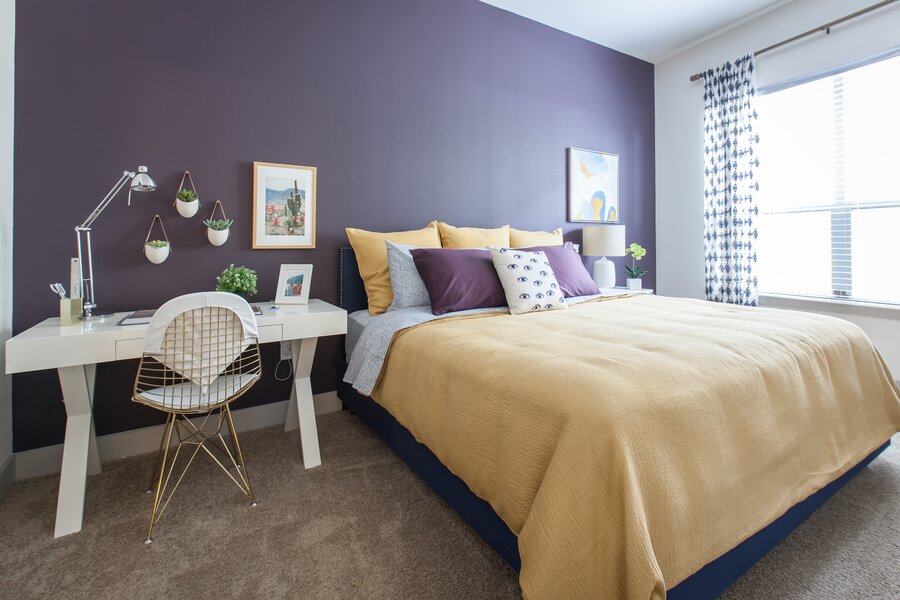 Modern bedrooms are the perfect palette for using an eclectic mix of decor and bold colors. To keep things from looking too busy, pair dark colors – like a rich violet-purple – with light shades like white.
We appreciate the beauty of these sheer white curtains featuring a grommet style header and geometric medallion prints. Whether you choose prints in white, ivory, stone blue, or light gray, these are the perfect curtains for purple walls.
Select Sheer White for Light Lavender
When you're working with a lighter shade of purple like lavender, a great design idea is to go with something light and sheer. When curtains let in enough light, it can make your room seem bright and airy, which is a fantastic illusion for smaller spaces.
These sheer Mercuri curtains with a pinch pleat and tab top let you increase the aesthetic value with a decorative curtain rod. And the classic yet elegant design means any of the curtain colors for purple walls look great – white, blush, ivory, gray, or soft blue.
Use a Pale Floral to Tone Down Dark Purple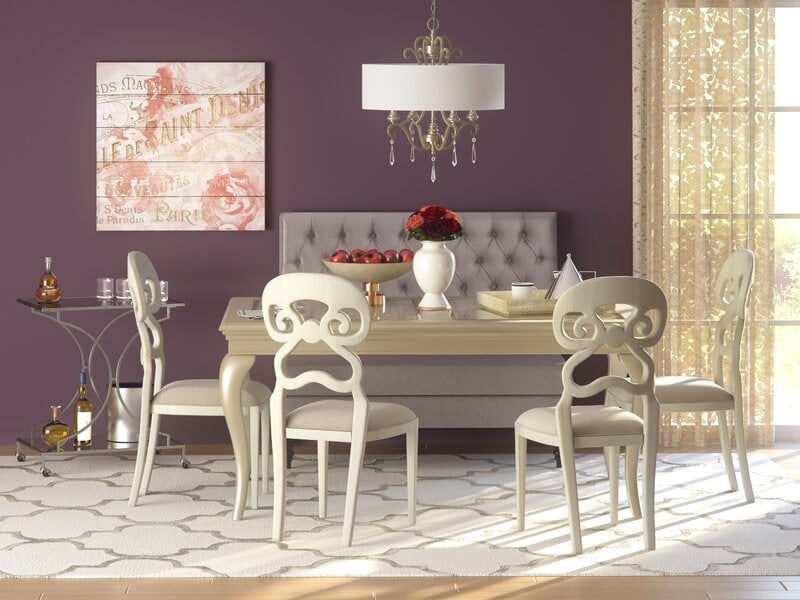 Dark purple is a less common color choice for walls, but as you can see from this modern and stylish dining area, it's exceptionally powerful and gorgeous.
But when you're using a darker wall color, you'll want to create an aesthetic balance with light decors, such as these sheer, grommet floor-length panels in white. And the soft yellow botanical overlay adds the perfect subtle pattern to brighten the room.
Simple Sleek and Straight in Solid White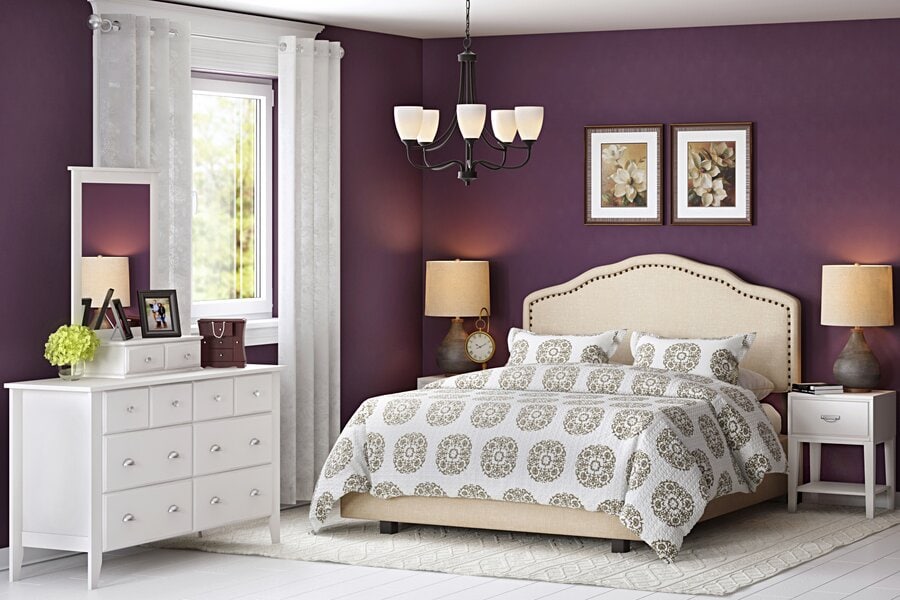 When working with a rich, dark purple in the bedroom, you can skip the sheer look for your curtains. Instead, search for features like noise reduction and thermal insulation – plus, the ability to block light.
These floor-length curtains for a purple bedroom in solid textured linen with simple, straight-line folds and blackout insulation (Thermax and LightBlock technology) keep your room dark. At the same time, the white fabric adds brightness to break up the darkness of the purple walls.
Aim for an Elegance Like Ecru Geometric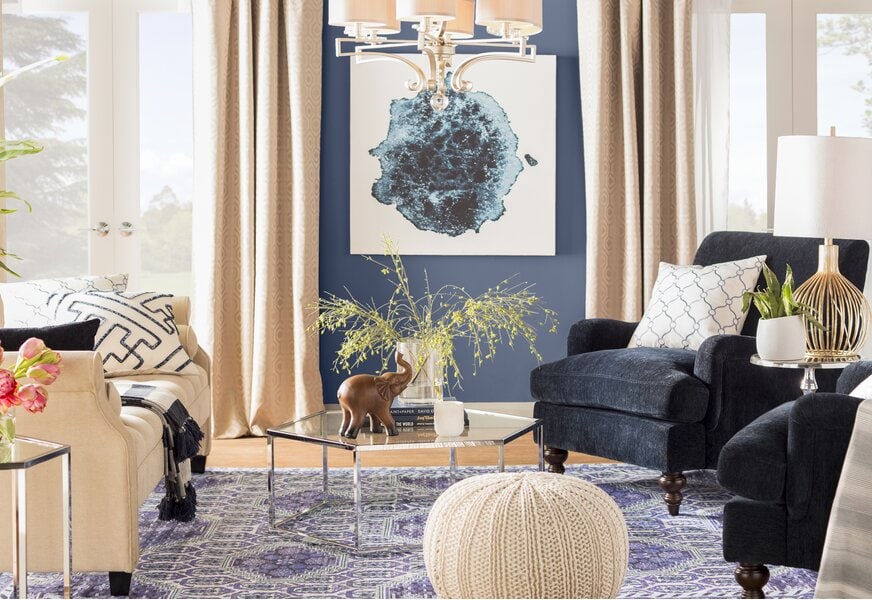 You don't always have to choose white curtains to have brightness against purple walls. There are plenty of off-white and neutral choices that provide the same bright effect with extra features like blackout, thermal, and noise reduction.
We love the look of going with a neutral shade like ecru (light grayish brown) in subtle geometric prints of an overlapping trellis. This color is an excellent balance for modern living rooms with purple walls with a rich blue tint.
Embrace the Energy from Eggplant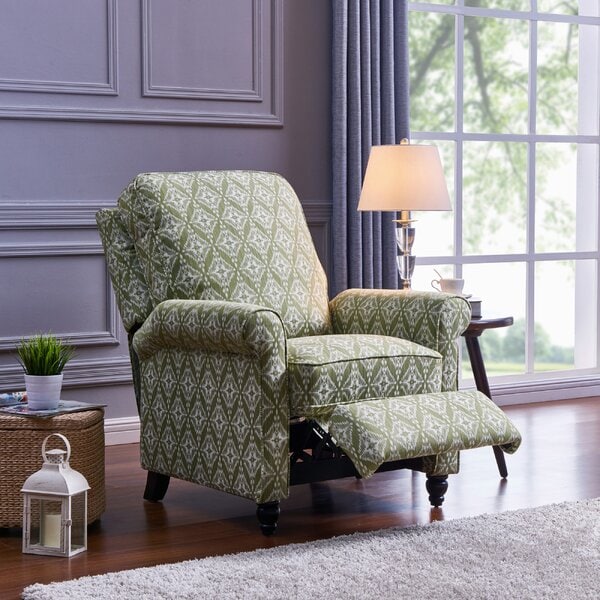 When you have navy blue-purple walls for a sitting room, you also have the option to continue the bold, modern look with purple curtains.
Eggplant is a fantastic shade of purple to pair with navy purple walls. But to keep all the dark-tint of purples from being too oppressive, look for sheer curtains to let in ambient natural light rather than blackout versions.
Pink for Princesses Paired with Purple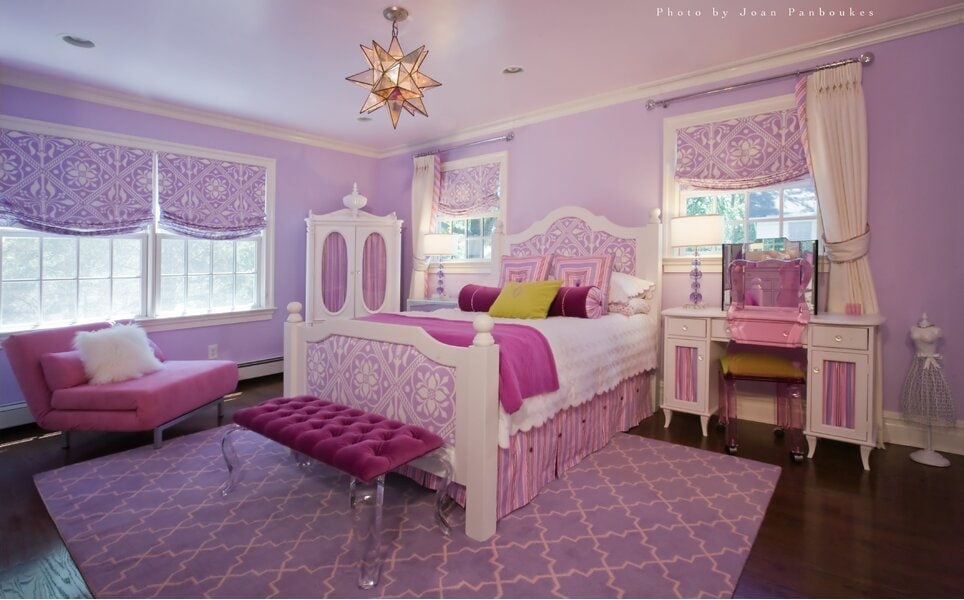 Purple is a common choice for girls' bedrooms and is a frequent partner match with pink and white. In this adorable girl's room, the mix of colors creates an elegant bedroom that works for girls young and grown.
The combination window treatments of lavender purple boho blinds and grommet floor-length thermal blackout drapes in pale pink with sheer white pleats are the perfect curtains for lavender walls.
Believe in the Beauty of Bamboo Blinds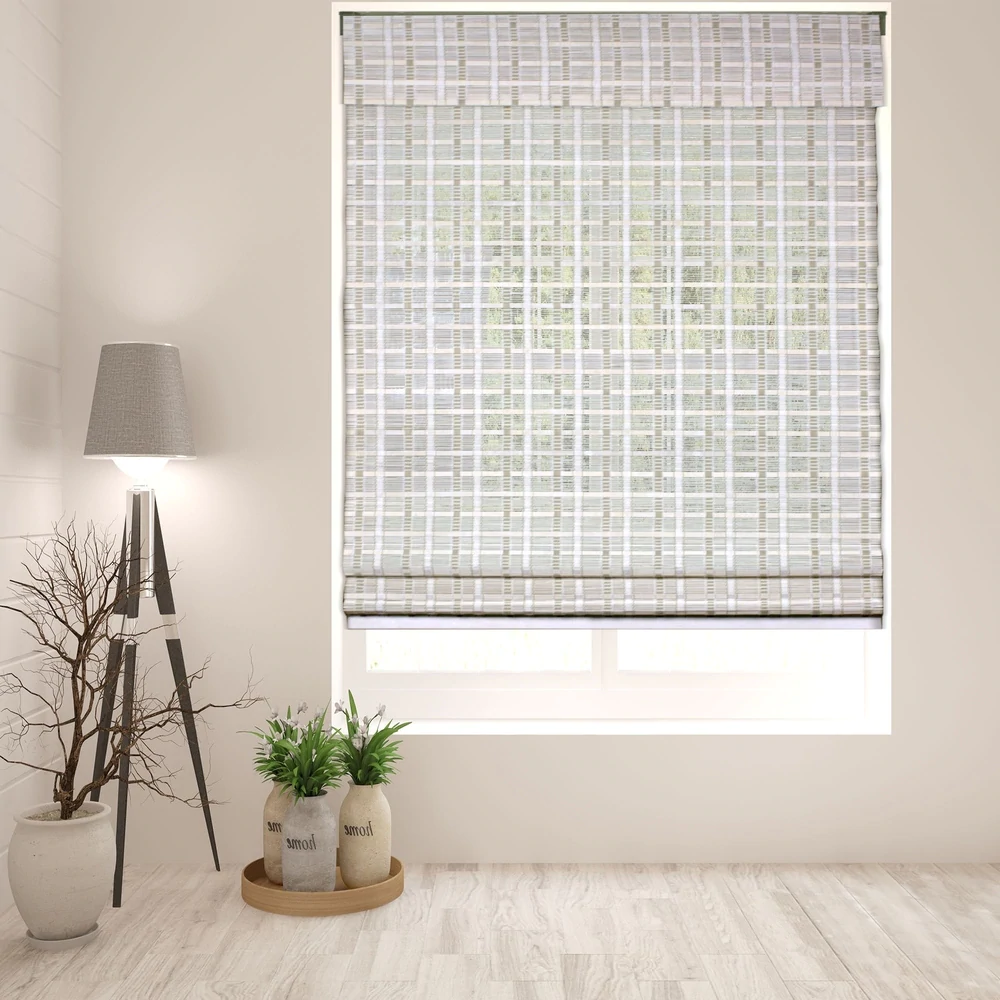 If you enjoy a minimalist type of window treatment that leaves out the frills and heavy folds of fabric, consider going with something simple and unadorned.
These airy bamboo shades in a Roman style give your room subtle window coverage that will break up the light shining into the room for a softer ambiance.
Commit to Flowing Circular Curtains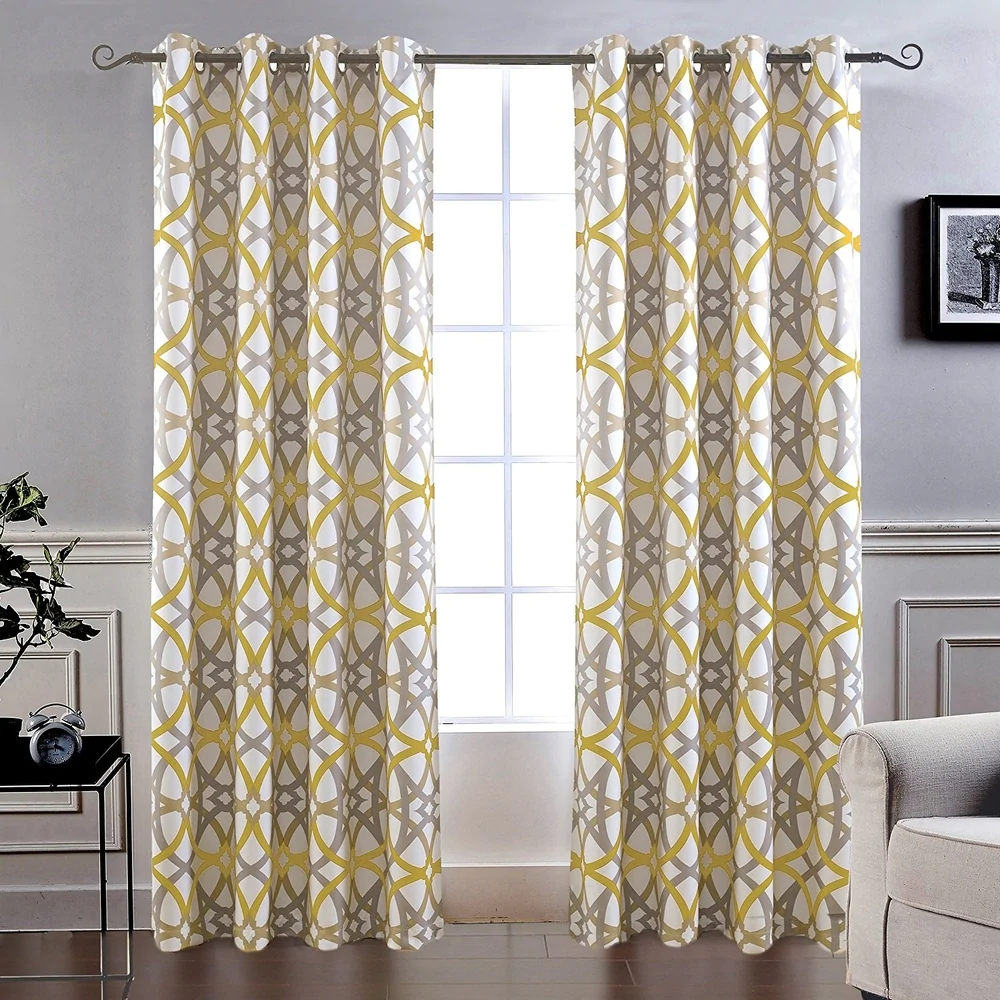 Purple-gray walls are the Swiss Army knife of designs, working for any room theme. For a modern look, nothing works better than geometric patterns.
The intricate gray patterns match the gray undertones in the purple walls, while the gold circles provide bold but elegant pops of color. There are also the color options of brown, red and gray, or gray and navy.
Select a Set of Sheer Dotted Shades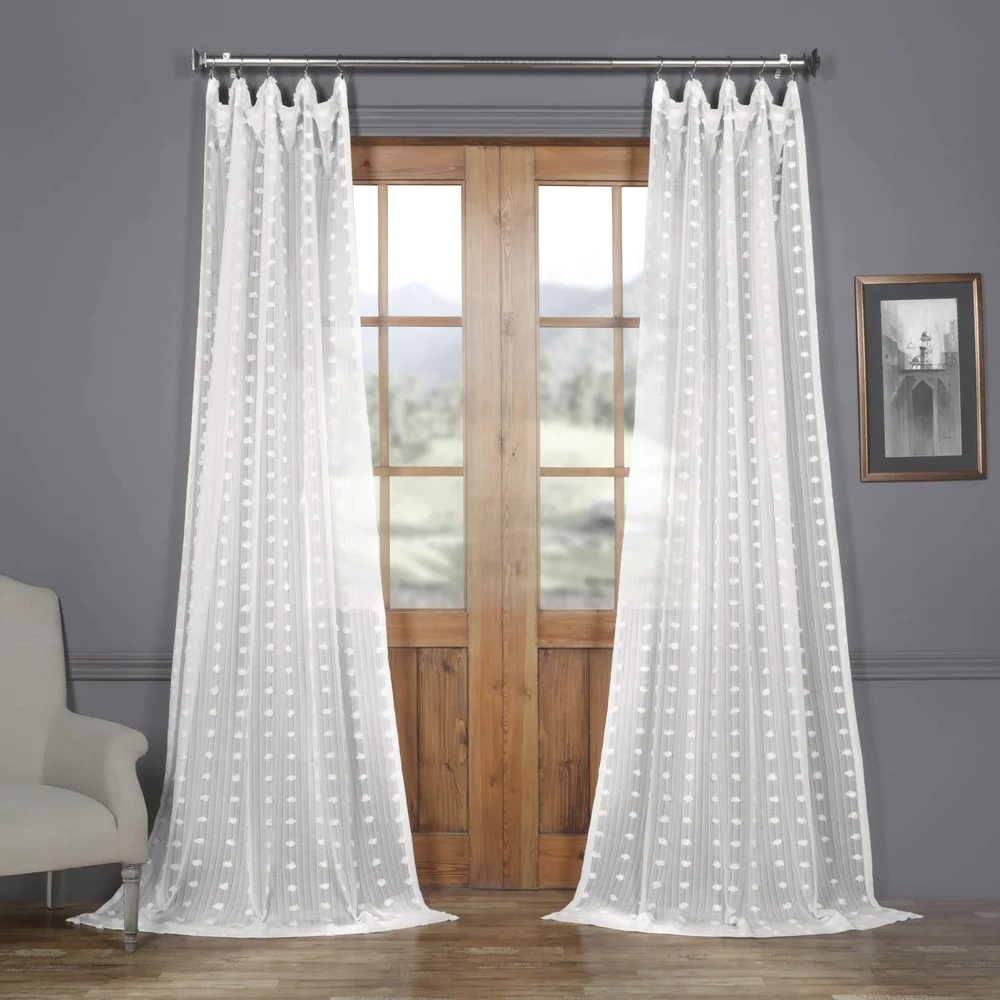 Covering French doors can look fantabulous with a curtain in a sheer damask pattern, like these simple yet contemporarily elegant dots.
The rod pocket makes the curtains perfect for sliding along the rod when you want coverage on the windows without blocking all the ambient light. And you can get an amazingly dramatic effect by picking a longer length so the curtains can pool into a puddle on the ground.
Add Aqua in Flowing Ruffles for Shabby Chic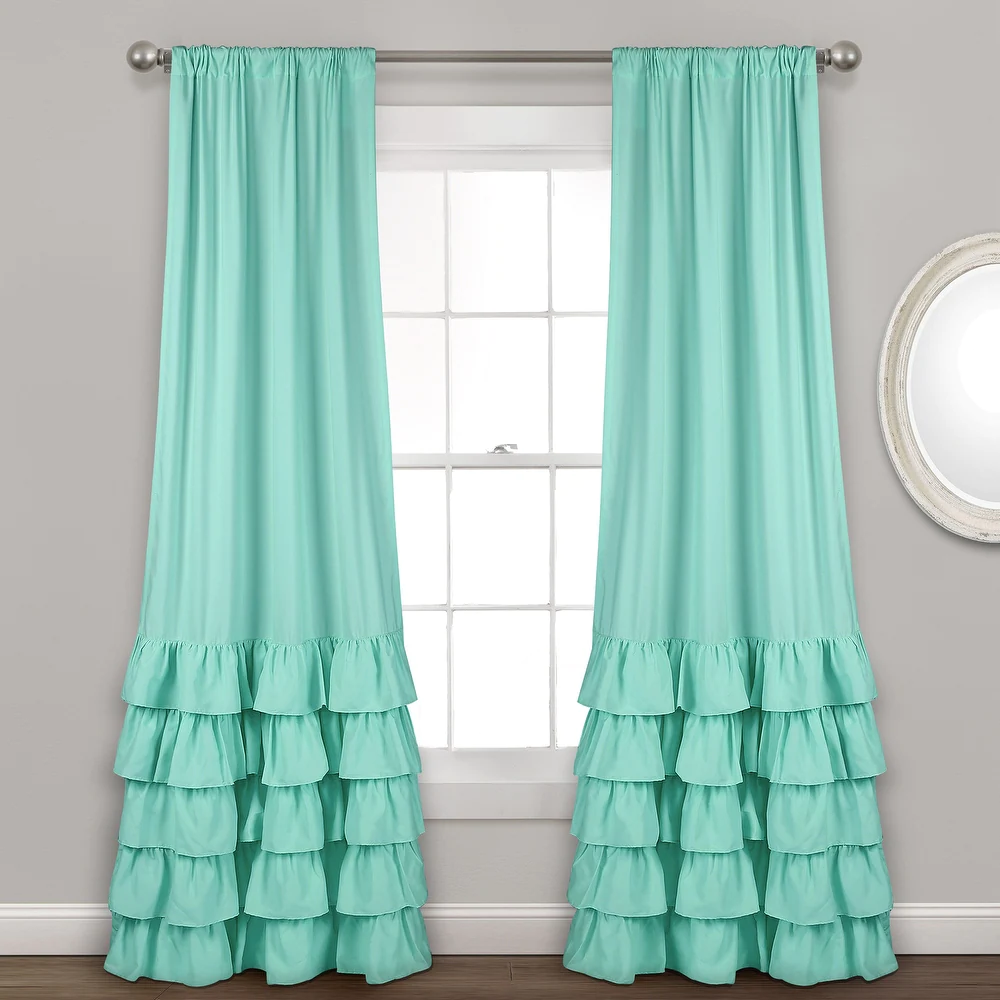 If you have a flair for the dramatic, you'll die for these super-tabulous floor-length curtains with a stacked ruffle hem. Go for glam, French Country, or Farmhouse with colors like aqua, dark gray, white, neutral, light gray, or blush – all glorious against purple-gray (mauve) tinted walls.
Enjoy the feel of elegant shabby chic without the hassle of expensive dry-cleaning – these are machine washable! Rod pockets allow for easy hanging and spreading on a decorative rod.
Go Green (Sage) for Glorious Contrast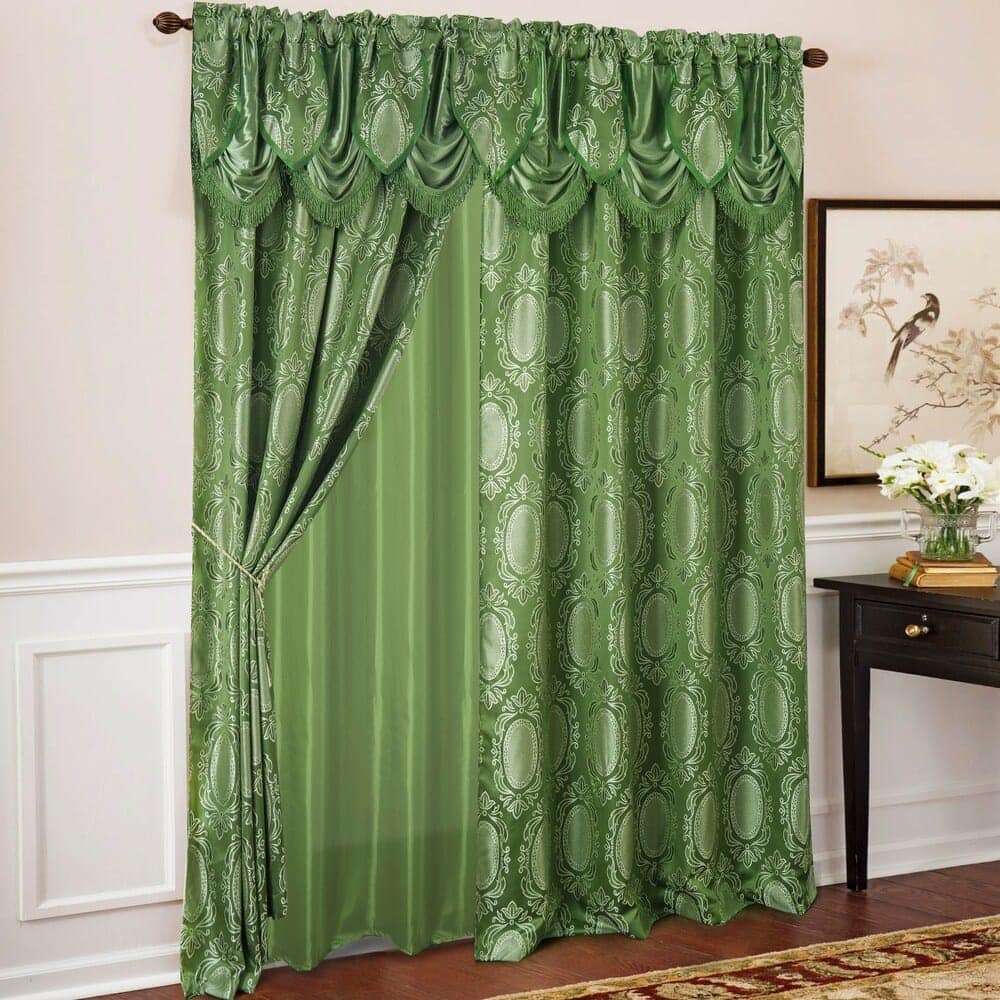 Some shades of green curtains, such as sage, can make an interesting pairing with light purple walls. The shimmery medallion print, solid green backing, and fringed valance combined drip opulence.
If you're looking for window treatments in a traditional or antiqued bedroom or formal sitting area, you'll appreciate the timeless charm of these Jacquard panels – with the built-in draped valance and matched taffeta backing.
Nab These Novelty Curtains for Kitchens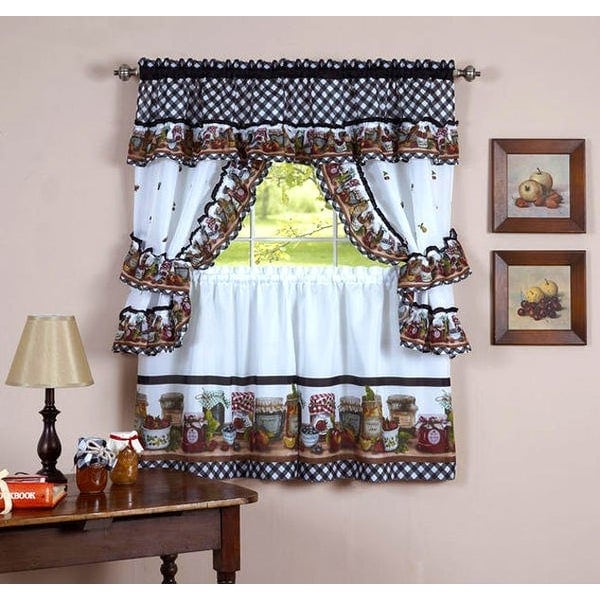 If you're looking for curtains to adorn your purple kitchen walls with a classic country and rustic theme, you'll feel giddy for the old-timey look of these split curtains featuring a multi-color mason jar theme.
This adorbs kitchen curtain set features a traditional farmhouse valance in black and white plaid, and two tiers of curtains – at the top, sheer split curtains with a mason jar and swag trim and ties; on the bottom, a solid panel split-color (white top, themed bottom border).
Round-Up These Rainbow Curtains in Popping Pastels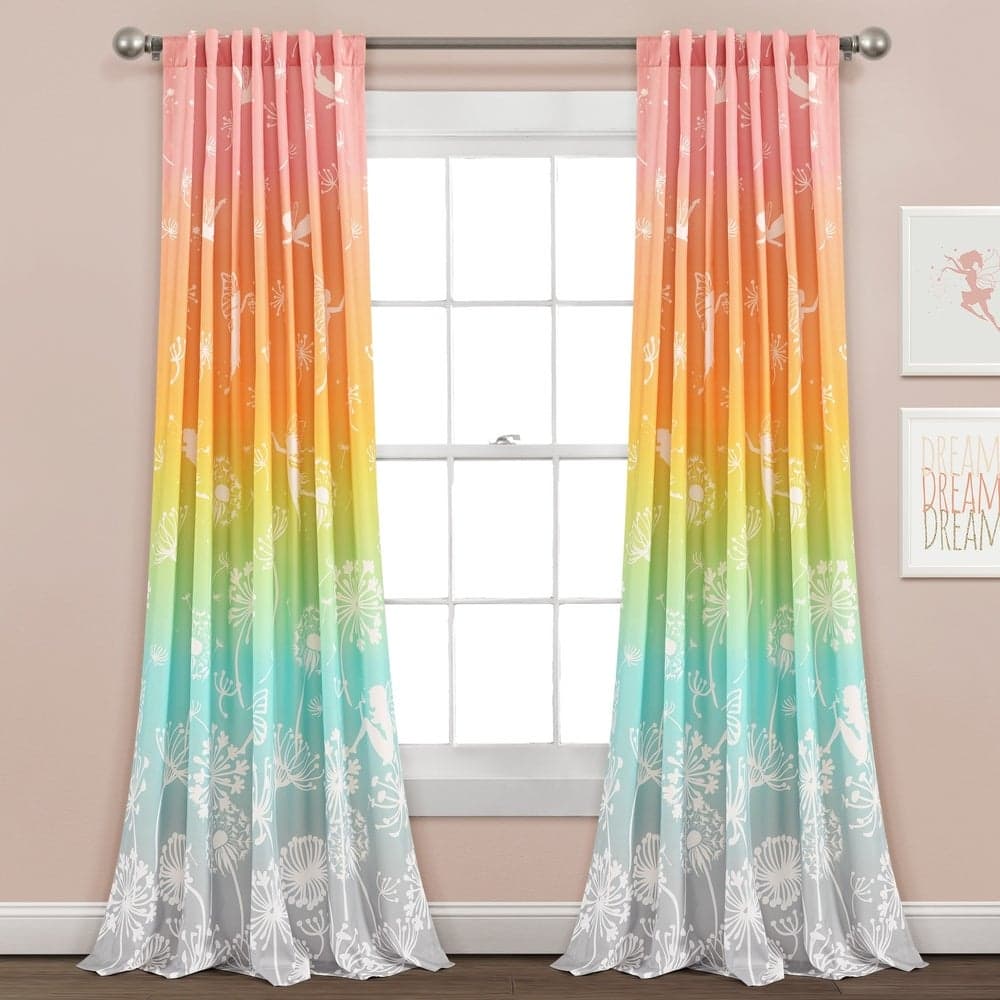 Turn any child's bedroom or playroom into fantasy land with these extended-length curtains in an ombre rainbow pattern of soft pastels with dandelions and fairies.
Have Fun with Florals in Bold Colors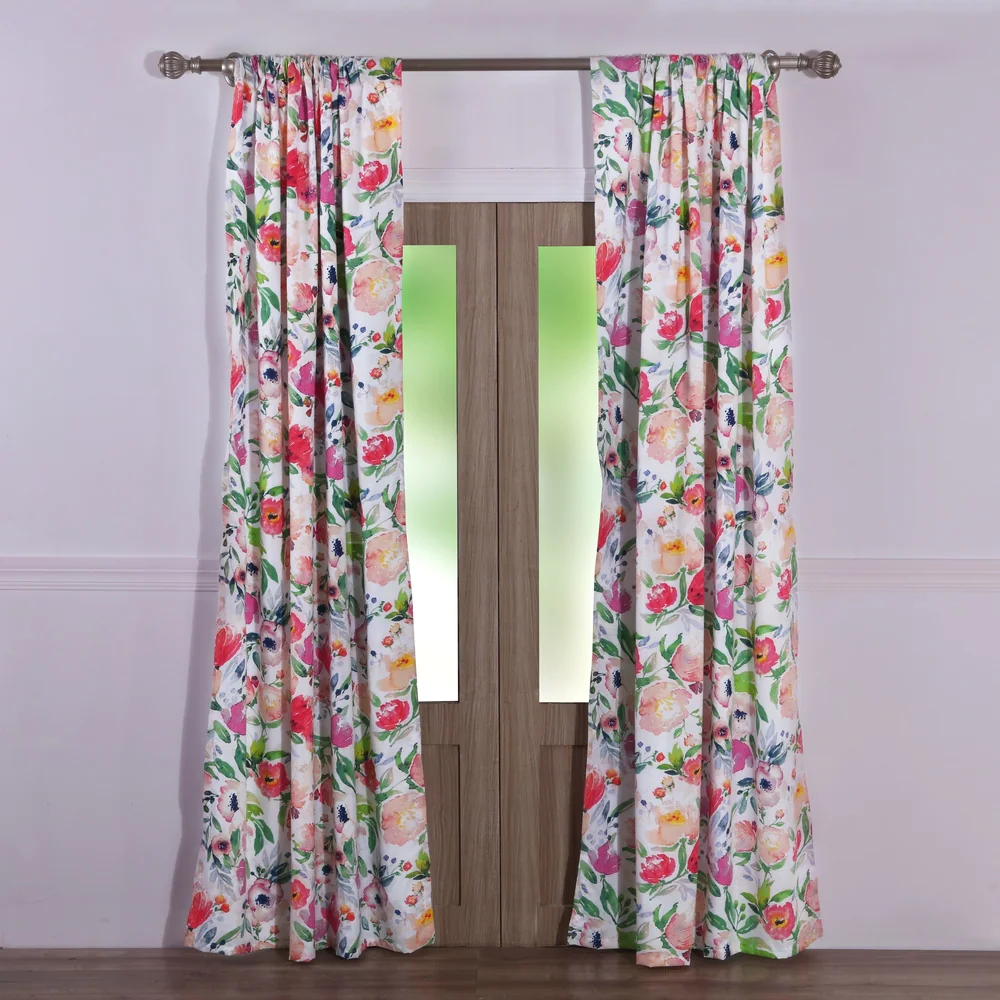 Patterned curtains like floral prints are a great balance for purple walls. You can create a sophisticated look that works for French Country, rustic, or traditional themes.
The multiple flowers and colors make these pleated curtains perfect for bedrooms, living rooms, and dining rooms.
Whimsical Ballerinas in Pink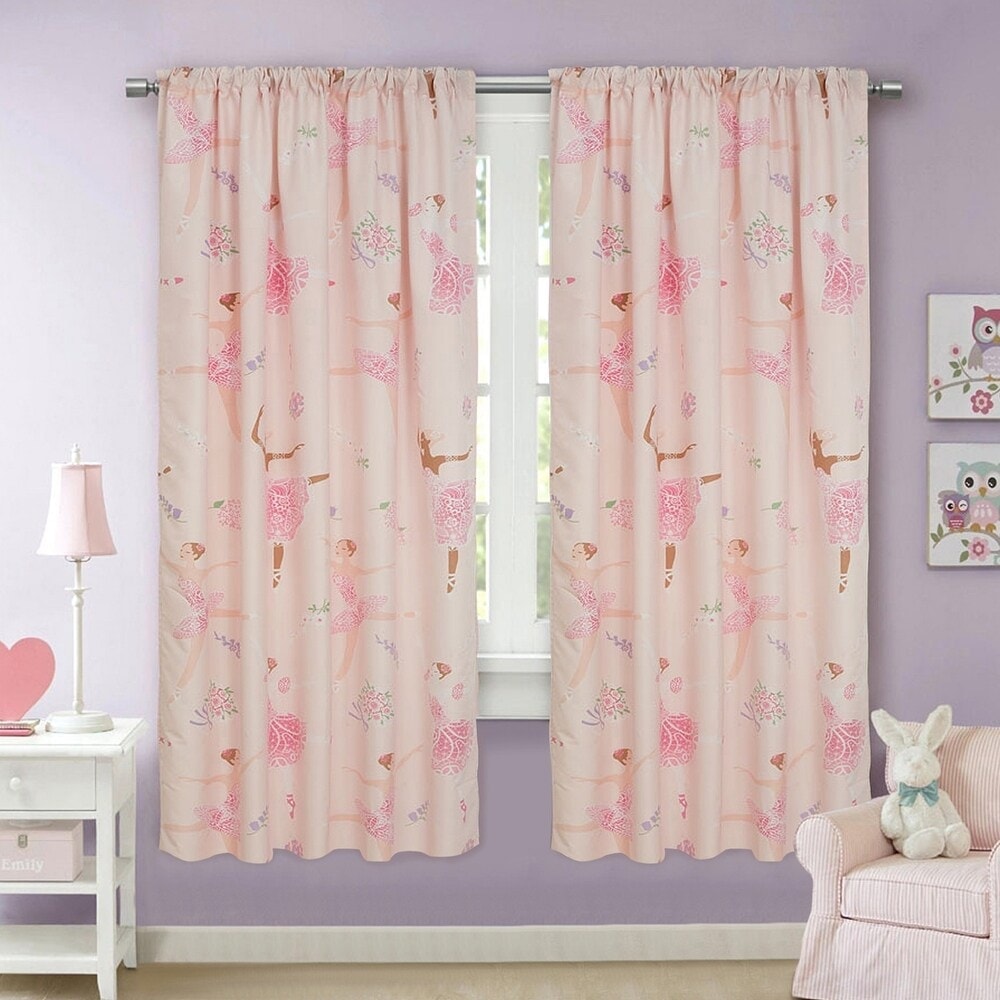 Mini ballerinas are sure to spin in excitement at having pink ballerina-themed curtains to pair with their plum purple walls and whimsical wall decor.
Yell for These Yellow and Navy Nature Inspired Blackouts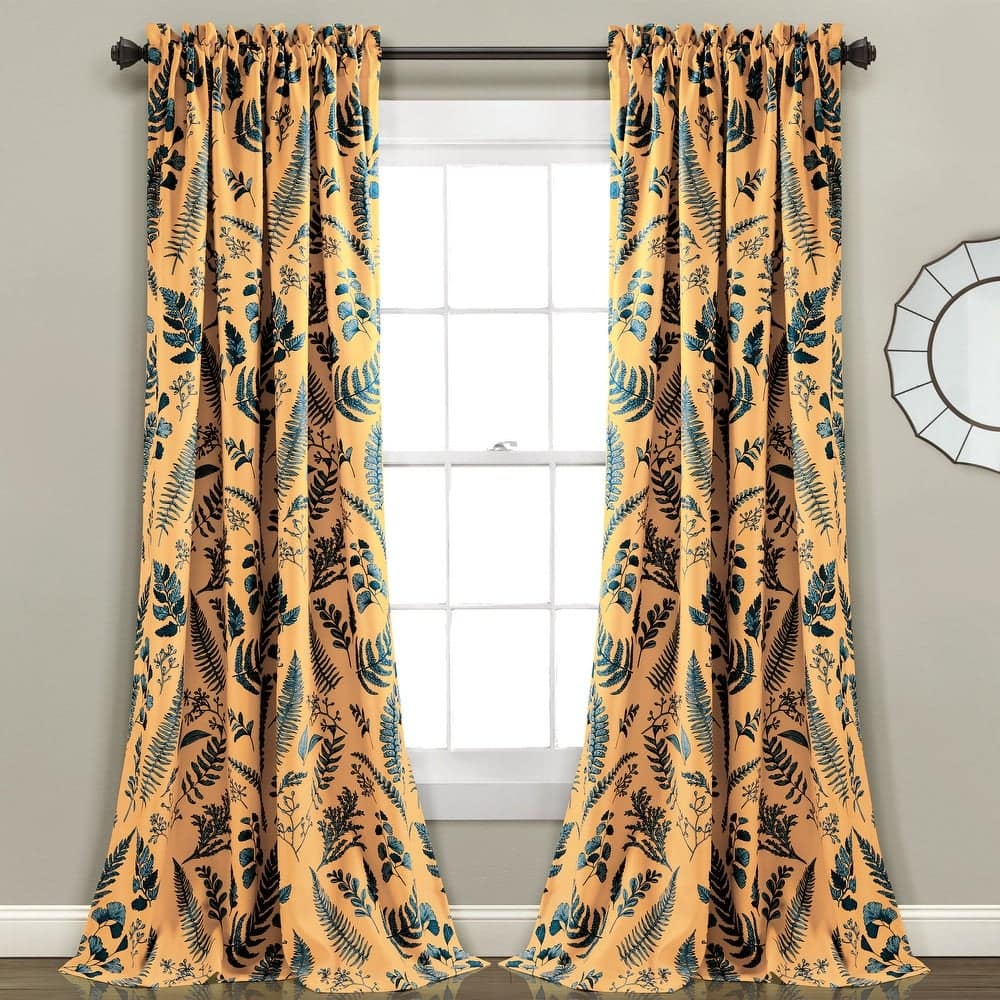 If you're not a fan of pastel florals but like nature scenes, how about trying something out of the ordinary but boldly beautiful like these curtain panels in yellow with blue decor.
The floral and coastal pattern in navy stands out against purple walls. Extended length panels with room darkening filtration, noise reduction, and insulation mean these transitional curtains are great for any room.
Fall in Love with Lush Waterfall in Dark Linen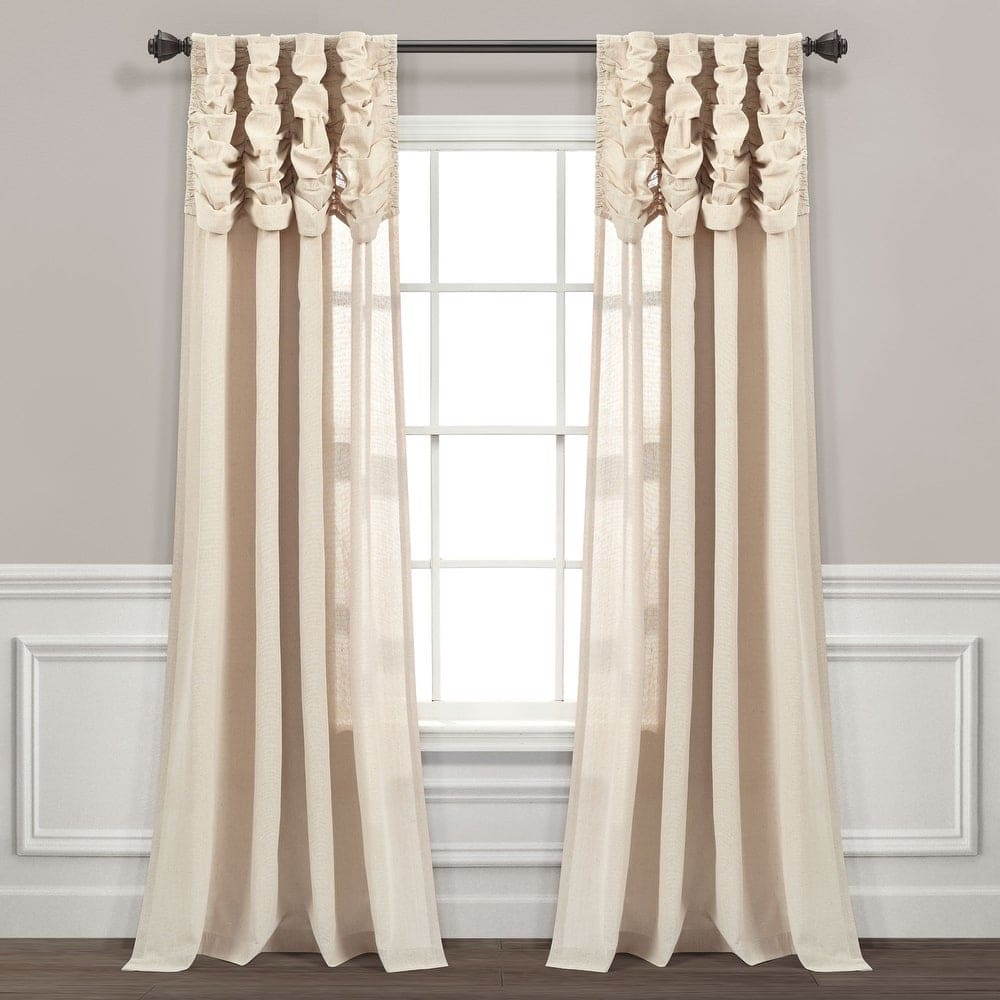 When you have purple walls with white wainscotting, you can benefit from curtains in a neutral color like dark linen (tan).
But to keep your drapes from looking too simplistic and boring, you can choose a unique look like the ruched design of these panels.
Go Oh-La-La for Plush Velvet in Au Lait Creme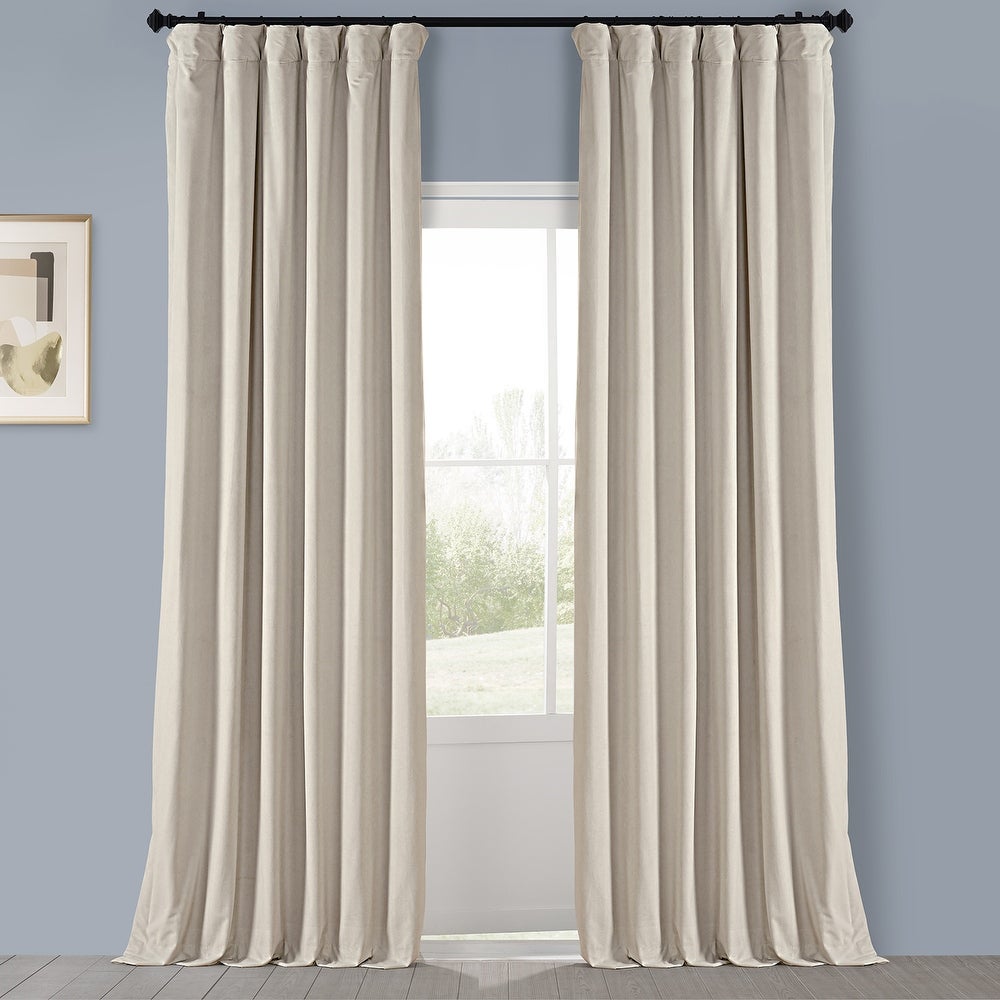 Another type of curtains for purple walls are velvet with lined backs that are both soft and solid, with room-darkening features for a contemporary or modern look.
The simple solid color design in Au Lait Creme is incredibly supple and sophisticated against a dark purple wall shade.
Make Magic with Faux Linen in Ash Grey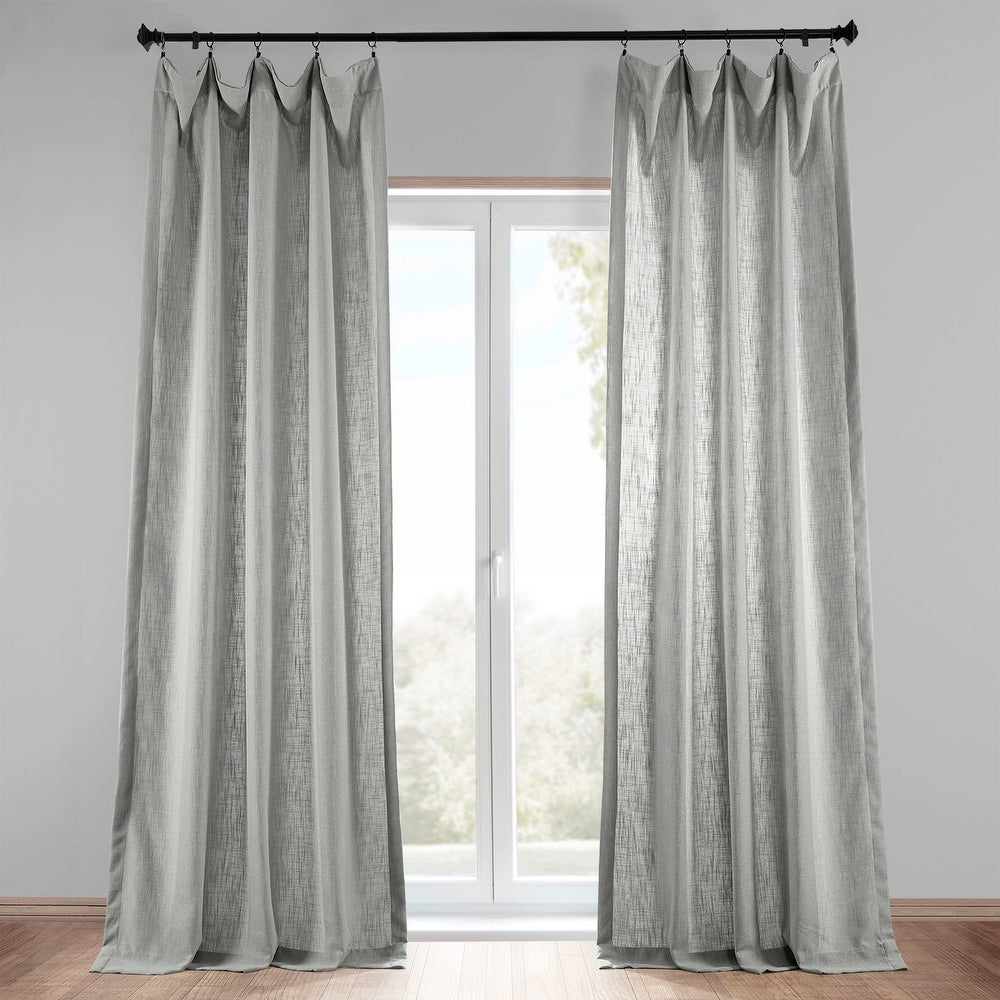 Natural linen blend curtains in an Ash Gray offer an awesome blend of classic, contemporary, and modern glam for curtains in the epitome of luxury.
The solid print and unlined back give these curtains light-filtering properties that allow a small amount of natural light while still offering plenty of privacy.
In Closing – What a Selection There Is
As this encompassing list of twenty ideas for curtain colors to go with purple walls, you can get creative with your color choice or play it safe with something simple and plain. Whether you like a style that's dark and bold like purple or light and bright to create a contrast, one of these ideas is sure to be right for your space.
Which color curtains is your favorite idea? Got a color combination we didn't include? Drop your thoughts in the comments.