Decorated Life is reader-supported. When you buy through links on our site, we may earn an affiliate commission. Learn More
20 Purple Bedroom Decor Ideas
Choosing the colour and style for your home is a very personal decision and your bedroom is no exception. Your bedroom is somewhere that you want to be able to relax and feel at peace, so getting the styling right is a must.
As colour schemes go, purple is pretty timeless and when it comes to purple bedroom ideas you'll be spoilt for choice!
In this article I'm going to be sharing 20 gorgeous purple bedroom ideas, from a completely purple themed bedroom right through to just a purple accent wall.
Let's take a look!
A Glamorous Purple Bedroom Design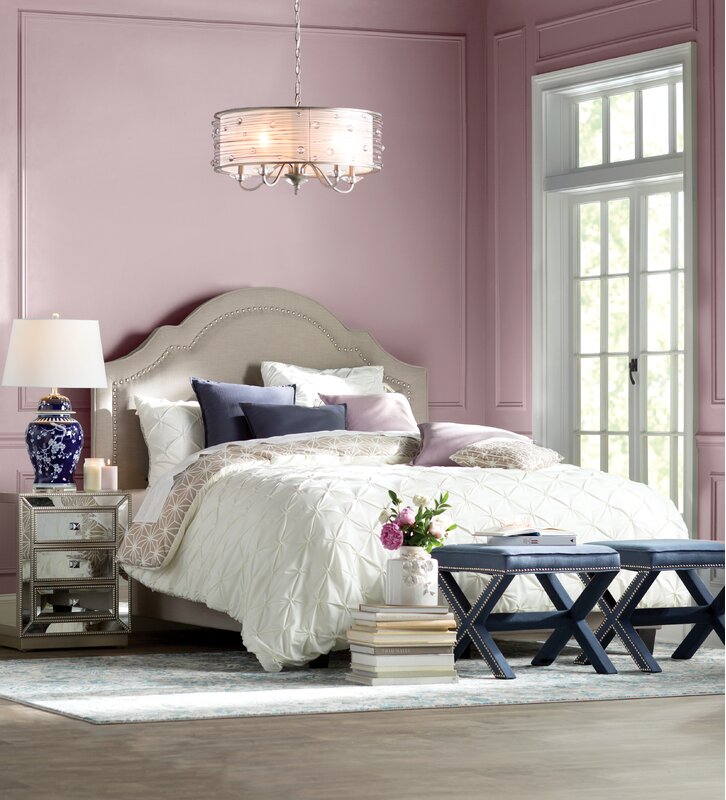 Go all out and add a touch of glamour to your bedroom with a purple themed bedroom from top to bottom. With luxurious accessories, light purple walls and a cream rug to finish everything off, this is a room that screams glamour.
Finish with an eye-catching light fitting and a glamorous studded headboard to create the perfect purple themed bedroom.
Light Purple Walls With a Patterned Comforter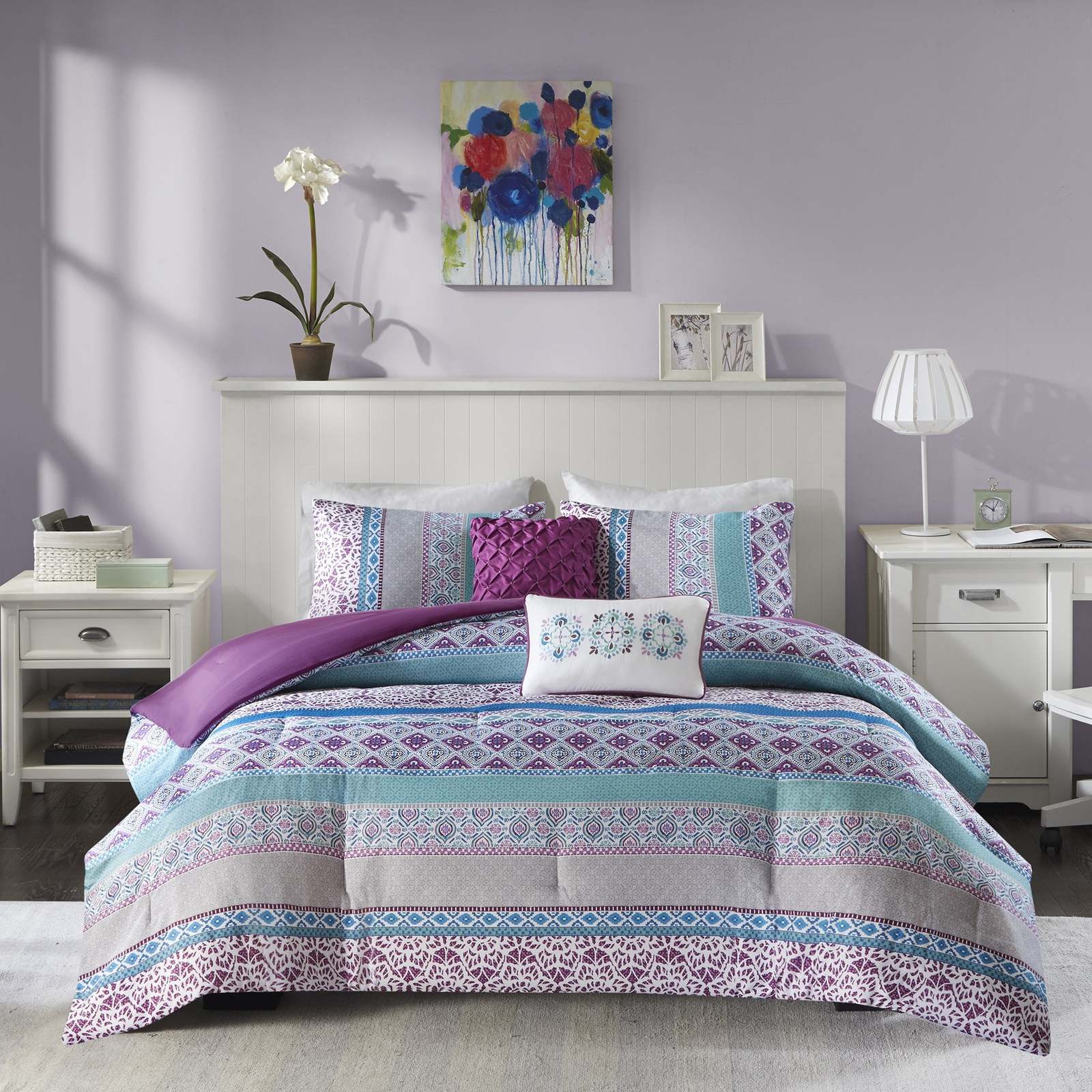 When it comes to purple bedroom ideas, you can mix things up by adding splashes of other colors. This purple printed comforter set has a mixture of blues and purples which means you can accessorise the room in a range of colours and everything will still match.
Finish off with light purple walls and a bright purple pillow to act as a centre-piece for the room and you have a perfect purple bedroom.
Purple and White Walls Create a Sophisticated Look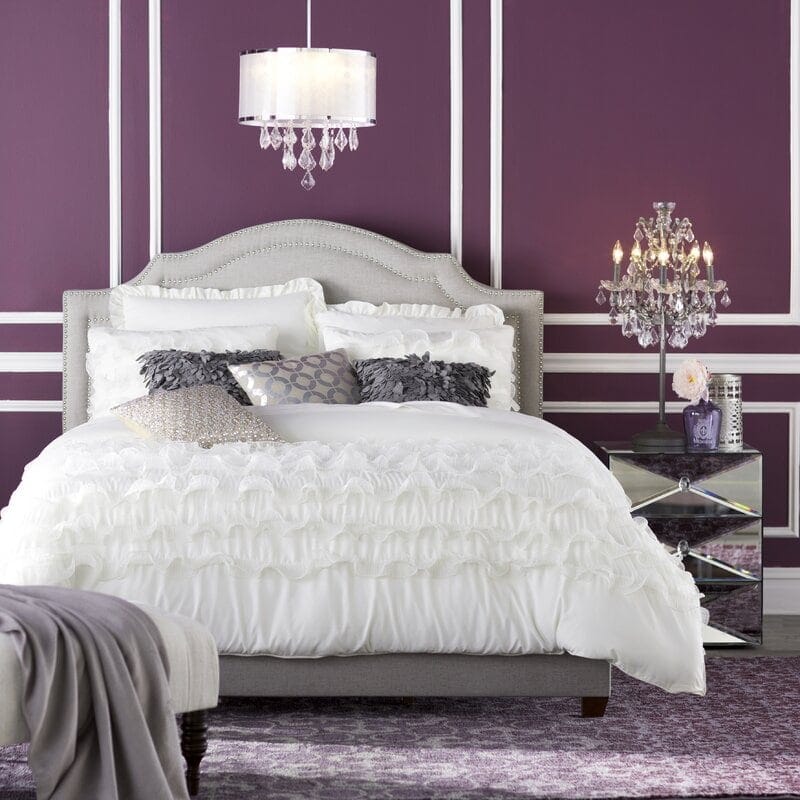 Purple certainly has a sense of sophistication about it and teaming it up with white bedroom accessories helps to finish everything off perfectly.
This room has bold purple walls, a few purple accessories and a white and purple rug, teamed up with a bright white bedding set that will have anyone dying for a nap. This style of room shows you can go bold and dark with your shades of purple without resulting in a very dark bedroom.
Purple and Grey Floral for a Feminine Look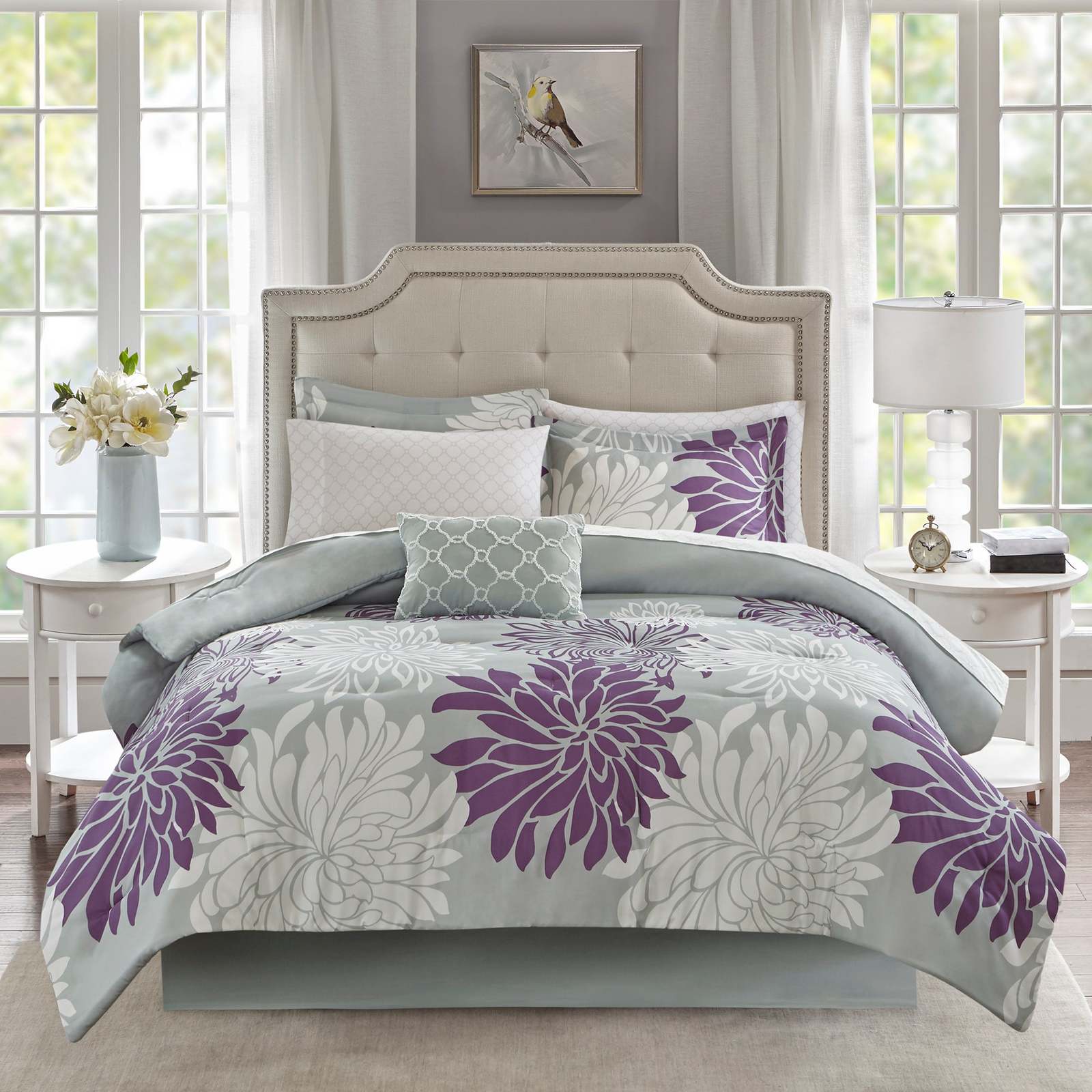 When it comes to purple bedroom ideas for adults, mixing things up and adding some grey really helps.
The bold floral print on this bedding set has a real feminine feel to it, which when matched with the grey accessories and prominent headboard helps to finish everything off perfectly.
Purple Damask with White and Grey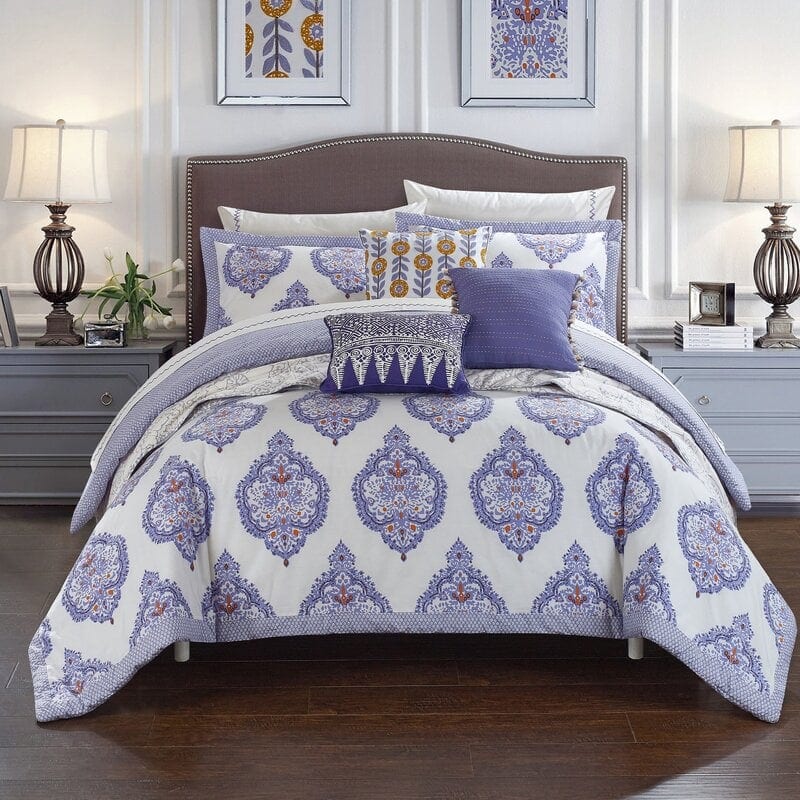 Blending damask with white and grey can help to make sure your bedroom stays looking light and airy without the purple being too overbearing. If you do want to make sure you have plenty of purple then you can add a pop of colour like this bedroom design with extra pillows to finish off the bedspread.
If that isn't enough, you can go the extra mile and add a purple rug too which would certainly add a decent flash of color to any bedroom.
Purple Kids Bedroom Design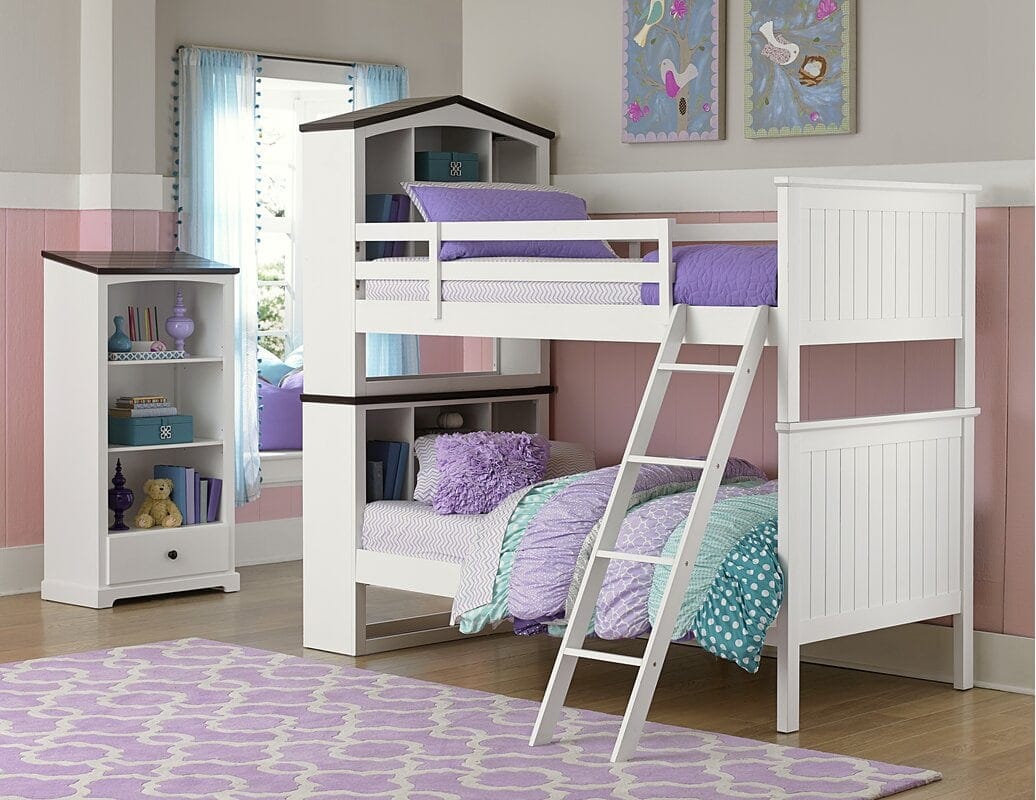 Purple bedroom ideas don't have to just be for adults, as this purple kid's bedroom design shows. This cute bed has plenty of sleeping space for two children, as well as storage for each child – you could even set up the bottom bunk as a funky purple sofa if you wanted.
The purple and white rug gives somewhere cosy to sit and play, all without being too overbearingly purple. It's also suitable for all ages so it won't be something you'll need to change quickly because your children have outgrown it.
Create a Dramatic Look With Purple and Dark Gray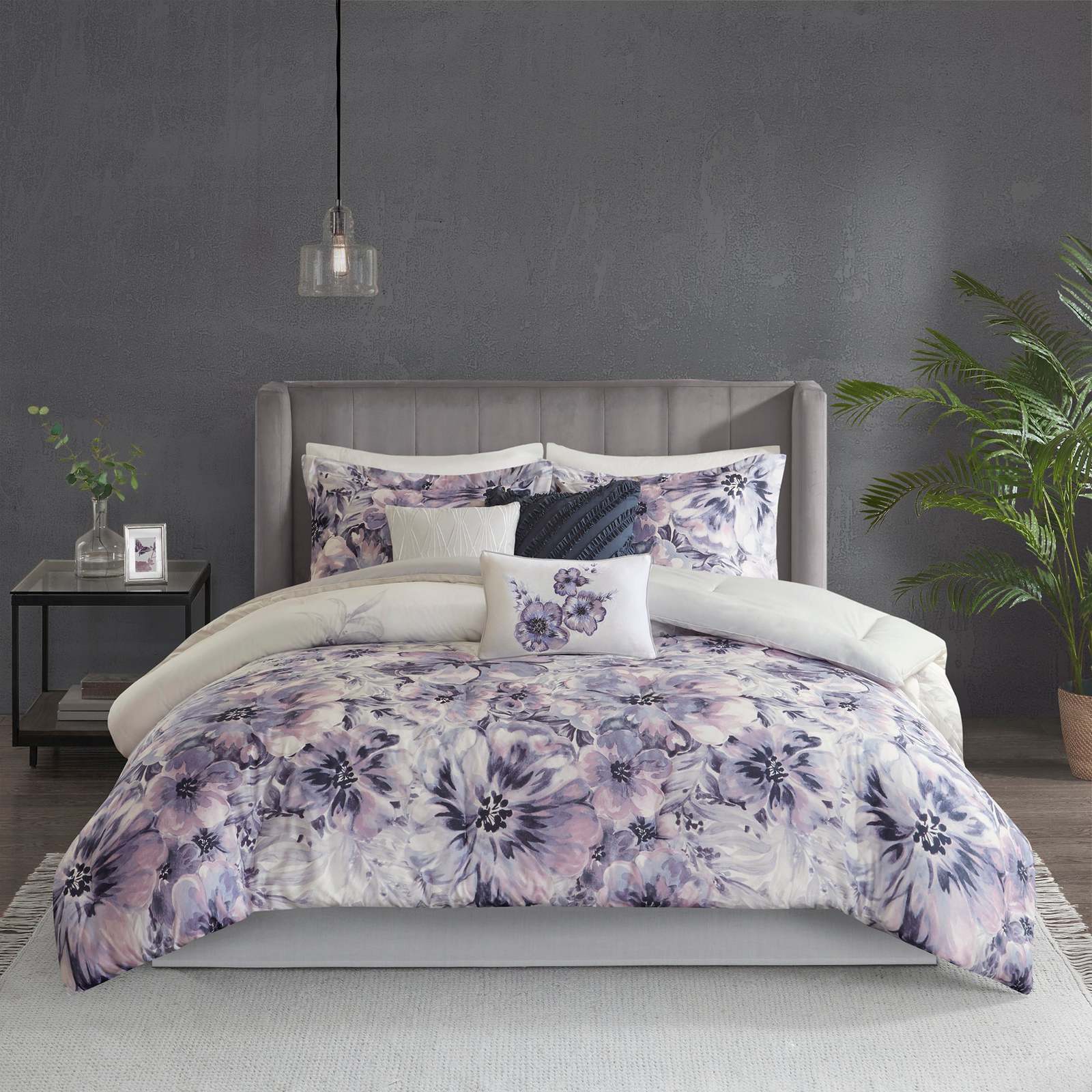 Go all out with a 7 piece printed comforter set, so your purple themed bedroom is covered from all angles. This room has been finished with grey walls and minimal accessories but as there are so many shades in the purple comforter set there would be nothing to stop you from going for light purple walls too.
The great thing about a comforter set like this is that you have so many options for adding finishing touches to the room.
Purple and Mint Green for an Eclectic Look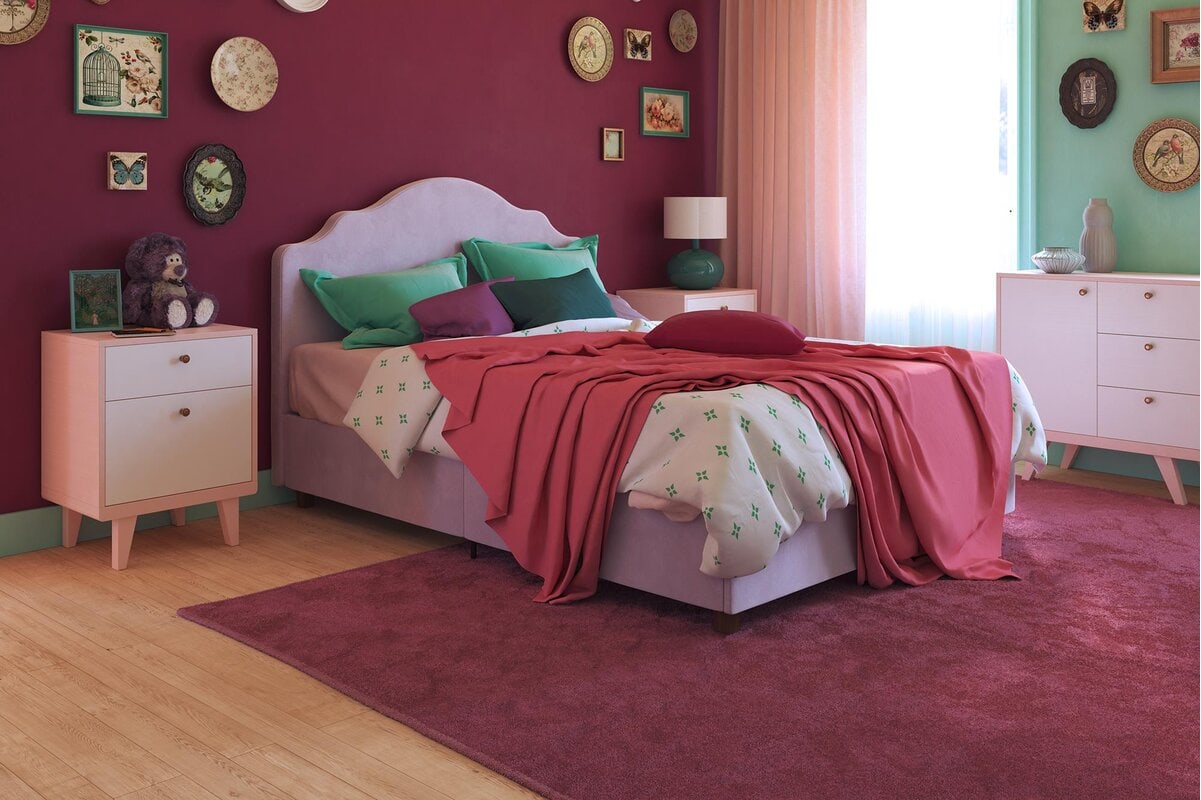 We tend to think of purple being matched with cream, white and greys but there is nothing to stop you from going for something different. This purple and mint kid's bedroom shows off perfectly how you can be bold in your choices and come off as a winner.
The rug in this room is big and bold and combined with the mint green wall and minimalist mint green bed accessories it all ties together perfectly.
Create a Traditional Look With Matching Comforter and Drapes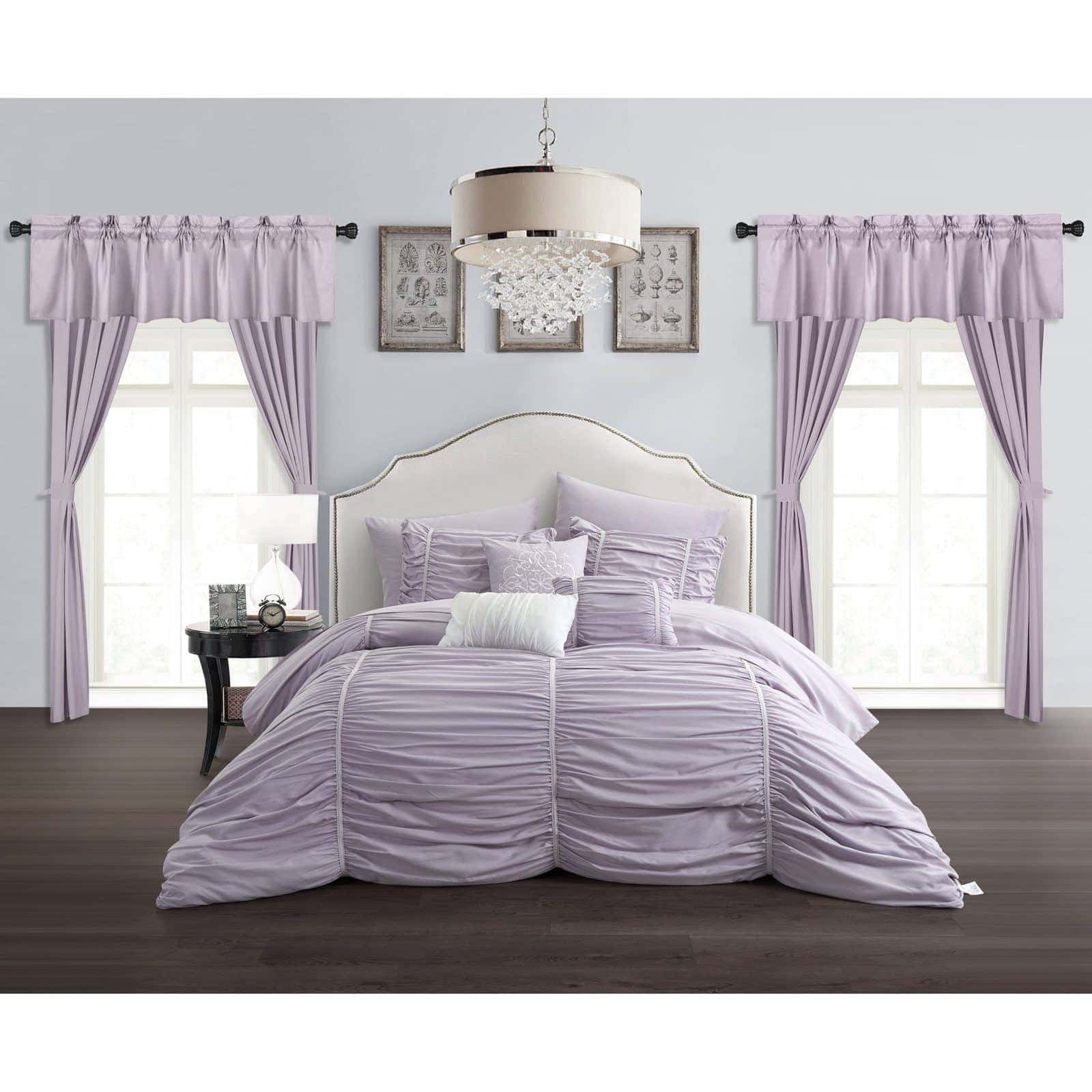 You can create a haven away from the rest of the world with all manner of bedroom accessories as these beautiful drapes show. The pleats in the bedding perfectly match the curtains helping to tie together the whole room.
It's a subtle purple, which goes to show that light purple bedroom ideas work just as well as those wanting to go a little bolder.
Try a Wall Mural for Something Different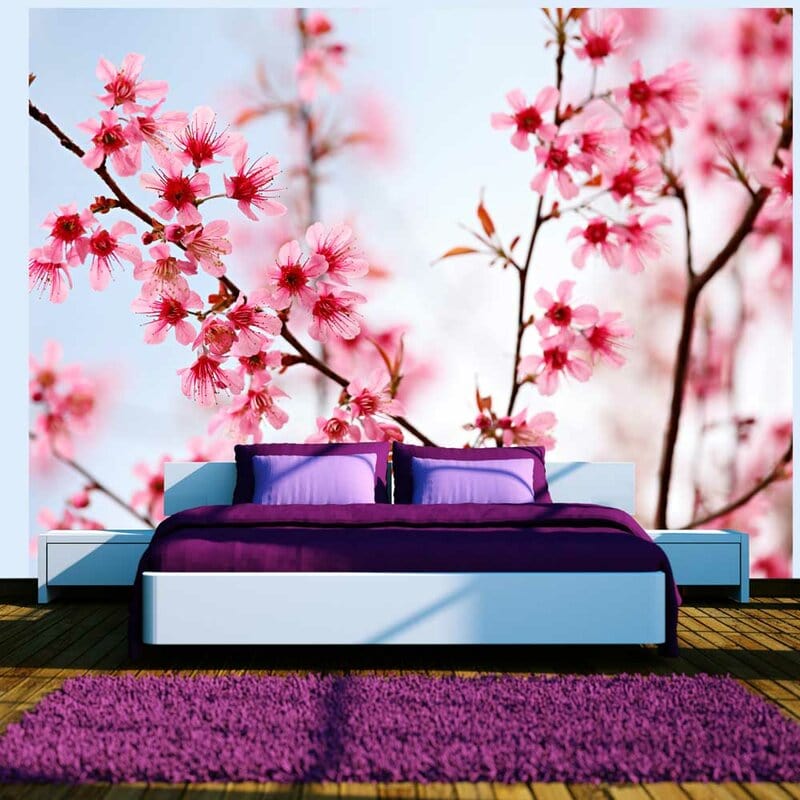 A wall mural is a fantastic way to create something different in your room and works well if you have a large wall to use as your canvas.
The pink and purple floral design of this bedroom helps to make the whole room look friendly and bright; a contrast to the dark purple bedding which works so well.
Traditional Purple Themed Bedroom for Kids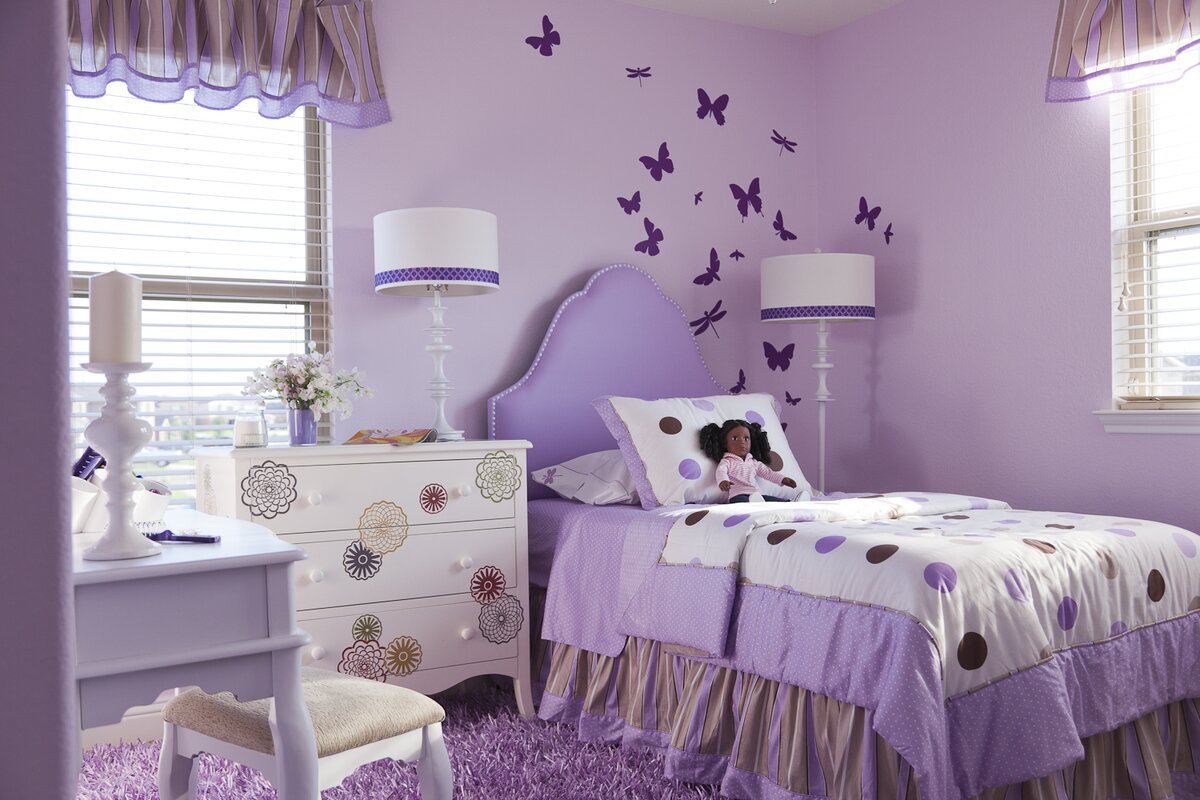 Purple can be a really calming color making it the ideal choice for a kids bedroom. This shows some purple butterflies on the wall as well as purple accessories such as the bedside lamp.
The polka dot bedding adds a sense of fun to the room, but also makes it suitable for all ages. So whether you have a young child into purple, or a teenager that wants a new color scheme. you'll be able to find purple bedroom designs to suit everyone
Create Contrast With Dark Purple and White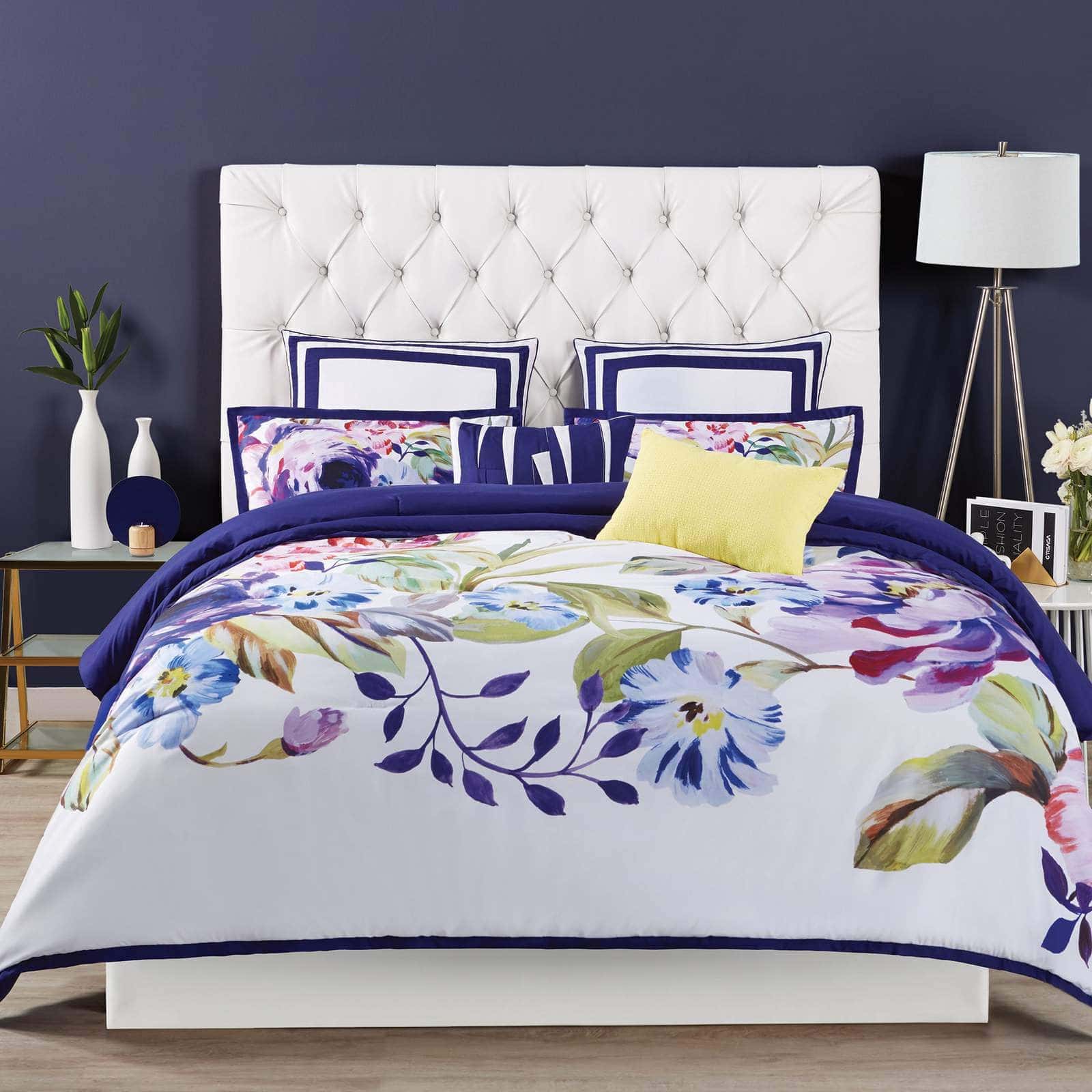 Dark purple is a truly fantastic color but when used in a bedroom has the power to make the room look and feel too dark. The best way to counteract this is to add lots of white and light colors to the rest of the room.
This comforter set has a mixture of white and purple so it will add depth to your room and still match in with the rest of your colour scheme.
Deep Purple and Ivory for an Opulent Look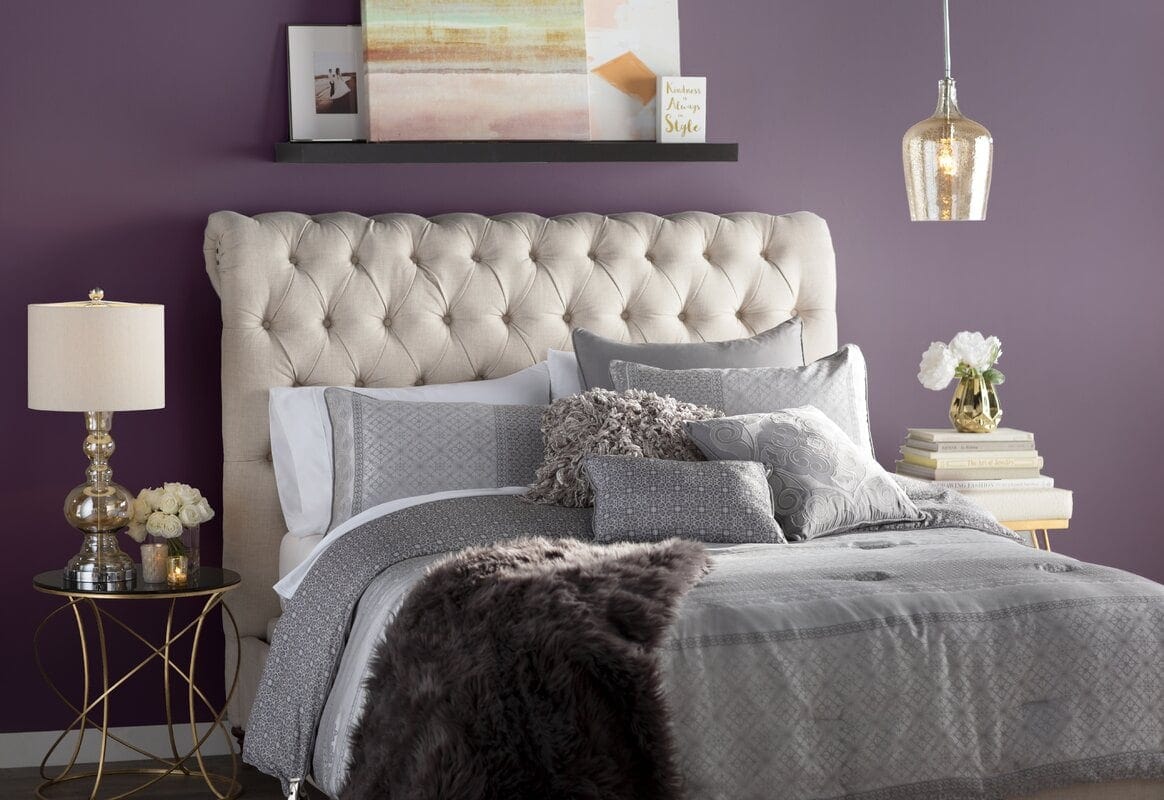 Ivory and purple are the perfect colour partners for a bedroom as you can see in this glamorous bedroom design.
The luxury headboard gives you an immediate feeling of comfort and the grey bedspread works perfectly with the dark purple walls. You could opt for more purple accessories if you wanted to, but this opulent look works perfectly just as it is too.
Create a Feminine Bedroom With Violet and Ivory White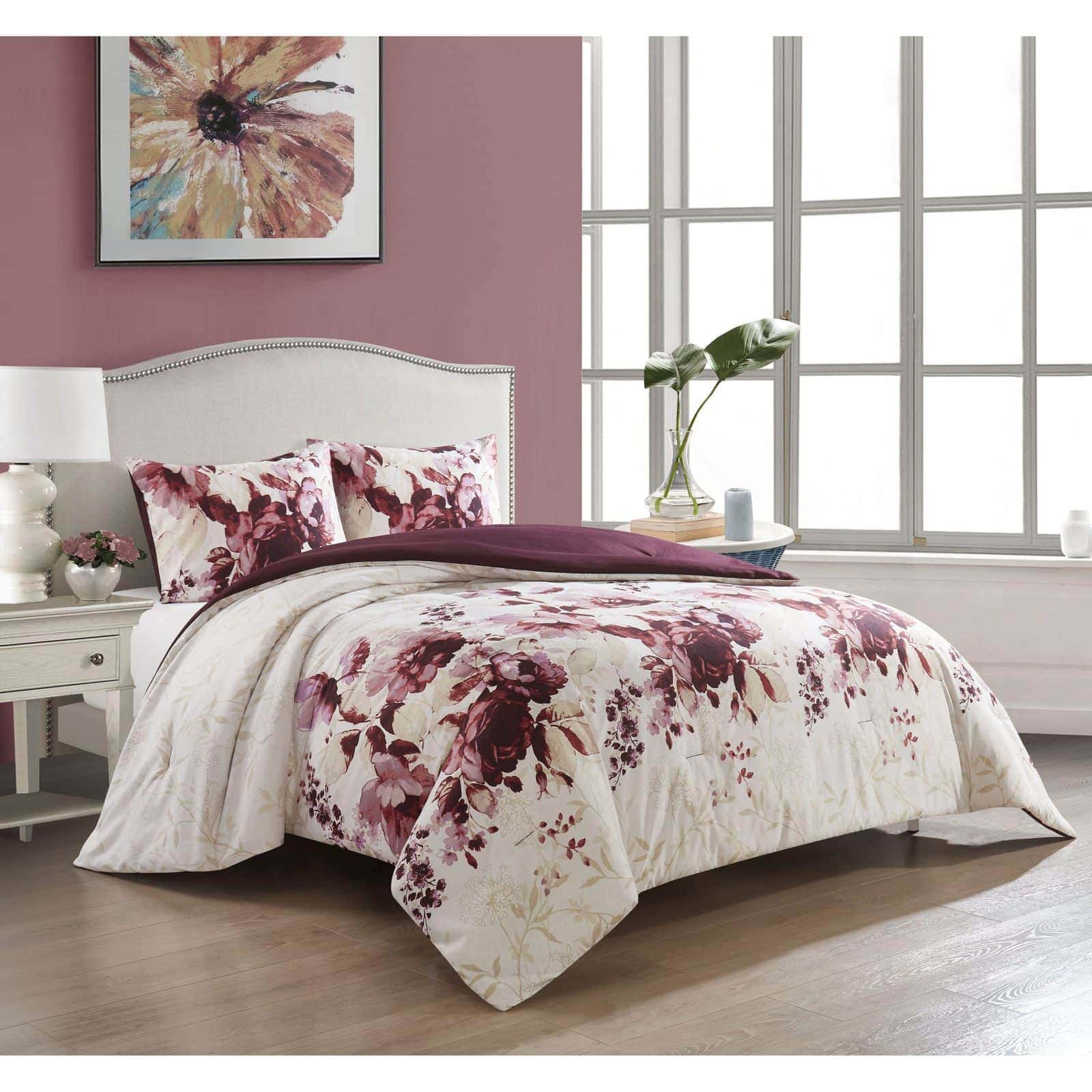 For a bedroom that screams comfort, this Porch & Den Wapato comforter set is perfect. Oversized on the bed it makes everything look comfortable at the first glance.
Matching purple walls and some extra comfortable pillows helps the whole bedroom come together and make it the perfect place to relax and get some peace at the end of a hard day.
Muted Purple and White for a French Country Chic Look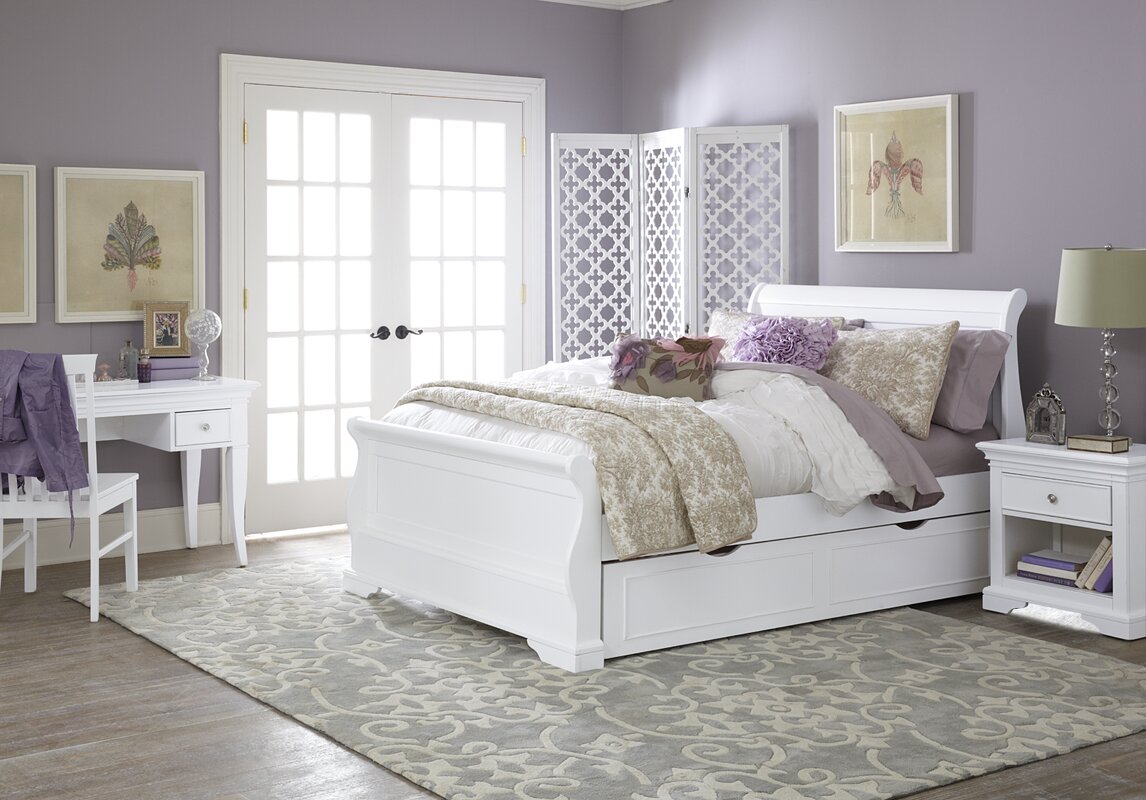 The dusty muted purple colour scheme in this room works perfectly with the large French doors and luxurious grey rug. Neutral wall art brings together the whole scheme and helps to give a country chic look to the whole room.
If you want to create a relaxing bedroom, this color scheme hits the nail on the head. When it comes to purple bedroom ideas for adults, you can't go wrong with this look!
Add Some Drama With a Purple Accent Wall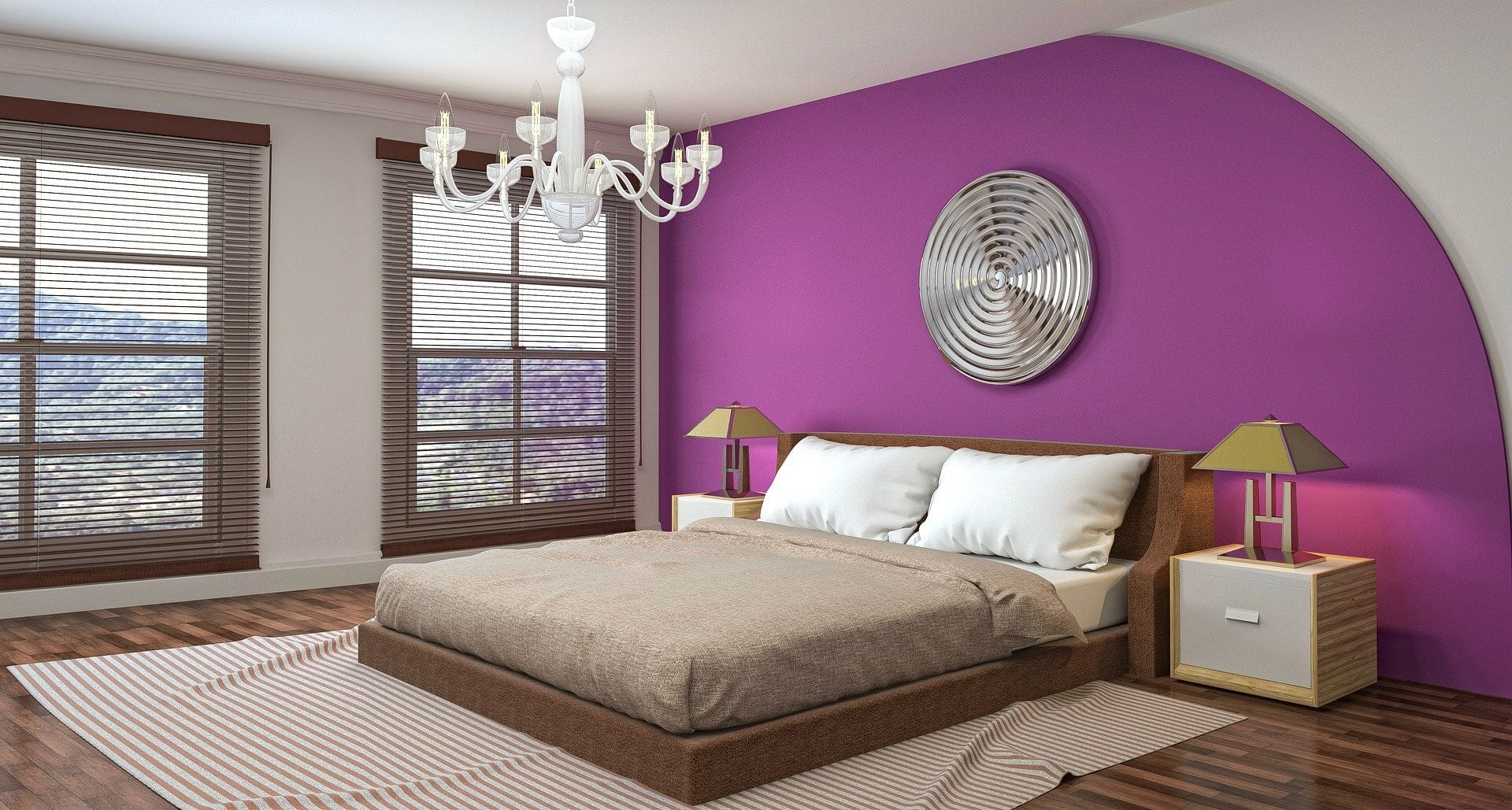 If you don't want to go full-on purple, you could opt for a purple accent wall instead. This gives you plenty of purple in your room but also means you have plenty of options for different color accessories throughout the room.
You can of course opt for some purple accessories if you wish, but equally, just one purple wall works just as well.
Create a Bohemian Look With Color Washed Purple Walls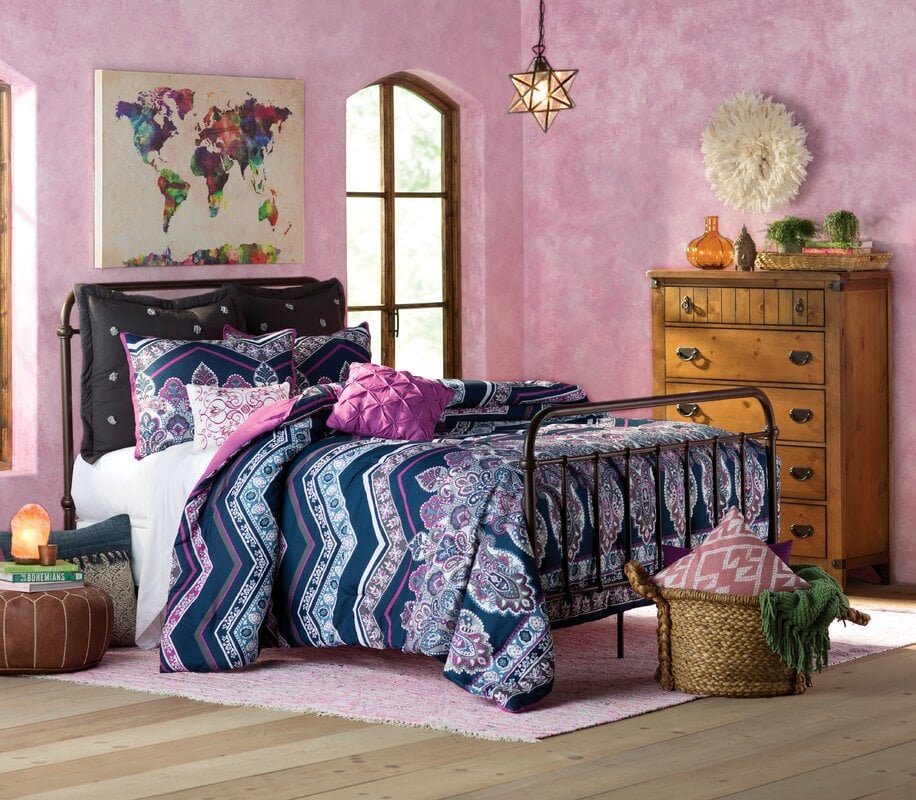 To create something a little different then you could go for a bohemian look. This particular color scheme combines purple and blue, but you could go for any color scheme you like.
The paint effect used here on the walls is called color washing. This is an affordable way to create a unique look in your bedroom, and it works especially well with this bohemian style decor.
The wall decorations are minimal but help to accentuate the look of the room, which creates a perfectly bohemian style purple bedroom.
Deep Purple Accent Wall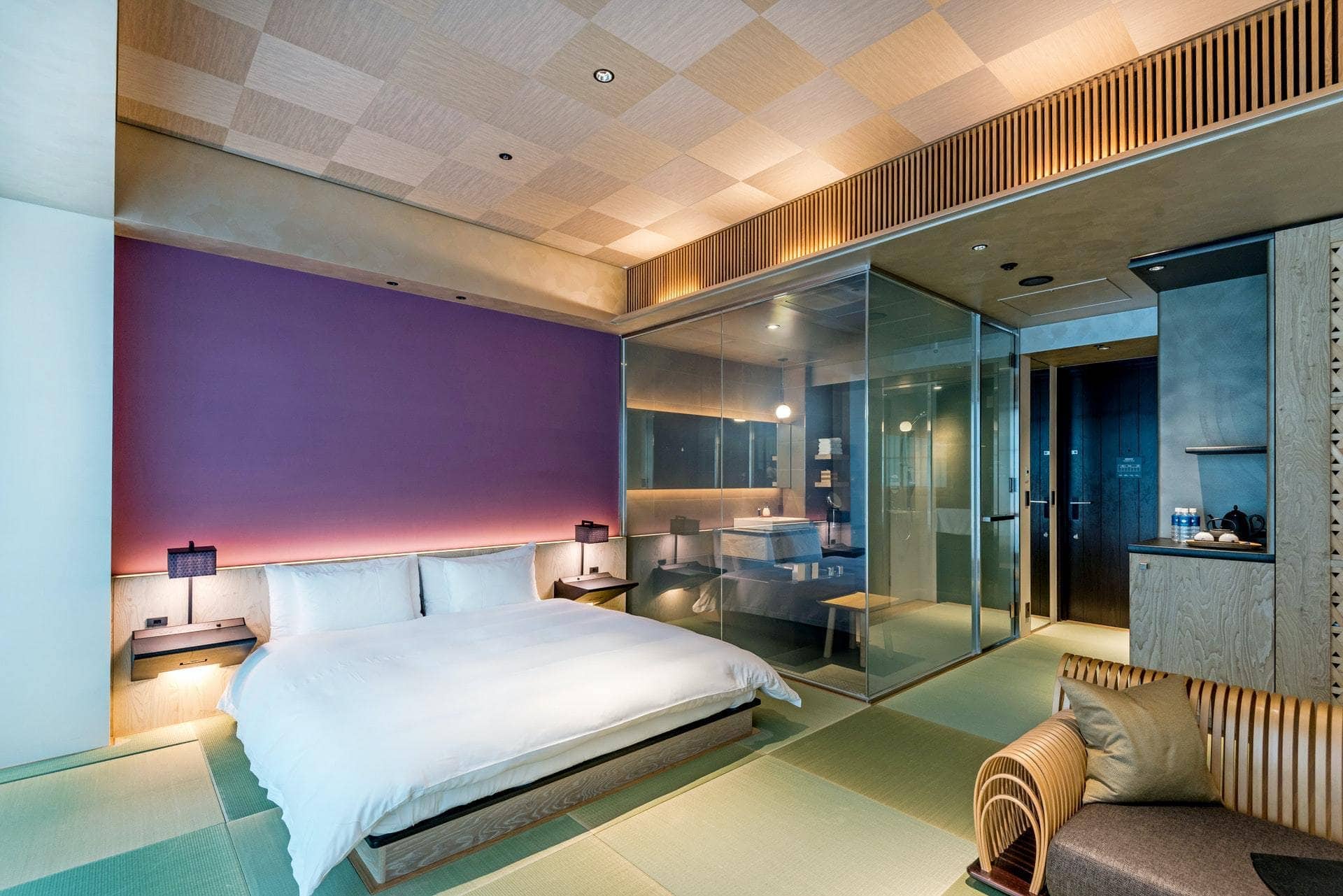 If you want to add some drama to your bedroom, then a deep purple accent wall like this one is the perfect way to do it.
Having a feature wall allows you to decorate the rest of the room in any way you like, while still giving you a splash of color to make a statement in your room. The natural wood accents and neutral decor in this room contrast beautifully with the bold purple.
Create a Modern Look With Purple and Gray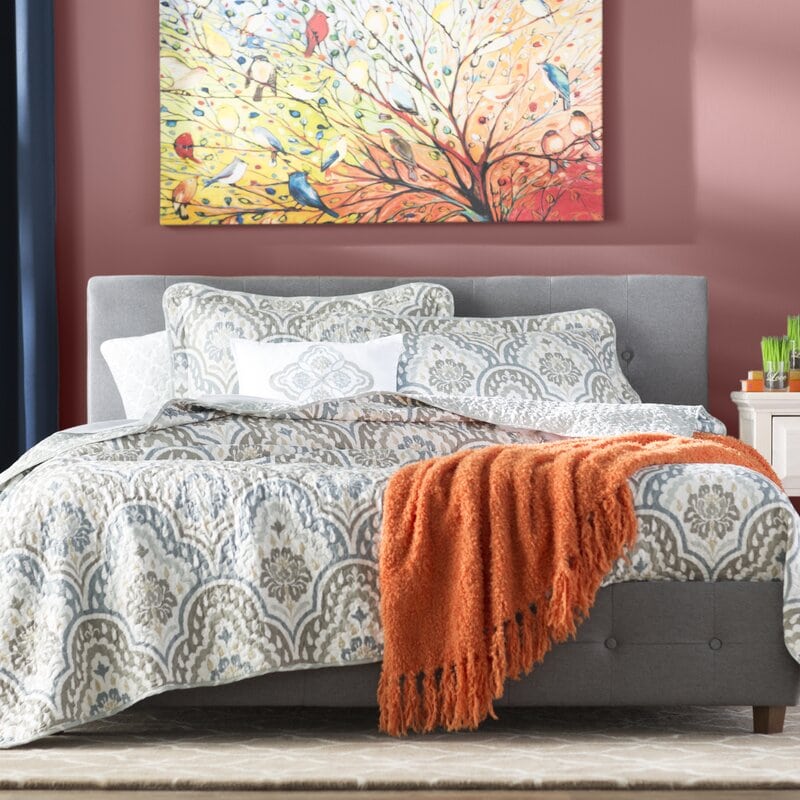 Purple is a really modern color and can work well with other bold, bright colors. As with all purple bedroom ideas it is about making it work for you.
This perfect blend of purple and grey with bold orange accents gives the bedroom a warm feeling and allows you to finish off with any color accessories which will just add to the bright colorful look.
Glamorous Grey with Hints of Purple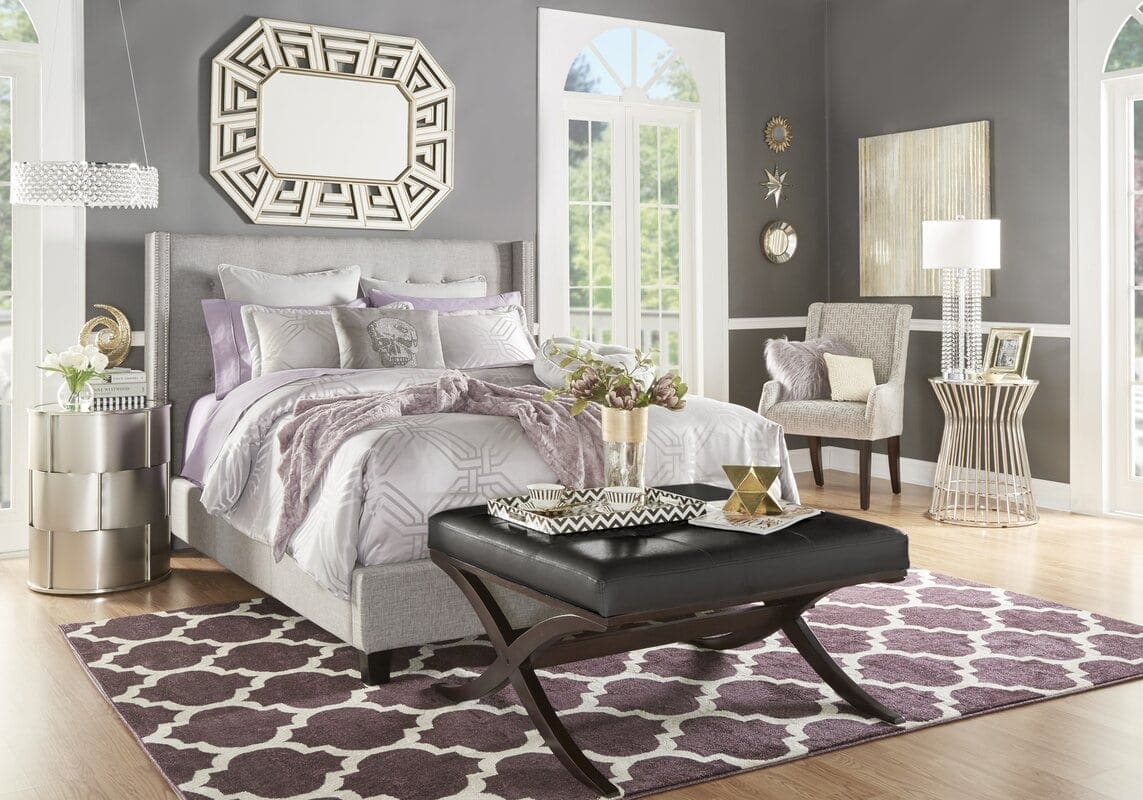 If you want to create a glamorous bedroom, then try using grey as your base, with hints of purple to add a touch of femininity and glamor. The dark purple rug and the light purple bedding pull everything together to complement the grey walls perfectly.
As purple bedrooms go, this one certainly looks luxurious and is easy to achieve with the right choice of color and accessories.
Final Thoughts…
If you've been thinking about decorating your bedroom with purple, go for it! You can go as bold or as subtle as you like with your purple themed bedroom. If you want to keep it subtle, try starting with a light grey palette, and adding in hints of purple by choosing purple bedroom accessories.
As with all home decor, choosing a color scheme for your bedroom is about personal taste. In this article we've looked at lots of different purple color schemes for bedrooms so you can take inspiration and create the perfect bedroom for you in your home.