Decorated Life is reader-supported. When you buy through links on our site, we may earn an affiliate commission. Learn More
17 Coastal Wall Decor Ideas that Will Inspire You
Whether you're looking to complete a room with some beach wall art or you want to go for a full-on beach theme in your home, you'll be glad to know that making your vision a reality shouldn't be too much of a chore.
In fact, there is an abundance of coastal wall decor ideas out there, so whatever you have in mind you should be able to find something to suit.
The good news is that you will be spoiled for choice when it comes to beach decor ideas. To make life just that bit easier, I have put together a collection of ideas to hopefully help give you some inspiration.
Crashing Waves Wall Mural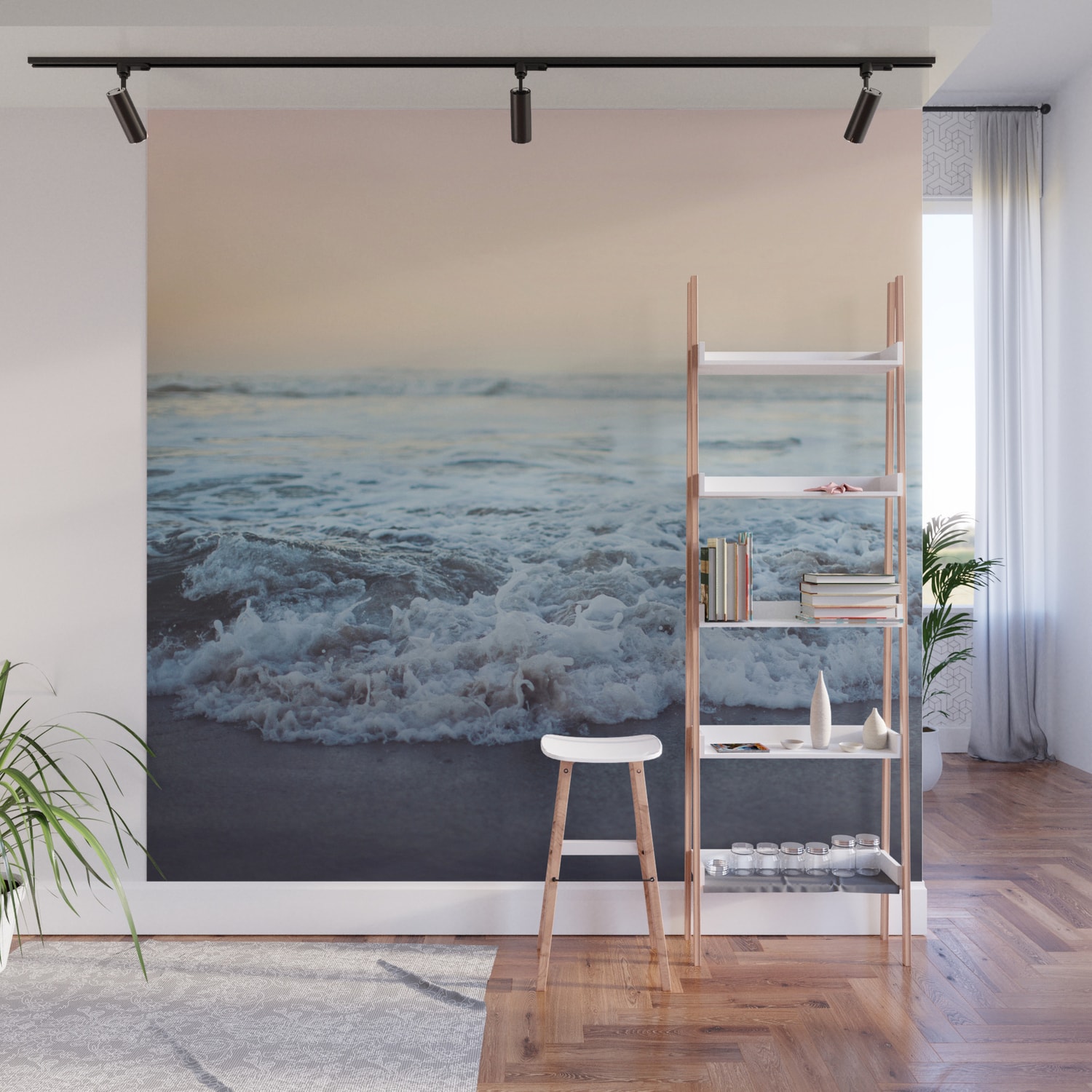 There is something so relaxing about watching the waves crash against the shore. Sitting on the beach and watching the waves roll in, not much beats it!
If you can't get to the beach every day, don't worry! This crashing waves wall mural is the perfect addition to a bedroom. It works perfectly as a feature wall and uses subtle colors that would match with just about any other color scheme you wanted to use.
Pair of Horizon Prints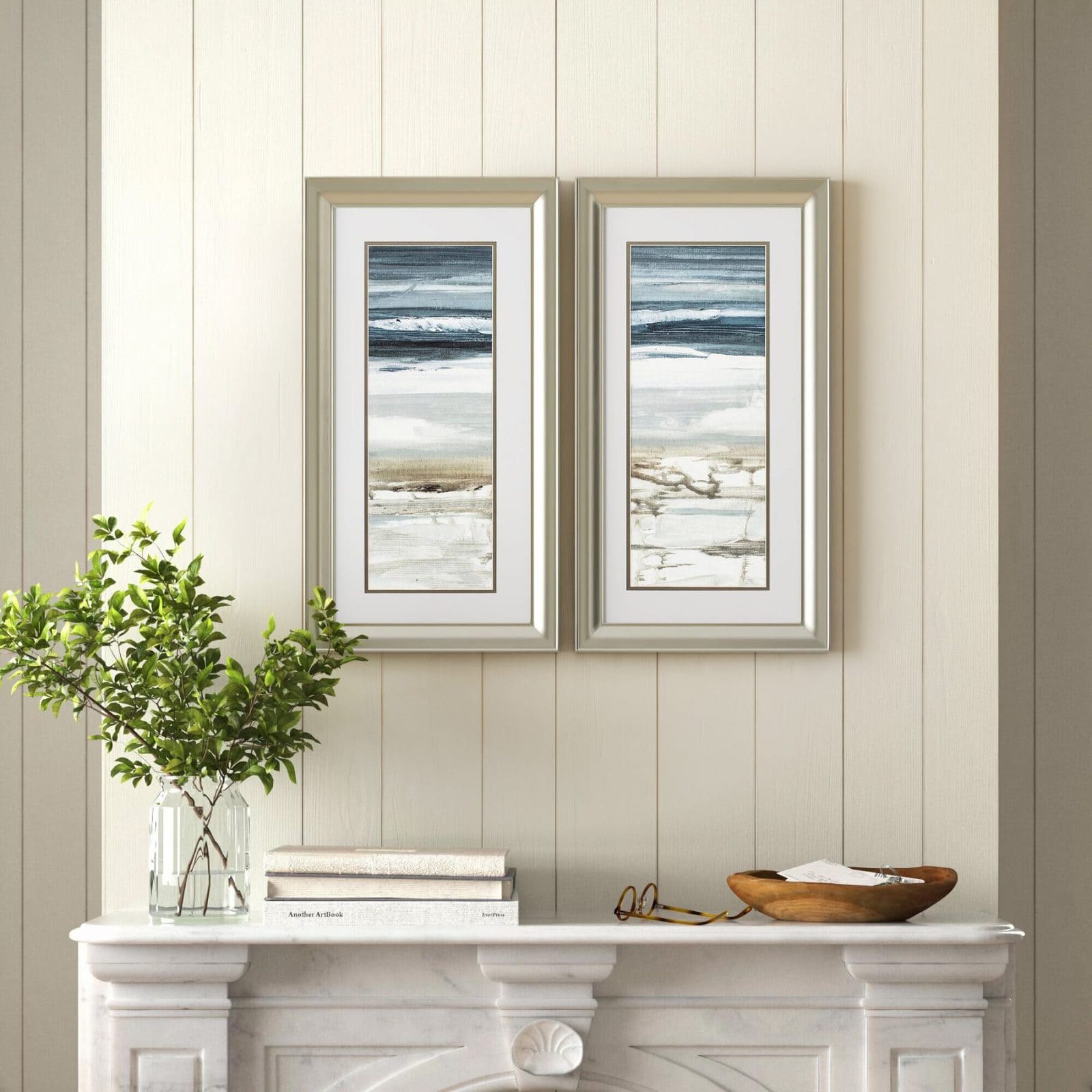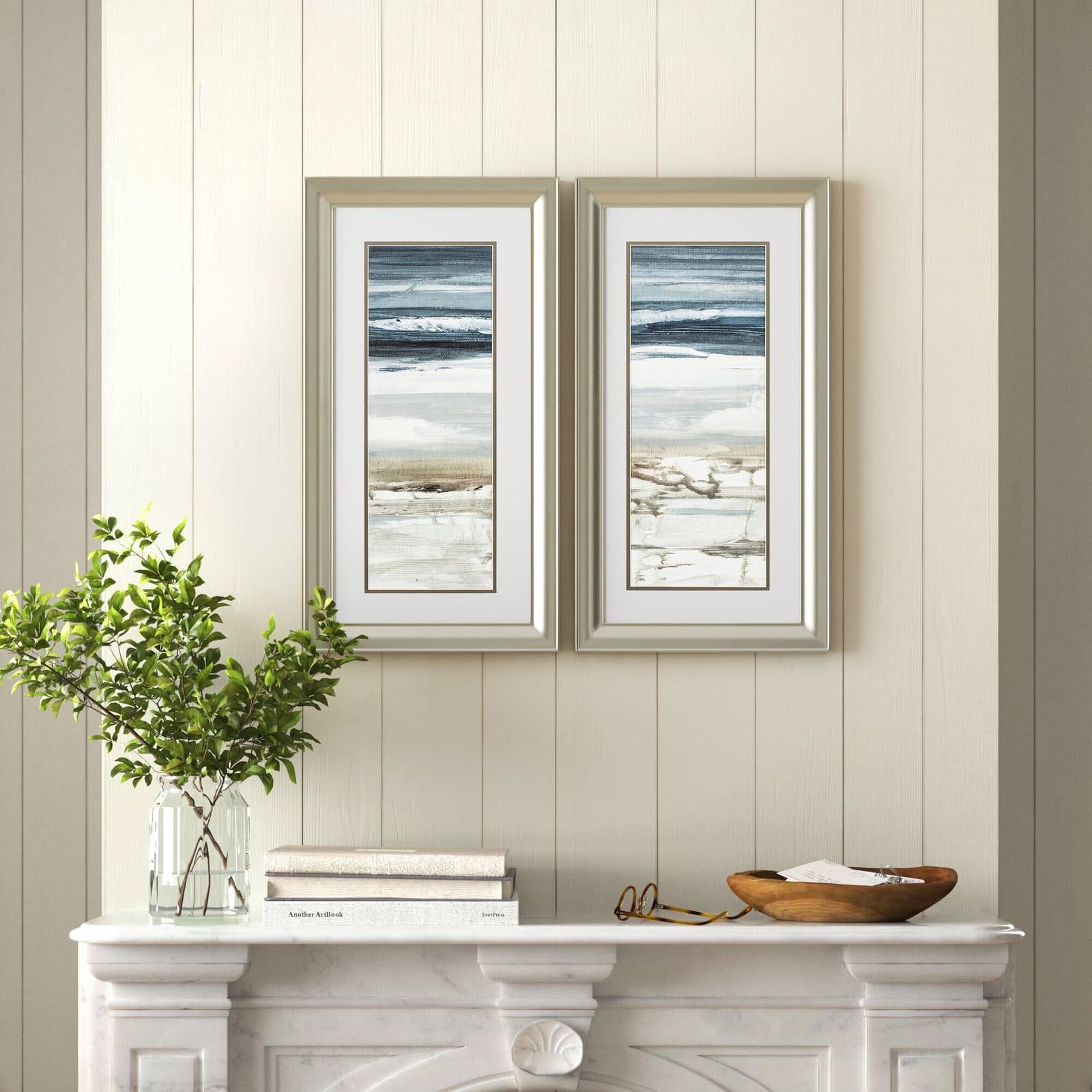 You don't have to go all out if you want a little piece of the coast in your bedroom. As this pair of prints shows, you can add a subtle nod to the beach without going for a full-on beach theme.
This gorgeous pair of prints is perfect for adding a touch of coastal charm to any home. Their longer profile and elegant frame would look great in a living room, hallway, or even a bathroom.
Teal Octopus Wall Mural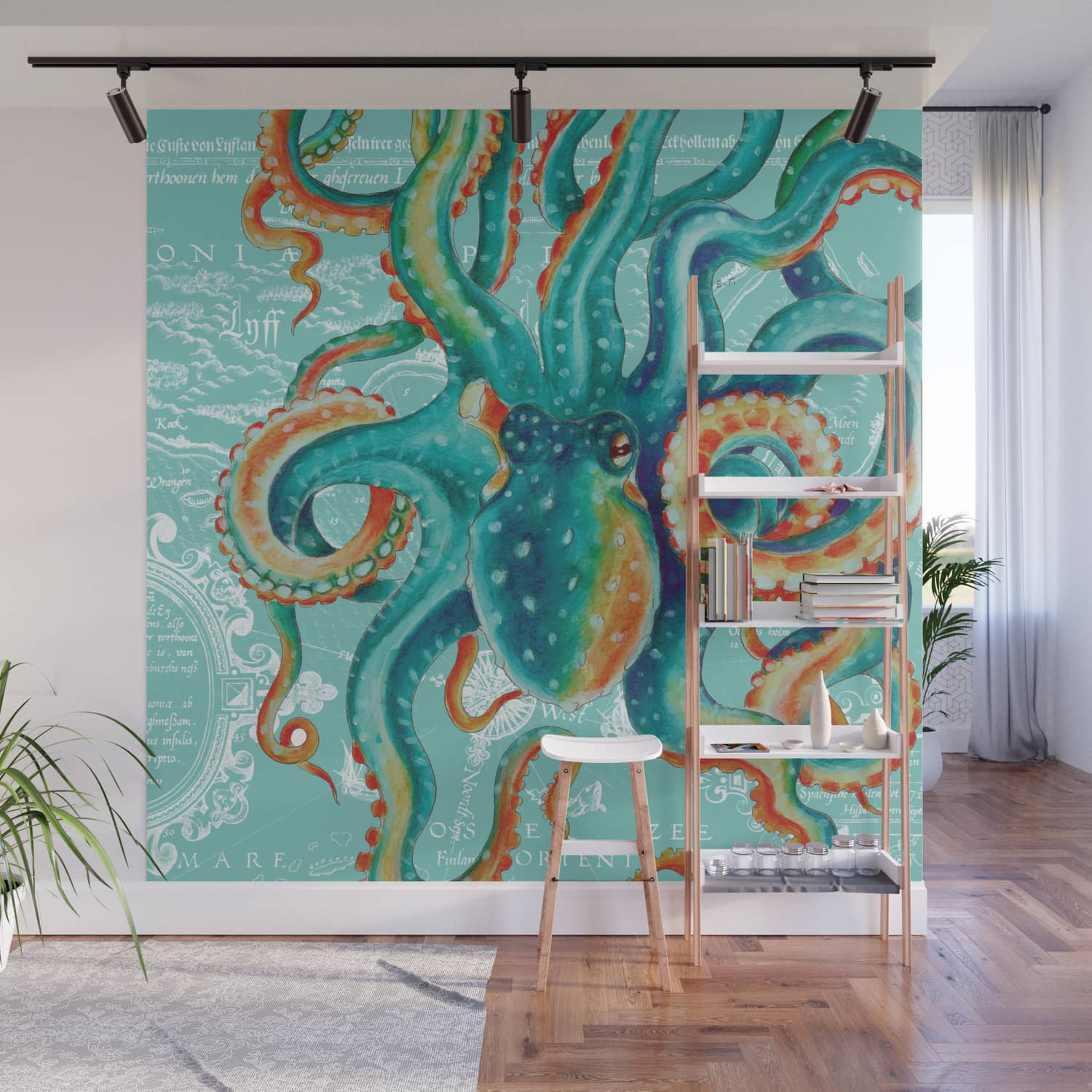 If you're feeling that you want to go bold and brave then a stand-out piece like this teal octopus wall mural should tick all the boxes.
It features a gorgeous color palette of blues, whites, and oranges, and would be the perfect addition to a living room, bedroom, or even a home office if you want to brighten things up!
Wooden Oars Wall Art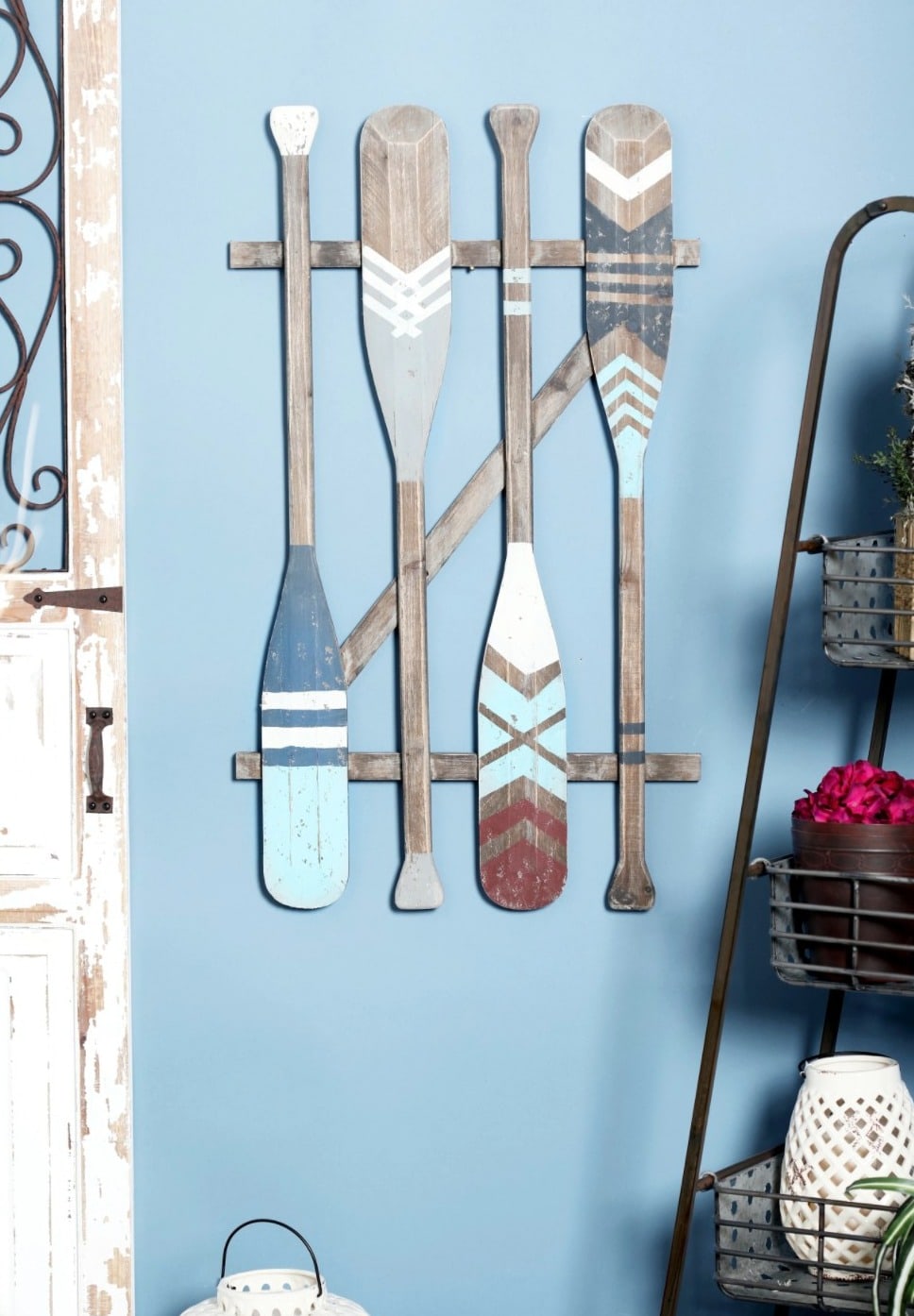 Coastal wall decor ideas don't just have to be pictures of the beach – there is so much to love about being at the seaside. This piece of wooden wall art is a nod to the beach but also a little nod to adventure.
The oars are a great size and the different colors add a little warmth to the piece. You'd be able to get away with displaying this in just about any room in the house. Beautiful!
A trio of Wood Coral Art Prints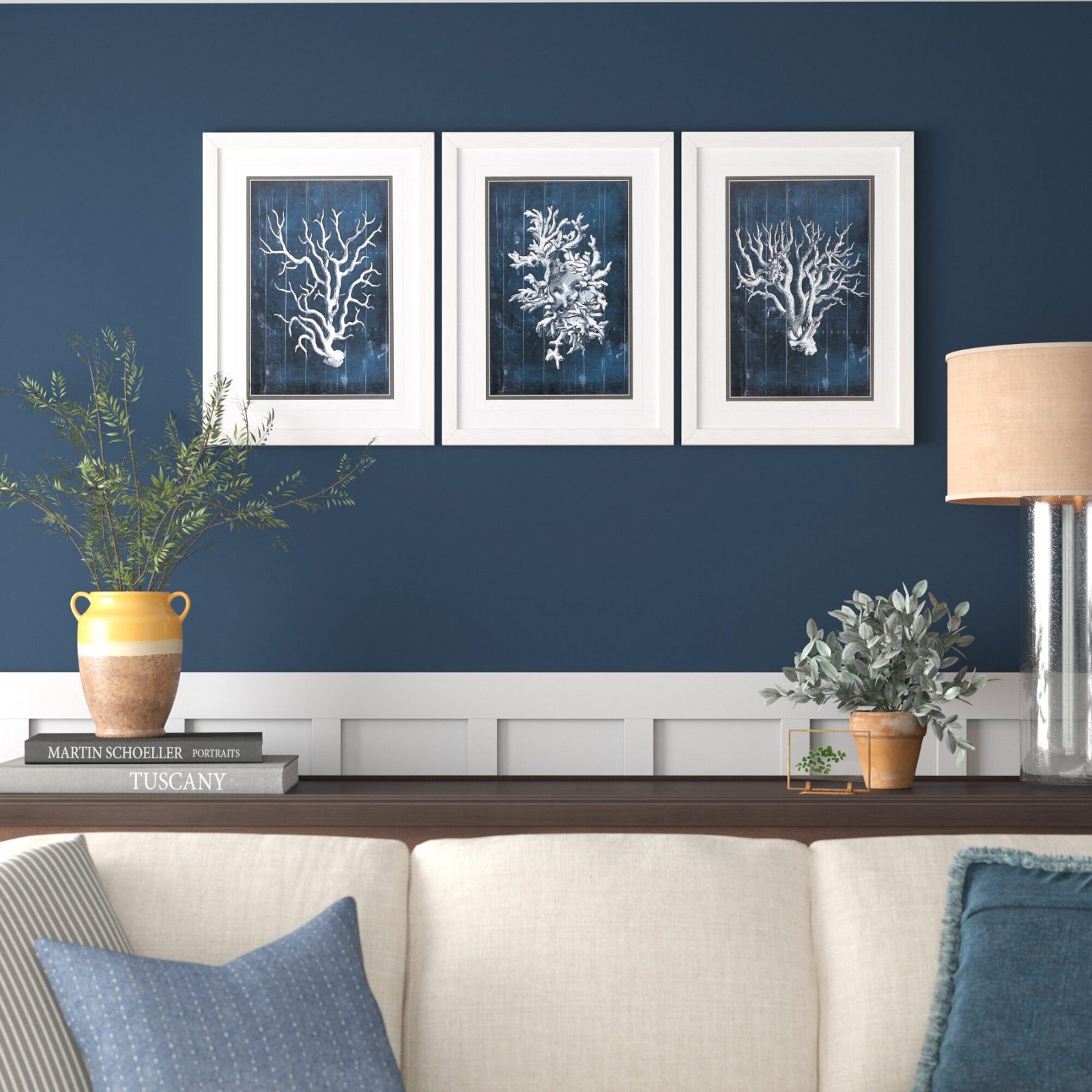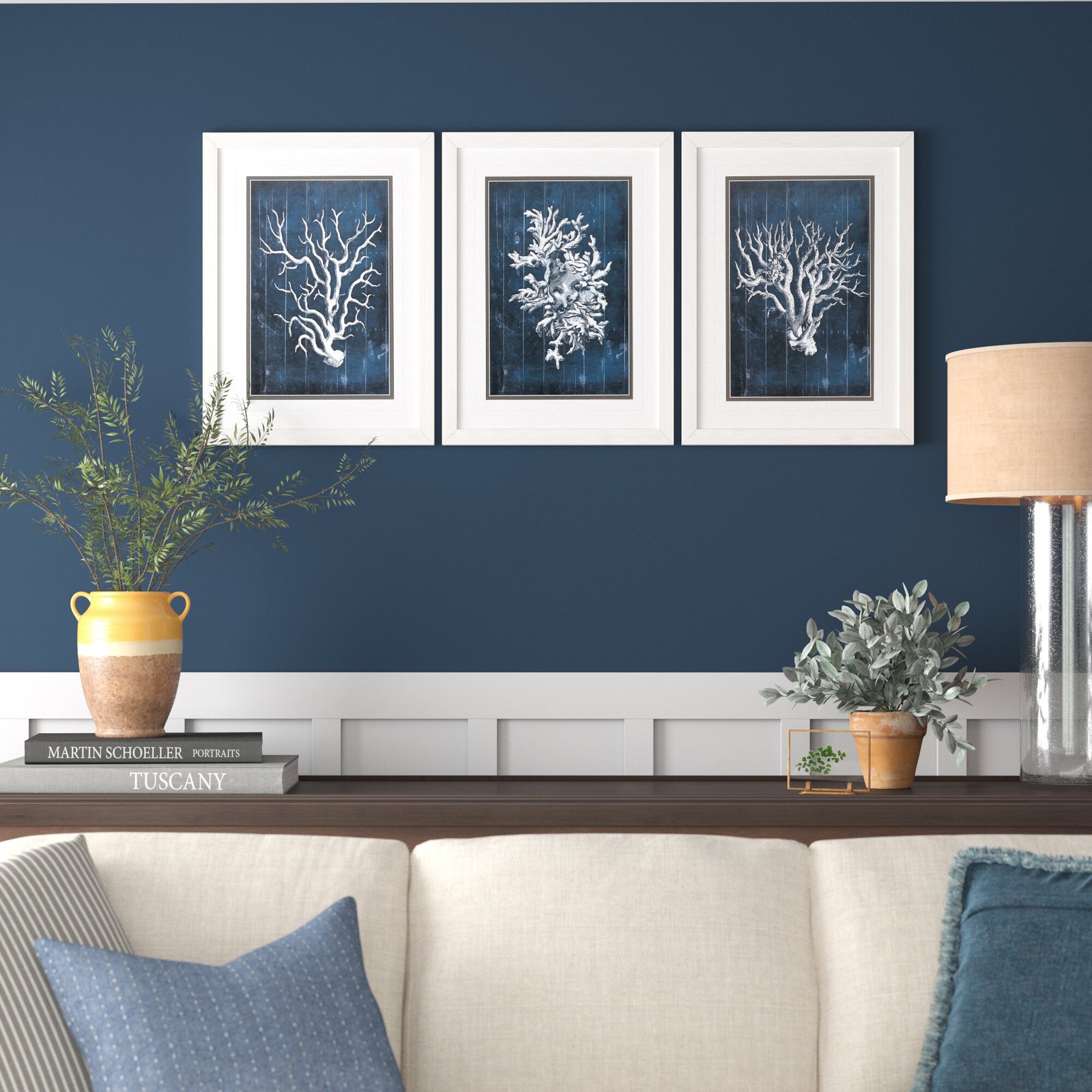 There is no denying that coral is beautiful, so showing it off in some artwork can be the perfect way to bring a bit of sea life into your home. This white and blue trio of prints works beautifully against a dark blue wall here, creating a calming ocean aesthetic.
The thick white frames finish off the prints perfectly, contrasting with the blue of the print and helping them stand out from the wall to make a real statement in the room.
Surf Shack Wall Tapestry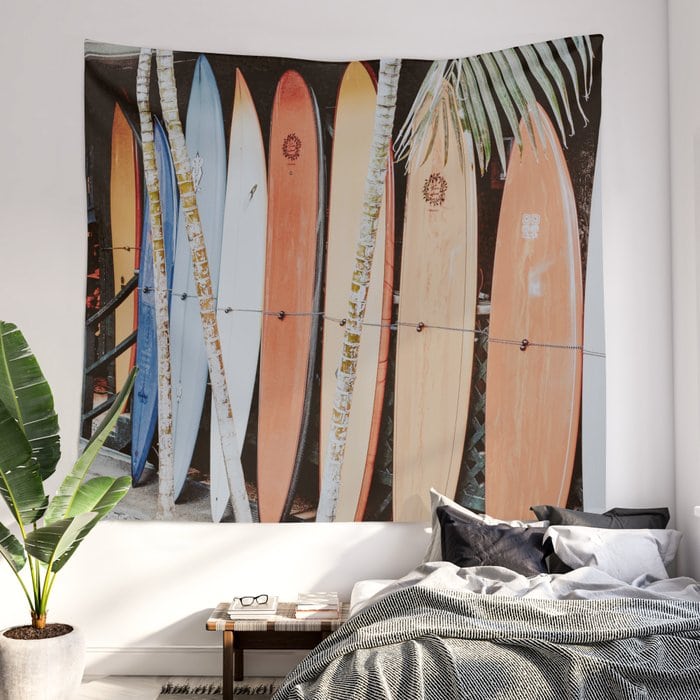 If wooden beach wall art isn't your thing then perhaps a tapestry could be just what you're looking for. This beautiful surfboard wall hanging will have you wishing yourself away to the beach for some fun in the sun.
The great thing about this tapestry is that they have a wide range of sizes available, so no matter where you want to hang it in your home, you'll be able to find a size that suits you.
School of Fish Wall Art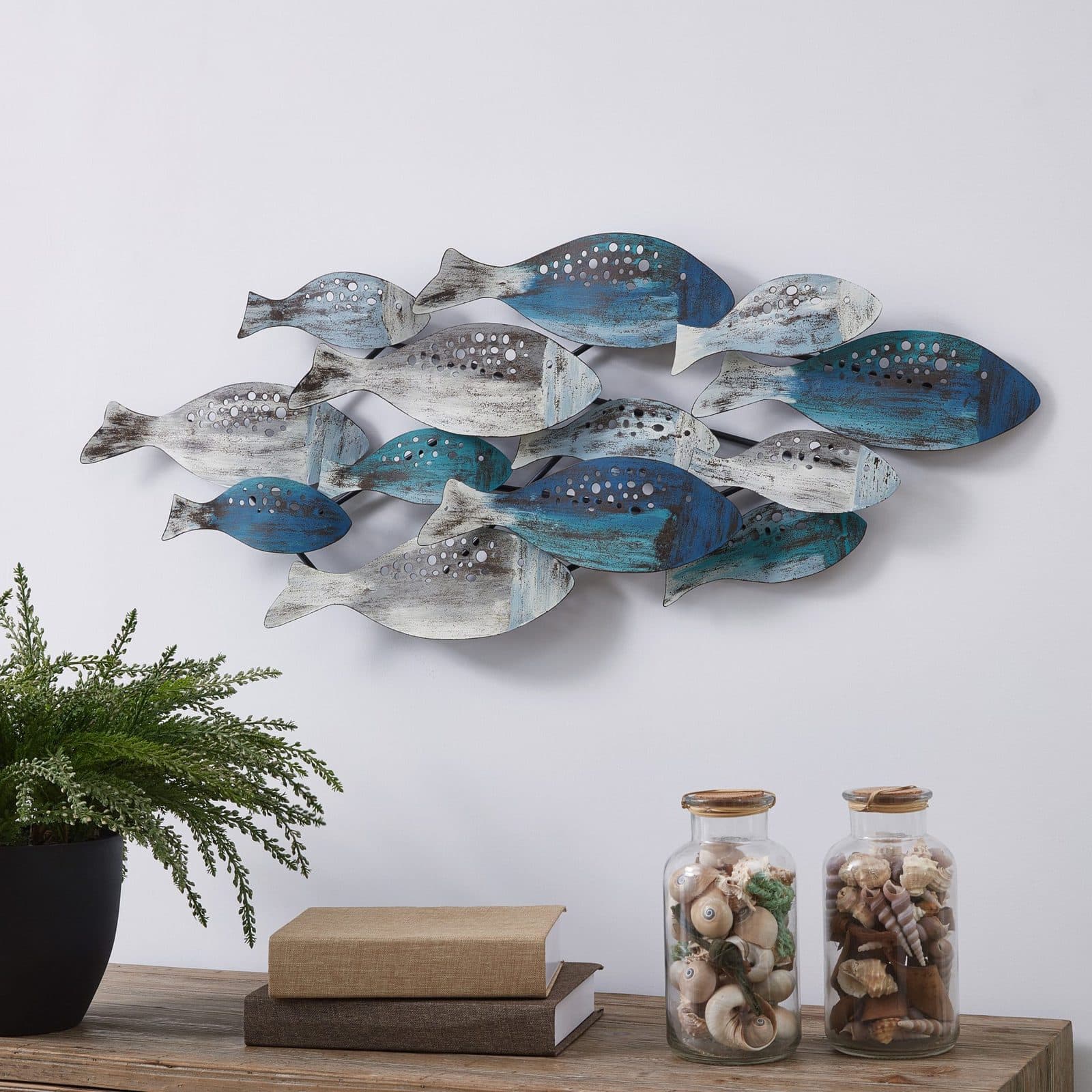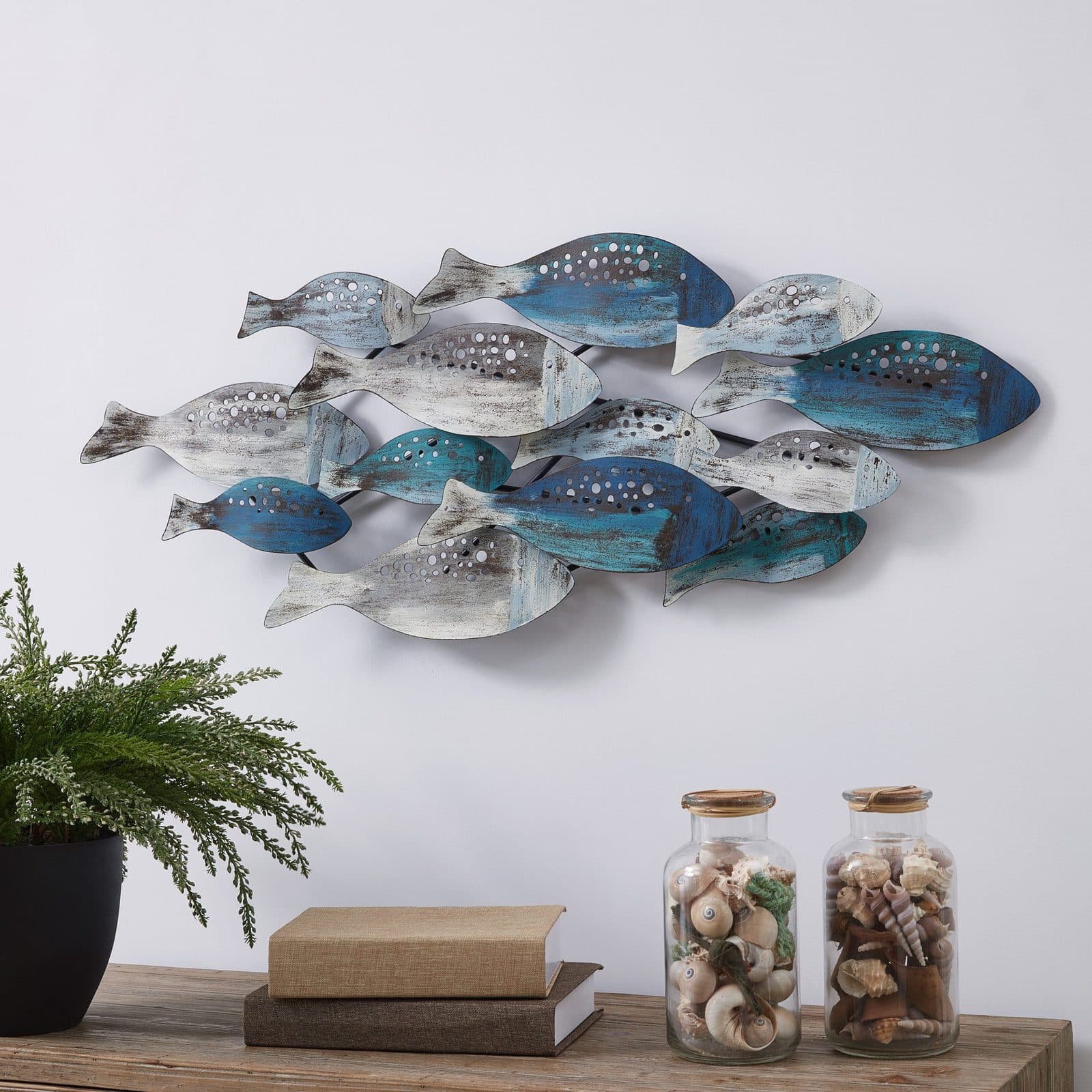 Brighten up any room in your home with this charming school of fish metal wall art. It comes built-in with everything you need to hang it on a wall, so installing it will be easy.
The artfully distressed finish makes this a really unique piece of art. It would fit perfectly alongside some beach-themed art or within any room in your home that you wanted to proudly display something a little more unusual.
Blue Sea Wood Wall Art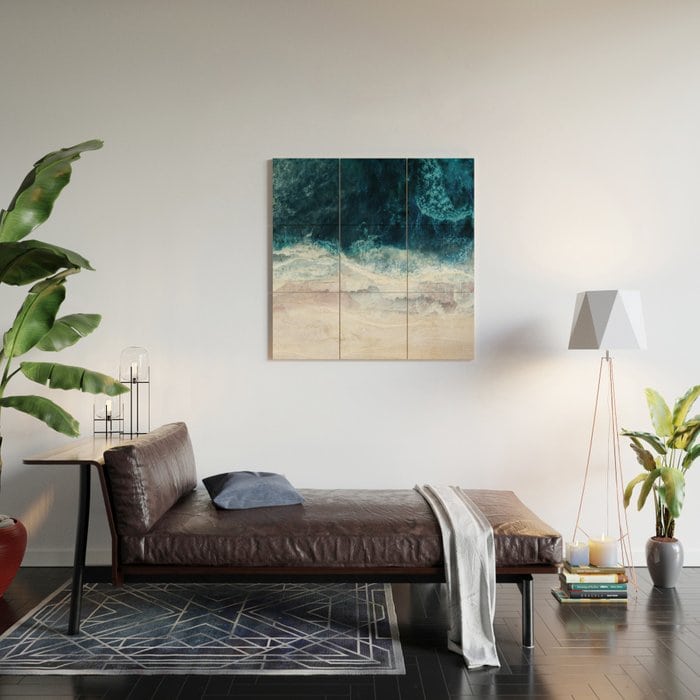 This dark blue wood wall art is absolutely stunning and would work in almost any room in the house. It is designed to be an eye-catching piece completely on-trend with current beach theme interior styling.
The great thing about this piece of art is that the squares come separated so you can space them out as you like, creating the perfect coastal art gallery look for your home. It comes in a variety of sizes too, depending on the space you want to fill.
SoCal Sorbet Framed Print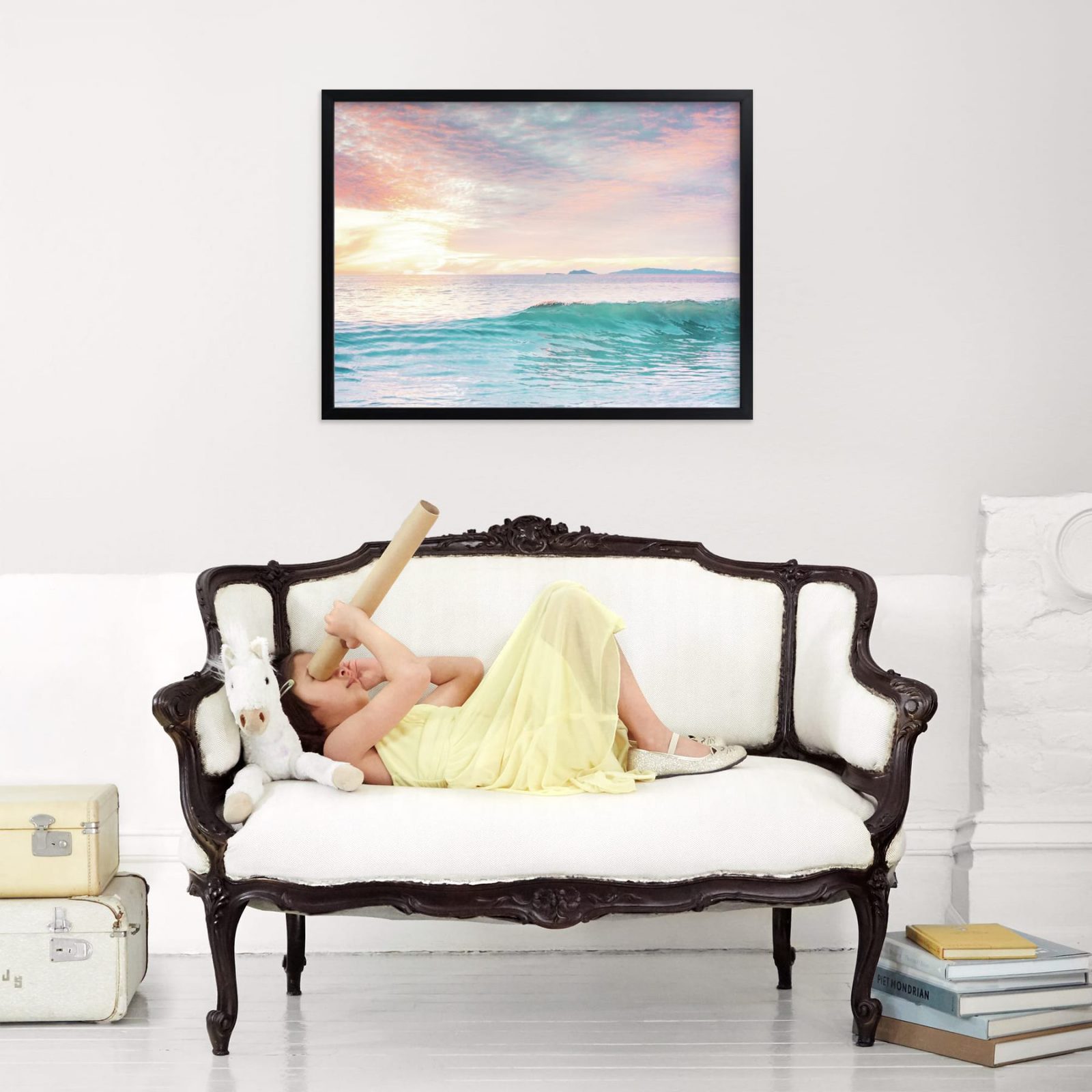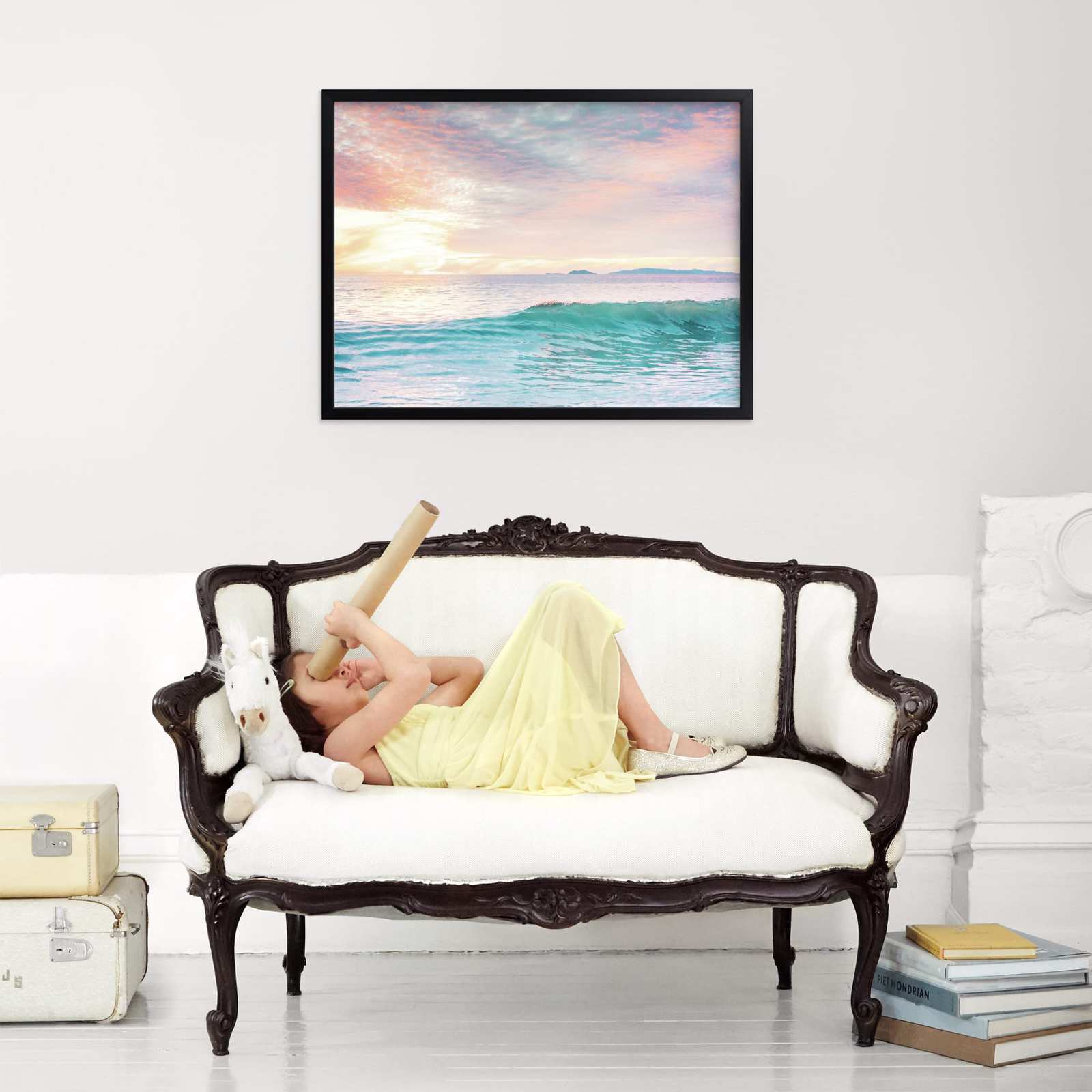 If you are looking for coastal wall art that gives you a feeling of serenity and relaxation then you will definitely want to check out this wonderful piece.
From the beautiful blue sea to the subtle pinks in the sky, this print sums up an early morning on the beach watching the world wake up perfectly. With the option to have it with or without a frame, you can also have this as an art print or canvas, allowing you to pick the perfect piece for you.
Shell Decorative Wall Sculpture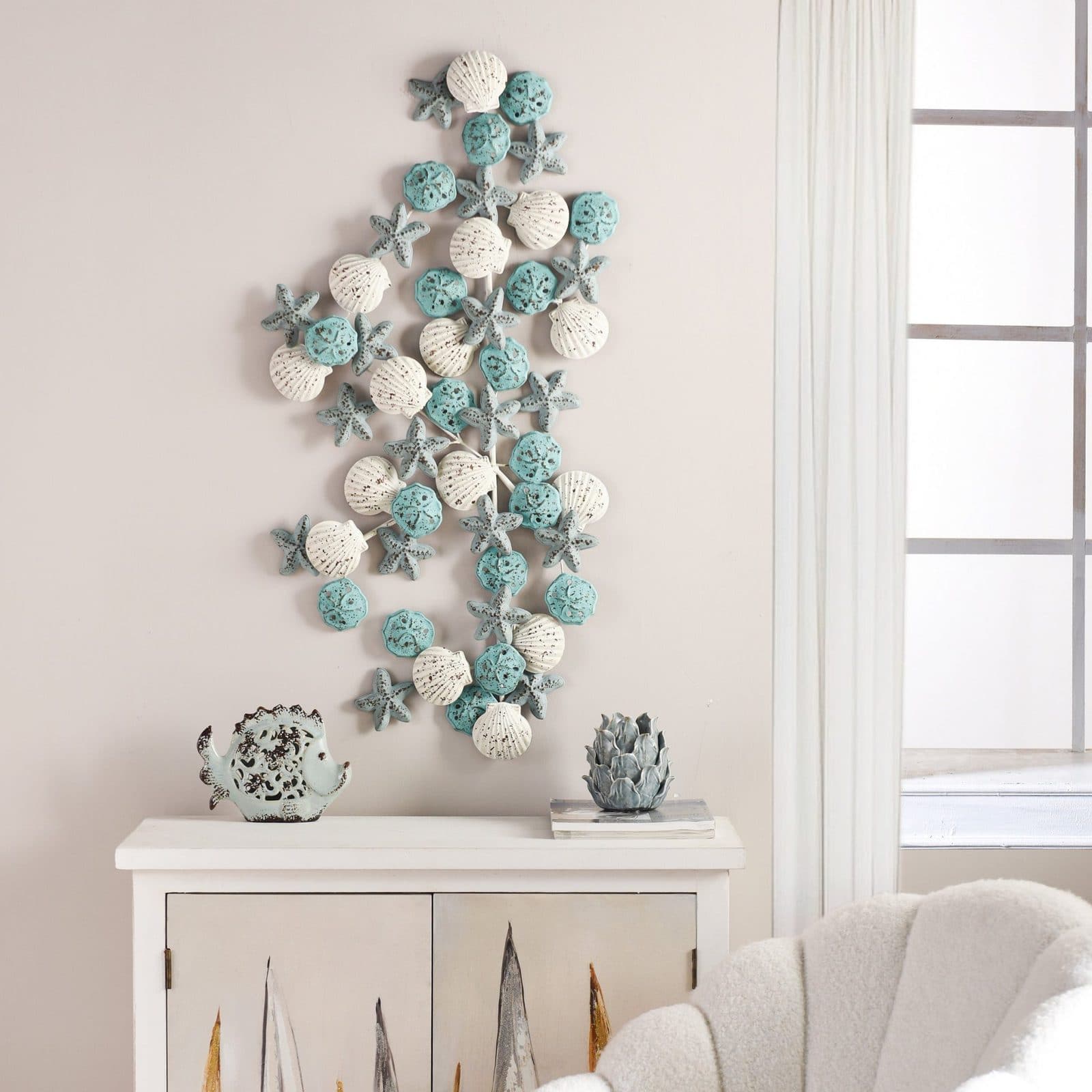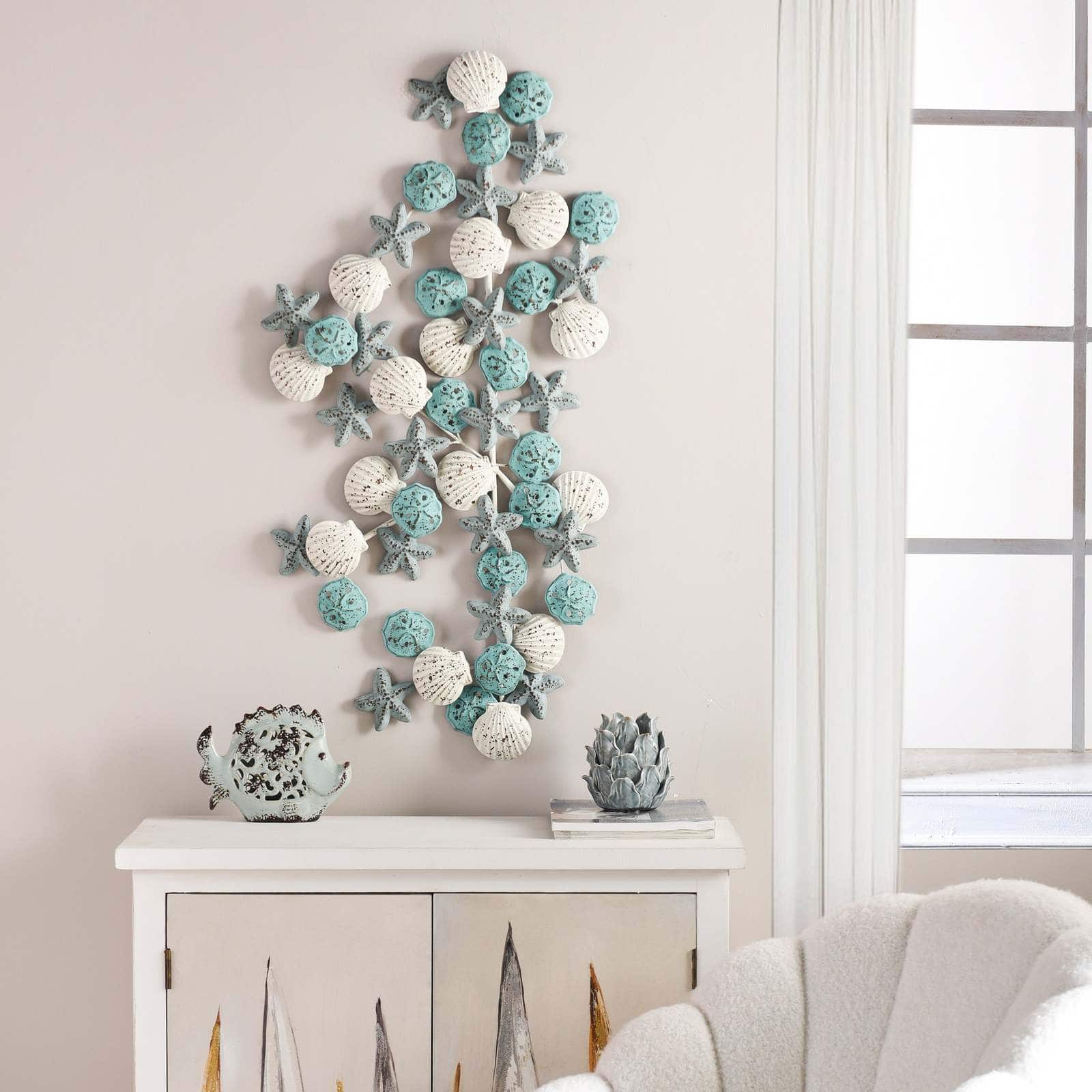 Hang a world of under-the-sea magic on your wall with this stunning wall sculpture. The metal piece brings together starfish and seashells, with a beautiful blue and white finish.
The subtle coloring would make it a wonderful addition to a nursery or bedroom. With the choice to hang it either vertically or horizontally, you can make this fit into pretty much any space in your house.
The Wild Sonoma Coast Wall Mural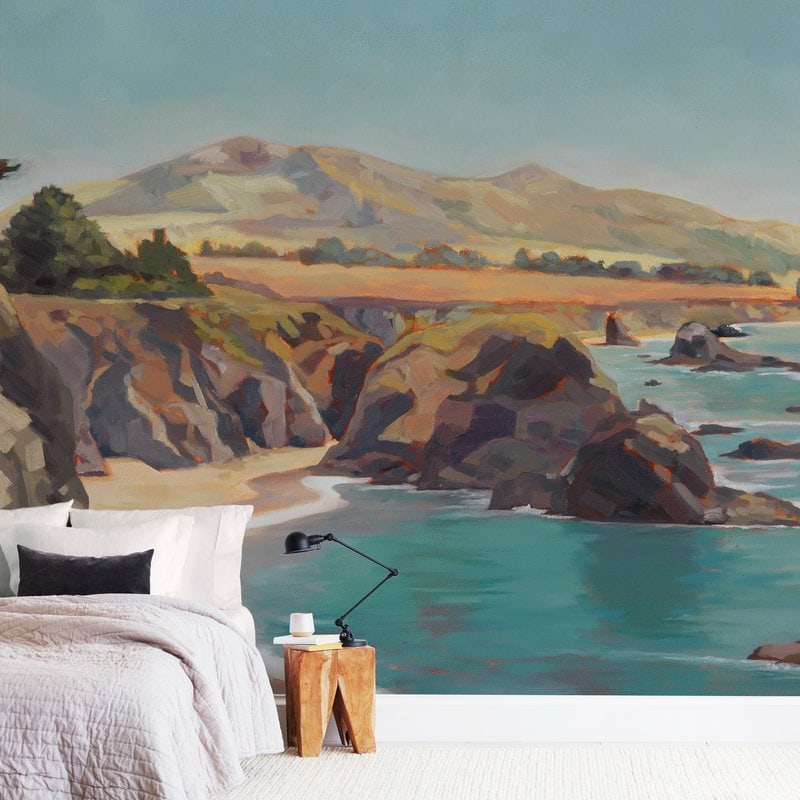 This abstract piece of art allows you to bring the wild Sonoma coast into your home with a stunning wall mural. The copper coloring and relaxing blue hues of the ocean would make this the perfect relaxing feature wall for a bedroom.
Wall murals are perfect for renters, or anyone who likes to change things up frequently. They are super easy to apply and come off cleanly without leaving any residue, so won't cause any damage to your walls.
Hawaii Photographic Print Poster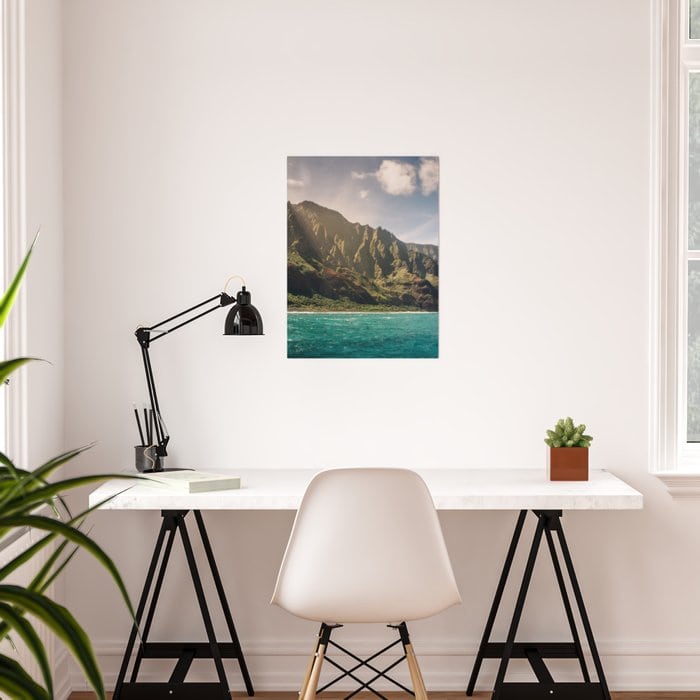 This stunning photographic poster is the perfect way to bring the beautiful Hawaiian coast into your home. With the deep turquoise ocean against a backdrop of rugged mountain terrain, this image will transport you far away in an instant.
As this is a poster, it's easily hung and displayed without the need for complicated fixtures and fittings, although if you wanted to frame it then that would look wonderful too.
Sunrise Coastal Canvas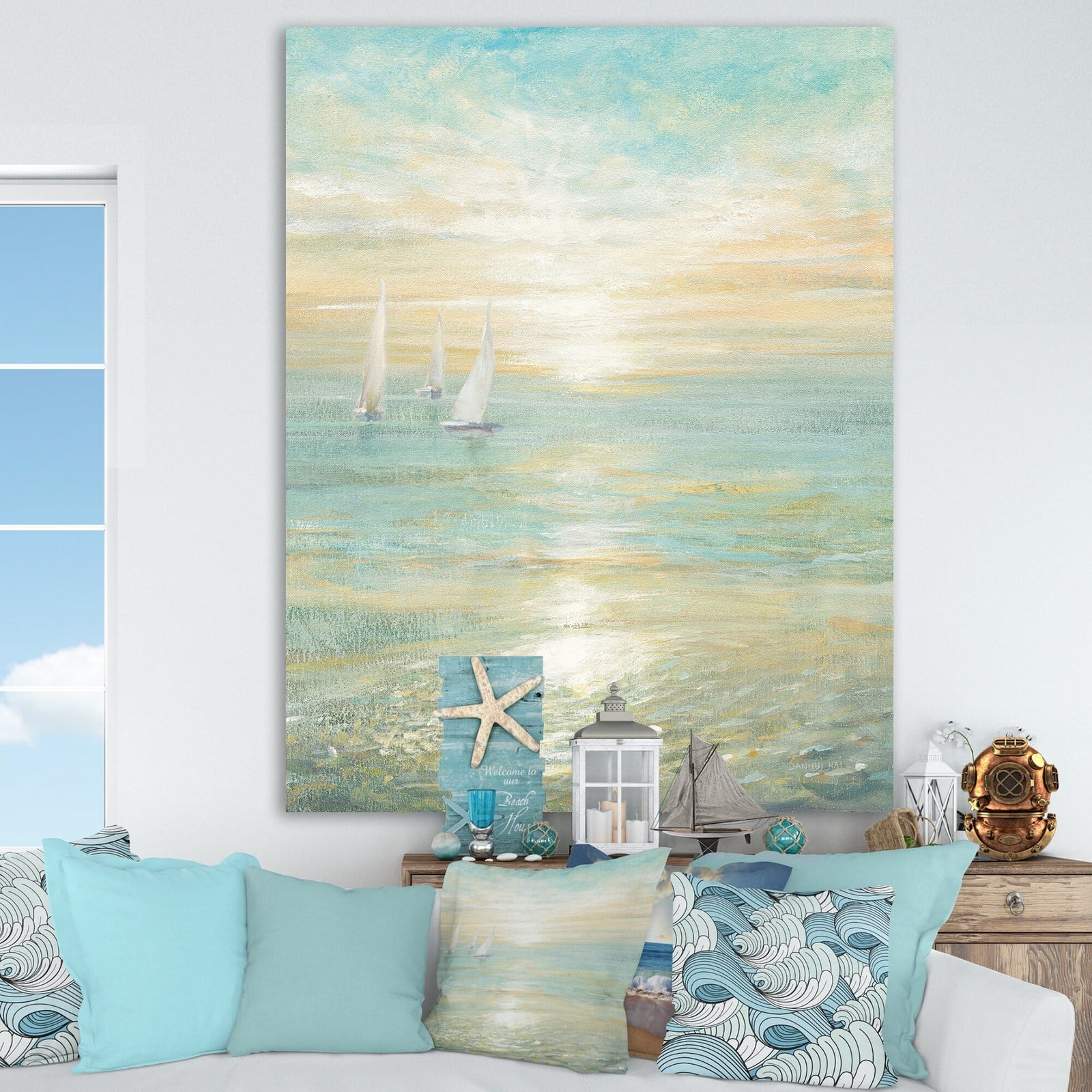 There is something so special about watching the sunrise at the beach, which this coastal canvas showcases perfectly. With a wonderful reflection of the sun beaming out across the sea, you can even see some boats sailing in the distance.
This canvas is the perfect way to add warmth and color to your home and looks incredible in the coastal-themed living room pictured.
Pair of Coral Kelp Prints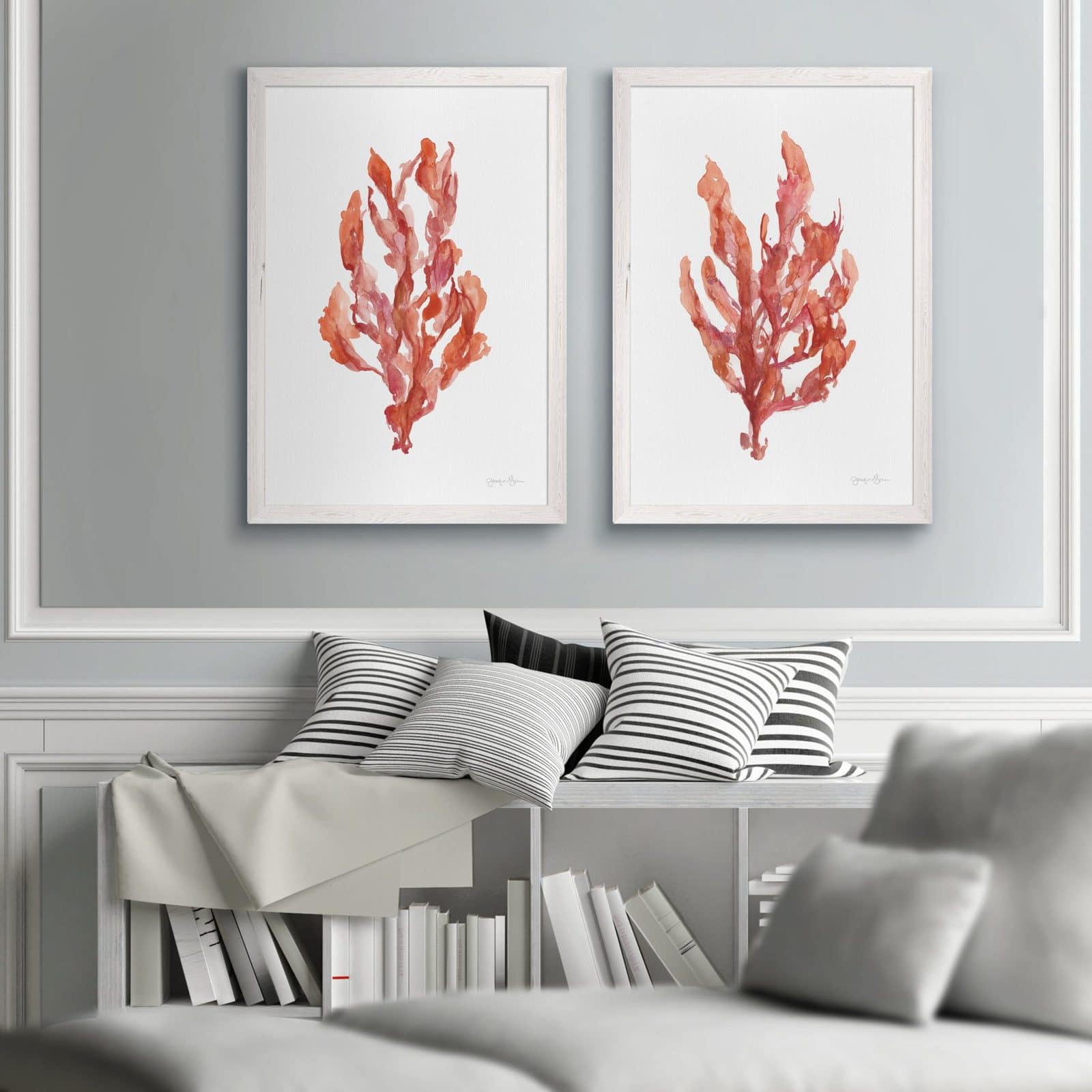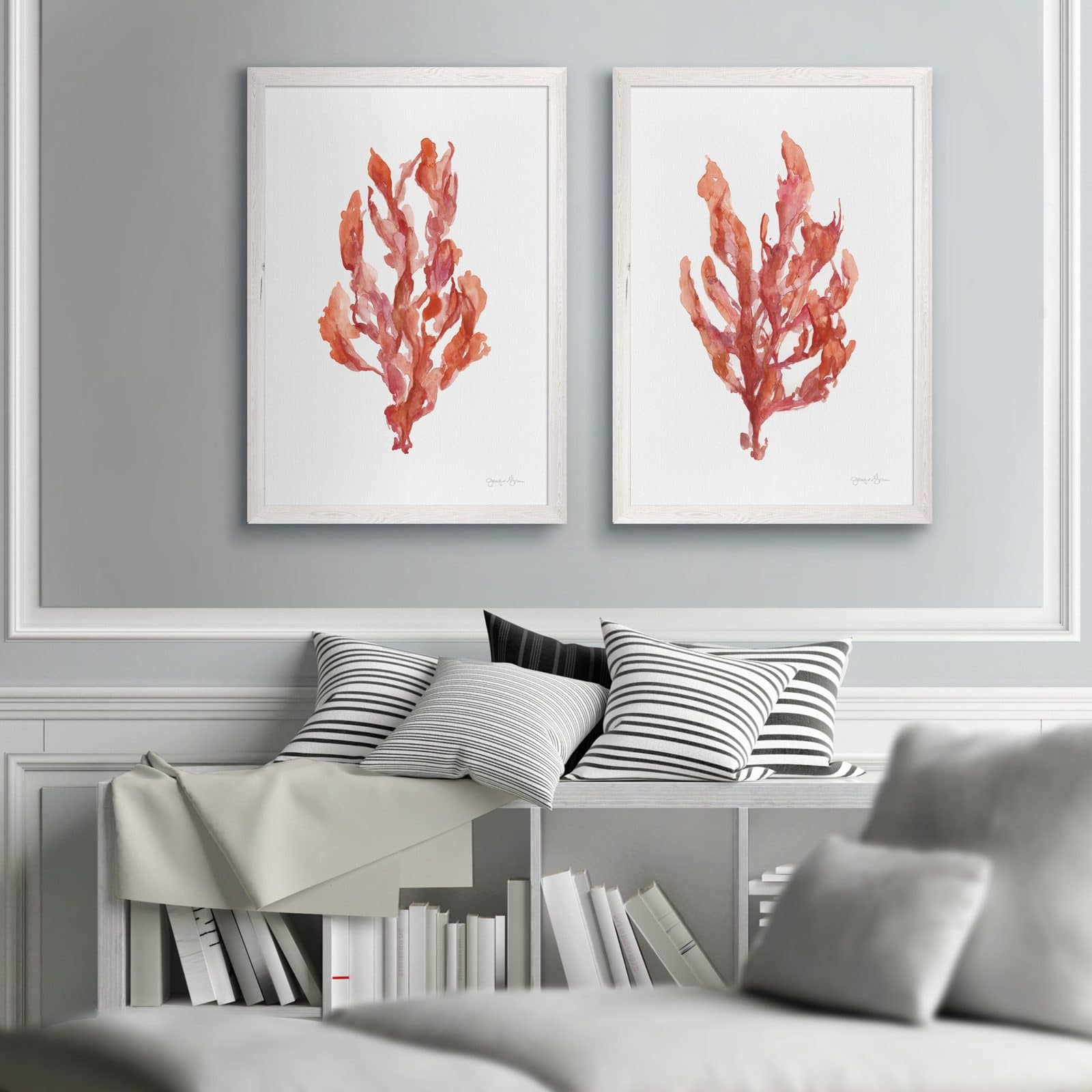 Having beach-themed wall decor doesn't have to be about different shades of blue. Coral comes in some amazing colors, so you can make anything work. This pair of prints is filled with some wonderful shades of orange and even a touch of pink.
You can display the prints as a pair, but they would also look equally good on their own so if you wanted to display them in different rooms that would work too.
Coastal Art Gallery Wall Set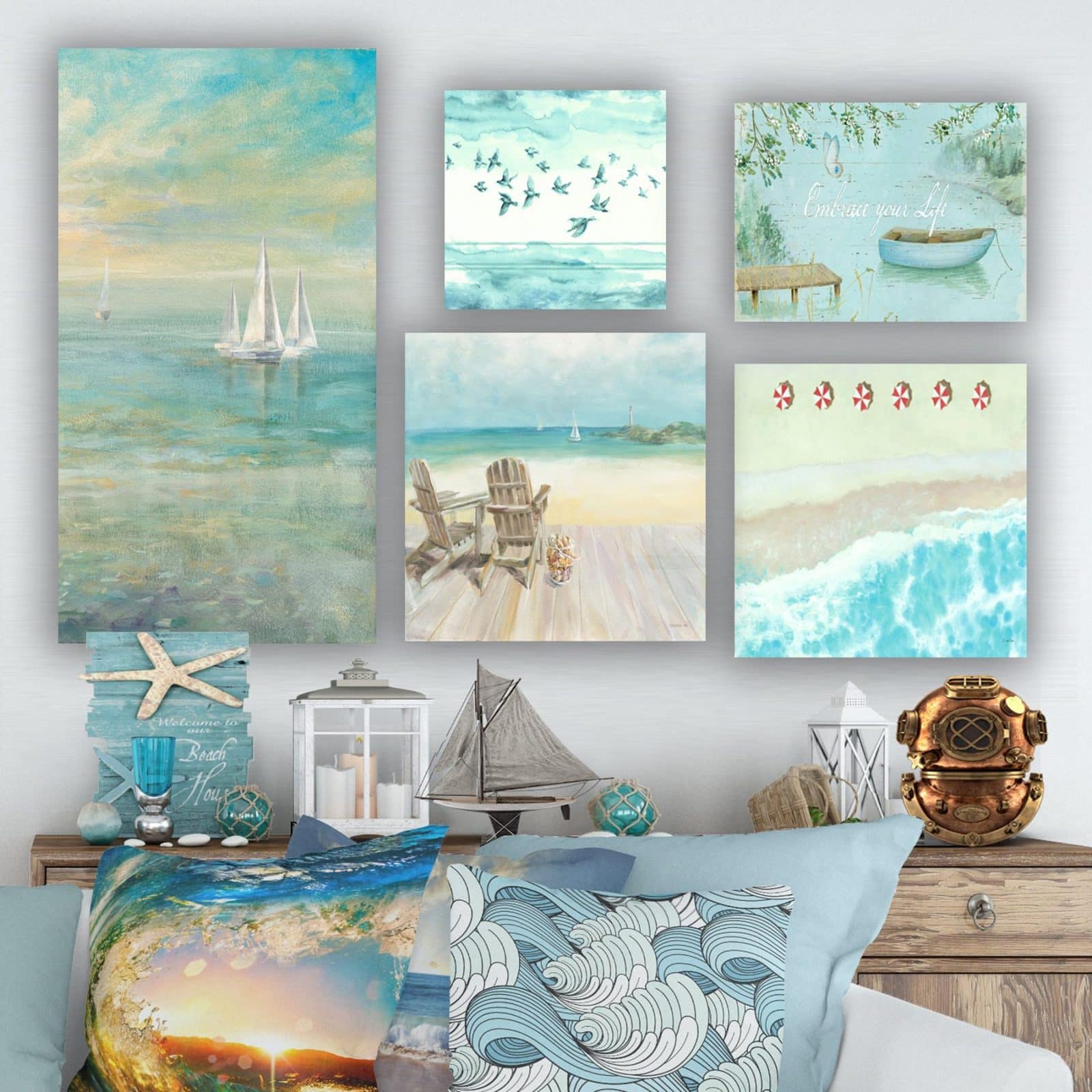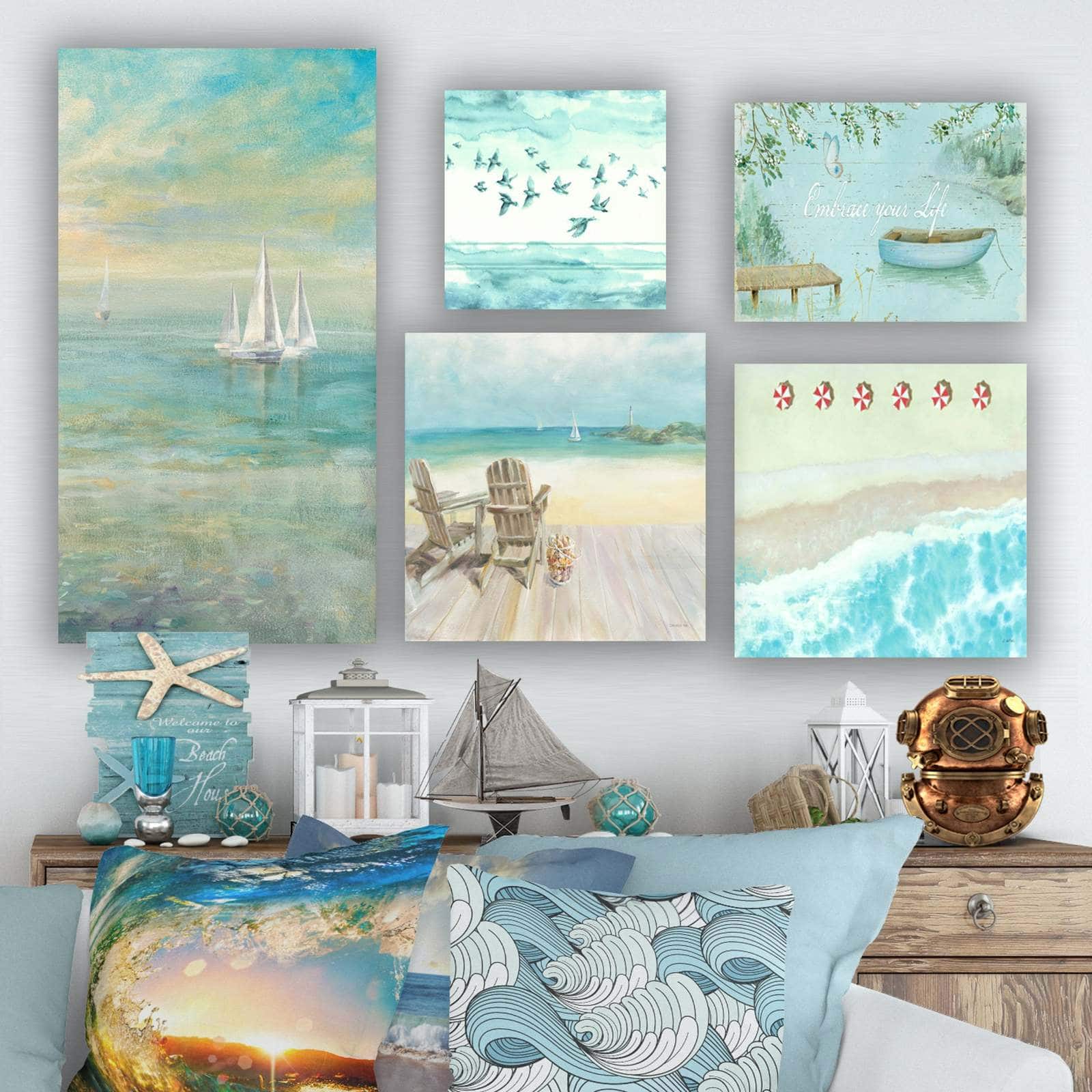 This ready-made gallery wall set allows you to capture so many wonderful things about being at the beach. The boats on the ocean, the pair of chairs on the sand, and even the birds in the sky are all stunning and work perfectly together.
Of course, although it is a set of 5 there is nothing to stop you from displaying them separately too. One of the nicest things about coastal wall decor is that anything goes, so you can choose whatever works for the interior styling of your home.
Pause – Ocean Photography Print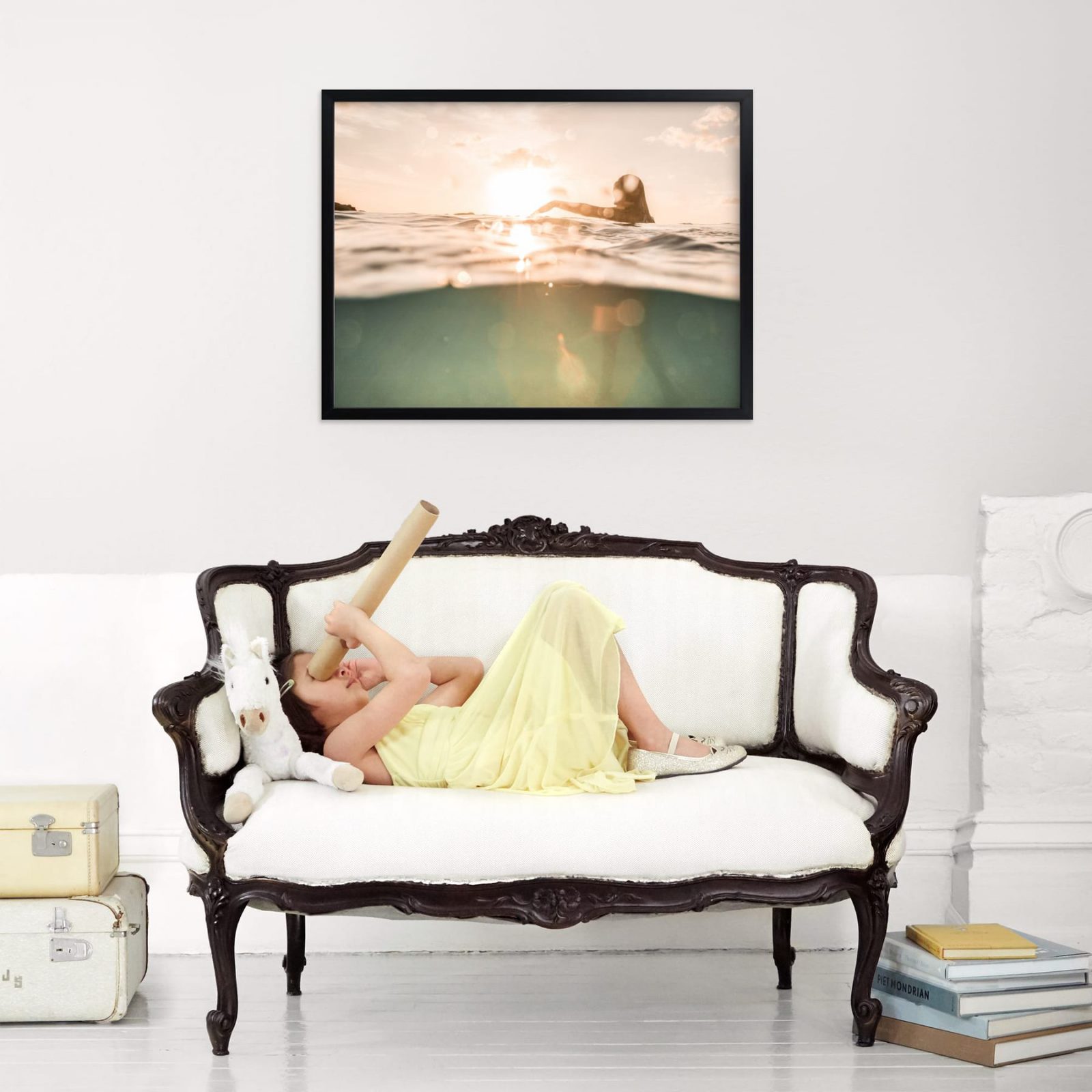 If you would like to display photography rather than traditional painted art in your home, then this piece would make a wonderful addition. You can almost imagine having to squint your eyes as the sunbeams on your face, that warm feeling on your skin.
You can see the sea and a swimmer in the distance, a definite nod to a summer of fun at the beach, just lovely.
Porthcothan Bay Print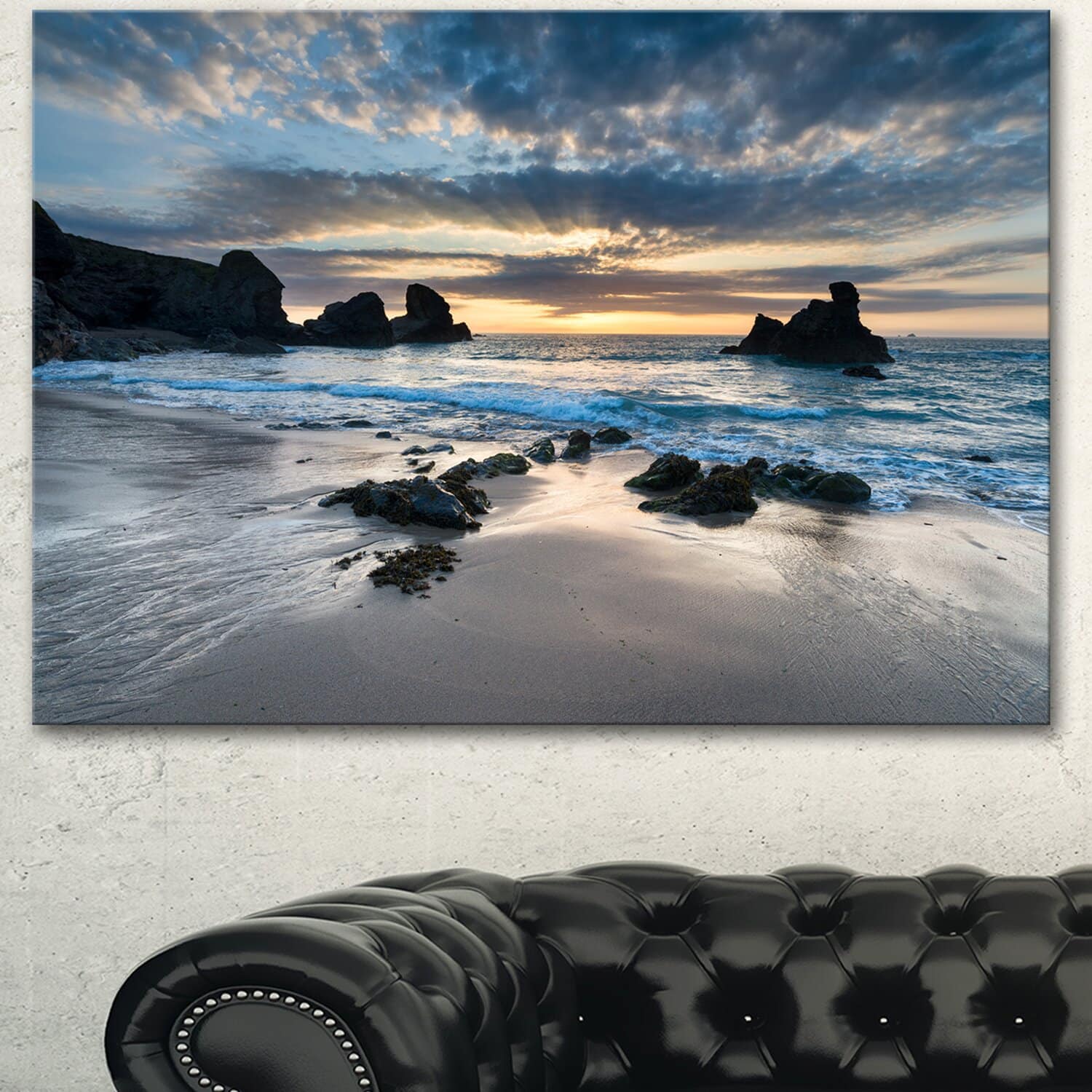 Last but most definitely not least is this photograph of Porthcothan Bay. The fierce clouds capture your eyes almost immediately. As you explore the rest of the photo you can see the crashing waves, the stunning scenery, and beautiful sands.
This is truly a beautiful piece of photography and displaying it in your home would be the perfect addition to any coastal wall ideas you had.
Final Thoughts
That is just a small snapshot of some of the wonderful coast wall decor ideas that are out there. The great thing about beach wall art is that there is such variety for you to choose from. To create a real impact, why not try a coastal wall mural. Murals are a great way to make a big statement in your home, even if you're on a budget.
Whether you're looking for a large canvas print or a piece of photography to frame there will be something for you here. You can even go for metal wall art or a wooden sculptural piece, the choice is yours.