Decorated Life is reader-supported. When you buy through links on our site, we may earn an affiliate commission. Learn More
What Color Curtains go With Yellow Walls – 12 Ideas
Yellow is one of the most exciting colors when it comes to decorating, representing happiness, warmth, inspiration, and vitality, making it a great choice for living rooms, and kitchens.
If you've decided to go for yellow walls in your home, but you're not sure which color curtains to choose, don't worry, we're here to help! Today we're going to be sharing the best color curtains for yellow walls, along with some pictures to give you some inspiration, and where you can buy them.
Let's take a look!
Sheer White Patterned Curtains With Sunshine Yellow Walls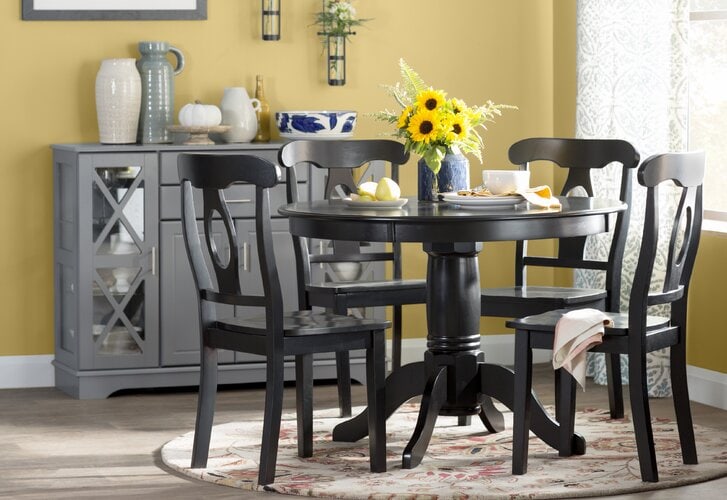 These sheer white patterned curtains look great against the sunny yellow walls in this eclectic dining room design. Since the shade of yellow on these walls is quite bright, white is the perfect choice as it balances out the room.
The material of the curtains allows the sunlight to filter through in this bright room giving a warm glow during the daytime, whilst also providing privacy from passers by when the curtains are drawn.
Teal and White Stripes For a Coastal Vibe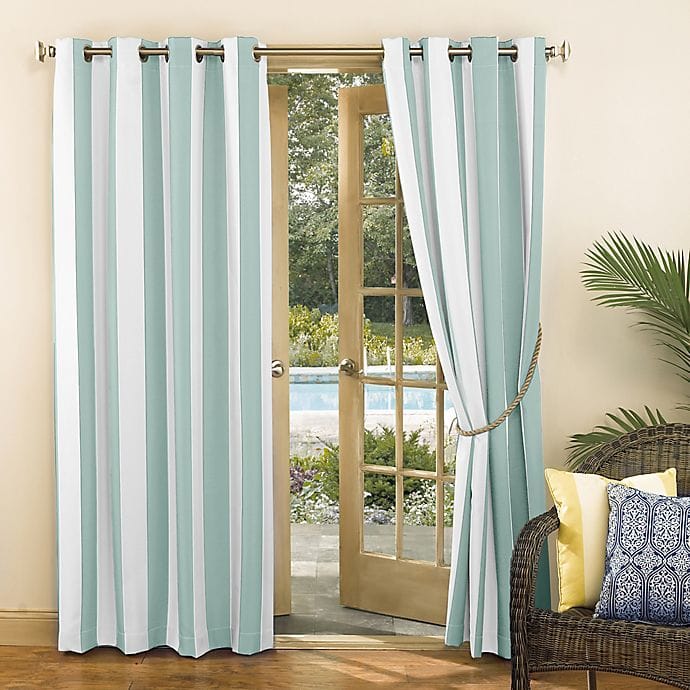 Teal and White striped curtains for yellow walls can be an easy way to achieve a coastal look in your home. The pale yellow of the walls is reminiscent of sunny mornings waking up by the sea, while the striped curtains complete the look for a beach cabana vibe.
Although these curtains look light and airy, they have the advantage of providing full blackout for when you need complete darkness. They also provide 50+ UV protection, so are ideal for rooms that get a lot of sunshine, and are suitable for both indoor and outdoor use.
Navy Blue Curtains With Pale Yellow Walls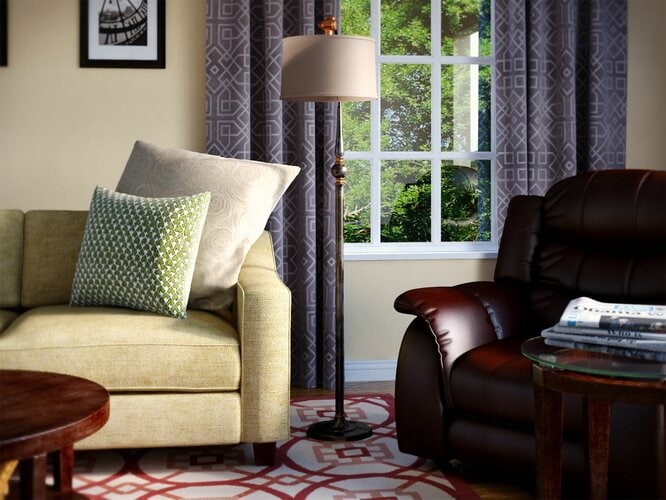 Navy blue and yellow go together extraordinarily well, due to the fact that blue and yellow are complementary colors, which create a strong contrast when used together. Since the yellow used on the walls here is very pale, this combination is elegant and sophisticated, and not overpowering.
The geometric pattern on these curtains adds interest and draws attention to the curtains, letting them stand out as a feature in the room.
Shop similar at Wayfair
White Embroidered Curtains With Mustard Yellow Walls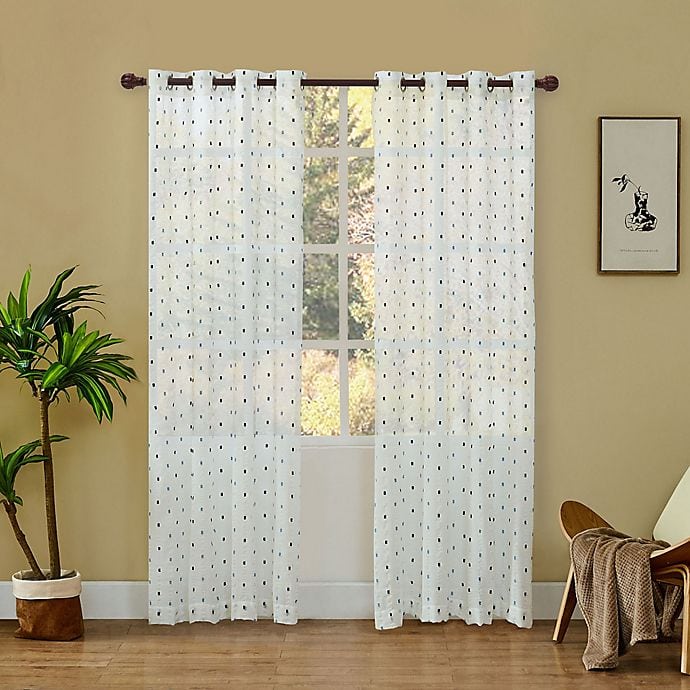 When it comes to curtains for yellow walls, white is always a great choice, but if you want something a little more fun than plain white, then go for a white with a pattern!
These gorgeous curtains have been embroidered with tiny dashes in shades of blue, giving them a fun feel and drawing attention to the window area. The material of these curtains is semi sheer, allowing sunlight to filter through for a soft ambient glow.
Blue Chevron Curtains With Bright Yellow Patterned Walls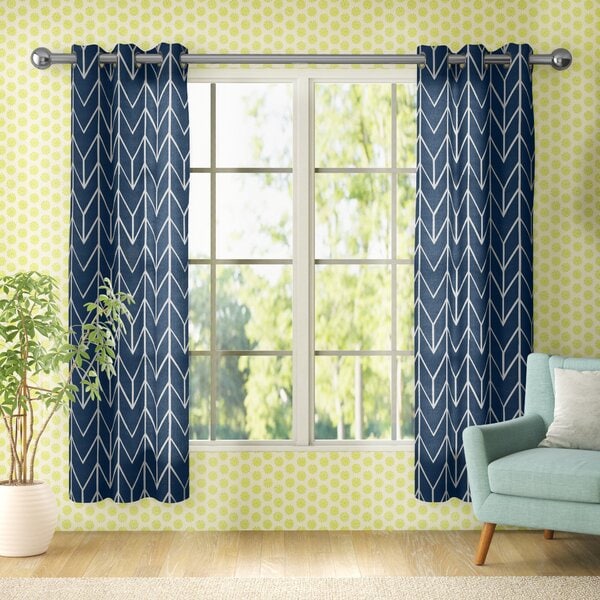 For a modern look, try pairing these navy blue chevron curtains with a patterned yellow wallpaper. The bright shade of yellow contrasts well with the navy blue of the curtains, creating a really striking look.
Layering different patterns is a really good way to get an eclectic look. The chevron design of these curtains works well against the spotted pattern of the wallpaper, creating lots of interest and making the room feel fun and alive!
Black and White Patterned Curtains With Bright Yellow Walls
If your walls are bright yellow, then a black and white patterned curtains would work well. The walls in this room are almost gold, so if you wanted to know what color curtains go with gold walls – this is it!
Bright colors are great, but there is a limit to how much bright color you should use in one room, so the addition of black and white curtains does a great job of balancing this out.
Shop similar at Society6
Mocha Curtains With Dark Yellow Walls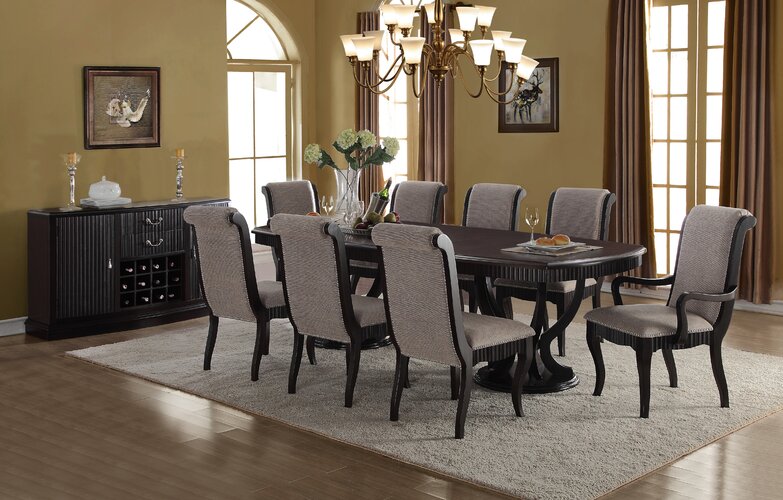 If you are looking for curtains for a yellow dining room, then these mocha curtains are a great choice. These elegant curtains work well with the dark yellow of the walls to create a sophisticated look, perfect for formal dinners and entertaining.
The mocha color looks smart, and complements the rich tones of the dark wood in the dining table and furniture, and the framed art on the walls, creating a very cohesive scheme in this traditional dining room.
Dark Green Curtains With Yellow Walls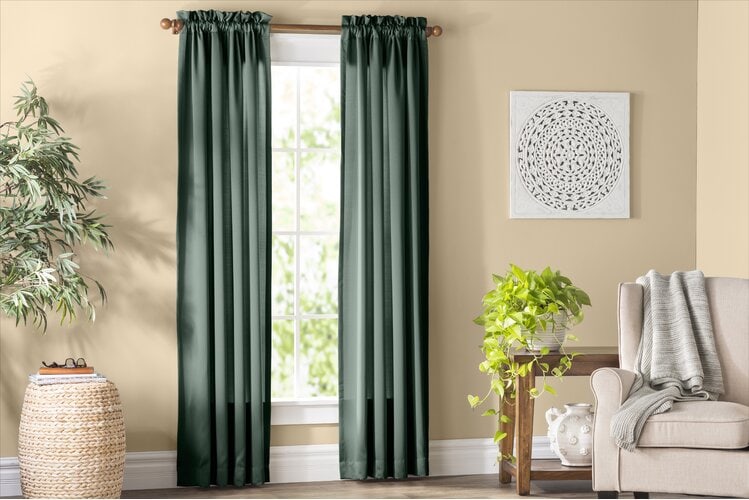 These green curtains are the perfect choice of window treatment for this bright sunny living room. Green curtains work well in any rooms with a natural feel, pairing well with the green in any plants in the room, and bringing a bit more of the outside in..
The neutral color of the armchair, the organic style of the accessories, and the woven ottoman all work together to create a wonderful coastal-style interior in this living room.
Beige Curtains With Yellow Walls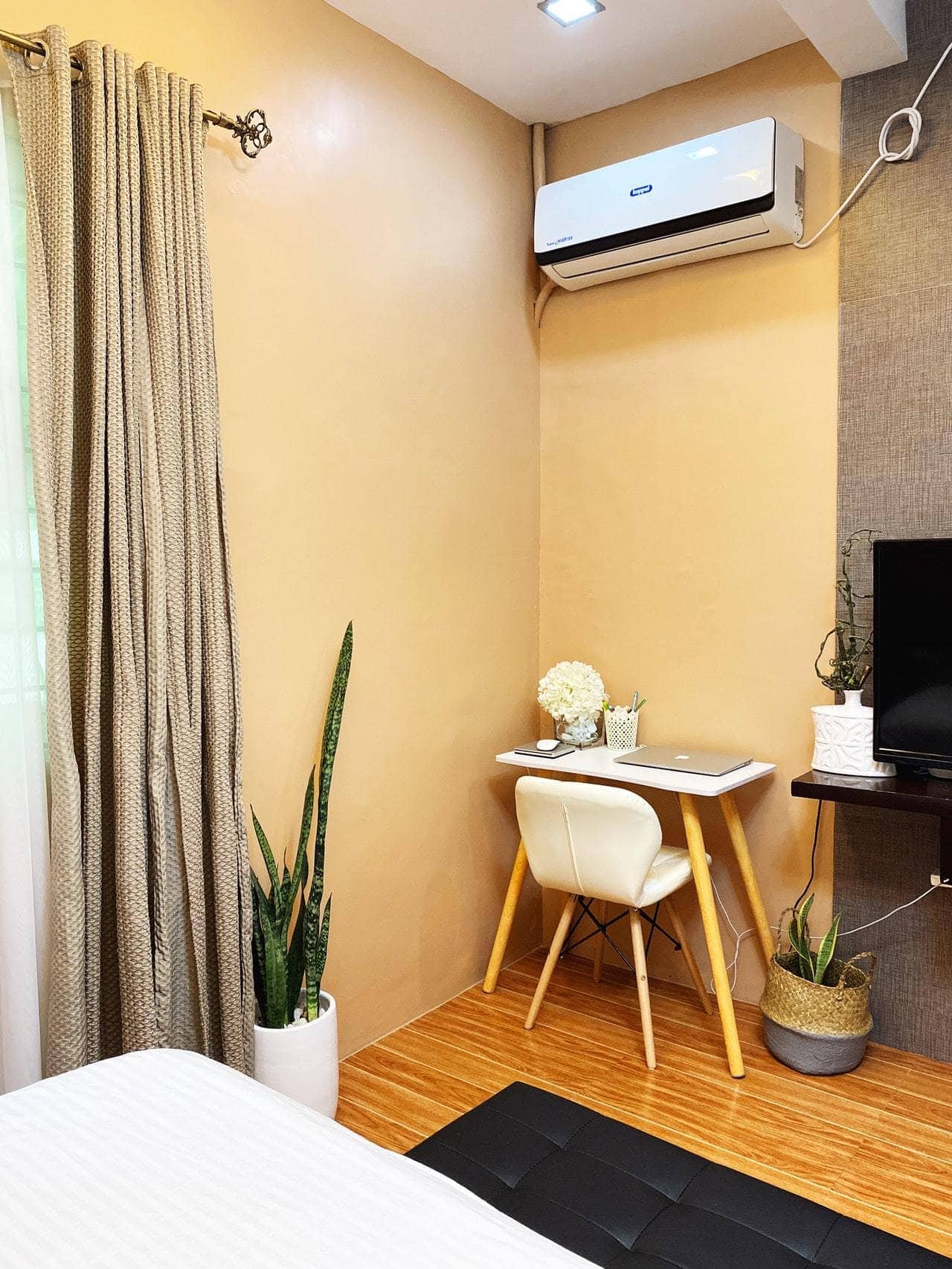 For a natural look, try beige curtains to match yellow walls. Since these colors are quite close on the color spectrum, they work together well. To add more interest choose a fabric with a texture to it, the light will cast shadows on the material giving more depth to the room.
Beige curtains and yellow walls work well with natural materials such as bamboo or wooden floors, and you can increase the natural feel by adding some plants and succulents.
Shop similar at Anthropologie
Grey Curtains Paired With Yellow Walls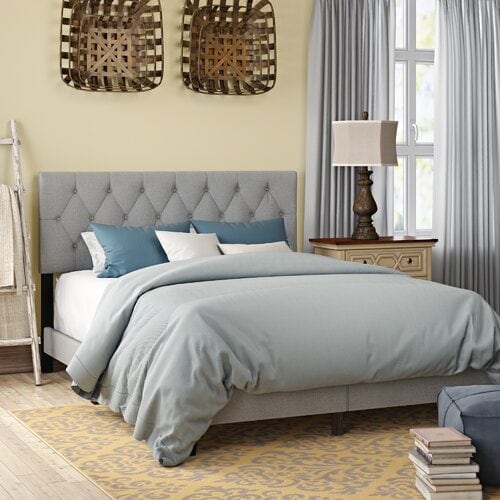 Grey and Yellow are a match made in heaven, and it's easy to see why! This color combination was chosen as Pantone's color of the year, so we're expecting to see it used a lot more this year. It's a great choice for a bedroom, making the space feel uplifting, yet grounded at the same time.
These grey curtains create a sophisticated look in this traditional bedroom design, tying together the design scheme by pulling together the greys in the bed and in the pattern on the rug.
Grey And White Patterned Curtains With Yellow Walls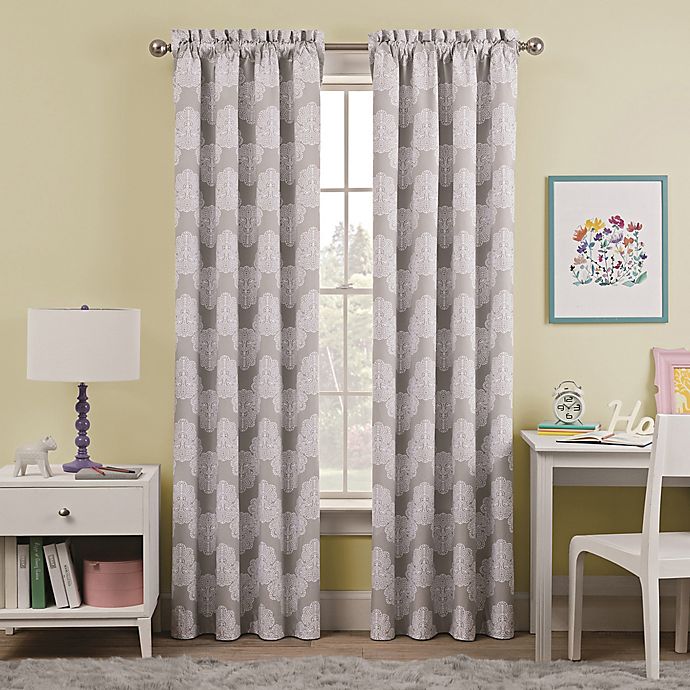 If you're looking for curtains for yellow bedroom, these are a great choice! These pale grey and white patterned curtains look lovely against the soft yellow of the walls, creating a calm and positive atmosphere in this room.
The lace pattern on these curtains adds a touch of femininity to ensure these grey curtains are anything but boring! These curtains are also room darkening, and noise reducing to make sure you get a good night's sleep.
White Sheer Panels for a Bohemian Feel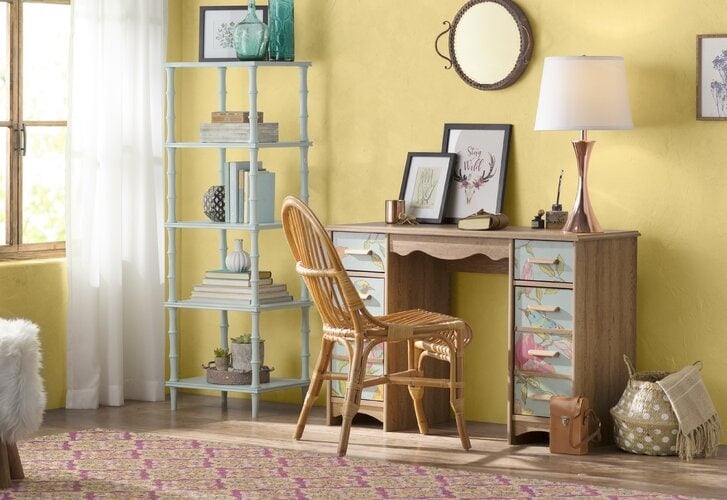 This bohemian style home office has a bohemian feel with its bright yellow walls, mismatched furniture, and bohemian style rug. White sheer curtain panels complete the look given the room a very relaxed and airy feel.
These curtains would also be a great choice for a living room, since they provide privacy from passers by, whilst still letting in plenty of natural light.
Summing it Up…
If you've been wondering what color curtains go with yellow walls, hopefully this article has given you some ideas and inspiration! When choosing curtains for yellow room, it's worth considering what the room will be used for.
If it's a bedroom you are decorating, remember to choose curtains with a blackout lining to make sure you get a good night's sleep. On the other hand, if the curtains you are choosing are for a lounge, then sheer curtains are a great option, letting in the light while still giving you a good amount of privacy.