Decorated Life is reader-supported. When you buy through links on our site, we may earn an affiliate commission. Learn More
20 Dining Tables Ideas for Small Spaces
It's tricky trying to find the perfect dining table if you don't have much space in your home, but we're here to help! Today we're going to be sharing the best dining tables for small spaces.
Thanks to the latest designs and technology, there are some clever space saving tables you can buy which will look amazing in your home, without taking up your entire room. This means you get all the practicalities of having a dining table without the inconvenience!
Let's take a look…
Maximize Space in Your Kitchen With a Drop Leaf Dining Table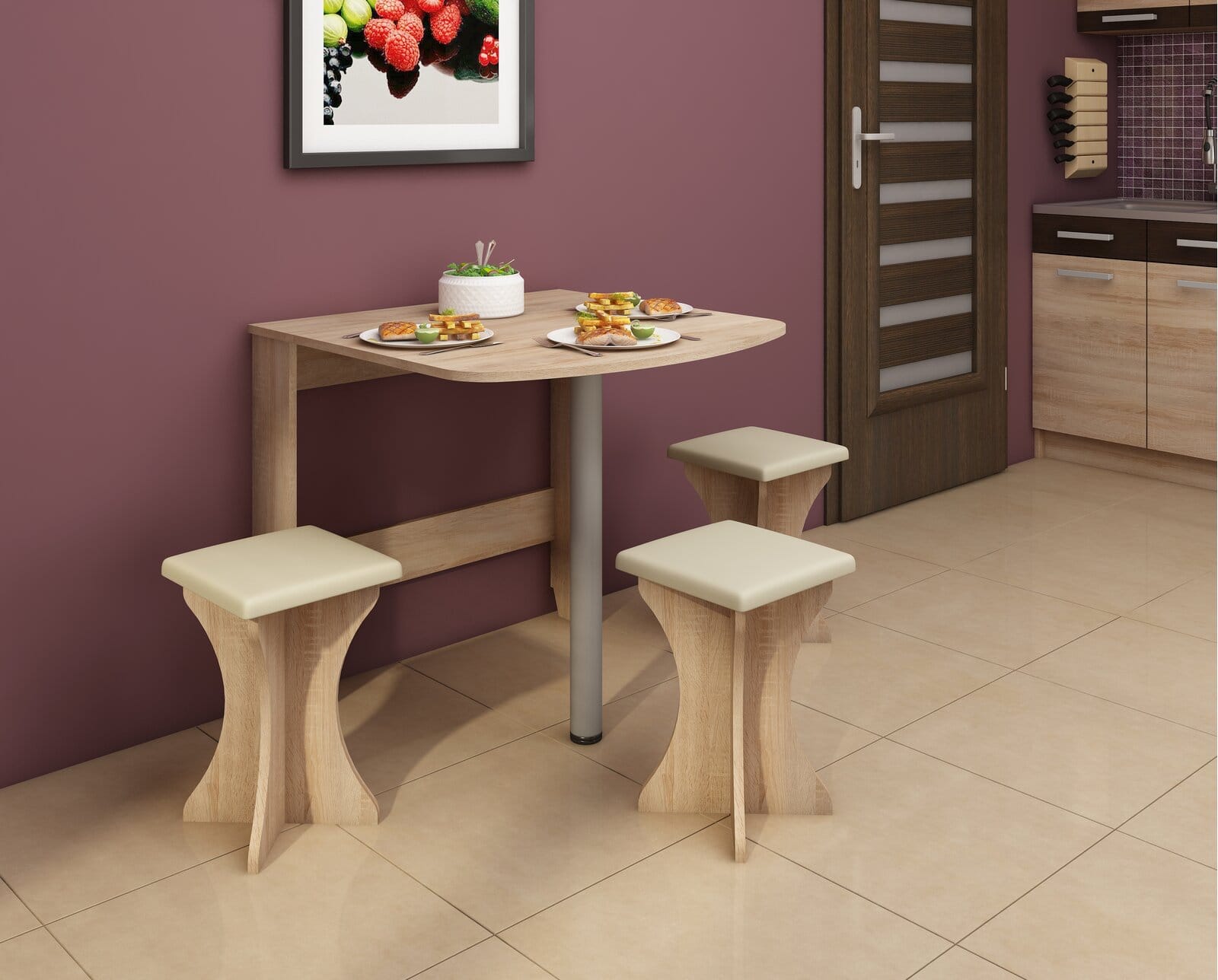 If you have a tiny kitchen, then a complete folding drop leaf dining table is the answer. This innovative design folds away almost completely against a wall, so when you are not using it, it's almost as if it isn't there.
There's space for up to three people to sit and eat at this table, so it's perfect for a couple or small family. It has a natural wood grain finish, so it looks great as well as being practical.
Save Space With a Narrow Dining Table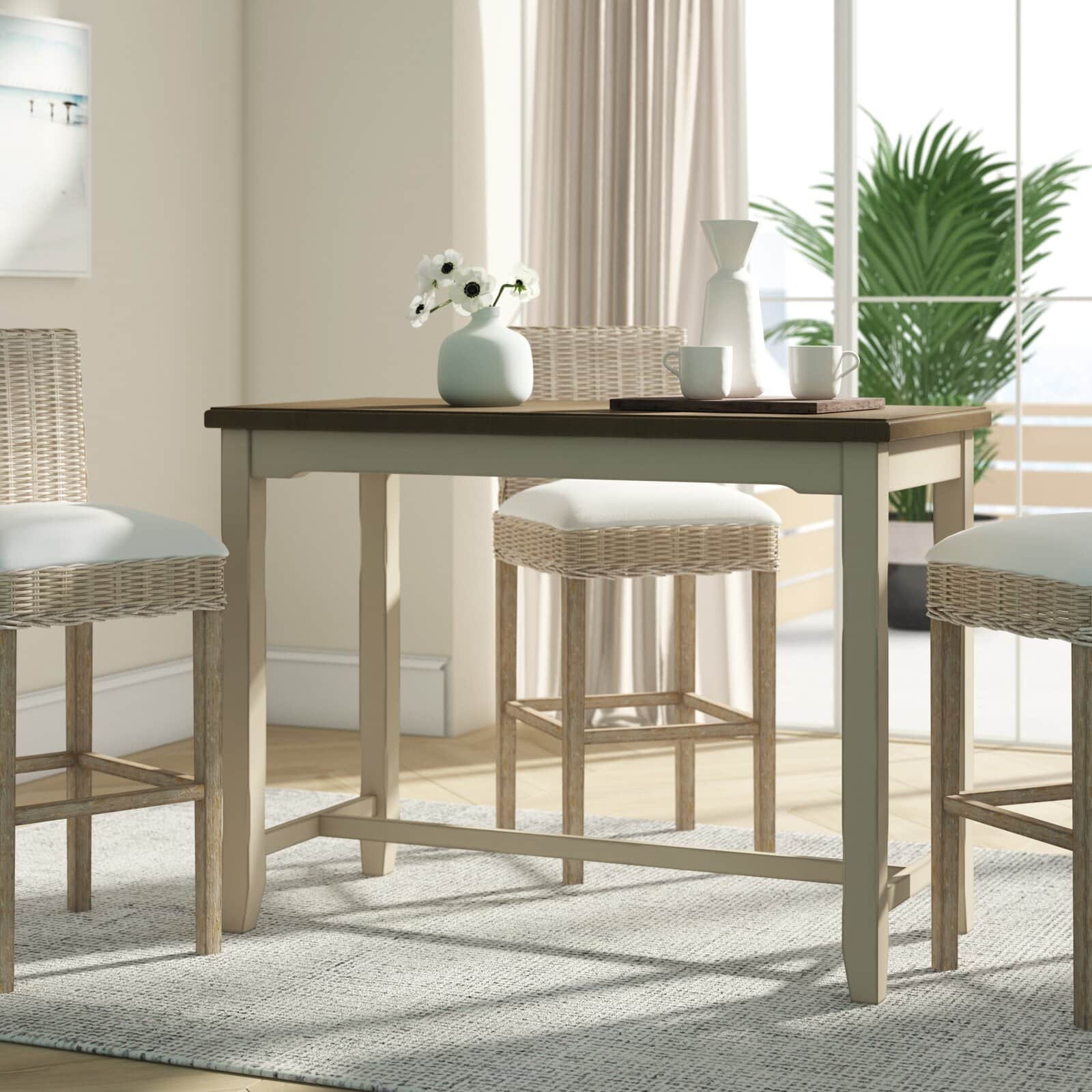 This Narrow Dining Table has a width of 24 inches and still sits 4 people. Perfect for informal gatherings and intimate conversation. No reaching for the salt across your neighbour! We love the extra height for a small room, so you can still stretch out your legs.
Built with solid wood and a Rubberwood top, it has a beautiful distressed finish and comes with a 1 year guarantee.
A Small But Perfectly Formed Marquetry Bistro Table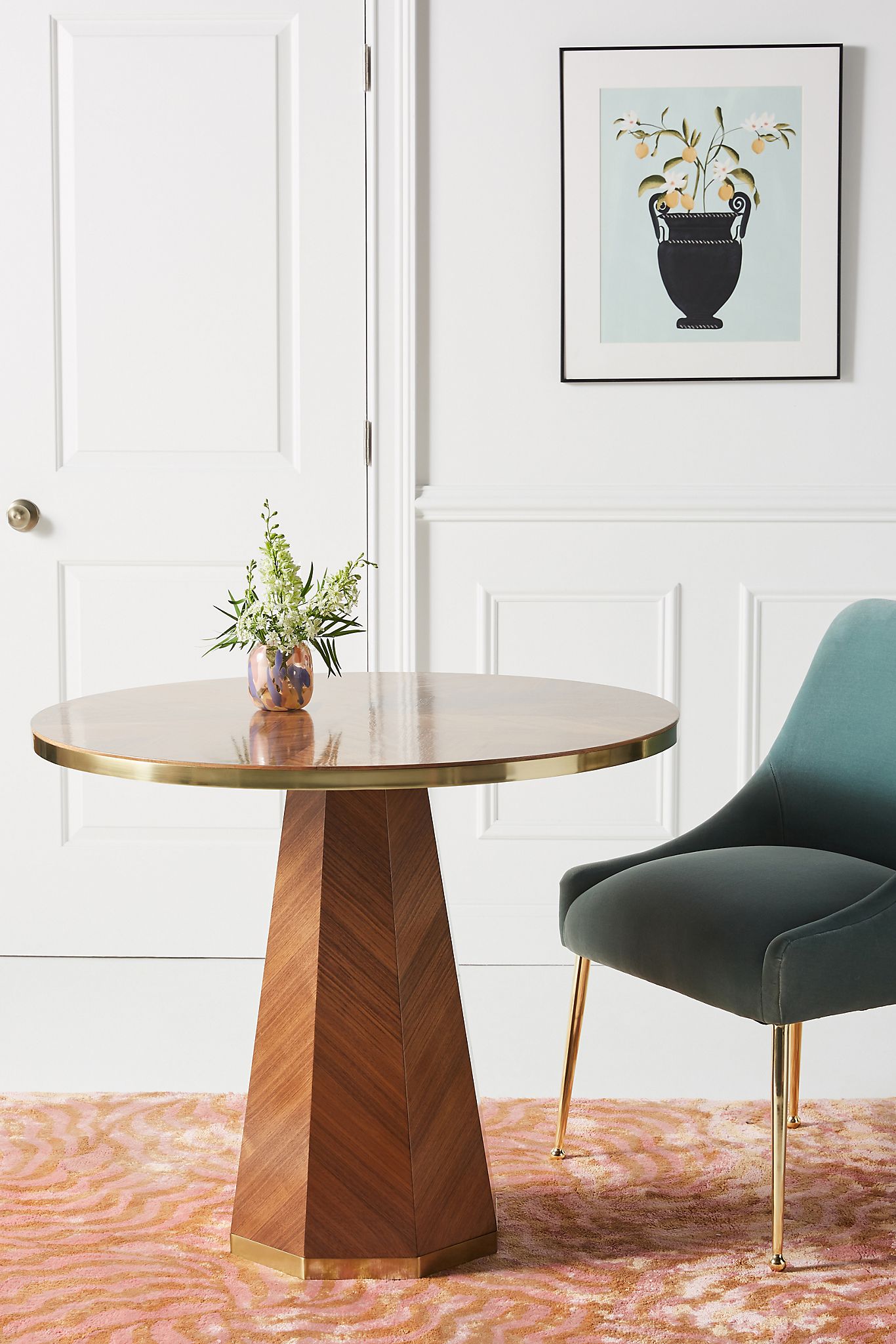 If you like elegant interiors, this is the dining table for you. This gorgeous marquetry bistro dining table can seat 2-3 people, and it's round shape ensures it takes up as little space as possible.
This table really is a showstopper piece, so you won't be wanting to hide it away! When you are not using it to eat at, it can be used for casual drinks and snacks with friends, coffee, or maybe even a game of chess.
Use Stools to Keep Things Tidy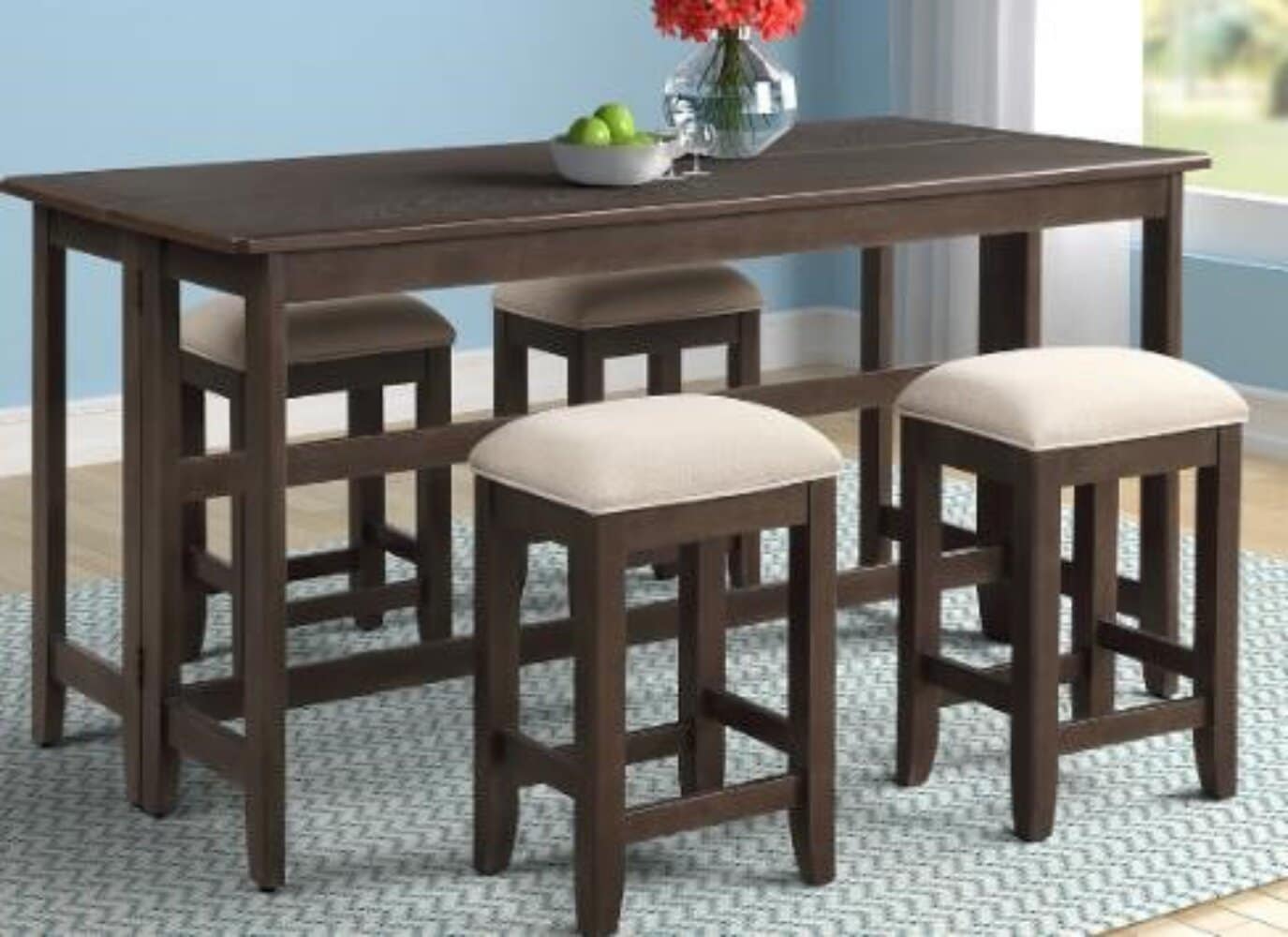 This counter dining table with drop leaf comes with 4 stools and a very convenient tidying option. For rooms with limited space, not having to navigate around chairs can be very helpful. Excellent for those who hate clutter.
The drop leaf function doubles the top width from 18 to 36 inches. The top is a mixture of hardwood and manufactured wood for extra durability, and looks great in dark brown.
A Six-Seater Option for a Growing Family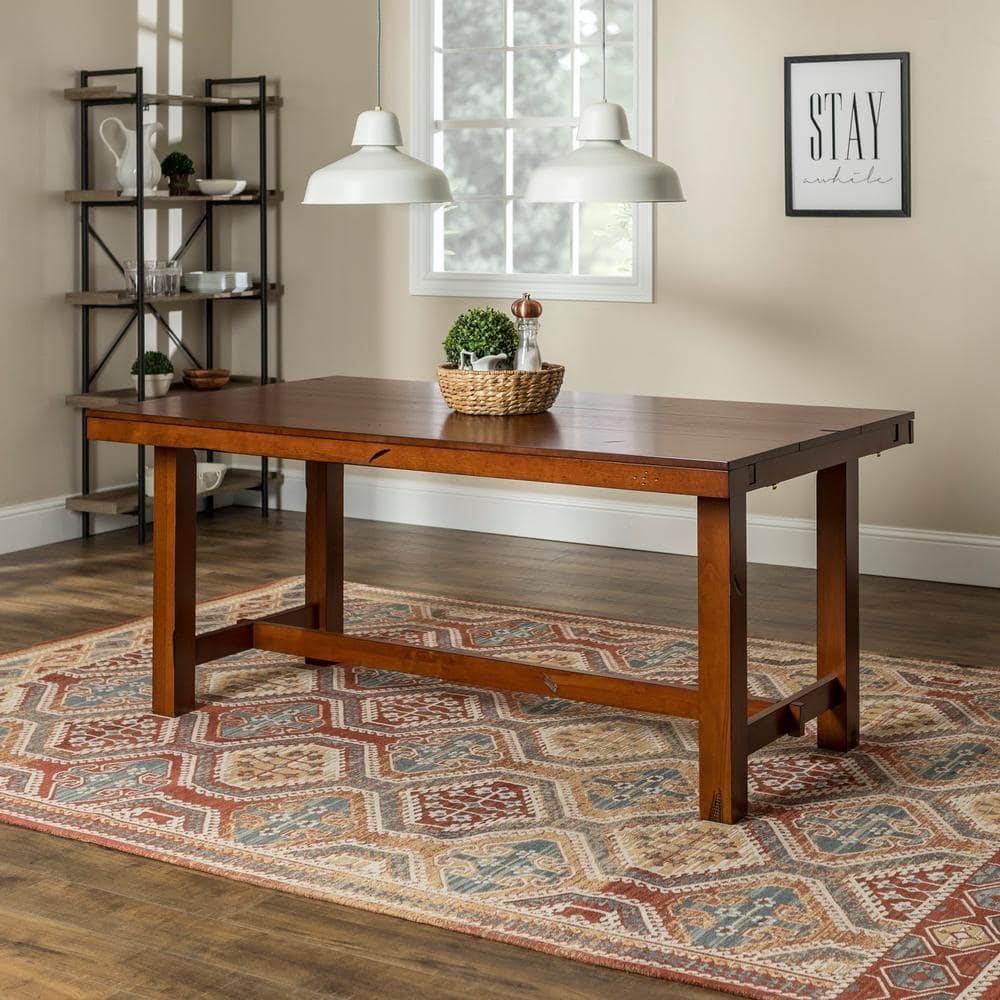 This charming table has a rich finish and an antique feel. The evocatively named Huntsman extends from 68 to 96 inches, perfect for Thanksgiving and the Christmas holiday.
The smart sliding extension is neatly built, and the top is a beautifully distressed hardwood. Accompany it with the bench option to maximise seating. This is very reasonably priced for the quality and capacity it provides.
Keep it Chic With a Compact Glass and Gold Dining Table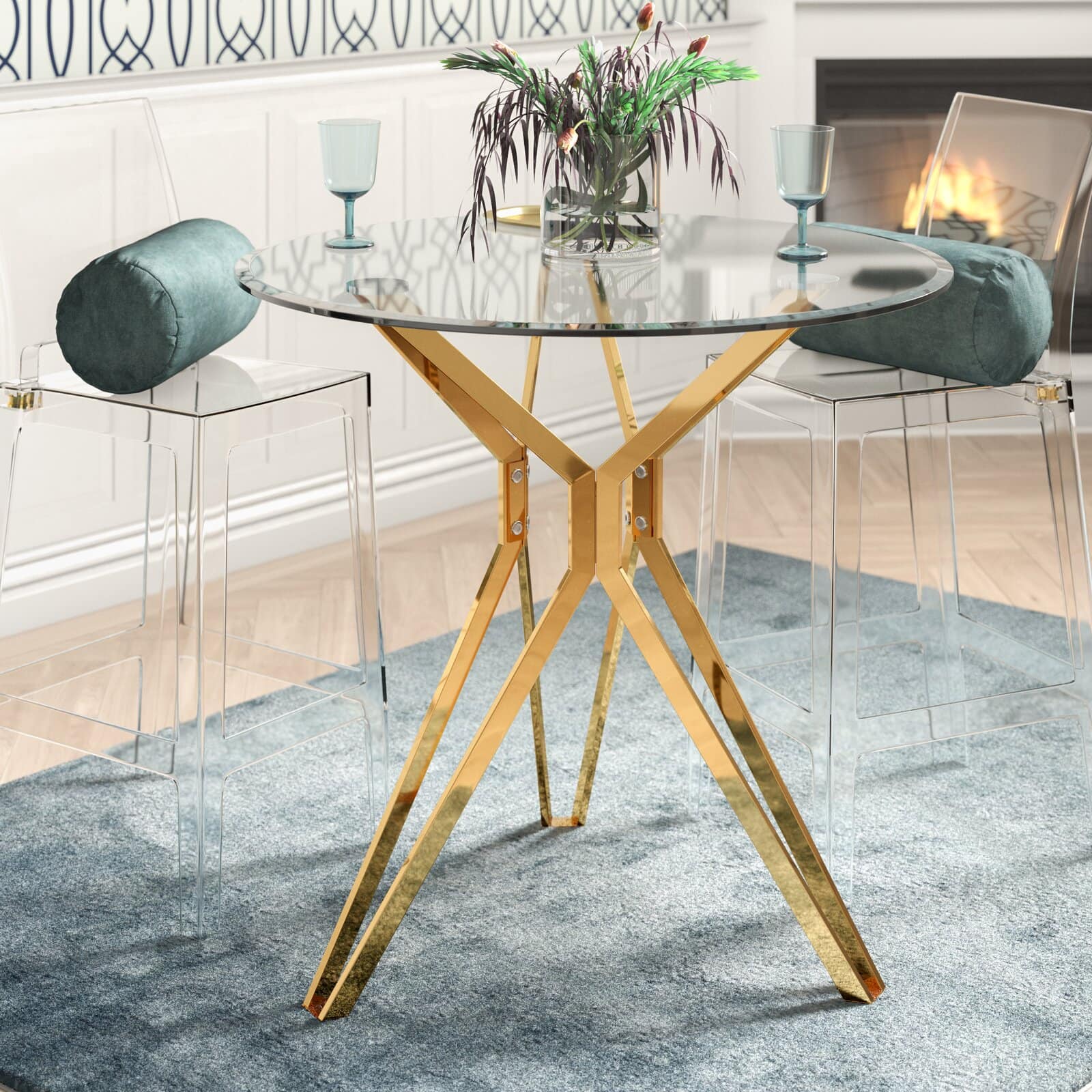 This is the perfect tiny dining table for small apartments. The geometric gold base paired with the tempered glass table top are the perfect combination to give a luxurious feel to any small space.
They say good things come in small packages, and it's certainly true here! This tiny masterpiece seats up to four people, and since the top is made of clear glass, it's perfectly unassuming when pushed to the side and not in use.
Seat Six or Save Space With a Foldable Dining Table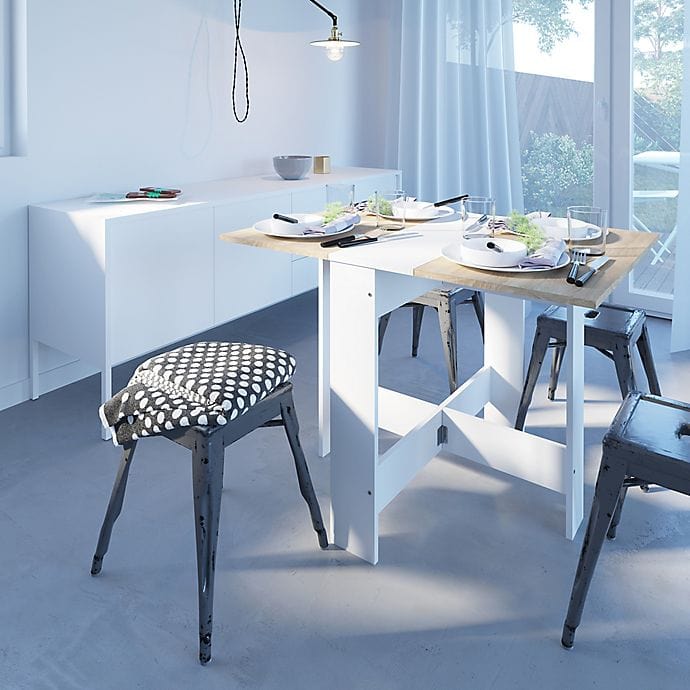 When it comes to space saving tables, you can't go wrong with a foldable dining table. This is the perfect solution for anyone who needs a dining table but doesn't have the space.
This stylish table can seat up to six people, and yet it's designed to fold small enough to fit in a closet or even under the bed!
A Collapsible Classic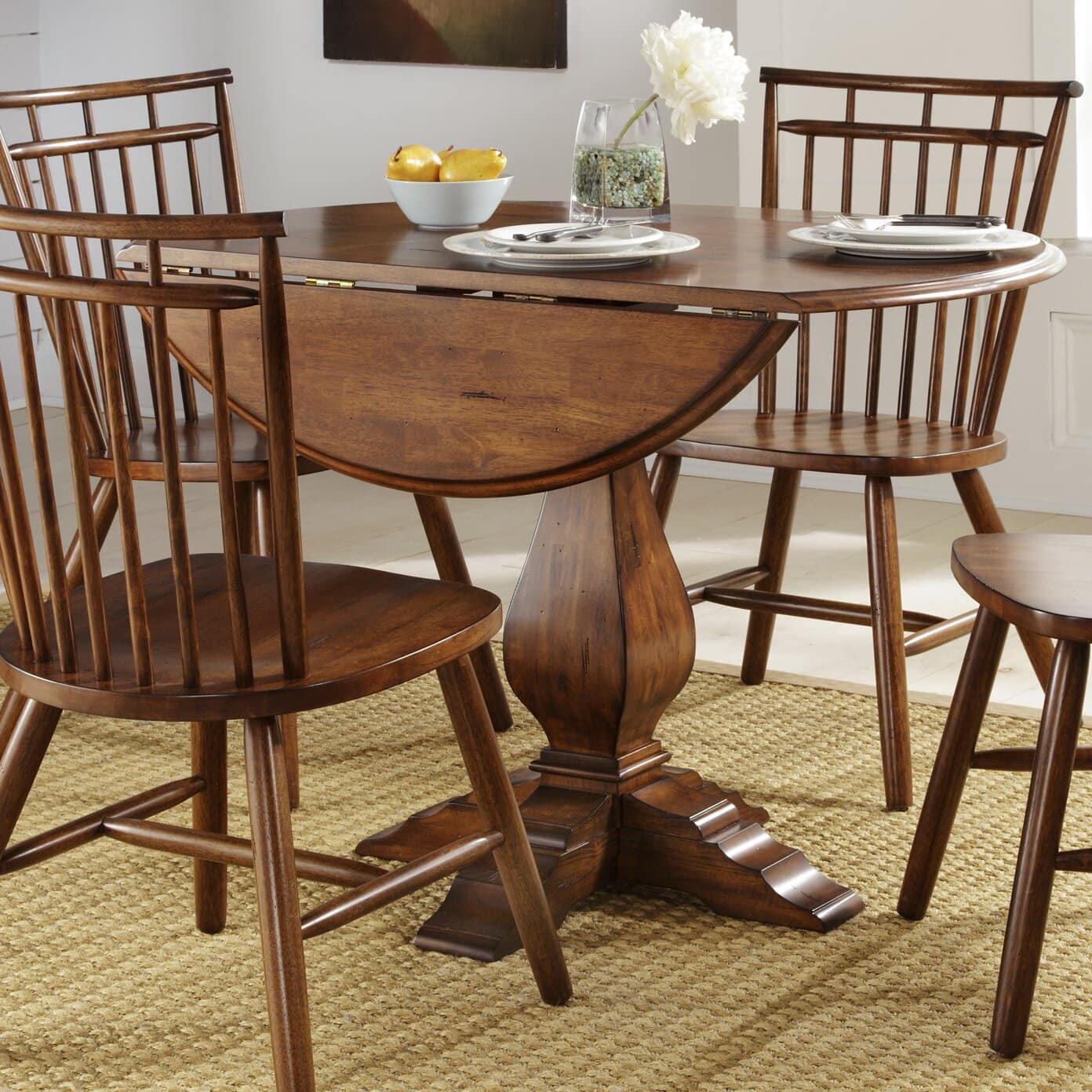 The worry with a collapsible dining table is if it will be sturdy enough once opened. As you can see from this chunky design there is no risk of that! Gorgeous polished hardwood with a very elegant pedestal – and the detail in the feet is fantastic. The bevelled table top also adds a sophisticated touch.
10inch drop leaves on either side can reduce the width to just 22 inches, making this a very convenient and classy addition to your abode.
Maximise Use With a Multi-Purpose Convertible Console Table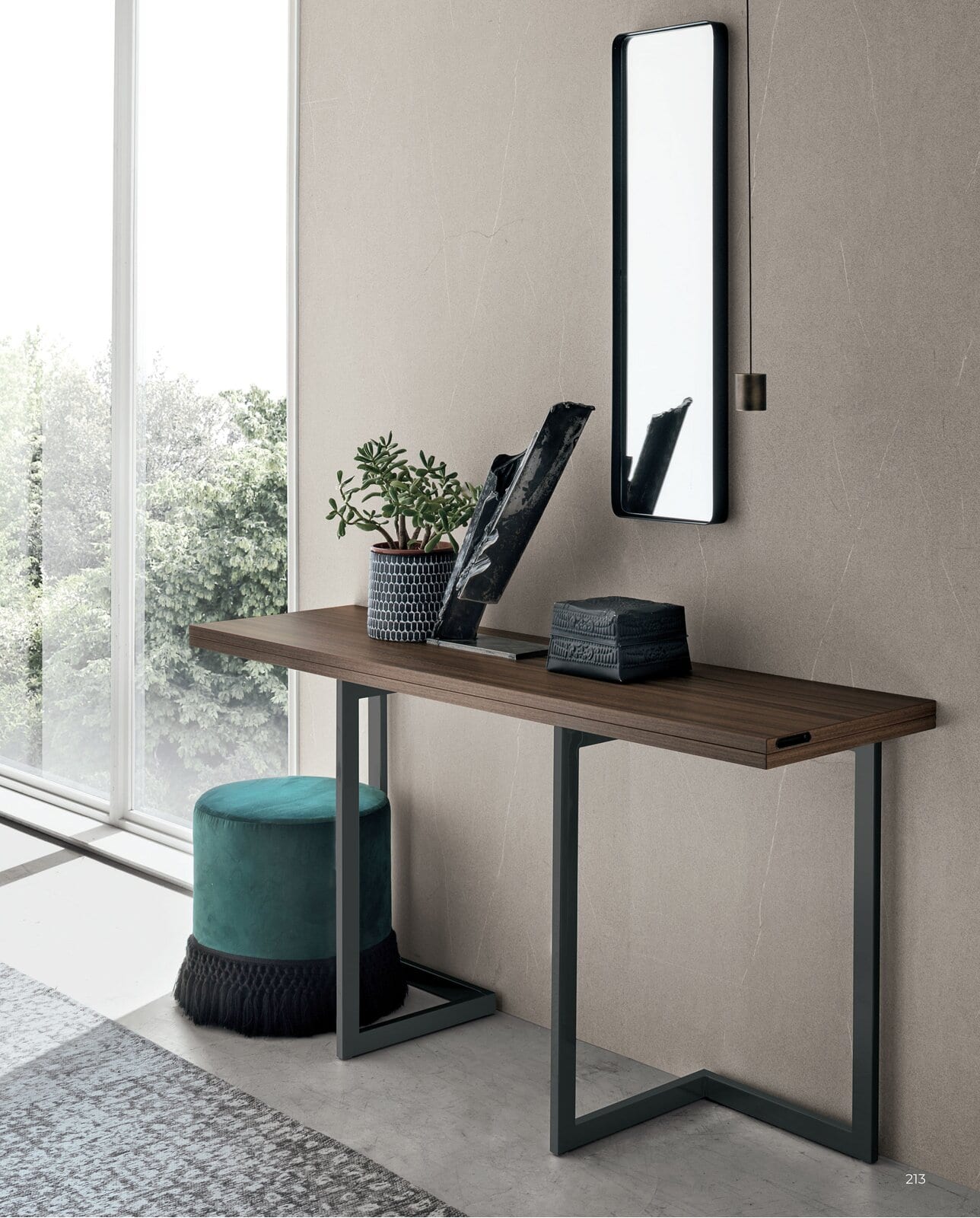 Now this is the ultimate foldable dining table! This convertible console table looks beautiful as both a console table, and a dining table.
When it's not in use as a dining table, it can either be easily tucked away, or stand proudly in your hallway or lounge as a console table, and when you are ready to dine, this table easily converts to a good sized four seater table.
Make Use of Kitchen Space With This Versatile Kitchen Prep Table/Breakfast Bar
This exceptional piece is the Swiss Army knife of tables. With a separate preparation top, dining top, multi-purpose drawers, shelves AND a drop leaf – what more could you ask for? Well wheels of course! Perfect for moving around the home as needed.
All this craftiness comes in a delightfully designed package. We particularly like the 7-slot knife holder and utensil organiser drawers. The reinforced frame and heavy-duty fasteners give this a real sense of durability.
A Multi Functional Drop Leaf Table Perfect for Family Dinners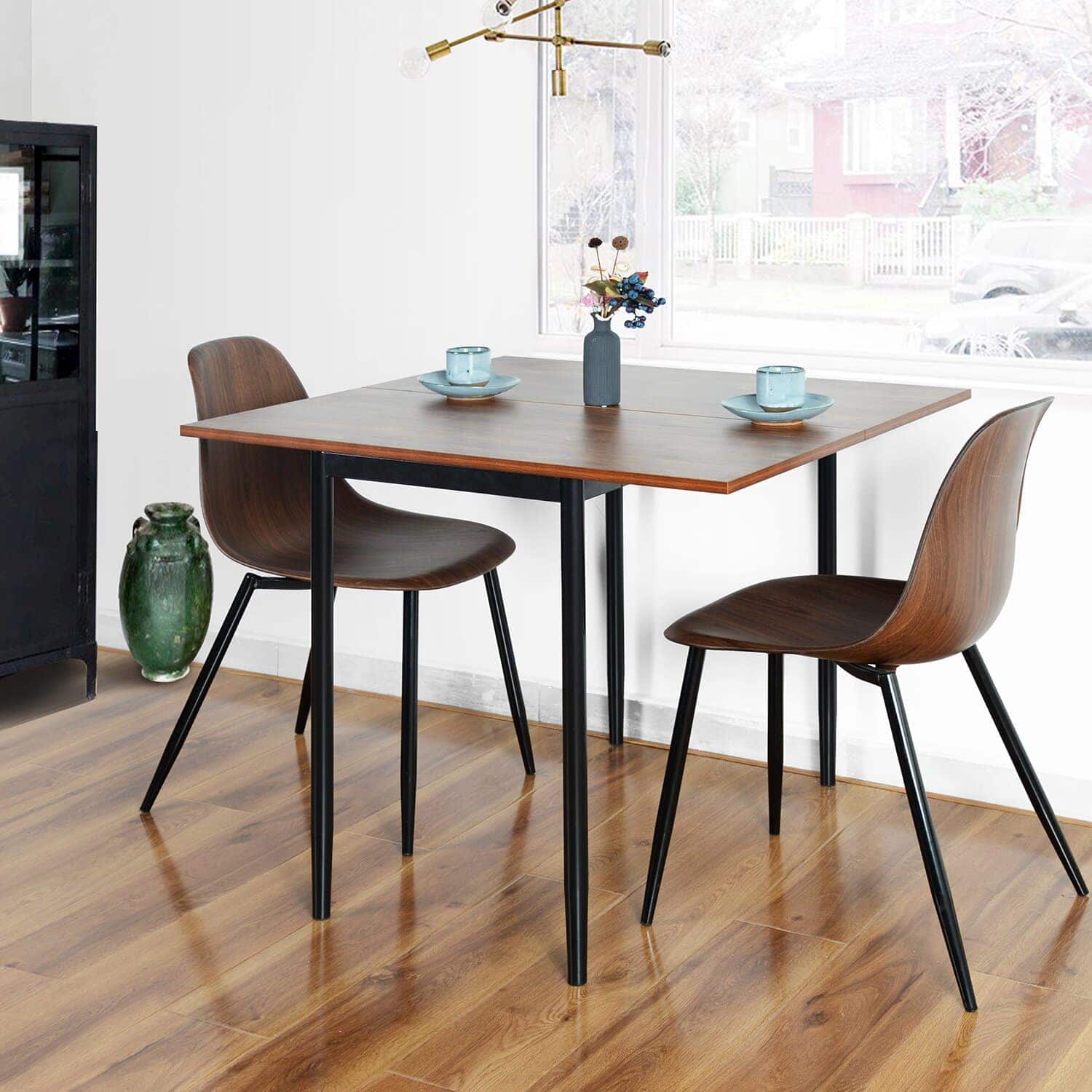 There are loads of benefits to eating together as a family, but it can be tricky finding dining tables for small spaces. This is a great option for anyone who needs a compact dining table that can be used for other purposes too.
As well as being a great dining table, this table folds down small enough to push out the way and be repurposed as a desk or console table. When fully extended this dining table can seat up to four, making it perfect for family dinners as well as games nights!
Add Some Mediterranian Vibes With a Stylish Glazed Tile Bistro Table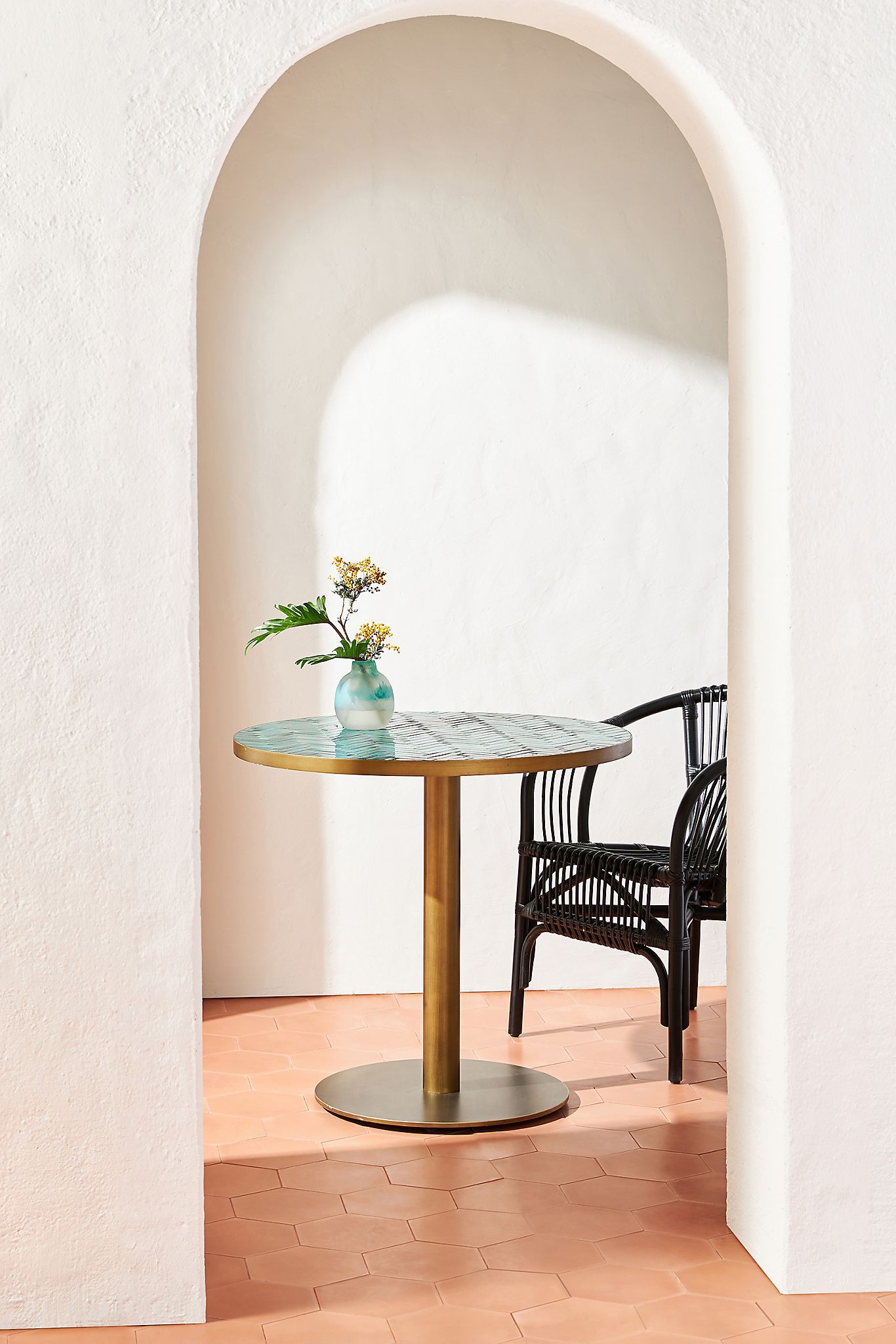 This classy item would be as welcome in your home as in any mediterranean seaside villa or cafe. The beautiful marine blue tiles are set in a gorgeous brushed brass base. No assembly required for this superbly made table!
Suitable for both indoor and outdoor use, this table will certainly be the centre of attention. Picture this on a bright sunny day with some light tapas and be transported to an idyllic Spanish promenade.
An Extendable Drop Leaf Table with Convenient Storage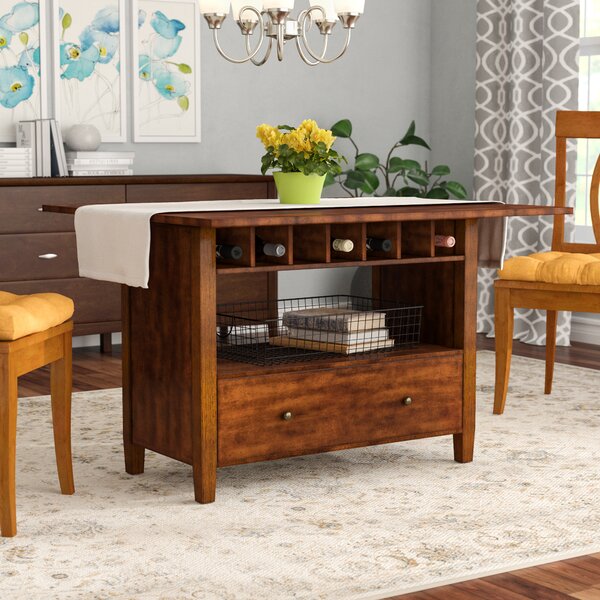 Save yourself a trip to the Kitchen when you've finished that bottle of wine! A fantastic expandable table for small spaces with delightful storage options. This really is a winner for space-savers.
The smart extension options are complimented with storage space for your crockery, cutlery, tablecloth, books and magazines, and it has an oak saddle finish for a beautiful traditional farmhouse look. We can see this as a classic sideboard by day – and comfortable dining table by night.
Get The Designer Look With This Sleek Cocktail Table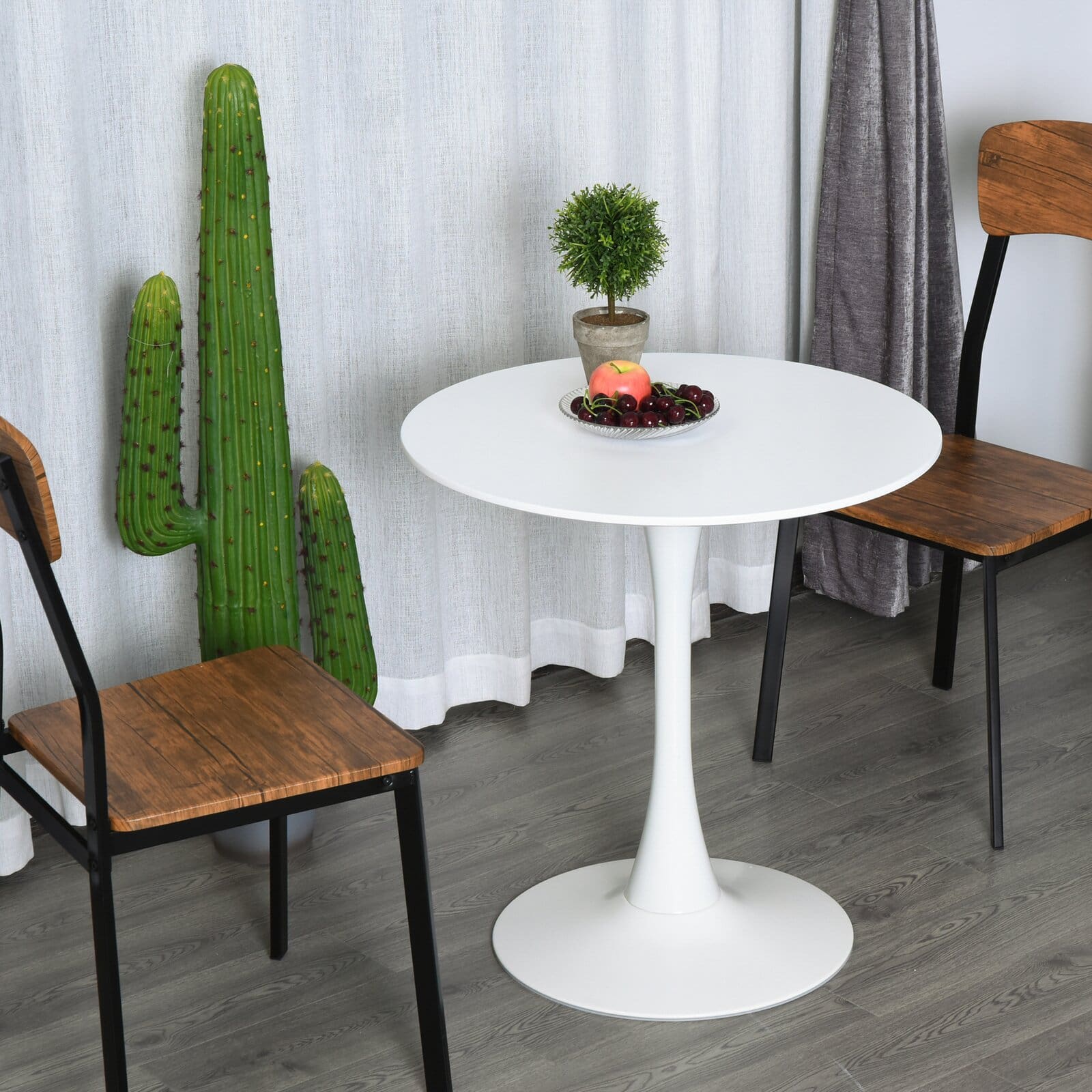 This sleek cocktail table makes the perfect small apartment dining table. It comfortably seats two for dining, and when it's not being used as a dining table you can either use it as a side table, or use it for drinks and snacks when you have guests over.
Since this table is made from acrylic, it's also suitable for use outside, so it's a great option if you need a table that you can use outside on a small balcony or garden in the summer!
Get a Modern Look With This Space Saving Dining Set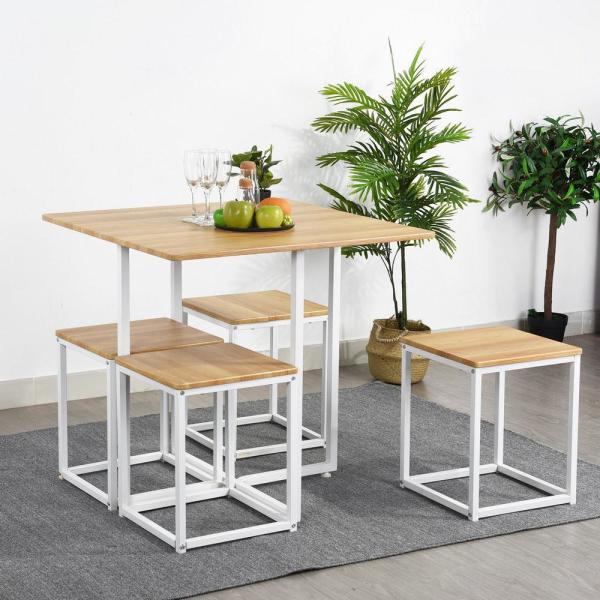 This simple but versatile dining set is perfect for families who have a small dining space. The square table comes with four matching chairs that tuck neatly under the table when not in use, to not take up any extra space.
The contemporary design features a stylish mix of manufactured wood and metal, and will look great in any modern interior.
A Space Saving Dining Table That Can Also be a Desk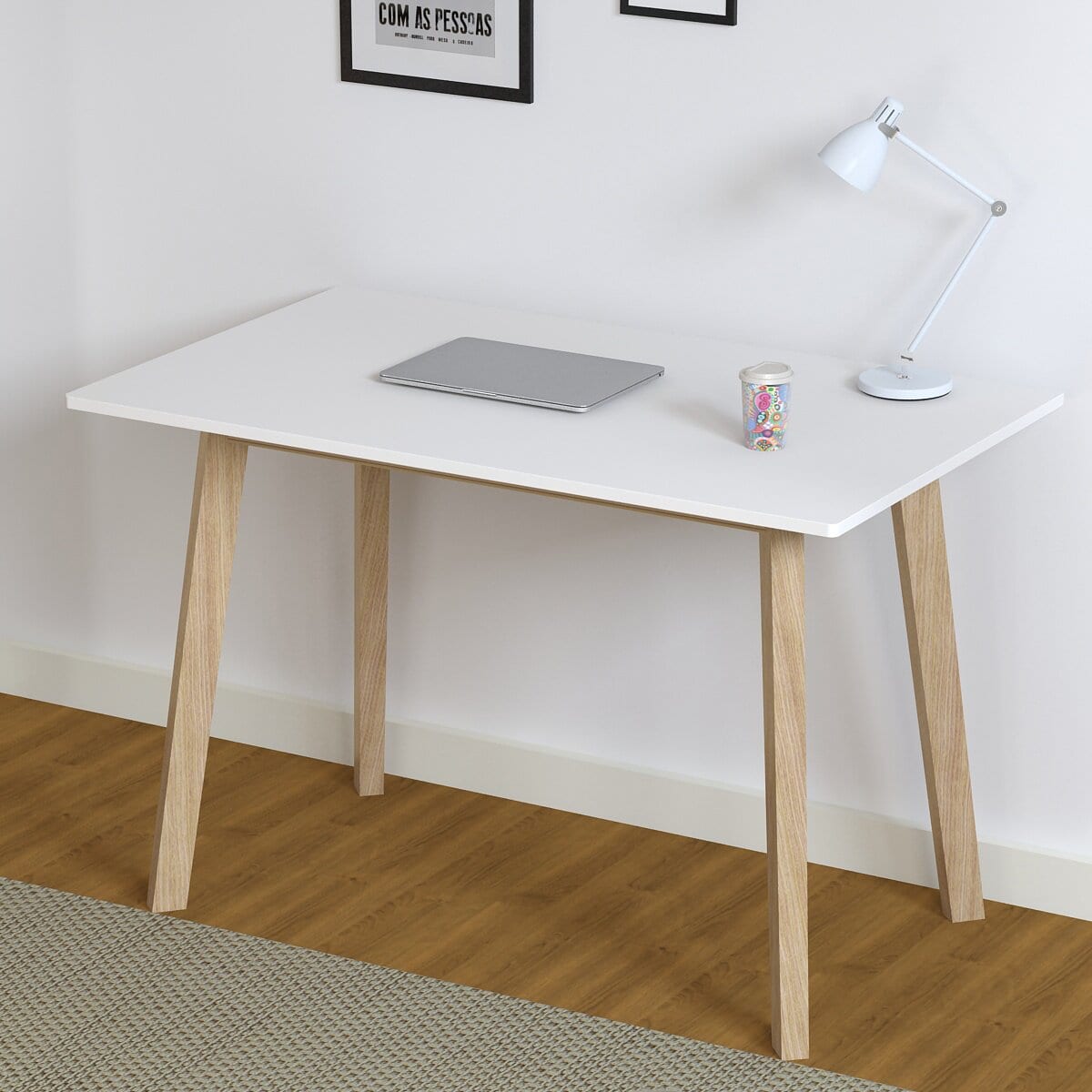 This small dining table is perfect for students, or anyone who would benefit from having a desk in their living area. This size and shape of this dining table means it can easily be pushed up against the wall when not being used for dining, and used as a stylish modern desk instead.
This dining table is made of strong stuff, but is also light enough to easily be carried from room to room when required – a perfect choice for students!
A Floating Table?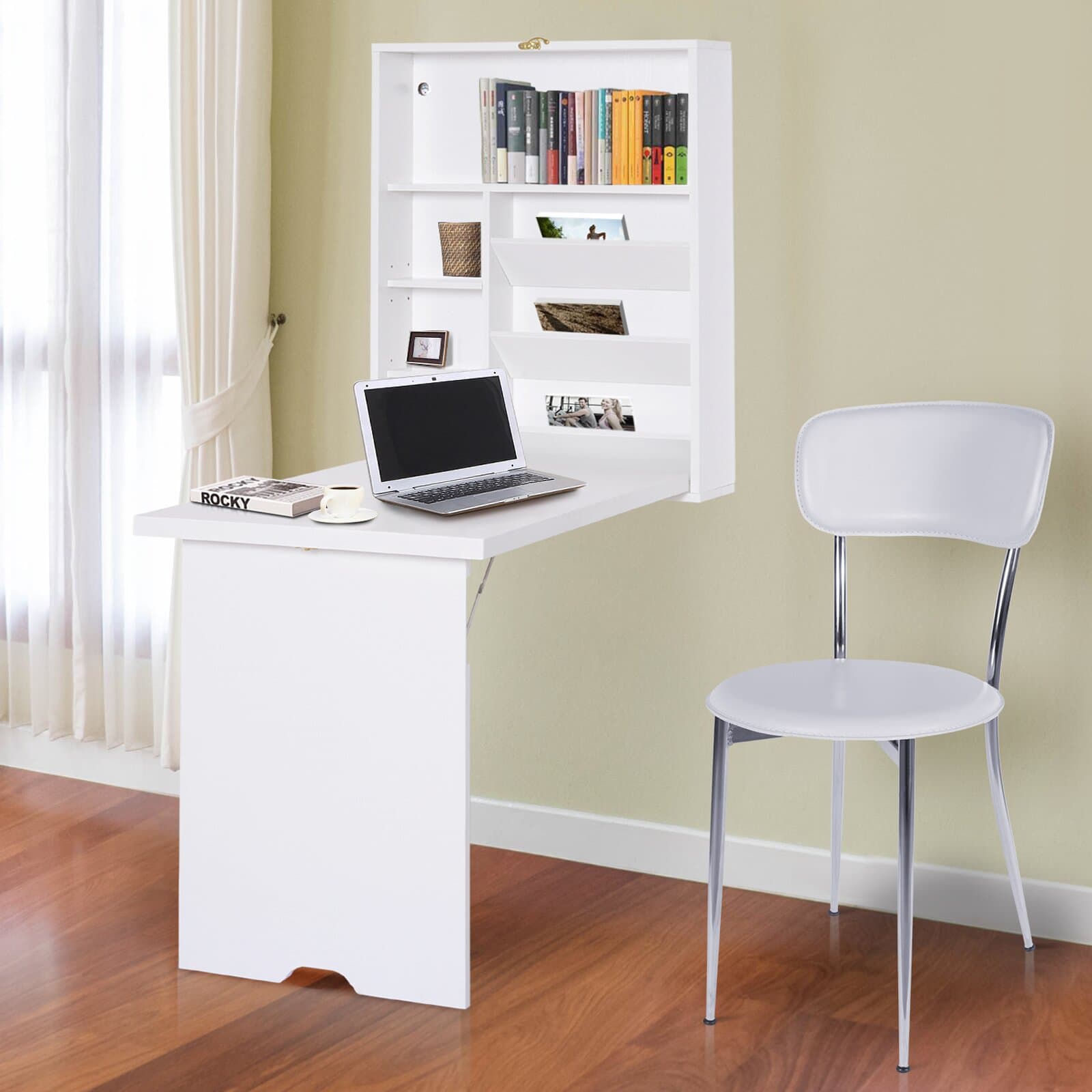 Surely this genius design cannot be beaten for efficient use of a room. When you are really tight for space then this has to be the answer. A wall mounted floating table that folds up completely out of the way with simplicity.
This is a very neat solution for decluttering a space, and what's more, it also makes a perfect desk for whenever you might have to work from home. What's not to like at this price?
Go Sleek With This Black Oxbow Steel Bistro Table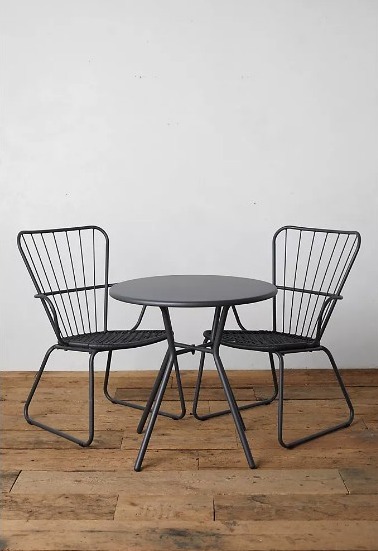 When it comes to space saving tables, you can't go wrong with a bistro table. It's the perfect size for two people to dine comfortably, without taking up too much space in your apartment.
This table is suitable for both indoor and outdoor use, so in the summer it easily can be taken out to the patio or balcony allowing you to enjoy alfresco dining while embracing the extra space in your living room or kitchen.
Get the Rustic Look With a Antiqued Finish Self-Storing Dining Table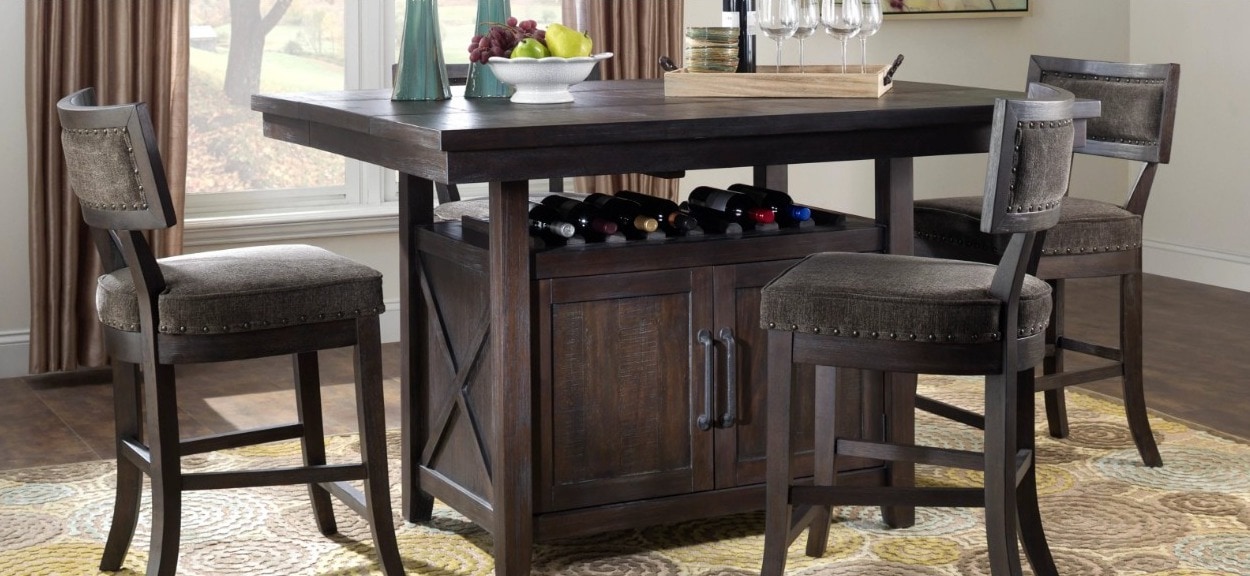 For something a little different, this antiqued counter height dining table is a real showpiece. This table is the perfect height for entertaining guests and mingling before dinner.
When not in use this table is 'self-storing', with a butterfly leaf top, leaving you with more space when you don't need a full dining table. Every inch of this table is useful; underneath the table there is an eight bottle wine rack and a double cupboard for storage!
Save Space on Your Balcony With a Folding Balcony Cabinet Set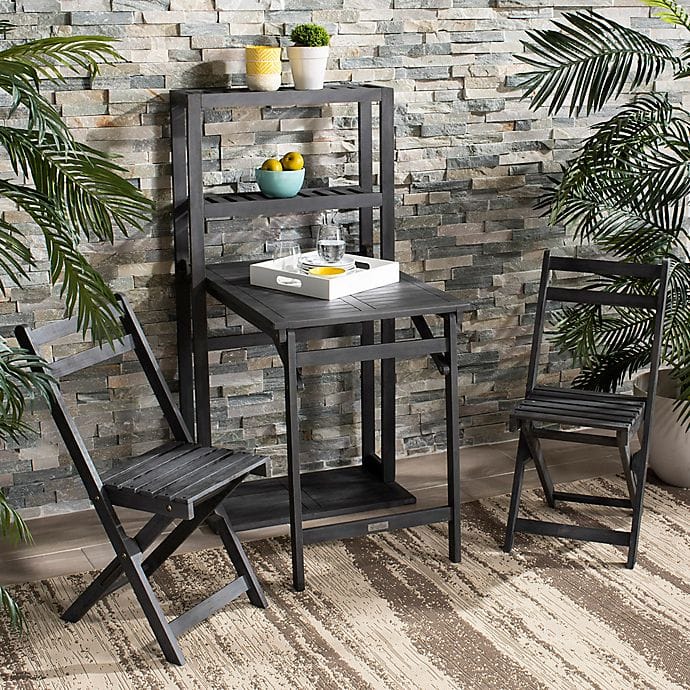 If you're looking for a space saving dining table for your balcony, then this is a great option. This 3 piece balcony set opens up to create the perfect dining table for two, and packs away into itself when not in use to create more space for other activities.
This set includes two chairs, and it is suitable for all weather conditions so you will never have to worry about storage in rough weather.
To Sum it Up…
As you can see, there are a lot of great options available. To find the right dining table for your small space, there are a couple things you need to consider: How many people will sit at the table to eat, and whether or not you need the table for any other purposes.
Convertible dining tables for small spaces are perfect for families, allowing you to have the luxury of a formal dining table when you need it, but without sacrificing the space when it's not in use. And if there's just two of you, then an elegant bistro table is a great space saving choice!