Decorated Life is reader-supported. When you buy through links on our site, we may earn an affiliate commission. Learn More
What Color Door Goes With a Gray House – 15 ideas
Your exterior entryway doors are a prime piece of decor real estate that you can use to increase your home's curb appeal and aesthetic.
When you have a gray house, picking a colored door can give you a necessary pop of color to add personality and style to a large expanse of a neutral shade. We've put together a fun list of the 15 best door colors for a gray house.
Whether you go with a variation of blue, white, gray, black, red, or surprising shades you may never have thought of; this list includes them all.
Cheerful by Sherwin Williams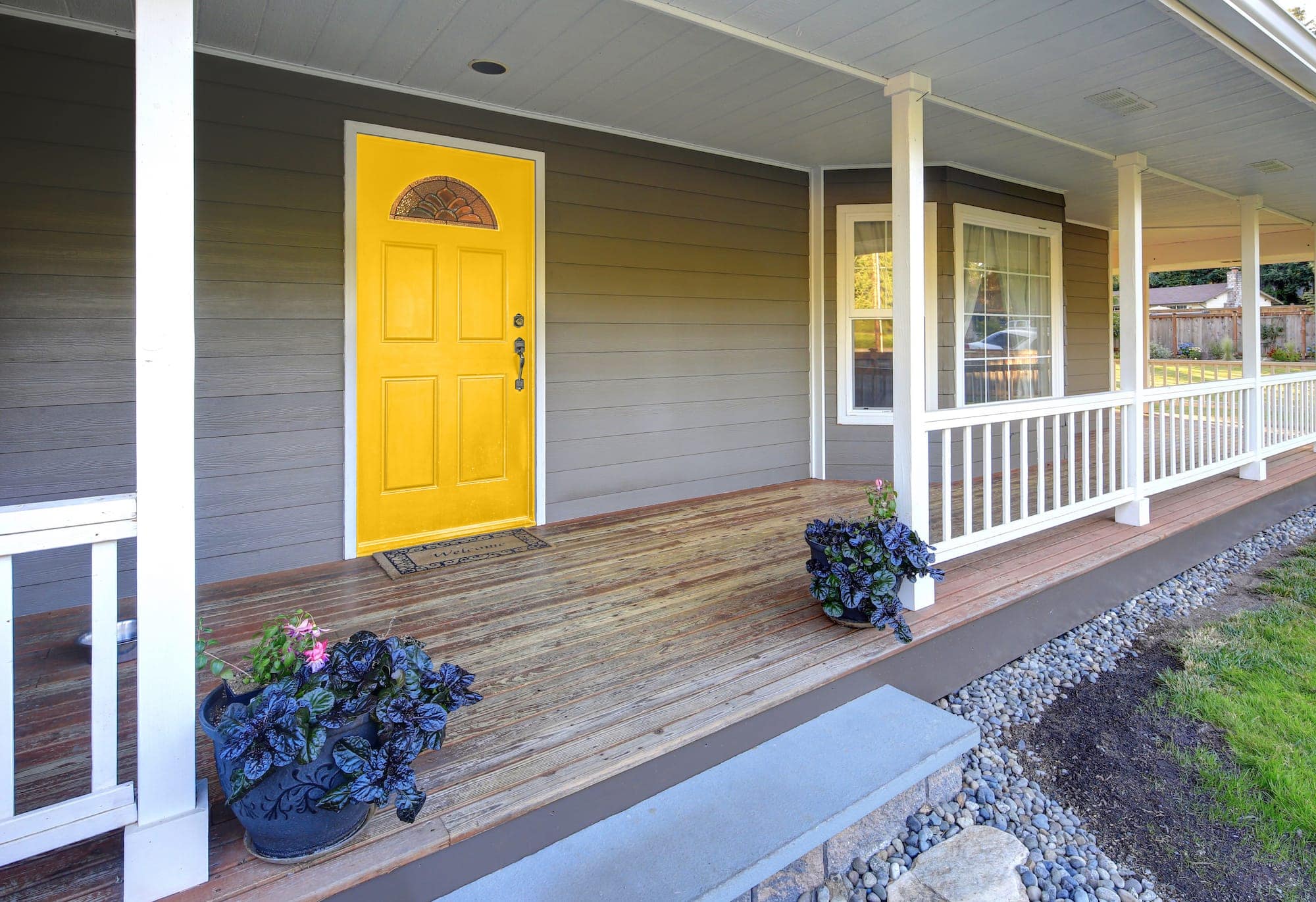 Yellow might seem like a surprising color choice for exterior doors, but this primary color can make a fabulous companion to a gray home.
Cheerful by Sherwin Williams is a brighter color that inspires feelings of sunshine, happiness, and lazy summers. This shade of yellow is perfect for grays of all tones and hues.
Calypso by Sherwin Williams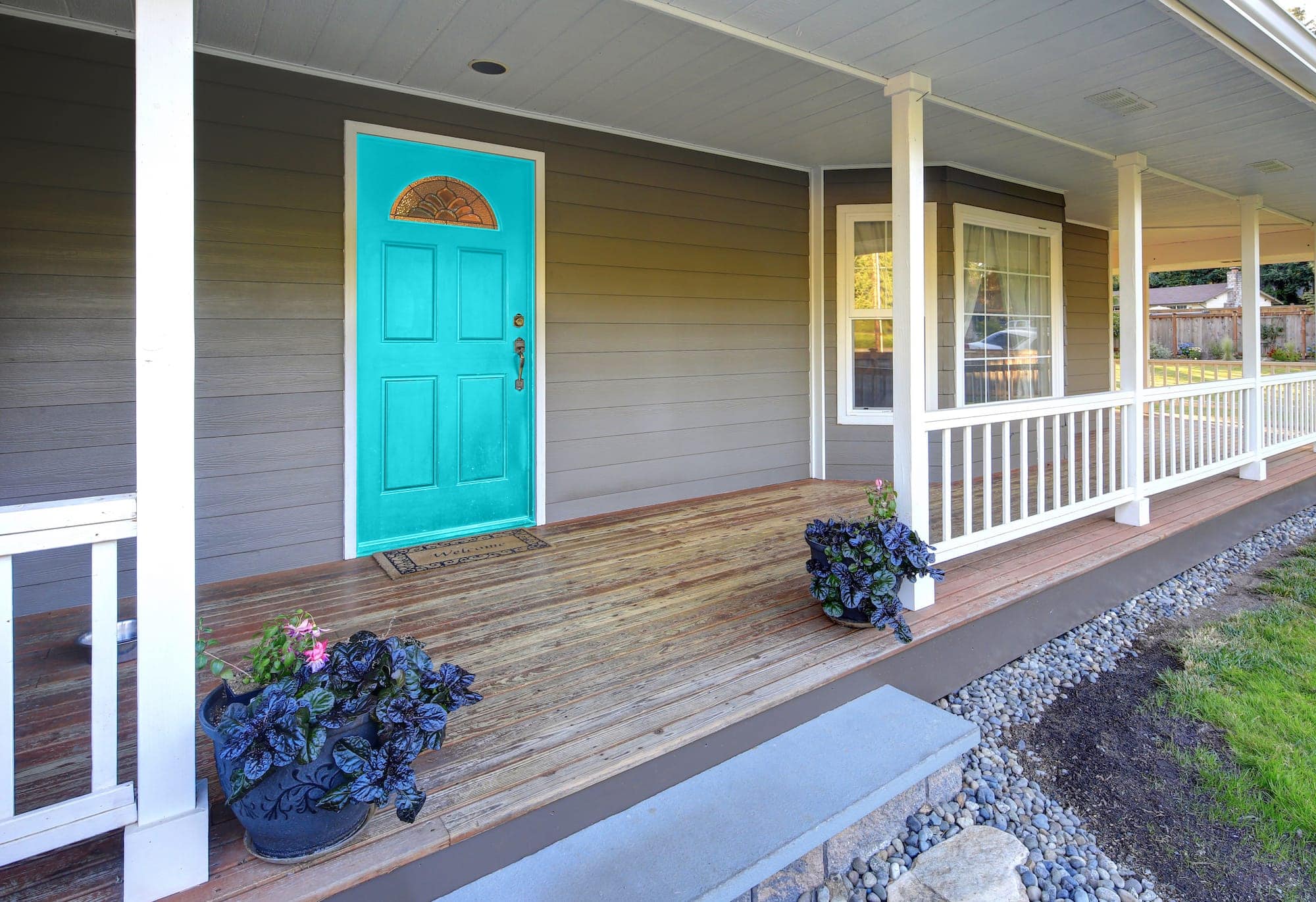 Many people are looking towards unconventional design ideas for door colors with gray homes. While blue is one of the most common choices, there's a huge scale of possibilities.
If you're looking to avoid the traditional dark masculine blue tones, you may prefer a shade that is more beachy and jewel-toned, like Calypso by Sherwin Williams.
Navel by Sherwin Williams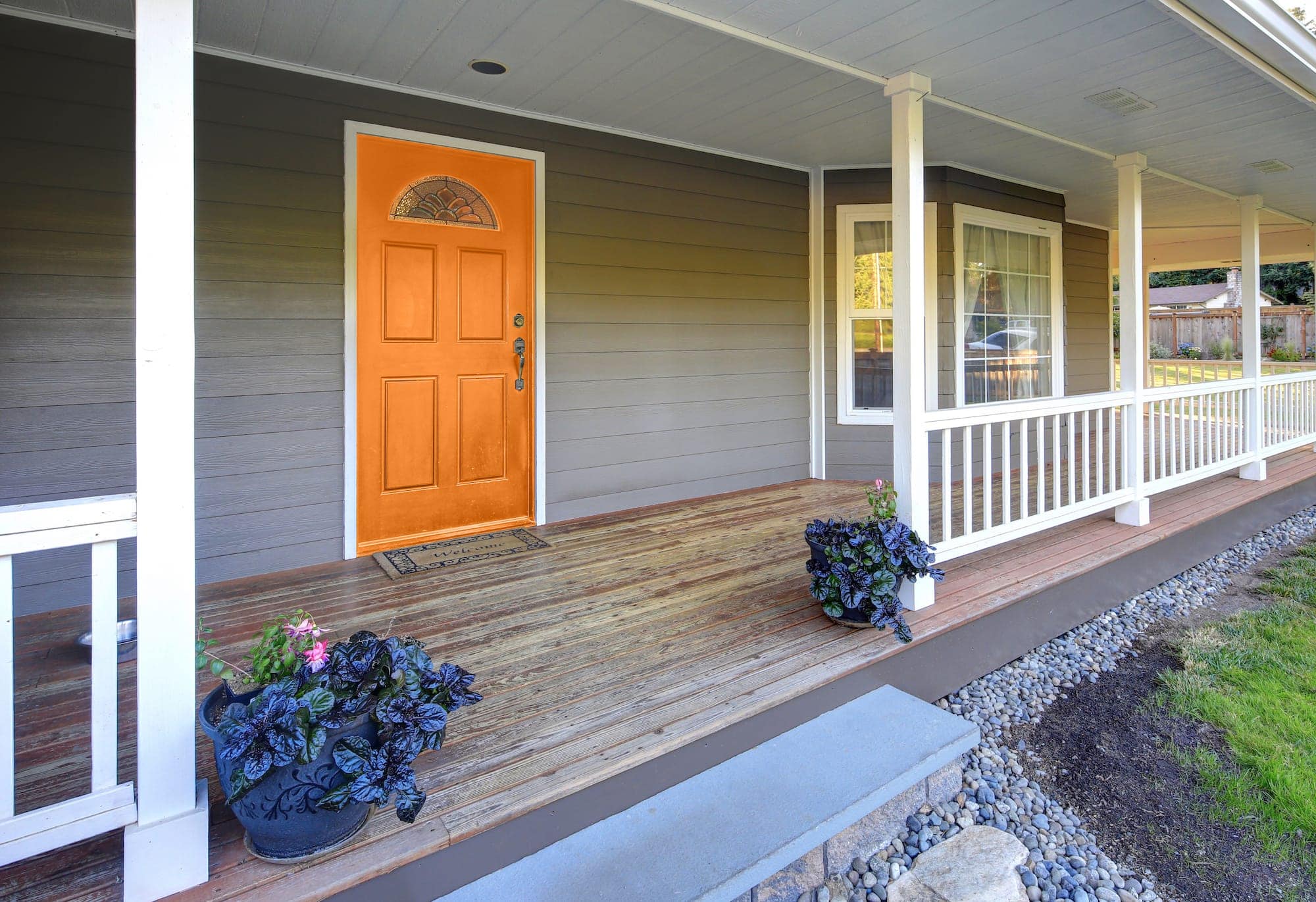 Most people wouldn't make a design connection between a gray house and an orange door. But once you see the beauty of this unlikely pairing, you're sure to become a fan.
Think lighter, such as Navel by Sherwin Williams, rather than a bright reflective orange like the University of Tennessee Volunteers team or pumpkin color.
Turkish Coffee by Sherwin Williams
Embrace a natural, earthy color palette by pairing a gray house with a dark brown door. You can leave your door in its natural wood state or paint it brown for a more composed design.
There are multiple shades of brown, but we love Turkish Coffee by Sherwin Williams. Skip a light white trim and opt for a dark black instead for a more modern look.
Merlot by Sherwin Williams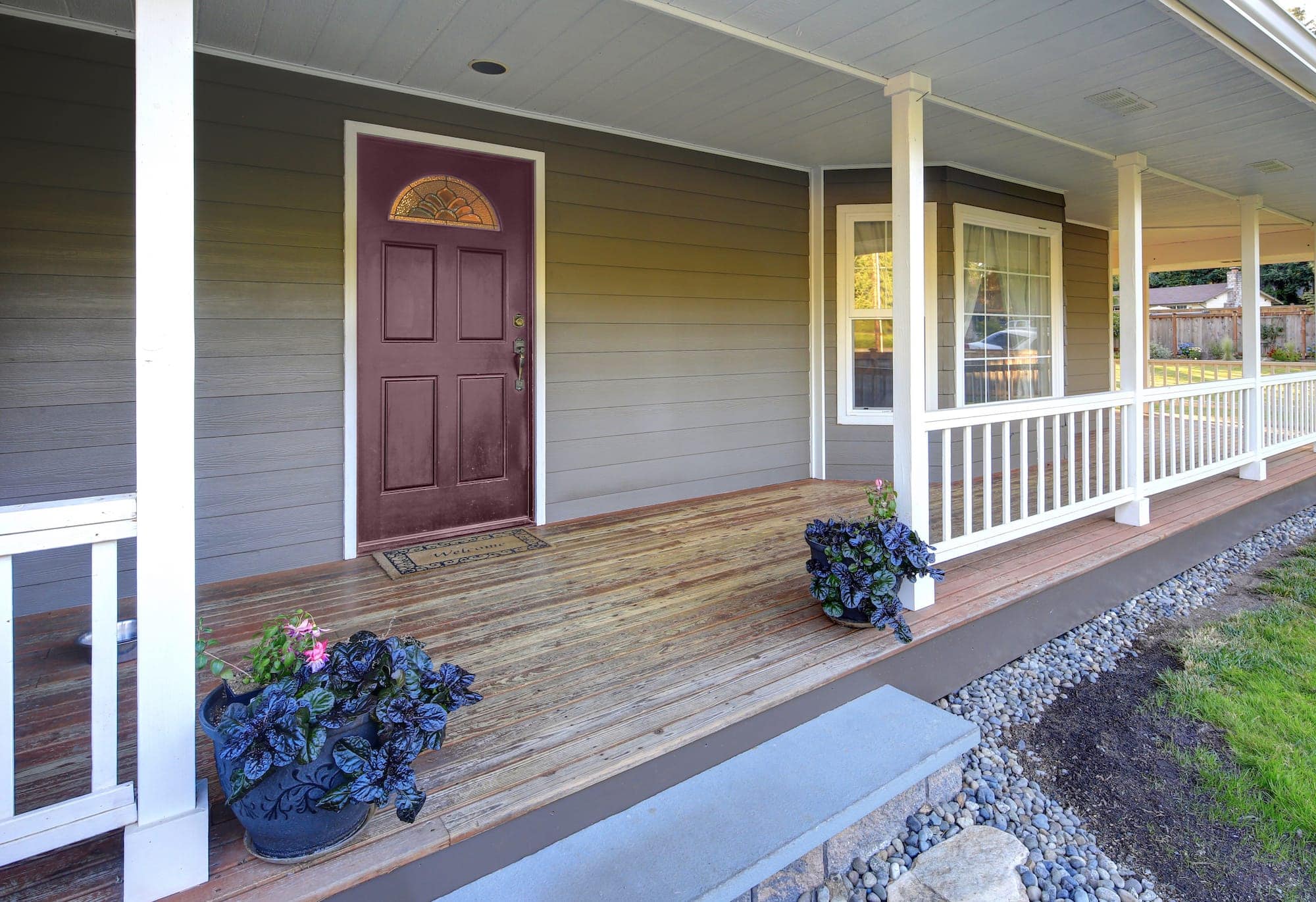 Merlot is a mauve-based paint color, a rich blend of purple and red for an elegant, upscale wine shade with faint brown undertones.
This deep, low LRV (4) shade has just the right amount of color intensity to give your entryway enough character to stand out against a large expanse of neutral gray.
Gray Shingle by Sherwin Williams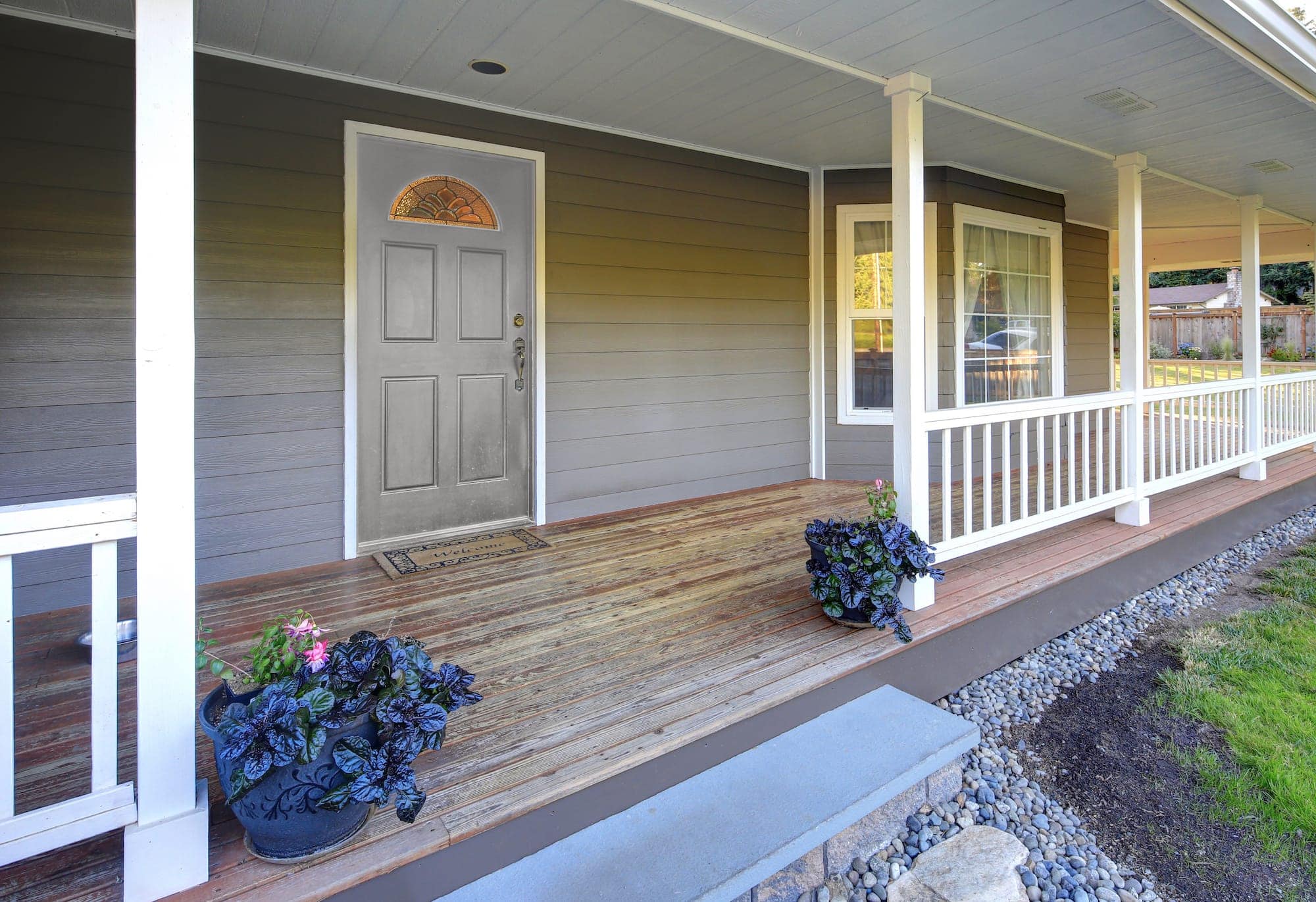 If you're not inspired to give your door a color that will stand out, you can go with a gray-on-gray scheme, using lighter and darker shades.
Gray Shingle is a smoky gray with slight undertones of beige and mauve that looks balanced as a door with a gray house in a lighter Crushed Ice gray and accented with Extra White or Intimate White for a touch more beige.
Coral Dust by Benjamin Moore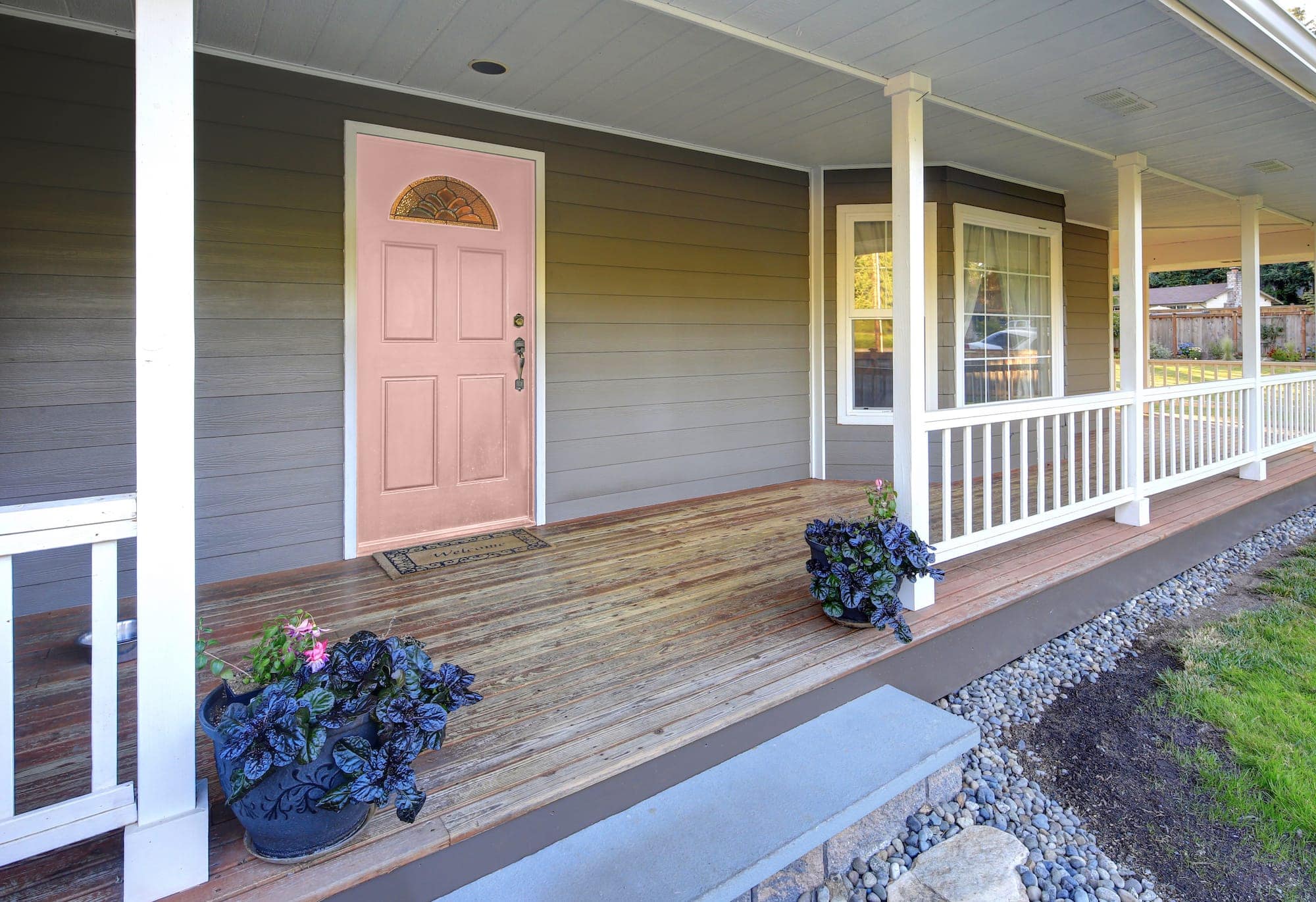 If you're trying to achieve a casual, beachy nuance, think about painting your front door a soft Coral Dust. This light dusty pink color features peach, orange, and beige undernotes.
The dense saturation and medium LVR makes this warm color pair well with grays with beige or mauve notes, like Early Morning Mist or La Paloma Gray.
Vintage Taupe by Benjamin Moore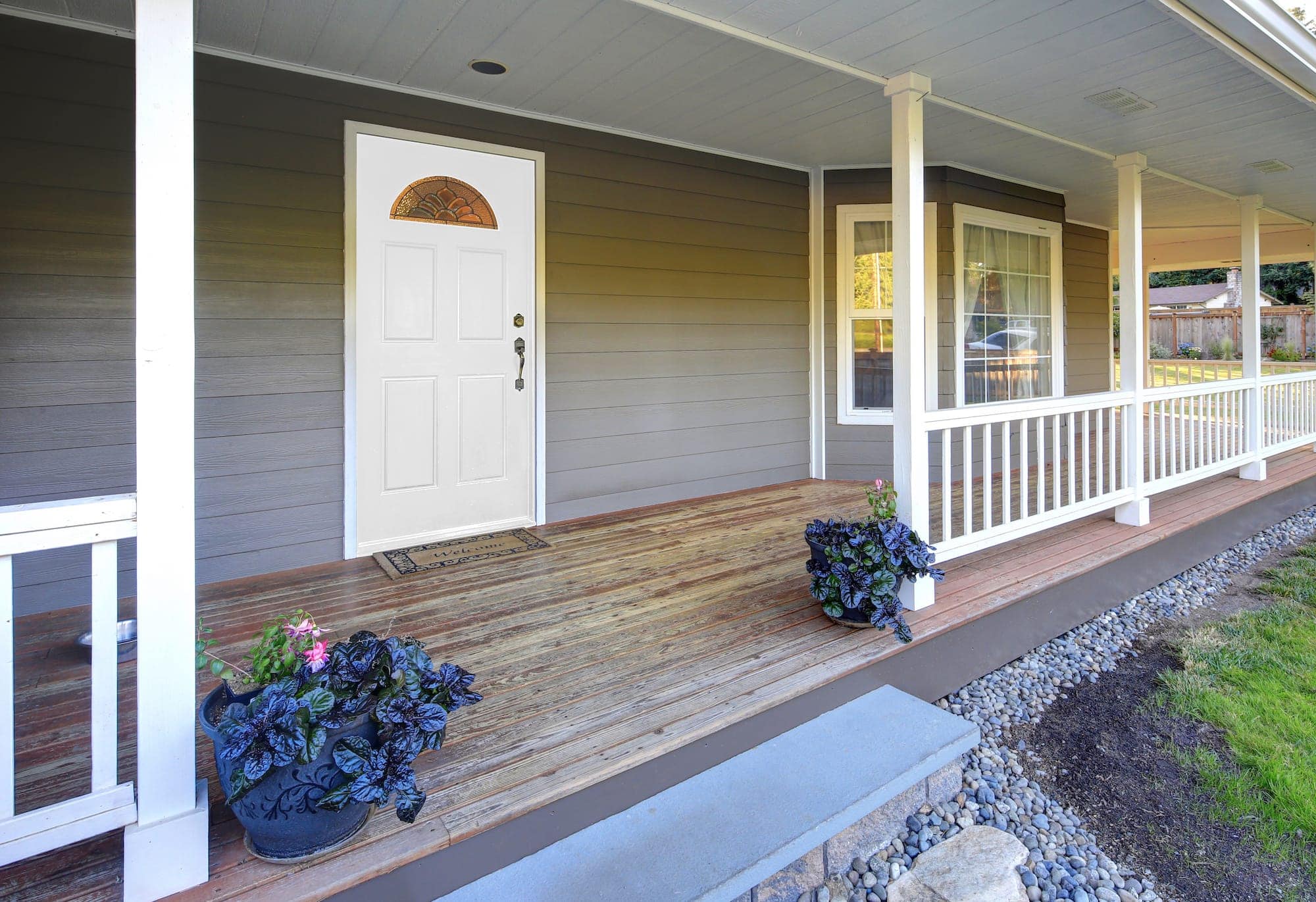 Vintage Taupe is a very neutral color that you can use to create a graceful, subtly traditional entryway for your gray house.
This high (84.42) LVR color is a fascinating mix of white but not white, with faint hues of gray, silver, and mauve. It's the perfect light door shade to use with darker grays like Pilgrim Haze and Gray Horse.
Chantilly Lace by Benjamin Moore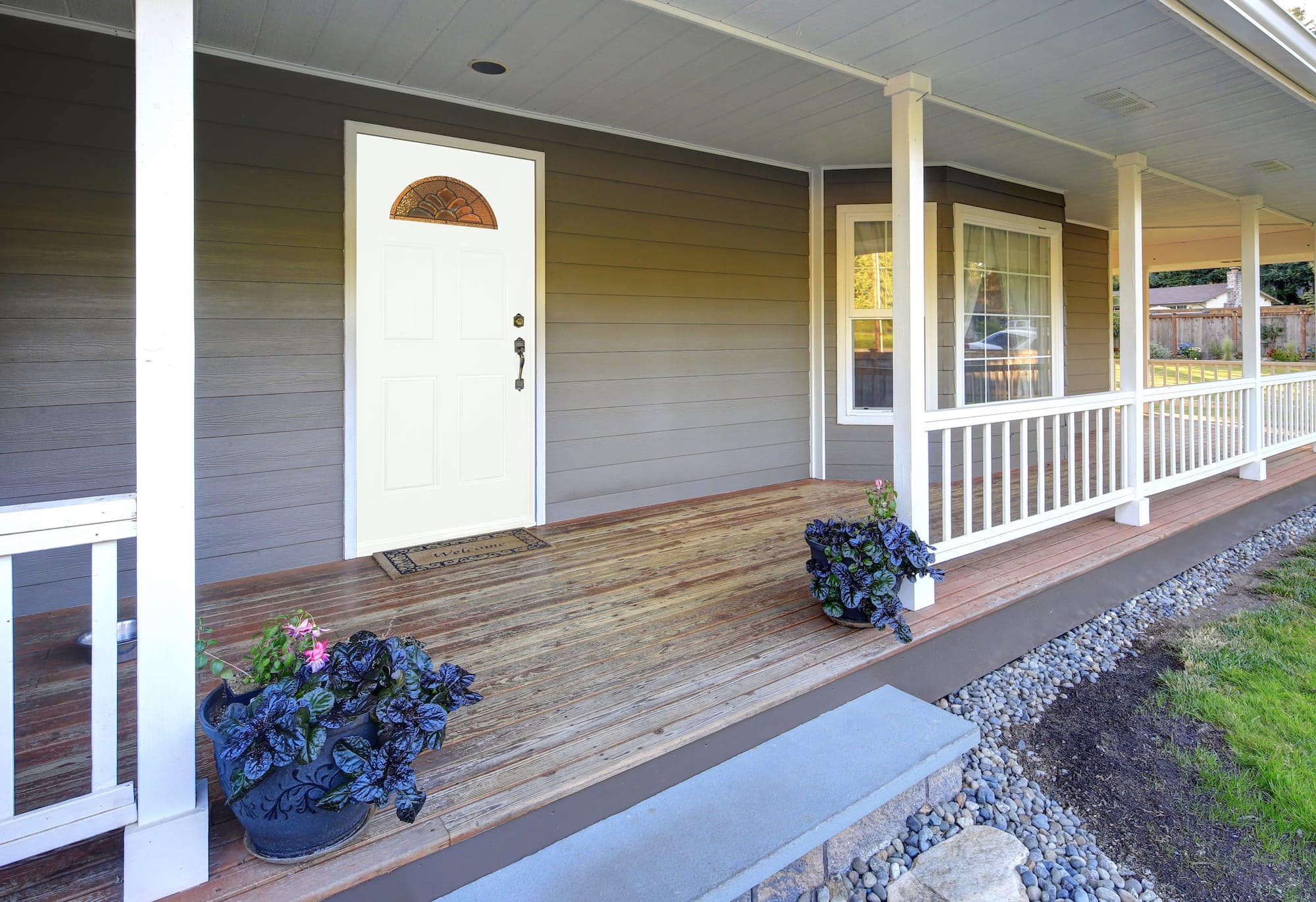 There's nothing wrong with a traditionally neutral door in a bright white. But just because you're going simple with the color doesn't mean you have to go boring.
Chantilly Lace is the best of both worlds. As a clean, crisp white, this fun shade offers a bright, reflective feel with an impressive LRV of 92.2. But when paired with a gray house, this aged lace can take on a faint gray tone, making it slightly off-white.
Gentleman's Gray by Benjamin Moore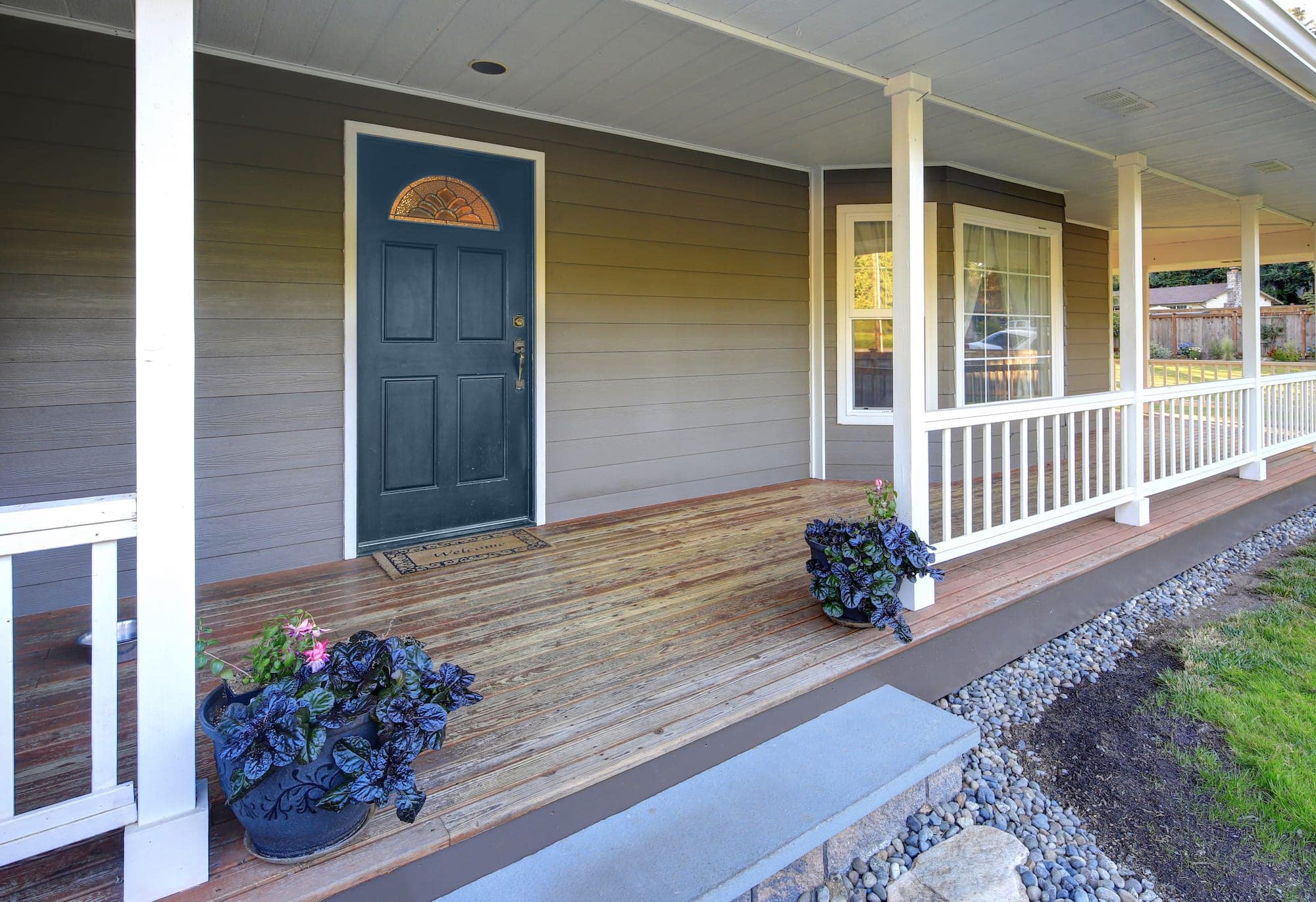 Give your door a rich, formal traditional feel with a deep masculine blue, like Gentleman's Gray. When used on a gray house, this navy blue color has a dark blackened feel that pulls out the smoky hues in gray.
A 5.37 LRV makes this blue-black-gray color absorb light, allowing this color to look bright or dark and smoky, depending on the lighting.
Hunter Green by Benjamin Moore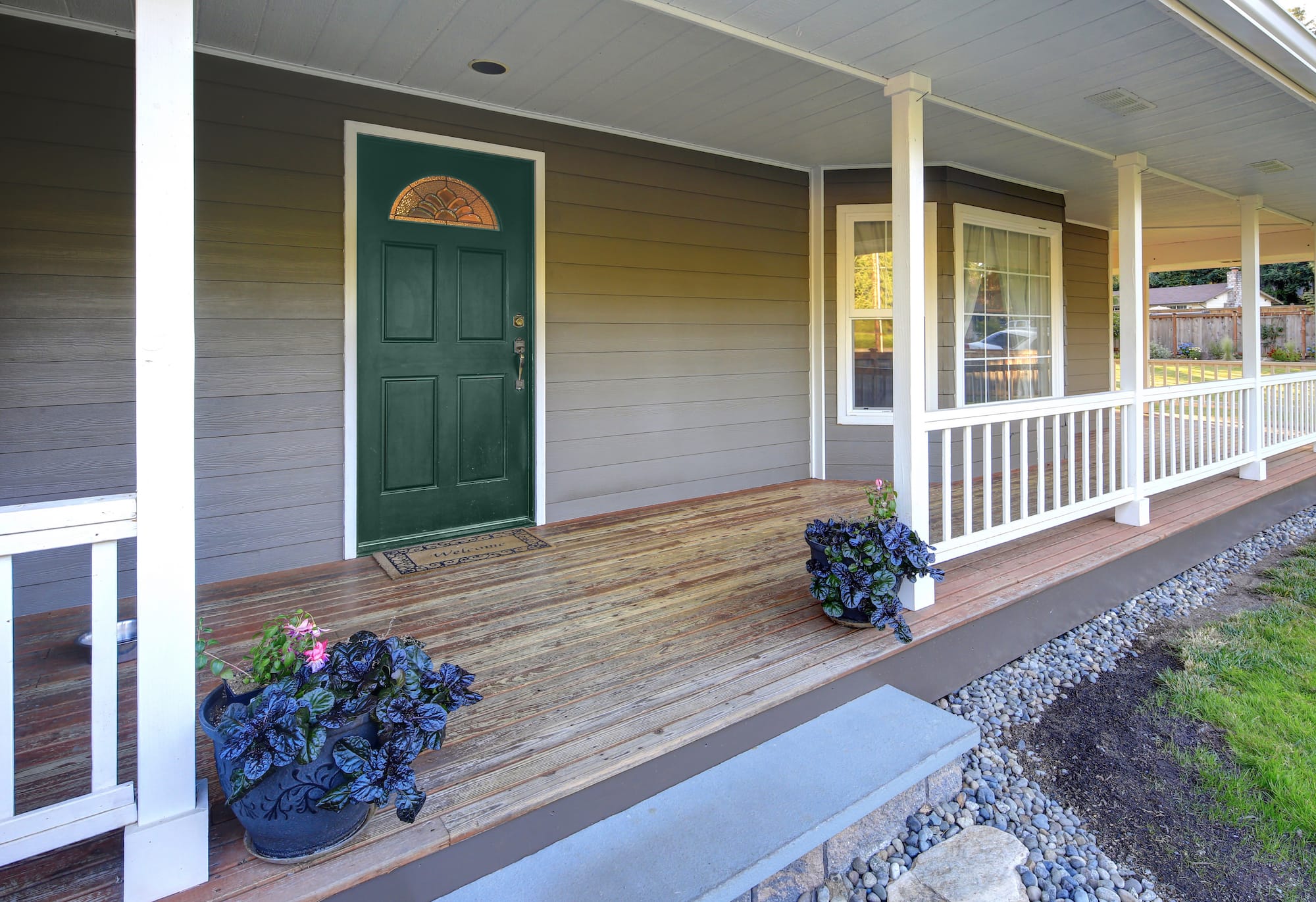 Green is an impressive color for exterior doors, with the dark beauty of Hunter Green being one of the most stunning green door colors for a gray house.
This darker shade of green has a low LRV (light reflective value) of 4.31, giving it a deep, bold saturation that pops with curb appeal.
Flirt Alert by Behr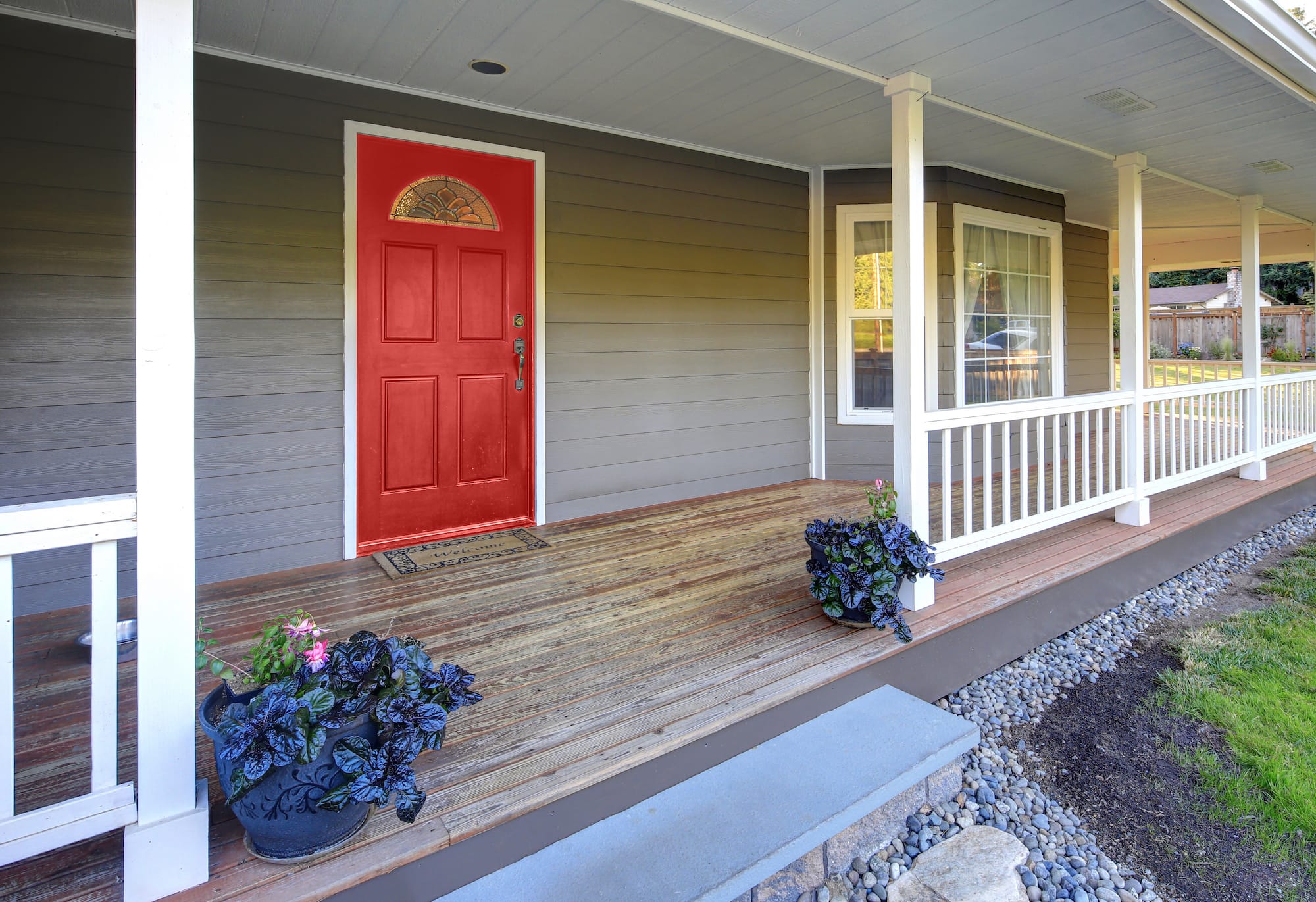 Reds are popular for front doors on gray houses, largely because they're bold, dominant shades. While there are many different variations of red and gray, you'll want to think of the contrast between the hues of the gray house with the red door.
The darker the shade of gray, the brighter you'll want your red. Our hearts race at the sight of Behr's beautiful red – Flirt Alert. The low LRV makes this color suitable for open or closed-off doors and any gray exterior.
Key Largo by Behr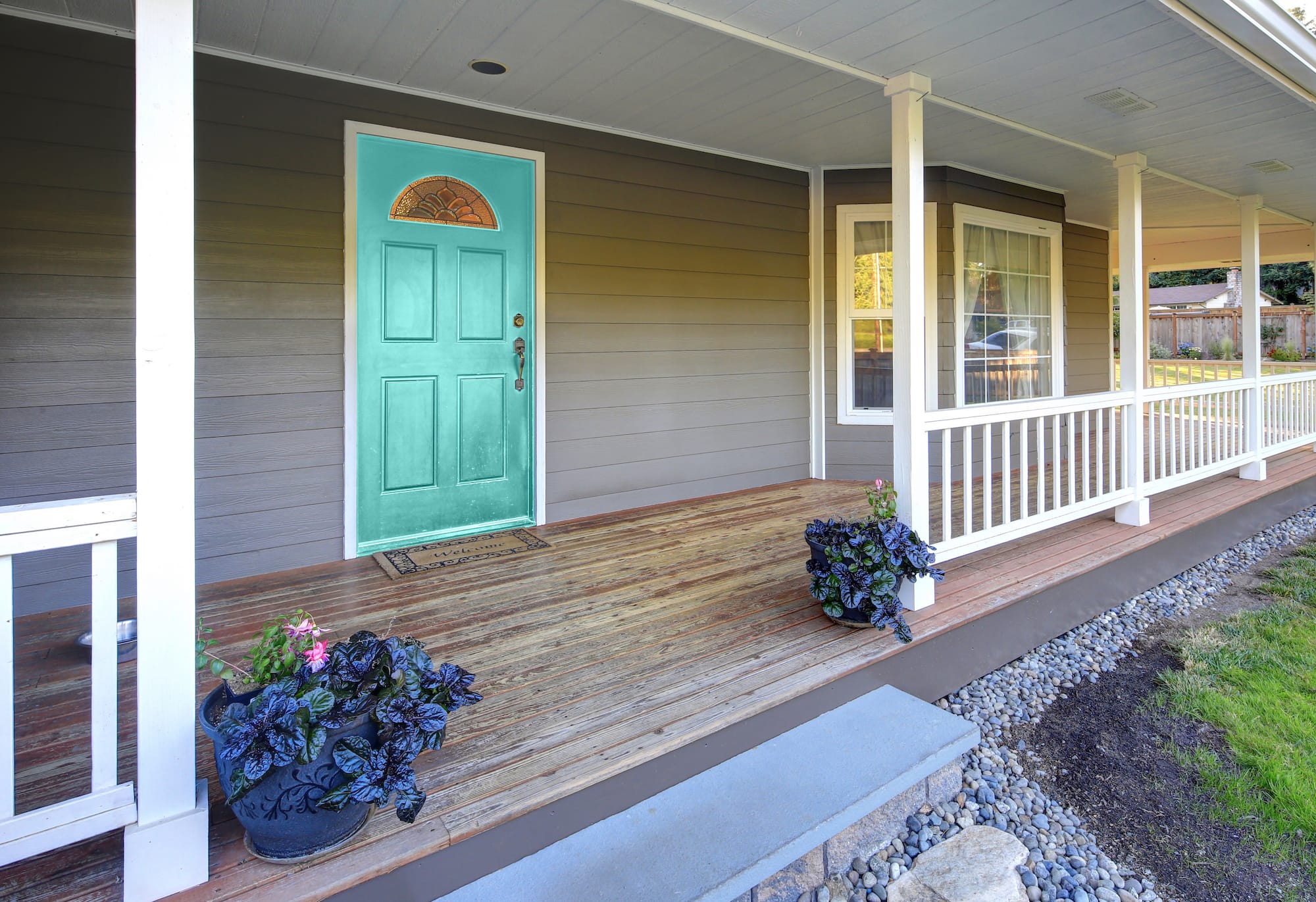 If you prefer giving your entryway personality and color, consider going with a bright, fun choice for your door, like a light blue.
Key Largo by Behr is a medium LRV (59 Light Reflective Value) paint shade with an icy cool feel in the light, bright blue color that gives your entryway an impressive nuance.
Pitch Black by Farrow & Ball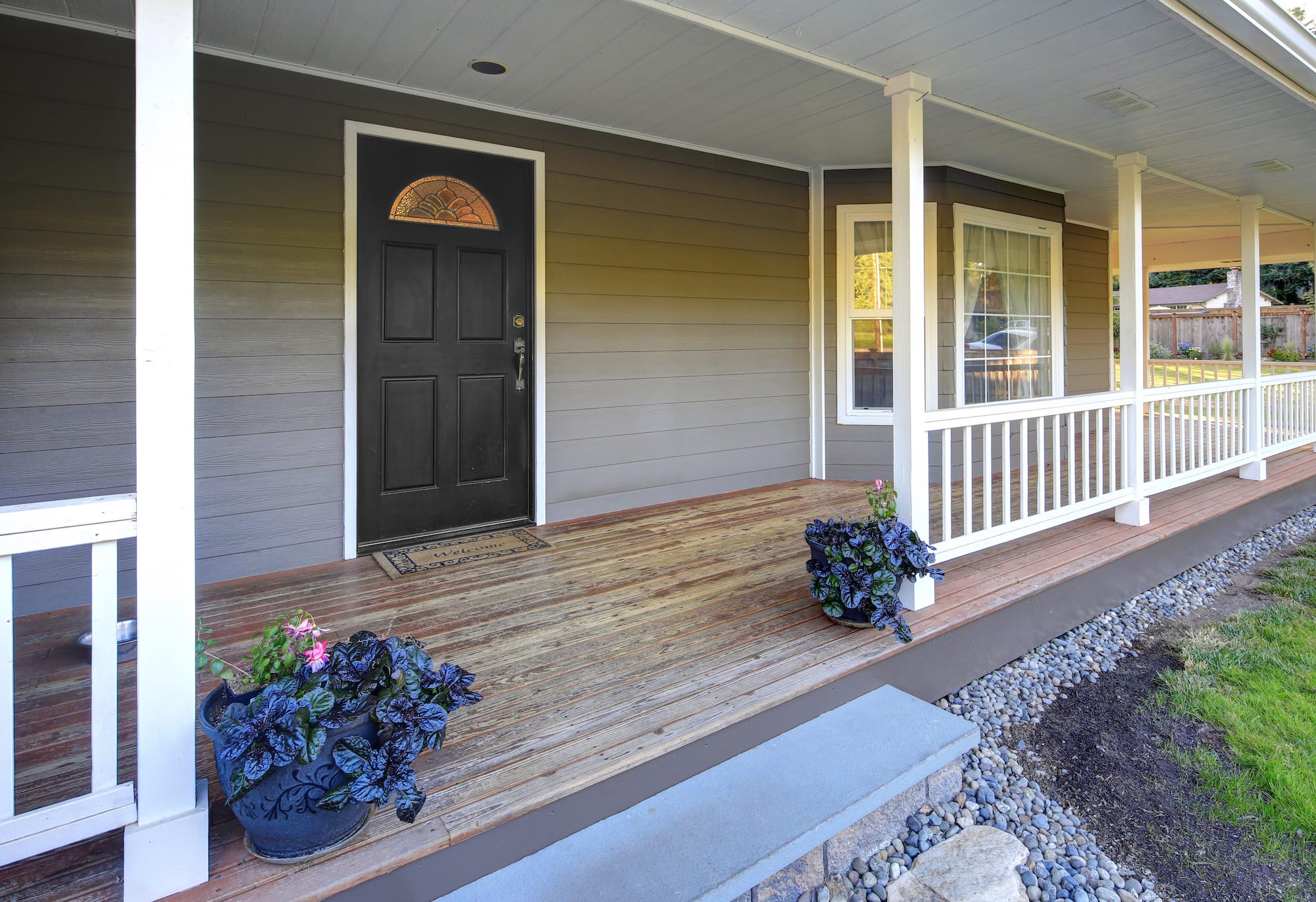 For a modern aesthetic on a gray house, you can continue the monochromatic color palette by painting your front door a true black.
We appreciate the bold beauty of Farrow & Ball's Pitch Black. With the same inky dark color as the coal tar residue used for roofing, this pure black offers a heavy dose of depth that screams stylish and modern.
Down Pipe by Farrow & Ball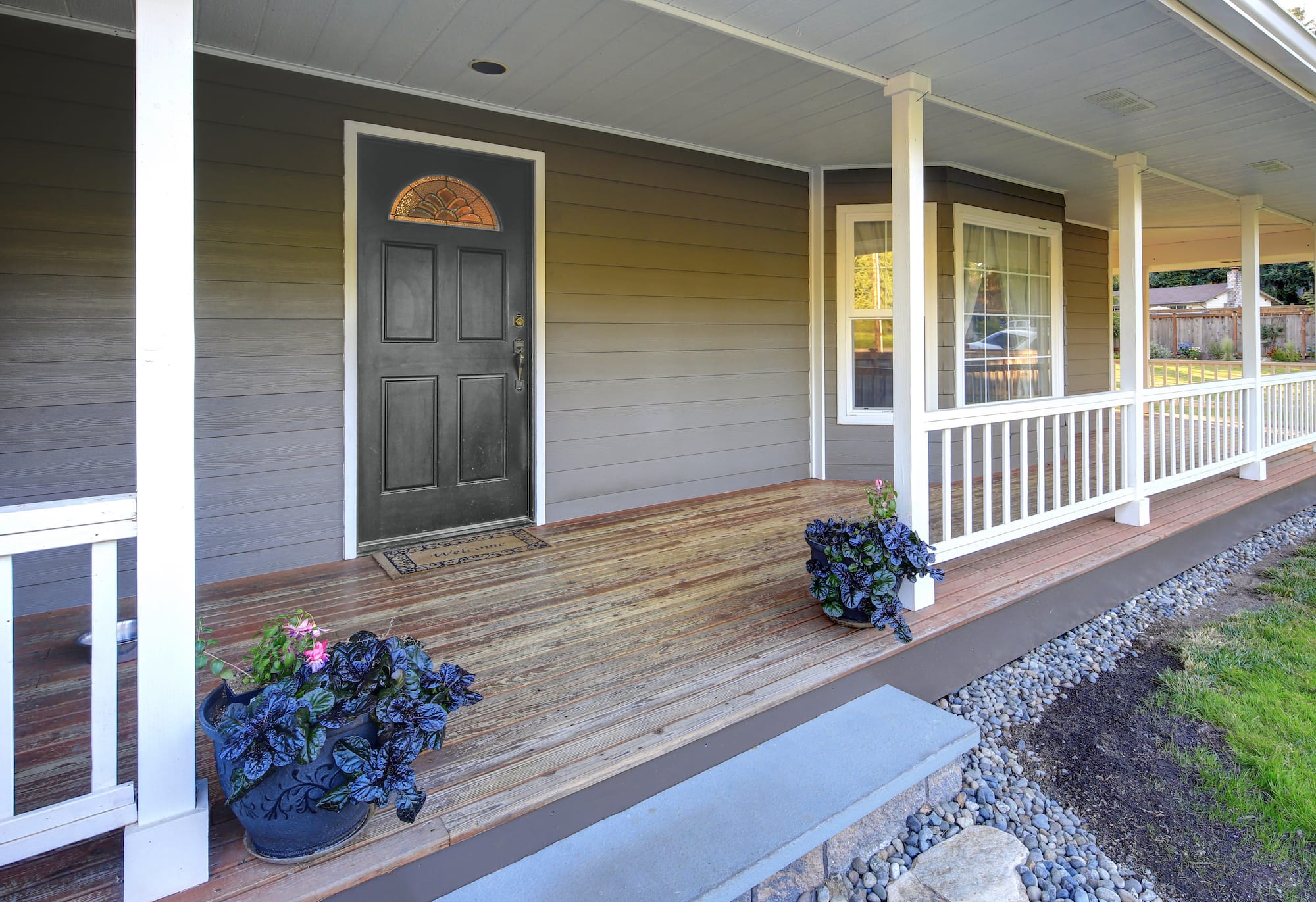 Going with a gray-on-gray color scheme for your home is an understated way to add charm and personality to your exterior for max curb appeal.
When you have light-colored gray siding walls, you can get an impressive yet subtle look when you paint the door a darker shade of gray, like Down Pipe by Farrow & Ball. This darker tone of gray has rich blue undertones for a touch of drama.
Final Words
Using gray for your house gives you a neutral base that offers slight tints for color. But too much of the same color can become a bad thing. On the other hand, choosing a fun color for your door can improve your aesthetic and curb appeal.
Now you've seen our door color ideas for a gray house. So, give us the deets for your favorite color combination!