Decorated Life is reader-supported. When you buy through links on our site, we may earn an affiliate commission. Learn More
What Color Furniture Goes with Dark Wood Floors? – 20 Ideas
When you have dark hardwood floors, selecting the right color for your space's furniture is crucial to your overall aesthetic.
We will look at twenty ideas for furniture colors for dark hardwood floors. Whether you like the look of dark on dark colors or a nice play of light on darkness for contrast, this list will have something for you. Of course, neutrals like gray, white, and off-whites always look exquisite. But blues, pinks, greens, and even reds can create a major wow factor.
Select a Rich Suede in a Shade of Dark Brown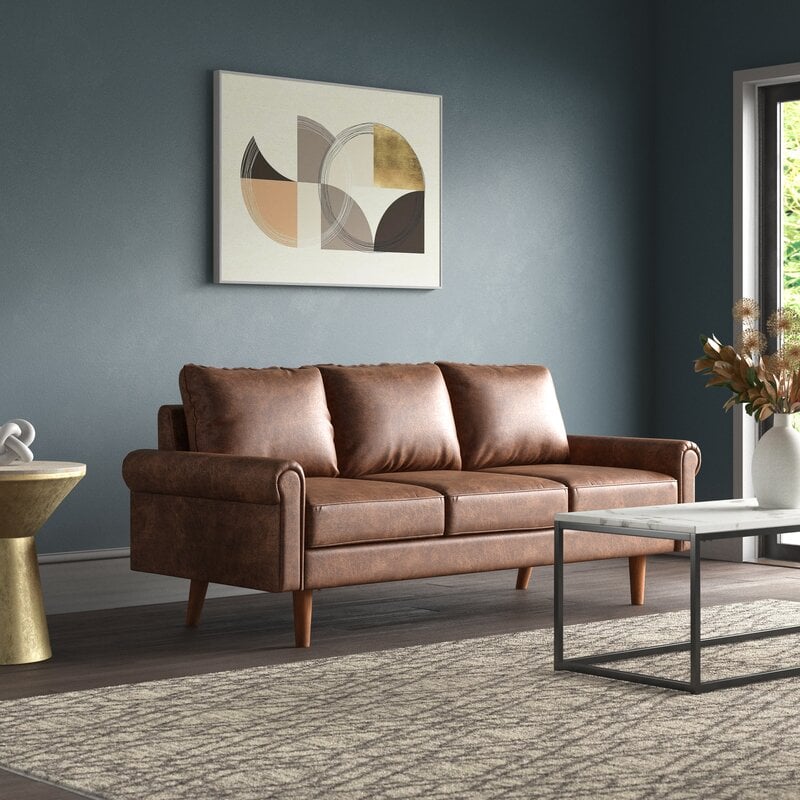 One of the best colors for the furniture for dark wood floors is dark brown. However, going with a rustic subtle distressed suede material can enhance the luxury of the room.
While picking a modern design like this raised sofa in a rich chocolate brown exudes class and style. The tapered wood legs elevate the couch for more comfortable lounging. While the thin, sculpted arms enhance the contemporary style.
Liven Up Dark Floors with Light Gray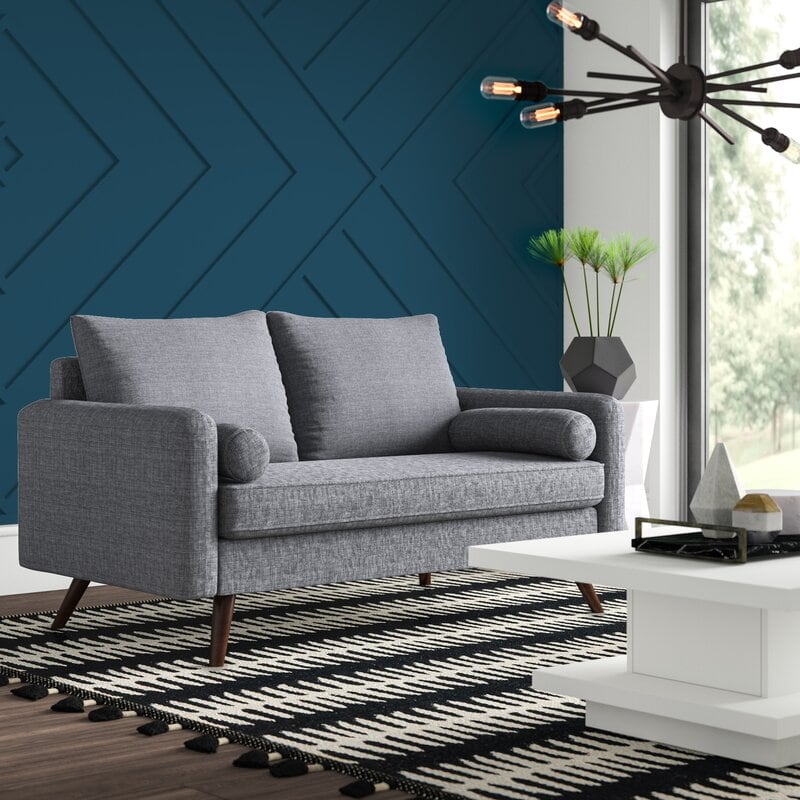 Gray is a miracle neutral, offering the perfect balance of white to dark. And you can change the color's depth by altering the amount of white or gray, resulting in darker or lighter shades.
We appreciate the simple, understated neutrality of this gray denim fabric. The soft color is the exact balance of tradition to blend a retro shape with the modernism of slanted tapered wood hairpin legs. Overall, you get a sofa that's a lovely focal piece against dark hardwood.
Enjoy the Bright Boldness of Eton Blue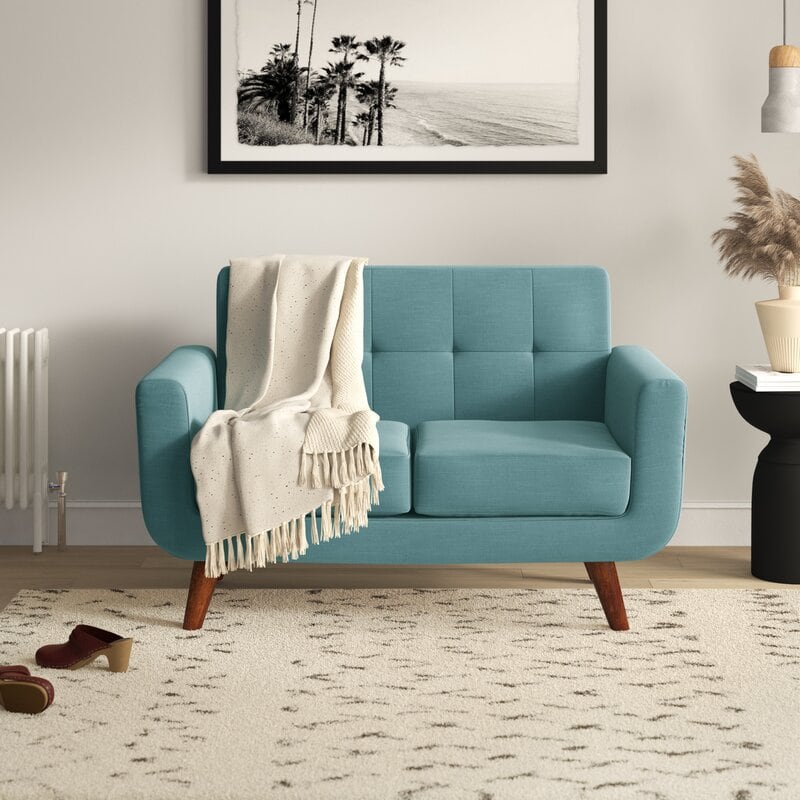 If you prefer a sofa with a color that will stand out against dark floors, consider going with something blue. We're in love with the funky tone of Eton Blue.
Part blue, part green, with a faint bit of gray mixed in, this shade is a gorgeous blend of it all. The dark tapered hairpin legs create a stunning transition against the colored fabric and dark floors. Throw down a chic boho rug in beige for a more stylish contrast.
Hone Your Style with Heather Gray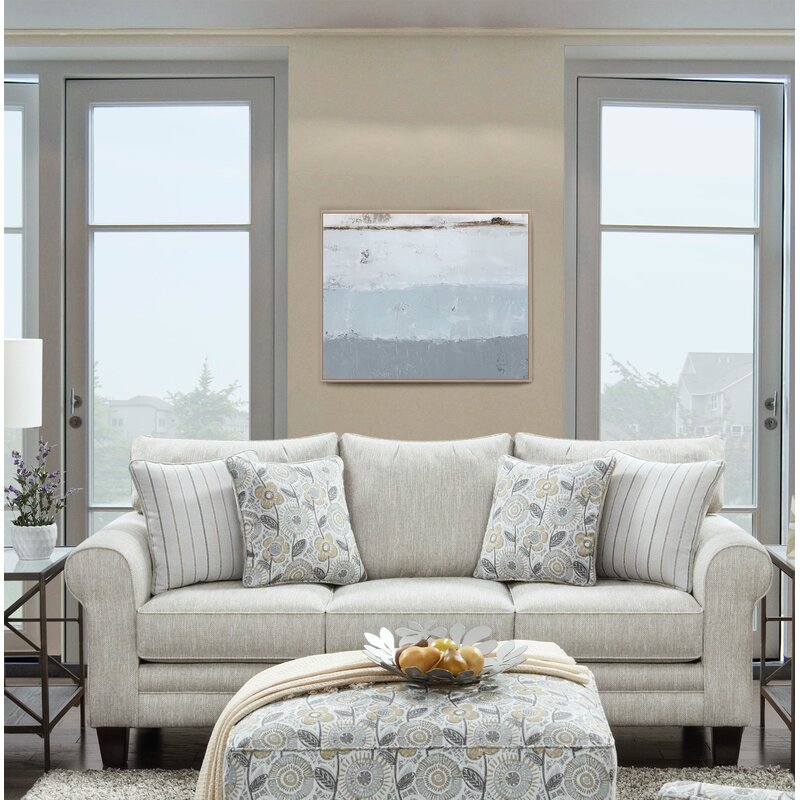 With this bright, light-colored sofa, we use gray in a very loose sense, as the hue of this couch is so light it's almost an off-white.
To add some flair for a fun transition between the lightness of your sofa and the darkness of the floors, add pillows and side chairs in a neutral floral print.
Go for a Sofa in Golden Ginger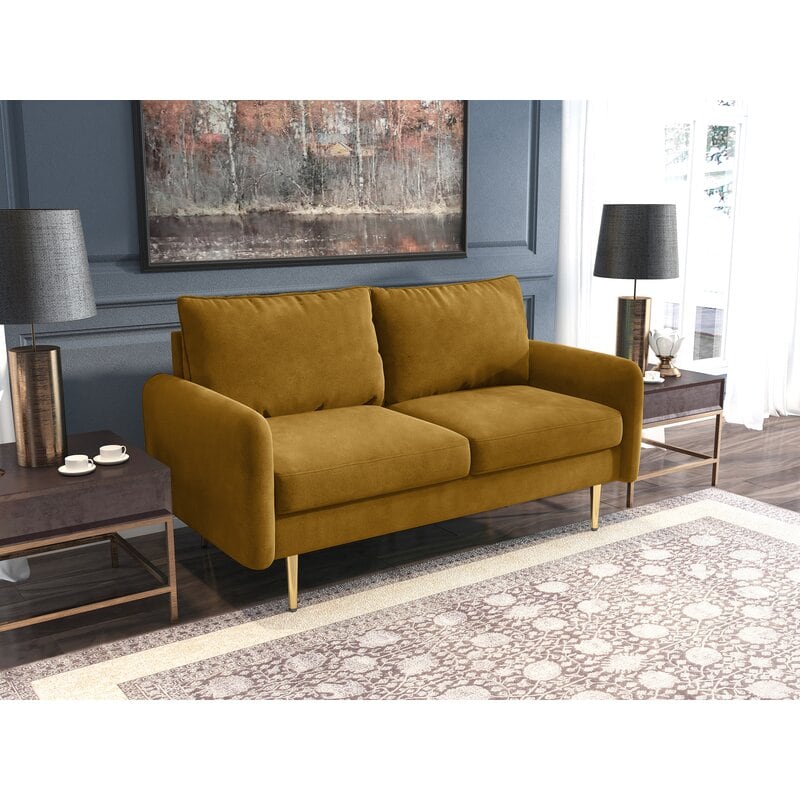 Embrace your retro side by picking a clunky, funky sofa in Ginger velvet with glamorous gold legs for a bit of bling. The blend of gold, brown, and yellow hues in this sofa is reminiscent of the gorgeous golden leaves of autumn.
It goes amazing with dark hardwood floors with tonal light to dark variations. Then, complete the look with minimalistic end tables in wood and metal, an abstract painting on the wall, and black metallic lamps.
Big and Beautiful with an Intense Dark Blue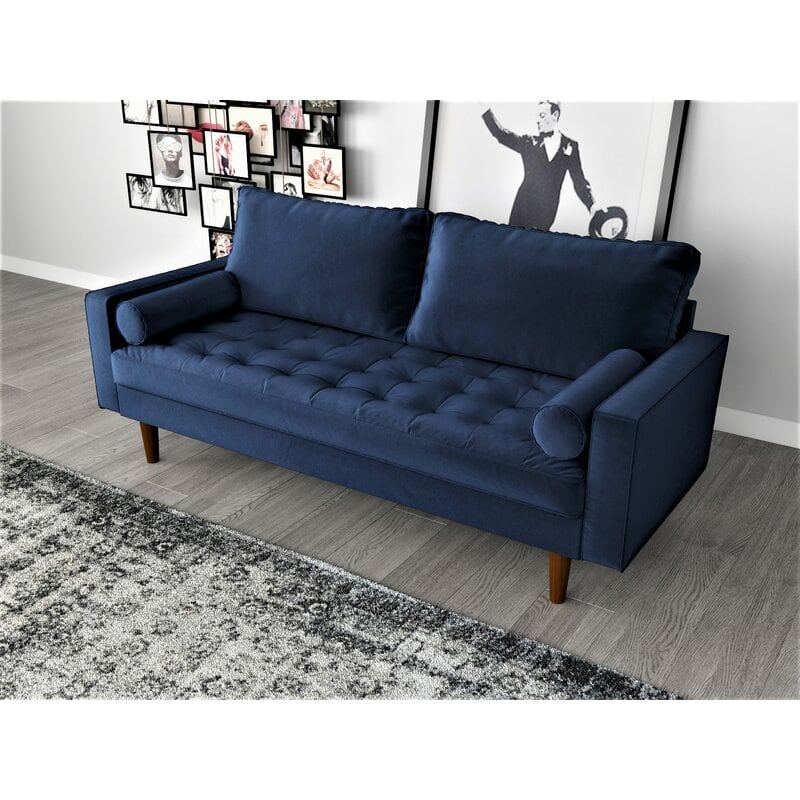 The man in the blue house would be sure to love this dark velvet masterpiece, and if you have dark wood floors, you're sure to adore it too.
Button-tufted cushions, a streamlined frame, and squared arms give this Mid-Century modern couch a distinctive, elevated style that pulls out the dark tones of your floor.
Try a Toned Down Tea Rose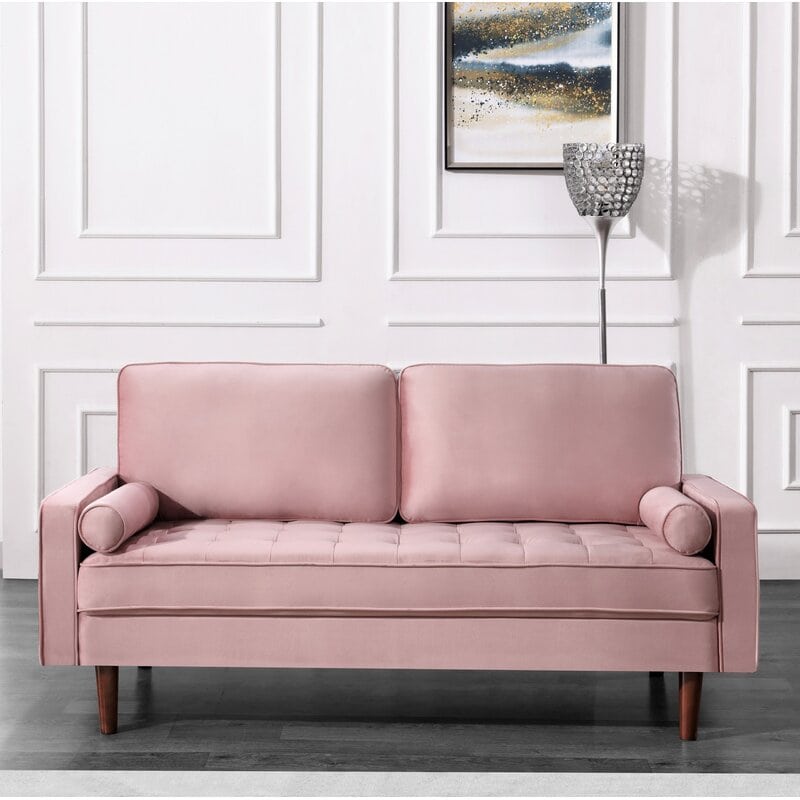 For a feminine, soft living room, try a lighter piece of furniture for dark wood floors. Tea Rose is a shade of pinkish-mauve with pale neutrality that keeps it from being over-the-top bubblegum pink.
The button-tufted seat and oversized cushions beckon you to sit for a spell. But, at the same time, the rounded lumbar pillows and low, square armrests invite you to take a short nap.
Take It Up a Notch with Turquoise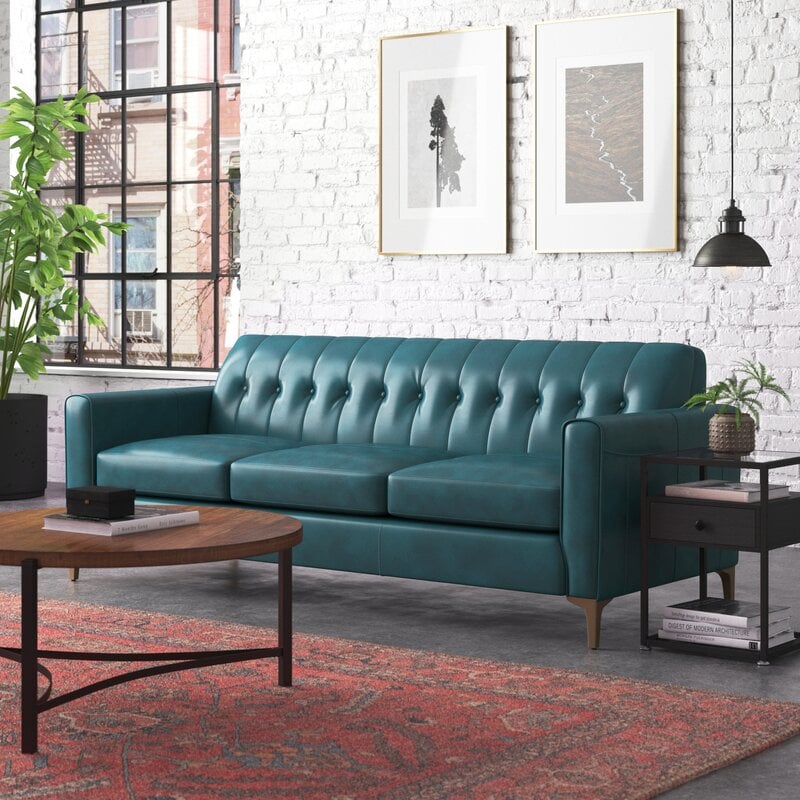 On the other end of the spectrum, you can choose a bright, bold, dominant color that will stand out as the perfect couch with dark floors.
We're partial to the aesthetic of going with an in-your-face, modern elegance of Turquoise. This large, formidable mid-century modern leather sofa features a tufted button back, three comfy removable cushions, and short, stout gold metal legs for a discrete raised stance.
Be Basic with a Sofa in Black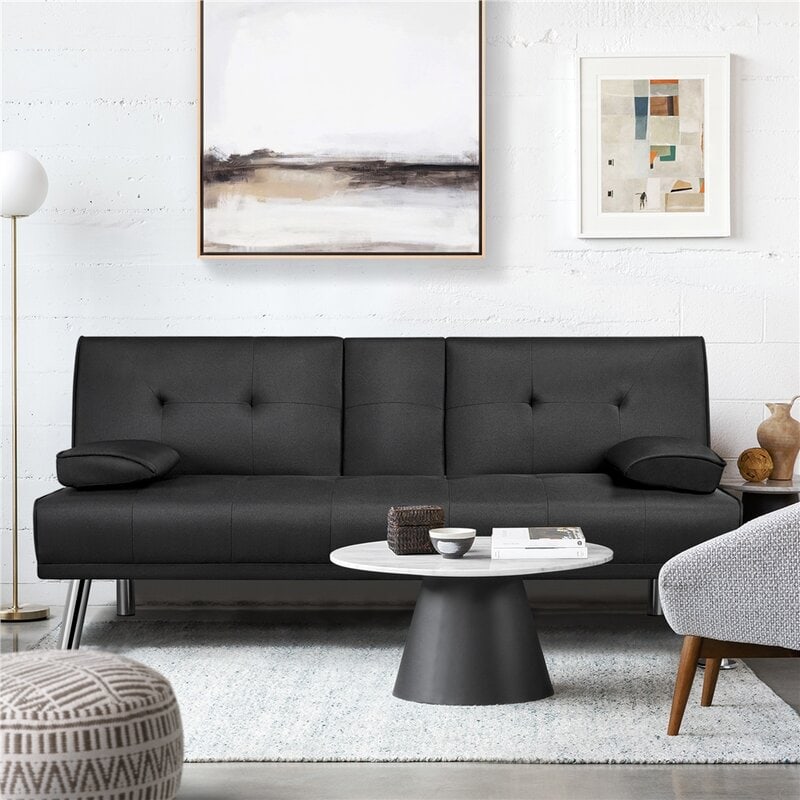 Give your small space a modern, minimalistic vibe with a simple sofa in black. This convertible contemporary futon sofa features a tufted upholstery in a neutral midnight black that can match any color accents.
The armless design, tall, thick chrome-plated legs, and thick cushions create the ultimate seat to laze or sleep, with three adjustable positions.
Create a Cozy Scene with a Couch in Cream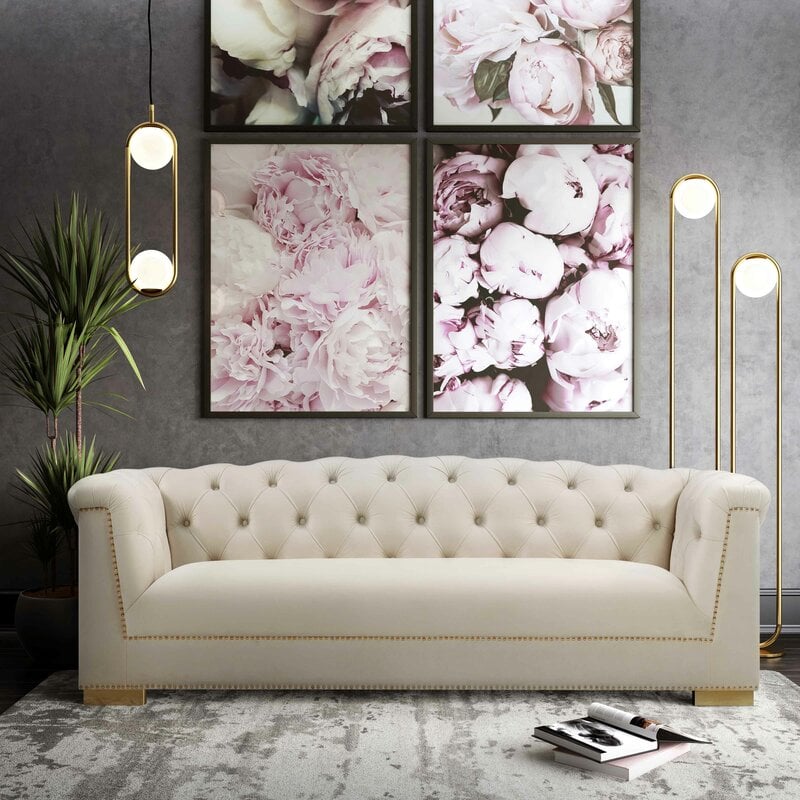 Choose an oversized, luxury sofa in a soft cream color for a classic play of light on dark. This beaut has stunning gold nailhead trim, thick gold square feet, high sides and back, and elegant recessed tufted button back.
This low-sitting couch in soft, supple velvet with rolled arms is stunning to view. And even more exquisite to use, being as functional as it is fashionable.
Buy a Base in Neutral Beige Velvet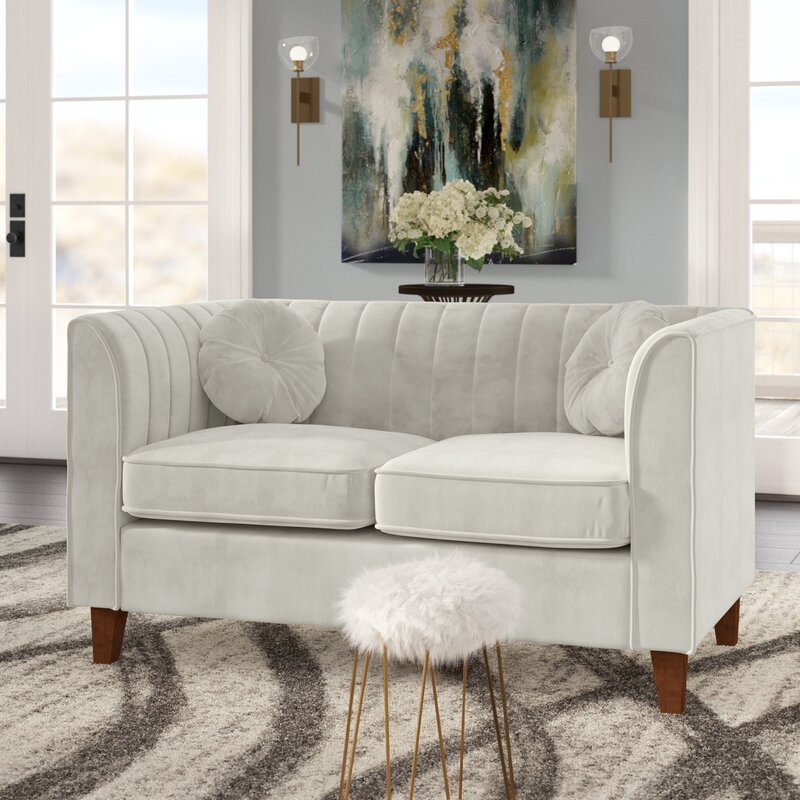 Mixing and matching furniture pieces is an excellent way to capture your style and personality. For example, adding a loveseat in beige velvet can be the perfect accessory for sofas in similar neutrals. Or to help tone down a bolder shade.
There's something special about this glamorous, upscale chesterfield loveseat. A pleated back, high rounded arms, thick velvet upholstered cushions with matching bolster pillows sit atop classic wood legs.
Combine Soft Leather in Camel with Fabric in Gray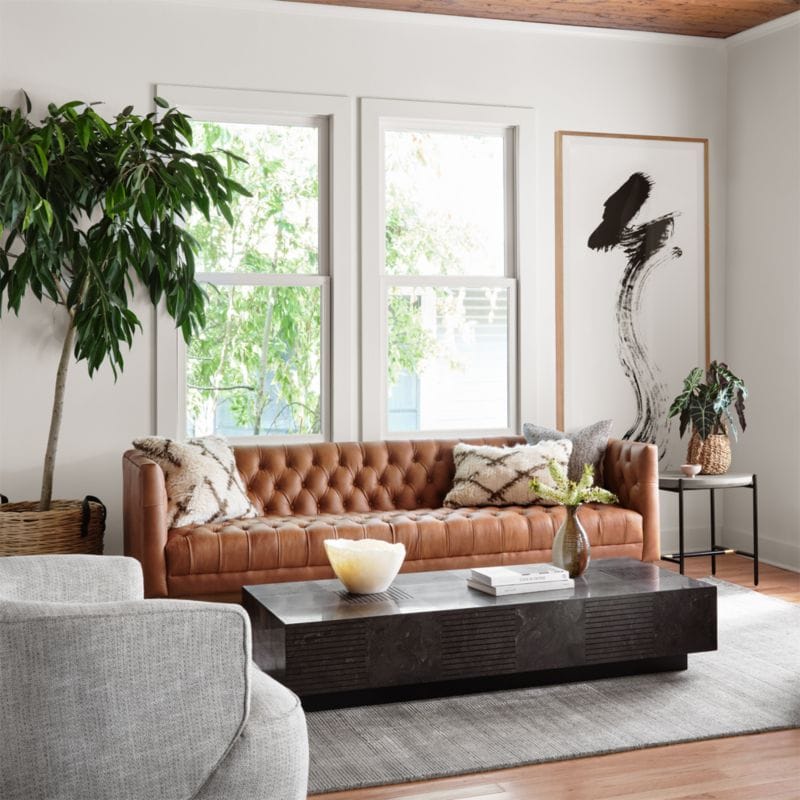 Bring the feel of nature into your living room by mixing neutral colors. We're in love with a light top-grain leather sofa with a deep seat, decorative tailoring, and button tufting.
The rustic square silhouetted couch in a natural washed camel color and tapered hardwood legs in a light finish create the focal attraction. And a simple end chair in a basic gray fabric with an area rug in a similar color ties everything together.
Get Curvy in Pretty Mohair Powder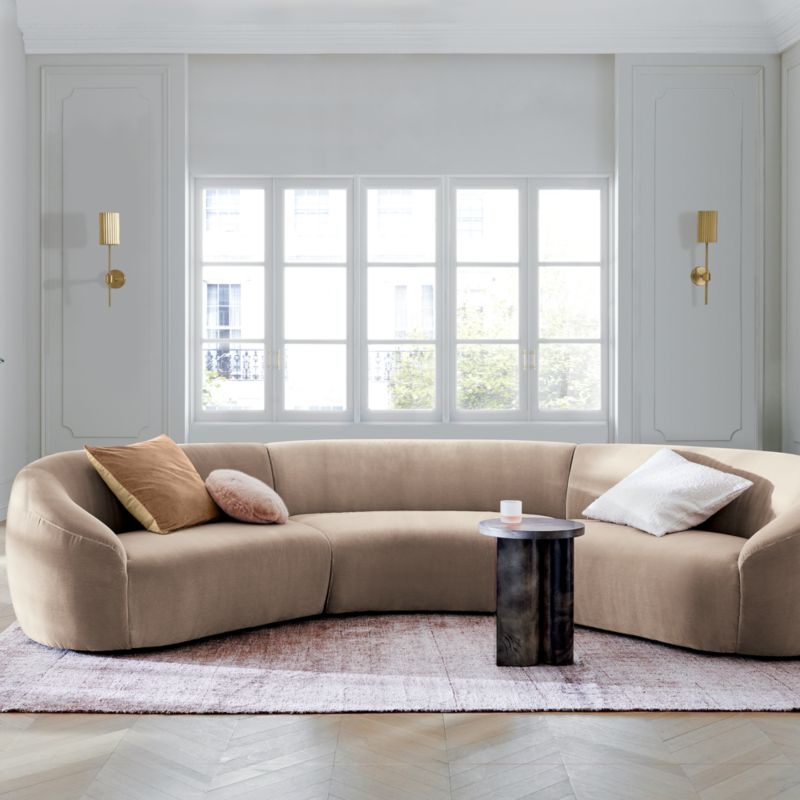 Consider a non-traditional couch shape for a chic space, such as this classic, curvy couch. The soft Mohair powder color in a light tan adds just the right amount of depth and tone without being too dark.
Hidden legs allow this sofa to flush against the floor for a low-slung, retro aesthetic. And the three pieces meld together for a minimalistic approach.
Nice and Natural in Nude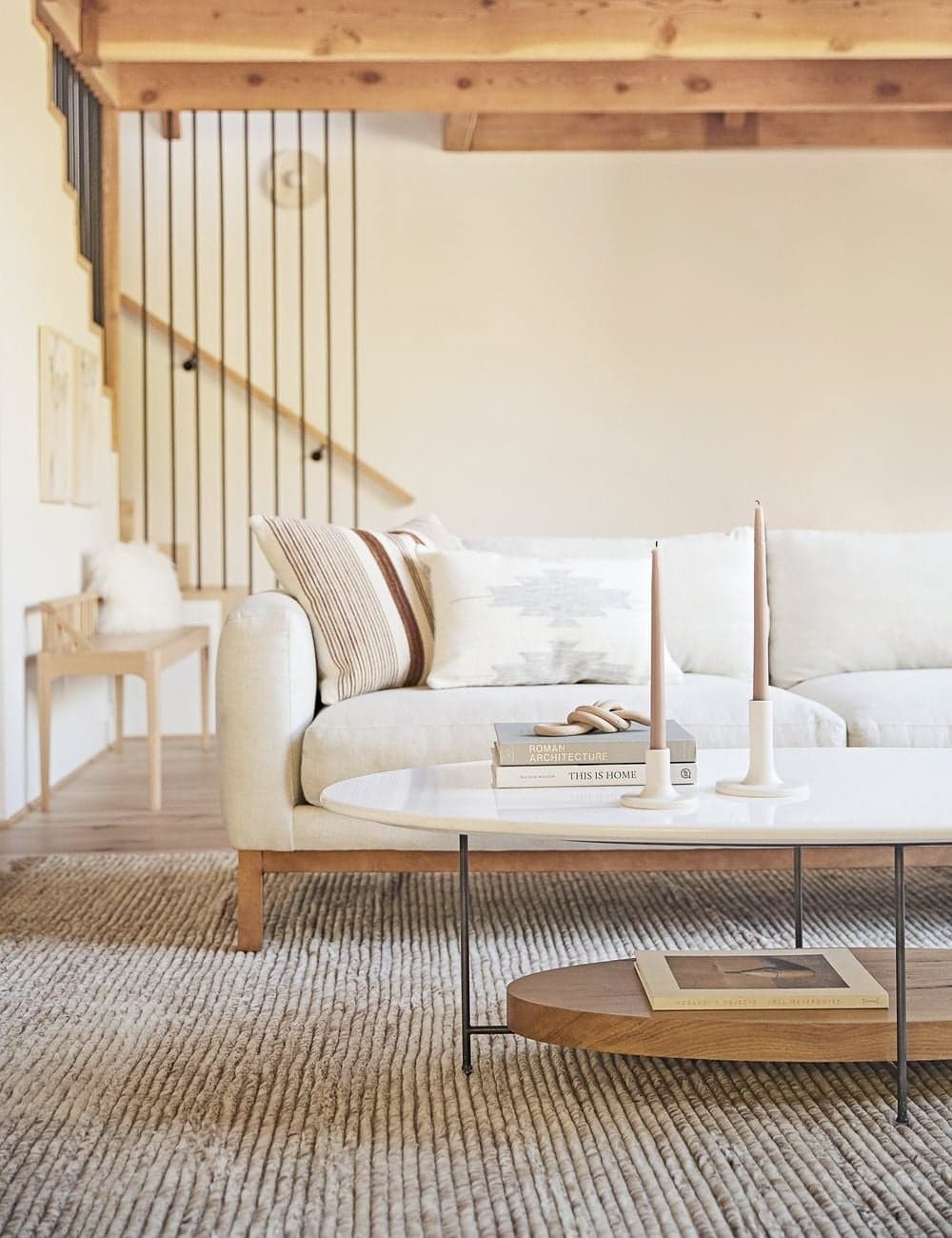 Embrace a European country vibe by choosing a sofa in a natural nude off-white. This couch is thick and plush and full of matching throw pillows.
The pearl fabric and maple, honey-colored legs recreate a traditional, minimalist nuance. Adding throw pillows in colored geometric prints can add pops of color.
Feel like Royalty with a Traditional Red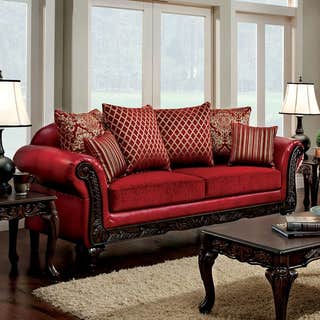 One of the best living room furniture colors for dark wood floors is red. For example, you can use a royal red sofa to add a regal feel that pulls out the highlights in dark brown hardwood floors.
This majestic sofa offers a rich, ornate look, with faux red leather upholstery, a dark wood frame, and carved Cabriole legs. The rolled arms and camelback nod to traditional while looking modern and current.
Get Funky with Dark Yellow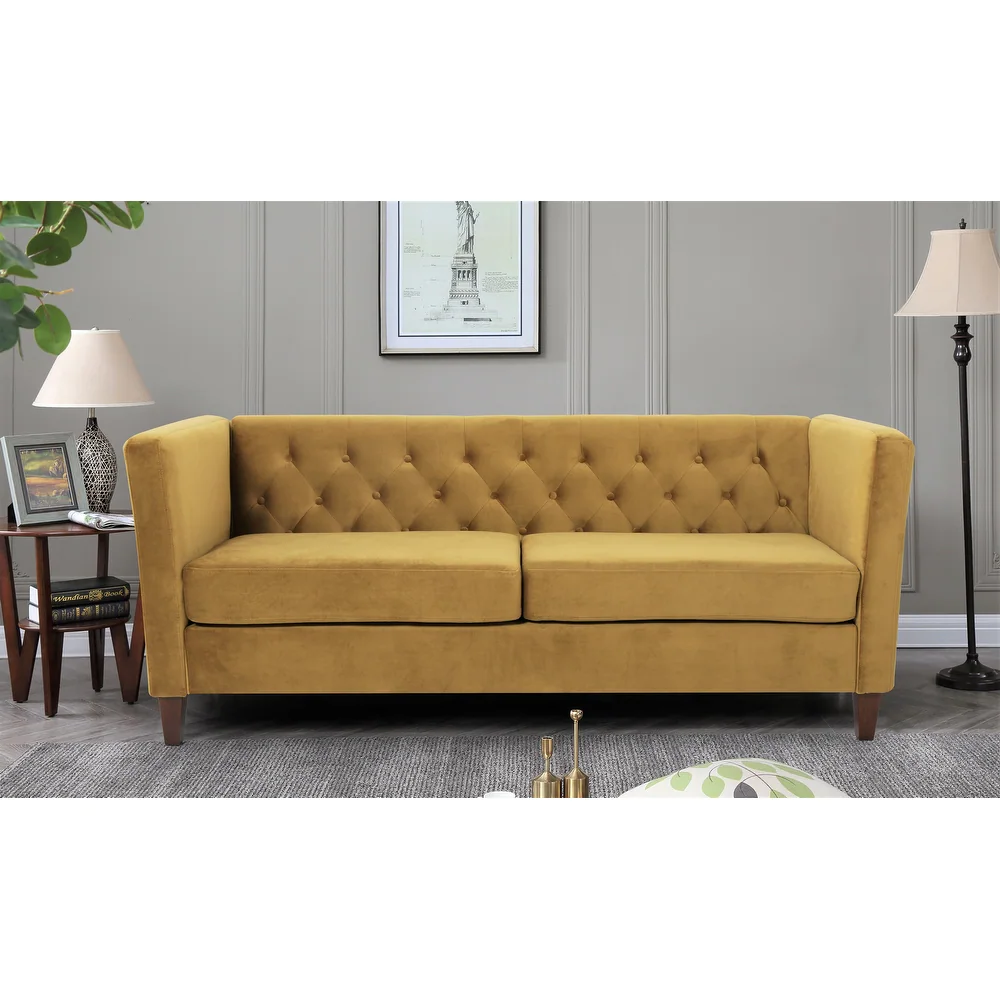 If you're not scared to get a little out there with your color choices, you can get a fun nuance by mixing dark hardwood floors with a sofa in a dark yellow.
While you could go with a bright sunny shade, there's something refined and grown-up about using a color like burnt mustard. This modern style sofa has high square arms and a pleated tufted button back with dark wood legs for a slight elevation.
Grab Some Joy Over a Glorious Green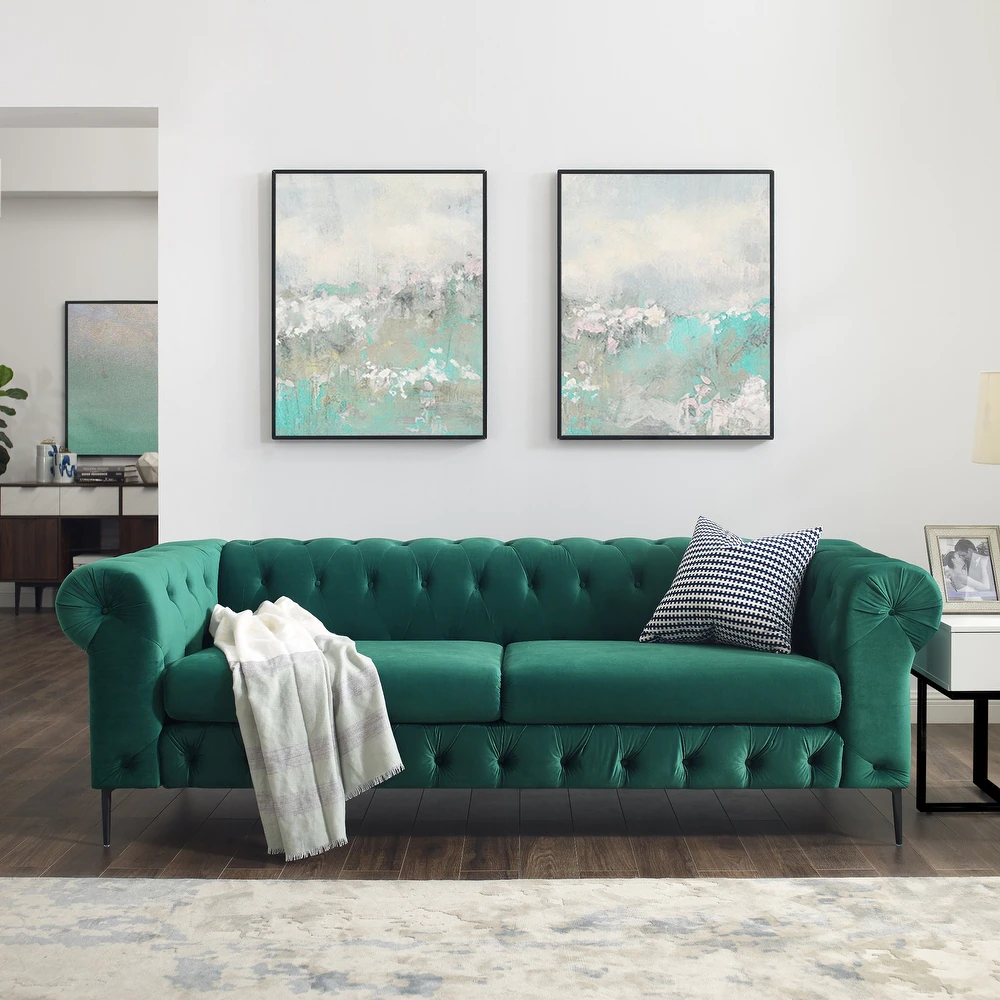 Green is a gorgeous color that can pop against dark floors. This mid-century modern sofa has rounded arms, button trim, and slender tapered legs for a raised look.
The bright shade of emerald green brings to mind a tropical vibe that can also feel very retro. Keep the accents simple with neutral shades to blend light and dark.
Try a Textured Weave in a Rich Wood Frame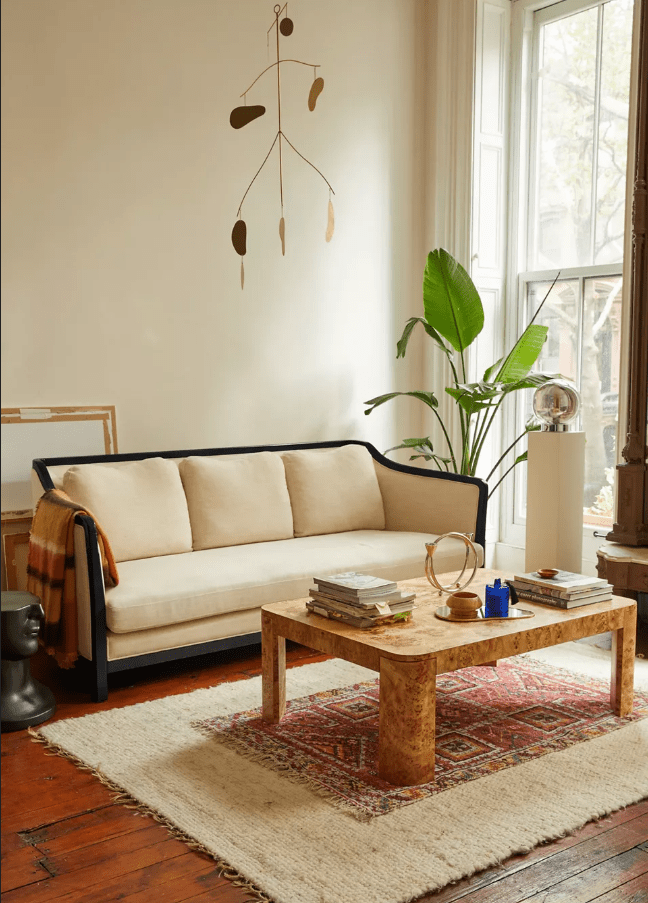 This vintage sofa is charming and exciting that draws out the character in dark hardwood floors.
Appreciate the textured weave of the light cream upholstery and the elegance of the slim carved trim, stained a dark brown and outlining the entire sofa.
Break Out a Beachy Bench in Mixed Materials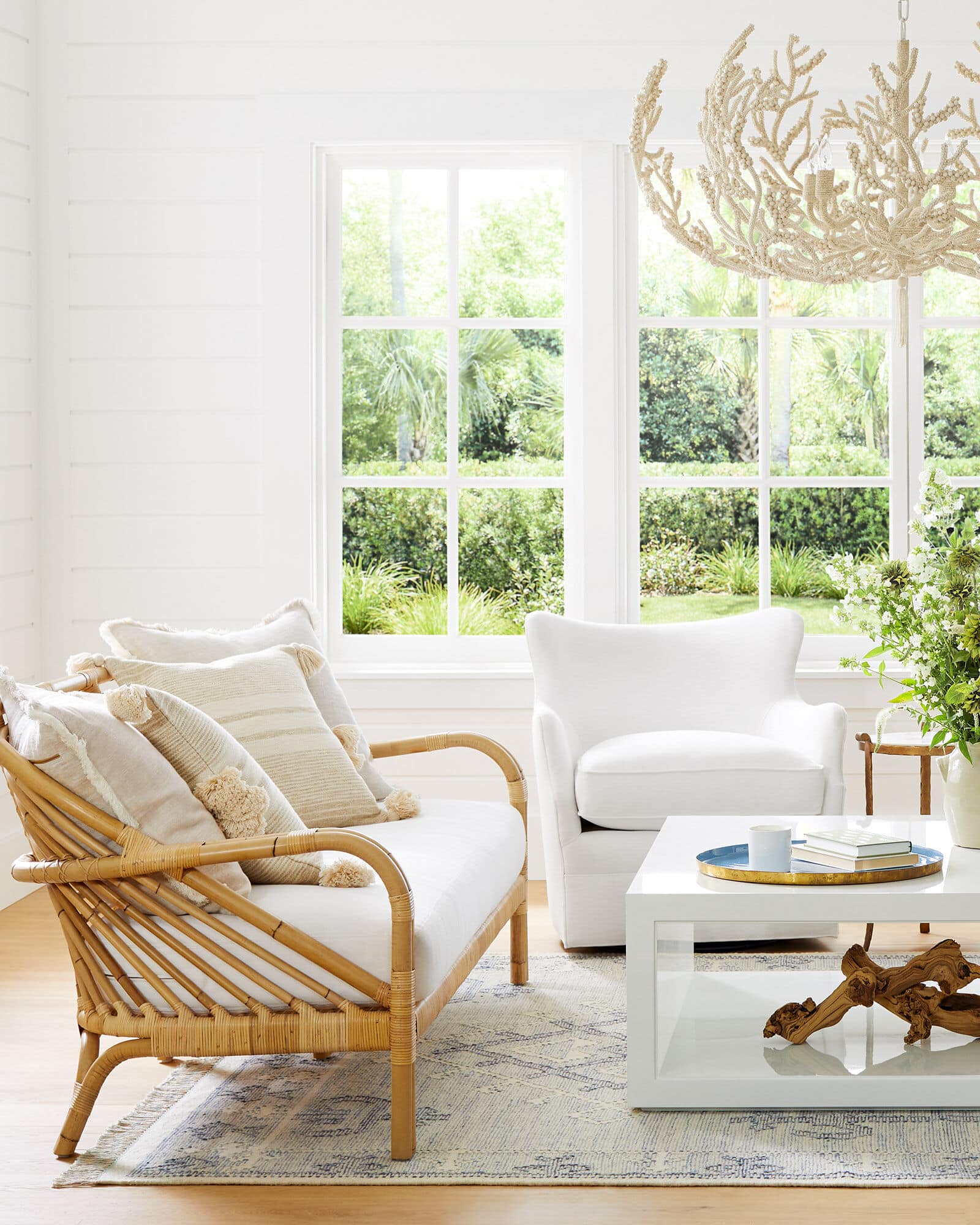 If you love the look of beachy casual, you'll be a fan of blending dark wood floors with light wood furniture. This sofa features gently curved handcrafted lines across the light rattan wood frame.
The light cream upholstered kitchen makes your space feel bright and airy, while the open lattice back provides a fantastic decorating opportunity. You can swap out your cushions and pillows with the seasons!
Make Magic with Mulberry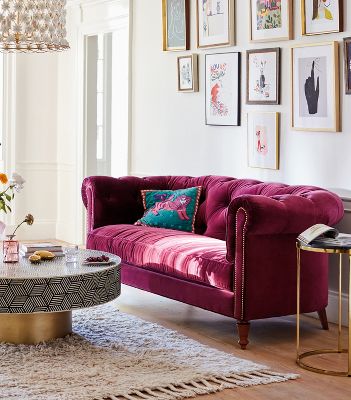 Adding a couch in a bold, saturated color like mulberry can give your space an impressive aura. This padded, tufted sofa with gold nailhead trim and rounded pleated arms screams mid-century modern.
The chunky tapered maple wood legs lift the sofa for a scholarly Chesterfield style. And the bold saturation of violet-red looks contemporary with gold accents, throw pillows in turquoise, and untraditional table shapes like circles.
Experiment with Different Colors for Dark Wood Floors
There are various shades of dark hardwood floors, giving you a huge range of creative freedom regarding what colors you choose for your furniture. We've shown you different shades of gray couches. And we kept it soft with some neutrals. Then we got bold with some saturation.
Please take a minute and shoot us a line to tell us which color furniture inspired you the most!