Decorated Life is reader-supported. When you buy through links on our site, we may earn an affiliate commission. Learn More
What Color Cabinets Go With Brown Granite Countertops? 15 Ideas
Brown granite countertops are a hit-and-miss decor for many people. Many people have concerns about using brown granite because they don't know what color paint goes with brown granite counters.
You will have fewer options for colors that go with the earthy blend of brown granite. But that doesn't mean there's nothing you can choose. We've put together a list of 15 cabinet colors that go with brown granite countertops. The best aesthetic comes from using neutrals – white, grays, off-white, beige, and brown.
Depending on the nuance of the colors buried in the brown granite slab, you can go with light or dark cabinets.
Chopsticks by Sherwin Williams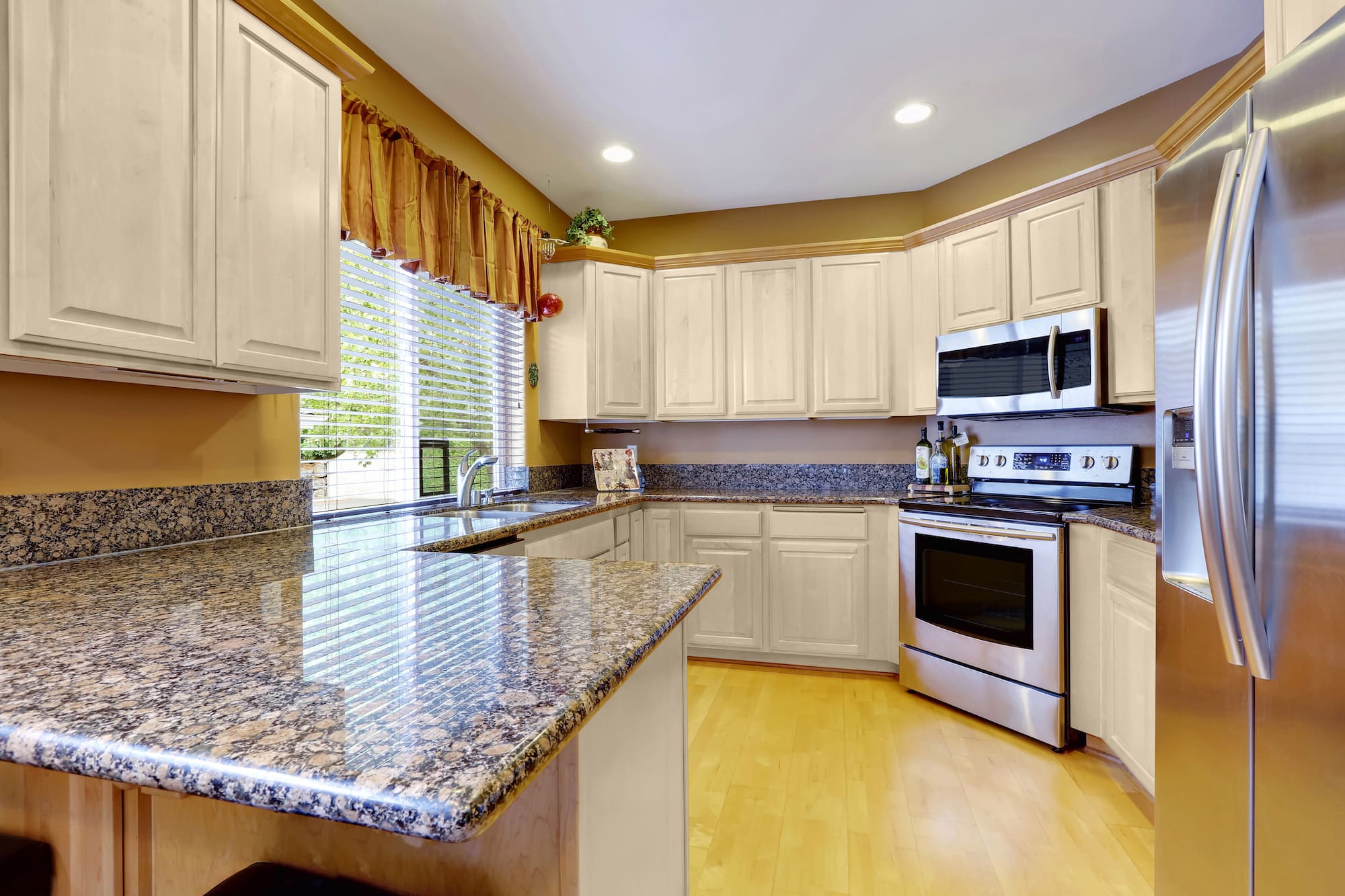 Chopsticks is a darker neutral tan that can balance perfectly with brown granite countertops. The various tones of the granite can capture the interesting notes buried in the darker beige.
This color is a blend of beige with darker brown, orange, and yellow notes. Using a neutral like this for your kitchen color can give your space a warm, European vibe.
Paperwhite by Sherwin Williams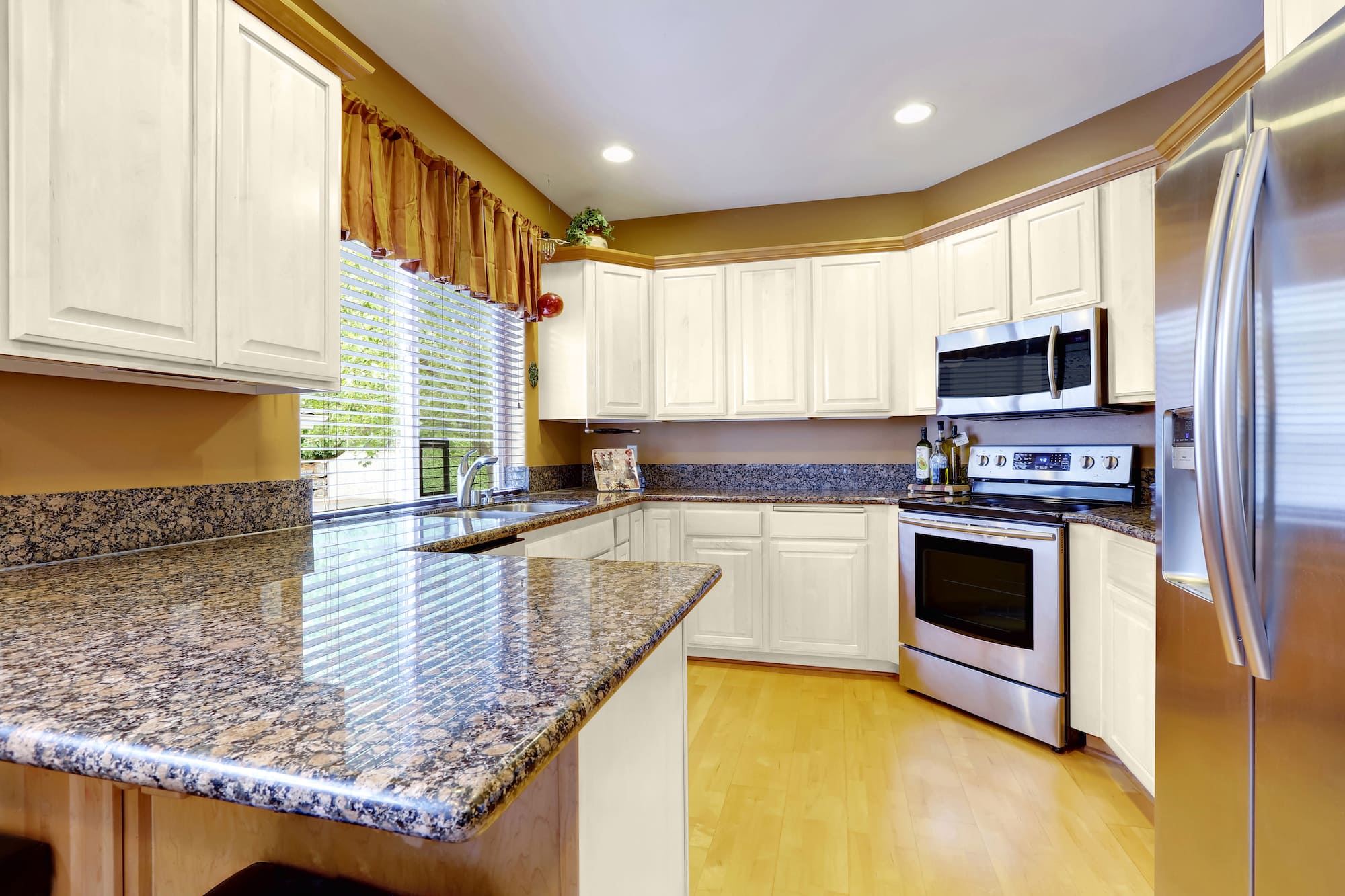 For a more blank neutral kitchen cabinet color with brown granite countertops, consider a white like Paperwhite. This soft white has yellow pigmentation that gives it a tinted look.
Paperwhite can change from an aged yellow-white to a cream with gray shadows when matched with brown. This warm combo can work for any style you choose.
Weathered Shingle by Sherwin Williams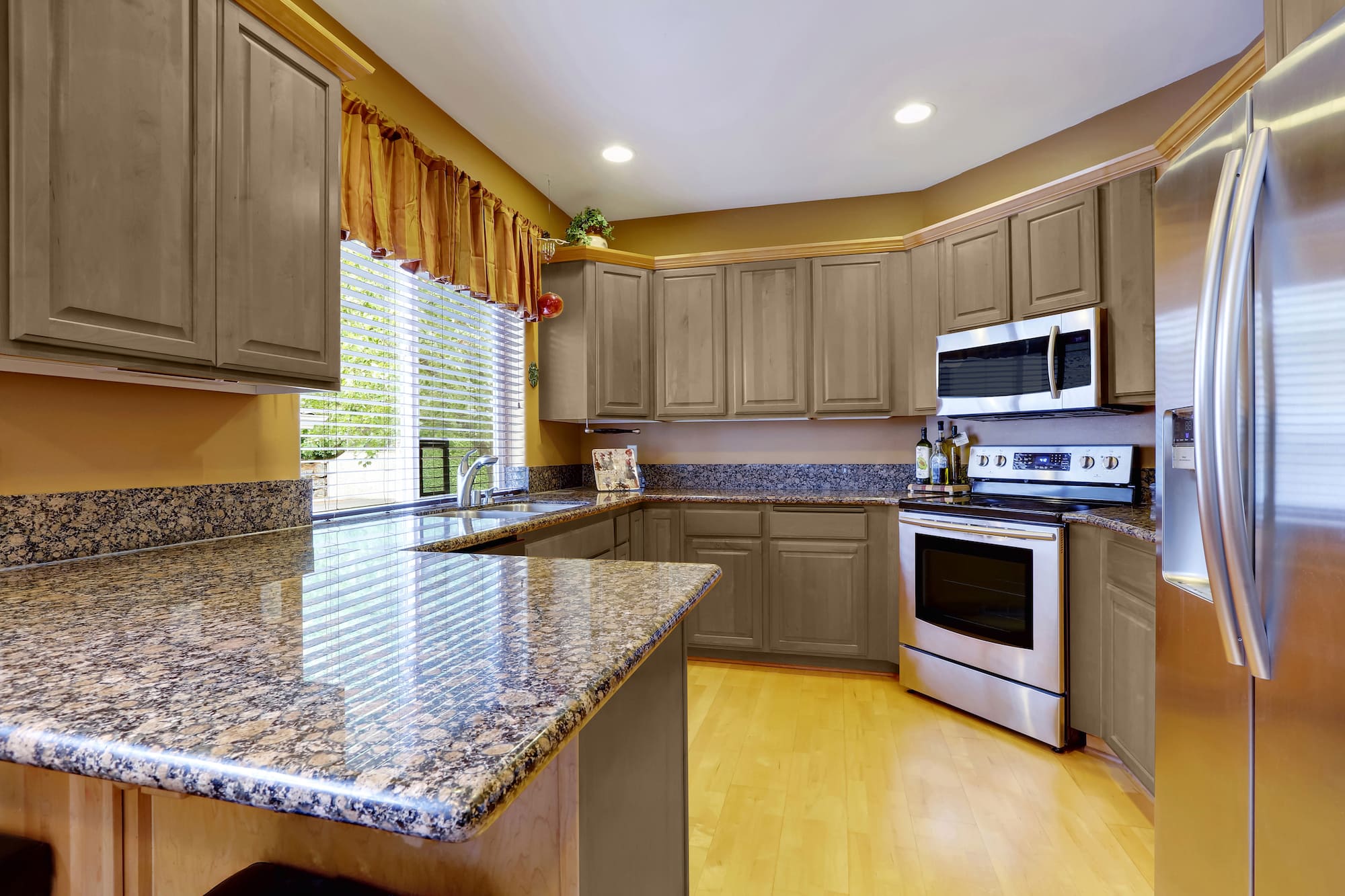 Choose a brown paint color if you want a darker earthy color for your wood cabinets without staining them or leaving them in their natural stain.
Weathered Shingle is a rich saturated brown that can give your cabinets an imitation wood glow. The tonal variations in brown granite can play on the warm cocoa base and activate the mauve undertones. Keep things from looking too heavy with light trim and lots of lighting.
Softer Tan by Sherwin Williams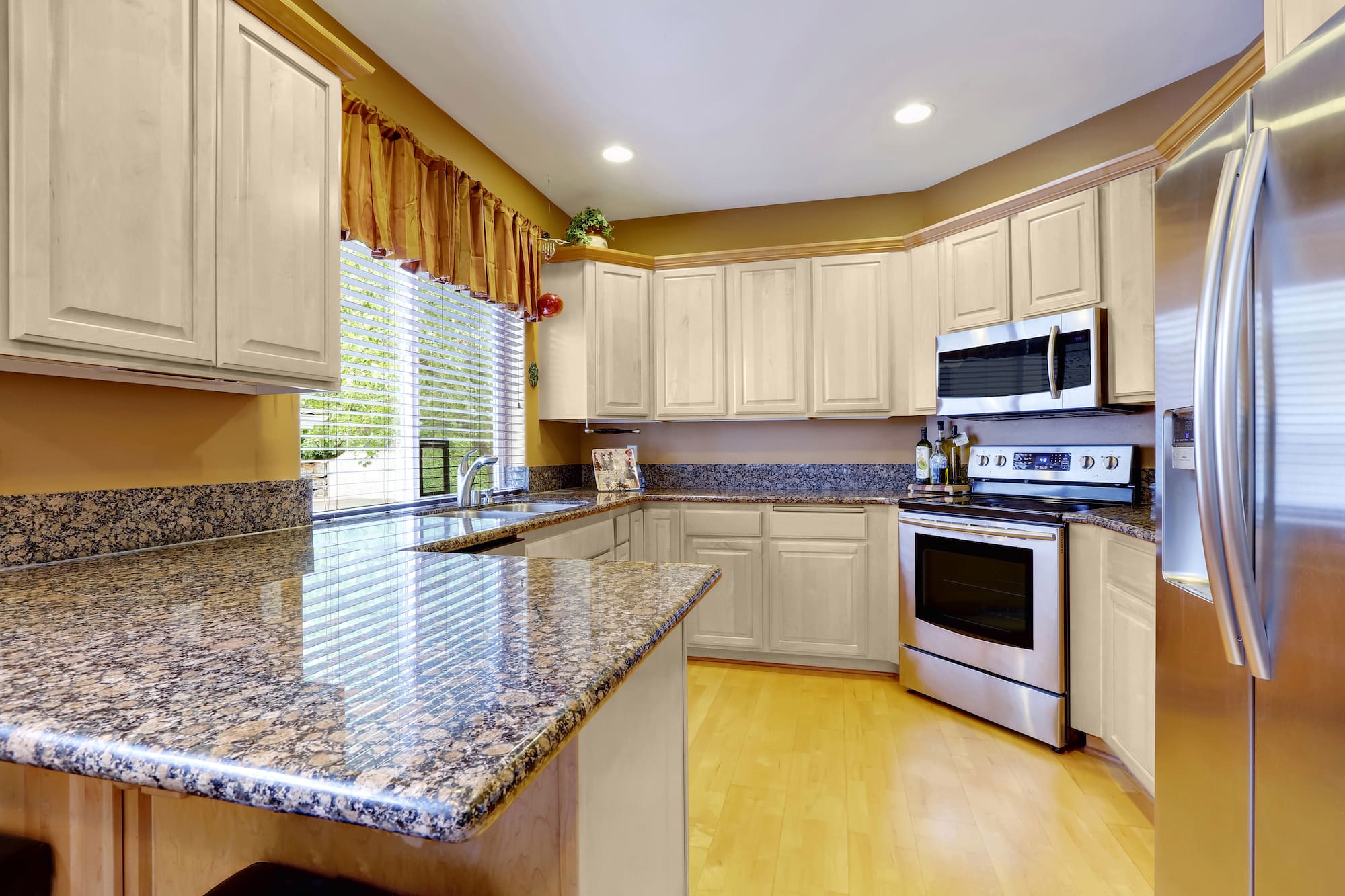 For a more subtle natural look, think of neutrals in lighter variations. Softer Tan is such a color, with enough pigmentation to paint somebody.
But it's dull enough in tone that you can use this tinted tan as a neutral to go with any style and accents. Tans are a popular choice when you want a colored tint to your cabinets instead of all white.
Barcelona Beige by Sherwin Williams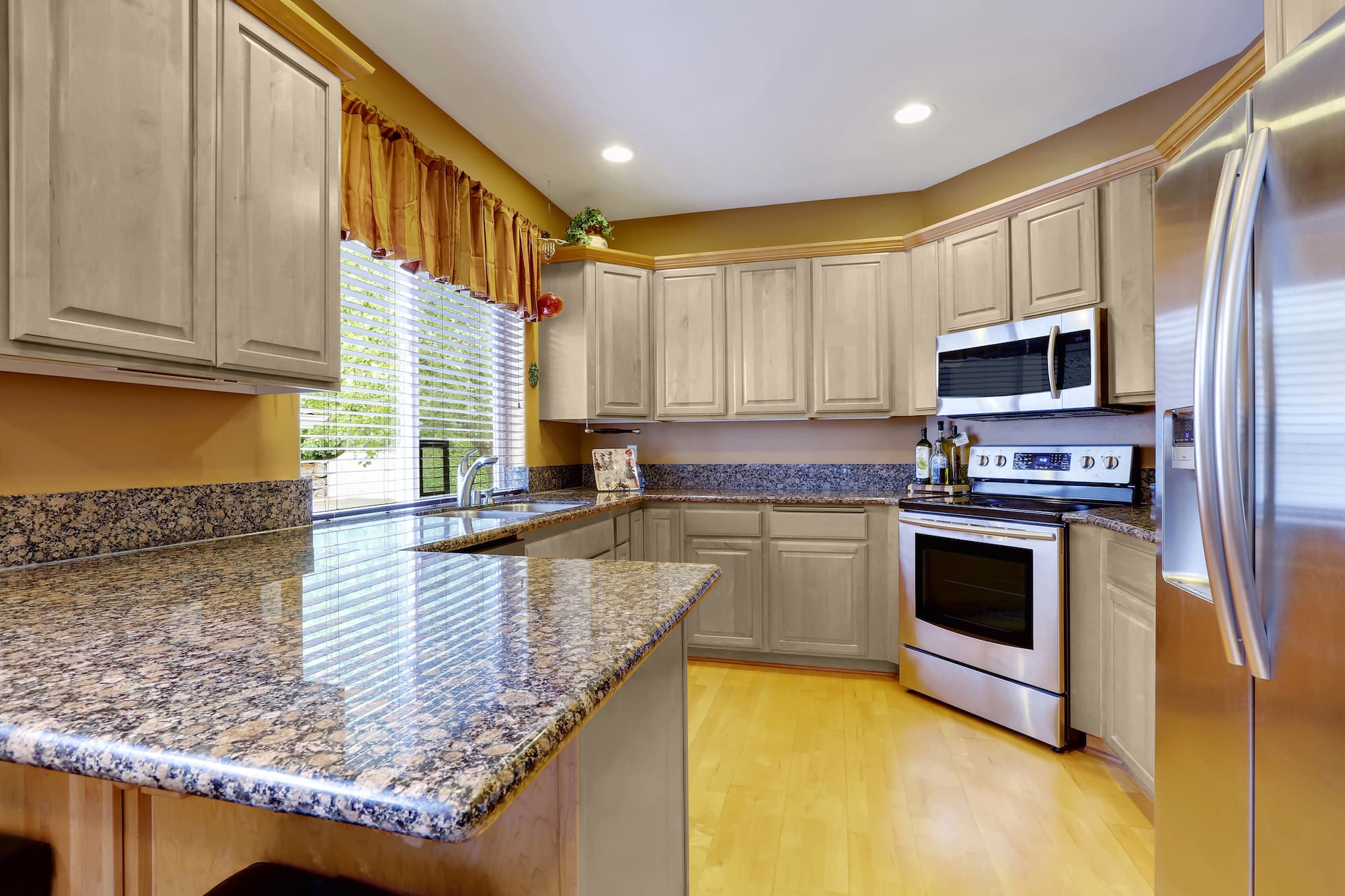 Barcelona Beige is a mid-toned brownish-gray neutral that can pair well with brown granite. In addition, this beige has cool tones from the gray influences that soften to traces of pink.
Barcelona can give your room a soothing, subtle color when used on kitchen cabinets. You can use this shade for any style, from traditional to modern.
Oyster Bar by Sherwin Williams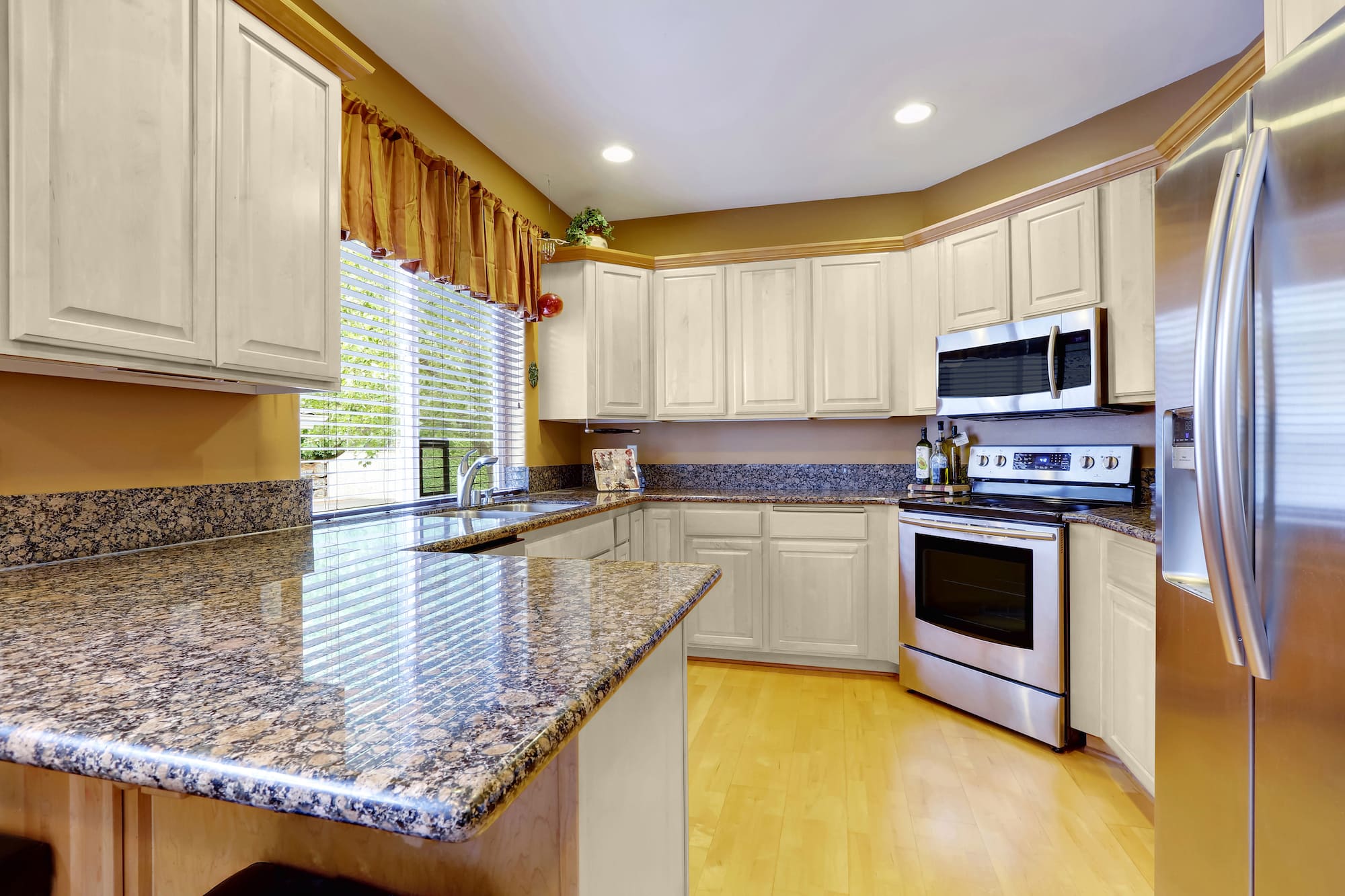 Oyster Bar is a warm, slightly tinted off-white neutral that can look stunning when used for the cabinet color against brown granite countertops.
The tinted brown pigments give this neutral a slight darkness that turns slightly pink. Variations in brown granite can capture these hidden gems and bring them to light for cabinets that feel very today.
Upper West Side by Benjamin Moore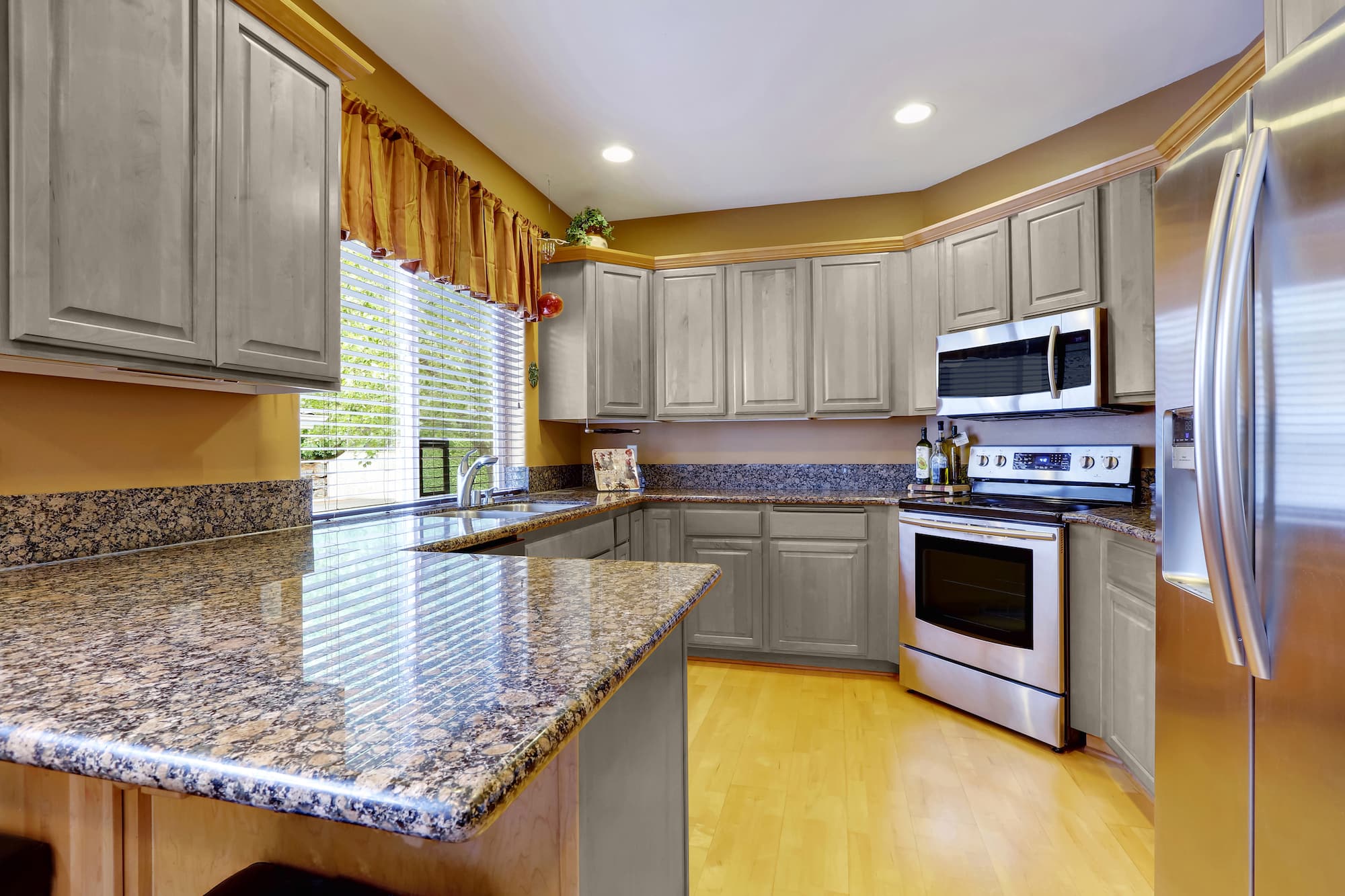 Upper West Side is a trendy compilation of brown and gray that can turn cool purple and mauve. So your kitchen can feel updated and modern with very little work.
If you're not fond of going a darker color like this for all-around color, use the darker color for the base. And then go with white cabinets or open shelving for your uppers. Or you could use this color throughout and choose glass-paneled cabinet doors to break up the monotony.
Penthouse by Benjamin Moore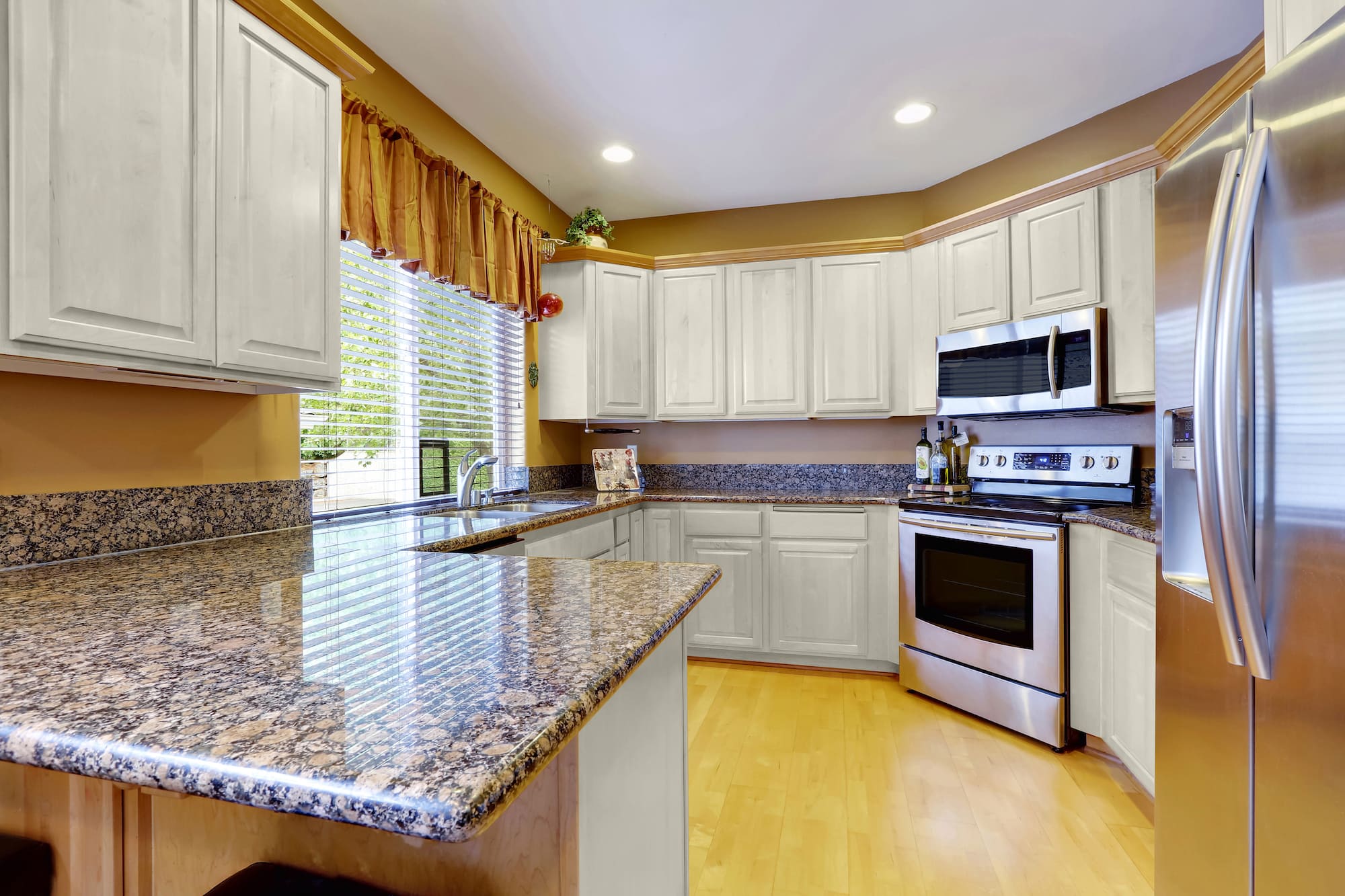 Penthouse is a cool-toned modern mix of gray and beige for a versatile and stylish greige. This color can give your kitchen personality without making things too dark.
Brown granite countertops can enhance the subtle nuances of this greige, transforming it from a simple grayish-brown to a dramatic tinted gray.
Street Chic by Benjamin Moore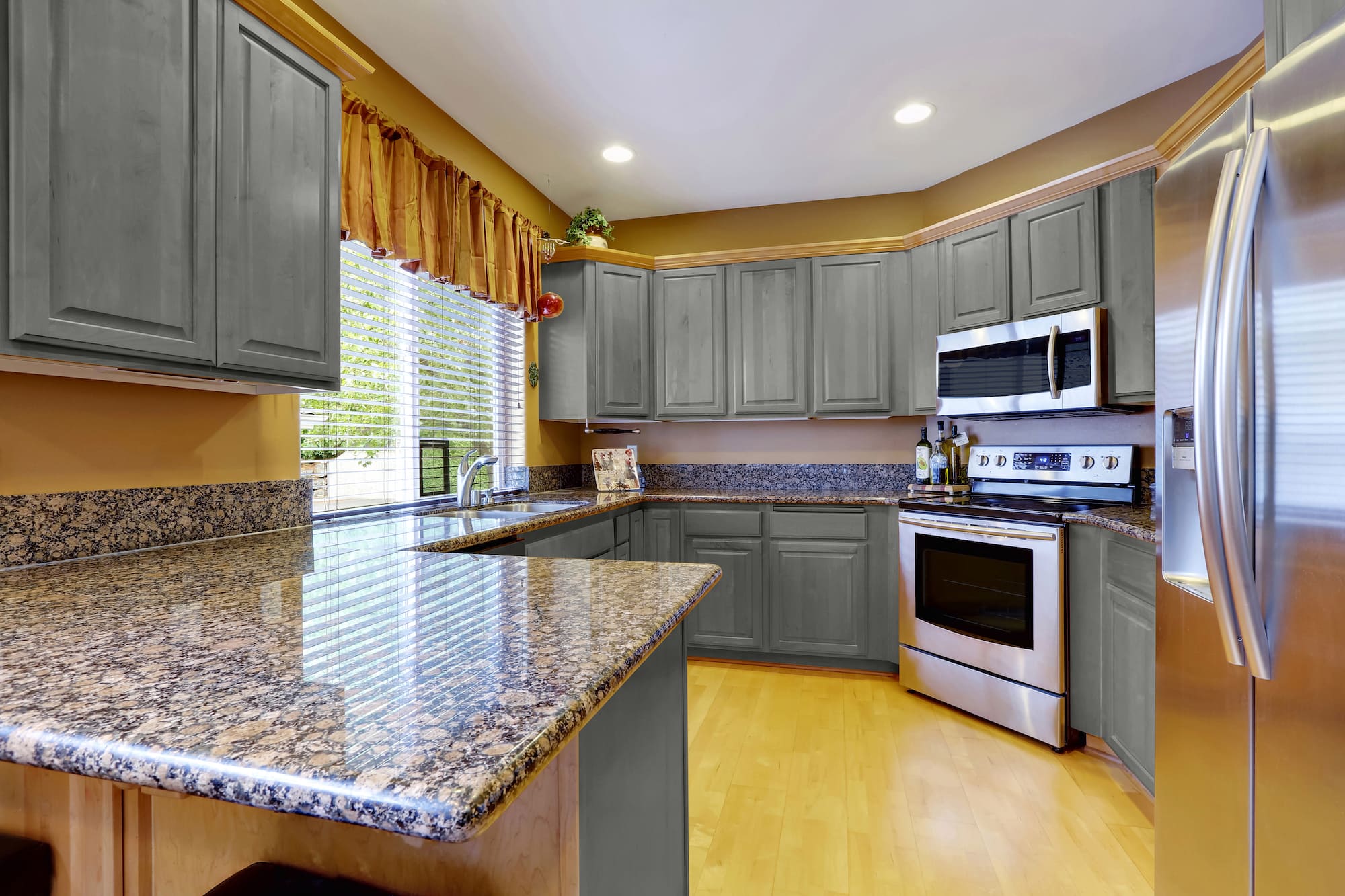 You can use a dark, dense color to achieve a dramatic yet chic nuance. We're partial to the rich beauty of Street Chic with brown granite counters.
This saturated shade of charcoal gray has muddy traces of brown. However, you can use this chic shade for a modern space with a healthy dose of black tinting.
Pebble Creek by Benjamin Moore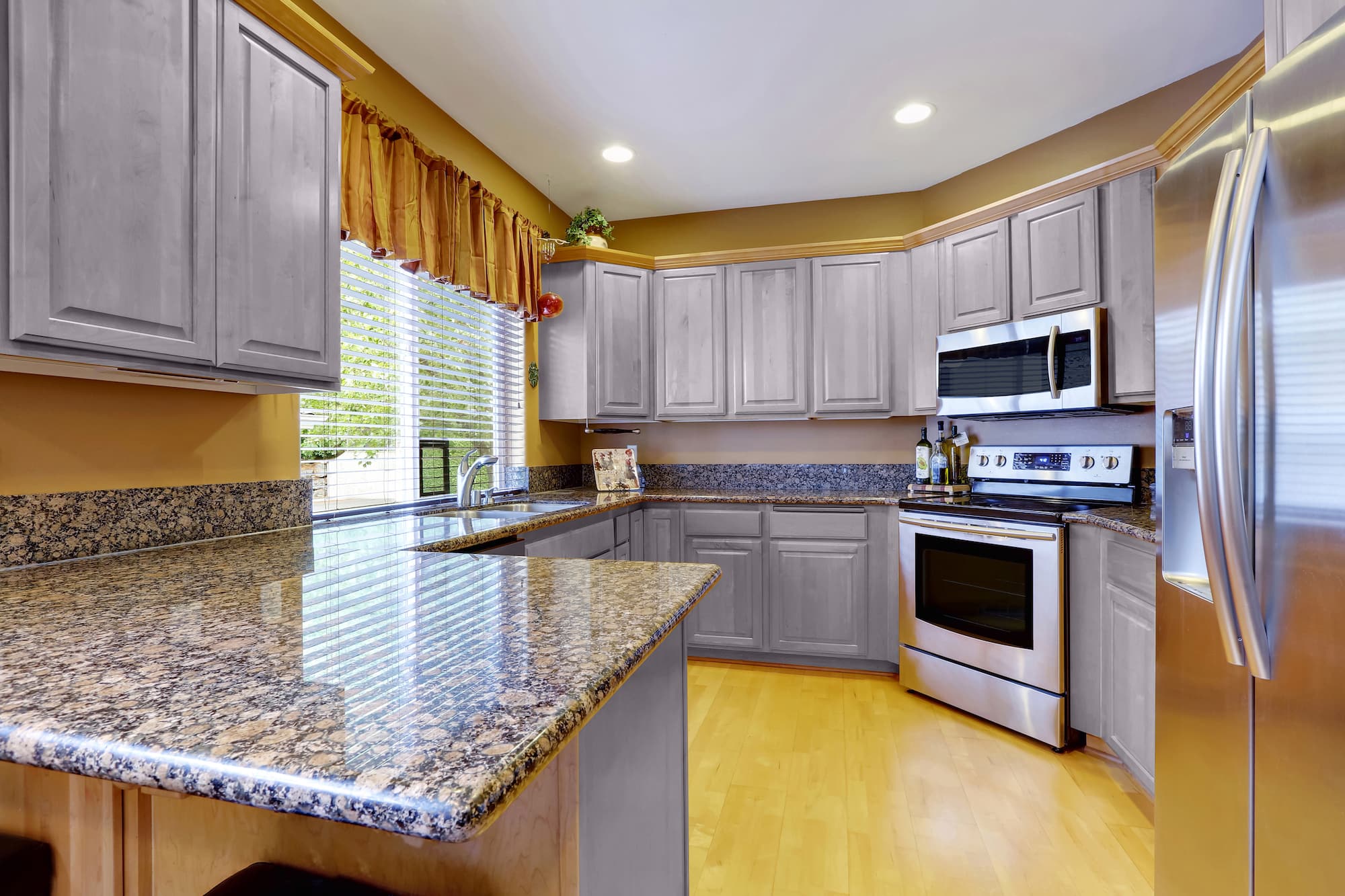 Pebble Creek is an attractive color to view, turning your cabinets into a focal point that draws the eye. For instance, this dark saturated gray looks heavily purple due to notes of black and mauve.
When you use this cool gray for the cabinets with a brown granite counter, the flecks of tan and white in the granite can enhance the gray. This color is excellent for two-tone cabinets.
Navajo White by Benjamin Moore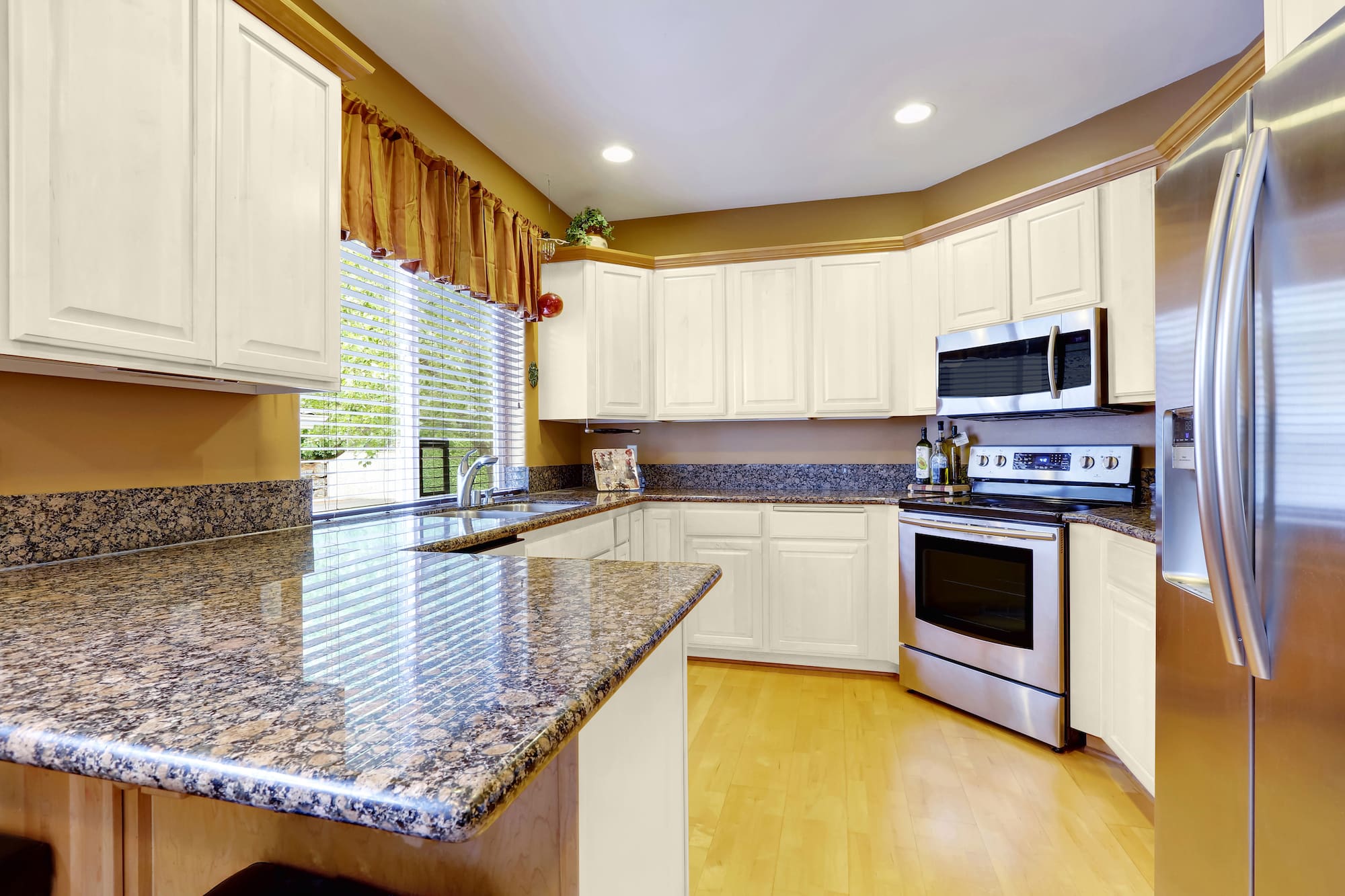 Navajo White is a warm-tinted neutral white that can work as a cabinet color for brown granite countertops. But because it's a versatile color, Navajo White can also work for the walls, ceiling, or trim.
This shade of white has tints of brown and yellow that give the color elegant, warm notes. When you use this color for kitchen cabinets, you can make your space feel larger and more spacious.
Polished Marble by Behr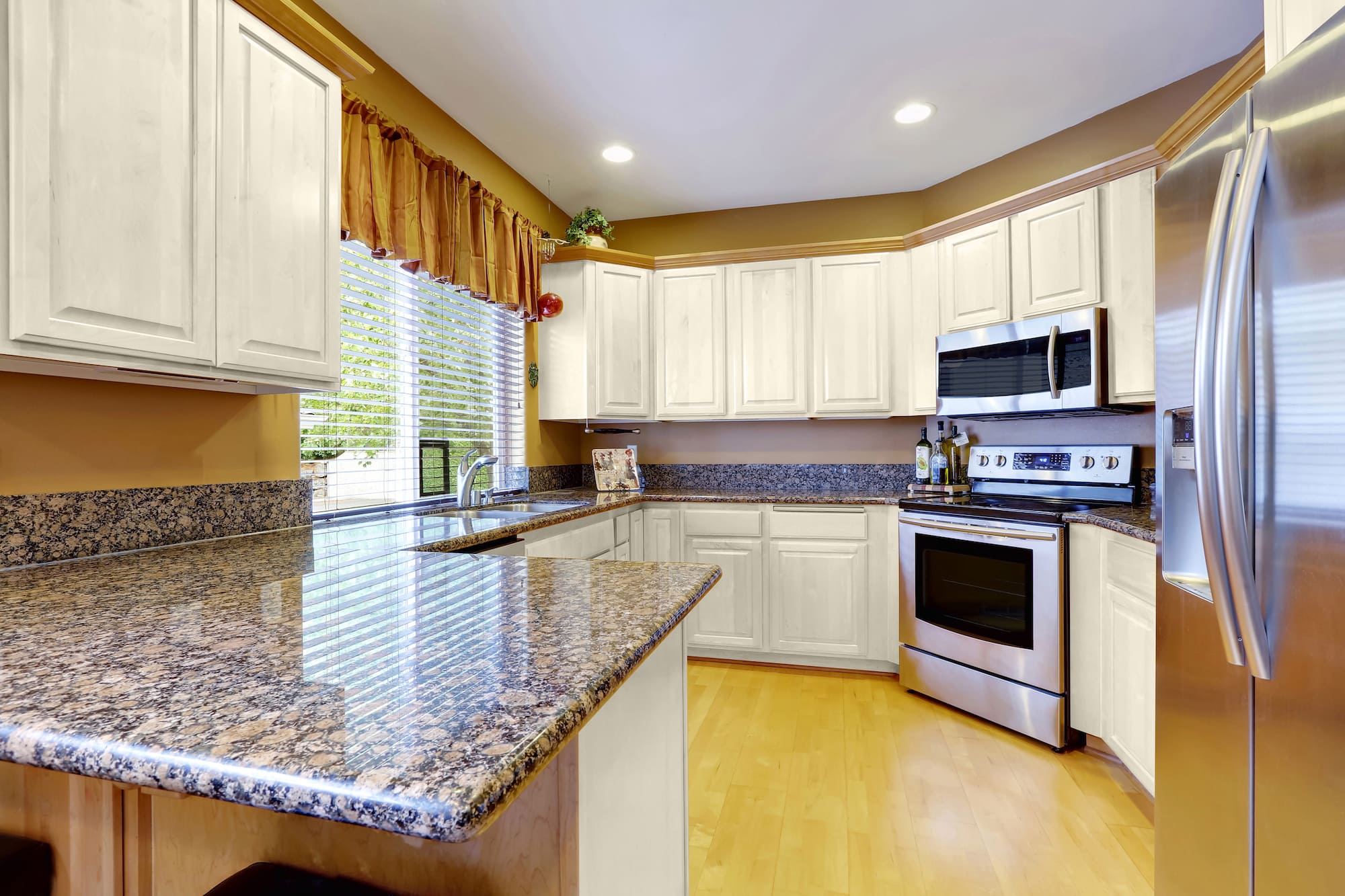 Polished Marble is an earthy neutral cream that can give your kitchen cabinets a refreshing look. A blend of white tinted with gray and yellow shadows, Polished Marble looks like the stone from which it got its name.
You can paint your kitchen cabinets a soft Polished Marble. Then go with a darker color like gray for your trim to add some contrast. Or you can go with a brighter clean white for a more glowing look.
Natural Gray by Behr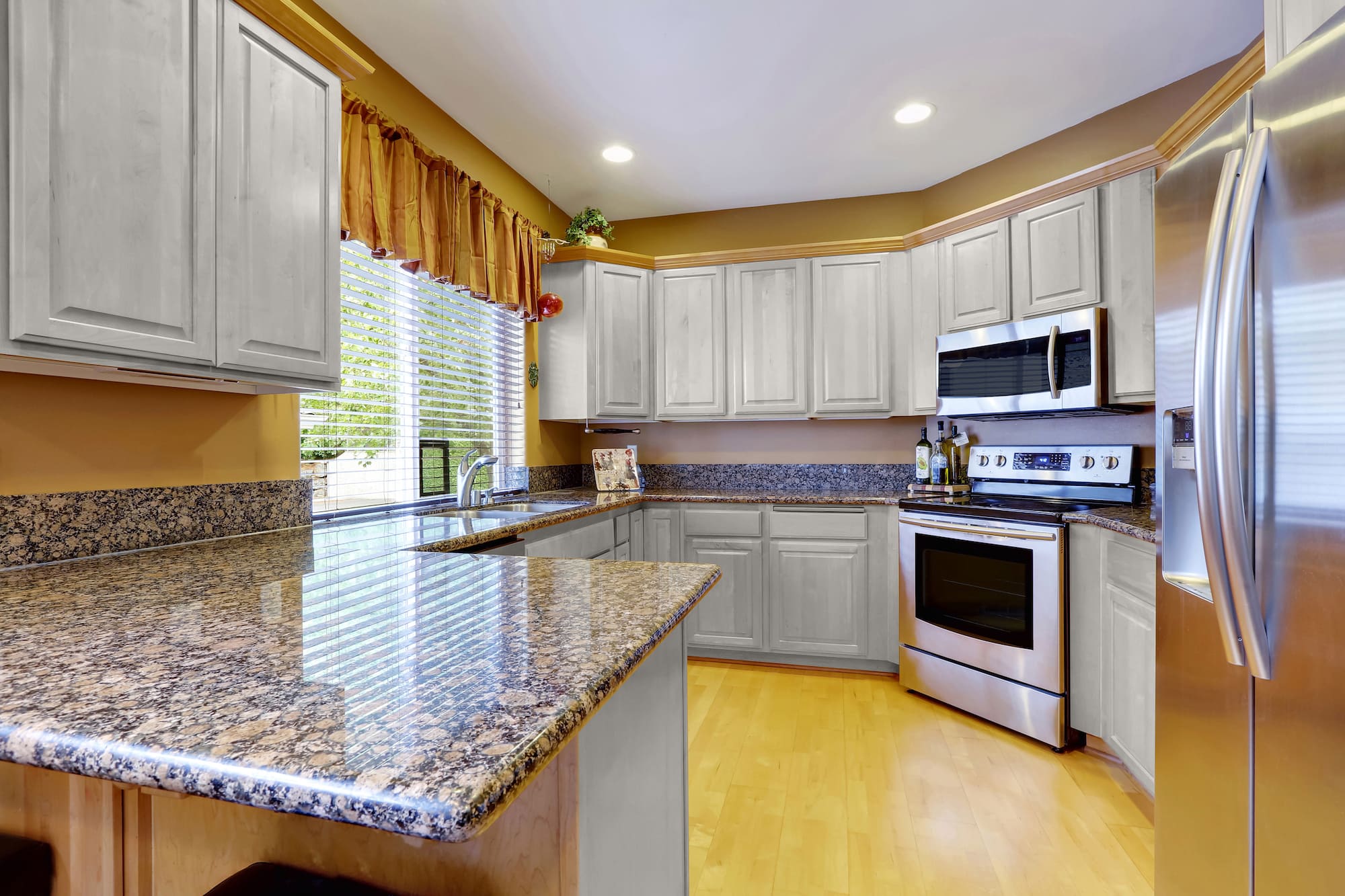 Natural Gray can give your kitchen a major upgrade in an easy natural way. This warm, mid-tone shade of gray contains undertones of mauve and lavender for a modern palette.
When you use this color for your cabinets, you've got the perfect companion to use with brown granite countertops. Unfortunately, the variations in the granite can cause this chameleon gray to flip-flop in colors.
Calluna by Farrow & Ball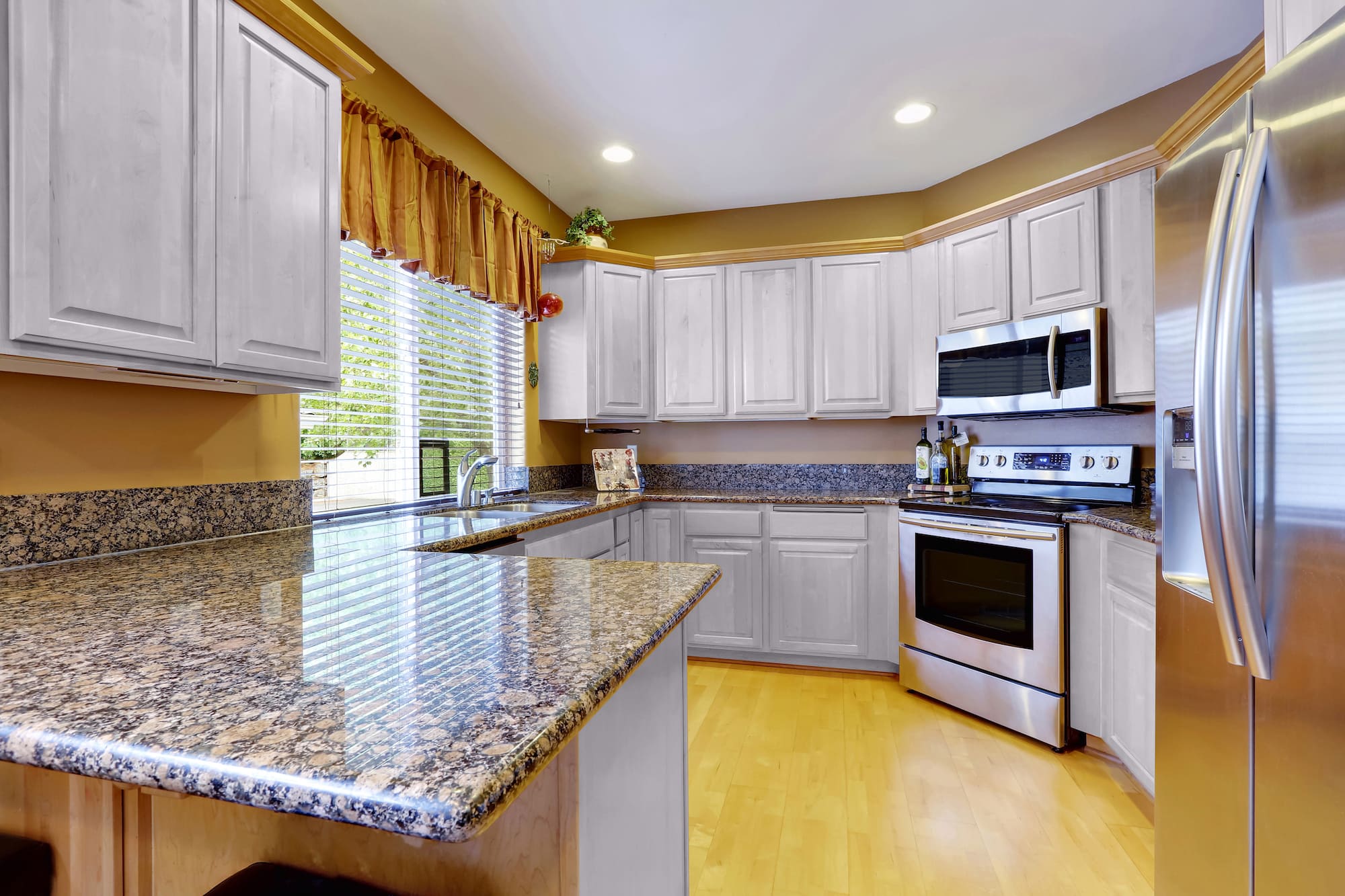 Calluna gets its name due to the elegant lilac color that feels tranquil and sophisticated. Named after heather plants that grow throughout the Scotland moors, this blended color can make your kitchen feel quaint and upscale.
You see the magic when you put this soft color against brown granite countertops. The subtle notes of black pull this color off the edge of being too pink, enhanced by the speckled colors in the granite.
Borrowed Light by Farrow & Ball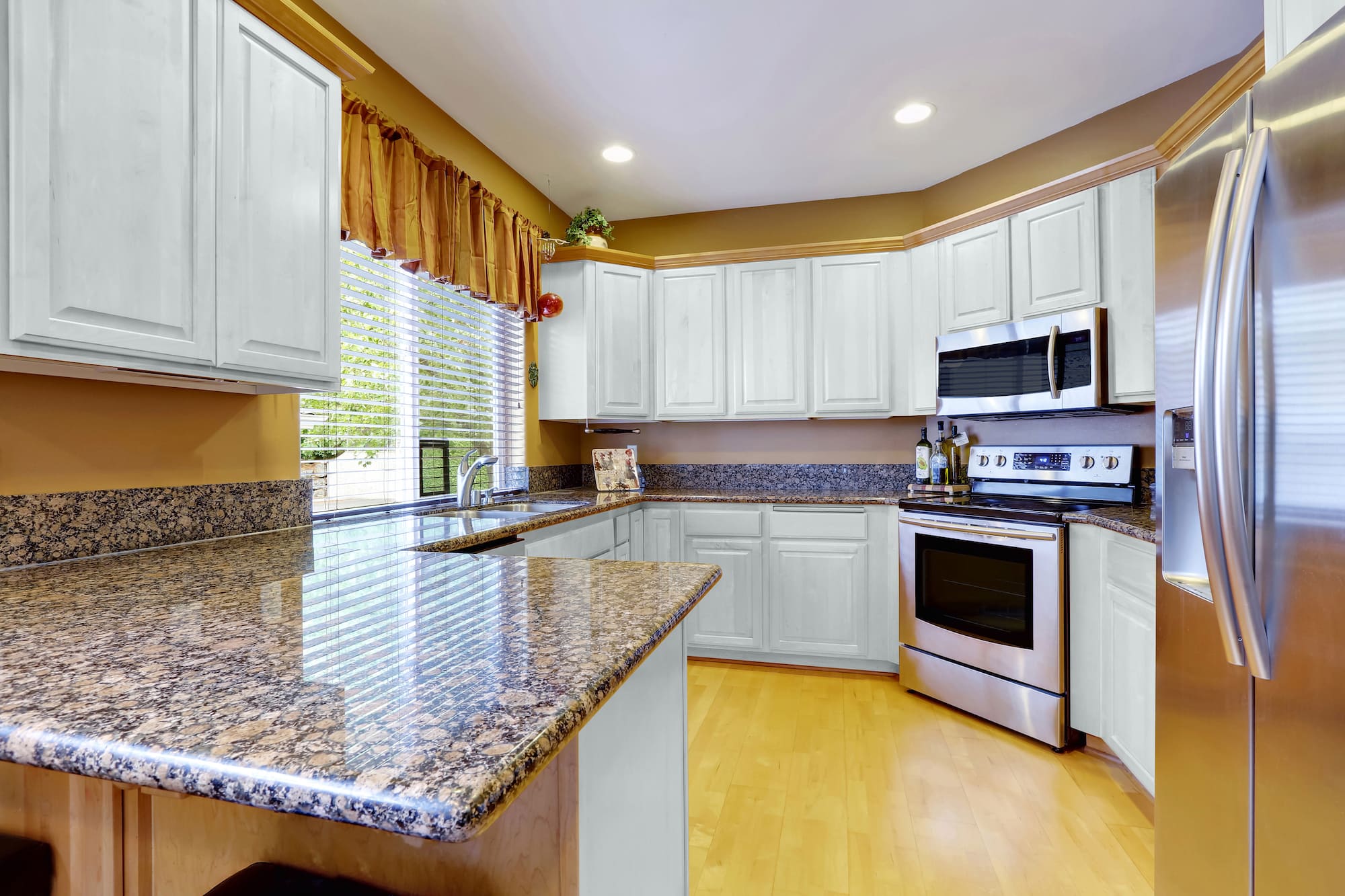 Borrowed Light is a cool pale blue with heavy gray influences. Painting your kitchen cabinets this light color can give your room personality without going overboard.
You can use a classic color like this for a full counter set or one half, with the other left white or off-white. Soft blues are an excellent pairing with brown cabinet countertops for a naturalist, earthy vibe.
Final Words
You get the best look when you pair your brown granite cabinets with natural wood-grain cabinets. But you can also choose to paint your cabinets. Potential paint colors that you can use with brown granite cabinets include neutrals, grays, browns, whites, and tans.