Kitchen Accent Wall Ideas
When you're looking to create a unique kitchen design, an accent wall is one of the most effective ways to do it. An accent wall is simply a single wall in a room that has a different color, pattern, or design than the others.
There are a variety of ways you can add an accent wall to your kitchen. Keep reading and we'll go over some of our favorite kitchen accent wall ideas to get you inspired!
Use a Unique Patterned Backsplash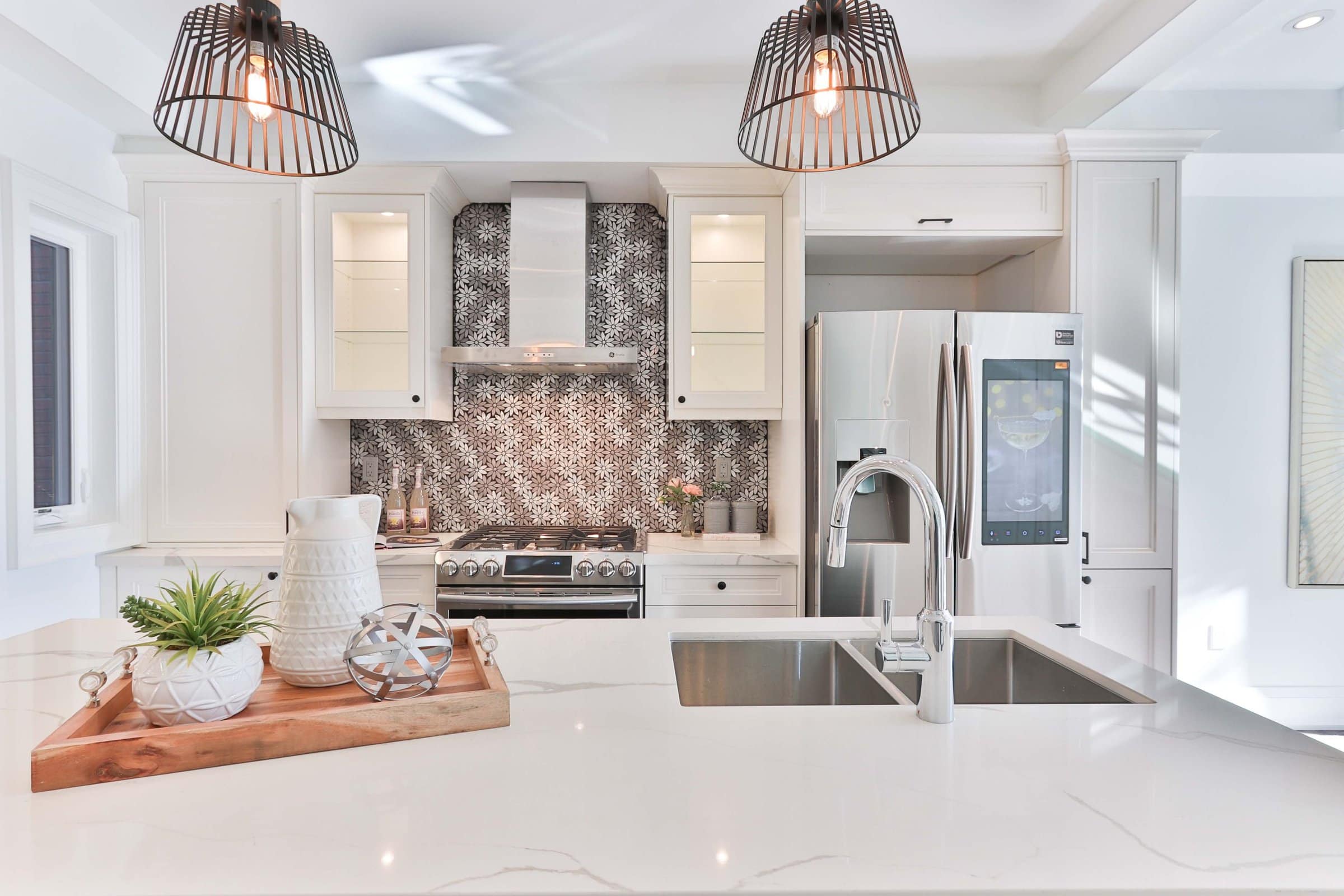 Rather than a basic square tile backsplash, consider finding more visually interesting alternatives. Stone mosaic or decorative floral tiles add more color and interest to the accent wall of your kitchen while providing the function of a backsplash at the same time.
The kind of pattern that you choose will of course depend on your style and what works best against the rest of your kitchen design. A statement floral backsplash like the one you see in this example is a fun and cheery option for kitchens with a sunny atmosphere. If you want something more colorful and eclectic, try a mosaic of mismatched tiles or stones.
You may also want to decide what color scheme will look best. If you want your accent wall to truly stand out, make sure it's a color that contrasts sharply against your cabinets and the other walls in your kitchen. For something more subtle, go with neutrals in the same tone as your cabinets.
Create an Accent Wall with Your Cabinets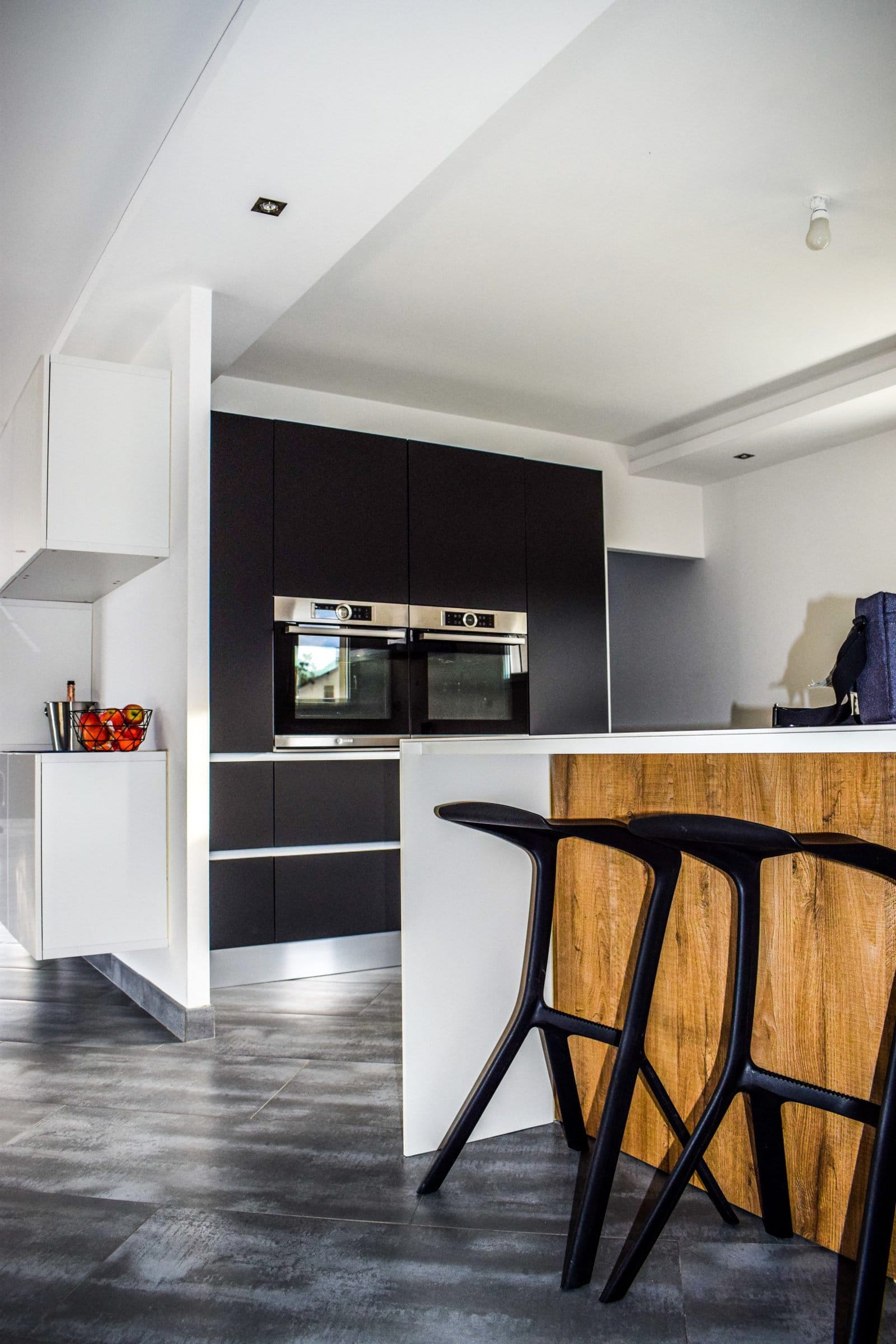 Some kitchens have attractive-but-inconvenient layouts that make it difficult to choose a wall to accent. If you're not sure where to put an accent wall in your kitchen, then consider using your cabinets to your advantage. This look works especially well with minimalist cabinetry that sits flush against the wall.
One look you could try is to paint the cabinets that surround your refrigerator in the same color. For example, if your fridge is black, paint the cabinets black so that the refrigerator seems to blend in with the rest of the wall. You may want to try this idea if you've got a not-so-attractive appliance that you'd like to hide.
Of course, you don't have to go with black. Any color can stand out against a white or neutral kitchen. If you want something a bit more cheerful or artistic, try a bright pink or turquoise. Or, if you love a more minimal or modern look, go for sleek gray or a soft, muted blue.
Find a Focal Pointe with Colorful Patterned Tiles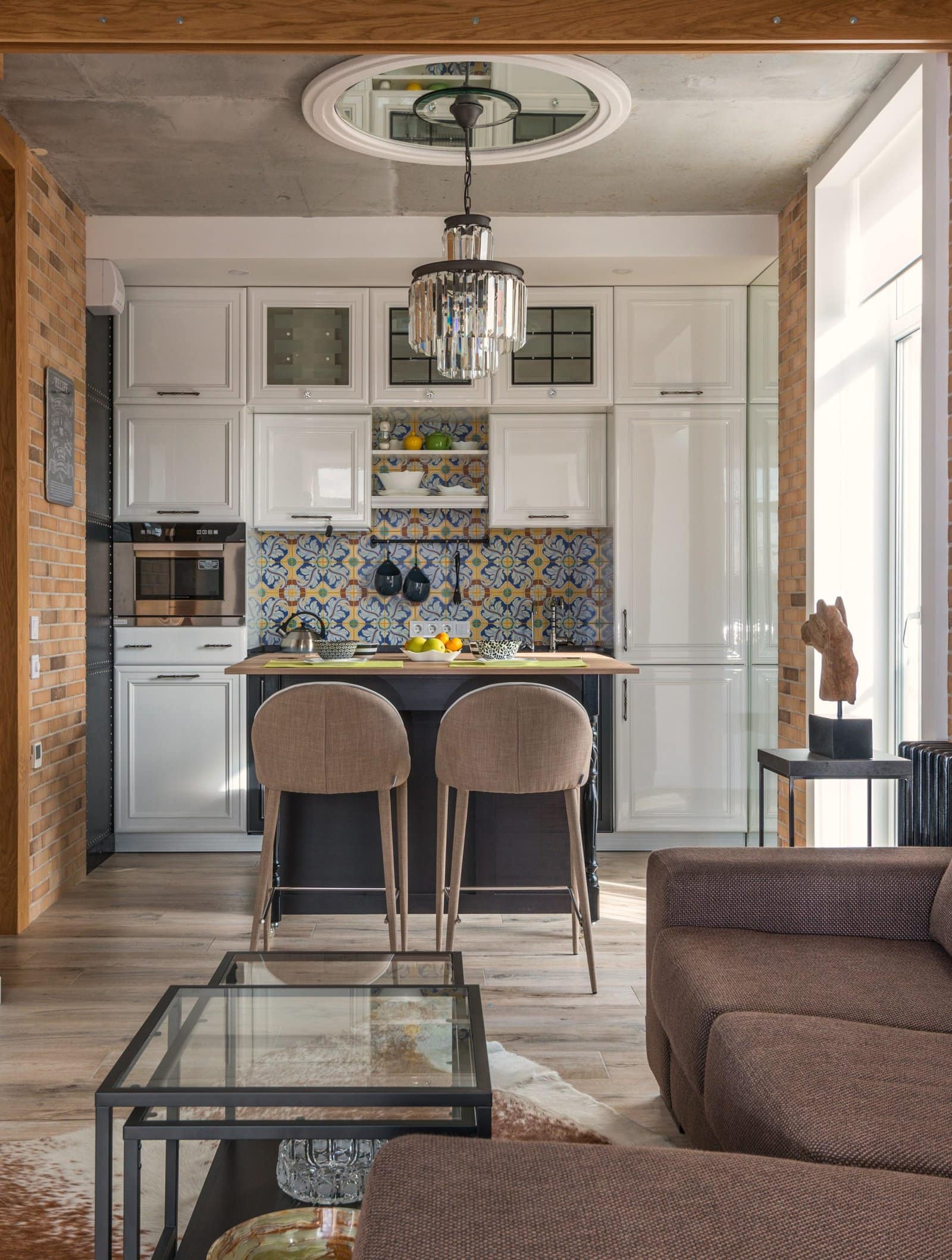 If you want one area of your kitchen to serve as the main focal point of the room, then you need a design element that will draw the eye. Patterned backsplash tiles are great options, especially in an otherwise neutral kitchen.
As far as colors go, the choice is up to you. Go as bright as you want, especially if the rest of your kitchen is done in white or cream. If your kitchen is mainly black, then choose patterned tiles with a more neutral color scheme. Or, for an awe-inspiring display, choose tiles with metallic accents and streaks of gold or copper.
And remember, you don't have to only include tiles on a backsplash area. If you have your eyes set on a particularly beautiful tile pattern, why not cover the entire wall? It will not only make for a stunning statement area of your home, but it will also create a beautiful backdrop for family meals and gatherings.
Use Textured Tiles to Create Visual Interest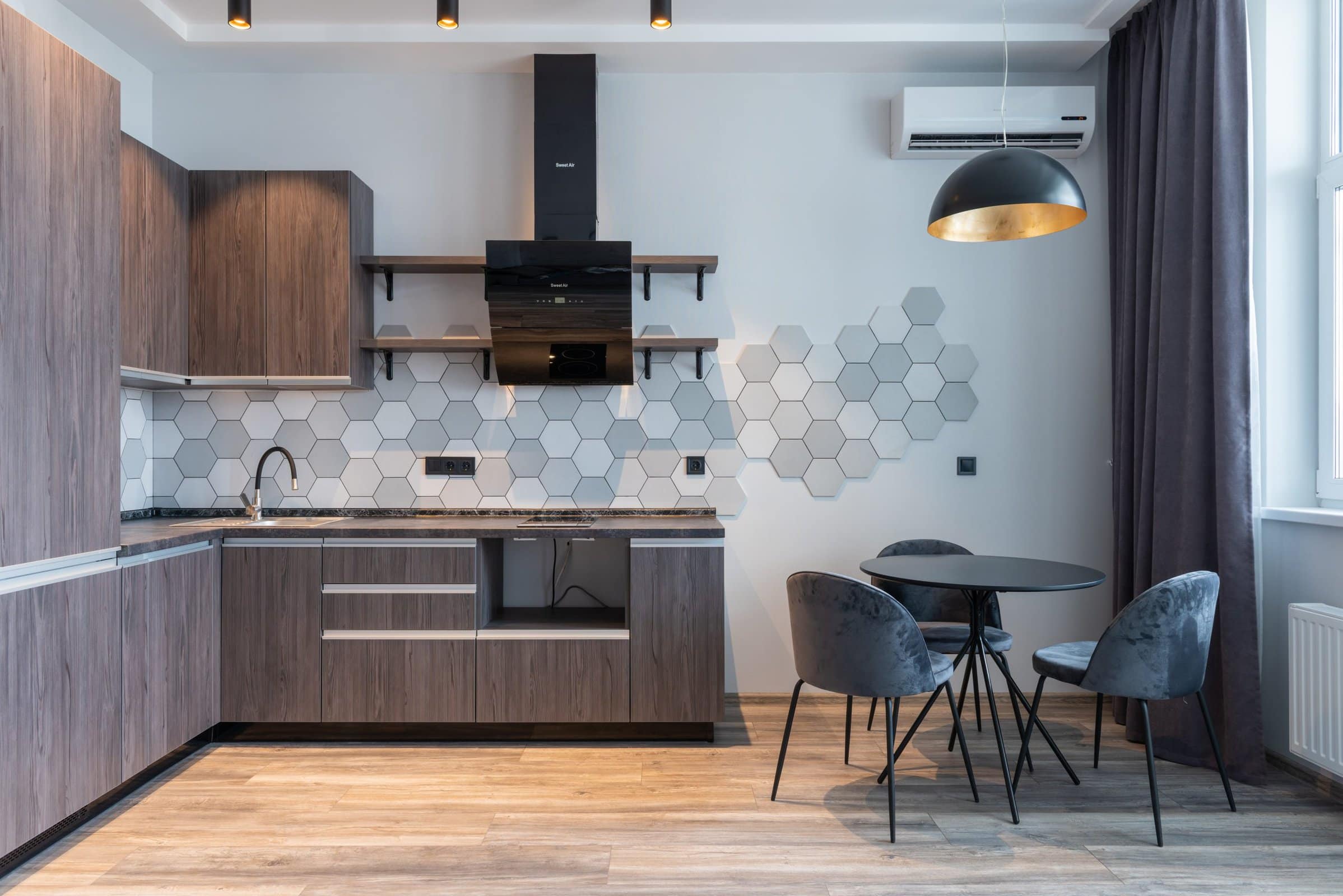 You don't have to cover your entire accent wall in a certain color or pattern. If you want a more subtle and modern look, then take a glance at this beautiful example for inspiration. A few well-placed tiles in an interesting color or texture can bring sophistication to a contemporary kitchen.
How do you pick the right tiles for your kitchen? First, think about the texture and material of your tiles. Classic painted porcelain tiles give a more vintage and rustic charm to your kitchen, while sleek stone and glass tiles make your kitchen feel chic and modern.
You also want to pick more organic shapes for your tiles— that is, tiles with a shape that isn't square or rectangular. Hexagon tiles, round tiles, or mosaic-style tiles are all great choices so that you can customize the look of your accent wall.
Here's an extra tip: If you rent your home and aren't allowed to install permanent tiles, no worries! Many companies offer peel-and-stick versions that look just like the real thing! Usually, these tiles are made of vinyl, with an adhesive backing that can be removed easily when you're done with them.
Add Color and Patterns with Wallpaper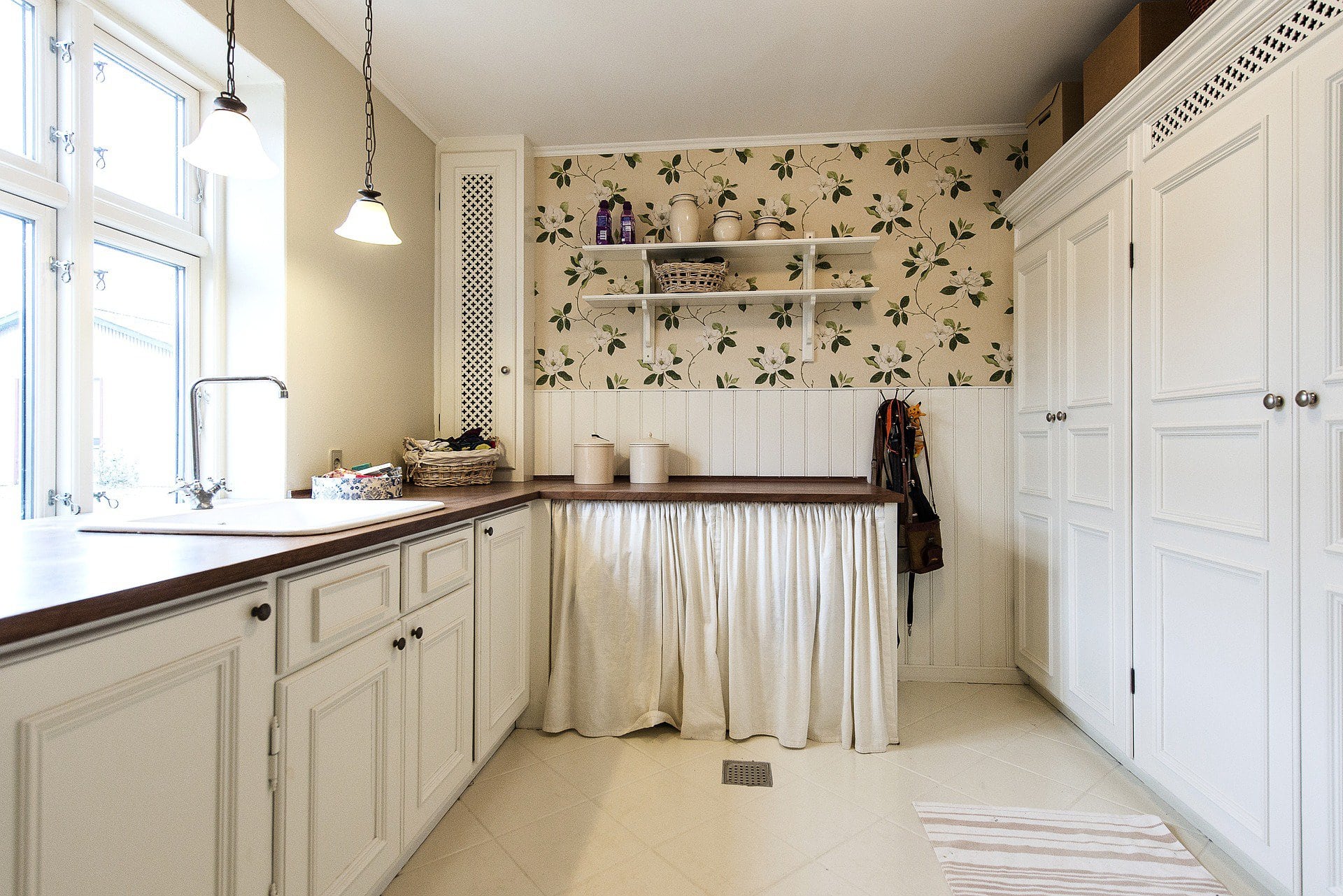 Painting one wall in your kitchen a different color is an effective way to add an accent wall, but it's a little safe. If you want your kitchen accent wall to stand out, then one of the quickest and easiest ways to add a pop of color or an interesting pattern is with wallpaper.
To achieve the best effect, install wallpaper on a kitchen wall that receives lots of light from the windows. You can cover the entire wall if you like, or you can add wallpaper to a few key sections of the wall as you see in this country kitchen example.
Remember that the area where you install your wallpaper is going to become the main focal point of the kitchen, so choose the area wisely. You can use your wallpaper to draw attention away from a less attractive area of your kitchen, or even to highlight a beautiful characteristic of the room.
So what patterns should you choose? Stick with large, bold patterns if you want a more sophisticated and artistic look, and choose small, delicate florals if you want a traditional or rustic design. Geometric patterns work in modern kitchens with a sharp or more severe design style.
Go Bright and Bold with a Colored Wall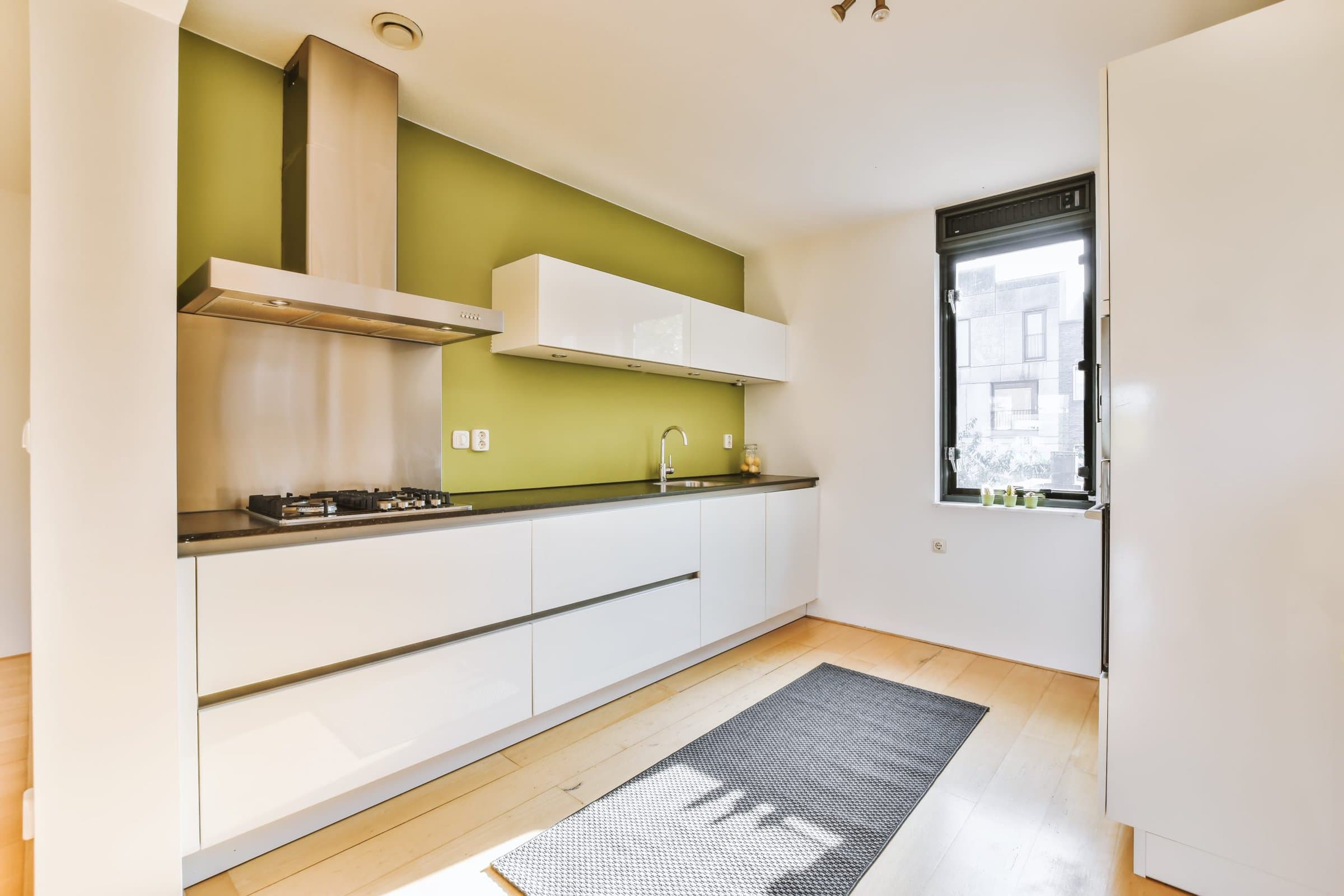 If you don't have a tile backsplash in your kitchen, then consider painting the area behind your counter and appliances a bright color that will instantly draw the eye. Make sure to keep the other colors in your kitchen soft and neutral, especially the color of the surrounding cabinets.
So what color should you choose? It all depends on your personal style, but certain colors work better in kitchens than others. Red is a bright and powerful color that is said to increase your appetite, while yellow is a sunny and cheerful color that is great for family kitchens. On the other hand, shades of green and blue create a calming effect.
One of the best parts about this accent wall approach is that it's incredibly easy to do and cost-effective. For just the cost of a small can of paint and a few hours of your day, you could create
Carve Out a Breakfast Nook
If you're looking to add a bit more dimension to an eat-in kitchen area, one of the best ways to do that is to create a breakfast nook, or at least to separate the eating area from the rest of the kitchen. Painting your breakfast nook area in a different color is a quick and easy way to zone out a new section of your kitchen.
The color that you choose for your breakfast nook will depend on your taste, of course, but you also want to consider how it will look as part of the whole kitchen design. You can either choose a color in a similar family as the rest of your kitchen for a more subtle look, or you can pick a brighter shade for greater contrast.
To decorate your accent wall, consider adding a gallery of your favorite artwork and photos. Choose pieces that contain the colors of your kitchen as well as the accent wall's background color. A bright pop of rich blues or greens works beautifully against a white or cream backdrop.
Contrast Solid Colors against Patterns
Who says accent colors have to contain just one solid color? Accent walls are meant to stand out against the rest of your kitchen, but you can easily incorporate lots of visual interest by adding panels of wallpaper or a mosaic of tiles. It's an easy alternative to plain accent walls, especially if you don't have the space to hang art.
If you don't have much room in your kitchen for a large accent wall, you could always consider adding contrast differently. Why not add a panel of patterned wallpaper or solid painted color in contrast against the rest of the wall? Check out this beautiful example to see what I mean.
First, you want to choose your backdrop color (or colors). You could either paint the wall a solid neutral, like gray or tan, or you could choose to add a patterned wallpaper for added interest. Afterward, incorporate a contrasting strip of paint, tiles, shelves, or wallpaper to brighten up the wall and give it a bit of extra style.
Add Natural Texture with Stones
Paint and wallpaper are excellent choices for accent walls, but if you want your kitchen to stand out, why not consider adding stone? You can do this in several different ways— from faux stone tiles and slate panels to a pebble backsplash, the possibilities are endless.
If you don't already have stone accents in your kitchen, it can be difficult and expensive to add real stone walls. But there's an easy and creative DIY method you can use to create the stone look in your kitchen for a much more reasonable cost.
You can get faux stone tiles made of vinyl that can be applied with grout (there are also peel-and-stick options). Arrange your stones in a natural pattern on your wall so that the colors and shapes are evenly distributed. Then, once they're attached to the wall, add grout in the spaces in between the "stones" to complete the effect.
Create a Functional Accent Wall
Kitchen accent walls aren't just beautiful— they can also serve a functional purpose. This is especially important in a room like a kitchen, where wall space is at a premium and every square inch should serve a purpose.
There are a few ways that you can add function to a kitchen wall— the method you use will depend on your needs. A chalkboard wall, like this one, is perfect for busy families that need lots of planning. It's also great for homes with children who love to draw on walls!
There's also the option of adding a magnetic element to your accent wall. That way, you can use the vertical space of your accent wall to show off your favorite pictures, keep important bills where you can see them, or hang a lighting element to brighten up your kitchen even more.
Conclusion
Hopefully, this list of amazing kitchen accent walls has inspired you to create a beautiful and unique accent wall in your very own home. Just remember to balance the colors, textures, and patterns of your accent wall with the rest of the room, so you don't overwhelm the space.
And don't be afraid to take a risk and try a color or pattern that's outside of your comfort zone— you'll love the transformation of your kitchen! With these simple ideas in mind, you can easily create an accent wall you can be proud of.