10 Exciting Kitchen Backsplash Trends in 2023
A backsplash is a simple way to add bags of style to any kitchen. But what is trending this year in kitchens? If you want to show some modern flair, you'll need to know the designs that are all the rage this season.
There is a huge range of materials to choose from, and some ideas that you might like to try for yourself if you're big on DIY.
You'll need to think about the style of your kitchen and the ambience you want to create. But mostly, have fun choosing the ultimate update for your kitchen backsplash!
Classic Subway Tile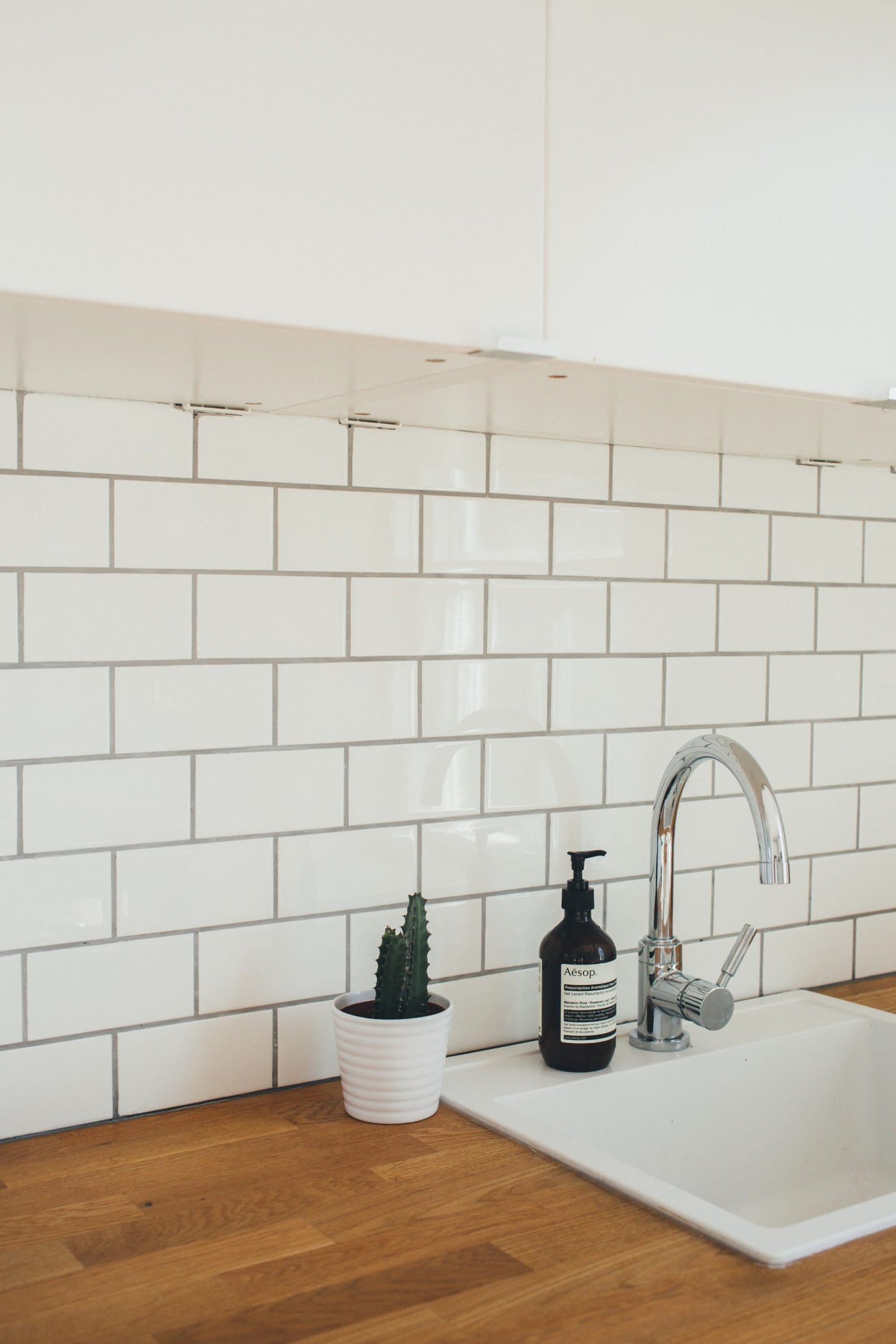 The subway tile looks set here to stay. It's been a kitchen design staple for some time and it's going nowhere! White will add a clean, crisp effect to your kitchen but the subway tile is also available in every color.
This tile is easy to install in an overlapping design for a look that says chic, urban and current. It works with most kitchens, adding a traditional note to a modern kitchen and a modern note to more rustic kitchens.
Moroccan Tile Backsplash
Earthy neutrals are turning up the heat in 2023 so what better than a gorgeous Moroccan style tile as your kitchen backsplash.
With a mix of colors available across the whole spectrum, this pattern has longevity and versatility. If you go for classic rust reds, neutrals and blues, you'll conjure up ideas of bubbling pots and exotic spices, so this tile is perfect for your home kitchen.
Blue Herringbone Tile
Herringbone is a popular design in flooring currently and can work brilliantly when used as a tile design for your kitchen wall. In a deep blue, you'll be showing off your expert knowledge of a 2020s color trend.
Glossy and characterful, this look works well with many kitchen styles, but particularly a classic white or with natural wood tones.
Herringbone might look complicated to install but is not so hard to do yourself. So why not try tiling in herringbone to create your own kitchen backsplash.
Tile in Honeycomb Pattern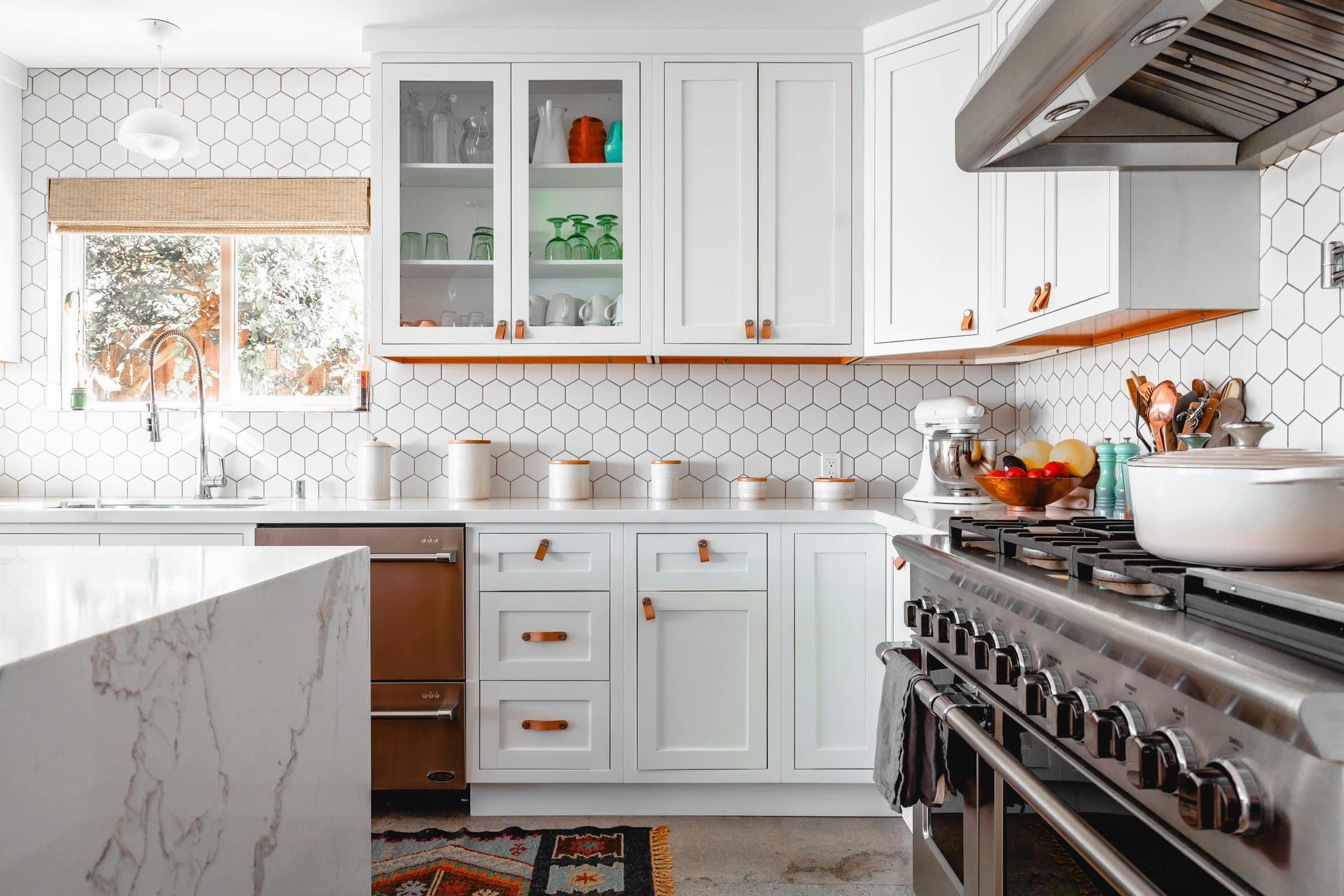 Both modern and stylish, a white hexagonal tile is very on trend in 2023, continuing the geometric designs which have been hugely popular in recent years.
Tile is also practical for protecting your wall. The area between the countertop and the kitchen cabinet is particularly prone to splashes from your cooking preparation. A tile is easy to keep clean and if you like it, you can carry on tiling the entire wall.
Marble Kitchen Backsplash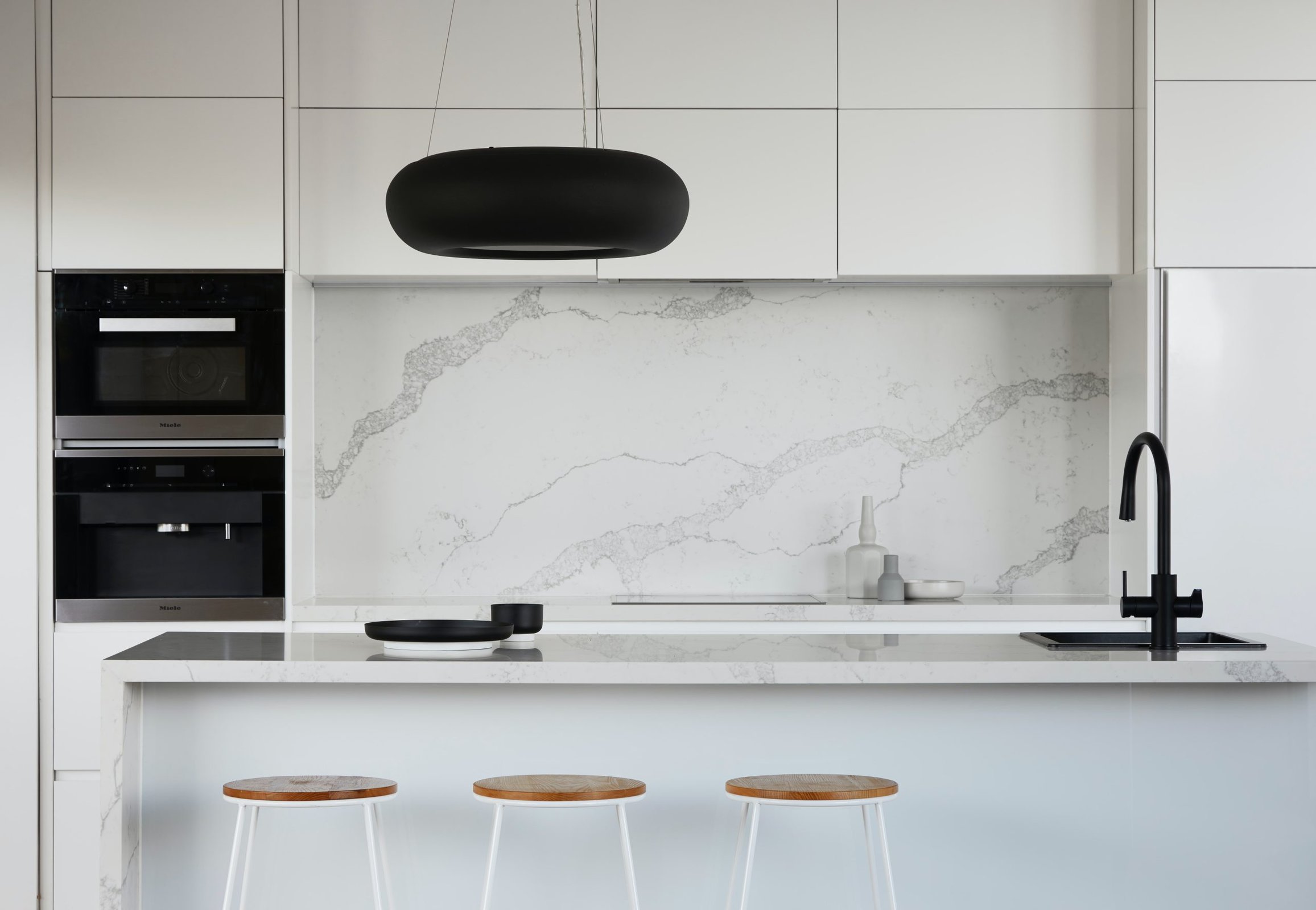 Perhaps it's the rise in the culture of the billionaire that the rest of us want to have a slice of the lifestyle, as marble has seen a rise in popularity over the last few years.
Working well in monochrome schemes, a white marble with a black or gray-toned vein looks classic and expensive. If you can't quite stretch to a large piece of marble, then look for a tile in a marble design for a similar look.
Natural Stone Backsplash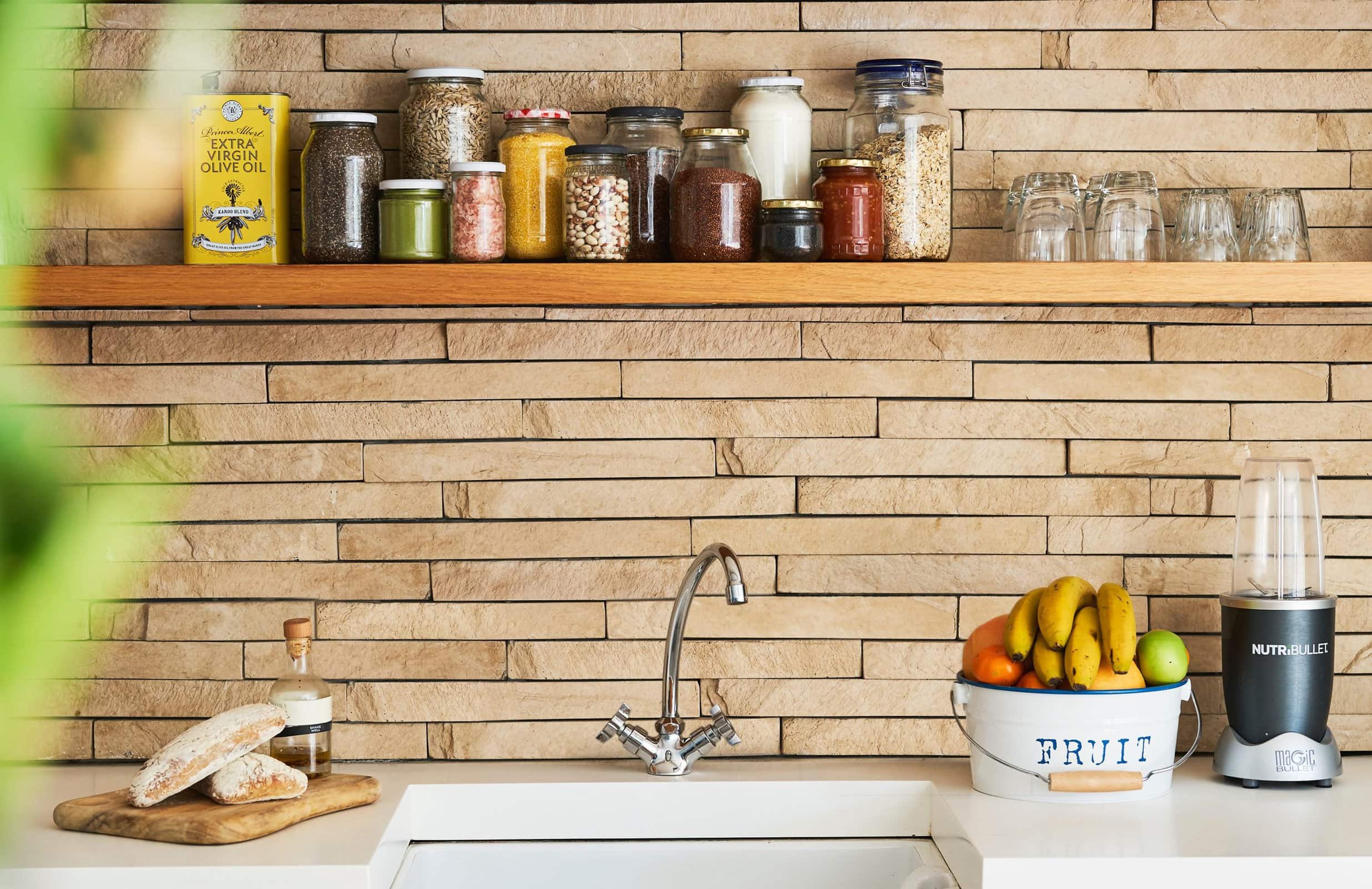 For gorgeous, natural texture then consider adding a stone tile backsplash. This creates an earthy, rustic feel in your kitchen.
Placing the tiles in a layered way and leaving them grout-free can have the effect of a drystone wall. With us all thinking more and more about sustainability then natural materials show an affinity for the planet.
Shiplap Backsplash
Now, this is a look that is current but also for those who also favor a period look. A shiplap backsplash is very country cottage so you can use this if you like a sense of tradition.
You can also place planks horizontally for a rustic modern touch. You might like to try installing shiplap yourself.
Ordinarily, you would expect to paint shiplap in paler colors. The hues that are particularly on-trend this season are beiges and earth tones, as well as watermelon pinks for a vibrant effect.
Backsplash in Gorgeous Glass
At first glance, this backsplash might look like tile on the wall but, in fact, it is made from glass. This means you can simply use adhesive to attach it to the wall. It will be up in a fraction of the time compared to tile.
Just be sure to measure accurately so it fits flush in the space with no gaps. It's a hardwearing and easy-to-keep-clean material. A fantastic modern update.
Dainty Decals
So, you love the look of tile and you really need a backsplash but you are worried that you don't have the skills to tile. Then fear not, you can add the look and wipe-clean practicality of tile by using decals.
Decal stickers are available online and in hardware stores, and are easy to fix to your wall. They also come in up to the moment styles in new orange tones and modern patterns. A wonderful simple update for your backsplash.
Floral Kitchen Wallpaper
Bright florals and woodland designs are becoming hot in the wallpaper stakes. You can add the look to your kitchen at a minimal cost for strong impact.
Either paper using ordinary wallpaper but ensure you match the pattern. Or buy specially designed backsplash wallpaper that comes in a horizontal orientation.
If you're worried about damaging your wallpaper backsplash in a busy kitchen, then add a perspex cover to protect your wallpaper. Looks fantastic!
Mosaic Mural
Mosaics are so cute and you can buy sheets of tiles that are easy to apply. A current trend is the scallop shaped tile. This looks so cute!
You can install all the same color. Or if you're creative you can make your own designs by using a few different shades of the same shape tile. You might even design a tile mural.
The tip here is to plan out the design on a countertop or table before fixing it to the wall. But if you get it right, you can have your own work of art right in your own kitchen.
In Summary
A kitchen backsplash can be a simple yet effective way of adding some va va voom to your kitchen.
When it comes to materials, you're spoilt for choice. The most obvious and easily available is a tile in your chosen color and shape.But consider also shiplap, wallpaper, decal and glass for your kitchen update.
With a little thought for design, you can make your kitchen look every part of 2023's kitchen trends.