How to Display Cutting Boards on Kitchen Counter
In your beautiful kitchen you'll want every detail to count. Not only can storing certain items be practical, the way you do it can complement and add to the overall design.
A cutting board is a hugely functional item and you'll want to be able to get to it quickly. And if you've acquired well-made attractive boards, you'll want to keep them out on display.
Not to be hidden away in a cabinet, these are some ideas for enhancing the look of your kitchen counter.
A Little on the Side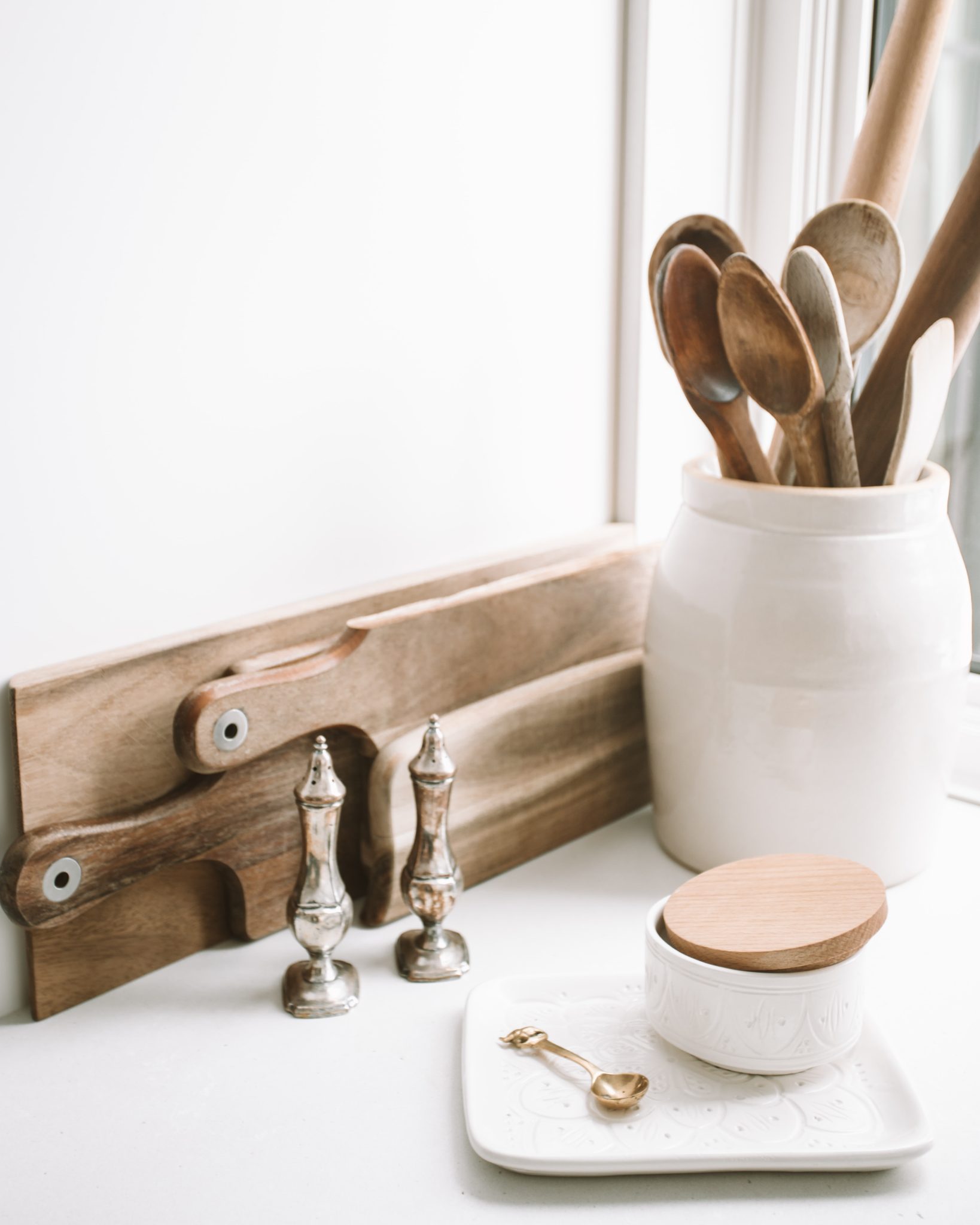 If you have a gorgeous white kitchen with just a few natural, earthy touches then you'll love this classic, tasteful idea for displaying your wood cutting boards.
Keep your other items such as your china and canisters in plain white. Then add wood spoons, rolling pin, spatula and the all important wood cutting board.
If you have rich oak paddle design boards, simply turn them on their side and rest them against the wall. Arrange them in a way that looks effortless. You will have a classic, simple look for your kitchen countertop.
Cutting Boards In a Box
This is such a simple idea but one which looks like you have had a decorator in! Take a shallow wood box or crate and stack your cutting boards within on their side on the vertical, tall side.
If you've been collecting gorgeous vintage ceramic cutting boards you'll want to complement the arrangement. You could also add some cooking utensils, your salt and pepper cruet set, or even some fresh herbs. The greenery will look stunning against shiny ceramic and natural wood.
Shelves Above Your Countertop
For unusual shaped cutting boards you don't want to get cluttered in a group and want to show off the unique design then a shelf can be a great idea.
You can place a small set of shelves in your countertop and display your cutting boards alongside your china and food canisters. Vary the heights and textures for maximum designer style.
Cutting Boards on a Riser
This is such a cute idea but one that has such impact. Take a small natural wood riser and use it to display cutting boards and other kitchen items.
It looks like a professionally dressed countertop. It's so simple and yet so very effective. Don't overdo it though, just one or two in the entire kitchen for best effect.
As a Backdrop
For those who do a lot of cooking or are chefs in your profession, you may have accumulated some large chopping boards. Awkward to store away, why not treat these outsized wood boards as a kitchen counter backdrop.
Place the wooden cutting boards on the wall next to the counter, then add your ceramics, salt and pepper and utensils. You might even like to add a vase of flowers, dried or fresh, to complete this look.
Hang Your Cutting Boards on the Wall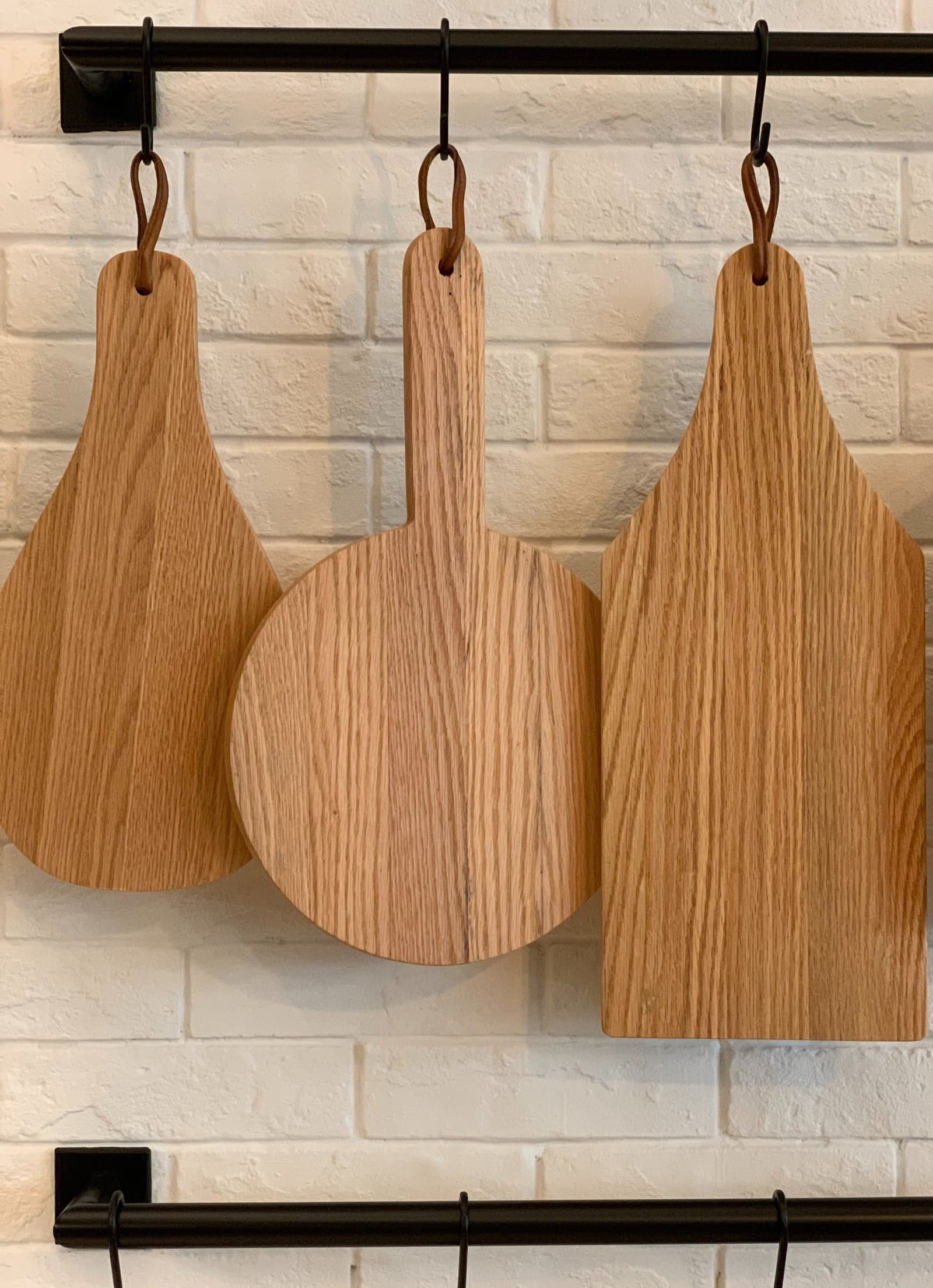 This is so easy to do, particularly if you are handy with a drill. Just above the countertop, you can fix a rail to the wall and then use metal hooks to hang your favorite wood cutting boards.
This looks great if you have unusual shaped boards you want to display. And it keeps the counter free which is helpful if you have a small kitchen area.
Off the Wall
Similar to hanging a rail is an even simpler idea to display your wood cutting boards just off your countertop.
You can fix hooks directly into the wall and hang your cutting boards above on the wall. Work out an aesthetically pleasing arrangement before you fix the hooks. This can be a delightful design element in itself for your kitchen.
End of Cabinet Display
This is an ingenious way of displaying cutting boards just above your countertop. You can make your own cutting board storage on the end of a wall cabinet.
Not only will this give you more space in a small kitchen but it can look attractive and as if you have had a bespoke shelf made for you.
Handy Rack for Cutting Boards
You can store your cutting boards in an old magazine rack or trug for a simple but clever storage idea.
If you have a wood magazine rack you no longer use, then give this a good clean. Then either paint using an appropriate surface paint, or if you prefer the shabby chic look, keep it as it is.
Then all you have to do is arrange your collection of cutting boards and sit the rack on your countertop. Gorgeous!
Quirky Shelving for Cutting Boards
This is a wonderfully quirky idea that can work if you have a good space, i.e. no wall cabinets above your counter.
Take an interesting section of wood such as part of an old door or shutter and paint it using a white wood paint. Then add small battens of wood horizontally over the recesses. These will act as a restraint for your cutting boards.
Hang the shelf you have made on the wall over your counter. Slot in your unusual cutting boards and natural wood boards. This will be a talking point when you have guests. You'll have created a brilliant designer piece in your kitchen.
In Summary
From ideas that are off the wall to those that are beautifully simple, there is an array of ways to display your cutting boards on the kitchen counter.
Gorgeous wood cutting boards can simply be rested against the wall and enhanced with a display of other kitchen items. Stick to one or two materials, such a white china and natural wood.
You can add a shelf to the countertop, fix hooks to the wall to hang your cutting boards, fill a box or even add a repurposed magazine rack to display your cutting boards.
None of these ideas break the bank so take a look at your kitchen and plan the best way to display cutting boards in your kitchen.