Boho Lighting Ideas That Add Character to Your Space
The boho look is wonderful for those of us who like variety, as almost anything goes. So if you love to mix color and texture, this is a sure fire winner for your home.
But look up for a moment. Is your ceiling neglected? Sure, you might have the perfect rattan furniture and an array of patterned fabrics, slung casually but deliberately, over your sofa and bed. But have you forgotten your lighting?
Perhaps you'd like some inspiration on how to light your home interior and outdoor spaces in the boho design way.
Rattan Boho Minimalism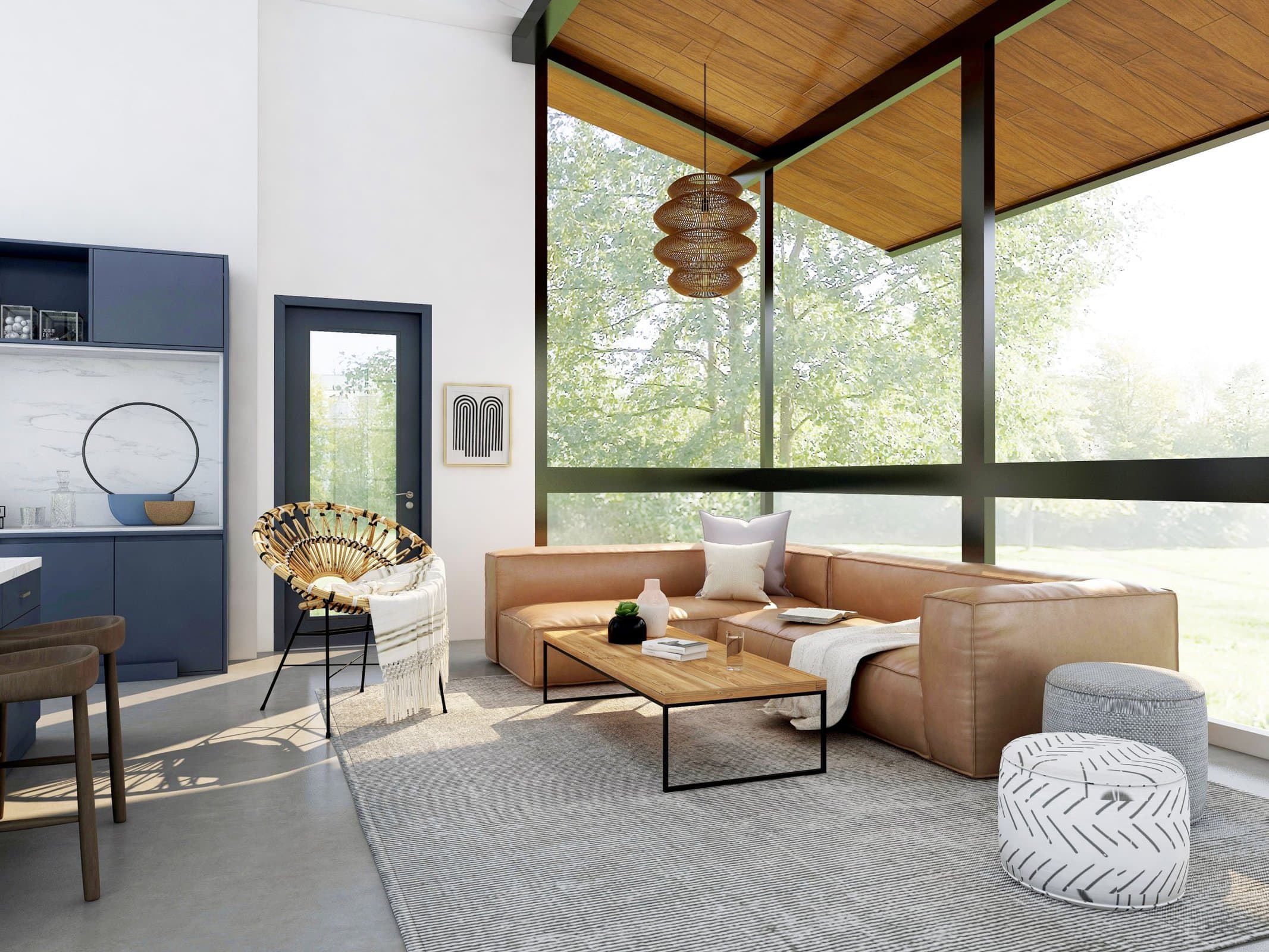 If you're the kind of gal or guy who loves the boho look but is not so much in love with the clutter, this theme can still work for you. You can keep your room pared back to emphasize strong architectural features. Then add a few boho accents to angular, retro furniture.
When it comes to lighting you'll want to go all out on furthering your designer simplicity. A large sculptural rattan light shade will give you all the wow and impact while remaining in keeping with the overall easy style of the room.
Crafted Rattan Pendant Light
You may not have a designer home but you want the designer look and in these tricky times we're all too familiar with, also on a budget.
Did you know it's possible to make your own rattan light shade? With your discerning eye and a few dollars, you can get an expensive designer look in your own home.
A great place to show off your light shade handiwork is over the dining table. What better a talking point than a gorgeous light fixture you have made yourself!
On the Fringe
A very current boho style light shade is one in a natural tone with lots of fringing. Layers of creamy soft fringes on a ceiling pendant light will set off your interior scheme and be a wonderful focal point.
A fringed light fixture works well in a room layered with natural wood and fabrics, knitted blankets, woven and macrame rugs, and the ultimate retro boho design feature, an egg chair with plenty of cotton pillows. Texturally gorgeous.
Macrame Chandelier
Now these sound like two words that shouldn't appear in the same sentence, 'macrame' and 'chandelier'. But in fact this kind of light fixture is tactile and wondrous and so very boho.
And guess what, with just an old lampshade and some cotton rope, you can make your very own macrame chandelier. So if knots and fringes do it for you, this is a wonderful addition to a beautiful boho room.
Branching Out
Another lighting look with huge designer impact is a tree branch light fixture. This is one you can either buy or simply make for yourself.
You'll need some clean, dry twigs or branches which you can wind pretty string lights around. Then suspend the branch from your ceiling with a twine or thin but strong wire cable, and hang the fixture at the point you want to view for best effect.
This is another designer style that will look great hung from the ceiling above your dining table. A truly inspiring centerpiece for any dinner party.
Monochrome Boho Lighting
If you're really into the woven rattan look but like black and white rather than neutrals, then an outsized black rattan shade would be perfect for your home.
Super easy to install, a pendant light shade will enhance your boho monochrome scheme. It will pick up on the black accents in your woven rugs, cushions and blankets. You can just soften any harshness in the room with a lovely large pot plant with lots of green foliage.
Retro Boho Lamps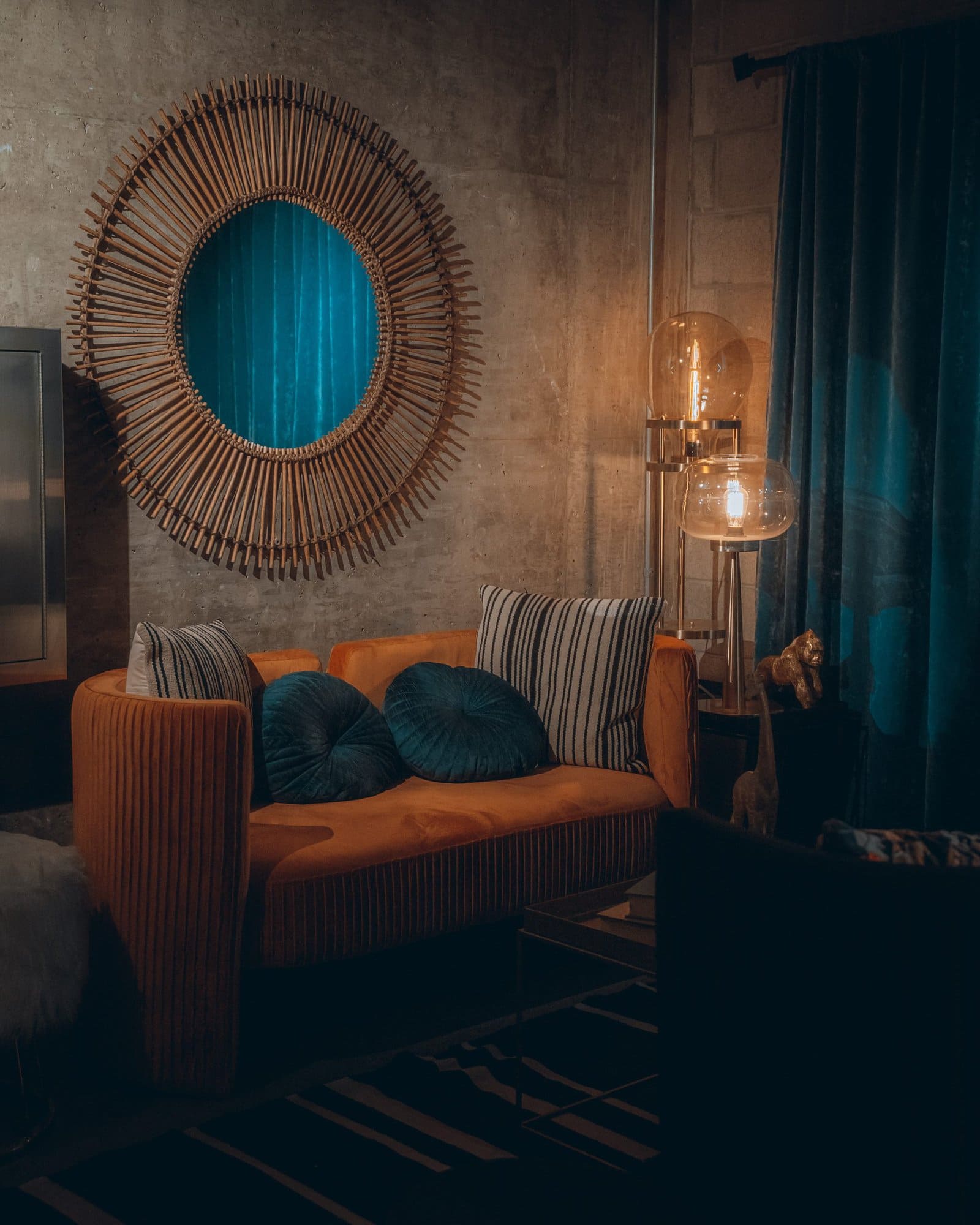 Boho needn't only be about rattan and macrame fringes. Sure, if you favor the boho look, you'll have a rattan mirror or picture frame, and perhaps some soft fringing on a blanket.
But to add some interest to the textural look, brass lamps with large glass globe light shades and retro light bulbs will be just the added texture and elegance for a boho look.
Chinese Lanterns for Boho Abundance
For indoors or out, a Chinese lantern or a string of paper lanterns will look utterly gorgeous. If you want something more substantial, however, then consider similar design stainless steel options.
You can find spherical Chinese lantern style light shades as well as more North African inspired designs made of filigree and metal fretwork. You might like to hang just one. But in a dark corner a bundle of them will look boho brilliant!
Backyard Boho Lighting Ideas
For your backyard or perhaps a balcony or porch, you'll want to continue the cozy boho look outdoors. Especially if you like to entertain with friends and family, you'll want to be able to see everyone once it gets dark, so plenty of lighting is called for.
Cheap and easy are string lights which can be fixed to fences or wound around railings, or hung from a pergola or a porch ceiling.
Then from above, you can hang paper lanterns, rattan light shades and even macrame fixtures. And don't forget lanterns and candles dotted on tables and on the ground. This will create a lovely, softly lit look.
Ornate Metal Lanterns
If you're low on light and find that your ceiling light fixture is not enough, or you would like some mood lighting when relaxing in the evening, then freestanding lanterns are a wonderful option.
Either candle, electric or battery-powered, there are a myriad of boho lanterns to choose from. Particularly pretty is a Moroccan lamp with its intricate fretwork.
And like the rest of boho design, you can layer the look by positioning lights and lanterns in groups for your eclectic boho aesthetic.
In Summary
For boho lighting excellence, think about your textures as well as materials. The buzz words in boho are rattan, macrame, fringes and filigree. So any lighting encompassing these features will work well with your boho aesthetic.
Boho designs needn't break the bank as it's amazing what you can do with an old light shade and some rope! So if you are good at DIY or crafting, you might like to try making your own boho light fixtures.
Don't forget lamps and lanterns for some subtle mood lighting. These will also look great when you're entertaining outdoors. And placing lights in groups is boho layering perfection.