Decorated Life is reader-supported. When you buy through links on our site, we may earn an affiliate commission. Learn More
17 Aesthetic Bedroom Ideas for a Swoon-Worthy Room
Are you trying to get the aesthetic look for your bedroom?
Aesthetic bedrooms are all about creating a room with maximum visual appeal. They often feature fairy and led lights, vining plants, fun tapestries, and unique patterns.
If you're looking for the best aesthetic bedroom ideas, here are 17 worth checking out.
Accent the Walls with String Lights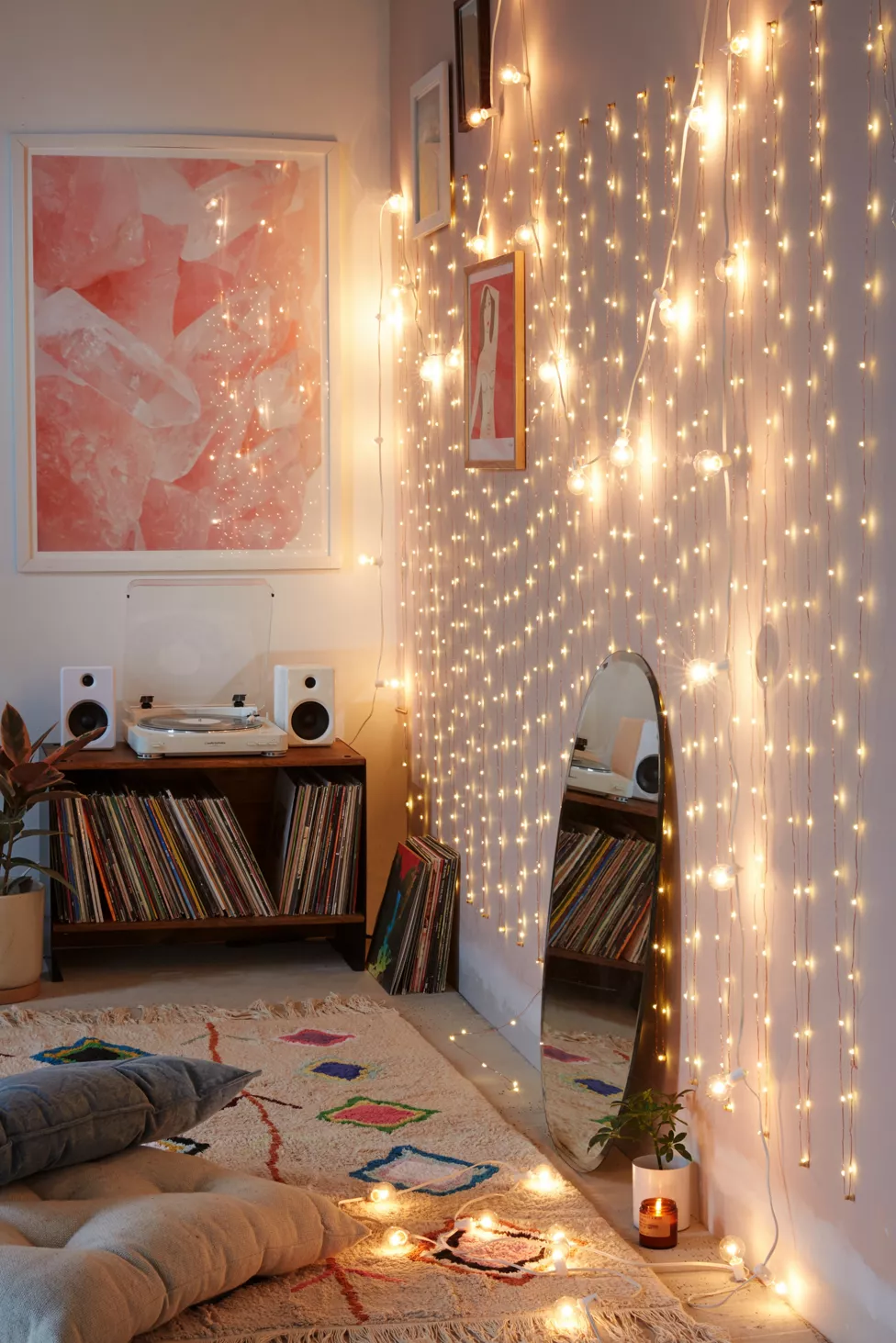 Perhaps one of the biggest trends for aesthetic bedrooms is novelty lighting, either in the form of LED strip lights or firefly lights, as shown.
These lights create a beautiful ambiance that's very relaxing. You can place these on one wall of your room for a stunning effect.
Layer Patterns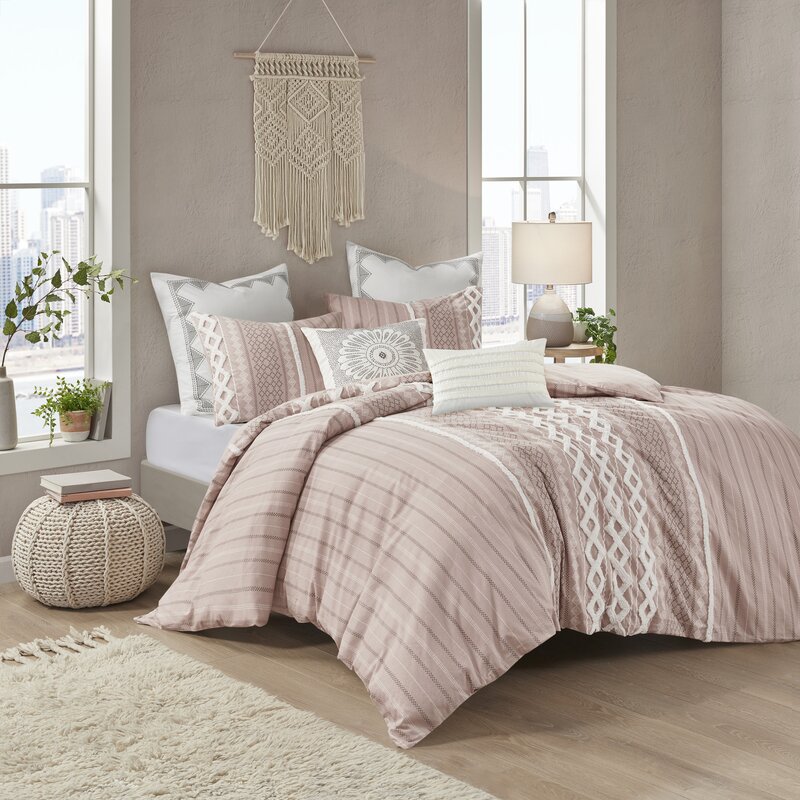 Don't be afraid to mix and match patterns for an aesthetic room. The best way to do this is to start with your largest pattern, in this case, the blanket. From there, pull colors out of the blanket and into accessories like throw pillows.
You can achieve this look with a bright color scheme or tone it down and do it with neutrals.
Choose the Right Bed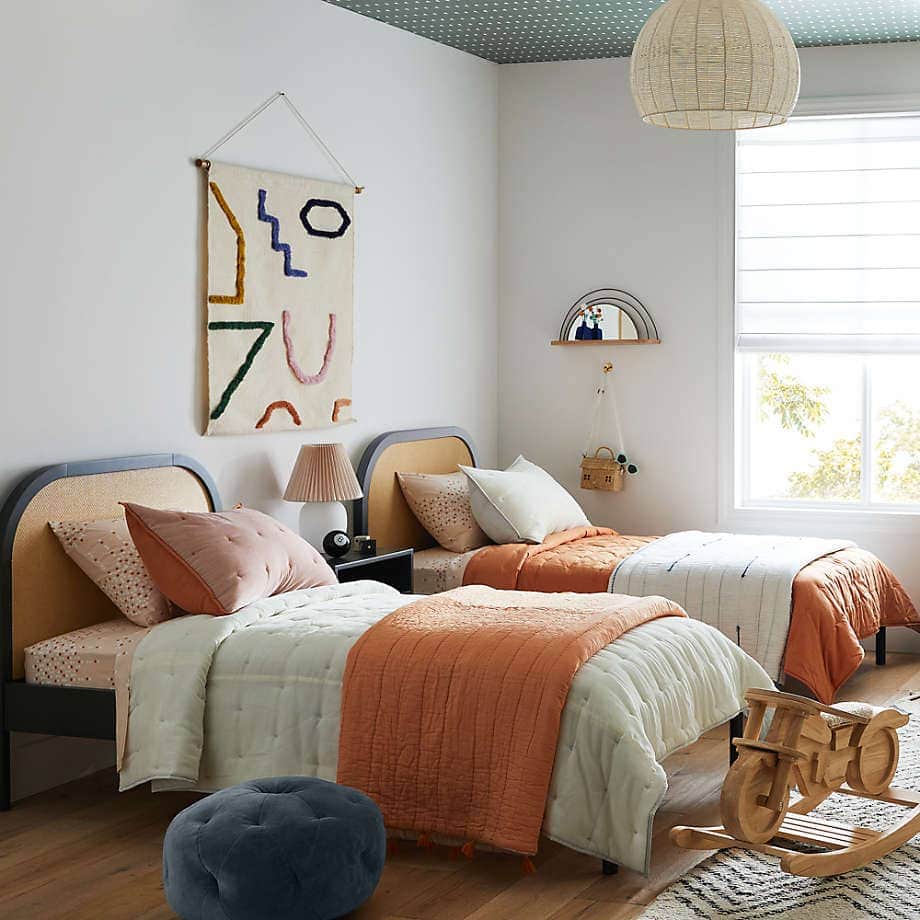 There are a million ways you could go when choosing a bed. But the best choice is usually a simple one, like this olive green bed from Crate&Barrel.
Since your bed is the grounding piece in your bedroom, a neutral works best. Wood, white, or neutral upholstered beds are all good options. Alternatively, if you're going for a bold aesthetic, you can choose a brighter color.
Hang Your Chair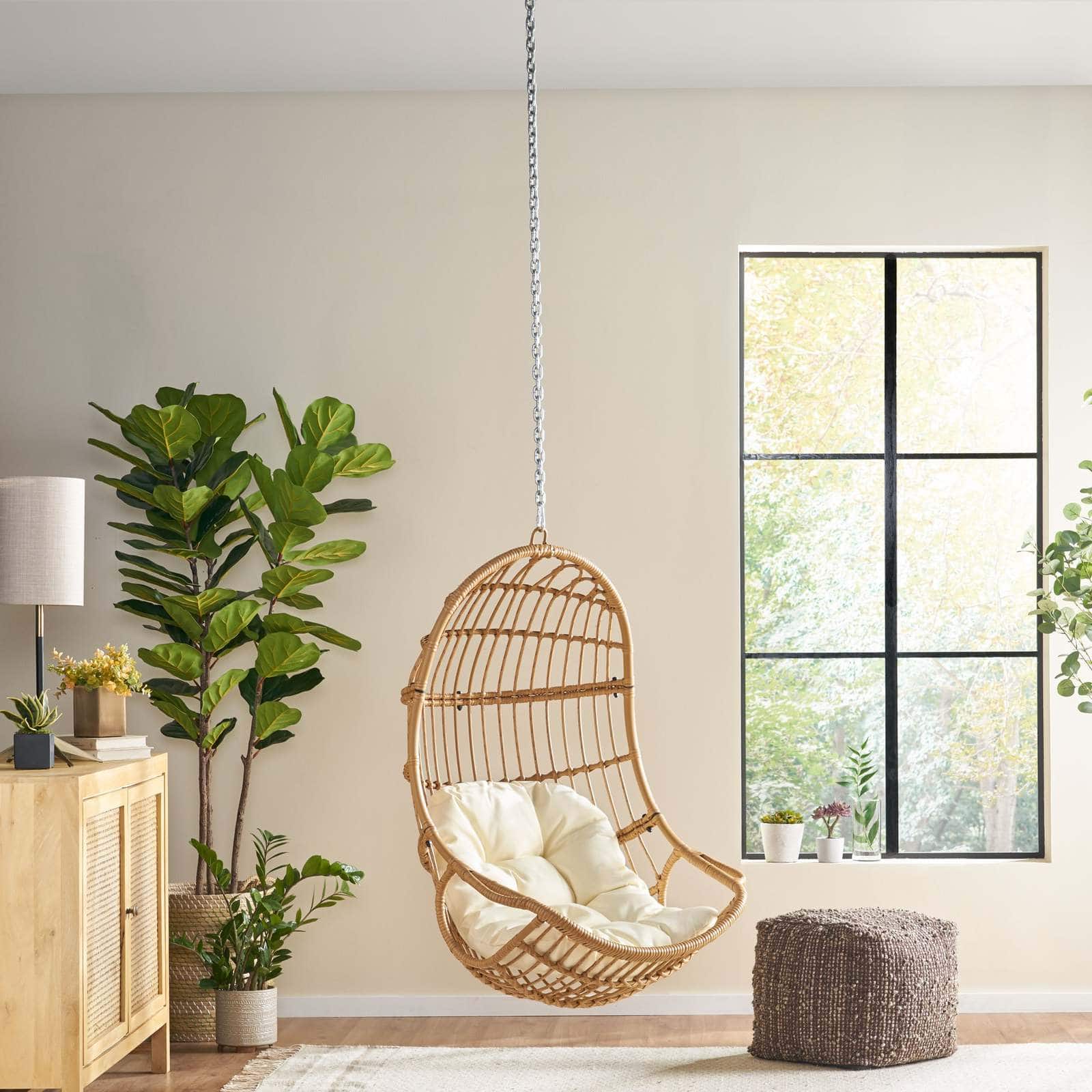 Hanging wicker chairs are the perfect addition to a cozy aesthetic room. Not only do these chairs look amazing, but they provide comfy seating for reading a book or watching tv.
This hanging rattan chair from Overstock comes in two colors – light beige and dark gray. Both colors are neutral, so they would work well with any bedroom style.
Put a Canopy Over the Bed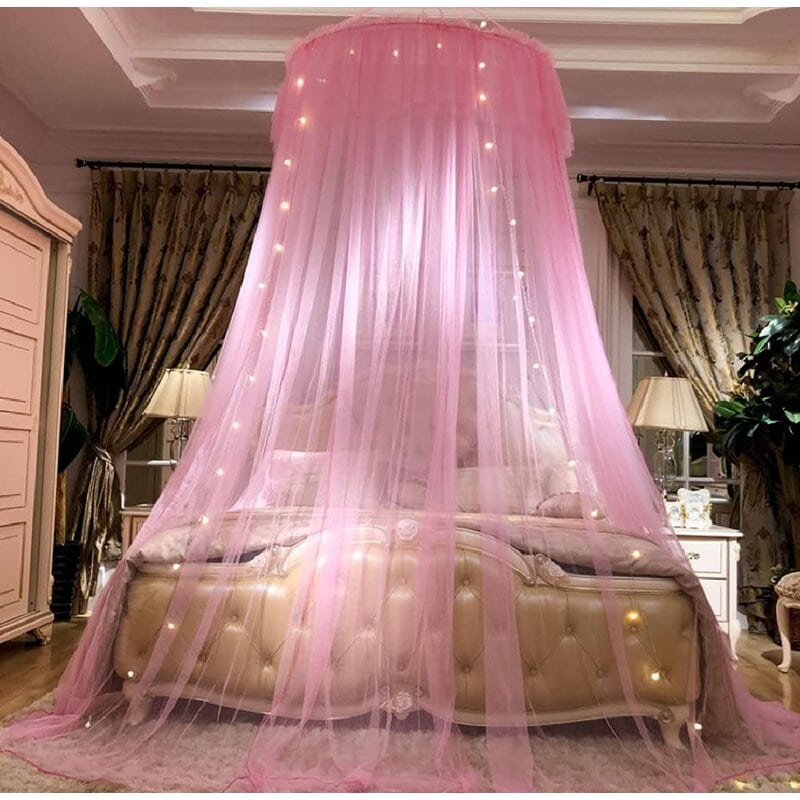 Canopies are excellent additions to any type of cozy room – they instantly give the bedroom a regal feel and provide a safe place to curl in bed each night.
You can add to the look by placing some string lights on the canopy, as shown above. This bed canopy from Wayfair comes in a few colors, including pink, blue, purple, and violet.
Cover the Walls in Vines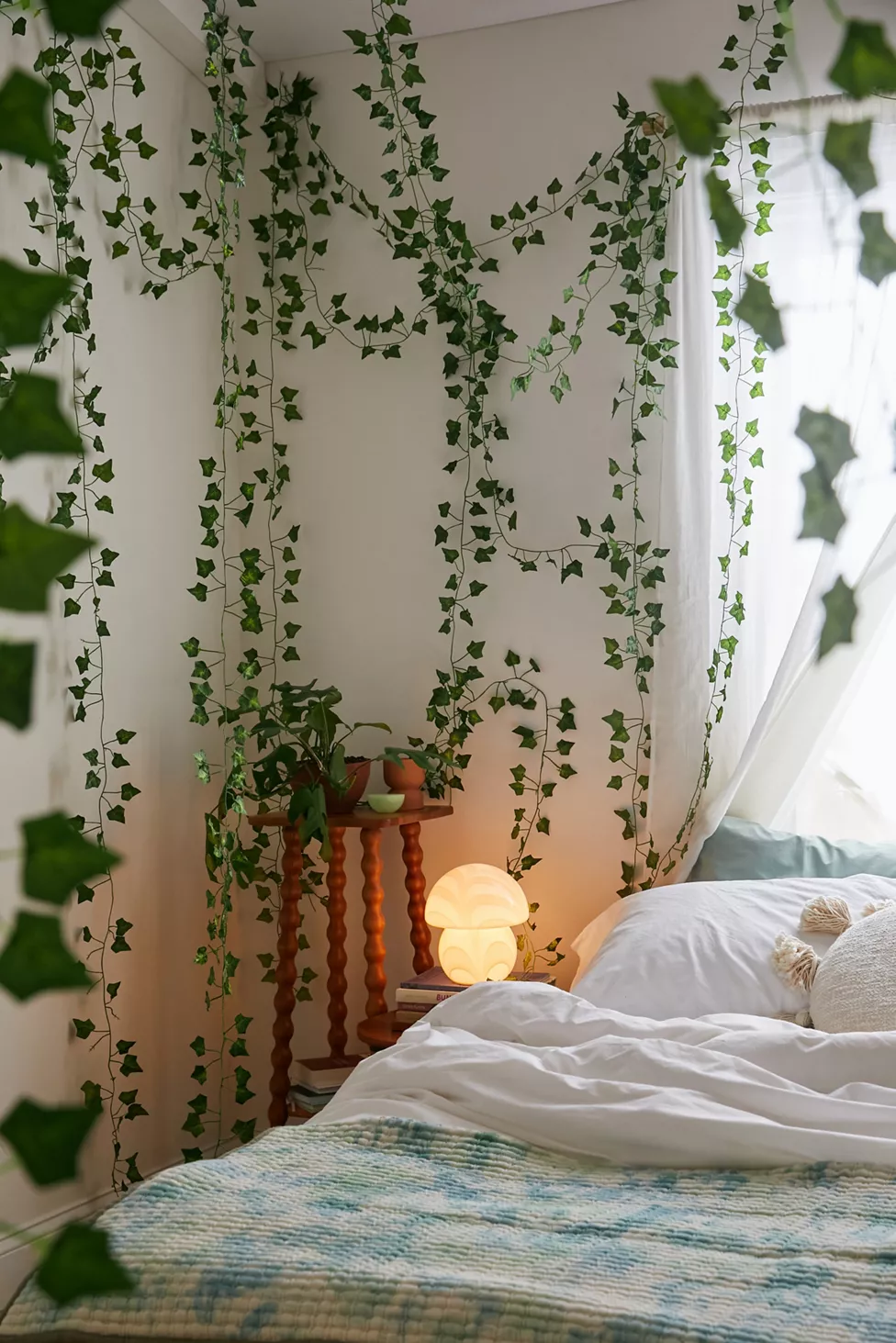 Vines are notorious for aesthetic bedrooms. The great thing about them is that they're inexpensive, easy to hang, and easy to customize.
You can use these on any wall, but I like them behind a bed. They create a great focal point, and you can hang them at various lengths for a custom setup.
Bring in Texture with a Chunky Knit Blanket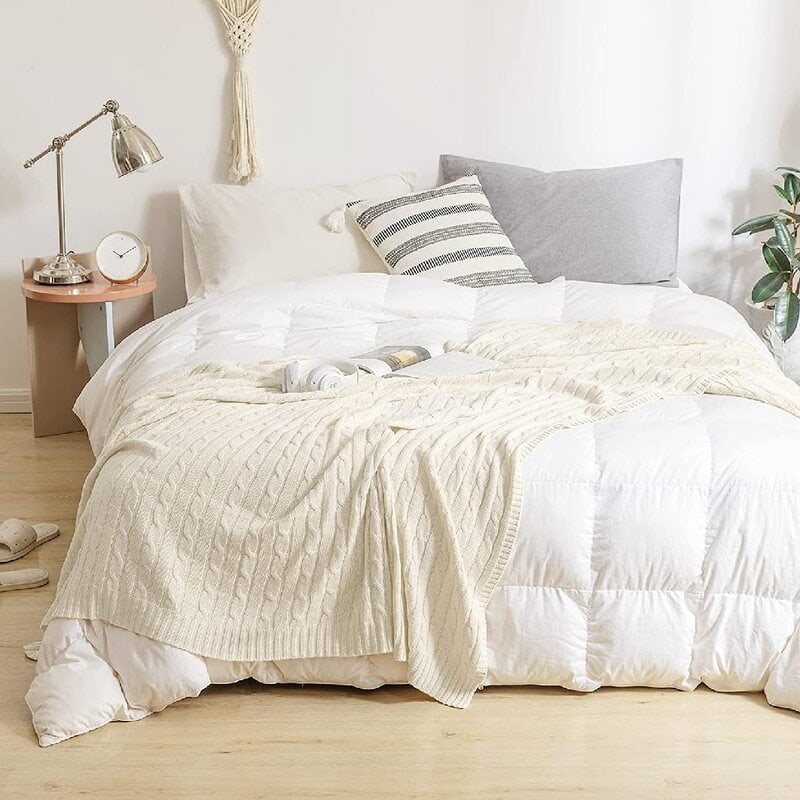 If you like a comfy aesthetic, bring in a chunky knit blanket. Not only does this style of blanket look great, but it's perfect for snuggling up on chilly nights.
You can go for a neutral like pictured or pick a bold color to match your room. This blanket from Wayfair comes in five different colors, so there's sure to be something you like.
Don't Skimp on Whimsical Lighting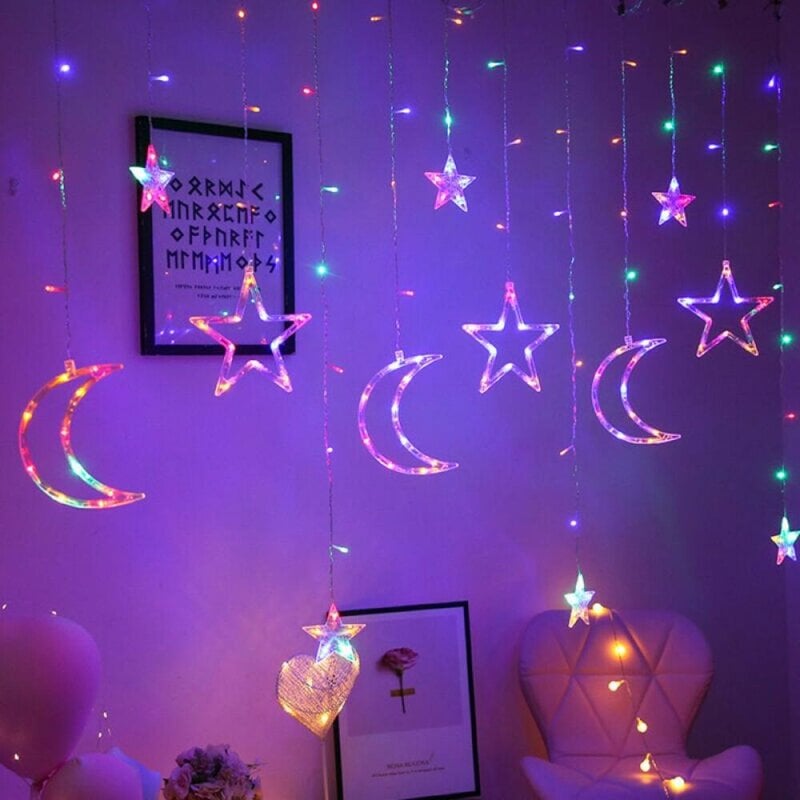 Whether you're using led strip lights, fairy lights, or stars and moons, you can't skimp on the lighting in an aesthetic room.
These lights look cool hanging during the day and create a fun atmosphere at night. You can use a strip of these to create an accent wall in your bedroom.
Create a Pink Aesthetic
If you're trying to create an aesthetic around your favorite color, your bed can play a massive part in the design.
A simple linen duvet cover like this looks stunning for a pink aesthetic. Then you can layer different shades of pink throughout the room. Throw in some lighting and faux plants, and you've got the perfect setup.
Pack in the Throw Pillows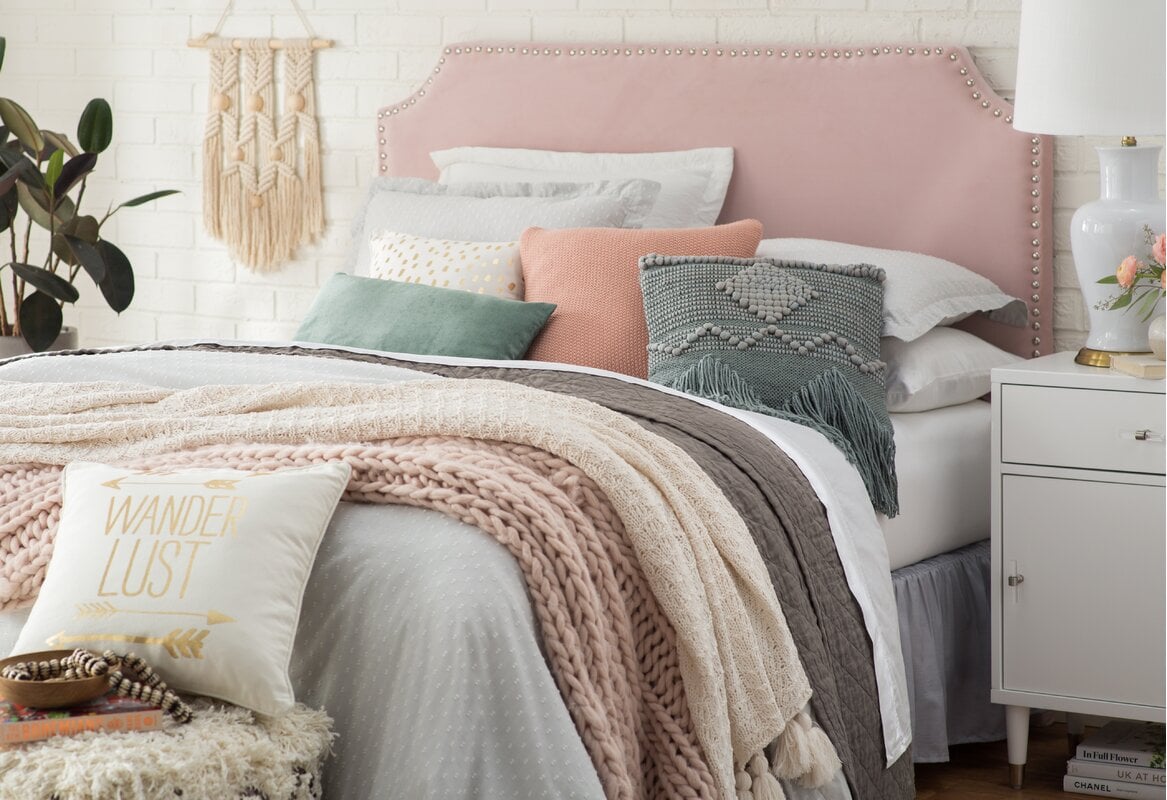 Throw pillows are another fun way to bring color and texture into the bedroom. You can coordinate to a specific color scheme or slowly add those that catch your eye.
For an aesthetic bedroom, I like pillows with fringe at the bottom paired with more simple pillows.
Install a Pendant Light Over The Bed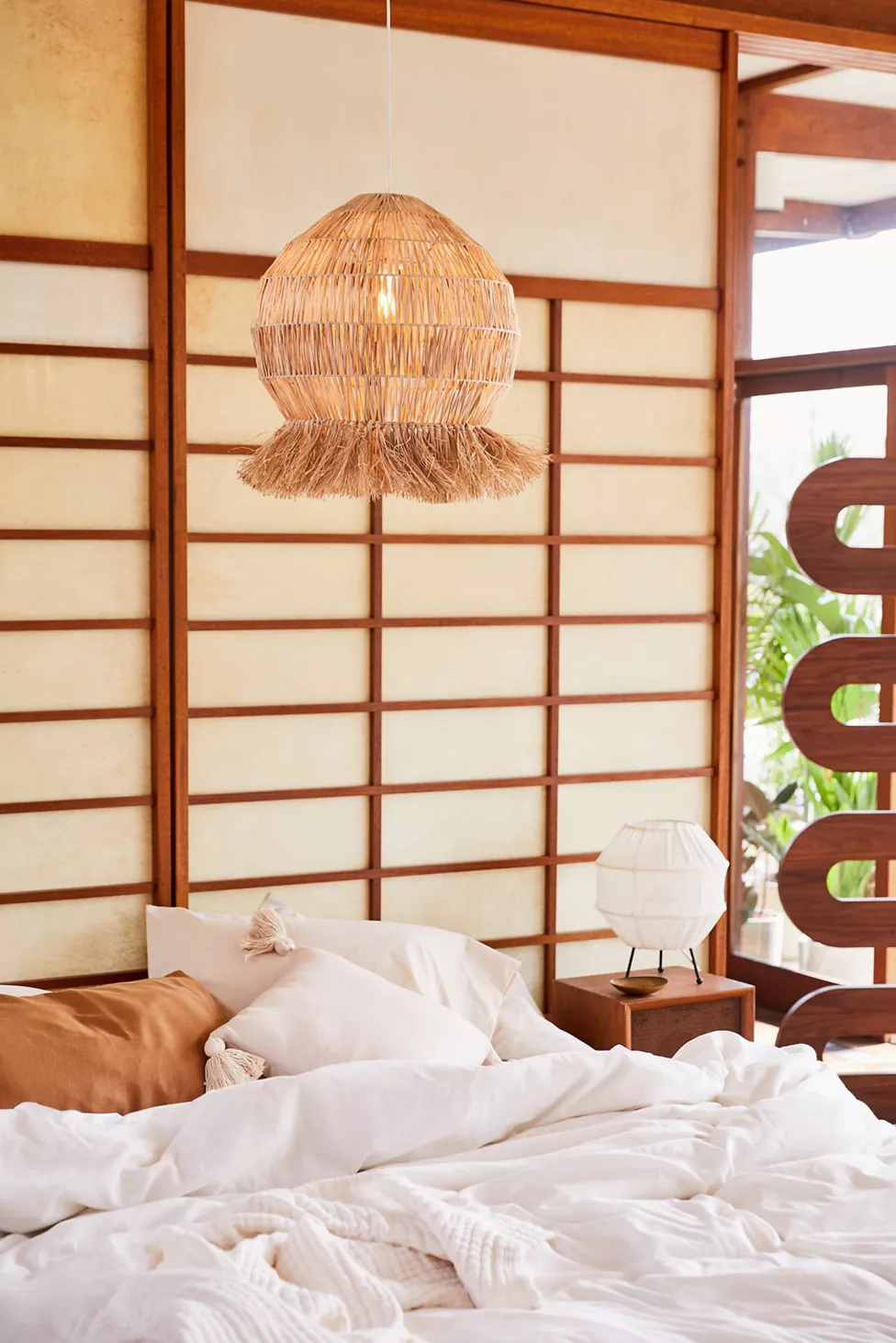 While flush mounts and ceiling fans are the most common bedroom lighting, you can kick it up a notch by installing a low-hanging pendant over your bed.
I like this rattan pendant since it brings warmth and texture. However, it's not the only way to go. Depending on your aesthetic, you could also go for a more glam or industrial pendant.
Pull in Some Multifunctional Furniture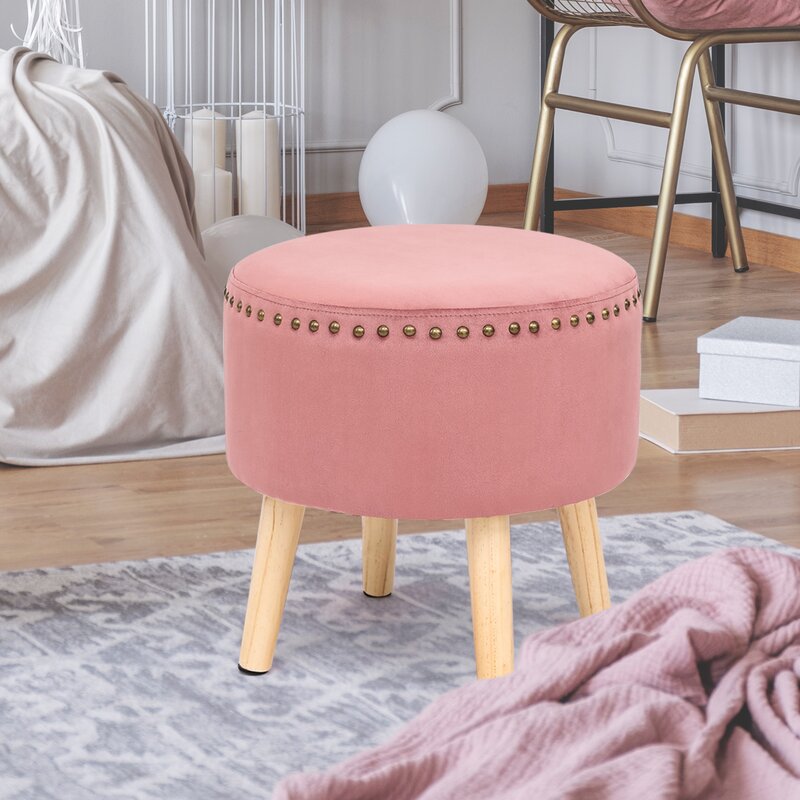 If you have a small bedroom, pull in some pieces that perform double duty. For instance, you can use this ottoman for a desk chair.
If your bedroom is tiny, you could even use one of these ottomans as your nightstand. This one comes in four shades: pink, blue, gray, and black.
Get Comfy on a Floor Cushion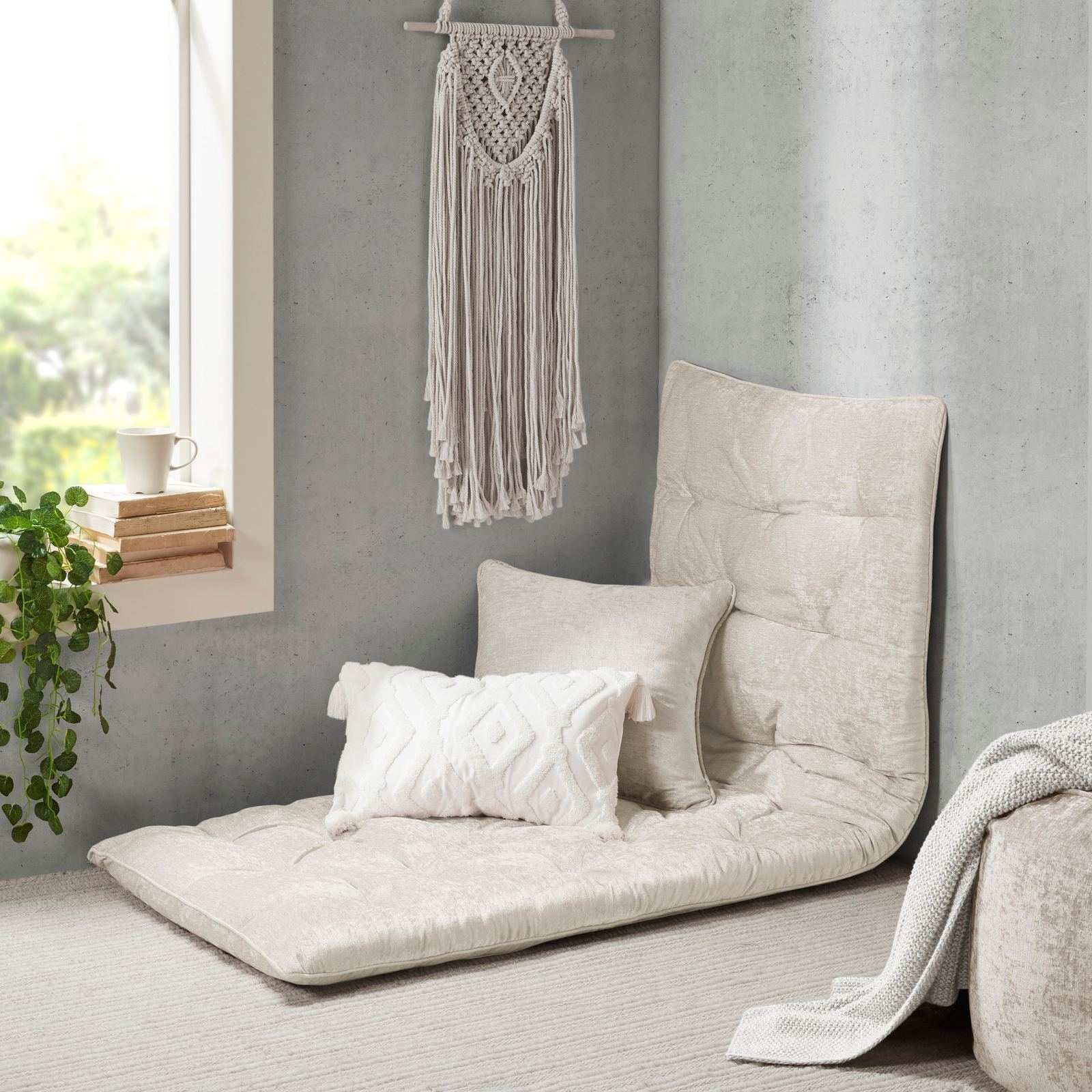 Need extra seating for the bedroom? Try a comfy floor cushion like this one from Overstock.
This cushion comes in four colors and is the perfect seating solution, even for a small aesthetic bedroom. You can use only one or multiple to create a large seating area.
Choose a Show-Stopping Bed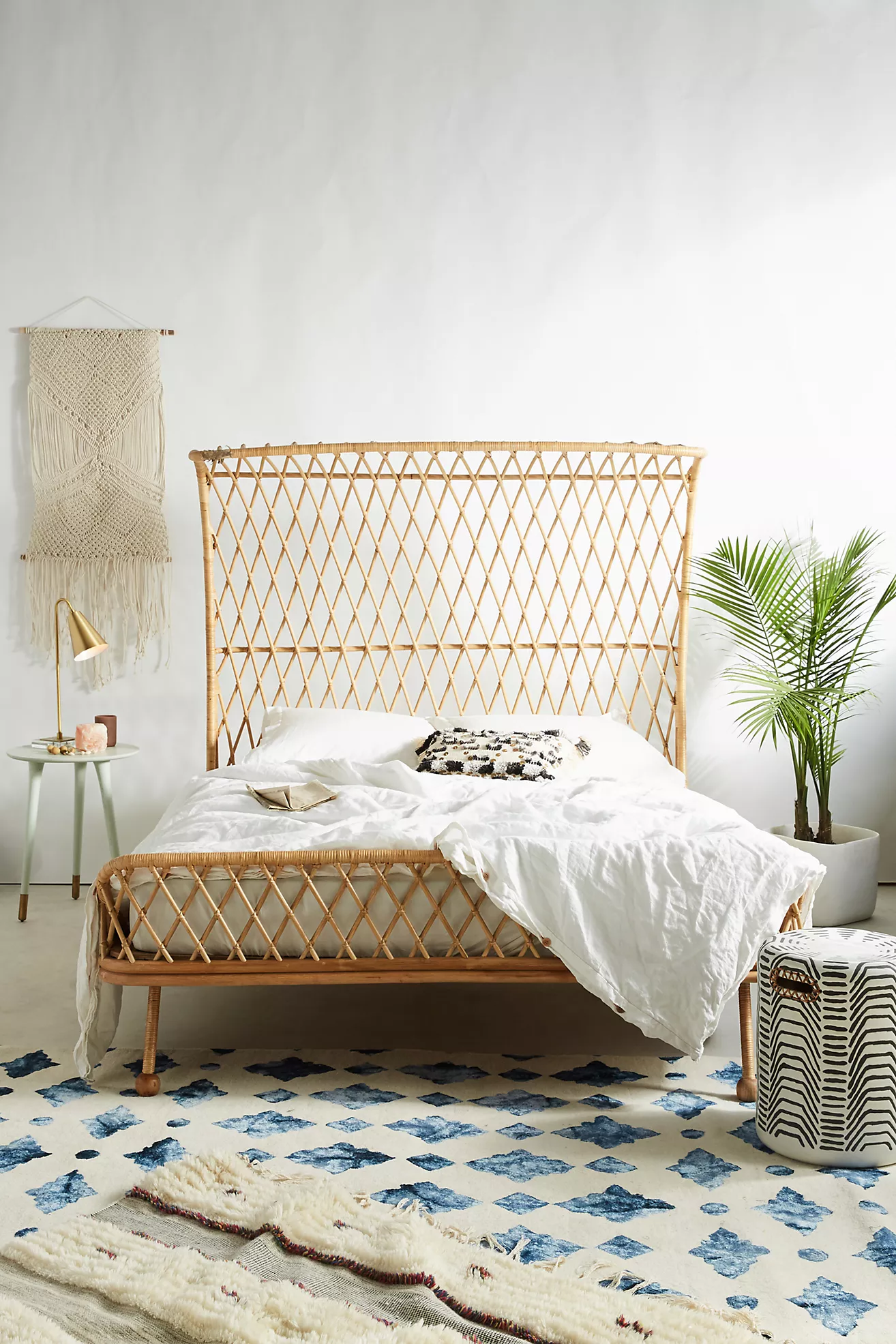 If you are choosing new bedroom furniture, you can't go wrong with this rattan bed from Anthropologie.
This bed has a small canopy on top for a very aesthetic feel. While the bed is a great focal piece, it's still neutral and will go with any color scheme. You could even add a string of fairy lights to the top for a stunning effect.
Put a Vintage Letter on Your Nightstand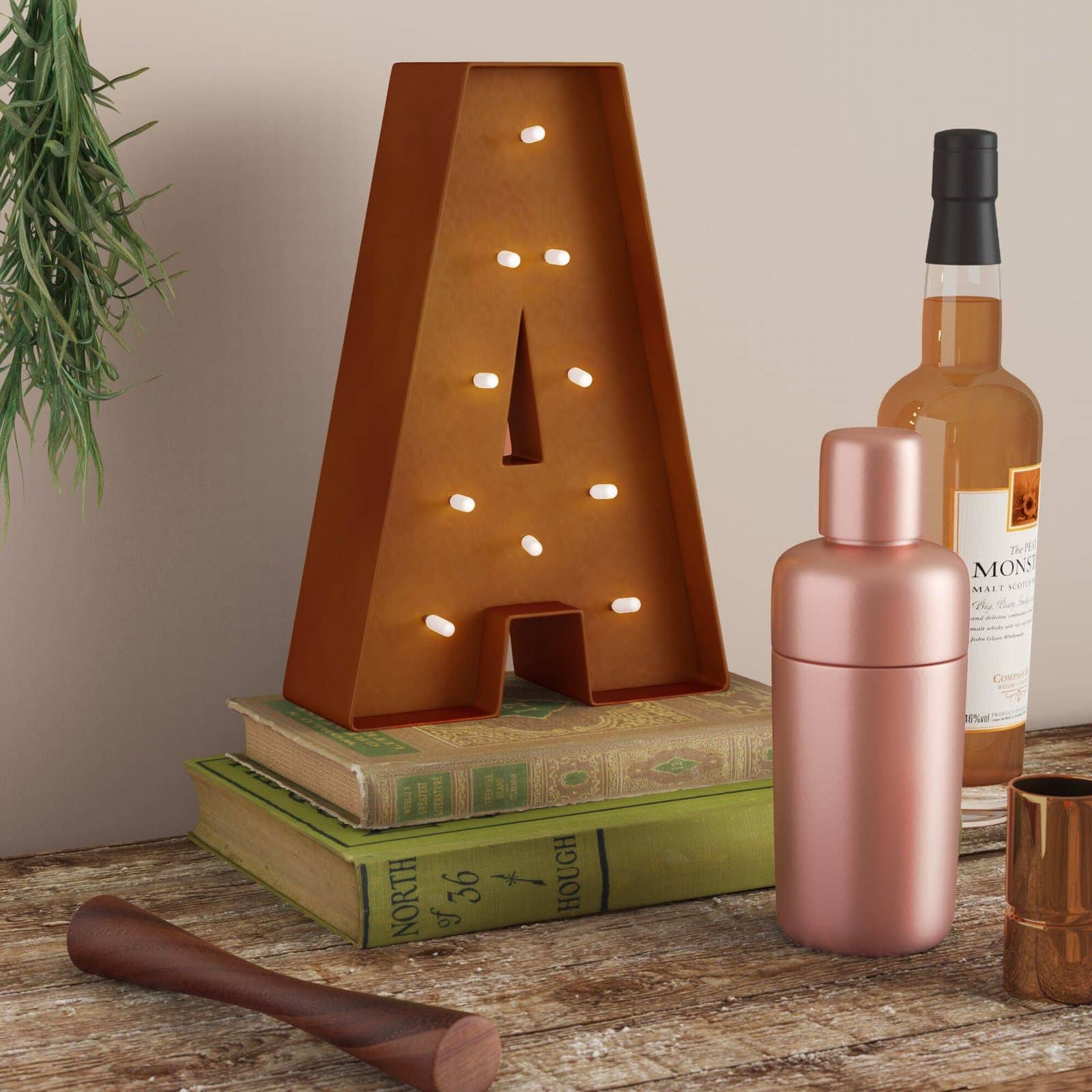 If you need some decor for your nightstand, try a vintage letter like this one from Wayfair.
This sign also comes in numbers, the pound sign, and the @ sign. Alternatively, you can use this as shelf decor or hang it on the wall. You can even get multiples to spell out your name.
Make a String Light Photo Collage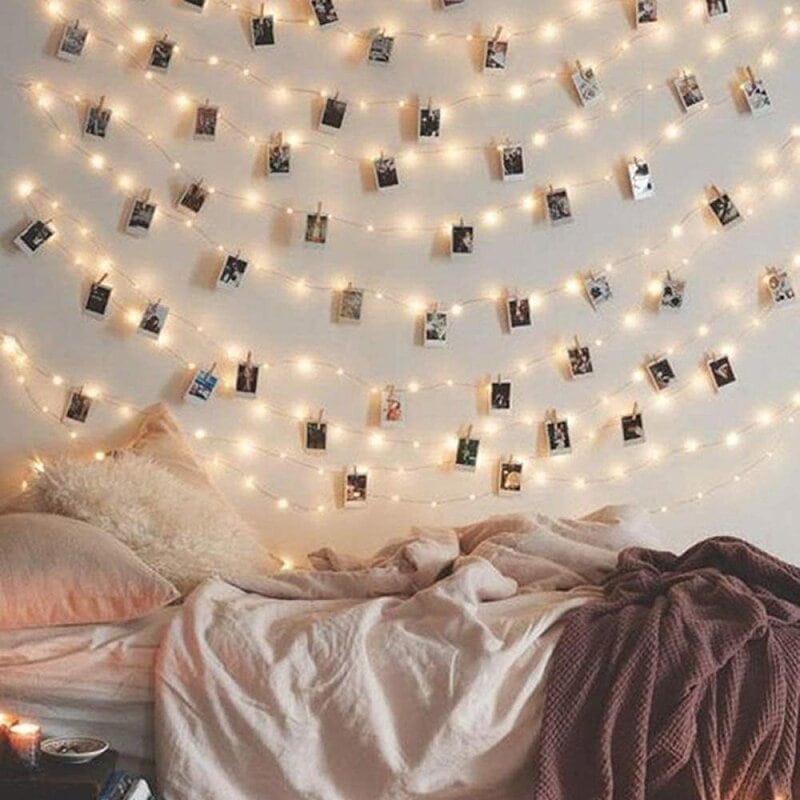 Photo collages are a great way to fill up wall space in an aesthetic room. Try a string light photo collage like this one from Wayfair for an added touch of style.
You can use this to add light to the bedroom and display your favorite photos.
Add a Prelit Tree to Your Room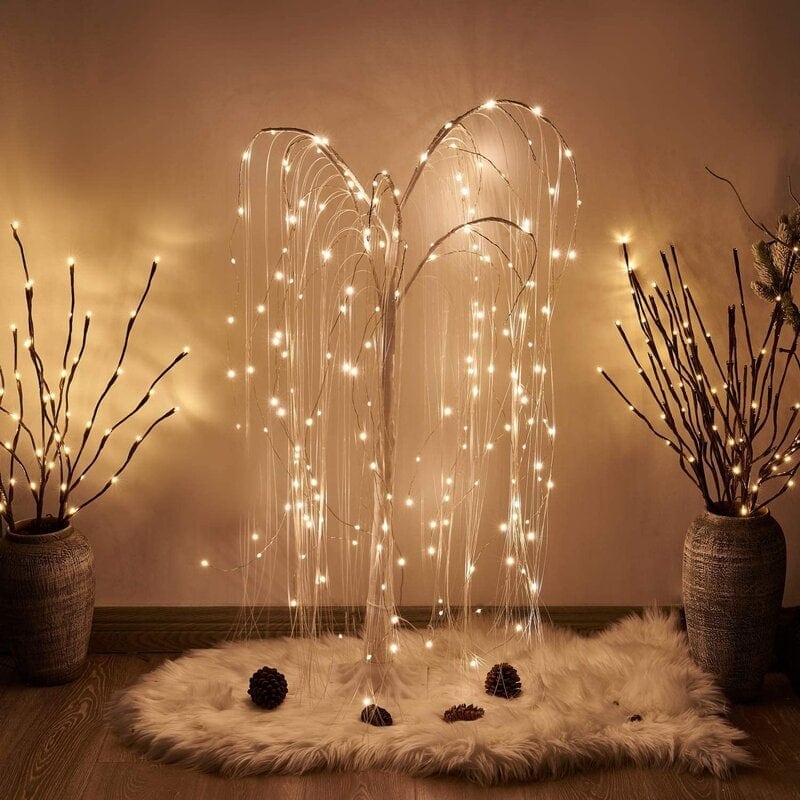 No, prelit trees aren't just for the holidays. This is the perfect aesthetic option if you're looking for a fun take on faux plants.
This tree stands 4ft tall, so it will work perfectly next to your bed or a chair. You can turn it on at night for a nice after-hours glow.
Final Thoughts
Aesthetic bedrooms are all about creating a visually appealing space. So start with your favorite color, add pillows, put vines on the wall, and don't skimp on lighting. In the end, you'll create a bedroom with the perfect relaxing vibes.
And remember, since this style of bedroom is about creating a space you love to look at, you're free to go as bold or as soft with colors as you'd like.