Decorated Life is reader-supported. When you buy through links on our site, we may earn an affiliate commission. Learn More
Aged Doors – Old Door New Tricks
By: Decorated Life Team
|
Vintage Brass & Old Doors – Distressed Doors Old & New & Create Amazing Looks
Aged doors, vintage doors or the barn door, look great in new homes. They add a layer of character and become a stand alone feature that costs little to create. They look great as pantry doors, front doors and even as cupboard doors.
Add vintage brass and you are on a winner. It's the contrast between old doors and smooth new surfaces that makes them stand out; creating an unusual focal point.
You can buy aged doors. This is the best way to get an authentic look, but the right piece is not always available. You can also create distressed doors and add old door handles to new doors for a similar look. You have to start somewhere, and adding features is a great place to start.
When it comes to using aged doors or vintage doors the simplest ideas are often the most effective.
Here are 3 ways to get an aged look on new doors.
1. Paint, Distress and Stain– Doors
This sounds simple enough but there are a few tips to getting this process right. Prime and paint your piece, unless you are using chalk paint and don't need to prime. Allow the paint to dry for at least 3-4 days then hand sand the edges lightly so you don't remove too much paint. Sand as far as wood along the edges and then stain the wood using a cotton cloth, with your wood stain, wiping away any excess immediately with a clean cloth.
If the color is too dark, or just wrong for your piece, sanded it again to take away the stain color until you are happy. Often the longer you leave a stain the darker it becomes. Protect your piece with a clear coat of varnish or wax. Your color combinations are important. The combination above is Annie Sloan's chalk paint – Duck Egg Blue over Chateau Gray. It has that beautiful soft aged color with the smallest warm wood tone peeking through. But it doesn't have to be perfect to look great.
2. Paint and Dark Wax– Aged Doors
Another very popular technique is to use dark wax over a painted piece. Again, paint your door and allow it to dry for a few days. Rub dark tinted wax over the whole piece making sure you get into the crevices, carvings and any other detailed edges. I like to use a cloth, but a lot of people prefer using a wax brush.
Wipe away the dark wax while it is still wet. You will find that most of the wax remains in the cracks and crevices giving it the aged look you want.
Source: Pinterest – Annie Sloan coco, old ochre and dark wax
Darker wax will give your piece a darker look, so remove more wax if you want more of the color underneath to show more through. You can remove the wax with very fine steel wool, which grips more wax on it its fibers. The wax also acts as a protective coating, which means you don't need to do anything else to your door.
3. Paint with Dark Glaze
Instead of wiping on dark wax, you apply a glaze mixture. For an antique look use a mix that is 50% dark or black paint and 50% glaze mixture, adding water to thin it down but check because some glazes or paints need mineral spirits and not water to break them down.
source: Pinterest
The trick with glaze is be ready to wipe away the excess glaze immediately or you will have streaks and an uneven look that you might need to sand back and start again. This time make sure you use a brush and wear gloves because this can get messy. Finally, add a final clear coat once it has dried.
Source: Houzz.com
All of these work to give a distressed, antique finish. Choose the one you feel the most comfortable to use.
Modern Aged Door Looks
The most obvious way of drawing attention to aged doors is to paint them. An old farmhouse or bard door painted bright red, and opening onto a country kitchen can look very modern.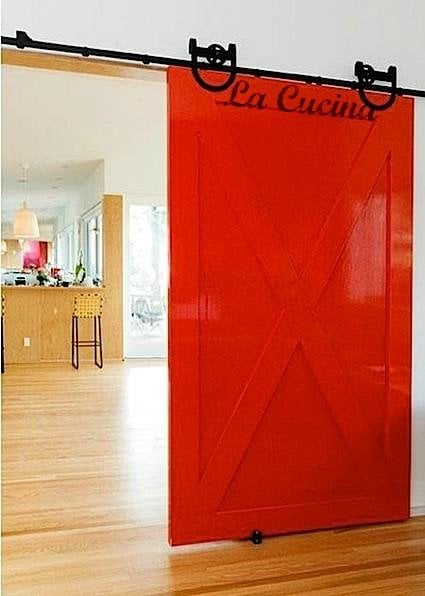 It's great in a country kitchen but I wouldn't stop there. Because of their weight they make a bold statement and really add character. This is particularly useful in new homes where character is imported using old doors, vintage brass, distressed doors, aged bronze and other features. Add the barn door to your list. Don't ignore aged vintage doors either; they have wonderful detailing that can look amazing.
Unfortunately, aged doors aren't easy to find, those beautiful old doors with distinctive features, like vintage doors are highly sought after. Consider distressing doors or adding vintage brass handles to change the look. You can buy vintage brass handles or create aged door handles then add them to your old door.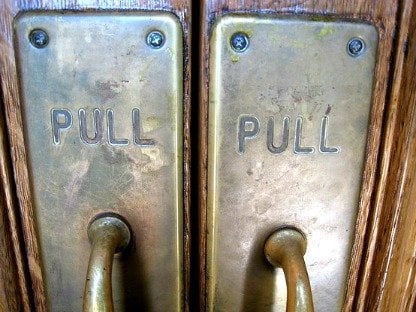 This set of vintage doors and door handles would look great opening to a study, dining room or country kitchen. You can antique solid brass door handles if you don't want to buy vintage brass door handles. Its relatively easy if you are patient.
Don't distress everything in sight – layer your look.
If possible choose distressed doors that are solid and have a good weight. You want the to look and feel like old doors.
And if you have a spare old door you can always create a dining table or headboard like this one by Martha Stewart. I like the idea of using one of these beautiful doors on your pantry door as well as your living room or front door.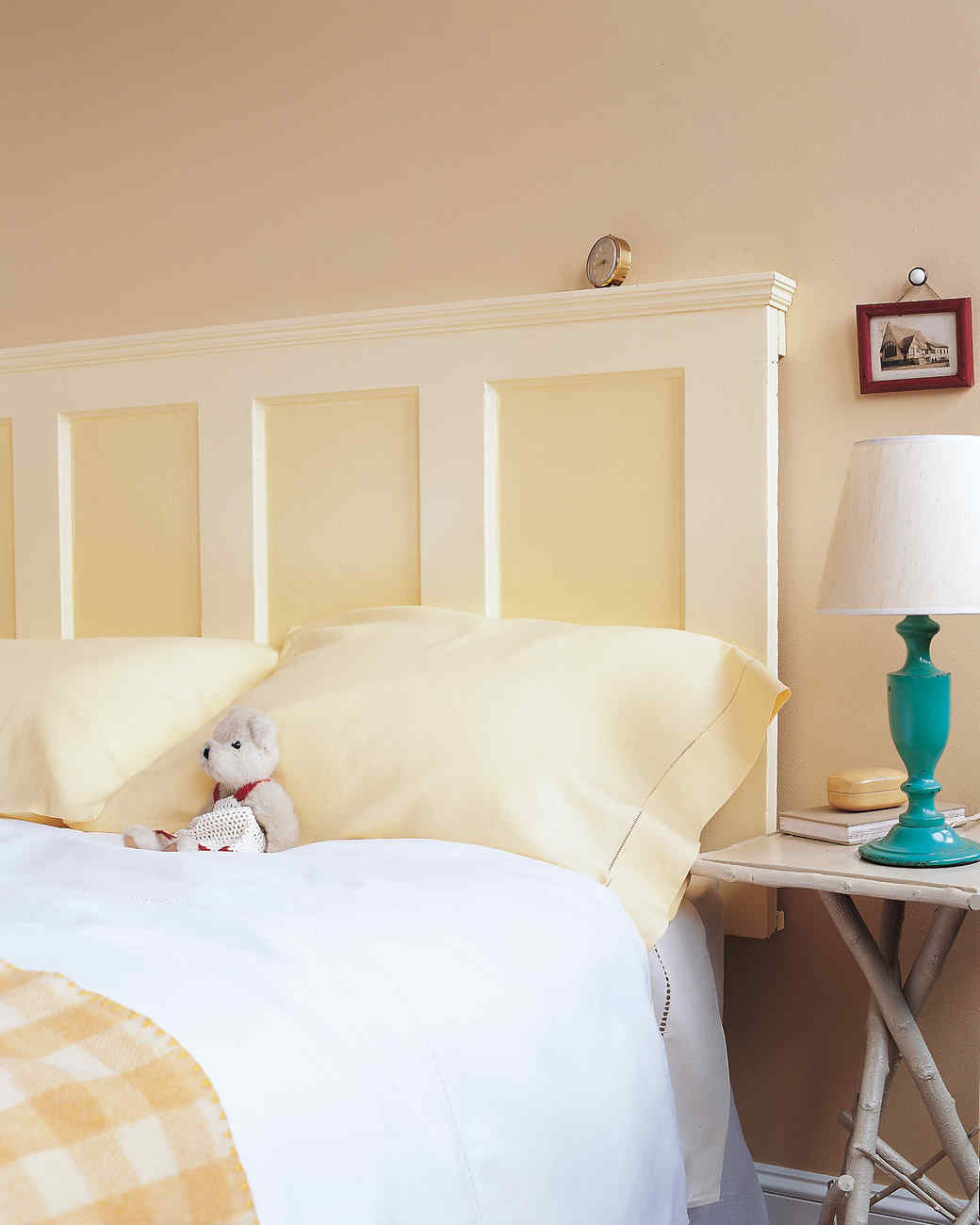 This old door has been repurposed into a dining table and a great addition for a country kitchen. Can't think of anything better than dining on a beautiful old door like this one.
There are so many ways to use old doors by adding vintage brass, distressing doors or using a barn door as an internal door, bed head or dining table. Its a look you can use in almost any home, living room or kitchen.
Save