Decorated Life is reader-supported. When you buy through links on our site, we may earn an affiliate commission. Learn More
17 Unique Curtain Ideas for Large Windows
Large windows are a popular feature these days. They offer more sunlight and make the house airier. In fact, because of their advantages, all modern homes have large and wide windows. And when something is large, you need to give it the right treatment so it can flaunt the best aesthetics.
When it's time to cover up the windows with curtains, our ideas have got you covered. There are a number of ways in which you can hang curtains and make your windows larger than life. Let's discuss some of those ideas.
Get a Royal Look with Damask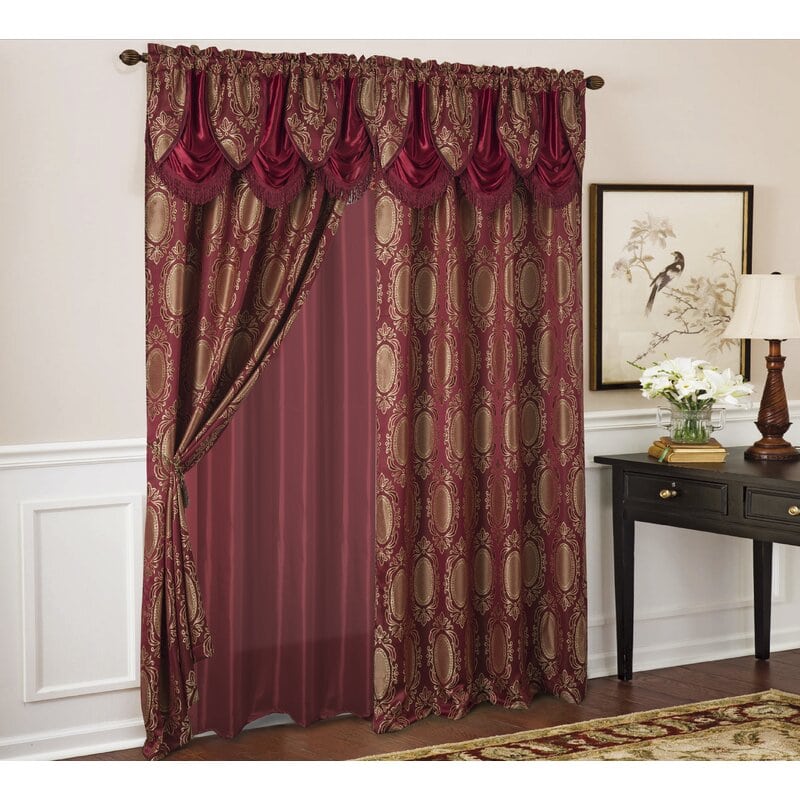 If you want a rich and luxurious feel, drape your windows with rich, satiny damask. This rich combination of burgundy and gold takes any window from simple to royal. Double shaded curtains always look better than a single shade, especially when they are royal colors like silver, gold, red, deep blue, or purple.
Plus the pleats on satin look amazing. The matching valance and texture of the pattern add to the elegance without costing you a fortune.
Use Bamboo Blinds with Curtains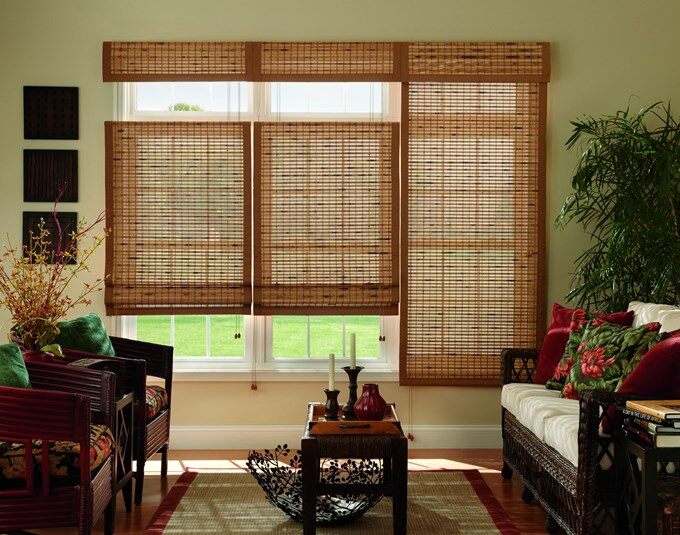 These simple bamboo blinds are absolutely gorgeous as is, as the photo testifies. But, imagine soft, breezy white curtains draped at either end. Now, that's a unique and truly lovely, summery look. The bamboo blinds and white curtains combine to create the perfect shady spot indoors while still allowing you to let in as much sunshine as you want when the blinds are raised.
This is a pretty minimalist look and is ideal for people who like simple things. Plus, bamboo gives an old school kind of feeling that's very Zen and peaceful. According to Feng Shui, combining bamboo with natural fabrics such as linen or cotton contributes to healthy energy.
Try Fringe Window Valances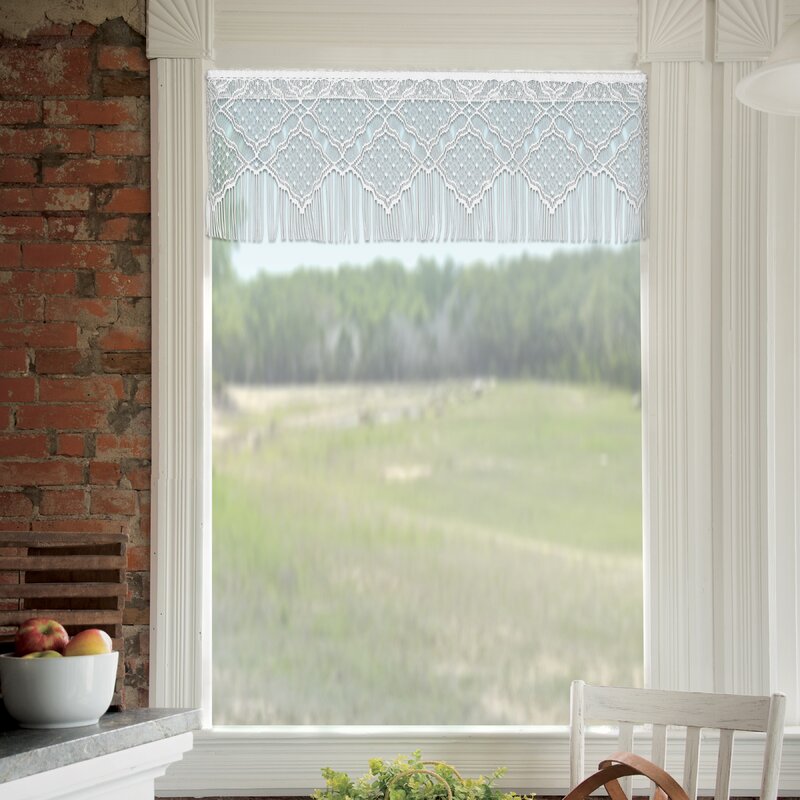 While fringe curtains are generally simple, you can get stylish ones as well. Check out these fringe valances that add a lot of aesthetic value to your windows. However, keep in mind that fringe curtains are only there to provide good looks. If you want to hide from the sun coming in, they can't help much, so you may want to add some heavier curtains at the sides to draw for shade.
Or, if you want fringe curtains and also want to avoid the sun, you can use dark glass panes on the windows. You can also get reflective glass to reflect sun's rays and to keep the room cooler on hot summer days.
Twin Curtains with One Type Knotted Up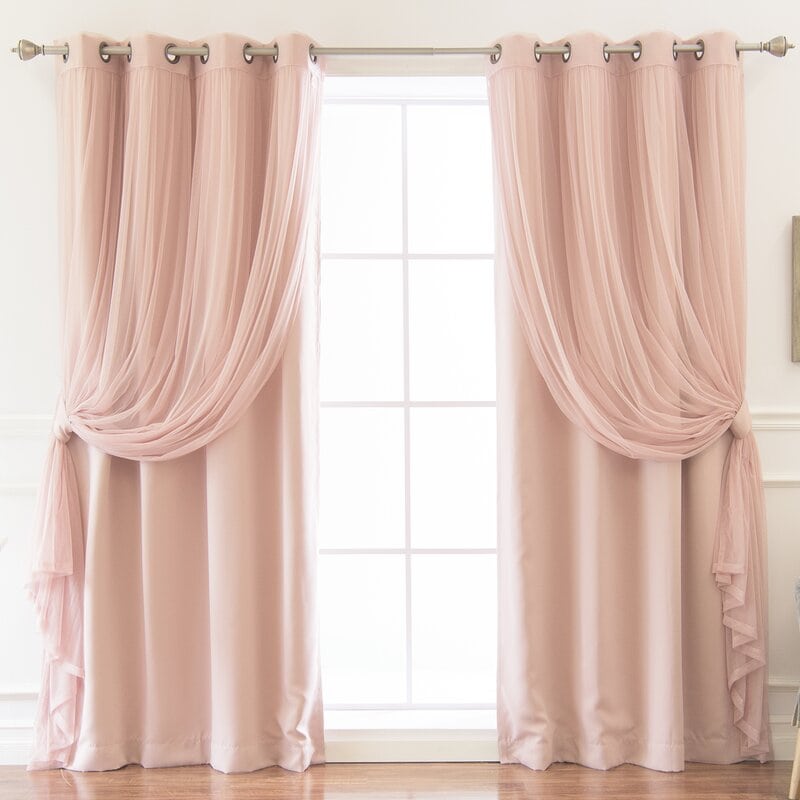 Instead of installing a single layer of curtains, go for curtains that have two layers. Then bunch up the top layer and knot it to the side. This will reveal the bottom layer and will make the windows look even more beautiful.
You can get sober and subtle shades for twin curtains or bright and beautiful. You can also get contrasting colors like black and white. The idea is to have the curtains bunched up to the side while they're still unfolded, covering the hot summer sun. On that note, make sure the bottom layer is made of thick fabric to keep the sun out.
Use One Set of Curtains for the Entire Door Window Area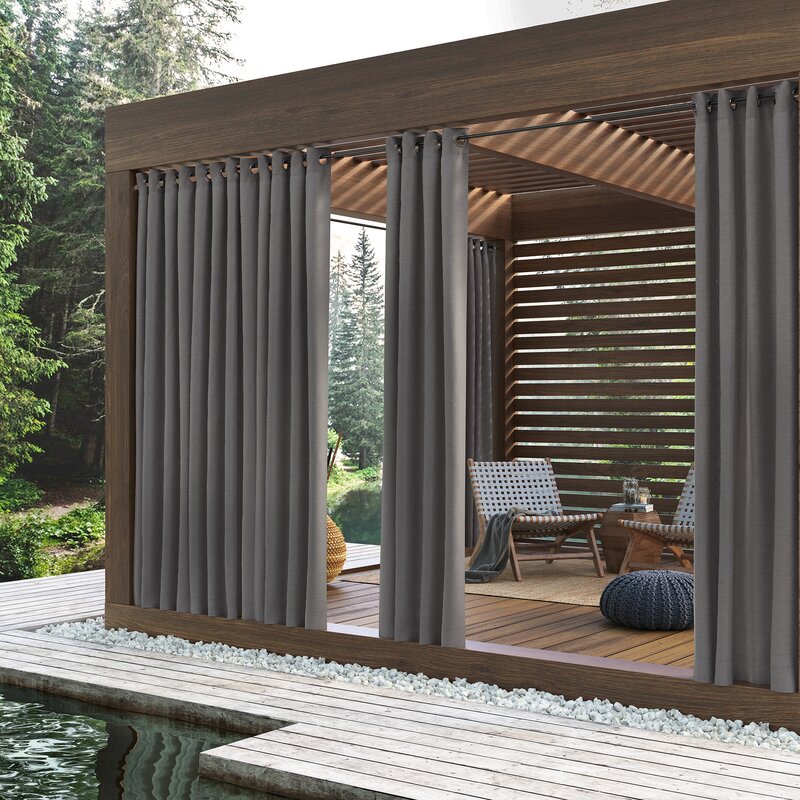 Instead of having different curtain rods (and thus different sets of curtains), use one curtain rod for the entire window area. Since the rod won't be able to bear all that weight, it's important to add support in the middle – or even in two places.
Here, the entire door and window area is looking like one huge window – thanks to the single set of curtains. Make sure the curtains you hang here are wide enough to be drawn over the entire window area.
If you want to make the windows look larger than normal, you can use this trick and your door will also look like a part of a large window. Using light colors for the curtains will also increase the appearance of size.
Show Your Theatrical Flair
If you're a theater buff and adore that rich, elegant look of the Main Curtain, but don't want anything quite so heavy – or expensive – as all that, you can find some curtains that allude to the theater. Choose drapes with rich greens or reds, since these are typical color for Main Curtains, and then add some touches nearby that help build that homage.
Get Your Groove On With Tie-Dyed Curtains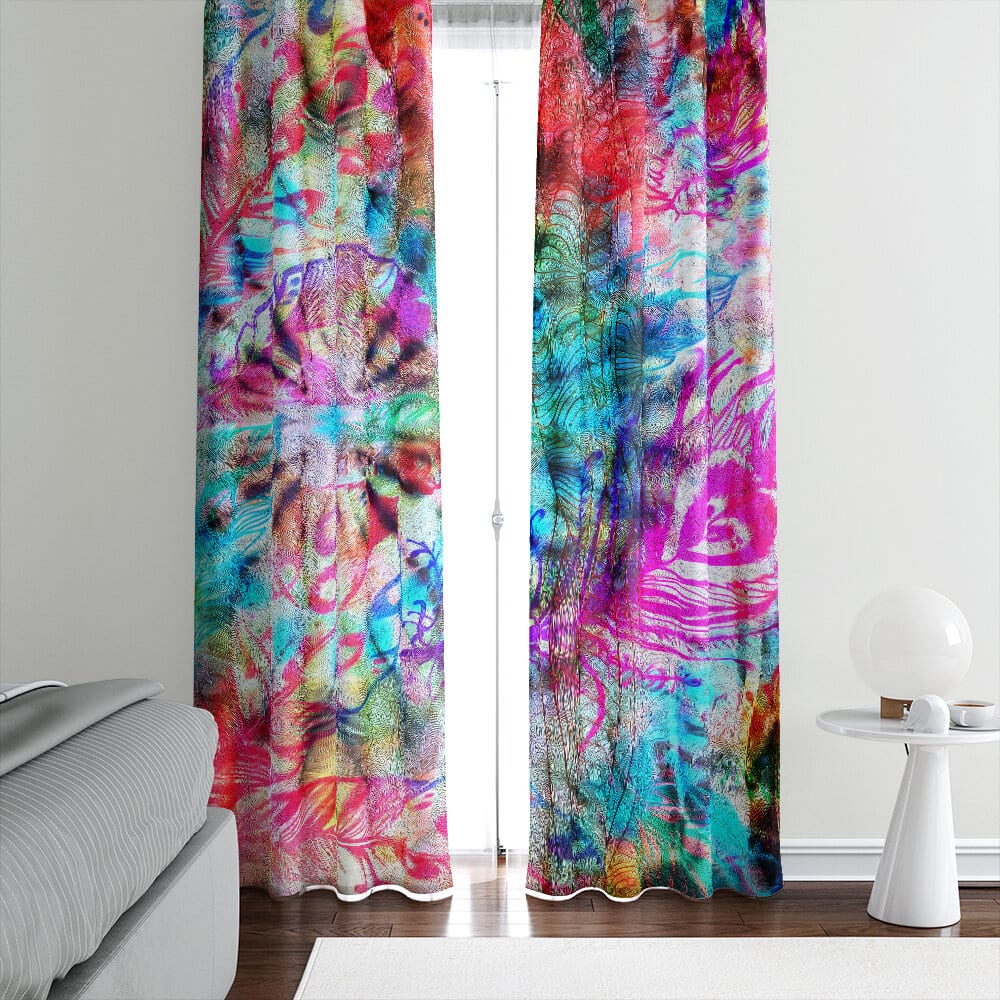 If you love you some tie-dye and bright colors or just love that hippie-chic look, you can find some amazing curtains for wide windows on a number of retailer sites. To complete the look of your fun, colorful, Boho room, add some colorful bean bag chairs, some hanging lamps, and maybe even a macrame plant hanger or two.
Get Floral Patterns on Your Sheer Curtains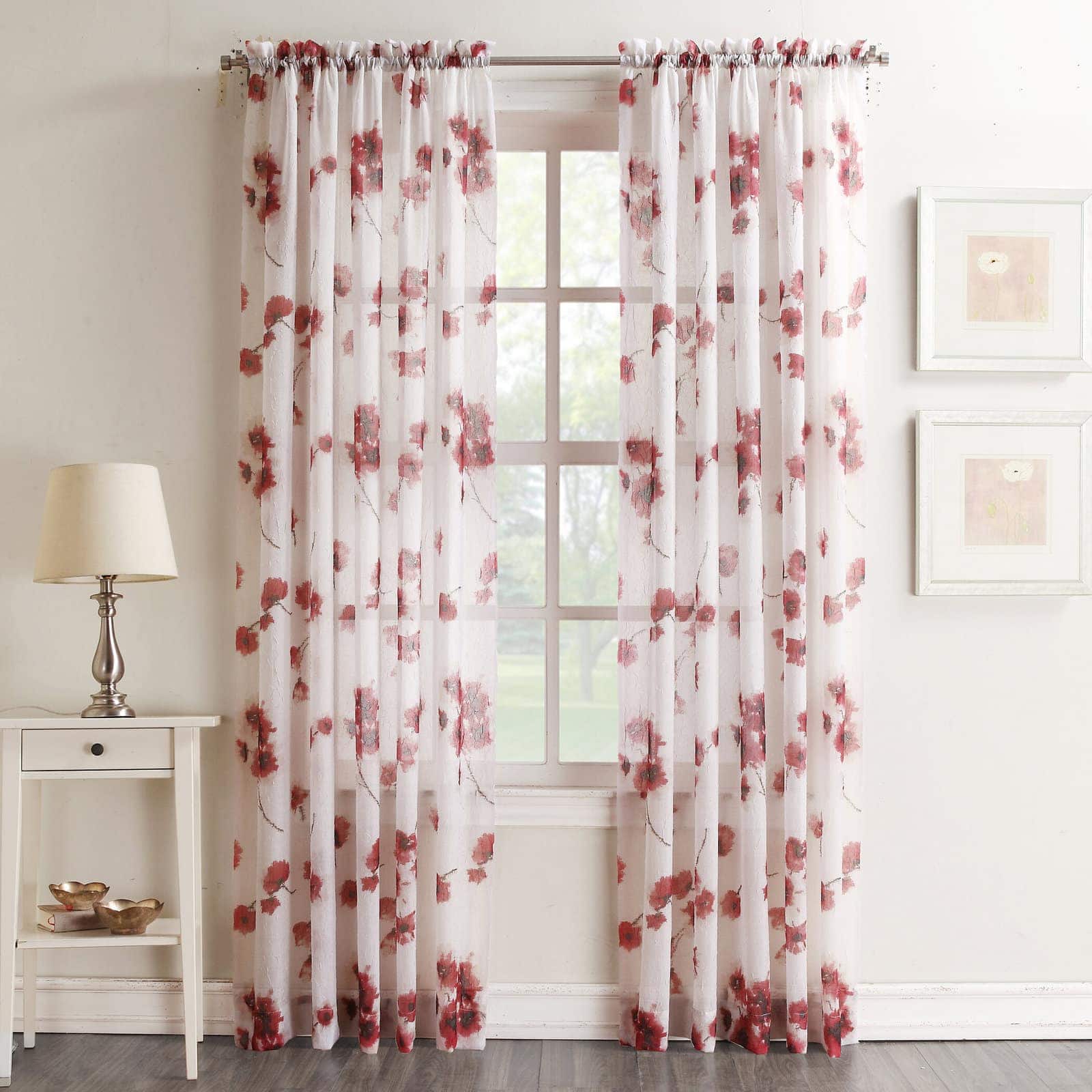 Who said only thick fabrics can be printed ? You can get sheer curtains in printed varieties too, like these gorgeous red floral curtains. Go with flowers, butterflies, trees, leaves, or just about any kind of pattern you love and will fit in with the decor style/color scheme of your room.
While they may be meant for the kitchen, they can also be installed on the bedroom window (especially on multistory buildings), as long as you have several layers or an opaque under layer. The bright colors of the flowers go well with the sheerness of the fabric, splashing colored shadows across the room.
Accent With Brightly Colored Curtains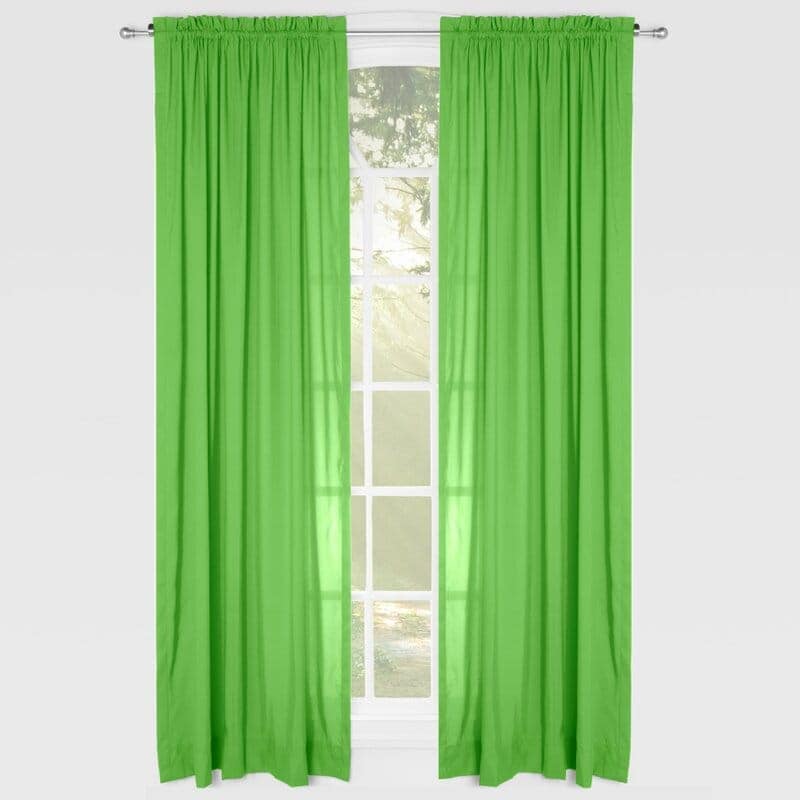 It's important to have an accent in your room. If your room is entirely white, your curtains will give you a good option to add that much needed accent in the room. In fact, you can use bright colors even if your room isn't entirely made up of one color.
If you've got a mostly white room, you're golden on the array of choices you've got. If, however, you're more eclectic in colors, be sure to choose a bright shade that not only emphasizes your taste but also helps to keep the room in tune with itself.
From bright colored paintings on the wall to the vivid flowers in the vase, bright colors add energy to a room. If you want curtains for your child's room or your own activity room, bright colors would be the best choice.
Cartoon Curtains for Your Child's Room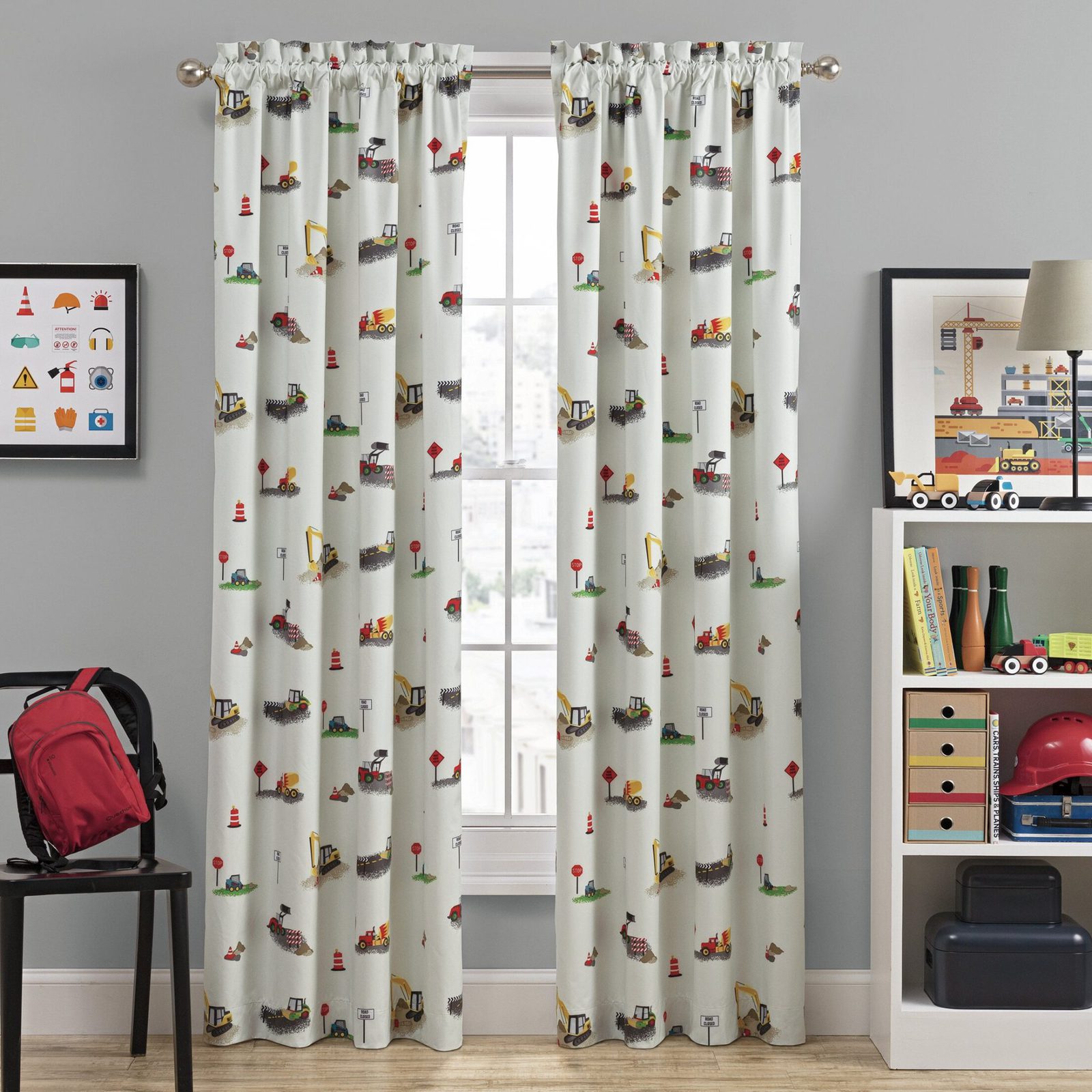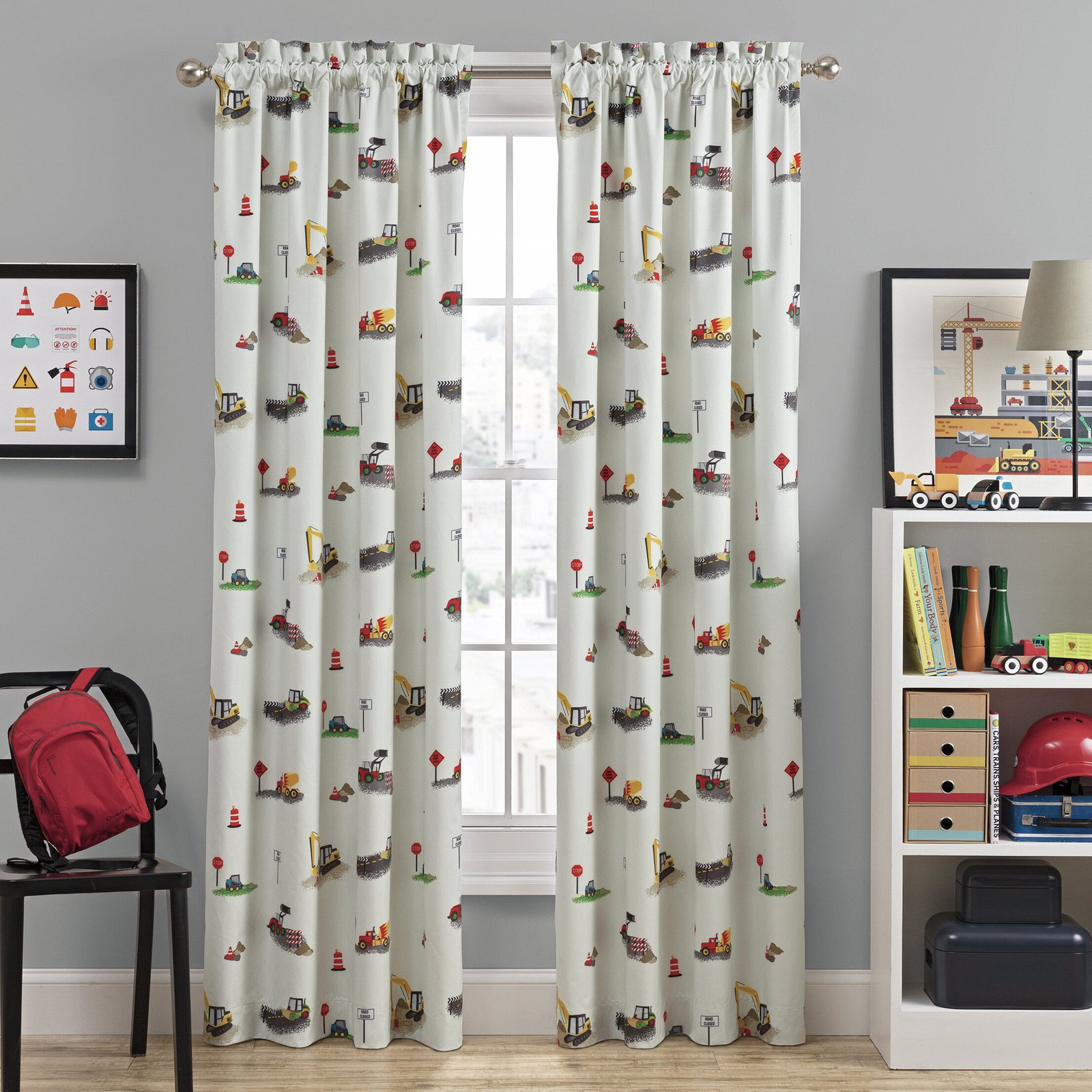 If you're planning to get curtains for your child's room, cartoon prints would be a great idea. This curtain doesn't just look cute, but it also adds to the look of the room. It's best to have peaceful yet happy colors in your child's room. If you have a particular theme (for example, Frozen or Avengers), plan the curtains accordingly.
While installing curtains in a toddler's room, make sure that there are no chains or cords as small kids can get tangled in them and injure themselves. Otherwise, curtains are safe for little kids' rooms. Just make sure they are pretty far away from your baby's bed to avoid having them getting pulled down during naptime.
Velvet Curtains are the Best in Winter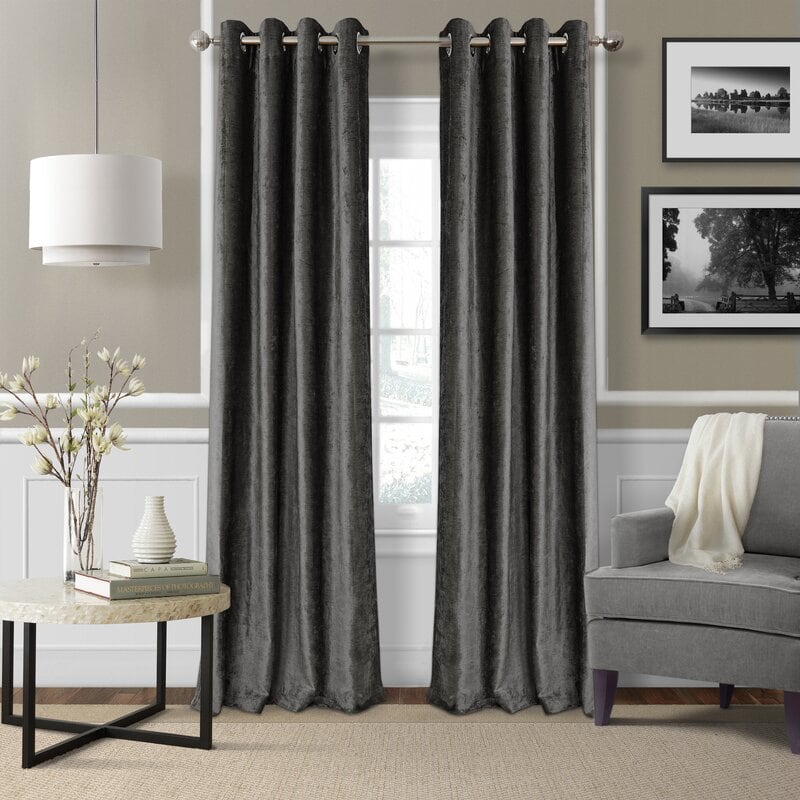 For a warm, inviting look to a room, install velvet curtains for wide windows. They add a true richness unlike any other material. Velvet has dense and thick fibers that keeps the moisture and cold outside and keeps the room warm in wintery nights.
Since velvet has small fibers, these curtains will trap dust and microbes and don't let them enter your room, making them the perfect curtain material, especially for folks with dust allergies. And the best part is that velvet curtains are available in practically all colors, making them one of the best choices for your room.
Burlap Curtains for a Rustic Look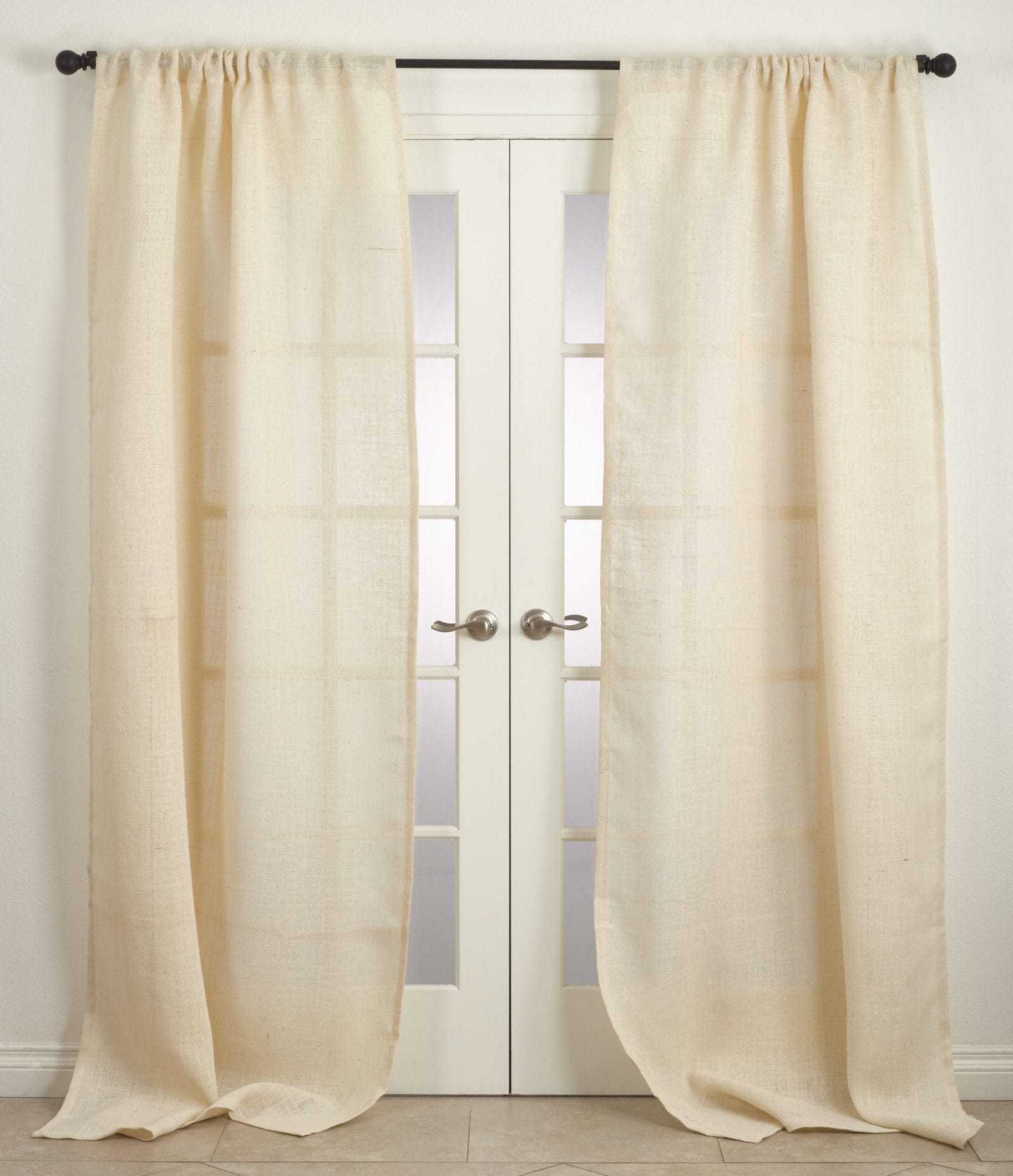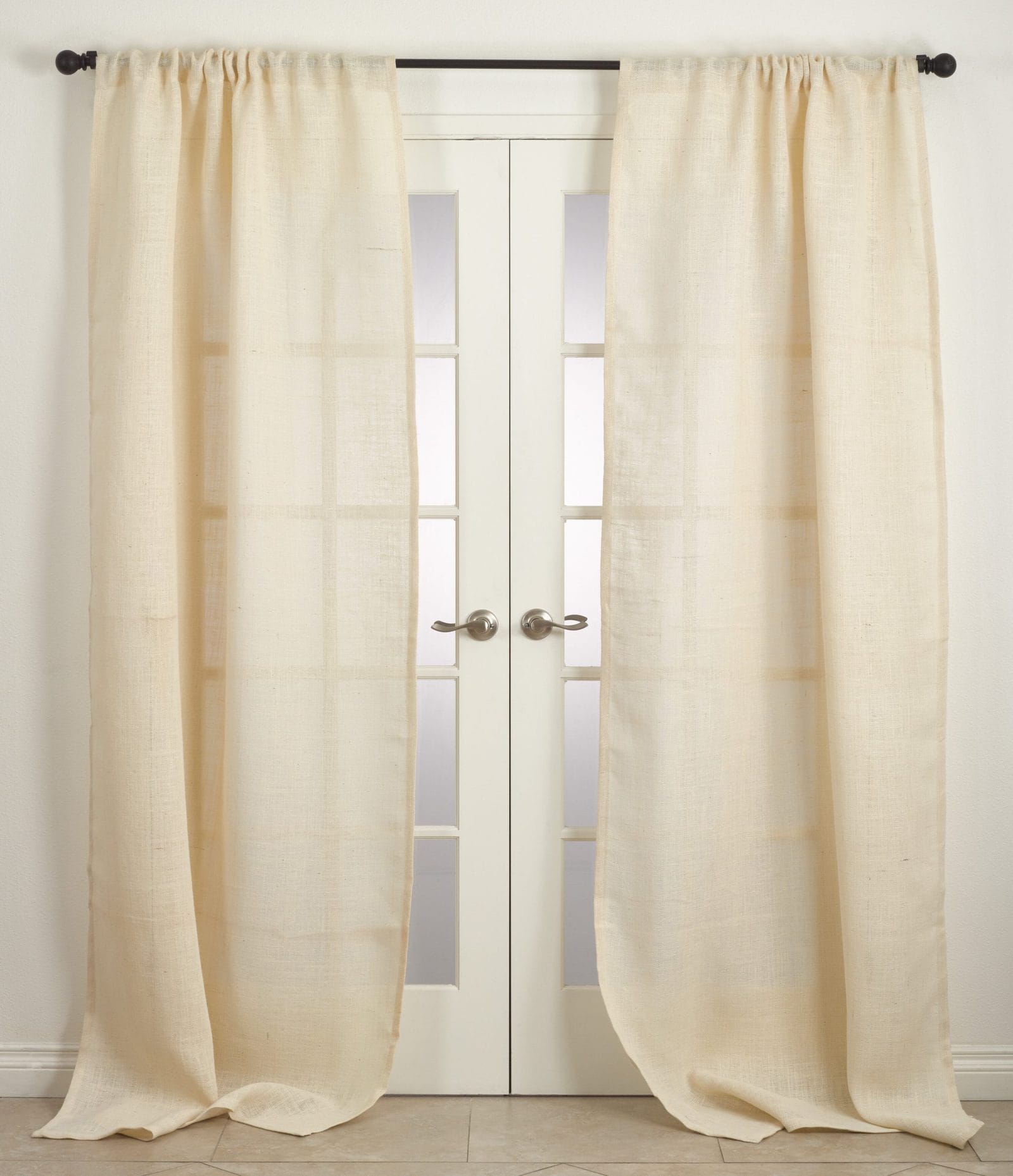 More fun curtain ideas for big windows include the burlap curtain for a trustic, homey look. These curtains are in no way a "regular" curtain fabric, but if you're looking for something unconventional and unique, burlap can help you out. It has a rough and rustic look. Plus, it's cheap, which means you'll not just get a different look but you'll also save money on it.
Burlap will go well with your theme if you're looking for something rustic or vintage. Or even if you're into steampunk, burlap might go along with it. And the best part is that you don't always have to keep it simple. You can paint burlap or even do embroidery on it.
Stylish and Unique Reyna Window Curtains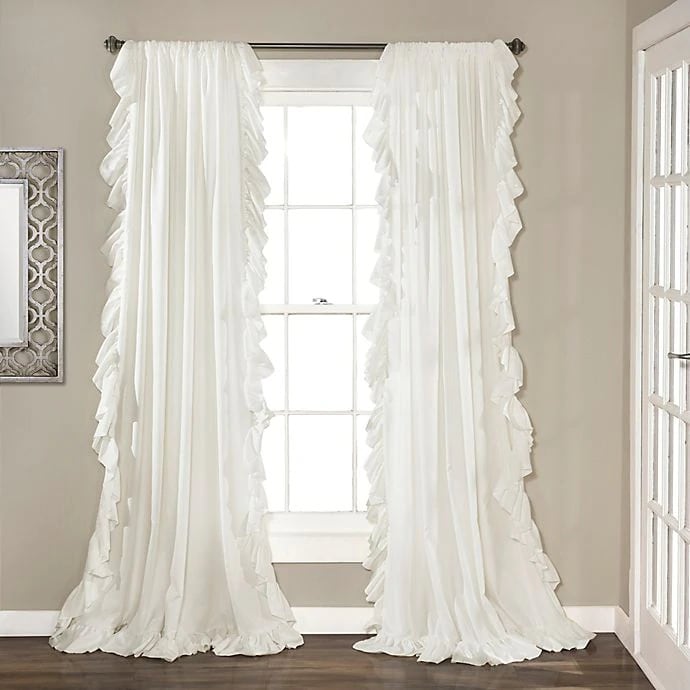 Reyna window curtains look beautiful and regal. They have lovely frills on the borders that give them a unique look. They are available in a number of colors to go with the theme of your room. They are elegant and fit to be used in a queen's room.
These curtains are available in a number of materials from sheer to thick ones. Depending on your needs, you can get the right kind of Reyna curtains to add grace to your room. Their cascading ruffle borders look lavish and offer simplicity in an opulent manner.
Hang Some Curtain Beads Over Your Existing Drapes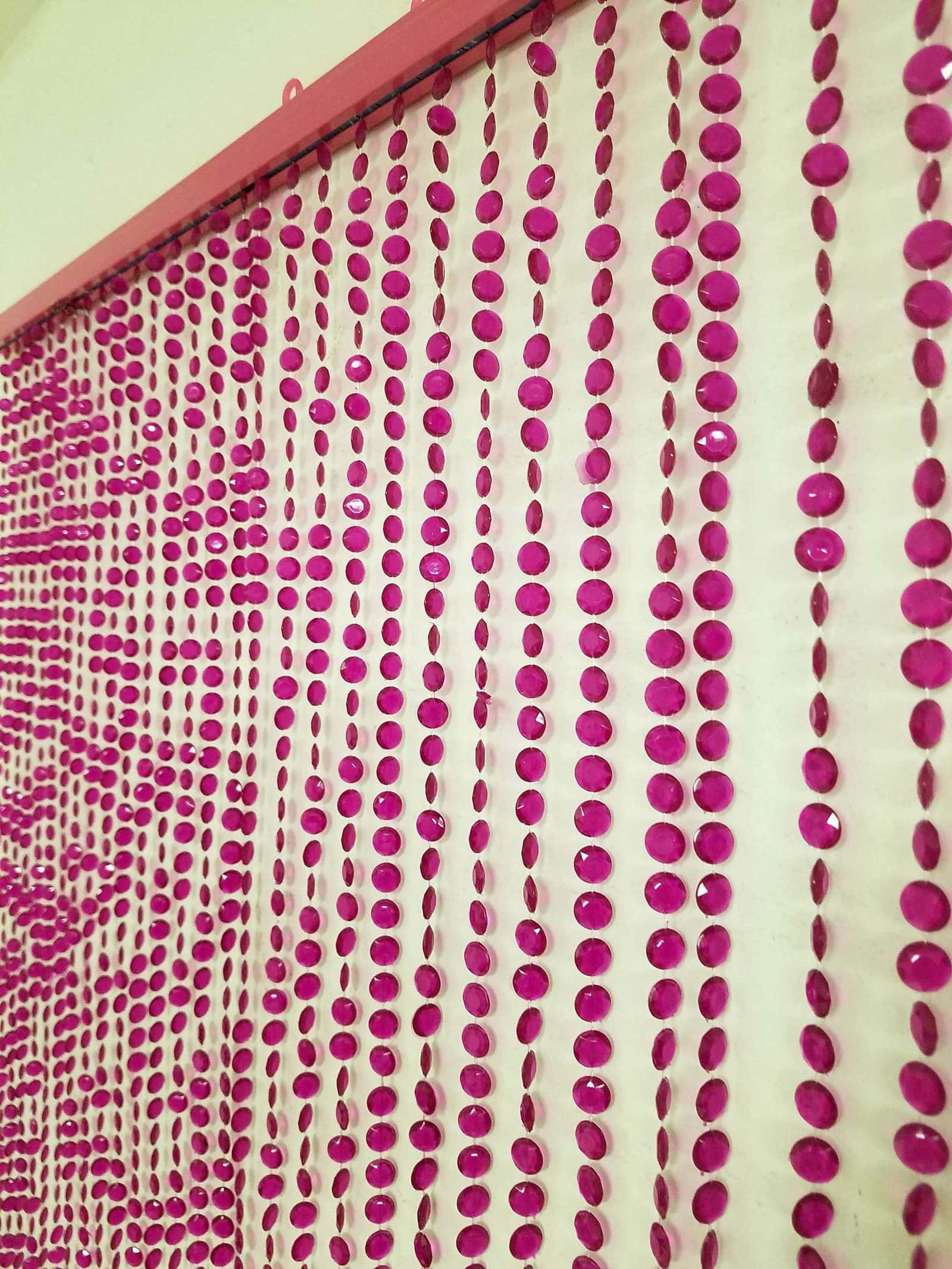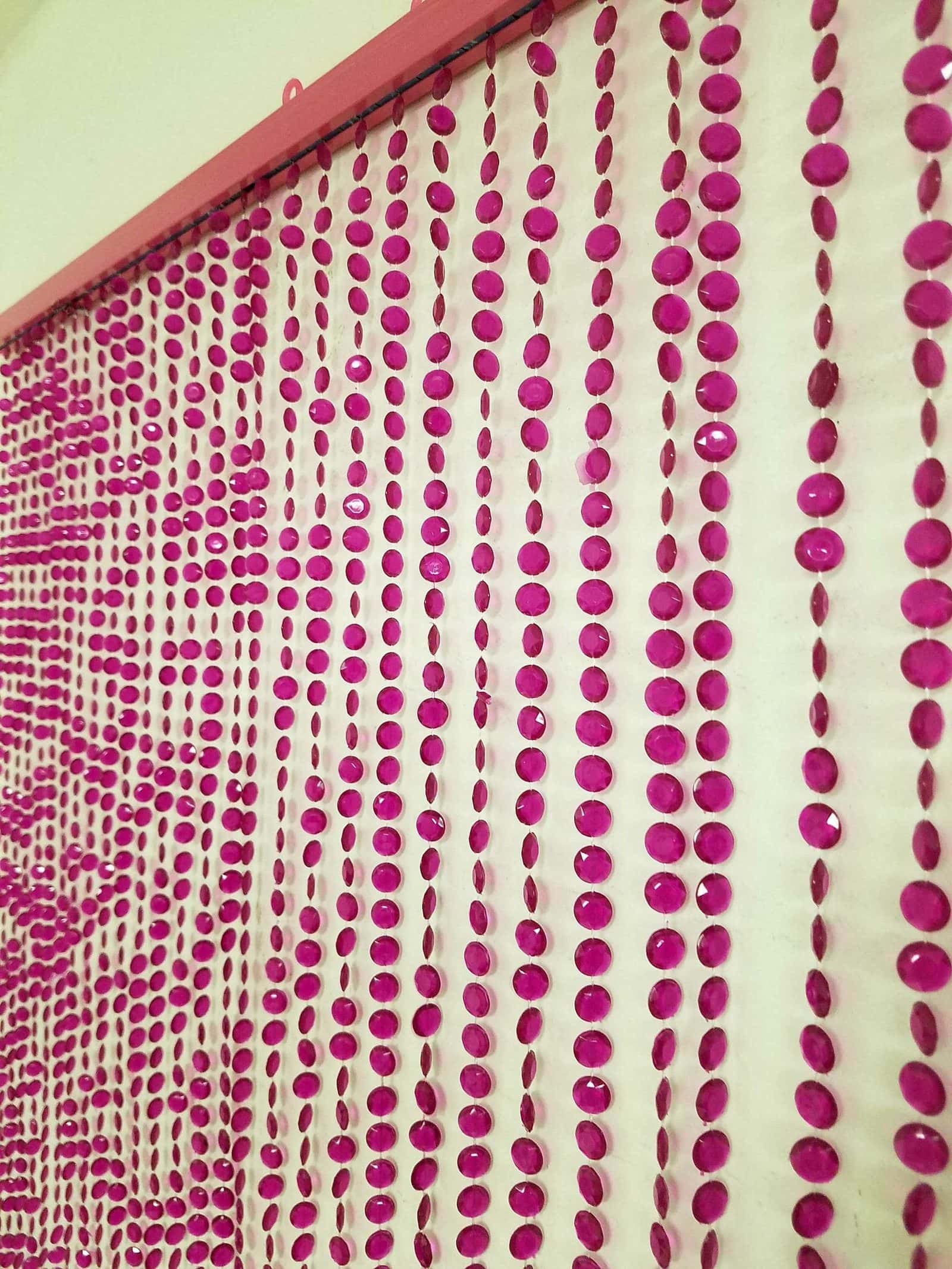 If you have some plain-colored drapes already and just want to add some spice to the place, consider adding some curtain beads. These fun strings add some pop, sparkle, and color, depending on the style you choose.
They're great for an eclectic theme, a child's bedroom, or an adult's bedroom. They're great for living room, game rooms, entertainment rooms, or, well, just about any space that's casual and cozy and needs a pop of fun.
Try Ruffled Curtains For Unique Textures In the Room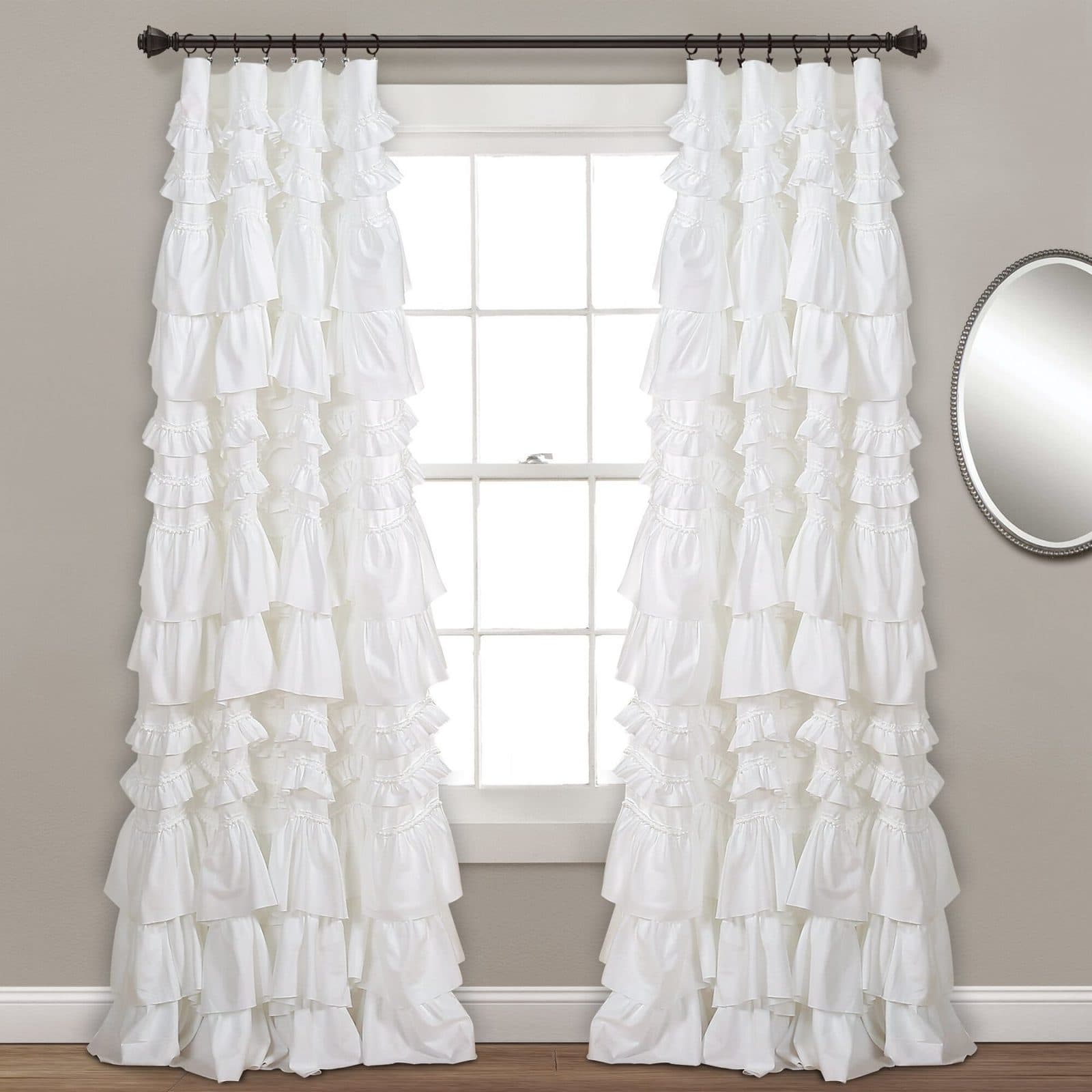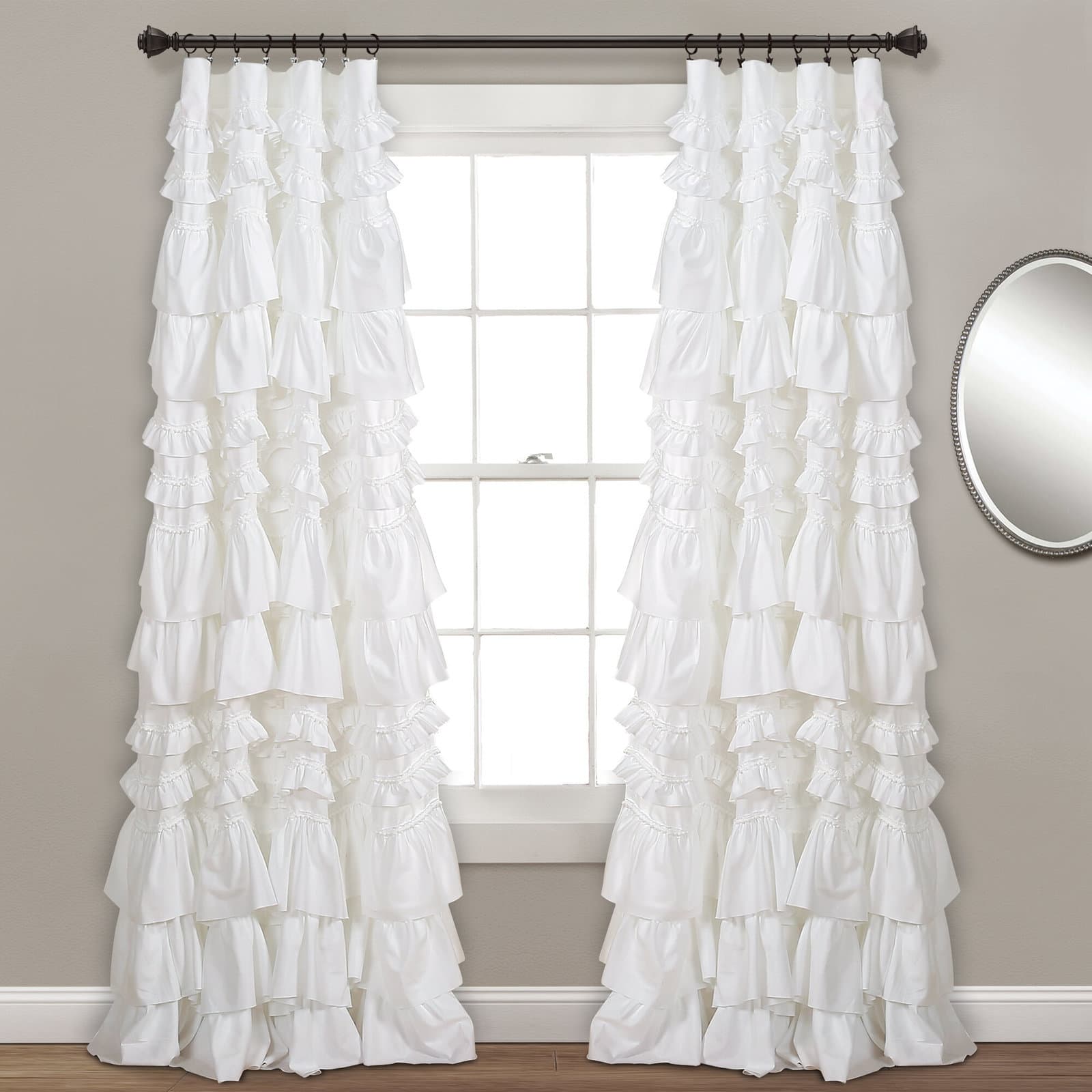 If you want to add some delicate flair, try some ruffled large window curtains. These beautiful, whimsical curtains add a lot of flow and texture to a room without adding a huge expense. Putting these up can transform a boring room to a stunningly elegant room with a single change.
These would be perfect for a living room, or a sun room – especially if you enjoy hosting tea parties or dainty entertainments. Add some fresh cut flowers and a breezy table cloth to your setting, and your room will be the talk of all your friends.
Get a Full Curtain Valance Set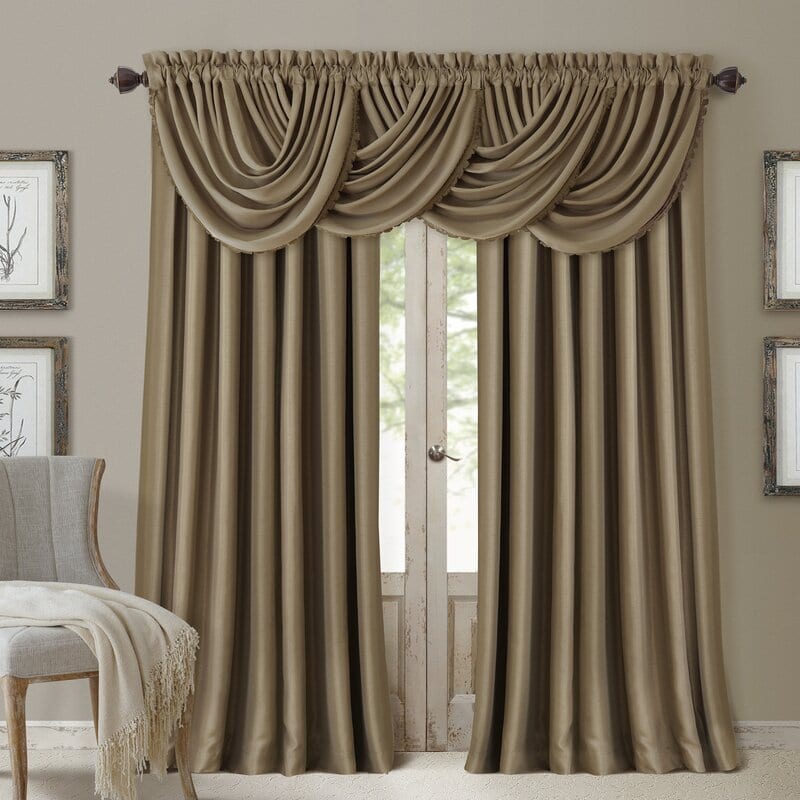 The perfect curtain ideas for large windows for a royal and luxurious look installing a full drape set with matching valance. A valance will add style and glamor to otherwise plain curtains.
While there are simple ones as well, valances are commonly used when you don't want things to be plain and minimal. You can use a simple set like this – elegant and solid color – or go for something bolder like a brocade or damask.
All Curtains of Different Colors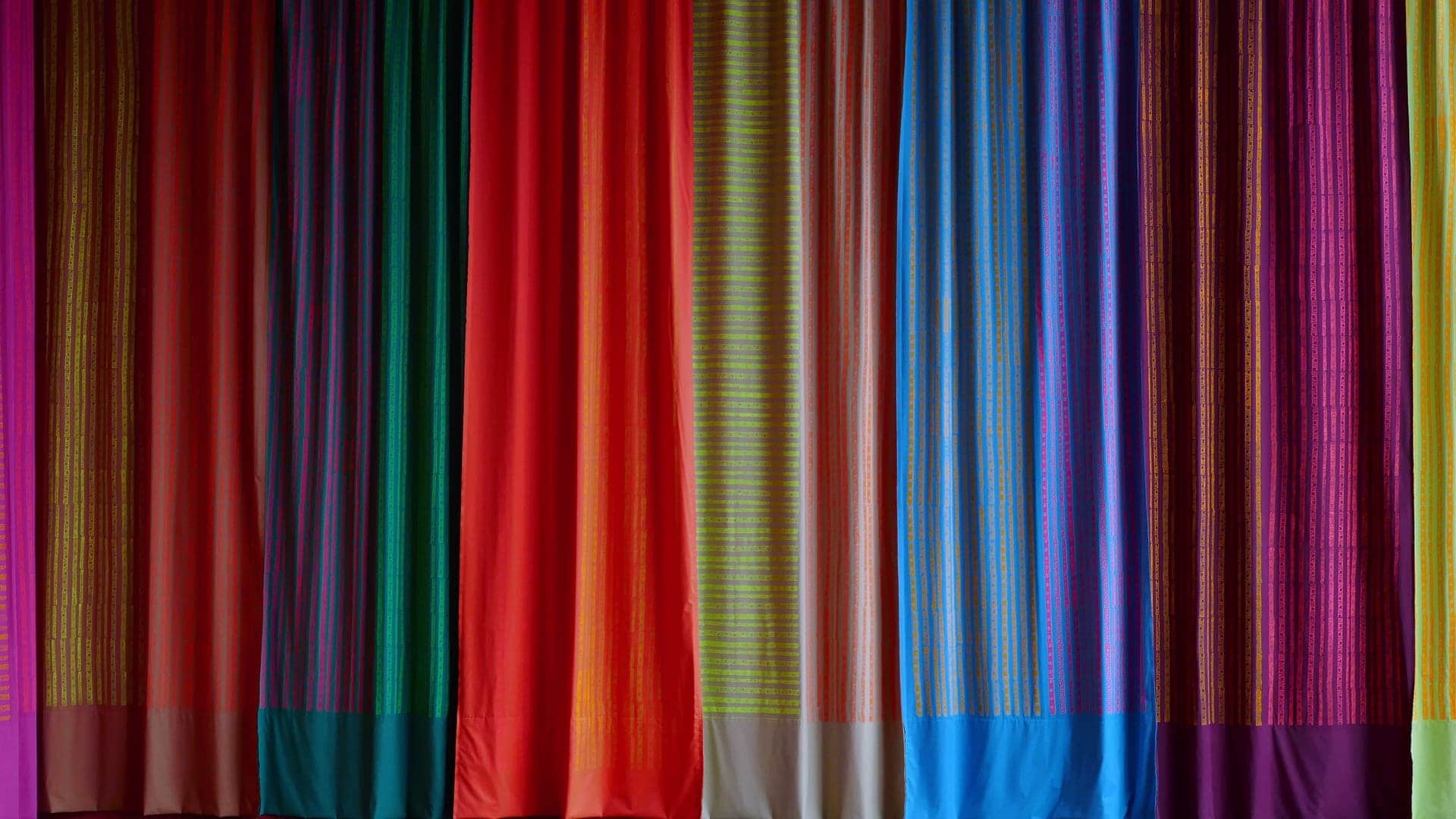 Or, for a truly unique look all your own, select a series of narrow curtains in a variety of colors and hang them up in your bedroom, living room, or family room. The idea may sound a little odd, but if the colors flow into each other – perhaps in a rainbow/prism scheme – they will add some amazing brilliance to the room.
You can style them in gathered patterns, leave them broad, or collect just one or two on either side while leaving the rest draping throughout the window for a variety of looks with the same set.
Go Big on That Curtain Look
When you're planning to get curtains for big windows, you need to go big. Curtains have the power to change the entire look of a room. And you don't even have to burn your wallet to get good looking curtains. Even burlap can give you a good look if you use it the right way.
Try our ideas and see which curtain look fits your theme and style.