Decorated Life is reader-supported. When you buy through links on our site, we may earn an affiliate commission. Learn More
20 Gorgeous Options for Bathroom Window Curtains
Curtains or bathroom window treatments are important because that's a room in your house where you want to make sure you have privacy.
There are so many different ideas and options to add curtains to your bathroom and channel a certain style or spice up the room.
Think about whether you want something thick and heavy or go for a flowy relaxed look or even go for a completely different bathroom window covering like blinds. 
Brighten Up the Room With a Flowery Print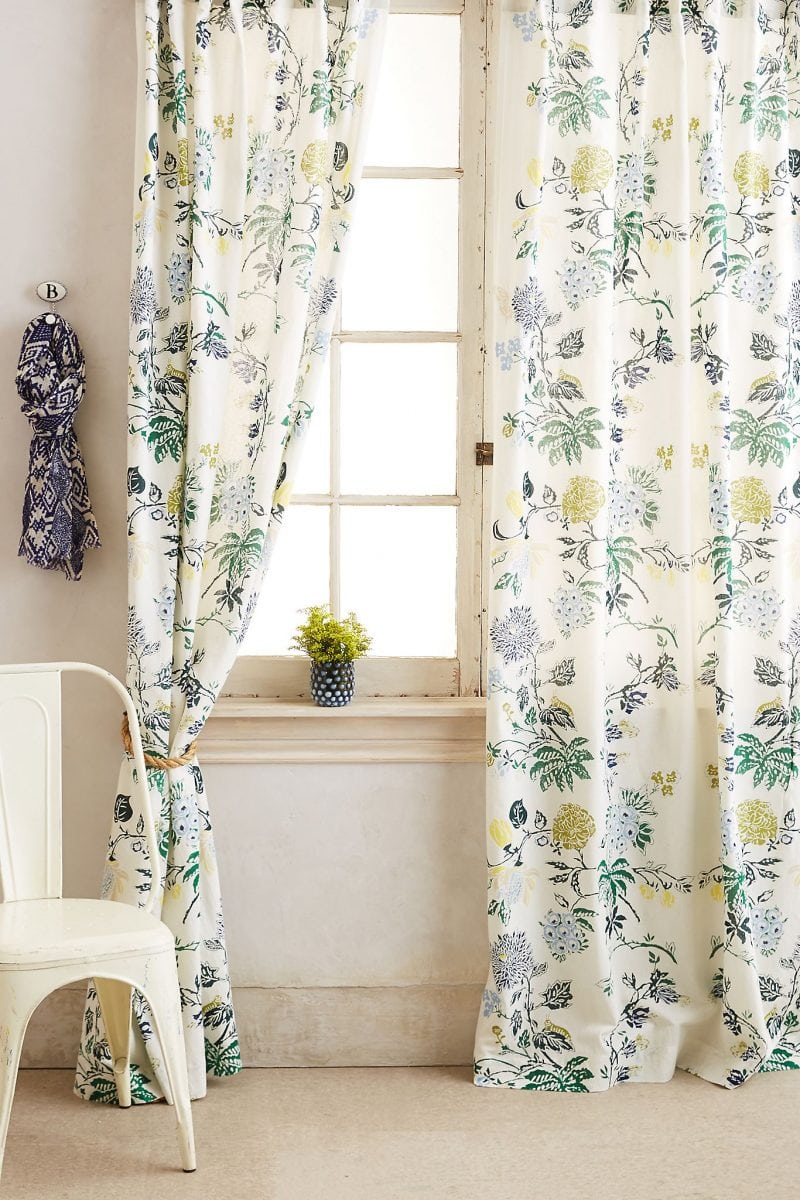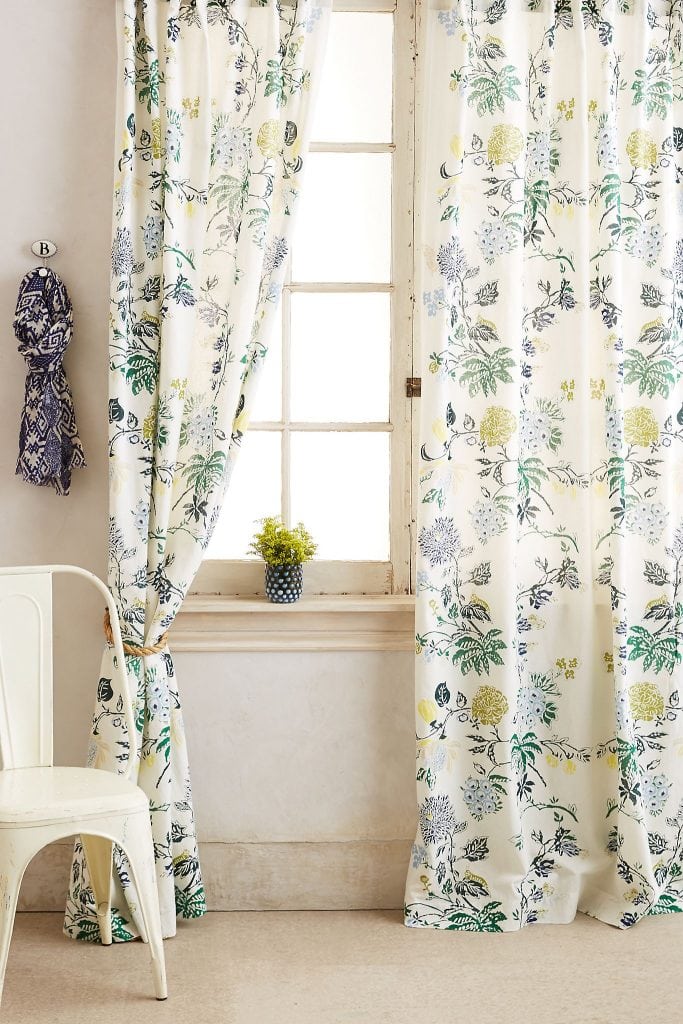 A flowery print curtain is a great idea for a bathroom if you want to brighten up the space and make it more cheerful with the pattern and a touch of color. This flowery Anthropology bathroom curtain idea makes the room appear fresh without being too frilly.
It's also really easy to match the room to the accent colors in the curtain, like yellow, green, or blue.
Keep Things Light With Gauzy White Curtains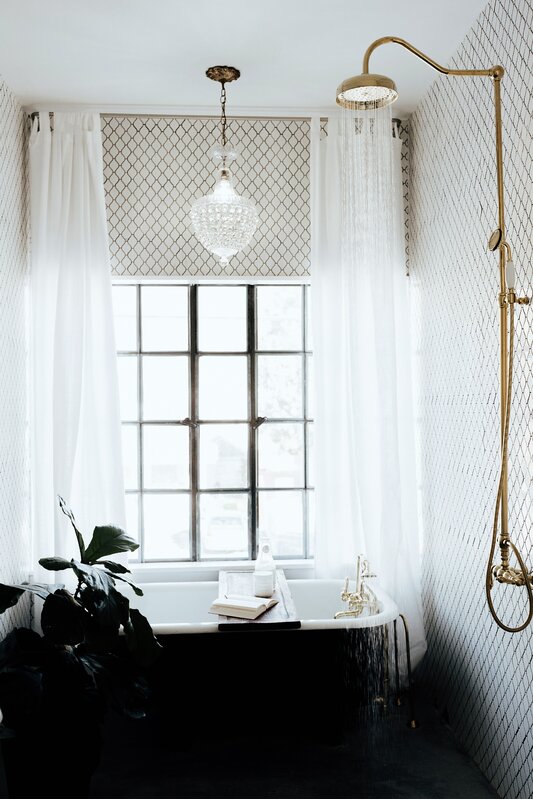 In some cases, a bathroom window curtain doesn't need to add privacy because the window doesn't face a public space. If that's the reality with your bathroom, consider looking for a curtain that can add to the style of the room instead of being a functional piece.
In this example, the gorgeous white gauzy curtain doesn't afford much privacy, but it softens up the boho and minimalist look of the room in a really lovely way.
Use a Window Shade Instead of a Curtain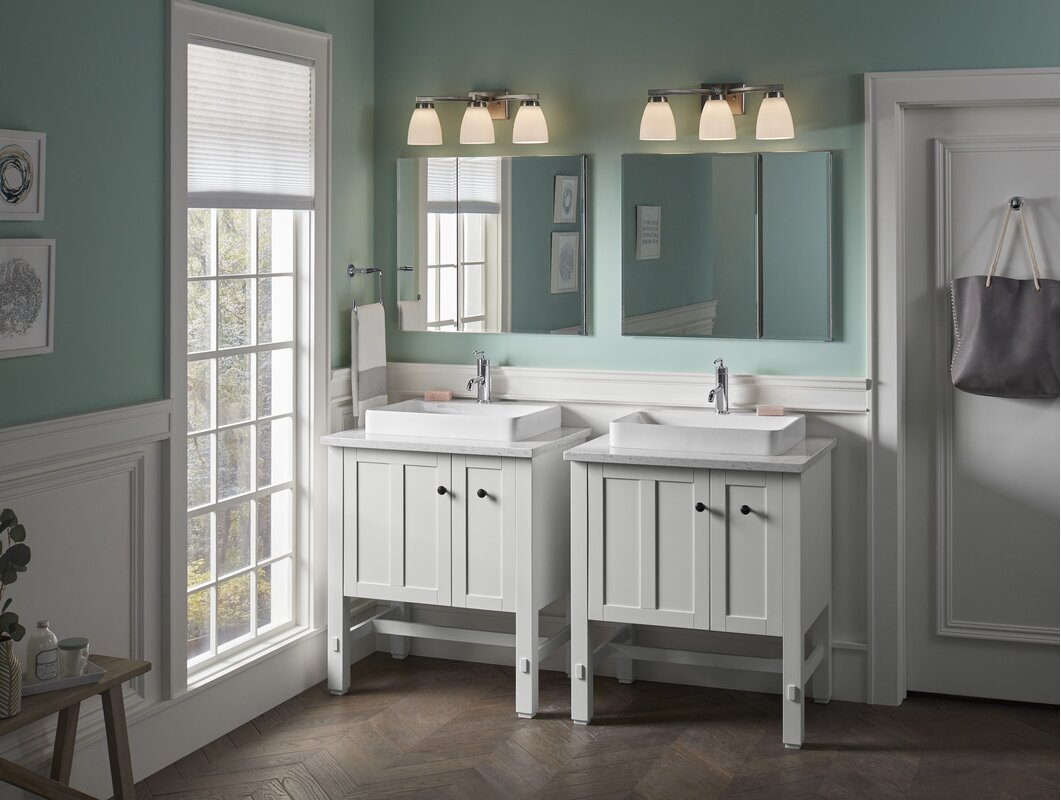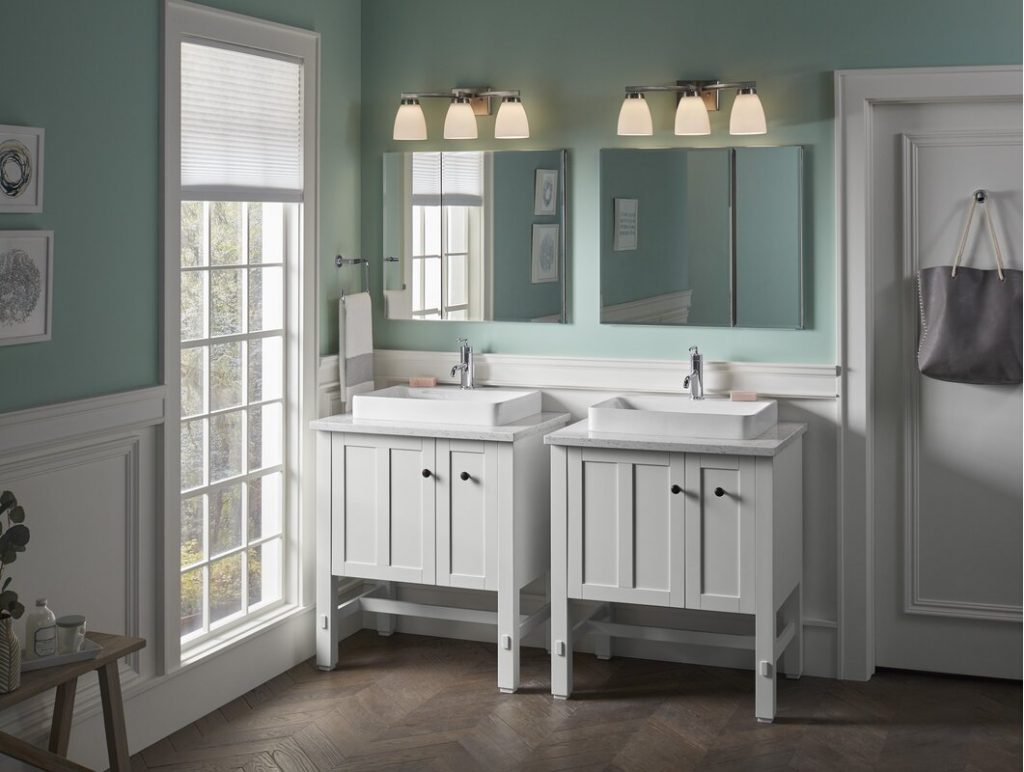 When your bathroom is a bit smaller than most, you want to be careful about what you put in there, because every choice will make your space appear bigger or smaller. Sometimes, even a small bathroom window curtain will make the room appear smaller by taking up space.
In those cases, you might want to go for a completely different bathroom window treatment, like this lovely white window shade that fits perfectly inside the window frame.
Look for a Magical Delicate Black Option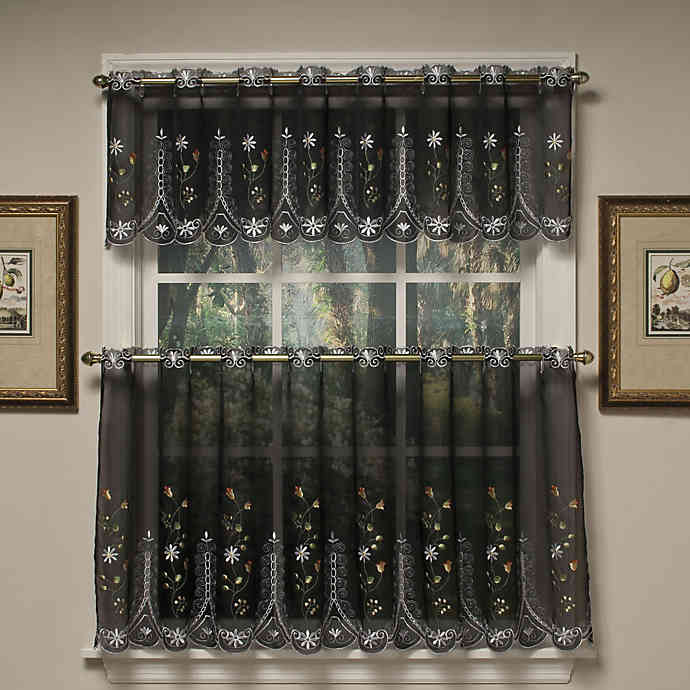 I love this delicate and small window curtain for the bathroom due to its unique color and pattern. Black window curtains aren't that common in bathrooms, but the see-through nature and white detailing of this option make it still appear light and beautiful.
Consider a two piece curtain like this one if you want to still allow some natural light to come in through the bathroom window while having a bit of privacy.
Install Faux Wood Blinds for a More Simple Look
In this example, these faux wood blinds blend in really well with the wallpaper and the result is a simple and attractive bathroom window treatment.
A lot of people will tend to go with curtains for their windows in every room including the bathroom, but there are surprisingly a lot of different ideas for bathroom window coverings. Here's a great list outlining a few of these that you might not have considered.
Look for Matching Window and Shower Curtains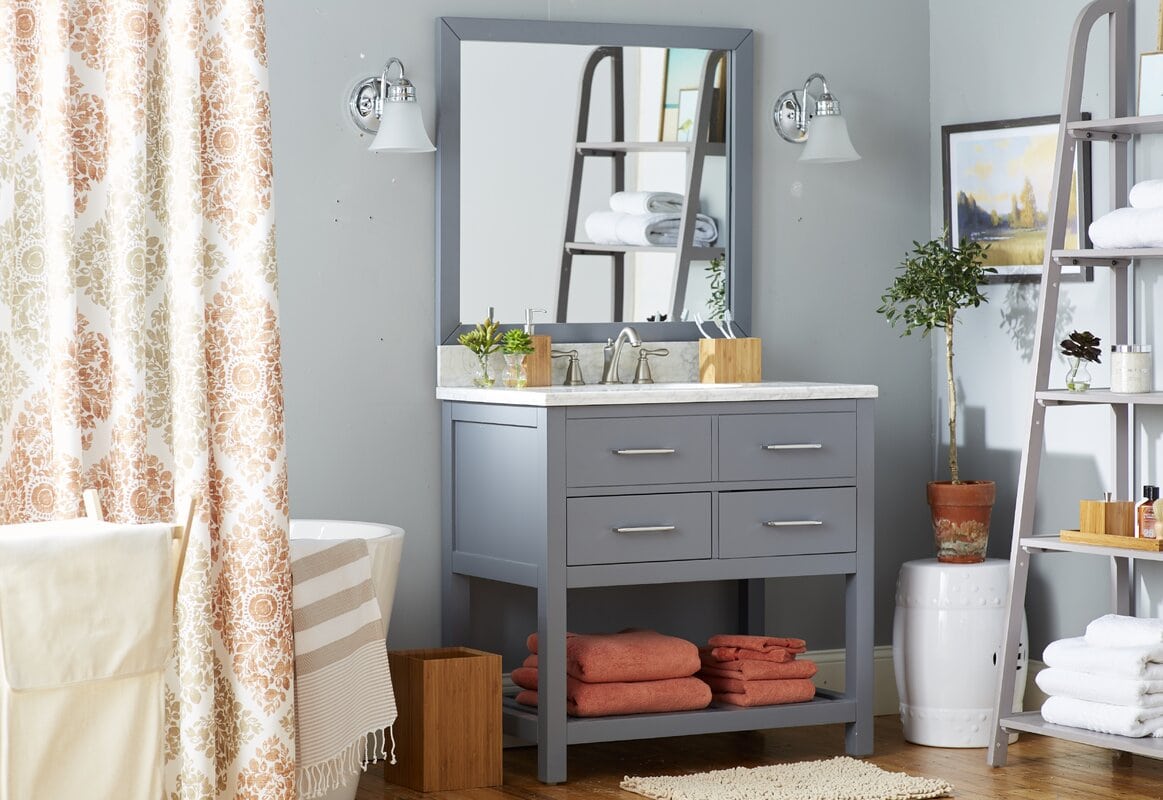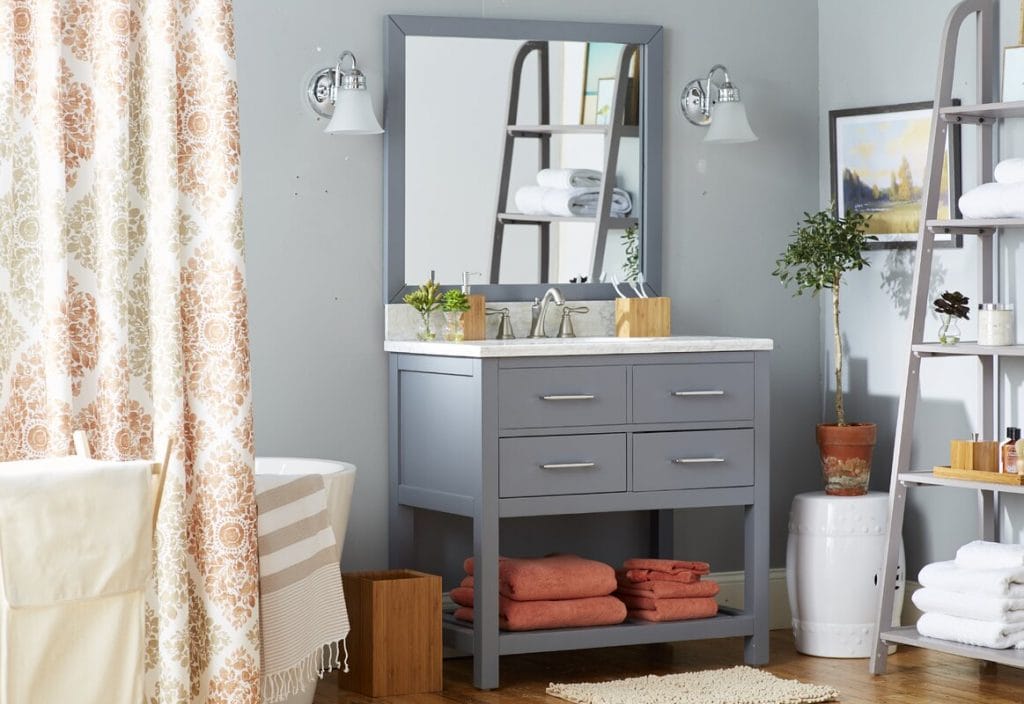 Another interesting option is getting a matching fabric for the bathroom shower and window curtain in a pattern like this one. It's a lovely beige, pink and white curtain with a very simple and understated pattern.
When going with that type of bathroom curtain idea, it's important to get a minimal pattern like this one so as to not overwhelm the room by having too much of a loud or bright print.
Look for a Dusky Pink for a Feminine Touch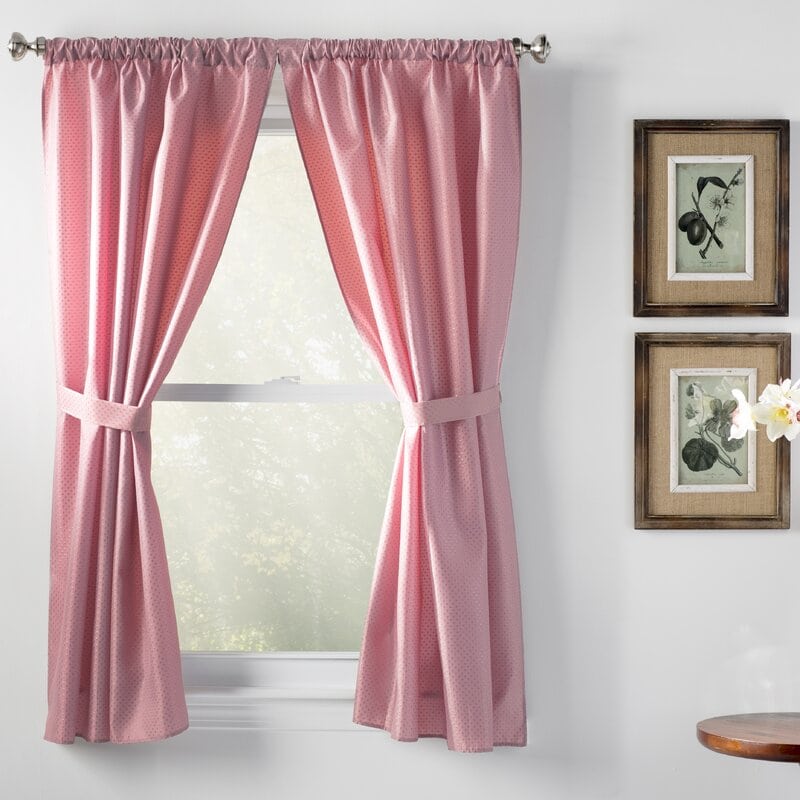 Pink can be used in a bathroom to add a feminine, delicate touch to the space, and a bathroom window curtain is an excellent place to use that color. A dusky pink like the one pictured in this photo matches the white walls really well and creates a calming look.
Add Boho Flair With a Tasseled Curtain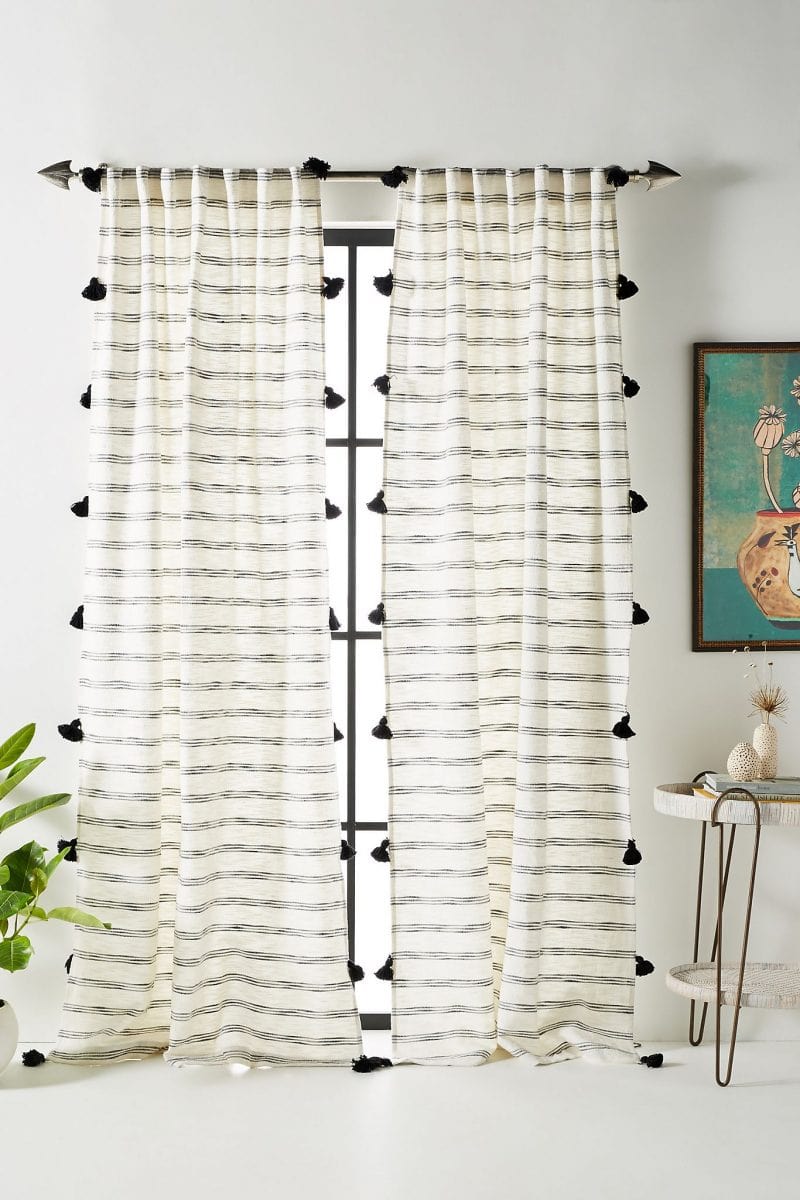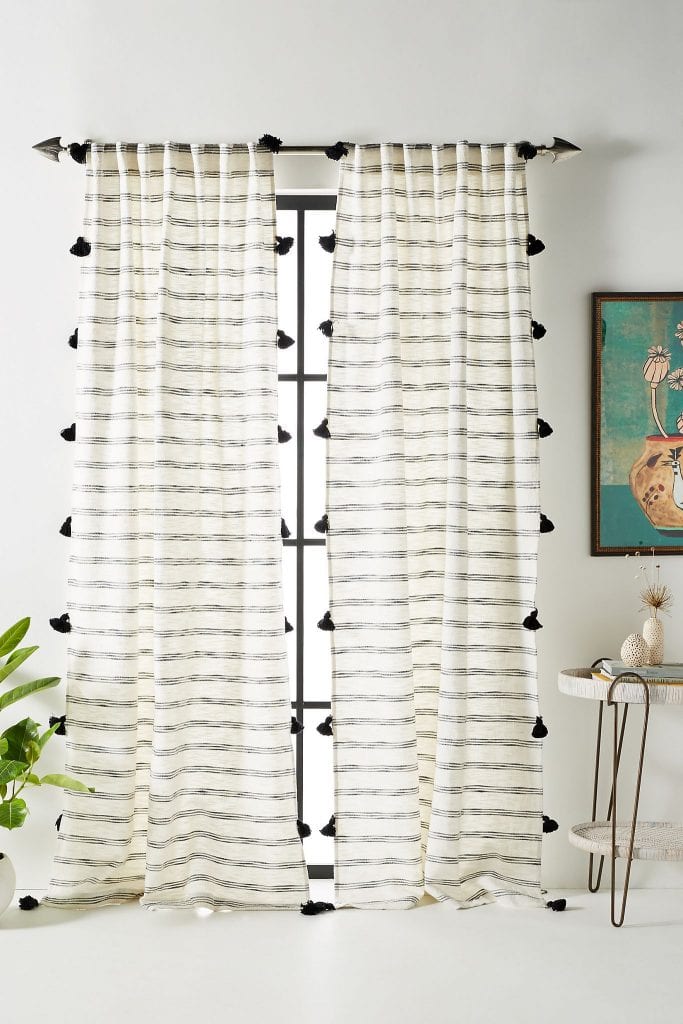 A curtain with tassels like this one is quite a boho look, but it's kept pretty simple thanks to the black and white color palette and simple pattern. These bathroom window coverings are lovely and can work with many different styles and colors.
When setting up curtains in the bathroom, you should also consider the curtain rod because you can get one that works with the room's theme, like the arrow-tipped model pictured here.
Have Fun With a Playful Themed Valance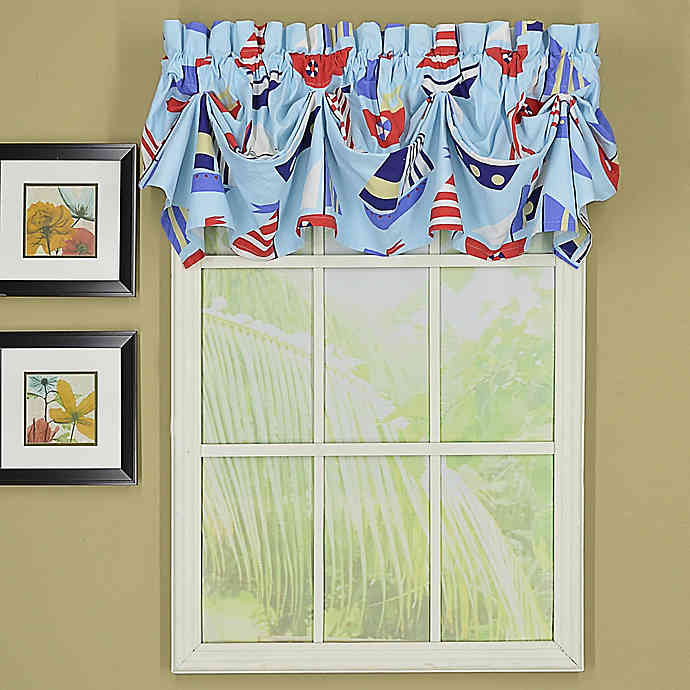 One great option for small window curtains for bathrooms is to get just a valance for the top of the window. You can also combine a valance with side panels in similar patterns and colors.
This bathroom curtain idea has a nautical theme, with white, navy, red and pale blue colors and patterns of boats. The nautical theme is quite a common bathroom theme, so a valance like this can look great in that decor style.
Look for a Draped Curtain Panel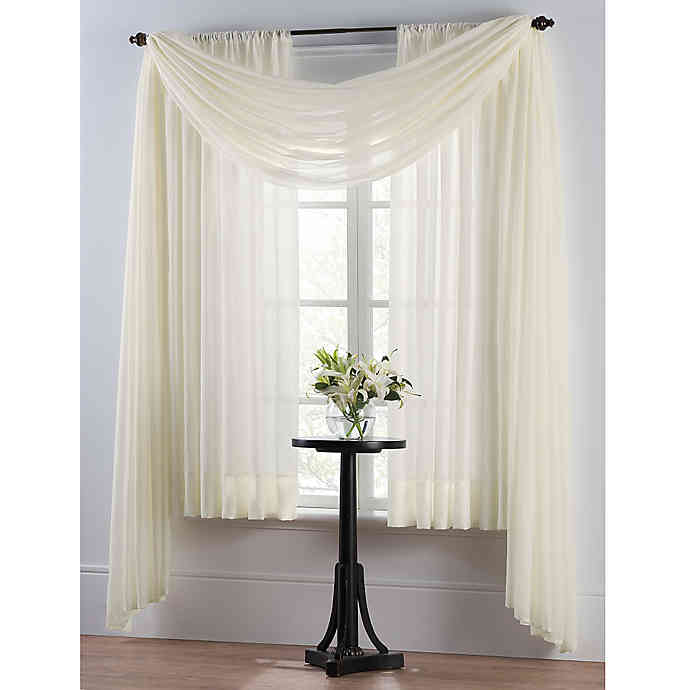 A draped curtain panel like this long white one that crosses over the loose, flowy white curtains can add some symmetry and a bit of traditional appeal. It's a more old-fashioned look so it pairs well with the farmhouse or country theme.
Striped Curtains Are Simple and Beautiful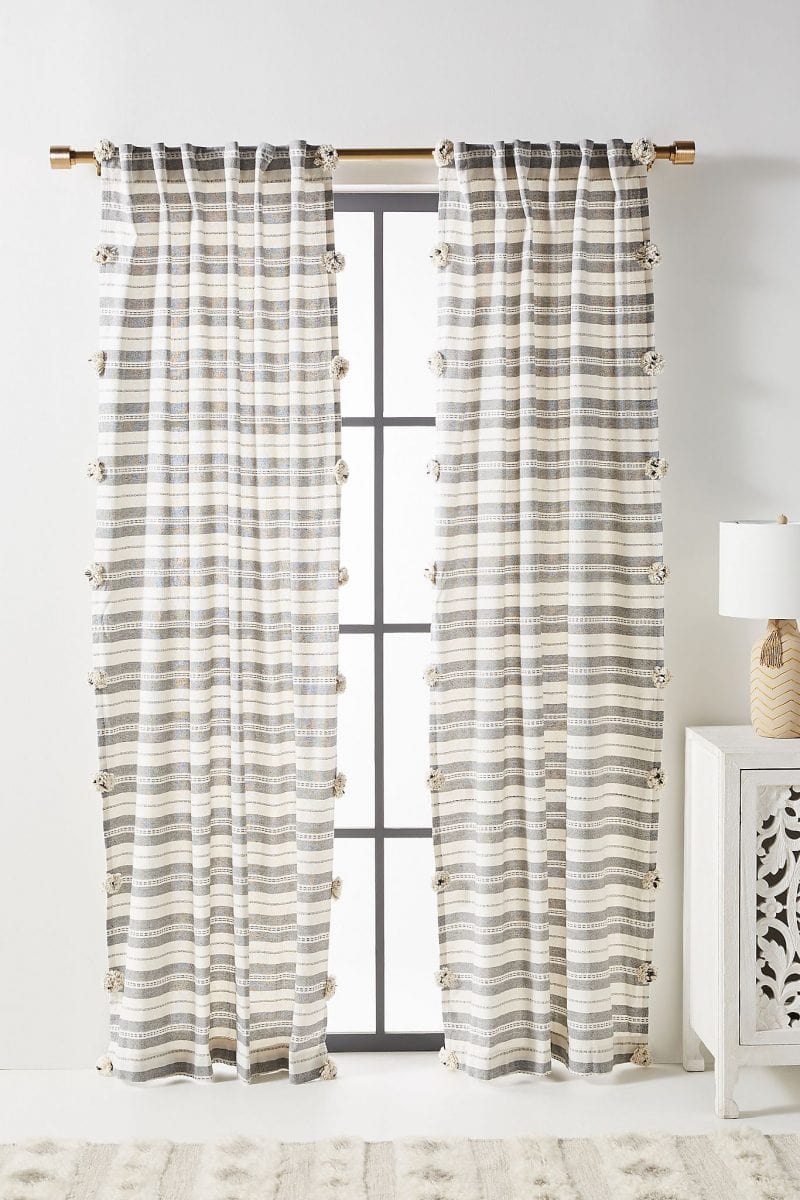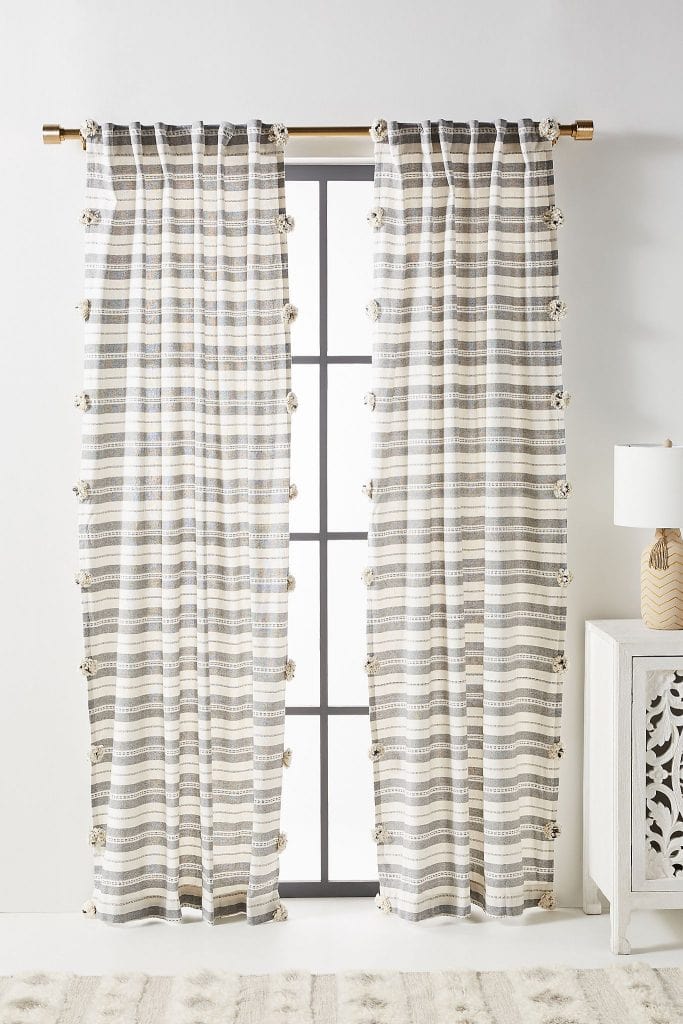 These striped white floor length curtains from Anthropologie are excellent for bathroom window curtain ideas in lots of different bathroom decor styles, including rustic, modern, minimal and farmhouse.
The white and gray pattern still allows some light to shine through while affording the room some privacy. It also pairs really well with different kinds of decor accents such as wooden pieces or gold ones like the curtain rod.
Get a Darker Shade of Complementary Color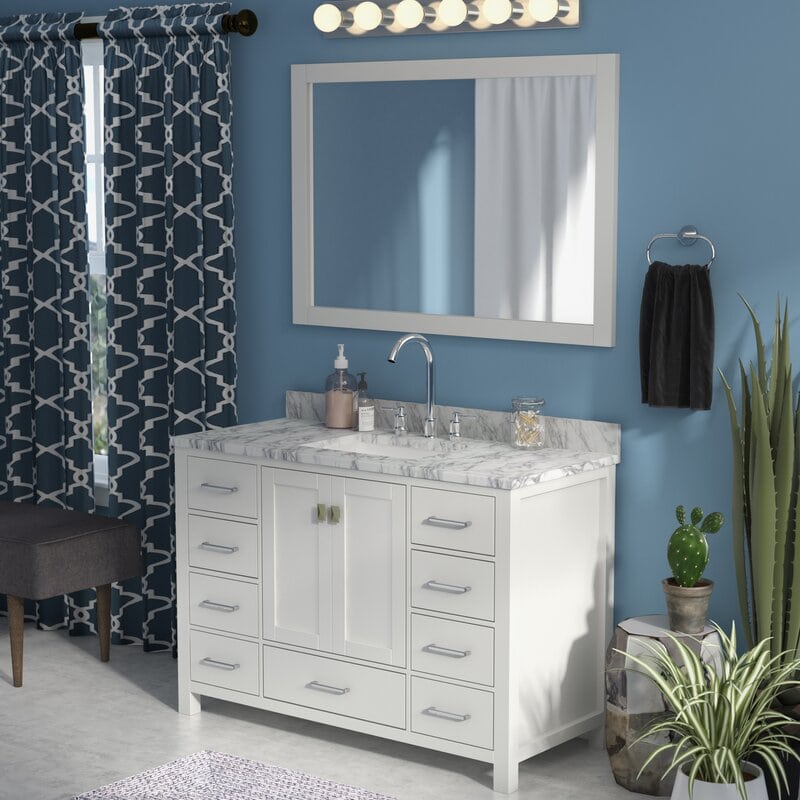 Whether you have floor length windows or doors and smaller windows, you can always get floor length curtains, like this combination for consistency. These darker navy colored window coverings complement the blue walls with the darker color in the same palette.
The thick, dark curtains are also quite useful and functional in providing some privacy to the bathroom, especially if it faces out onto the street like in this example.
Add Glamor With a Gold-Edged Curtain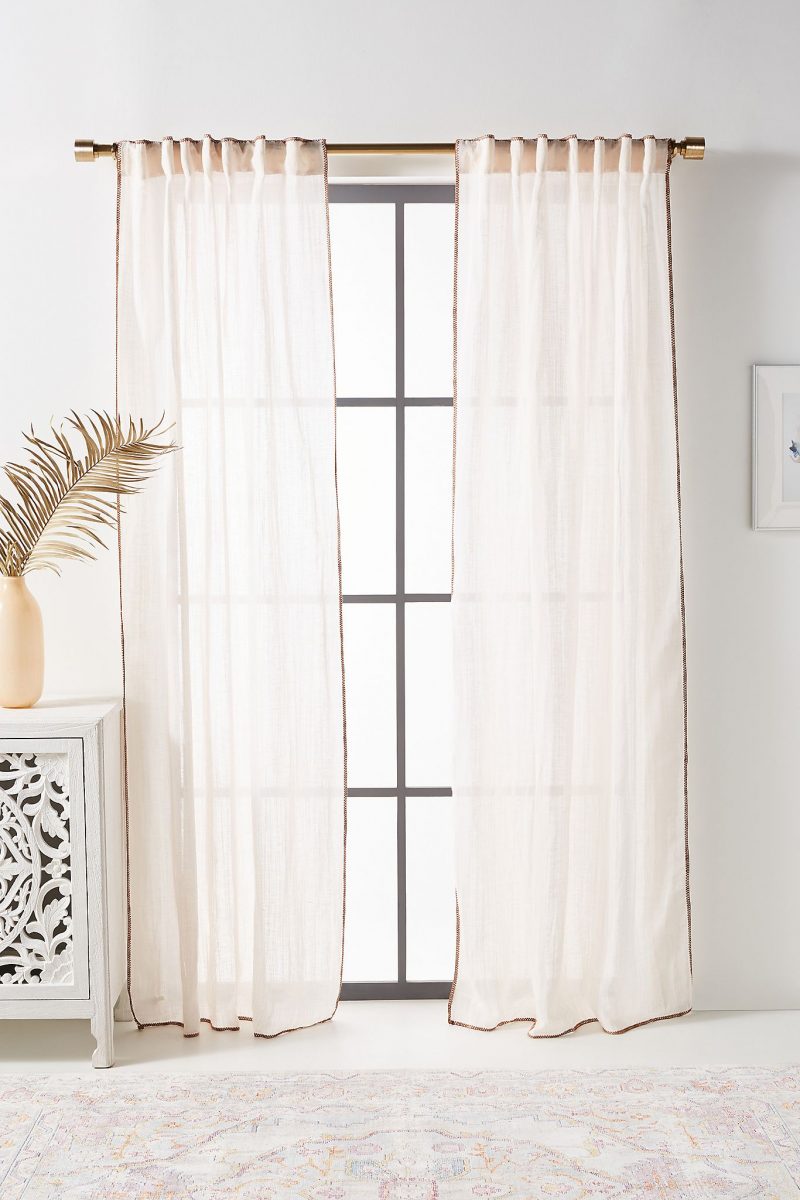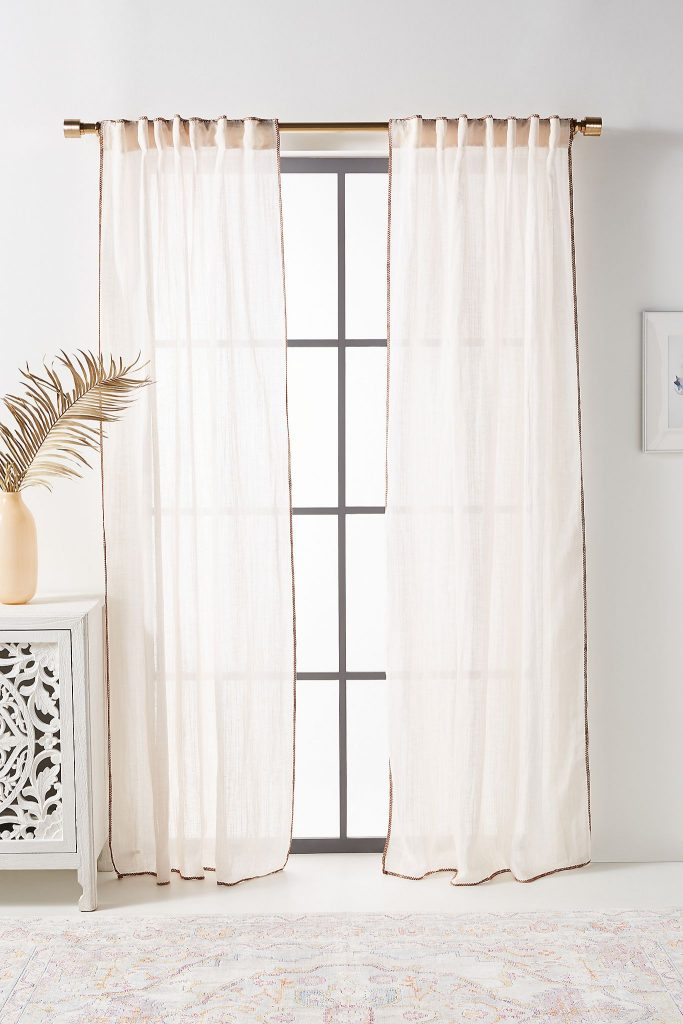 Many bathrooms will go for a light, gauzy white curtain because it keeps the room looking fresh and breezy. It also pairs really well with a white or pale blue coastal look, which is a common decor choice and color palette for a bathroom.
However, if you want your bathroom window curtains to stand out from others, look for a glamorous touch like this Anthropologie white curtain edged with gold. It's a classy and different look.
Decorate With a Coastal or Ocean Theme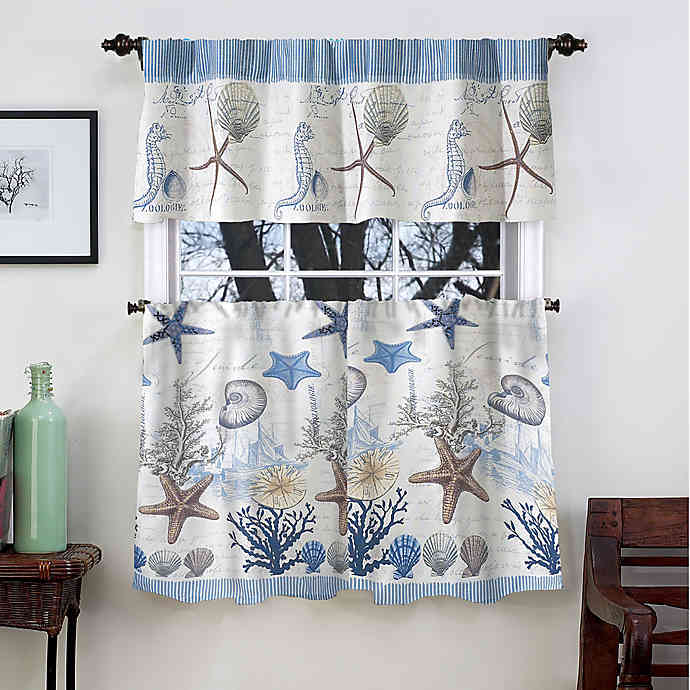 Many bathrooms are decorated in coastal or ocean themes and your small bathroom window curtains can be another way of expressing that style. In this example, we can see a two-piece window covering in a full coastal style.
This includes looking for ocean touches like seahorses, starfish, coral and shells as well as blue and white color accents like the stripes at each end of the bathroom curtains.
Combine a Floor-Length Curtain With Smaller Windows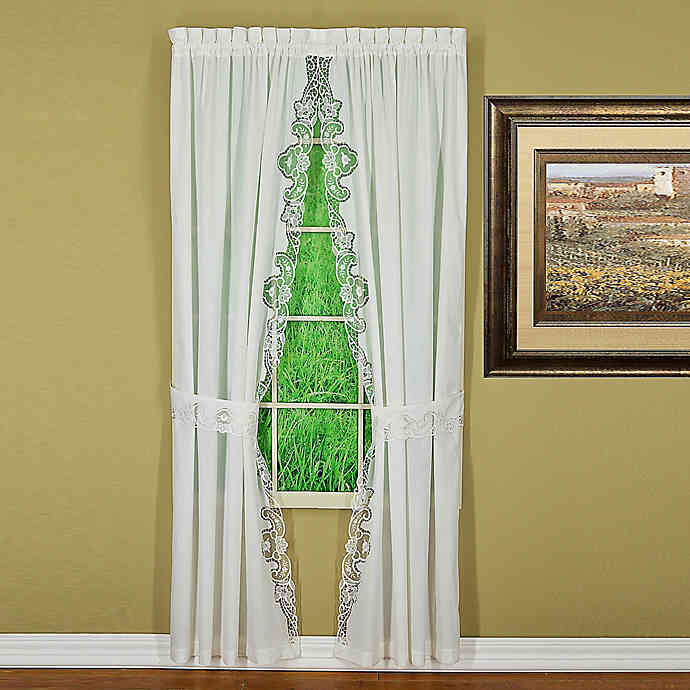 If you're struggling to find the right bathroom window treatment, you can actually look at the curtain selection of other rooms because they can work for the bathroom too. That means every curtain option is on the table, including a floor-length curtain for a smaller window like this one.
This look works especially well when the color of the curtains has some contrast to the wall color to make the decor choice stand out.
Go With a Bold Color Choice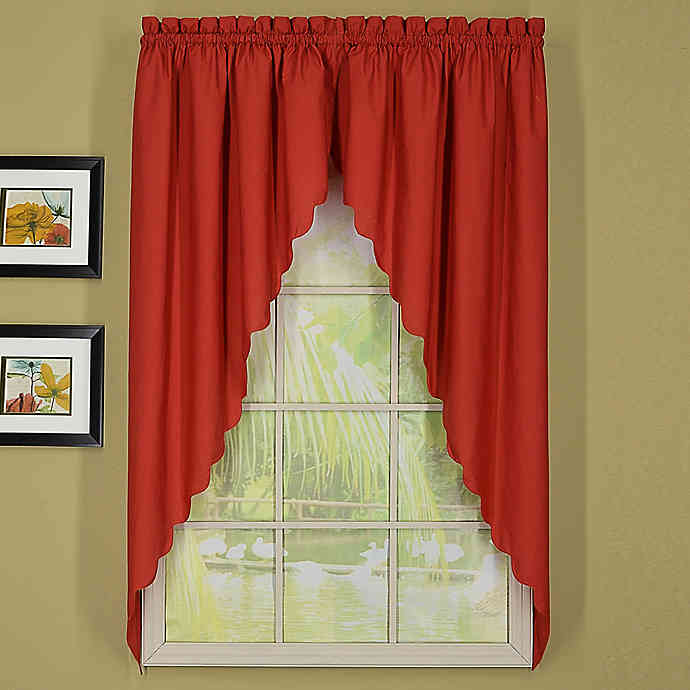 Although many of the bathroom curtain ideas we've explored so far are neutral colors or white, there are some bright and colorful options out there. This bright red scalloped curtain adds a really nice pop of color to the bathroom while still creating a little bit of privacy.
Architectural Digest has a really great list and breakdown of each color that's recommended for painting bathrooms.
Add Lovely Touches Like a Tieback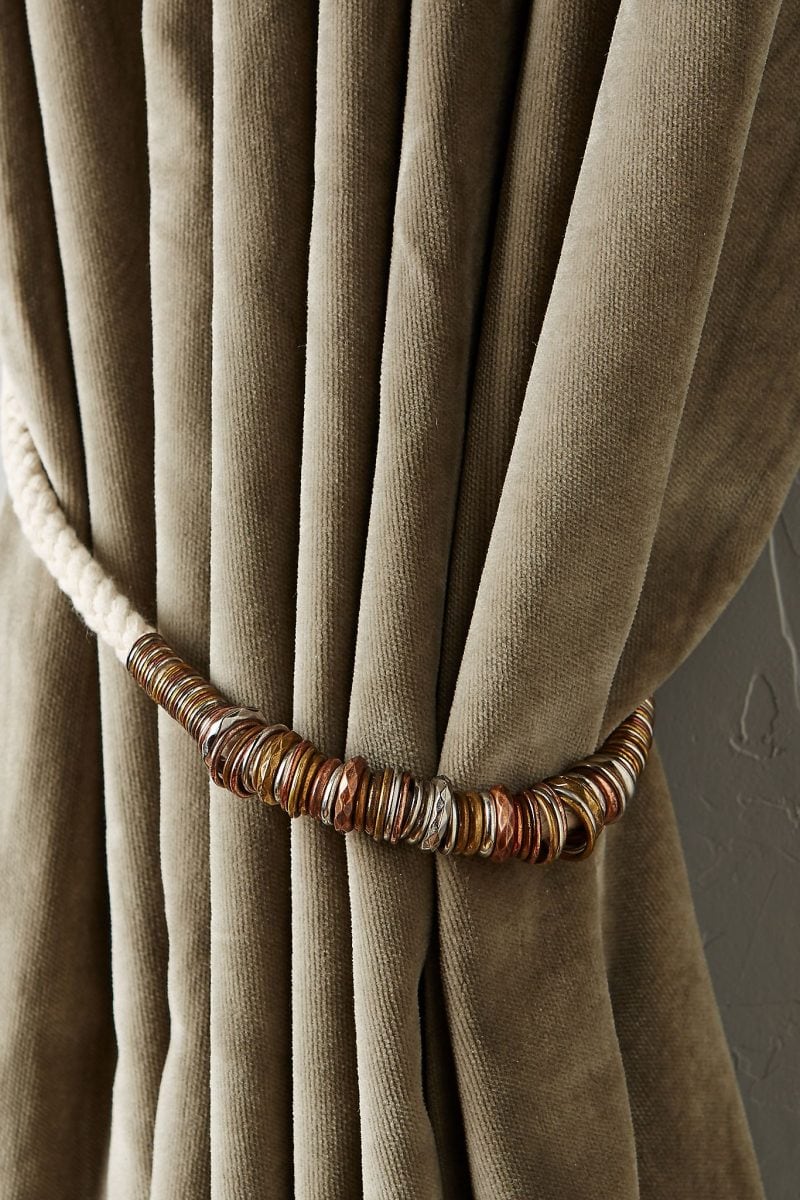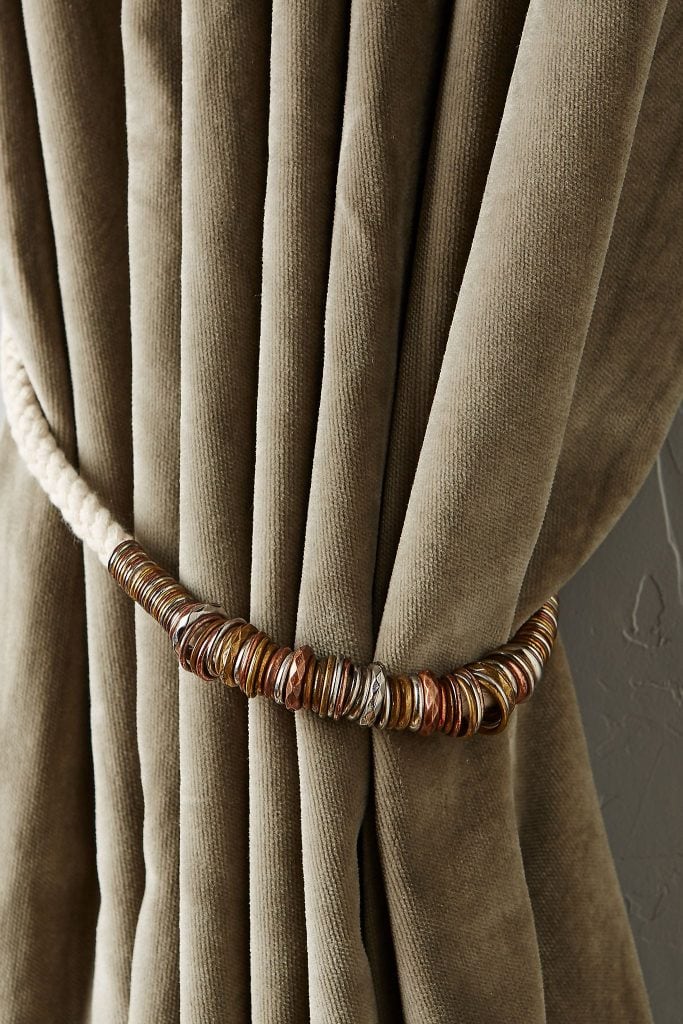 For more functional curtains that are thicker and provide privacy, you'll want to get tiebacks to keep your own home more accessible and appealing. Tiebacks also help curtains get that natural line of the curtain.
There are a lot of pretty tiebacks that you can go for and each one can add a little design flair to your bathroom. This one is done in a rope style with tons of small brass rings running down it.
Buy Light and Simple Embroidered Window Tiers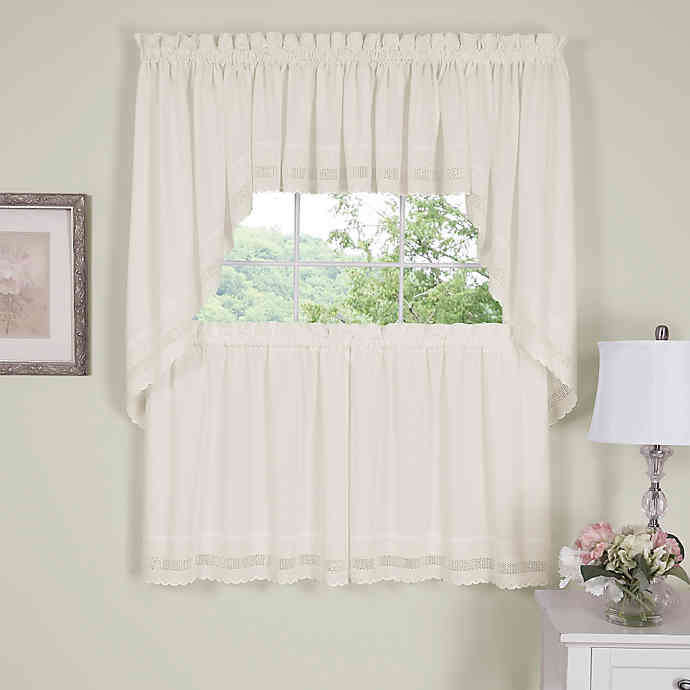 This type of window tier is quite simple and versatile since it looks like it can be added to a bedroom, kitchen, or bathroom window treatment. The embroidered base adds a nice style touch but the overall effect is quite simple.
If you have a rustic, country or farmhouse bathroom and you don't want a floor length curtain, consider going for an option like this one. The curtain's bottom tier is usually enough to provide good privacy.
Look for a Decorative Half Curtain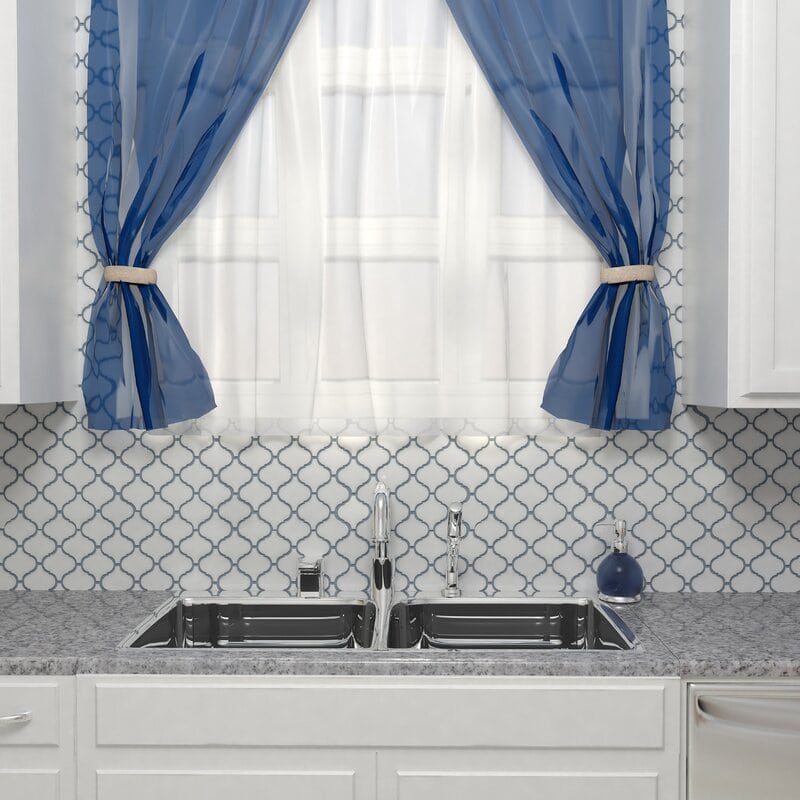 Some small bathroom windows only need small curtains for decoration, especially if the window only faces into a garden or a private yard. This curtain adds a decorative touch. Although it's commonly seen in kitchens, this type of curtain works really well on bathroom windows too.
Black and White Curtains Add a Bold Touch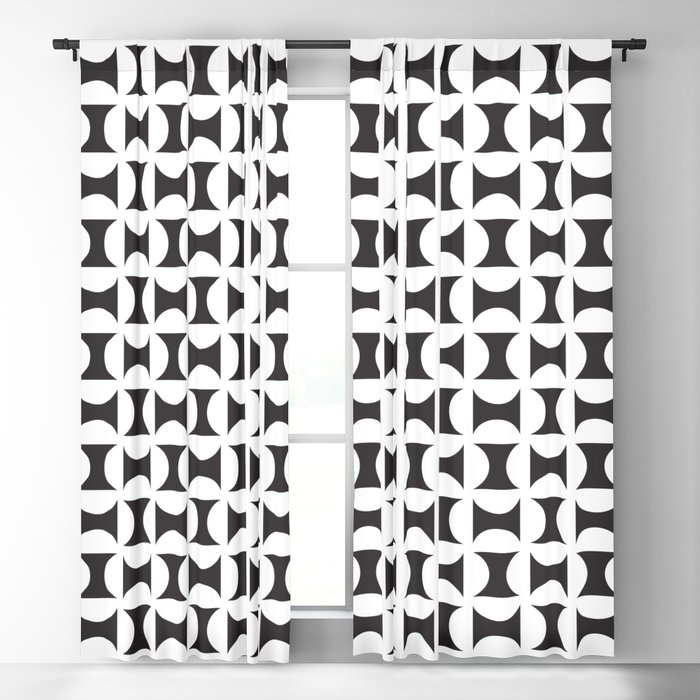 Black and white is a great color scheme for a bathroom, especially a more modern style of room. This bold geometric pattern of black on white makes a statement in any room and it can be a great choice for a bathroom in the same colors.
The pattern itself is quite simple but when the drapes are open, it creates a really bold unified look thanks to the thick, straight black lines.
Conclusion
There are all types, colors, and patterns of bathroom curtain ideas and these are just the best ones. No matter your budget or bathroom decor style, there's a great bathroom window treatment out there for you.
Consider whether you want floor length curtains, shorter valances, or even forgo curtains in favor of a different type of bathroom window treatment. Each option will create a different style and look for your bathroom.
That's why when you're looking for the right bathroom curtain for you, you should choose the one that will offer you not only privacy but also style and flair!