Decorated Life is reader-supported. When you buy through links on our site, we may earn an affiliate commission. Learn More
20 Tall Nightstand Ideas
When it comes to tall beds, finding a nightstand that's the right height can be difficult. You'll usually want to find a nightstand that's level with your bed, as it's much easier than having to reach down a long way to access a shorter nightstand.
It also may be difficult to find tall nightstands that fit in seamlessly with your decor. To help you out with this dilemma, we've compiled a list of 25 nightstand ideas for tall beds to keep your bedroom both practical and stylish.
Add a Rustic Look with Weathered Wood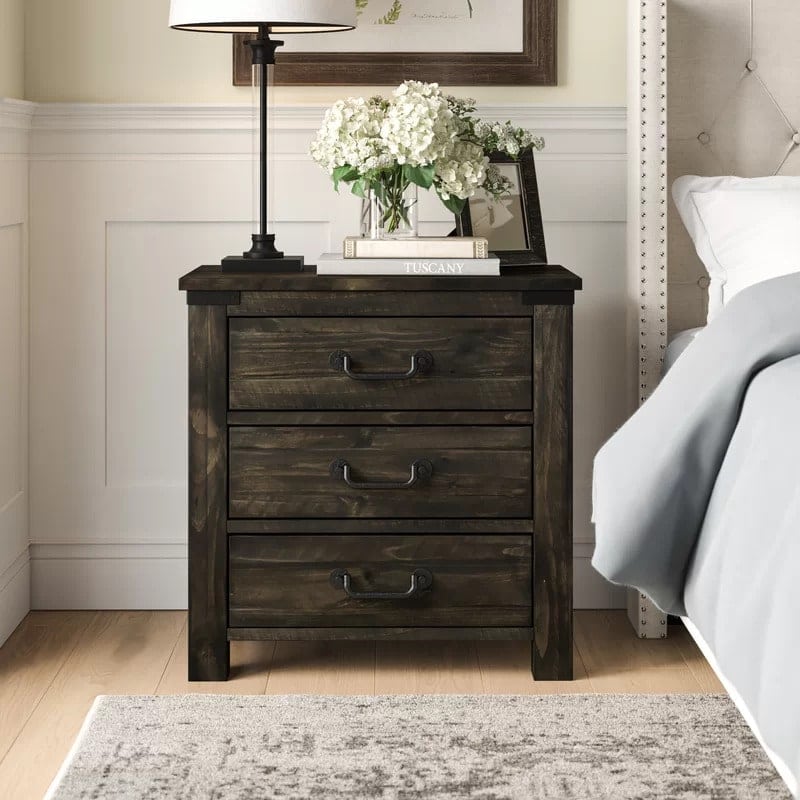 Weathered wood is a major element of rustic-style rooms. If you need more weathered wood for your bedroom, you can easily incorporate it using a nightstand.
This nightstand features a weathered finish while maintaining durability thanks to its solid pine construction. Its dark color palette could easily stand out in lighter-colored rooms, or complement existing dark colors. Thanks to its simplicity, it can fit in a variety of spaces.
Use a Simple Cream-Colored Nightstand for a Classic Look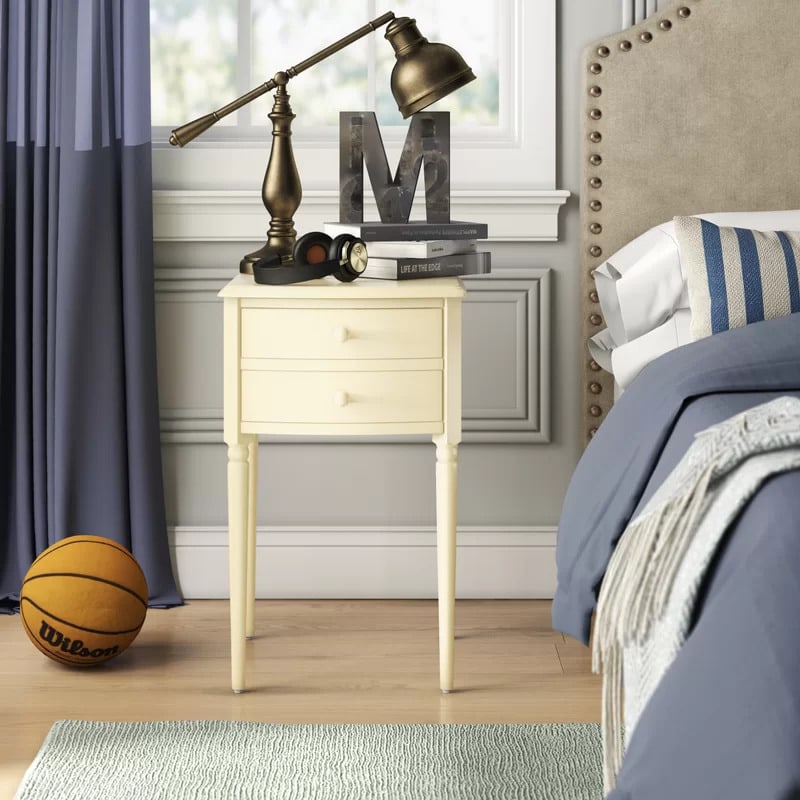 When it comes to interior design, sometimes it's best to keep things simple. Whether you're minimalist or you just want something to complement your existing set-up, this nightstand could be a perfect option for you.
The nightstand features a cream color and spindle legs, giving it a classic appearance. Its small size means that it'll fit in most bedrooms, even if you have a smaller space.
Add a Subtle Splash of Color With a Blue Nightstand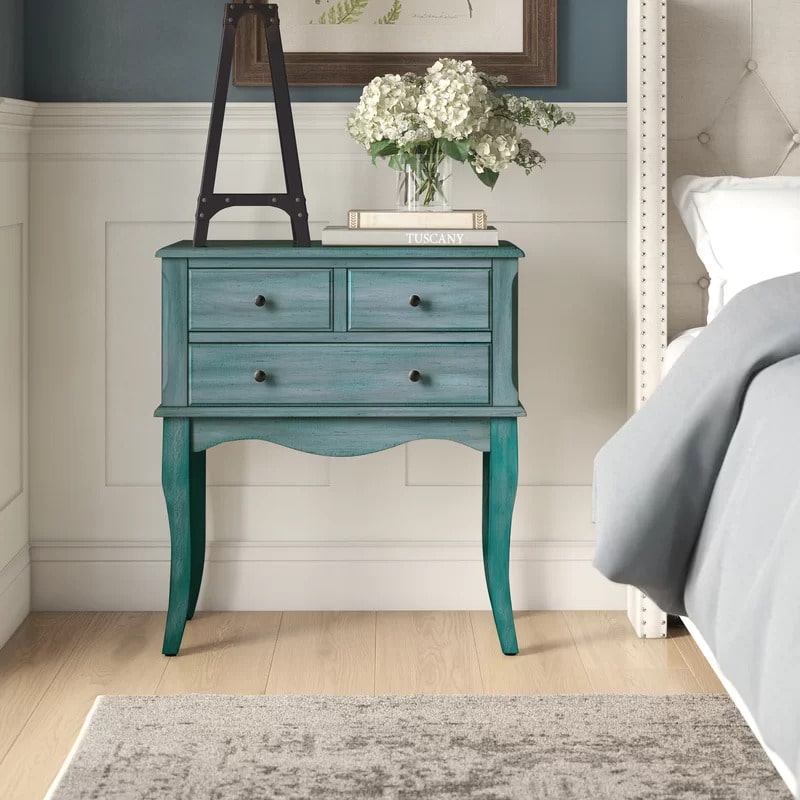 Sometimes all a bedroom needs to feel complete is a pop of color. This blue nightstand isn't too bright, allowing it to add subtle color.
Thanks to its antique appearance, it fits in well with more traditional-looking spaces. It can add interest to a monochromatic room, or fit in with complementary blue tones depending on how your bedroom is designed.
Choose a Metal Nightstand for a Modern Look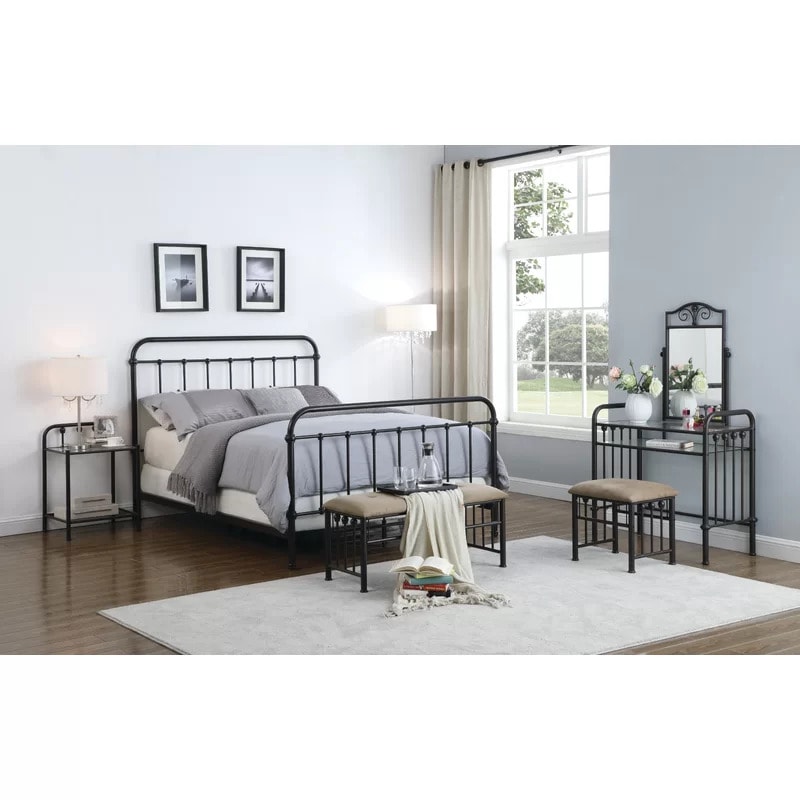 Modern styles can feature a variety of different materials, but metal is a common one among them. If you're looking for tall modern nightstands, a metal one may do the trick.
This metal nightstand features clean lines and a simple structure, making for a modern design. It's also practical with its two shelves, allowing for easy item placement.
Use Wicker Baskets for a Natural Flair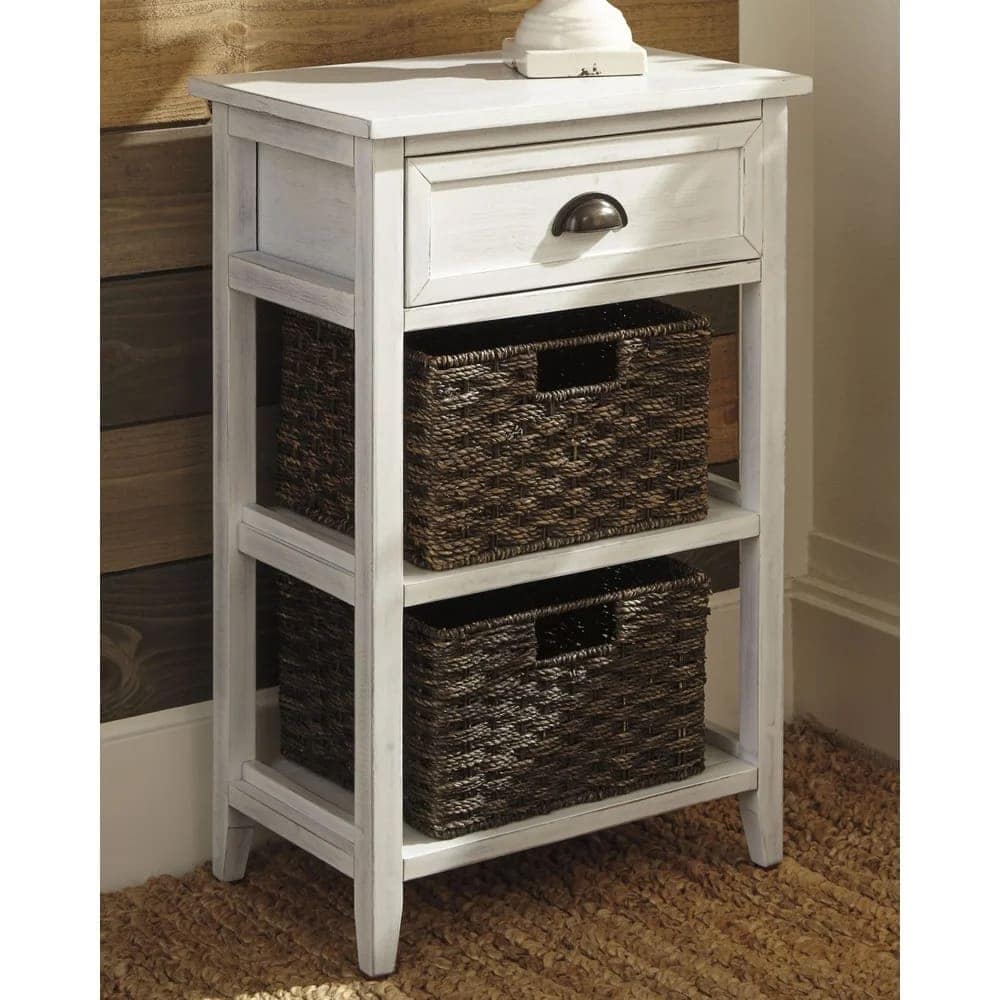 Whether for a fully bohemian or just a nature-inspired room, many rooms could benefit from some added natural elements. This nightstand in particular uses wicker baskets in its painted wooden frame.
The dark-colored wicker stands out against the white color palette, providing an element of contrast. Having a simple design, it could fit in with a variety of different styles. The contrast would serve well in a modern room, for example.
Go For a Modern Look With Textured Drawers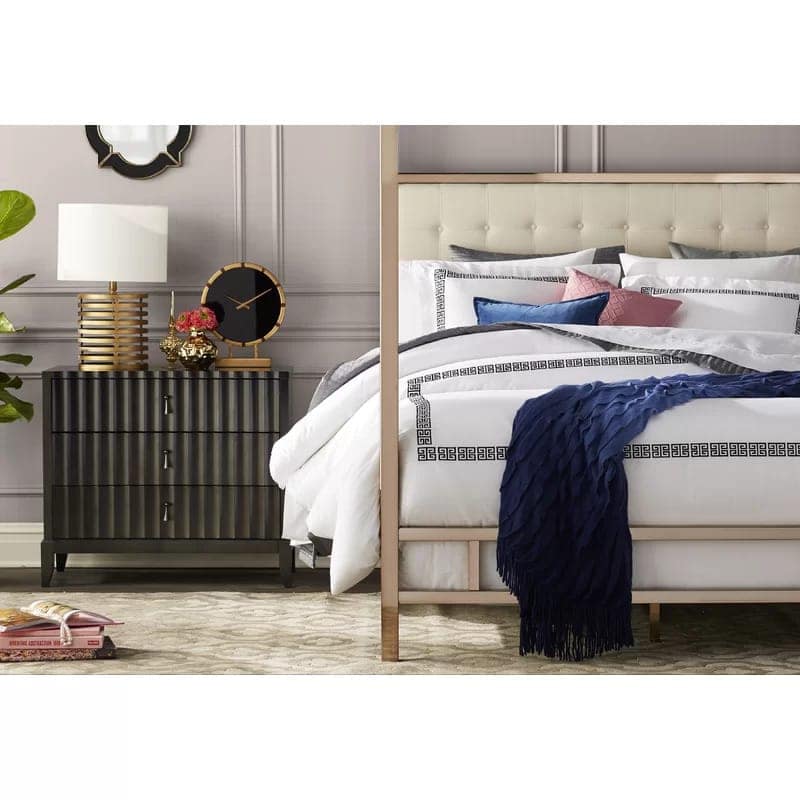 Many interior designs incorporate texture in some way, whether in one piece or throughout the whole room. Contrasting textures can add visual interest, while similar textures can make the room feel cohesive.
Whatever your stance on texture is, your bedroom may benefit from this modern-looking nightstand. The sleek black appearance is broken only by the wavy texture on the front, adding interest to an otherwise plain design.
Use Lattice Sides for a Subtly Unique Nightstand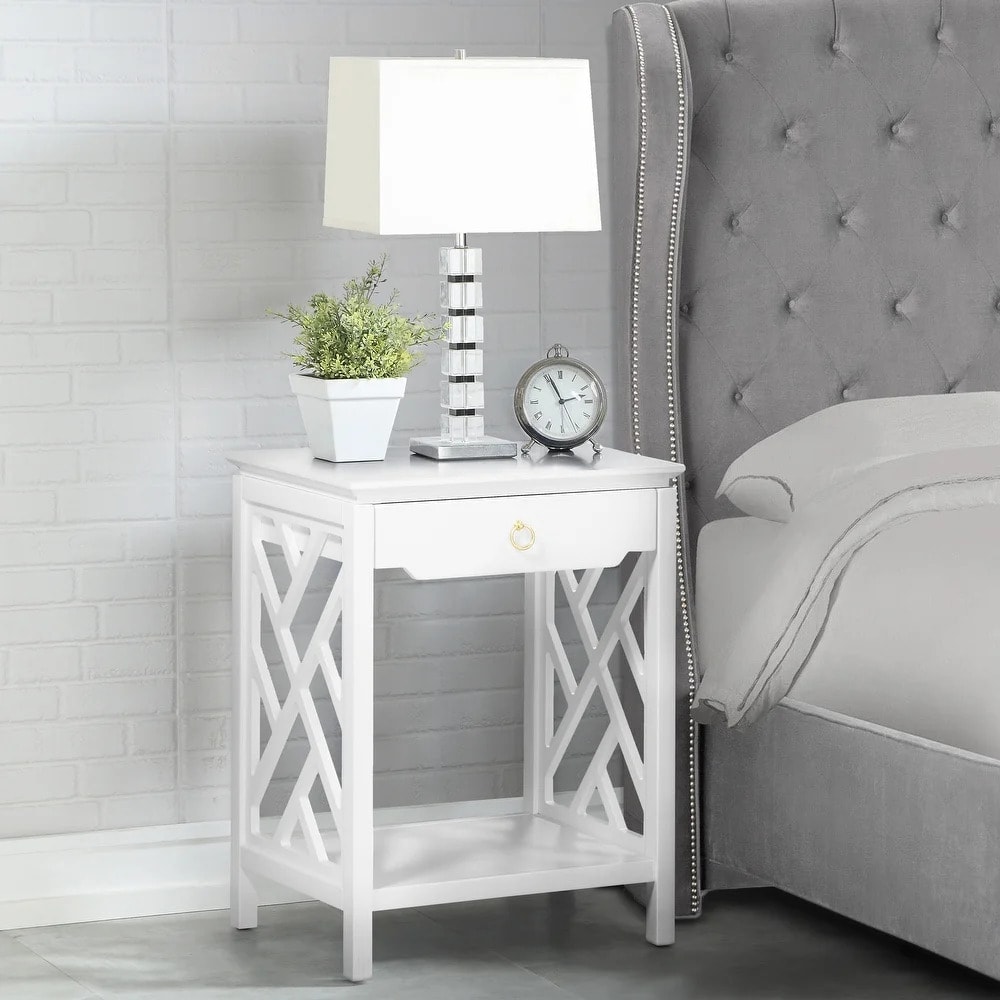 Some want a standout nightstand with bright colors, while others may opt for a minimalistic nightstand. If you're in the middle, you'll likely want a balance between these two approaches. You'll want a visually interesting nightstand without it being too busy.
This nightstand suits this purpose well, featuring a white color palette and geometric lattice sides. It can add a simple touch to any bedroom.
Choose a Floating Nightstand for a Minimalistic Look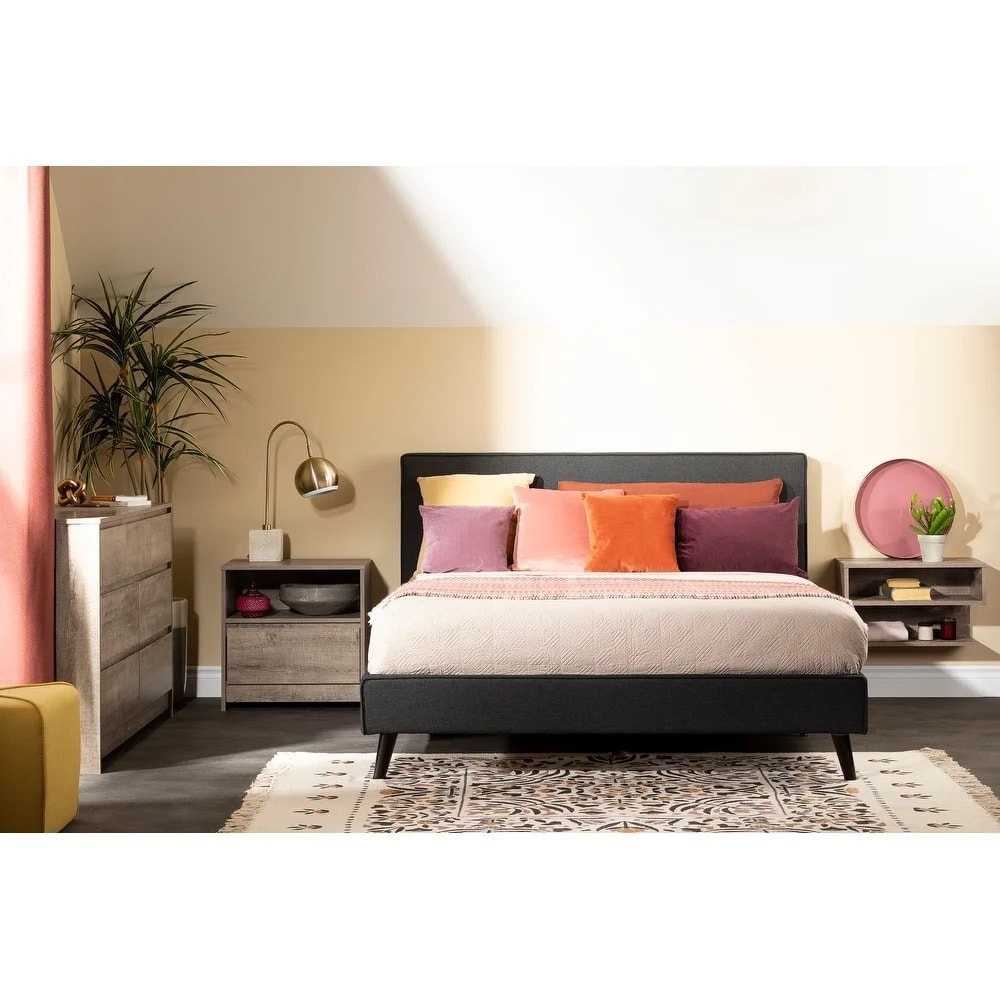 Minimalism is a style focused on keeping only the essentials, and this floating nightstand fits that perfectly. It only takes up wall space and has some small shelves for putting necessary items onto. The outside of the nightstand features a simple gray color, and the wood grain shines through for a natural look.
Practically speaking, it works well if you're looking for a tall nightstand. While the nightstand itself isn't tall, it can be placed anywhere on the wall. This customizability allows you to place it perfectly level with your bed. If you're having trouble finding the perfect nightstand, a floating nightstand could be a great option for you.
Let a Bookshelf Double as a Nightstand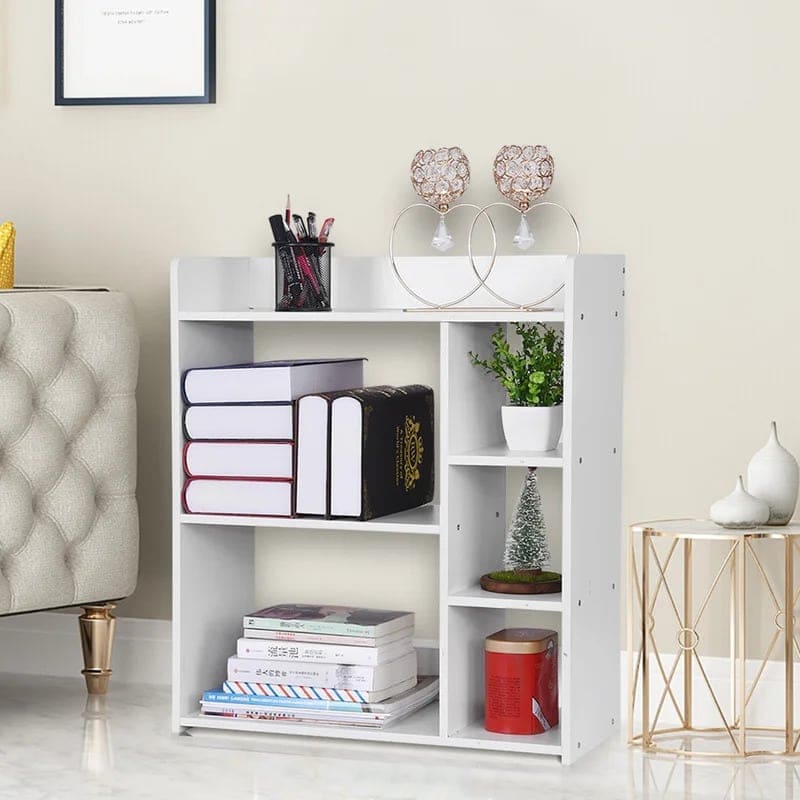 Bookshelves are an essential part of many bedrooms, especially for avid readers. One lesser known idea with them, however, is that you can have a bookshelf double as a nightstand. Many bookshelves are naturally taller than most nightstands, and having one less piece of furniture to worry about can save both time and money.
This bookshelf in particular comes in a clean white color. With three shelves, it's perfect for putting items in their place rather than being strewn about.
Use a Spool Leg Nightstand for Vintage Flair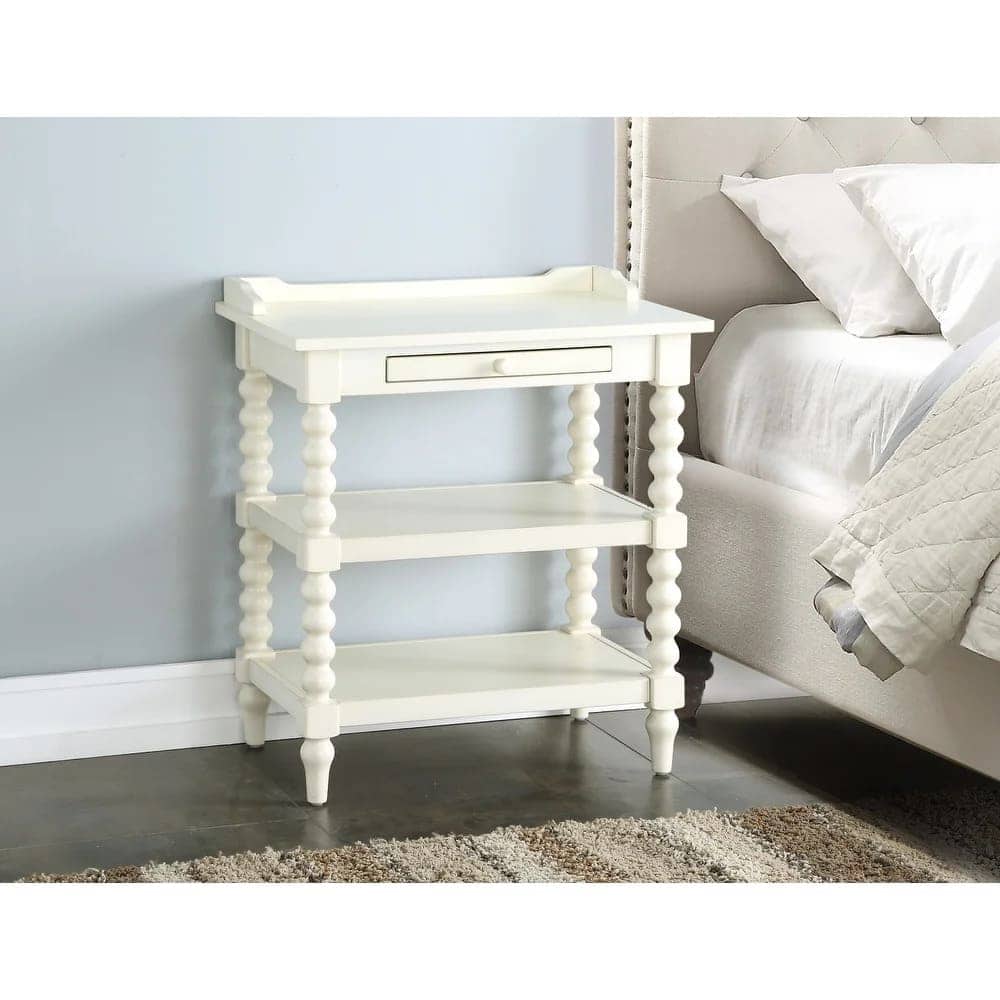 Spool legs add a vintage look to any furniture piece. Many incorporate a single spool where the desk surface meets the legs.
This nightstand, however, features full spool-style legs. This can add an element of visual interest to a vintage room. It still retains its simple color palette, however, allowing it to fit in a variety of different contexts.
Use a Pedestal Nightstand for a Classical Look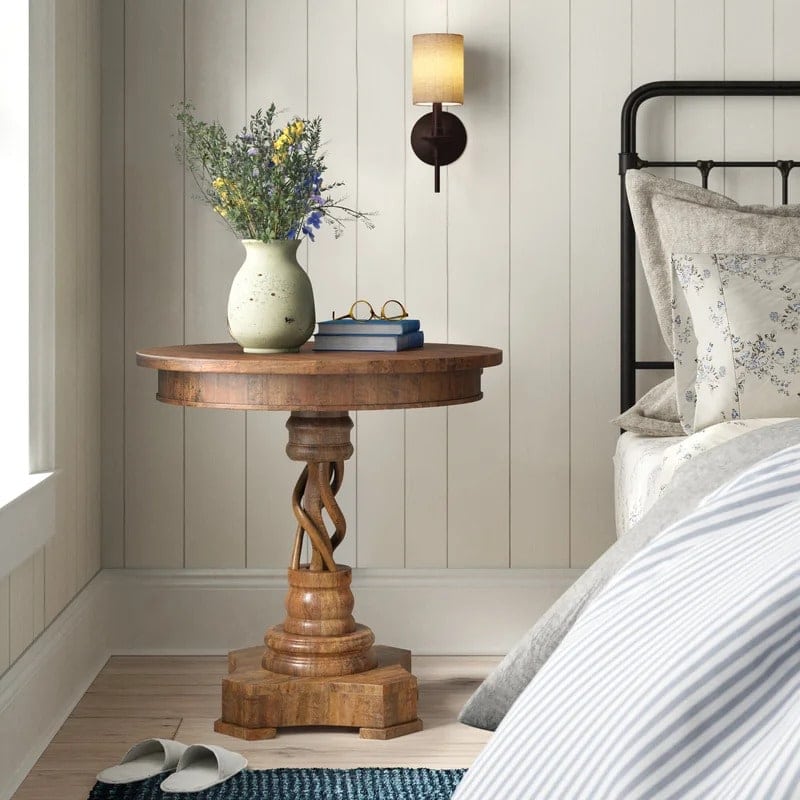 Pedestal tables are often used only for this purpose, as their flat surface is perfect for small sitting areas. However, these end tables can also be used as nightstands. If you'd rather not deal with drawers, you may enjoy the simplicity of having a pedestal nightstand. Keep only the essentials on top, and leave the rest for your alternative storage options. A minimalist would enjoy the lack of clutter around their bed.
This nightstand in particular has a simple yet elegant design thanks to its carved base. It's perfect for adding a simple touch of artistry to nearly any style.
Stand Out With a Mirrored Front Nightstand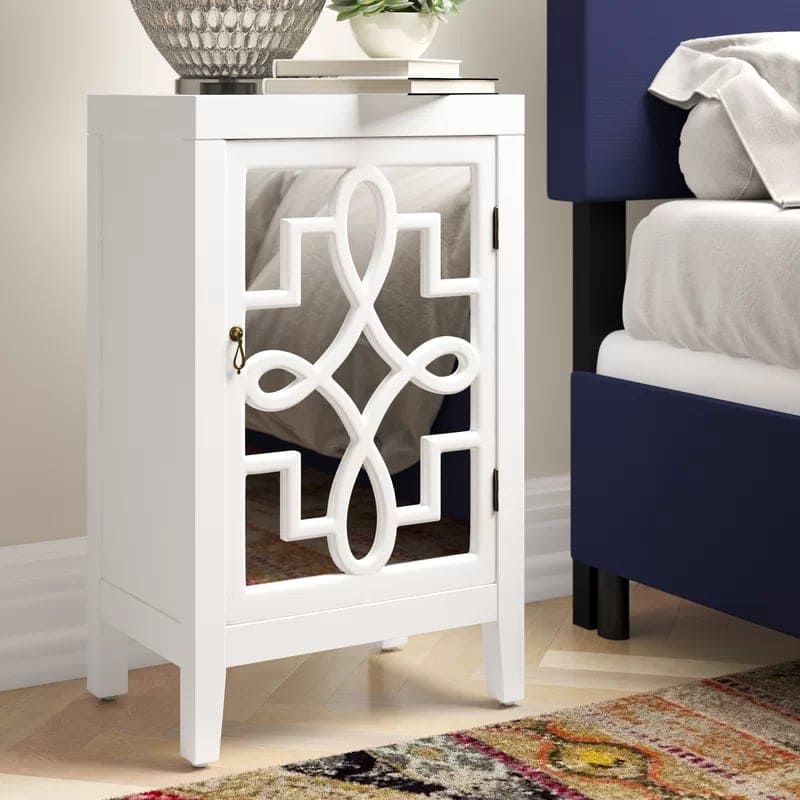 Mirrored furniture often evokes images of vanities, which can be quite luxurious. Mirrored surfaces need not be limited to vanities, however. They can also be found on many nightstands as well.
This nightstand is great for adding a light touch of elegance to your bedroom. The antique white and artistic front door adds to the elegance, allowing it to fit in perfectly with a classical style.
Use a Simple Chest of Drawers as a Tall Nightstand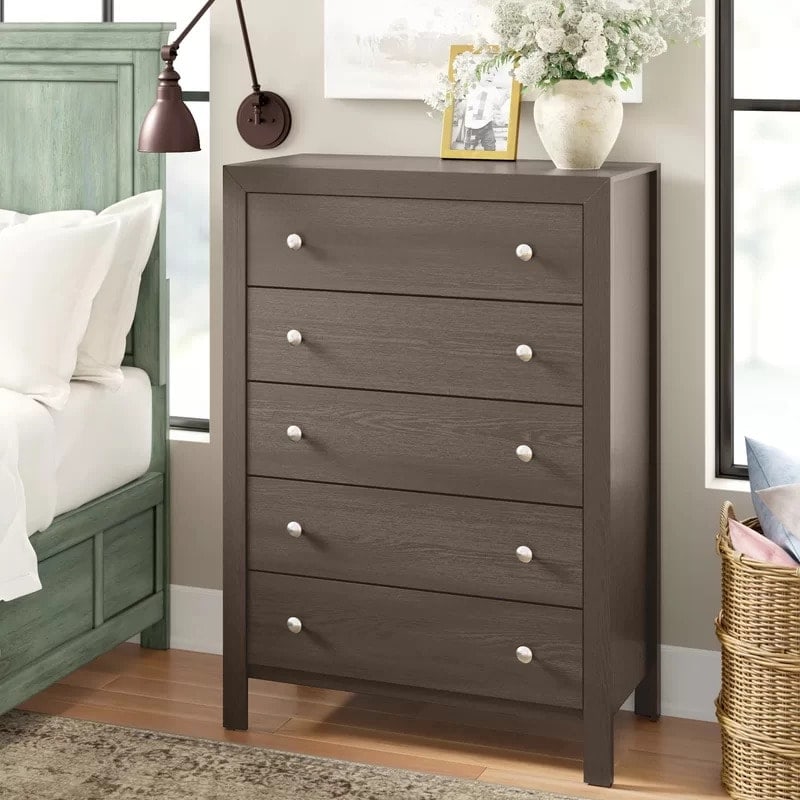 You might know to use a chest of drawers as storage, but did you know they can make great nightstands as well? Many chests of drawers come in a variety of different heights, leaving you to find one that's the perfect height for your bed.
This 5-drawer dresser in particular stands at an extra tall 48 inches, making it perfect for tall beds. In terms of design, it has a simple and clean look. In most bedrooms it won't clash with any existing decor thanks to its neutral color palette. It's great if you have a more minimalistic style or enjoy having extra storage space.
Make Your Room Luxurious With an Upholstered Nightstand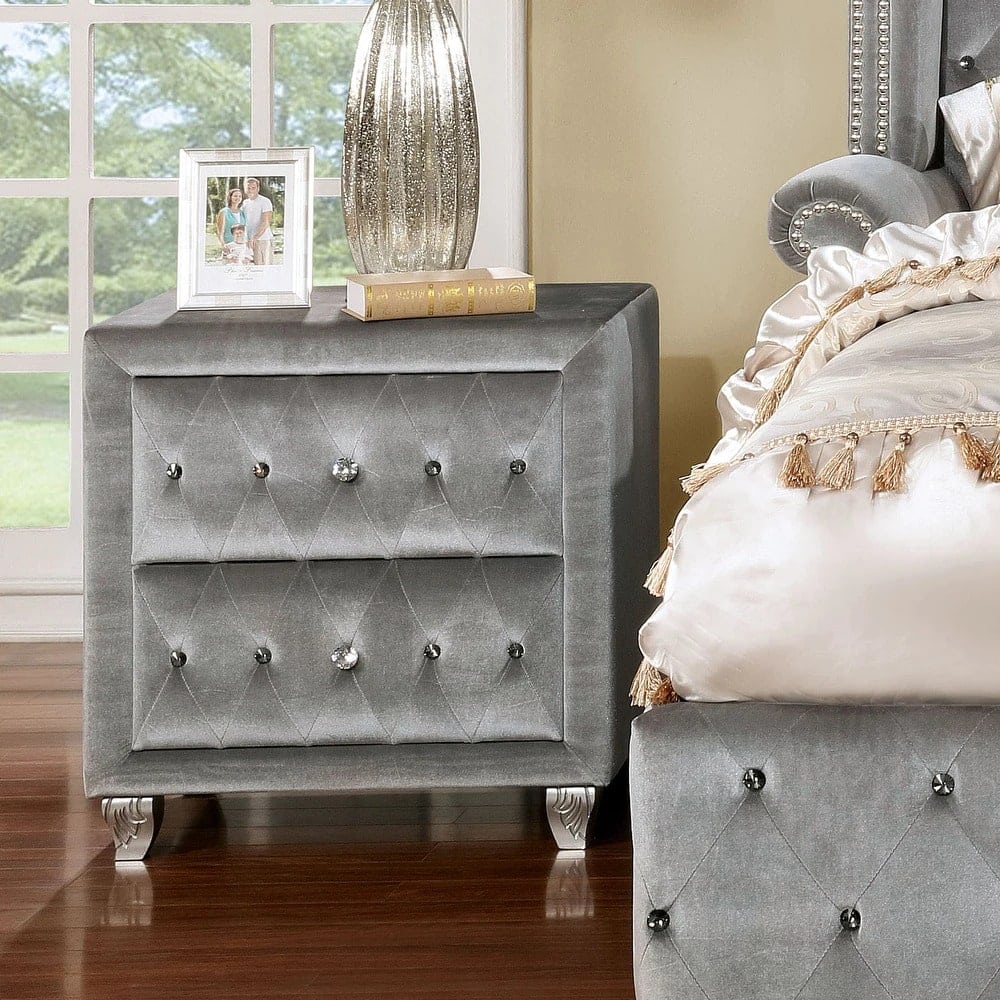 Upholstery is sometimes found on bedframes, giving it a luxury appearance. This isn't limited to bedframes, however. Nightstands can be upholstered as well.
This silver upholstery not only has a luxury appearance– it also has crystal-like knobs and artistic carved feet. Every element of it is designed to exude elegance. It would work well as part of a full upholstered furniture set or as a standalone piece.
Add an Artsy Flair With a Carved Nightstand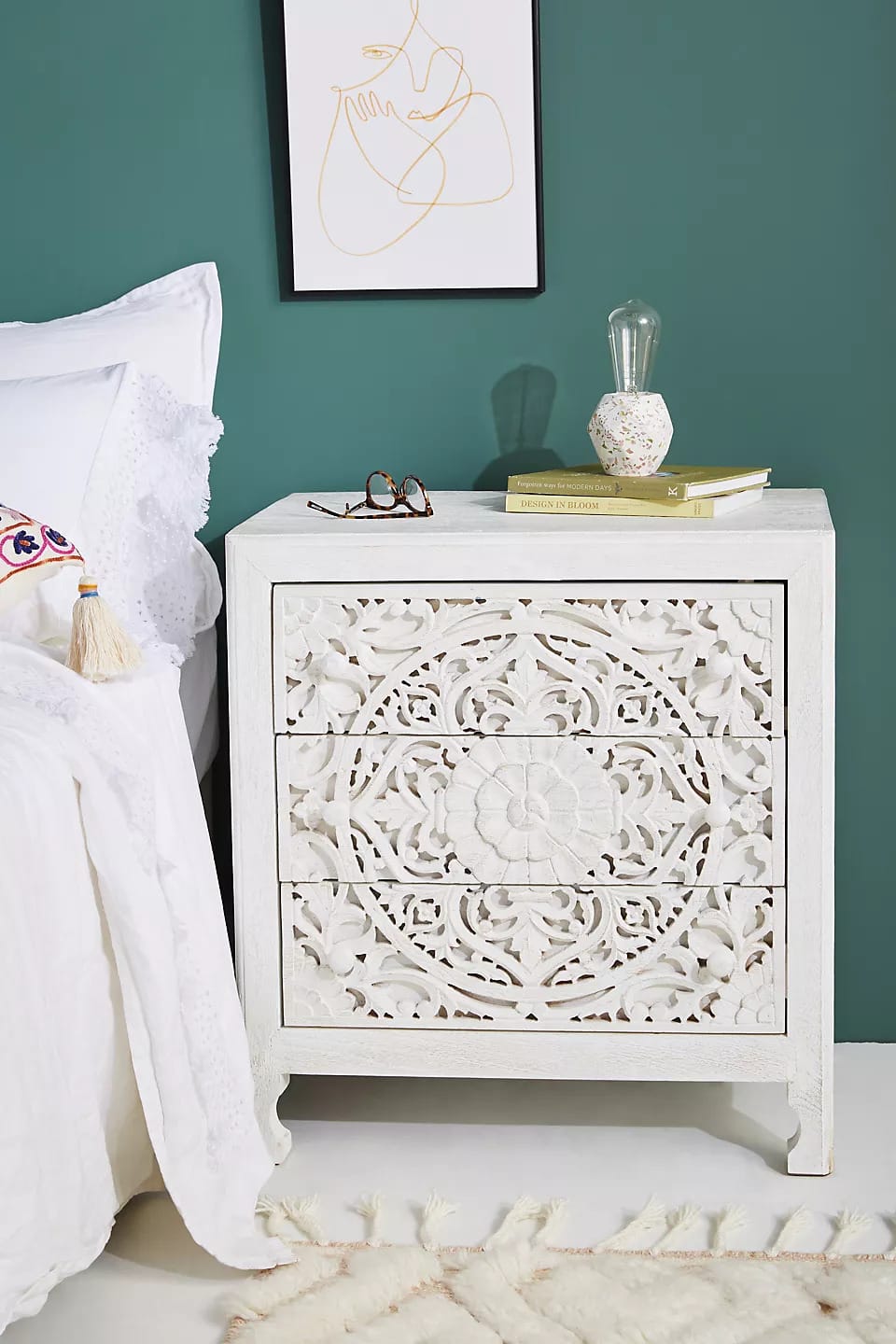 With the many furniture designs on the market these days, you often don't need to hang up a painting to show off your artsy side. This nightstand is no different, featuring elegant wood carving on the drawers.
Its floral pattern is both eye-catching and distinctive. Being just one color, though, it fits in seamlessly with existing furniture.It could be a great option if you're looking to add a natural touch to your bedroom.
Go for Elegance with a Glass Nightstand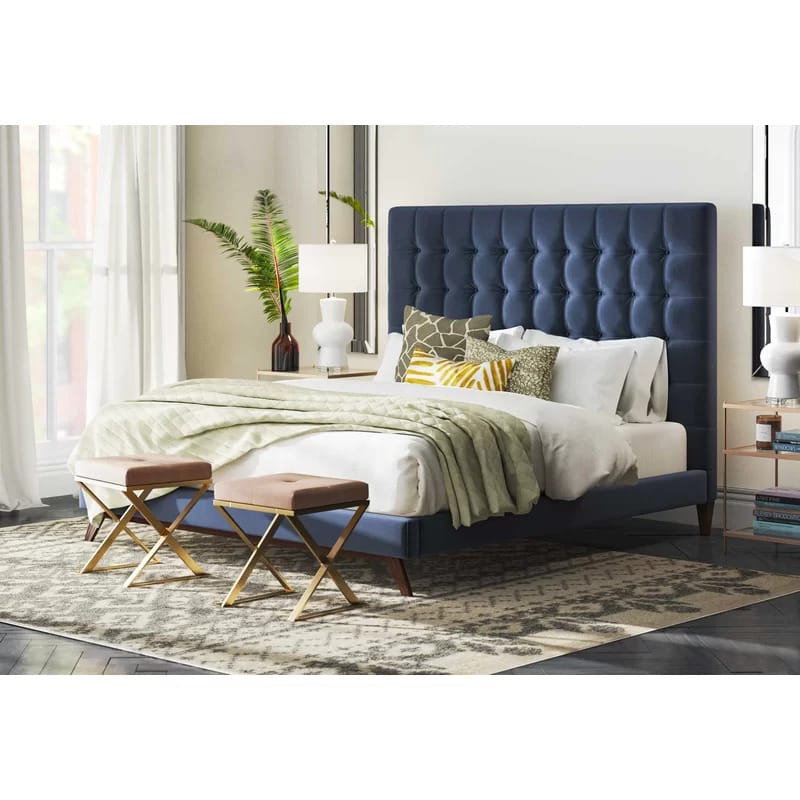 Sometimes glass is used sparingly in furniture, such as a glass top on a wooden table. But all-glass or mostly glass furniture does exist, and using it in a room can add a touch of elegance.
This nightstand has a gold-colored frame housing clear glass shelving and can add luxury to any bedroom. It doesn't go overboard, however, and can fit in well with your existing furniture pieces.
Add a Touch of Luxury With a Bedazzled Nightstand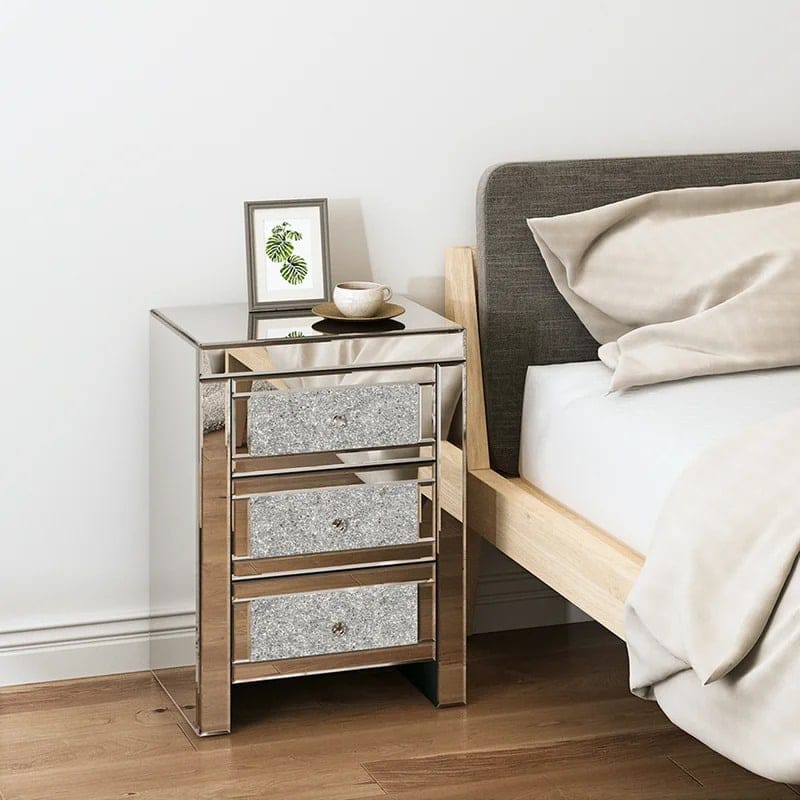 When it comes to luxury, you might think of gold-plated furniture and royal palaces. With a few simple touches, though, luxury is often not far out of reach. This nightstand embodies this concept, featuring bedazzled front drawers and a mirrored body.
It's a great option if you're looking for elegance and luxury in your bedroom. Even a simpler style, however, could benefit from a touch of sparkle. It could add some much-needed visual interest to an otherwise plain-looking room.
Go With High-Gloss Drawers for a Futuristic Look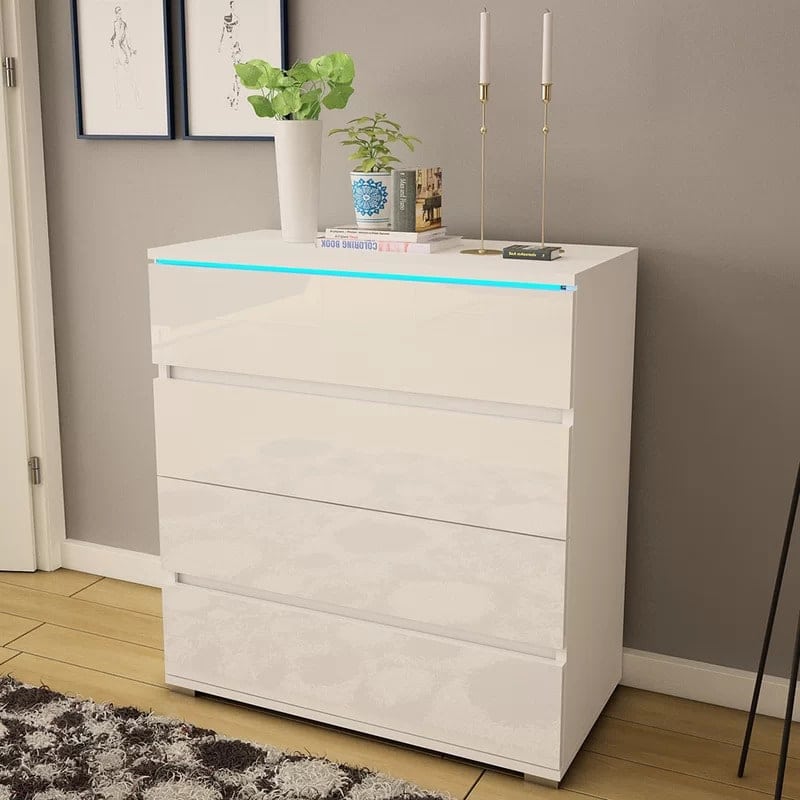 Futurism is a style mainly focused on clean lines, monochromatic colors, and a high-tech look. It overlaps with many elements of minimalism, while keeping a distinctive appearance.
Futurism isn't necessarily a common aesthetic, which can make it extra difficult to find a tall nightstand for your needs. Nevertheless, this nightstand fits the bill. Its sleek and high-gloss design makes it look like it's from a sci-fi movie. In addition, the LED lights at the top incorporate a major element of futurism– lighting.
Go Full Vintage With an Antique Trunk-Style Nightstand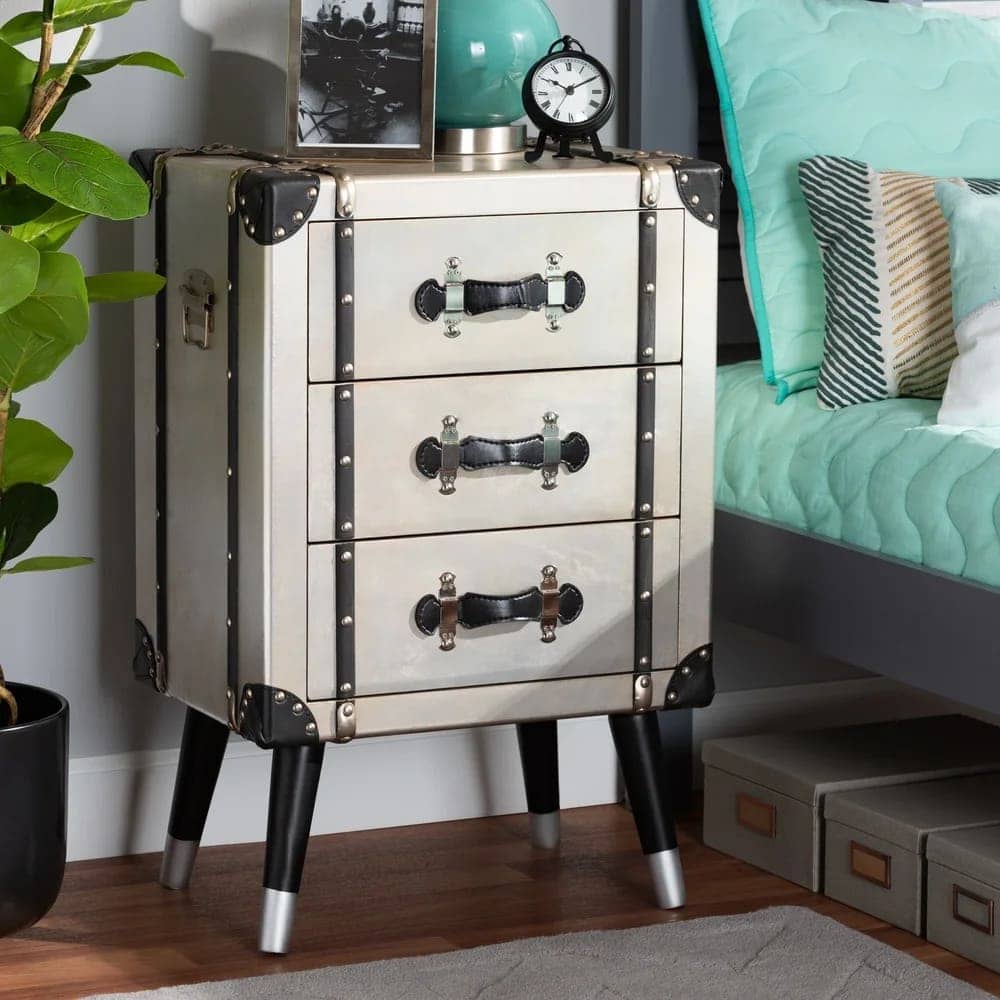 If you need a standout piece to complement a room, this antique trunk-style nightstand could perhaps be described as the embodiment of vintage. Between the faux leather handles and the metal rivets, each of its three drawers looks like a classic briefcase.
The nightstand also has an off-white color, making it fit in well with most furniture even with its unique design.
Use a Nightstand/Lamp Hybrid for a Unique Look
Most choose to put a lamp on their nightstand so they can turn it off easily when they go to bed. But did you know some nightstands double as lamps? This unique and practical nightstand has shelving and a prominent lamp on the top. Whether you're looking to save space or avoid the hassle of buying a new lamp, this could be a great option.
Aesthetically speaking, this lamp nightstand is a piece that can make any room stand out. It features Japanese-inspired lighting and a simple and sleek design.
Final Thoughts…
Trying to find nightstands for high beds can sometimes be difficult, but there are certainly options out there. Many tall nightstand options exist that can fit with a variety of different rooms and styles, from a more muted classic style to a bold and bright luxury style. They maintain practicality while adding a much-needed complement to existing bedroom decor.
Whether you're looking for extra tall bedside tables that stand out or fit in, hopefully this list gave you some ideas to make your bedroom truly personalized.