Decorated Life is reader-supported. When you buy through links on our site, we may earn an affiliate commission. Learn More
12 Bathroom Countertops Decor Ideas
If you want to add style to your bathroom, one easy way to do it is with your countertop decor.
Most countertop decor is functional – examples are high-quality decorative soap dispensers, toothbrush holders, and accessories. However, you can also add other items like plants and seasonal decorations.
If you're ready to give your bathroom a makeover, try any of these bathroom countertop decorating ideas to make your bathroom feel more put together.
Display a Vase Between Double Sinks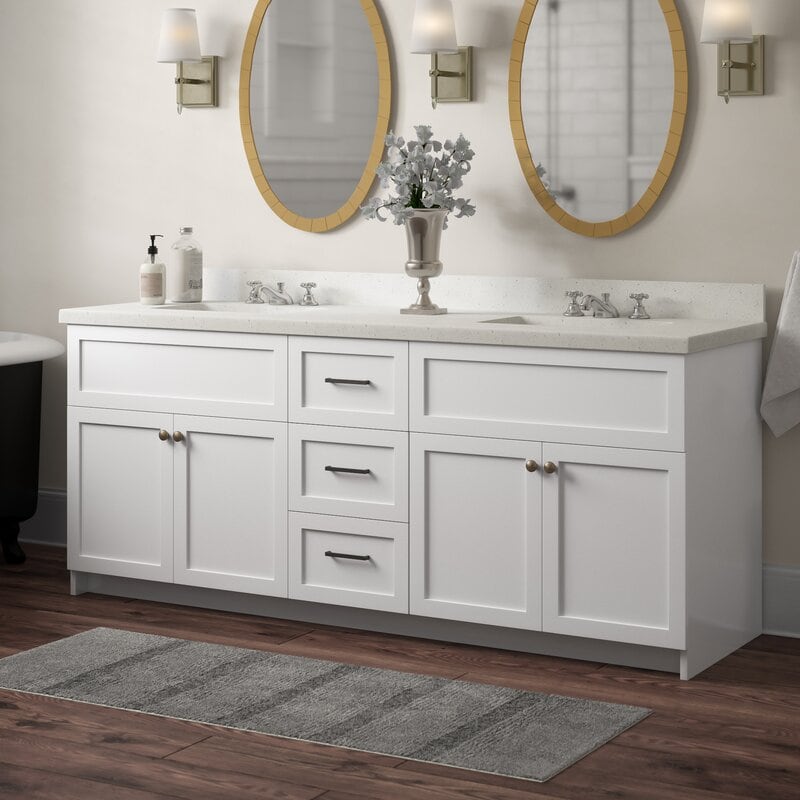 If you have double sinks, a great way to create separation of space is to place something in the middle of them. One option is a pretty vase like this from Wayfair.
Vases are great as bathroom decor since you can switch out the flowers or greenery depending on the season. You can go with faux flowers so that they'll last long or use fresh cutting to liven up your space.
Warm-Up Cool Bathrooms with Rattan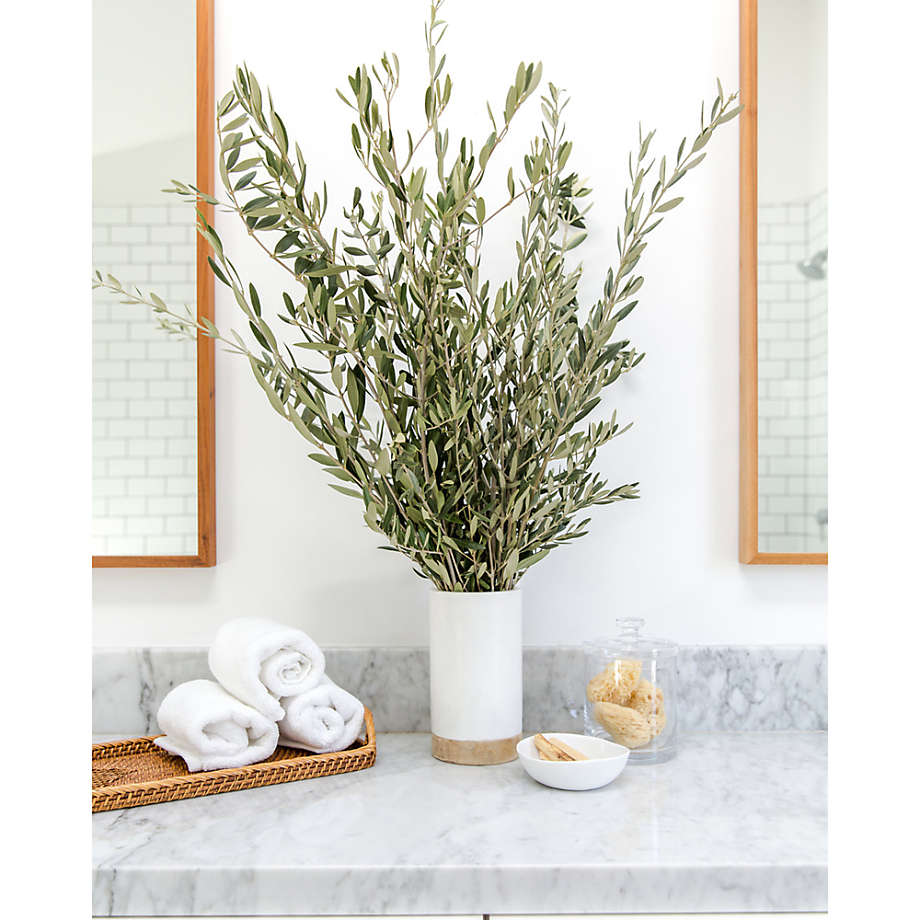 If you have an all-white bathroom or one painted in a cool color, add some warmth with rattan accessories.
Using a rattan tray to corral items is simple bathroom counter decor that's functional and looks great. You can find this piece from Crate&Barrel. In addition to the tray, they also carry baskets, a tissue box cover, and a wastebasket in the same material.
Store Your Toothbrushes in Style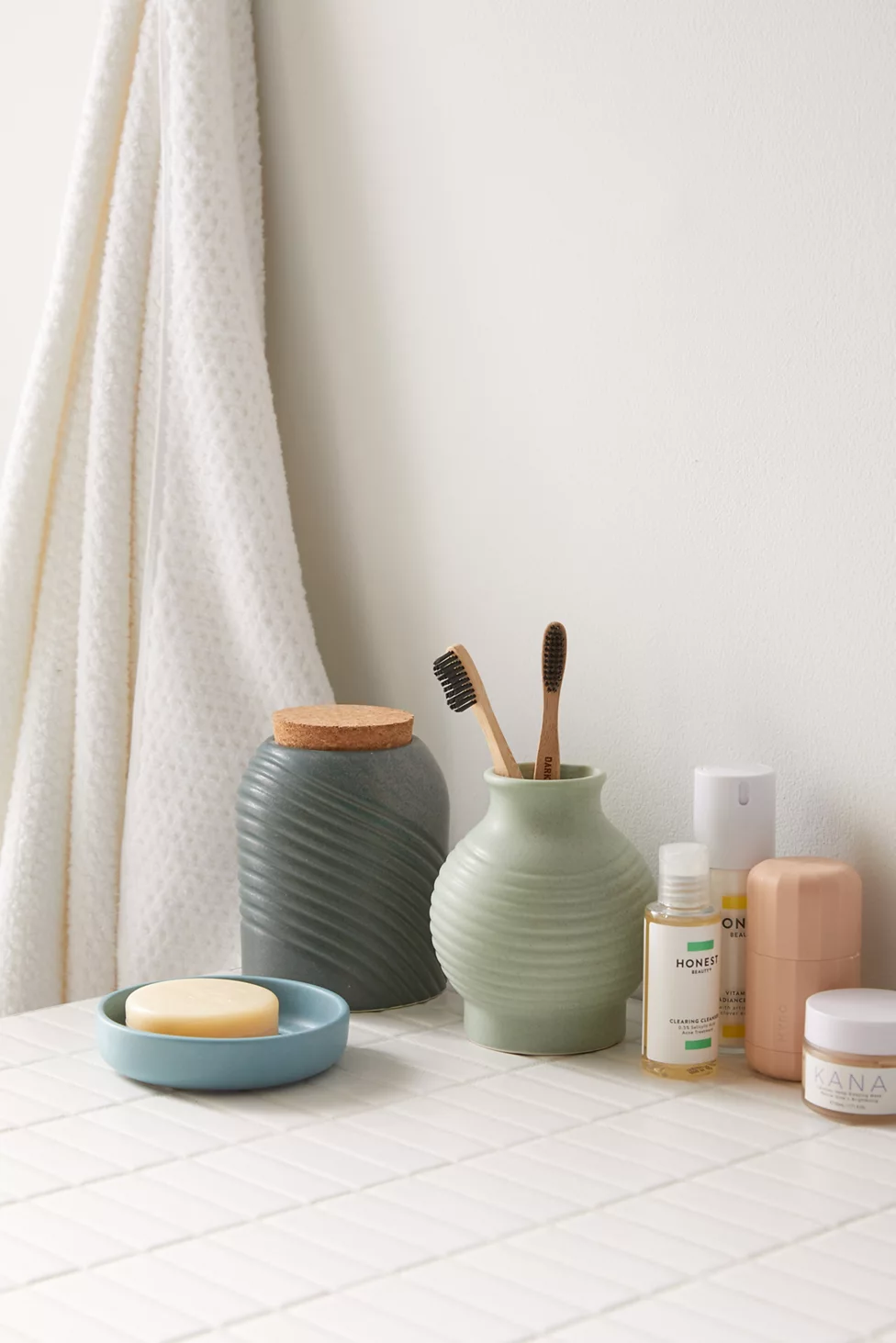 Do you keep your toothbrushes on the counter? If so, turn your toothbrush holder into a piece of decor.
You can use a pretty ceramic vessel like pictured or use a cute tumbler. For a layered look, add similar pieces in different shapes and sizes to store other toiletries like q-tips and bar soap.
Choose Your Soap Dispenser Wisely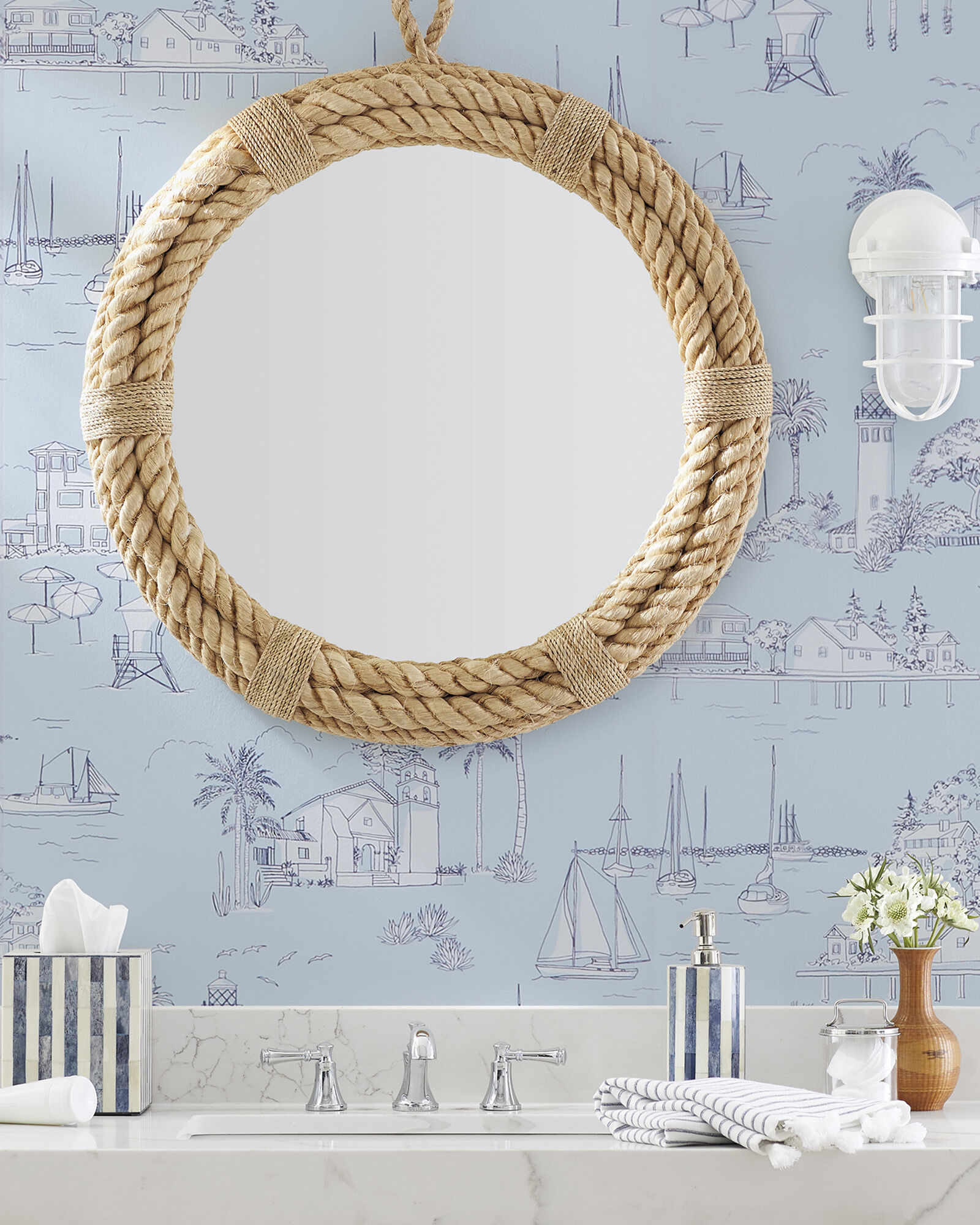 If you like minimal bathroom counter decor, you need to choose your soap dispenser wisely. Because when you're intentional, the only counter decor you need are your functional pieces.
Try a blue and white soap dispenser like this from Serena & Lily if you have a coastal bathroom. For a modern look, try marble, and if you like farmhouse style, choose a Mason jar dispenser.
Keep a Small Succulent on the Counter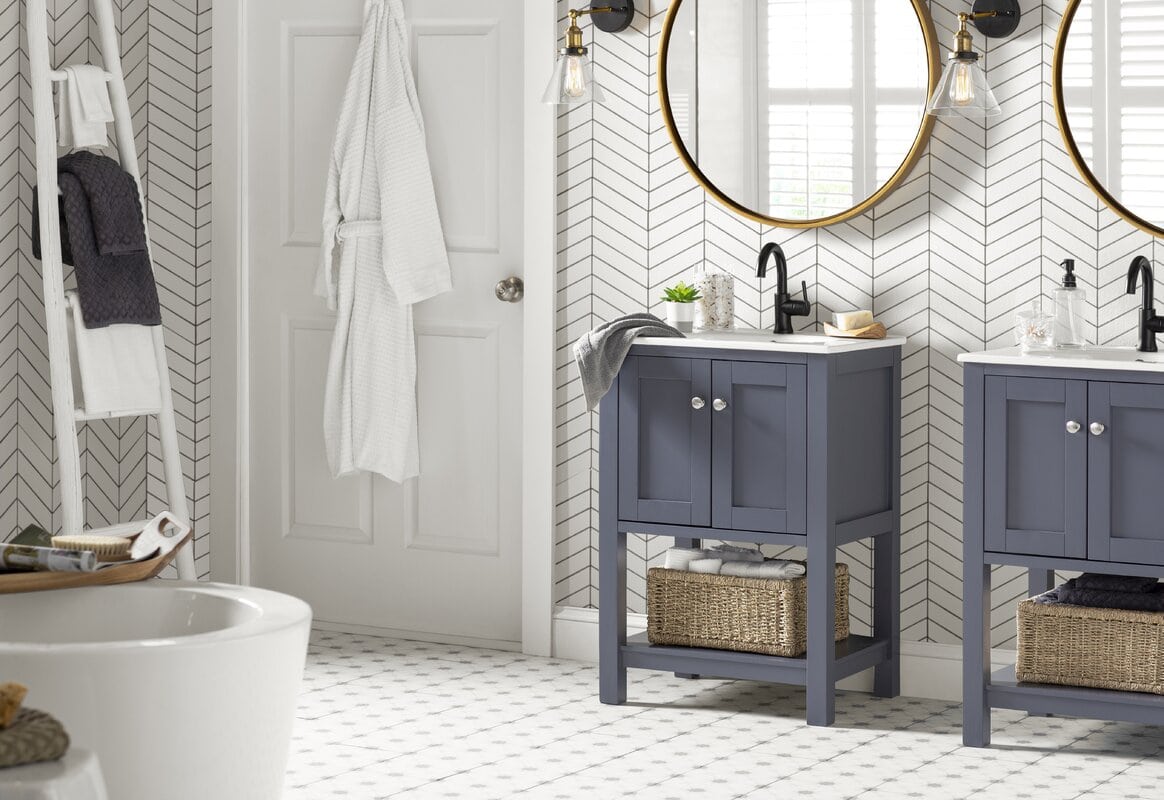 Low-water plants like succulents are great bathroom countertop decor. These types of plants do great in humid rooms like bathrooms.
Of course, if you're still afraid you can't keep them alive or just don't want dirt on your counters, you can go for a faux version like these.
Put Face Towels in a Woven Basket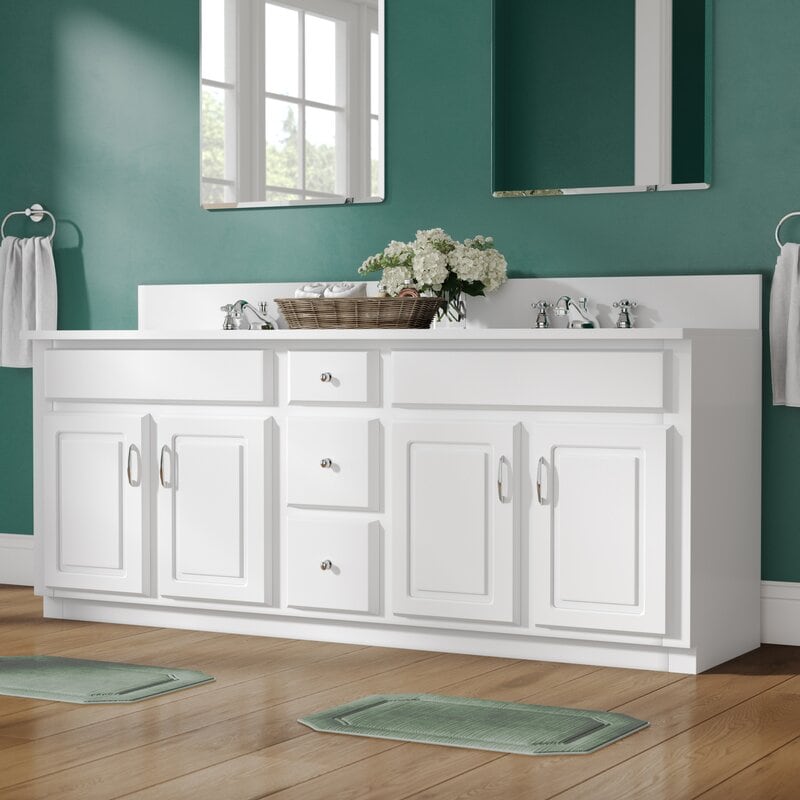 If you like to keep extra face or hand towels easily accessible for guests, display them in a woven basket.
A pretty wicker or rattan basket filled with high-quality towels doubles down as countertop decor. You can even add flowers or a large candle behind the basket.
Decorate with Apothecary Canisters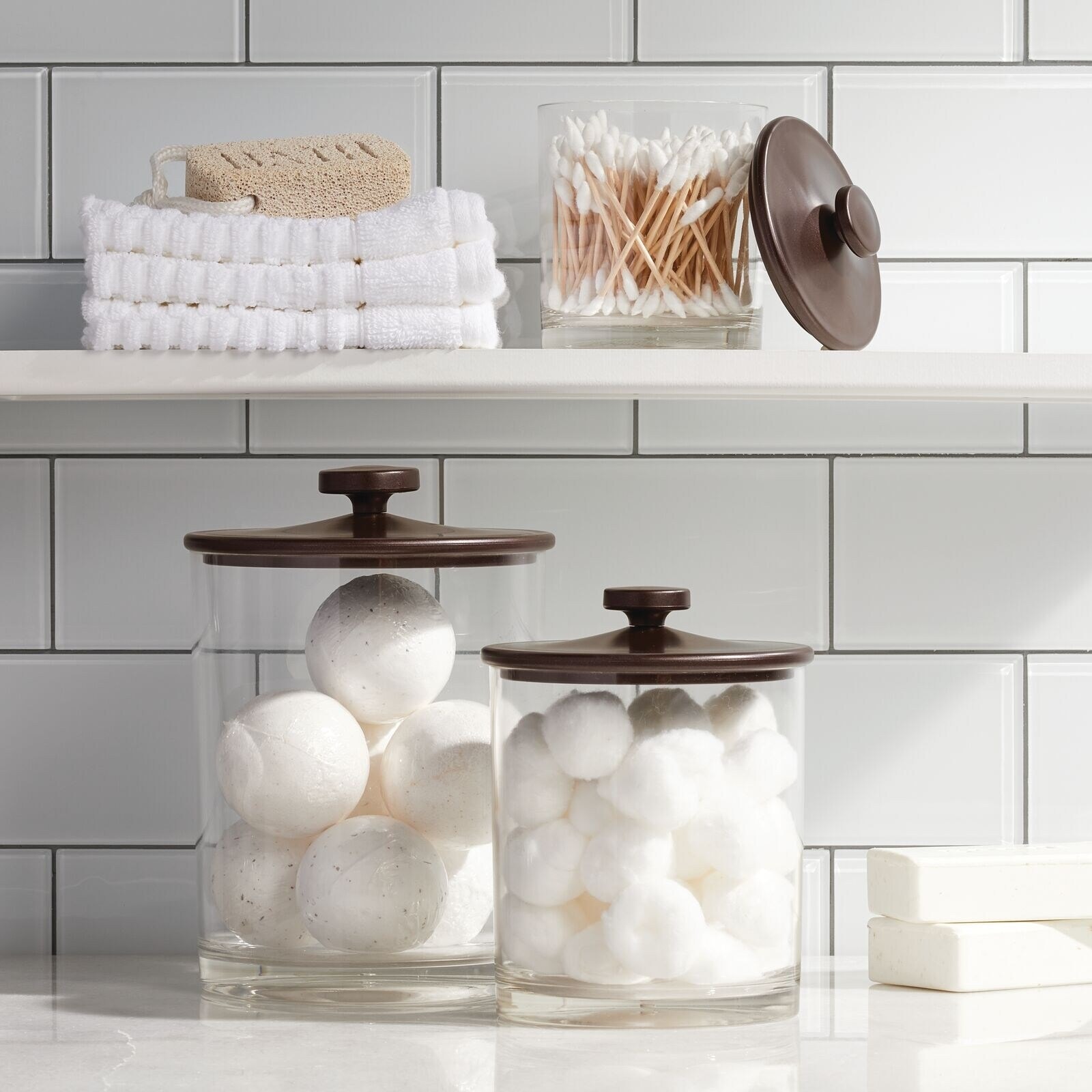 Do you need bathroom counter accessory ideas? If so, try apothecary canisters.
These canisters are perfect for storing cotton swabs, Q-tips, extra makeup, small soaps, and more. Best of all, these work for any decor and will never go out of style. You can find this version with several color lids to choose from at Overstock.
Corral Items with a Pretty Tray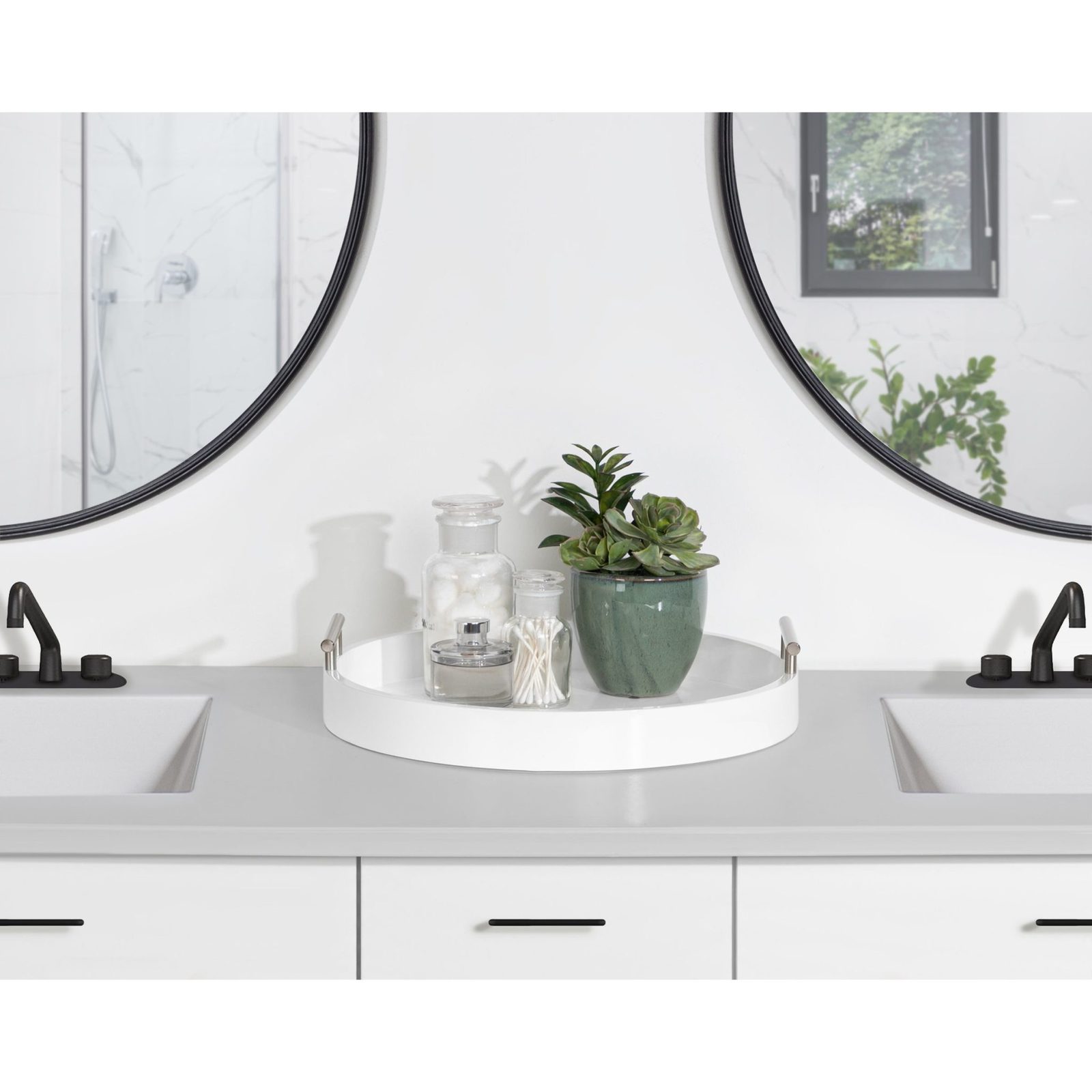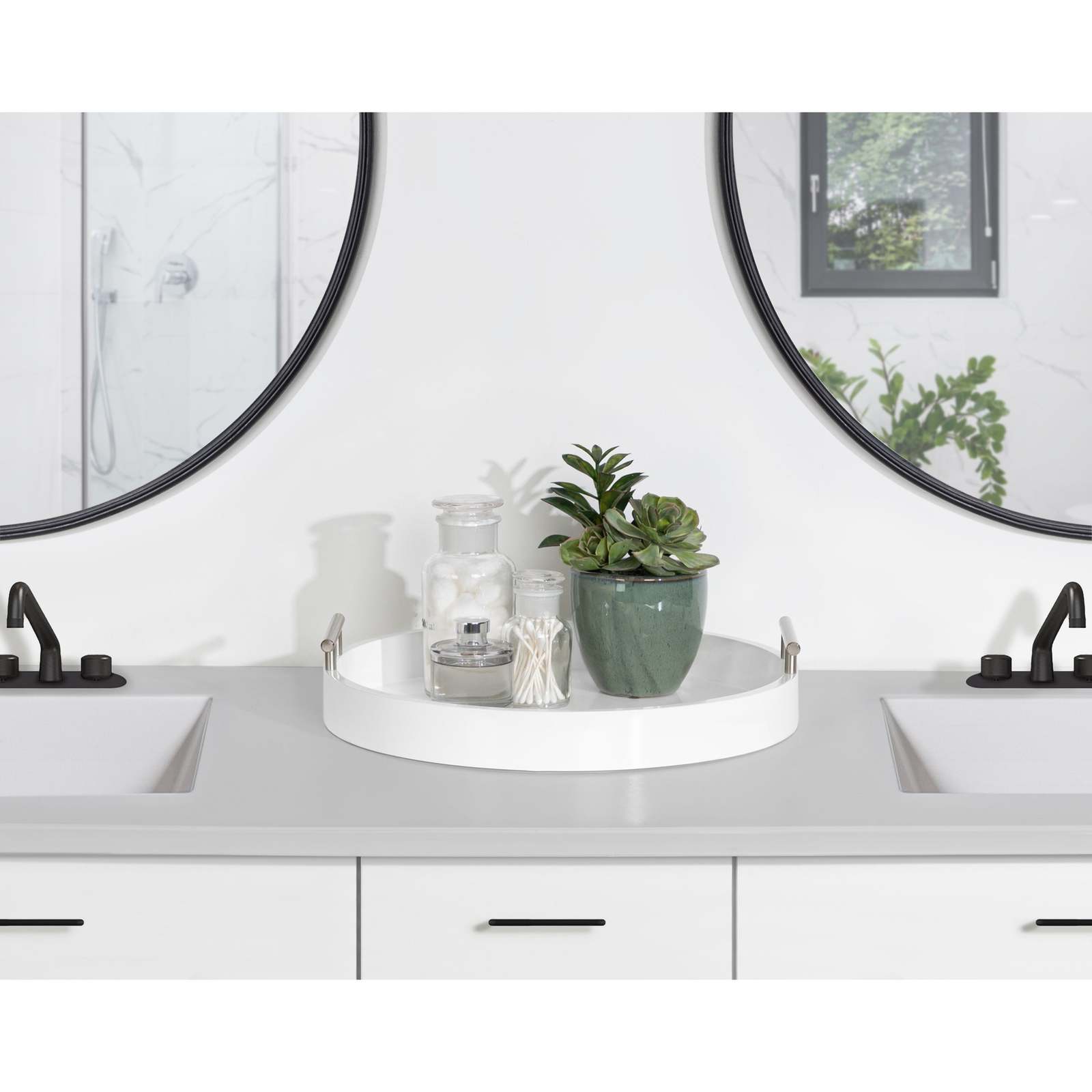 If you have a large counter with double sinks, a decorative tray in the middle works perfectly for corralling items that both people use. For instance, you can put your Q-tips, face wash, and other everyday items on the tray.
This white version with handles works perfectly for any bathroom style and provides a clean backdrop for your decorative canisters.
Add Ambience with Candles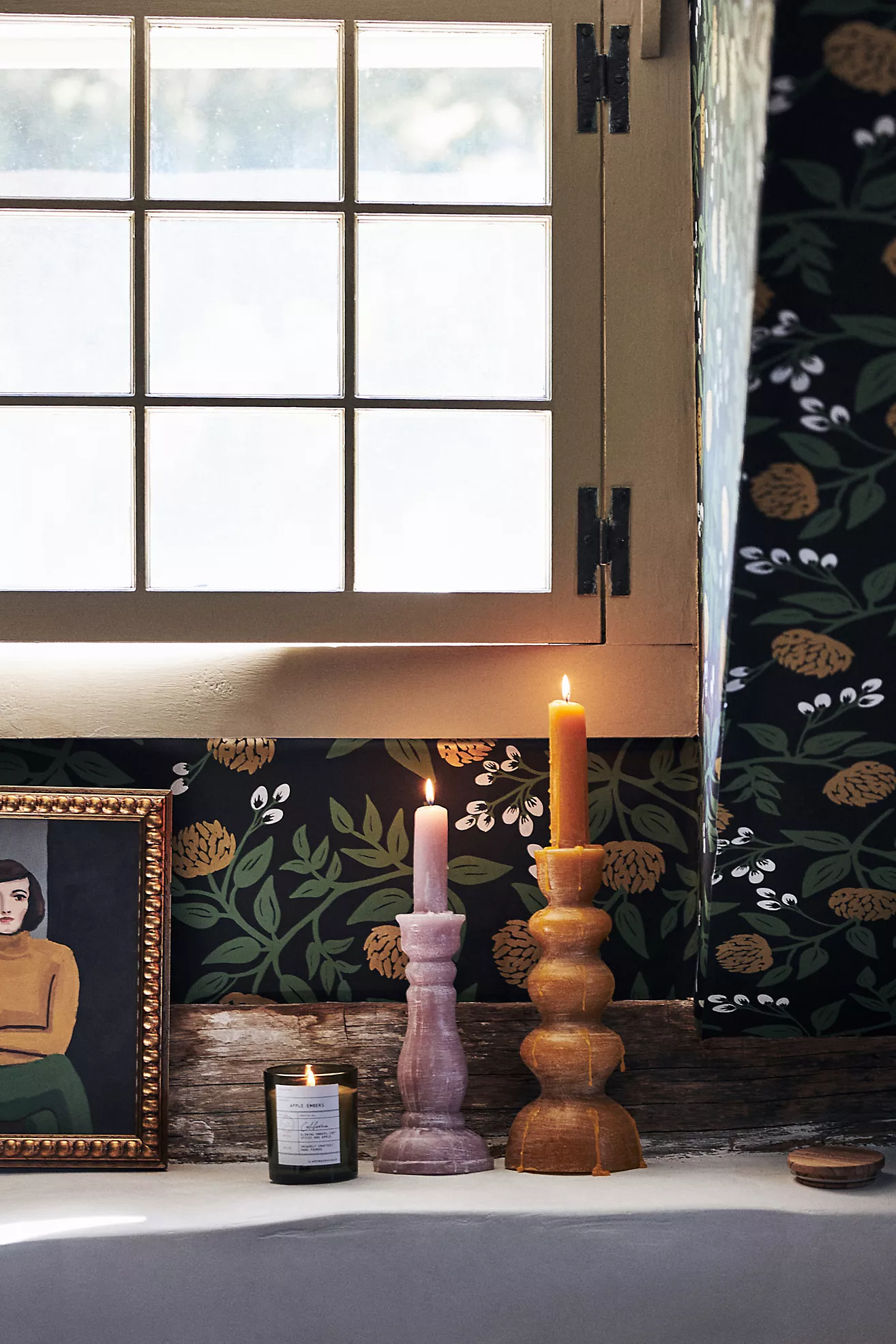 If you want to add a bit of drama or ambiance to the room, bring in some unique candles.
I love these taper candles from Anthropologie for their shape. The thick decorative base means you don't even need a candle holder. Plus, you can move these over to the bathtub when you're ready to soak for the perfect relaxing setup.
Show Off Your Soap with a Decorative Dish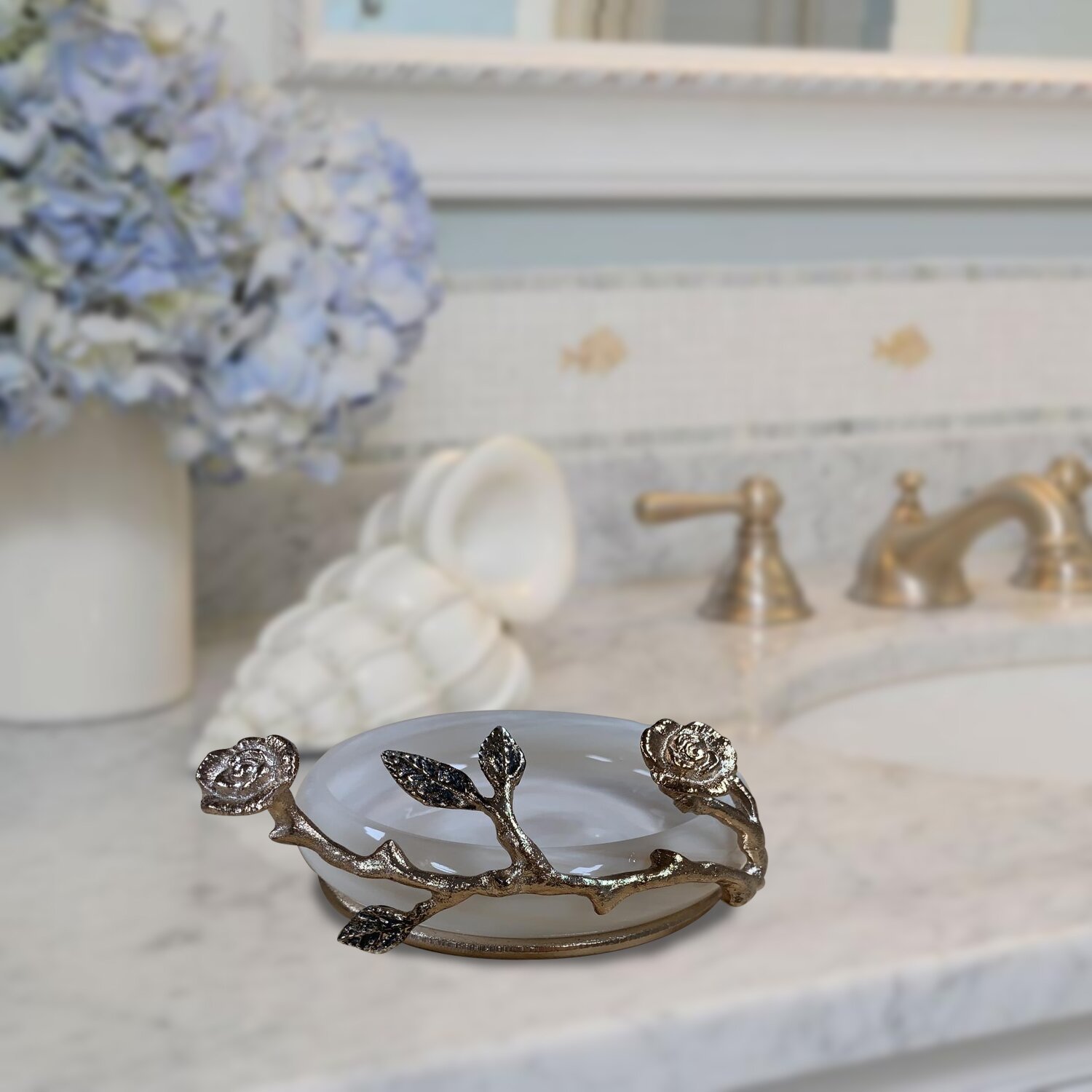 I'll say it again – the best bathroom counter decor is when function meets beauty. And if you're looking for a pretty way to show off something as simple as bar soap, a dish like this can help.
This dish is a combo of brass and glass. It would work well in minimal, modern, and glam-style bathrooms.
Send a Message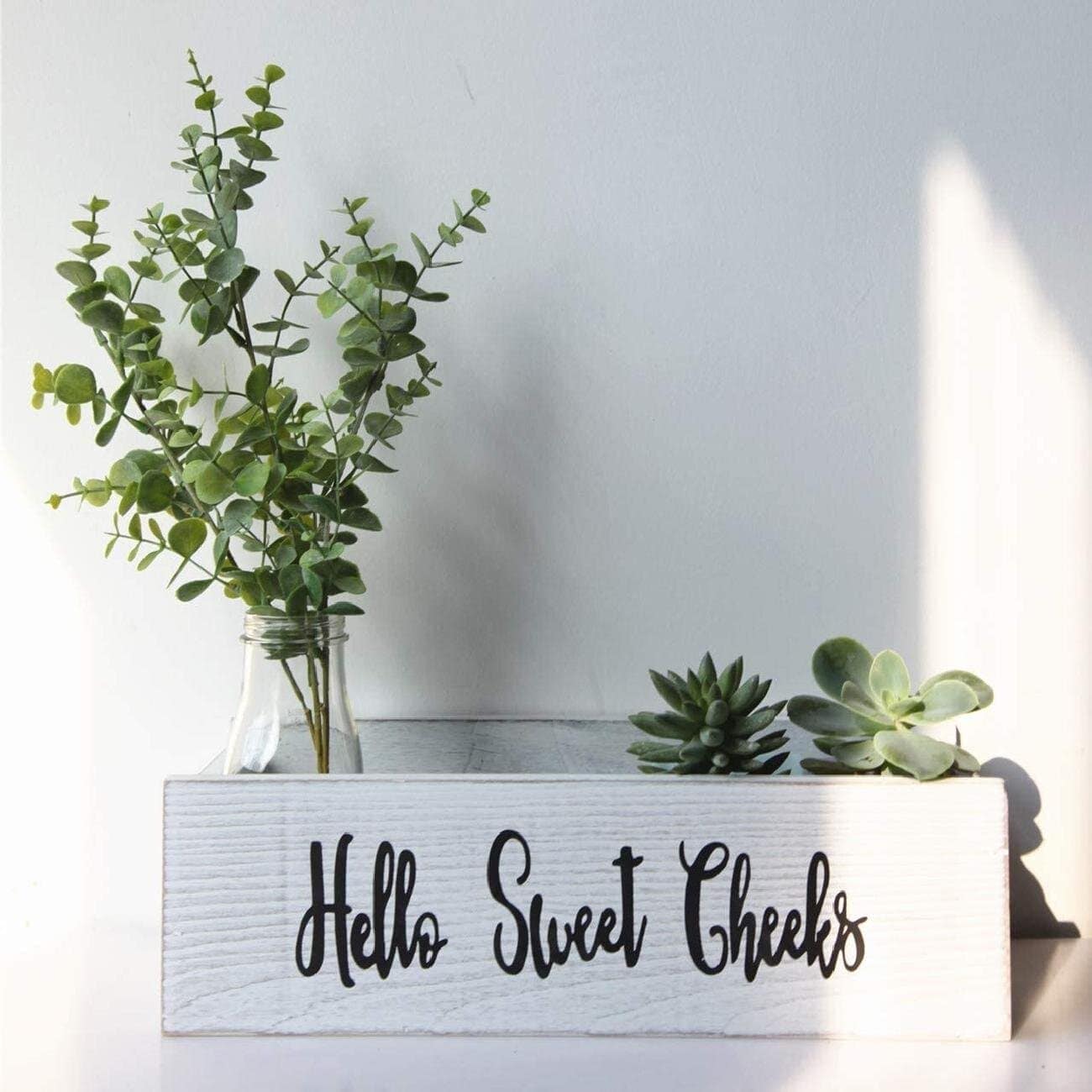 If you like to display cute sayings in the bathroom, consider an item like this. This box is actually a free-standing toilet paper holder.
You can put this on your counter and fill it with toilet paper as intended or load it up with plants and canisters. You can find this same toilet paper holder with many different sayings.
Accent with Wood Accessories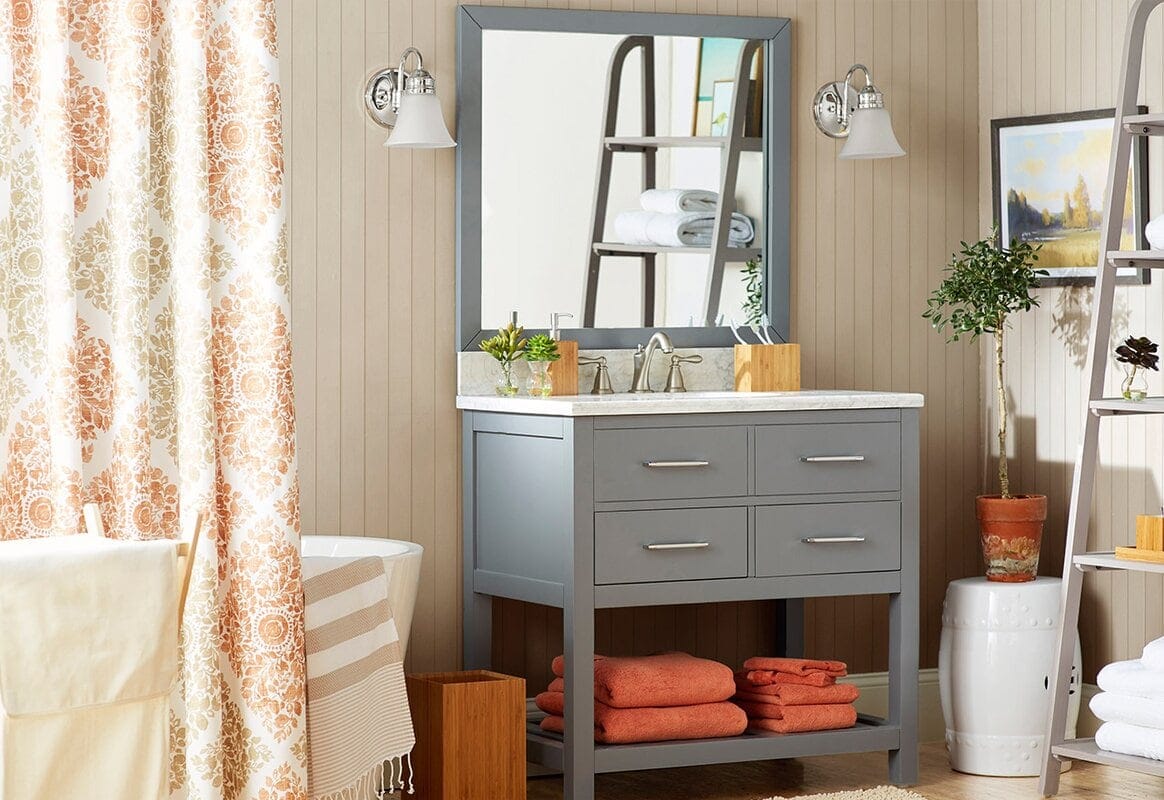 If your bathroom vanity and counters are a light or cool color, you can bring in wood or bamboo to warm them up.
The photo's bamboo toothbrush holder and soap dispenser look great against the blue in the vanity and help bring in another layer of texture.
Final Thoughts
If you're wondering how to decorate a bathroom countertop, the best strategy is to choose decorative versions of the items you already need. This means taking your time and choosing high-quality toothbrush holders, soap dispensers, and canisters.
You can add other decor like signs, plants, and candles if you like a collected look. On the other hand, just stick with functional items if you prefer minimal style.