Decorated Life is reader-supported. When you buy through links on our site, we may earn an affiliate commission. Learn More
20 Best Coastal Bathroom Ideas to Use in Your Home
Coastal bathrooms are bright and airy with an almost spa-like feel.
If you like this look, you'll be glad to know achieving it is easy. Simply start with a fresh and bright color palette, then add in some blues and natural materials like wood, rattan, or wicker. The result will be a beautiful, modern beachy bathroom.
If you're ready to get designing, here are the top 20 coastal bathroom ideas to inspire you.
Keep the Colors Bright and Fresh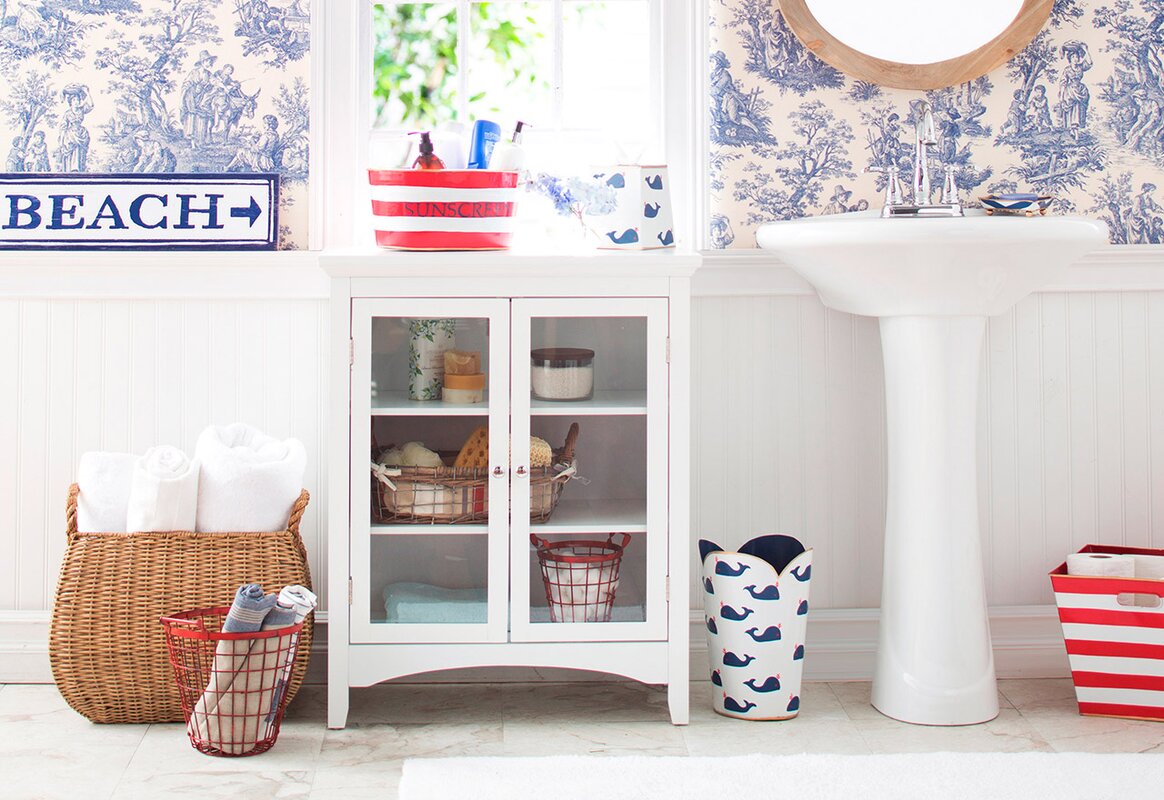 Coastal-styled rooms have light and bright color schemes. You'll see a lot of blues, greys, and bright whites on the walls and the cabinets.
If you're looking to brighten your bathroom, bring in some bright white elements as pictured. You can do this with cabinets, sinks, towels, and accessories.
Bring in a Teak Wood Step Stool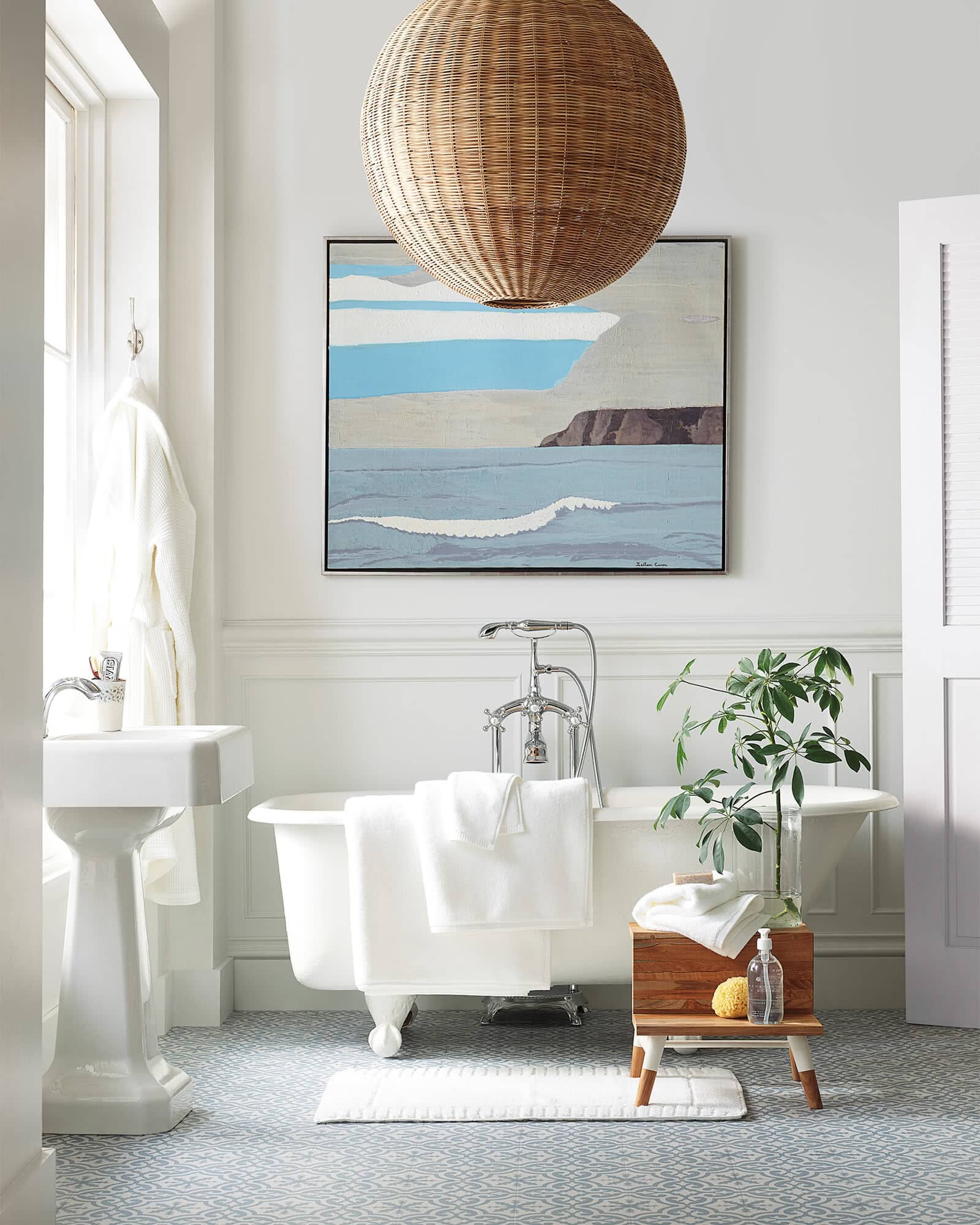 If you're going for a modern coastal bathroom, keep your color scheme light and bring in warmth with rattan and wood. An easy way to do this is with a naturally water-resistant teak wood step stool.
This step stool is not only convenient for small kids who need to brush their teeth or wash their hands but can be used to store bath supplies or house a plant.
Try a Blue Vanity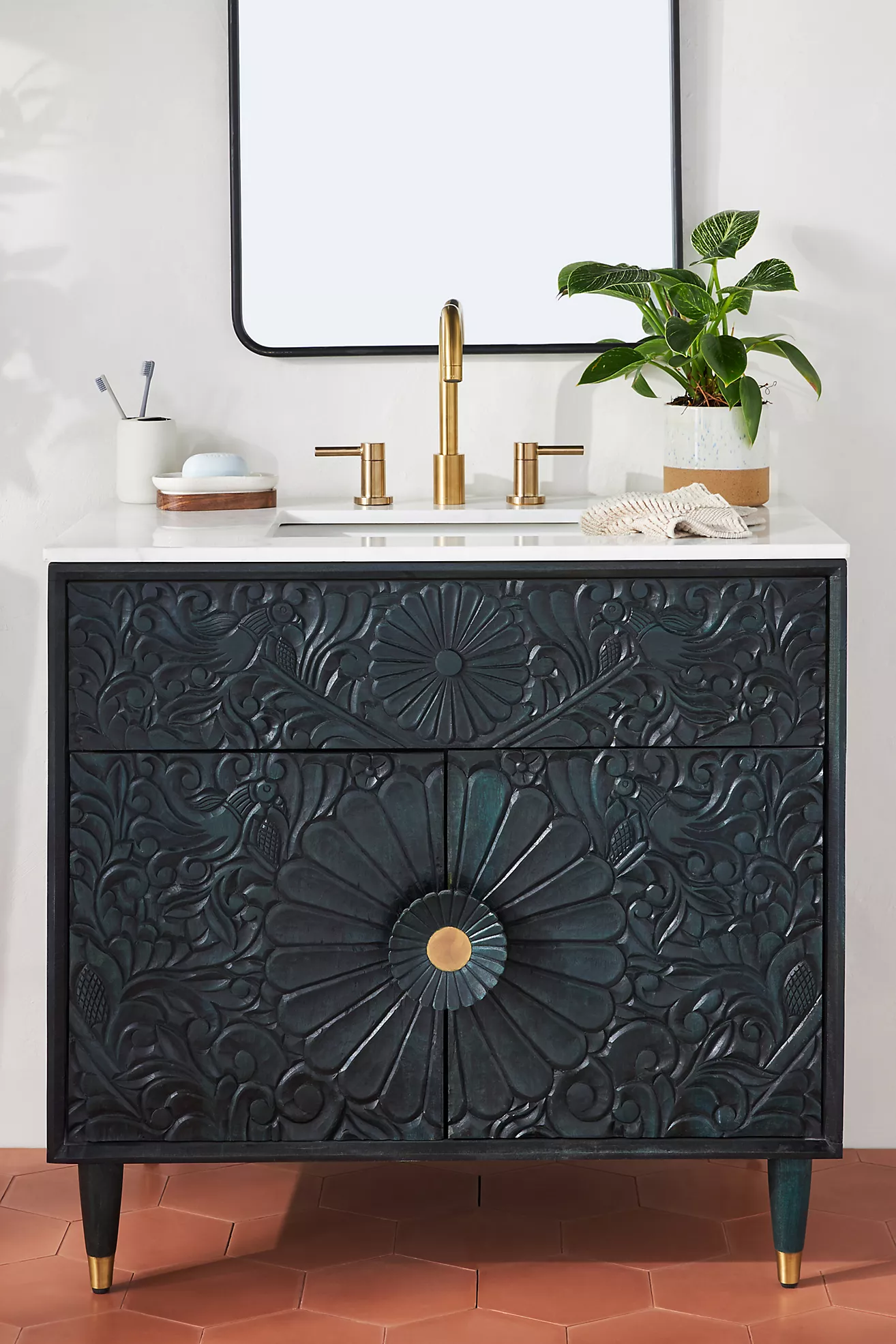 Blue vanities are great options for a beach coastal bathroom. You can opt for a simple shaker-style cabinet or go bold with an ornate indigo vanity as pictured.
This vanity comes with a white marble top and a beautiful floral design. It would work well paired with a rattan mirror and light floors.
Pull in a Fun Shower Curtain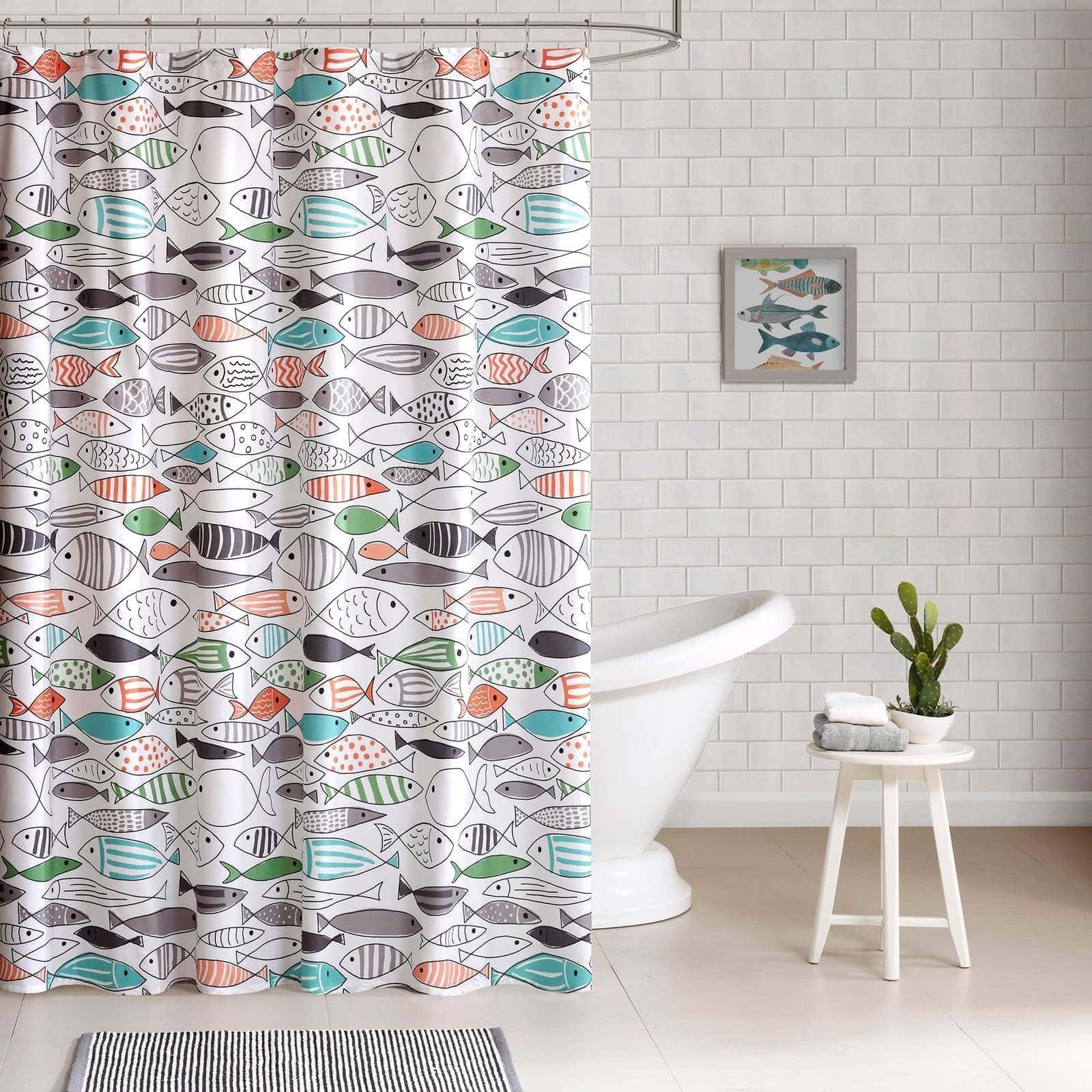 If you're decorating a beachy bathroom for kids, pull in some fun with the shower curtain. A shower curtain is a great way to add interest to the room. And since shower curtains aren't permanent, you can take more risks with your choices.
This curtain features many colorful fish on a white background. It would look great in beachy-inspired or all-white bathrooms.
Collect Dirty Clothes in a Wicker Hamper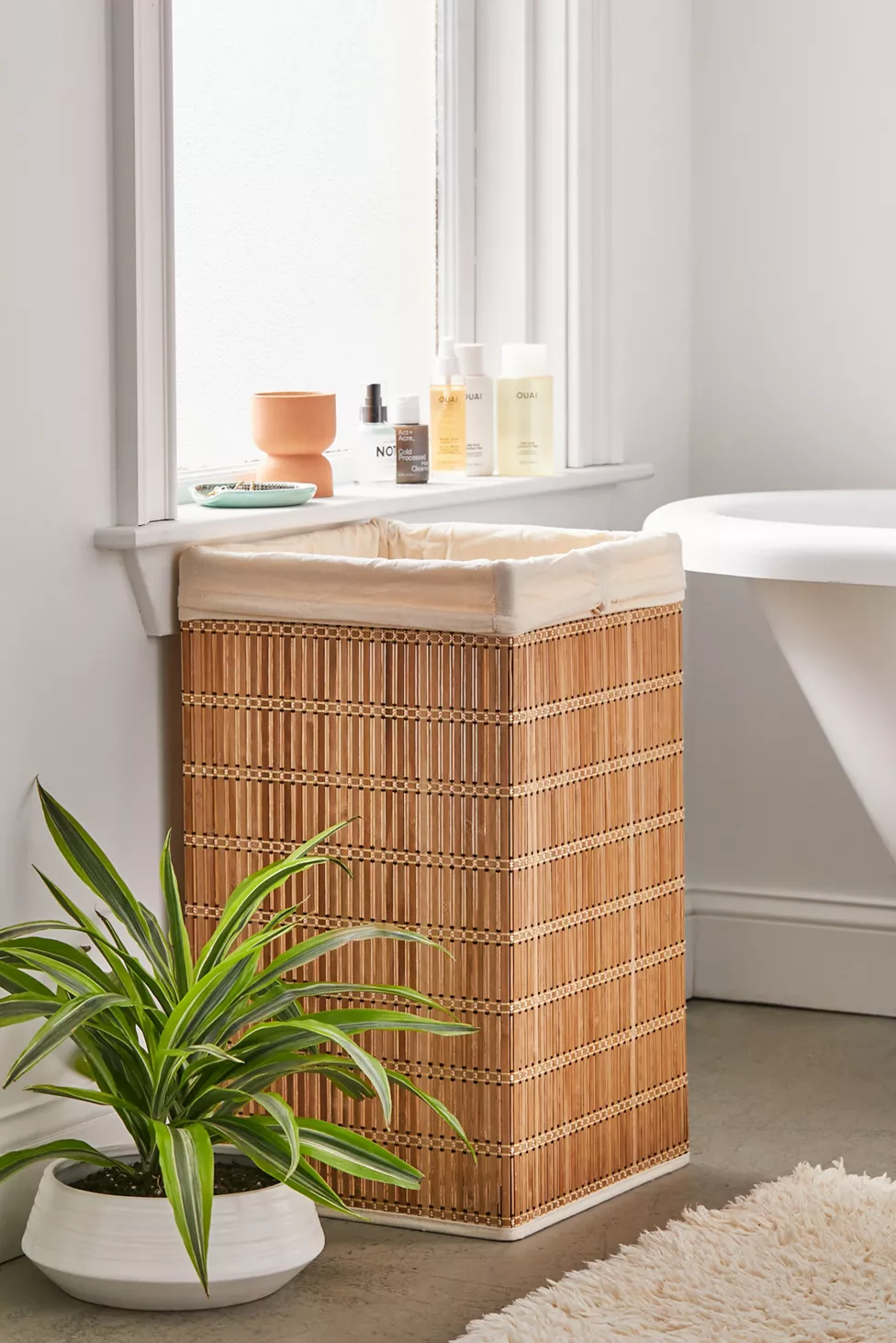 In coastal bathrooms, you need to balance the light and bright colors with warm textures. Luckily, you can easily do this with wood, rattan, and wicker pieces.
A wicker hamper like this is an excellent addition. Not only is it large enough to toss all of your dirty clothes into, but it adds texture to the room.
Store Your Essentials in Glass Canisters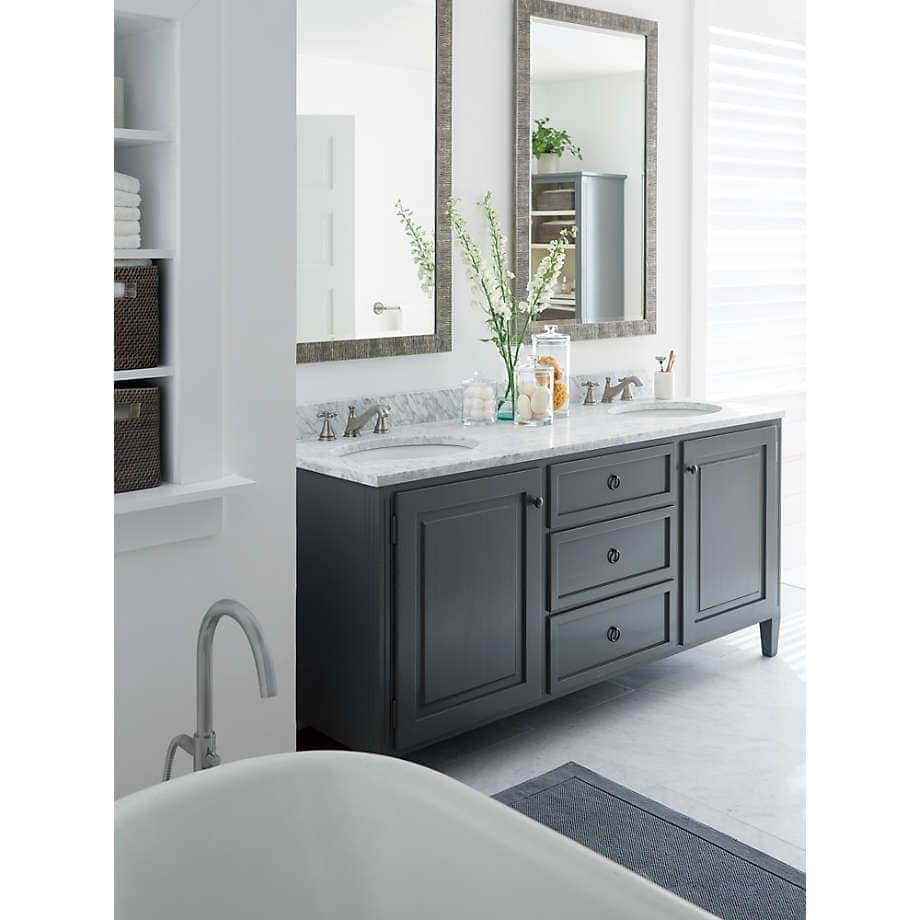 Playing on the light and airy look, you can store all of your bathroom essentials in glass canisters. Doing this creates a very clean minimal look that ties perfectly into a modern coastal bathroom.
To amplify the look, consider getting a couple of brown body sponges to put on display or wooden-handled brushes and combs.
Hang a Gold Vanity Light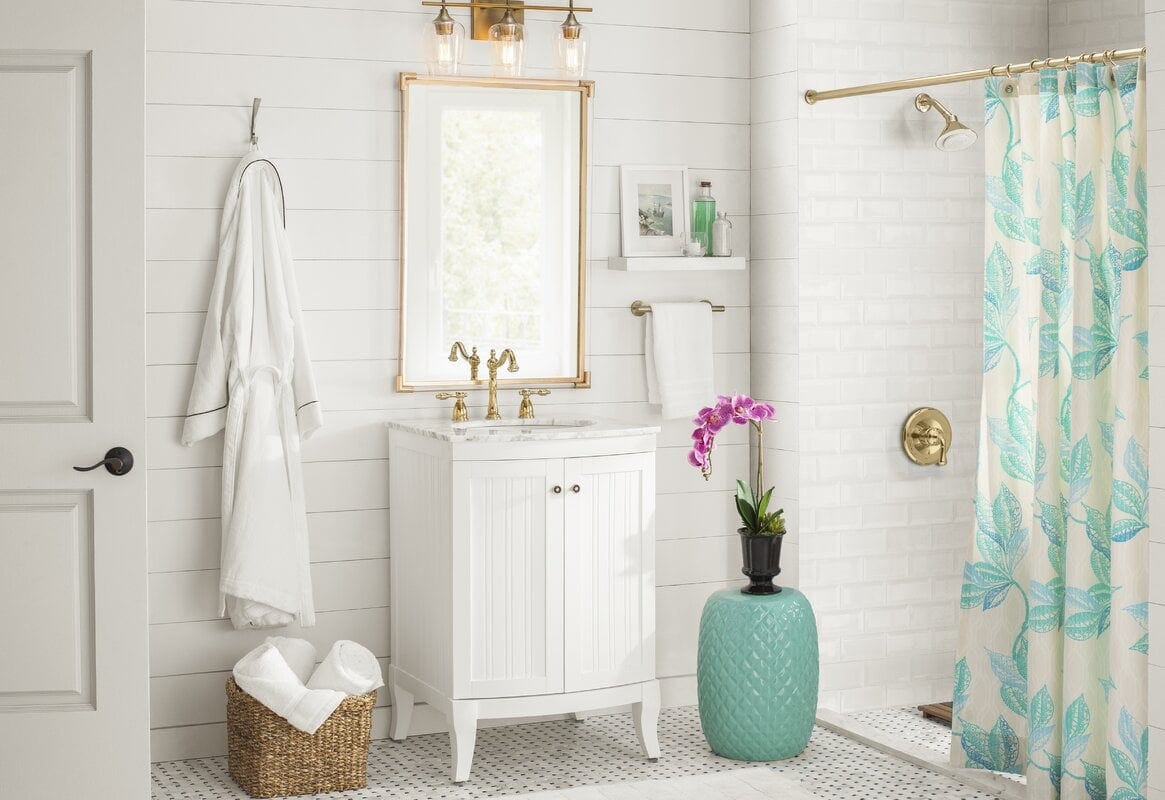 Gold accessories work beautifully with blues, greens, and whites. You can bring in gold with a vanity light hung over the bathroom mirror and use it for your cabinet pulls.
If you're completely redoing your bathroom, you can even go as far as installing a gold shower head and shower handle.
Match Your Mirrors with a Medicine Cabinet Surround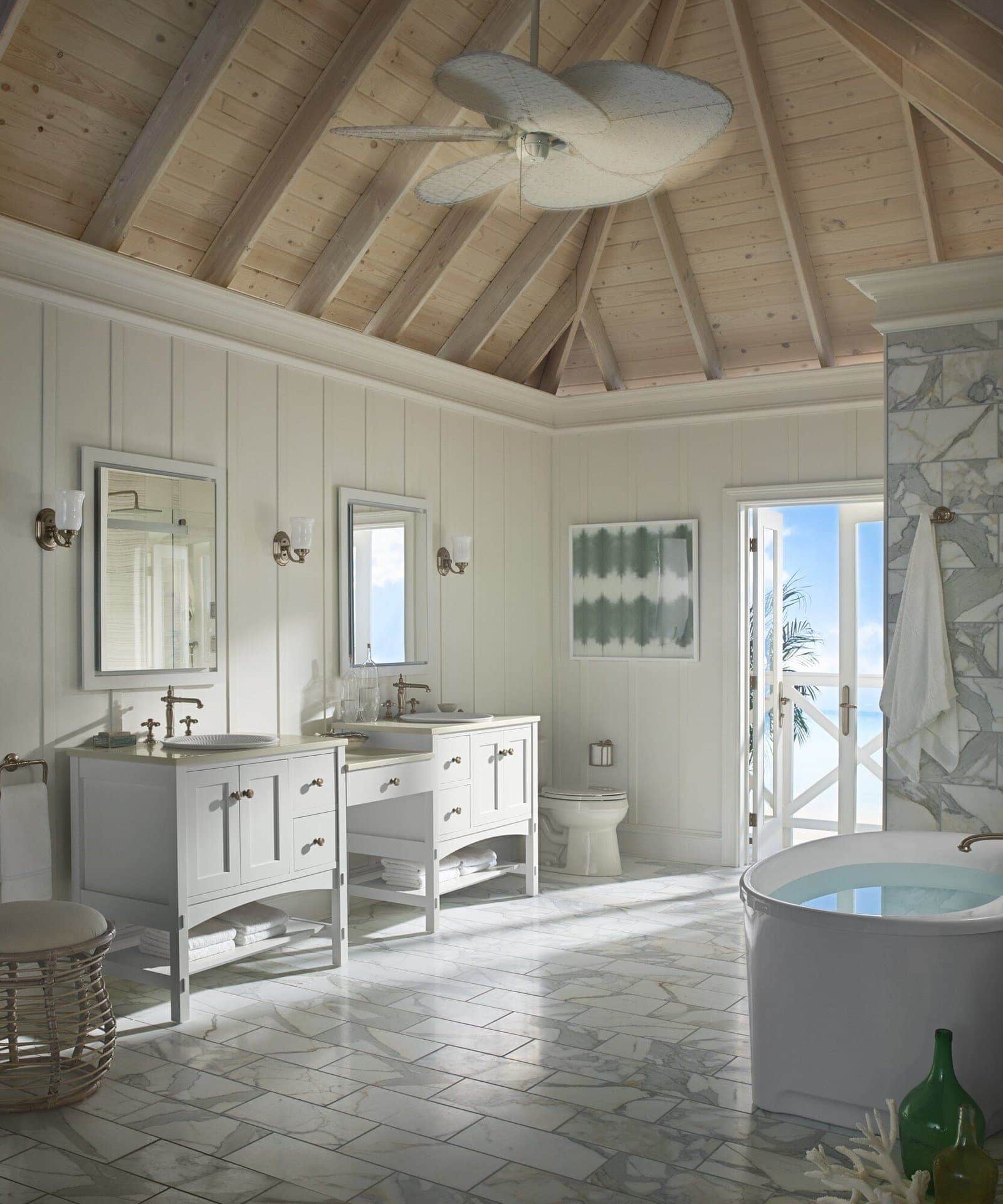 If you have a double vanity and each has its own medicine cabinet, you can create a uniform look with one of these medicine cabinet surrounds. These surrounds come in nine colors, including linen white and khaki white oak – both options would look great for bathroom coastal decor.
These will look good with blue, white, or wood vanities.
Opt for a Grey Vanity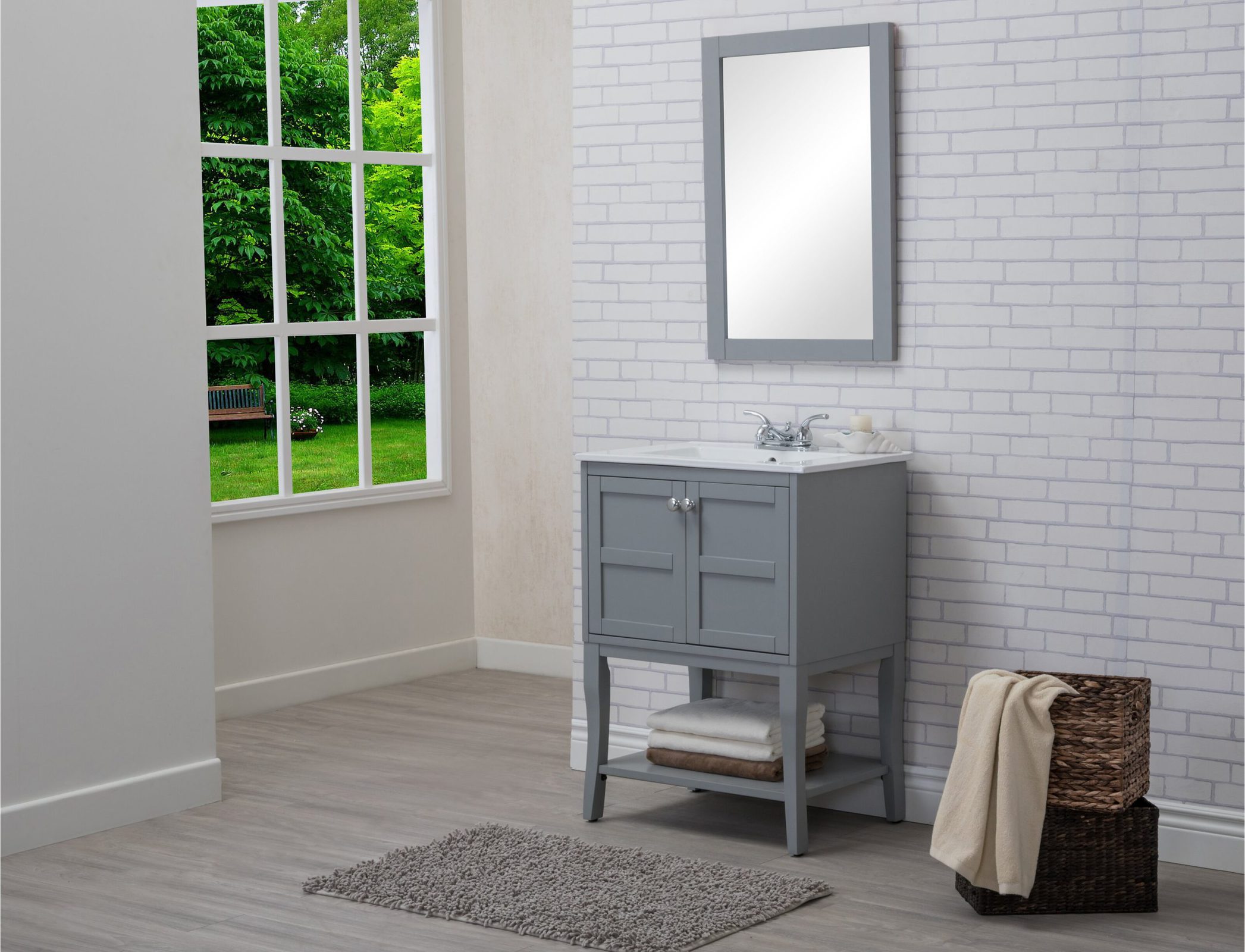 If you're a neutral lover and a little too scared to go with a blue vanity, tone it down a bit and go with gray. Gray will go with any classy beach theme. Plus, if you decide you're no longer into the coastal decor, it will easily go with other styles.
If you don't like the gray on this one, you can also get it in white, coffee, or navy.
Relax with a Live Edge Bath Caddy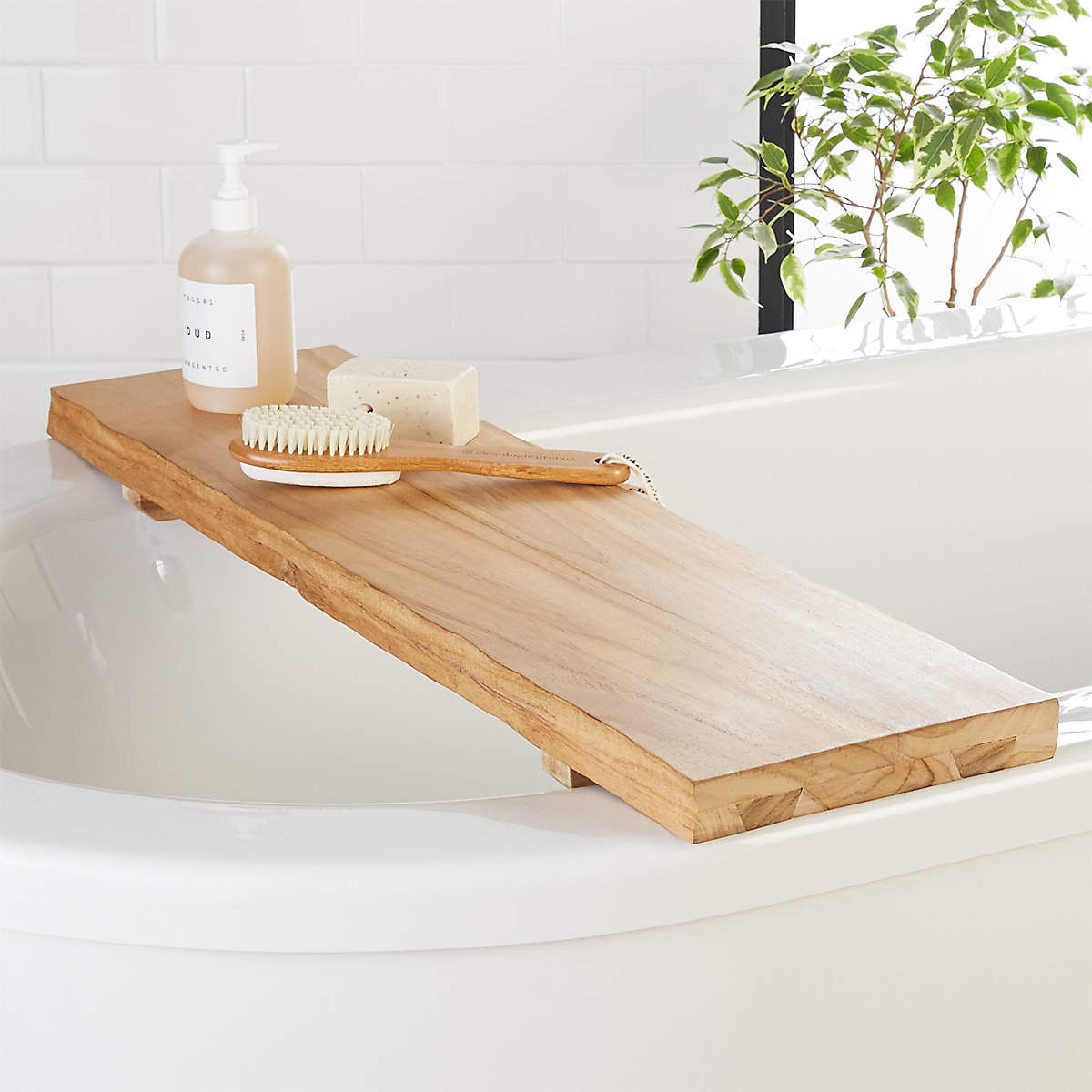 If you have a large bathtub and enjoy taking long baths, make them more comfortable with a live edge bath caddy. This caddy comes in two shades: wood and charred.
This piece is teak wood, so it's naturally water-resistant and a perfect touch of warmth to add to your tub.
Install a Nautical Rope Mirror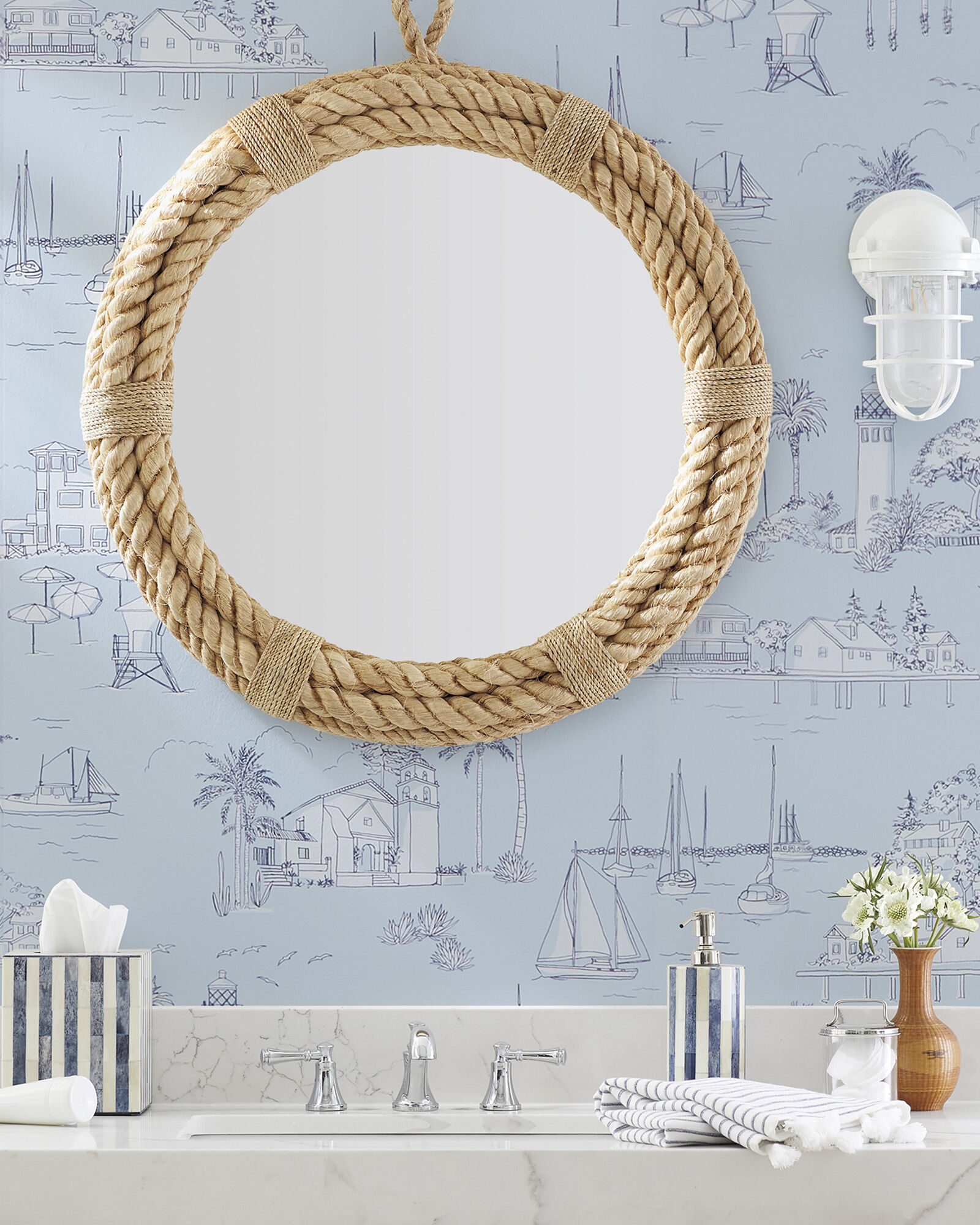 Rope is often correlated with nautical design since it's used on boat anchors. And now you can pull it into your bathroom with a nautical rope mirror.
This mirror will go with any color scheme and any vanity. You can place this over wallpaper, shiplap, or a plain white wall for a beautiful accent.
Display Your Decor with Bathroom Shelving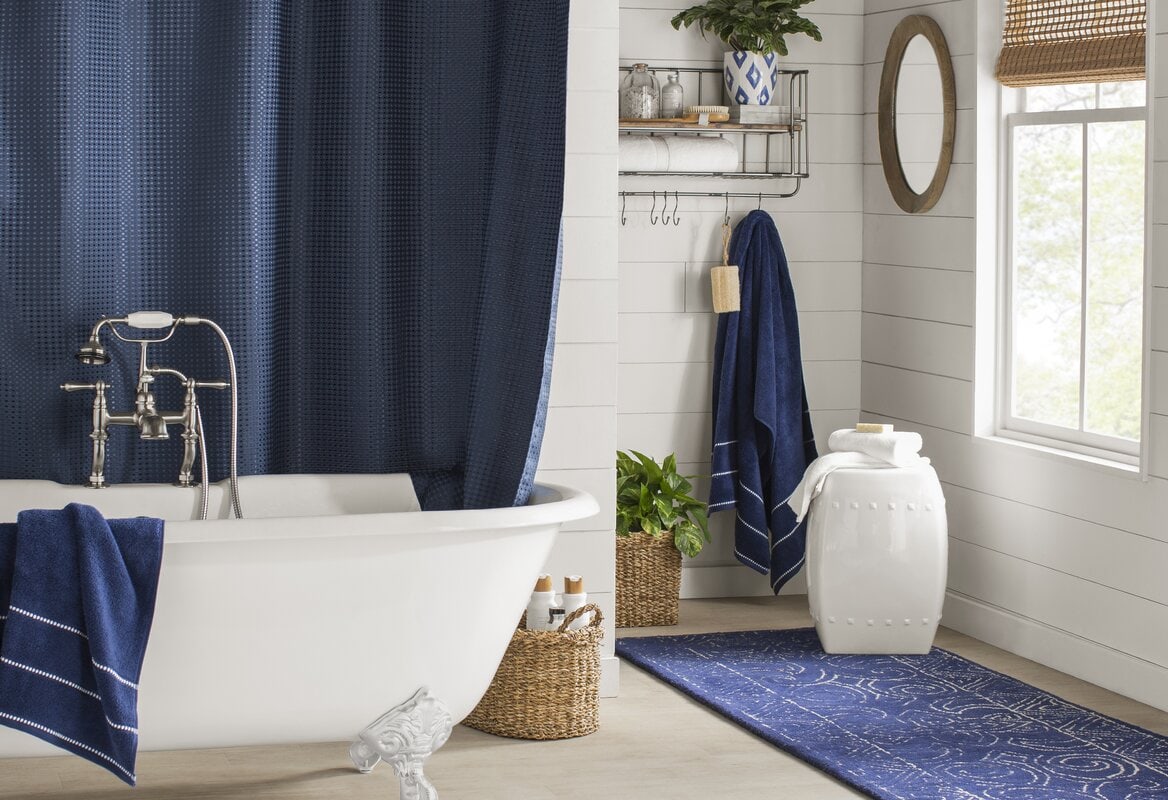 Looking for a way to display some decor and trying to find a spot to hang towels? Pull double duty by installing a coat rack in your bathroom.
This coat rack features a wooden shelf that's perfect for displaying a small plant, glass canisters, or beachy decor. The hooks on the bottom give you a place to hang your towels or robes.
Bring the Sea to the Bathroom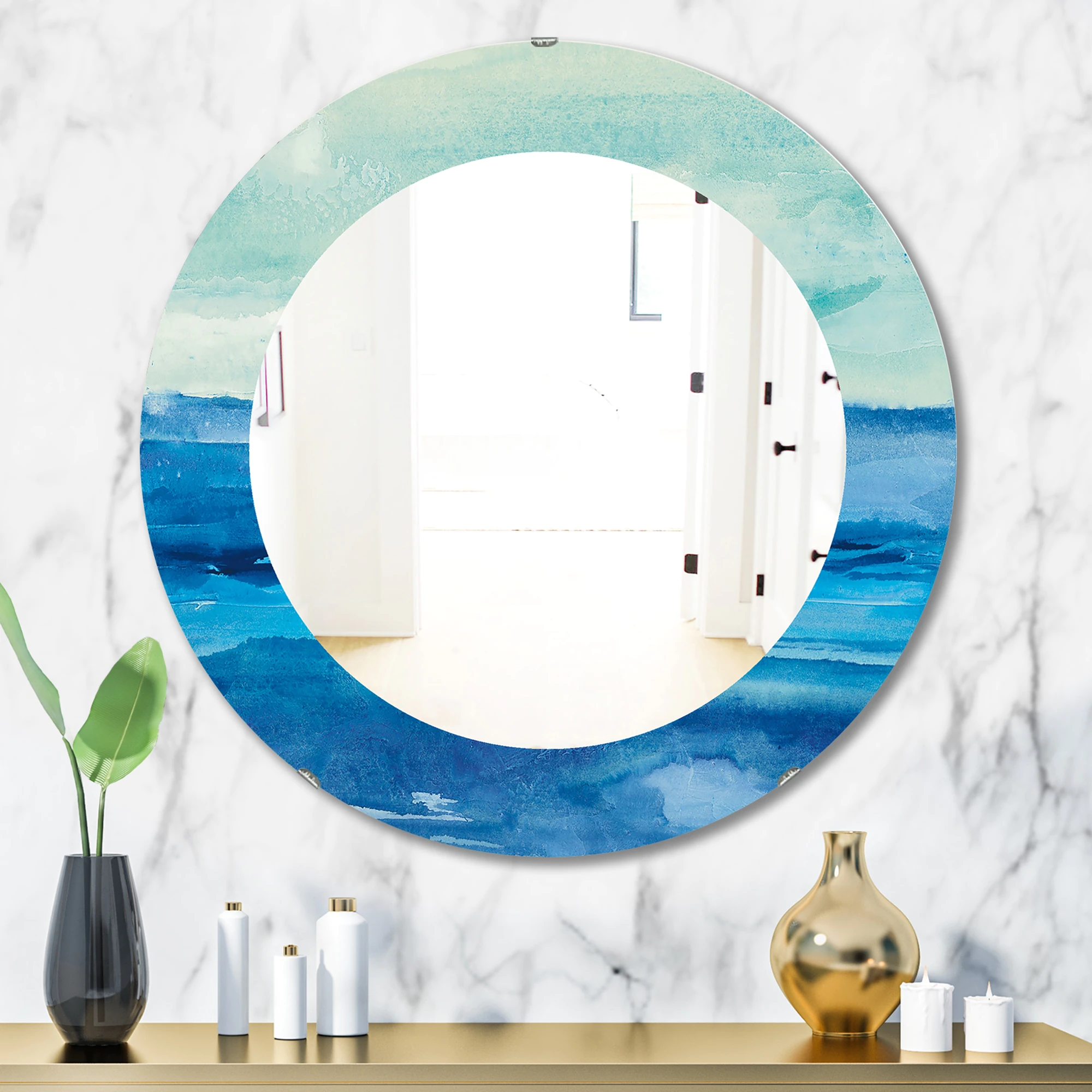 If you want to pay tribute to the sea, you can do so with this ocean-inspired mirror. The frame of this mirror has a watercolor effect of the ocean meeting the sky and clouds.
This would look perfect over a blue, gray, wood, or white vanity. It adds a fun touch to the room without looking childish.
Hang Palm Wallpaper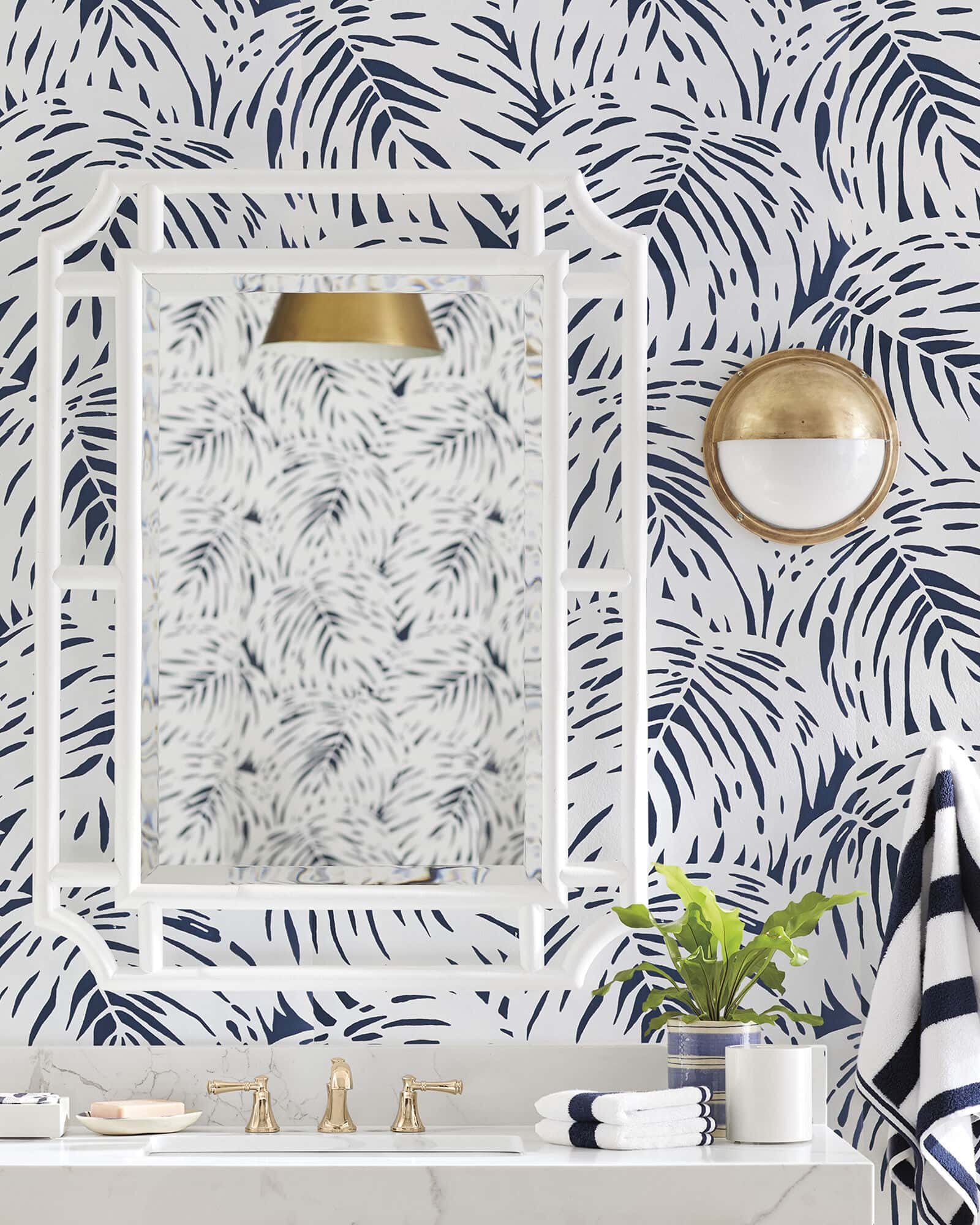 This wallpaper is an excellent start if you're looking for a modern twist on a coastal bathroom. This paper features a bold palm pattern in a nautical white and navy color scheme.
You can use this paper on one accent wall or cover the entire bathroom with it. It looks fantastic paired with gold or rattan accessories.
Accessorize with Blue Bath Mats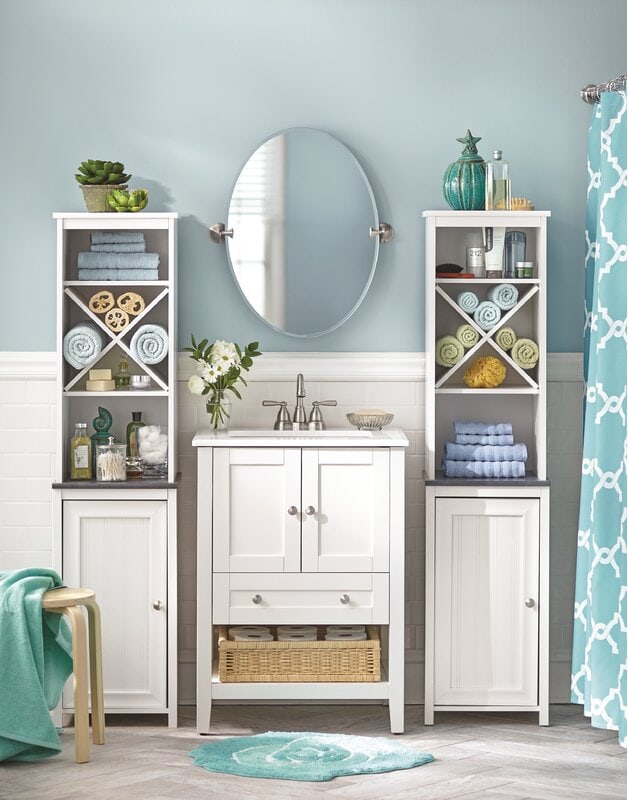 Looking for a way to bring in blue that isn't super dramatic? Start with your bath mats. Blue bath mats in a white bathroom give off beachy vibes. You can choose navy blue or sea blue.
If your bathroom has blue walls, you can still use blue bath mats. Just pick a shade that's slightly different than what you already have.
Add a Wagon Wheel Chandelier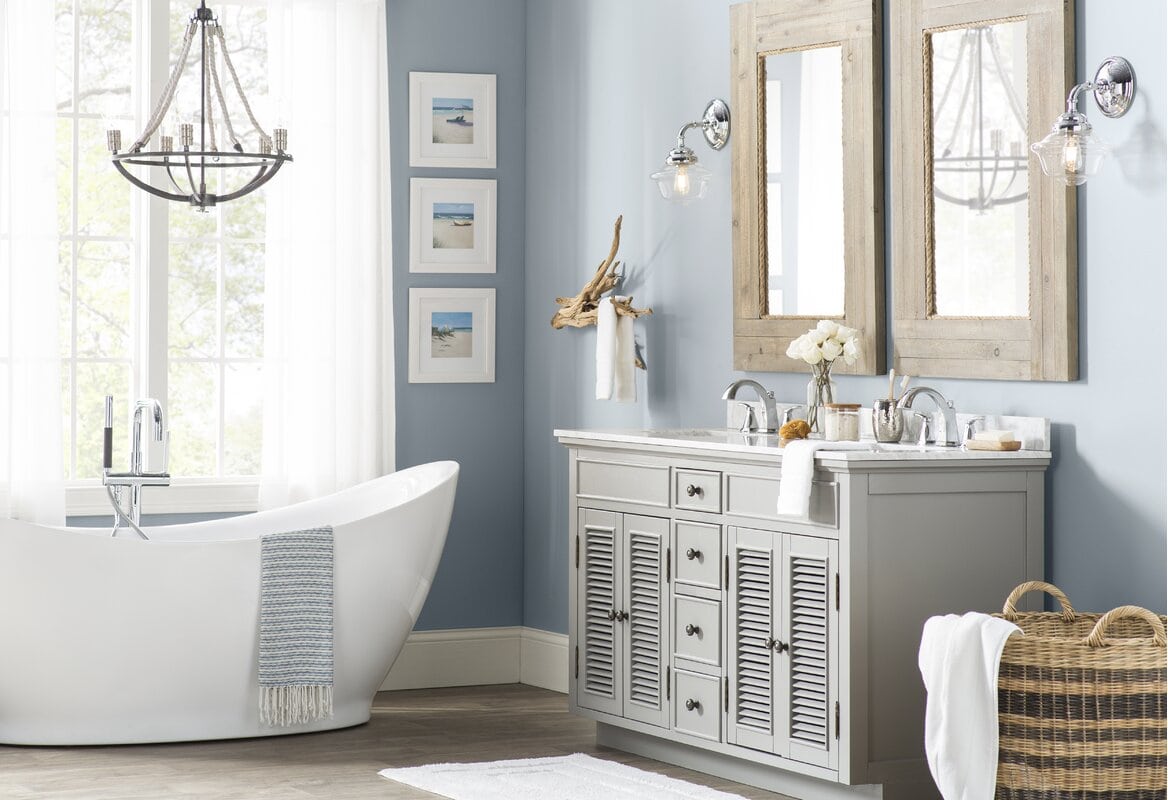 Just because you're decorating a bathroom doesn't mean you're bound to only vanity lighting and sconces – you can try fun fixtures too.
A wagon chandelier like pictured above looks good in a beach-style bathroom. Other suitable options include rattan shade pendants and wood beaded chandeliers.
Brighten the Room with Greenery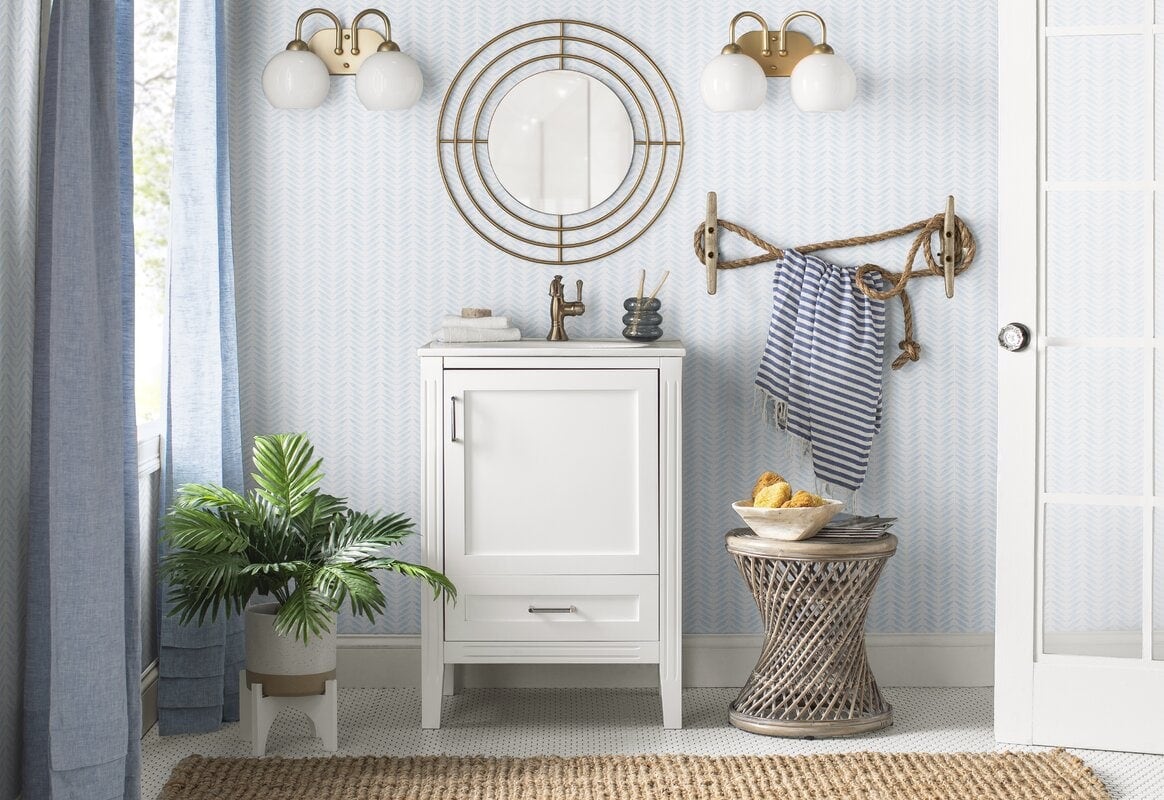 Every good room design has a little greenery in it – coastal bathrooms are no exception. And palm plants are the perfect option for adding life to your design.
You can add a real or faux palm plant. Try using a white ceramic pot or place the existing pot in a wicker basket for a pretty effect.
Hang a Pendant Over the Bathtub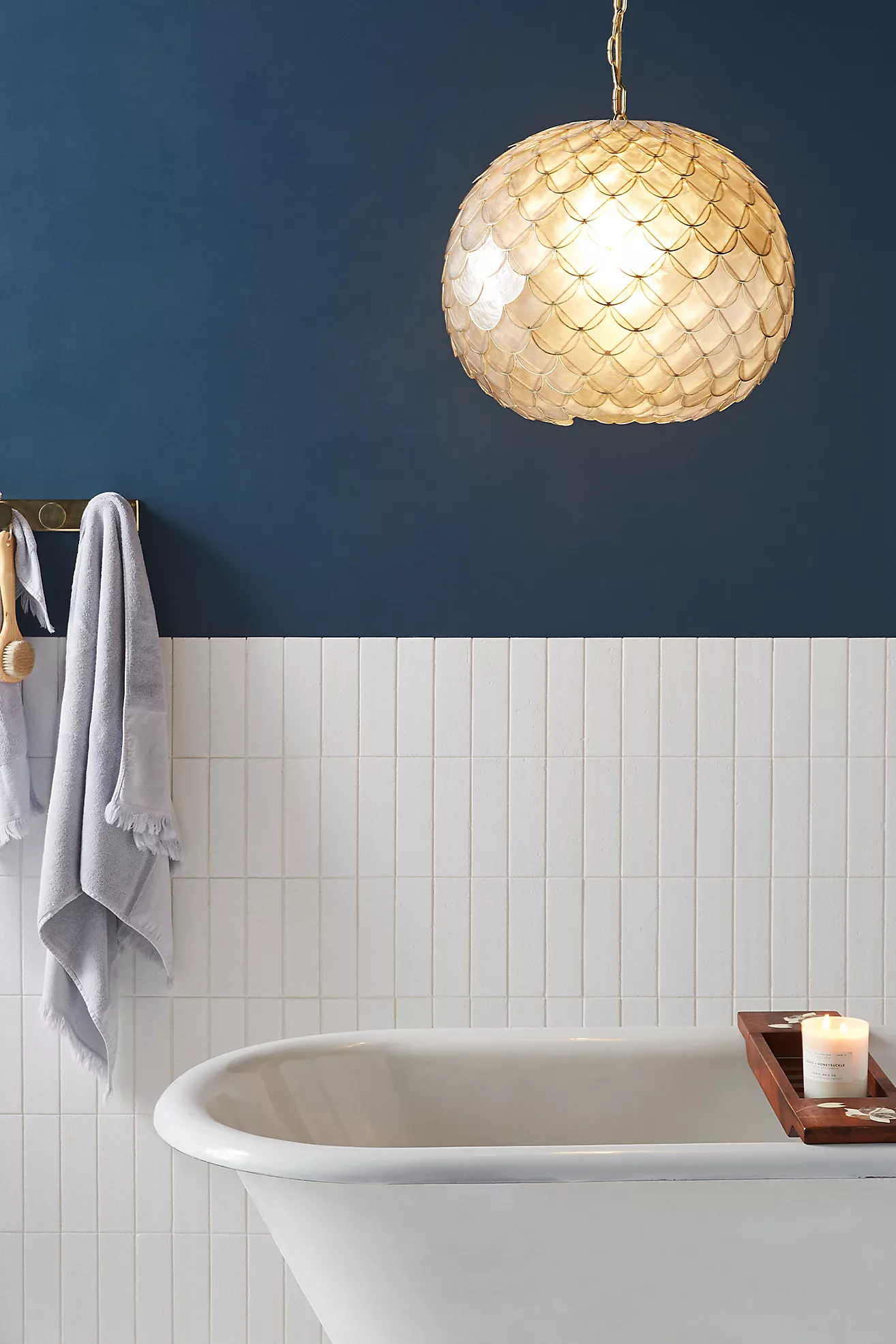 Here's another example of a unique light fixture that works well in a coastal bathroom. This globe pendant has a gold chain and would look great in any white and navy bathroom.
You can place this over your bathtub or use it in the place of your standard bathroom sconce. You can tie the pendant into the bathroom by using gold accessories in other areas.
Utilize Wicker Baskets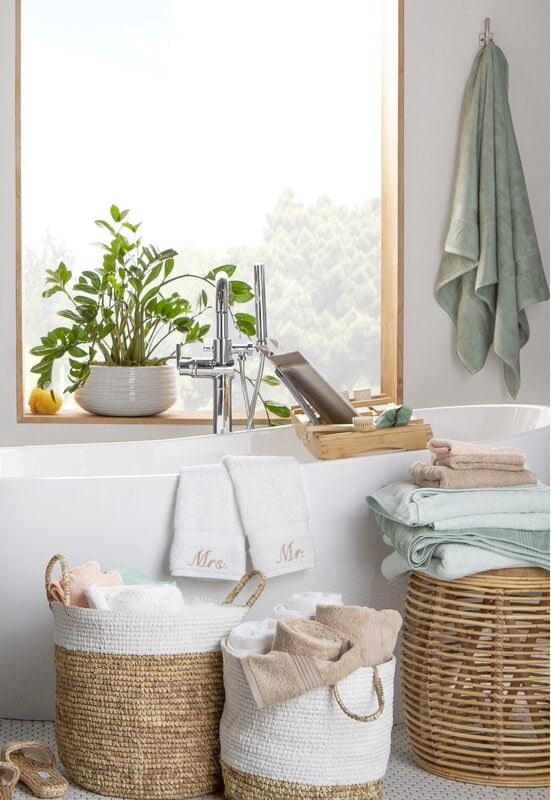 You don't have to go crazy buying custom storage solutions or hampers. Instead, use your wicker baskets – they go perfectly with beachy themes.
If you don't have any wicker baskets, try a set like this from Wayfair. You can use these to store extra towels, toiletries, or even toilet paper.
Decorate with a White Ceramic Plant Stand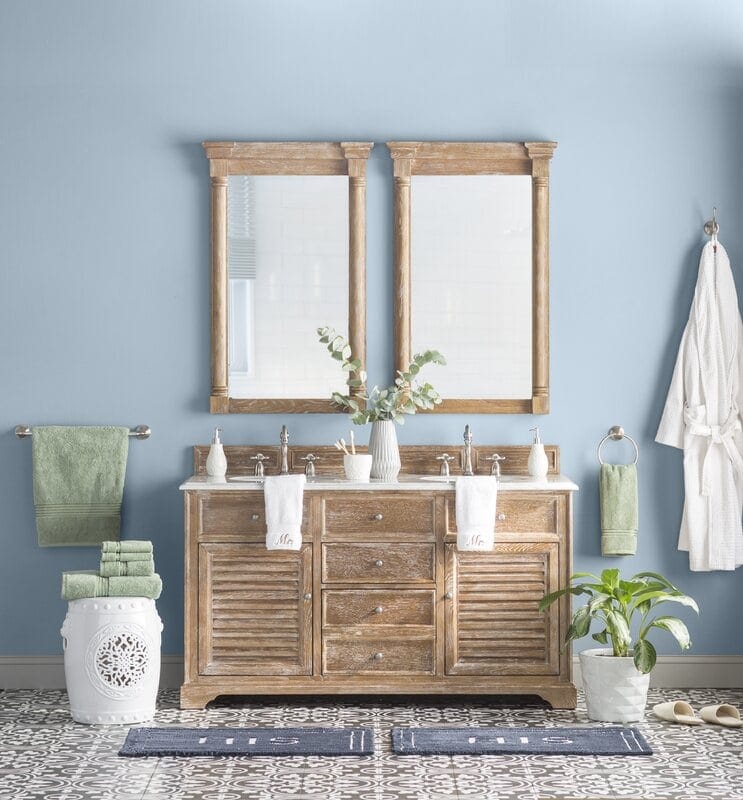 Turns out, plant stands aren't just for the garden anymore. Instead, you can bring in a white ceramic stand like pictured above and use it for the bathroom.
This stand can hold supplies while you take a bath or work as a spot to place your favorite plant. Since it's small and lightweight, it's easy to move around as needed.
Final Thoughts
If you need coastal bathroom ideas, this list should steer you in the right direction. As a general guideline, you'll want to opt for light and bright colors like whites, blues, and grays.
Add in some wood, rattan, and wicker for texture, and you'll be well on your way to having a perfectly styled nautical bathroom.