Decorated Life is reader-supported. When you buy through links on our site, we may earn an affiliate commission. Learn More
Benjamin Moore Aegean Teal Paint Color Review
The design world is in love with neutrals. Grays and greiges, warm whites and cool whites, off-whites and creams, they're everywhere. But what about actual colors?
If you're thirsting for color in your decor, Benjamin Moore's 2021 Color of the Year might be just what you're looking for. Aegean Teal brings the color in a way that's refreshing–and when it does, it opens the door for a palette of warm colors you don't usually see with all that gray.
If you're in the mood for something that's to-teally different, let's take a look at Aegean Teal!
What Color Is Aegean Teal?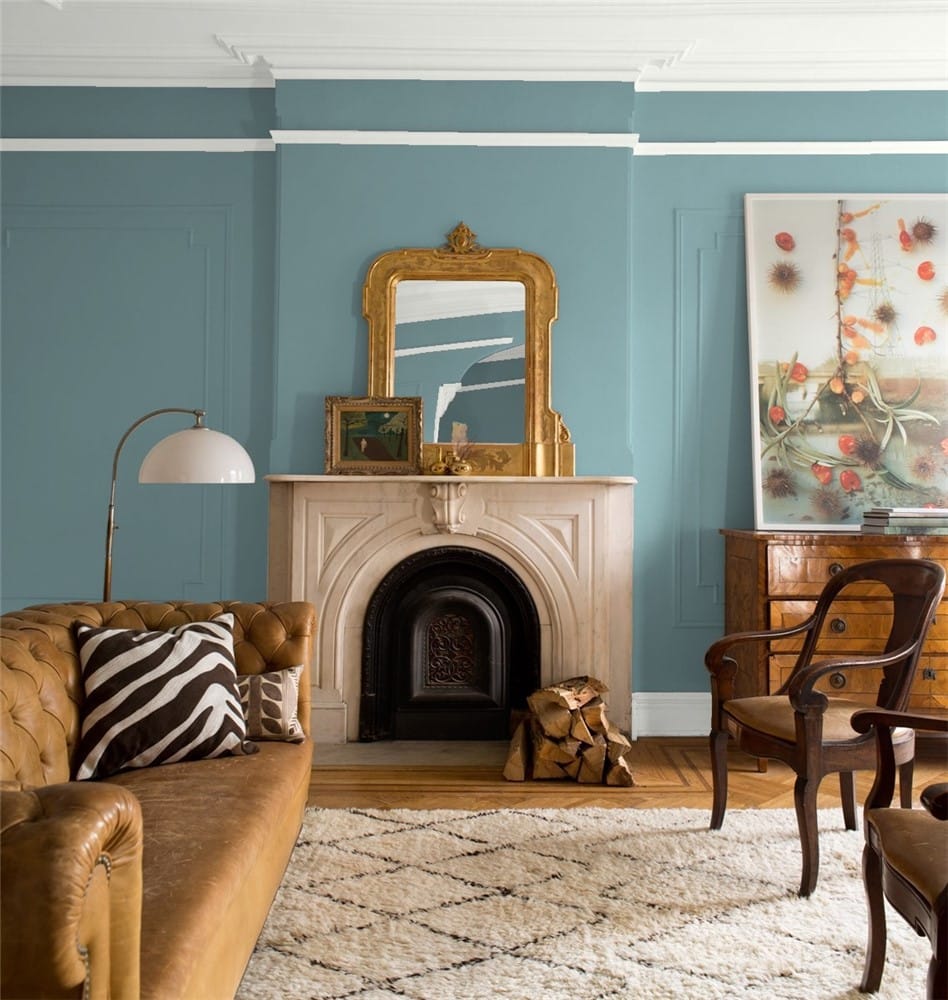 Aegean Teal is a blend of blue, green, and gray that creates an organic, subdued teal. Benjamin Moore describes this color as "intriguing, balanced, and deeply soothing".
LRV of 23.96
Aegean Teal has a light reflectance value (LRV) of 23.96. LRV is a scale designed to measure the brightness of a color. It runs from absolute black, at zero, to pure white at 100. Aegean Teal is a dark-to-medium color.
What Undertones Does Aegean Teal Have?
Aegean Teal is a blue-green color with gray undertones. It's that gray aspect that makes this color softer and more natural-looking than some of the brighter teal shades out there.
Is Aegean Teal a Warm Color or a Cool Color?
Aegean Teal is a cool color, as teal is a mixture of blue and green, which are both cool colors. Its gray undertones also add to its cool feel.
Where Can You Use Aegean Teal?
Aegean Teal is a dark and cool color that looks its best when balanced with brighter, warmer colors. It's fantastic as an accent wall or cabinet color. As an all-over color, it's likely to give you a cold cavern effect.
This is a strong color, so use it anywhere you want to direct the eye. Consider exterior touches like shutters and the front door, as well as interior areas like the kitchen island.
If you're a fan of warm and sunny colors, Aegean Teal is a great way to balance them. Brighter colors on the ceiling and trim can make Aegean Teal work as a wall color, for example.
Since this color is cool and soothing, it's great for spaces that make us think of water, like the bathroom or kitchen. I also found someone making use of it in the garden–check out the home tours below for pictures!
Without further ado, let's dive into home spaces with Aegean Teal and get inspired!
Front Door
Aegean Teal is an on-trend door color that catches the eye and increases curb appeal.
Courtyard
Get creative with your paint choices–they're not just for walls! In this courtyard, Aegean Teal adds exotic holiday flair to the planters.
Kitchen
Aegean Teal is the star of this sustainably designed kitchen, showing off its ability to marry natural elements in a harmonious contemporary space.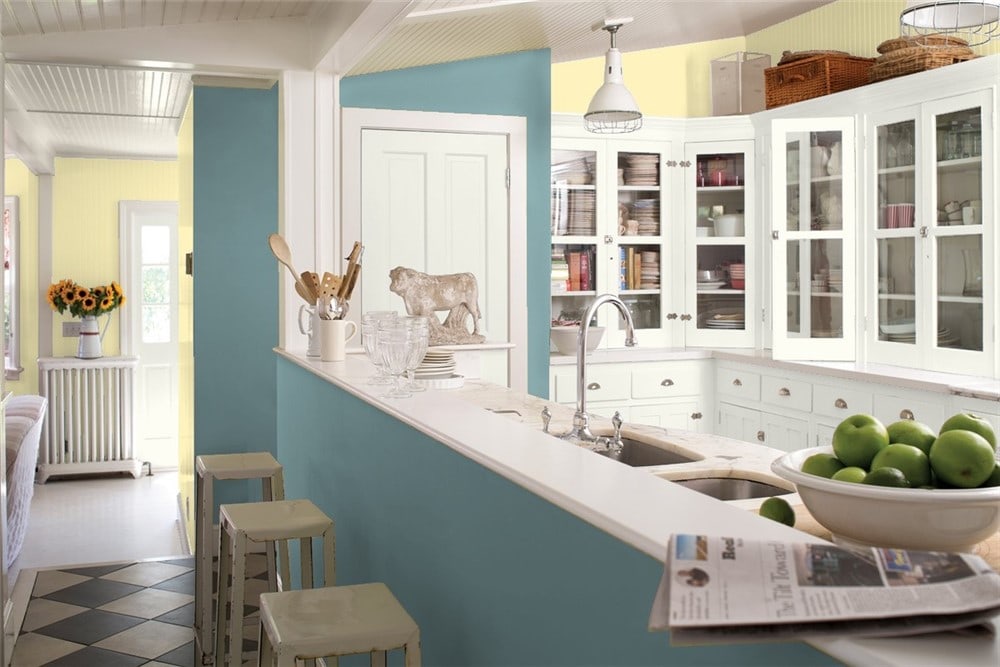 This cheerful kitchen pairs Aegean Teal with Beacon Hill Damask for a sunny contrast.
Dining Room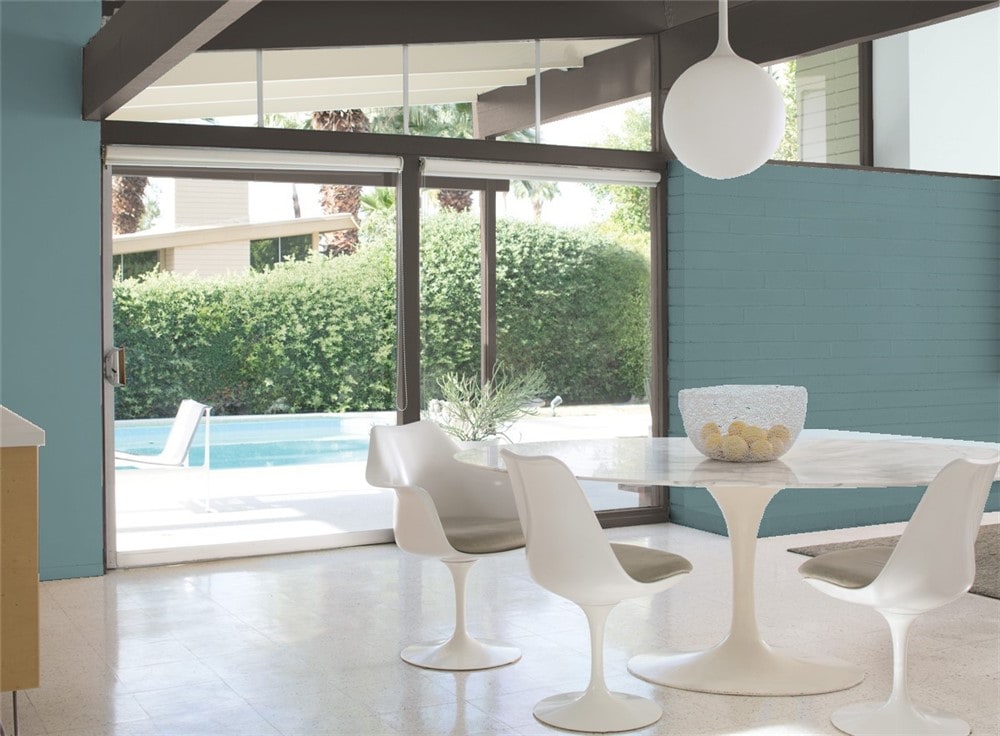 Aegean Teal isn't just for nature lovers; it works well with modern decor styles too.
Living Room
This living room uses an accent wall to explore Aegean Teal's moody gray side.
Aegean Teal can complement unexpected colors like the expressive hot pinks in this living room.
Bedroom
Beige, gray, and white balance and lighten Aegean Teal to create a calm and soothing setting in this bedroom.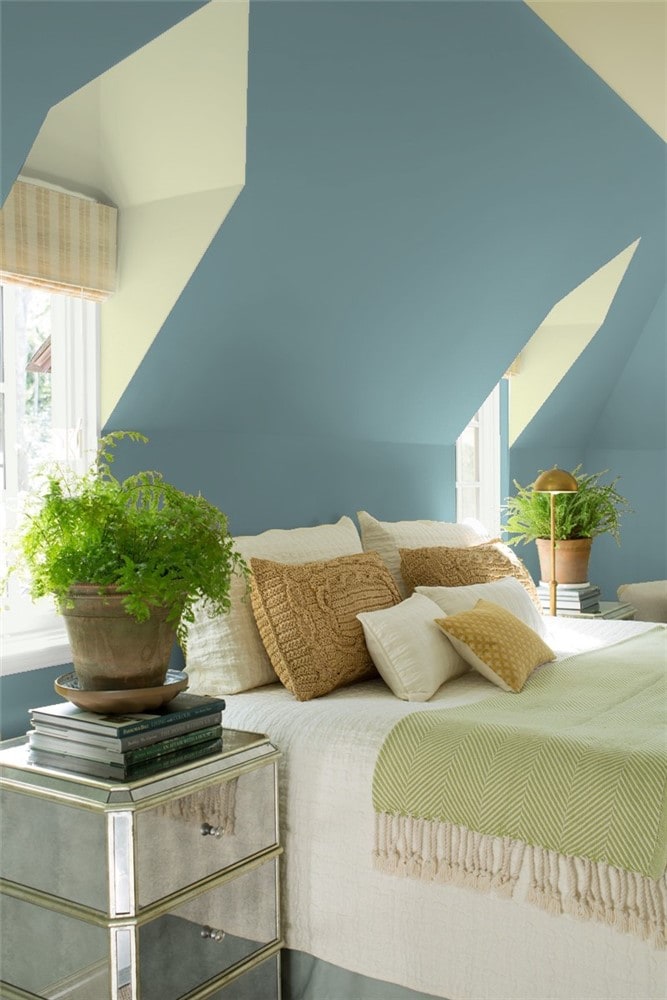 Aegean Teal and Guilford Green turn up the nature vibes by complementing the potted plants in this bedroom.
Bathroom
Whites and creams are a sure bet with Aegean Teal, and you can see why in this bathroom, which pairs Atrium White and Aegean Teal for a crisp, refreshing space.
This powder room makeover adds so much personality with Aegean Teal and just a few decorative touches. Paint is an affordable way to transform any room.
Aegean Teal Coordinating Colors
Aegean Teal is a cool, moody color that's easy to pair with whites and creams for a refreshing contrast. Any of your favorite off-whites, beiges, and natural linen colors will make lovely companions for Aegean Teal.
Grays and greiges will both play well to Aegean Teal's blue side and gray undertones alike, so feel free to pull out your favorites. Lighter grays will tone this color down, while darker charcoals and black will make a bold impact.
Aegean Teal is a color you can actually break out the yellows with! It's not often easy to coordinate yellows into decor, but they are bright and sunny next to the cool waters of Aegean Teal. Warmer tones, think organic colors like clay and brick, can also really vibe with this color.
To help you start your own palette, here are some coordinating color ideas for Aegean Teal:
How Does Aegean Teal Compare to Other Colors?
Aegean Teal vs Province Blue by Benjamin Moore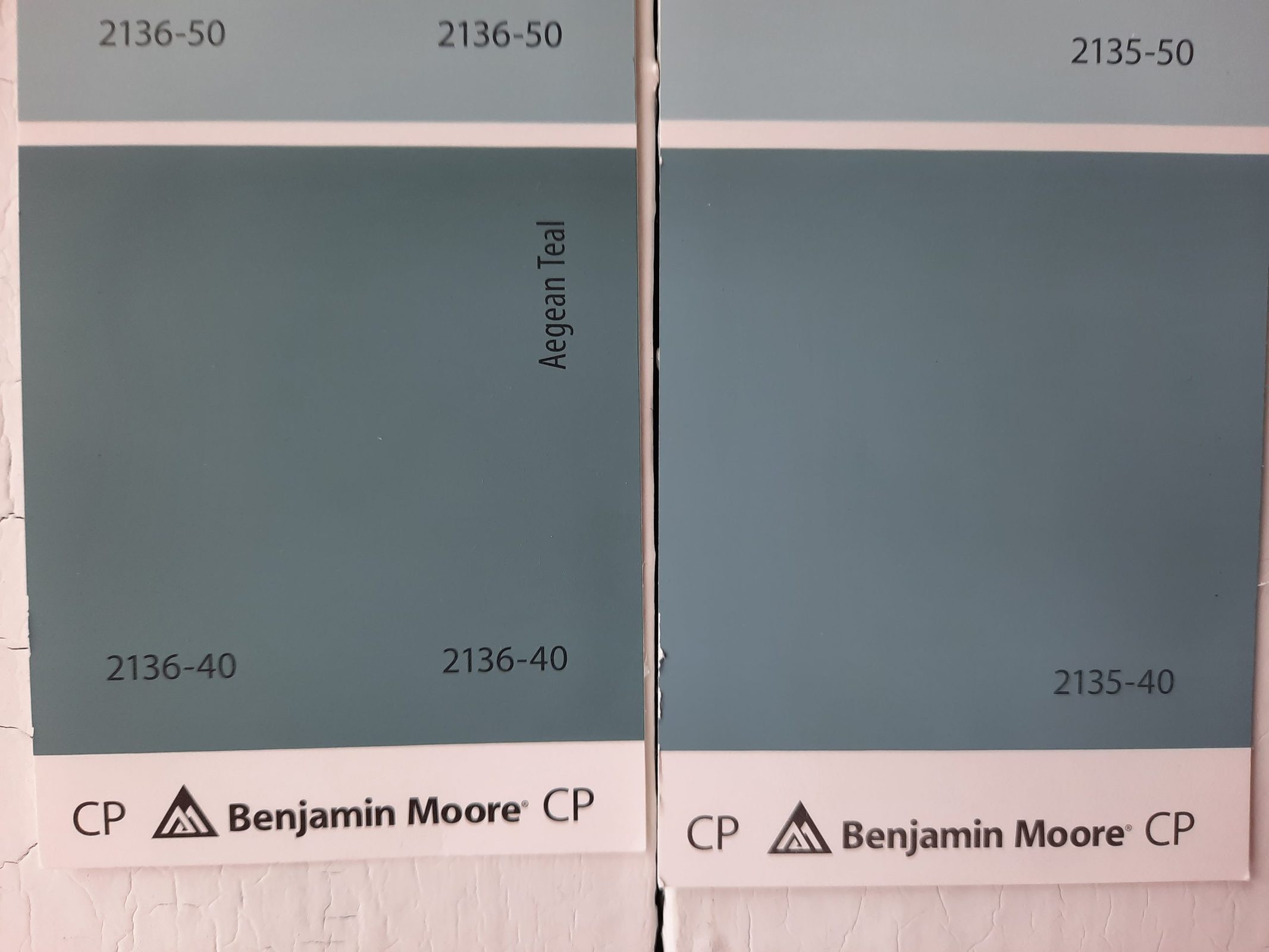 Province Blue is a color that's got a lot in common with Aegean Teal. But Province Blue is definitely more blue than Aegean Teal is. It's also noticeably lighter, with a LRV of 30.64, versus Aegean Teal's 23.96.
Aegean Teal vs Caribbean Teal by Benjamin Moore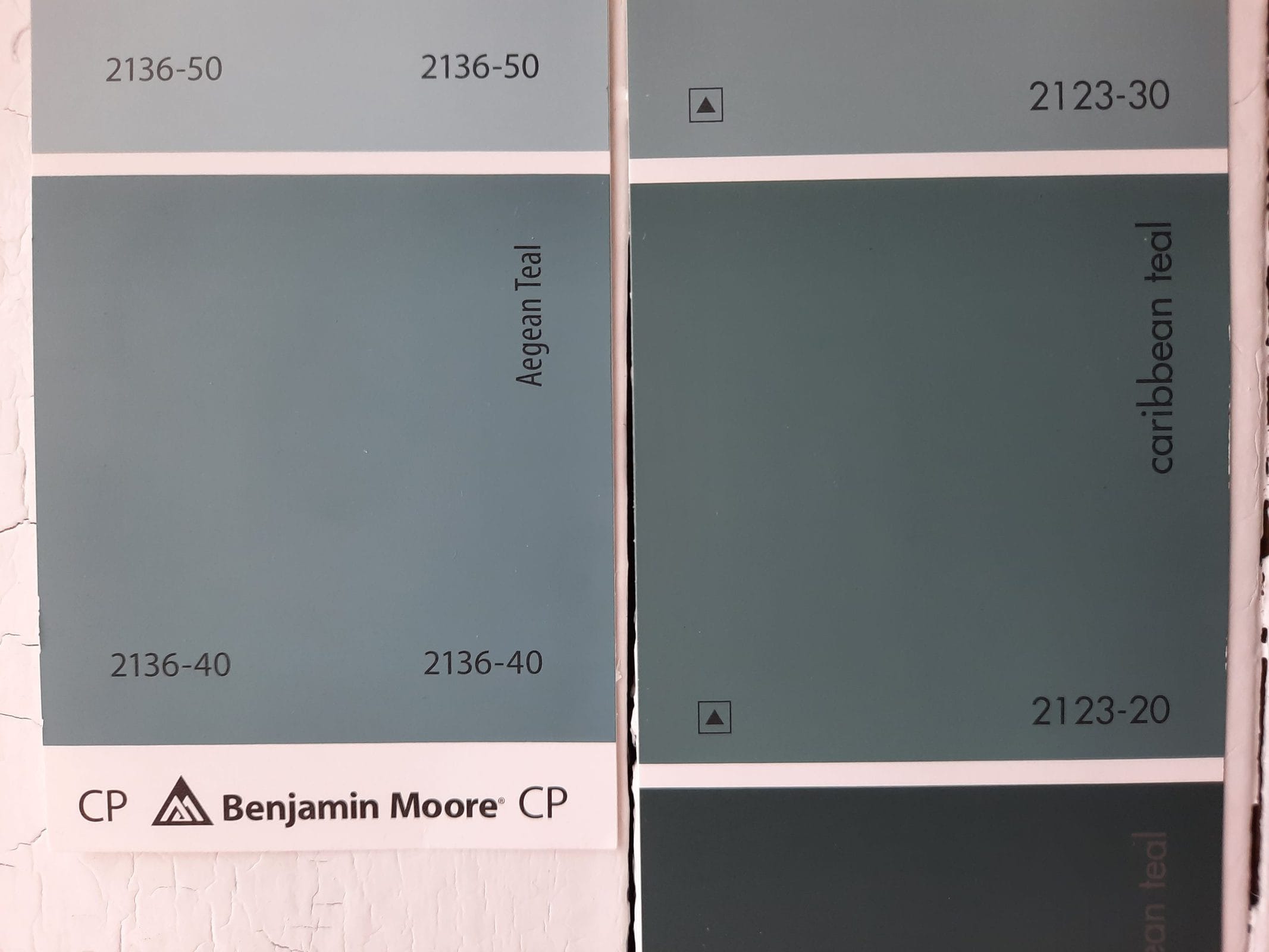 Caribbean Teal is a darker, moodier teal than Aegean Teal. It sits a few notches lower on the LRV scale at 18.4. Caribbean Teal is also the greener of these two colors.
Aegean Teal vs Atmospheric by Benjamin Moore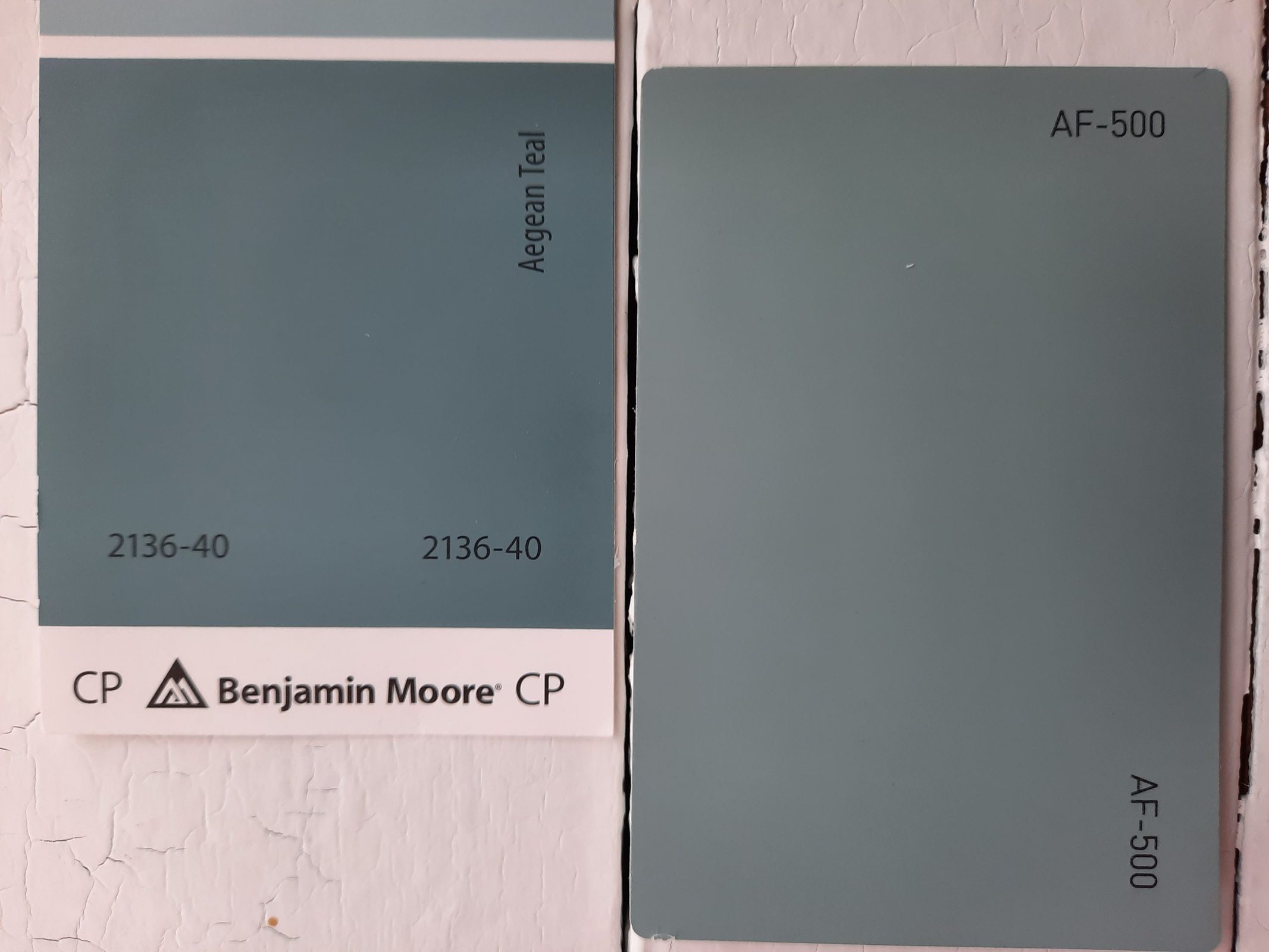 Atmospheric is a lighter color than Aegean Teal, with the highest LRV of these comparison colors, 32.12. This is another color that leads with its green side, and comes out greener than Aegean Teal.
Final Thoughts
Aegean Teal offers cool, soothing color that's actually the best thing for welcoming sunny tones into your home. Whether you enjoy a soft cream, a sunflower yellow, or a natural clay, Aegean Teal was born to make friends with these colors. The results bring more restful nature vibes into any space.